Many of us know about LiveChat. It is a popular customer communication platform that has existed for 20 years. Businesses love this tool for a wide range of features and integrations. 
But every bean has its black. Free plan absence and outdated system app are only a few of the issues LiveChat users face. Consider 13 alternatives with the same features but better conditions!
What do we know about LiveChat?
LiveChat is an application that helps customers to chat with support. Sellers and marketers can use it to capture leads and implement their best customer engagement strategy. LiveChat has more than 34,000 users. And it works with such companies as IKEA, Nikon, and Mercedes-Benz.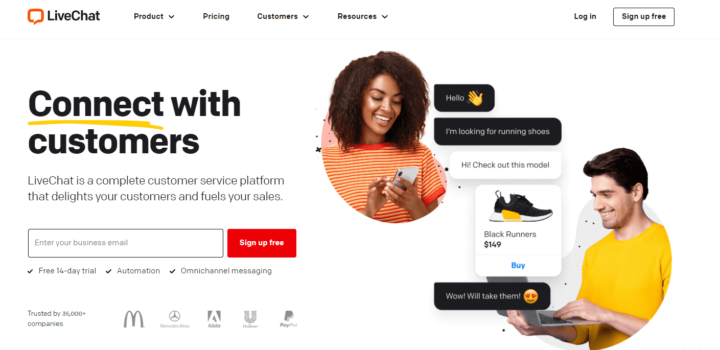 What main features does LiveChat provide?
Chatbots. They are irreplaceable in 24/7 support of customers. As well, they answer basic questions to ease the agent's workload. Chatbots help capture and qualify leads. Also, you can use ticket forms, surveys, and other sales enhancement opportunities. 
User tracking on website. Recommend products, create offers, and test and choose one of the best customer engagement strategies based on their behavior.
Automatic live chat routing. So that the right agent at the right time communicates with the prospects.
Tracker for goals and sales. It enables having an eye on ROI, sales plans,  and making sales forecasts.
Syncing data with CRM, analytics, email marketing systems, and sellers tools. Keep an eye on workflow in one interface, and don't miss customers.
Mobile app. All your tools, chats, and tickets are within a single app. But users complain that the app is outdated and doesn't have all the key features of the desktop release.
20+ reports. You can watch, analyze, and forecast different points and indicators. Make your goals and results more visual. It's all possible thanks to the extensive reporting capabilities. 
Also, LiveChat allows its users to
send personalized live chat invitations, automatic greetings, and product recommendations 
build carousels with images and buttons in two clicks.
About peculiarities: your customers can pay, schedule meetings, or book seats right in the live chat widget!
LiveChat Pricing
LiveChat offers a trial period of 14 days. After that, the cost of service depends on the chosen plan. This soft provides four plans: Starter, Team, Business, and Enterprise.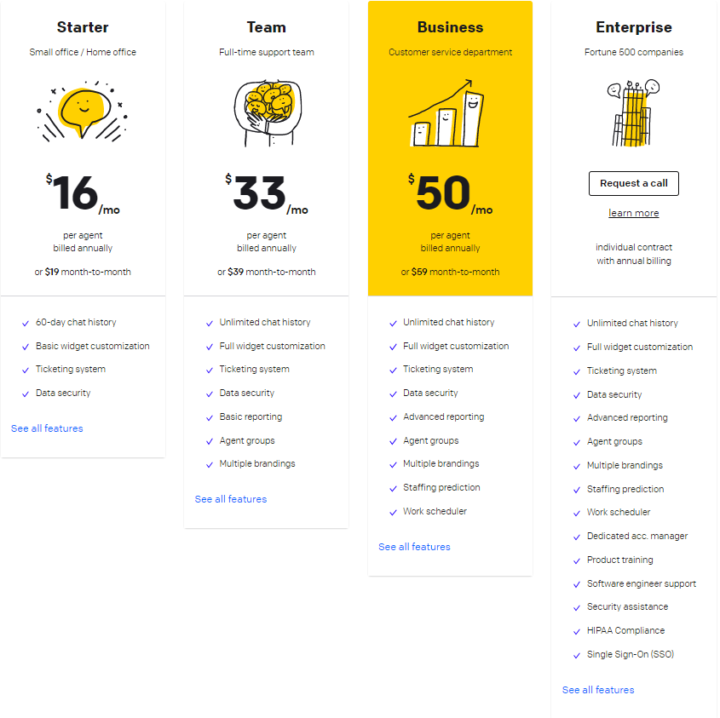 Starter gives limited live chat history (only 60-day) and limited widget customization. But almost full channel support (SMS and Apple Messages for Business are not available). Ticketing system (except tags) and integration tools.
With the Team plan, a company gets more: unlimited live chat history, complete monitoring, engagement toolset, and ticket tagging.
Business and Enterprise give access to the complete platform functionality, except for some product support and security features by the Business plan.
LiveChat doesn't offer a free plan. 
Pros and cons of LiveChat
What's good
What's bad
— Auto greetings to customers are personal and come specifically from one of the reps.
— LiveChat software is fast and perfectly integrated with business.
— Large functionality and opportunities for business.
— The inability to customize the visitors' window for your staff. You couldn't see info without having to click on each visitor.
— The mobile version is outdated and limited in features.
— No free plan.
Now let's take a look at the top of alternatives!
Dashly
Dashly is a conversational platform. It suggests convenient solutions for SaaS and eCommerce companies. You can find a full-fledged tool kit for your sales, marketing, and support teams. There are SureTask, Wowfare among Dashly users.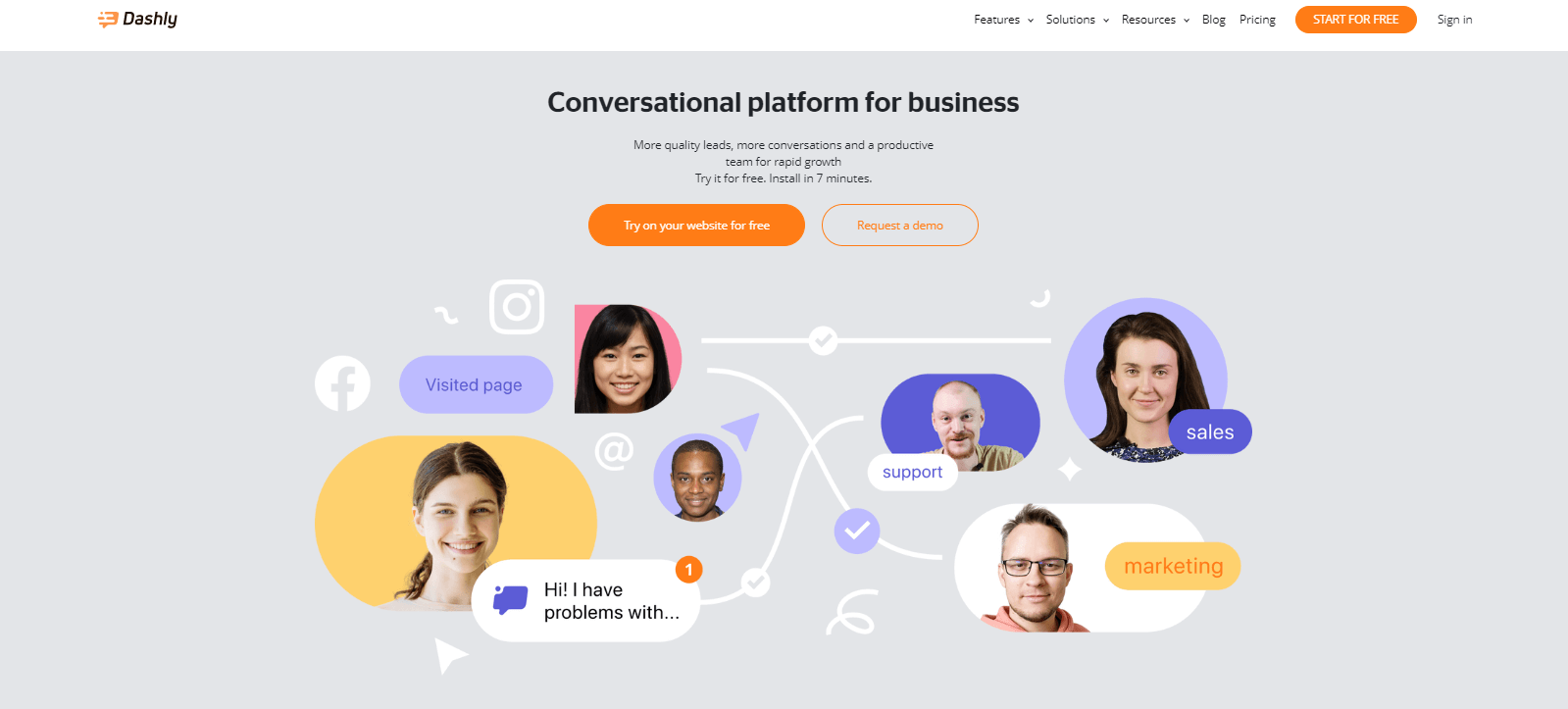 As well as a LiveChat alternative, Dashly provides:
Shared inbox
Knowledge base
Pop-up builder
Website visitors' behavior tracking
Deep analytics with visual reports
Integrations with CRM, email marketing systems, messengers and social media, etc. 
Dashly users bring all their conversations in messengers, socials, email, and live chat in one inbox. Keeping customer requests in one place helps to boost the time to resolution. In addition, among live chat features are:
Thanks to conversation history, a system of tags, lead cards, and requests notes, your agents can provide high-level customer communications.
You don't need a developer to launch marketing campaigns in Dashly. Thanks to numerous visual builders and ready-made templates you can create chatbots, pop-ups, emails in a few clicks. 
Don't forget to A/B test and analyze your campaigns to find the best option.
Dashly pricing as one of LiveChat alternatives
The price depends on the features and monthly website traffic. No agents seats limit. With Dashly, you can start for free if you have up to 1000 visitors/month.
Forever free plan provides: 
live chat, 
one shared inbox, 
30-day data history, 
two seats for agents, 
email replies to live chat messages, 
100 emails/month, 
canned responses.

Then there are three paid plans: Business chat, Automation, Premium.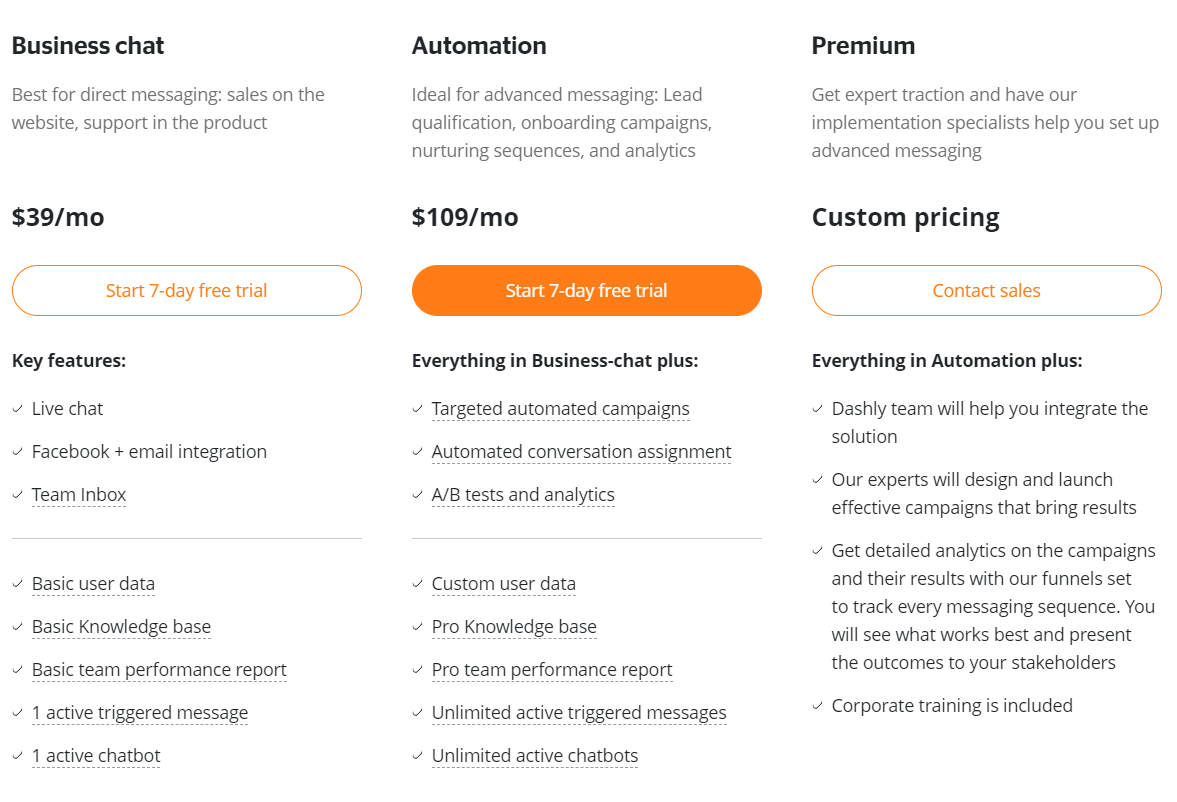 By Business chat, you get 
almost full integration with work tools and services (except Mixpanel, Zendesk, API), 
user data tracking, 
basic settings in email campaigns, 
lead base segmentation, 
one lead qualification chatbot,
one targeted message (chat, pop-up, or email).
Automation, the same as Business chat, has complete live chat tools and customer support. But Automation gives
unlimited live chat history,
conversational tags, 
customer satisfaction reports,
team performance report, 
extended capabilities to the knowledge base,
SEO settings.
Finally, Premium enables all possibilities in 
customer support, 
engagement, 
email campaigns, 
data tracking, 
reporting, 
integrations, 
chat tools, 
hands-on support.
Dashly gives its users a 7-day free trial. As well, this LiveChat alternative takes only 5 minutes to install and doesn't require a credit card. 
Pros and cons of the LiveChat alternative
What's good
What's bad
— Support team 24/7 in touch.
— Rich feature focus on eCommerce.
— Powerful API for integrations.
— Free plan.
— No multilanguage live chat translation.
— No AI.
— Insufficient functionality around the email campaigns.
Zendesk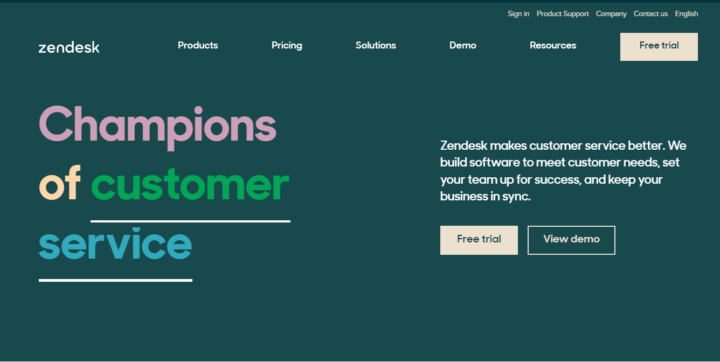 Zendesk is an easy-to-use live chat service. It has vast opportunities for integration. Zendesk is a proven service with such customers as Siemens, Shopify, and more than 100,000 other businesses.
As a LiveChat alternative, Zendesk also has basic features:
The full context of a customer in one place
Having an eye on the sales pipeline
Email campaigns with templates
Integration 
Syncing data
Mobile app
Reports
Zendesk chat has some specialties. For example, 20+ chart types, from bar to pie. They help display data in reports more visually. In this area, it is a bit similar to LiveChat.
If we talk about ease of use, reps can make notes and call scripts directly in Zendesk. Also, use intelligent lists to stay focused on the hottest opportunities they need. The live chat software users receive real-time push notifications when some prospect reads or clicks on an email. So an agent can catch him at the right time and close the deal.
In sales, Zendesk may calculate performance metrics for your pipeline. In turn, you make forecasts, fix the bottlenecks, and control necessary indicators. Talking about the opportunities ― Zendesk provides access to over 20M businesses, 200M professionals, and intelligent lead recommendations, which you can apply to enhance revenue.
Another unique opportunity: by using this LiveChat alternative, you can make your app!
Zendesk Pricing as one LiveChat alternatives
This LiveChat alternative has three pricing categories: Foundational Support Only, Zendesk Sell, and Zendesk Suite. Foundational Support Only has three plans: Support Team, Support Professional, and Support Enterprise.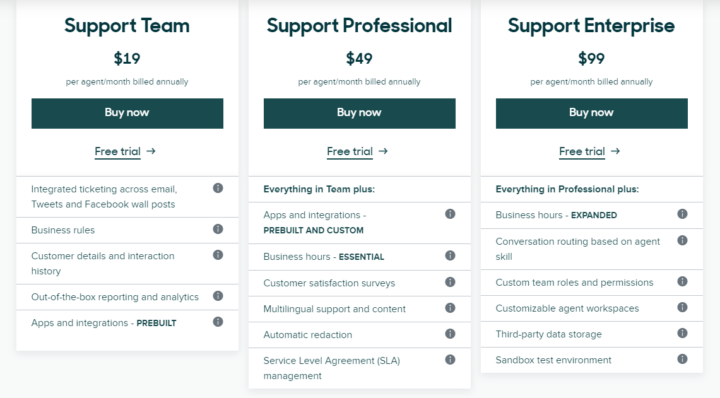 Support Team plan gives full features of communication channels, reporting, and analytics. Almost complete agent workspace's tools, except: 
dynamic content, 
contextual workspaces, 
customer satisfaction ratings (CSAT),
follow-up survey. 
The plan suggests automation and intelligence functions without business rules analysis.
Support Professional and Support Enterprise have similar functions. But Professional provides limited tools in workflows, workforce, and change management.
Zendesk Sell, as well as Support, has three plans: Sell Team, Sell Professional, and Sell Enterprise.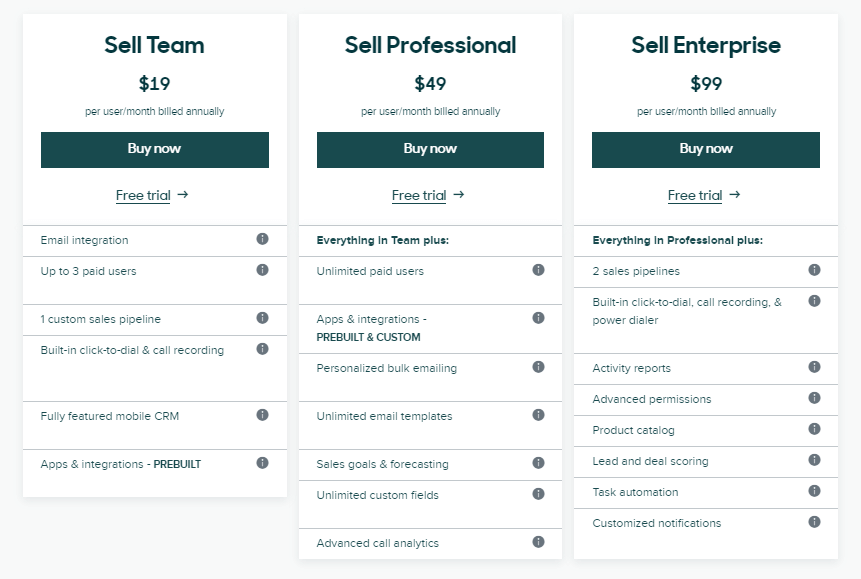 Sell Team plan suggests:
up to three paid users, 
2 GB/user document storage, 
customizable sales pipeline, 
data fields, filters, and tags, 
full collaborations, 
mobile, data, and team management without lead capture form, 
data exports, 
role-based permissions.
Sell Professional receives all email tools and more features in reporting, data and team management, API, and integrations. Sell Enterprise provides all functions in the main directs. But there we have one more plan — Sell Elite ($199 per user per month). It suggests: 
25GB/user document storage,
unlimited number of sales pipelines, 
firehose API, sync API, search API, 
rep performance dashboard, 
advanced sales and success insight reports. 
That's not all. You can add to your plan with Reach. With Reach, live chat reps can create targeted lead lists to discover new opportunities. We discussed this above, touching new opportunities and enhancing revenue.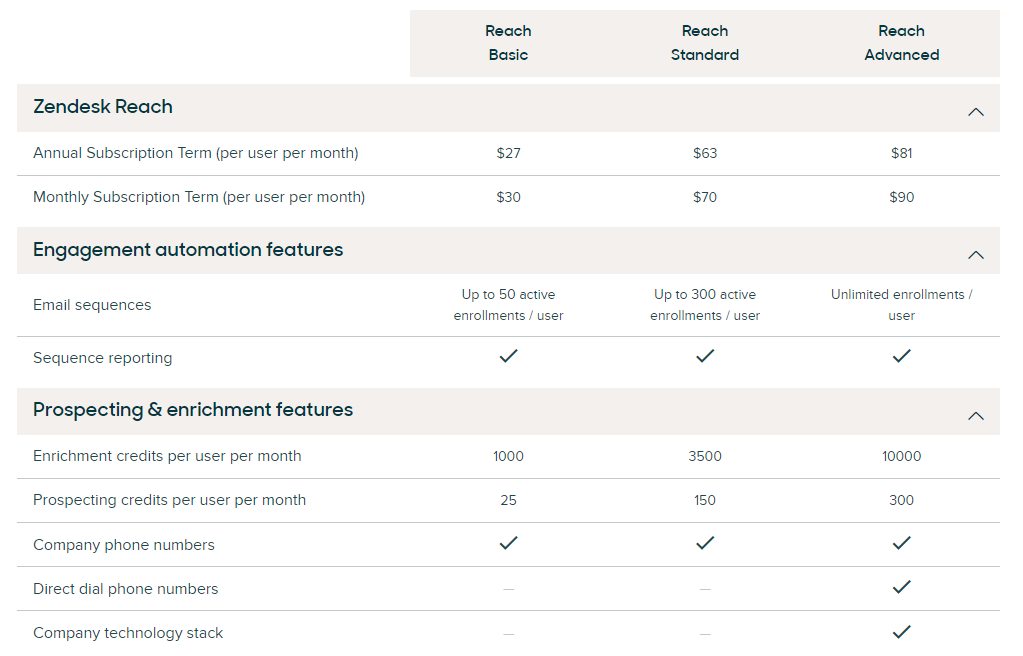 Finally, Zendesk Suite. Exist in four plans: Suite Team, Suite Growth, Suite Professional, Suite Enterprise. With Suite Team, you get:
live chat, 
messaging, email tools, 
triggers, 
ticket sharing between multiple Zendesk accounts, 
basic reporting, 
up to 50 chatbots. 
But you don't get access to custom apps and integrations, collaboration tools, or community forums. Enterprise provides an enormous list of functions, opportunities, integrations, and settings.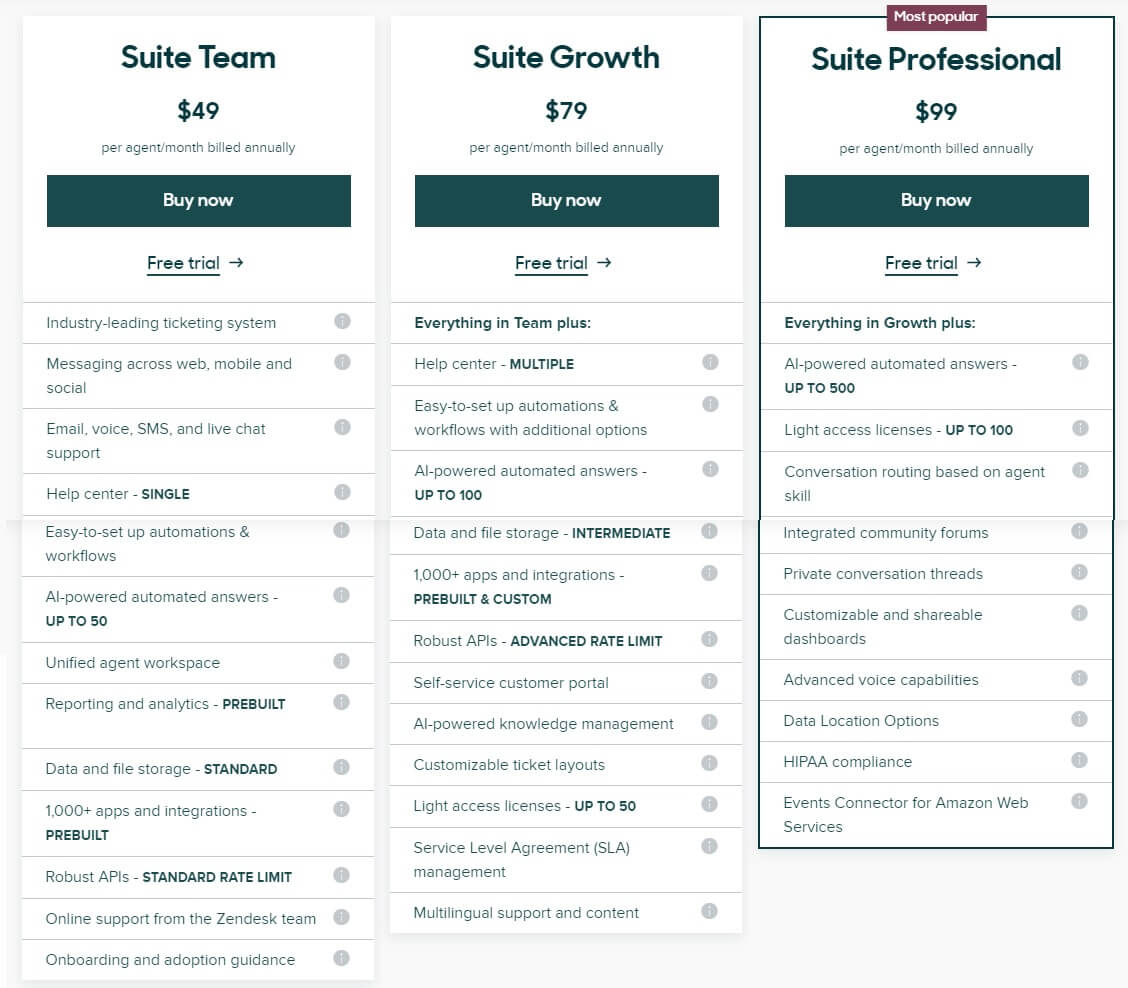 Zendesk offers a 14-days trial and no free plan.
Pros and cons of the LiveChat alternative
What's good
What's bad
— Easy to use platform.
— Nice API integration, automation, and trigger.
— Limited customizing of UI.
— The pricing is relatively high, especially the licensing costs.
Freshdesk
Сloud-based software provides multiple tools for support agents, marketers, and sellers. Freshdesk is a great ticketing system for businesses of all sizes. It offers solutions for enterprises, SMB, e-Commerce, healthcare, educational companies, and others. Hamleys, Ridgestone, Pearson trust Freshdesk.
As well as a LiveChat alternative, Freshdesk provides:
Chatbot
Canned responses
Prioritizing, categorizing, and assigning tickets
Team Inbox
Multichannel support
Tracking actions on the website
Freshdesk strives to automate live chat work as much as possible. Automating repeated actions and sales campaigns can ease reps' workload. It also offers an AI-powered assistant Freddy. It analyzes sales data, activities, engagement, and tags tickets by a readiness to close a deal.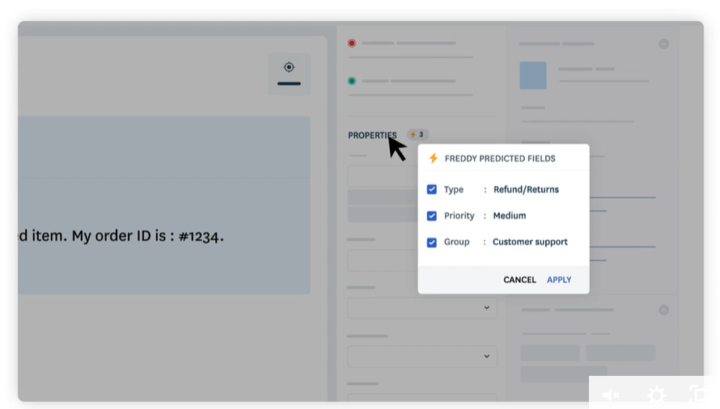 Freddy also helps with the forecast ahead. Thereby, salespeople can keep track of sales numbers and make monthly and quarterly forecasts based on AI insights.
This live chat alternative has one main peculiarity ─ managing field service operations. Soft users can:
create tasks that need a field team response and track them,
organized field groups based on factors to reduce waiting time,
get a bird's eye view of field agents workload,
obtain signatures via the Freshdesk mobile app,
automatically track time spent working in the field.
Freshdesk pricing as one LiveChat alternatives
You can start working with a free plan. All in all, Freshdesk has four plans and several add-ons.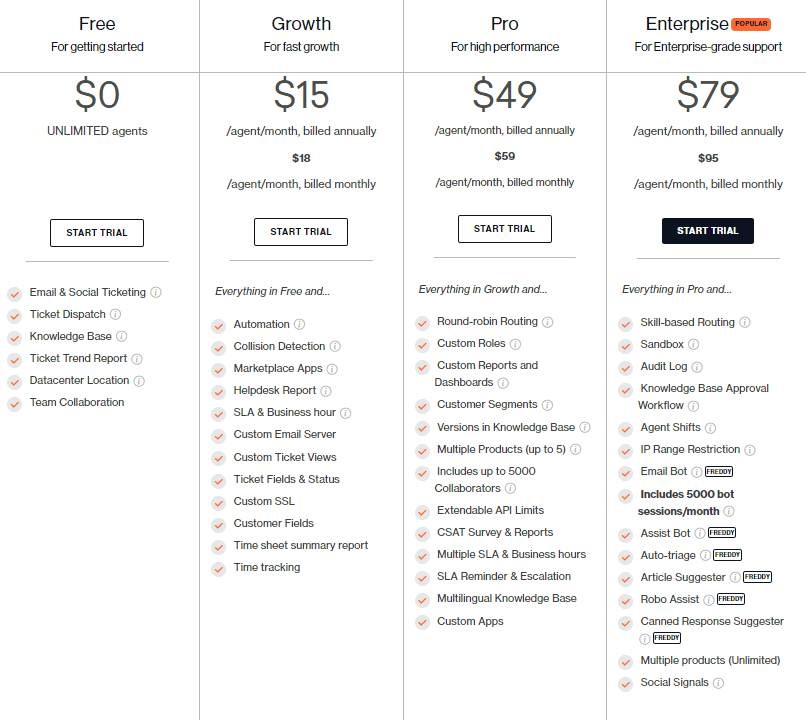 With the free plan, you get a relatively wide range of ticket management and agent productivity features. You can use a mobile app and create a knowledge base.
The Growth offers almost all ticket management, social channels support, and agent productivity tools. As well, the plan provides: 
time-triggered and event-triggered workflow automation
business rules management through SLAs,
a few features in ticket form and apps, 
200 calls/minute API.
Pro and Enterprise provide all tools kit. Excepting Freddy AI service, change management, advanced ticket scope, quality coach, approval workflow, IP range restriction in Pro plan.
A 21-day trial with all features available for you. Freshdesk doesn't need a credit card.
Pros and cons of the LiveChat alternative
What's good
What's bad
— The long trial period.
— Many functions.
— Artificial Intelligence.
— Features for different types of business.
— The integrations can be limited, so you need a dev to build custom apps.
— Live chat is expensive in terms of chatbots.
Intercom
Intercom service supports teams at more than 25 000 businesses in eCommerce, financial services, education, and healthcare. This live chat alternative offers a lot of ways to connect with customers and analyze their behavior. Intercom is especially fond of surveys and product tours.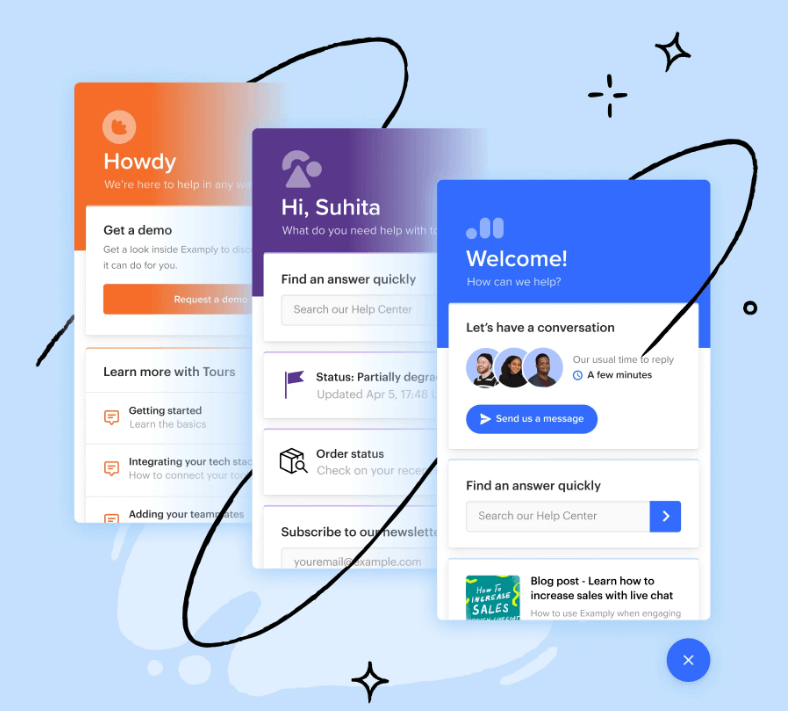 As well as other alternatives Intercom releases: 
Chatbots and live messaging
Automatically routing
Tracking visitor behavior
Syncing across the entire tech stack
Personalized messaging and automatic greetings by chatbots.
A/B testing.
One of Intercom's peculiarities is its rich feature focus on ways of communication (in-product, mobile, and email). With Intercom software, you get access to:
live chat, 
posts, 
surveys to collect customer insights, 
banners, 
product tours to provide new users with the best experience within your product, 
push notifications, 
mobile carousels. 
Intercom pricing for a Live Chat alternative
This alternative to livechat has complicated pricing. Price is calculated by a separate system based on Seats and People Reaches. So, you may consider the Intercom alternatives.
The platform suggests four plans: Support, Engage, Convert, and for minimal business Starter Plan ─ all of them can be customized with add-ons.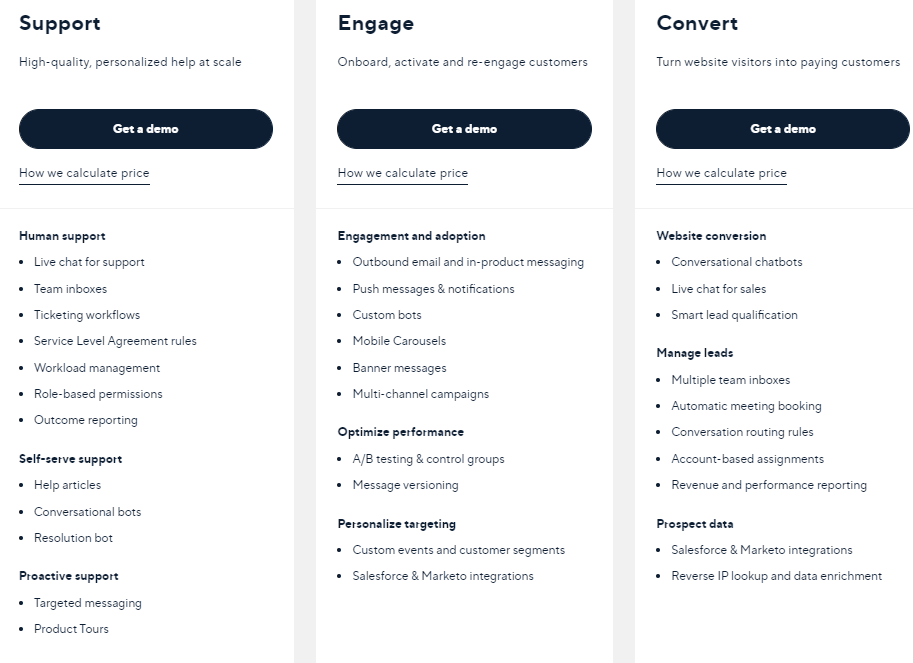 Support provides reporting tools without leads and team performance reports. It has all customer data platform features, security, integrations (except Mailchimp Clearbit Reveal, Marketo), and messenger configuration without email templates.
Engage has no ticketing functions, heavy limited conversation management tools, and non-messenger channels. But it provides an extended tool kit in campaigns and targeting. 
Convert has no ticketing and help center functions, but still releases a wide range of opportunities in messenger and non-messenger channels:
campaigns, 
targeting, 
chatbots,
management tools, 
customer data platform.
What about Starter? Support, provide client onboarding, and engage in one solution. This plan has everything a small business needs.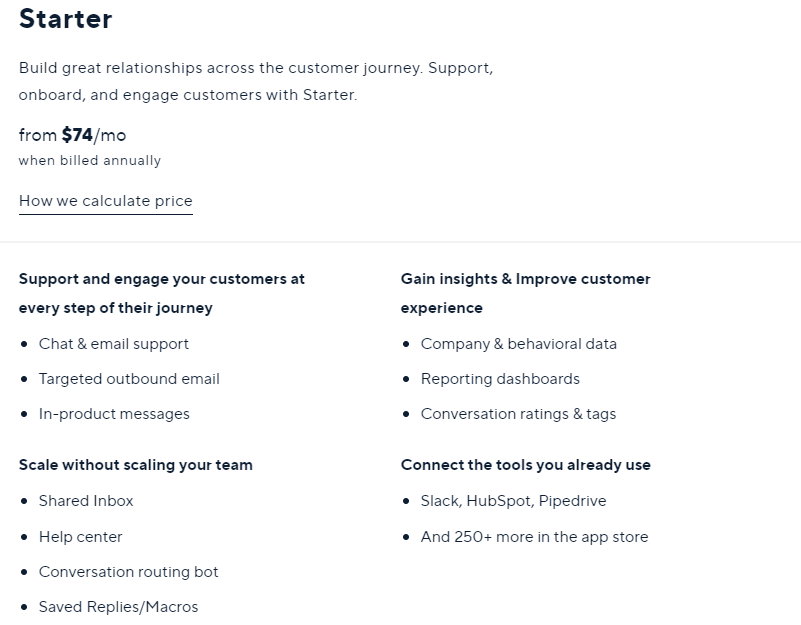 This alternative provides a 14-day trial with two seats, unlimited conversations, and 1,000 people reached/month.
Pros and cons of Intercom
What's good
What's bad
— Allows a significant amount of customer support to be automated.
— Customers can review our team members in a live chat.
— Complicated pricing. A lot of the features cost a good amount of additional money.
— Some things aren't super intuitive as far as navigating.
LiveAgent 
LiveAgent serves over 150 million users and over 40,000 businesses worldwide. It's a helpful livechat service for the support team. You can make different notes for your colleagues and organize mass actions within the system without poring each ticket. Also, agents can use Slack notifications and other instruments in full force.
As well as a LiveChat alternative, LiveAgent suggests:
 — Website user's data tracking;
 — Chat routing, LiveAgent also has call routing;
 — Integrations;
 — Email templates;
 — 10+ reports;
 — Mobile app.
LiveAgent doesn't release chatbots. But has interesting peculiarities in ticket and conversation management. For example, agents can use GIFs in tickets, drag and drop attachments, and copy-paste images inside tickets. Use sounds for customizing. Soft provides gamification opportunities in customer service. Agents attain levels over time as they solve queries. For example, companies could give out badges and rewards to the most hard-working reps.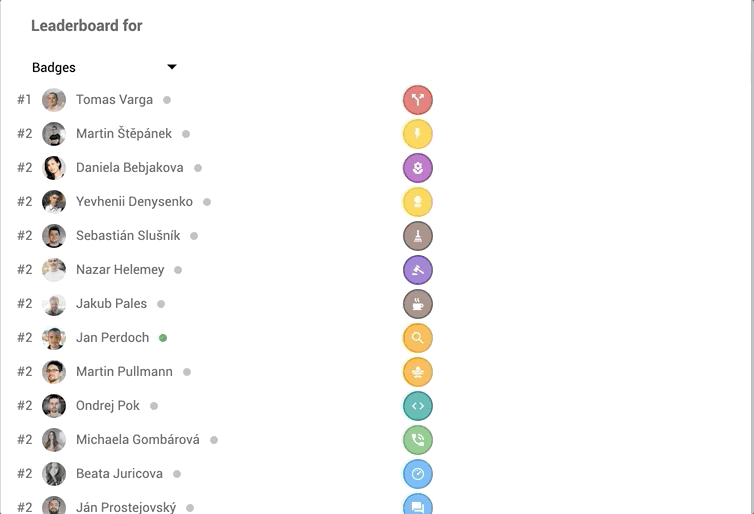 LiveAgent releases comprehensive calling instruments, like unlimited call recording or call routing.
LiveAgent pricing for different teams
Off-charge, you get 
seven days of ticket history, 
one live chat button, 
phone number,
email address,
basic reports, 
customer service. 
The Free plan doesn't allow integrations with messages and social media. Also, you can use essential features of conversation management.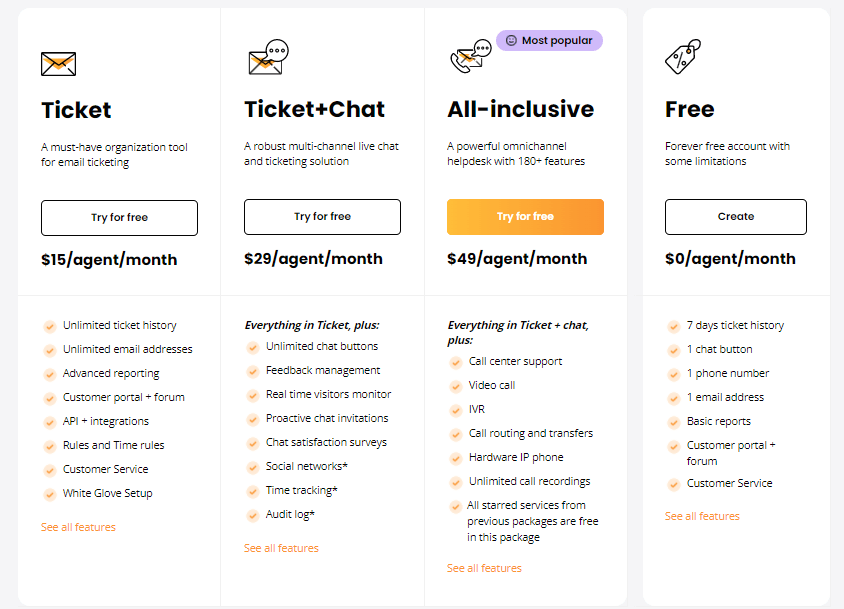 LiveAgent suggests three paid plans: Ticket, Ticket+Chat, and All-inclusive.
The Ticket has unlimited live chat history and email ticketing but doesn't allow live chat. If we talk about customization, you get access to: 
API, 
connect with programs, software, or tools, 
customer mail templates, 
gamification widgets customization.
Ticket+Chat releases unlimited live chat and almost complete conversation management. Total integrations and the possibility of an audit log.
In addition to all previous features, the All-inclusive has 
video calls, 
IVR,
unlimited call recordings, 
call routing, and transfer. 
LiveAgent provides a 14-day trial. It doesn't require a credit card, contracts, or setup fee. This LiveChat alternative is upgraded and paid as you go and can be canceled at any time. 
Pros and cons of the LiveChat alternative
What's good
What's bad
— Free plan.
— Many live chat design options.
— Great backend system security.
— Internal call and message capabilities.
— Support hangs many times.
— The interface isn't much easy for a non-technical person.
Read also:
👉 How to use lead generation chatbot for your website
👉 Lead nurturing platform for your revenue growth
👉 12 types of marketing nurture campaigns
Zoho Desk
Zoho Desk works with over 50,000 businesses around the world. Daimler, McAfee trust this software. It suggests solutions for companies of all sizes: from freelancers to enterprises. So the customer service provides plenty of instruments for support, sales, and marketing teams.
As a LiveChat alternative, Zoho Desk gives:
Multichannel conversations across email, chat, phone, social media, and your website
Mobile app
CRM
Integrations
Reports
Knowledge base
Artificial Intelligence to support tickets, analyze customer sentiments, and spot anomalies in ticket traffic
Email templates. Also, ticket forms and notifications templates.
Zoho Desk likes to automate all repetitive activities (as well as Freshdesk). For example, Zoho Desk provides a unique system that organizes open tickets by itself to save agents time. Also, Zoho Desk has its own AI ─ Zia. Zia can: 
identify the sentiment behind every ticket that comes in,
suggest solutions from the knowledge base and tag unhelpful solutions,
talk with customers by voice.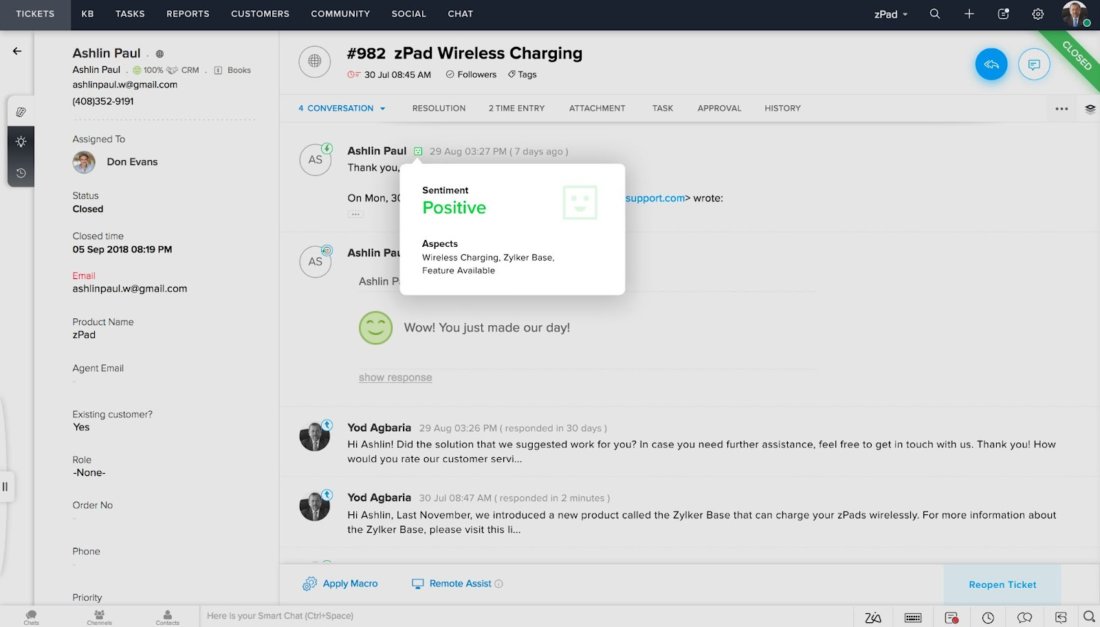 Zoho Desk pricing
Zoho Desk has a free plan. You get: 
three agent seats,
the mobile app, 
basic ticket management, 
peek view,
email channel, 
help center, 
feedback widget, 
advanced web forms.
The Free plan doesn't have any reports, telephony, and live chat.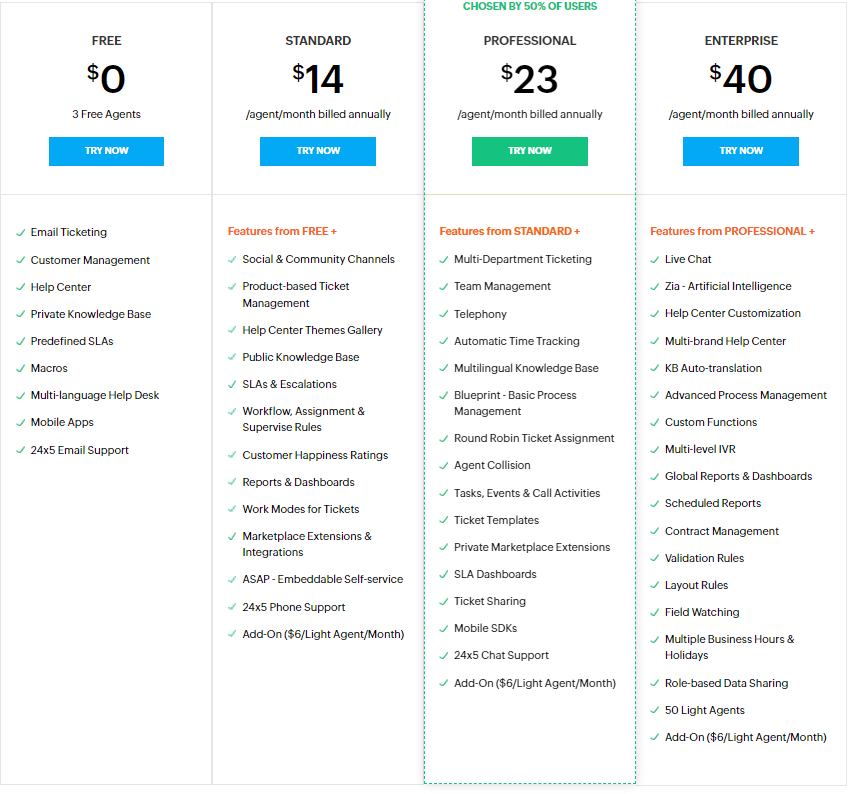 All paid plans don't have agent limits. Standard is increased by: 
ticket and customer management opportunities, 
agent productivity, 
help center, 
analytics, 
customization. 
In addition, the Plan has an entire product tool kit and integrations. Finally, Standard provides connections with a few social media and community forums but still doesn't have access to telephony and live chat.
The Professional plan provides almost all instruments, but only the Enterprise plan has AI and livechat functions. You can also buy add-ons and increase the number of light agents (internal employees who can work with tickets but not respond directly). That costs $6/light agent/month.
As a LiveChat alternative, Zoho Desk gives 15 days off-charge and doesn't ask card.
Pros and cons of the LiveChat alternative
What's good
What's bad
— Free plan.
— Good live chat automation.
— Ticket tracking and escalation matrix enable a company to track and manage customer complaints on time.
— Searchability of tickets doesn't work correctly.
— The graphical interface isn't particularly appealing.
Crisp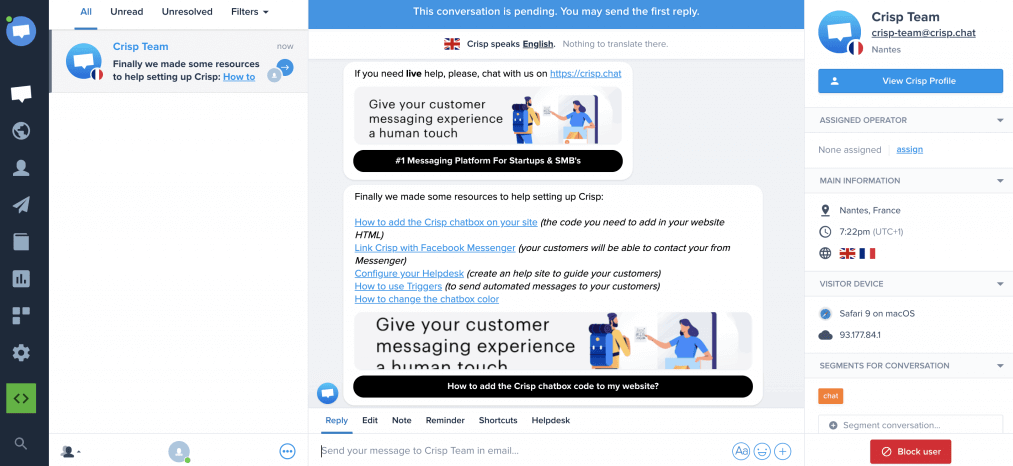 It is a clear and concise live chat service alternative without unnecessary things. Intuitive to configure. Over 300,000 brands are using Crisp, like Boston University and JohnDeere. The platform provides an essential tool kit:
Chatbot
Live chat
Knowledge base
Shared inbox
Integrations with CRM and tools
Routing, ticket assignment
Crisp has three unique features:
By MagicMap, you see customers on a map in real-time.
MagicBrowse function allows making an offer while a visitor browses a website. Reps catch leads in a live chat based on a user's behavior.
Finally, live translation. Crisp translates ongoing conversations with users back and forth. 
Crisp pricing
Soft provides four plans: Basic, Pro, Unlimited, and Enterprise. The paid plans start at $25.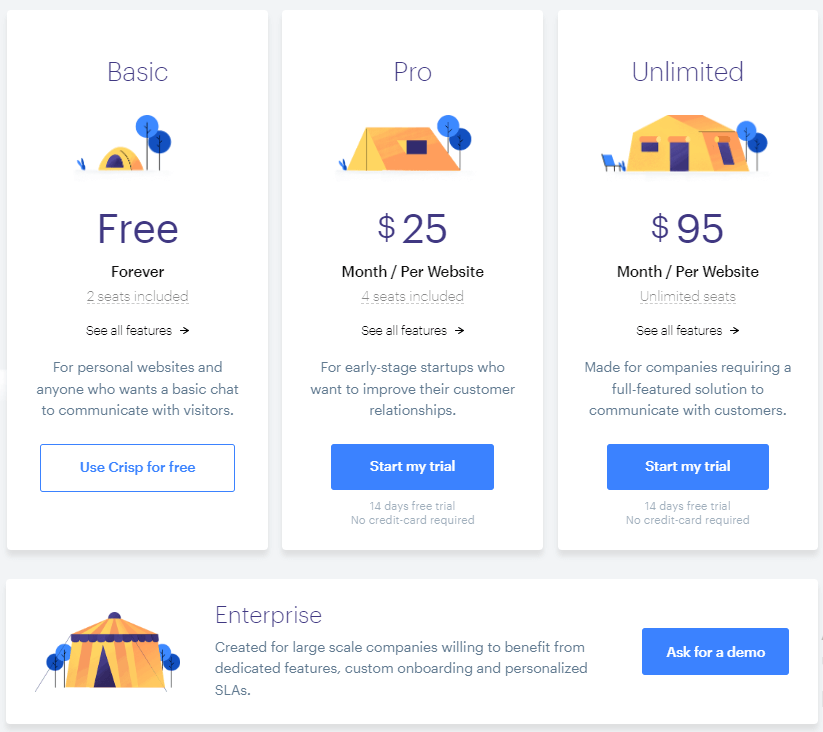 Basic is free. It gives:
two seats, 
live chat, 
contact form, 
mobile app, 
shared inbox, 
notification if a user sent a message.
Pro plan suggests: 
proactive automatic messages,
canned responses, 
customization, 
audio messages, 
integrations with social media.
The Unlimited plan increased by: 
integrations,
automated campaigns, 
auto-responder, 
chatbots, 
MagicBrowse function, 
video chat,
analytics. 
Enterprise allows all features plus dedicated instruments, custom onboarding, and personalized SLAs. Suitable for large companies. A 14-day trial.
Pros and cons of the LiveChat alternative
What's good
What's bad
— Intuitive to configure.
— MagicMap and MagicBrowse.
— Notifications do not go away.
— Not all the elements of the live chat widget are translatable.
— Email inbox is unable to render rich content/HTML emails.
Drift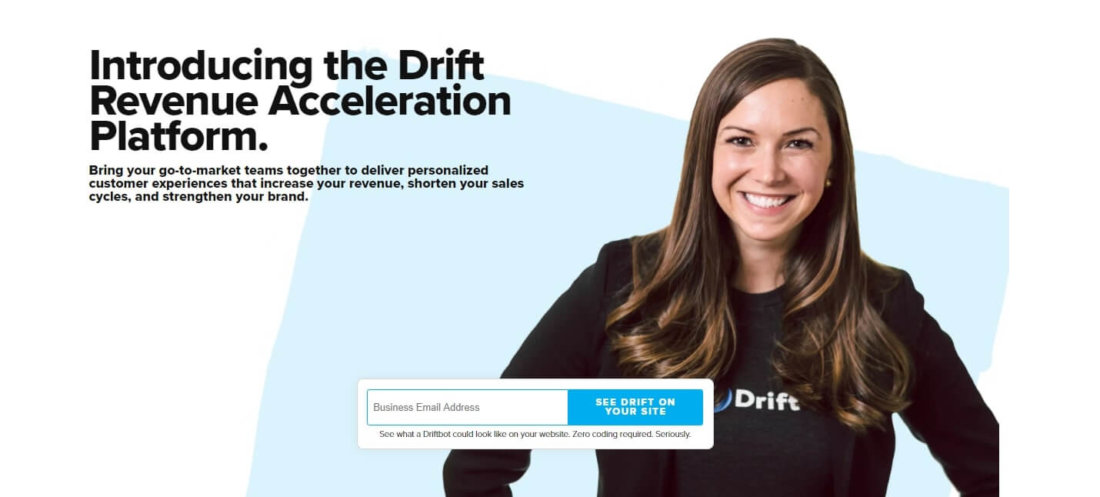 Drift is a one of chat alternatives focused on customer communication. Over 50 000 users trust the software, including Zenefits and Smartling. 
We noticed that Drift likes videos! So, use them to improve contact, get acquainted with a customer immediately, and close the deal fast. Also, you can send short (GIFs) and personalized videos in live chat to impress visitors or increase loyalty. (It is a bit similar to the LiveAgent service).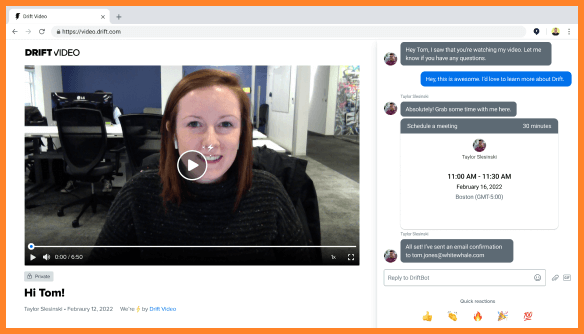 As a LiveChat alternative, Drift allows:
Chatbots
Live chat
Email campaigns
Reports
Integrations 
Website user's behavior tracking
Mobile app
Drift provides its own AI services. For example, they proactively engage, qualify, and convert leads. In addition, due to Drift Meetings, potential customers may book a sales meeting with the rep any time right in a live chat. The Fastlane feature qualifies your prospects. If they are "ready," the system instantly routes them to sellers. So, prospects can jump straight into a conversation without leaving the website.
Drift pricing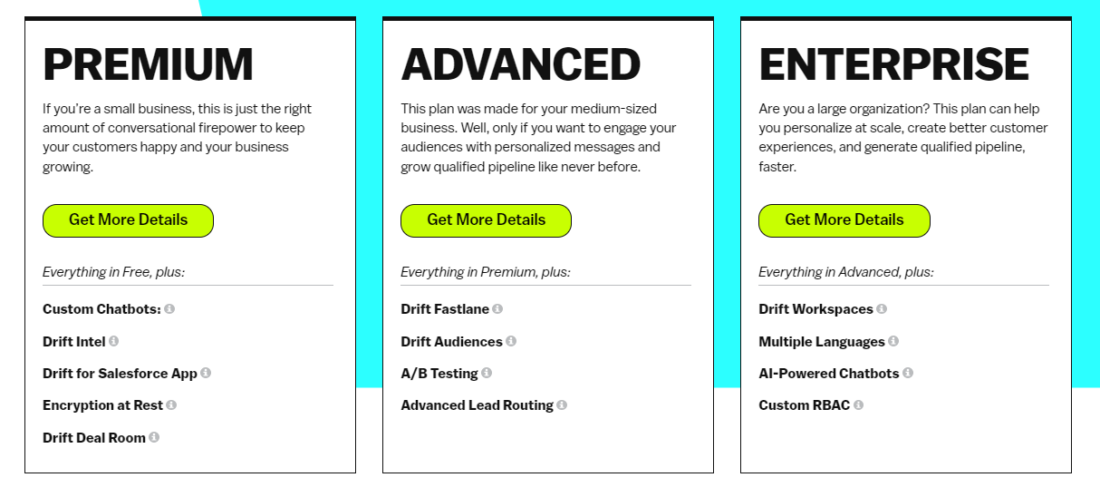 Off-charge, you get: 
basic emails, 
chat, 
reports,
a few integrations, for example, with Vidyard, Slack, and Google Analytics.
Premium allows more than Free. In this plan, you use:
proactive messages, 
canned responses, 
chatbots, 
live chat. 
But A/B testing is still unable for you. It costs from $400/month to $1,500 per month/agent. But you can add more agent seats by an extra $80 per month. Advanced is about A/B testing and lead routing. The Enterprise plan provides AI tools and the full features kit. It costs $4,800/year. 
By the way, Dashly can solve your tasks for less money.
Drift doesn't provide a trial period.
Pros and cons of the LiveChat alternative
What's good
What's bad
— The easy chatbot builder.
— Measurement of the efficiency of live chat agents.
— Livechat widget works on any browser and every mobile phone.
— The price is too high.
— The onboarding process at Drift is a bit aggressive.
— Impossibility to hide the restrictions within an account.
Userlike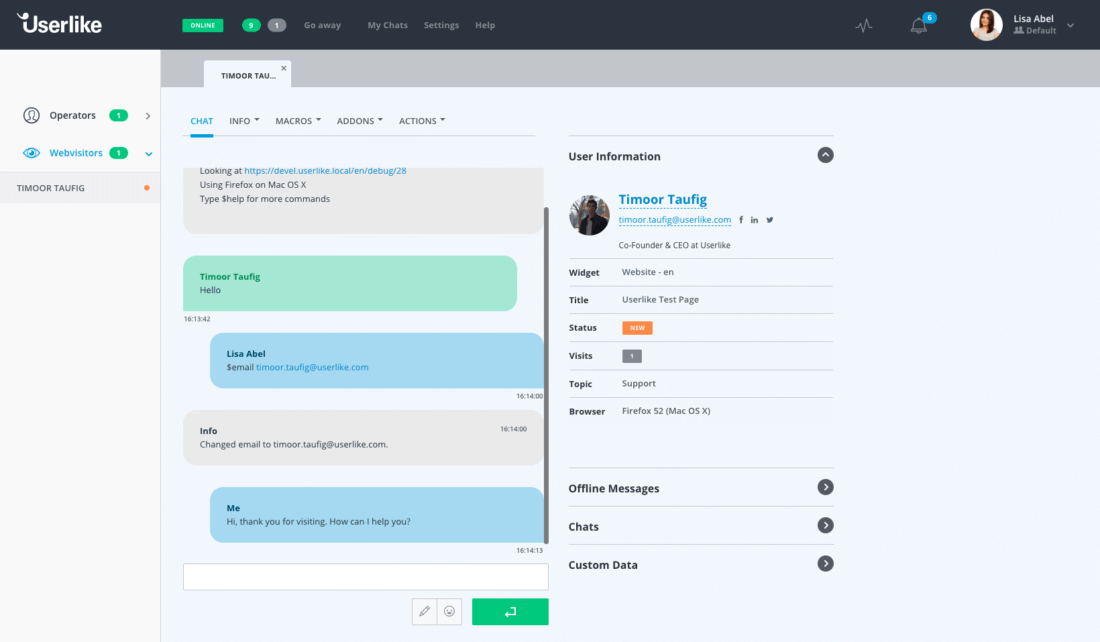 Userlike is a clear, logical customer service chat software alternative with an intuitive interface. Nivea and Hermes confirm this. It has small but essential and convenient functions. About them in the peculiarities below.
As a LiveChat alternative, Userlike has basic features:
The whole context of a customer in one place
Integrations
Reports
Proactive chat
Canned messages
Chatbots
Userlike provides the Operator groups, which means a user chooses with whom to talk right now.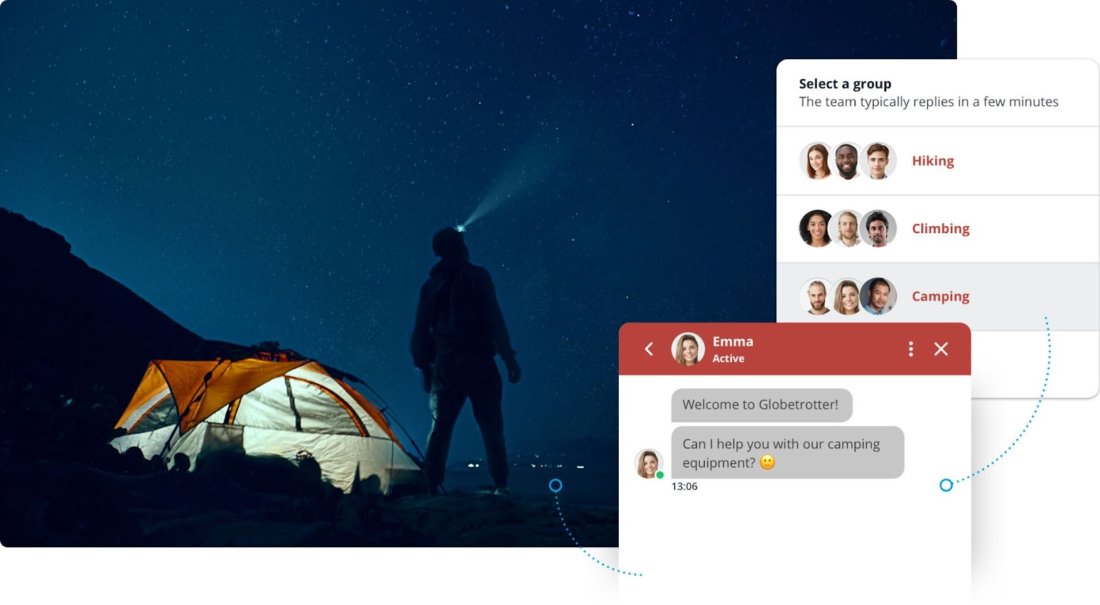 Operator skills feature supplies connecting between visitors and best qualified in their question reps. You tag your agents by their abilities and strengths to make your prospects happy at the right moment.
When customers provide any contact information, Userlike automatically builds the profile based on public information.
On-page guidance helps you to close a deal fast. Cause you guide customers to the right page of your website without clumsy explaining where to go. Userlike's live chat analytics to track key live chat metrics and teams efficiency.
Userlike pricing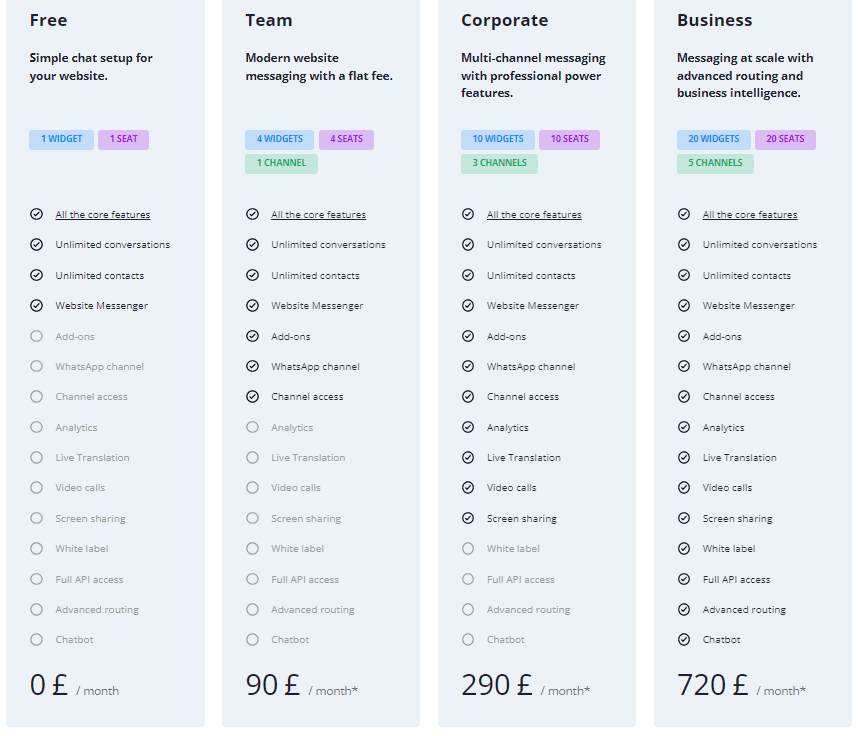 This alternative gives five plans: Free, Team, Corporate, Business, and Flex. Off-charge, you get fantastic tools: 
unlimited website implementations, contacts, and conversations, 
file sharing, including videos and images, 
feedback options, 
canned messages, 
conversation tagging,
registration form.
The Team plan gives four widgets, four seats, and one channel. You can use messengers. There are also add-ons like integrations to buy for the extra price.
With the Corporate, you have ten widgets, ten seats, and three channels. Analytics, live translation, video calls, and screen sharing are at your service.
The Business plan provides even more seats, widgets, and channels. Chatbots are available only within the Business and Flex plans. By the Business, you access white label, full API, and advanced routing.
Finally, Flex with a total toolset including a flexible solution for all company needs.  

Userlike provides 14 days of Team features, then auto switches to Free after trial. This platform doesn't need your credit card.
Pros and cons of the LiveChat alternative
What's good
What's bad
— Free plan.
— Nice design.
— Balanced feature set.
— Broken livechat sessions: every request from the same client creates a new conversation.
— Critical alert system doesn't work correctly.
Read also:
Olark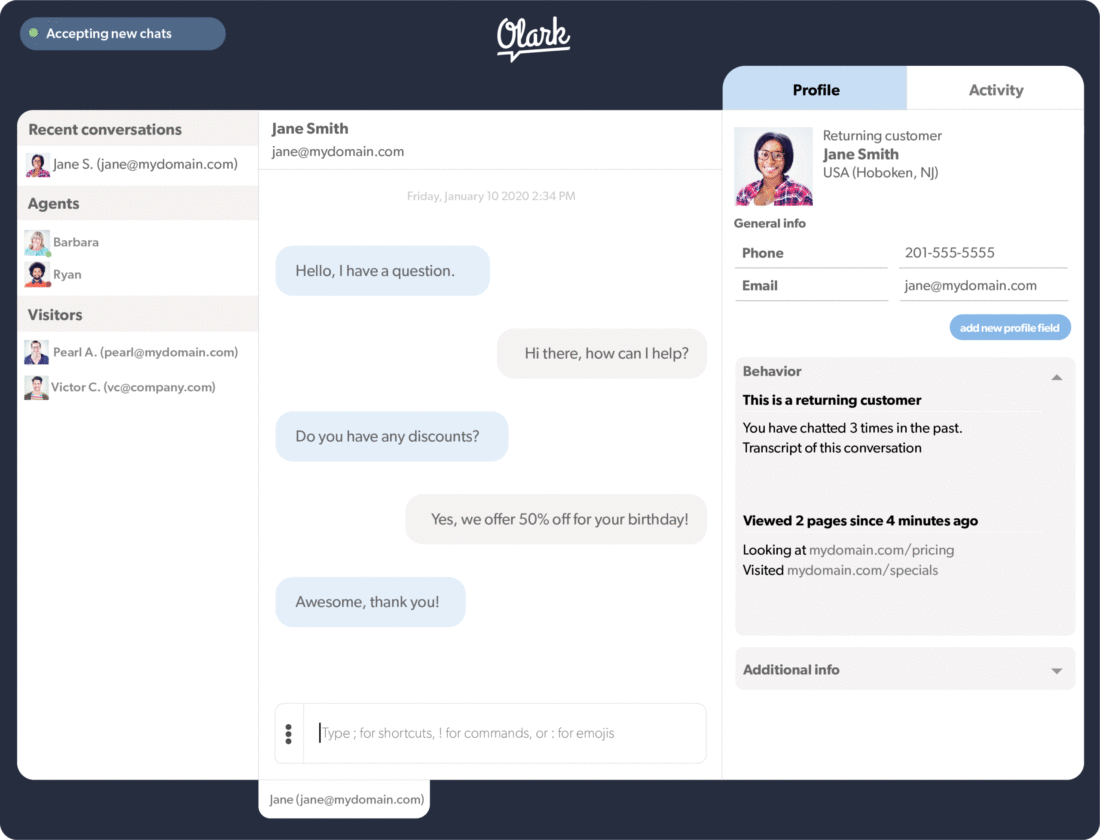 Olark is a livechat service with great features for support teams. Olark lovely suggests their Chatbot CoPilot, explaining how to combine the work of a robot and a human. Where is the first needed, and where is the second.
The software especially suits educational teams. Northeastern University, Tulane University, and The University of Michigan confirm this statement. As well as other alternatives, Olark provides:
Live chat
Triggered messages
Email
Chatbots (with Pro plan)
Integrations
Canned responses
Proactive chat
Reporting
Automatic routing
Olark is convenient for big teams. All information at your fingertips: the analytics, a customer profile context, saving greetings, links, and product pitches ─ help to align the team workflow.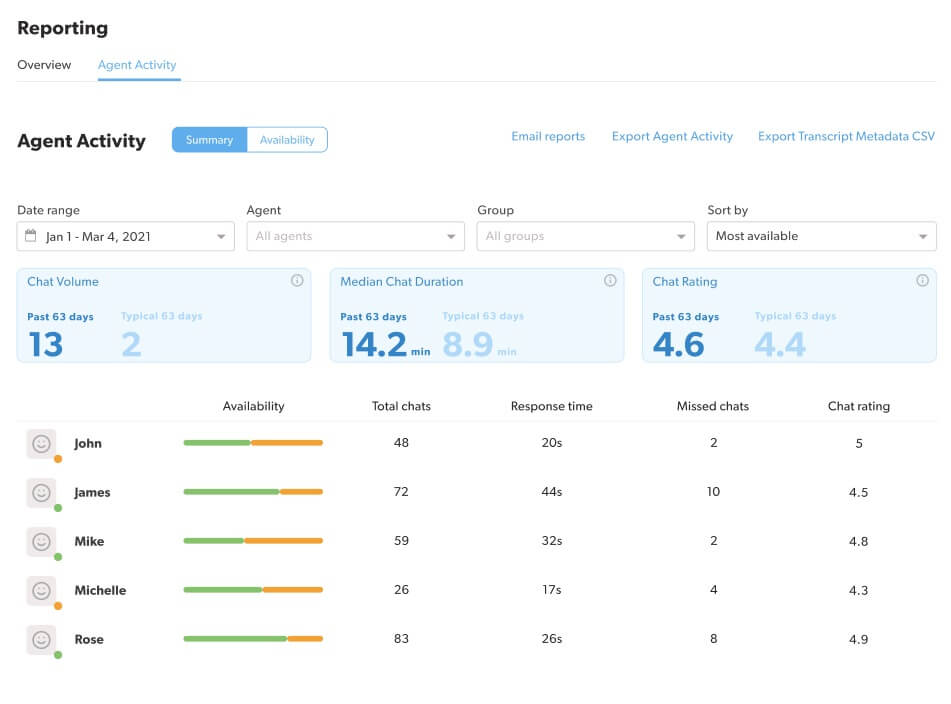 Also, Olark gives current data on livechat analytics and reporting. You may filter information as you need and learn from satisfaction ratings or most coming up topics. Subscribe and receive live chat reports daily, weekly, or monthly by email.
Olark pricing
The alternative suggests two plans: Standard and Pro. In addition, there are PowerUps if you want to add some extra features to the chosen plan. The Standard, as well as the Pro plan, has a list of main features. In addition, Pro provides Chatbot Copilot's services and custom terms. Among the main features:
chat tools,
chat analytics,
team management,
automation,
customization,
security,
integrations.
The Standard plan costs $29/month per seat. The Pro is flexible. As for add-ons:

For a fee, you may:
practice the best way to collect emails, visitor data from public and business websites and social profiles,
automatically translate messages, 
have a non-branded chatbox, 
control visitors' screens.
Olark gives a 14-day trial and doesn't provide a free plan. 
Pros and cons of the LiveChat alternative
What's good
What's bad
— Affordability.
— The live chat transcripts.
— Ease of use.
— No image sharing.
— Automatically closes open livechat conversations if agents haven't responded in over five minutes.
Read also:
15 customer engagement platform to boost your website conversion.
Tidio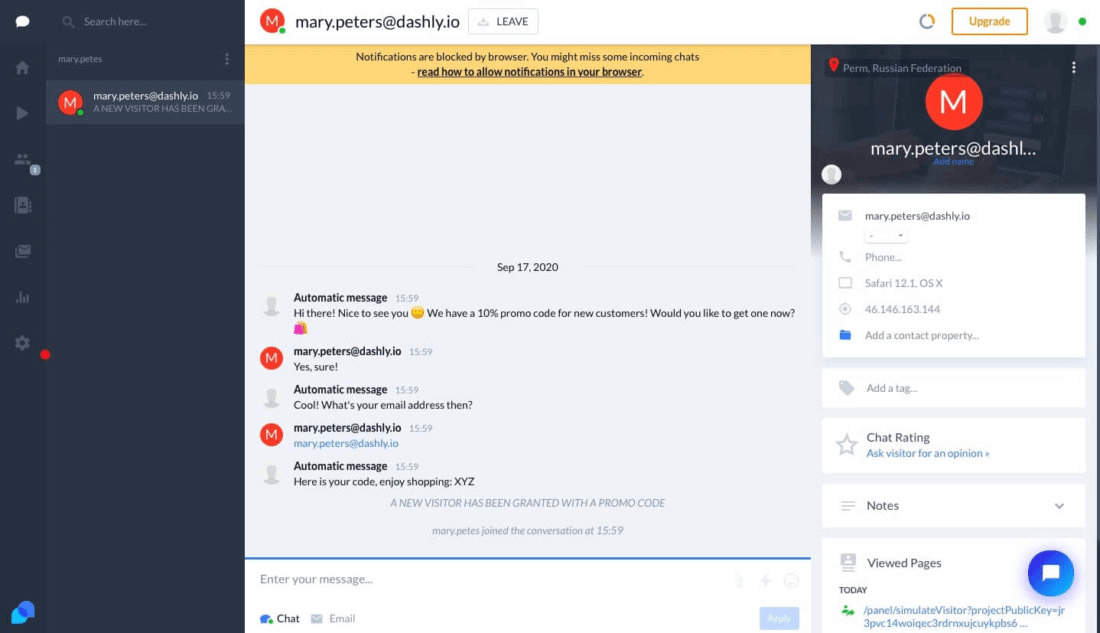 Tidio is a live chat alternative highlighted on Forbes and Fox News. It has over 300 000 users. Tidio provides everything you need to boost conversion from the website. As well as a LiveChat alternative, Tidio suggests:
Live chat
Shared Inbox for teams
Chatbots
Mobile app
Messenger, email, and social integrations
Shared inbox
Visitor's behavior tracking
Automatically routing
Tidio suggests an intuitive chatbot builder with a drag-and-drop visual editor so that you may quickly get down to the business.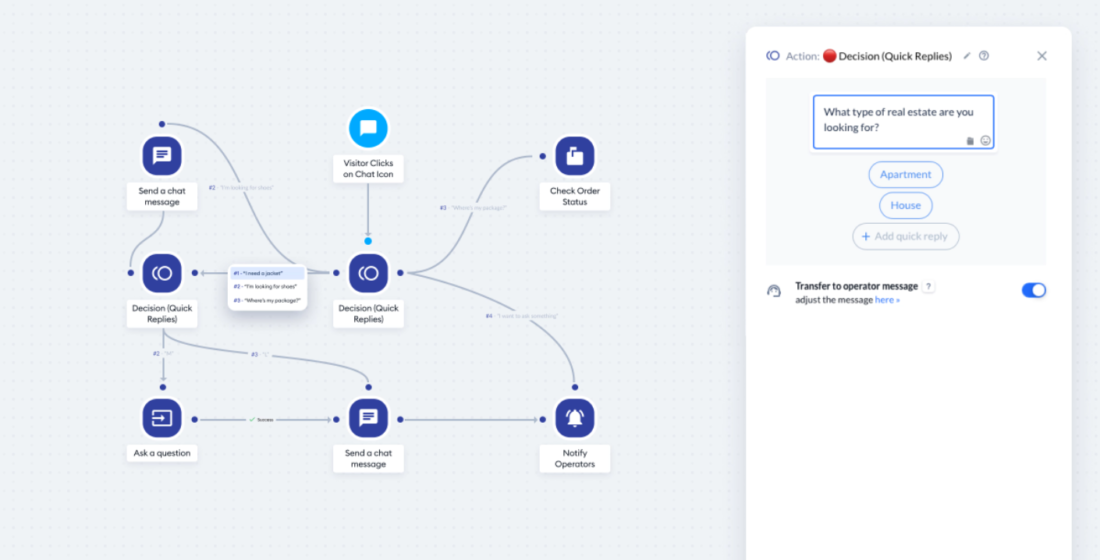 35+ chatbot templates help you stop 60% of your customers from abandoning their carts by offering a discount. They can recommend products, upsell them, and accept orders.
Tidio pricing
Tidio suggests the standard four plans: Free, Starter, Team, Scale. For price free, the alternative provides 
two agents' seats, 
great chatbot opportunities, including AI,
integration features, 
unlimited websites,  
live chat.

With the Starter plan, you see when your visitor is typing and get a real-time overview of what they are interested in. Also, customer service metrics are available.
The Team allows you to track visitor behavior, use saved replies, and make notes about customers in profiles.
The Scale plan provides total features, including exclusive functions: custom rules and hands-on support.
As a LiveChat alternative, Tidio has a 7-day trial.
Pros and cons of the LiveChat alternative
What's good
What's bad
— This live chat alternative provides simple chatbot templates, that you can customize to your needs.
— Chatbots can be triggered on anything you want.
— Free plan.
— No opportunity to set multiple triggers for one chatbot.
REVE Chat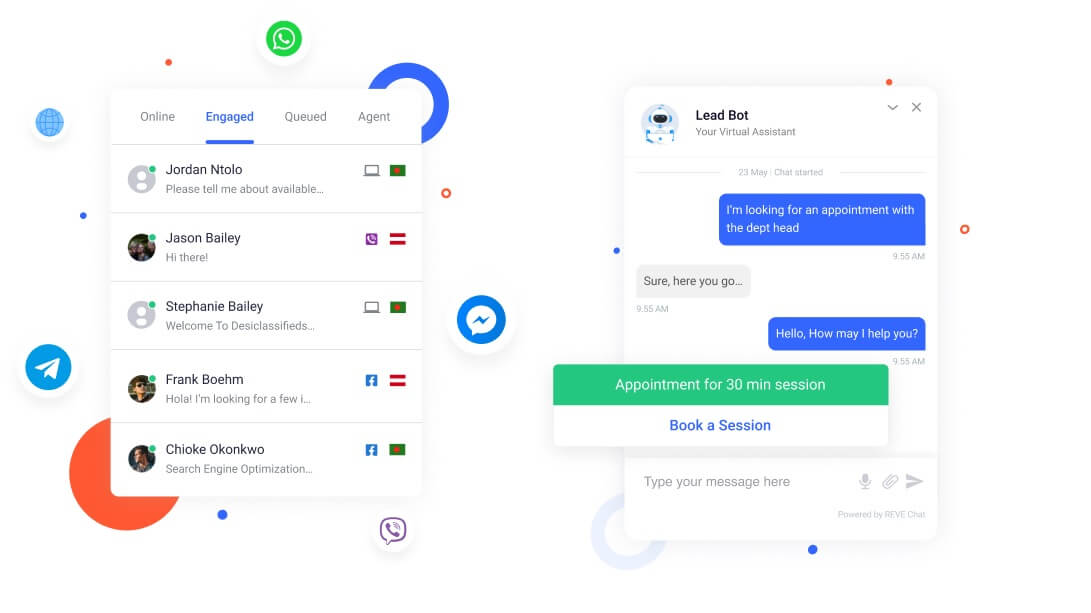 REVE Chat has its vision of chatbots and their use. This is confirmed by separate pricing for chatbot services. Together with chatbots, this software gives convenient opportunities for effective live chatting and converting prospects into loyal customers. Such companies as Getac and EyeMyEye confirm the statements.
As a LiveChat alternative, REVE Chat provides the standard features:
Chatbots
Live Chat
Video Chat
Reports
Integrations
The whole context of a customer in one place
Shared inbox
Co-Browsing
Mobile app
Three features of REVE Chat help visitors and reps faster conclude and close the deal. There are screen sharing, calling, and video calling. Your prospects may at one click show what happened, or what they are interested in, and just call. 
This live chat alternative provides sentiment analysis. Chatbot determines the mood of the visitor and helps to enhance contact. You may set it by adding words and emojis for your chatbot to identify users' sentiments during the conversation.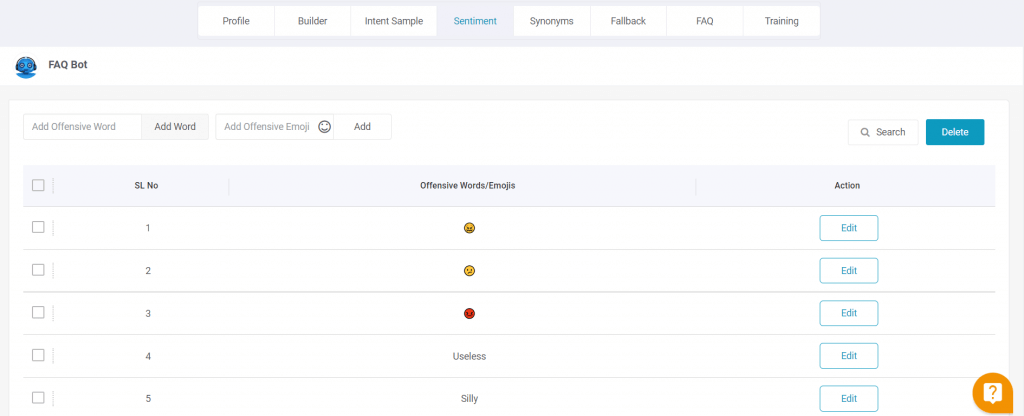 Also, your chatbots may look for unstructured data in your system and regulates it, sanitizing excess. 
REVE Chat pricing
REVE Chat offers live chat and chatbot pricing. In livechat pricing, three plans allocate Standard, Advanced, and Enterprise.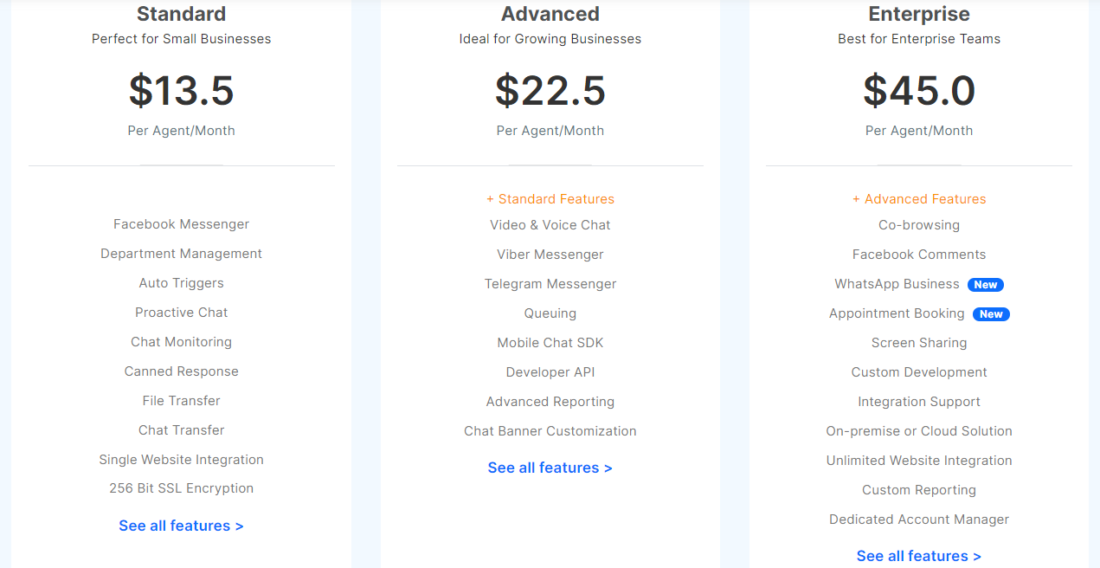 The Standard provides all essential features, without advanced routing and messengers, except live chat and Facebook.
The Advanced plan suggests advanced reporting, phone support, and livechat monitoring.
Only the Enterprise has appointment booking, co-browsing, and screen sharing.
Talking about chatbot pricing, there are similar three plans plus a Custom plan.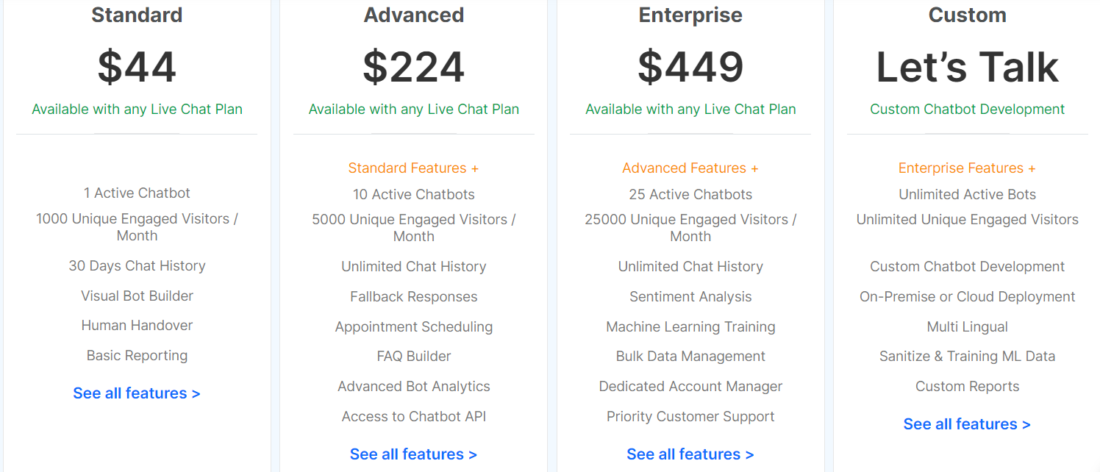 AI services are not available for the Standard plan at all. You can count on 
all conversations report, 
visual chatbot builder, 
one active chatbot, 
Thirty days of livechat history.
The Advanced provides 
wide report opportunities, 
all chatbot features, 
FAQ, 
keyword builder.
The Enterprise and the Custom have total tools kit, except
custom reports, 
custom chatbot development, 
sanitizing and training ML data, multilingual, 
As a live chat alternative, REVE Chat gives its users a 14-day trial.
Pros and cons of the LiveChat alternative
What's good
What's bad
— Product setup is easy and intuitive.
— Instant video calls.
— No free plan.
— No AI.
— The UI of the widget needs more improvement.
HappyFox
HappyFox is the livechat tool for the excellent support team. Accessible queues, surveys, SLA, reports, etc. Whirlpool, Owler, and Leapfrog trust it. As well as a LiveChat alternative, HappyFox provides:
Live chat
Mobile app
Ticketing system
Customer surveys
Task Management
Canned actions
Reporting
Shared inbox
Knowledge base
Integrations
Chatbots
HappyFox's SLA Management is easy to set. You build service standards without unnecessary complications. Then, you prescribe the time frame required for each stage of communication with the prospects in the appropriate spaces. 
For the good results, this live chat alternative advises setting four points: what to do, how to do them, how to measure them, and when to measure them. SLA reporting helps you analyze SLA results and improve them. Happy Fox users can overview all the tickets assigned to them in one go and track its statuses, priority, and deadlines.
Read also: The North Star Metric and How Can This Lead to Success
HappyFox pricing
HappyFox pricing depends on the agents' number (min five), team type (customer service, IT Support, operation support), and billing cycle. The platform suggests four plans for agent-based pricing and four unlimited agents plans.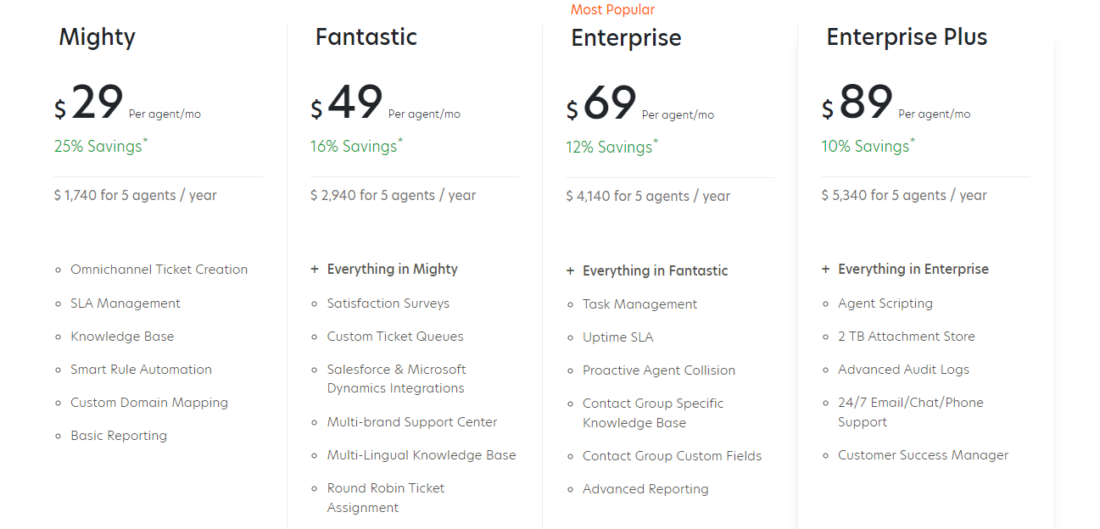 If we talk about five seats of support service teams, Mighty, Fantastic, Enterprise, Enterprise Plus plans.
The Mighty gives a comprehensive ticket management tools kit without surveys, queues, and the kanban view. Also, this plan provides SLA management, automatic time tracking, canned actions, a knowledge base, and reporting.
The Fantastic has advanced features in all directions. Total integrations, custom dashboard, etc.
The Enterprise and the Enterprise Plus differ by five points:

agent scripting,
2 TB attachment store,
advanced audit logs,
24/7 support,
customer success manager.
What about unlimited plans?

The main differences between unlimited plans are in sizes and quantities.

Happy Fox gives a 14-day trial.
Pros and cons of the LiveChat alternative
What's good
What's bad
— The LiveChat alternative provides unlimited agent seats.
— Automatic live chat translation.
— No free plan.
— It is problematic to add an attachment to the chat message.
— Mobile app has too many bugs.
Livechat alternatives comparison takeaways
Chatbots
Mobile app
Goal tracking
Reports
Team inbox

Knowle

dge base
Integrations
Pop-up builder
Free plan
LiveChat
+
+
+
+
+
+
+
+
–
Dashly
+
+
+
+
+
+
+
+
+
Zendesk
+
+
+
+
+
+
+
+
–
Freshdesk
+
+
+
+
+
+
+
–
+
Intercom
+
+
–
+
+
+
+
–
–
LiveAgent
–
+
–
+
+
+
+
–
+
Zoho Desk
+
+
–
+
+
+
+
–
+
Crisp
+
–
–
+
+
+
+
–
+
Drift
+
+
–
+
+
–
+
–
–
Userlike
+
–
–
+
+
–
+
–
+
Olark
+
–
–
+
+
–
+
–
–
Tidio
+
+
–
–
+
–
–
–
+
REVE Chat
+
+
–
+
+
–
+
–
–
Happy Fox
+
+
–
+
+
+
+
–
–
Get a free expert analysis of your customer communication and learn about the ways to improve it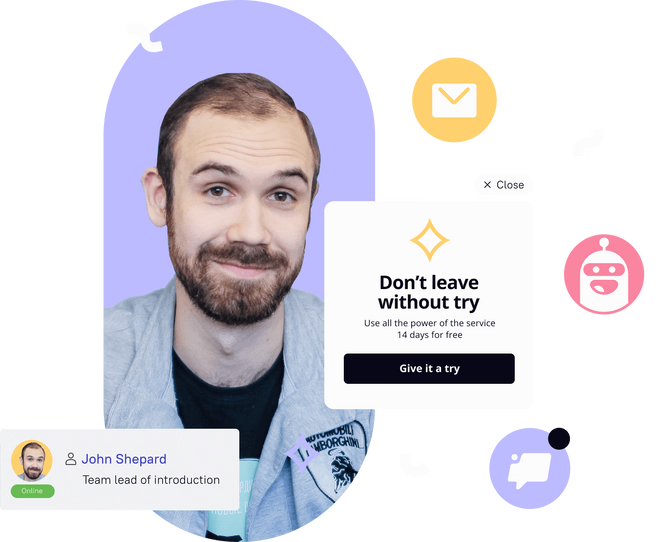 FAQ
What is a live chat?
LiveChat is a software that provides tools for communication with customers to increase sales and help orchestrate support, sales, and marketing teams. Read how live chat works in an ultimate guide.
Why should we consider LiveChat alternatives? 
They are reasons to consider LiveChat alternatives: 
— LiveChat doesn't suggest a free plan, 
— the system app is outdated, 
— the price is a bit high for some companies, 
— and notifications are delayed or don't appear, 
— difficulties with setting up customer lists, you can't see the history without clicking on it.
Find out why Dashly is a more functional solution.
What should we pay attention to when choosing software?
How to choose the live chat software for your team? It depends on the size and type of company, and the team's needs. There is a list of simple criteria you may note.
— Intuitive and convenient interface.
— Ability to customize basic features without developers or designers.
— Simple onboarding.
— Mobile version works smoothly as well as the desktop version.
— Omnichannel support with integrations.
— Clear and balanced pricing.
Mind the mistakes when choosing live chat.