Live chat is an essential tool when it comes to interaction with customers. It provides quick one-to-one conversation, ensuring a personal approach to each website visitor.
According to the research, customers' decision to use your product or service highly depends on the time they get response. SuperOffice found out that the average time for email response is 12 hours. Responding via socials might take 10 hours. What about messages in live chats? It takes up to 2 minutes to get help there.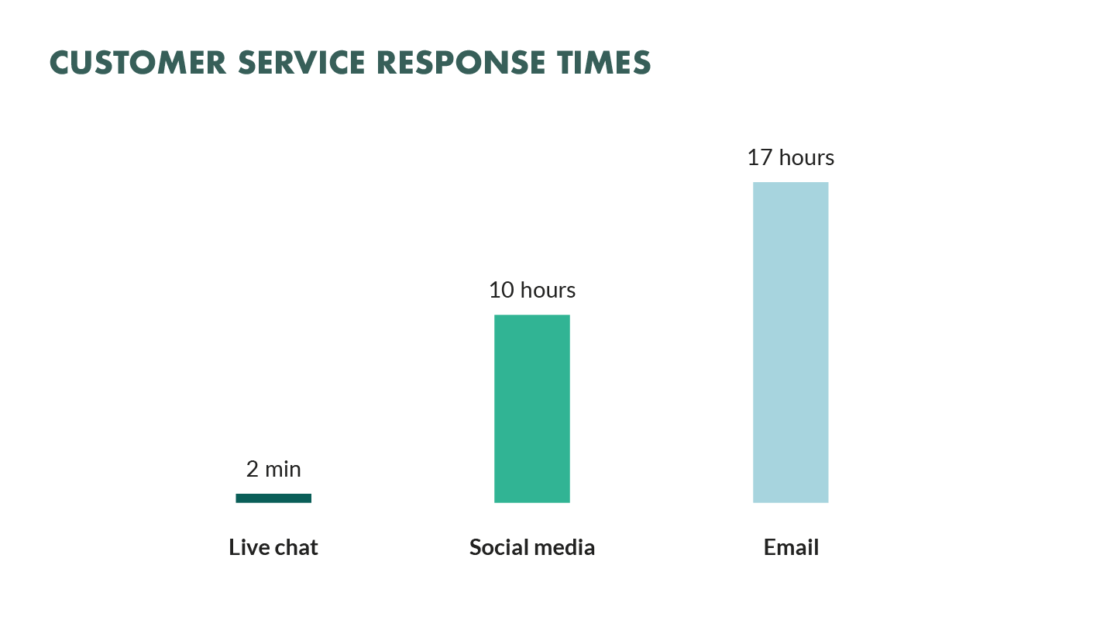 To save your time and help you avoid mistakes when choosing a website chat, we've collected a list of the best tools to power up your customer assistance team. The following live chat services suit all types of businesses. Some of the apps are perfect for eCommerce, the others for SaaS support teams.
Why you should use a livechat for customer support and client service
If you have an email at the bottom of your website, why bother looking for other contact means? Customers can always contact you there, right? Technically, true. But let's consider some of the chat apps benefits for customer service.
• Instant support. Using chat apps on your website, you give customers a direct channel of communication with you. Whatever the issue, a visitor can click the widget and get help in 2 minutes. The shorter the Response Time, the happier the customer!
• Your agents' convenience. Talking to a customer in a livechat is like texting your friend. Quick, less formal, and you always stay in the context. No need to collect bits of information from various emails to understand a customer's issue.
To enhance communication and overall experience, look for a livechat with a common inbox for personalized assistance across different channels. This way, a customer can first come to you in a livechat on a website, then switch to DMs on Instagram and then email you. But your team won't lose a single message from them.
• Room for improvement. Thanks to the analytics, you'll be able to track your agents' efficiency, look for weak points and enhance your client service.
Must-have features of the best livechat tools for support
…or how we chose candidates for this list.
For the successful work of your customer assistance team, make sure chats you pick between have a number of must-have instruments:
• Team inbox to answer customer queries from social media, messengers, and emails in one place;
• Video / audio calls to contact your customers right from the website chat in preferred way;
• Integrated knowledge base, saved replies, agents' notes, tags, and FAQ chatbot to save your support team time and give your customers a chance to find the answer themselves;
• Live chat and push notifications in a mobile app for agents to provide assistance on the go;
• User tracking and chat history to step into the conversation with a customer knowing the context;
• Ratings to enable customers to leave feedback and keep enhancing your team's work and customer experience;
• Automated routing to prioritize and route conversations to the right agents;
• Analytics to keep under control the agent's workload and key live chat metrics;
• Chat search, hotkeys, and filters to speed up the support team workflow.
If your tool has at least 80% of these features, it is good for customer support. Here we've collected the best tools and apps that meet these criteria.
Dashly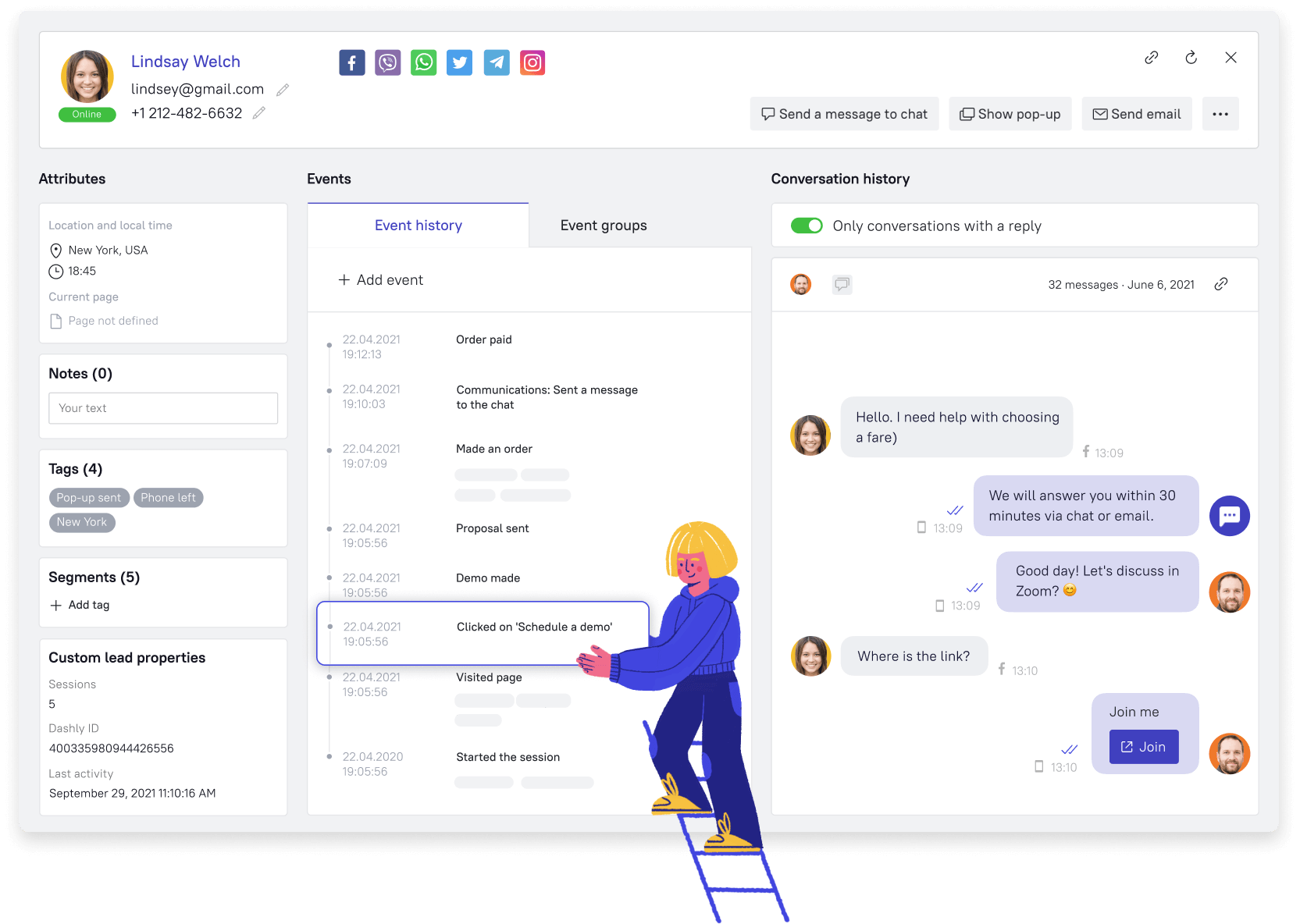 Dashly is a conversational marketing platform that will help you optimize your support teamwork and increase customer satisfaction at each step of the buyer journey. Dashly's main goal is to provide businesses with an omnichannel solution for personalized communication with potential customers by taking into account their interests and behavior. 
Dashly live chat software is suitable for any business (SaaS, EdTech, eCommerce, consulting, and agencies) and any size team since the number of seats is unlimited. 
Convenient inbox to keep all customer communications in one place, with channels, tags, and automated conversation routing;
Saved and automated replies;
Chat search, hotkeys, and filters to facilitate agents' work;
Integrations with CRM systems, email, messengers (WhatsApp, Viber, etc.), and social media (Instagram, Facebook) for omnichannel customer communication;
Triggered welcome chat messages;
Zoom integration that enables audio and video calls;
Analytics to keep track of the agent's performance;
Access to customer's data and chat history to personalize the communication with an opportunity to make notes in the conversation history so all your agents could stay in context;
Files sharing;
Access management;
Notifications for your agents;
Mobile app for the support on the go.
To bring customer experience to a new level, Dashly offers a number of additional instruments to a livechat:
Setup for a new customer
It takes a few minutes and doesn't require the developer's involvement. To install a live chat widget to your website, copy the script and paste it into your website code in one click. Connect Dashly to your CMS or use Google Tag Manager. 
Voila! Your support team is ready for the first interactions with customers.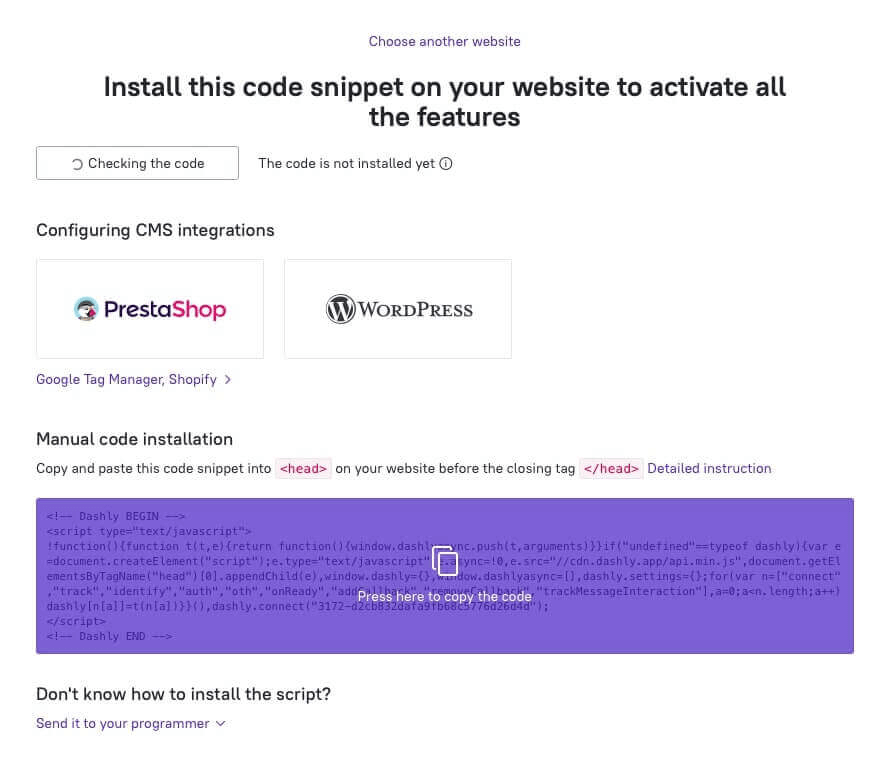 Pricing: from $39 per month
Dashly has three plans for different sizes of business. Customer assistance chat is available on each of them. The price will depend on the number of unique users and add-ons you choose to include in your plan.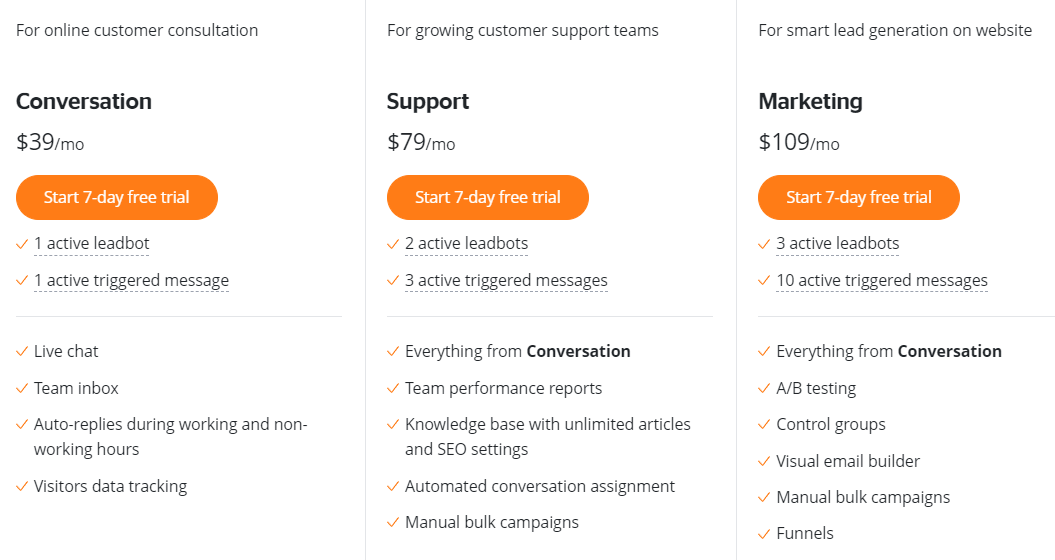 The price also includes triggered pop-ups and emails, knowledge base, A/B testing, mobile app, and more than 30 integrations with unlimited seats. 
If you enjoyed the service and would like to unlock more tools, you have three options:
• Conversation plan with $39/month for online consulting and data tracking.
• Support with $79/month for advanced messaging: lead qualification, automated conversation assignment and analytics.
• Marketing with $109/month for even smarter lead generation, visual email builder for your campaigns included.
But if you want to level up your customer service, consider the Support plan. Apart from the live chat, you get automated conversation assignment, team performance reports and knowledge base. You can check out the plan details and add-ons available on the pricing page. You can also calculate the price you'll pay for the platform there.
You can also purchase add-ons for improving your experience and get Dashly implementation specialists to help you set up advanced messaging with your customers.
What's included in the basic plan
Up to 1000 unique visitors per month;
Unlimited number of agents in a conversation;
Pros and cons of Dashly live chat software
Unlimited number of agents in a livechat on any plan;
Assigning various access rights to your teammates;
Analytics funnels;
Pop-ups and email marketing;
Message editing;
Friendly support team;
Mobile apps for iOS and Android to provide assistance on the go;
User-friendly interface with a lovely design.
Some complex tasks might require developers' assistance, but Dashly support team is always ready to help;
Missing integrations with some CRMs;
No email assistant;
No AI.
Got interested? Launch free live chat on your website with Dashly 7-day trial! You'll get access to all the instruments and our team is ready to help with setup.
Kayako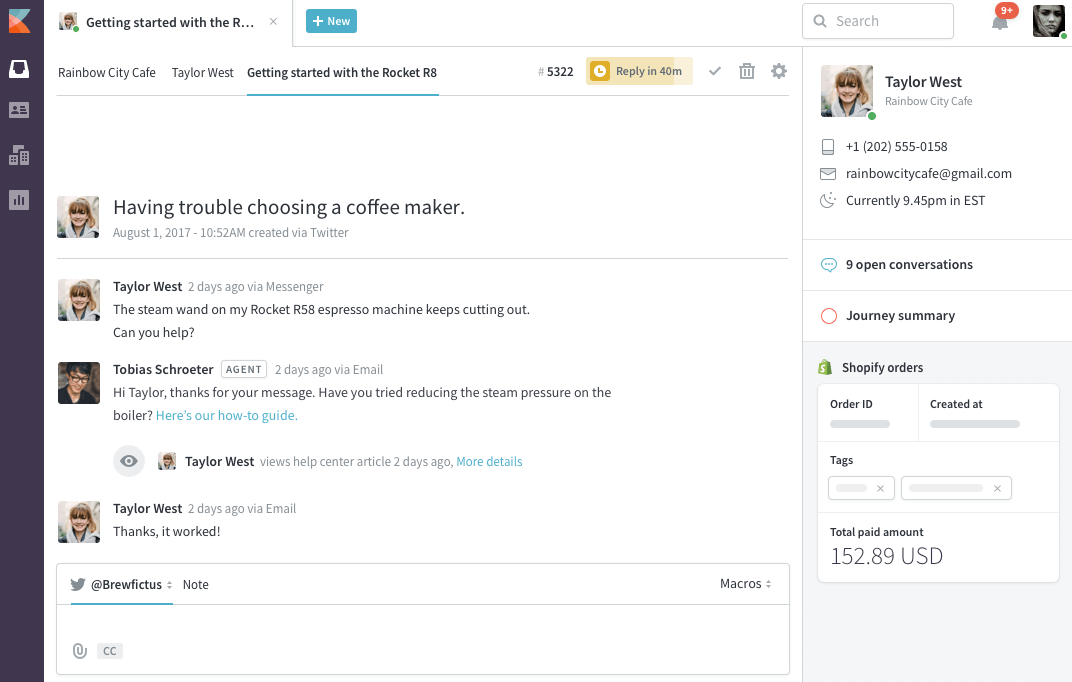 Kayako is a multilingual chat platform for customer communication that alleviates support team work. 
Kayako's two main products are Kayako On-Premise for in-house communication and Kayako Cloud for customer support. In addition to their live chat tool, they offer their users a chatbot, live customer profiles, user tracking on website, and knowledge base.
Since the service offers simple application processing, it's suitable for small businesses that look for a tool to enhance their customer support. 
What live support features you get
Kayako offers customers:
Shared inbox with tags for easier navigation;
Triggered chat messages;
Saved replies;
Team chats;
Time tracking;
Multi-language support;
Facebook and Twitter integration;
Mobile chat apps with push notifications.
Setup
To install the software, you'll need to make a few steps and customize a live chat. Then Kayako will generate a code that you'll add to your website's code. A few clicks and your agents are ready to assist your customers and improve their experience with your business.
Pricing: from $30 to $60 per agent per month
The price of Kayako's software depends on the number of agents that will use online chat support. The minimal number of agents is five.
Kayako gives 14 days to test their support live chat tool.
What's included in the basic plan
Live chat;
One inbox for emails, Facebook and Twitter messages;
Workflow automation: assign tickets to customer assistance agents;
Agents' login with Google;
Help center and standard support plan;
Slack integration;
700+ Zapier integrations;
SingleView™;
Analytics & reporting;
Macro powered responses to optimize your agents' workflow;
Custom fields and forms to note down crucial information;
Agent collision prevention.
What's not available:
Automation;
Customer segmentation;
Knowledge base integration;
Team performance reports;
Multiple brands, multiple languages;
Co-authors function (for those workers who can't talk to customers but can leave notes to conversations).
Pros and cons
Full-fledged customer assistance live chat;
Apps for Android and iOS;
Email and social media synchronization.
Reported low speed of the platform and bugs;
High prices;
Complicated setting, navigation issues;
Integration difficulties.
User.com
User.com is a platform that offers various automation tools for support, sales, marketing, and management teams. To enhance your live chat work and customer experience, User.com offers to complement the chat with an integrated chatbot, knowledge base, and high-quality analytics. 
The service is suitable for small and medium-sized businesses. 
The platform offers solutions for customers in different industries: 
• Finance;
• eCommerce;
• Web hosting companies;
• Health care organizations;
• Education;
• Real estate,
• Car dealers,
• Travel.
What livechat features you get
User.com offers all the major instruments to provide a great customer experience:
Automated requests distribution;
Quick replies;
Triggered chat messages;
Customer segmentation;
Peeking as the user is typing before a message is sent;
Agent grouping;
Calendar integration;
Multi-language support;
Mobile chat apps for Android and iOS.
Setup
User.com live chat widget code can be installed on your website with no developer help and can also integrate with popular CMS: JavaScript, Magento, WordPress, PrestaShop.
Pricing: from $249 to $1349 per month
User.com doesn't offer free plans for its live chat. The price is determined by the number of contacts. The number of agents, in turn, is unlimited within any plan. User.com offers a 14-day trial, so your team could test this platform.
What's included in the basic plan
Automation;
Contact base with up to 5 000 contacts;
Chatbot;
API;
Basic CRM;
Basic analytics;
Knowledge base and calendar integration.
What's not available:
Chat and push notifications in a mobile app;
Account Manager.
Pros and cons
Wide range of tools and live chat instruments, including apps for Android and iOS;
Variety of integrations.
Want to get the best support practices for lower price?
Crisp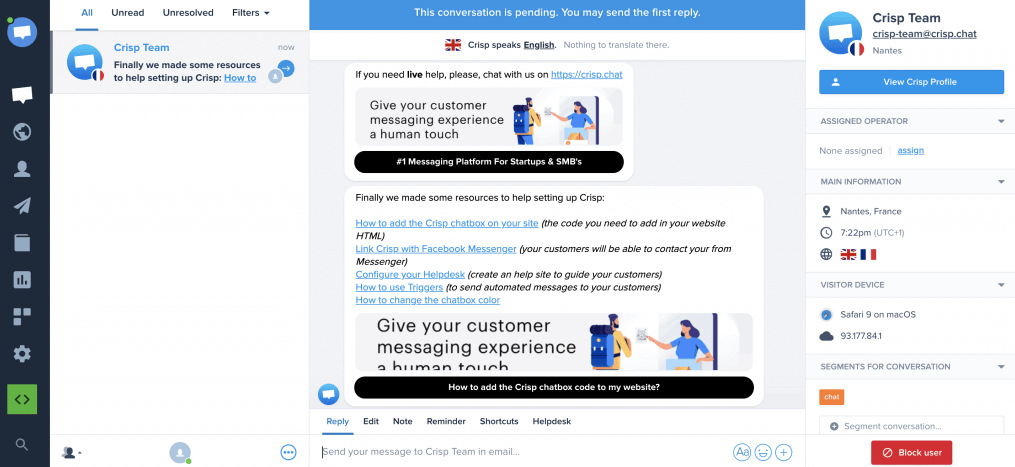 Often named as one of the best live chat tools, Crisp offers their users more than live customer support. It guarantees high-quality service with a shared inbox. This platform suits startups and small business owners looking for a way to enhance their support team efficiency and improve customer experience. 
Within the platform, Crisp allows its customers to make video and phone calls without third-party involvement.
In addition to a live chat service, you get:
Chatbot;
Triggered chat messages;
Saved replies;
Knowledge base;
Social media (Facebook, Instagram, Twitter) and messengers (Telegram, WhatsApp) integration;
CRM integration;
Mobile app;
CrispyBird game as one of the best customer engagement strategies when you are offline.
What other features you get
One inbox for emails and messages from socials / messengers; 
Automated triggered live chat messages;
Social media and messengers integration;
Co-browsing to visit pages together with a user;
Real-time conversation translation with more than 100 languages available. Type a message in your mother tongue and the platform will translate it into the customer's language;
Videos, GIFs, and other file sharing.
Setup
To set up Crisp's live chat tool on your website, you need to copy the HTML code and add it to your website code. You'll be able to do it on your own after watching some tutorials or reading guides for popular website engines
Pricing: from $0 to $95 per month
To communicate with and assist your customers via Crisp's live chat, you need to choose one of three plans (Basic, Pro or Unlimited). If you choose the "Pro" plan (the price starting from $25/month), you can connect up to 4 agents and get access to emailing platform, triggered live chat messages, conversation history, and messengers integration.  
In case it's not enough for your team, try the unlimited plan ($95/month). You get:
Chatbot;
Video calls;
CRM system;
Opportunity to assign agents;
Knowledge base;
Co-browsing;
Crisp's branding removal;
Unlimited agent seats.
Your team will have 14 days to test this platform.
What's included in the free plan
What's not available:
triggered live chat messages,
quick replies,
integrations.
Pros and cons
Free plan;
Clear and intuitive interface;
Wide range of functions, including live chat app for assistance on the go.
You can accidentally block a user instead of replying to them (the "block" button is right next to the "send" one.);
You can't automatically send the conversation transcript when the conversation is over;
Autotranslation is unavailable in a mobile app; 
Unstable work of the mobile app.
Sendinblue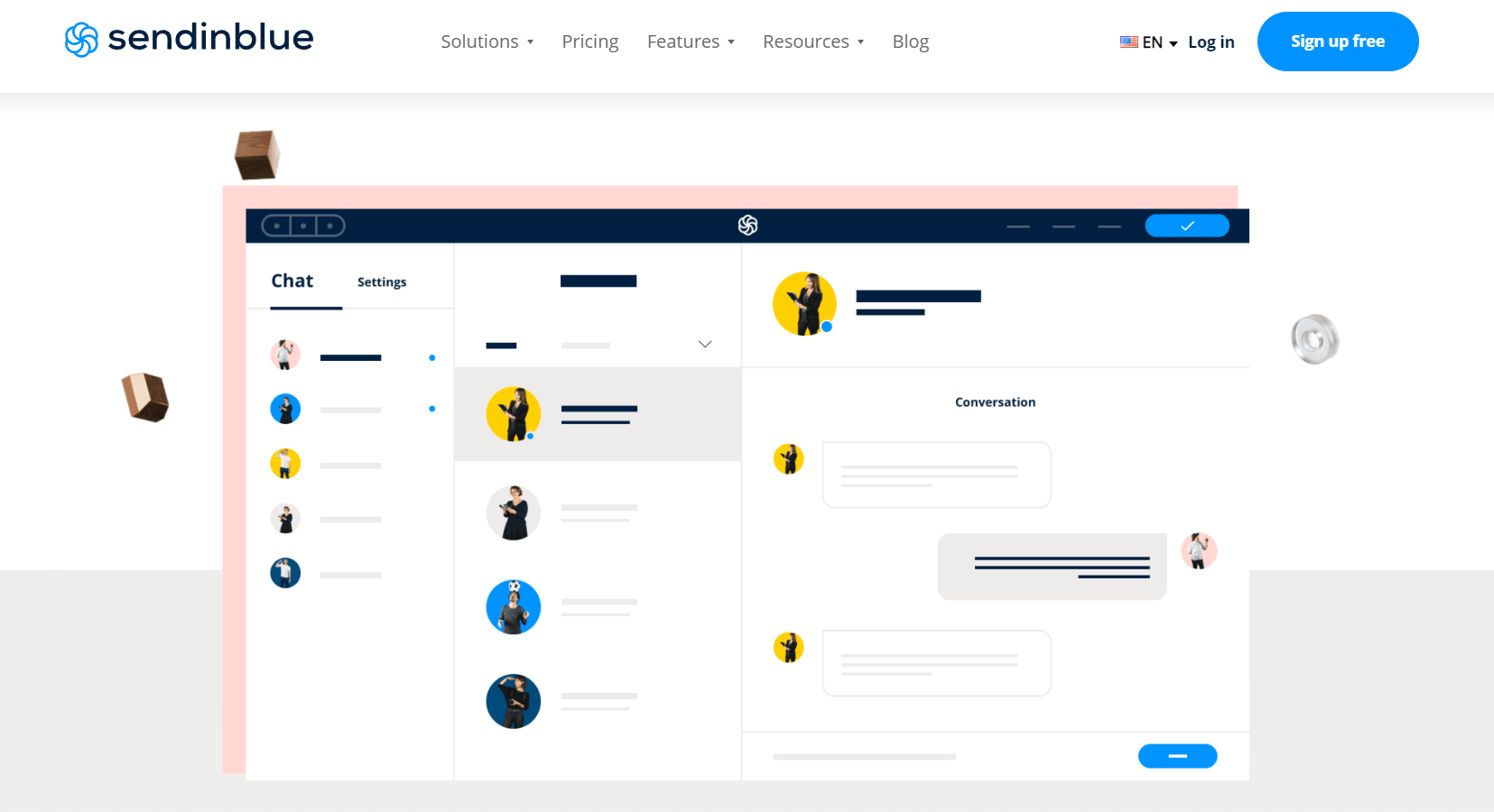 Sendinblue is a platform that offers marketing and support tools for customers' communication and growth. Among its wide range of instruments, you'll find livechat for the website.
You can use Sendinblue's livechat for your online store if you're looking for an all-in-one helpful solution. The service's customers are small and medium-sized companies and enterprises.
What features you get in addition to a live chat
One inbox;
CRM system;
Signup forms;
Landing page builder;
Marketing Automation;
Email marketing (transactional emails included);
SMS marketing;
Mobile app;
Facebook ads and retargeting.
Setup
This live chat tool is quick and easy to install. Copy and paste the Sendinblue code into your website's header without developers' involvement. 
Another way to set up Sendinblue live chat is to use PrestaShop or WordPress plugins.
Pricing: from $0 to $65+ per month
Pick between Free, Lite, Premium and Enterprise plans. Within the free plan, you'll be able to set up the widget for chatting with website visitors, collect an unlimited number of contacts and segment potential customers, use CRM, make real-time reports, and send up to 300 emails per day.
If you want to deliver better customer experience, consider paid plans. They start from $25 and the price depends on the monthly email volume and the number of emails or SMSes you send.
There's no trial period, but you can test the live chat's functionality on a free plan.
What's included in a free plan?
Off charge, Sendinblue offers its customers:
Livechat
Unlimited contact base;
Leads segmentation; 
CRM integration;
Instantaneous reports
Up to 300 emails limit per day.
What is unavailable in the free plan:
Shared inbox;
SMS marketing;
Customizable signup forms;
Website chat;
Sales CRM;
Pros and cons
A wide range of instruments within one platform, including apps for Android and iOS;
Automated sending campaigns;
Customizable livechat — you can choose the color, add the company's name and logo.
Signup for the platform takes long because it requires your email address, your street, Zip code, phone number etc.;
No client onboarding to the service;
The quality of your service will depend on your plan, sometimes replies of agents may take weeks.
Convead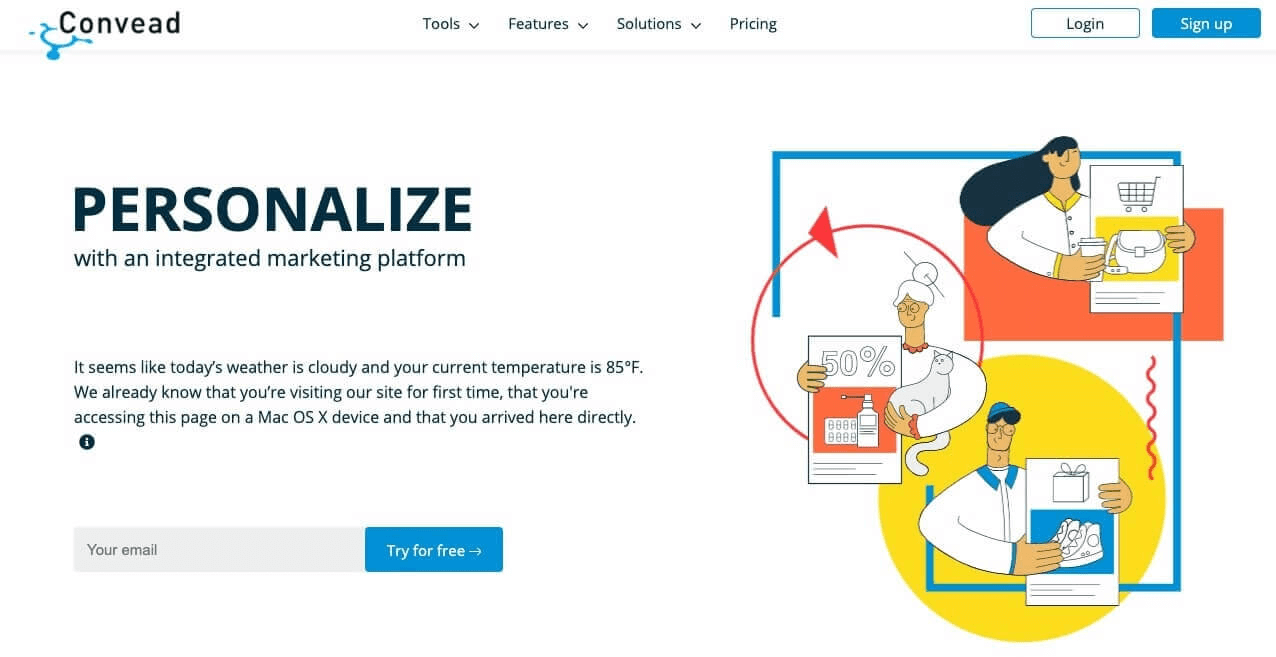 Convead is a marketing automation platform that helps bring your communication channels together without leaving a message behind. Originally created for marketing and sales teams, the platform provides their clients with various tools for customer support, such as user behavior tracking.
It gathers customer data from multiple sources groups channel and purchases history and stores it in a single profile. In addition, Convead generates behavior-based dynamic segments, analyzes data in real-time, generating reports.
The service's customers are online stores, digital marketers, and marketing agencies.
What live chat instruments you get
With Convead, you'll get the basic functionality for your team:
One inbox for emails and messages from social media;
User segmentation;
Bulk communications;
Data tracking;
Flexible widget builder.
What you can get in addition to a live chat:
Triggered emails;
Pop-ups;
Data tracking;
A/B testing;
Web push notifications.
Setup
Convead's live chat tool installation will take approximately 30 minutes. The time and complexity of this process will depend on the CMS and detailed customer data you want to keep track of. 
Convead gives a short manual, so you can set up their live chat tool on your website. There is an opportunity to ask for the developer's help if needed. 
Pricing: from $25/month
There are no fixed plans for the livechat software in Convead. The price for each customer is calculated depending on the website traffic. Your business will have 7 days to test this livechat software off-charge.
What's included in the basic plan
5 000 monthly visitors;
One inbox;
Triggered emails;
Bulk messages;
User behavior tracking;
A/B testing and analytics.
Pros and cons
An unlimited number of agents in a live chat;
All the basics included.
Too specific interface that might be complicated to configure.
Tawk.to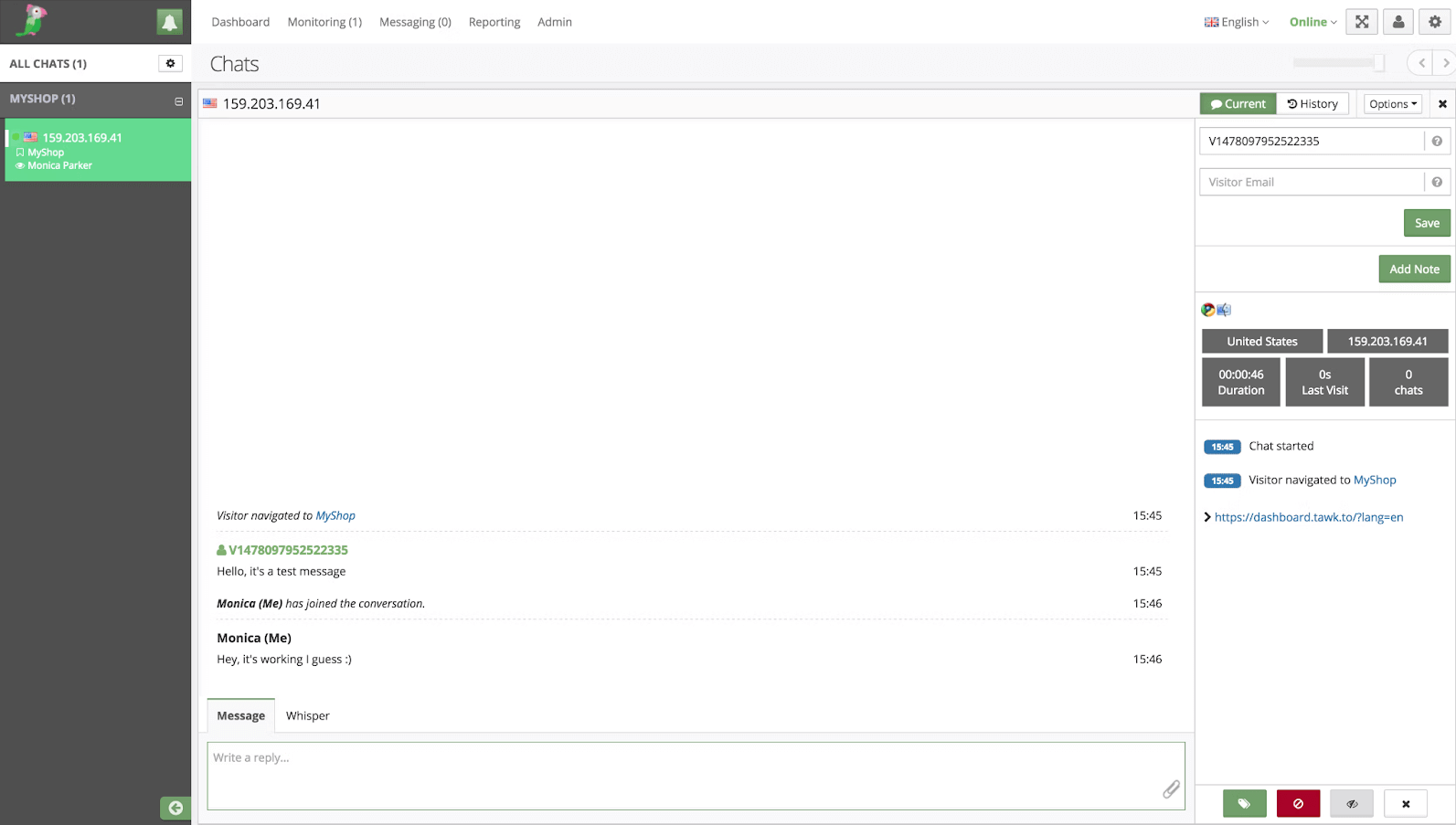 Tawk is a free platform that offers its users a dedicated chat tool and knowledge base. Their software has all the necessary instruments, but limited customization. Besides, the service specializes in outsourcing support agents. 
Tawk helps keep track of the potential customers who enter your website, communicate with them via shared inbox and support tickets. Apart from their tools, Tawk.to offers to hire agents for your business for $1 per day.
Since this livechat is free, it's perfect for startups and small business entities.
What live chat instruments you get
As a Tawk's customer, you'll have all the basics of a live chat tool:
Triggered auto messages;
Canned replies;
Message sneak peek;
Help desk must-haves like tags, departments, or visitor info;
Mobile app.
In addition to the live chat, you get access to:
Chat pages — these are customizable landing pages for business without their own website;
Knowledge base;
Visitor tracking.
Setup
You can easily install Tawk's online chat tool on your website. Paste the code before the </body> tag on every page of your website. You won't need developers' help with the installation.
Pricing: free
Tawk's offers a forever free live chat. The number of agents' seats is unlimited. You'll have to pay only for additional instruments, such as branding removal.
Pros and cons
Livechat is forever free ― you pay only for additional instruments;
It's easy and quick to install;
The ability to hire an agent for a low price;
The mobile chat app;
Multilingual admin panel.
Hardcore only. No chatbots. Shortcuts only. 
Users claim to have a delay in notifications arrival.
Usedesk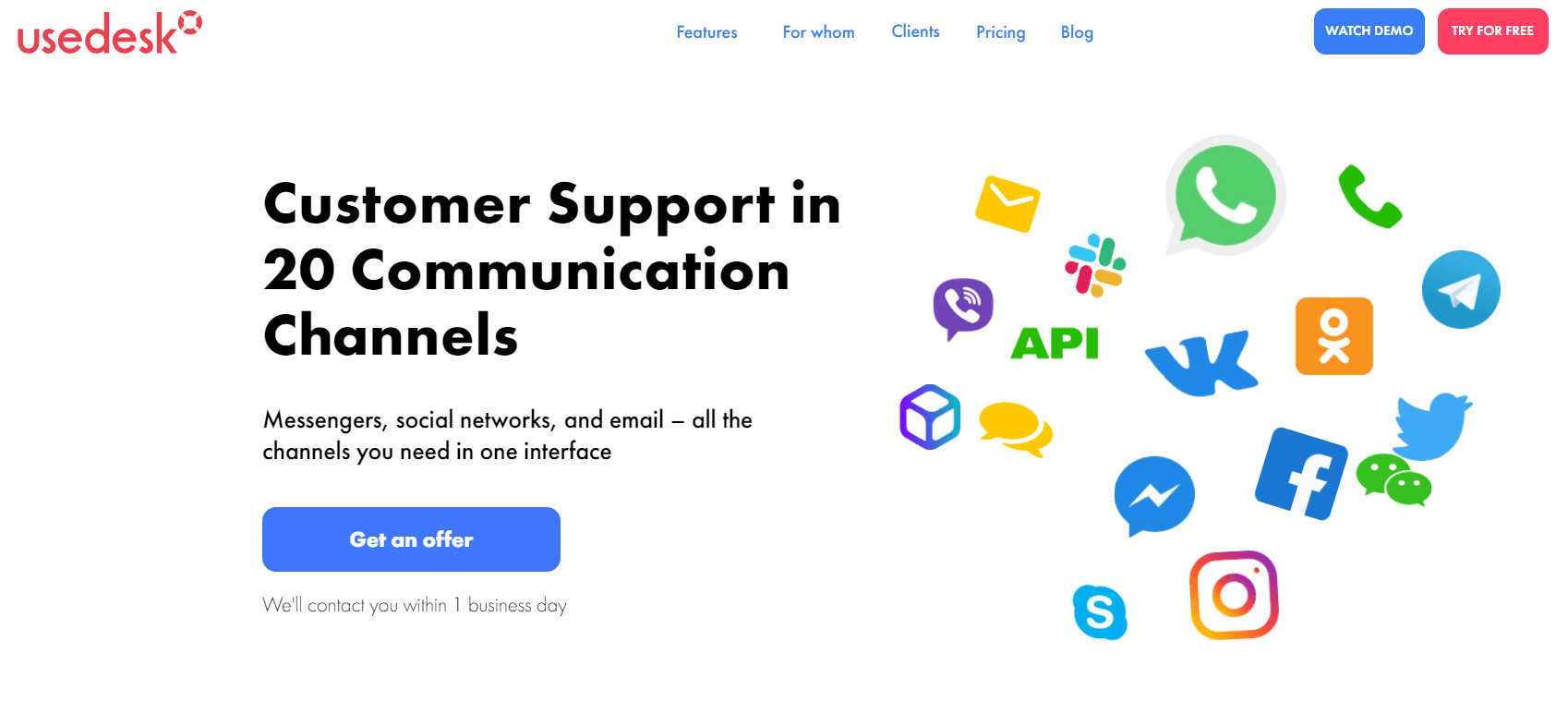 Usedesk is a platform to automate your teamwork, train livechat agents, and facilitate your business growth. It allows you to store emails and messages from social media and messengers in one place.  
This is a customer assistance platform in the first place. It brings together all your communication channels, along with data from your CRM and other internal systems. The service offers live chat for customer assistance, perfect for small teams and corporate-level businesses.
What features of livechat software you get
One inbox for conversations from various channels;
Quick replies;
Automated requests distribution;
Conversation rating;
Triggers for requests check and other specific actions;
Social media and messengers integration;
Live chat and push notification for your mobile app.
Setup
To start working with Usedesk's tools, you need to install the widget code to your website. The software allows you to add up to 10 buttons (for example, WhatsApp, Telegram, Instagram, Facebook, Skype, and some external links) so customers could get assistance in whatever channel they prefer.
If you don't want to deal with the setup on your own, you can take the "configure it all for me" option. But you'll have to fill in a particular application form for that.
Pricing: from $50 to $140 per month
The price for this live chat depends on the number of agents. If you choose an annual subscription, one agent will cost you $45 monthly. If you're ready to pay for three months only, one agent will cost you $50. 
The minimal number of agents is three. Usedesk offers individual payment terms for enterprises with global scale and security.
Your team will get 7 days to test this live chat service software.
Pros and cons
One admin panel for emails and messages from social media and messengers;
SDK to integrate live chat with push notifs into other apps.
You can't choose a monthly subscription and add less than three agents;
WhatsApp and Instagram integrations are charged separately. 
Read also:
👉 How to use lead generation chatbot for your website
👉Lead nurturing platform for your revenue growth
👉 12 types of marketing nurture campaigns
Chatra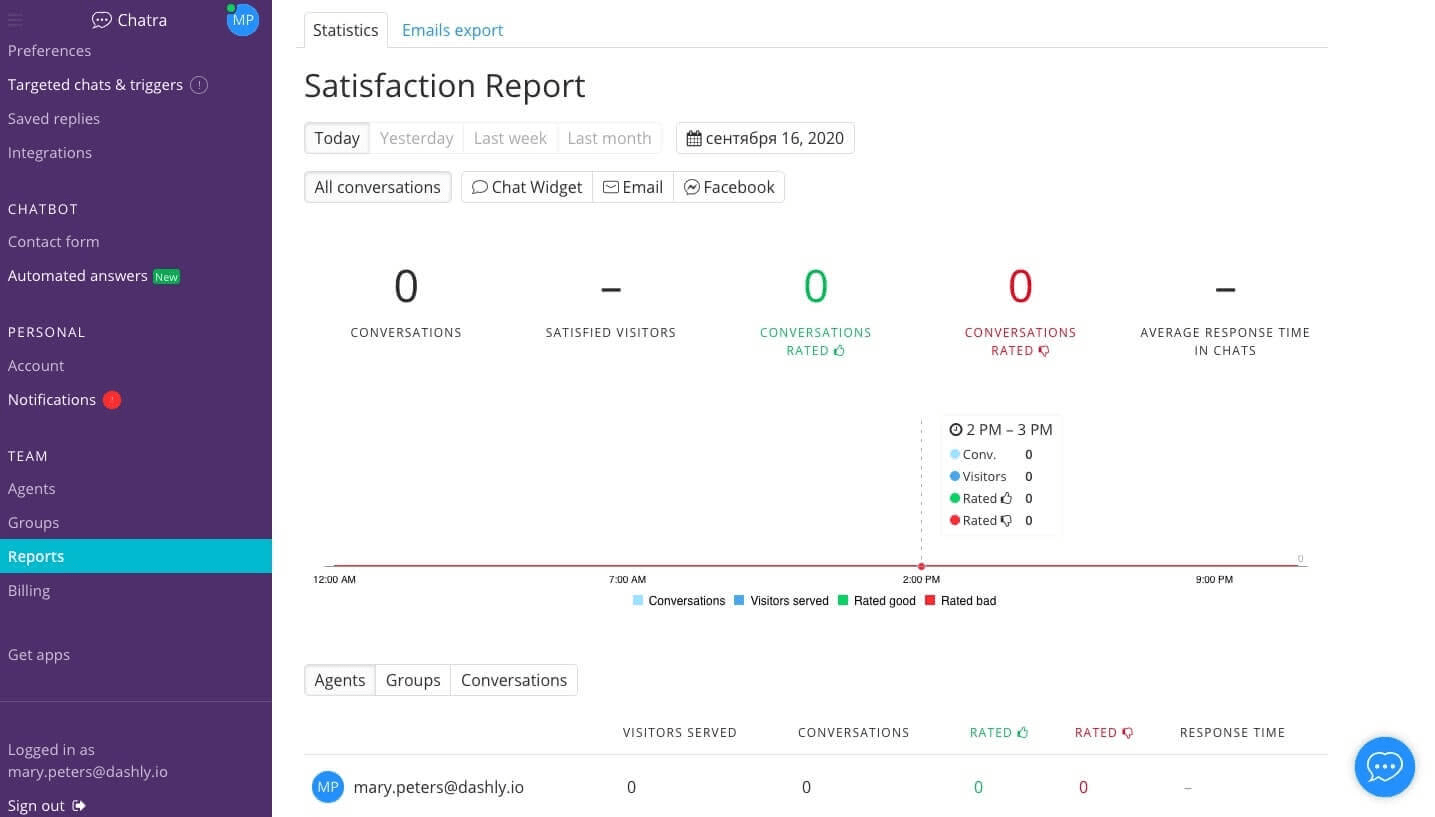 Chatra is a live chat support service for increasing sales that cares a lot about the tone of voice. The founders call their service "a lovely mobile messenger". In addition to online chat support, you can install Chatra's chatbot. You can set it up to select the requested topic and send pre-configured messages to potential customers. 
Chatra's tool suits a wide range of companies:
• eCommerce;
• Financial companies;
• Car companies;
• Legal companies;
• Product companies. 
Product adoption: 7 tips to prove your value
What live chat instruments you get
Group chats;
Conversation history and unfinished messages stored in one place;
Messages editing available at any moment;
SSL encryption in a free plan;
Multilingual interface (English, French, Spanish, German, Dutch, Russian);
Mobile app;
Access from any device (even on Nintendo 3DS).
Setup
Copy the live chat widget code and paste it to those pages where you needed it — it takes little to no time. Chatra also offers installation guides for popular CMS: Magenti, Wix, WordPress etc. The installation process is simple and won't take more than 5 minutes.
Pricing: From 0 to $29 per agent per month
There are three main plans for Chatra's live chat: Free, Essential ($21/mo) and Pro ($29/mo).
If you decide to test the service, your team gets 10 days to enjoy the professional plan. After the trial period, you'll be automatically switched to the free plan.
What's included in the free plan
The unlimited number of chats and websites;
Access for one agent in a live chat;
Access to full conversation history;
Basic user profile card;
Google Analytics integration;
Chat widget customization;
Mobile apps for iOS and Android.
What's not available:
Chatbot;
Email, social media and messengers integration;
Quick replies;
Group and team chats;
Triggered actions;
Files sharing;
Peeking at the user typing;
Reports;
Data export;
Business hours specification.
Pros and cons
Free plan with quite rich functionality;
Apps for iOS and Android to provide assistance on the go;
Clear and user-friendly interface. 
Free plan offers insufficient functionality;
A limited number of social media integrations (only Facebook and Slack);
Live chat widget position can't be changed.
Pure Chat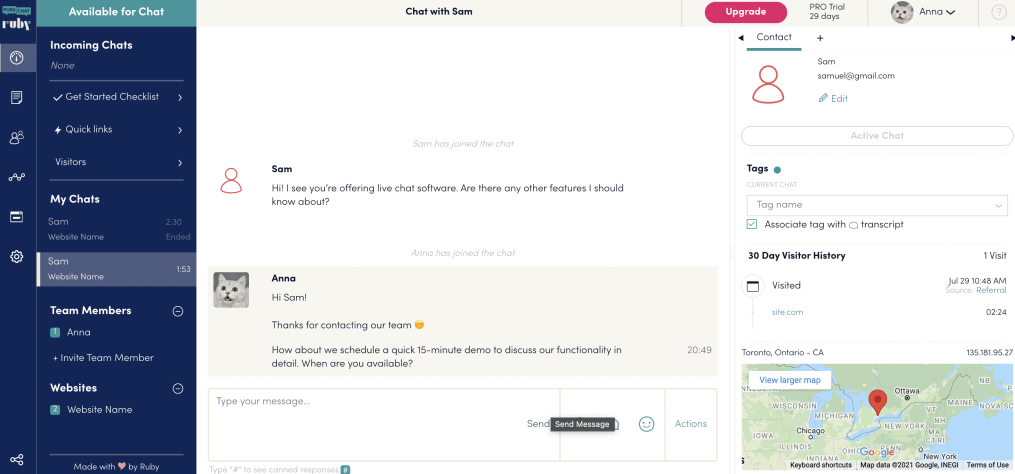 Pure Chat is a platform that lets small and medium-sized businesses establish contact with their customers via live chat. Within the intuitive interface, you can easily set it up, even having no experience with such services.  
What live chat features you get
These are the key tools you get if you choose this software:
Triggers;
Conversation history and transcript storage;
Canned responses;
Access management;
SMS notifications (their number depends on your plan);
Visitor behavior tracking;
Mobile app;
Chat and push notifications in a mobile app;
Reports;
Integration with Zoho, Salesforce, Mailchimp, etc.;
Livechat customization.
Setup
For installation, copy the script on the Pure Chat website and paste it before the </body> in the code of your website.
You can also use Shopify, Weebly, or WordPress plugins. And if you have any difficulties, you can always contact the developers via email. 
Pricing: from $39 to $79 per month
The service offers two paid plans to its customers (Growth and Pro), starting from $49/mo if paid monthly.
This platform offers the most prolonged trial period on our list — 30 days. 
What's included in the Growth plan:
One website;
Unlimited chats;
Up to 100 SMS notifications;
Notifications about new conversations;
Four agents,
Integrations,
Mobile apps for Android and iOS.
What isn't included:
Unlimited number of websites;
Up to 10 agents;
Up to 1000 SMS notifications.
Brand removing.
Pros and cons
Quick and straightforward website integration;
Instant notifications.
The platform often gets disconnected and requires to log in again;
No chatbot available.
Read also:
The best live chat for customer service comparison takeaways
Livechat is an incredibly useful tool when it comes to in-time customer communication. Apart from that, it can influence page ranking and loading speed.
It's up to you to decide whether you want a livechat for your website with a basic tool set or high-grade software to keep in touch with your customers and provide high-quality live support. Your choice depends on the needs of your business, its size and budget, and also on how tech-savvy you are. 
If you've never used live help tools before, here's a quick summary of all platforms we covered in this article:
Dashly is an omnichannel platform for optimizing customer assistance service. In addition to customer chat support, it offers chatbots, a knowledge base, emails, pop-ups, and data collection. Dashly is suitable for various kinds of businesses: SaaS, eCommerce, consulting, education, and large enterprises. The agent's number in a livechat is unlimited. The price is determined by your website traffic. For support on the go, Dashly offers its own apps for iOS and Android and live chat with push notifications that can be integrated to other apps.
Kayako is a platform for customer support. Kayako offers a version for corporate users. The platform may be more complicated to navigate, and customers point out a lot of bugs in the system.
User.com is a multifunctional platform for sales, marketing, management, and support teams. The price depends on the number of contacts. Any plan includes an unlimited number of agents in a live chat. User.com is great for startups striving to enhance their support.
Crisp is a multilingual platform for startups and small businesses. Its livechat software allows your agents to make audio and video calls right away without third-party software involvement and communicate with users via mobile apps. The service offers a free version with limited functionality.
Sendinblue's customers are mainly small and medium-sized business types. The price for their livechat software depends on the number of emails you sent and the number of agents. The service offers no trial period.
Convead is mostly a marketing automation platform, but suits support too. Their main customers are marketers and marketing agencies. The number of agents is unlimited. The price depends on your website traffic. No free plan available. No mobile apps.
Tawk has a unique offer of hiring an agent. But the service's functionality is rather limited, so this livechat software suits mostly small and medium business.
Usedesk offers a livechat with basics for small businesses looking for ways to enhance their customer support. Its interface is very user-friendly. But the minimum period here is three months, and you'll have to pay for at least three agents. The price is higher than other competitors offer.
Chatra is an online chat with a chatbot and mobile apps. It offers basic functionality for support. The pricing here depends on the number of agents. The service has a free plan, but most of the instruments are unavailable. The trial period is ten days.
Pure Chat offers its users easy-to-use, intuitive live chat software. Your team will get 30 days to test the platform's functionality.
In a nutshell, choosing a live chat is hard with a whole ocean of platforms at your service. Our advice is to test a few of them on a trial period. This way, you and your agents get a chance to find the best pick for communication with your customers.
You can start with Dashly 😉 This way, you get:
 — a full-fledged website chat software with conversations analytics;
 — variety of integrations to fit Dashly in your tech stack seamlessly;
 — friendly, responsive support that will answer all your questions;
 — 7 days of free trial to test the platform's functionality.
FAQ
What is a live chat?
Livechat is a widget on your website. Clicking on it, a customer can contact your team and get a consultation asap. In addition to real-time support, it can help you with your customer engagement strategy, lead capturing and qualifying.
What is chat support?
It means your customers can get assistance from your agents right on the website. They don't have to contact you by email, but via a livechat widget button on screen.
What are the benefits of live chat customer service?
The major advantage of live chat assistance is speed. On average, customers get replies in 2 minutes, compared to hours or days of waiting for email or call back.
Another benefit is a common inbox for storing all customer communications in one place.
One more perk is live chat analytics to keep track of your agents' efficiency and look for room for growth in terms of customer service.
Read also: What customer engagement platform is best for your business? 15 options to choose.
What are the key features of live chat software?
One common inbox that brings together your communication on various platforms: social media, emails, and messengers. One inbox allows you to start a conversation with a customer on Facebook and continue it in emails without losing a single message.  
Saved replies based on the customer's FAQ to reduce your customer assistance team workload. Create standard replies and use them in conversations for your workers' benefit.
User behavior tracking. Keep track of the pages your potential customer visited, and problems they faced while visiting your website. It gives you vital conversation context and enables proactive communication with high chat engagement.
Chat routing, so your customers' concerns could be solved by a support expert quickly. Automated routing lets you work smart, but manual and condition-based routing is also possible. Ensure quicker problem resolution and happier customers.
Chatbot for support automation. Within chatbot's wide range of functions are answering FAQ, routing conversations to relevant agents, leads qualification, calls scheduling etc.
Customizable chat forms is the best way to collect emails, customer feedback collection, and support requests capturing in case no agent is free.
Detailed reports to track agent's performance (response time, average ratings, number of chats in work, missed chats, etc.) and gradually enhance your customer experience.
Knowledge base to create and share info with customers faster.
Integrations with CMS, CRM, analytics, email marketing etc.
Chat and push notifications in a mobile app to provide assistance on the go, or the platform can provide its own mobile apps. 
Tag system for convenient team collaboration.
Test each of them for free with Dashly
How to choose the most suitable live chat for your website to enhance customer experience?
The choice will depend on the needs of your business. But we recommend a list of essential instruments you should keep in mind while looking for perfect software:
― User-friendly intuitive interface, which doesn't take long to figure out;
― Clear onboarding with manuals, video tutorials, and support or help center available;
― A mobile-friendly software that works smoothly on mobile browsers and in an app;
― Various ready-made integrations to provide omnichannel customer support.
― Balance of Value & Price.
― Customization that allows you to match a live chat widget with your website: choose colors, add a logo and images, change fronts, etc.;
― All the essential features are included in all plans like in Dashly pricing.