What Is Growth Marketing? Explained by a growth hacker
Reading time: 8 minutes
08.12.2021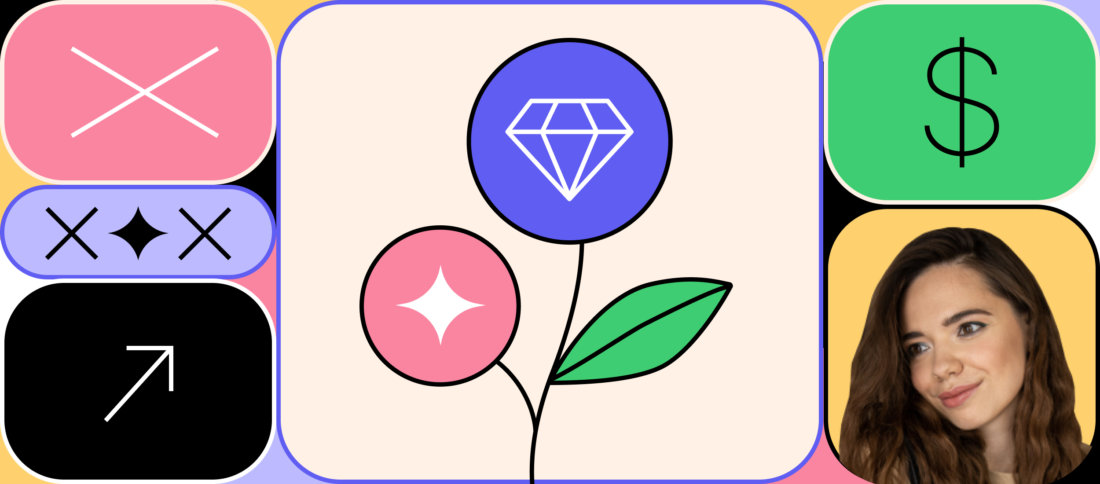 "Growth marketing" is a strategy that allows the company to hack its growth and achieve greater results. It is like using cheat codes in a computer game. 
To define that cheats to hack marketing and growth, you need to analyze the current funnel, customer journey, then create and test ideas to attract more clients and increase a profit.
"So that is what growth marketing about. Pfff, easy!" ─ That was the first thought that came to my mind. Since my team has always been striving to introduce new approaches Jobs to be Done, Objective Key Results, agile sprint frameworks, it didn't take long to agree to try something new. However, after the first month, my opinion changed from "This is a piece of cake!" to "What a nightmare!".
Spoiler — both are true. 
Now, together with a team, I generate 33% of leads for product demos. But 2021, at the beginning of my path, my head was full of questions: What type of tests to run? What funnel stage to focus on? Who to call in a team? 
Growth marketing is far beyond the definition. I'll show you its true face: my team, daily tasks to do, ideas to focus on, results to scale, possible pitfalls.
Download the list of must-read resourses to build efficient growth team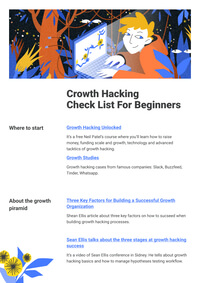 Growth marketing tasks and key metrics examples 
Having been on the market since 2014, Dashly has had over 5000 clients worldwide. 
But the company needed to grow faster. And we focused on raising yearly income. This goal could be reached by driving more customers, minimizing churn, and increasing the sign-up conversion. 
My task as a Dashly SaaS growth marketing manager was to focus on the sales funnel. To be more specific, I should increase the number of:
Demo sessions that have been completed.
Closed deals.
Demo requests.
Growth marketing dream team
The company required a team of reliable and creative experts who would not be afraid to offer crazy hypotheses, test, scale them, and learn from the failures.
And I found them. Now there are seven people hack Dashly growth:
Two pay-per-click specialists are in charge of ad campaigns.
Designer who created visual elements for ads and tests.
Marketer who was helping to analyze hypotheses and their results. Important note: this team member was outsourced from a marketing department to play a "fresh eye" role.
An analyst who was responsible for collecting statistics and monitoring crucial metrics.
Scrum master who was in charge of the workflow: daily reminders, brainstorming sessions, testing time, etc.
And me as a growth team lead. I'm that person who looks for insights and generates hypotheses. 
Each of them is a true expert. It seemed we could do anything together 🎉
Guess how fast that anything turned to nothing? In the beginning, we couldn't even agree on something. For example, Facebook ads: Is each offer a particular hypothesis or an ad group? 
So before a start, we spend a lot of time learning: how to state, discuss, and test hypotheses correctly. Then, we set new team rituals like meetings, hypothesis pitching.
Finally, we became a dream team ready to hack any business growth! But where to start?
Download the list of must-read resourses to build efficient growth team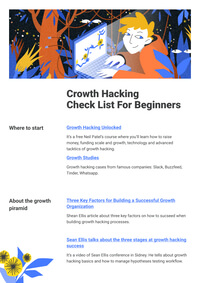 Growth marketing hypothesis testing
Since our company works with AAARRR funnel framework, we had a list of hypotheses for each stage: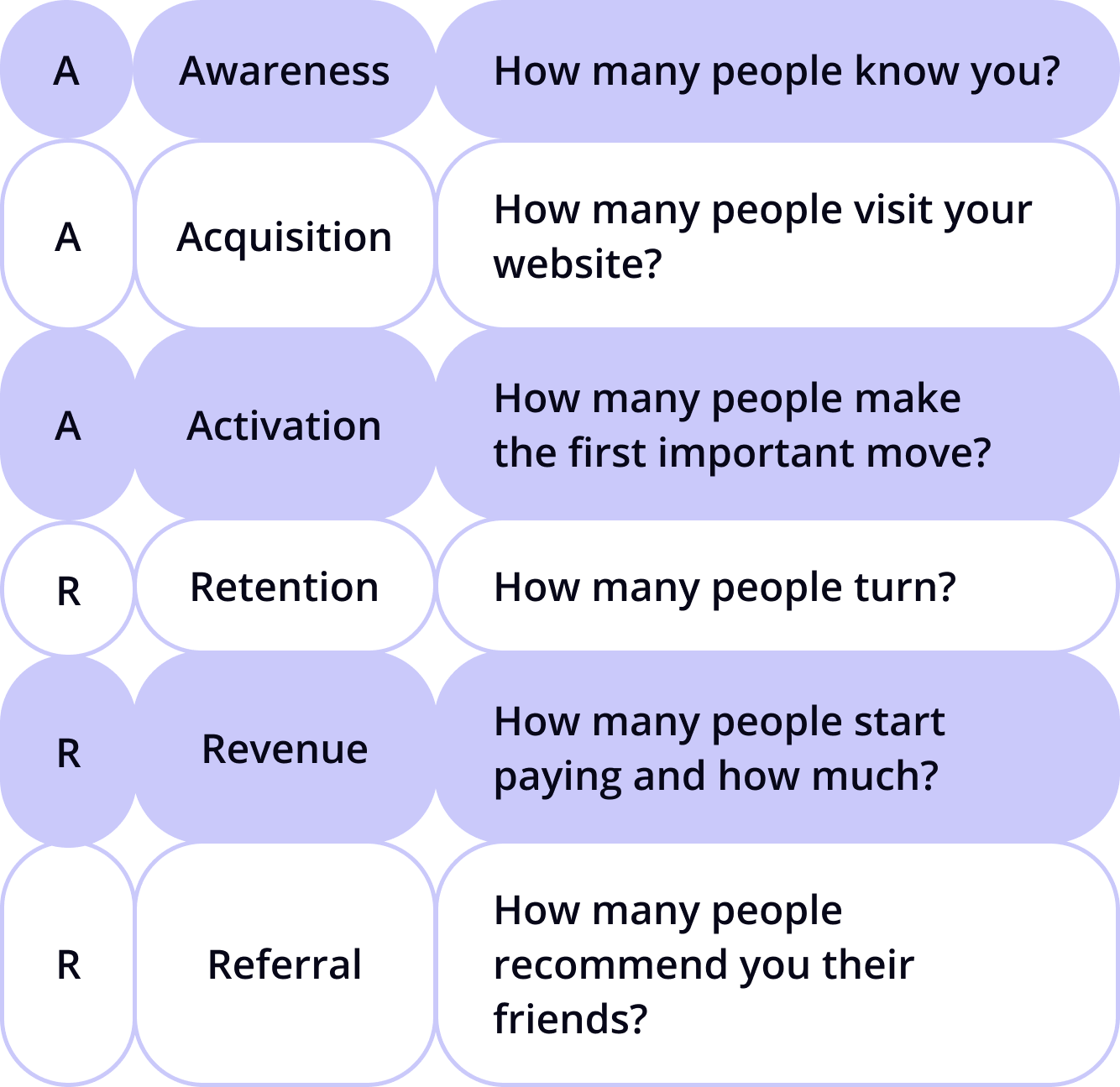 But you can't just test all of them at once 🤏 
Focus is crucial for growth marketing.
We chose the funnel stage to work on each quarter, following the strategic company goals. For example, that first time, it was the most painful part ─ user activation. We wanted to increase the number of users making the first step in our product.
The first growth hacking hypotheses
To turn a thought into a hypothesis, it's essential to understand how much time and money the company is willing to invest. Also, what do you want to change, which metrics are you going to evaluate, and what impact to expect?  
So many questions. Heh? But it is significant to answer them all. So that is what we do before the start of each hypothesis test.
1. Hypotheses generation
This is where the magic begins. The teammates discussed an idea they found during competitors' or other teams' research. In practice, it looked like this: 
IF we do this, THEN we get that. 
For example: If we run a chatbot on the product main page offering to download the competitor matrix with Dashly and other products, the conversion rate will be 1.5% and more. 
Then we shape it by answering the following questions: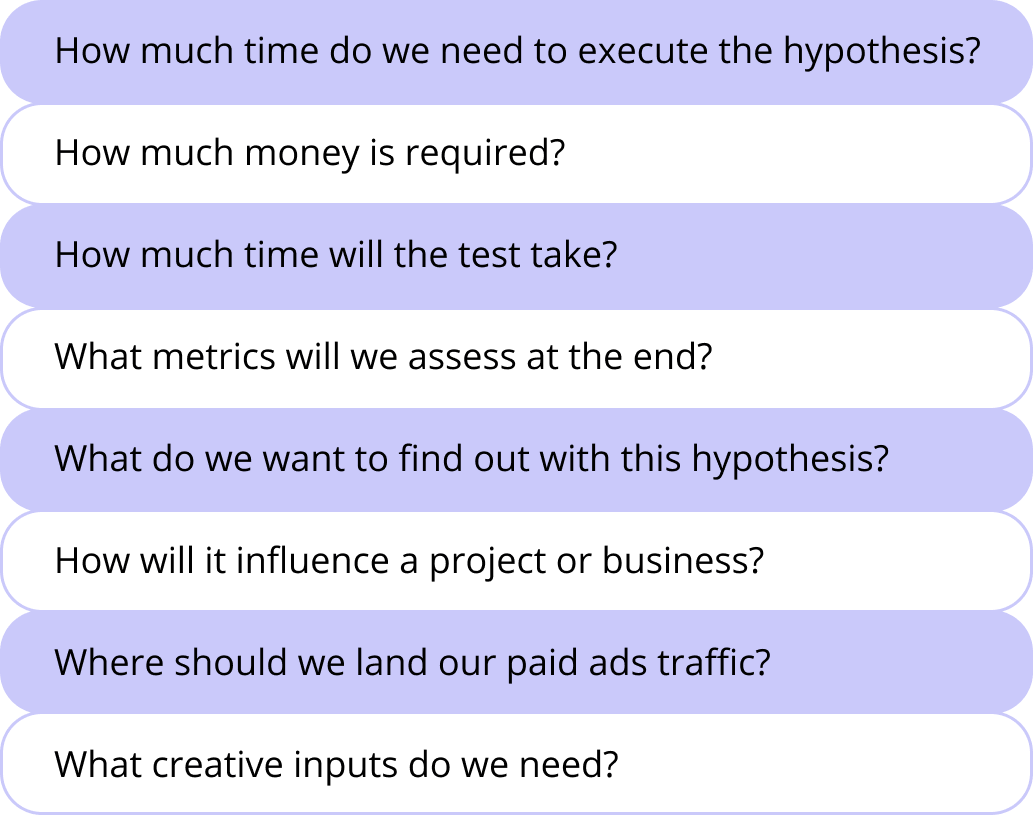 As a result of this step, the team had a card for each hypothesis that identified the main idea, timing, channels, funnel stage, and who was responsible.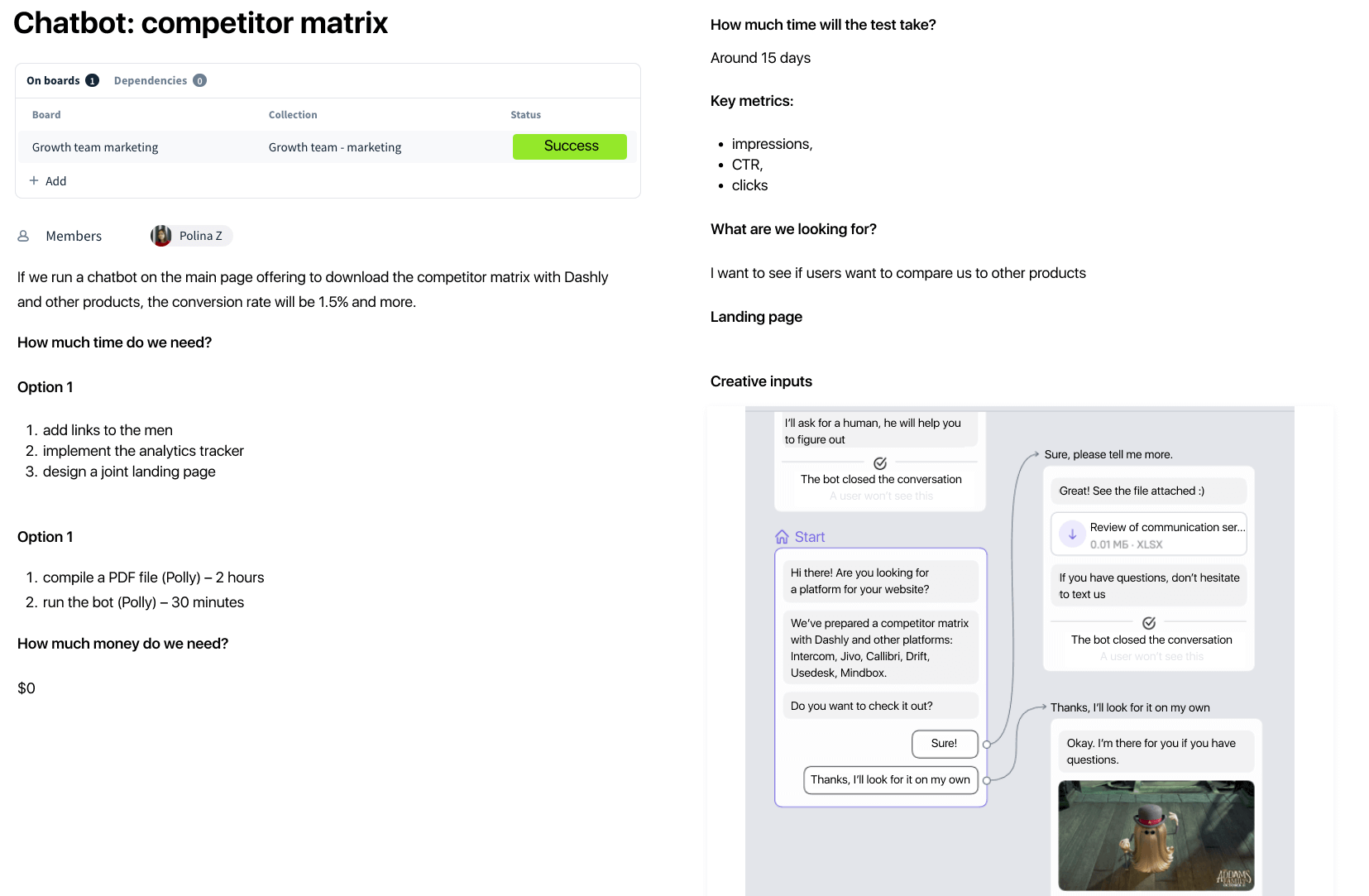 2. Discussion
In the regular meetings, we discussed the hypotheses in terms of improving, rejecting, or scaling some of them. Then, as a part of this sprint, each teammate had 3 minutes total to sell the idea. 
After this, we usually had a list of 10-15 hypotheses to test.
3. Syncing up with related teams
At this stage, we warn other departments about possible changes they may experience during the test. For instance, sales managers may get more leads from a particular ad campaign.
4. Production and testing
The team has estimated a maximum of six hours for launching a new hypothesis by using an MVP (Minimum Viable Product) approach. This way, we wouldn't put everything on the table at once and waste valuable resources. But instead, just test the waters to see what works.
5. Analytics
To check if the hypotheses worked as expected, we look at the dashboard in Rick analytics platform (CTR, CPC, CR, etc.) and Dashly, as we test many of our hypotheses with it. 
For example, we monitor our email and chatbot metrics there.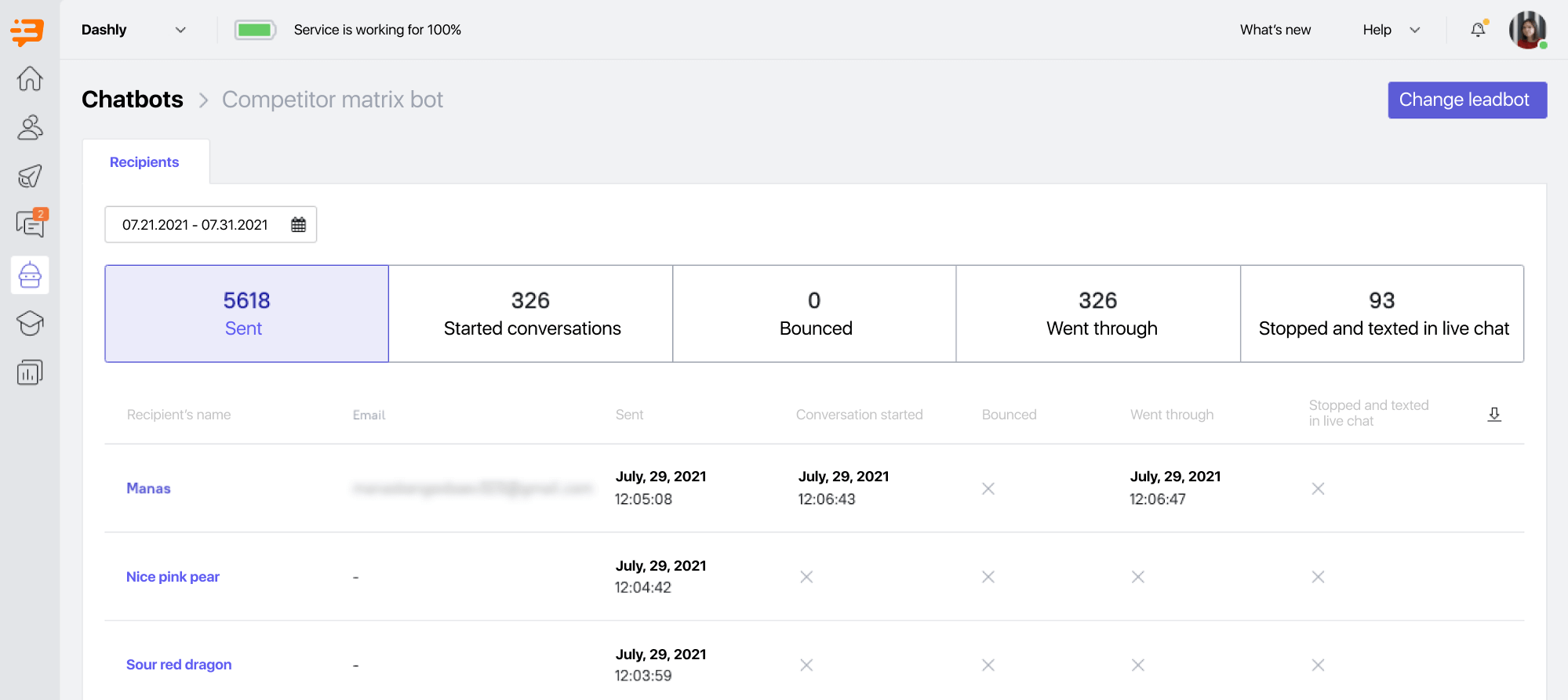 Based on the received data, the team should decide whether the hypothesis worked, and it is worth repeating it with changes. Or it failed, and they need to analyze the reasons. In this case, failure, as well as success, helps draw conclusions and polish original ideas.
Download the list of must-read resourses to build efficient growth team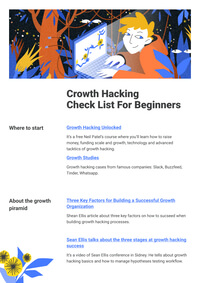 What happens after testing?
We found out that some hypotheses worked. And some don't. For example, our first one — an email campaign with an invitation to our event. We wanted to generate 30 registrations. 
But we only get 5. 
What a failure!
I saw the 3% open rate when we analyzed the campaign metrics. Recipients didn't even see our offer. So I tested the campaign again with a more appealing email subject.
If the hypothesis didn't work out after all this, we simply reject it.
But this one was successful, so we scaled it to paid channels.
The first success of the growth marketing strategy
Overall, from day one till today, together with a growth team, we achieved remarkable results:
The team was testing 10 ideas every week.
It is 215 hypotheses in 5 months!
In case you're still not impressed: the team now attracts 33% of leads for product demos that sales reps make.
Ups and downs have taught me what it means to be a true growth marketer. 
So, what is a growth marketer?
The difference between marketers and growth marketers is that the first ones concentrate attention on the top of the funnel, while the second ones dig deeper by focusing on the entire funnel. They are data-driven specialists that design and implement ideas based on the research. A growth marketer plays the role of a scientist that conducts experiments using analytical data and tries to see the task from various angles.
Growth marketing is a complex, resource-intensive job that requires a systematic work of a committed team focused on the key metrics. Otherwise, it could be a waste of time and money.
Subscribe to our blog updates to stay tuned and don't miss the next post!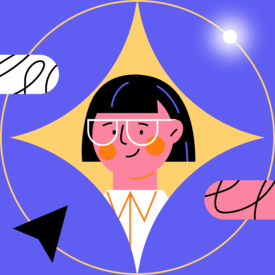 FAQ
What is growth marketing?
It is a data-driven strategy that focuses on the entire sales funnel and includes experiments to improve key metrics individually for each company.
Who is a growth marketer?
It is a member of the growth team that has to set goals (key points to improve), create and carry out hypotheses based on the analytic data.
Do I need a growth team?
For example, if you invest in paid ads and don't get satisfactory results, or if you went through your company's annual reports and are not impressed with the numbers, then you might consider introducing a growth marketing strategy. Especially when it comes to the business in a competitive area of industry.
Does growth marketing work for each company?
Growth marketing cannot work equally efficiently for each company. For example, startups shouldn't rush with it. A marketing growth team would be an excellent investment for a company that has been growing steadily for N-years, and that has resources to improve its performance and increase a profit.
Read also: