Previously we reviewed the top 20 most popular live chats. Now we give you an ultimate guide on how to understand that your choice is right.
4 out of 10 customers say they won't buy from a company
that doesn't offer live chat support. 
It proves that live chat has become more than just a customer support tool. It's one of the must-have attributes of a reliable brand. 
To perform that functions, a live chat tool has to meet a list of market requirements. Screen sharing, pop-ups, CRM are far from the end of features it must-have in 2021. 
294 is the number of live chat tools you'll see on Capterra search. But there are typical problems every second live chat can have. How to avoid them and choose the best tool? Mind the issues other live chat users have noticed too late. 
It's simple. Just read all of 8500 reviews on Capterra or this article.
We've analyzed user reviews of the best live chat tools on Capterra and collected 12 key things to test in your live chat during a trial period. After reading this article, it will be rather easier for you to choose the live chat that meets your expectations.
24 attributes of an excellent live chat tool
A perfect world chat software should have:
Proactive chat messages
Chat Monitoring
Mobile App
Optimization for mobile
Contact forms
Chat Rating
Quick Replies
Agent Notification
File Transfer
Reports & Analytics
Queue time notification
Co-browsing
Screen sharing
Calendly integration
Video calls
CRM integration
Easy customization
Spell check
Fast Chat Load time
Chat routing
Tagging
Data Import & Export
Ability to send emails
But in real life, you don't need all of them. Anyway, it is good to have access to that features for a company scale. 
We'll focus on the most problematic features to check while testing a new live chat software.
Does your live chat have proactive auto messages?
The time of reactive chat when you are just waiting for visitors to click on it has gone. Be the first who starts the conversation. It's said that 87% of users want to be contacted proactively. Why not to meet their expectations?
You can send website visitors an automated message like "we are here and ready to help" from the chat agent in terms of a live chat. 
But remember, pop-ups can be annoying. It's essential to understand when your visitors need help. 
90-120 seconds is an optimal time after which a proactive chat window pops up on the web page.
But it's impossible when:


So, to automate chat window messages, your live chat should track visitors' behavior: time on page, navigation history, location, cart items, etc. It helps to personalize the message and further conversation. 
Here is how it looks like in Dashly:
Check whether your live chat has proactive chat window messages and how deep you can customize them. 
Is it easy to customize?
Images, logo, colors, transparency are the things that can make your brand's identity. Now imagine a live chat widget in colors entirely different from your website style. ? 
An excellent live chat offers flexibility to customize:
Pages to show a live chat widget on,
Language,
Working hours,
Branding,
Chat banner,
Design,
Automated agent notifications and workflows.
For example, here is how Dashly Live Chat style settings look like in the admin panel: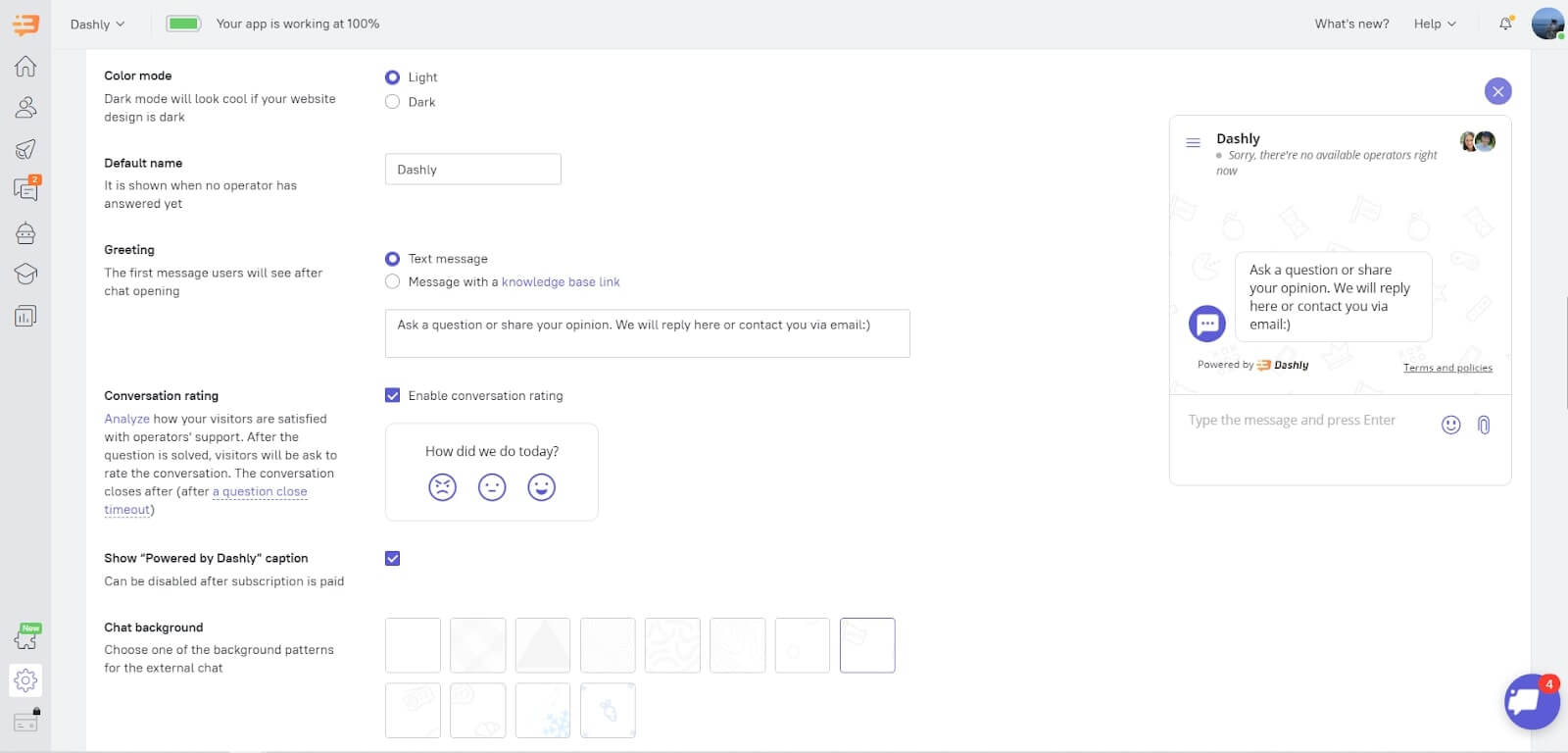 Ensure it is easy to customize all these things in the settings with no need to add special code.
How fast is your live chat?
I mean the speed of the tool's workflow and loading. Usually, live chat load time is about 11-18 seconds.
Now imagine a minute live chat freeze in the middle of a conversation with ready-to-buy visitors. The more time it takes you to answer, the fewer chances they'll buy. 
Live chat connect time directly affects Average Handle Time, First Contact Resolution, and other essential support metrics.  
There are real examples of such a problem:

Ensure that you have a stable internet connection and test how fast it takes your live chat to load. Pay attention to whether it freezes during a live chat conversation. 
Does your live chat tool have a mobile app?
The opportunity to chat with your customers wherever you are is vital for 24/7 support. 
This is why a live chat tool you'll choose should have a mobile app for Android and iOS.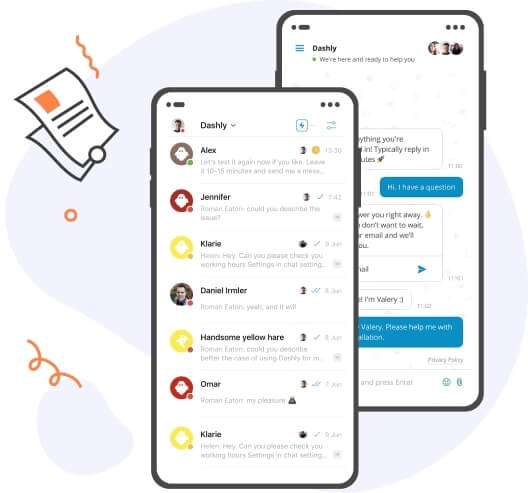 It's essential to check the mobile app's: 
Interface is easy to navigate,
Features set matches the desktop version,
Chat filters, tags, notes,
Lead cards, 
Notifications workflow.
Read also:
👉 How to use lead generation chatbot for your website
👉Lead nurturing platform for your revenue growth
👉 12 types of marketing nurture campaigns
How detailed are reports in your live chat? 
The number of chats, queue time, customer satisfaction score, agent utilization rate, average handle time, and first contact resolution ─ are just some critical support metrics. It would be crazy to count them manually like this user happened to:

To automate this work, excellent live chat software offers flexible reports to export with detailed info on each metric.
For example, there are four report sections in Dashly dashboard: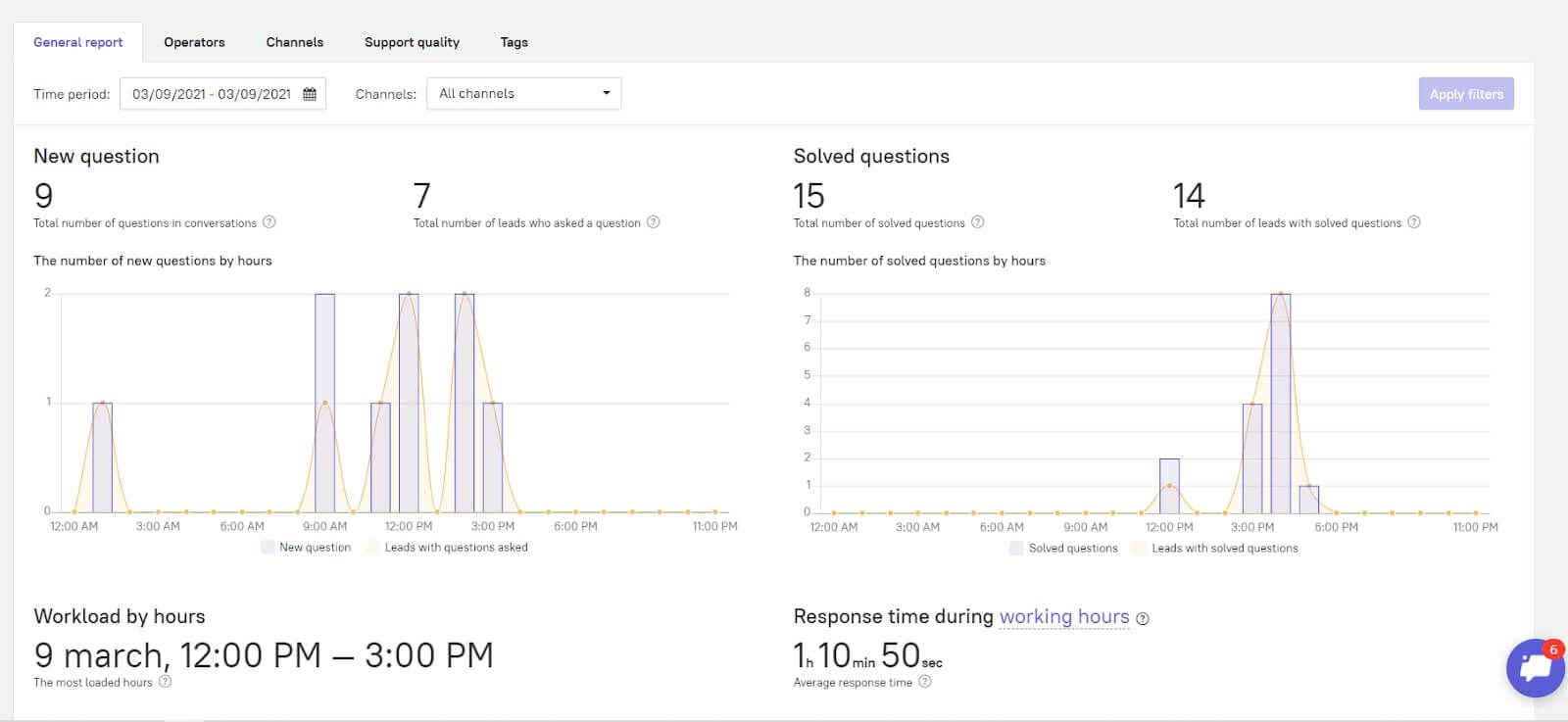 Read also:
Consider how detailed and easy to export and customize reports in your live chat tools. 
Read also:
Does it have automated chat routing?
An example of an issue with a live chat tool:

Imagine that your visitors don't need to wait in one line while an agent will transfer their question to the proper specialist. They will be redirected to the most suitable agent or routes to any available customer support agent automatically. That is what chat routing means.
Automated chat routing increases:
The efficiency of your team. Prevent your team to be flooded by misfitted questions
Customers happiness
The customer issue resolution time
Choosing a live chat solution test if you can:
Create your own chat assignment rules
Launch automated chat routing based on lead qualification
Set auto-assignment of chats to team members based on their conversation load and skills level.
For example, a chat routing settings in Dashly:
Can you send an email directly from your live chat platform?
There are hundreds of live chat users' comments on Capterra about this feature: 
This is a question of time and synchronized teamwork. All the user requests should be managed in one place, no matter if it is from a live chat, email, messenger, or socials. Storing all the communication in one place lets you merge contact data and track history.
In Dashly we have one inbox solution for all the channels of communication with your customers:
Check if your live chat tool offers the opportunity to reply to customer inquiries from email and social media.
Read also:
Does your live chat have canned responses?
There are questions agents reply to with the same text thousands of times. For example: 'Hi! To connect a new module, click'. Usually, this text is saved in Google Docs to copy-paste and edit as needed. It seems to be the right solution except for the time agents waste switching between tabs. This is a waste of precious time. 
A case from real life:
There's a solution — saved replies. 
For instance, in Dashly, you can edit, delete and switch around saved replies the way you like in Settings. Switching them around is as easy and dragging and dropping the needed response up or down the list of answers.
Read also: How to Make the Customer Support Team More Effective.
Check if your live chat has a saved/canned replies feature; can you edit and manage them. 
Does it have notifications for agents?
If not, there is an example of a problem it can cause:
It is about system notifications on your desktop or the mobile app when a new customer request acquires: the pop-up message, email, and sound. 
For example, here is how Dashly users can change notifications configuration: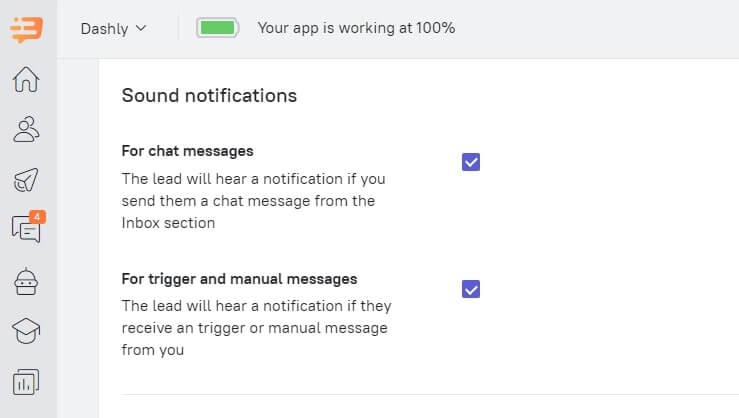 Check whether you can customize channels of agent notifications and if the notification sound in your app and laptop works well. 
Is it easy to import & export data from your live chat?
I mean any type of data, whether it is leads, reports, or knowledge base articles. A possible issue it can bring:

Knowledge base article export is a useful thing, but the essential part ─ leads. For example, here is how easy to import or export leads in the Dashly admin panel: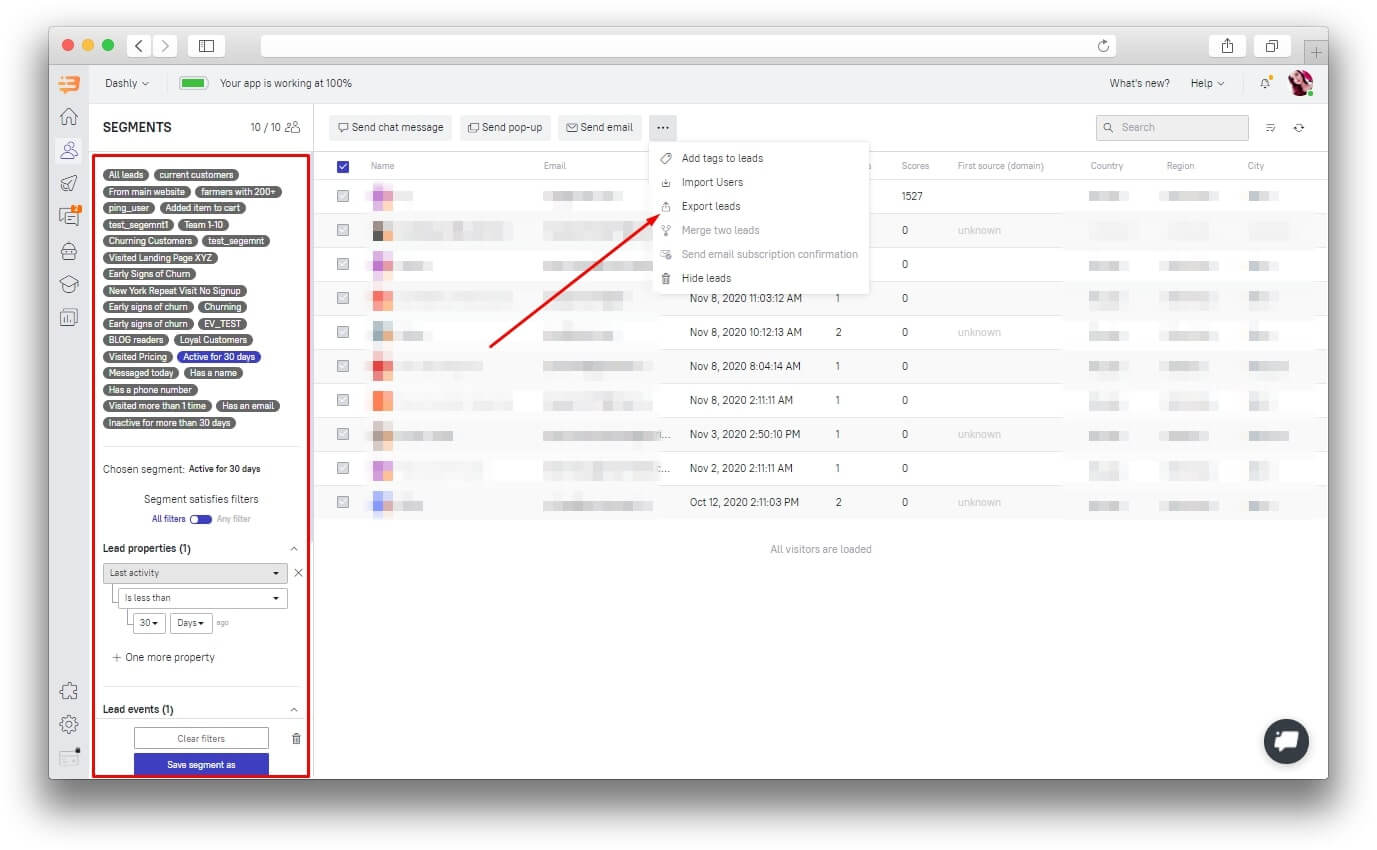 It is important to check during a new live chat testing if it has functionality for easy export. Mind the file format you need (usually it is .csv).
Read also:
Capture emails from website visitors with Pop-ups
The best way to collect emails we tested this year
Does it allow integration with other third-party software?
Cool functionality isn't enough for a live chat to be called the best. Integration with other channels and web services is a must nowadays. 
For example, adding a chat button to your emails provides a subscriber with an opportunity to chat right out of the content. CRM helps your team to personalize communications with customers by using the company sales records and lead history. Integration with HubSpot allows your agent to add leads to Salesforce with no need to leave the chat app. 
There is a possible issue you can meet in a live chat with integration limitations:

It is important to make sure that your live chat has an opportunity to integrate with:
Communication tools like Facebook, Slack, Zoom, messengers, etc.
CMS like Prestashop, WooCommerce, WordPress, etc.
CRM like AmoCRM
Calendar to schedule meetings with customers
Analytics tools like GA or Mixpannel
And integrations you can do yourself
Read also: how to find respondents for a survey or customer interview
Does a live chat tool integrate with your CRM/CMS?
Live chat ability to store and control contacts is important for tracking all your sales, leads, support, or any other actions related to your website visitors after they chat with you.
An excellent live chat integration allows you to:
Create Leads for further communication 
Personalize chat support
Download a List of Expert Tips on Hallway Testing
Got It! Check Your Email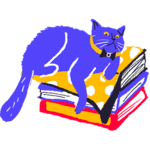 Reduce Costs of mitigation and improve team performance with automated ticketing system
Read also: The North Star Metric and How Can This Lead to Success
For example, Dashly chatbot platform users can:
Merge leads automatically and manually. You can track and combine data from different sources, online and offline channels (CRM, CMS, site, processing system).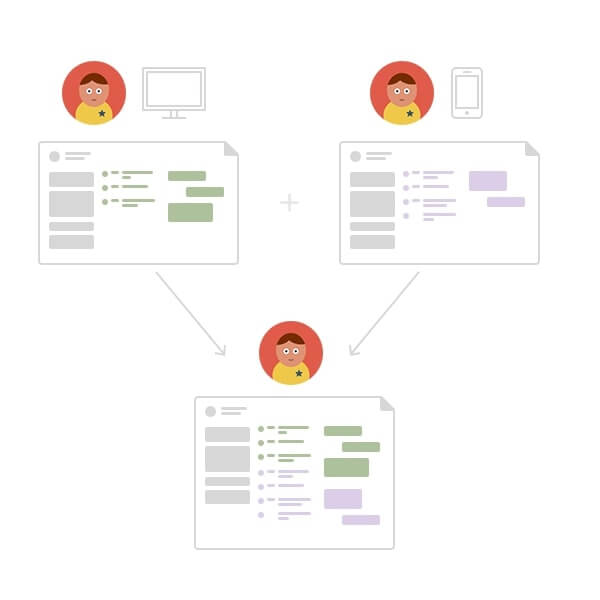 There is an opportunity to use your system ID (email, phone number, bonus card number, or any other unique user IDs) as a User ID.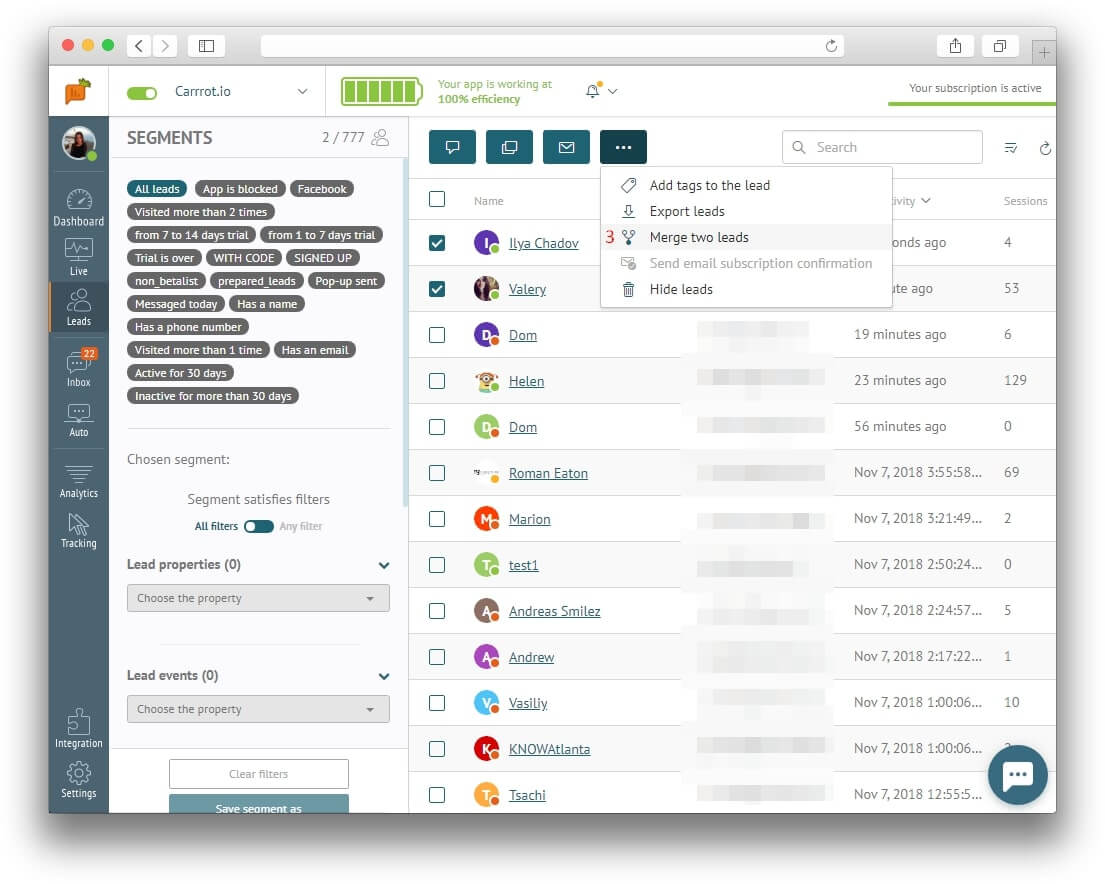 Segment leads by tags, properties, events.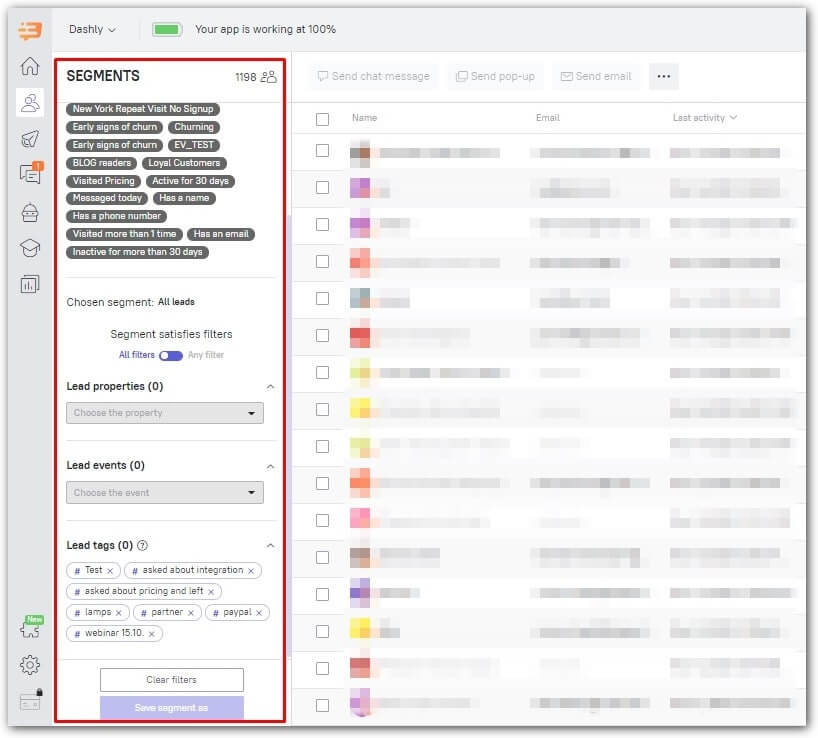 Check if you can transfer, track, combine and segment contacts from different sources.
Read also: Find out the best Intercom alternatives and Drift alternative
Does your live chat platform have 24/7 customer support?
They're just a few examples of situations you can trap in if it's terrible: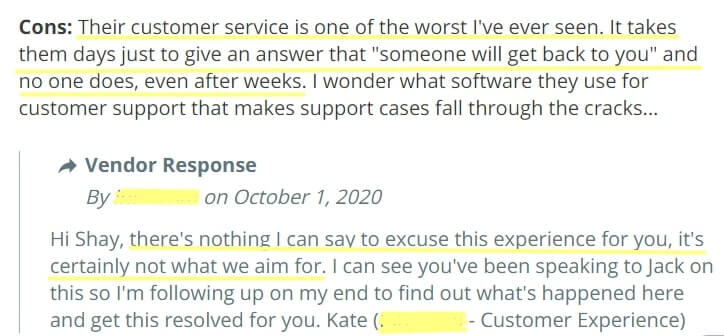 To get assistance straight away, check if your live chat tool provides 24/7, 365 days a year support. It should be available through live chat, phone, e-mails as a minimum.
Time to wrap up 
To choose the best live chat software, you should pay particular attention if it has:
Proactive messages
Flexible customization settings
Fast load speed
Mobile app
Detailed reports
Automated chat routing
Email and socials inbox as well
Canned responses
Agent notifications
Easy import and export
All the needed integrations (Calendly, Zoom, CRM, CMS, socials, etc.)
24/7 customer support