All products "feel" the same pain of user idleness. Regardless of how "old" they are or how well they are developed. The sad truth is, your potential customers are more likely to leave things the way they are than try new things. That's the psychology of a human being.
Good news: there are ways to argue them into trying and increase your product visibility.
It doesn't matter if this is your first or fiftieth release. We'll help you prove the product value to your users. 
What is product adoption?
Product adoption is a process when users embrace your product value and make a purchasing decision. It includes four stages: 
awareness;
interest;
evaluation;
conversion.
When it comes to measuring adoption, signup count or daily active users come to mind. If taken individually, these metrics can't tell if users seamlessly embed your product in their daily routine or business activities. You can't also see if users can do without your product.
The product is truly adopted when its value gets so high that it overweighs all acquisition and usage costs.
Please keep in mind that product adoption isn't just about new users. Don't forget to assist your existing customers in appreciating your product value as you release new features and product improvements.
Read also: How LeadGen App grew sales by +30% explaining visitors the product features via Leadbot
4 forces influencing product adoption
This concept was proposed by The Re-Wired Group (they help business customers embed the Jobs-To-Be-Done framework into product strategy). According to the concept, there are four forces at play influencing product adoption. Two of them typically work in your favor, while the other two play against you.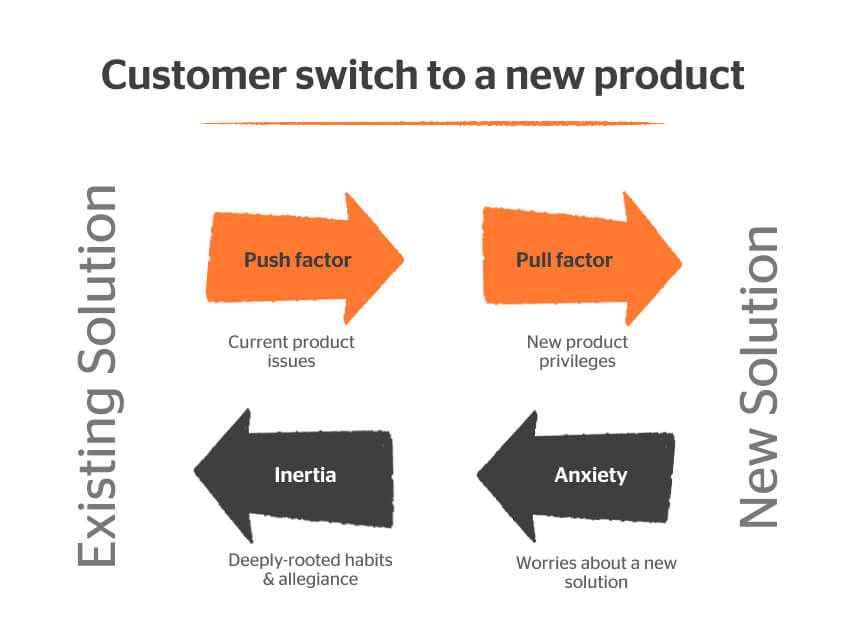 With the right tactics, you can make all forces work in your favor. Increase product adoption by doing these things:
Highlight the imperfections of your potential customer's current product.
Show how well your product solves their issues.
Decrease the fear of change and explain how they can easily switch to your solution.
Decrease the potential customer's attachment to their current product.
Now let's look closer at each of the four forces.
1. Highlight imperfections of a current product
Talking badly about others is not your thing? Try highlighting shortcomings of your customer's current solution and noting how your product makes up for these imperfections. A user may not instantly decide to switch, but at least they'll think of a change. 
This is perfectly illustrated on the GetGuru main page.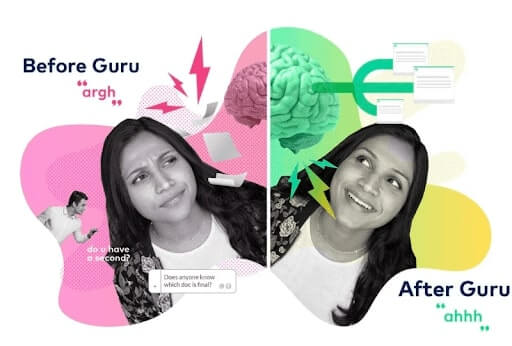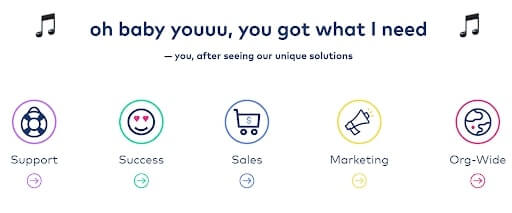 2. Make it clear how you solve user problems
Let's be straight: selecting a product, mastering it, handling reviews, and onboarding it is demanding. The goal of this stage is to make your product so appealing that a prospective customer is willing to do everything to experience what you offer.
Testimonials, demos, and cases are great ways to help customers visualize the fruitful outcomes of using your product.
GetGuru demonstrates the digitized value in their testimonial section: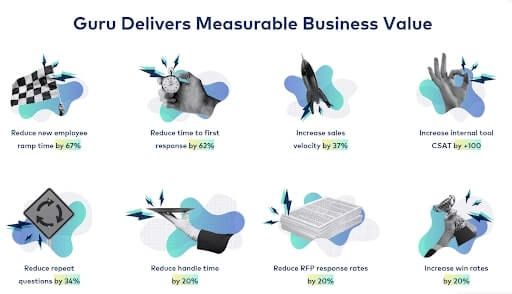 Figma uses reviews of large business customers for that purpose: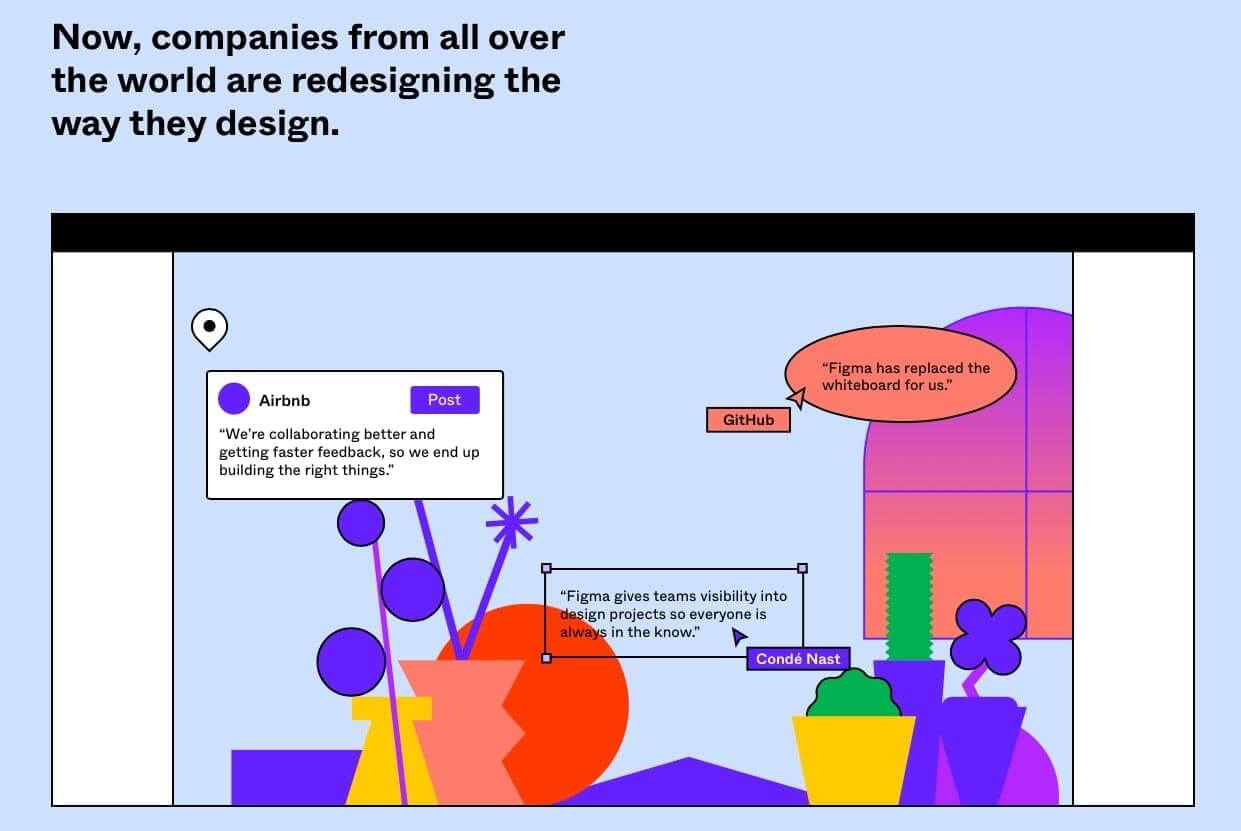 This helps eliminate all doubts that the product brings feasible results. 
3. Decrease the fear of change
A user may be well aware of their current product's shortcomings. But will they actually benefit from the change? What if it doesn't work or even worsens everything?
These concerns are legitimate. Your task is to alleviate them. Changing customer habits often requires more than smart marketing. First, get your user to download a trial, and then show value before it's too late. Whether or not a user will have a "wow moment" depends on how well you present your product.
A "wow-moment" is an instant when a user decides to buy. 
Defining it is tricky, but you'll know it when you feel it. Here's a simple example: remember joining your first WhatsApp group chat when it dawned on you that SMS couldn't do anything like this. This is a "wow moment" when you embraced the value.
Onboarding in your product should be about a "wow moment" rather than a tour of your features. This is the key to embracing the value of your product and worrying less about giving up their old solution.
4. Decrease attachment to the old
You've surely heard that someone was choosing their current product because someone recommended it or because it was used by "everyone else". When trying something new, we feel more comfortable if we know there's always someone out there for us who we can call for help.
But what's right for most people isn't right for everyone. Some companies claim, on the contrary, that they're "not for everyone". DuckDuckGo is surely less popular than Google or Yahoo that monetize user search.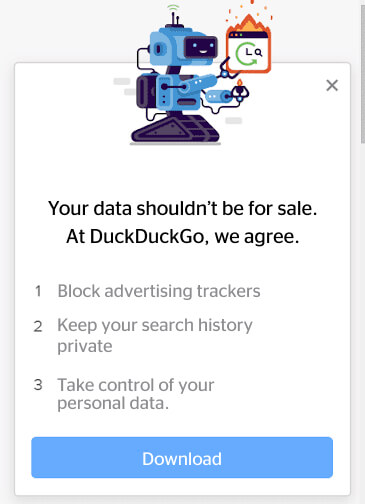 What to do to draw potential customer's attention to your benefits over a sense of belonging to an old product? Offer them something they desperately miss (online privacy) or mention your support options (so they don't have to ask friends for help).
3 ways to improve product adoption
Working with the above four forces is quite convincing and helps encourage users to try your product. But it's not an exhaustive list of keys to successful product adoption. We can name at least three more effective ways.
1. Improve your onboarding experience
Successful onboarding does not only show how to do things in your product. It also explains the value. Your customers have at least one goal in mind: saving time, making money, connecting with users, etc. Onboarding is how you guide users towards it.
Read also: To use or not to use? 8 Client Onboarding Trends And Their Adoption in SaaS
2. Improve your product
If you think your product needs improvements, it doesn't mean you should instantly release new features or change the UI. Here are other effective ways to make your product better:
Add new features to improve adoption among your current users. Listen and react if users ask you to add a feature. We're not saying they will definitely use it, so you can ask them to prioritize. Will they prefer a calendar integration over a tab for notes?
Change to increase usage frequency. If customers don't use some product features, clever changes can make it more appealing. In the search engine case, this might mean adding new filters.
Change to acquire new users. Do your customers say something like "I'll use it as soon as I can…" or "I'm not using it yet because I can't…"? If yes, some changes (to what customers want to use) can speed up product adoption.
3. Improve customer support
If customers can't handle your product even with a manual at hand, they'll leave. We all lack time and drown in the market of options. So it's easier for us to stick to an old solution. 
Another way to enhance adoption is to make support closer to a customer. In the perfect world, a user should not leave your app when reaching out for help. Because if they leave, they may never get back. These simple tools will help your support become more accessible:
Add videos. Add short demos in pop-ups, overlays, or in-app tabs. Users will get help when they need it and easily get back to work.
Set up a live chat. Chats help quickly get answers. Make a chat accessible in every section of your website.
Use chatbots if you have a large audience. Set up auto-replies for non-working hours. Go through user questions because many of them can be resolved by a chatbot.
Your potential customer may act reluctant to your new solution. You can embrace the reasons for their reluctance and overcome them. Show them how your product helps achieve goals, and users will stop focusing on switching inconveniences and will see the true product value!
If you need help with determining your value, you need more feedback from those who already use your product. One of the great ways to gather that feedback is lifetime deals. Learn more about this practice in our video: