Ever juggled multiple tasks and wished for a handy helper? 
Product marketing tools are the secret sauce to sprucing up our marketing strategies with efficiency and precision. They'll help you with adeptly managing customer feedback, automating processes, and making product marketing a breeze. 
Here at Dashly, we understand how pivotal the right software can be. 
That's why we've done the homework for you, rigorously reviewing the top 10 product marketing software tools. Tools that not only automate your product marketing strategies but also take them to new heights. 
So, ready to make your product marketing journey smoother? Let's dive in!
Dashly marketing automation software for product managers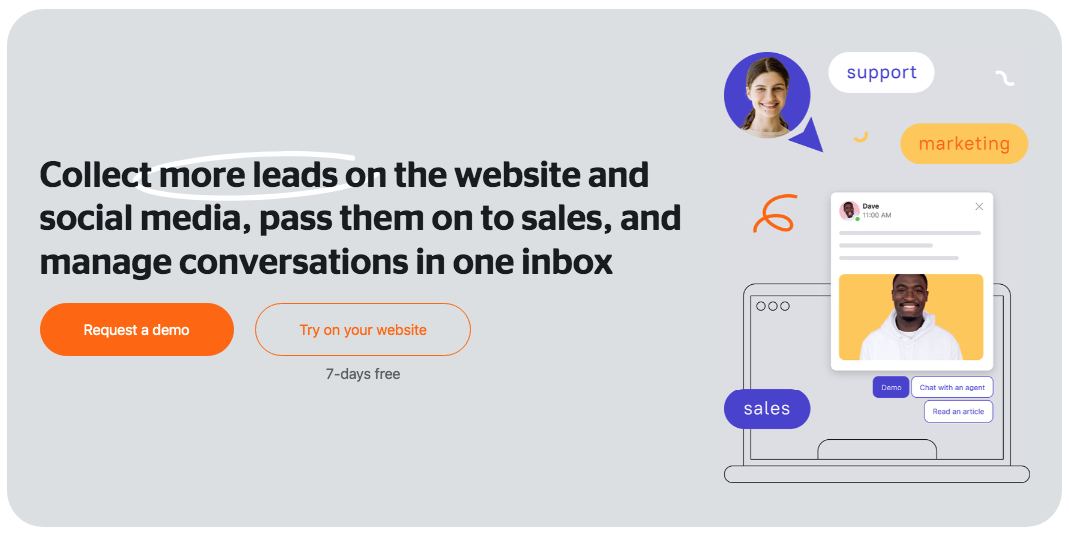 Dashly is a comprehensive product marketing tool designed to convert website visitors into happy customers. The company strives to offer a platform that can automate communication with potential customers, facilitate lead generation, and enhance customer engagement. Dashly caters to businesses of varying sizes, from emerging startups to established enterprises, helping them unlock their full marketing potential.
Features
Dashly is equipped with several powerful tools, each offering unique benefits for product marketing:
Pricing
Dashly offers a free trial to get started. The pricing model is flexible, starting at $39/month for the basic Conversation plan. But for product marketing needs, pay special attention to the Marketing plan that starts at $109/month.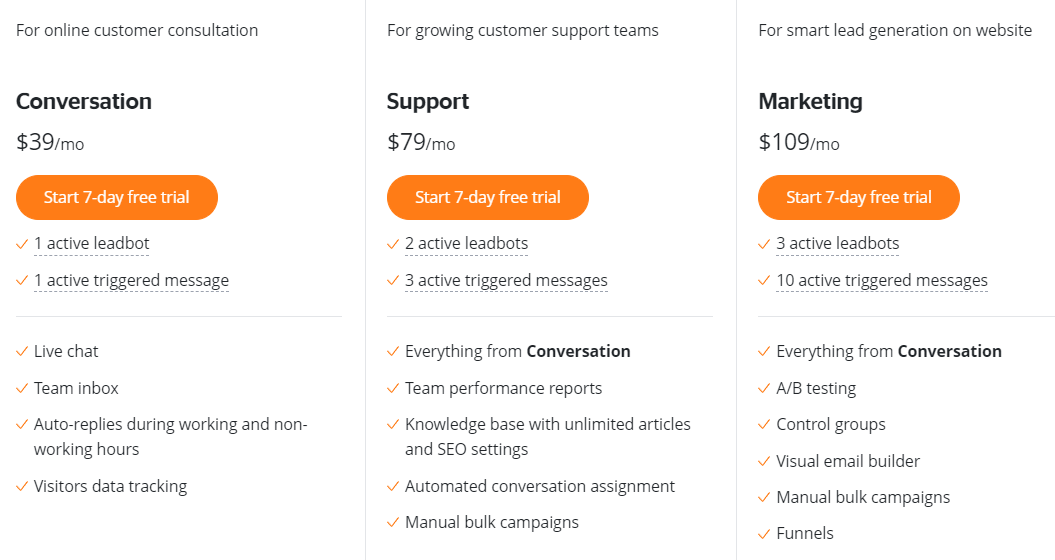 The price depends on your website traffic and add-ons you choose to include in your plan. You have 7 days of free trial to test the platofrm's functionality.
Pros and Cons
Seamless live chat feature for instant customer interaction.
Strong automation capabilities for emails and pop-ups.
Detailed user tracking to understand visitors' behavior.
Knowledge base feature for customer self-service.
Might require a learning curve to make full use of its features.
Limited integrations with other platforms.
In a nutshell, Dashly is a feature-rich software that empowers businesses to automate their product marketing, understand their customers better, and ultimately, boost their conversion rates.
Amplitude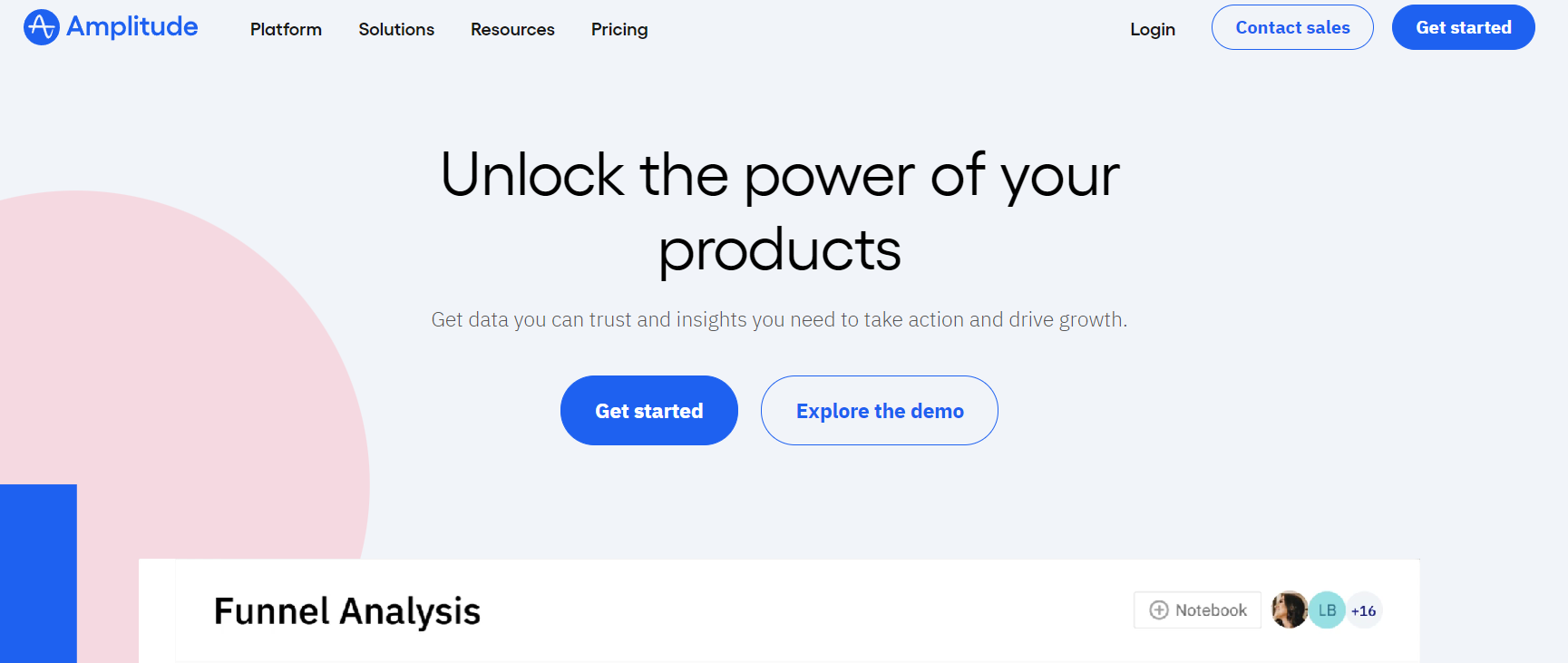 Amplitude is a top-notch product analytics platform designed to help businesses understand their users' behavior. Their mission? To assist companies in creating digital products that captivate customers. Serving startups to Fortune 500 companies, Amplitude provides valuable insights to drive growth and engagement.
Features
Amplitude offers a wide array of tools:
Behavioral Analytics allows you to dig deep into your customers' actions and understand their preferences, habits, and pain points. Through pattern detection and trend identification, you can gauge the success of your marketing strategies and adjust them accordingly.
Microscope is a meticulous tool that captures detailed customer feedback on every user interaction. This feature goes beyond surface-level data, offering nuanced insights about user behavior. Whether it's a click, swipe, or scroll, every action is analyzed, helping you understand what resonates with your audience. This granular feedback can guide your product marketing initiatives and help refine user experience.
Compass is an analytical tool that helps you identify the user behaviors that drive conversion and retention. It shows you the path your customers are taking on their buyer journey and points out steps that lead to conversion. This allows you to focus your efforts on what works best, streamlining your product marketing strategies and fostering customer loyalty.
Engage is designed to monitor your marketing campaigns closely and measure their effectiveness. It tracks user response and engagement, providing real-time data that can help adapt your marketing strategies on the fly. It allows you to tweak campaigns for maximum impact, ensuring that your product marketing efforts yield the best results.
Insight is a tool that helps identify potential issues and opportunities within your product's performance. It highlights areas that may be hindering user experience or areas where users are particularly engaged. These insights can guide tweaks to the product or inform the development of new features, fuelling your product marketing tactics with actionable data.
Pricing
Amplitude offers a freemium model. The Plus plan starts at $49/month, tailored for mid-size businesses with advanced needs. For large enterprises, there's the custom-priced Growth plan offering exclusive features and support.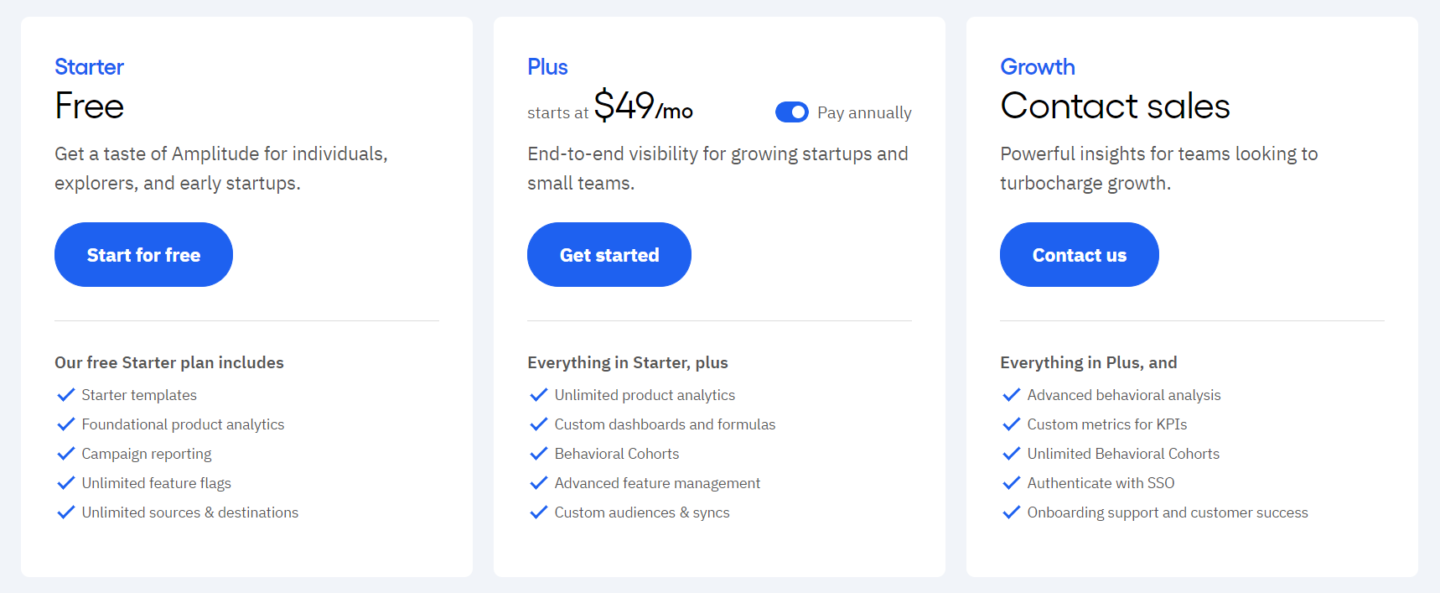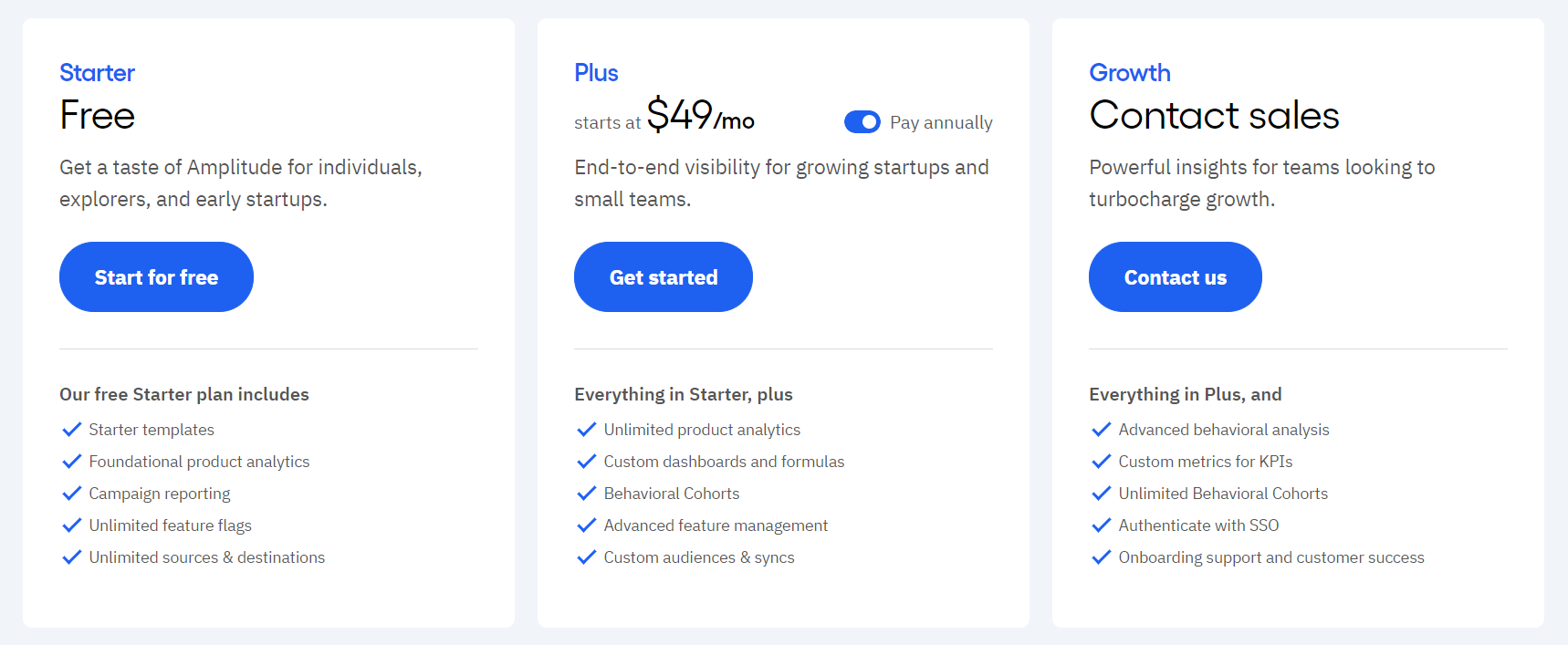 Both come with a free trial.
Pros and Cons
Comprehensive behavioral analytics tool.
In-depth customer feedback on user interactions.
Flexibility in tracking specific marketing campaigns.
Robust solution for large businesses.
Might be pricy for small businesses.
A steep learning curve for beginners.
Some features might be excessive for simple needs.
In a nutshell, Amplitude is more than just a product marketing tool. It's a robust software that offers in-depth customer feedback and a myriad of features set to drive your product marketing strategies to new heights.
Trello marketing software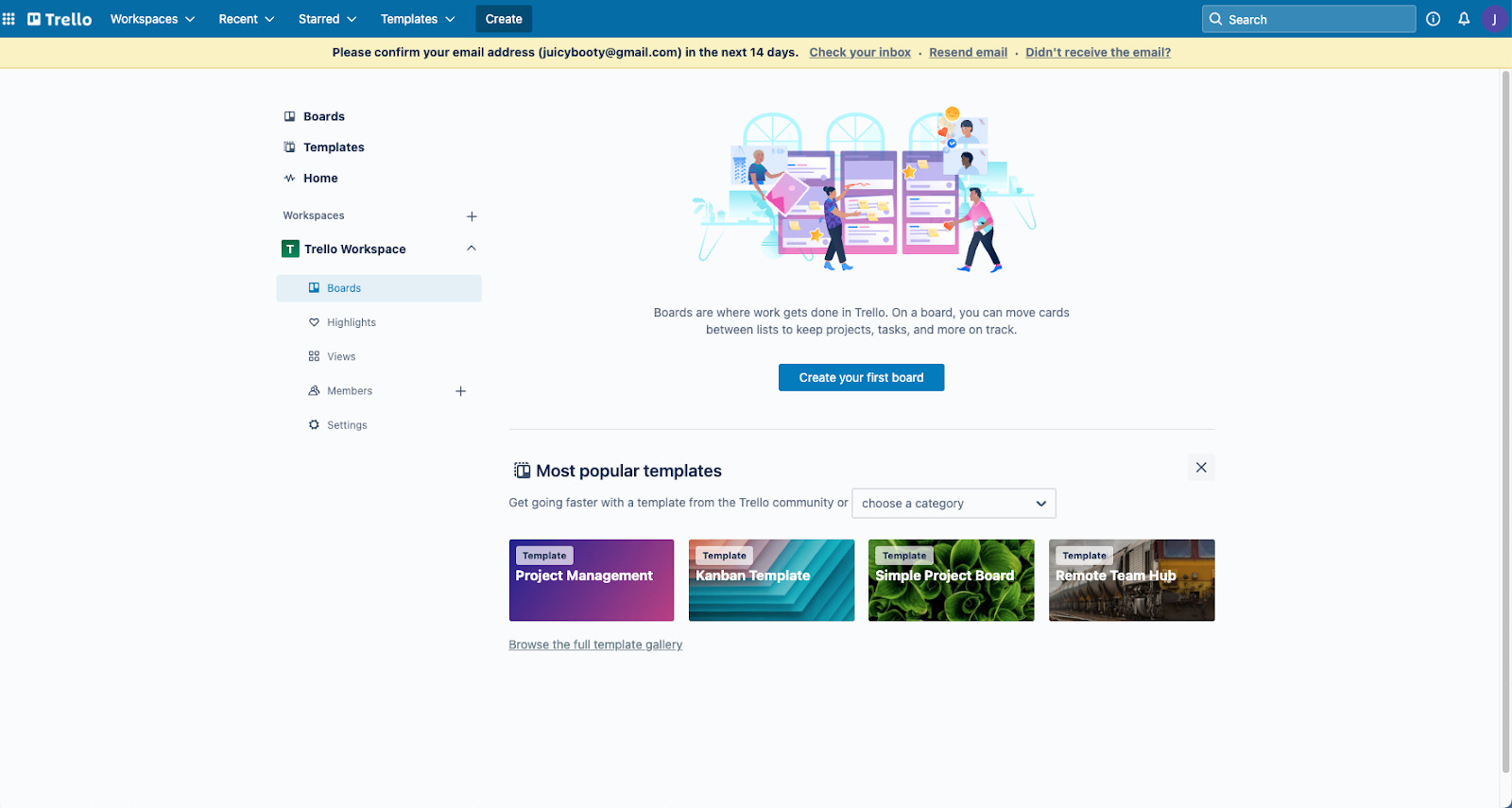 Trello is a visually appealing and intuitive project management tool used by businesses of all shapes and sizes. Its primary goal is to boost productivity and facilitate collaboration among teams. Whether it's project planning, content creation, or product marketing, Trello simplifies everything.
Tools
Trello provides several useful tools:
Boards provide a bird's eye view of your entire project, helping you visualize all tasks and stages. It's like having a digital whiteboard where you can map out your product marketing strategies, plans, and campaigns. This visual approach to project management fosters collaboration and ensures everyone on the team is aligned and informed about the objectives and status.
Lists allow you to break down your projects into manageable stages or categories. Whether it's ideation, planning, execution, or review, each stage of your product marketing strategy can have a dedicated list. It simplifies project management by providing structure and order, making it easier to track progress and maintain efficiency.
Cards are the essential building block in Trello and can be added to any list. They are used to represent tasks or ideas. You can add details, comments, attachments, and even customer feedback to cards, creating a central place for all relevant information. It's a great way to organize and prioritize your product marketing tasks while fostering team collaboration.
Checklists within cards allow you to define and track small tasks that need to be accomplished for a larger goal. They create a clear path of action, ensuring that nothing slips through the cracks. Whether it's steps for a product launch or tasks for an upcoming marketing campaign, checklists keep your product marketing efforts organized and on track.
Due Dates are a vital feature in Trello that ensures you never miss a deadline. By setting due dates on cards, you can keep track of timelines for each task, making sure every piece of your product marketing strategy is executed on time. The ability to visually track deadlines helps to better manage workloads and ensures timely completion of your marketing initiatives.
Pricing
Trello offers a free plan with basic features. For more capabilities, they have Standard at $5/user/month and Premium at $10/user/month. There's an Enterprise at $17.50/user/month for larger organizations, both billed annually.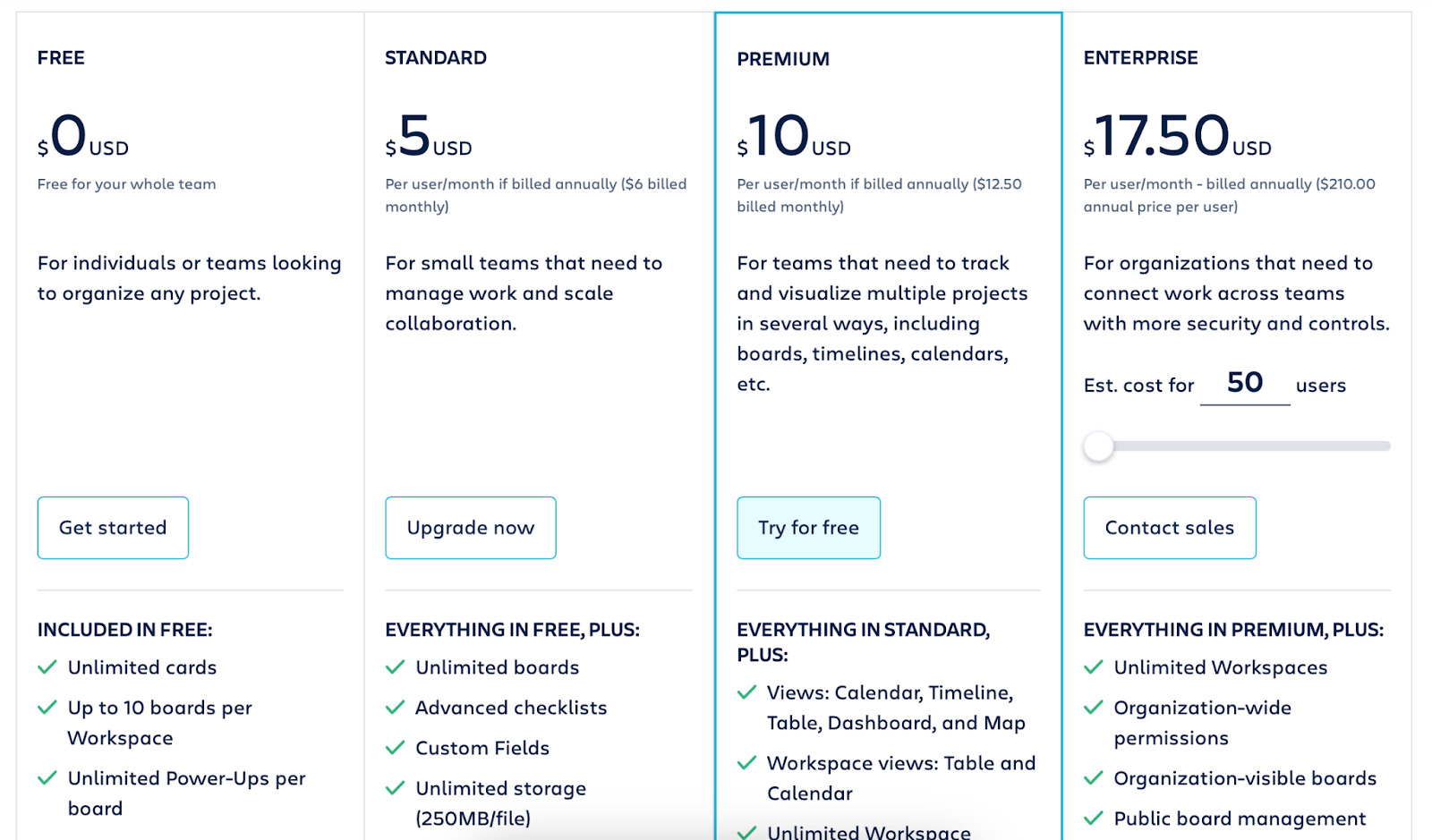 A free trial is available for Standard, Premium and Enterprise plans.
Pros and Cons
User-friendly interface.
Excellent for collaboration and project management.
Flexible and customizable to suit your unique needs.
Strong integrations with various other software.
Limited features in the free version.
Can become cluttered with complex projects.
Not specifically built as a product marketing software.
Trello is a versatile tool, not just a project management software. For product marketing, it's a great way to organize tasks, collect customer feedback, and keep everyone on the same page.
Optimizely product marketers software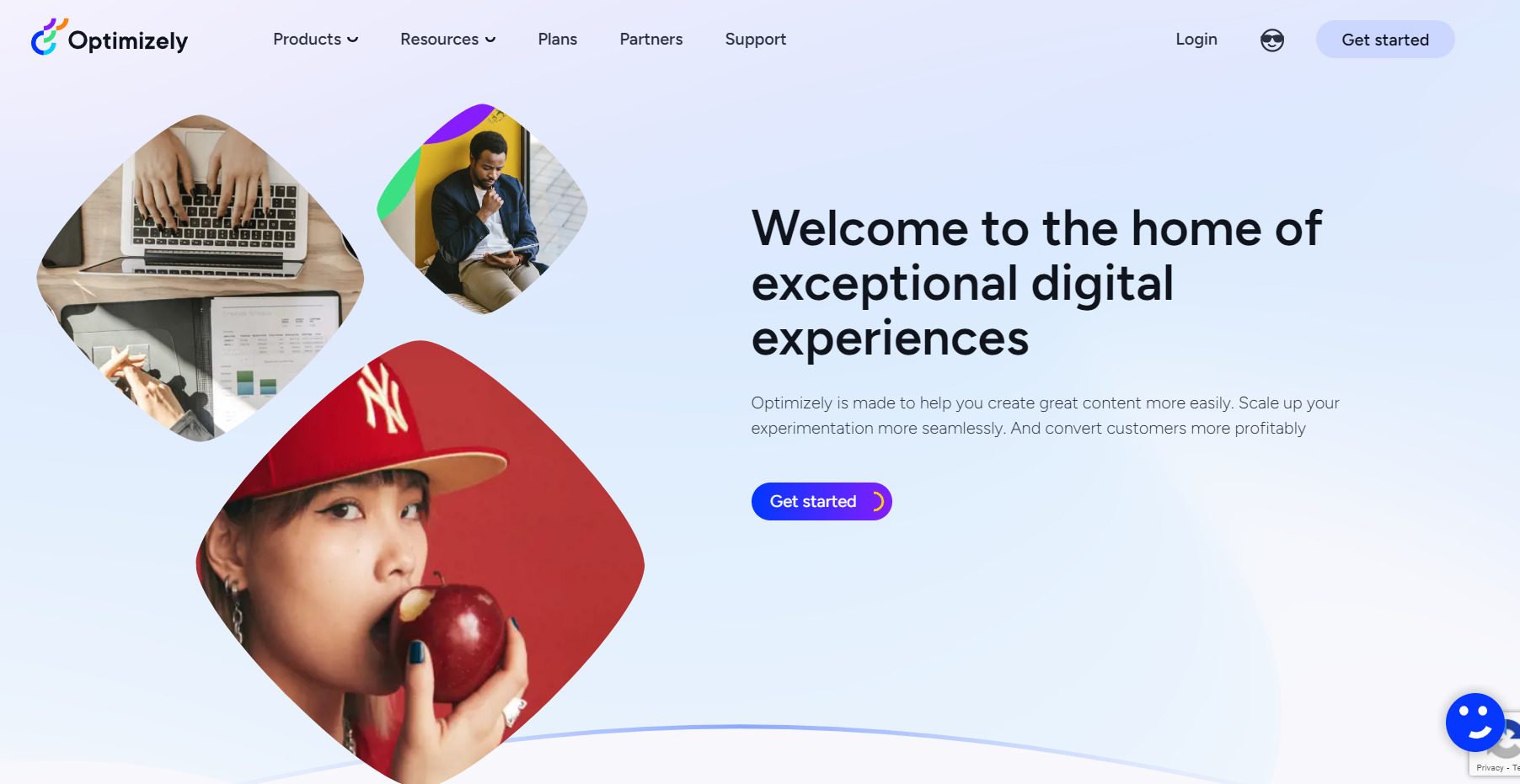 Optimizely is an innovative platform that empowers businesses to deliver personalized experiences to their customers. Positioned as an experimentation and personalization software, it is used by a wide range of businesses, from startups to large corporations, for their product marketing needs.
Tools
Optimizely comes with various robust tools:
A/B Testing is a key feature in the product marketer's toolkit, A/B testing in Optimizely allows you to create and compare two different versions of your product or marketing campaign to see which one resonates better with your customers. This allows for data-driven decisions, reducing guesswork and improving the effectiveness of your product marketing efforts.
Multivariate Testing: With this feature, Optimizely allows you to test multiple variables simultaneously to understand their combined effect on your product's performance. This comprehensive approach provides deeper insights and more nuanced data, helping you refine and optimize each aspect of your product or marketing strategy.
Personalization empowers you to tailor user experiences based on customer behavior and preferences. It allows you to deliver highly customized content, improving user engagement and driving customer retention. This feature is vital for creating customer-centric product marketing strategies.
Progressive Delivery is a feature that allows for the gradual rollout of new features or changes in your product. This means you can measure their impact and gather valuable customer feedback before a full-scale launch. It's an excellent tool for mitigating risks associated with product changes and for ensuring your product marketing strategies align with user expectations and experiences.
Pricing
Optimizely offers custom pricing based on the individual needs of your business. They provide a demo to better understand their offerings and how it can fit your business requirements.
Pros and Cons
Powerful A/B and multivariate testing capabilities.
Enables personalized customer experiences.
Progressive delivery reduces risk in product updates.
Comprehensive analytical and reporting tools.
Pricing isn't transparent.
Can be complex for beginners.
Might be too feature-rich for small businesses.
In essence, Optimizely is a powerful product marketing software that provides you with the tools to understand customer behavior, make data-driven decisions, and deliver personalized experiences, all vital aspects of effective product marketing.
Mixpanel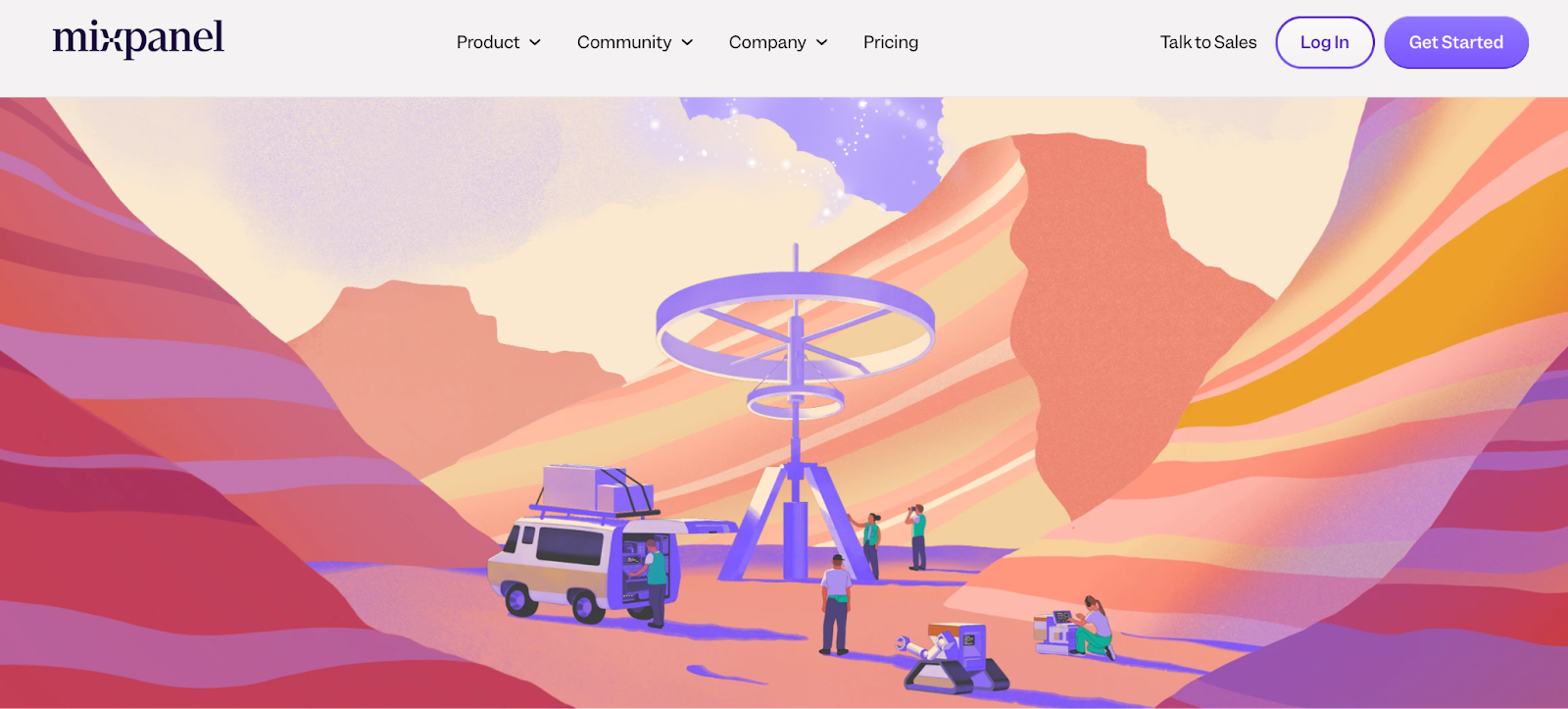 Mixpanel stands tall as a user analytics platform that helps businesses dive deep into their data. The goal? To gain meaningful insights into how users interact with their products. From startups to large enterprises, businesses utilize Mixpanel to take their product marketing to the next level.
Features
Mixpanel comes loaded with a range of tools:
User Analytics is a powerful feature that lets you thoroughly understand user behavior and engagement across multiple platforms. By tracking user interactions with your product, you can gain insights into what works and what doesn't. This knowledge can be used to shape your product marketing strategies, ultimately leading to improved user experiences and engagement.
A/B Testing gives you the opportunity to test different versions of your product or specific features to optimize the customer experience. By comparing how users interact with different versions, you can identify what resonates most with your audience. This is crucial for iterative improvements and for ensuring your product marketing efforts are truly effective.
Automated Insights is an intelligent feature that provides automatically generated insights based on your user data. This takes the guesswork out of interpreting data and allows you to make data-driven decisions with ease. With automated insights, your product marketing strategies can be agile, responsive, and highly targeted.
Data Science Models allows you to predict future user behavior based on past data. This predictive analysis can inform your product development and marketing strategies, helping you anticipate user needs and trends. It's a forward-thinking tool that can give you a significant edge in your product marketing efforts.
Pricing
Mixpanel offers a free plan for startups and smaller teams. Beyond that, they have a Growth plan starting at $17/month and an Enterprise plan with custom pricing for larger teams.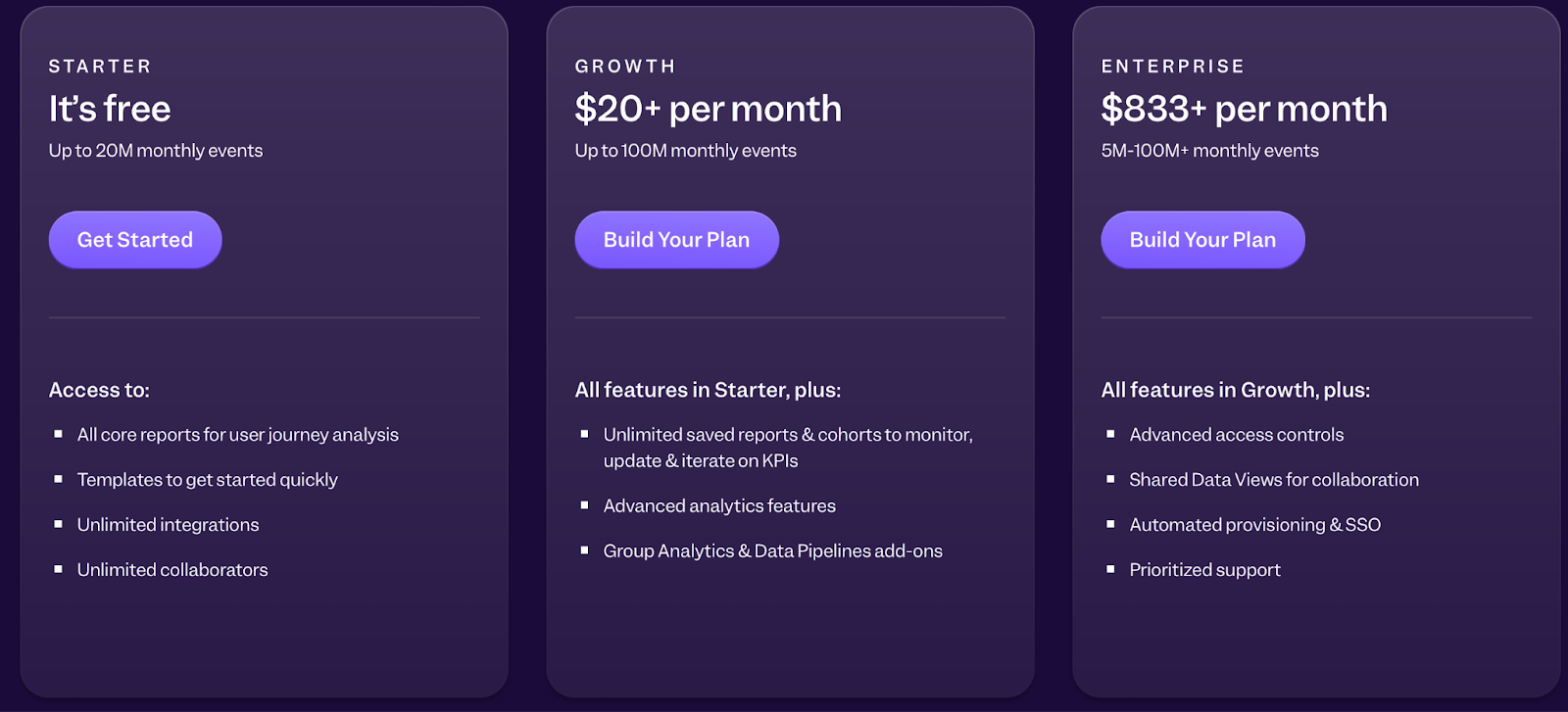 They offer a 14-day free trial for the Growth plan.
Pros and Cons
Deep user analytics capabilities.
Automated insights save time and effort.
Advanced predictive modeling features.
User-friendly interface.
Advanced features might be overwhelming for beginners.
Pricing can be steep for larger teams.
Limited integration options.
Overall, Mixpanel is an advanced product marketing tool that offers comprehensive user analytics, A/B testing, and predictive modeling, helping businesses make data-informed decisions and elevate their product marketing efforts.
ClickUp for product marketing managers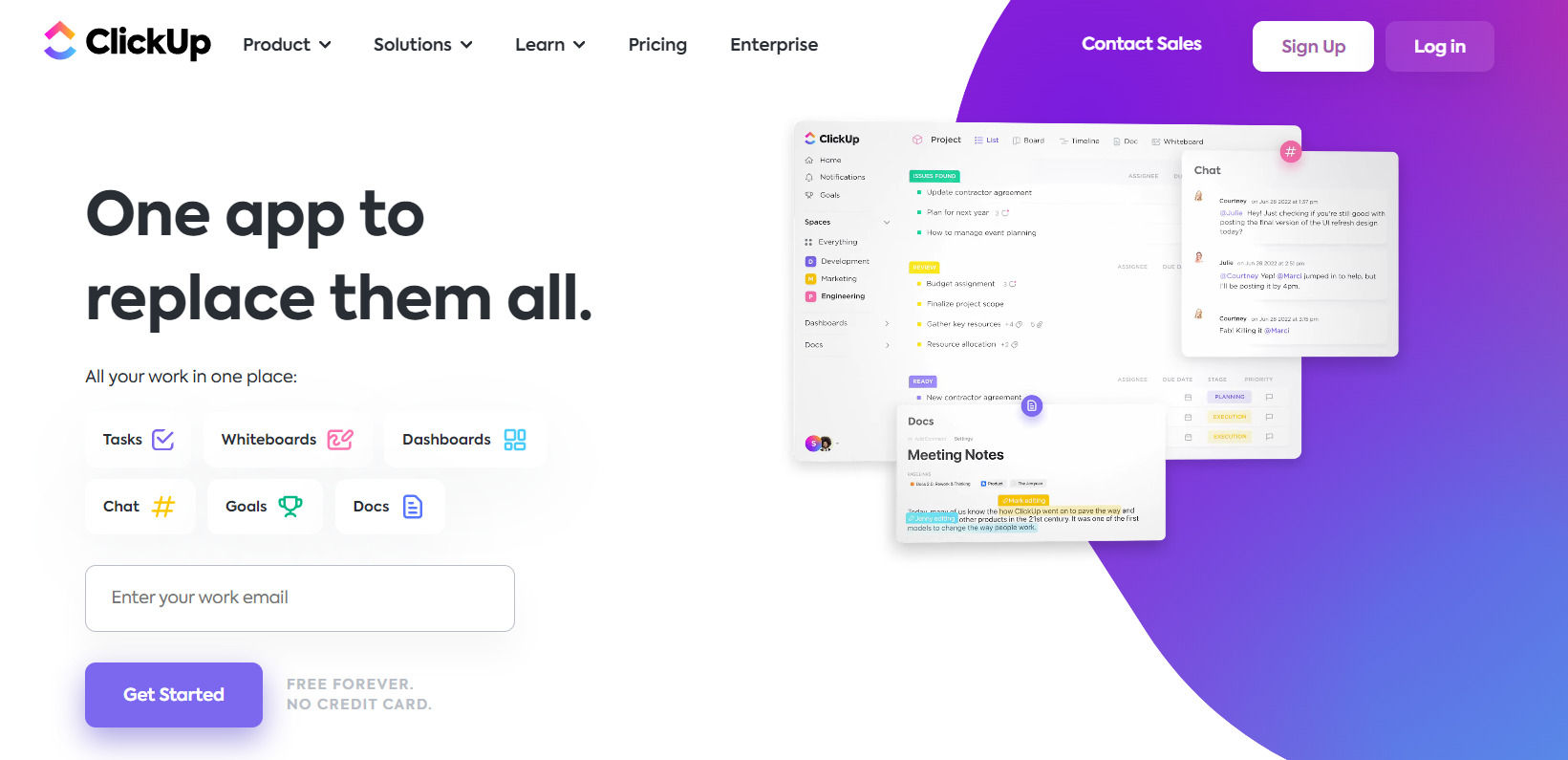 ClickUp is a versatile project management tool designed to make your work life more productive. It's a one-stop shop for all your productivity needs, suitable for businesses of all sizes. ClickUp's goal is to eliminate the need for any other productivity apps, making your product marketing efforts more streamlined.
Tools
ClickUp boasts an impressive range of tools:
Task Management allows you to track progress, gather feedback, and manage your tasks efficiently. It's a comprehensive tool that helps you organize your product marketing activities, assign tasks to team members, and monitor their completion. It simplifies task coordination, making your product marketing workflow more streamlined and productive.
Time Tracking to monitor how much time is spent on each task or project. This helps in estimating time frames for future tasks, assessing productivity, and optimizing work processes. It's an invaluable tool for ensuring your product marketing initiatives are on track and delivered on time.
Docs & Wikis allow you to create, share, and store documents in one place. Whether it's product guides, marketing strategies, or team notes, having a centralized knowledge base enhances team collaboration and ensures everyone is on the same page. It's a great tool for maintaining consistency and clarity in your product marketing efforts.
Custom Statuses let you tailor workflows to fit your team's needs. You can create unique statuses that reflect your project stages or task progress. This flexibility makes ClickUp an adaptable tool that can accommodate any product marketing workflow, no matter how unique or complex.
Goal Tracking allows you to set, monitor, and achieve your marketing goals. By visualizing your goals and breaking them down into measurable metrics, you can track progress and keep your team aligned and motivated. It's a powerful tool for driving success in your product marketing campaigns.
Pricing
ClickUp offers a Free Forever plan with essential features. For more advanced capabilities, they offer Unlimited at $10/user/month, Business at $19/user/month, and Enterprise with custom pricing.

Each paid plan comes with a 30-day free trial.
Pros and Cons
Comprehensive task and project management features.
Customizable to suit unique workflows.
Affordable pricing tiers.
Extensive integration options.
Can be overwhelming due to numerous features.
The UI might be complex for first-time users.
Limited features in the free version.
In summary, ClickUp is more than a project management tool. It's a comprehensive product marketing software that helps manage tasks, track time, get customer feedback, and ultimately, achieve product marketing goals.
Omnisend product marketers software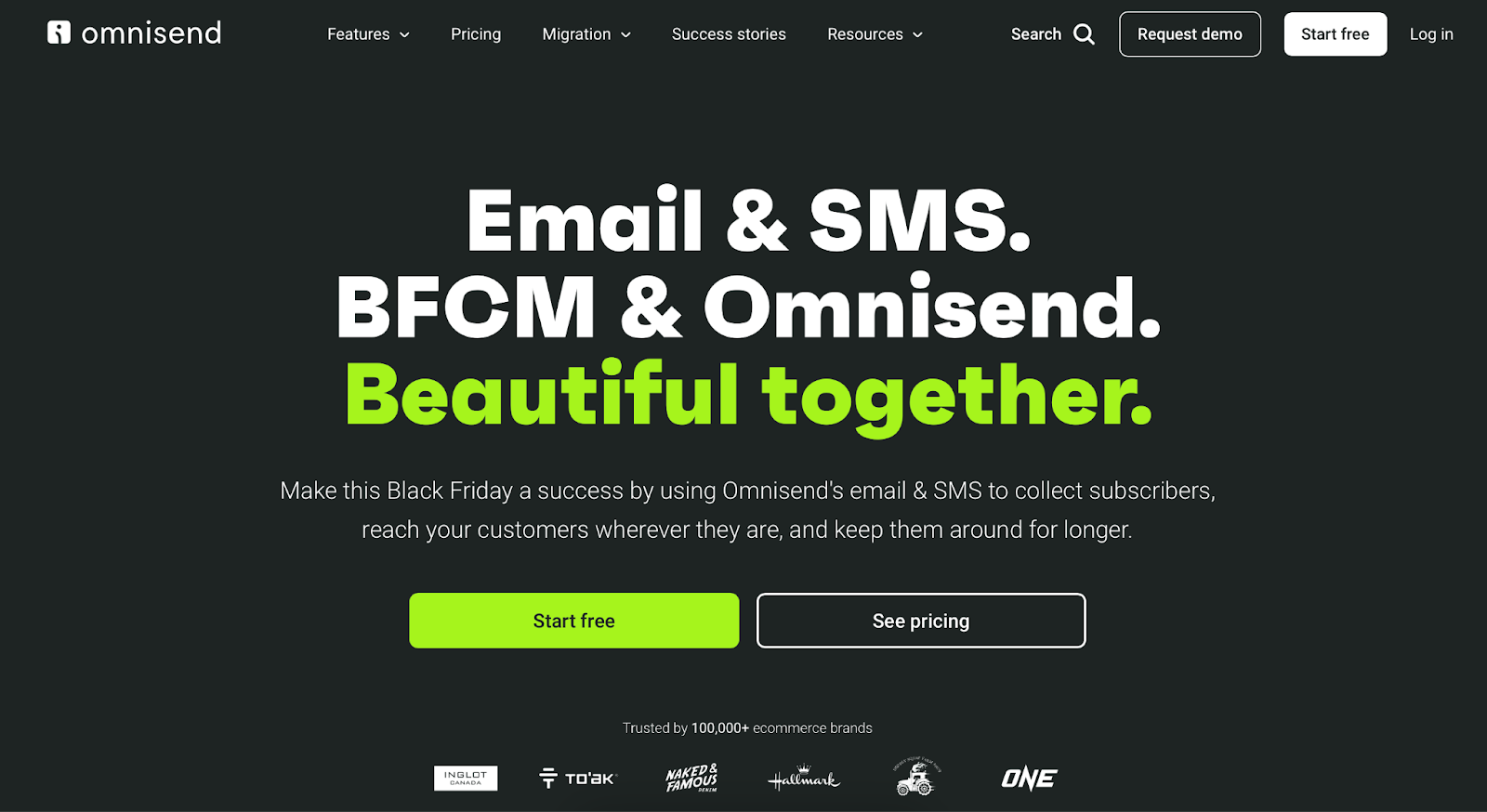 Omnisend is a robust marketing automation platform particularly geared towards e-commerce businesses. It aims to provide all the marketing tools needed to run successful campaigns, from email templates to website pop-ups. Whether you're a small business or a larger enterprise, Omnisend helps you manage your marketing efforts effectively.
Tools
Omnisend offers a powerful set of tools:
Email Marketing: This feature offers pre-built templates that make creating engaging emails quick and easy. Whether it's a monthly newsletter or a promotional email, this tool helps you craft effective content that aligns with your brand and appeals to your audience. It's a vital feature for any product marketing strategy.
Website Pop-ups and Forms to design and implement custom pop-ups and forms on your website to collect user data and build your subscriber list. It's a straightforward way to capture customer information, helping you grow your audience and generate leads for your product marketing campaigns.
Segmentation to categorize your customers based on their behavior and preferences. This ensures your marketing campaigns are highly targeted, improving their effectiveness and increasing customer engagement. It's a feature that helps refine your marketing efforts, making them more personalized and impactful.
Automation to set up automated marketing campaigns that run on their own, saving you time and resources. From sending welcome emails to cart abandonment reminders, automation streamlines your product marketing efforts and ensures consistent communication with your customers.
Analytics to track and measure the performance of your marketing campaigns. You can monitor key metrics like open rates, click-through rates, and conversions, providing valuable insights that can inform future marketing strategies. It's a tool that yields data-driven results, a cornerstone of successful product marketing.
Pricing
Omnisend offers a free plan that includes email campaigns and basic email automation. The Standard plan starts at $16/month, the Pro plan at $99/month, and the Enterprise plan comes with custom pricing.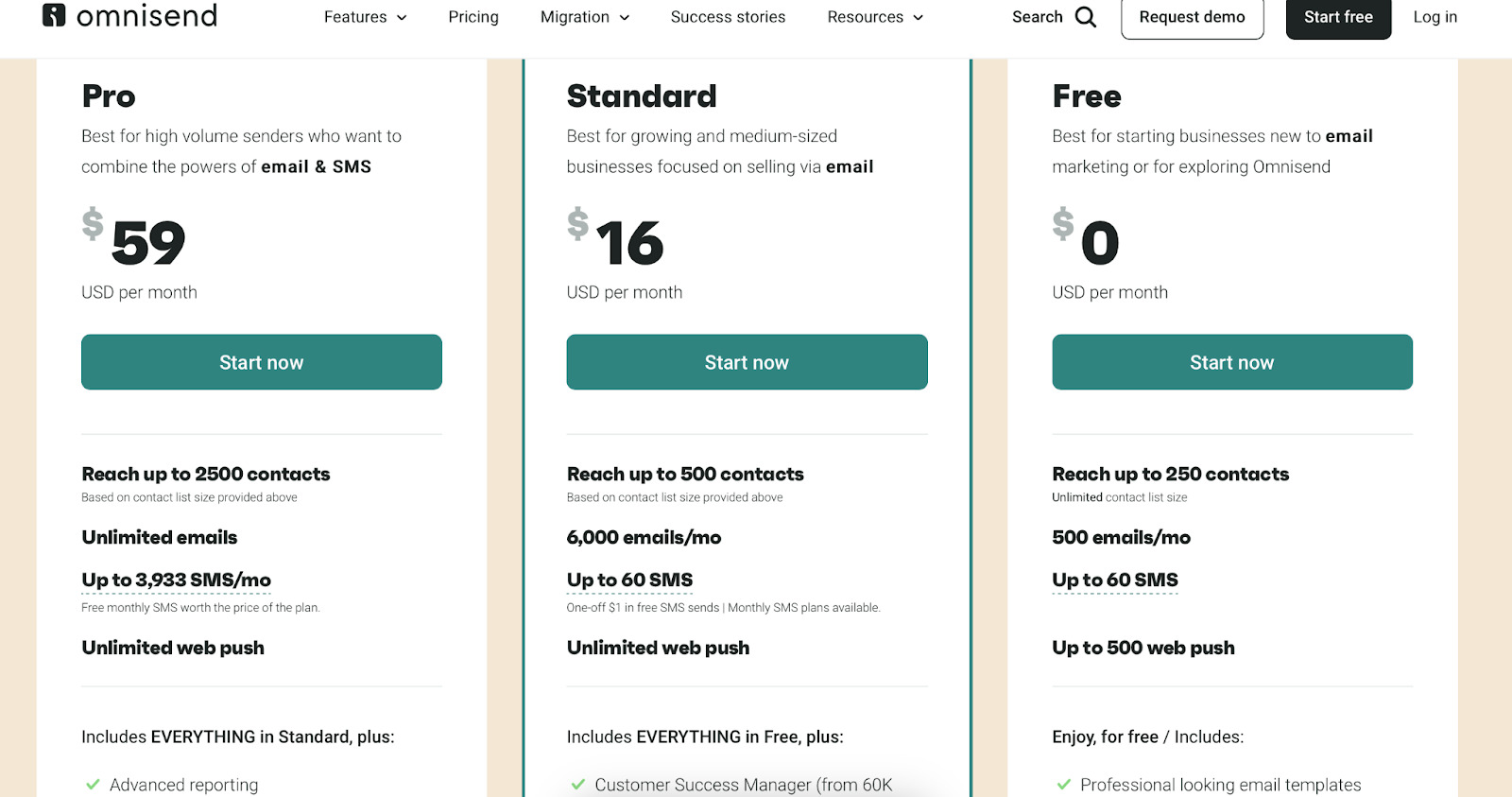 Each paid plan comes with a 14-day free trial.
Pros and Cons
Comprehensive marketing automation features.
Wide range of templates for emails and website content.
Strong segmentation capabilities.
Great for e-commerce businesses.
Can be pricy for smaller businesses.
May have a steep learning curve for beginners.
Limited integrations with other platforms on the lower-tier plans.
In short, Omnisend is a comprehensive product marketing tool that not only helps you create engaging content and manage your campaigns, but also provides detailed analytics for data-driven decision-making.
Proprofs for product marketing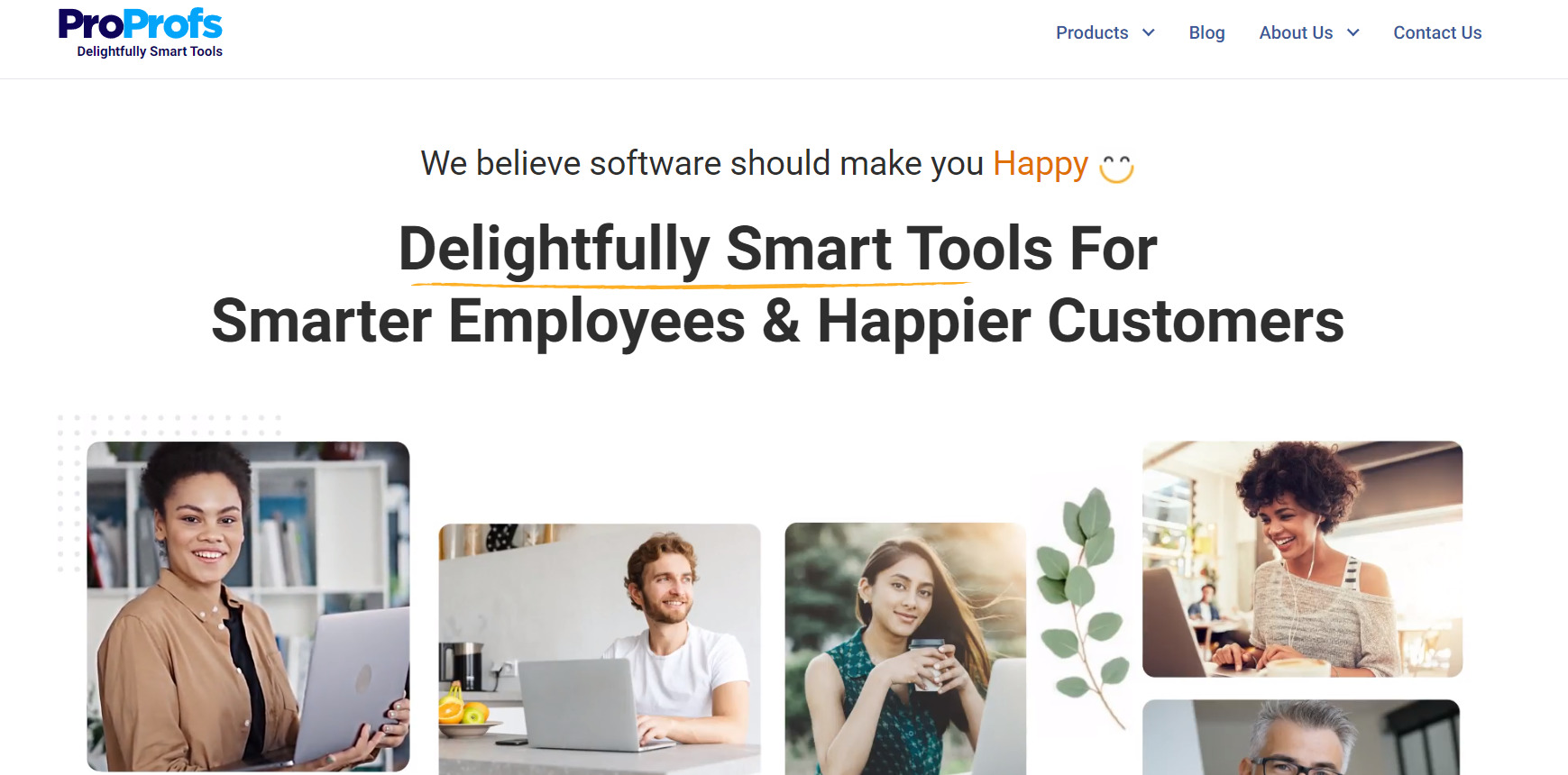 ProProfs is a versatile product marketing tool aimed at simplifying the way businesses create, share, and manage online content. Ideal for businesses of all sizes, ProProfs' goal is to make the life of a product marketer easier by providing a platform packed with powerful features to aid in customer engagement and feedback collection.
Tools
ProProfs brings a host of tools to the table:
Online Quizzes and Surveys allow you to interact with your audience and gather valuable feedback. Whether it's a product feedback survey or a customer satisfaction quiz, this feature helps you understand your customers better and make informed product marketing decisions.
Knowledge Management to create, manage, and share informative articles or FAQs. This centralized platform enhances customer self-service and reduces support requests, while also serving as a valuable resource for your marketing content creation.
Training Maker to design and deliver online training programs. From product tutorials to marketing strategy training for your team, this tool helps you create engaging and informative content, enhancing both internal team proficiency and customer product understanding.
Project Management coordinate tasks, track progress, and facilitate collaboration. By providing a clear overview of your project status and assignments, it allows for efficient management of your product marketing initiatives, ensuring timelines are met and tasks are effectively executed.
Live Chat to connect with customers in real time, providing instant support and improving customer satisfaction. It's a tool that adds a personal touch to your product marketing efforts, enhancing customer relationships and boosting brand loyalty.
Pricing
ProProfs has separate pricing systems for its features. Here's an example of plans for the Quiz Maker:

There are also add-ons you can include in your plans.
Pros and Cons
Robust set of features for customer engagement.
Comprehensive knowledge management tools.
User-friendly interface.
Wide range of templates for creating content.
Free version is quite limited.
The platform may seem a bit overwhelming to new users.
Some advanced features may require a learning curve.
In essence, ProProfs is more than a run-of-the-mill product marketing tool. It's a robust platform that helps streamline your product marketing processes, from creating engaging content to effective project management.
SurveySparrow for product marketing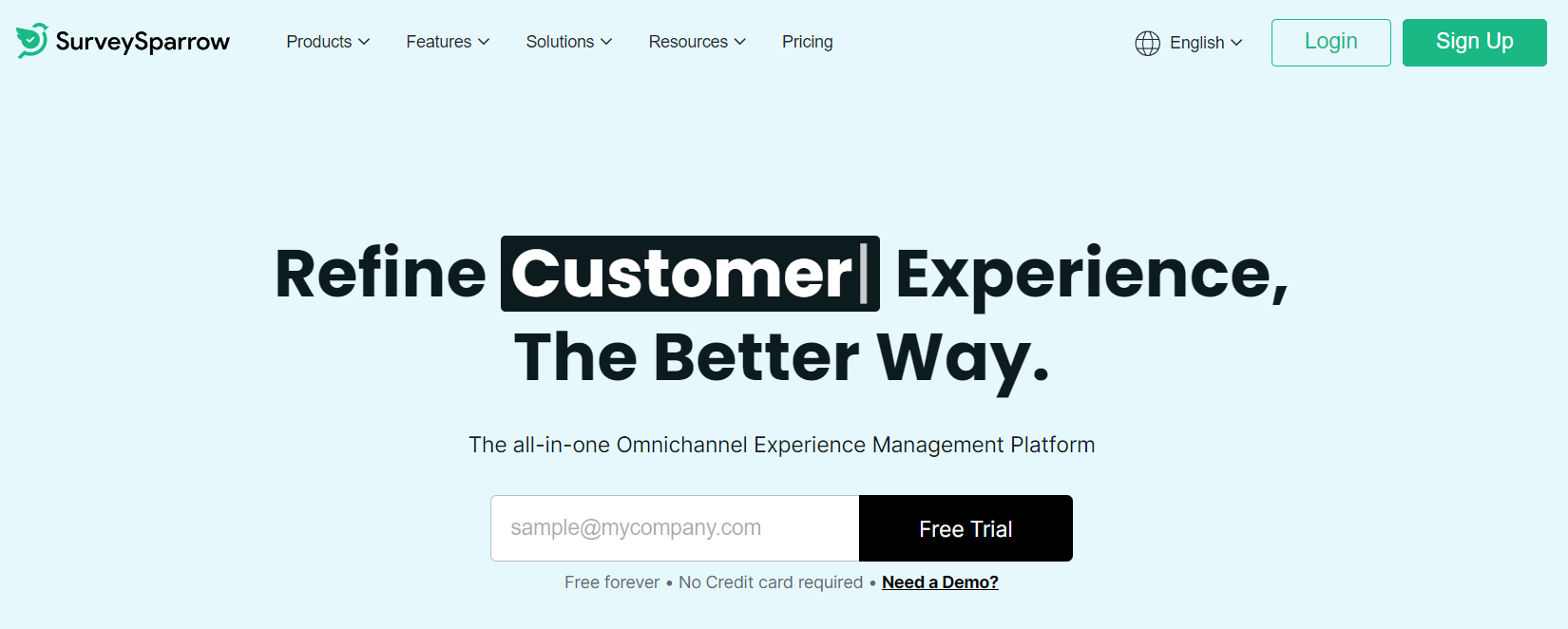 SurveySparrow fills a crucial niche in the product marketing landscape with its user-friendly online survey software. The company's primary mission is to make the process of collecting and analyzing customer feedback both engaging and insightful. Businesses of all sizes use SurveySparrow to fine-tune their marketing strategies and boost product performance.
Product marketing tools
SurveySparrow offers a variety of tools:
Survey Builder lets you create professional-looking surveys with ease. These surveys can be a powerful tool for product marketing, allowing you to gather valuable customer feedback, gauge satisfaction, and get insights into customer preferences and behaviors.
Multi-channel Sharing to distribute your surveys via various channels — email, social media, or even embedded directly on your website. This guarantees maximum reach and enhances the response rate, ensuring you get comprehensive feedback for your product marketing strategies.
Survey Templates: A vast library of pre-built survey templates that you can customize to fit your needs. These templates save time, ensure a professional look and feel, and help you focus on gathering the feedback that matters most for your product marketing efforts.
Analytics provides in-depth insights into your survey data. It highlights key trends, patterns, and feedback, giving you a data-driven foundation for your product marketing decisions. Armed with these insights, you can refine your product and marketing strategies for better results.
Recurring Surveys to schedule surveys to automatically recur at specified intervals. This ensures consistent feedback over time, allowing you to track changes in customer sentiment and make timely adjustments to your product marketing plan.
Pricing
SurveySparrow offers a free plan, with paid plans starting at $19/month for the Basic plan, $49/month for the Premium plan, and $149/month for the Business plan.
Each paid plan comes with a 14-day free trial.
Pros and Cons
Easy-to-use tool with a clean interface.
Wide range of survey customization options.
Powerful analytics for data-driven decision-making.
Recurring surveys feature is a great time-saver.
Free version offers limited features.
Advanced analytics available only in higher-tier plans.
Customization options might be overwhelming for beginners.
In a nutshell, SurveySparrow is a comprehensive product marketing tool that aids businesses in efficiently collecting customer feedback, enabling the creation of more effective marketing strategies.
Userpilot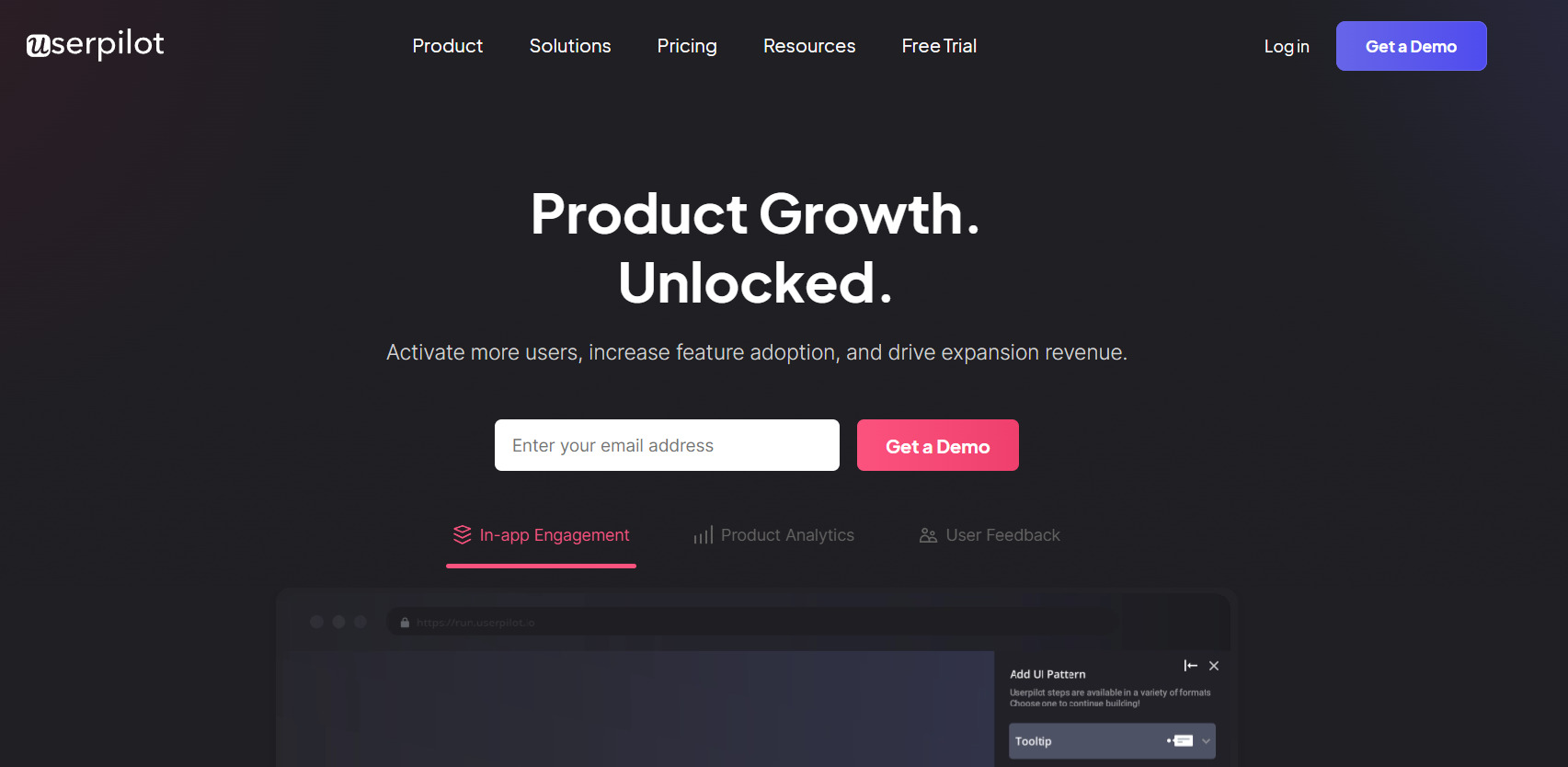 Userpilot is a user onboarding software that helps businesses accelerate product adoption and user engagement. The company's aim is to bridge the gap between customers and products, creating a smooth user experience that boosts retention rates. From small startups to large corporations, Userpilot is a trusted tool in the product marketing toolkit.
Product marketing tools
Userpilot offers a range of features:
User Onboarding to create personalized user onboarding flows without any coding. This makes the initial interaction with your product more engaging and user-friendly, positively influencing user retention. It's a great tool for improving customer experience and kickstarting successful product marketing efforts.
In-app Messaging to communicate with users directly within the product environment. Whether it's announcing new features, providing tips, or sending reminders, in-app messages boost user engagement and provide opportunities for upselling. It's a dynamic product marketing tool that keeps your customers informed and engaged.
Experience Surveys to gather user feedback and understand their experiences with your product. This direct line of communication helps identify strengths, weaknesses, and opportunities in your product, guiding your product marketing strategies and ensuring they're aligned with user needs and expectations.
User Segmentation to categorize users based on their behavior and preferences. This facilitates targeted marketing, ensures your messages resonate with each user group, and boosts overall engagement. It's a feature that makes your product marketing efforts more personalized and effective.
Analytics to track and analyze user behavior, providing valuable insights to inform your product marketing strategies. By understanding how users interact with your product, you can identify opportunities for improvement, tailor your marketing strategies, and drive successful product adoption.
Pricing
Userpilot's pricing begins at $249/month for the Growth plan. They also offer a Scale plan for larger businesses with custom price based on the needs.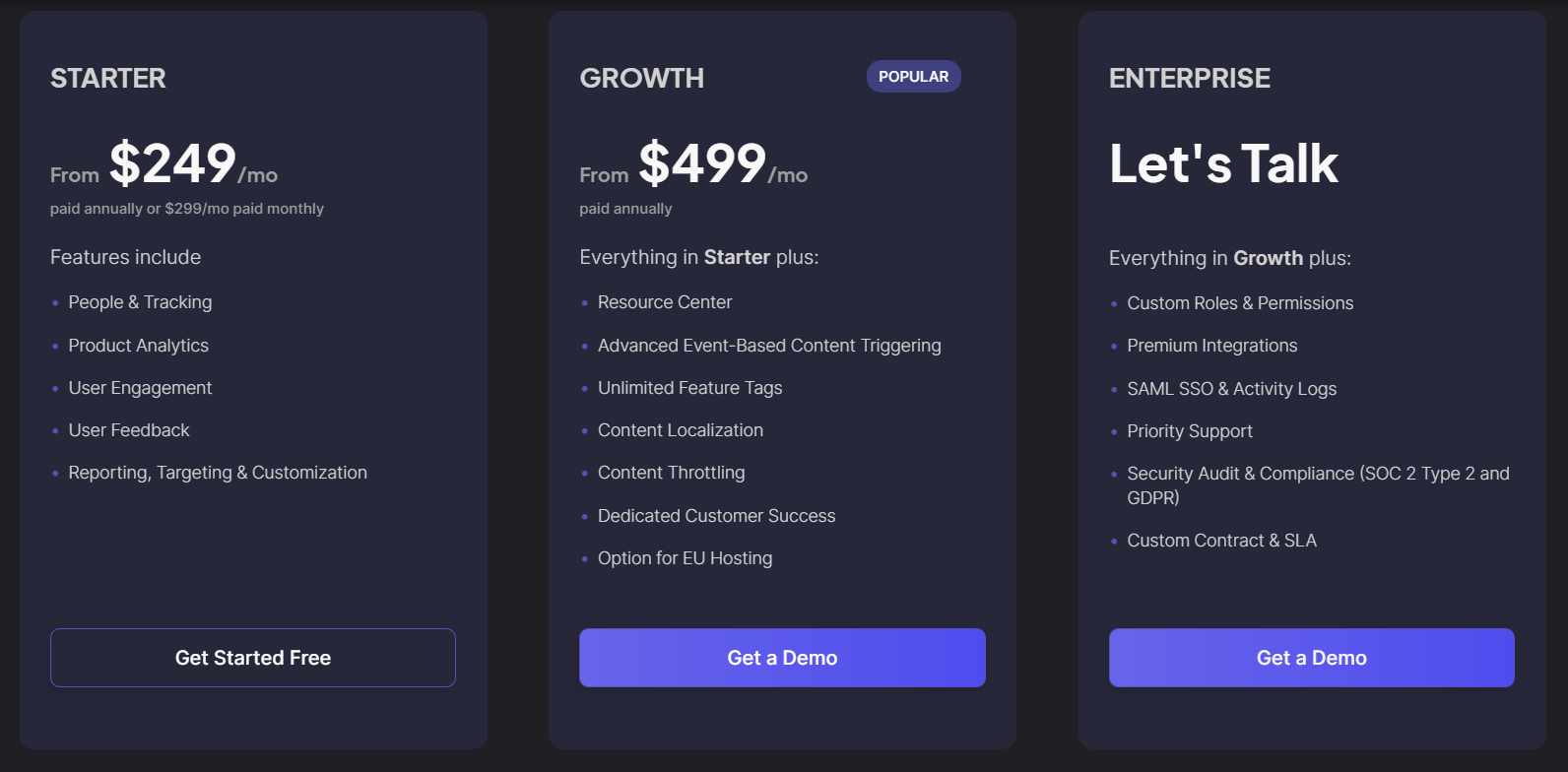 A free trial is provided to test the waters.
Pros and Cons
No-code necessary for creating custom user onboarding flows.
In-app messaging keeps communication seamless.
Rich analytics for tracking user behavior.
Robust customer feedback collection capabilities.
Pricing might be high for small businesses.
Can be complex for non-tech savvy users.
Limited number of integrations.
In conclusion, Userpilot is a powerful product marketing tool that can enhance user experiences, foster better customer engagement, and gather crucial feedback, all of which contribute to successful product marketing.
FAQ on product marketing tools
What are product marketing tools?
Product marketing tools are platforms packed with features that assist in managing and creating content for user engagement. They are handy management aids that help transform your website into a dynamic user interaction hub, using templates to create appealing content.
What are the must-have tools in product marketing?
Essential product marketing tools include a platform that aids in content creation and management, features that enhance user experience on your website, and templates that help create engaging content. In short, a tool that supports all your marketing needs.
What is a good product marketing strategy?
A sound product marketing strategy involves leveraging a platform that helps create engaging content, features that manage user interaction, and tools that assist in overall website management. Essentially, it's about creating user-centric experiences.
What does a PMM do?
A Product Marketing Manager (PMM) leverages product marketing software and tools to strategize, manage, and execute marketing initiatives. These marketers or marketing managers use these tools to analyze market trends, devise marketing strategies, and ensure successful product launches.
How to choose the best product marketing platform?
When looking for the best product marketing platform, consider the marketing tools it offers and check if there are alternatives available. Consider the price point and whether it delivers a great tool that aligns with your specific marketing needs.
Read also: