I know how messy customer experience issues can get. One day, you've got a customer sliding into a support ticket abyss, the next, valuable feedback is lost in translation. This is where CX tools can be lifesavers, offering efficient ways to channel support tickets, streamline feedback, or even personalize interactions. 
Can you imagine applying the best customer experience software to manage these chaos admirably in real-time? Imagine no further, it's possible with the best CX tools. 
If you're ready to wave goodbye to these hassles and transform your customer experience, then dive into our team's carefully compiled review of the 16 exceptional customer experience tools out there. You're just a read away from making your customers happier and saving your valuable time.
16 Best Customer Experience Platforms for 2024
Together with Dashly team I collected this list of the best cx tools to skyrocket the quality of your customer experience. Among them marketing automation platforms, survey, behavior tracking software, and conversation personalization services. Enjoy 👇
Dashly
ActiveCampaign
Intercom
Zendesk
UserPilot
Freshdesk
Hotjar
Drift
Salesforse
Help Scout
Fullstory
Hiver
Plerdy
LiveAgent
SurveySparrow
Hubspot
Dashly customer experience software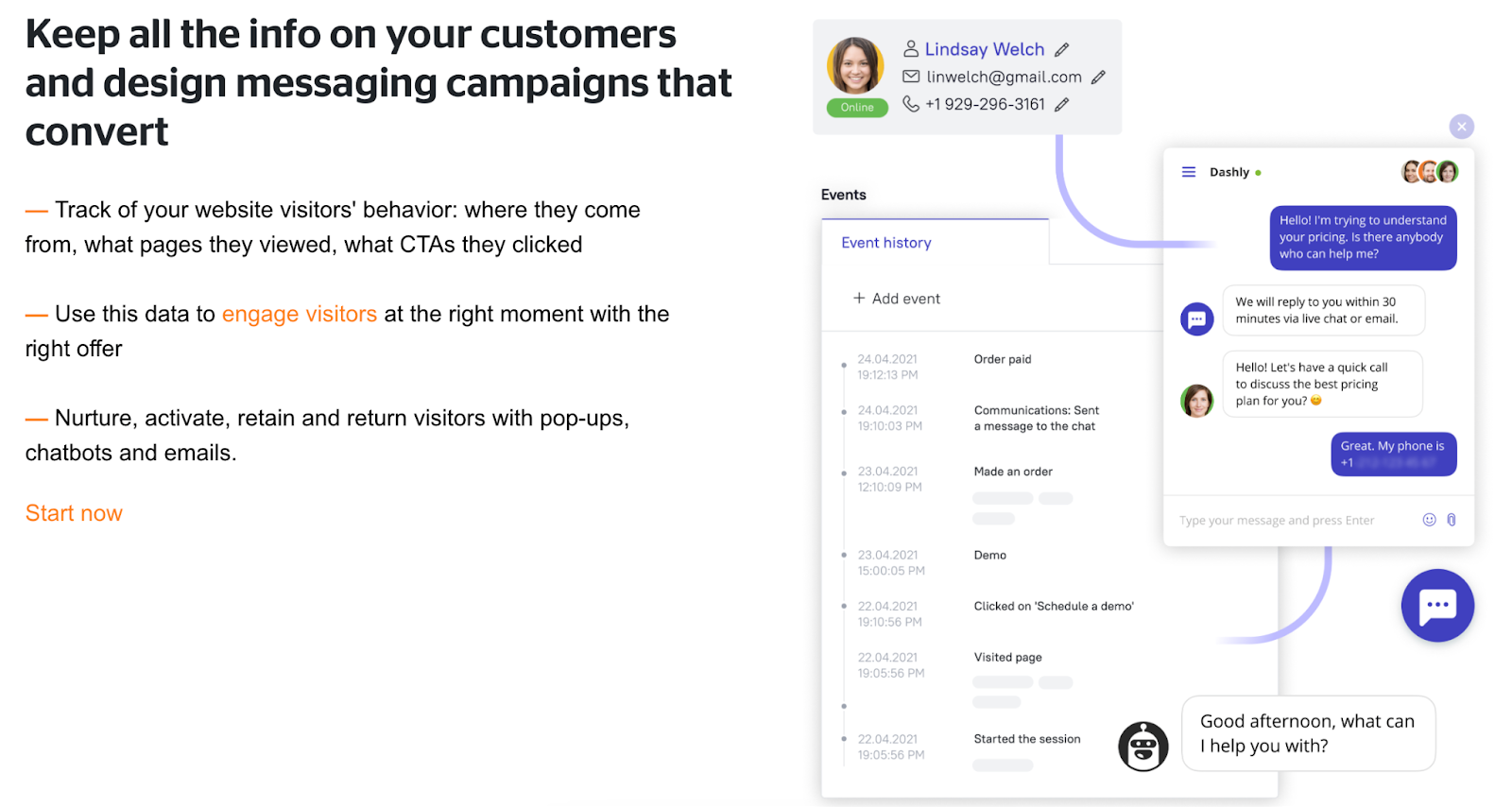 Dashly is a customer experience tool that provides support, marketing, and sales teams with a list of tools to automate their routine tasks — chatbot, live chat, triggered emails, and so on. You can set up Dashly in a couple of minutes without engaging developers and quickly start using all the instruments to personalize your customer experience.
Dashly helps focus on building a conversation on each step of the funnel: from the first session to the key action. Also, using this conversational platform, you can automate some communications and spend less human resources on customer service.
If you face problems with starting your first communications, there are ready-made campaigns, so you can launch them in several minutes. 
Features
Dashly cx platform offers its customers next tools:
Custom and AI chatbot to answer FAQ, collect and qualify leads;
live chat with mobile apps for Android and IOS;
pop-ups with the pop-up builder to convert traffic into prospects;
email campaigns to nurture prospects;
knowledge base to provide self-service;
30+ integrations with Zoom, CRMs, socials, email, and messaging apps;
analytics reports;
A/B testing;
website visitors tracking with insights on page visits and button clicks, and more. 
Pricing
There are three paid plans in Dashly product, starting from $39/mo. The price depends on your monthly website traffic and the add-ons you choose. Meanwhile, users seats are unlimited — your whole team will get access to the solution features.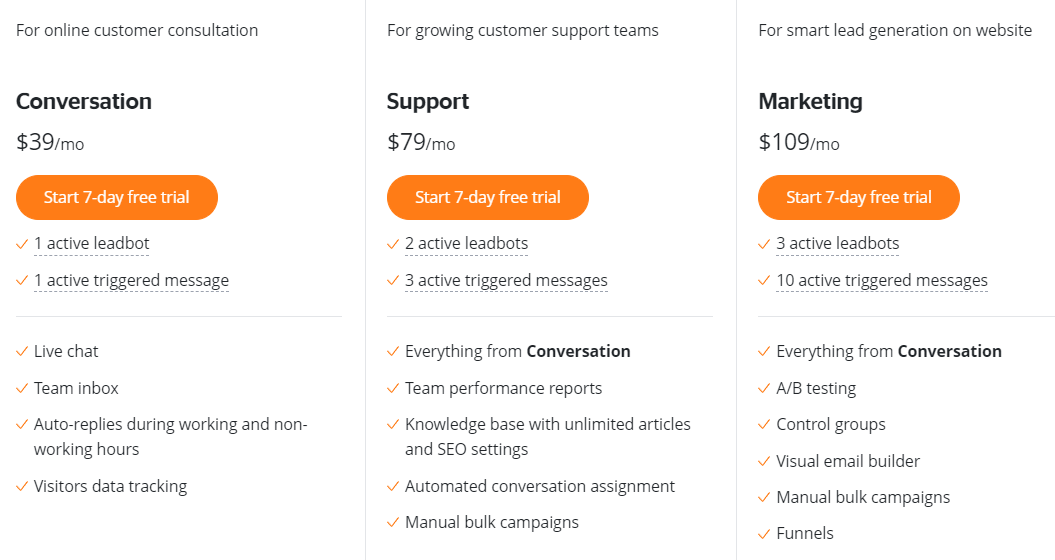 Each plan offers website visitor behavior analytics. However, the more advanced the plan is, the richer your customer data will be.
Pros and Cons
Free plan.
An unlimited number of agent seats.
24/7 customer service.
Detailed results on user tracking on website.
Mobile apps (IOS, Android).
Ability to work with leads that were inactive for 30 days.
Limited segmentation options.
No Call and voice services.
ActiveCampaign cx software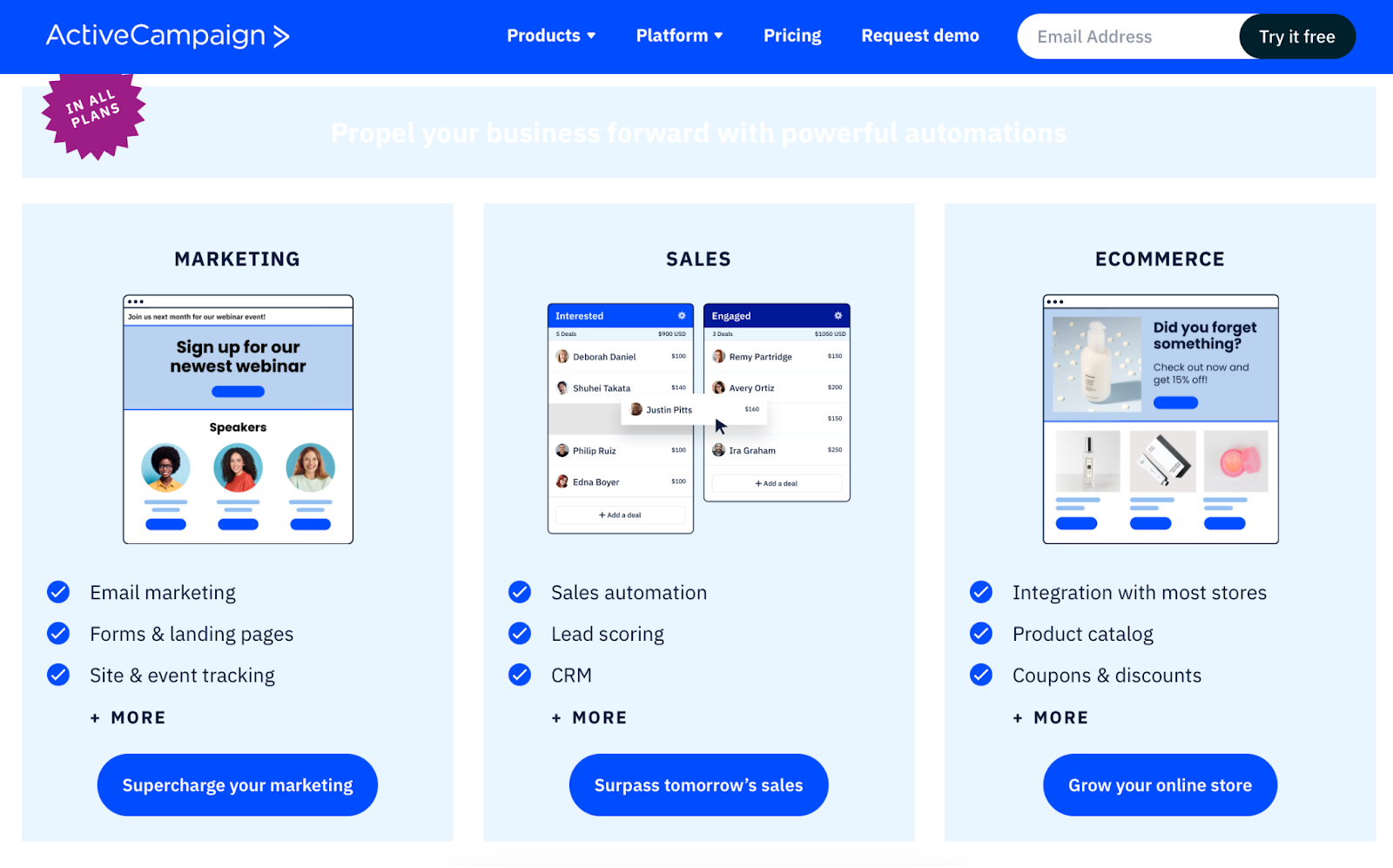 ActiveCampaign is a marketing automation platform providing an array of products centered around enhancing customer experience. With its roots focused on creating value through connections, ActiveCampaign strives to deliver a seamless customer journey that fosters stronger bonds between businesses and their users. Ideally, this CX software is used by startups, medium-sized companies, and even large corporations.
CX features
ActiveCampaign excels with its robust CX tools and features. Here's a quick rundown:
Customer Experience Automation: This makes end-to-end customer experience more consistent and personalized.
Email Marketing: Tailors email content based on subscribers' behavior and interests.
Sales CRM: Manages customer relationships and automates sales processes providing key insights into customer behavior.
Machine Learning: Predicts customer behaviors to aid in crafting personalized experiences.
Segmentation: Entities users based on demographics, location, behavior, and other factors.
Customer Conversations: Allows streamlined feedback and support platform for better customer engagement.
Pricing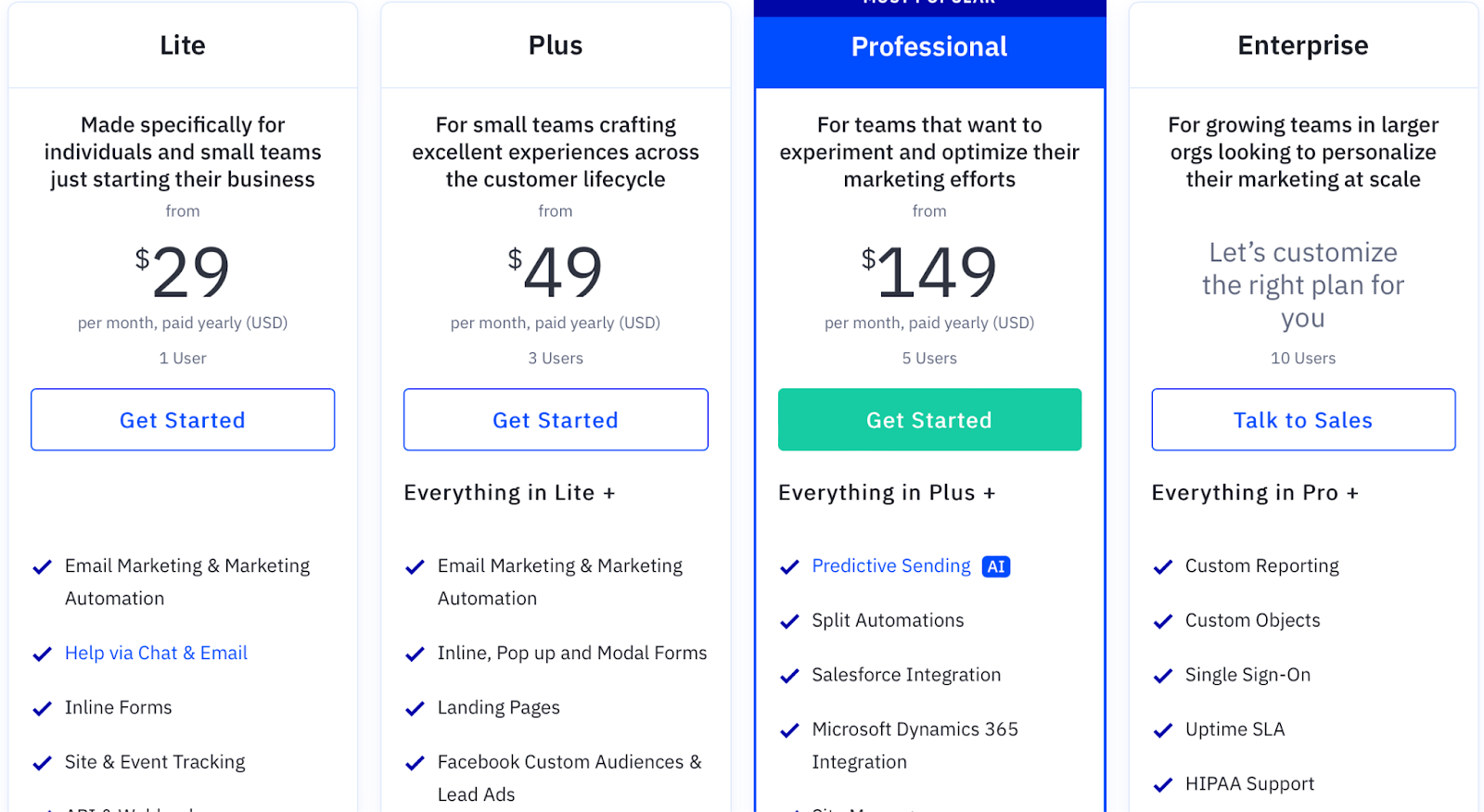 ActiveCampaign provides different plans for each team within your company. For example, marketers can use a platform's with Lite plan — $29/month. If it is not enough, switch to Plus — $49/month, or Professional — $149/month. There is a special Enterprise plan for large corporations. 
Pros and Cons
Variety of customer experience tools
Comprehensive analytics for customer insights
User-friendly interface
Effective marketing automation
Steep learning curve for beginners
Contact-based pricing can be costly for large customer databases
Advanced features only available in higher-priced plans
ActiveCampaign is indeed a comprehensive CX platform ideal for businesses looking to enhance their customer relations and journey. From capturing feedback to crafting personalized experiences, it provides the tools businesses need to boost their customer experience game.
Intercom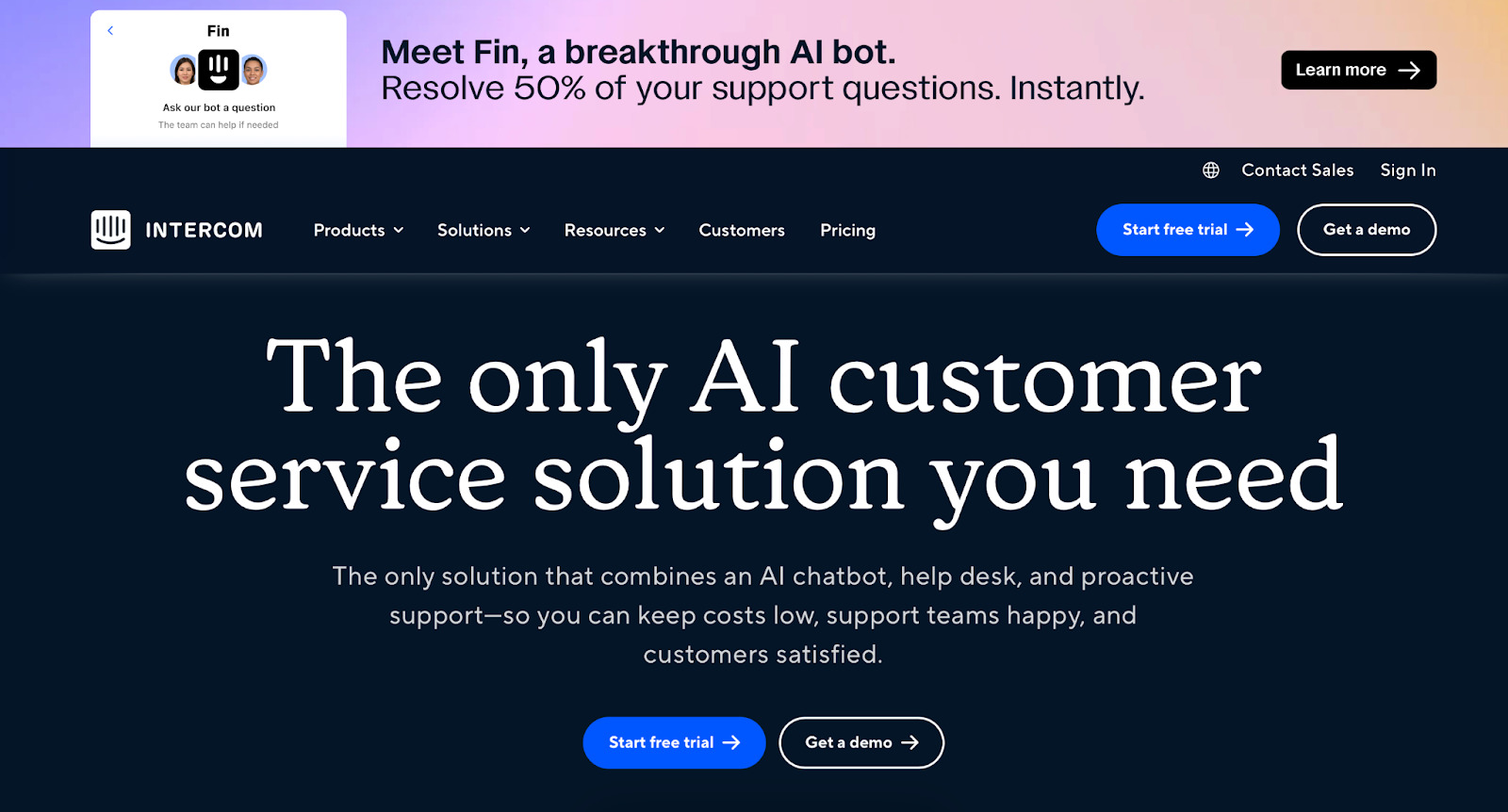 Intercom is more than just a CX platform — it's a customer messaging tool designed to accelerate growth. This product manifests an ambitious goal to make internet business personal by providing a convenient way to connect with customers. Intercom caters to companies of all shapes and sizes, from small startups dabbling in their niche markets to multinational corporations establishing stronger customer bonds.
CX features
Business Messenger: Promotes real-time engagement with customers.
Customer Data Platform: Offers insights about customers to provide personalized experiences.
Customizable Bots: Automates common inquiries saving you time.
Product Tours: Guides users seamlessly through your product.
Onboarding & Retention: Keeps customers engaged from the start, increasing loyalty and reducing churn.
Integrated Support & Sales Management: Creates a feedback loop of improved customer experience.
Pricing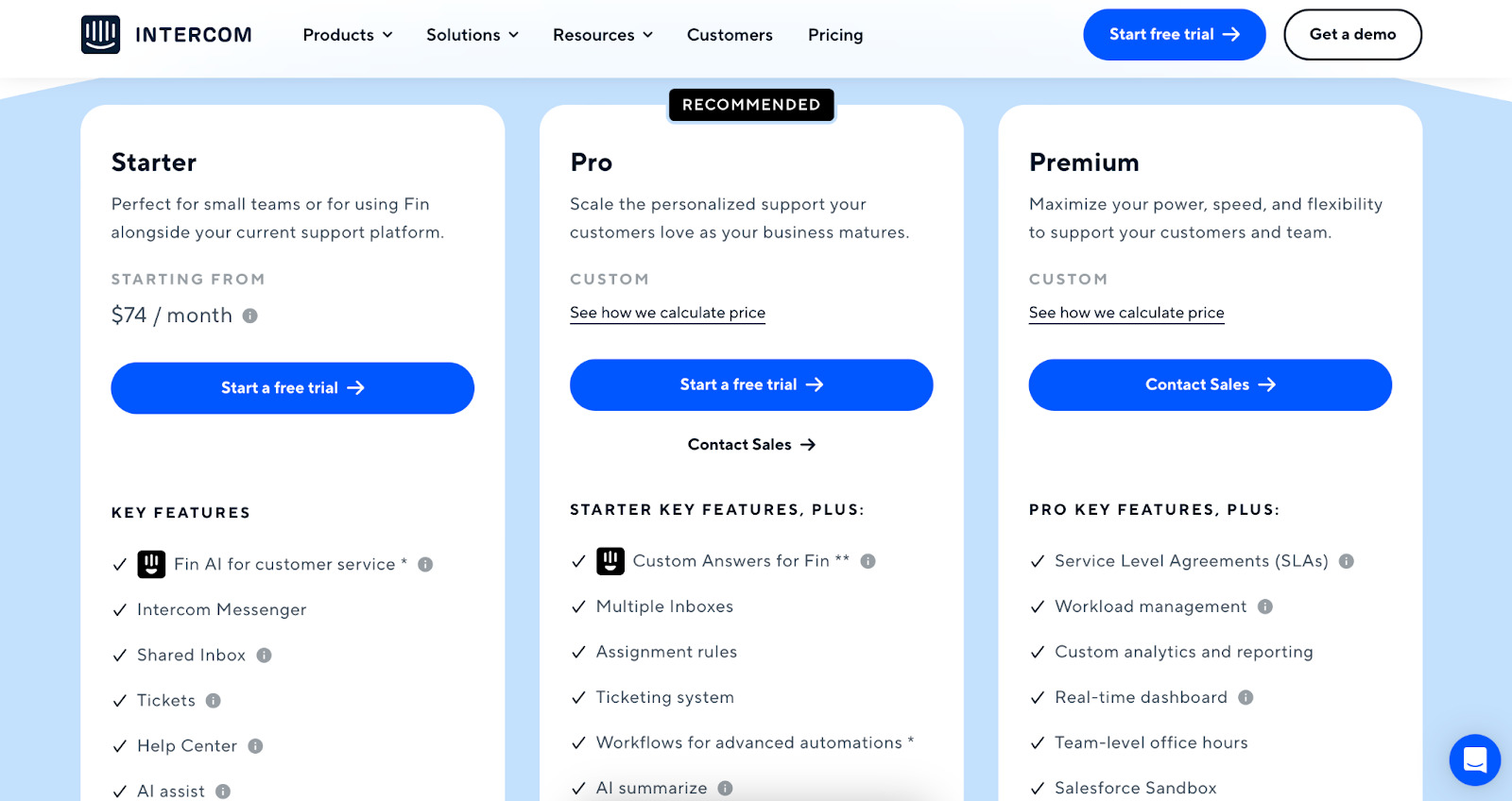 Trial: available for 14 days, but you'll have to give your credit card details.
There's a Starter plan for very small organizations starts at $74/month if billed annually. Then you can choose among Pro and Premium solutions.
Other information regarding the pricing is available by demand. Your subscription payment will depend on the agents' seats you need and the number of people you reach monthly with outbound messages using Intercom. 
Pros and Cons
Real-time customer interaction.
Versatile in-product chat features.
Great support team and resources.
Sophisticated user segmentation.
Setup can be a bit complex for non-tech-savvy users.
Costly for small businesses.
Certain features and functions are only available on higher-priced plans.
As a conclusion, Intercom provides businesses with tools that go beyond traditional customer support, enriching the customer journey and overall experience. Its multi-functional platform brings businesses and customers closer than ever before.
Zendesk to improve customer satisfaction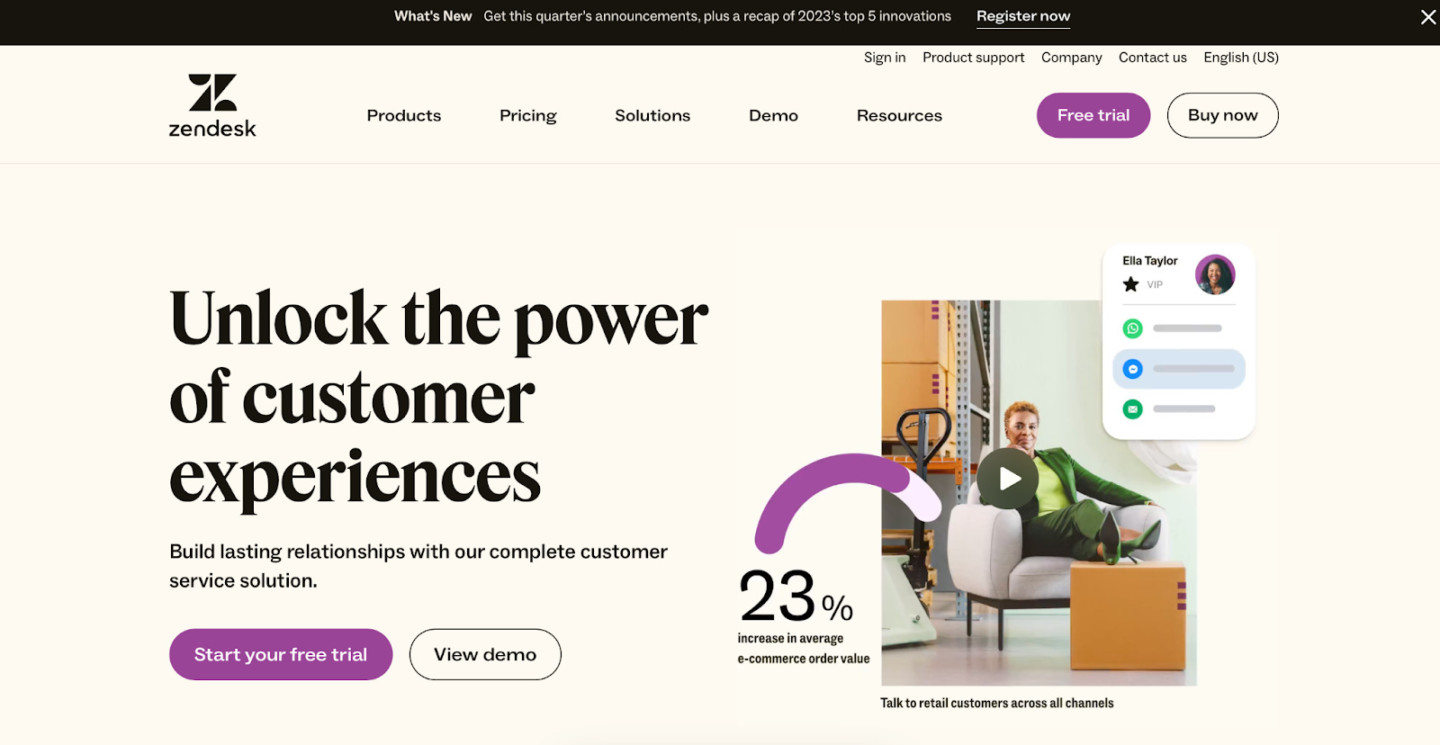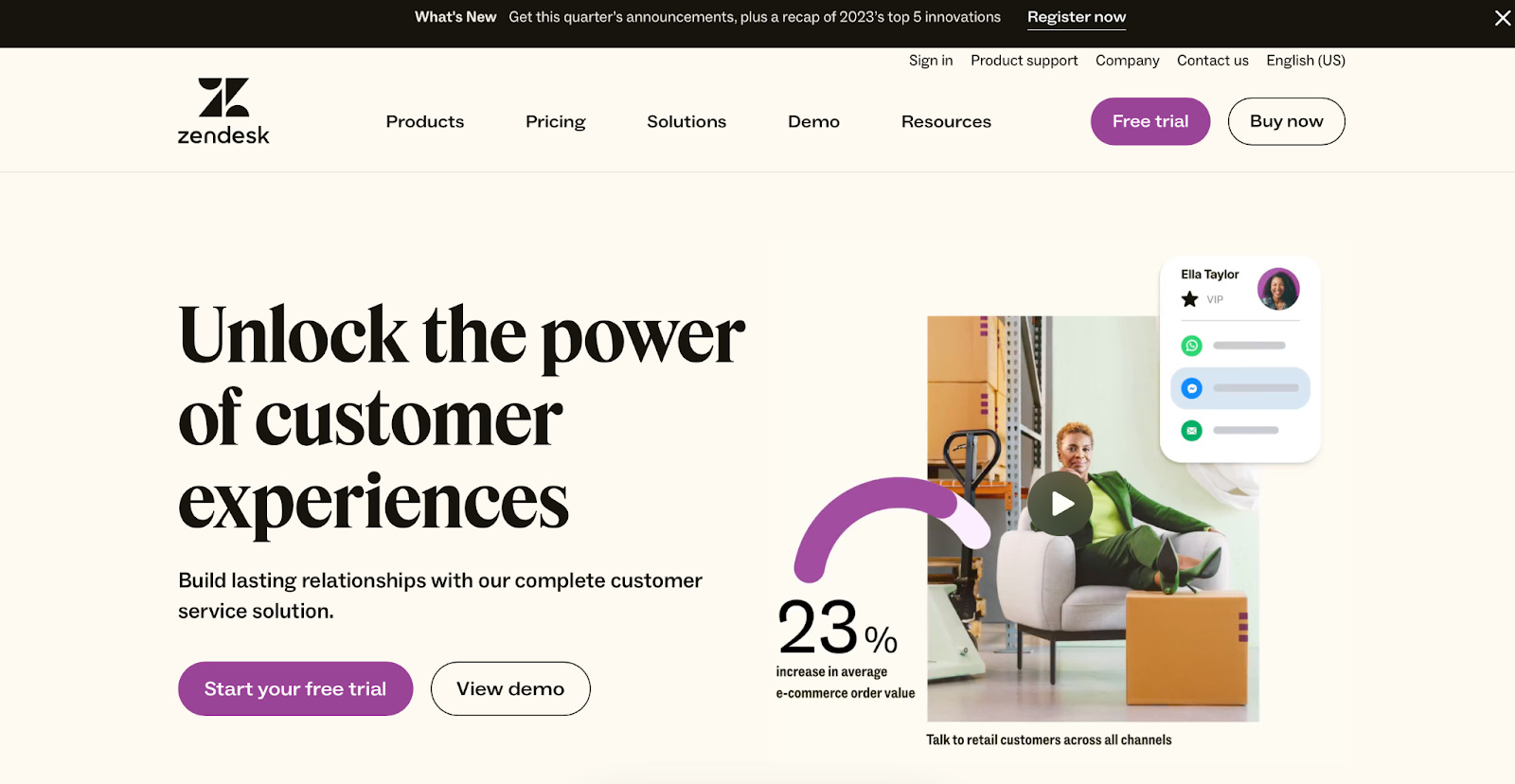 Zendesk is a customer service software company offering smart, user-friendly CX tools aimed at improving customer satisfaction and managing customer feedback effectively. The company thrives by enhancing insights into customer experiences. Its versatile tools can be utilized by various business sizes, facilitating enriched interactions between businesses and their customers.
CX tools
Omnichannel Communications: Ensures a unified and smooth customer journey no matter the communication method.
Ticketing System: Enables efficient management and tracking of customer inquiries.
Analytics: Provides powerful insights to improve product and service quality.
Knowledge Base & Community Forums: Lets businesses create, manage, and share content with customers.
Chat & Messaging: Facilitates real-time engagement with users.
Automation & AI Support: Automates repetitive tasks and offers smart AI-supported responses.
Pricing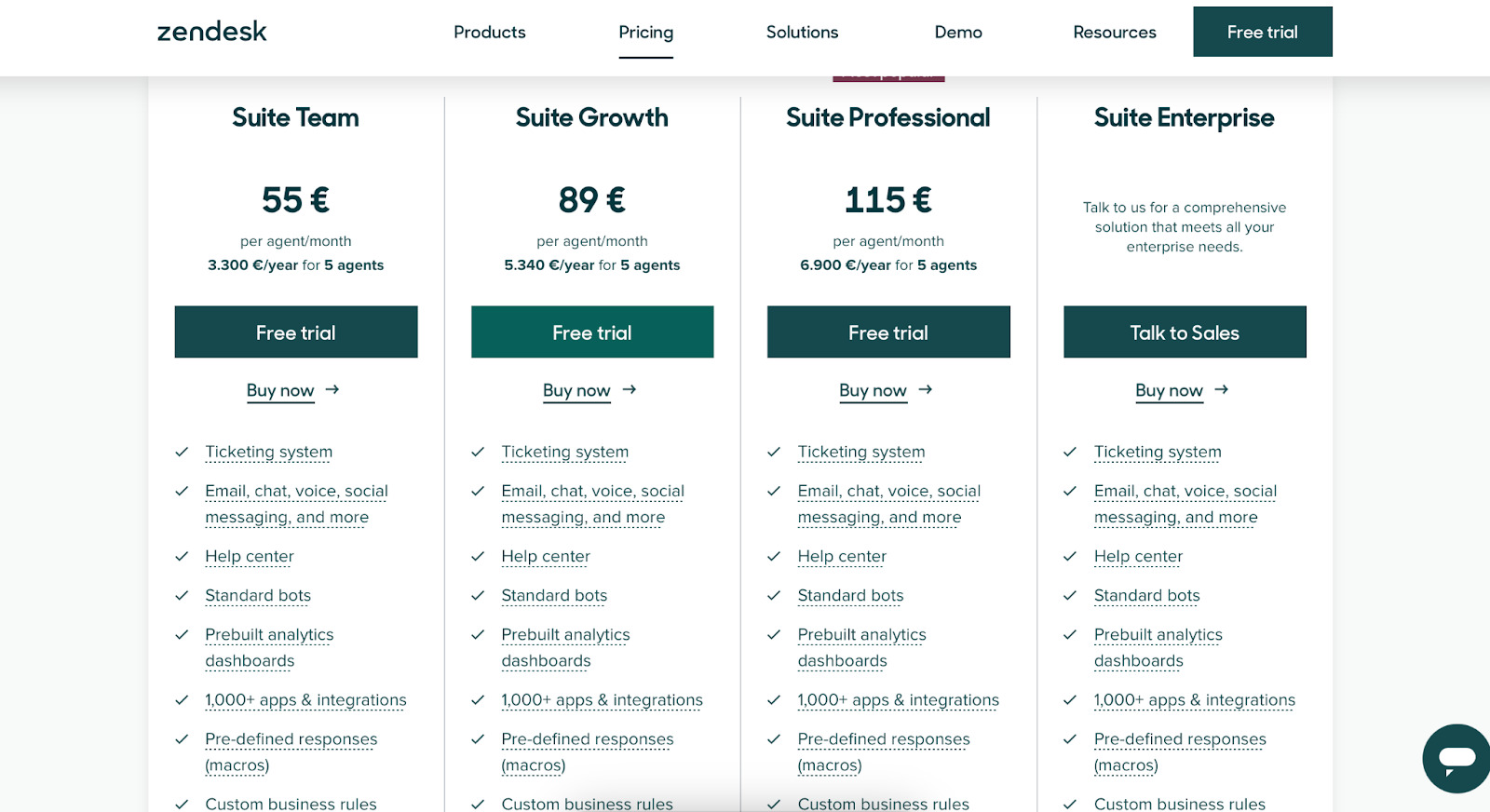 Trial: available for 30 days.
There are three plans: Team, Growth, and Professional. The cost depends on the number of agents' seats. Starting from the Growth plan, you'll be able to use custom dashboards and reports, while using the Professional plan will allow you to automate some tasks.
Pros and Cons
Variety of customer service tools.
Seamless integration with various platforms.
Advanced analytics for customer insights.
May be costly for smaller teams.
Limitations on lower-priced plans.
Setup can be complicated for beginners.
In conclusion, Zendesk is a comprehensive CX platform that meets the full spectrum of customer service needs, enhancing customer journey and providing deeper insights into the customer experience. It harbors a commitment to driving satisfaction and creating long-lasting connections between businesses and their users.
UserPilot to improve customer service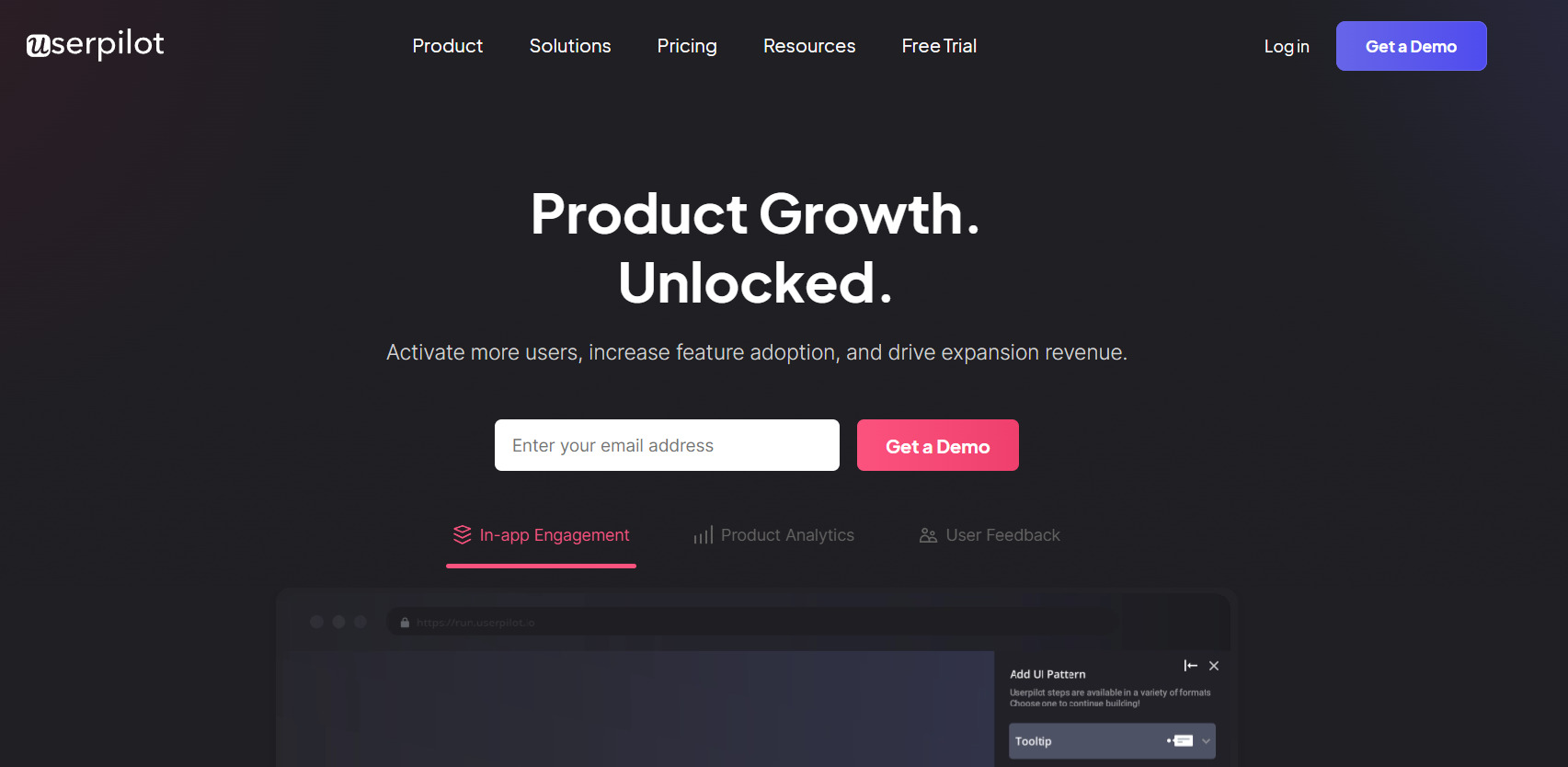 UserPilot is a user experience and adoption software designed to help companies engage with their customers at every step of the product usage journey. Their mission is to enhance product value and establish an intuitive environment for your users, making it suitable for businesses spanning from early startups to big corporate players.
Features
UserPilot offers a suite of CX tools to ensure remarkable customer experience:
👉 Interactive Product Walkthroughs: Guides users through the product intuitively.
👉 User Segmentation: Helps deliver personalized experiences based on user behavior.
👉 In-App Messaging: Allows timely communication with users within the platform itself.
👉 Native Analytics: Offers insights into the user journey and behavior.
👉 Experience Surveys: Gathers user feedback for continuous product improvements.
Pricing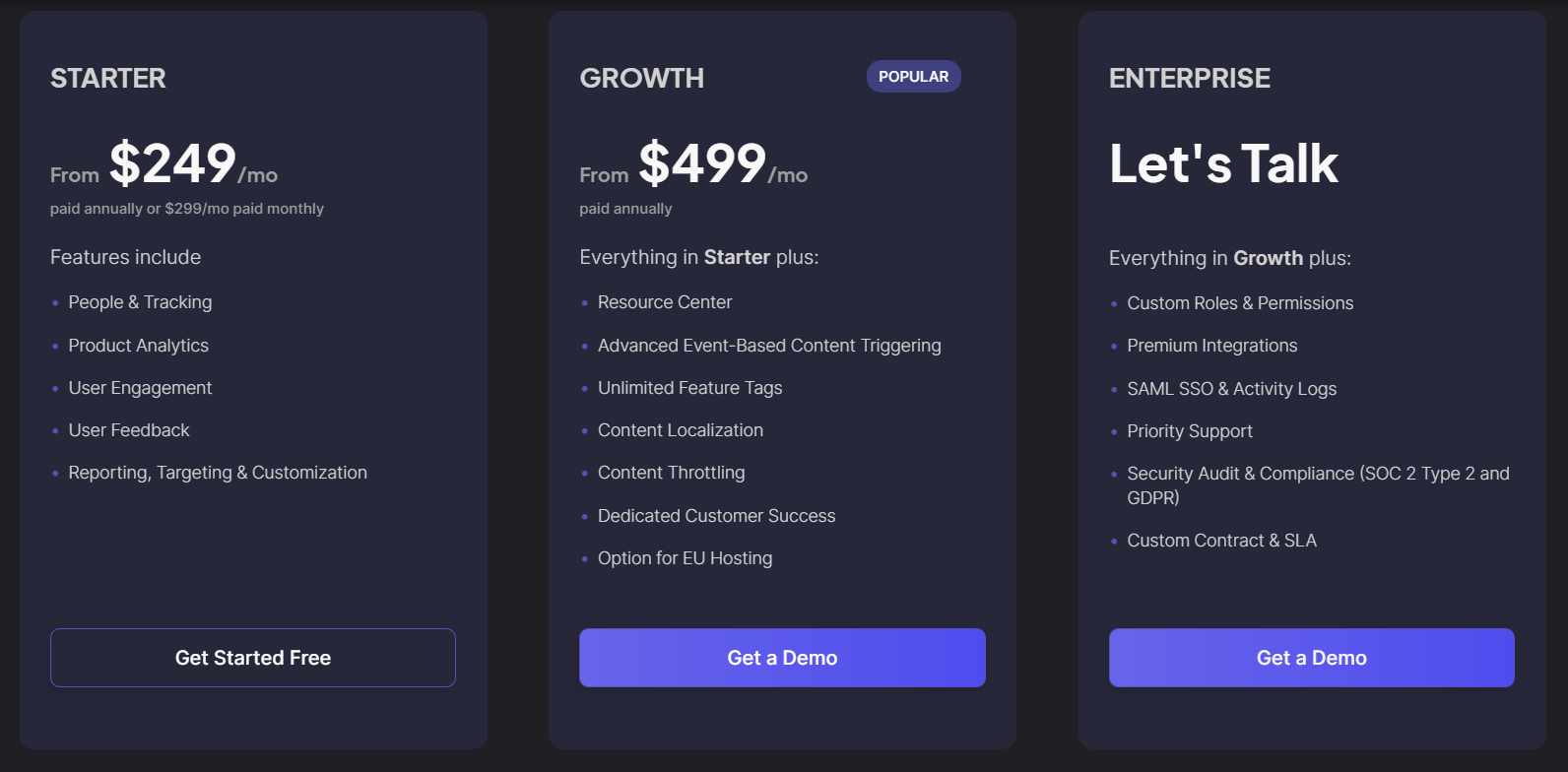 UserPilot's pricing begins at $249 per month, based on Monthly Active Users (MAUs). They do offer a free trial to explore the product. They have two plans: Growth and Pro, tailored to meet the needs of different sized businesses — the exact cost needs to be asked upon according to the business size and requirements.
Pros and Cons
In-depth user analytics and insights.
Intuitive walkthroughs and onboarding flows.
Personalized user engagement within the platform.
Lack of integrations with some additional platforms.
May be perceived costly for small businesses.
Interface can seem complex to beginners.
UserPilot stands as a distinct CX platform that ensures businesses to maximize their customer engagement by providing an enriched user experience. These tools do not just inform, but also educate customers about the product, thereby improving the customer journey and the overall product experience.
Freshdesk to personalize customer journey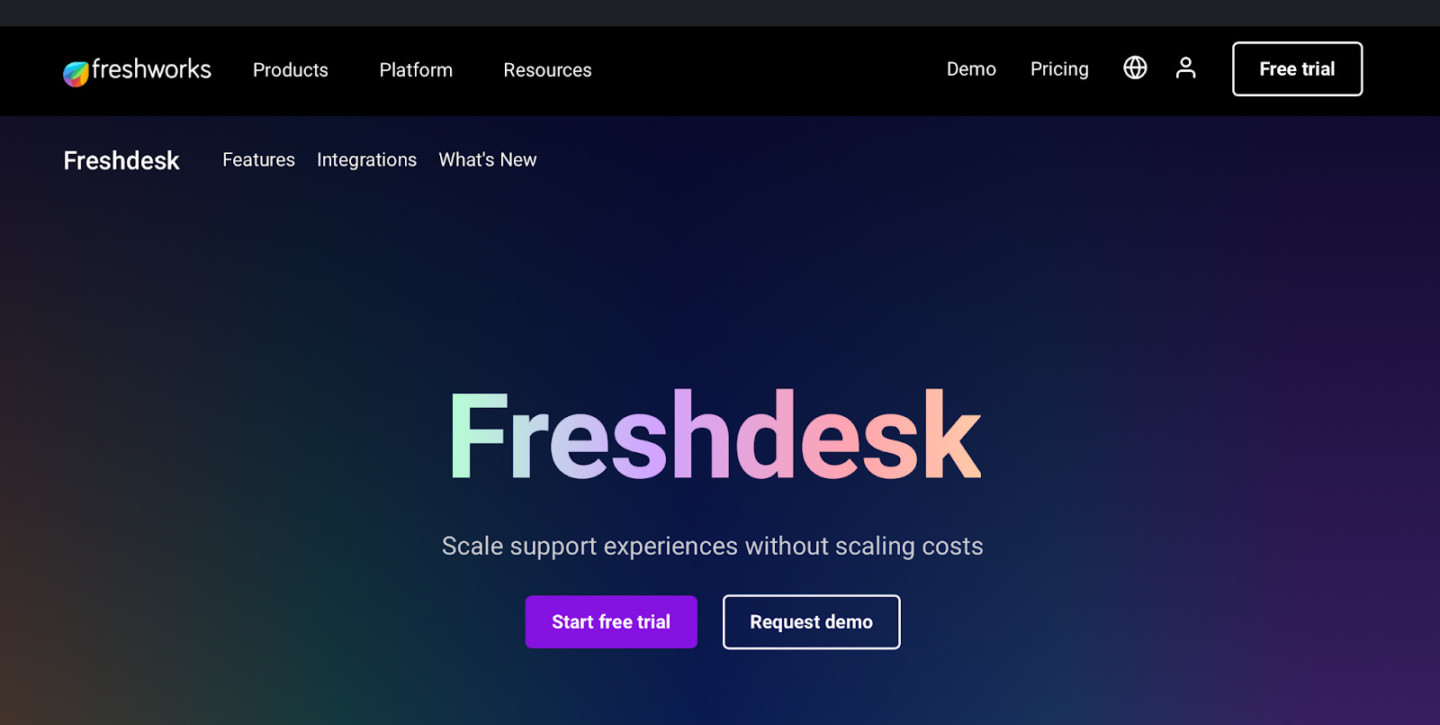 Freshdesk is a customer support software that focuses on nurturing customer relationships through its smart suite of CX tools. This platform is designed to streamline customer conversations, deliver timely solutions, and capture feedback in one place. It is suitable for businesses of all sizes that want to transform customer service into customer delight.
Features
Unique tools that set Freshdesk apart include:
👉 Support: Captures customer interactions across various channels into a common platform.
👉 Automation: Automates mundane tasks to expedite responses.
👉 Collaboration: Enables team members to collaborate on tickets to provide accurate responses.
👉 SLA Management: Helps prioritize and resolve critical tickets in time.
👉 Reporting and Analytics: Provides insights to monitor and improve team performance.
👉 Knowledge Base: Centralizes useful information for customers and staff to resolve common queries efficiently.
Pricing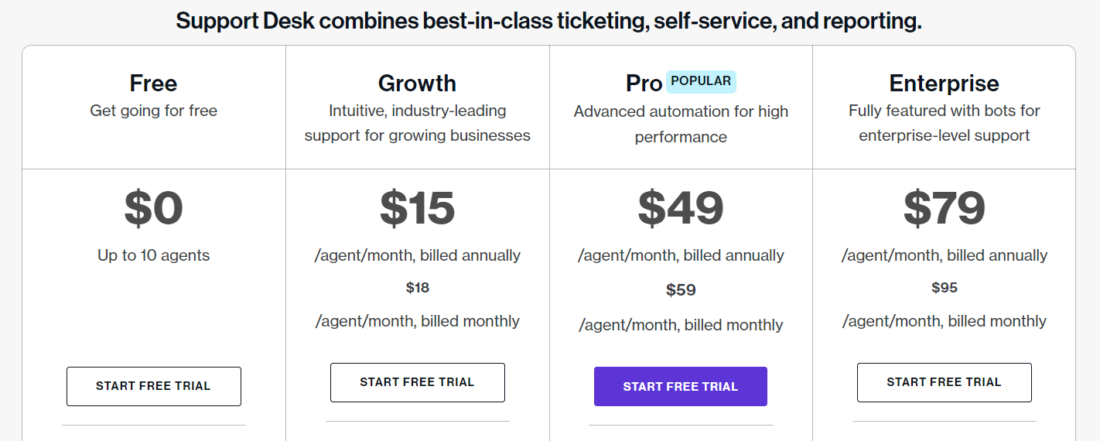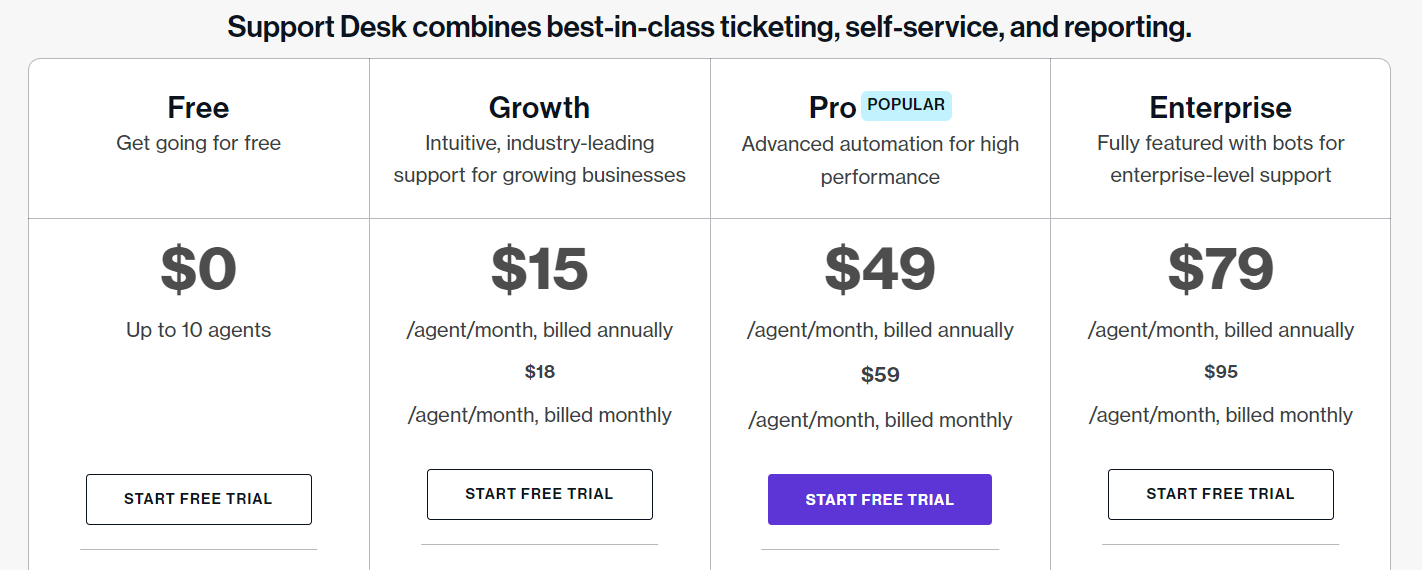 Freshdesk's pricing kicks off with a free tier, offering basic features for unlimited agents. Apart from this, they have three plans — Growth, Pro, and Enterprise which range from €15 per agent/month, tailored according to the requirements of various businesses. A free trial is also available.
Pros and Cons
Multi-channel customer support.
Comprehensive ticket management system.
User-friendly interface.
Limited customization options.
Advanced features only available in premium plans.
Initial setup may be complicated.
As a concluding remark, Freshdesk is an efficient customer service platform, adept at crafting a positive customer experience and journey. This tool aids businesses in turning customer feedback into constructive insights, all while making support a shared effort for the team.
Hotjar

Hotjar is a behavior analytics and user feedback service offering an array of analytical tools to better understand customers. The company aims to enable users to better understand their customers' decisions, enrich their experience, and improve the overall product interface. Hotjar is a perfect fit for businesses from startups to established firms aiming to optimize their user experience.
Features
Hotjar shines when it comes to customer experience tools:
👉 Heatmaps: Visualizes user interactions on your website.
👉 Visitor Recordings: Records user activity to understand their interaction patterns.
👉 Conversion Funnels: Identifies issues at different stages of the customer journey.
👉 Form Analysis: Unveils problem areas in your forms that are leading to drop-offs.
👉 Feedback Tools: Collects user feedback on-site via tools like polls and surveys.
Pricing

Hotjar offers a "Basic" free forever plan for startups with basic needs. Other paid plans include "Plus" suitable for personal use or small businesses, "Business" for growing businesses of all sizes, and "Scale" for the analytics leaders, priced from €39 to €389 per month, respectively. Each plan comes with a 15-day free trial.
Pros and Cons
Provides visual insight into user behavior.
Easy to set up and use.
Extensive feedback collection tools.
Some features may not scale well for larger companies.
Data privacy could be a concern for some users.
Limited integrations with other tools.
As a wrap, Hotjar is a valuable CX platform that not just simplifies data analytics, but also enhances customer experience. With its strong focus on user behavior understanding and feedback, it helps businesses create a seamless, optimized customer journey.
Drift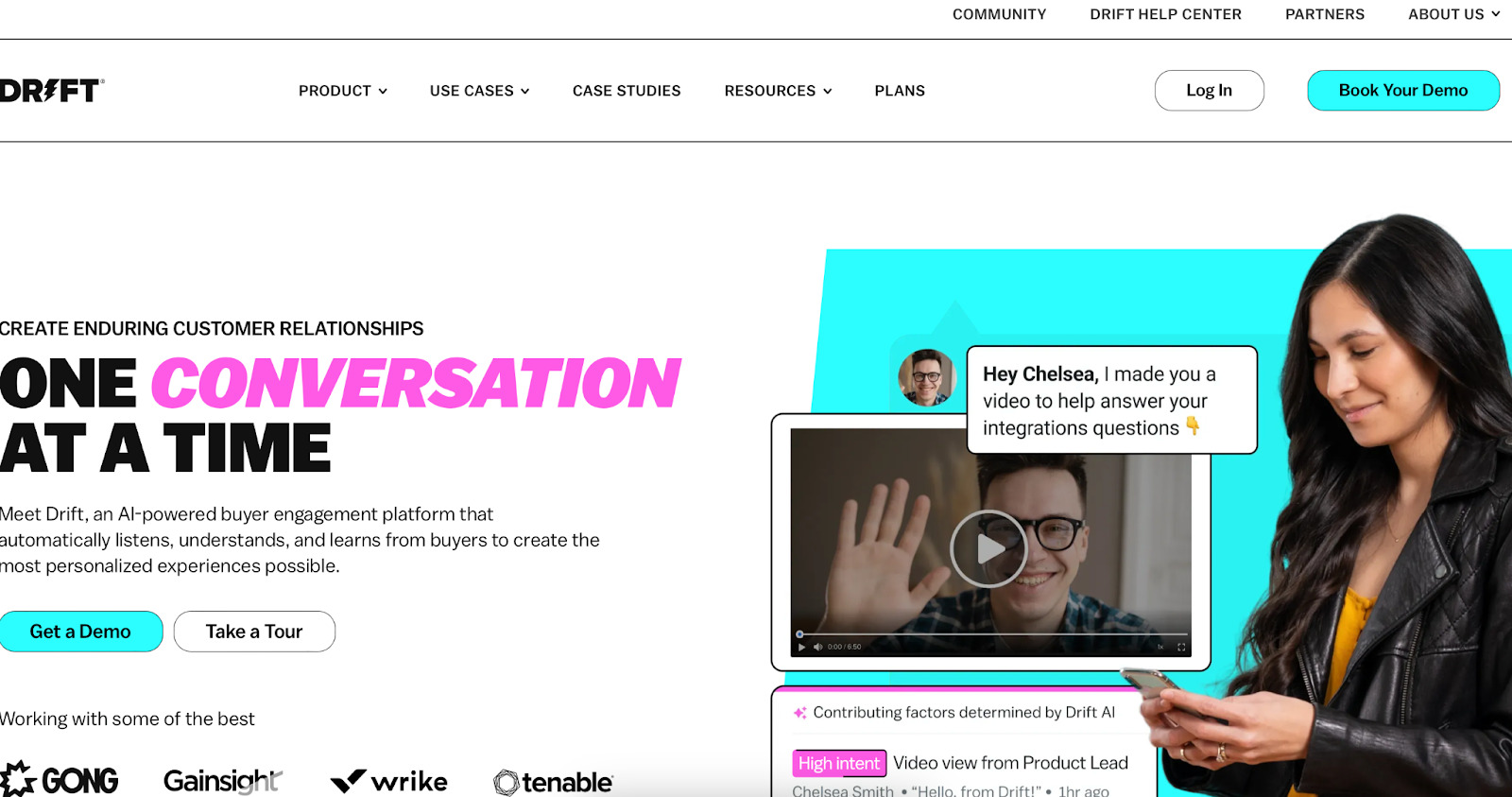 Drift is a conversational marketing platform that humanizes the digital buying experience, enabling businesses to connect with their customers faster. The primary goal revolves around transforming business website traffic into qualified meetings, providing value, and enhancing customer experience. Companies from startups to high-growth enterprises use Drift to amplify their customer engagement.
Customer experience features
Key tools provided on the Drift platform include:
👉 Live Chat: Offers real-time conversations with customers.
👉 Email Marketing: Enables a personalized email experience to engage users effectively.
👉 Marketing Automation: Streamlines actions based on specific triggers and customer actions.
👉 Salesforce Integration: Helps manage leads efficiently.
👉 AI Chatbot: Automates interactions, freeing up time for more critical tasks.
👉 Reporting & Analytics: Extracts insights about customer behavior and interaction patterns.
Pricing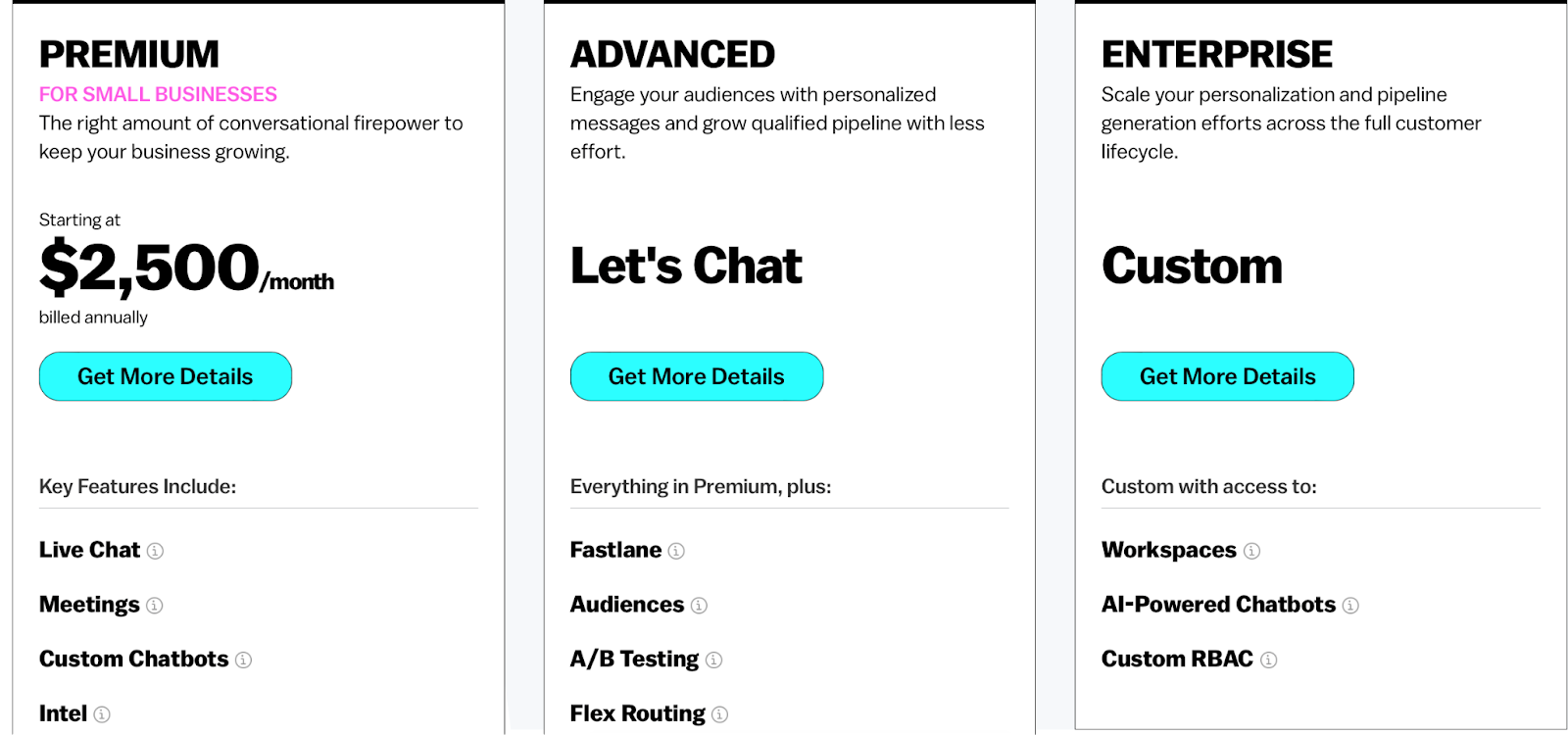 Pricing for Drift is tailored to the specific needs and size of your business, with the recommended 'Premium' plan starting at $2500 per month with basic conversational marketing. Specific pricing can be obtained by contacting Drift team directly.
Pros and Cons
Strong emphasis on real-time engagement on-platform.
Advanced segmentation and targeting tools.
Intuitive interface and easy to use.
Higher-end plans can become costly.
Might be overwhelming for small businesses due to numerous features.
Limited ability to customize the chatbot.
To summarize, Drift as a CX platform aims to smoothen the customer journey and ensure a better customer experience. They achieve this via personal interactions enabled by their wide range of tools. By capturing user feedback and translating it into actionable insights, Drift helps businesses create meaningful connections with their customers.
Salesforce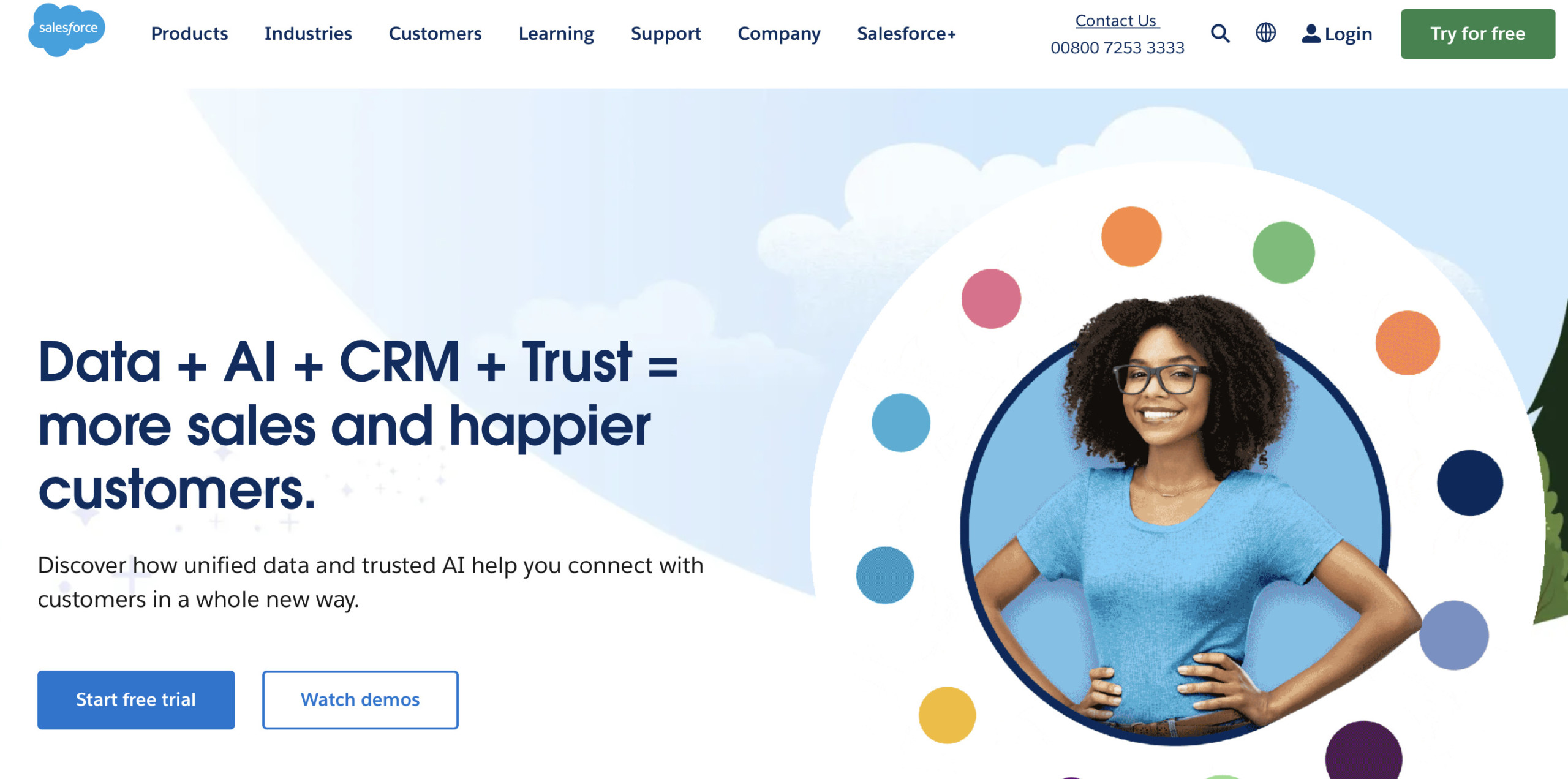 Salesforce is a robust customer relationship management platform offering comprehensive CX tools. It aims to bring companies closer to their customers in this digital age by making technology work smarter. Salesforce is a platform that caters to the needs of businesses across different scales and segments, be it small startups or large multinational corporations.
Customer experience features
👉 Sales Cloud: Manages contacts, opportunities, and boosts productivity.
👉 Service Cloud: Fast and personalized service across every channel.
👉 Marketing Cloud: Creates engaging personalized journeys.
👉 Commerce Cloud: Unifies shoppers' experience across all commerce channels.
👉 Analytics Cloud: Delivering insights to users, promoting informed business decisions.
👉 Customer 360: Creating a unified customer profile to streamline services.
Pricing
Salesforce's pricing starts at $25 per user per month, with a free trial offer as well. Salesforce offers different plans tailored for various needs: Essentials, Professional, Enterprise, and Unlimited — each with its detailed pricing, suitable for businesses of different sizes.
Pros and Cons
Comprehensive suite of tools catering to various business needs.
Scalable CRM catering to businesses of various sizes.
In-depth customer insights with strong analytics.
Can be complex and overwhelming for beginners.
Costly for small business operations.
User interface could be more intuitive.
In sum, Salesforce is unarguably a titan in the realm of customer experience platforms, helping businesses shape their customer journey most optimally. It fosters enhanced customer relationships by leveraging analytical insights and direct customer feedback, making Salesforce an asset for those looking to elevate their overall customer experience.
Help Scout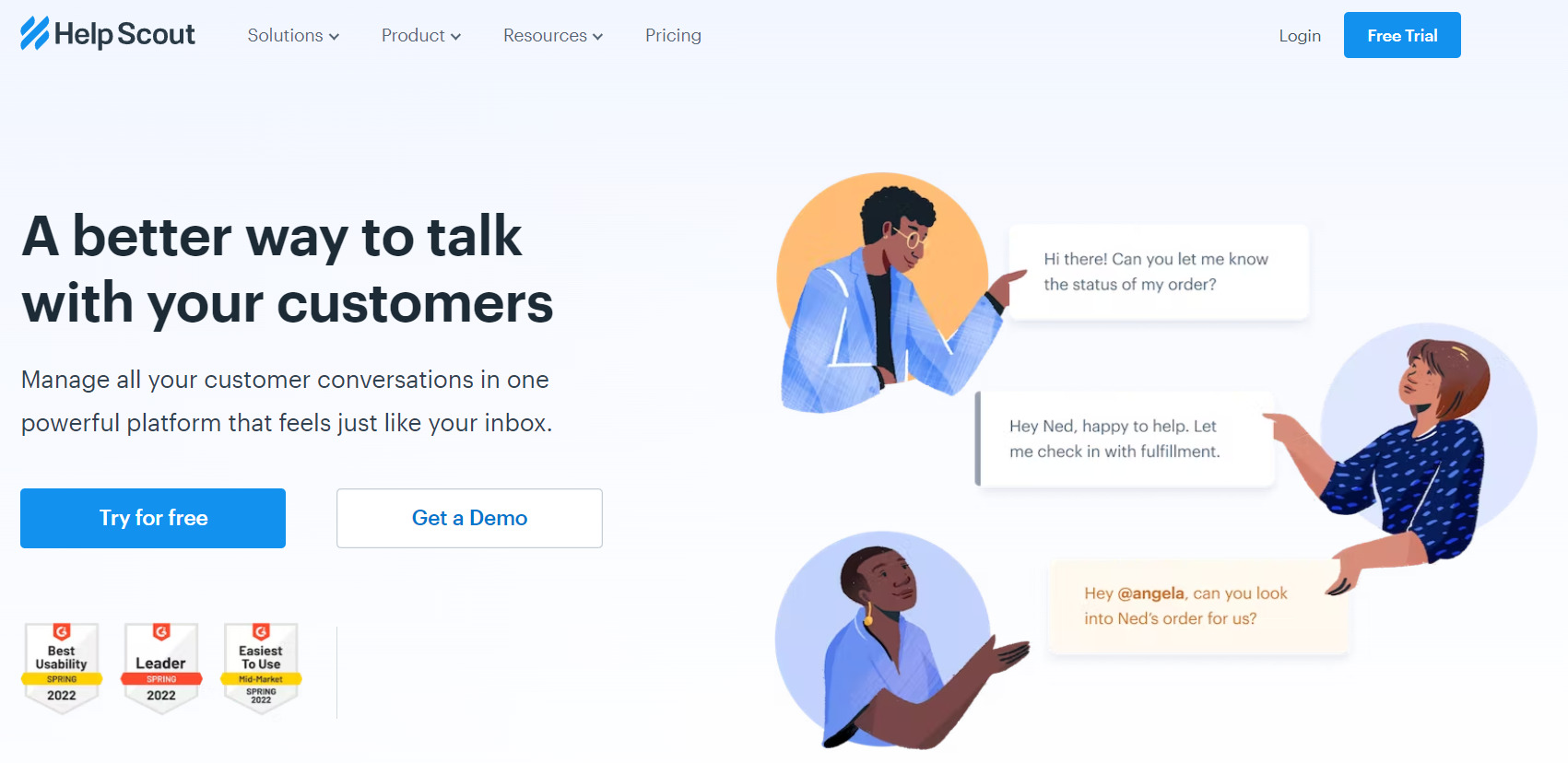 Help Scout is a customer service platform devoted to making every customer interaction a personalized and humanized experience. Realizing the business value in putting customers at the center, Help Scout is trusted by businesses of all sizes to elevate their customer experience effectively.
Customer experience features
Help Scout deploys a range of CX tools:
👉 Shared Inbox: Helps teams collaborate and respond to customers efficiently.
👉 Knowledge Base: Provides customers with answers anytime with 24/7 self-service support.
👉 Reports: Offers insights on team performance and customer satisfaction.
👉 Live Chat: Offers real-time messaging to engage with customers and ensure quick response.
👉 Customer Management: Tracks customer engagement for a seamless service experience.
Pricing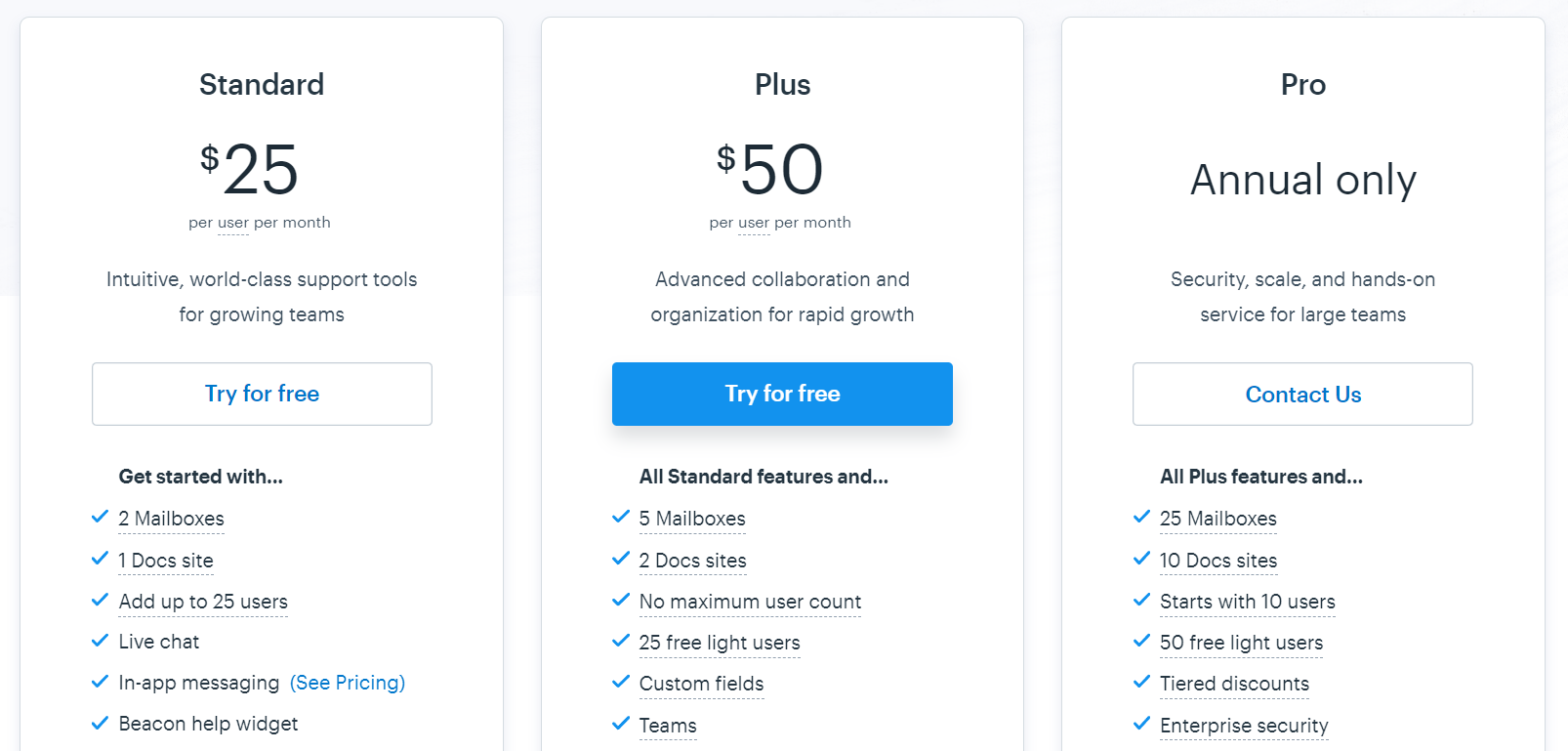 Help Scout platform offers its customers start testing features with a 15-day free trial. Those who want more can switch to Standard — $25/mo, Plus — $50/mo, or Pro — $65/mo plans (the Pro plan is billed annually only). 
Pros and Cons
User-friendly interface for an easy setup.
Excellent customer support tools for a better customer experience.
Seamless integration with other platforms for a cohesive workflow.
Limited customer insights on the basic plan.
Some functionalities require integrating multiple apps.
Advanced features could be complex for new users.
Concluding, Help Scout shines as a customer experience platform that tailors to the businesses intent on giving their customers an elevated customer journey. Their distinctive approach to traditional support by keeping it personal and convenient places them as a key player in managing customer experience.
Fullstory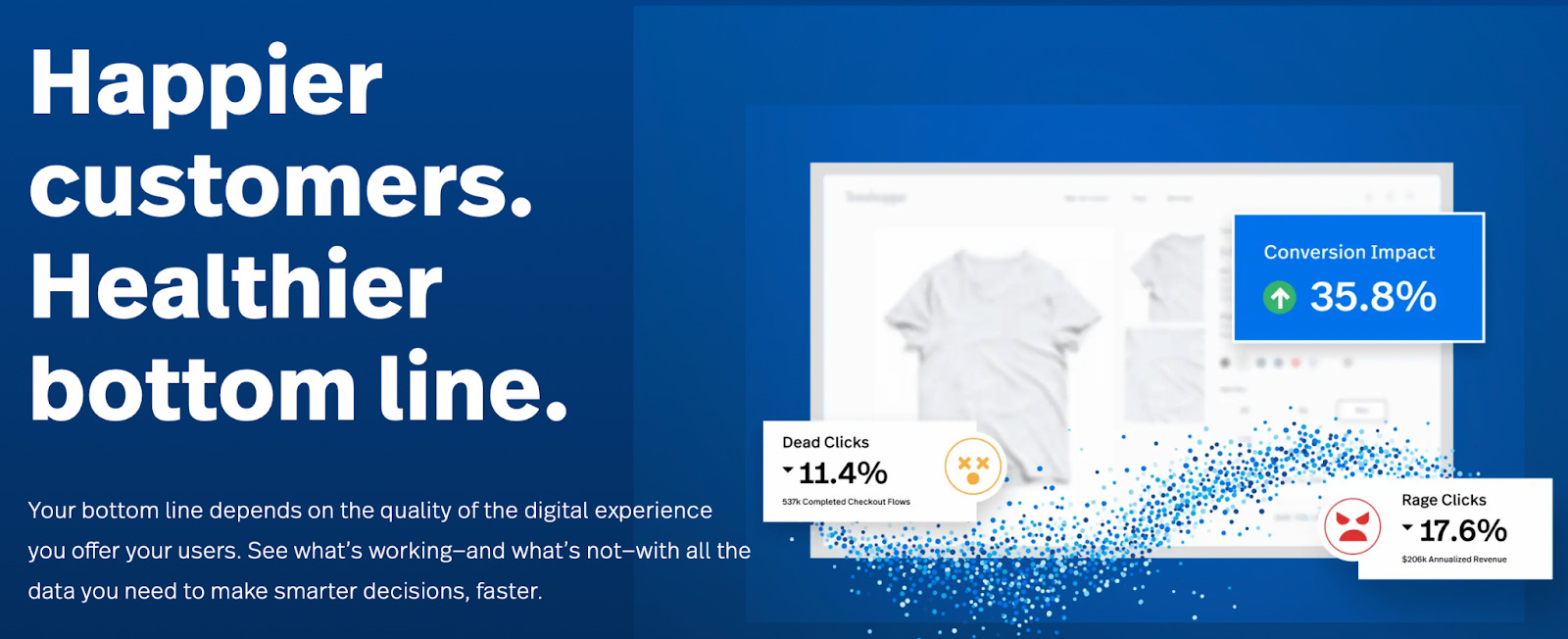 FullStory is a digital experience analytics platform aimed at improving online customer experience. It offers empathy-inspiring tools to provide insights into customers' digital interactions. The company's goal is to transform businesses into more customer-centric entities. The platform is equally suited to startups and larger enterprises aiming to better understand user behavior and crave deep analytical insights.
Features
FullStory's impressive suite of tools includes:
👉 Session Replay: Offers visual playback of user sessions for profound behavioral insights.
👉 Product Analytics: Detailed view of how users interact with the product and where they face issues.
👉 Omnisearch & Segments: Facilitates fast, problem-solving capabilities.
👉 Error Clicks and Rage Clicks: Identifies where users experience frustration or confusion.
👉 Conversion funnels: Helps spot where users are dropping off in the customer journey.
Pricing
FullStory offers a free platform with limited features, and its pricing for paid packages is customizable based on a business's specific needs. To get detailed pricing, businesses need to connect directly with FullStory's team.
Pros and Cons
Provides extensive customer experience tools.
Real-time insights and tracking.
Strong focus on user experience enhancement.
Pricing is not directly available.
Can be overwhelming due to the depth of information provided.
Some users report minor user interface issues.
In summary, FullStory is a cutting-edge CX platform dedicated to optimizing the customer journey through its valuable suite of tools. User actions, digital experiences, and interactions are all brought into focus, providing businesses with crucial insights to improve their customer experience.
Hiver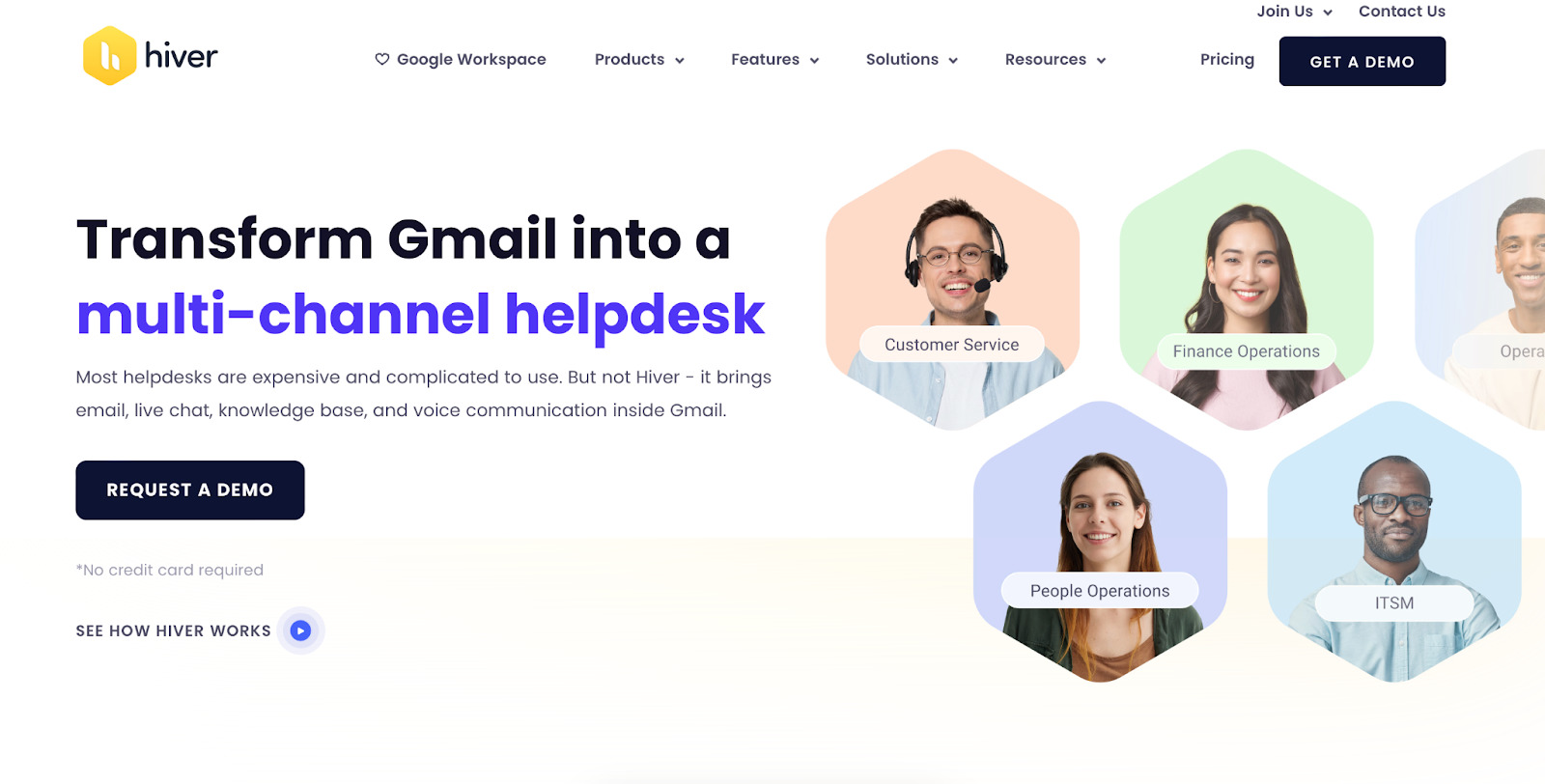 Hiver is a Gmail-based customer service solution offering a seamless platform to manage customer interactions effectively. The company's primary goal is streamlining customer service workflows within the familiarity of Gmail, making the process more manageable and intuitive. Suitable for companies of all sizes, Hiver simplifies customer support and creates a customer-centric philosophy within businesses.
Features
Hiver incorporates various CX tools:
👉 Shared Inbox: Manages customer email inquiries collaboratively.
👉 Email Notes: Enables internal team discussions on email threads, without Cc/Bcc.
👉 Automated Workflows: Routes emails to the right team or members based on rules.
👉 Email Tags: Classifies and tracks emails based on different categories.
👉 Analytics: Monitors team performance and customer satisfaction metrics.
Pricing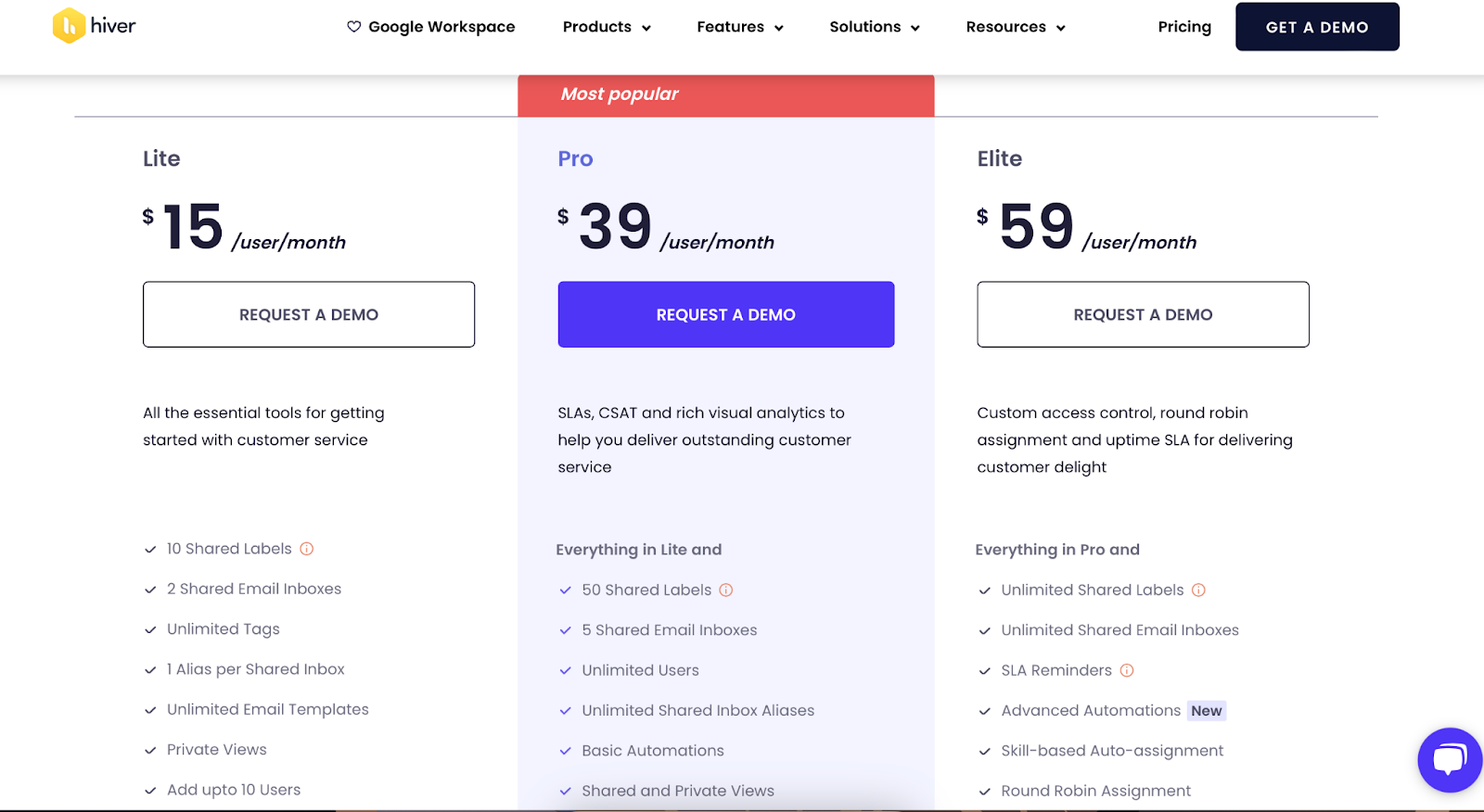 Hiver offers a 14-day free trial with pricing that starts from $15 per user per month, billed mounthly. The offerings are divided into three segments: Lite, Pro, and Elite, reflecting different business sizes and needs.
Pros and Cons
Great extension of Gmail, suitable for Gmail users.
Easy collaboration within teams.
Comprehensive analytics for performance insights.
Limited to Gmail; not suitable for businesses using other email systems.
Lack of a stand-alone mobile app.
Advanced features require higher-cost plans.
To conclude, Hiver, with its deeply rooted customer experience values, is a reliable platform for businesses seeking to enhance their customer journey. By leveraging Gmail, they offer tools and insights that not only make customer service handling more efficient but also boost overall customer experience.
Plerdy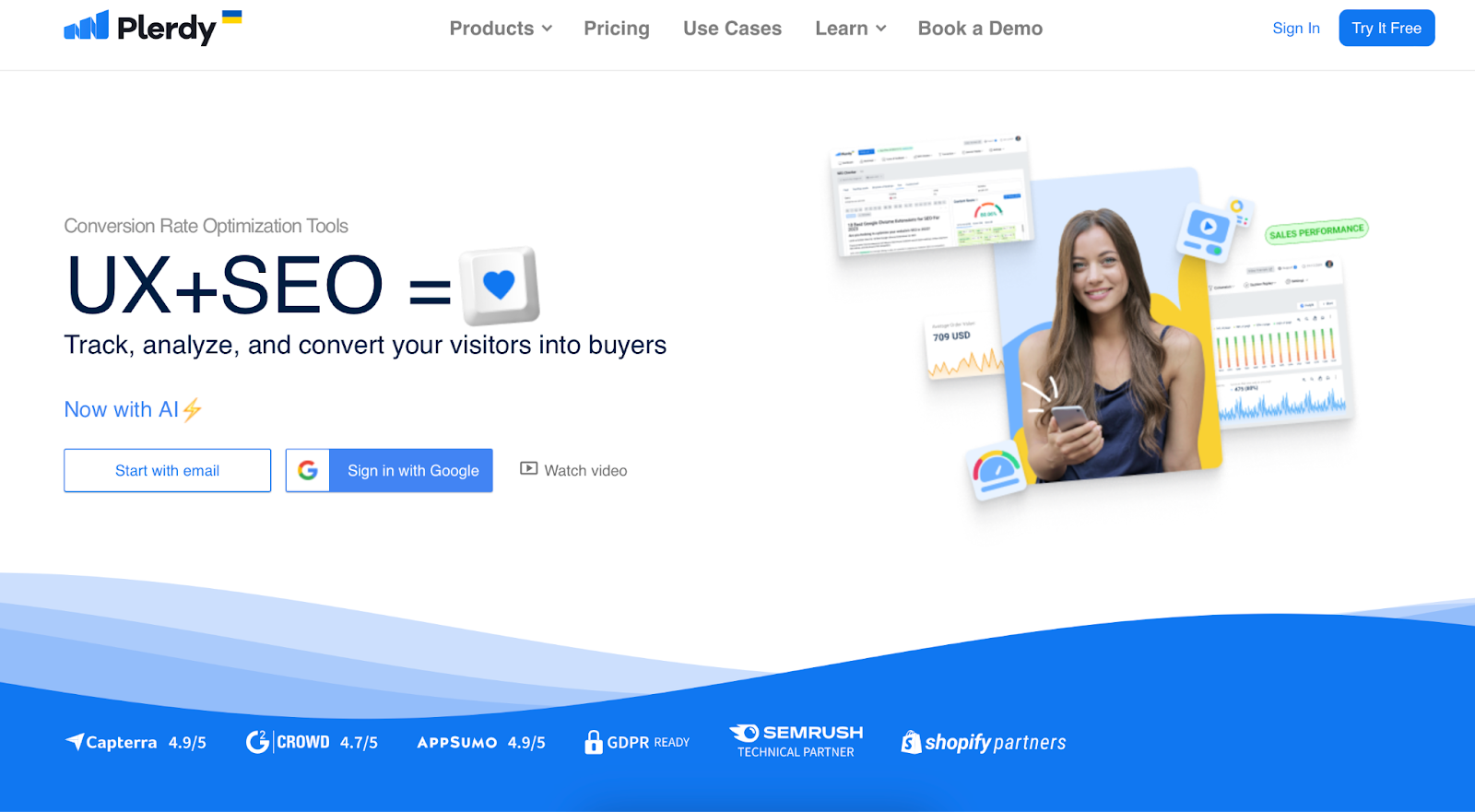 Plerdy is a powerful customer experience and conversion rate optimization platform offering a blend of tools to enhance your online effectiveness. Its primary goal is to assist companies in understanding user behavior and making more data-driven decisions. Plerdy is best suited for marketers, UX designers, and SEO specialists across various business sizes who want to gain a deeper insight into their customers and improve their online experience.
Features
Key Plerdy tools include:
👉 Heatmap Tool: Visualizes user interaction with your website.
👉 Event Tracking: Helps monitor specific clicks and interactions.
👉 SEO Checker: Analyzes website SEO markers for an optimized user experience.
👉 Pop-up Forms: Collects user feedback and emails for communication.
👉 Sales Performance: Tracks and measures e-commerce indicators.
Pricing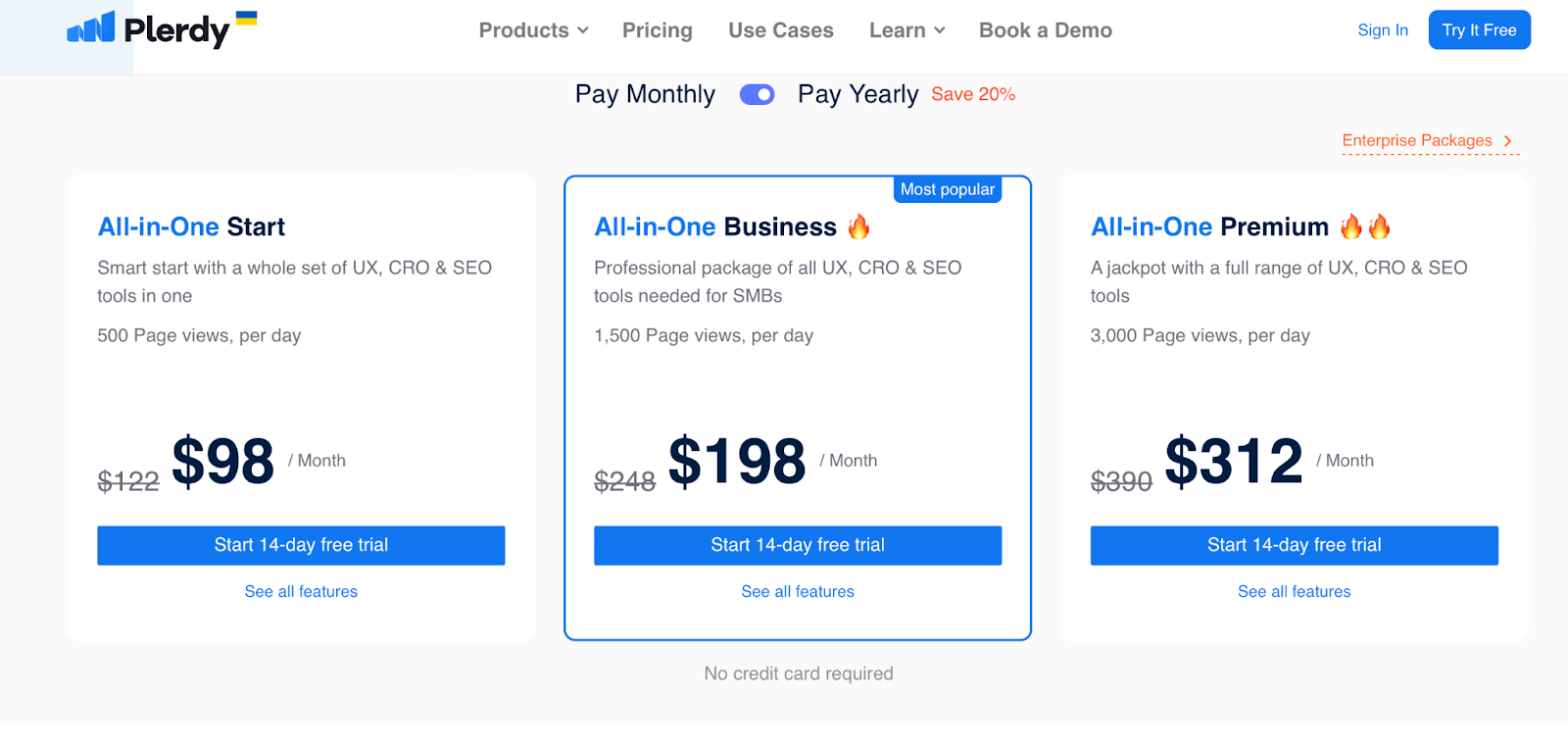 You can test Plerdy customer experience tools with a 14-day free trial. Then, the Start plan follows — $98/month. If you have over 500 page views per day, choose Business plan — $198/mo. 3000 and more page views require Premium plan that will cost you $312/mo.
Pros and Cons
Unique insights into user behavior with heatmaps.
Comprehensive SEO analysis tool.
Real-time user tracking for instant adjustments.
Might require learning curve for maximum utilization.
Limited integrations with other platforms.
Advanced features available only in higher-tier plans.
In conclusion, Plerdy is not just a CX platform but a comprehensive tool to optimize the various aspects of your online presence. Donning multiple hats, it assists businesses in streamlining their customer journeys and taking their customer experiences to new heights. Plerdy indeed offers a multi-dimensional approach to understand and engage users effectively.
LiveAgent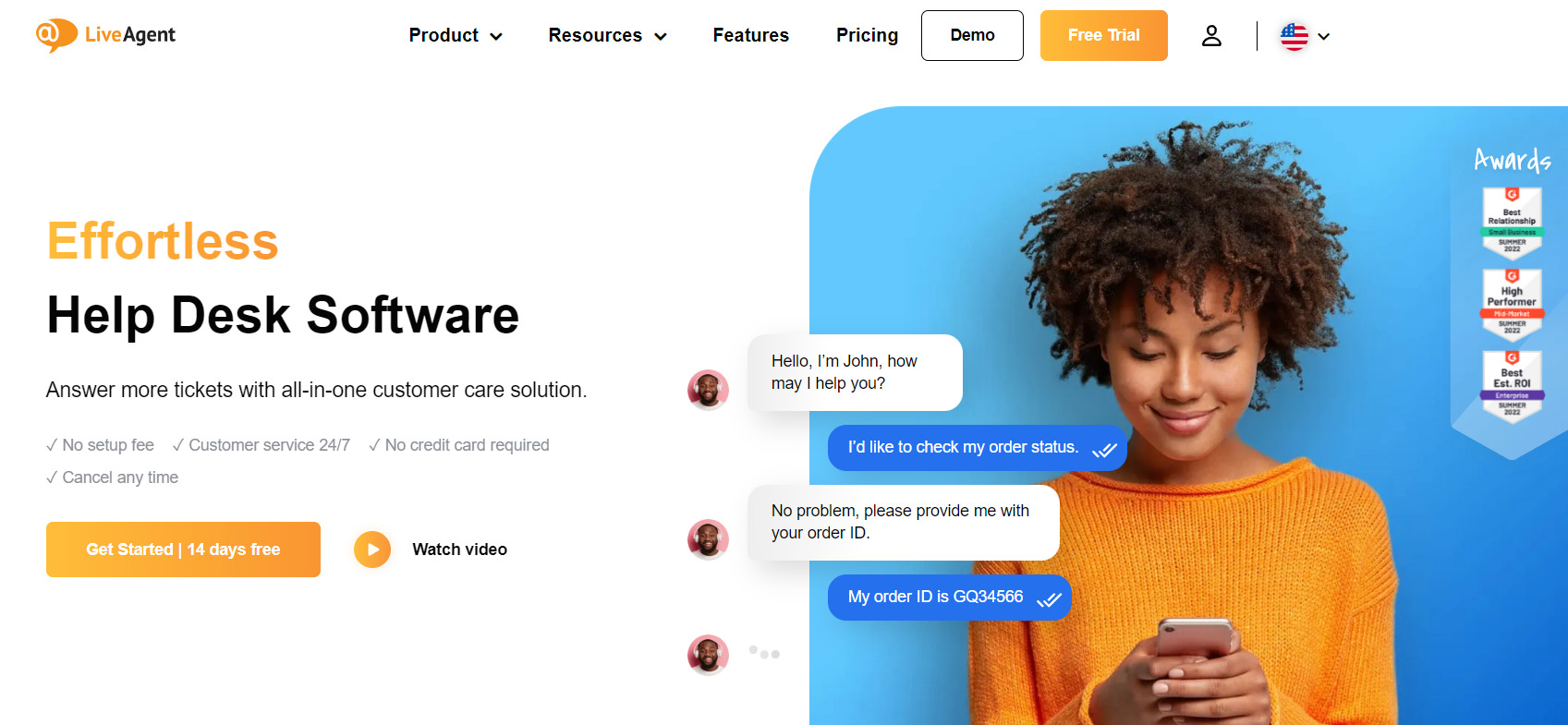 LiveAgent is a comprehensive help desk and customer support software designed to provide businesses with all the tools they need for successful customer interaction in one place. It thrives on the goal of making customer service faster, more efficient, and more enjoyable for both businesses and their customers. From SMBs to large enterprises, LiveAgent services can be tailored to fit a diverse range of business sizes and types.
Features
👉 Universal Inbox: Consolidates all customer inquiries and communications into one place.
👉 Live Chat: Offers real-time interaction with customers.
👉 Knowledge Base: Enables customers to find answers on their own with self-service tools.
👉 Ticket Management: Provides efficient organization and management of customer inquiries.
👉 Automation: Automates routine tasks for higher efficiency.
👉 Analytics & Reports: Presents data-driven insights and performance metrics.
Pricing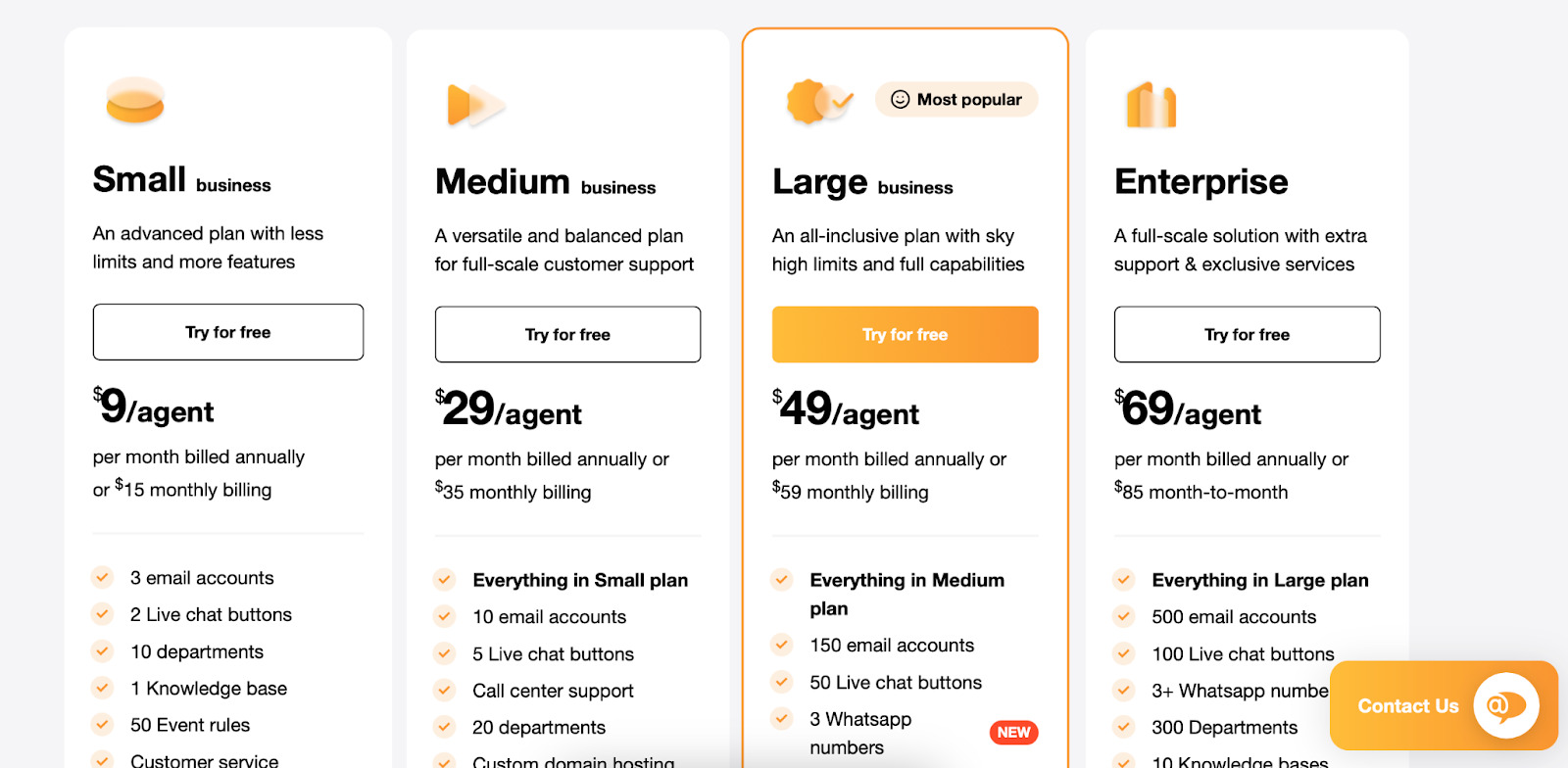 LiveAgent offers a lifetime free version and four paid plans starting from $9 to $69 per agent per month if billed annually.
Pros and Cons
Multichannel support consolidation.
Advanced automation for better efficiency.
Comprehensive reporting for performance insights.
The user interface can be overwhelming for beginners.
Setup requires technical skills.
Some advanced features are available only in premium plans
Conclusively, LiveAgent unites essential CX tools in one platform, enabling businesses to deliver outstanding customer service and manage their customer journey effectively. It's a versatile platform that helps turn customer feedback into actionable insights for an enhanced customer experience.
SurveySparrow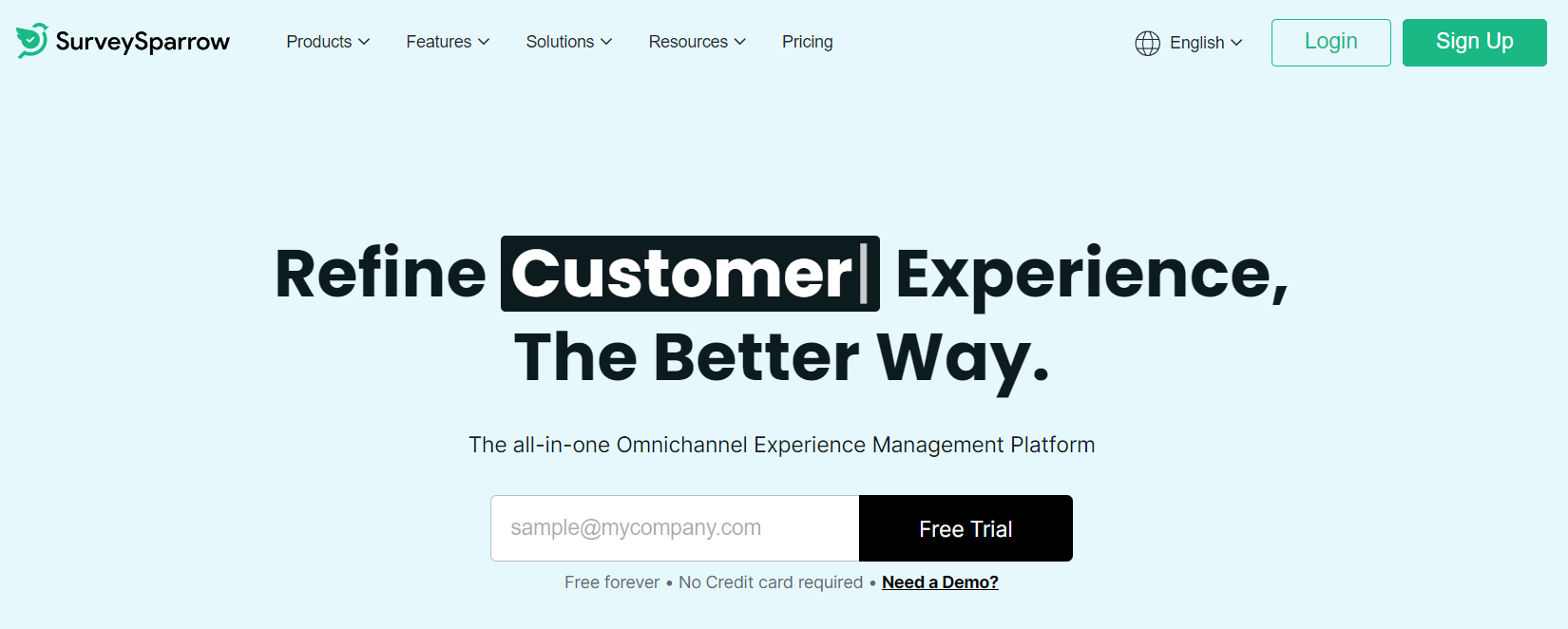 SurveySparrow is a customer experience platform specializing in collecting feedback through conversational surveys. It focuses on enhancing user engagement, providing high response rates, and delivering valuable insights. From small businesses to large corporations, SurveySparrow offers meaningful, intuitive, and fun ways to listen to the voices of their customers.
Features
👉 Conversational Surveys: Provides lively interactions, mimicking human conversations.
👉 Omnichannel Distribution: Enables sharing feedback forms across different platforms.
👉 Survey Templates: Offers a wide variety of templates addressing various scenarios.
👉 Offline Feedback: Allows collecting responses even without internet access.
👉 Insights & Analysis: Transforms the raw data into comprehensible graphical reports.
Pricing
SurveySparrow pricing starts from 19 to $149 per month when billed annually. There's also an enterprise solution available that can be customized to meet specific business needs.
Pros and Cons
Highly interactive, conversational approach to surveys.
Extensive customization options.
Rich insights for informed decision-making.
Initial setup might seem complex.
Some functionalities such as advanced branching are restricted to higher plans.
User interface can be improved.
To sum up, SurveySparrow offers tools that transform the customer feedback process into a more engaging and conversational experience. It aims to enhance the customer journey by extracting actionable user insights, proving to be a promising partner in the realm of customer experience management.
HubSpot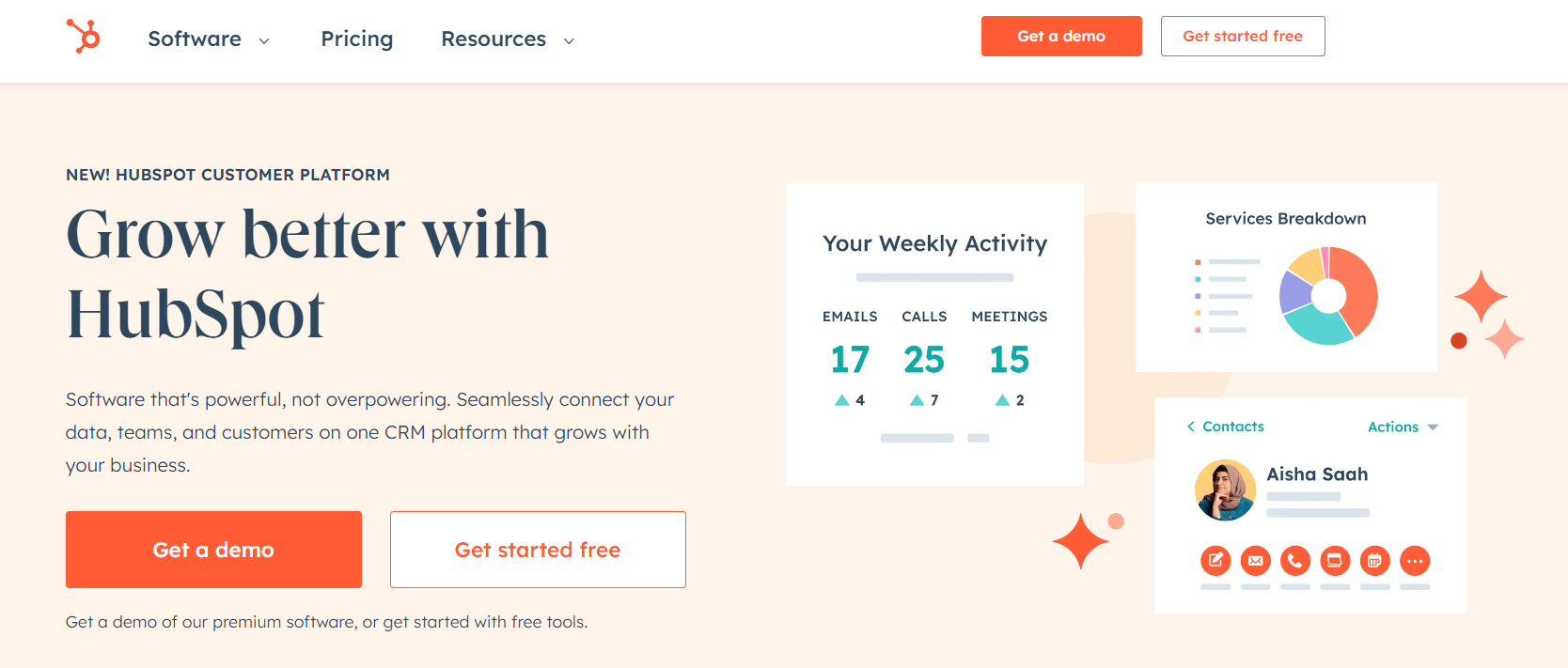 HubSpot is a complete customer experience platform offering versatile tools for marketing, sales, and customer service. The company focuses on helping businesses grow by nurturing leads, tracking interactions, and managing the customer journey effectively. HubSpot caters to businesses of all sizes — from startups to established enterprises — looking to attract, engage, and delight their customers.
Features
👉 CRM: Tracks all interactions with customers and organizes information in a centralized space.
👉 Marketing Automation: Streamlines marketing efforts through workflow automation.
👉 Sales Hub: Enables tracking of sales funnel, coordinating team efforts, and closing deals efficiently.
👉 Customer Service Hub: Provides tools for customer support, including tickets and customer feedback.
👉 Analytics: Offers insights on user behavior, campaign performance, and more.
Pricing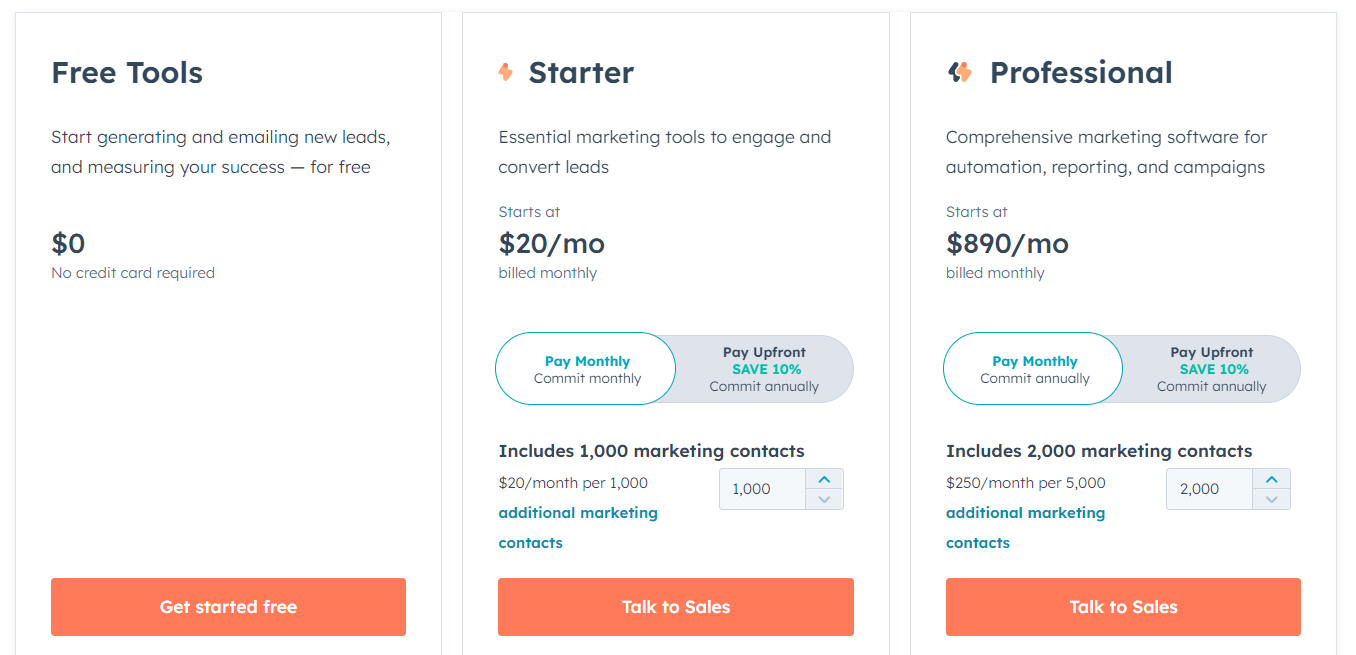 HubSpot cx tool has three separate hubs (Marketing, Sales, and Service) starting at $20 per month, each with different plans suitable for varying business needs. HubSpot also offers bundled packages (Starter, Professional, and Enterprise) for a comprehensive solution, the pricing for which can be obtained by connecting with their team.
Pros and Cons
Comprehensive, integrated platform for CRM, sales, marketing, and service.
Extensive free offering to test out the platform.
Robust automation and analytics tools.
Complexity can be overwhelming for small businesses.
Advanced features require a high-cost subscription.
Integrations with non-HubSpot products can be limited.
In conclusion, HubSpot excels as a comprehensive customer experience platform, assisting businesses in crafting a seamless customer journey. From lead management to customer feedback, it provides valuable tools and insights that help businesses understand and engage their customers better.
How to choose the best customer experience tool?
While choosing the best customer experience tool, you need to clearly identify your needs and objectives. Look for CX platforms that offer integrated CRM, analytics, social listening, and customer service capabilities. Observe how these CX tools manage customer interactions, empower teams, and support your brand image. Ultimately, the best tool should allow you to effectively track customer journey, gather and analyze feedback from various channels, streamline the management process, and enhance service provided by your customer experience management software company.
FAQ
What is customer experience tool?
A customer experience (CX) tool is a platform that aids businesses in managing and improving the overall customer experience. It encompasses CRM, analytics, social listening, and tools for customer service. These tools allow teams to track and optimize customer interactions, support brand management, and foster service excellence. In essence, a CX tool empowers companies to deliver superior customer service.
What is a CX toolkit?
A CX toolkit is a set of tools combined to optimize the customer experience. It includes CRM for managing customer relationships, analytics tools for data analysis, social listening tools for tracking brand mentions, customer service tools for improving interactions, and management platforms for coordinating teams. Implementing a CX toolkit allows businesses to enhance their service and overall brand experience.
What are the 5 components of customer experience?
The five key components of customer experience are:
1. Customer Interactions: This includes touchpoints across different channels like CRM, social media, and customer service.
2. Listening Tools: Collect feedback or monitor brand mentions.
3. Analytics: Analyze collected data to gain insightful feedback.
4. Management: Coordination among teams for delivering effective service.
5. Brand Representation: Ensuring all experiences align with your organization's brand values.
Must-have customer experience tool list?
A must-have customer experience tool list should include:
1. CRM System: To manage customer interactions effectively.
2. Feedback Tools: To capture and analyze customer feedback.
3. Support System: To provide excellent customer support.
4. Team Collaboration Software: To ensure synchronized team efforts.
5. Product Experience Platform: To understand how customers interact with your products.
What tool provides feedback on the customer patient experience?
A tool like a patient satisfaction survey, deployed via a CX platform, provides feedback on the customer patient experience. It helps gather patient feedback post-consultation, gauges the efficiency of the support system and the team, and monitors the overall patient journey. Tools like Medallia, SurveySparrow, or Qualtrics are widely used for this purpose in the healthcare industry.
Who are the top software companies in customer experience management?
The top software companies in customer experience management include Salesforce, HubSpot, and Zendesk that provide comprehensive CRM systems and customer support solutions. Additionally, Medallia and Qualtrics specialize in gathering and analyzing customer feedback. Lastly, companies like Adobe and SAP offer wide-ranging products designed to enhance overall customer experience and support team efficiency.
Read also: