10 Best Intercom Alternatives in 2022
Reading time: 38 minutes
09.03.2021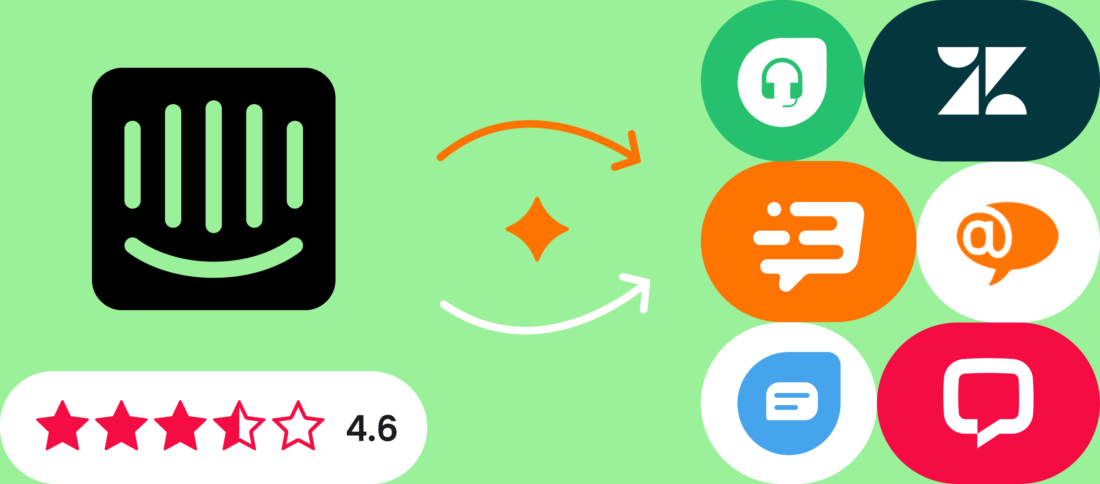 There are dozens of services that offer customer support infrastructure with various features and different pricing options. As in everything else, this market has leaders which names stand out among other competitors. Or rather, a mature leader with an impeccable record — Intercom. 
This platform provides tools for business support, marketing, and sales all over the world. Using it you join biggies like New Relic, Atlassian, Shopify, — a big plus to any brand image. Nothing is perfect, but the Intercom was close. 
Times change, and there's a list of things its users having problems or just missing: 
poor email automation
bugs
customer service quality
high pricing
complex billing model 
Probably that is the reason you are on this page too, isn't it? 
To solve these problems, Intercom users look for alternatives. Trying to help, we've tested the best live chat software. So, here are the top 10 competitors to replace Intercom in terms of capabilities and pricing.
1. Dashly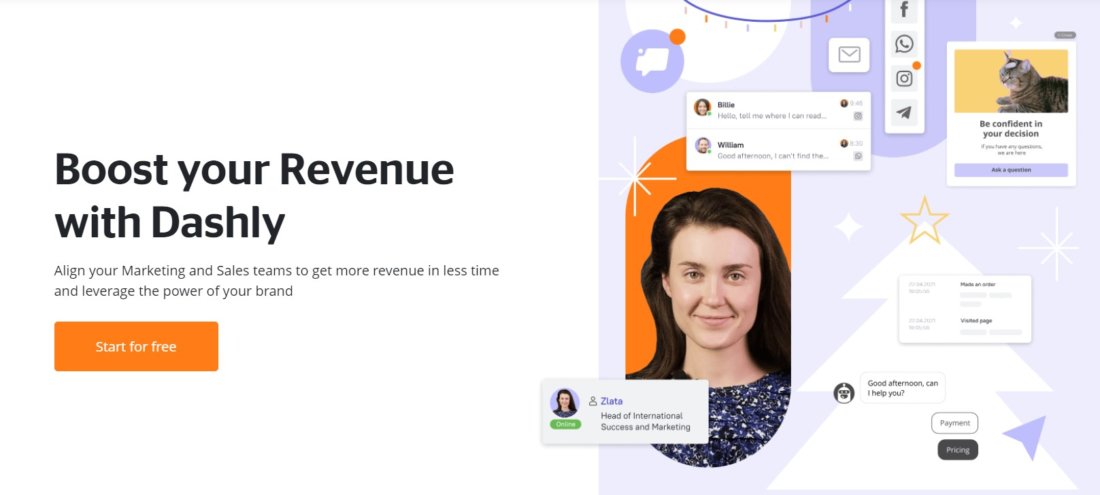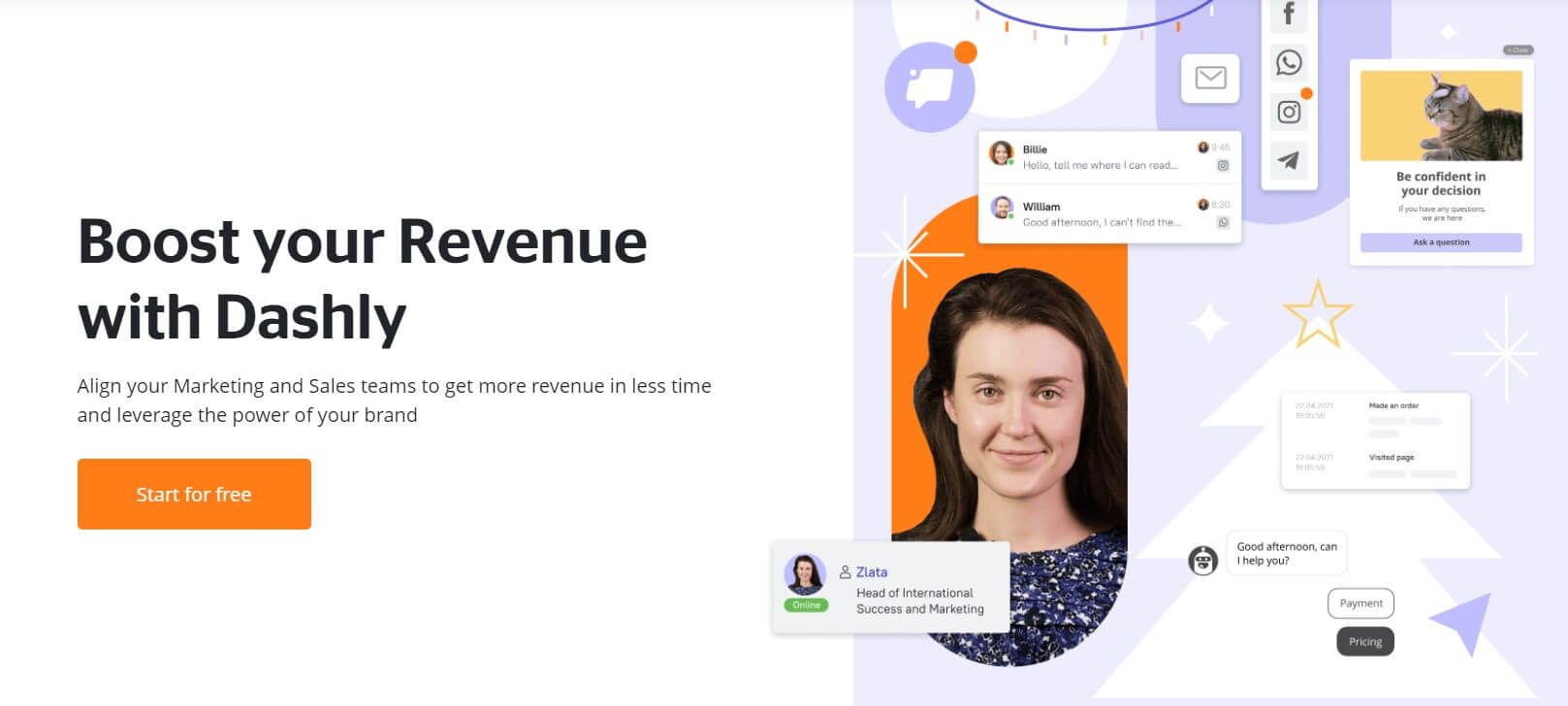 The first and best Intercom alternative, this conversational marketing platform aims to increase sales from the website via proactive communication with clients on each step of the funnel. It provides tools for marketers, support, and sales to engage website visitors into a conversation, qualify, and nurture them to purchase.
Unlike Intercom, there are no limits on agent seats in a user account, you can provide the best customer communication, sharing workspace with all your teammates.
The best solution if you're looking for a versatile full-fledged replace for Intercom.
Dashly features as an Intercom alternative
Dashly has numerous Live Chat features to drive more sales from a website and deliver superb customer support, beating your competitors:
In addition to a live chat, there is a list of powerful tools for rising conversion across every user journey and serving as alternative to Intercom solution:
Chatbot to consult website visitors, qualify leads, and route conversations.
Pop-ups to capture their data.
Triggered Email Campaigns to nurture leads. Use ready-made campaigns and pre-built templates for onboarding and communication.
Knowledge Base to provide customers with the answers to their questions anytime.
Website Visitors Data Tracking to communicate, sell, support, and build strong relationships with every customer.
GDPR compliance tools: pop-ups user agreement checkbox, email double opt-in, geo-targeted cookie bar with a link to the Privacy Policy. On-demand, you can show, export, and delete data you've collected about a user.
Dashly pricing
Clear pricing is its major advantage in the Intercom vs Dashly comparison. After the 7-day trial, Dashly basically offers you to choose between three plans:
Business chat plan starting at $39/mo. This plan is the best for direct messaging: sales on the website, support in the product. Live chat, knowledge base, Facebook + email integrations are included. Also, you'll be able to collect basic customer data, and launch 1 triggered message and lead qualification bot.
Automation plan starting at $109/mo. This is an all-in-one solution for marketing, support and sales. You'll get all the features from the Business chat plan, but additionally you'll be able to launch targeted automation campaigns, run A/B tests, unlimited number of chatbots, trigger messages and so on.
Premium plan provides expert traction and Dashly implementation specialists who will help you set up advanced messaging. It includes everything in Automation plus: dedicated account manager and customer support, personalized training sessions, ongoing health-checks and product consultations.
✌️ Every paid plan includes unlimited seats. Invite the whole team!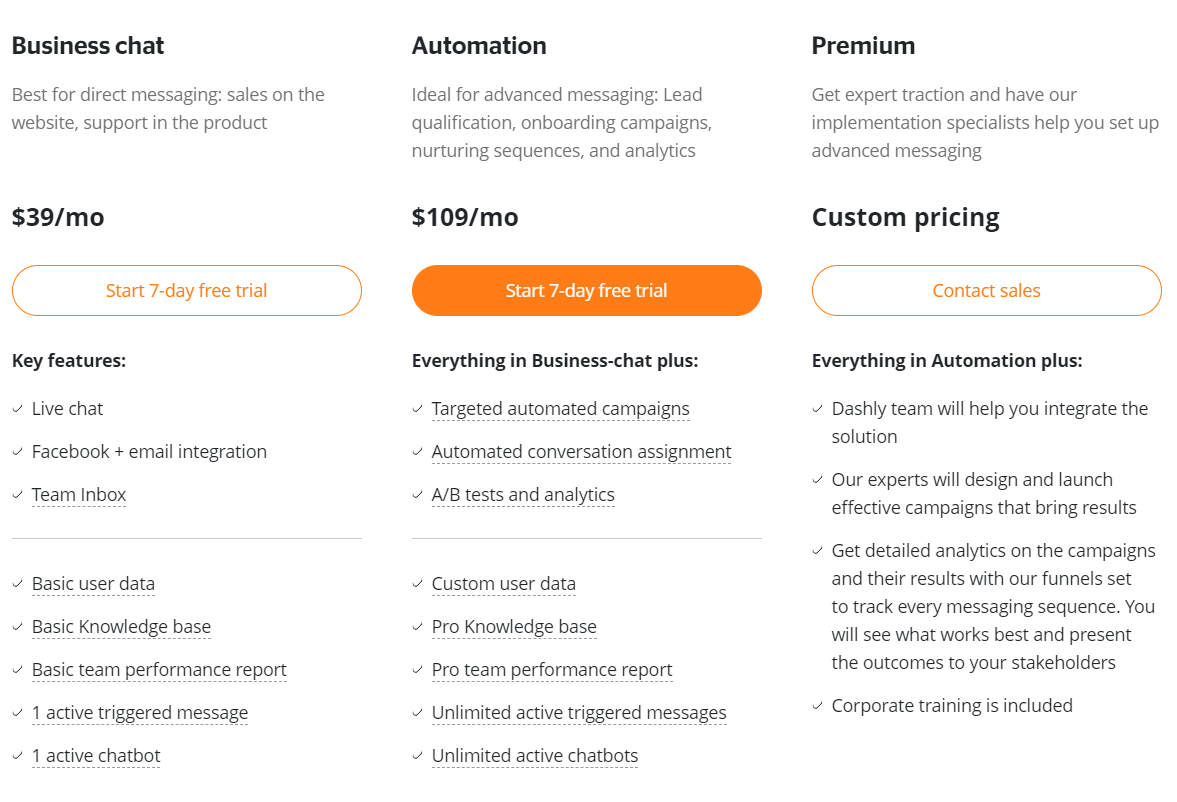 Dashly rating
Both Capterra and G2 users gave it 4,8 out of 5 stars that is a great score when Intercom has 4,5/5. The lowest rating Dashly has on these websites is 4 out of 5.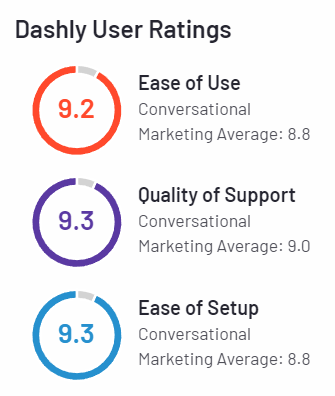 All the reviewers appreciated a high level of tool usability (Capterra ─ 4,6/5, G2 ─ 9/10) and customer service (Capterra ─ 4,7/5, G2 ─ 9,7/10). 
Thus, they would likely recommend it to everyone who needs to support and convert leads online. Dashly's a decent and more affordable alternative.
Competitors comparison: Dashly vs Intercom 
The first thing that distinguishes Dashly from Intercom is a clear pricing model. You may know that Intercom's price depends on active users during the last 3 months. Thus, you'll never guess the final cost of your plan. In Dashly you pay for a month's unique users.
Offering a wide range of features, it includes a list of unique ones:
Chatbot. This will take all the routine tasks: from lead qualification, nurturing, to answering the easiest questions and routing conversations.
Website Visitors Data Tracking. In Dashly you can set an unlimited number of events to track. It will take two minutes when Intercom makes you ask developers to set up event triggers (limited number).
Analytics of the team performance, message effectivity, customer journey funnels.
Knowledge base for users self-service.
Unlimited seats, so that you'll be able to connect all the team.
Custom email and pop-up emails to launch campaigns without involving developers.
A/B testing.
Intercom's advantage over its competitor is a wide range of chatbots, but AI ones are hard to teach. It may take 2-3 months. Its other strong suit is integrations. You'll find your fav tool to connect with.
In Dashly there are more than 30 ready-to-use integrations, among others, it offers Zendesk, Viber, and Instagram integrations that Intercom's essential plan lacks. You can also integrate Dashly with any service with the help of Zapier.
Both platforms are great for support, sales, and marketing, but Dashly is simpler and more affordable.
Dashly overview
Supported platforms
Web, Android, iOS
Pros
Social media and messengers integrations,
unlimited agents seats, auto messaging,
great customization, no-code implementation.
Cons
Missing ready-to-use integrations with CRMs.
But you can integrate Dashly with any service with the help of Zapier.
2. Freshdesk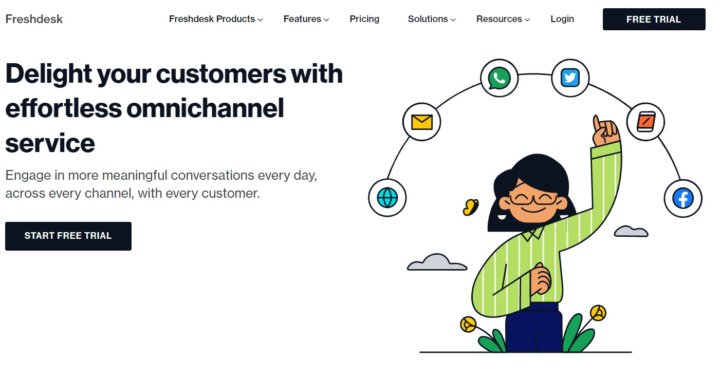 Another Intercom alternative is Freshdesk. This cloud-based help desk software offers multiple channels of customer support and a great ticketing system for businesses and companies of all sizes.
With 1000 integrations, there is no problem converting website visitors into paying clients. So much room for integration really makes Freshdesk stand out among its competitors, including Intercom. Freshdesk's user has 1 agent seat per a plan to support clients via email, phone, website, chat, and social.
Easy to customize system provides total control of your workspaces.
Thanks to various integrations, it's one of the best solutions if you want to replace Intercom in your tech stack seamlessly.
Freshdesk features as an Intercom alternative
To help you make the best of your customer service solution, Freshdesk offers standard and out of the box features:
Ticket management. All the web, phone, email, social, and chat requests coming into the system convert into tickets. Thus, you can manage conversations with your customers centralized. 
Self-service portal via bots and AI. Each of the clients can use the Freshdesk knowledge base, find answers on forums, follow up their tickets, or create new ones.
Customization. Choose style and colors of your company's branding. Also you can use 40 languages for the portal and select your own support URL for Freshdesk domain.
Service Level Agreement Definition and Management.
Mobile apps for Android and iOS platforms.
Pre-integrated analysis, analytics, and dashboards to follow-up customer tickets and managers' actions.
Team Inbox to track and manage incoming support tickets from multiple channels with one inbox.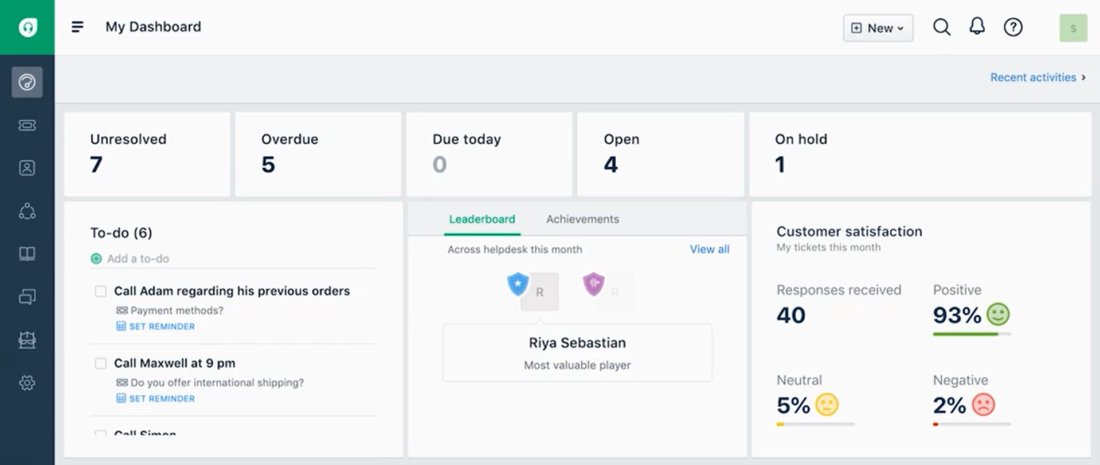 There is one account to manage several products. Freshdesk has a wide range of customization options, you can design the chat, apps, URS according to your brand style.
Freshdesk pricing
Unlike Intercom, Freshdesk has a free plan with basic functionality. You can also enjoy a 21-day free trial that doesn't require any credit card details. The best offer in terms of a free trial on this list.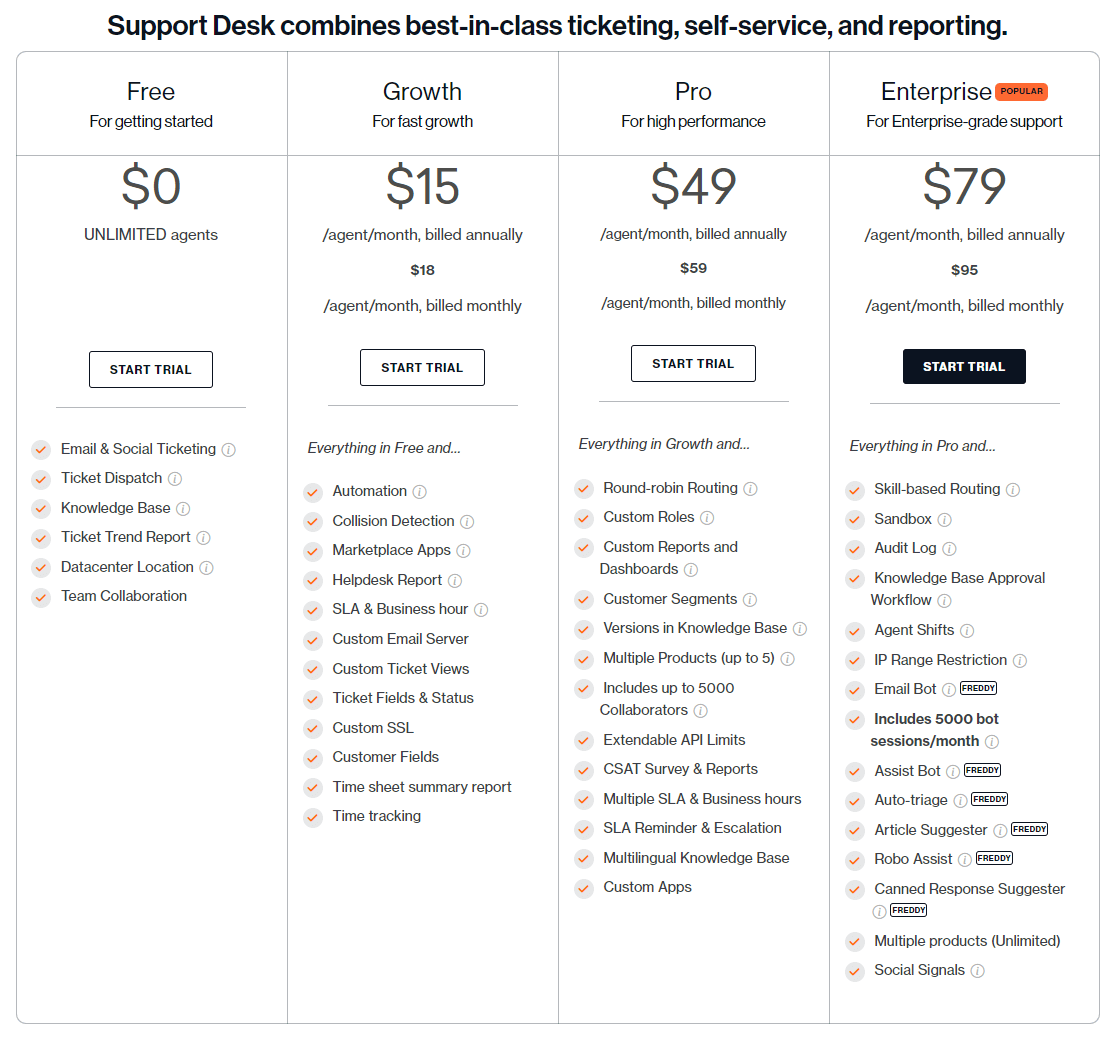 Apart from the free, there are 4 pricing packages starting from $15 up to $95 per month:
Free — $0 with unlimited agents
Growth ─ $18/month/per agent. 
Pro ─ $59/month/per agent.
Enterprise ─ $95/month/per agent.
There is a list of the add-ons to improve the standard plan with AI/ML features, bots, superior API connections, extra seats. These add-ons with help you create a full-fledged functioning alternative.
Freshdesk rating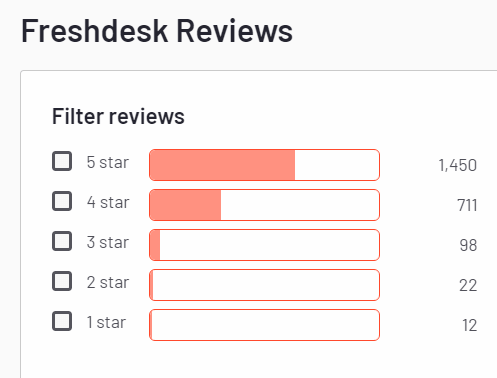 With about 96% positive feedback on G2 users choose Freshdesk over competitors for customer service software that is easy to set up and use. 
Most users appreciated the high quality of Freshdesk's ticket management system. However, there are issues with customer support.
Freshdesk vs Intercom 
When Freshdesk is designed for customer support, Intercom also has a suite of integrated products for marketing, sales, and product. However, it lacks Call Center Management and focuses on engagement marketing.
Comparing Intercom vs Freshdesk, we noticed that each of them includes unique combinations of tools:
Freshdesk's ability to get customer tickets from any channel and to customize their fields for better organization. 
Intercom is appreciated for its customer data collection and management features. 
Besides that, they are similar.
The major Intercom issue and Freshdesk advantage here is pricing, just like with a lot of other competitors. With excellent value for money, the last one is more affordable.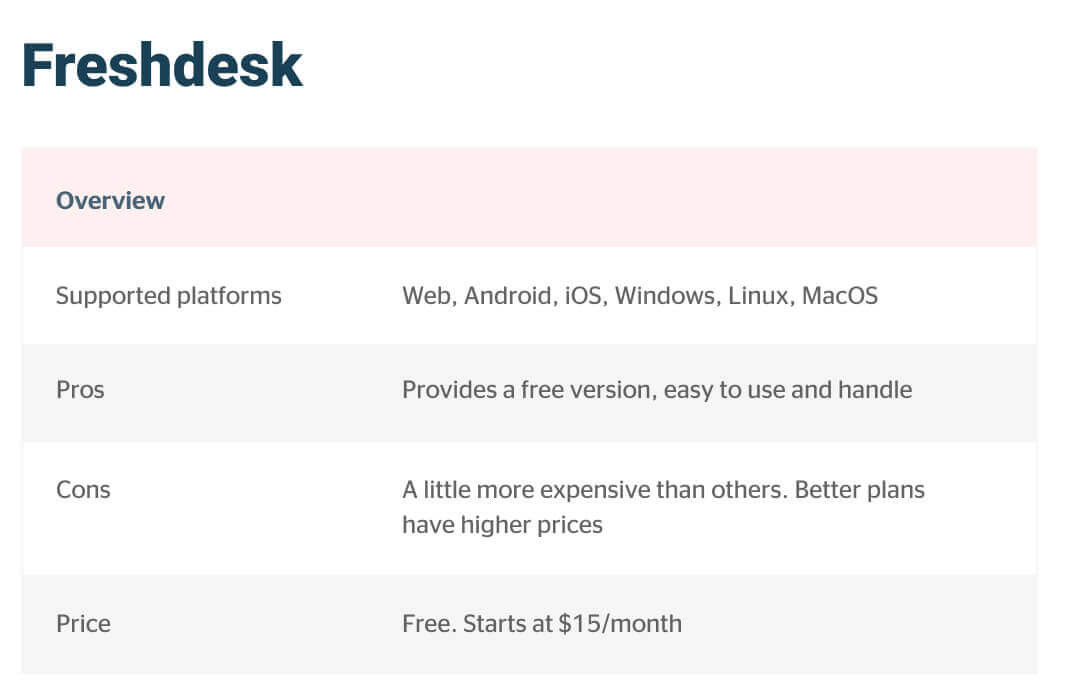 3. Zendesk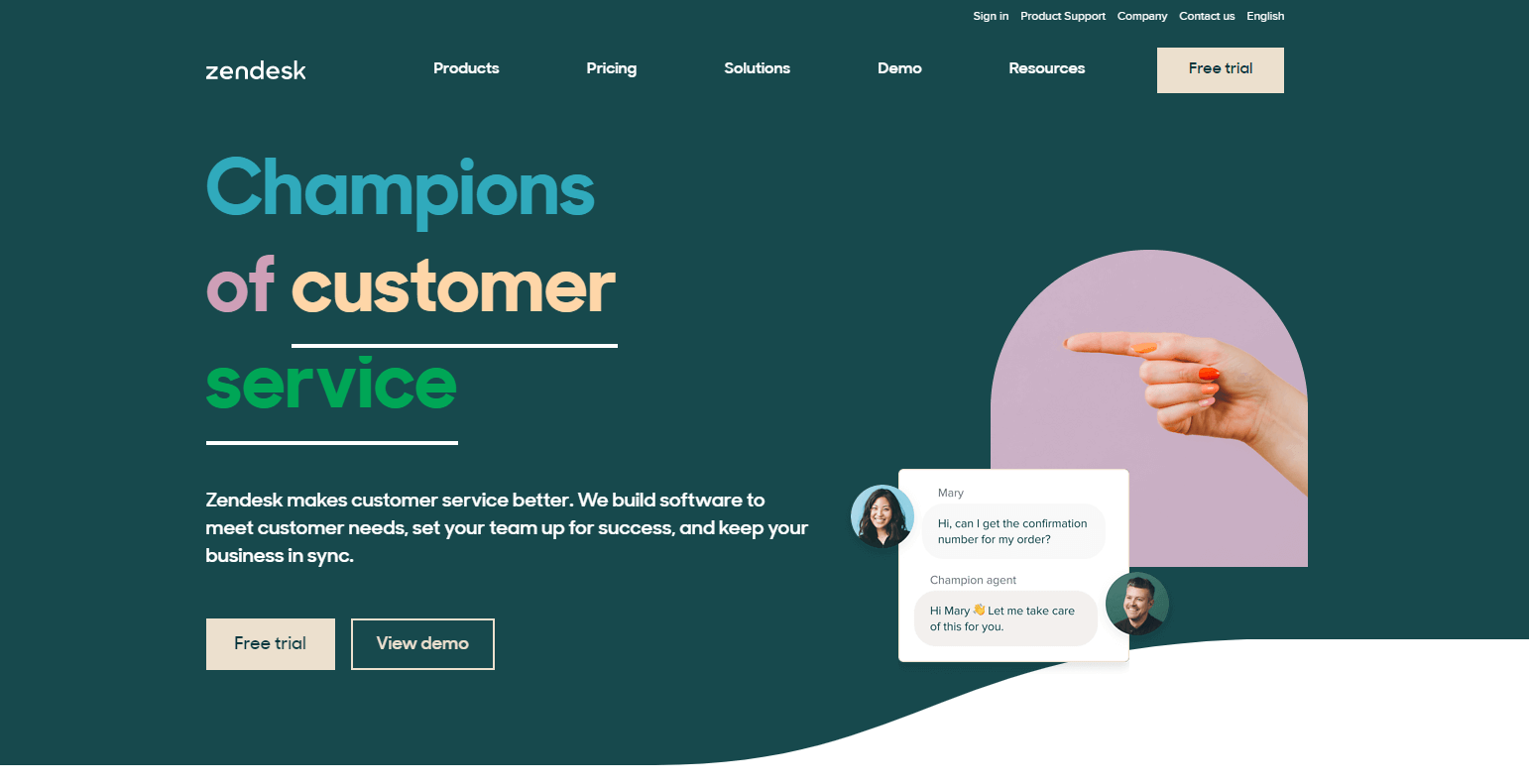 The oldest Intercom competitor from this list, Zendesk is well known for its speed. The customer service takes only a couple of minutes to set up, and then it's ready to go, no matter what business you're in.
The low price and light-speed workflow secured Zendesk a spot near the top of our list of Intercom alternatives. Tumblr, Airbnb, and Sony use this platform to cover their customer support, which adds even more points for Zendesk.
Probably the best replacement for Intercom if you want to enhance your customer support.
Zendesk features as an Intercom alternative
This customer support platform has a full pack of features for all tastes, sometimes even more than its major competitor, Intercom. The functionality is grouped in tools for customer support and sales.
Among the key Zendesk features are: 
Ticketing management with automated workflow;
Live chat widget with low design customizability;
Help desk integrated with web forums, social networks, email, and IM;
Knowledge base, community forum;
Reports & analysis;
Could call center.
Besides standard one, Zendesk has 100+ out-of-the-box integrations. But the devil is in the details. Since there are too many of them, the UX/UI is not the best in class. The software is difficult to understand, despite powerful onboarding.
Zendesk pricing
The cheapest plan you can get there is $19 per month (much lower than Intercom's start alternative). Zendesk offers 14 days of trial. When you sign up for your trial of Zendesk Suite, you'll have access to all features on the Zendesk Suite Professional plan.
The user has a choice among 3 options: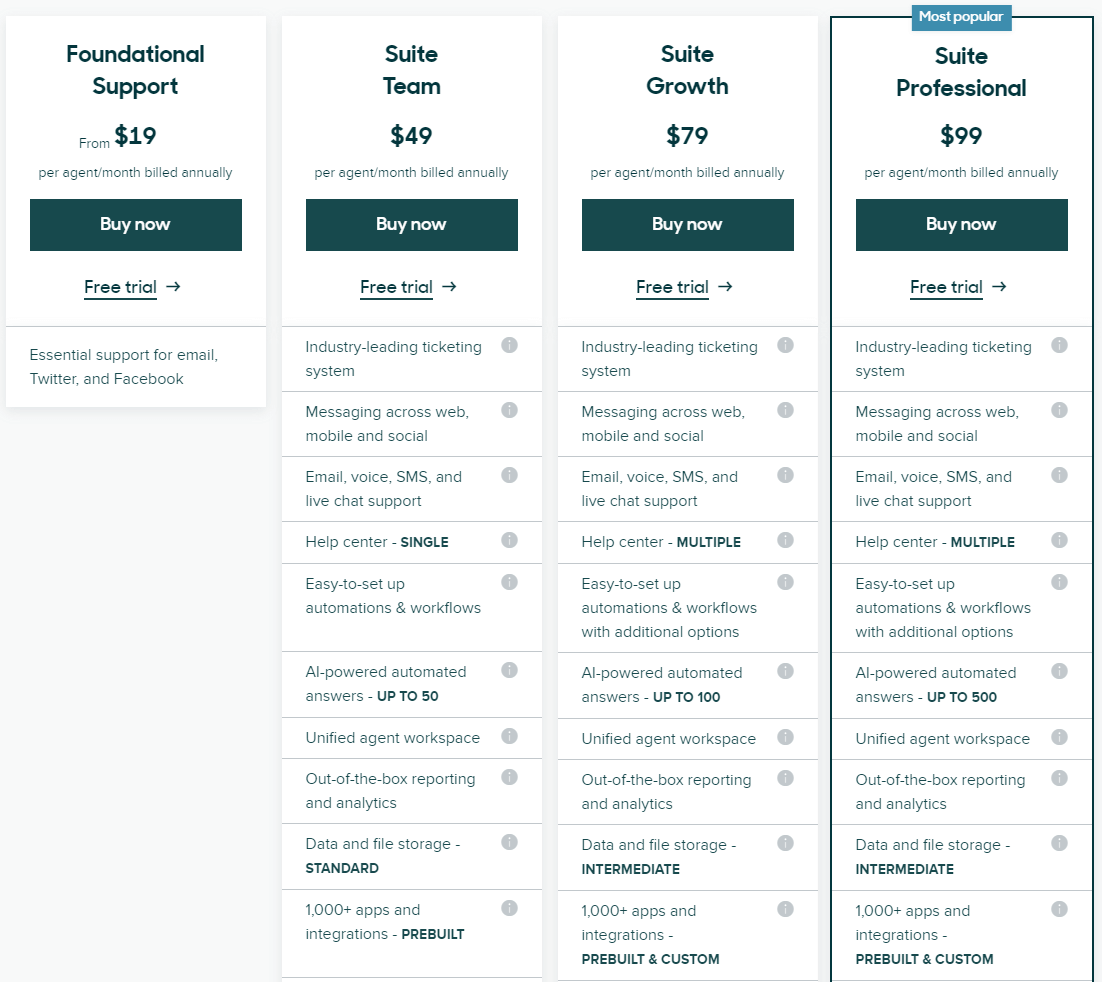 All the plans' prices start with one seat, but you can add more for extra money. 
Zendesk's pricing policy is flexible, so you can buy and combine the tools you really need. This way, you can collect a toolset that will become a great alternative to your Intercom solution.
Zendesk rating
Capterra rated Zendesk with 4,3 stars out of 5. 
G2 rating goes in-depth and separates Zendesk tools:
The lowest rating on G2 has Zendesk Complaint Management Software 2,9/5. 
Zendesk vs Intercom
The first difference between Zendesk and Intercom is in positioning: the first one focuses your attention on the support mailbox set up, the second — on the live chat widget. When Intercom is an all-in-one solution, Zendesk offers everything a customer support representative can dream about, totally beating its competitors. 
In terms of customization, Zendesk design options succumb to Intercom. The dashboard doesn't contain all the Zendesk tools, which is inconvenient. 
Both Intercom and Zendesk have equally rich and powerful features. However, the last one provides more flexible pricing options and tools of choice. Thus, if you need an easy-to-use CRM + helpdesk solution, between two major competitors, Intercom vs Zendesk, the second one wins.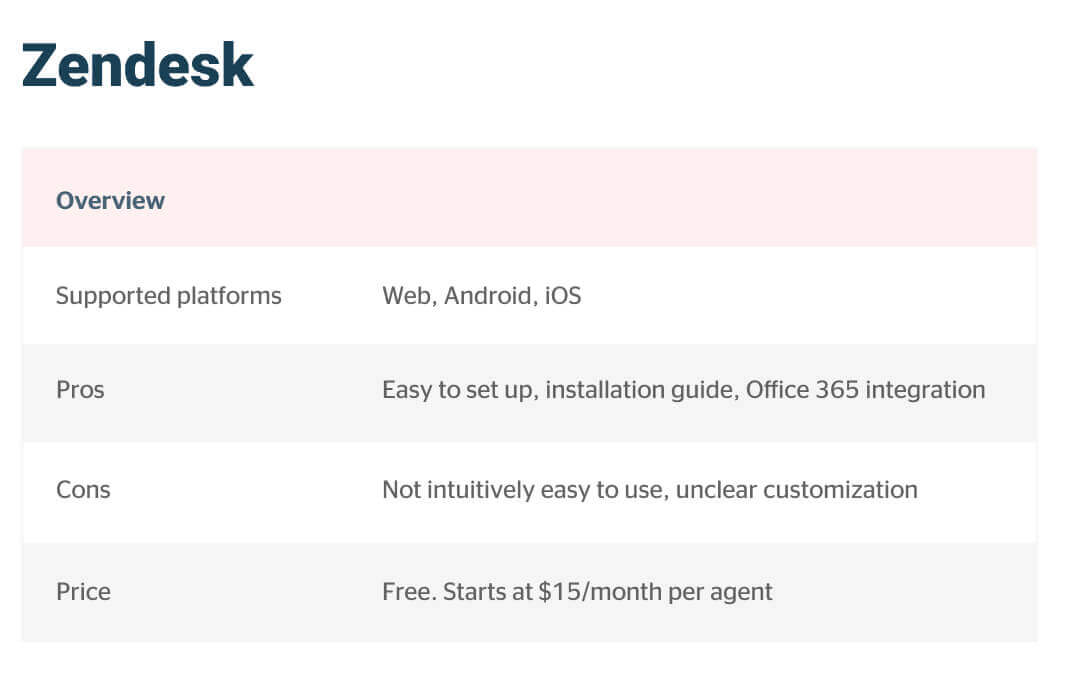 4. Zoho Desk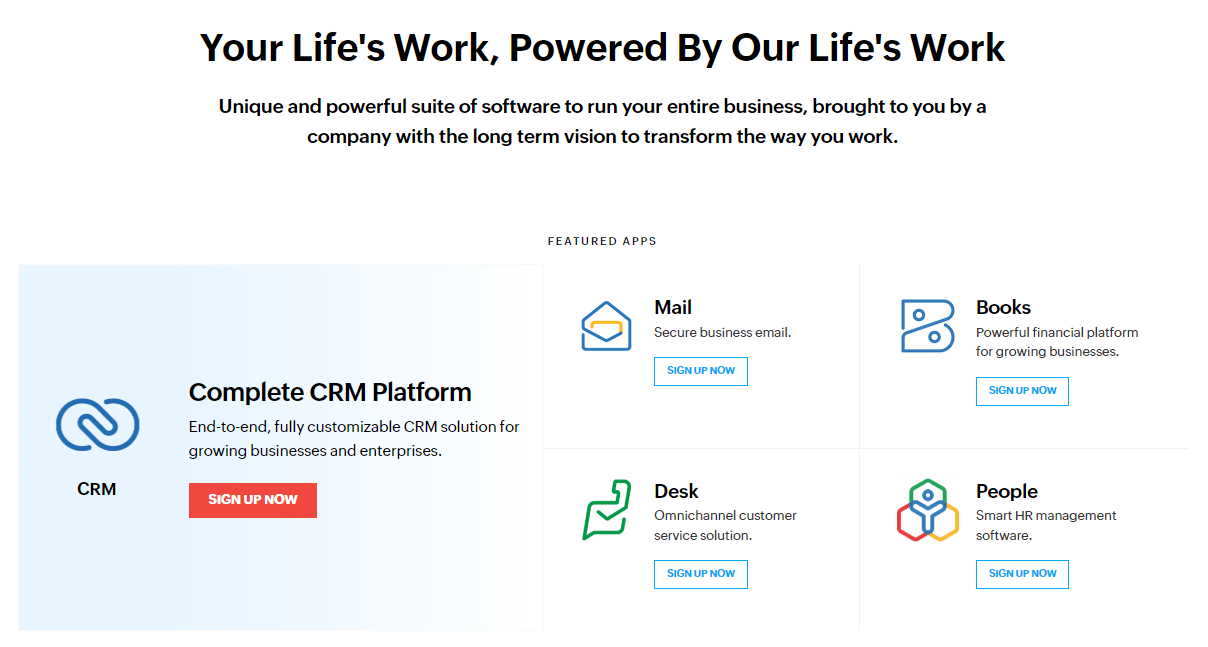 Zoho Desk is a cloud-based help desk for customer support and management. Powerful AI assistant, advanced process management, pack of self-service solutions provide your team with a flexible toolset for clients' success. 
It stands out from other Intercom competitors because it offers an almost fully automated context-aware product. We've tested it, and unlike other services with context-aware features, it works fine. Zoho also allows you to get rid of the most boring and repetitive tasks by automating them. 
One of the best replacements of Intercom in terms of routine tasks automation.
Zoho Desk features as one of Intercom alternatives
The software comes with a robust set of features and proves to be a decent Intercom alternative. With Zoho's functionality, you can boost the effectiveness of your customer support and marketing:
Social support tools;
Agent productivity;
Analytics and reporting;
Call-center software;
Knowledge base;
Customization;
Security features;
Help desk essentials.

The best and most popular feature is multichannel ticket management. That means Zoho Desk collects client requests from socials, forums, self-service help center, chat, email, phone, and web forms. If a manager forgets about a ticket, the system will remind or even re-assign it to another one. A great alternative to managing conversations manually.
The platform provides automating activities, notifications, integration with Zoho CRM customer data. To ease managers' work, Zoho built apps for Android and iOS.
No more routine tasks, your focus is only on boosting revenue and beating competitors.
Zoho Desk pricing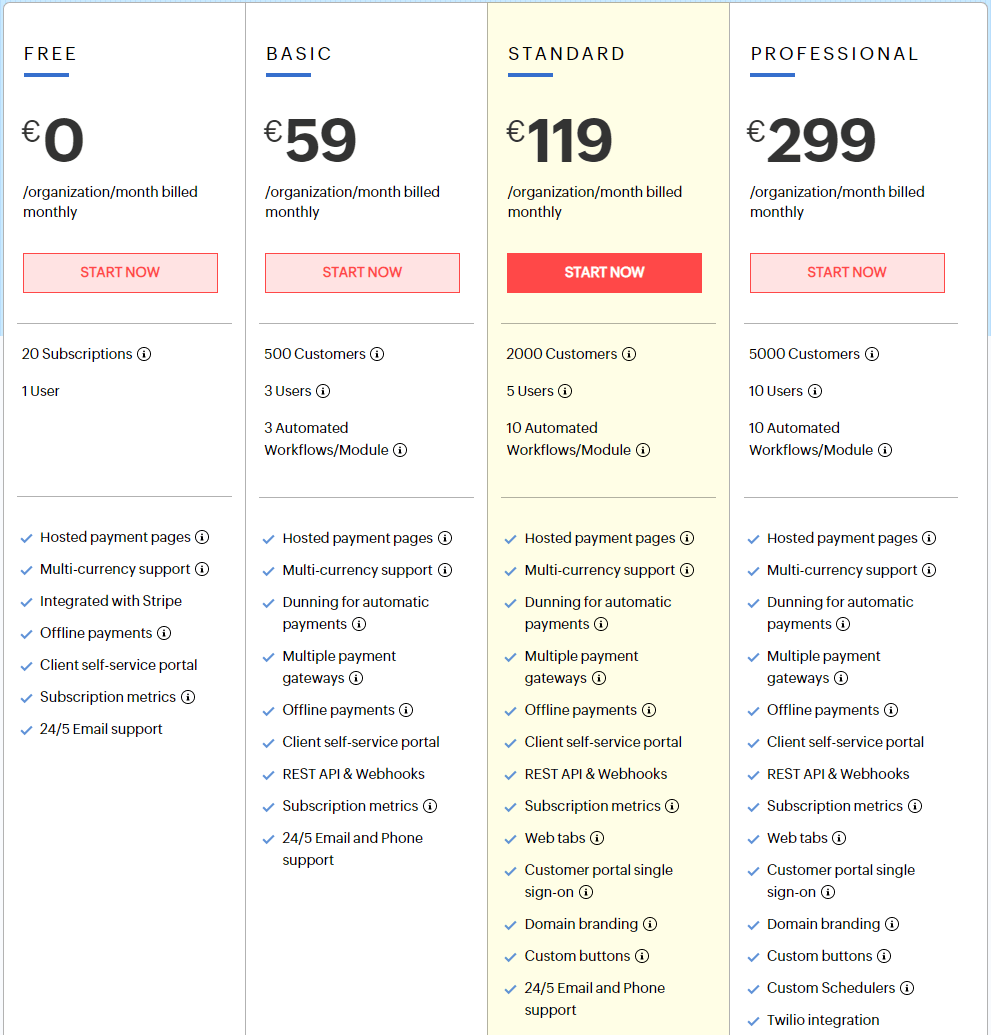 During 14 days, 3 your agents can use basic Zoho tools for free. Just like Intercom, this alternative requires credit card details.
After that, you can switch to one of three plans: min. $12 per agent/month, max. $35 per agent/month.  
There is also a Light agent add-on available for $5/month except for the trial period. 
Zoho Desk rating
G2 reviewers rated Zoho as well as Intercom with 4,3 out of 5 stars, so competitors go toe-to-toe. But 93% of positive feedback speaks about the high quality of the platform, same as other alternatives on this list.
The vast majority of users point out Zoho's usability and the high quality of the ticket management system.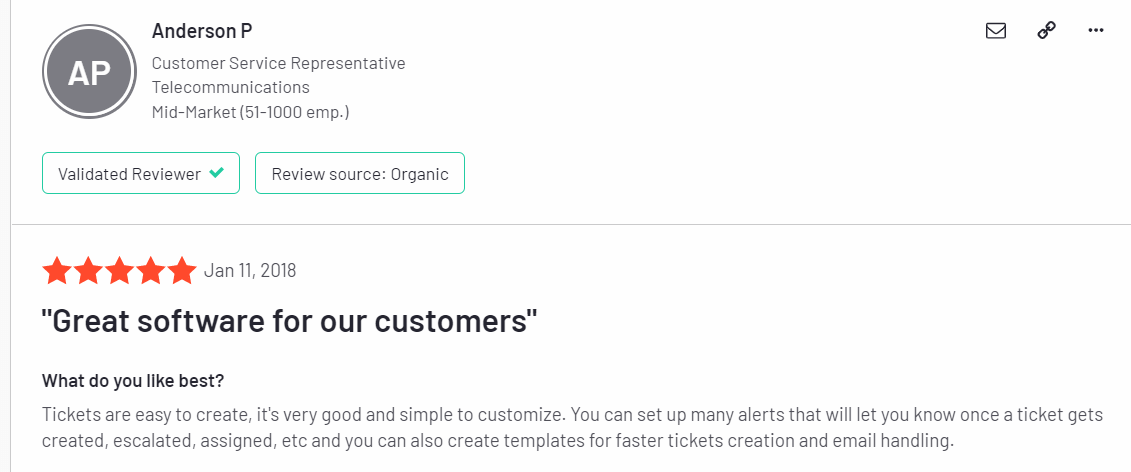 On Capterra Zoho tools are rated separately: 
Look at the entire list here.
Zoho Desk vs Intercom 
Zoho Desk as well as Intercom is a mature brand. Founded in 1996 this cloud-based help desk platform targets small and mid-sized businesses when Intercom provides service for big companies too.  
Both alternative solutions have the same rating on G2 — 4,3 out of 5 stars. That means they are similar, except for some features and pricing. Starting with a $12 plan, Zoho Desk is rather affordable than its competitor — Intercom's pricing is rather tricky. However, the last one is famous for its integration number.
Comparing the functionality we noticed Intercom is missing calls, and data management tools Zoho has. 
Regardless of the feature naming, using both platforms you can:
Customize the tool according to your brand design and needs;
Talk to website visitors via real-time chat;
Send triggered messages;
Use a knowledge base to create client self-service;
Manage all tools in one dashboard.
So, choosing between these two competitors, remember about your business needs.
Zoho Desk overview
Supported platforms
Web, Android, iOS
Pros
Support based on context, easy to use,
decent reporting features
Cons
Harder setup process than other tools
Price
Starts at $18 per month per agent
5. Userlike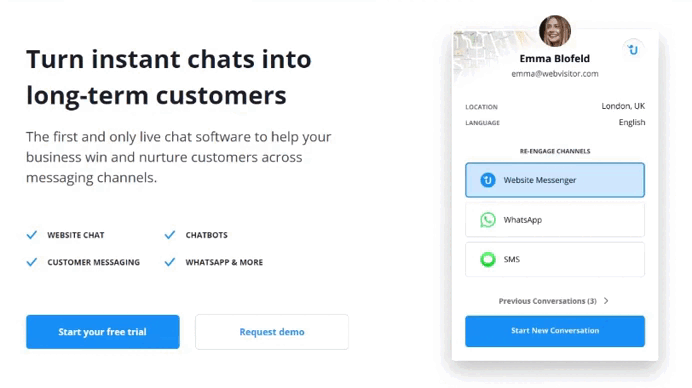 Taking the 5th spot on our list is an Intercom competitor that features both free and paid plans. Userlike offers a simple set of features for free, such as live chat and social media integrations. However, the price extension is what makes Userlike a more customizable and brand-oriented alternative to Intercom. 
The Premium plan offers unlimited chats and a huge number of live chat customization options to match your website's design. Social media integrations help you cover most of the popular communication channels such as Slack, Facebook, and Telegram.
The best brand-oriented solution with wide customization opportunities.
Userlike features as one of Intercom alternatives
With a focus on nurturing customers, Usedesk alternative software provides users with multichannel communication via chat, SMS, messengers, email, and social networks.
Since it's a German company, it's mindful of all the EU privacy laws (GDPR, etc.).
Userlike, as well as its competitor, Intercom, offers a wide range of features with a focus on:
Chatbots. Easy to set up and customize chat offers geo-targeted automatic messaging, surveys, and real-time chat. It captures and tracks visitors' data, messages history in the chat panel for personalized forwards with a context. 
Analytics of website visitors' activity, chatbot users, and overall conversation results.
Integrations with popular CRM systems, messengers, analytics, email services, task managers, etc. 
Team management chat transfer, groups.
Multi-language support. You can localize chat windows and/or operators' groups.
The ticket system could be better. There is also no ability to add videos and interactive content to the message. But when it comes to localization, you can customize the interface, texts, chat widgets in different languages. 
Userlike pricing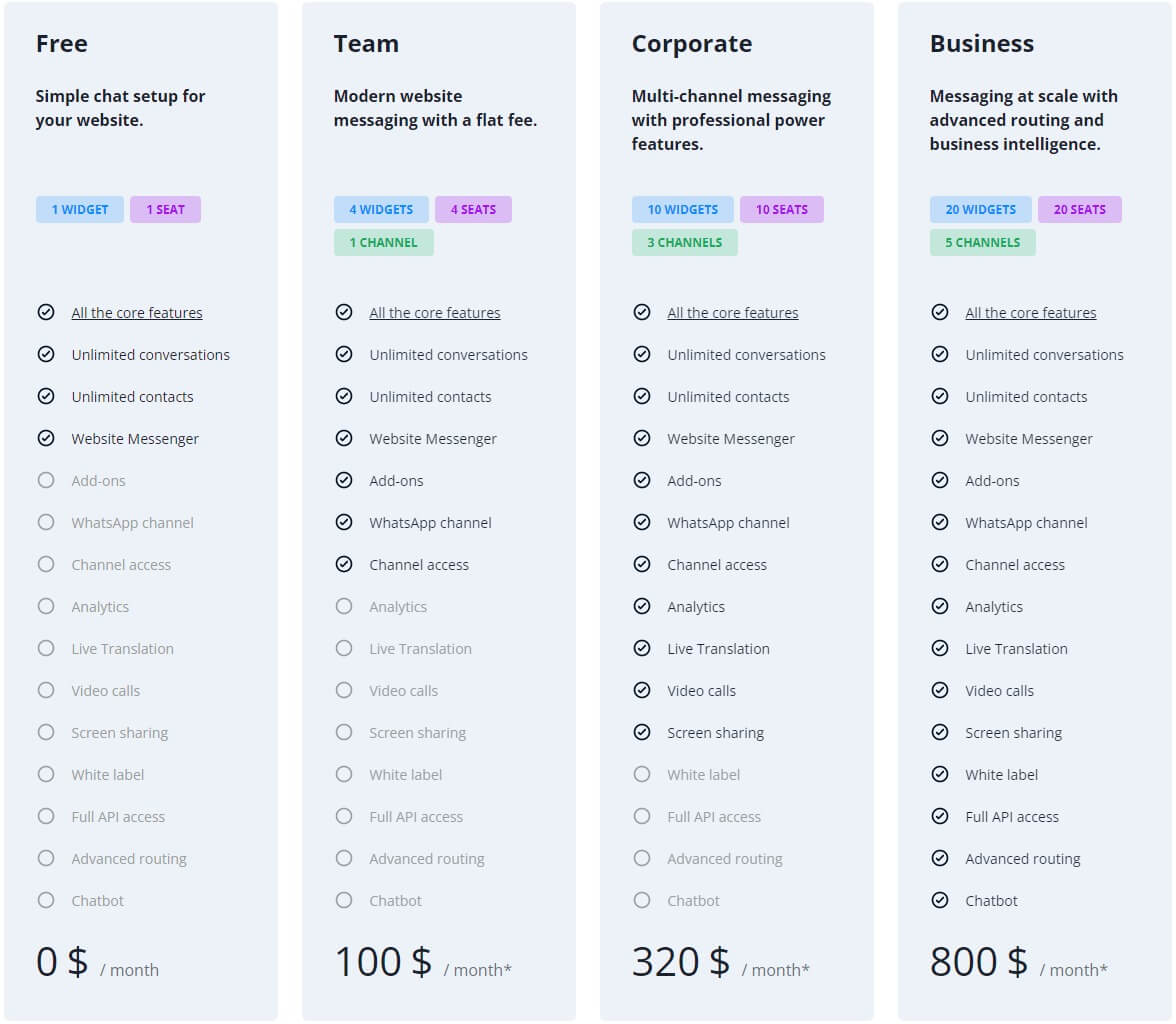 The major strength of Userlike in pricing is a best-suited for startups forever free plan with 1 seat and widget. So this competitor turns out way more affordable than Intercom. If you are new to the platform, there is no need to pay for a 14-days trial. No credit card required. 
The lowest price starts at $0 per month. Here you are free to use 1 widgets and 1 agent seat. 
$100 costs the middle one that offers 4 widgets, 1 channel, 4 seats, unlimited contacts, and unlimited conversations.
$320 is a cost of the Corporate plan including 10 widgets, skill-based routine, 10 seats. 
$800 is a Business plan cost with 20 widgets, 20 agent seats, and 5 channels, all features are included.
If you wanna customize the plan, there is a Flex plan with unlimited features, seats, and other add-ons. This way, you can create your own alternative to your Intercom package.
Userlike rating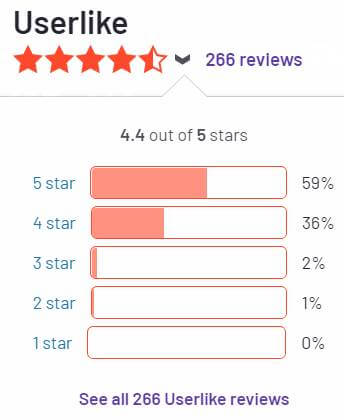 266 G2 reviewers rate Userlike with 4,4/5 stars which allows it to beat its competitor (reminding you Intercom has 4,3). On Capterra Userlike is more popular among users that gave it 4,6 stars out of 5.
The Userlike clients' satisfaction rate is about 95% on G2, which leads it to the top of Intercom alternatives.
Both rating platforms point out Userlike UX, simplicity of the interface, and high quality of customer service rating is with 8,6/10. 
Userlike vs Intercom 
Trying to define which competitor is better, Userlike or Intercom, we compared their features, usability, and pricing. Both these alternative solutions have a rich toolset for customer support, sales, and marketing. 
Common features:
Customizability;
Chatbots;
API;
Dashboard;
Geo-targeting;
Third-party integrations;
Variety of support options;
The ability to route users to agents with special skills is the first feature Intercom lacks in the comparison to its competitor. Userlike is useful for its team management and Telegram integration. In terms of localization Intercom vs Userlike battle, the winner is the first one, translated in over 30 languages. 
Both brands offer customizable pricing plans, but Userlike's trump card has a cheaper start price and a forever free plan.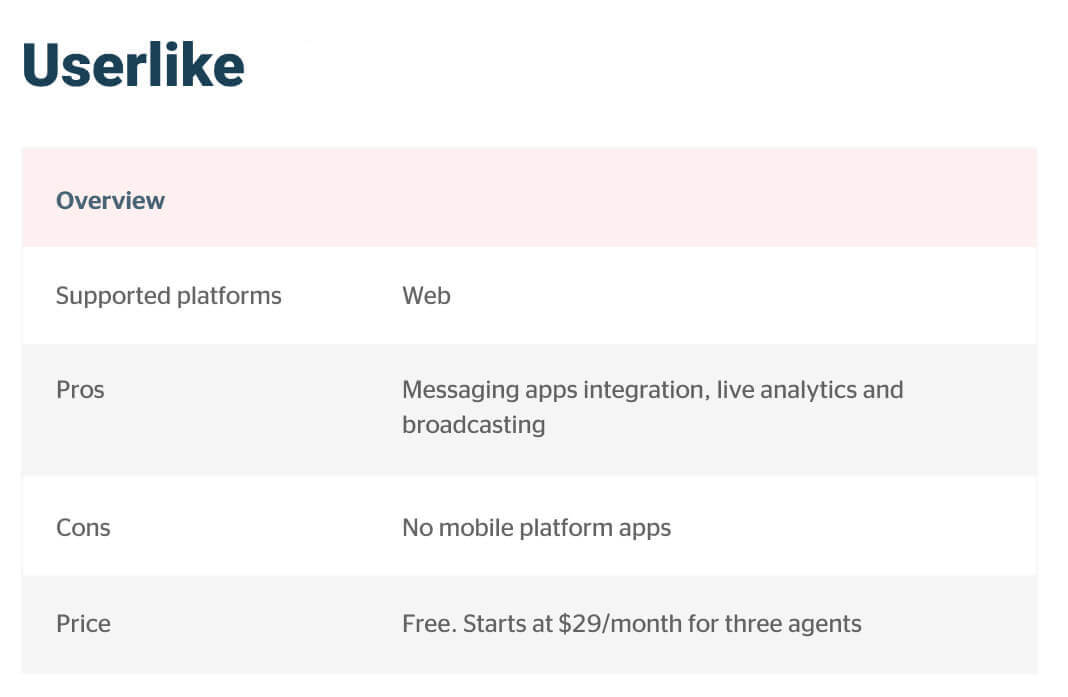 Seems like it's the half of the top. Take a break. Have you already found the best alternative for your business?
If not, let's move on!
6. LiveChat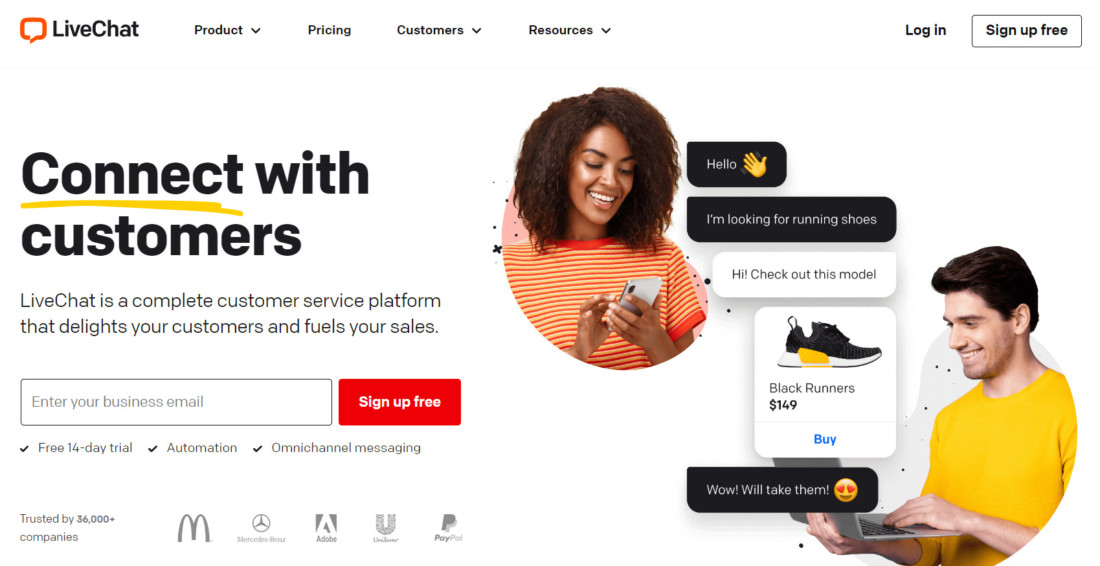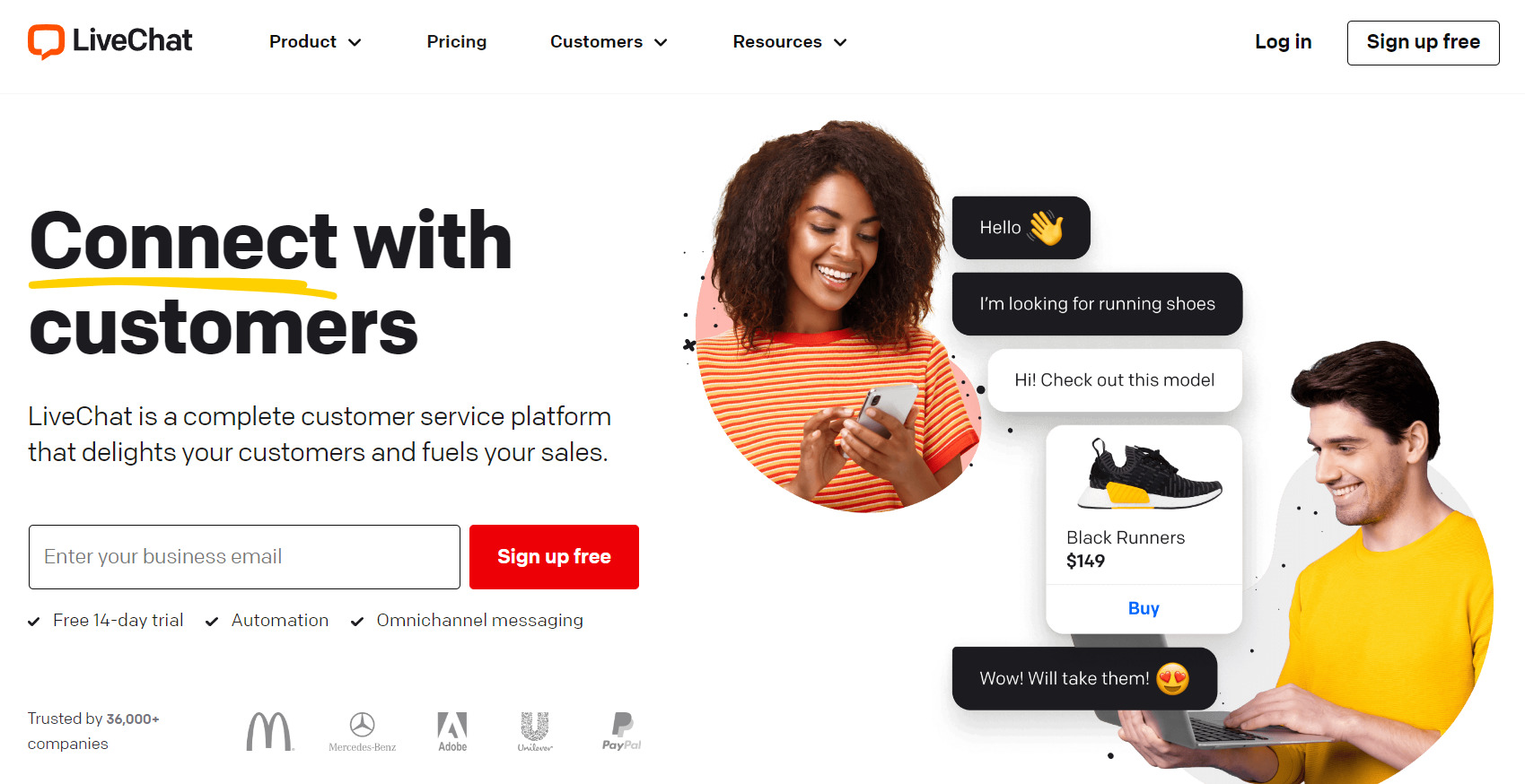 LiveChat has taken a spot on our list of alternatives thanks to its powerful feature set and customization options. It allows you to handle chat from various channels like the web, social media, and even a mobile app.
This makes it a versatile and strong competitor because you can provide user support from almost any device or operating system. The simple look of LiveChat hides enormous functionality coupled with a fully customizable chat widget.
Another thing that sets LiveChat apart is the number of integrations: it offers over 100 SaaS options to work with.
One of the best option if you're looking for a solution as popular and credible as Intercom.
LiveChat features as one of Intercom alternatives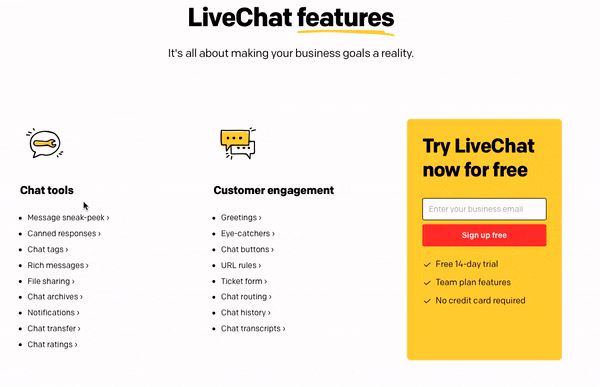 Among the key help desk tools are:
Live chat with user data, tags.
Pop-ups.
Customization.
Ticketing.
Dashboard with team and customer tracking reports.
The perfect tool for customer support and engagement, it combines questions and chats from anywhere into a single inbox. LiveChat is famous for the number of integrations 170+ including Hubspot, Shopify, BigCommerce, WordPress, socials, etc.
Live chat with AI automation, product cards, analytics, and custom forms for collecting user data makes sales easy like never before. You can learn the system on how to route inquiries among team members, generate leads, and segment them according to selected rules. A very decent Intercom competitor!
LiveChat pricing
Starting with 14 days trial you can continue working with live chat and help desk software on the next plans:
Starter — $16/seat/month;
Team — $33/seat/month;
Business — $50/seat/month;
Enterprise — Custom pricing available.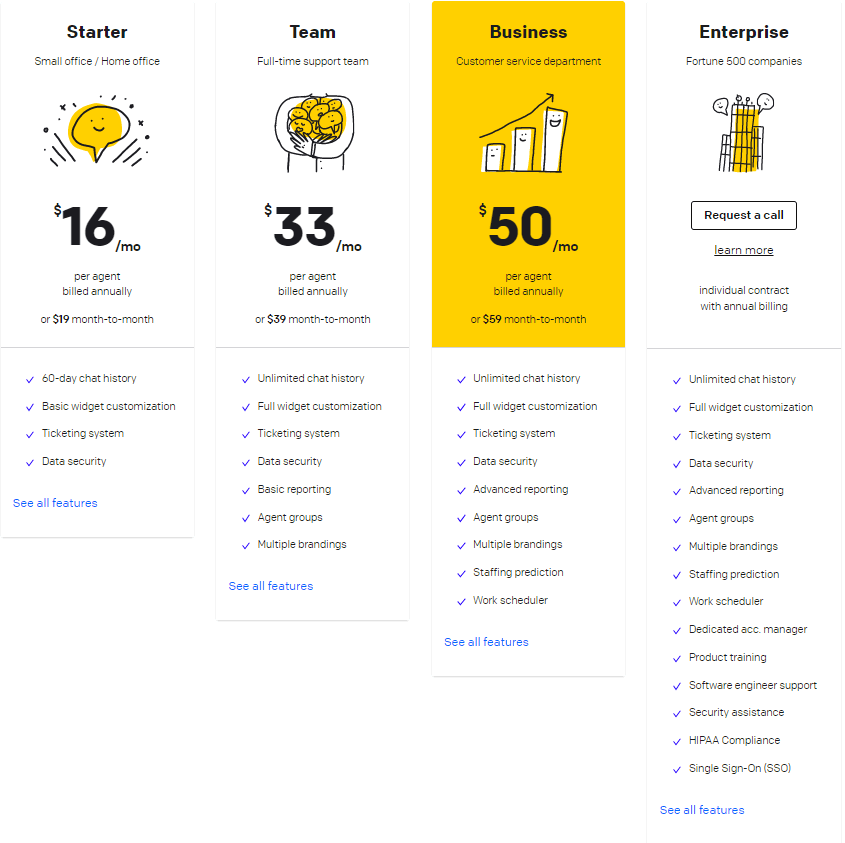 Each of the plans offers automated messages, 24/7 support, daily reports, ticketing.
LiveChat rating
On G2 its overall rating is 4,4 out of 5 stars with a 92% customer satisfaction rate. Capterra gave it 4,6 stars. That is an average opinion of 1051 reviewers.  
Both platforms point out LiveChat usability:
On G2 users give the highest points to LiveChat pop-ups and notifications, but complain about customer profiles and customization.
LiveChat vs Intercom 
Intercom provides a fully-fledged toolset for customer engagement and life-cycle marketing, while its competitor LiveChat is more about client support chat. However, as an alternative, LiveChat has a wide range of features precisely to engage in a conversation with a website visitor and convert them, just like Intercom.
LiveChat is perfect for small businesses, online shops in particular. But if you need more, there is a price question. Intercom is a powerful multitasking tool. But its price is quite high, sometimes too high for small businesses. LiveChat is more affordable.
What best features will you pay for using Intercom?
Real-time client data;
Segmentation;
Client profiles;
AI bots.
Compared to Intercom, LiveChat strength in:
Live chat tools (content sharing, data storage, website visitor data, tags).
Rich customization options (chat design, 42 languages localization, CSS, chat buttons).
Customer engagement Engaging customers (automated greetings, data collecting forms, Facebook chat).
Nevertheless, both alternatives work with famous brands: Intercom chat is on the Heroku, StackShare, Product Hunt websites, while LiveChat helps to convert Visuality, Watchman Monitoring, and Tailor Brands clients. 
Thus, between these two competitors, the choice of Intercom or LiveChat will depend on your budget and business needs.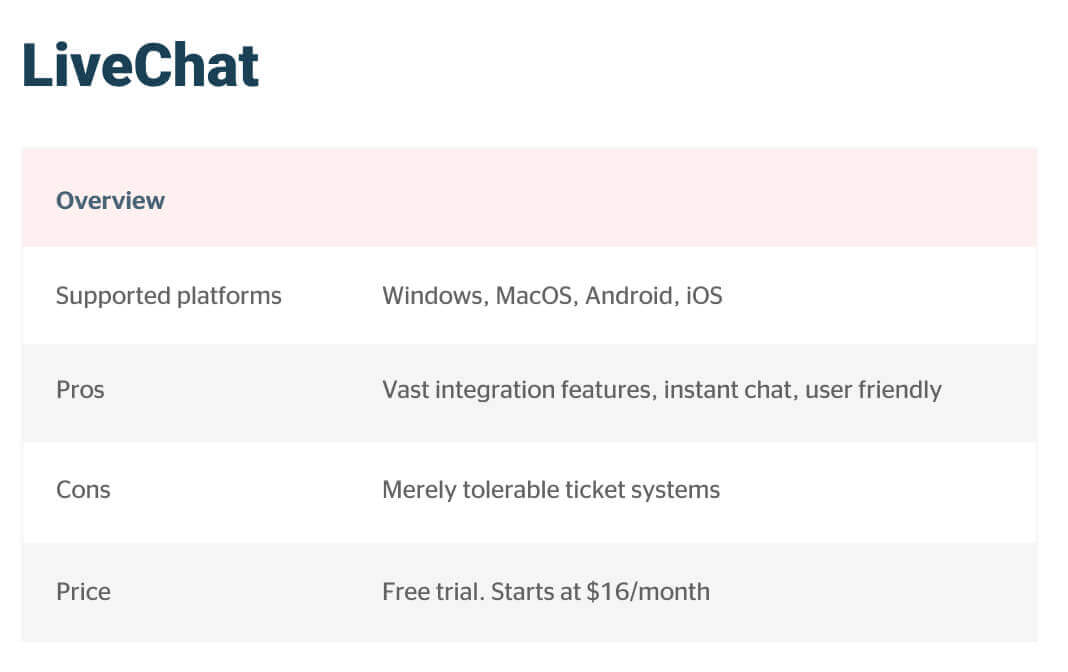 7. LiveAgent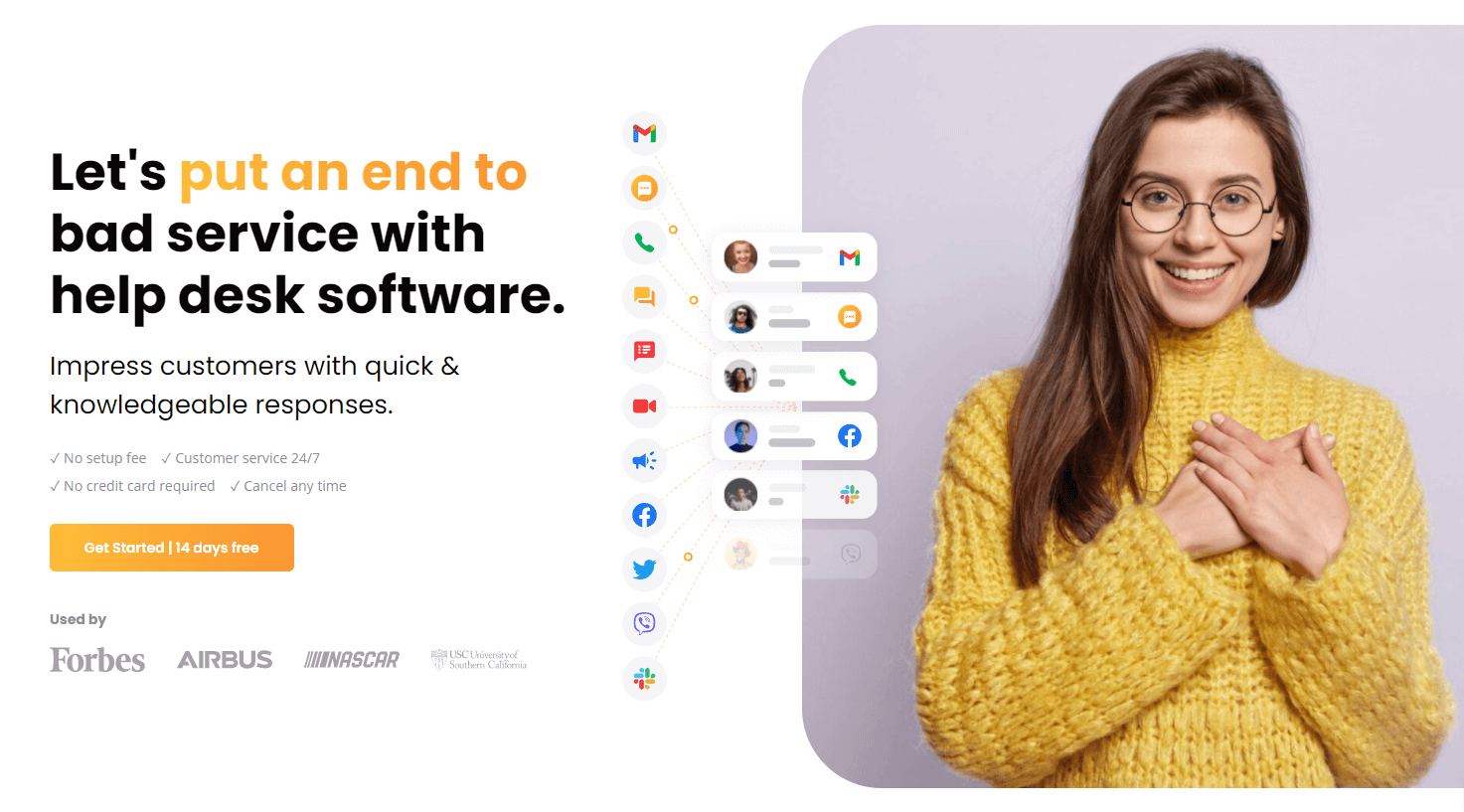 LiveAgent truly shines with the number of features it offers. It covers most of the popular channels and websites, which raises your effectiveness and widens your influence over social media.
With all its features and channels, LiveAgent brings your customer support to the next level. The software feels like it took the best options from competitors all over the market and collected them in one place — beware Intercom!
Think it might be your choice of the alternative? Let's take a closer look! 
LiveAgent features as one of Intercom alternatives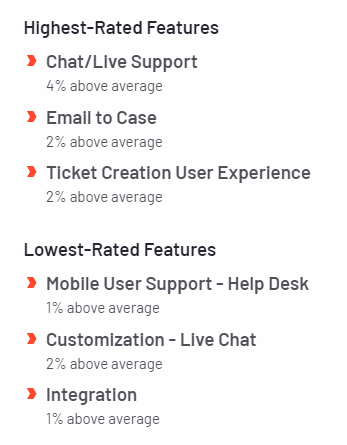 The platform is famous for the ability to manage clients' requests from any identified source in one dashboard.
This feature was mentioned in other alternatives, but its combination with the mind-blowing toolset makes LiveAgent №1 choice for large brands like Huawei, Yamaha, BMW, etc.
There is a long list of features worth mentioning, but the key are:
Live chat;
Help Desk;
Knowledge base;
Cloud call center;
Video calls;
Flexible ticketing system.
You can also set up rules to engage website visitors into conversations automatically.  All the client's data and activity are in a special profile on the dashboard. 
When a user clicks the chat widget, LiveAgent sends your support agent notification about the potential client. But it can be quite irritating.  
Robust management options make this tool one of the best in ticketing. 
LiveAgent pricing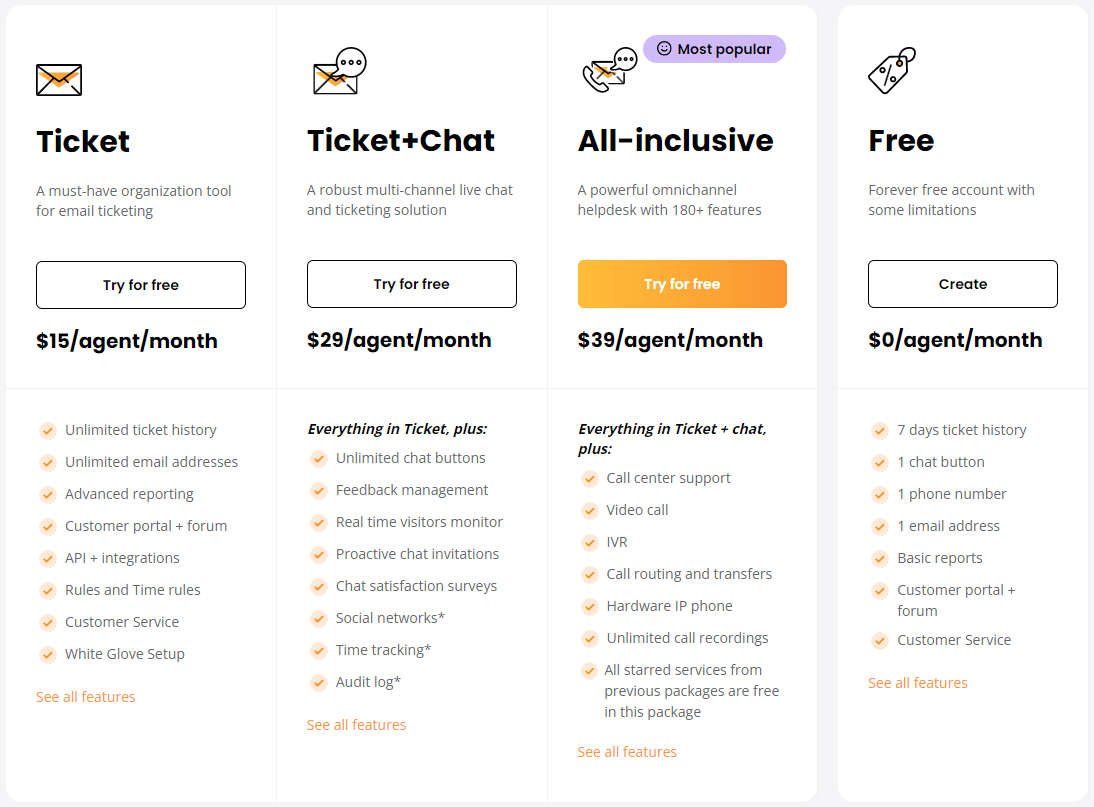 The standard monthly subscription model of this alternative to Intercom offers any user 4 options:
Forever free plan with $0 per seat, 7 days ticket history, 1 email address, 1 phone number, and a widget.
$15 ticket plan per seat with unlimited email ticketing and history, +26 features.
$29 per seat ticket+chat plan besides previous features offers unlimited live chat, +30 features.
$39 all-inclusive plan that is much cheaper its Intercom alternative.
You can start any with a 14-day trial.
LiveAgent rating
In terms of rating on Capterra Intercom vs LiveAgent, the second competitor wins the battle with 4.7/5 stars based on 934 reviewers. G2 gave it 4,5 out of 5 stars based on 1272 feedbacks.
Most users appreciate the usability and customer service.
Users feedback about LiveAgent on Capterra
LiveAgent vs Intercom 
Compared to Intercom, LiveAgent widgets lack customization. You won't find here chatbot or auto messages via email. The platform looks a bit outdated but still has a good UX. 
Intercom loses to its competitor in terms of cloud call center and forum for client self-service. Cheap price for the perfect balance between tools is one more thing Intercom inferior to LiveAgent. There is no need to compare pricing, LiveAgent is cheaper than Intercom (that's one of the reasons it got to our top of alternatives).
Call website visitors, chat with them, reply to tickets from anywhere, analyze reports from one place — LiveAgent dashboard.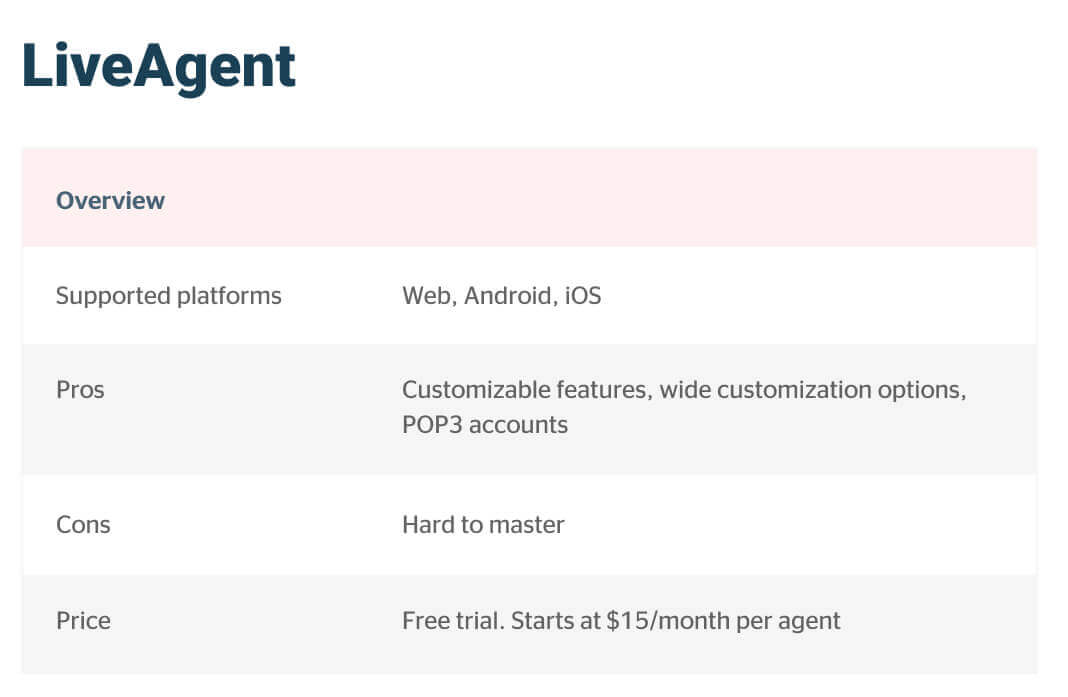 8. Tawk.to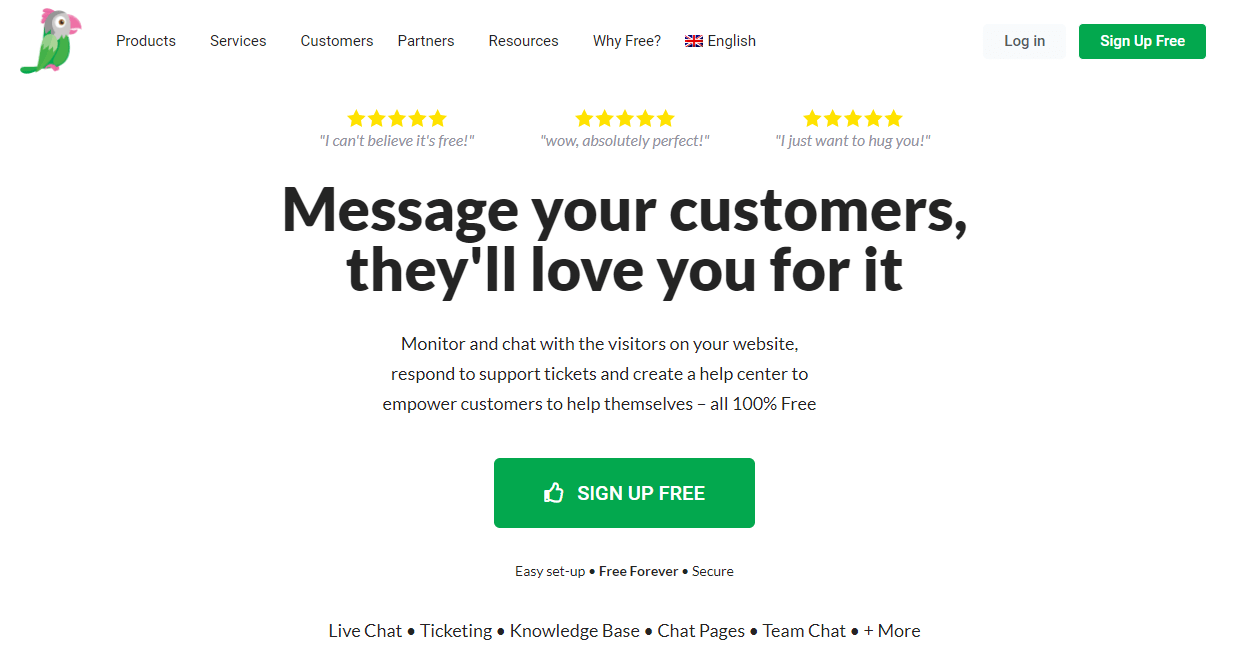 The most affordable alternative to on our list, I swear. Maybe not as functional, but on the bright side, it offers a decent number of integration options and preset shortcuts. Tawk.to also lets you track your team's progress by setting goals and analyzing chat history.
The best choice for startups that use Intercom but look for much cheaper options.
Tawk.to features as one of Intercom alternatives
The best part of Tawk.to is that all of its tools are free. There is a full-fledged toolset for chatting between clients and businesses:
Real-time tracking of website visitors' data and actions.
Ticketing. 
Knowledge base + shortcuts. 
Analytics by tags, detailed reports.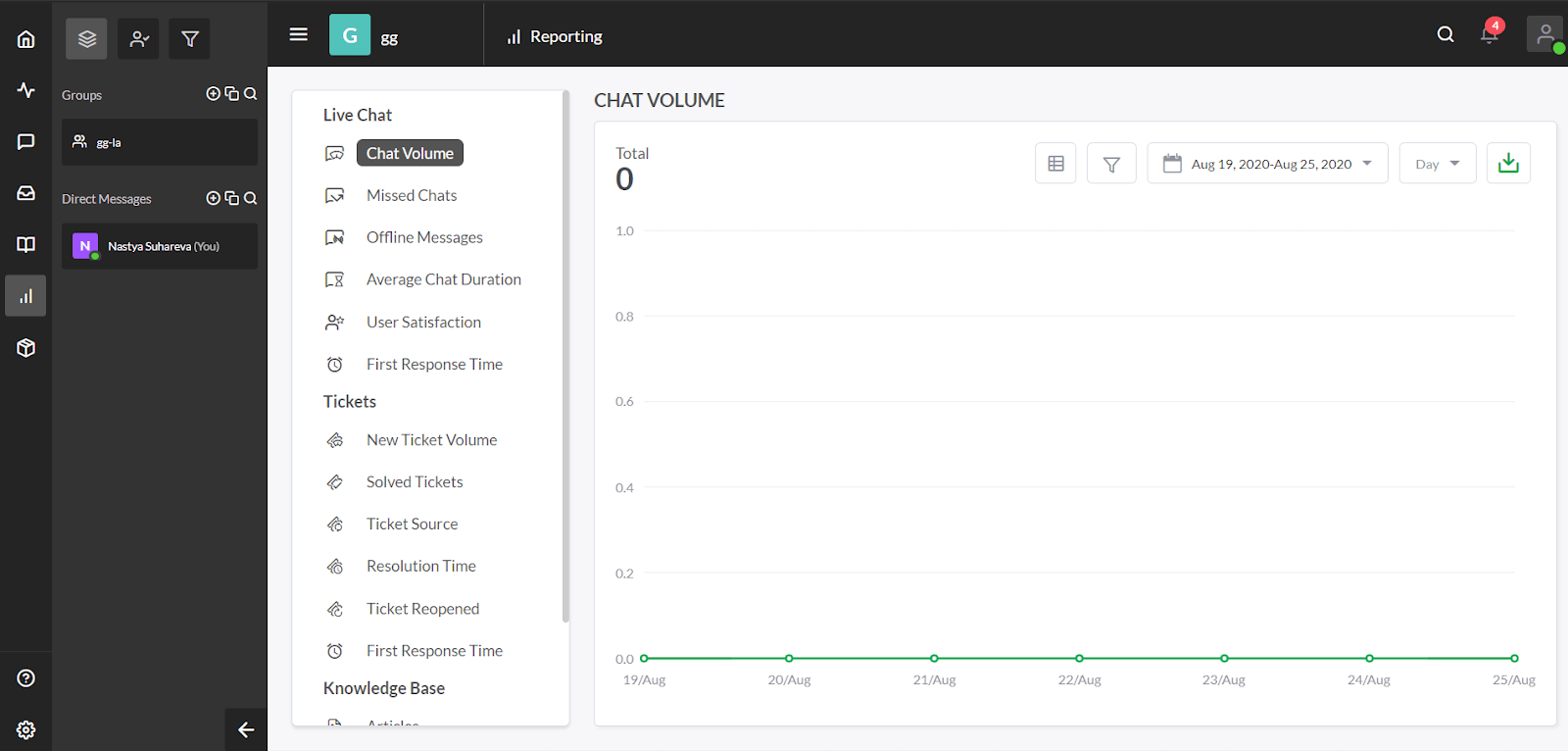 In-chat payments.
Automated triggers.
Customizable widgets.
This is not the complete list, but the most popular tools. Among extra options, Tawk.to offers white-label, live agents, assistants, screen sharing — everything to provide the highest level of support for your clients.
Tawk.to pricing
Starting with a free trial that comes with such features as live user tracking, chat customization and localization support, Tawk.to is a decent Intercom alternative for those with a tight budget. However, to make tawking bird fit your website's design and remove its branding, you need to pay $12/month.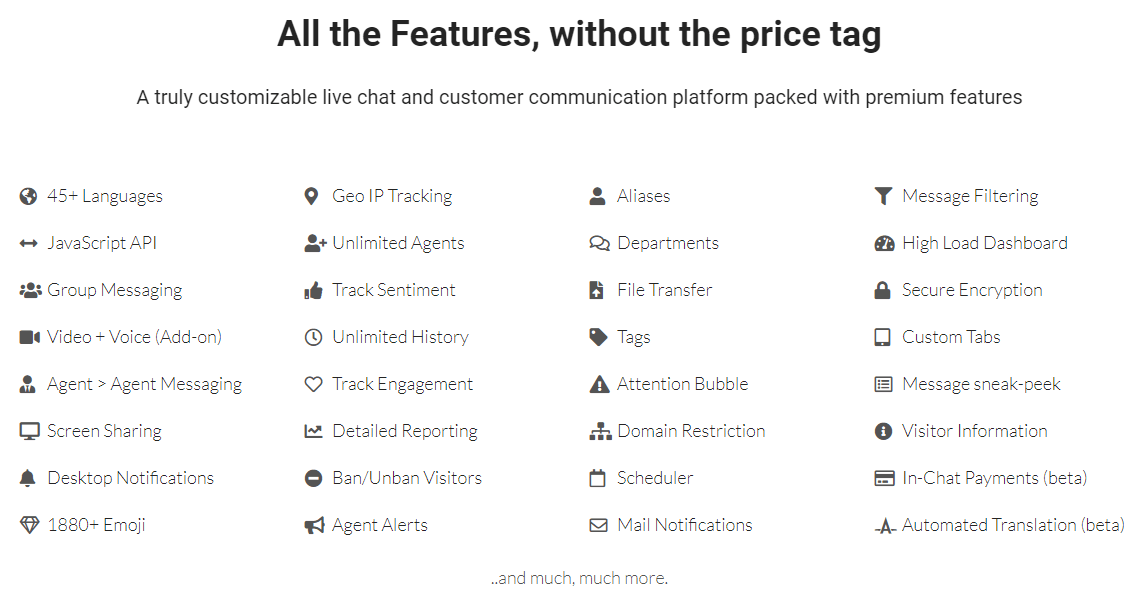 Tawk.to rating
It seems like all the users are on the same page about Tawk.to both G2 and Capterra rate this competitor with 4,6 stars out of 5 stars (that is higher than Intercom's rate).   
Most reviewers highly evaluate Tawk.to usability, but some of them with tags and the backup chats sections improvements.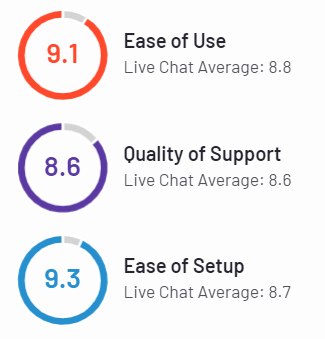 According to G2 notifications is one of the Tawk.to top-rated features. But, it also featured in the cons list as rather irritating. 
Anyway, 94% of users on G2 are satisfied with their choice and found it as an optimal solution for customer support and engagement.
One of few cheap yet working alternatives.
Tawk.to vs Intercom 
The first difference between competitors is in positioning. When Tawk.to is about customer engagement and support, Intercom covers the entire funnel offering tools for each step of the customer journey.
That is the reason for a huge price gap. Tawk.to starting $1/month up to $29 is nothing like Intercom's $87+/month. 
And, of course, it's affected by the number of features. But as a free chat software, Tawk.to has all the must-have tools Intercom and its alternatives offer for customer success:
Real-time website visitors tracking.
Filters for clients' data management.
Automated messages to engage customers.
Knowledge base.
Detailed reporting.
This is very cool for a 100% free tool. Yes, it doesn't have a variety of integrations. But, in terms of price and usability, the tawking bird wins the Intercom vs Tawk.to battle.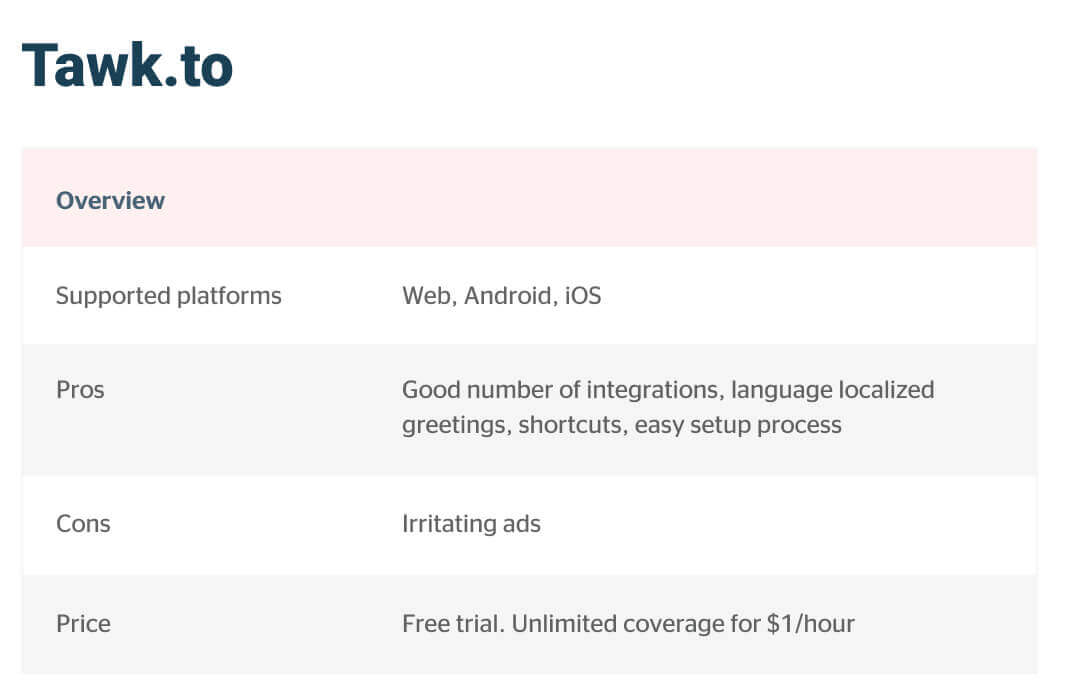 9. Freshchat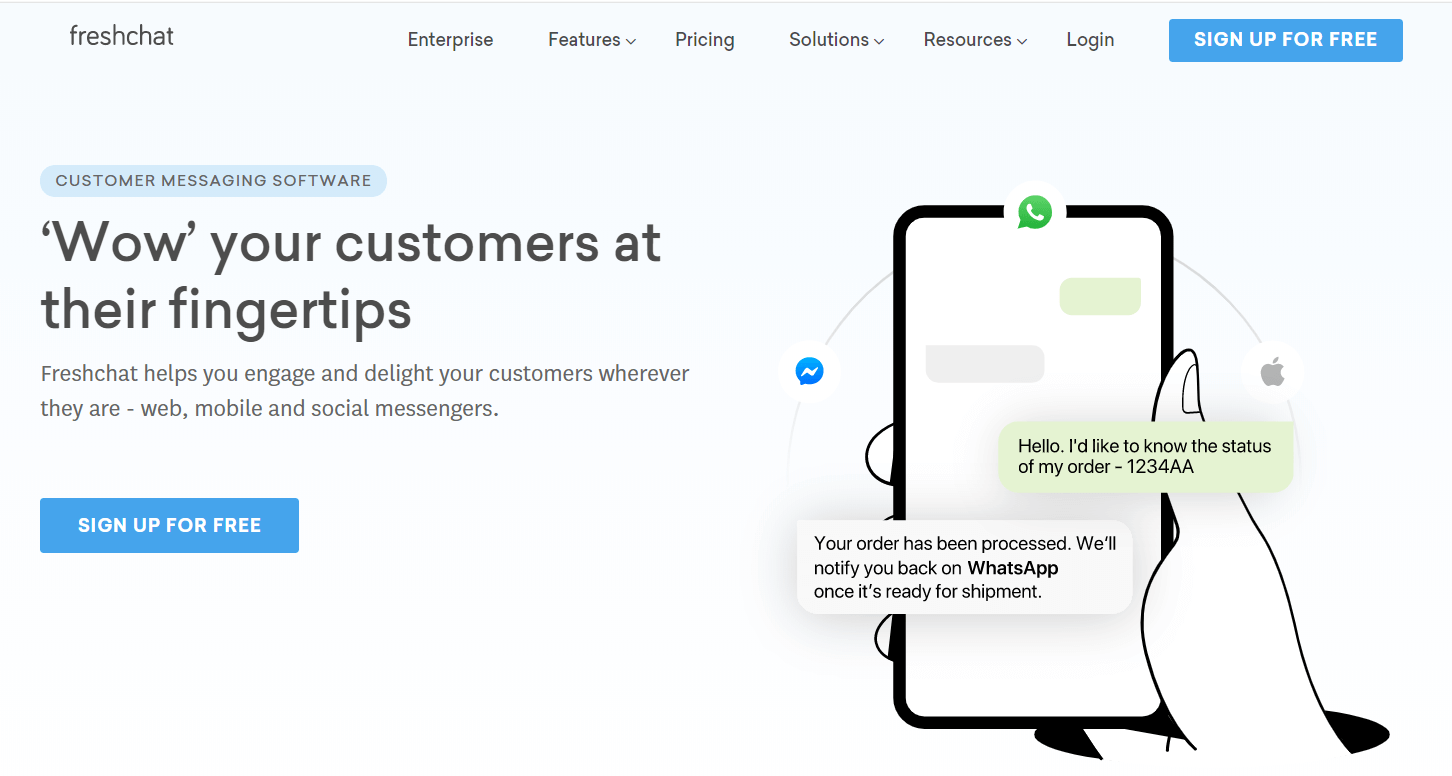 Freshchat is an interesting option, not only for customer support but for raising your credibility and brand recognition. The software allows you to cooperate with your customers and turn them into a permanent customer base for businesses of all sizes.
As well as the previous alternatives it focuses on a continuous and context-driven messaging experience. Freshchat collects your user requests all over the web, mobile, social, messengers into one inbox.
One of the best options for those Intercom users who have a lot of different tasks to solve.
Freshchat features as one of Intercom alternatives
All the tools here are grouped according to the business goals: leads generation, customer support, engagement.  
Among Freshchat key features are:
Triggered messages in the chat.
Automated lead capture, customer tracking, and segmentation.
AI bots that understand website visitor intent and react accordingly.

Answer bot for support.
Custom bot for sales.

Proactive campaigns across all messaging channels based on collected user data. Send plain text emails to nurture leads by trigger or schedule.
Comparing Intercom vs Freshchat, keep in mind that the second one has an advantage in unlimited contacts, despite the chosen plan. Chatbot software offers plenty of integrations with socials, apps, CRMs. Flexible customization makes a chat widget fit the design and language of your brand.
Freshchat pricing
21 days — the biggest trial on our list. After that you can choose one of the plans: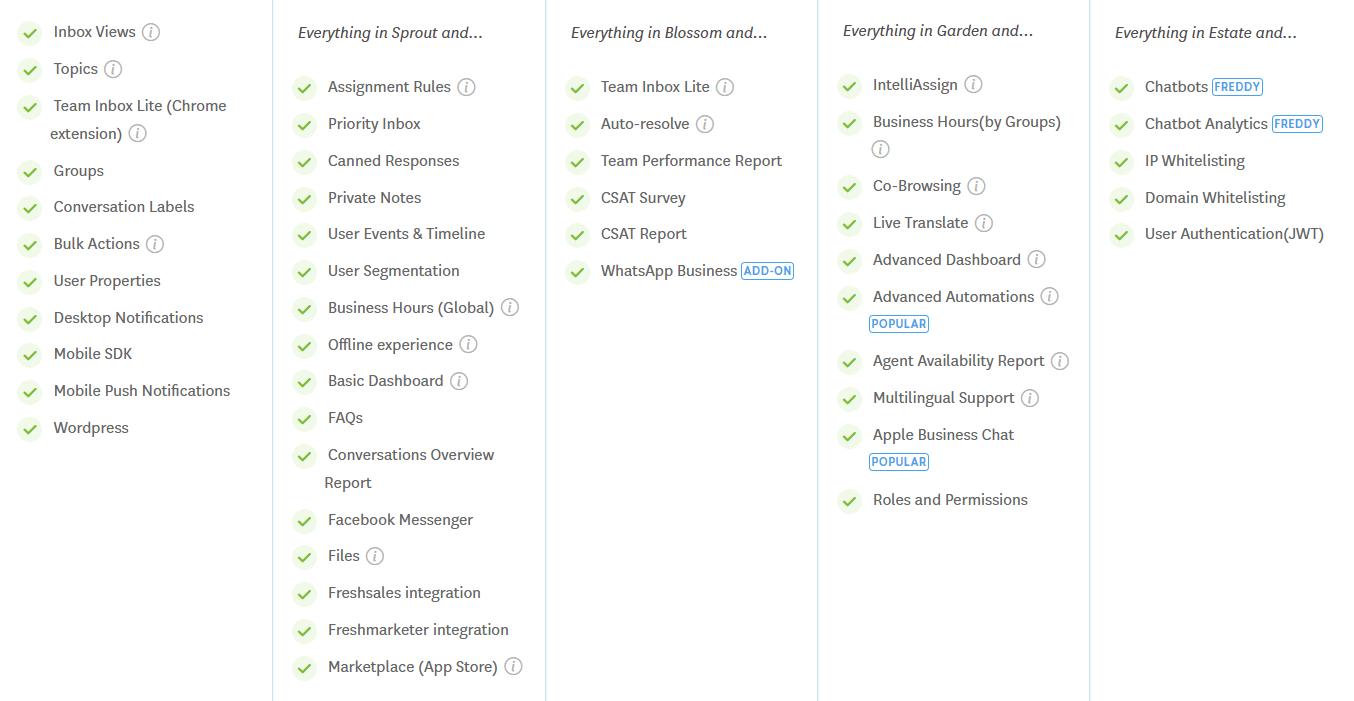 Sprout — forever free plan with a basic set of features.
Blossom — $15/seat/month.
Garden — $29/seat/month.
Estate — $45/seat/month.
Forest — $69/seat/month.
If you wanna more, there are three add-ons with the starting price $19 up to $100+. 
Freshchat rating
On Capterra it has 4,5 stars based on 61 reviews. G2 rating is higher — 4,5 stars out of 5. 
Reviewers agreed that the most helpful Freshchat feature is pop-up chat and in-box messages. The lowest rate gets software customization. 
Anyway, people like its interface and found it easy to use and set up.

Freshchat vs Intercom 
Following the same goals, these two alternatives have a lot in common. They have a list of common features. But their difference is far more interesting. Thus, comparing Intercom & Freshchat you may notice that the first one lacks:
Automatic scheduling;
Agent notifications;
Contact and client history data, profiling;
Customizable templates;
File management and transfer. 
In terms of cost, Freshchat has a powerful advantage: forever free plan and lower prices.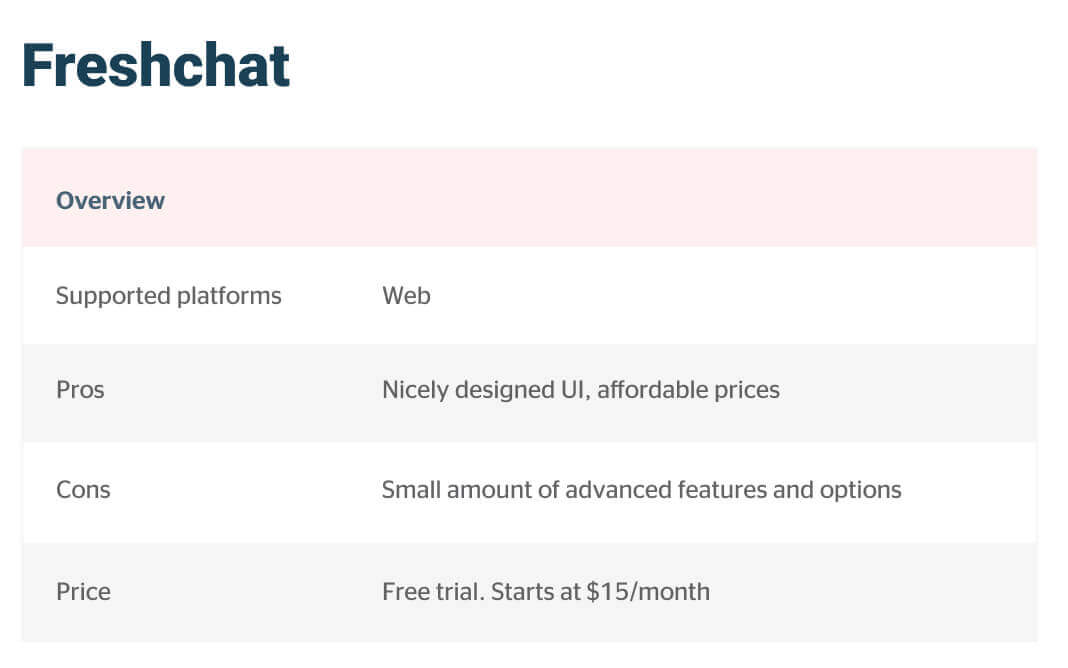 10. UseResponse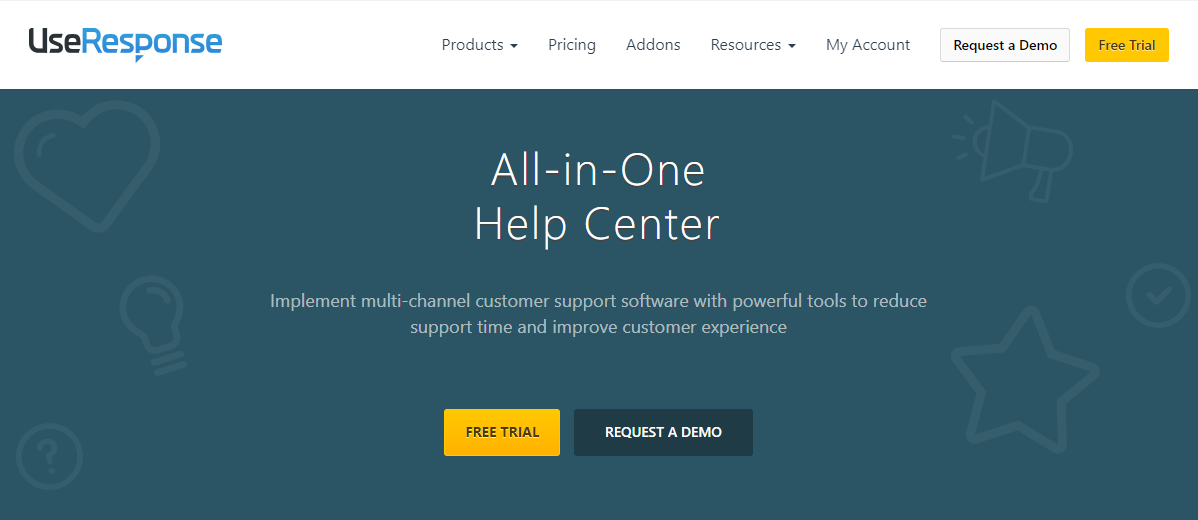 The last competitor on our list has a nice set of features and great customization. Since UseResponse is open-source software, you can use the incredible customization options to fit any website's style.
UseResponse's functionality is split between live chat, feedback system, help desk, and knowledge base. It comes with major integration options to cover most messaging channels. UseResponse offers the interesting option to use it on your server or from the cloud.
The price of the service may seem somewhat high, but it's worth trying. Plus, it comes with a free trial so you can test it before buying.
One of the best tools you can use instead of Intercom to provide support across different channels.
UseResponse features as one of alternatives to Intercom
There are 4 key tools offered to fit any customers support needs:
Help Desk Software provides one inbox, where you can find user requests from all of your sources. There is a help center for clients, self-service and a roadmap for ticket tracking.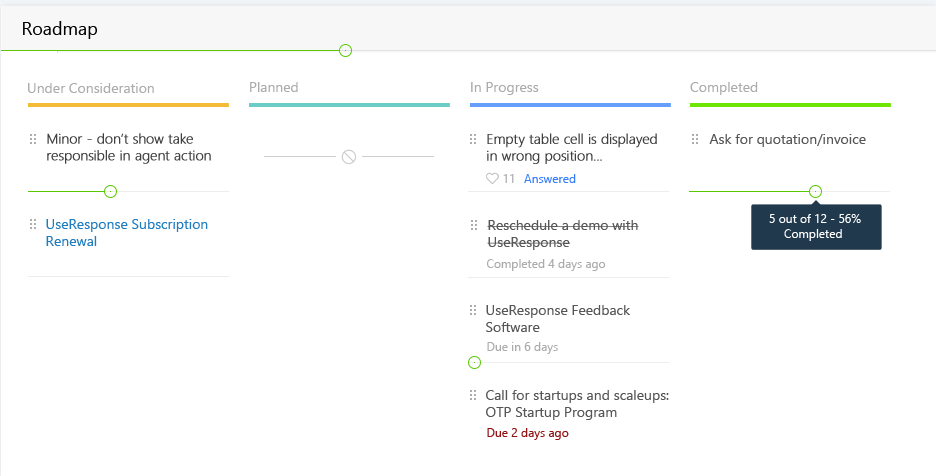 Live chat + messengers widgets with flexible customization and analytics.
Feedback software with multiple product dashboards to gather feedback in the community portal.
Cloud or PHP knowledge base with articles and FAQs.
On Enterprise Cloud and self-hosted plans, you can change settings, widgets design, icons according to your brand style. The list of its integrations is the smallest on this top.
UseResponse pricing
Similar to Intercom, UseResponce pricing model is based on the number of agent seats, daily API requests, and features included, just like other alternatives. Thus, there are 4 basic plans with two pricing options starting with $49 up to $199 per month.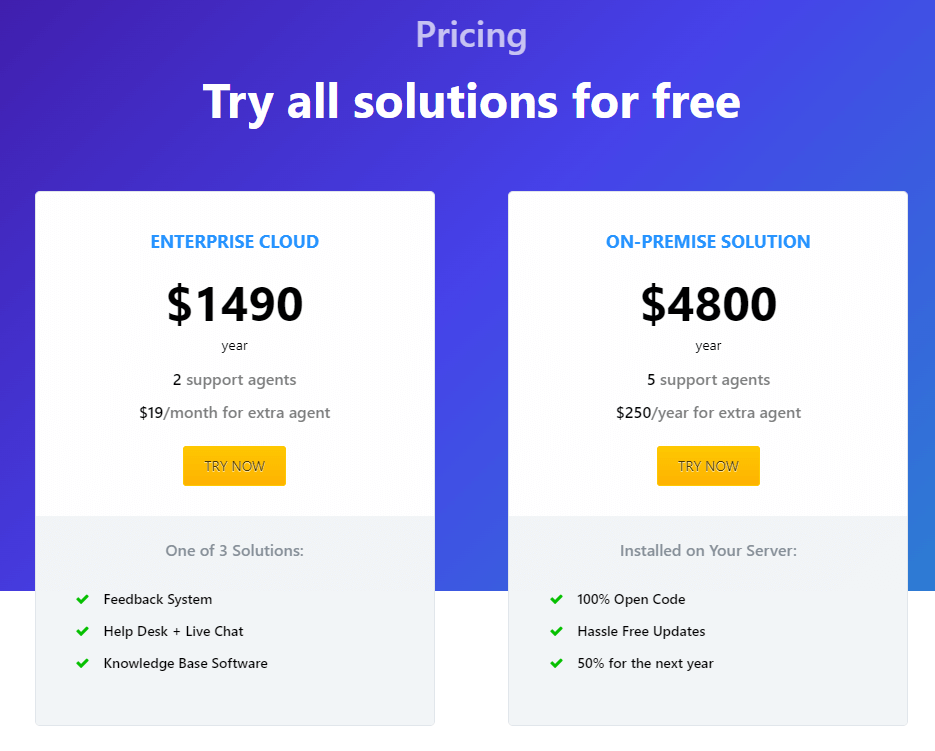 There is also a year subscription option, for example, a complete suite will cost you $4800/year.
You can test the platform during the standard 14 days trial. Also you can calculate price for Cloud Plan on the pricing page.
UseResponse rating
With a 99% satisfaction rate G2 reviewers evaluated UseResponse with 4,7 stars out of 5, which is really high. But this rating is based on 19 opinions only, so it may change with time.
As for the overall UseResponse rating, Capterra reviewers are on the same page with G2's. 
The highest point they gave to customer support — 4,9/5. However, some users find the UseResponse dashboard difficult to navigate and a bit outdated.

UseResponse vs Intercom 
The narrow focus of UseResponse differs from the Intercom variability. If you are primarily looking for a tool for customer support, UseResponse has your back. Covering the top communication channels, it provides you with a perfect set of features for nurturing website visitors into paying clients. 
Intercom also offers an impressive set of customer support features, but its cost is much higher. Comparing UseResponse & Intercom features, you'll see that the first one lacks email marketing functionality. But, you know, due to the tool specialization, that's to be expected. The only email messages UseRespond sends are agent notifications ─ a disadvantage in terms of Intercom vs UseResponse comparison.
Nevertheless, Intercom can't boast with the variety of user feedback options UseRespond has. 
To price, Intercom is the most expensive solution again. If you need only a support tool, choose UseResponse. Wanna more — look through the list again, you'll definitely find something affordable.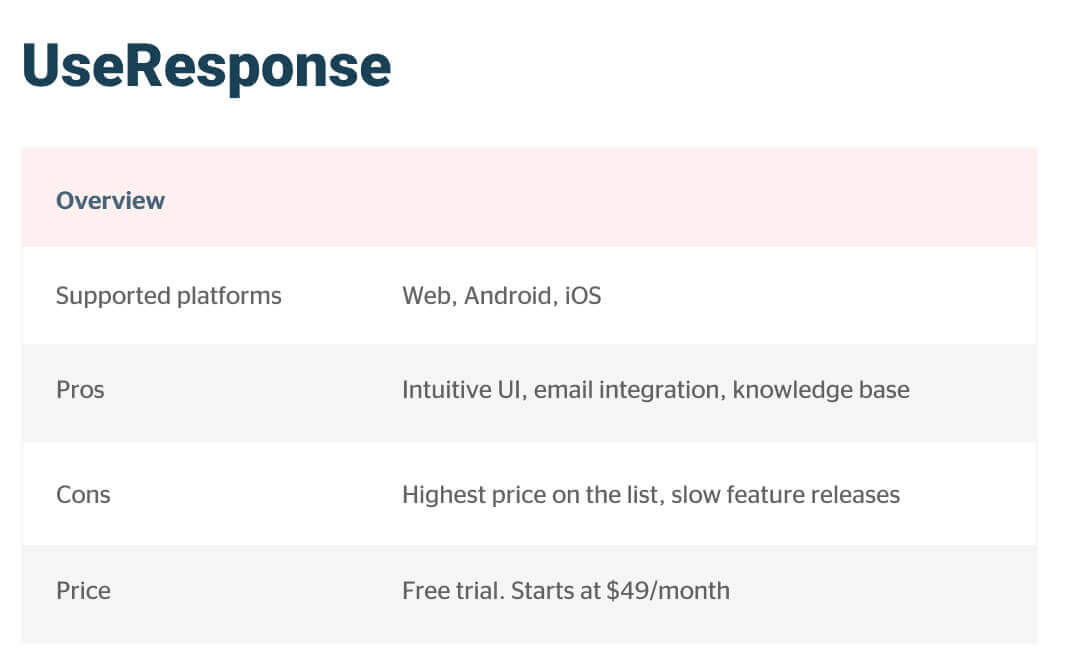 So, what did we come to?
Comparison of the best Intercom alternatives
The article is quite long, so it's better to see the results in a table with all the features side by side:
 Fist, let's compare live chats' must-have features:
 
Bot
AI
Trigger
message
Pop-up
Email
Knowl.
base
Ticketing
User
data
Analytics
Intercom
✔️
✔️
✔️
✔️
✔️
✔️
✔️
✔️
✔️
Dashly
✔️
❌
✔️
✔️
✔️
✔️
✔️
✔️
✔️
ZohoDesk
✔️
✔️
✔️
❌
✔️
✔️
✔️
✔️
✔️
Zendesk
❌
❌
✔️
❌
✔️
✔️
✔️
✔️
✔️
Freshdesk
✔️
✔️
❌
❌
✔️
✔️
✔️
✔️
✔️
Userlike
✔️
❌
✔️
❌
✔️
❌
✔️
✔️
✔️
LiveChat
❌
❌
✔️
✔️
✔️
✔️
✔️
✔️
✔️
UseResponse
❌
❌
✔️
❌
❌
✔️
✔️
✔️
✔️
Freshchat
✔️
✔️
✔️
✔️
✔️
✔️
✔️
✔️
✔️
Tawk.to
❌
❌
✔️
❌
❌
✔️
✔️
✔️
✔️
LiveAgent
❌
❌
✔️
✔️
✔️
✔️
✔️
✔️
✔️
Live chat is an obvious feature for every tool on the list, so I don't waste your time adding one more cell here
There is a list of nice to have features:
 
Phone
Survey
Templates
Screen
sharing
Shortcuts
Dash-
board
In-app
messages
Team
alerts
Intercom
❌
✔️
✔️
✔️
❌
✔️
✔️
✔️
Dashly
❌
✔️
✔️
✔️
❌
✔️
✔️
✔️
ZohoDesk
✔️
✔️
✔️
✔️
❌
✔️
❌
✔️
Zendesk
✔️
✔️
✔️
✔️
✔️
✔️
❌
✔️
Freshdesk
✔️
✔️
❌
✔️
❌
✔️
❌
✔️
Userlike
❌
✔️
✔️
✔️
✔️
✔️
❌
✔️
LiveChat
❌
✔️
❌
✔️
✔️
✔️
❌
✔️
UseResponse
❌
❌
❌
❌
❌
✔️
❌
✔️
Freshchat
❌
✔️
✔️
✔️
❌
✔️
✔️
❌
Tawk.to
❌
❌
❌
❌
✔️
✔️
❌
✔️
LiveAgent
✔️
✔️
✔️
✔️
✔️
✔️
❌
✔️
File sharing, customization, and dashboards are common features for this list, so I didn't add them to a table
How much will each cost you:
Price per
month
Trial
Forever
free plan
Agent
seats
Intercom
$39
$999+
14
days
❌
1-10
+$
Dashly
$39+
7
days
✔️
∞
ZohoDesk
$18
$45
15
days
✔️
3-50
+$
Zendesk
$5
$199+
14
days
❌
1 
+$
Freshdesk
$15
$139
21
days
✔️
1 +$
∞
Userlike
$29
$299+
14
days
✔️
1 — 10
∞
LiveChat
$16 
$50+
14
days
❌
1
UseResponse
$49 
$199+
14
days
❌
2
Freshchat
$19 
$169+
21
days
✔️
1+$
Tawk.to
free
✔️
✔️
∞
LiveAgent
$15 
$39
14
days
✔️
1+$
Conclusions
Intercom is still the best-known name in the industry of website chat software. With a powerful set of tools for customer messaging, it offers one of the best UI. But, many tools provide users with features Intercom doesn't have. 
For example, when it will release a fully automated tracking master like Dashly, there is an opportunity to claim the crown. Unfortunately, features aren't the main Intercom problem. Pricing. Even with updates, it looks too complicated. The high cost of the tool makes its users look for alternatives to move to.
Thus, if you're searching for:
chat support platform, choose LiveAgent;
email marketing automation + powerful data tracking, choose Dashly;
in-app messaging, choose Freshchat or Freshdesk;
low-cost solution with great UI, choose Tawk.to or LiveChat;
help desk + CRM, choose Zoho Desk;
ticketing system, choose Zendesk;
easy-to use and set up tool, test Userlike;
rich localization options, choose UseResponse.
Define your goals and make your choice. 
Still hesitate between features? Try an all-in-one solution for the best price — Dashly.