The Alternative to Drift: What Communication Platform to Choose
Reading time: 18 minutes
18.01.2022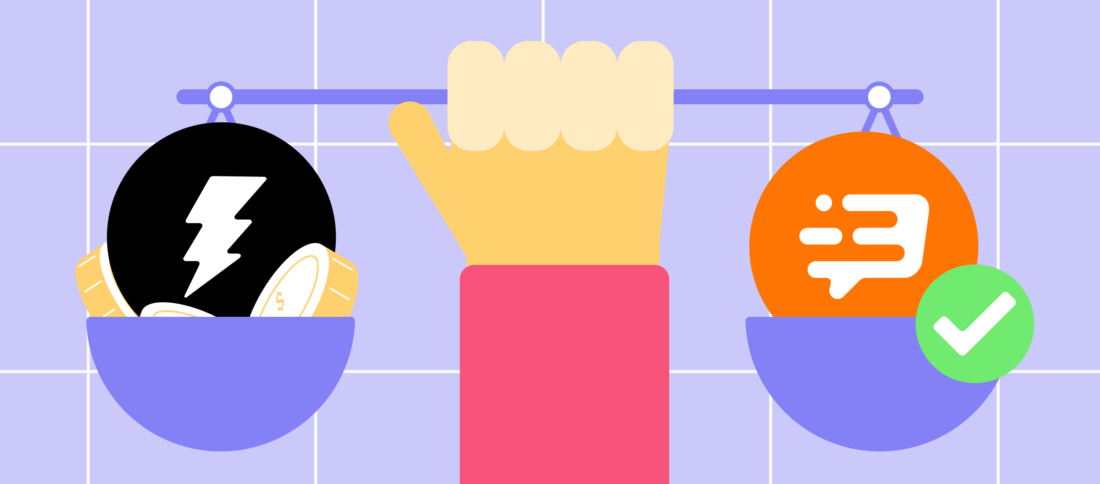 All your website visitors expect fast communication from you, no matter how small your team is. If they write to both you and one of your competitors at 3 a.m., they will give their money to the one who responds faster and provides them with all the required information. That's why it's essential to communicate with customers quickly.
Many choose Drift to serve this need. The service has a variety of features for all teams marketing, sales, customer service, and support.
But it is quite an expensive solution. What if you can get all those advanced features without hundreds of dollars bills?
What do we know about Drift?
Drift positions itself as a "conversation-driven marketing & sales platform." But it is a complex sales-oriented product. More than 50,000 companies use this service for sales and customer engagement growth. 
Its homepage talks about pipelines, leads, and sales right up from the beginning. Yet, at the same time, its feature list includes such mysterious things as 'conversational emails', AI chatbots, and 'revenue acceleration platform' without a word about customer support.
As any other all-in-one customer communication tool, Drift includes:
Chatbots automatically send messages to your visitors which is helpful in improving user experience lead qualification. There is a chatbot builder where you can create custom and AI-powered bots to book meetings, route conversations to relevant agents, and pre-qualify leads.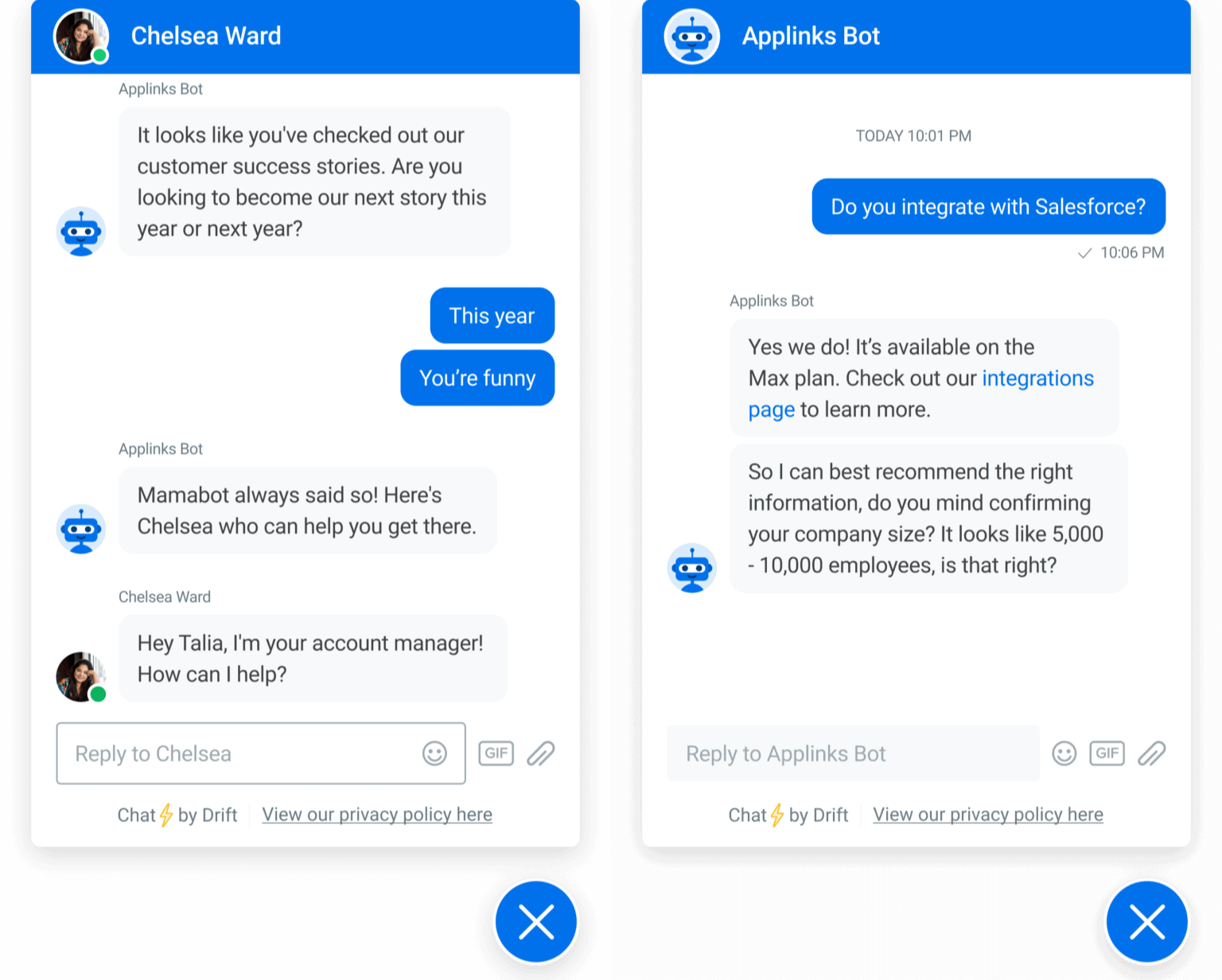 Live chat simplifies customer support, qualification, and lead generation. Drift live chat software saves all the necessary information about your website visitors.
Video message feature is perfect for recording and sharing sales or demo videos. These personalized videos help to improve sales and customer engagement via closer contact with website visitors.
Email assistant manages team inbox, cleans database, finds sales prospects, and sends auto-replies.
Knowledge base for your website or app.
Email automation sends real-time messages to customers once they have done a target action or after a specific time flag. 
A/B testing of the perfect message for the selected audience.
Real-time reports ─ customer engagement metrics aimed at improving customer communications and optimizing sales processes.
Inbox software with visitor's conversations from chat, emails, socials, and Facebook Messenger. You can also find there website visitors' data, site behavior, or book meetings, share files, and add tags.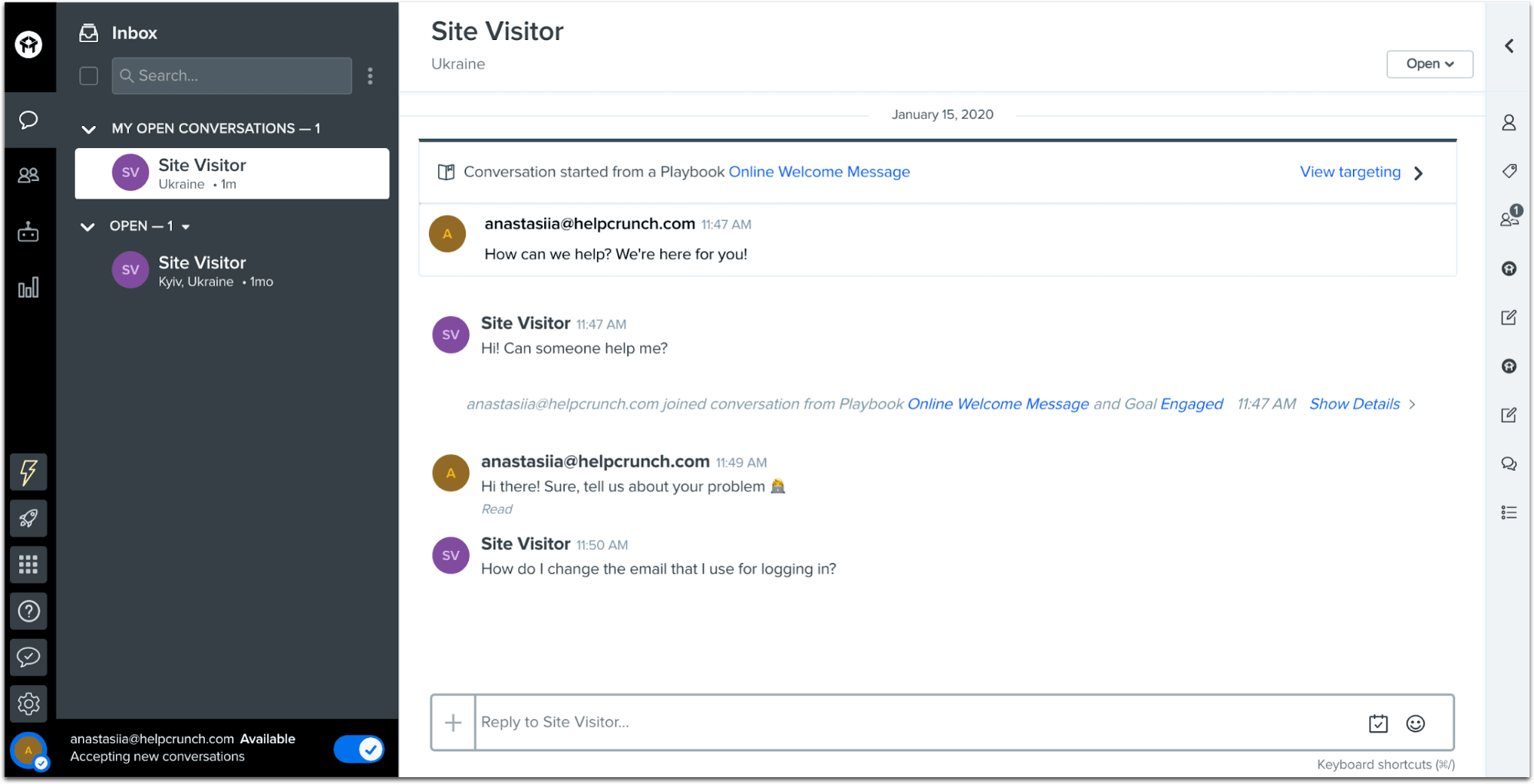 But that is just the tip of the iceberg. There are tools you probably haven't even known about.
Drift pricing
There are four plans in Drift. Starting from the free plan for small businesses, it offers middle and large companies oriented plans: Premium, Advanced, and Enterprise. But all the prices are available only after personal one-on-one communication with an agent.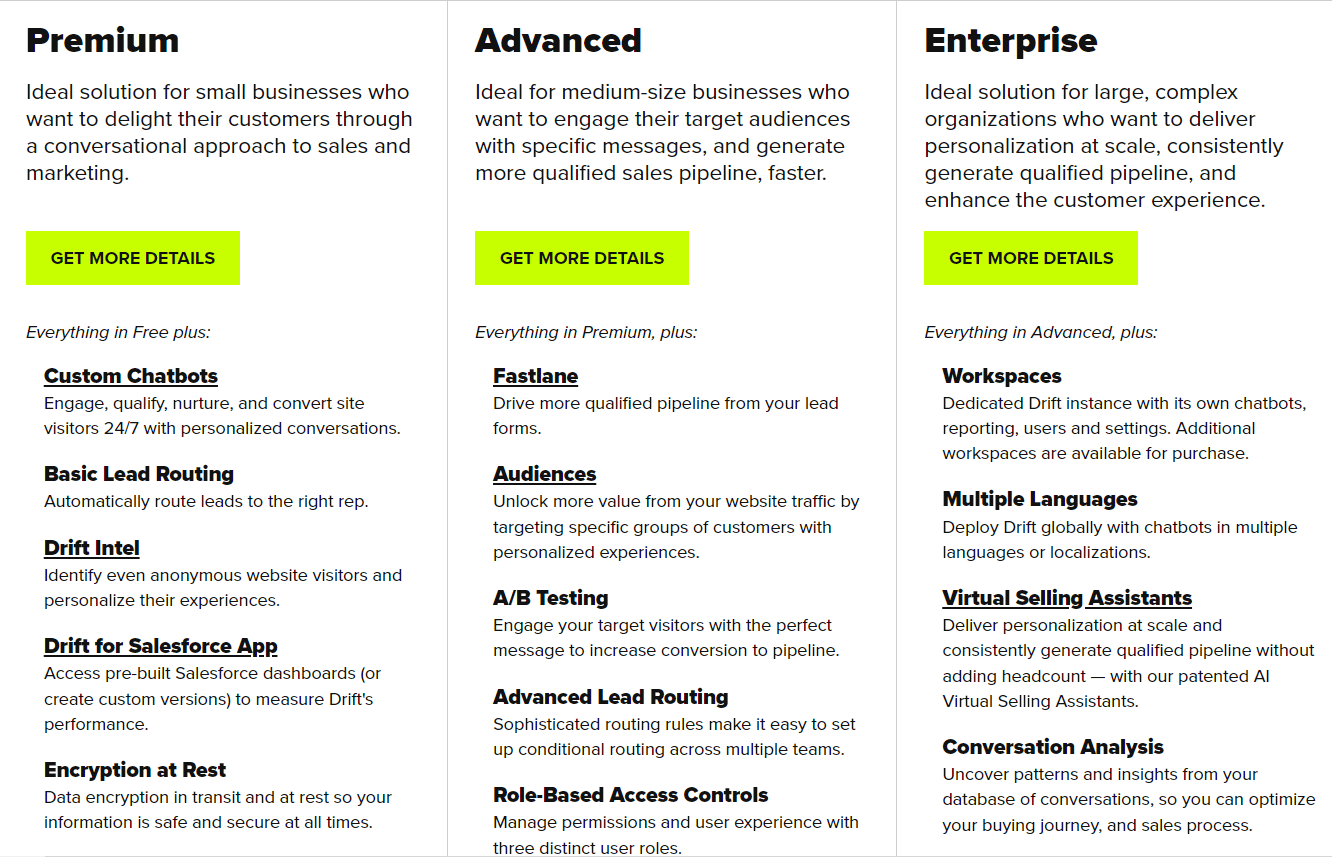 Of course, we can't leave you without this info. So we did some research.
Drift price ranges from $0 to $1,500 per month. 
The free plan includes welcome email messages, email signatures, live chat, and basic reporting. There are also integrations: Vidyard, calendar, Slack, and Google Analytics with a limit to 100 contacts and a single agent. 
Premium plan costs from $400/month to $1,500 per month/agent (thank you, Melissa Pardo-Bunte). If you want more agent seats, pay an extra $80 per month. For this money, you'll get proactive messages, chatbots, revenue reports, live chat, canned responses, etc. But what is more important is what you won't get: A/B testing, role-based access management, multilingual chatbots for multiple brands. 
To get that, you will have to upgrade your plan to an Advanced or even Enterprise plan that costs $4,800/year.
This price tag may be too high for you if you're a small business or startup. So for them, Drift offers a $500 per 10 seats plan. If you're not a startup, you'll start with $400 per seat with customer communication tools only. That is too high.
Drift pros
Drift cons
— In-depth analytics features.
— Video messaging.
— Easy-to-use interface.
— Powerful and different chatbots.
— Rich segmentation & targeting for sales as well as for marketing.
— Integrations with significant marketing and sales solutions.
— Poor customization.
— Too high price.
— Difficult to understand plans, no transparency.
— No multilingual support.
— The product is difficult to master due to its complexity.
— Chat inbox isn't always accurate with information.
— A limited number of agent seats in each plan.
— There is no free trial.
Drift is good. But what's an alternative?
There is a possibility to meet the exact needs as Drift does, but for a lower price. If you can't spend $400/mo on Drift, look at its competitors, Dashly for example. See how it can help your business.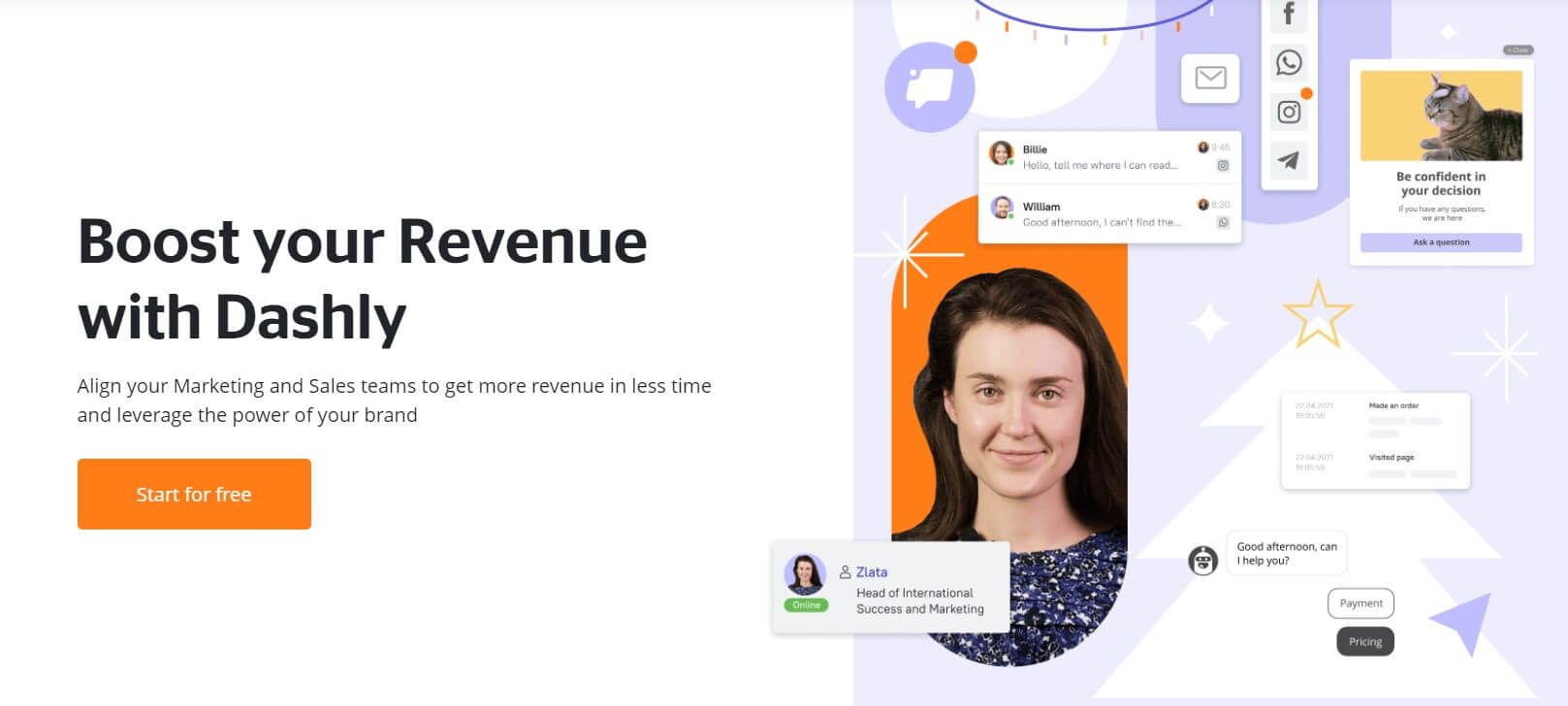 Dashly is a conversational platform that covers support, marketing, and sales tasks, while Drift is way more sales-oriented. It is aimed to put your team focus on an in-time personalized conversation across the entire customer journey in your product.
As a Drift alternative, Dashly provides a variety of options to serve this need: 
Website visitors data tracking helps you provide a personalized customer experience. Dashly tracks your website visitors' emails, phone numbers, website behavior, and conversation history.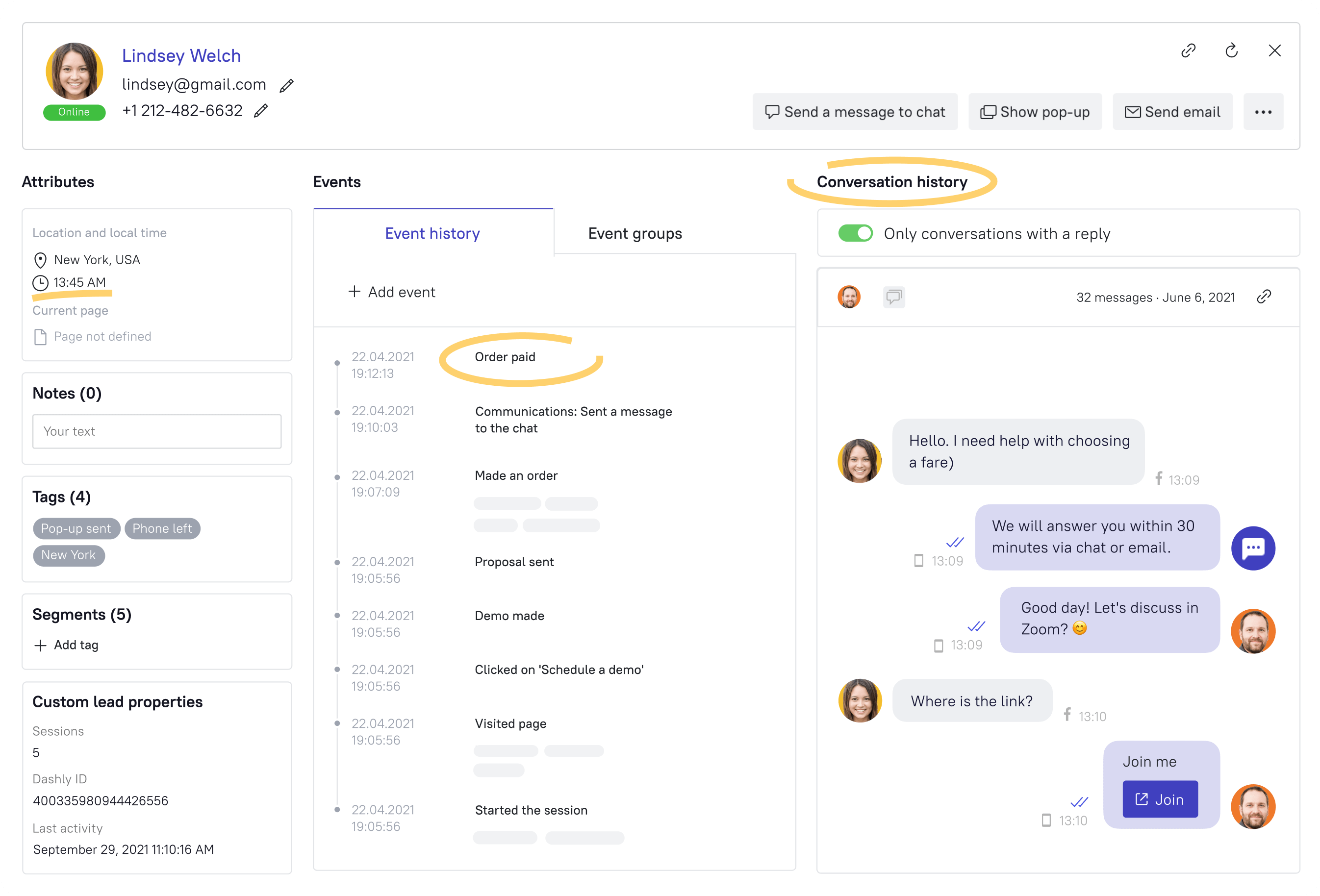 Team inbox with requests from social media, email, messengers, and live chat. Customer service managers can answer all the requests in one place, taking into account the conversation history. This is much more convenient than opening millions of tabs with different messengers and eventually missing one important message.
More than 30 ready-to-use integrations: Instagram, WhatsApp, Facebook, PrestaShop, Zappier, and others.
Last but not least, small teams usually try to find affordable Drift alternatives that include as many features as possible. So for Drift's lowest price ($500 for 10 seats), you will get only basic functionality: Proactive Messaging, Automated Booking, Live Chat, Email Fallback, and Saved Replies.
Dashly pricing
In Dashly, this price includes all the features we've got in the service, including a knowledge base, triggered pop-ups and emails, a mobile app, A/B testing, and more than 30 integrations with unlimited seats.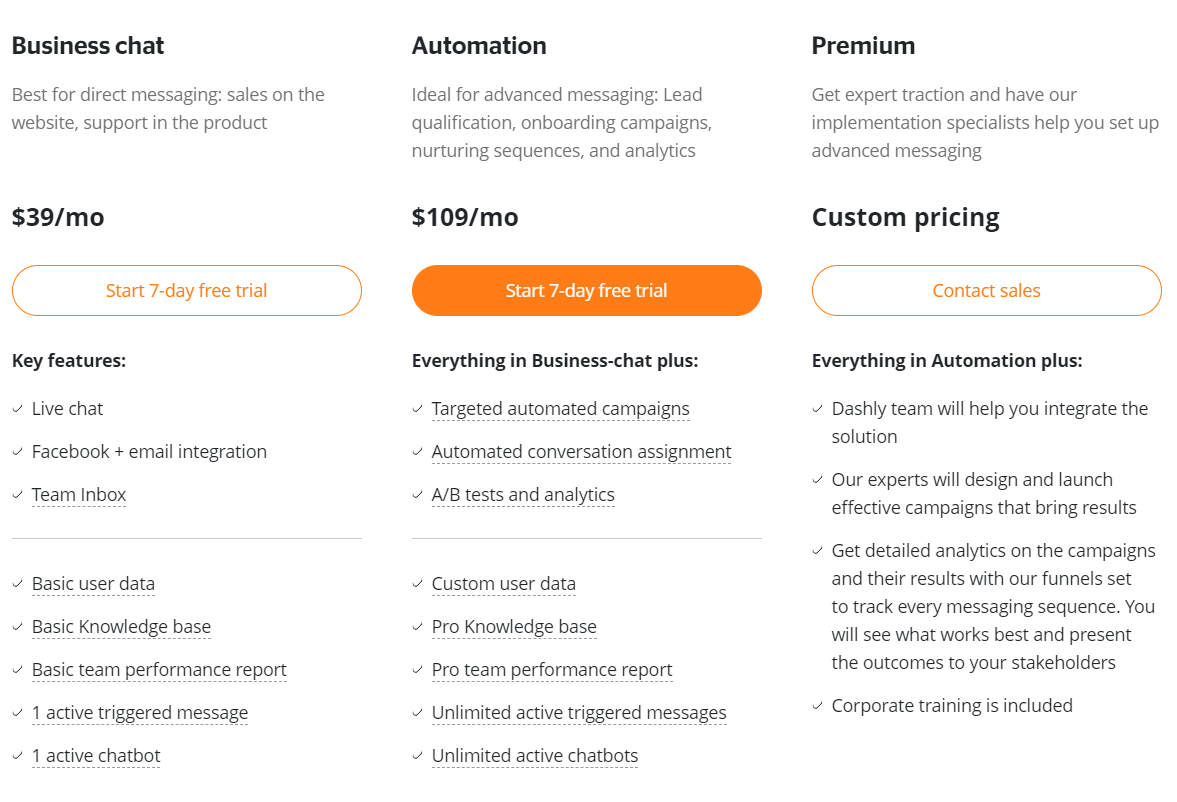 You can start with a seven-day free trial with access to all features and a limited forever free plan to try how Dashly works. After that, if you'd like more features, there are three options: 
$39/month for messaging: website sales, support, and product. 
$109/month for advanced messaging: lead qualification, onboarding campaigns, nurturing sequences, and analytics.
Custom pricing if you want expert traction and have dedicated Dashly implementation specialists help you set up advanced messaging.
The only limit is an email sent per month. But you can increase that number on demand.
Dashly pros
Dashly cons
— Easy to install. No coding skills are required.
— Rich integration capabilities.
— Unlimited agent seats.
— Automated messages.
— Easy to customize design and interactions.
— User-friendly interface.
— Transparent pricing.
— No video messages.
— No AI chatbots.
— No email assistant.
— No AI chatbots.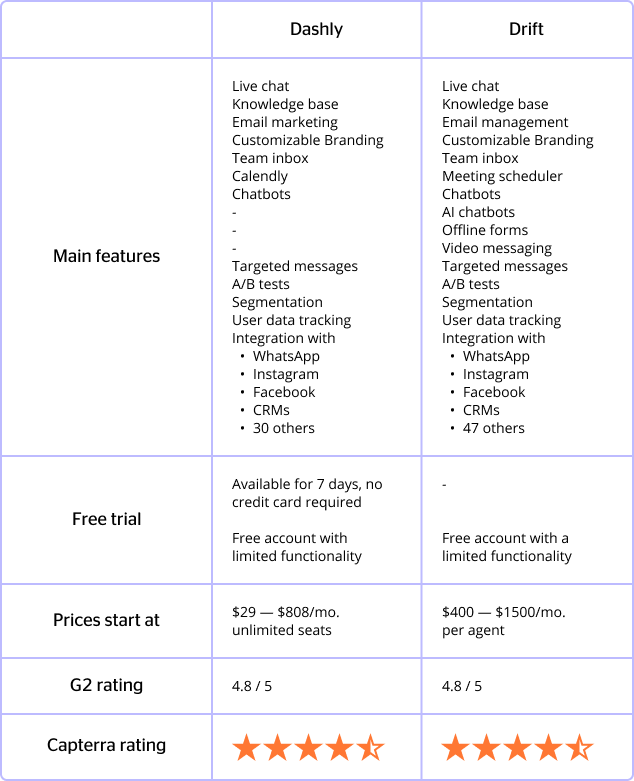 Drift vs. Intercom: features showdown
Both Dashly and Drift provide must-have features like trigger messages, knowledge base, live chat. However, even though Drift is more about sales and marketing, each row on their landings is screaming about marketing and sales metrics. 
Especially when it comes to chatbots. Drift AI chatbots are powerful, but all of them are positioned to help everyone except support. For example, Dashly provides a basic chatbot. But there is a list of features for marketing, sales, and support. In addition, to lead capturing and qualification, it consults visitors on FAQ, routes them to relevant agents, books meetings, informs them about new features, etc. 
By the way, Drift's basic chatbots are the same, except for the price. 
Drift offers one unique feature that Dashly doesn't have alternatives to in its package. It's a video messaging and email assistant. On the other hand, Dashly has all those Calendly for booking, Zoom for video meetings, and, of course, multiple integrations with socials and messengers.
Dashly vs. Drift: pricing showdown

This pricing model is complex. You'll never guess the final cost of your plan.
Look at Drift plans: key features are only available in their more expensive plans. 
What's essential about the Dashly chatbot, live chat, trigger messages, and analytics: they are included in all plans. This means that the price for this feature starts from $39 per month. Compared with Drift, you'll save about $400 per month and additionally will get dedicated support that will always be happy to help you.
Dashly alternative doesn't limit you to the number of agent seats. It is created for team collaboration without incurring additional costs. You can assign queries to teammates, leave comments, tags without having to leave the app. However, it does simplify customer support and sales.
Opposite to that, Drift is about 'per-agent' pricing: the bigger your team, the more you pay. 
As well as the majority of Drift competitors, Dashly pricing is based on the monthly traffic to your website.

In other words, the more unique website visitors you have, the more you pay. (Several visits from one person will be counted as one.) It is easy to predict the final price, so you know there won't be a +$500 extra payment in your fee.
How Dashly can boost your revenue for the lower price
Capture and qualify leads
In Dashly, you can create a live chat, pop-up, or chatbot for this goal. It helps you to catch leads on the website and interact with them. You don't need coding skills. For example, a chatbot builder allows creating a chatbot within several minutes.
Chatbot sequences will qualify your leads so that your sales reps will spend their time only on high-value leads.
Here's an idea of data you can get with Dashly tools:
in B2C
in B2B
— gender identity
— age group
— geography
— what products they are looking for
— how much they are going to spend
— company size
— industry
— their role in the company
— what products they are looking for
All the customer data will be saved in a lead card and automatically delivered to the sales team CRM.
Engage website visitors with proactive messages
Provide an unforgettable user experience for your website visitors with automated messages. Just like Drift, Dashly gives you lots of alternative templates for pop-ups and chat messages. Choose the template you like, then set the trigger and the audience who will see the pop-up.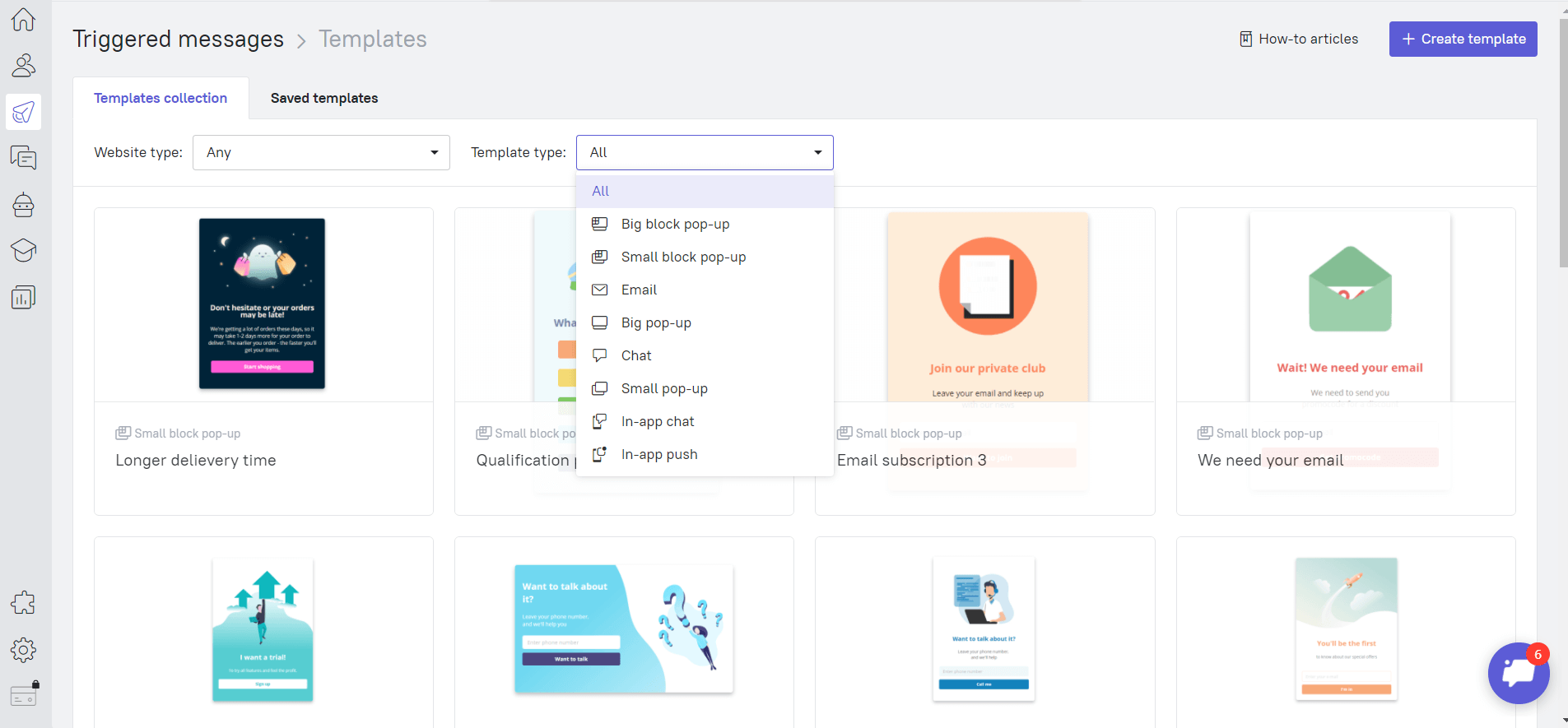 It may be challenging to figure out which auto message performs better in a particular situation. Use A/B testing to find out the answer. You can compare different pop-ups, messages, and Javascripts, and pick which works the best.
If you don't want to send your auto message immediately, you can set a timeout or a trigger; Dashly will send the message when the visitor performs a specific action.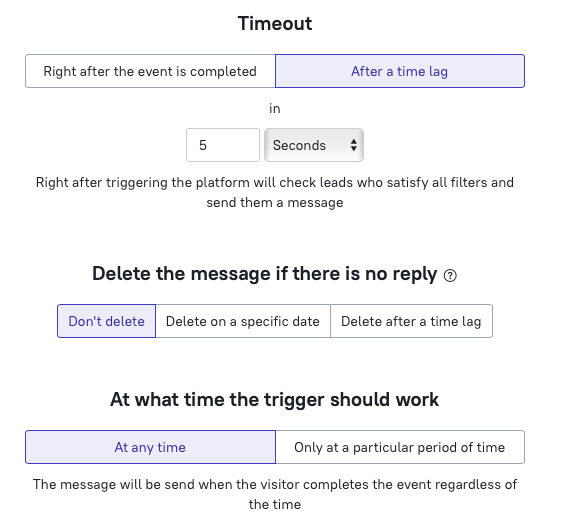 Understand who is your sales talking to
It's vital for sales conversion to know the context of the conversation with a potential customer. For this goal, Dashly provides you with:
Website visitors behavior tracking. The system automatically saves their emails, phone numbers, exit intents, page visits, button clicks, and field-filling events.
Chatbot to define user interests or pre-qualify the lead. Then, the chatbot asks your visitors questions and fills the lead card with the answers. So your team knows who they are talking to and offers the right products.
Here is what sales managers see when they open the lead card: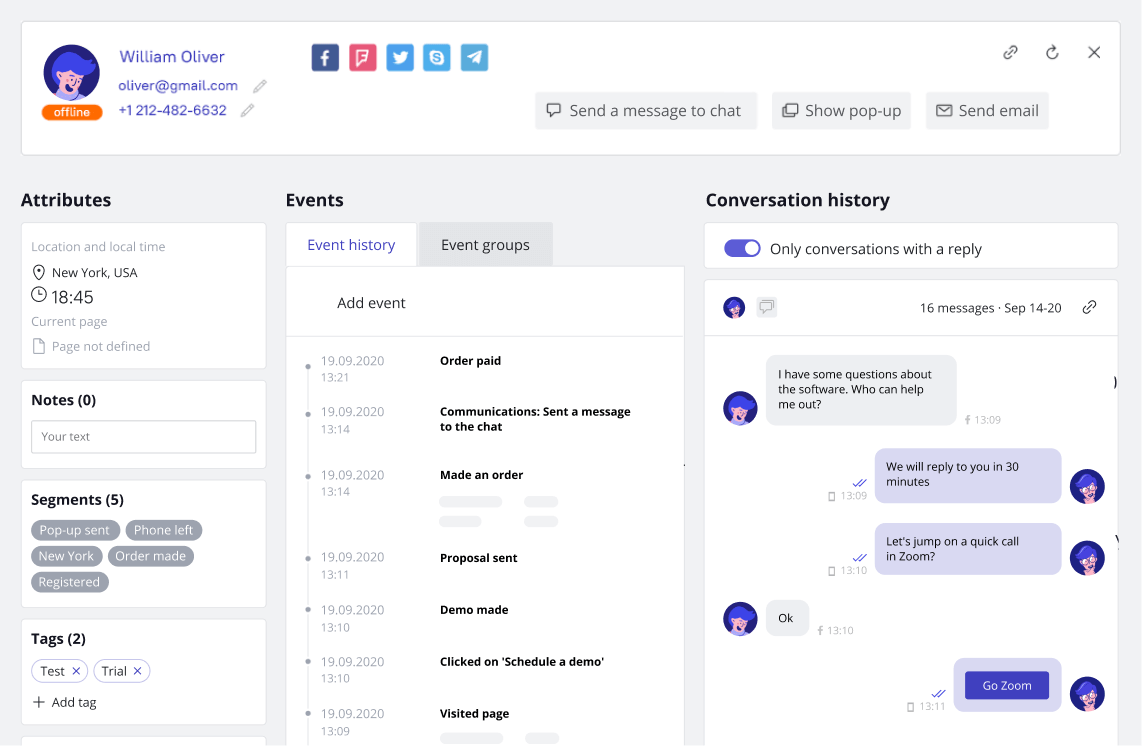 Tell users about new features or updates
Just choose the right user segments who will see messages about product updates or a new feature. As one of the powerful Drift competitors, Dashly chatbot will inform them and offer to book a demo to onboard.
Set up a chatbot flow with a message about the update and prepare answers on the FAQ that the chatbot will interactively send to users. It's easy with a visual builder. You don't even need a developer to create a chatbot and launch it. Try how it works 👇
Collect feedback from users automatically
Dashly chatbot is perfect for knowing what your customers think about your product.
Save your time and let a chatbot ask your users. You can set open questions or give your respondents options to select. This way, Dashly bot works as a customer service chatbot too!
Provide instant communication
In case of users still have questions or face some issues, the chatbot will assign the conversation to a human agent.
The chatbot will automatically send answers to the most frequently asked questions.
Users just choose the issue during the conversation and the chatbot answers.
The chatbot reacts to users' requests instantly without making them wait even two seconds. 
If the user still has questions, the chatbot will assign the conversation to the right agent.
The Dashly alternative to Drift bot will free up customer support time on more complicated issues.
We have an article on chatbot best practices, so you could launch a chatbot successfully.
Retain and nurture leads with personalized messages
Personalized trigger messages for a particular audience segment:
Dashly alternative allows sending message sequences to the target audience and helps them take a key action:
Start your sales sequence when the lead performs a particular action. This action will trigger an automatic message.
Define the audience on every step of the sequence and create targeted messages for each group.
Improve the sequence with pop-ups and chat messages to enhance the customer experience across their entire journey.
Decrease the support agent response time
 ⅔ buyers expect an immediate response to their queries — which is 10 minutes at maximum.
We've checked this. If your reply time is more than 10 minutes, don't be surprised by a low website conversion rate.
Save your support team time with: 
Chatbot routing customer requests to the right agent.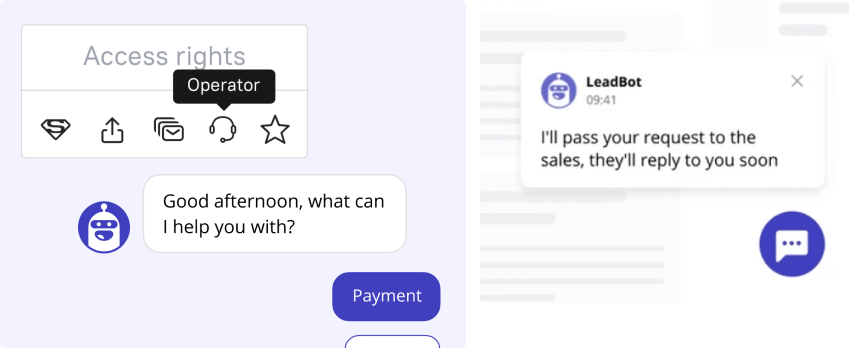 Saved replies. Create answers to FAQ to add them in a click during a conversation with customers. You can easily edit, delete and switch around saved responses the way you like.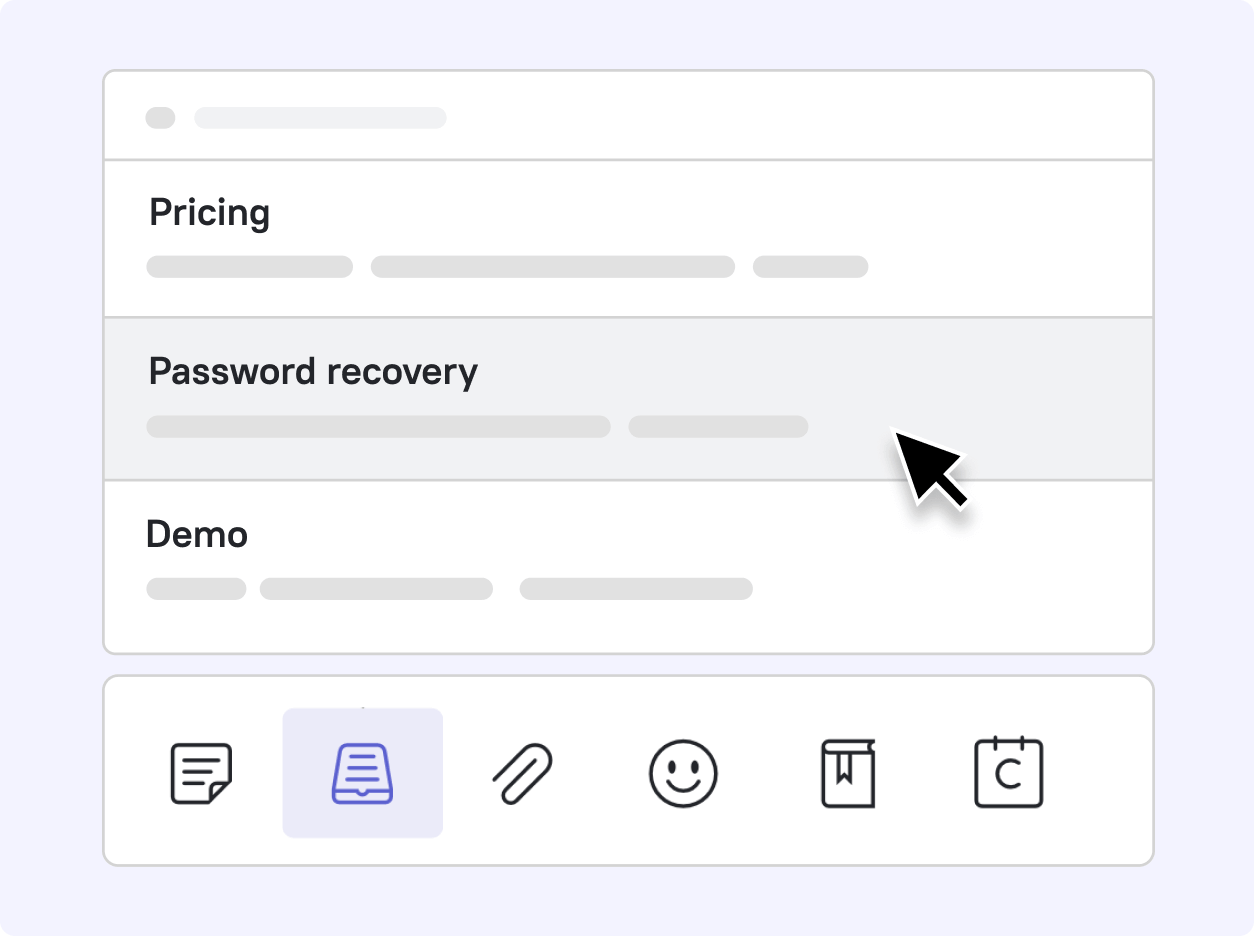 Knowledge base. Figure out the most popular questions fielded by your support team, and write a series of articles giving detailed answers to each question. This solution will save your agents tons of energy since they won't have to answer the same questions all the time. Instead, they can just send a link to an article that contains complete instructions with screenshots. In addition, the Knowledge Base is integrated with Dashly, so you won't have to dig around for it. 
Here is how it works: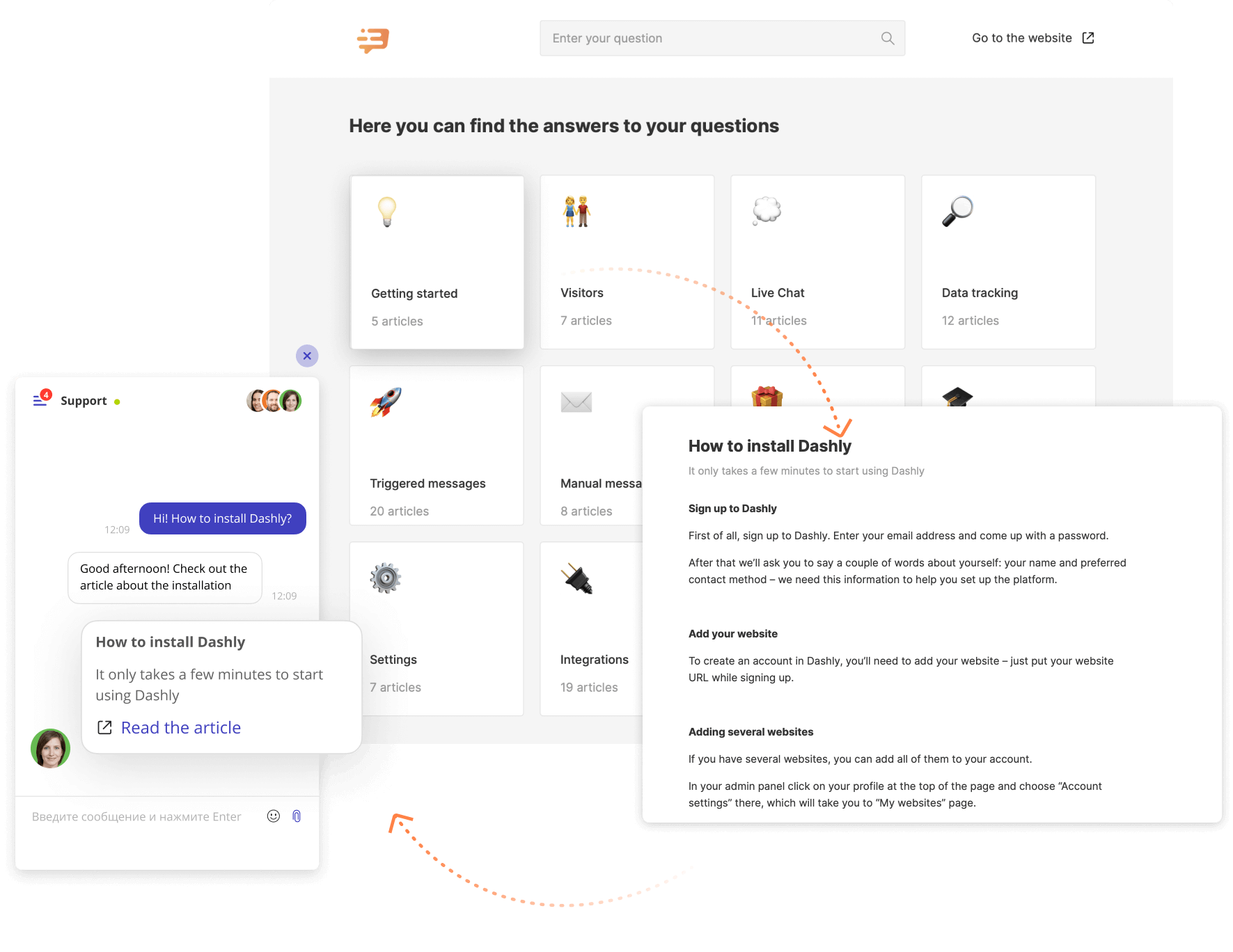 Install our mobile application for customer support agents. With a mobile app, support agents will track requests even if they are on the run. No question goes unresponded.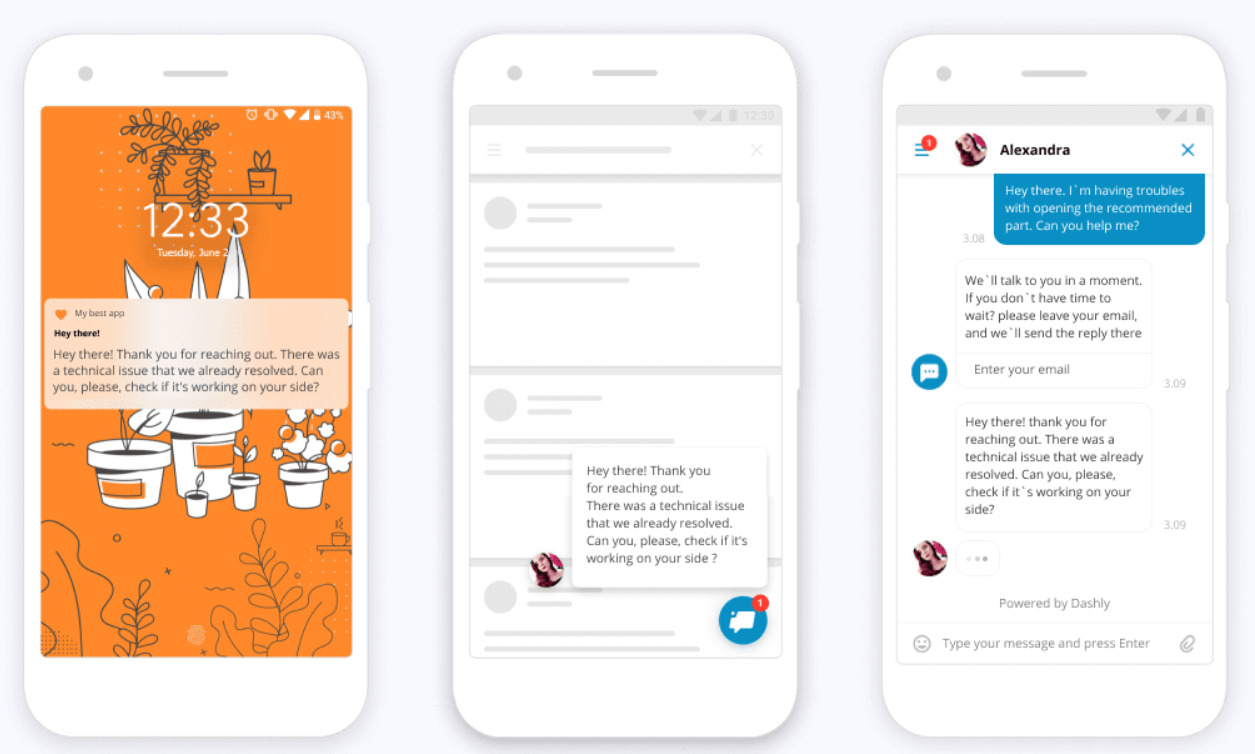 Don't leave any request unattended 
Forget about checking different apps like always having Instagram, WhatsApp, and Facebook open on your laptop/smartphone. 
Forget about the customer database on your agents' accounts. Team inbox is perfect for tracking all the customer requests in one place.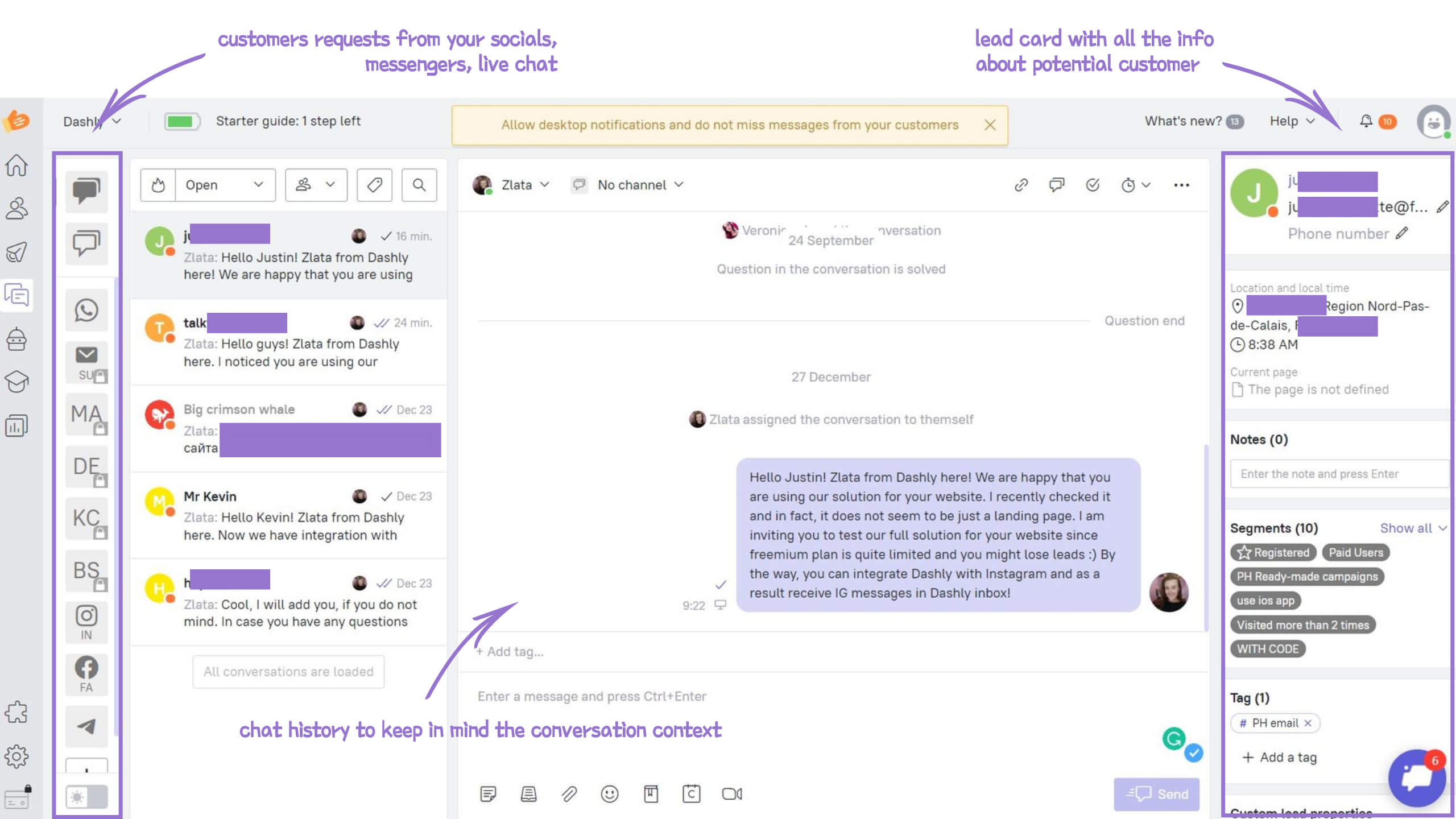 Dashly has 30+ integrations to get your tech stitch together.

Dashly vs. Drift: conclusion
To sum everything up, Dashly alternative to Drift provides powerful customer support, marketing, and sales tools. 
In addition to a standard knowledge base and live chat features, Drift has all those fantastic sales things like email assistant and video messaging. On the other hand, its competitor Dashly offers must-have integrations to social media (Instagram, Facebook) and messengers (WhatsApp, Viber, etc.)
Drift advantage is a wide range of chatbots, but AI ones are hard to teach. It may take 2-3 months. The Dashly's ones are more easy-to-launch; you don't need a developer, even.
One more reason why people choose Drift is integrations. You'll find your fav tool to connect with. Except Zendesk, Viber, and Instagram integrations because they aren't among Drift essential plans list. 
But you'll find them in Dashly. This Drift competitor provides 30+ ready-made integrations to cover every business need. 
Both platforms are great for support, sales, and marketing, but Dashly is more straightforward and affordable. It's the main drawback of Drift. You should be ready to pay thousands of dollars every month to get some advanced features. 
If you're a small, agile medium-sized company, Drift is not perfect for you. Since your team is already trying to balance many tasks, it will be challenging to master sophisticated Drift CRM, AI bots, or live chat. 
This tool is focused on large teams across the entire sales funnel.
Dashly is a favorite of medium and small businesses that can't spend big money on customer communication. The main advantage of Dashly is that you get the same features as in Drift but for 10 times less. As a result, it's more effective when you've got only $100 to spare each month to boost your sales.