Live Chat: How Online Chat Tool Can Help Your Business
Drive sales and increase conversion at the very beginning of communication. Let customers write whenever they want — in live chat, messengers, or social networks
Request a demo
Try 7 days for free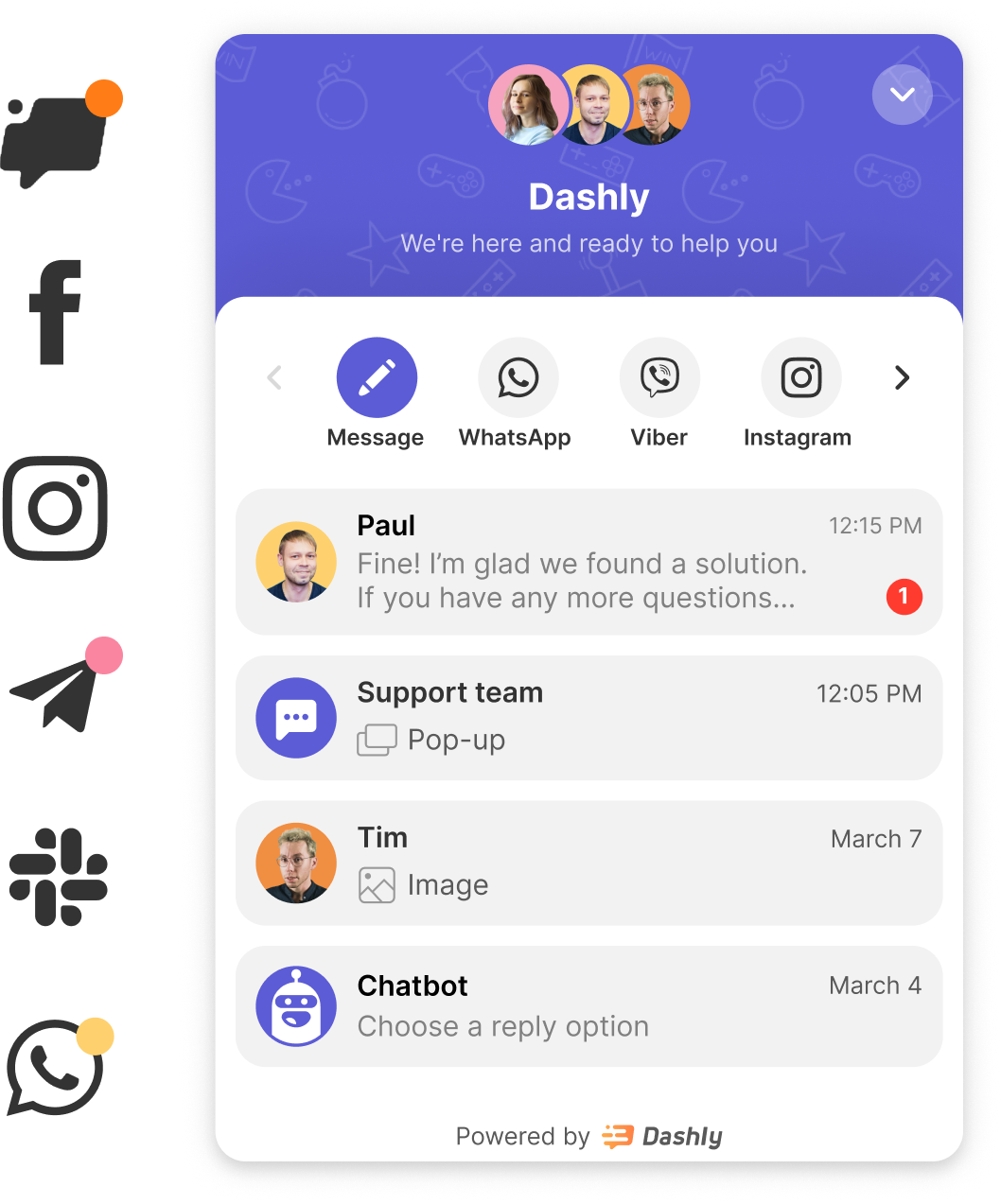 Part 1
The ultimate guide to live chat software in 2022
Conversation with a customer today comes down to a personalized approach and speed. There are many ways to keep in touch with your customers: phone calls, emails, social media. But each of them is imperfect. 
That's where a live chat comes on stage. A website chat has now become one of the essential tools for successful customer communication. 
This is the first part in our guide to live chats. We gathered all the primary information here. If you want to learn more about live chats, check out our other articles:
What is live chat software?
A live chat is a widget on your website. Clicking on it, a visitor can get an instant response to any question they have from an agent. 
This tool can help optimize the work of sales and support teams. It helps personalize communication with each website visitor and increase customer engagement. 
What are the benefits of a live chat?
Convenient tool for you and your customers. According to SuperOffice research, more than half of all customers prefer live chatting on a website. A website chat widget gives them such an opportunity. 73% of businesses mentioned live chat as a support channel with the highest customer satisfaction level.
Revenue increase and sales generation. Via a live chat, you can take a customer throughout a whole sale process and increase the Conversion Rate. 50% of customers say that having a channel to talk to an agent is crucial for a business.
44% of online customers claim that they finished their purchase because a live chat agent answered their queries quickly. So a live chat for an online store is a must-have whether you sell a product or provide some service. 
Proactive communication. If set up correctly, a live chat guarantees productive communication with your audience. Don't react to customers' requests. Increase chat engagement with welcome messages.
What are the main live chat features?
One inbox to bring together conversations from all channels. It's crucial to talk with customers where they prefer: emails, social media, messengers, etc. But the more your business grows, the more difficult it gets to keep track of all conversations. A common inbox allows you to maintain constant contact without losing a message.
Filters, tags, and hotkeys to ease the inbox search and speed up your support service work. Another great feature is notes so your agents could leave comments for their team right in a live chat box.
Integration with CRM systems to collect and store customers' data.
Conversation routing to make sure visitors get help from qualified agents. The automated routing feature speeds up the process and enhances the user experience.
Triggered welcome chat messages that work when a user performs a certain action. 
Analytics to keep track of your agents' workload and their performance.
Chat history and user behavior tracking to know what pages your customers' visit. It'll allow you to be in the context of the conversation and help with their queries more effectively. 
Knowledge base and quick replies to answer FAQ faster.
File sharing (images, video, links).
Video calls to assist your customer better.
Chat customization to make a live chat widget match your website appearance. Don't underestimate the importance of an attractive and convenient interface. 
Mobile app to enable your agents to provide help on the go. 
Agent notifications about new messages.
How to choose website chat software?
The choice of software depends on the type of your business and the functionality your website requires. While comparing different services, keep these questions in mind. They'll help you pick the most suitable software.
Can I set up proactive auto messages?
We've already mentioned it — chat engagement is crucial for your website. Most customers wait for agents to contact them first and engage them in a conversation.
Why not meet their expectations?
A simple message "Hey, we're here and ready to help!" lets a customer know that you're there for them at any step of their purchase process.
Does this live chat work quickly enough?
It's hard to imagine a worse situation than a chat freezing in the middle of the conversation with a customer. Providing quick and stable service is another crucial aspect of good software. 
Ensure a good internet connection and check how much time it takes you to load the live chat.
Is automated chat routing available?
Automated chat routing allows you to keep agents' workload under control. It guarantees your customers won't wait till you manually connect them to qualified agents. Usually, live chat services provide a chatbot feature for this. 
It alleviates your team's work and improves customers' experience on your website. And up to 80% of users mark website experience as important as a company's product. 
Does your live chat have third-party integrations?
Even the most self-sufficient services can't provide their users with all the features they need. To ensure efficient and convenient communication, you'll need: 
CRM systems to store relevant information about your customers;
Zoom integration to arrange audio and video calls if a person needs it;
Does a live chat team provide 24/7 support?
Eventually, it all comes down to in-time support. But you don't only give it, you should also get it. 
One of the greatest disadvantages of some live chat services is their inability to consult their users in time. As a result, you have to wait for days and even weeks to get the answer.
And it might cost your customers' trust.
Check if there are any complaints about the platform support in reviews. Ask a few questions yourself. Make sure you'll be heard. This is not an exhaustive list of questions you should ask before choosing live chat software. But it will help you avoid some mistakes.
We made a guide on typical mistakes when choosing live chat. You'll find out how to test a platform you chose.  
Top live chat software for your website
If you aren't sure which platform to choose, we'd like to recommend 5 live chat software for your website that offers all must-have tools for a reasonable price. 
You can test the following services on a free trial period and decide which of them suits your needs more. 
Dashly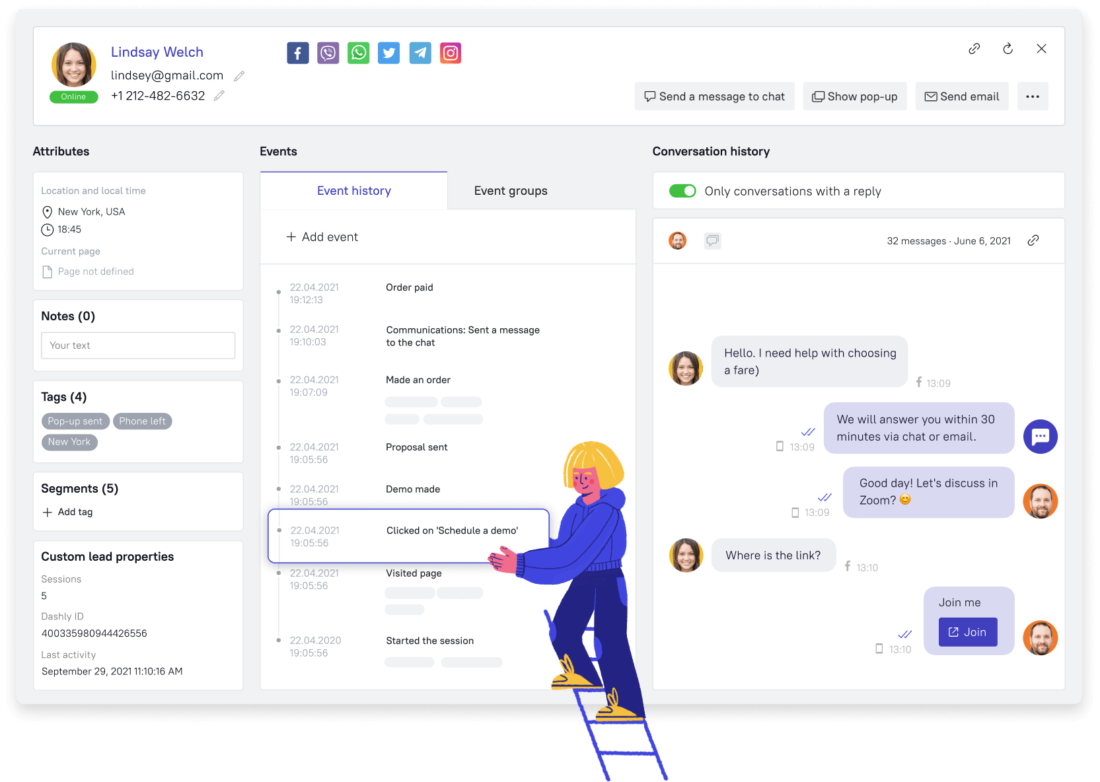 Dashly is a conversational platform that offers tools for support and marketing efficiency growth, including a website chat. Due to unlimited seats in each plan, Dashly's software is applicable for any size team in eCommerce, SaaS, online schools, etc.
Dashly live chat features
Among the main features, the platform offers are:
One inbox for all your communication channels;
Channels, tags, and automated chat routing;
CRM systems integrations;
Automated and saved replies;
Agent notes for their team right in a live chat box;
Analytics and reports;
Zoom integration for audio/video calls;
File sharing;
In addition, to live chat software, you can get:
Pricing
Dashly plans start at $39/month. Learn more about pricing.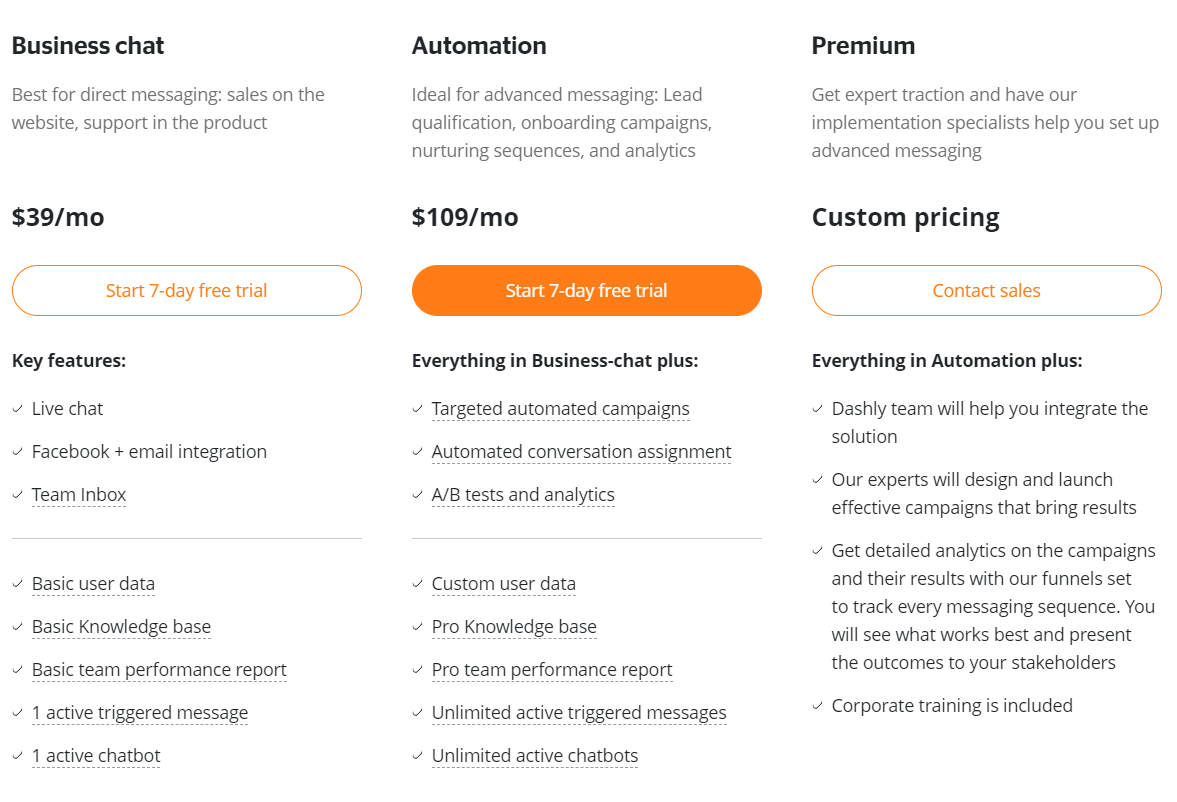 You have 7 days of trial access to all Dashly platform features.
LiveChat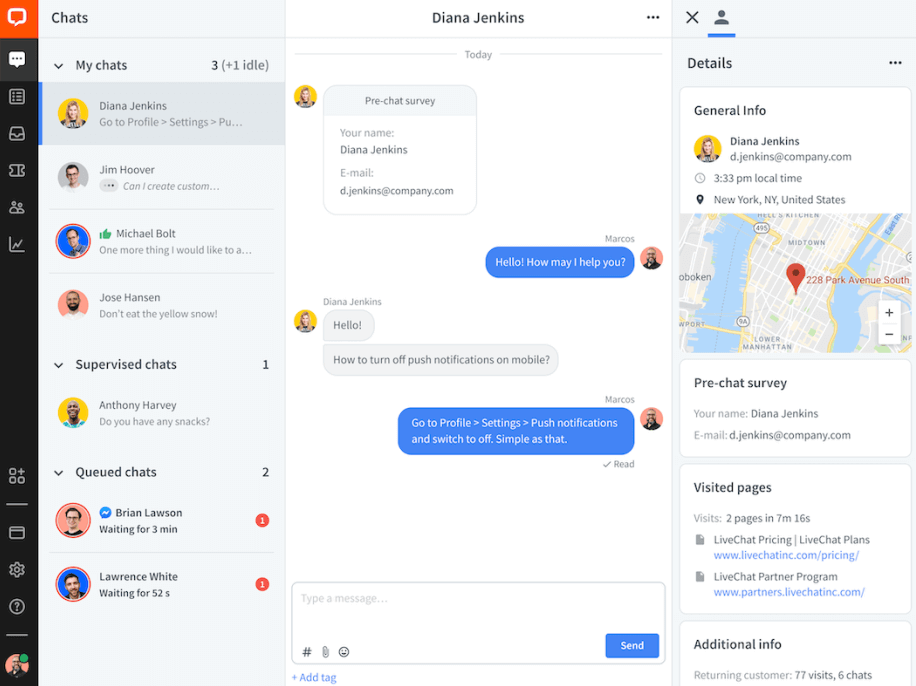 LiveChat is another great omnichannel product. It allows its users to chat with clients on WhatsApp and Facebook, via emails and SMS.
LiveChat suits businesses of any type and size: from startups to big enterprises.
The product's live chat features
The software offers its users:
Сhat history to go back to the conversation later and still be in the context;
Quick replies;
Product cards builder to advertise your product or services right in the chat;
200+ integrations;
File sharing;
Manual chat routing;
User behavior tracking;
Various feedback forms for customers to constantly enhance your service.
Pricing
LiveChat pricing starts at $19/month. The price will depend on the number of agents you have.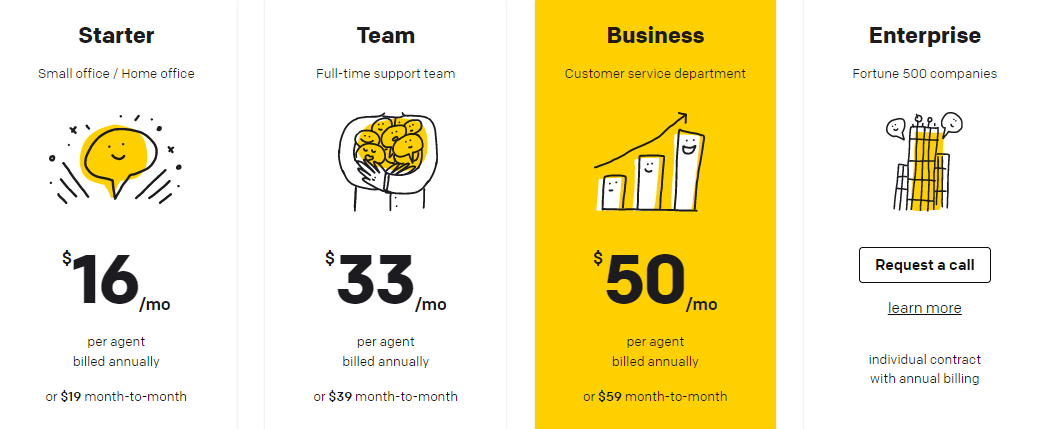 LiveChat offers a 14-days trial for testing the products's functionality.
HelpCrunch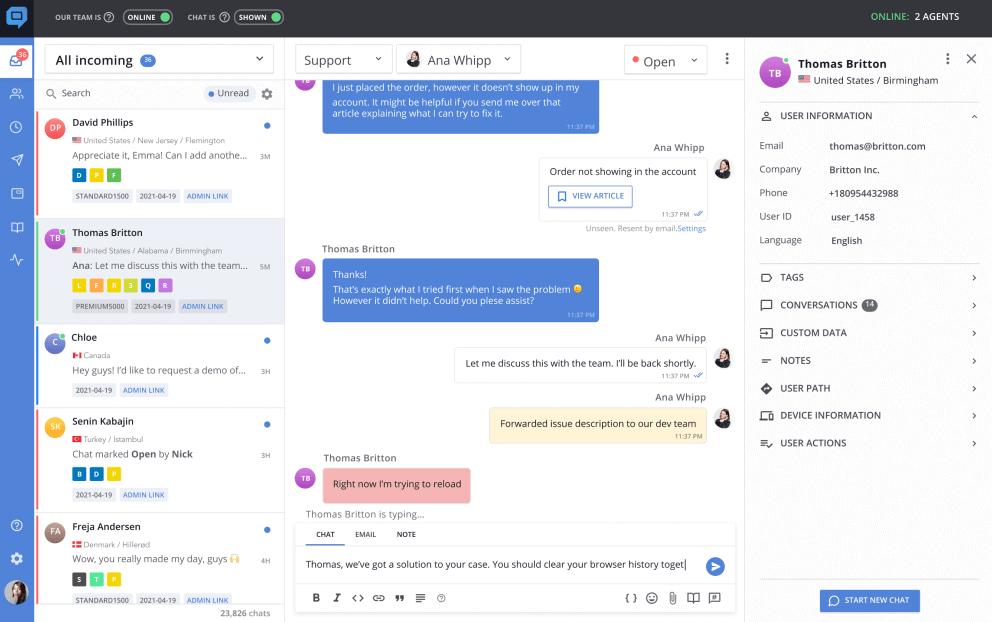 HelpCrunch offers live chat for websites with a few features many competitors lack. With their software, you can peek at what your customers type before they send a message and resend unread messages to your clients' emails.
HelpCrunch is suitable for any web platform, for SaaS teams as well as for eCommerce. It will be helpful for both sales and support teams.
HelpCrunch live chat features
With their live chat software, you get:
One inbox for conversations in messengers, social media, and emails;
Quick replies and triggered chat messages;
Chat tagging system;
Chat translation;
Feedback forms;
Mobile app.
In addition to a live chat, HelpCrunch offers the following tools:
Pop-ups;
Knowledge base;
Email automation.
Pricing
The pricing for the services starts at $15/month for one agent.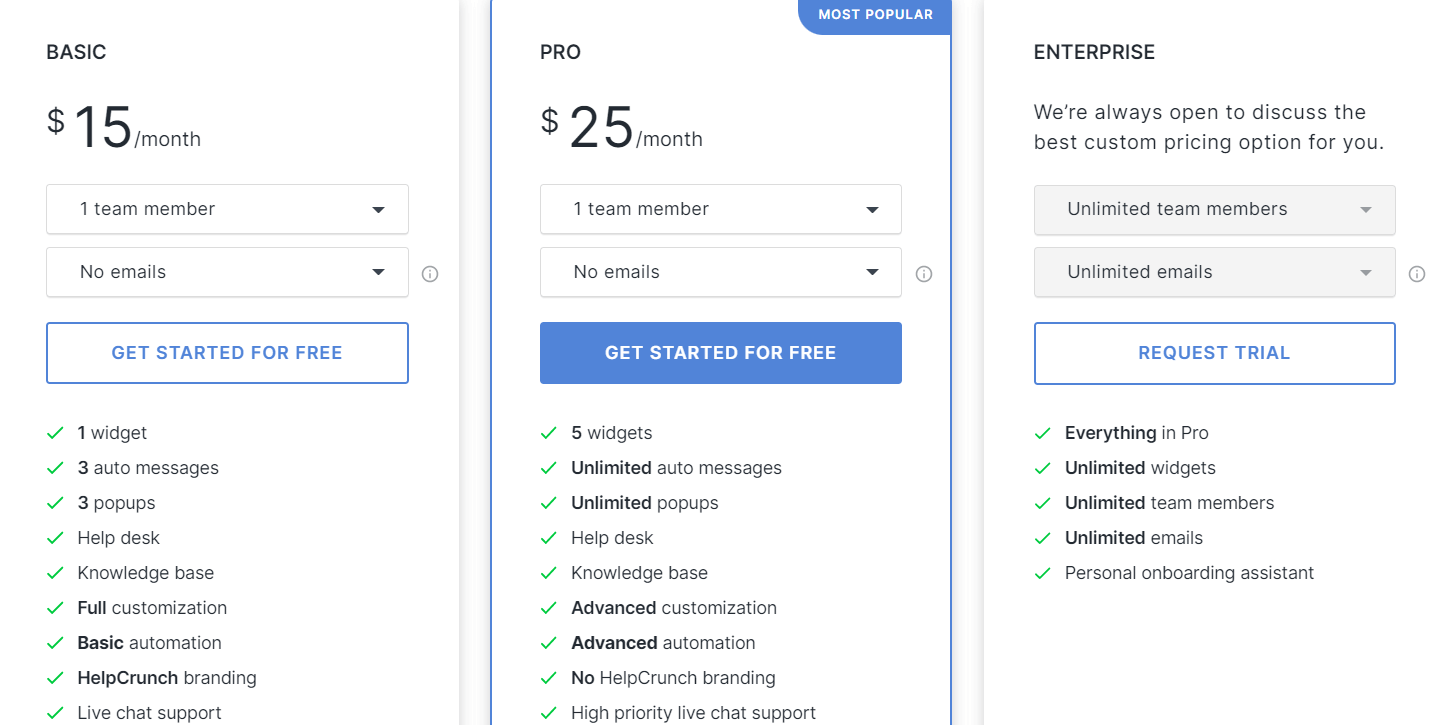 HelpCrunch offers a 14-day trial period.
Zendesk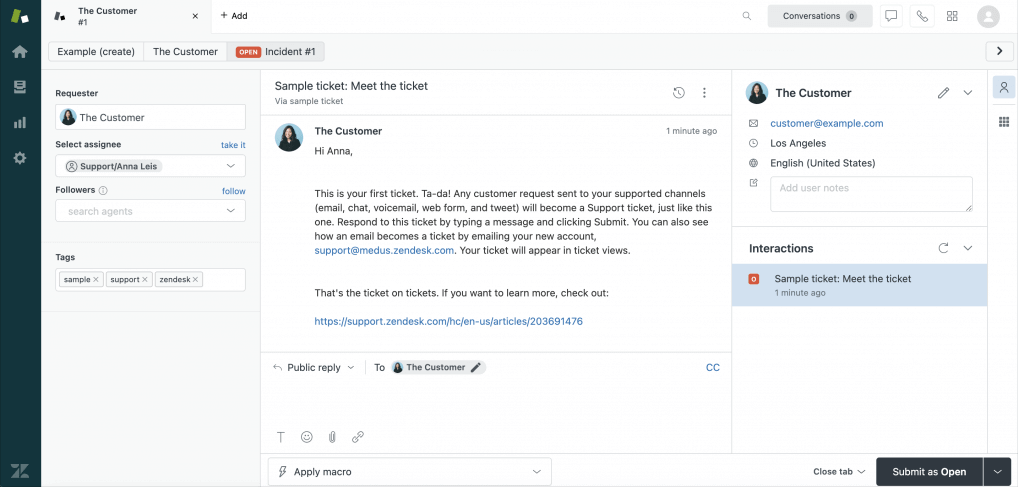 Zendesk is also a customer communication platform. Among a wide range of features, they offer their users live chat software.
It suits businesses of any size. And depending on the type of your industry, Zendesk will offer you their best solution.
Zendesk live chat features
All the basic functionality is available:
Triggered live chat messages;
Canned responses;
Chat routing and queue management;
Chat support ratings;
Feedback forms;
File sharing.
With its website chat service, Zendesk provides other tools:
Chatbot;
Knowledge base;
CRM system integration;
Mobile chat and push notifications.
Pricing
Zendesk pricing starts at $49/month.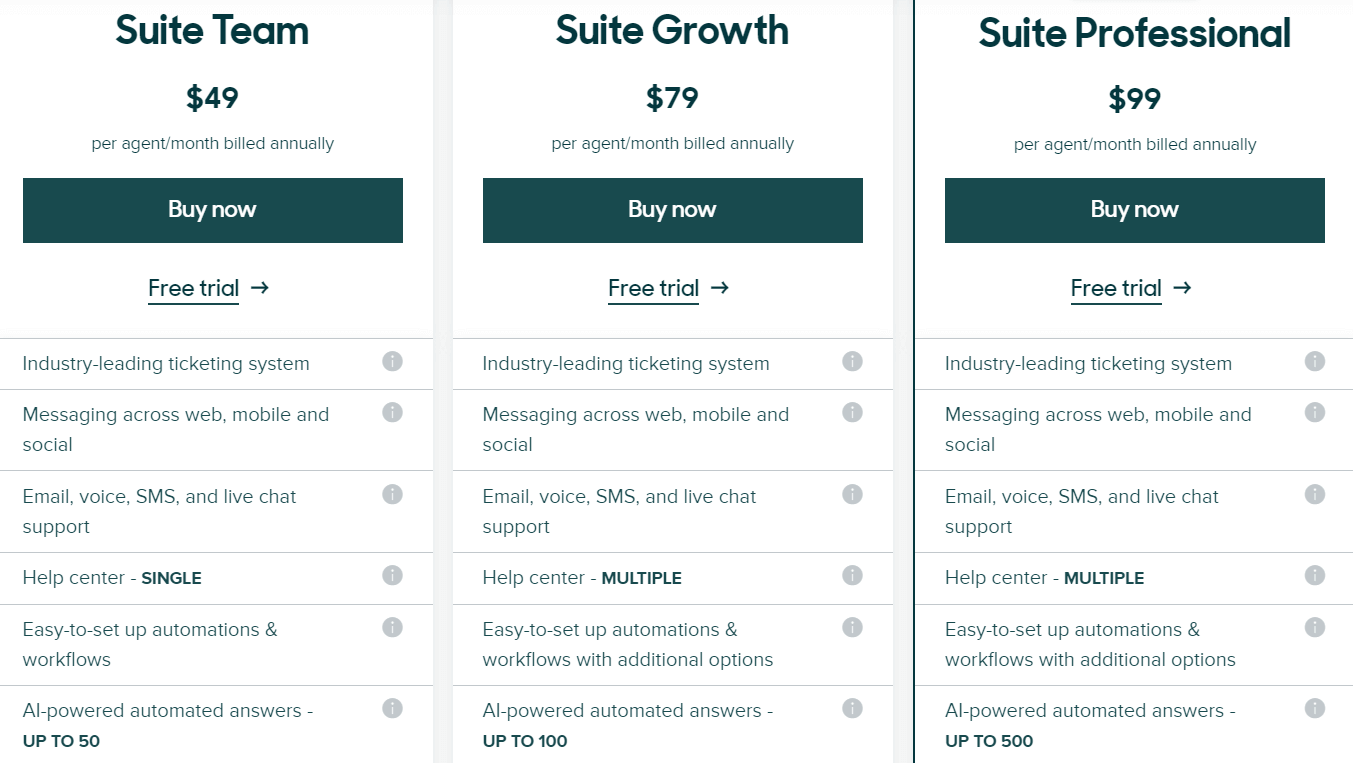 They offer a trial period of 14 days to test if the platform suits your needs.
Userlike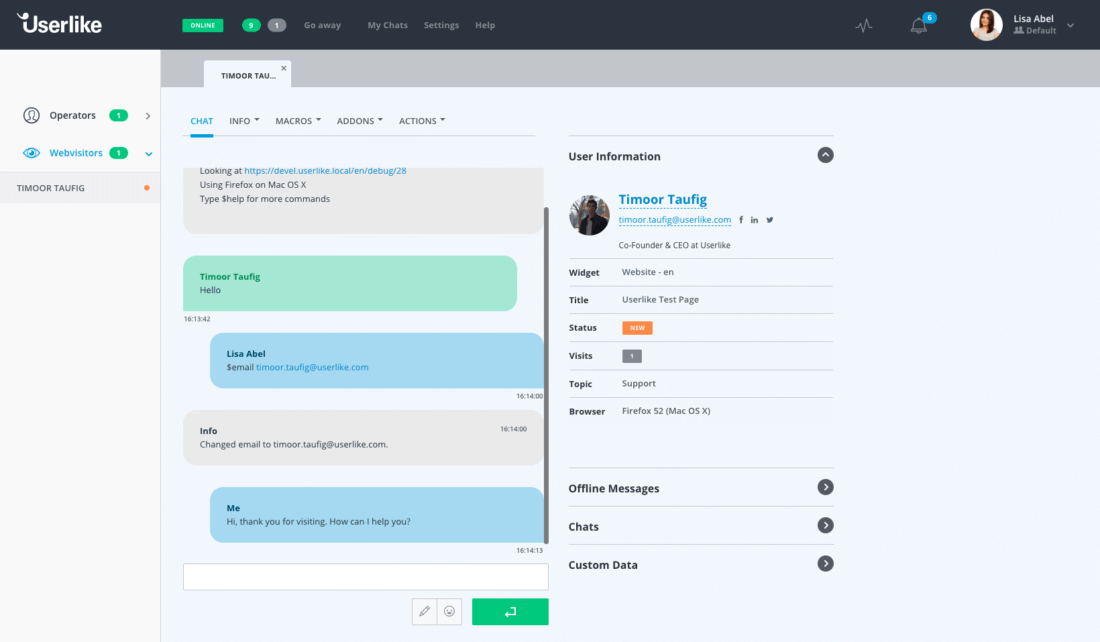 Userlike is a cloud-based platform suitable for real-time communication with customers. Their software can be used by startups, agencies, SMEs, and enterprises.
Userlike live chat features
With their live chat, you get:
Triggered welcome messages;
Analytics;
Agents groups which customers can choose for conversation without waiting in queues;
Various integrations;
Customers' profiles;
Feedback forms.
Pricing
Userlike has a free plan. You can see their full pricing here: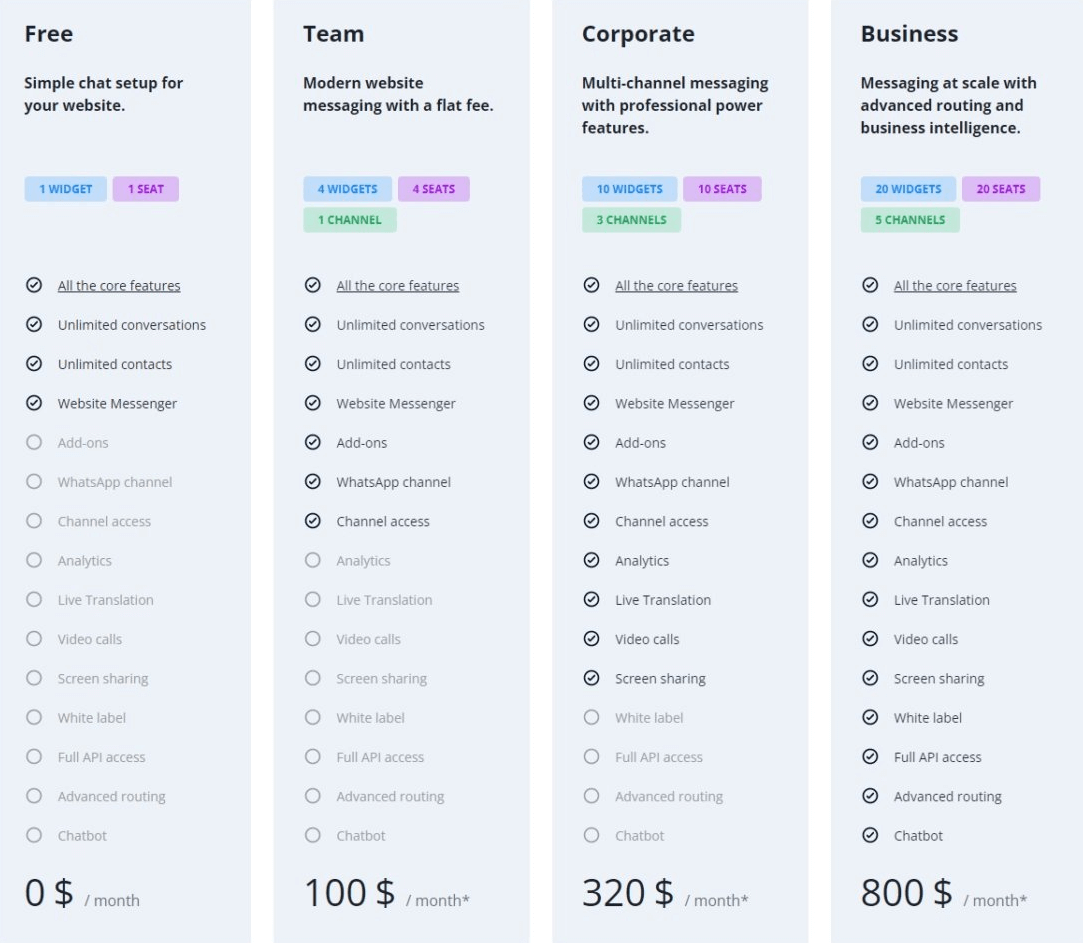 Besides, Userlike offers a 14-day free trial.
Want more?
We've tested and compared 20 live chat tools for a website. Read more about their features, setup, pros, and cons. 
Top live chat tools for customer service on your website
Live chat is indispensable when it comes to customer service. It's the most convenient way for your support team to answer users' queries. 
Here are a few of the best customer service chats 👇
Dashly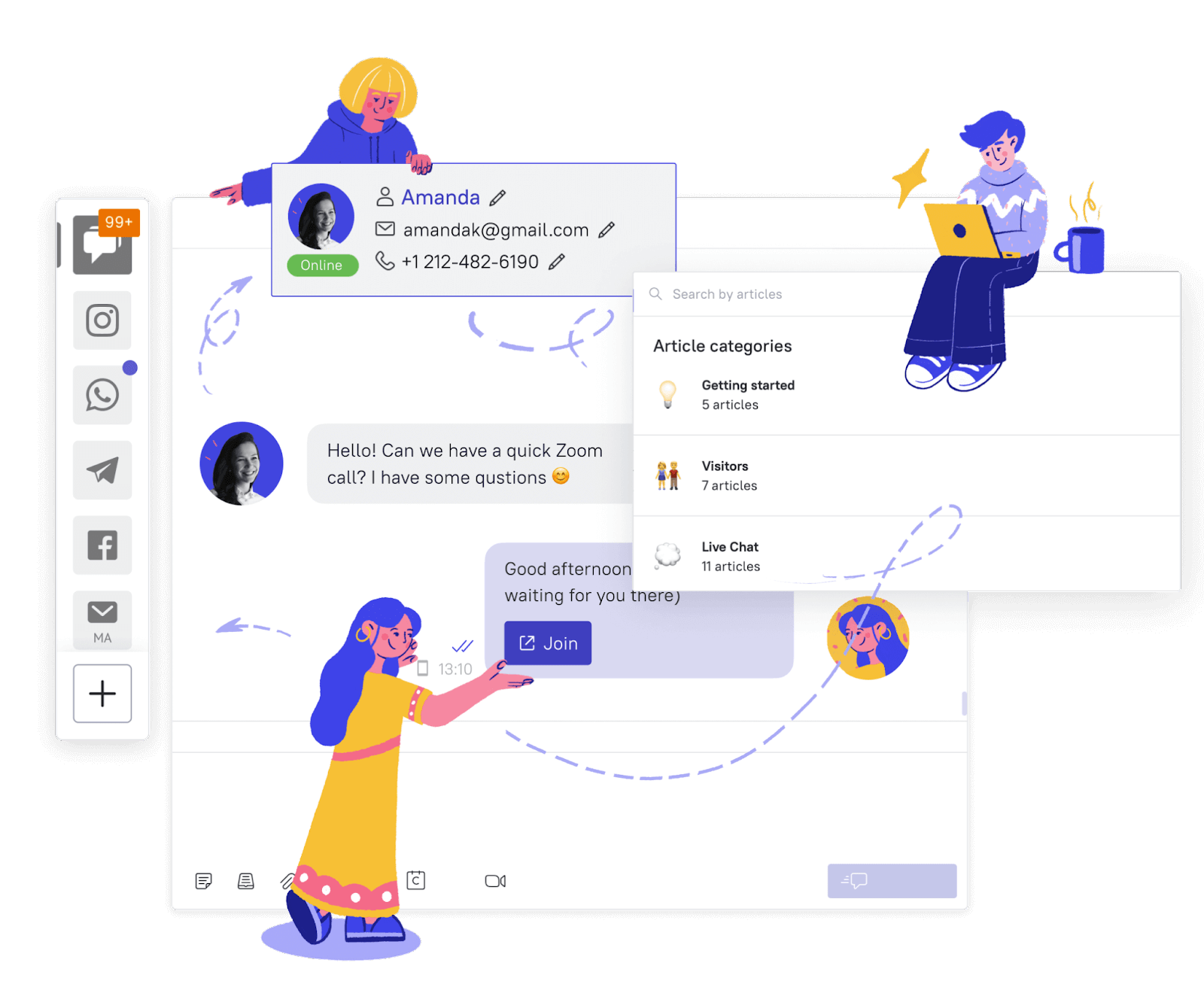 Dashly is a great omnichannel platform for customer support optimization. Its live chat software is aimed at providing productive conversation that takes into account customers' preferences and behavior. Due to unlimited seats, Dashly's software suits any size team in eCommerce, SaaS, agencies, etc.
Dashly live chat features
Among the main features, Dashly offers:
One inbox for your chats in emails, social media, messengers, etc.;
Automated chat routing;
The system of channels, filters, and tags to ease navigation;
Agents notes to leave comments about website visitors right in a live chat box;
CRM systems integrations;
Chat analytics and team performance reports;
Canned and automated replies;
Zoom integration for audio/video calls;
Mobile app;
File sharing.
Dashly also offers their users:
Pricing
The pricing starts at $39/month. You can learn more about pricing here.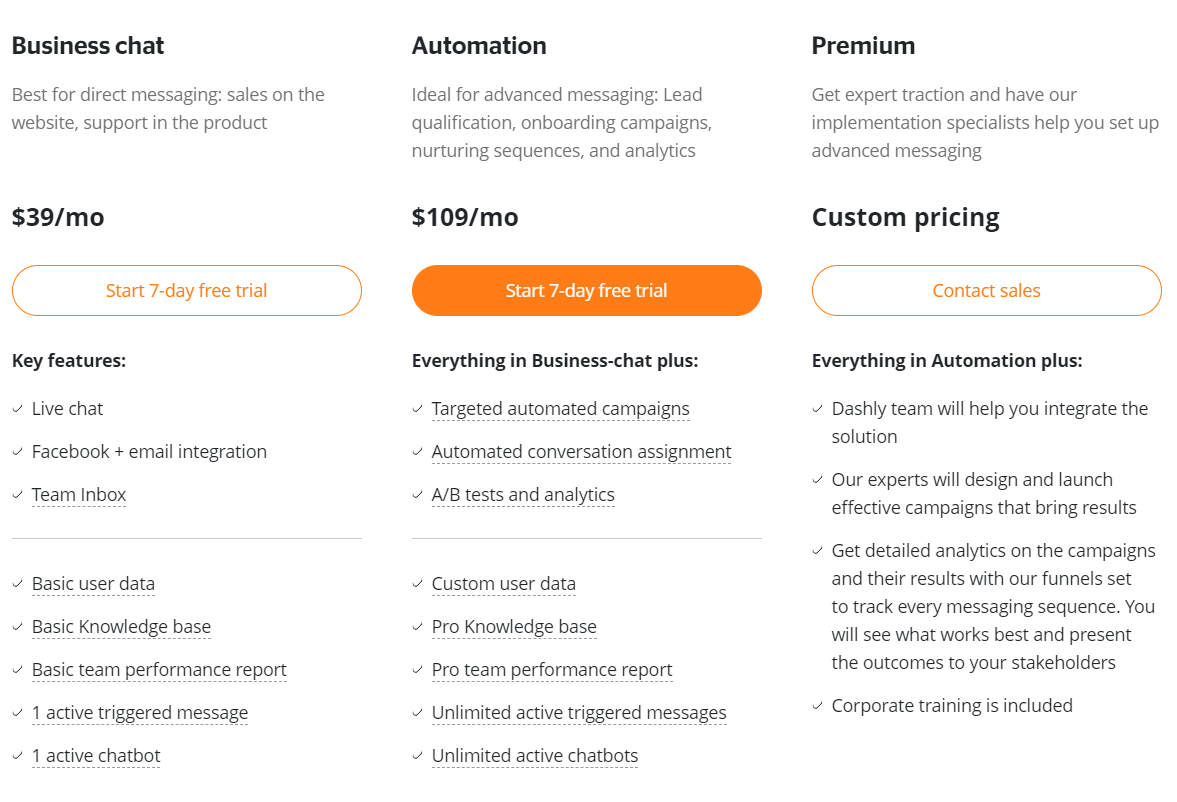 You have 7 days to test Dashly functionality for free.
User.com
User.com offers a wide range of tools for the automation and optimization of your support team's work. User.com offers its clients a live chat with an integrated chatbot, knowledge base, and high-quality analytics.
This platform is suitable for small and medium-sized businesses and agencies in any sphere.
User.com live chat features
Within User.com software you get access to:
Automated requests routing and customer segmentation;
Quick replies;
Triggered chat messages;
Lead forms;
Calendar integration;
Agent grouping;
Multi-lingual support;
Mobile app. 
Pricing
User.com doesn't offer free plans. Its pricing starts at $249/month. The price will depend on the number of contacts in your base. But the number of agents is unlimited.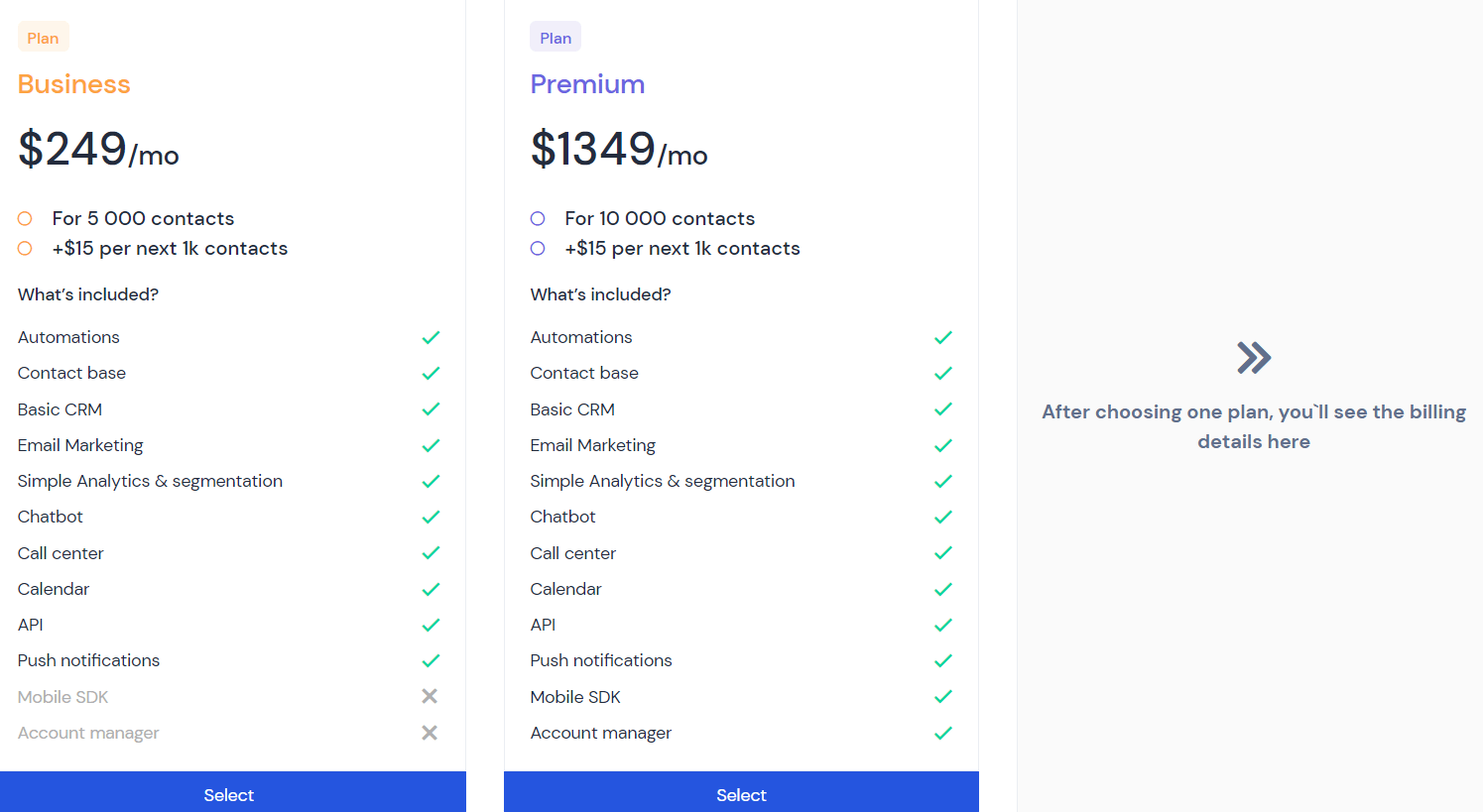 User.com gives 14 days to check its features.
Crisp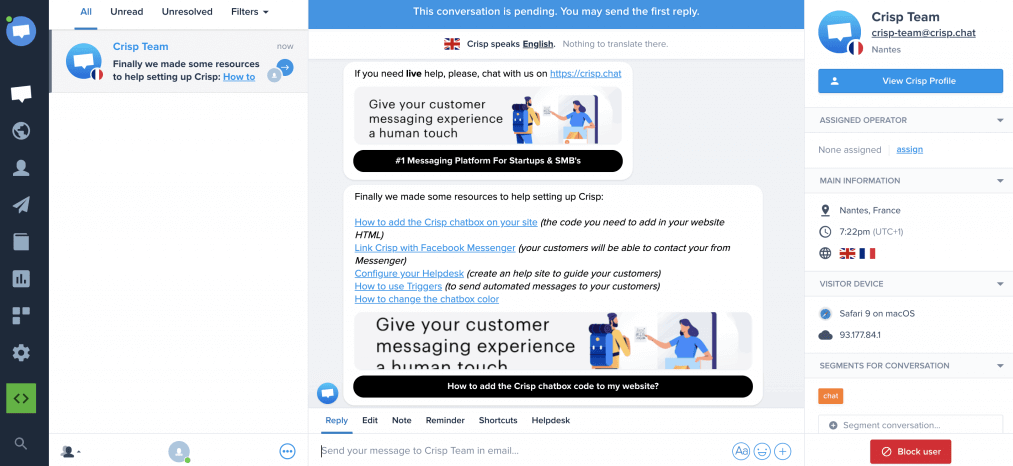 Crisp is often listed among the best live chat solutions. The platform guarantees its users a high-quality service with a shared inbox. 
With Crisp, you can make audio and video calls without involving third-parties software. 
It is perfect for startups and small businesses.
Crisp live chat features
The main features of their live chat service:
Shared inbox that brings together conversations from emails, social media, and messengers;
Automated triggered messages;
CRM system integration;
Files sharing;
Co-browsing which allows you to visit pages together with a customer;
Real-time chat translation in more than 100 languages.
In addition to a live chat, you can set up the following tools:
Chatbot;
Knowledge base;
CrispyBird game for visitors' retention while you're offline.
Pricing
Crisp offers a forever-free plan. With it, you get access to a basic live chat for two agents. Here's Crisp's full pricing: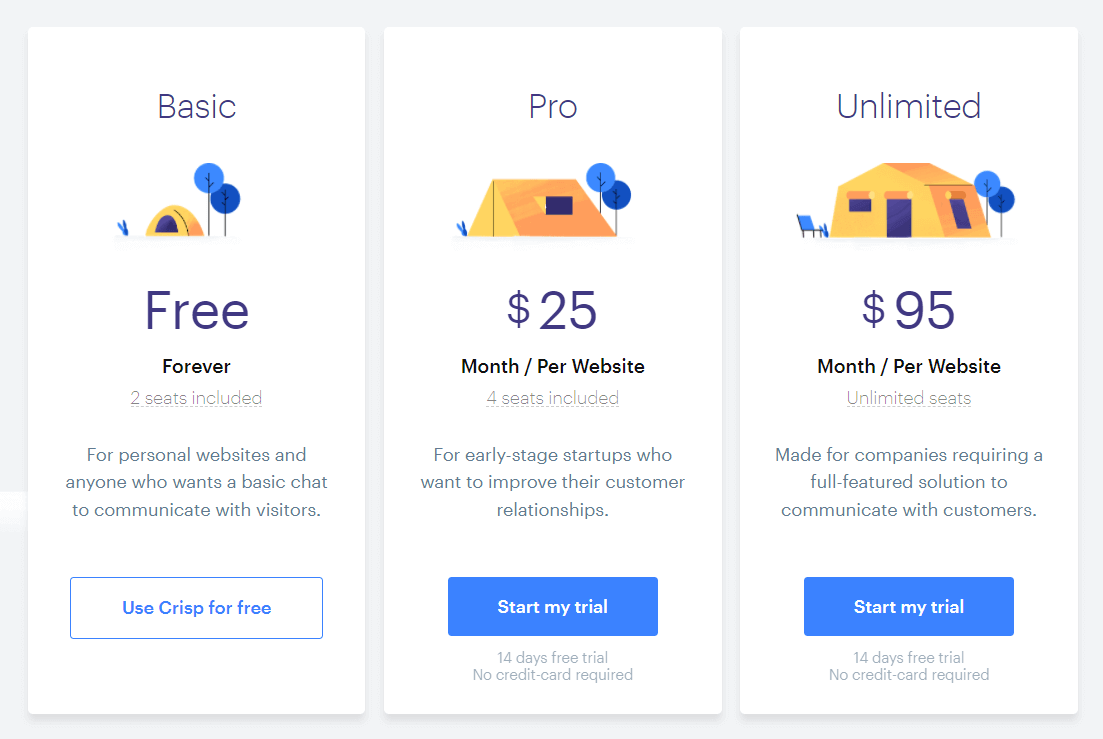 You get 14 days of free trial to check if this software suits your needs.
Usedesk

Usedesk is a 100% customer support platform. It's aimed at supporting work automation, agents training, and business growth facilitation.
It suits businesses of all sizes that specialize in eCommerce and customer support.
Usedesk live chat features
With Usedesk website chat service, you get access to:
One inbox for emails, messengers, and social media;
Quick replies;
Automated requests routing;
Triggers for requests check and other actions;
Knowledge base integration;
Mobile app. 
Pricing
The price starts at $50/month. It depends on the number of agents, but the minimal number of agents you have to connect is three.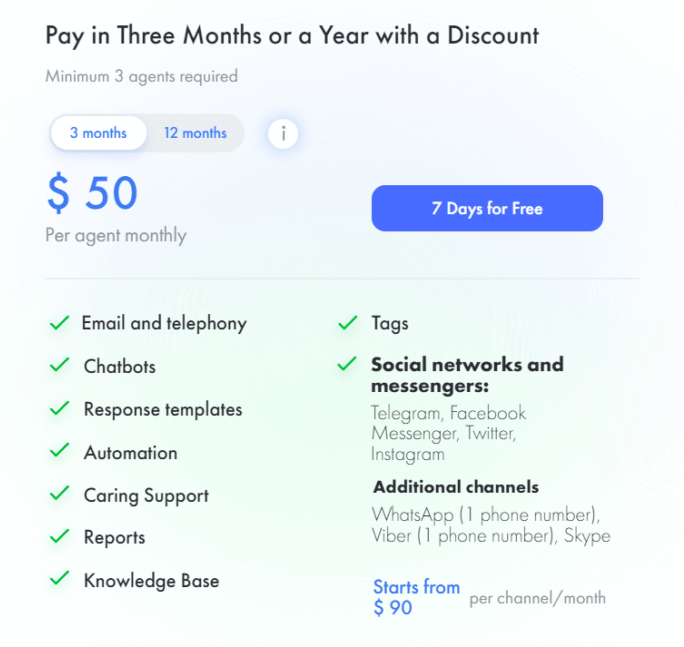 You'll have 7 days to test Usedesk's software. 
Tawk.to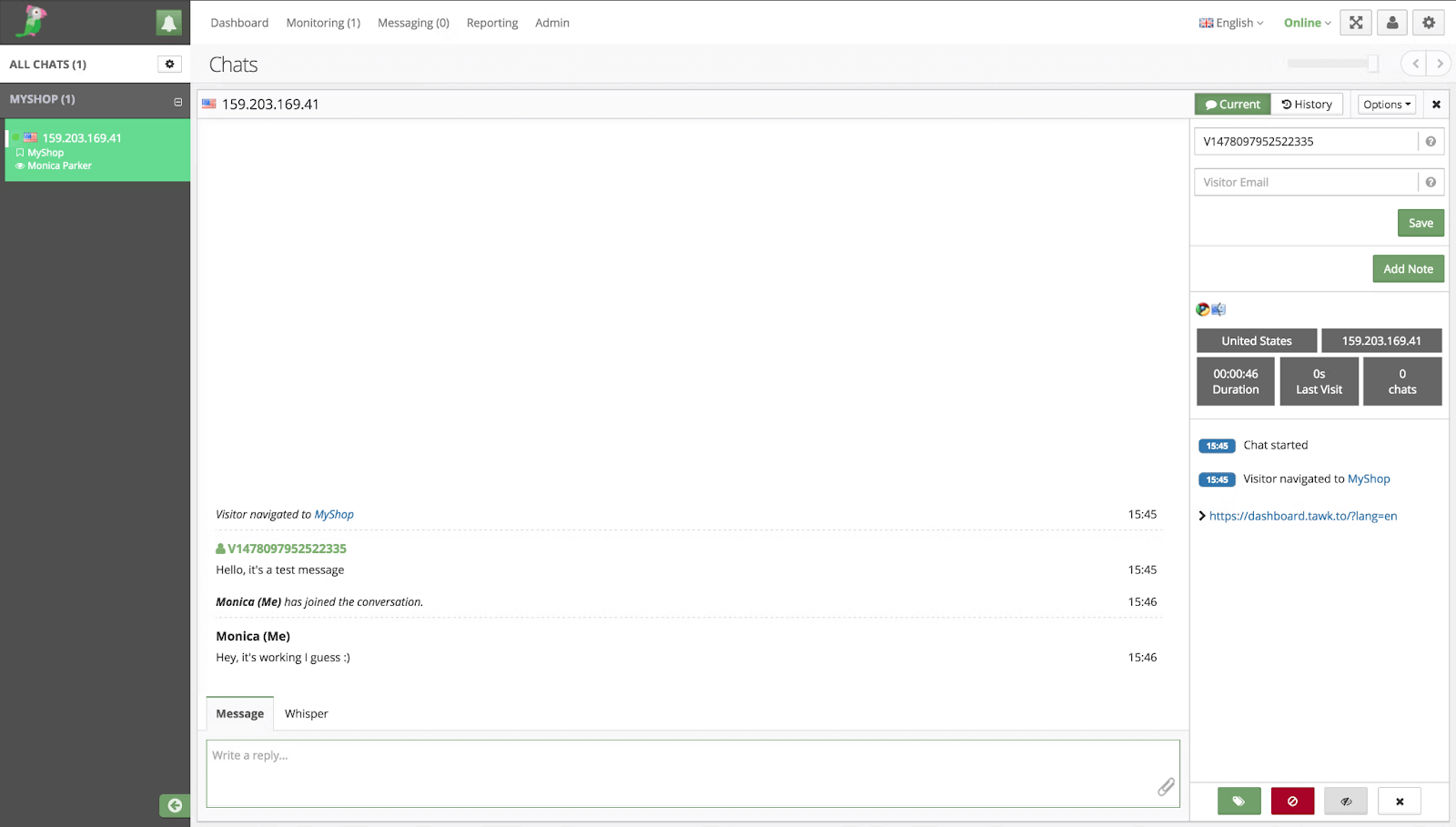 Tawk.to offers free live chat software and a knowledge base. You'll find all the necessary features here, but the chat customization is limited. Besides, Tawk offers to outsource support agents.
The software is perfect for startups and small businesses that look for ways to enhance their support work.
Tawk.to live chat features
Tawk offers their users:
Customizable chat pages for businesses that don't have their own websites;
Saved replies;
Triggered chat messages;
Visitors tracking;
Help desk features like tags, departments, and visitor info;
Knowledge base.
Tawk's live chat system is forever free.
Check out our review of the best customer service chats. Learn more about their features, setups, advantages, and disadvantages. 
Top live chats for sales
Dashly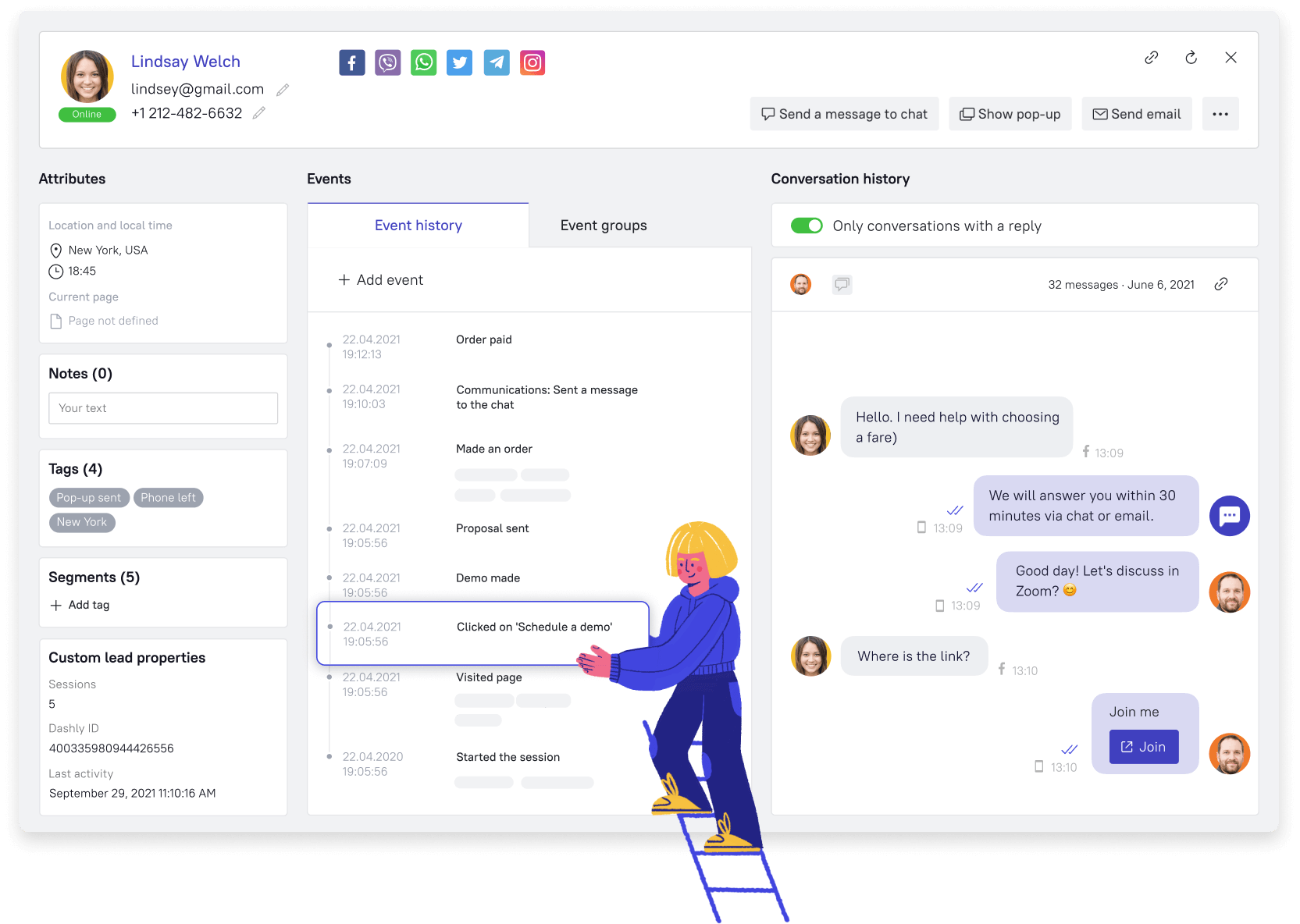 Dashly is a conversational marketing platform for sales increase with the same traffic. With Dashly tools, your team will provide in-time conversation throughout the entire customer journey. Unlimited seats make Dashly software available for any kind and size of business. 
Dashly live chat features
With Dashly software, you get:
30+ integrations;
Triggered chat messages to guarantee proactive communication;
Quick replies for FAQ;
Agents rating and conversations analytics;
Notes in the live chat box, so any agents could step into a conversation without losing context;
Chat history and rich customer data for communication personalization; 
Zoom integration for audio and video calls;
Conversation allocation;
Mobile app.
To boost your live chat efficiency, Dashly offers:
Pricing
Pricing starts at $39/month without any limits on agent seats. Learn more about pricing.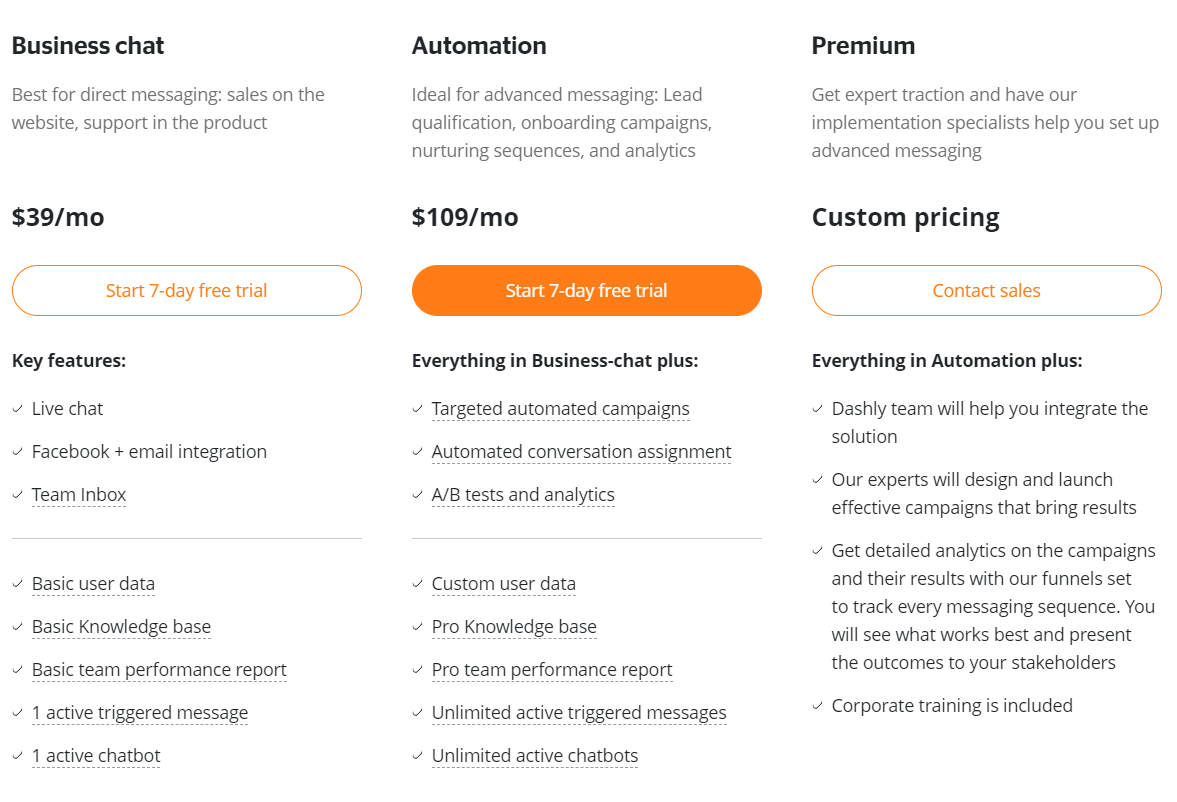 Dashly offers 7 days of a free trial.
Drift
Drift is a revenue acceleration platform. They offer tools to shorten your sales cycle with in-time customer communication. They aim at prospects' engagement with a brand, and conversions increase.
Drift is suitable for any kind of small and medium-sized business and enterprises.
Drift live chat features
Among live chat features, the platform offers are:
Automated chat routing;
Triggered chat messages;
Saved replies;
Rating for customers' feedback;
Chat scoring and conversation analytics;
Chat notes;
User behavior tracking;
Opportunity to select target users and get notifications the moment they enter your website.
In addition to a live chat, you can get:
Emailing platform;
Chatbot;
Video chat.
Pricing
Drift offers a free plan for small businesses, but you have to fit certain criteria to use its services off-charge.
For bigger businesses, Drift offers a system of customer pricing.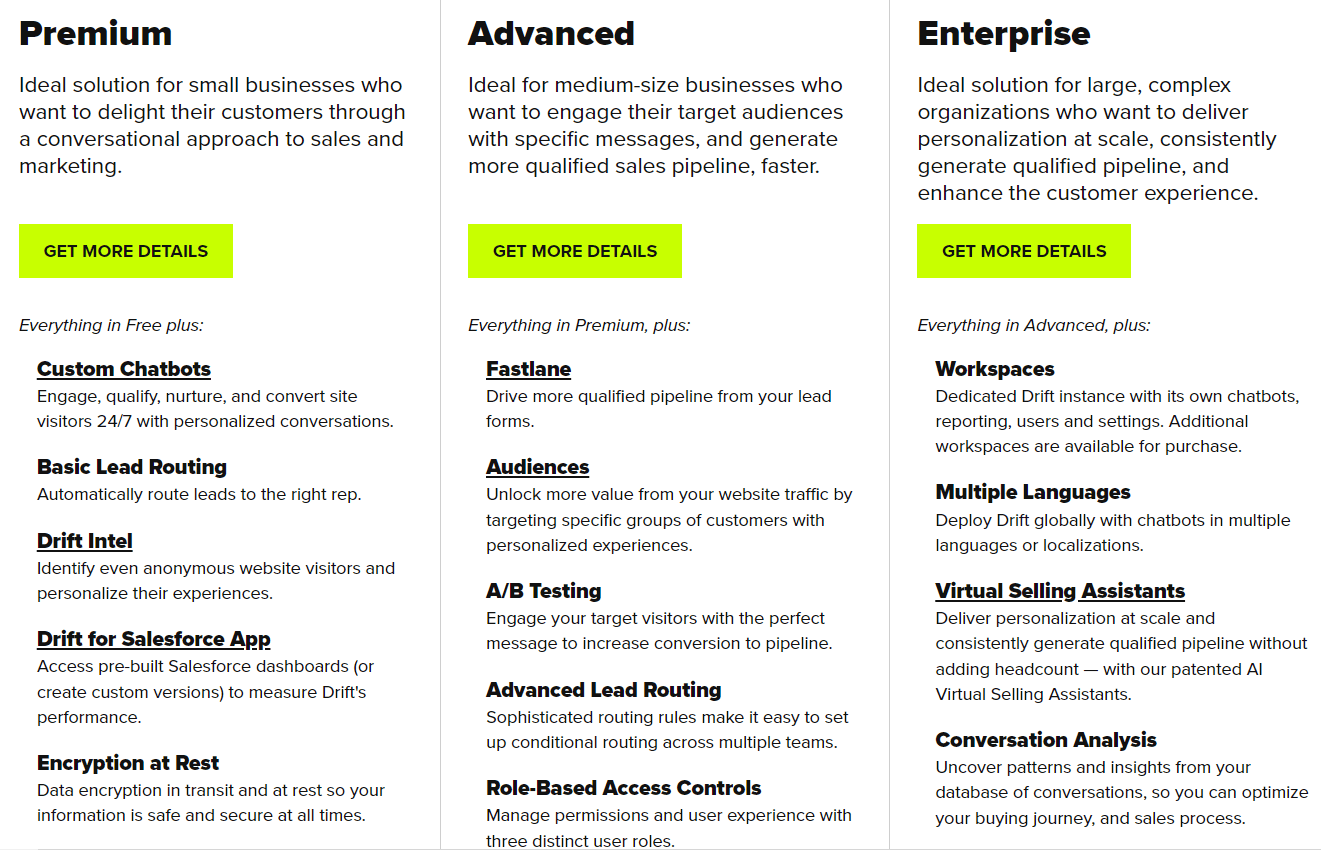 No trial is available, but you can test basic features in the free plan.
Olark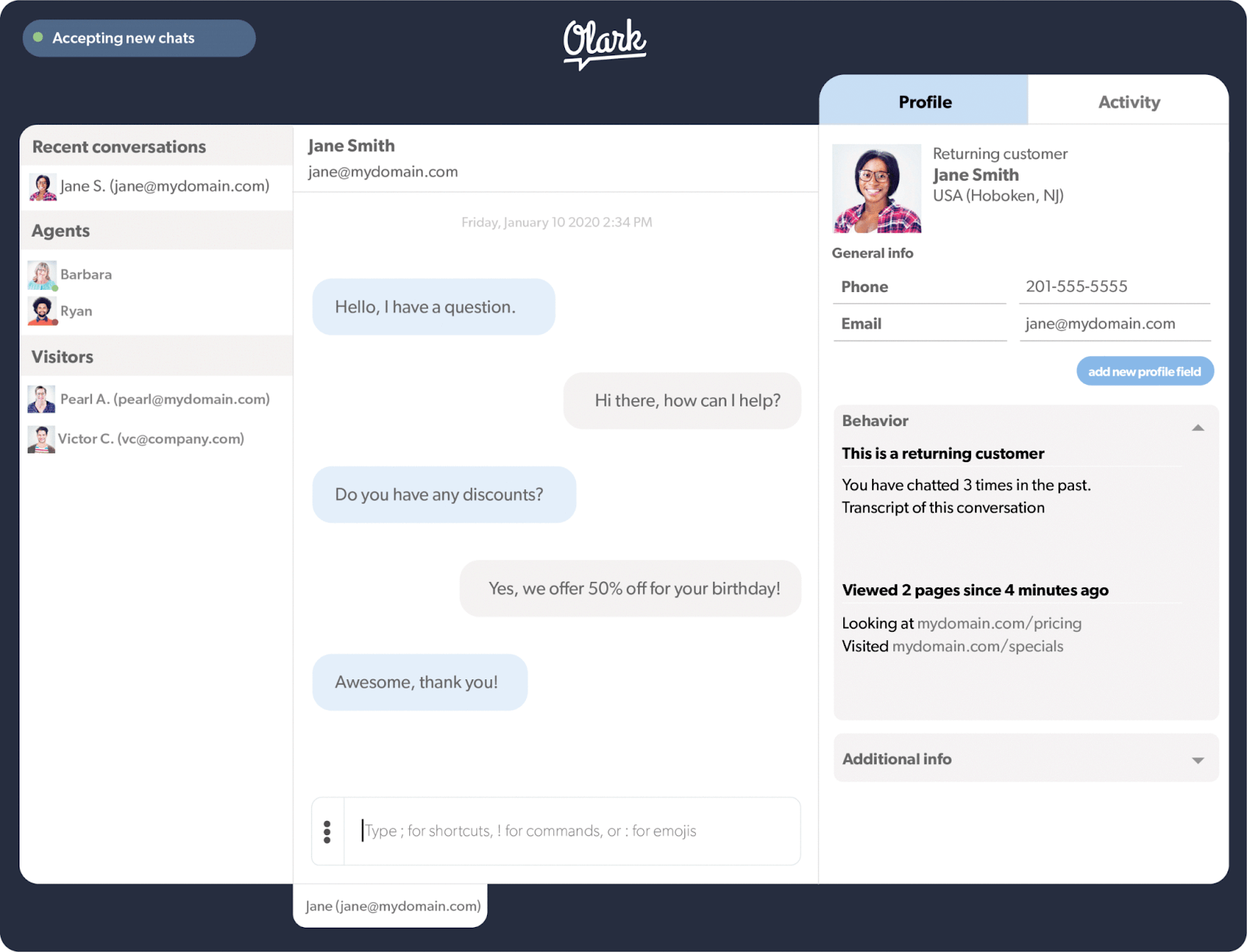 Olark is a platform with the most straightforward software for customer communication and sales increase. Olark suits any kind of small and medium-sized business.
Olark live chat features
Among their live chat features are:
Chat routing;
Triggered chat messages;
Saved replies;
Lead capture forms;
Real-time reports;
Access to chat history of all conversations;
Co-browsing that allows you to load website pages together with your customer;
30 integrations;
Real-time chat translation into over 100 languages
Pricing
Olark pricing starts at $29/month per agent. Each additional feature costs $29-99/month.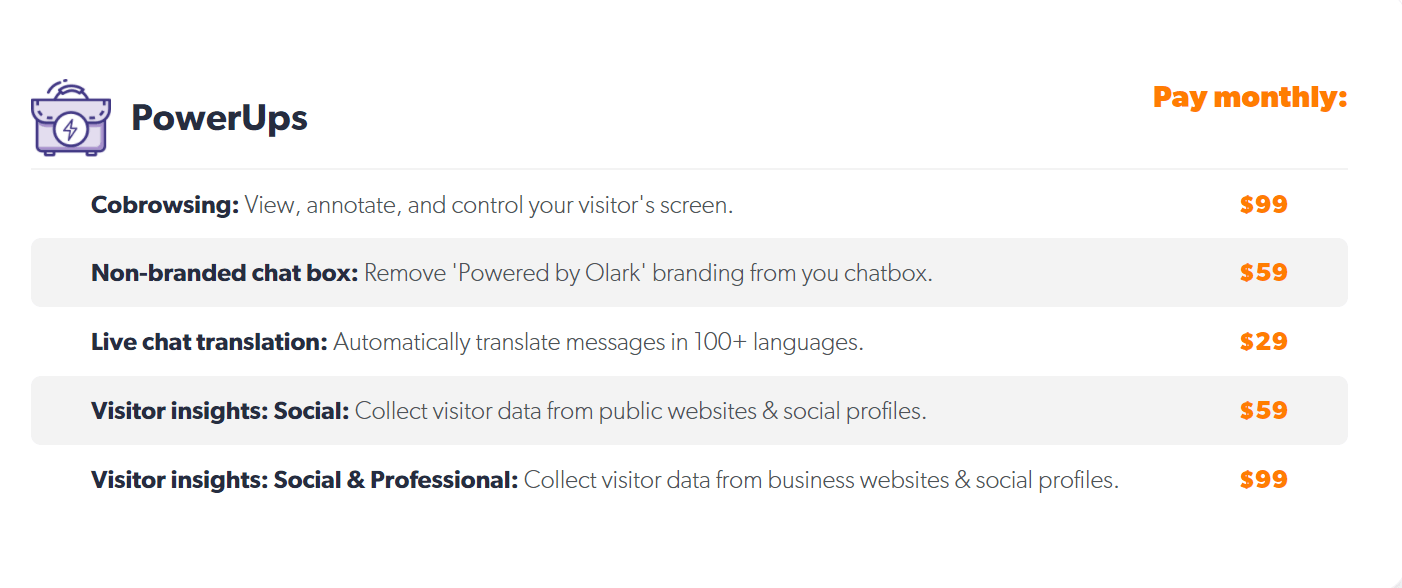 Olark offers a 14-day trial period. 
Intercom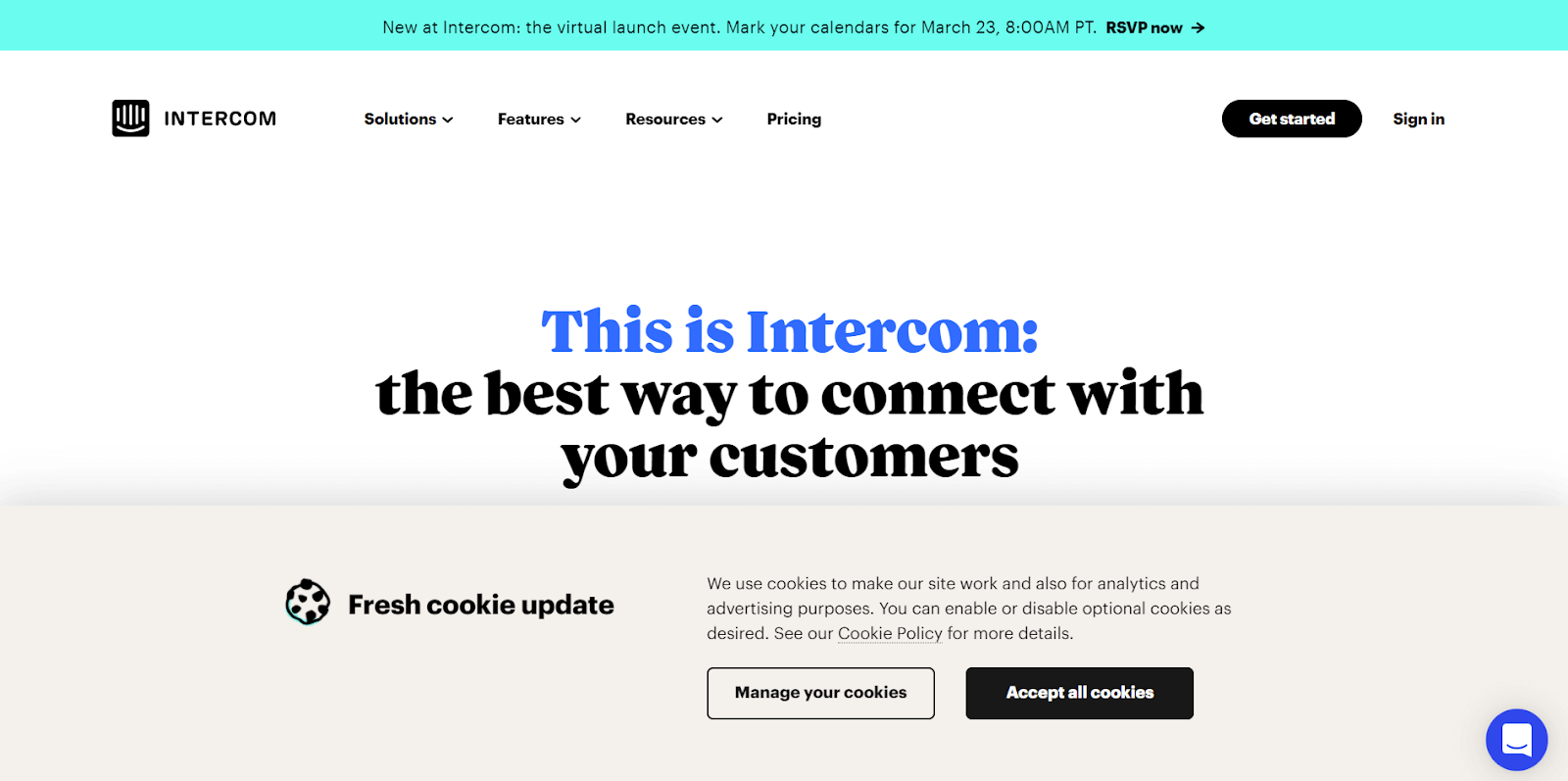 Intercom is a live chat platform that combines support requests streamline and a human approach. It provides it via a chatbot and live chat.
Intercom mostly suits big enterprises that look for an omnichannel solution to facilitate their sales team work.
Intercom live chat features
Within their live chat software, Intercom offers:
One inbox to bring together your conversations in different channels;
Automated chat routing;
Quick replies;
Triggered chat messages;
Co-browsing to visit web pages together with a user;
A/B testing;
Surveys and reviews;
User data tracking;
Lead forms;
Help articles in the chat widget;
Chatbot;
Mobile app.
Pricing
Pricing starts at $59/month per user. The pricing in Intercom highly depends on the number of agents and contacts.

Intercom offers 14 days of a free trial, but you'll need to register your credit card.
Tidio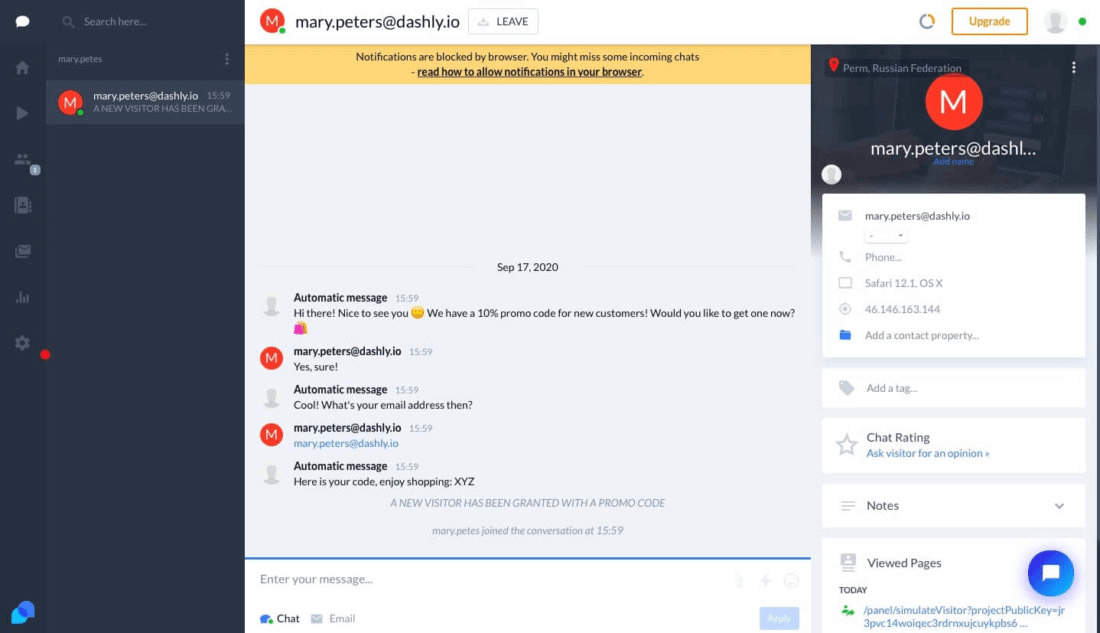 Tidio is a combination of a live chat and a chatbot for your sales boost. It is suitable for businesses of any size and kind.
Tidio live chat features
One inbox;
Peeking at what a visitor is typing;
Agents notes.
With Tidio live chat software you get:
Integrations with email and messengers;
New visitors tracking;
Email marketing;
Chatbot;
Desktop and mobile apps.
Pricing
Tidio offers a forever-free plan with limited functionality.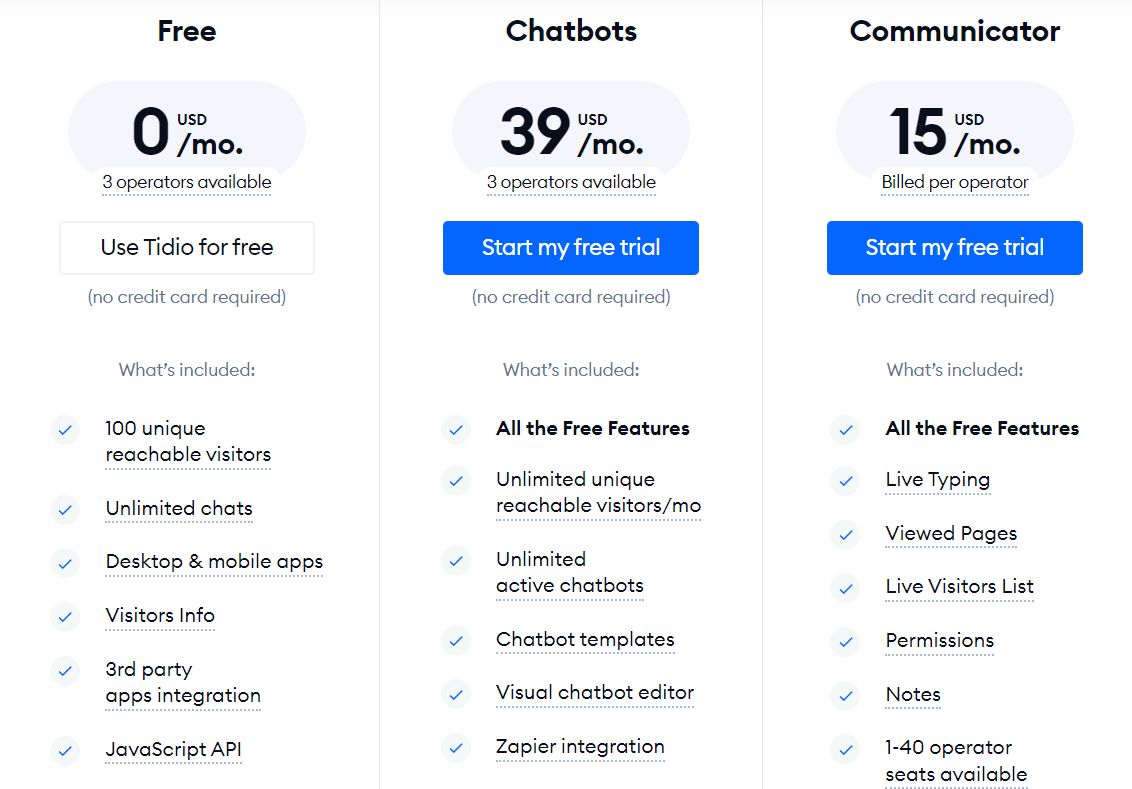 There's a 7-day free trial period.
Live chat is one a list of must-have tools for sales and e-Commerce in particular. We prepared an exhaustive list of reasons why you should use a live chat for online stores. 
Best online chat apps
To be able to keep in touch with customers even on the go, you'll need a mobile app. Let's take a look at top live chat apps that offer services as good as desktop versions.
Dashly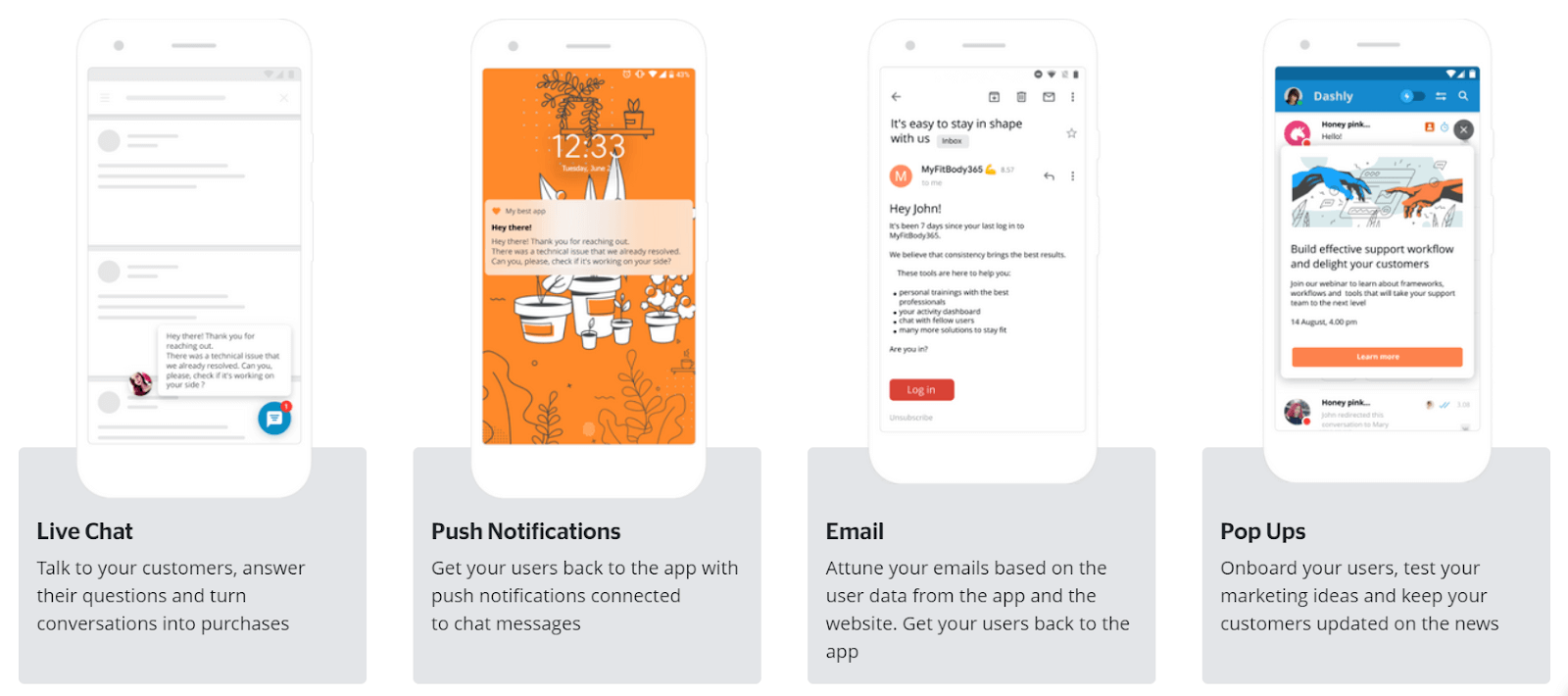 Dashly offers mobile apps with a live chat for Windows, iOS, and Android. With the Dashly app, you won't miss a single message from your customers, even when you're away from your office. 
Dashly app live chat features
The app offers:
One common inbox for all conversations;
Lead cards to stay in context with customer data and conversation history;
Saved replies for FAQ to save time and let customers find answers to their questions themselves;
Agents notes right in a live chat box so your whole team could be in the context of the conversation;
Files sharing;
Easy customization;
Trigger messages in the chat;
Website behavior data;
Push notifications, so you never miss out on anything important.
Besides, Dashly allows you to switch between the web version and the mobile one easily. Conversation history is synced in all browsers and the app.
Dashly also offers integration of a live chat and push notifications into your mobile app.
Note: to use Dashly mobile app, you need to sign up to Dashly and install the script on your website. 
LiveChat
LiveChat also offers a mobile app available for Android and iOS. You can use a live chat on a few devices at the same time. Start a conversation on a desktop version of the app, and then continue chatting via the mobile version.
LiveChat app live chat features
With LiveChat mobile app, you get:
One inbox for all the conversations, so you could chat with several customers simultaneously;
Background mode that keeps engaging customers in the conversation even when you're busy with your daily routine;
Push notification so you don't miss any messages;
Supervision function that allows you to peek at the conversations your agents have and help them out with advice.
Zendesk
Zendesk provides its users with convenient mobile live chat software. It allows them to engage their audience in the conversation even when agents are on the move.
Zendesk app live chat features
Within their software, you get access to:
Proactive chat to engage customers in the conversation first;
Pre-chat forms that will help you gather all the necessary information about your customers beforehand and prioritize chats;
User behavior tracking to see the pages a person visits and offer in-time help if they struggle;
Chat rating to collect feedback and evaluate your agents' work.
HelpCrunch
HelpCrunch offers mobile apps for iOS and Android that are aimed at providing top customer experience even on the go.
HelpCrunch app live chat features
With the HelpCrunch app you can:
Start new chats, change their status, and close them;
Send replies and email follow-ups;
Set up app notifications or snooze them in your non-working hours;
Easily switch between the desktop app and its mobile version.
You can also integrate the HelpCrunch live chat widget into your mobile app.
Zoho SalesIQ
Zoho SalesIQ also has a web live chat version for iOS and Android. 
Zoho app live chat features
With their app, you can:
Monitor your website traffic in real-time and get notifications when a person visits your website;
Set up saved responses to deal with FAQ;
Get access to customer's data available and check their activity on your website;
Set up notifications of chats and calls;
Give calls and enable your visitors to leave voicemails;
Stay in touch with your team via internal agents chat.
Live chat best practices
We want to share with you some examples of using a live chat to its full potential.
Use a live chat to start proactive communication with your customers
A live chat can start helping you the moment a user enters your website. Set up triggered chat messages to engage visitors in the conversation straightaway. You can set up a short and friendly message to let a customer know you're here for them:
"Hi, this is Ann! What can I help you with?"
"Hey! If you have any questions, let me know and we'll figure it out together."
"Hi, it's Ann here. Is there anything I could do to help you?"
And if a user responds to the message, they immediately get assigned to a qualified agent. Automated chat routing might come in handy here.
Provide personalized communication with a human face
The time when your professionalism was determined by the company's restrained and impersonal tone has gone. Modern customers are looking forward to talking to real people with real faces. 
A live chat is an opportunity to give your audience what they want. Show your agents' real faces in chats. Add emojis. Enable images and GIFs sharing. You can also personalize conversations with audio/video calls. Check if the live chat software you chose offers Zoom integration, or provides calls without third-parties involvement.
All these features help establish trustful relationships and gain audience loyalty.
Ask for customers feedback after you finished chatting with them
More than 50% of customers believe that their feedback never reaches someone who can actually act on it. It's up to you to prove them wrong. 
Feedback is essential both for you and your audience. It's an opportunity for them to be heard. For you, it's a chance to enhance your customer communication strategy. Pay attention to drawbacks customers point out repeatedly and find a way to solve the issues.
You can set up conversation ratings and feedback forms a customer can fill in after a conversation is over. Show your audience that you care.
Guarantee 24/7 support
Around 70% of customers claim that a short response time drastically improves their experience. But time zones could be quite tricky. How to respond to queries quickly 24/7? There are a few solutions. 
Automated replies. They won't do all the job for you, but they can help retain customers. If a customer texted you during non-working hours, automated replies can gather their contact so your agent could text them in the morning.
Another effective solution is to integrate a chatbot into your live chat. Its functionality is much bigger. You can set it up to:
respond to customers' messages while your team is asleep;
deal with FAQ;
qualify leads to provide personalized communication in the future.
So while comparing different services, pay attention to those that offer chatbots in addition to a live chat.
Eventually, it doesn't matter which tools you choose. Just make sure your customers don't feel left out.
Encourage your clients to finish their purchase
If you struggle with the problem of abandoned carts, a live chat might become your solution. 
If a customer didn't make up their mind yet, an agent stepping into the conversation might play a key part in their decision-making. 
Go through the whole purchase process with your customer: answer their questions, offer help when they have doubts. Almost 90% of customers are ready to make a second purchase after their first good customer service experience.
Segment the audience and set triggers
We've already talked about the importance of proactive communication. But effective proactive communication also requires careful targeting. 
Audience segmentation is crucial because each group of customers has its own pain points. And you have to adapt your communication depending on the pain points. 
You can set up triggers for:
Doubters — people hesitant to buy and waiting for your encouragement and help;
Customers that came back — who enjoyed your product and services the first time and expect the same attitude;
Website visitors from certain regions — maybe you have a special offer for them or delivery details need special attention;
Visitors of the FAQ sections. These people may need your help or a link to an article from your knowledge base.
Reduce your support team workload
Don't miss out on live chat analytics. It will help you understand the busiest hours and rearrange support team work. 
No more queues to one agent, while the others have a break. Engage all your agents in the "hottest" hour to guarantee quick and effective support. Automated chat routing will help you connect customers to free agents even quicker.
We wrote an article on 20 live chat best practices that will help you enhance the work of the tool. Check it out!
How to check your live chat efficiency?
Live chat is a useful tool and is a must for website visitors' support. But it's very important to control the figures to make sure you and your team take the best out of the tools you have.
Monitoring your live chat work, keep in mind the following metrics.
Agents' response speed
In short, the less time it takes your agent to respond, the better.
If it takes you up to 10 seconds to answer the first message in a chat, it's great. Make sure your first interaction with a customer is at least a bit personalized.
Solution:
Don't say: "Hello! We got your request. Please, wait."
Say: "Hi, Mary! Give me a moment to look through our catalogue and pick the best shoes for you!"
And even if an issue takes some time to resolve, your customer shouldn't think you forgot about them. Automated replies might help you with visitor retention. 
You can also use automated replies to provide support during your non-working hours. The replies will let your customers know that no agents are available and collect their contact to respond in the morning. 
If you found out that your agents' response time was too long, try to find the reason first. Maybe their workload is too high, or complex issues take too much time to resolve. Try to find a solution, for example, chat routing.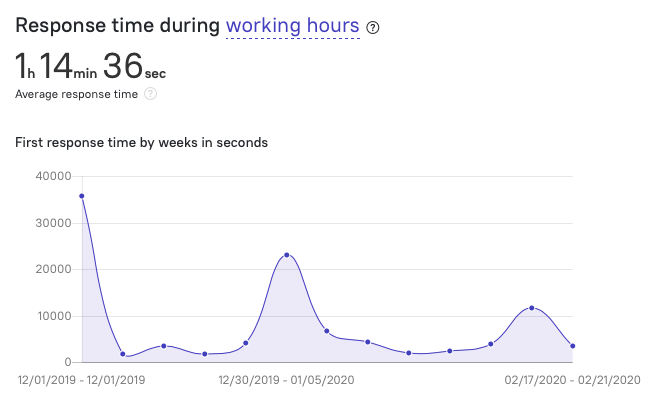 The number of new questions
If users ask a lot of new questions, it might mean they're interested in your product or services. They want to continue the conversation, so your live chat works well. But if a lot of users ask the same questions, it might mean that some information on your website is unclear or confusing. 
Solution: Pay attention to both the number of questions and their nature. Maybe some information or functions need reconsideration. 
Check the daily distribution of questions. You may notice that someday, product release day, or just every last Friday of the month, brings more questions. Try to identify the reasons and look for ways to alleviate your support team workload. They might not handle the questions flow well. This will consequently ruin your statistics and even your reputation among your audience.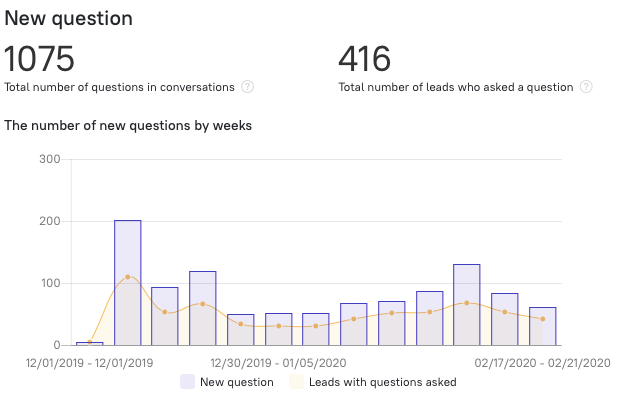 The number of users asking questions
The fewer, the better.
Most of the time, when a user contacts support, they have one particular question. One problem your agent needs to solve. This situation is the best as it's easy to work with and easy for you to evaluate. 
However, one user can ask an unlimited number of questions. Therefore, the number of opened questions will always be bigger than the number of users who ask those questions. 
But if you open the statistics and see a clear disbalance: 50 questions from just two users, it requires your attention. Can these users be bots, overloading your support team? 
Look throughout the chats and decide whether those requests are really worth the precious time of your agents. There might be real users who need your help now. 
The number of issues solved
The more, the better.
This metric is often expressed as a resolution coefficient, the ratio of resolved questions to the overall number of open queries.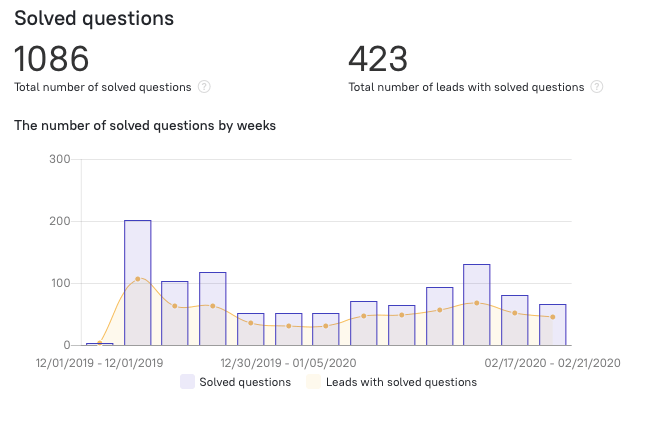 Solution: You can analyze the number of solved issues by day or by week. If the number of open questions is equal to or close to the number of resolved ones, it's great. But if the gap is too wide, you should find the reason.
If there are too many questions and your support team simply can't handle the load, you might consider hiring new staff.
If you see repetitive topics in unsolved questions, you could organize extra training on bottlenecks.
The number of users whose questions were resolved
The more, the better.
This metric shows how many people are satisfied with your support team service. This number is extremely important. Up to 90% of customers from all over the world name issue resolution as one of their key concerns. 
The number of happy users is often considered concerning the overall number of resolved customer requests. If the metrics are too different, there might be something wrong. 
The users might ask too many questions as they work. Or your agents might close the conversation before making sure a customer has no questions left. 
Hourly workload
Track your support teamwork by hours. This will help you find ways to increase their productivity. If you notice a high flow of questions at a certain hour, change the operating mode and maximize the team's efforts at this particular hour. 
Our main advice here: always distribute the workload on the "hottest" hours.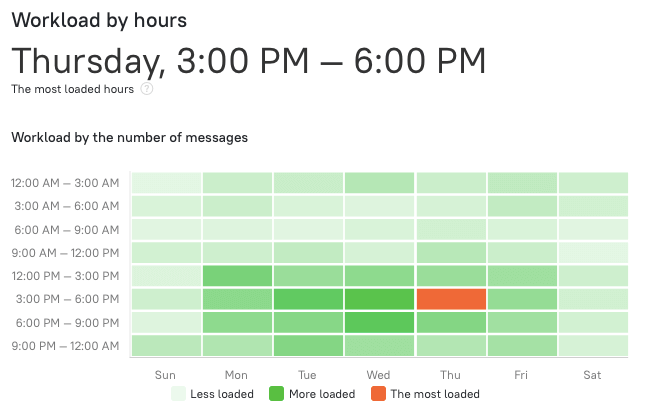 Agents statistics
In addition to overall statistics, it's important to keep track of each team member's performance.
You should pay attention to
The agent's response speed;
Issues resolved by the agents;
Issues the agent is involved in;
The agent's average score shows users' rating of conversations with the agent.
We highly recommend you evaluate your live chat efficiency regularly. To help you with it, we brought together all the key live chat metrics you should keep in mind.
So is there the best live chat software?
In short, no. There's no universal live chat software whose services solve all your problems and suits any type of business. 
The choice will depend on the tasks you want a live chat widget to take. And it's not all. Proper setup and regular checkups of key metrics are also crucial to using your live chat to its full potential.
If you're not sure which solution to choose, sign up for a consultation with our expert. 👇
FAQ
What is live chat software?
Live chat is a widget you set up on all or particular pages of your website. Chat is one of the main tools for customer communication on your website. If visitors to your website have any questions, you can help them via live chat.
Apart from improving your support work, a live chat can help you in the process of customer engagement, and lead capturing and qualifying.
How can I add a live chat to my website?
Various platforms offer website chat software. Most platforms offer a live chat code that you'll need to add to your website script. The installation doesn't take much time and often doesn't require the developers' involvement. 
You can learn more about platforms that offer live chat widgets with our best live chat software overview.
How to train a live chat agent?
If you expand your customer support team, agents need to delve into work quickly. Customer requests don't wait. The onboarding process should be quick and effective.
Organize the theory part properly. Don't overwhelm your new agent with loads of manuals and instructions. Give them time to read your guides and ask questions. The more questions they have, the faster they'll engage in the working process. Set a checkpoint when you'll test new agents' knowledge. 
More practice. Give your agents some cases that you already solved and let them go through the entire query. Their main goal is to leave a customer satisfied. Ask your agents to keep notes of each case, so you could read and discuss what's been done right and what could be improved. Don't forget to get the agent access to your customer knowledge base and internal knowledge base.
Give your new agent a real case to work on. Assign them a real customer query and let them go through the whole customer path together with a client. 
Don't forget to warn your customer it's a new employee they're working with.
Learn more about methods to train live chat agents. 
How can a live chat influence page ranking in search engines and load speed?
When you insert a live chat widget code into your website script, it makes it "heavier". So sometimes a page with a live chat widget can take a bit more time to load. 
Speed is crucial for customer support. But it also plays an important part in your website ranking. The longer it takes your page to load, the lower Google ranks it.
So if your widget slows down the work of your website, you should consider contacting the live chat developers or looking for alternatives.
Read more about the way Google ranges the pages and learn how live chats influence page ranking and loading speed.