Live chats overview — which one to choose?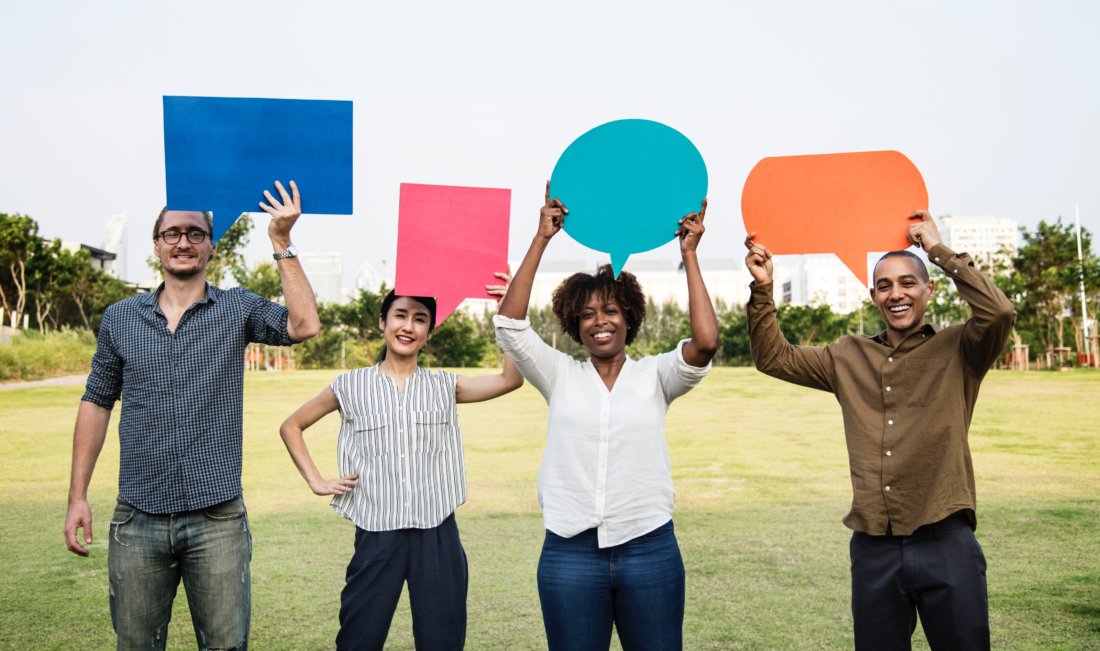 Those bubbles in the bottom right corner of the websites are super popular now. They're just very useful! If your visitors have a question, they don't need to look for your email address or take a phone – just open a live chat, and the conversation begins.
Live chat is a great support tool that allows you to be there for your visitors when they need help. It also improves your conversion into registration and into purchase. Moreover, chats can be great tools for lead generation and a part of onboarding. But how to choose the one and only among a great number of live chats? We'll help you.  
We've looked at different live chat providers and are now ready to give you a full description of 6 services:
Intercom,

Crisp,

Dashly,

Drift,

Olark,

Kayako.
Intercom offers instruments to grow business through better relationships – for this purpose they have Acquire, Engage and Support products which make an integral system all together.
Acquire – instruments for lead generation and communication with customers (live chat and chat bots),

Engage – instruments for onboarding and activation (targeted campaigns),

Support – instruments for higher customer satisfaction (help desk).
Intercom offers you to use these solutions separately or you can pay for the whole platform.  
Setting up the platform won't take much time – you just need to paste Intercom script into the head section of your website. This will be enough for basic data collection, to communicate in chat and to launch triggered campaigns. Developer's documentation helps with advanced data collection.
As you can see, Intercom gives a lot of opportunities – let's talk more about them, but keep focusing on its support solution.
After you install the script, you get an access to the admin panel called The Intercom Platform. There you'll see Acquire, Engage and Support product sets. Depending on the product set you've chosen you will get an access to sending triggered messages, chatting with visitors, analytics for operators or creating a help center. There's visitor segmentation available based on visitors' events and properties, A/B tests and other useful features.
Because visitors often ask the same questions, Intercom lets you create Help Center. Enrich it with all the needed information that may reduce the burden on operators. Visitors will be able to solve their problems themselves without asking in chat.
Intercom chat helps with lead generation by offering a lead qualification bot. You just come up with the information you need and it will be collected for you by a bot operator.
In Intercom you can choose what you want to pay for and go for Acquire, Engage or Support features only, so you'll need to take your time choosing the best plan. Each product has 2 basic and one premium plan inside.
The cheapest support plan starts from $87 and includes chat and email conversations, help center and some integrations. Automation and more integrations are on the next plan starting from $127 per month. Price for all three products together starts from $136 per month if you want to have essential integrations, targeted messages, help center and omnichannel communications.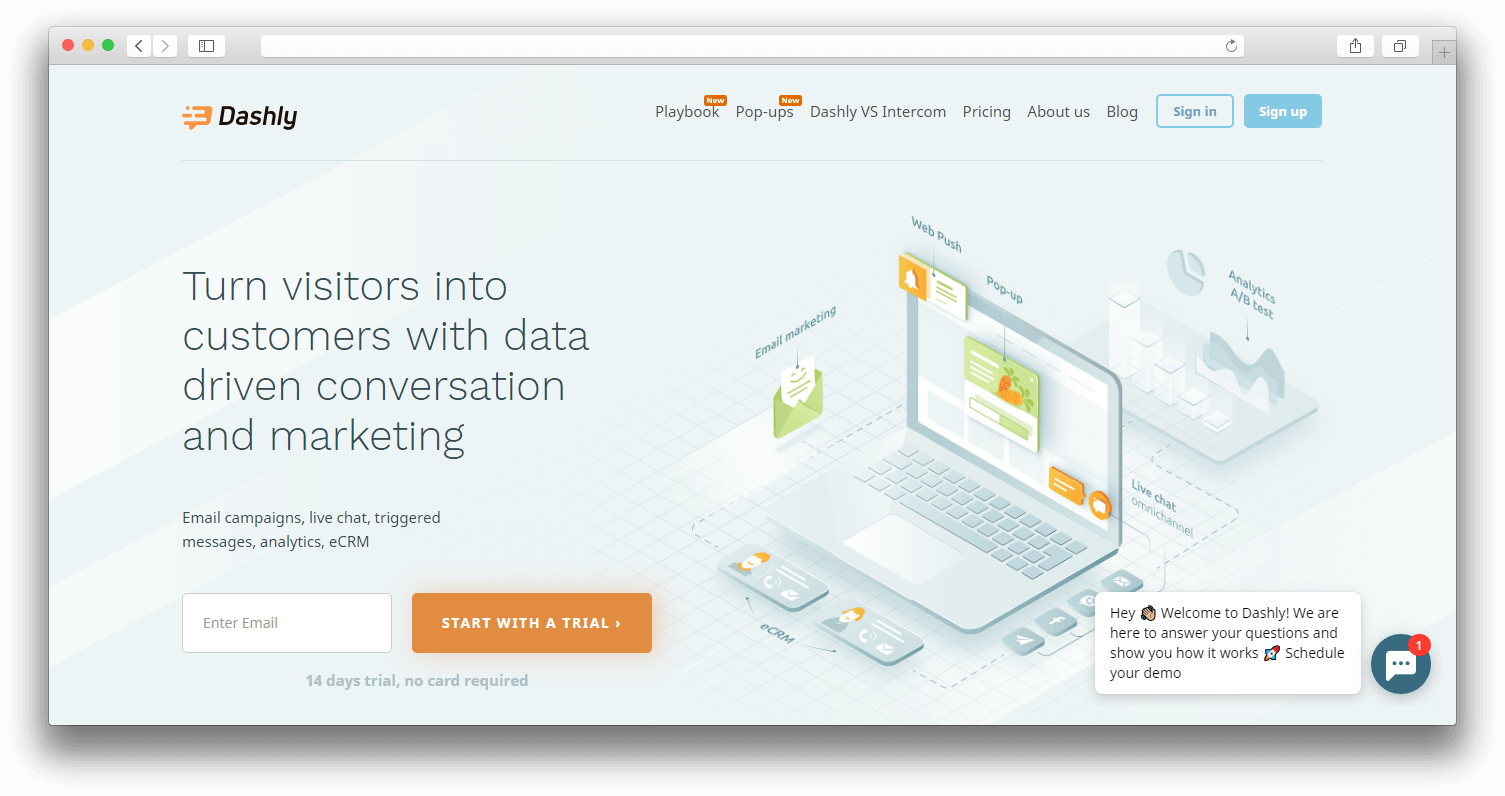 Dashly is a customer conversational and marketing platform for lead generation, user activation, retention and increase of sales. Integration with several messengers and social networks allows to talk to your visitors and help them in the most convenient channel. In the admin panel operators can easily manage a lot of conversations and assign them to different specialists. Dashly live chat can be adapted to your website design (icon, position on the website and mobile version of it, welcome messages, etc.) and is accompanied by instruments for marketing automation.
Dashly installation doesn't differ much from what we see in other platforms. You need to install the script into the head element of a website. This script will collect basic data about visitors and their actions. For deeper personalization this script may be enhanced with basic tracking options in Dashly interface or Advanced tracking via API or Webhooks. The Knowledge base and developer's documentation will help with that. Moreover, the platform has two-way integrations with analytics, CMS and CRM services.
All conversations are stored in the Inbox section, messages are automatically distributed by channels depending on where they came from.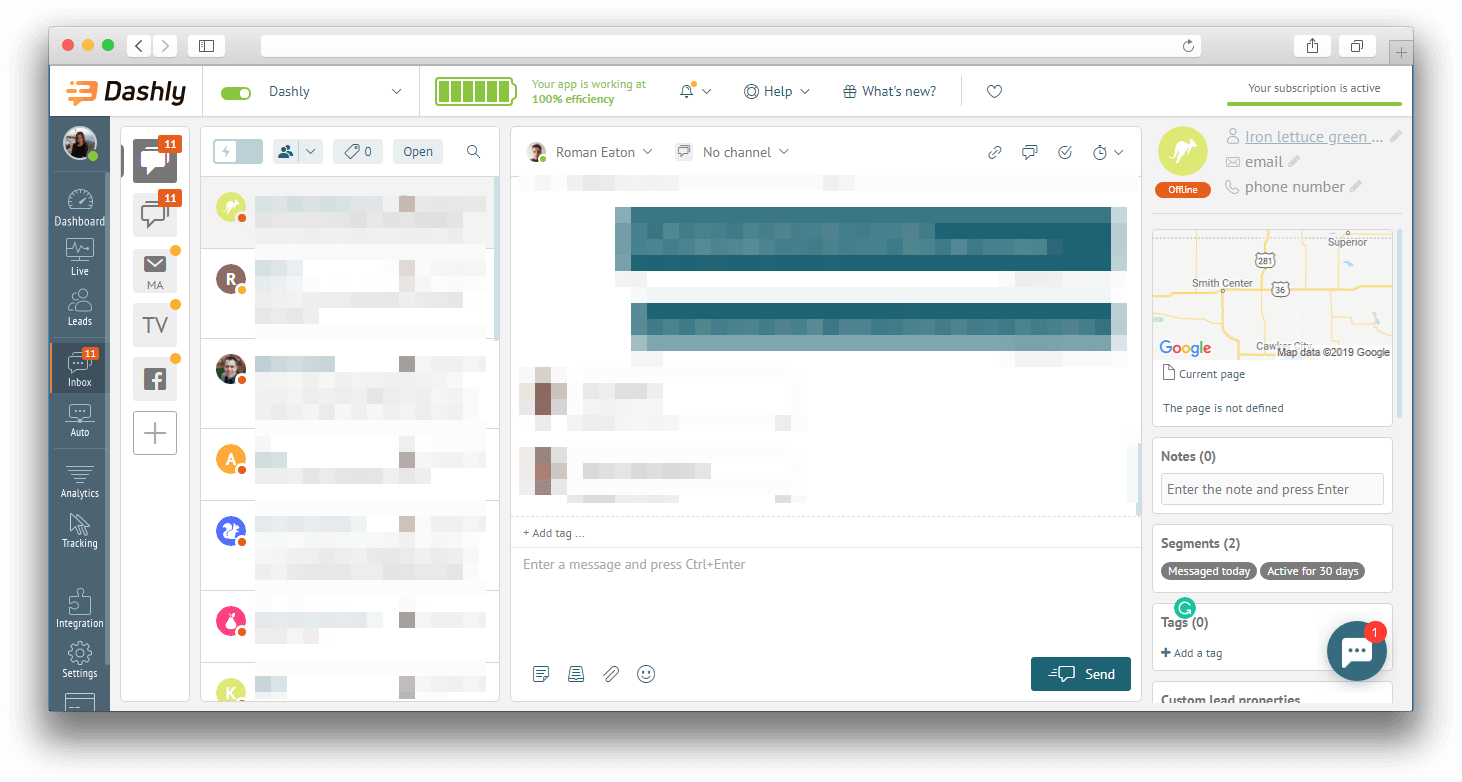 Along with omnichannel communication, Dashly provides operators with instruments for automation:
email marketing,

chat messages,

pop-ups.
All types of messages can be sent manually and automatically, by triggers. Auto message configuration doesn't take much time, but you can realize a lot of different scenarios, combining all Dashly instruments.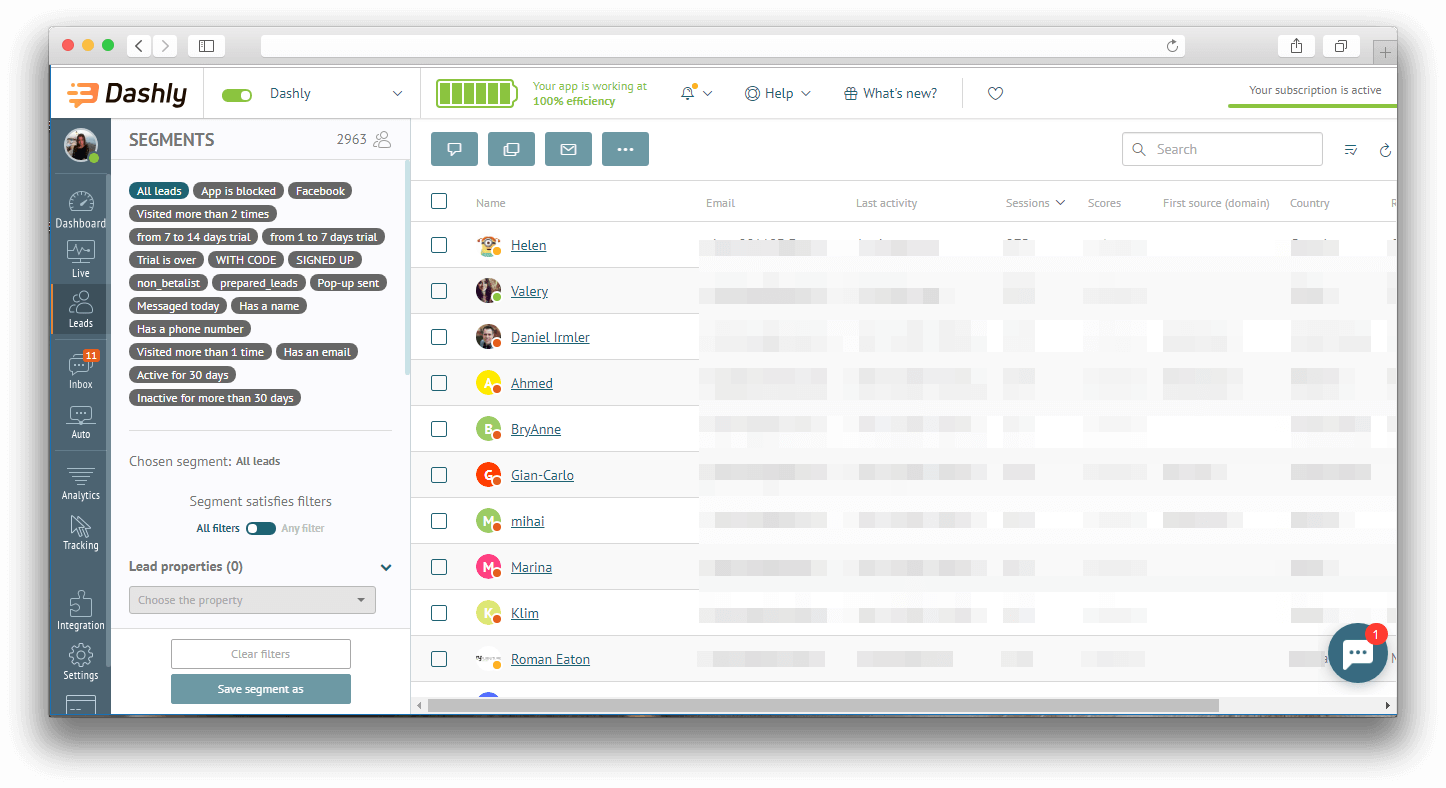 Operators can work as a team, taking part in one conversation, leaving notes to each other and tagging leads. If needed, you can get a detailed support team statistics: workload by hours, average conversation length and speed of response, etc. In addition to conversation analytics, Dashly shows you event reports, allows to create funnels and run A/B tests to choose the most efficient alternative.
iOS and Android apps are also available for fast and easy communication on the go.
Dashly has a 14-days free trial with unlimited features. Paid plans are a bit different from other platforms. You pay for unique visitors per month. Plans start from $19 for 1000 visitors for unlimited number of operators and no limitations on features (except conversation report module).  
First of all, Crisp.chat is an Iranian start-up that got really popular beyond its borders. Crisp says that their product is intended to make communication with visitors easier.
To install Crisp you'll need to paste several strings of JS-script into the website code. There's a detailed instruction and video explainers to help. Crisp can also be integrated with iOS and Android apps, not only with website.
Crisp is known for its variety of features. Beside common chat communications, auto messages and conversation allocation between operators, Crisp allows making video calls right from the chat interface. Moreover, you can send audio, video and GIF files and even have an opportunity to book a meeting right in chat.
Campaigns allow you to send triggered messages based on the information collected about every visitor.
You can also track visitors behavior with MagicBrowse feature looking at the screen and action in real time. Problem detected – write to your visitor in chat immediately to help. Moreover, you can take control over your visitor's hover with LiveAssist feature if the interface is too complicated.
Crisp is multichannel, so you can use the best channel for your visitor to text them back (email, Telegram, FB messenger, etc.).
And while you're waiting for your operator to answer – play Crispy Bird. It is an in-chat game created to catch your attention and kill time.
Crisp plans are rather simple. You can use only the chat feature with 30-days conversation history and 2 operators for free.
Paid plans start from $25. These Pro plans will give you an opportunity to connect 4 operators, have unlimited conversation history, triggers, multichannel communications and much more options. If you want to have a video chat,  MagicBrowse, Chat Bot and the other features – go for the higher Unlimited plan, $95/month.
By the way, note that Crisp doesn't do live demo, but you can try all features within the 14-days free trial period.
Drift is a live chat for B2B companies. Its main feature is a bot that replaces usual lead collection forms and changes the way you do lead segmentation. Instead of filling a lot of forms and having a long email conversation, Drift bot is getting to know website visitors using automated questions in chat.
Besides auto replies for visitor qualification, the platform offers ready-made scenarios for sales automation.  
Just as all the other platforms Drift is easy to install. After you sign up, Drift will offer you to customize chat and then you'll have to paste JS script into the code of your website or send it to your developers.    
Drift chat opportunities are not limited by a bot. There also are possibilities to book a meeting with an operator, integrate it with Google-calendar and then receive an automatic reminder. Bot itself qualifies visitors to allocate them between different operators.
Moreover, Drift has mobile and desktop apps for comfortable operators' work process. The last to talk about but not the least is Drift integrations – it can be integrated with several analytics and CRM services or you can easily work with their API.
Besides all that, you can chat with 100 prospects for free, to have a Live View and Email sequences you'll need to go for a $50 plan. And bots are included in plans starting from $500. Drift also offers some hours of free onboarding support for customers on $1500 plan and higher.
Olark company call their chat the easiest chat in the world. Simplicity starts with their website and very understandable tasks that they solve:
sales;

support;

lead generation.
JS script installation is super simple and is accompanied by a video guide. If you have two-way integration, the installation process will be simplified to several clicks. Support section has documentation for any of the integrations available, and if your CRM platform is not in the list, you can configure the integration via API and Webhook.
Along with a lot of other services, Olark offers to customize chat widget. Target messages based on location, search query and visitors' actions – data received with visitors' data collection feature.
Look for all conversations in the admin panel from where you can resend them to your sales department or to a client directly. See the analyses of every conversation in real time and the report with the data about client's satisfaction and operator's work.
For fast and easy communication Olark made better message input process. Operator needs to enter several symbols and choose an answer from the list prepared messages. You can add your own messages to this list.
Pricing is also nice and understandable – there's only one paid plan. You pay $17 for agent per month with monthly billing. You can save by paying for a whole year – you price will be %15. Paying for two years ahead will save you even more – 29% from the monthly price.
In the end, if you don't need premium features (integration, chat ratings, reporting, automated messages, etc.) you can go for a free plan.
Japanese company name and Japanese heroes on the main screen of the website show pragmatism and functionality of the company. The Service combines email campaigns, live chat, Facebook, Twitter and some more integrations. Kayako solutions are reach in support features: client support, operators' team work, e-commerce support solutions and knowledge base for employees.
Follow 4 simple steps in order to connect Kayako with your website. Use two-way integration to connect SalesForce, Slack and social networks. To make all the rest integrations – use Zapier. Of course, you can use API and Webhooks for the sake of your own integrations.
As we said already, Kayako features cover a lot of support. The service allows to track operators' effectiveness and their workload in the admin panel. Tracking allows operators to see all visitors' actions. If the question is beyond the skillset of the operator in charge, he can easily invite a needed specialist right from the admin panel.
Kayako pays a lot of attention to visitor waiting time and to the time needed to solve the problem. To improve these metrics the platform offers automatic distribution of conversations between operators and tracking of conversation length for detecting complicated questions. Moreover, operators can see how many employees are already looking at a certain visitor's actions. This allows not to waste time on the same client.
Benefits for ecommerce are provided by multichannel communication with visitors. You will see a visitor's path and visitors' personal data which they left in a chat or on the website. An operator can prepare the solution or even ask beforehand if they see certain events or problems of a client.
Finally, the platform offers 3 main plans and a plan for the enterprise. The cheapest is $15 per agent and a per month plan includes live chat, shared email and a social inbox for small teams. Next plan costs $30 for every agent and has more custom features, time tracking and trigger automation. Help Center, productivity tracking and SalesForce integration are available at $60 plan.  
Summing up
Live chat is a great step towards qualified support and better customer satisfaction. Don't forget that it's not just a way to receive messages from your visitors, it's an additional channel for lead generation, activation and onboarding. Choose the best solution according to your aims, purposes and budget and give a start to your successful support path.