Imagine that every visitor that enters your website gets a personal approach. Every customer query is solved quickly and effectively. The trust between you and your audience grows. And so does your revenue. 
Best case scenario. You probably read about it while choosing the best live chat software for your business. However, getting these results takes time and practice with the tool. And maybe a few hacks! To help you with them, the Dashly team tested and brought together live chat best practices.
1. Make sure you understand the purpose of a live chat
Before installing a website chat, you probably read some articles on how useful this tool is. Maybe you even read Dashly articles. Thank you for your attention to our content 😉
But before paying for a subscription, ask yourself one simple question. How can a live chat help your business in particular? Decide on the issues it should help you solve. They might be:
increase customer engagement;
facilitate qualification process;
raise customer retention rate, etc.
Make sure live chat tools align with your business strategy and help you grow. This is the best practice for a start! 
2. Place a live chat where customers need it
A live chat widget is usually placed in the right bottom corner of the website. But it's up to you to decide on the pages where the widget is seen. It can be the main page when visitors just enter your website and aren't sure what to do. It can be the pricing page where they'll need your assistance. 
Take some time and think about where visitors might need your help the most. Be mindful of the widget, though. Customers might get annoyed as a live chat is constantly popping up in front of them.
Read also: 17 Zendesk alternative services and 13 live chat alternatives to try this year
3. Personalize communication
The time when a customer talked to a cold, faceless corporation has gone. And it's for the best, isn't it?
Modern customers expect human one-to-one communication. To provide it, use the visitor's name to personalize your greeting and responses. Add some informality with exclamation marks and an overall positive tone to your messages. 
Personalization works the other way around too. Don't hesitate to show the agents' names and faces. It's a great practice to let your visitors know that there are real people talking to them.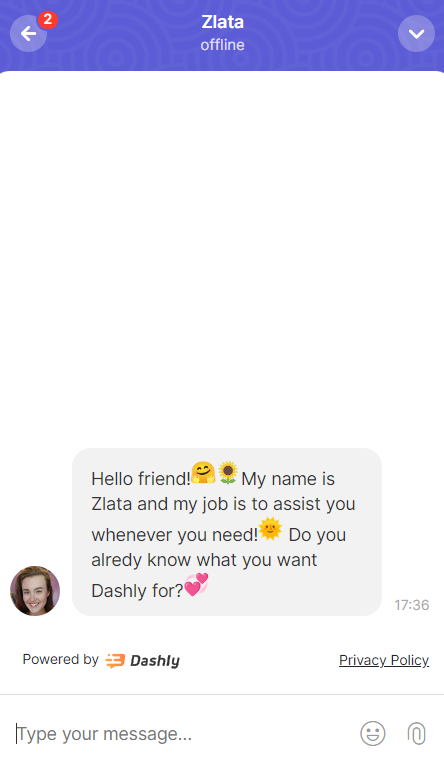 4. Don't hesitate to use emojis and gifs
A bit more on informality: don't underestimate the power of emojis and gifs. If you send them in your everyday communication, why not use them in conversations with website visitors too? A simple 😊 can really help break the ice. 
So can a gif! A customer will see that a real person is chatting with them on the other side of the screen. Be careful, though. Talk a bit with a user to understand the overall spirit of the conversation. If a person's not in the mood, save your gifs collection for the next user. 
5. Use a live chat to gather as much data about a user as possible
The conversation is the best way to learn more about customers' wants and needs. It'll help you provide more personalized service. In addition, you can set up visitors' behavior tracking. This way you'll get all user's activity registered and added to their lead card. 
You can also automate the process of lead qualification in a live chat. A chatbot will help you with it. A lot of platforms offer it together with a live chat. This is one of the best practices to facilitate the work of your marketing team. 
👉 Try Dashly live chat together with a chatbot for free 👈
6. Make the first move in the conversation
Use a live chat to engage users in the conversation the moment they open your website. Set up a triggered live chat message to greet new visitors and let them know you're there whenever they need you. 
Why? Because people like to see a company thinking about their interests and needs. To provide an even better service, use segmentation and triggers. 
Read also: The secret weapon of your competitors or Why you should focus on customer service first
7. Segment the audience and set triggers
Effective communication also requires careful targeting. Segmentation will help you deal with the individual pain points of each group. Adapt your communication and set triggers for:
Hesitant buyers who wander around your website, waiting for your help and encouragement.
Returned customers — you already have a history of interaction and know what they need.
Users from certain regions — maybe you have a special offer for them.
Visitors of the FAQ section — these people might need your help with self-service, like a link to the article from your knowledge base.
This is one of the best practices if you use live chat for sales. 
8. Use the tagging system
Tagging is another part of audience segmentation. You can add any tag to a lead or even a group of leads manually. How's this helpful? First, it'll facilitate your navigation through the leads database and make your communication more effective.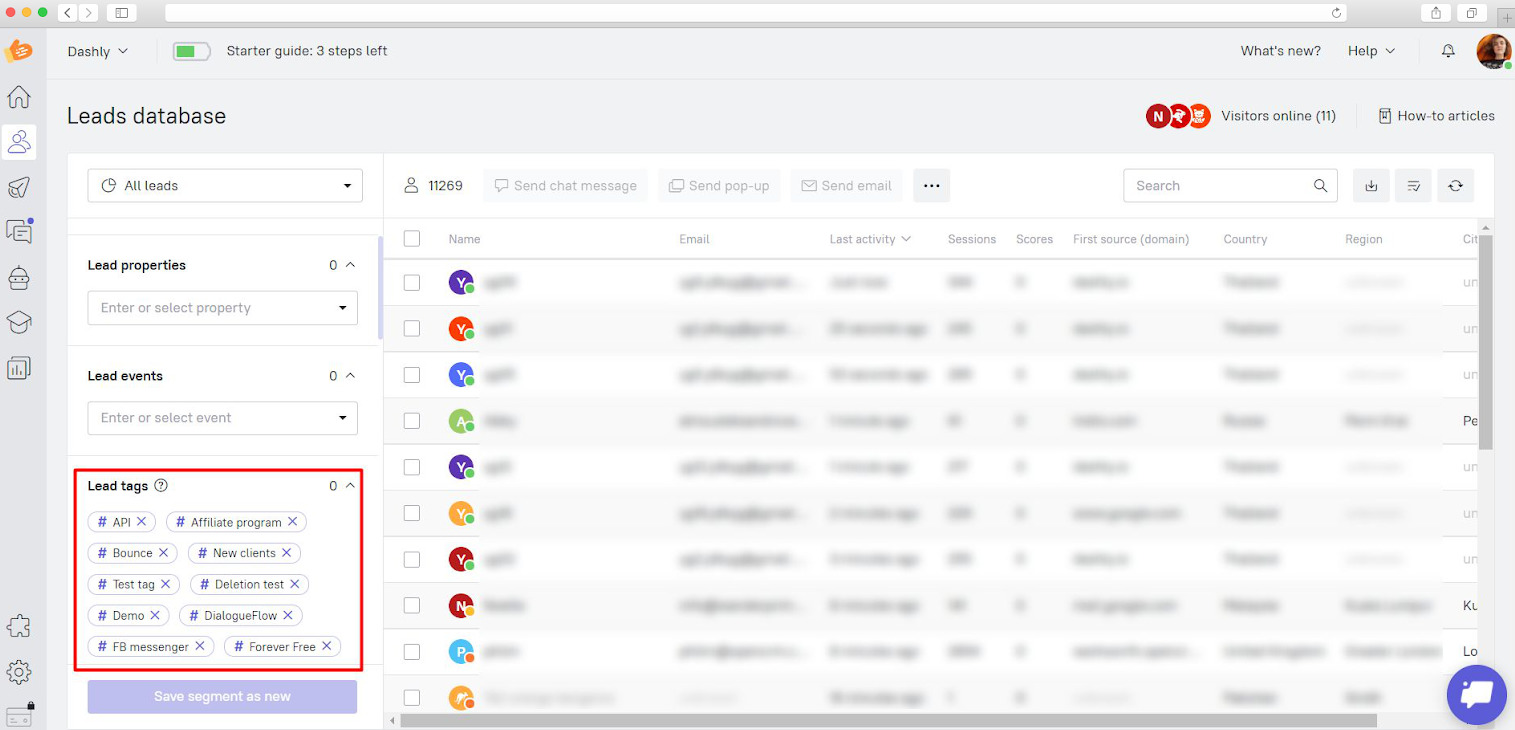 But the tagging practice can be very helpful in the development of your business in general. For example, you have a group of your users tagged "loyal". You release a new feature, but want to test it first. Make a group of beta testers from "loyal" users. 
Boom! You collected feedback on the feature and didn't lose a customer. Magic? Just a bit!
9. Be open to communication on different channels
You provide users with quick assistance via a chat for support on the website. But what if they decide to contact you on Facebook, Instagram, or whatever channel they prefer? 
Be ready for it and choose omnichannel live chat software that enables seamless communication on the website, social media, messengers, etc. Be wherever your customers need you!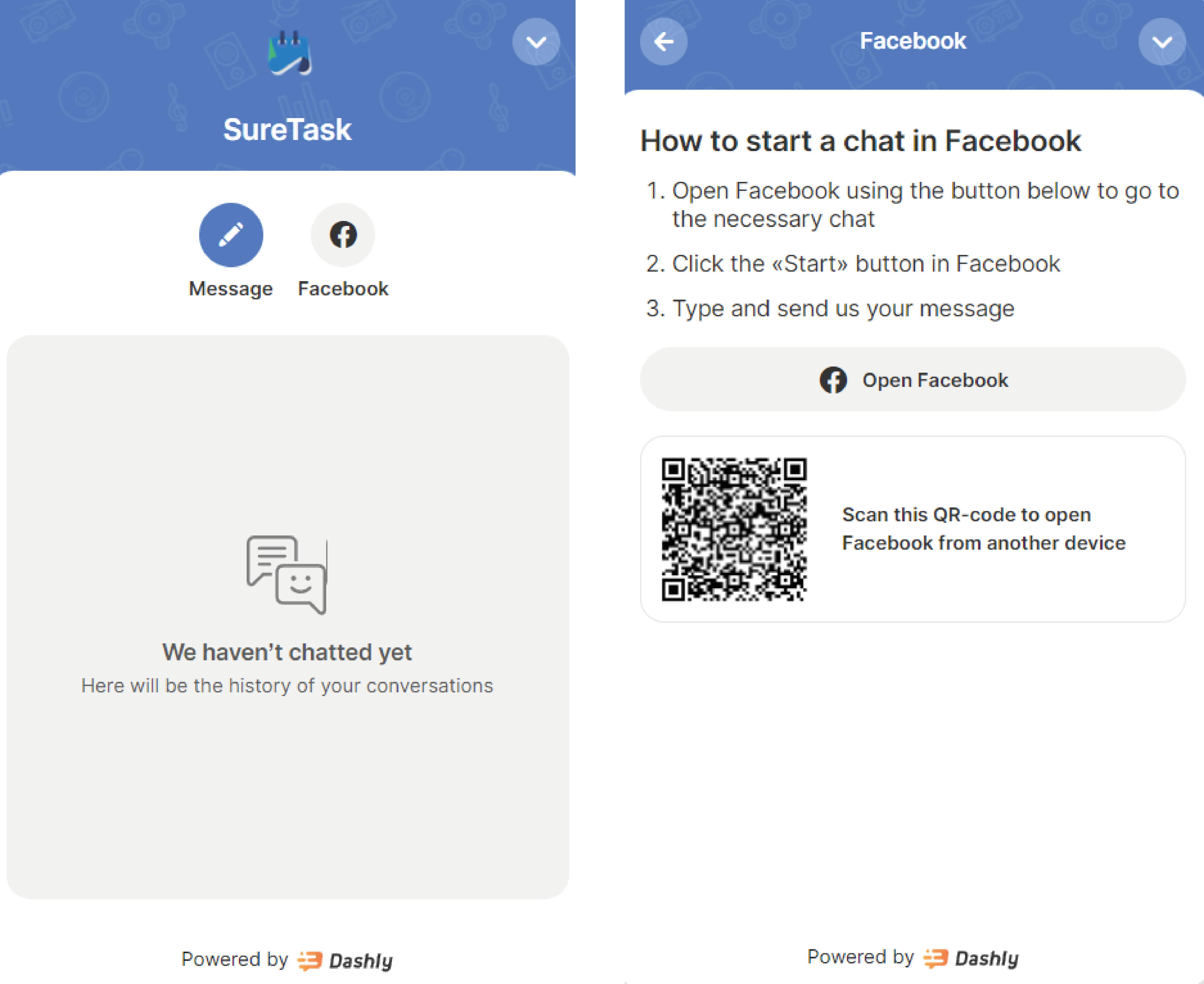 10. Integrate a live chat with your team's favorite tools
There's always a way to use a live chat more effectively. Integrations! Make a live chat a part of your workspace by integrating it with other tools you already use. Align the work of a live chat with your CRM system (ConvergeHub, HubSpot), CMS platform (WordPress, Wix), and other tools like corporate messengers (Slack).

If you're looking for a live chat for eCommerce, you might need integrations with such platforms as Shopify or Prestashop. A live chat for SaaS companies should enable integrations with analytics services, like Google Analytics.
11. Spread the workload wisely and look for ways to alleviate it
Quick replies and issue resolution is what people expect from customer support. But it's hard to achieve with limited resources. There are a few live chat practices not to let your customer service agents drown in the flow of messages.
First, you can set up automated routing that will assign conversations to free or qualified agents. Secondly, use live chat analytics to monitor and manage agents' workload.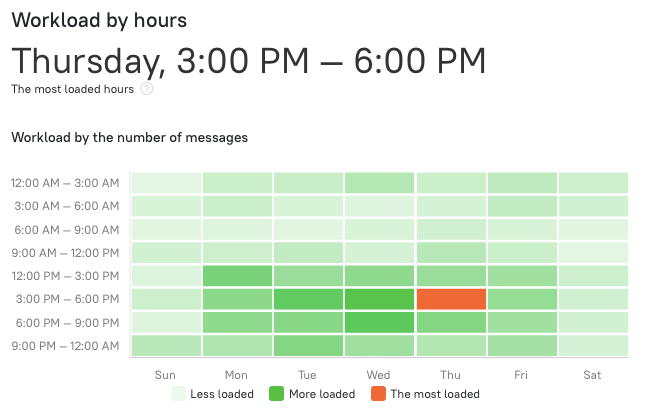 Read also: The 36 statistics on how chatbot for businesses grow your revenue in 2023
12. Keep track of live chat's efficiency
A bit more on analytics. To make sure you and your team take the best out of the tool, check live chat metrics regularly. Figures will help you find a way to improve. One of the most important metrics are:
agents' response speed;
the number of new questions;
the number of users asking questions;
the number of issues solved;
hourly workload.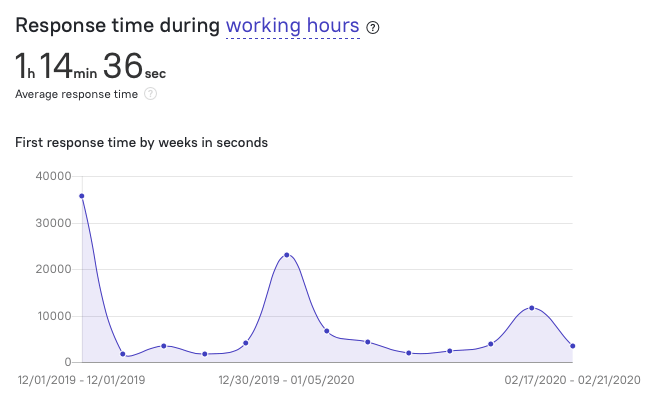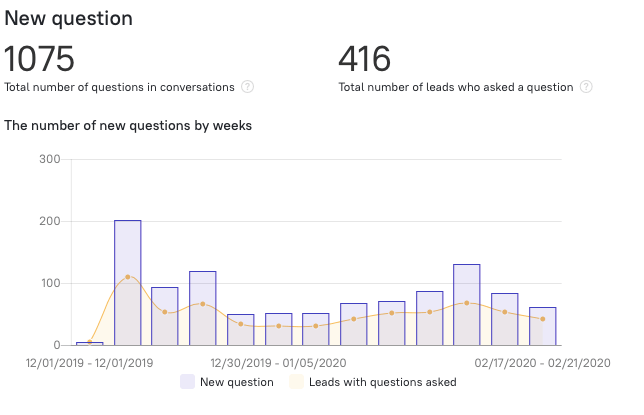 Check out our article on key live chat metrics to learn how to measure your live chat efficiency. 
13. Don't close the chat till a user's satisfied
That sounds pretty obvious, yet it's essential to keep in mind. When you end a chat with a user, they should have no questions left. Ask them if there's anything else you can help them with. Maybe they'd like to leave feedback and evaluate your work? 
Make sure a user's satisfied with your product and your service. Then close the conversation. 
14. Always collect feedback
Speaking of feedback! Always be open to comments, both good and bad ones. Each of them will help you learn more about your customers and your own company. There are different ways to collect feedback.
The easiest one is to send a quick message with a star rating or emoticons at the end of the conversation with an agent. If a user marks a conversation as bad, ask them for more detailed comments to improve customer service in the future.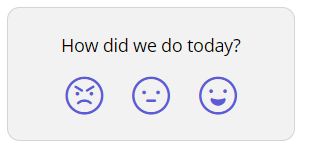 If you'd like to get more profound feedback, you can create surveys and send links in a live chat. Google Forms is an easy-to-use service for it. But this practice is not so common, because customers are less likely to follow links and fill in long forms.
Read also: 15 best lead generation services to grow your base in 2023
15. Allow your customers to look for answers themselves
Here's another live chat practice that will make the life of your customer service team a bit easier. While responding to queries, always leave the room for customers to resolve their issues on their own. It's possible if you integrate a live chat with your knowledge base. 
Let your agents share a link to an article on the knowledge base. Give users a chance to understand your product better. 
16. Choose words carefully
Thought-through communication is vital. We've already talked about the informal and cheerful tone of the chat. But you should think about the choice of words too. If a visitor asks you a question you struggle to answer, don't send a simple "I don't know." Here's an example 👇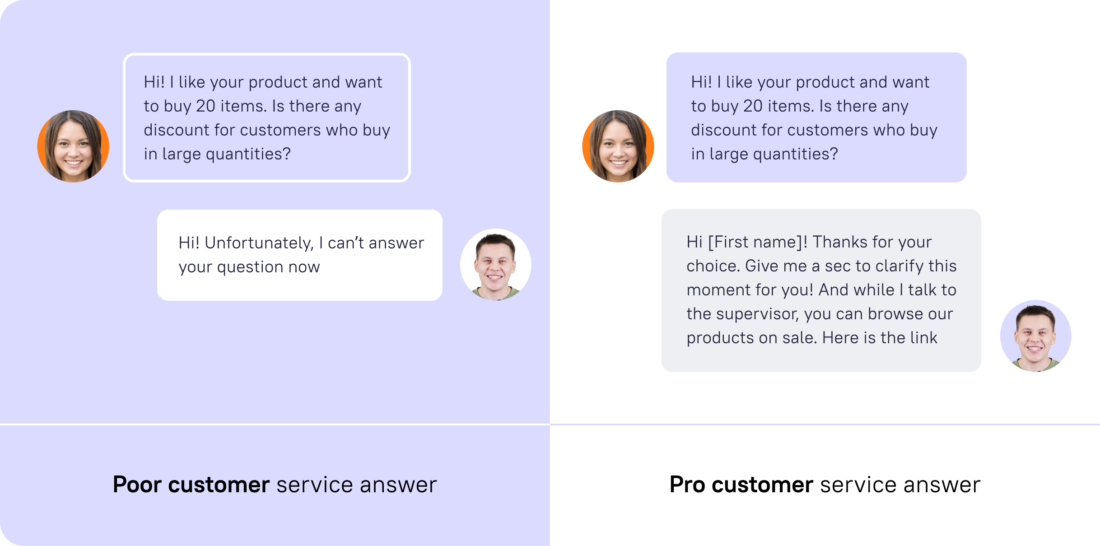 If a customer is angry with your service, don't ever respond with aggression. Even if it's your 10th angry customer for today. Almost any issue can be solved, and your support reps are here to prove it. 
To help you deal with the trickiest customer queries, the Dashly team came up with 15 customer service scenarios. Learn to handle anything from missing items in the cart to the breach of product terms of use.
Read also: 10 conversion rate optimization tools to enhance your funnel and boost revenue
17. Facilitate communication with a video chat
Even though many customers prefer texts now, some issues are still way easier to solve with an actual talk. A video chat serves this goal the best. It guarantees faster problem resolution and adds up to communication personalization. 
So while looking for the best live chat software for your website, check if the service provides a Zoom integration. Some platforms offer video chat without third-parties involvement. 
18. Train your agents
After installing a live chat, take time to introduce your agents to all its features. The whole team should know how to use the tool to its full potential. 
Let your agents practice ready-made scenarios to improve customer communication and deal with the most difficult issues. It can be an excellent hint for both new agents and experienced ones.
As for newcomers to your team, their training should take a special place in your schedule:
Share theory from your knowledge base. 
Give them already solved cases so that they can go through all steps of the customer journey.
Make sure they know where to go if they can't solve the issue on their own. 
If you want to learn how to train a live chat agent, we brought together the best practices for it with the help of Dashly's customer support team lead. 
Read also: Customer engagement strategy template to create omnichannel campaigns
19. Set up a chatbot to provide 24/7 support
Bring the work of a live chat to another level with a chatbot. It can facilitate your agents' work greatly. Set up a chatbot to:
greet newcomers on the website;
deal with FAQs;
qualify leads;
route conversations to the relevant live chat agents.

We recommend you practice sharing tasks between human agents and chatbots. It'll help you get the best results. 
20. Make users your priority
Focus on making customers' interactions with your company as comfortable as possible. Engage them in the conversation. Send welcome messages, letting them know you're there for them. Ask for feedback and make them feel heard and understood. This is the way to build trust between a brand and its audience.
Tested and proven effective, these live chat best practices will help you use this tool to its full potential. We hope this article will help you avoid mistakes when choosing a live chat. 
Still need help? Our experts will analyze your website communication and offer ways to improve it 👇
FAQ
What are live chat best practices?
Live chat best practices are:
— personalization of the customer communication;
— integration of your live chat with other services your team uses (amoCRM, Slack, Prestashop etc.);
— integration with other tools like knowledge base and chatbot;
— integrations with social media, messengers, etc to practice multichannel communication.
How can a live chat influence page ranking in search engines and load speed? 
When you paste the widget code into your script, it makes it "heavier". So it might take a bit longer for pages to download. 
But load speed is crucial for both your users and search engines. So before choosing the best software for your website, read our article on how live chats influence page ranking and loading speed. You'll find plenty of useful insights there and some recommendations on the best software in terms of load speed. 
What is the best live chat software?
Among the industry leaders are Intercom, Drift, and LiveChat (but due to certain problems users often look for LiveChat alternatives). If you're looking for a more affordable option, consider Dashly. It's much cheaper than these services, but it provides similar functionality. You can check out pricing plans here.