Top 10 Live Chat For Sales Team
Drive sales and increase conversion at the very beginning of communication. Let customers write whenever they want — in live chat, messengers, or social networks
Request a demo
Try 7 days for free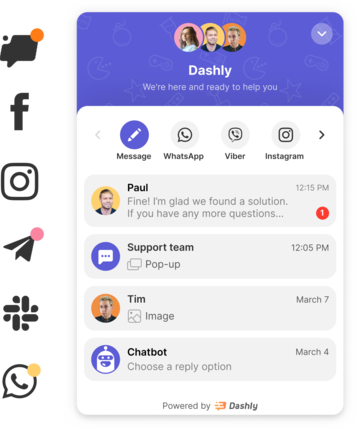 Part 5
10 best live chat tools for sales
It is no secret that live chat improves customer experience and reduces operational costs. But what's more important, it boosts sales! 
Chat is a great tool for engaging website visitors to communicate with company reps. No long email outreach or call scheduling is needed. Fast communication — fast sales.
Cold stats prove it: live chat has more than a 40% conversion rate. Nothing strange because agents have all info about prospects before they send a question anywhere on the web. 
And that's far the end of the opportunities it provides your sales team with. Find out the top 10 tools and their sales key options review.
Must-have features of a live chat for sales
Consider the following requirements when choosing live chats for a website that suits your sales team:
Social networks, email, and messenger integrations. This critical feature allows visitors to start the conversation on your website and continue wherever they want (Facebook, WhatsApp, Instagram, etc.);
Inbox to manage all conversations in one place;
Welcome messages to engage website visitors in a conversation;
Forms and chatbots to capture and qualify visitors automatically;
Lead card with visitor's behavior and previous conversations' history to add personalization to the selling process;
CRM integrations. Once you collect the contact information of website visitors, you will be able to store them in one place.
Video calls integration, for example, with Zoom.
History showing old and recent conversations with a customer.
Check if the chat that you use offers similar features. If not, we've compiled a list of the 10 best live chats for sales that fit these criteria.
Boost your sales team efficiency with the best chat toolset to engage, understand, and convert your prospects better. 
Dashly
Dashly is a conversational marketing platform that provides better customer service and increases revenue on the same traffic. It helps focus on an in-the-moment conversation across the entire customer journey.
When visitors land on your website, Dashly live chat workflows allows them to interact with a chatbot before being connected to one of your sales agents. It means that your sales agents are only talking to hot leads, not tire kickers.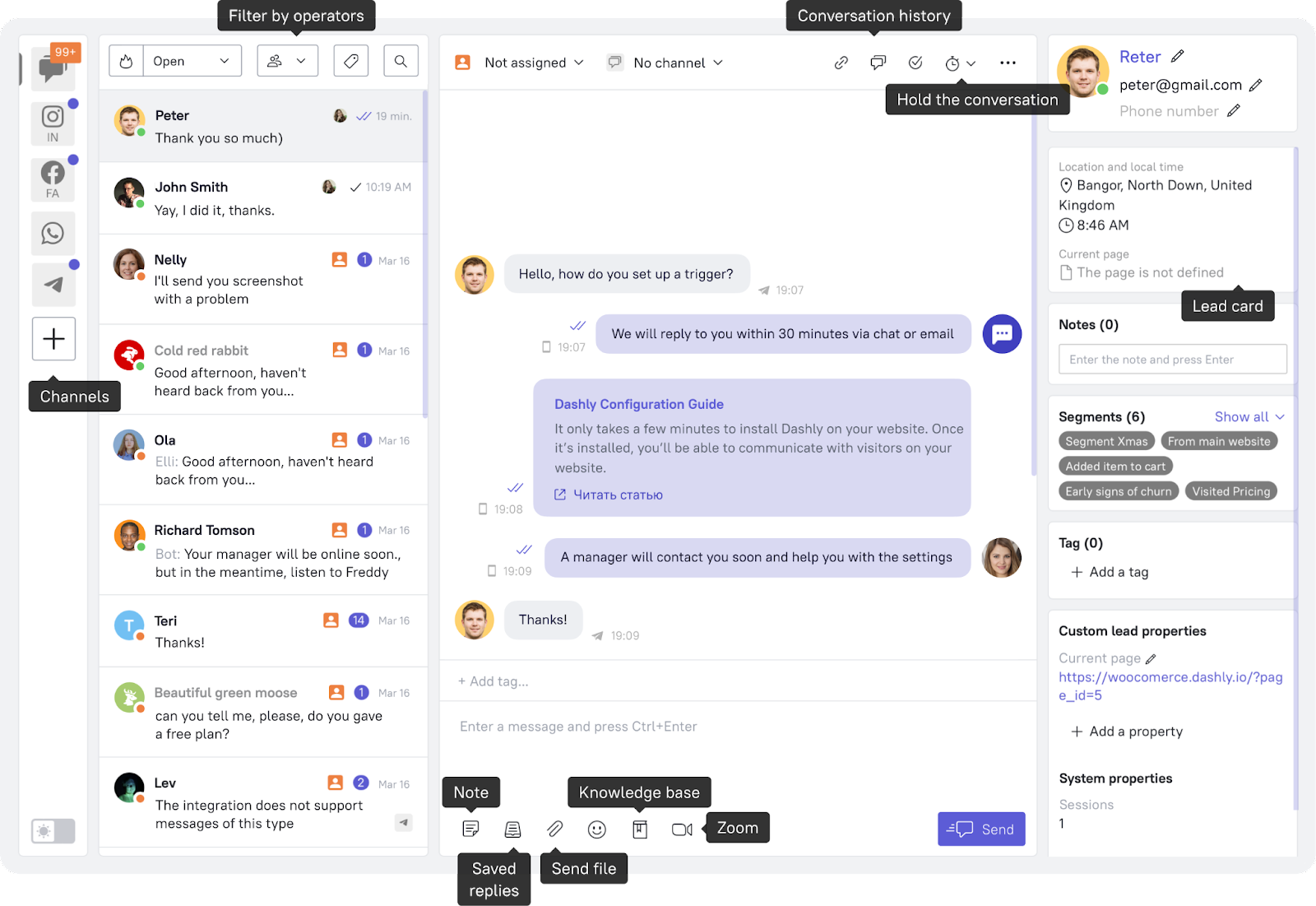 What live chat features do I get?
30+ integrations with CRMs, socials, email, and messaging apps.
Canned replies, FAQ chatbot, mobile app, and conversation notifications to reduce the response time.
One inbox for chat, Viber, Telegram, WhatsApp, Facebook Messenger, Instagram, and email communication.
Chat analytics as a source to track sales and support team performance.
A widget that matches your brand style because of the easy customization.
Proactive invitation to engage website visitors to start a conversation.
Mobile live chat to engage visitors of the mobile version of your website.
In app live chat to support prospects.
Conversations history and visitor behavior tracking in lead cards to know your prospects' paint points.
Chat-triggered events to choose who and when can see your welcome message.
Channels, hotkeys, tags, search, filters, and notes for team collaboration.
Agent ratings, key live chat metrics, and conversation analytics to keep track of live chat conversion.
Chatbot for automatic conversation routing to the right agent.
Audio/video calls to let your support agents talk with customers instead of typing. 
This is far from the end of all the benefits sales managers get when using Dashly. Find the full features list on the live chat landing page.
How to install
You don't even need a developer to do so. 
To install the widget to your website, copy the script and paste it into the website pages header code with one click. You can also connect the platform to your CMS or use Google Tag Manager.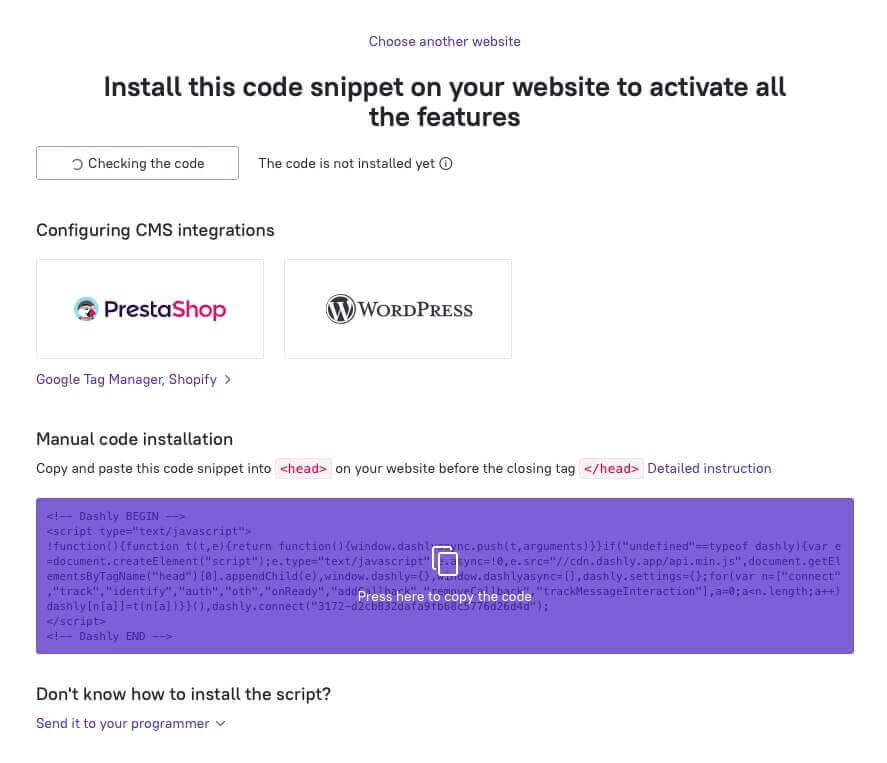 Online chat pricing: from $39 per month
Dashly pricing is based on the number of website pages visitors you have and the add-ons you choose to enable.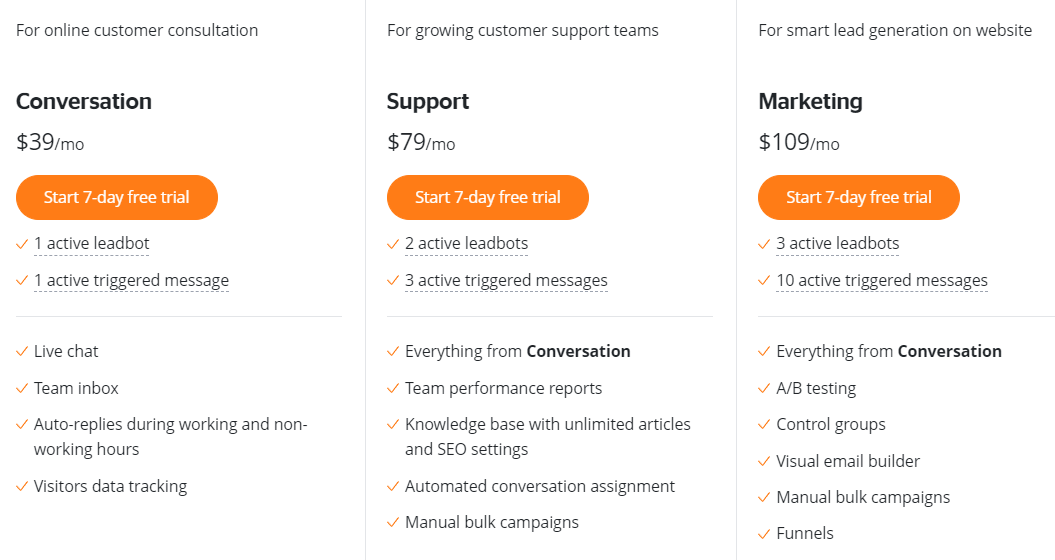 If you want to use the Dashly platform for sales, consider the Marketing plan. You get access to:
Website chat;
Social integrations;
Chatbots;
Leads data tracking;
Triggered chat messages;
Advanced analytics;
Multiple triggered campaigns;
Integrated knowledge base;
An unlimited number of agents in a conversation.
Dashly offers a free plan for small businesses and sales agents in which you will get:
Live chat,
Team inbox,
Automated replies to messages,
Mobile apps. 
Trial
Dashly offers a 7-day free trial period with full access to all core features including online chat. No credit card information is required. Sign up to start. No credit card needed.
Pros and cons of Dashly as one of the live chats for a sales team
What's good
Unlimited number of agents on any plan.
For marketing and sales, Dashly is a perfect tool to convert visitors into customers with analytics funnels.
Message editing. 
Courteous support team. 
User-friendly UI.
Freshdesk Messaging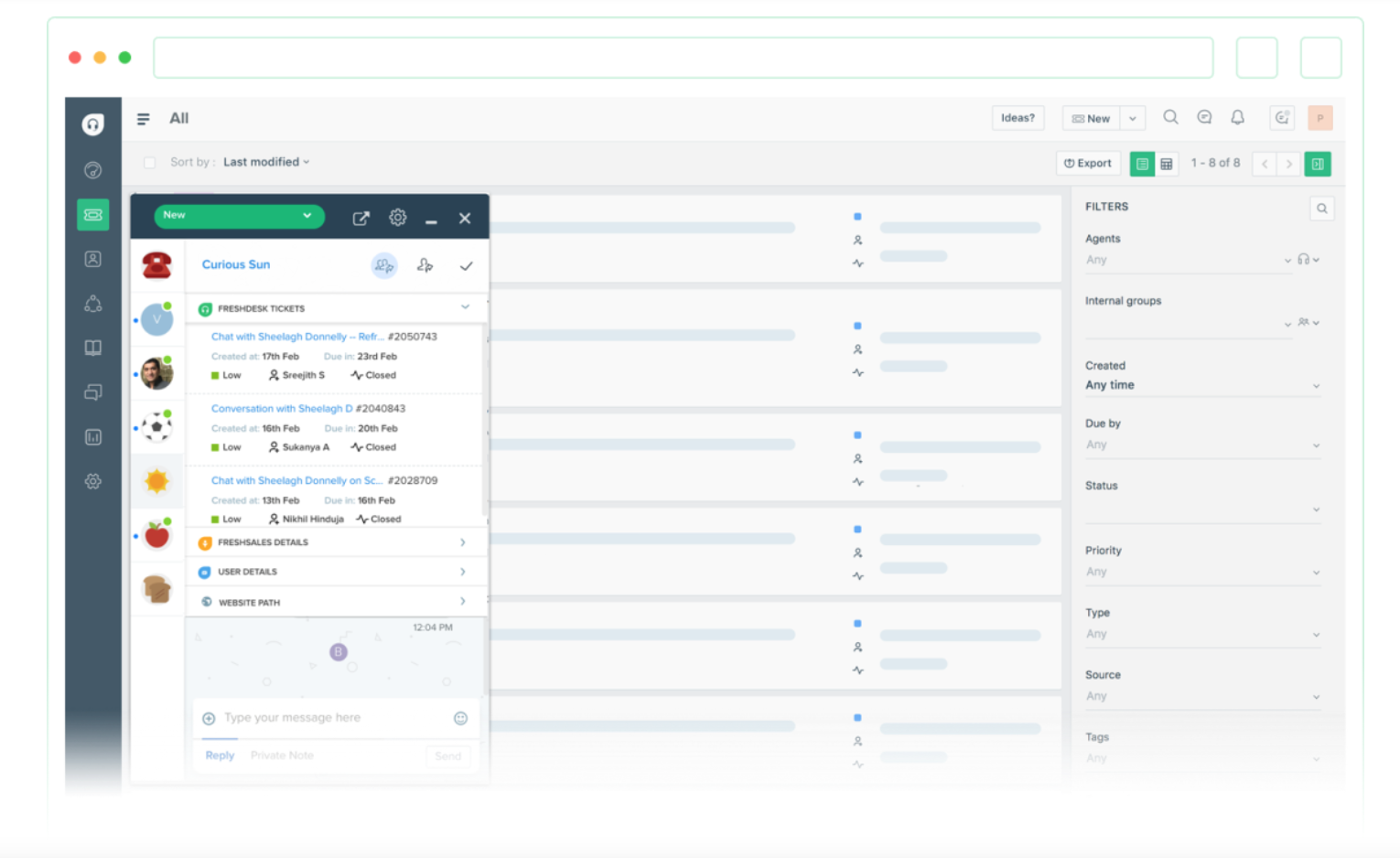 When you think of an online chat for sales, there is another platform to mention. Freshdesk Messaging is a cutting-edge messaging platform for sales and customer service. The tool lets you manage your customer communication easily and intuitively. There's also a built-in CRM system that can be utilized to manage leads.
What features do I get?
Omnichannel online chat and messaging solution for communication with customers;
AI-powered tools for automation of repetitive tasks like leads qualification;
Website visitor's behavior tracking to know their pain points and needs.
Seamlessly reply to tickets and conversations across other channels;
Keep all your customer conversations in one place, with a complete history of past interactions;
Assign sales and support agents to specific tickets based on their skill set or the customer's language preferences;
Automate common responses to tickets and conversations;
Collaborate on your messaging projects easily between marketing, sales, and customer service via integrations with third-party platforms.
How to install
Start converting your website visitors with Freshdesk Messaging chat for sales in just a few minutes. Copy a code snippet and paste it on the pages of your website where you want the Freshdesk Messaging chat to show.
Pricing: from $18 to $83 per agent/per month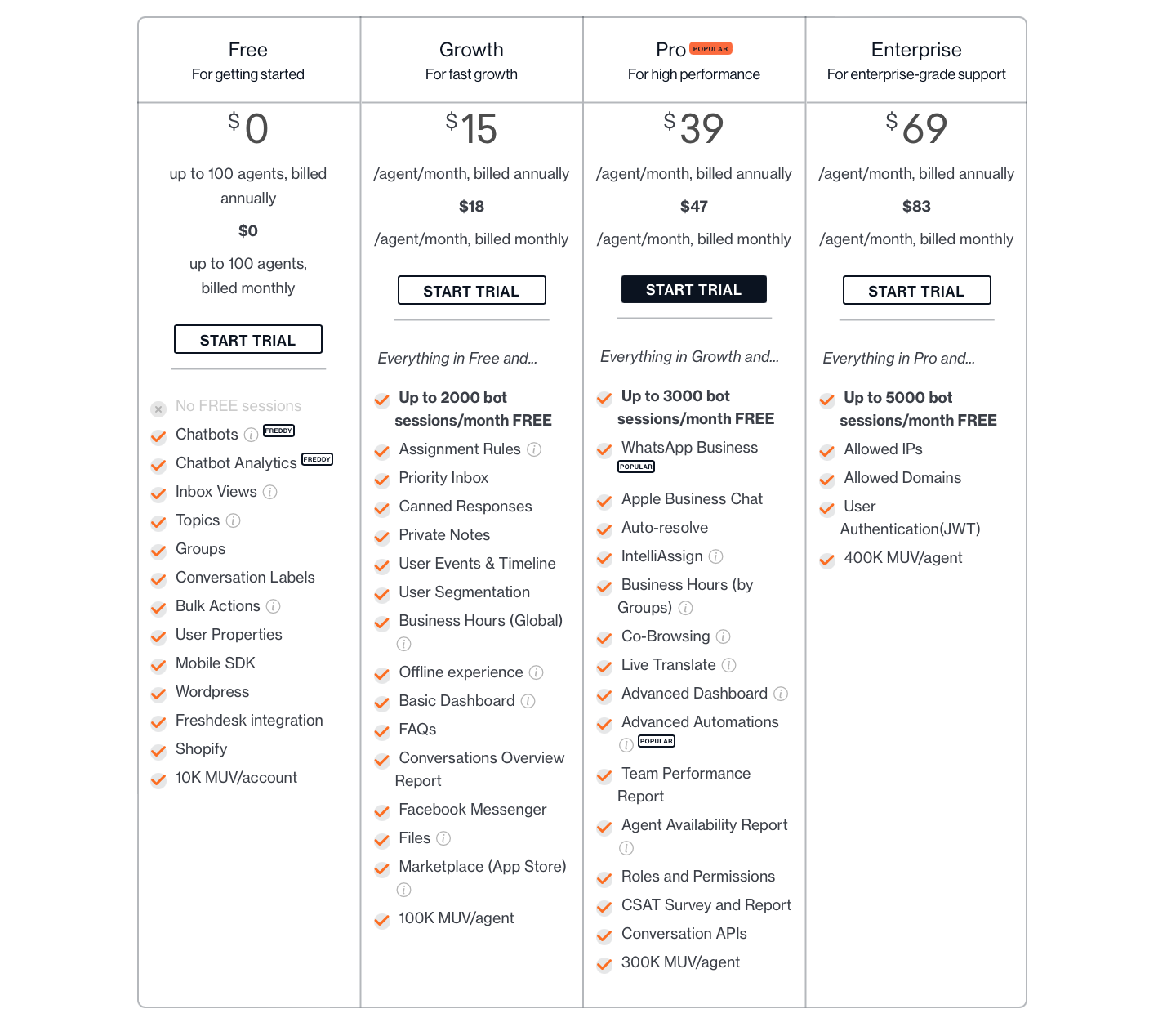 Pricing for Freshdesk Messaging chat depends on the number of agents as well as whether you choose to pay monthly or commit to an annual plan. Also, the platform offers a free plan for small businesses and startups. 
What's included in a basic plan
Freshdesk offers a free plan with the following tools:
Bot Builder,
Bot Analytics,
Shopify Integration,
Freshdesk Integration.
Paid "Growth" plan for $15 if billed annually offers more diverse features for small businesses:
Up to 2000 bot sessions/mo Free,
Priority Inbox,
Canned Response,
Facebook Messenger,
Customer Segmentation,
Business Hours.
Trial days for a free live chat testing
Freshdesk Messaging offers a 21-day free trial to test sales chat for your team. 
Pros and cons of a chat for sales communication with customers
What's good
Free plan;
Great UI;
Easy to use, configure and integrate with other products;
Allows unlimited contacts to be stored on the system;
Priority inbox for prospects with urgent inquiries.
What's bad
Certain essential features are only available to the highest pricing tier;
The automated system is relatively slow and does not respond well according to all the requirements;
Chatbot features aren't up to the mark when compared to competitors on this list;
No option to filter messages by time. Searching for conversations takes time.
Drift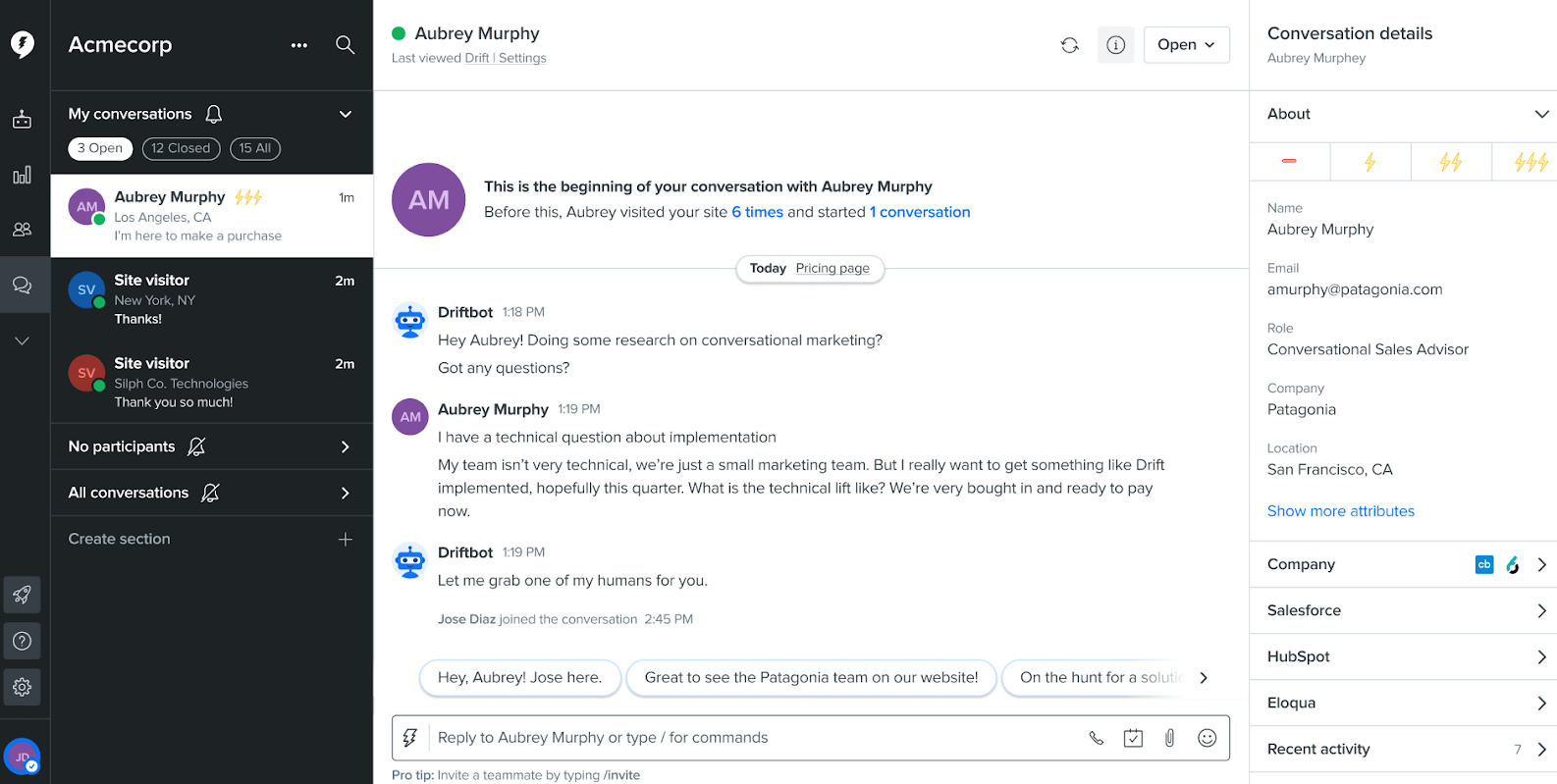 If you want to choose a tool that aligns with your business goals, consider Drift. It's a live chat for sales explicitly built to convert a visitor into a loyal buyer, but it does so uniquely. Rather than pushing website visitors to engage in conversation constantly, Drift lets you configure "playbooks" that personalize conversations based on lead behavior and interactions with your site.
What features do I get?
Triggered messages;
Automated routing;
Opportunity to select target leads and get notifications when they enter the website;
Canned replies;
Ratings for customer feedback;
Internal notes;
Chat scoring and conversation analysis;
Website visitor behavior tracking.
How to install
Install the sales chat widget to your website to start using Drift's software. You can also use WordPress to integrate the service on your website. And in a couple of minutes you're read to reach out to your leads.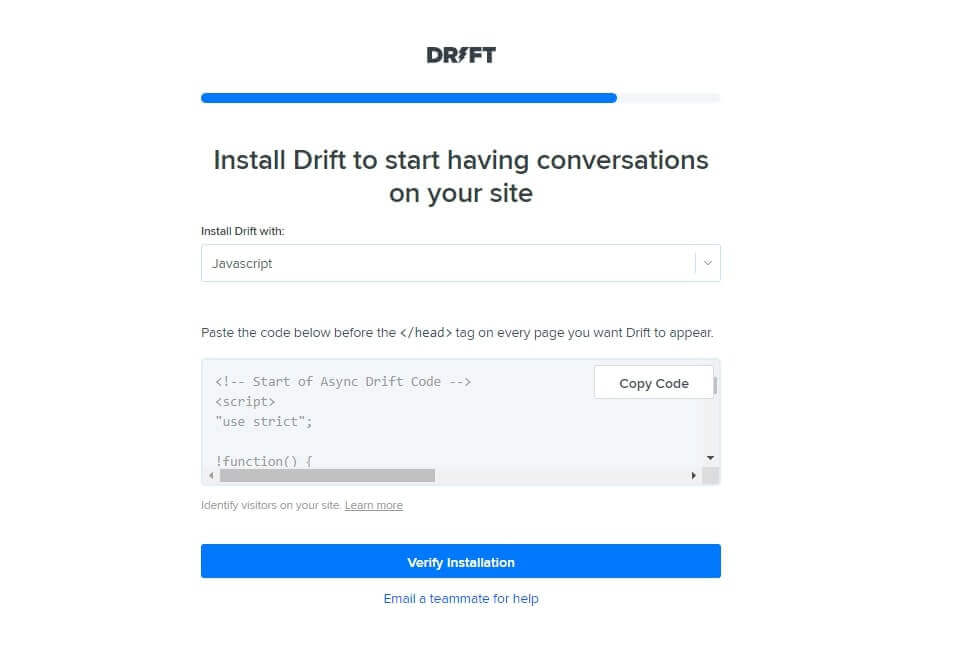 Pricing: from $0 to $1500/mo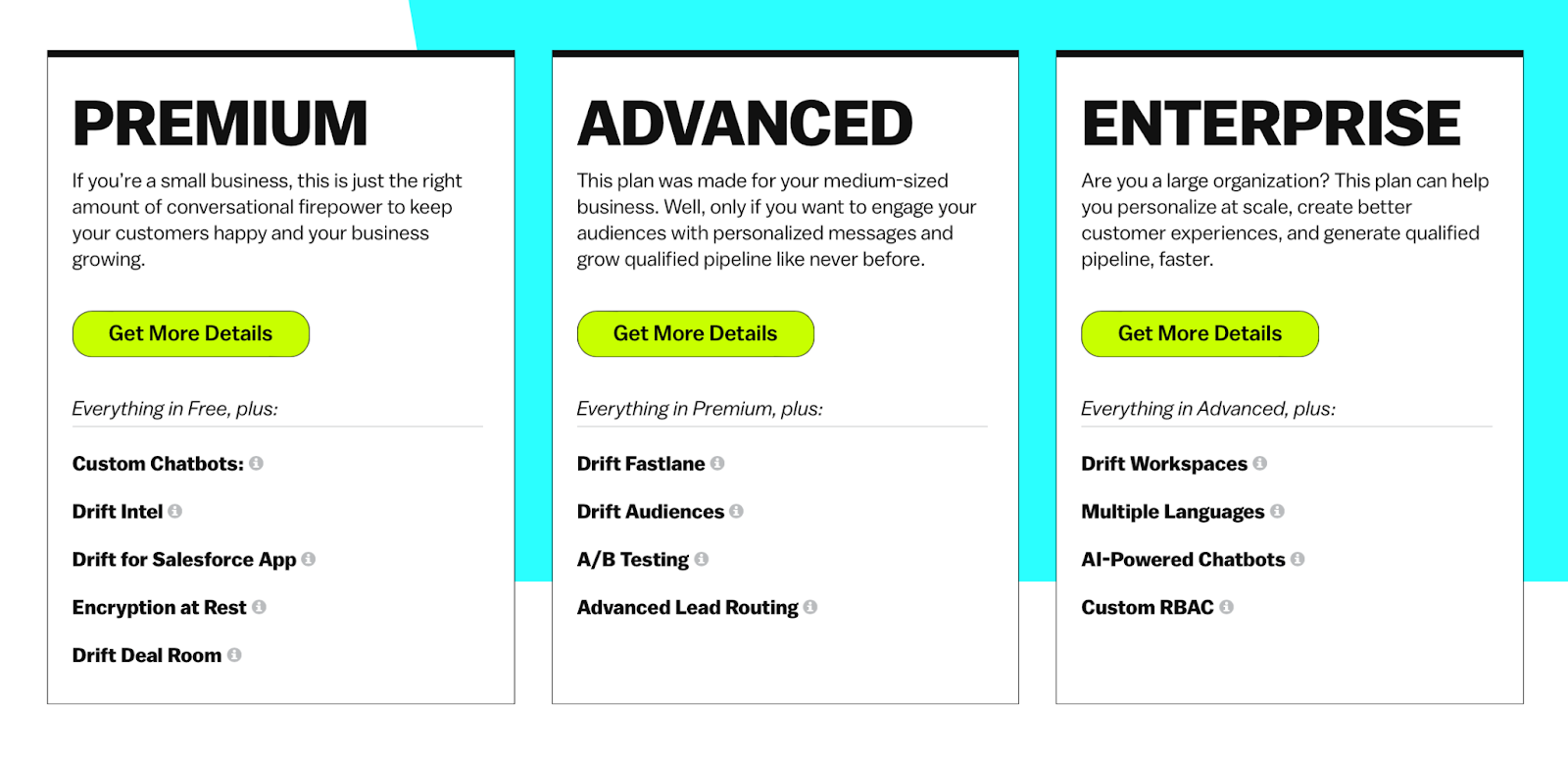 There are further plans for medium and large businesses: Premium, Advanced, and Enterprise. However, all pricing details are only available following a one-on-one consultation with an agent. Small businesses can use Drift's free plan to connect to their first customers. 
Free Plan: Welcome email greetings and signatures, website chat software, and basic reporting. Vidyard, calendar, Slack, and Google Analytics are among the connections available, with a limit of 100 contacts and a single agent.
Premium: Pricing starts at $600/mo for ten seats and $80 for each additional seat. In this plan, you'll get proactive messages, bot feature, revenue reports, live chat, and canned responses. However, A/B testing, role-based access management, and multilingual chatbots for various brands are unavailable.
Advanced and Enterprise: To get other advanced features such as multilingual support, A/B testing, and AI-powered bot feature, you have to upgrade to higher-tier plans and pay roughly $4,800 per year. 
Startup Program: For startups, Drift offers a special program for $500 for ten seats and three tiers based on startup funding amount.
Trial
There is no trial period for Drift's paid plans. However, you can sign up and get a sales live chat on the free plan. 
Pros and cons of the chat for the sales team communication with website visitors
What's good
Segmentation capabilities are compelling;
Marketo and Salesforce are examples of significant sales and marketing systems that can be integrated (i.e. to enhance lead generation process).
What's bad
Because of the product's intricacy, there is a steep learning curve;
The information in the inbox is not always correct;
Lack of transparency in pricing.
Crisp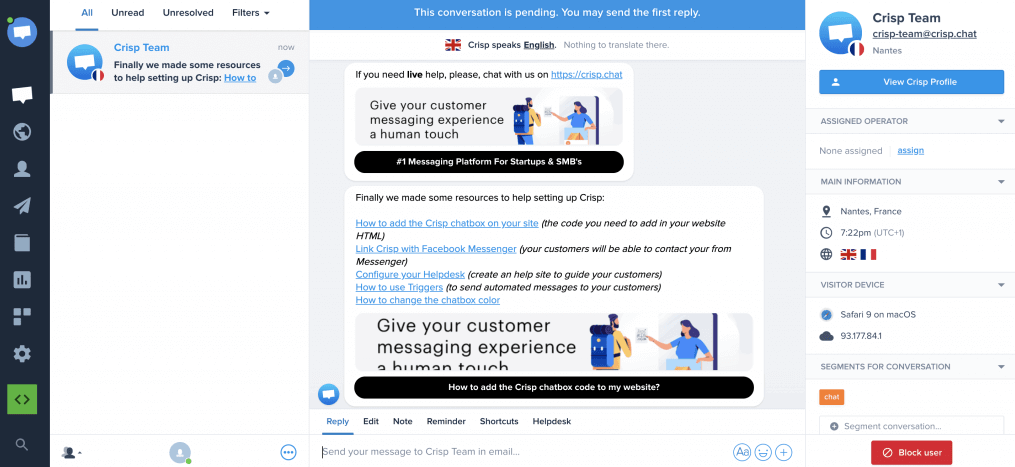 Crisp is an eCommerce live chat platform that helps communicate with customers. It gives companies a toolset where they can solve any visitor's problem, answer their questions, and talk to them about new deals and products.
With Crisp, you can design a custom widget of a sales live chat for your website or app and choose where to chat with a customer live. You can also use Crisp's API integration to configure a live chat feature specifically for your sales process.
What features do I get?
Messages from email, messengers, and social media are all handled by a single admin panel;
Social media integration (Facebook Messenger, Twitter, Telegram, SMS);
Triggered chat messages;
Sharing GIFs, videos, and files in an online chat;
Co-browsing enables you to see websites and pages alongside another visitor online;
Real time conversation translation into more than 100 languages. You can type your response in your native language, and the platform will automatically translate it into the customer's language.
How to install
Copy the widget's HTML code and paste it into your website's code to use Crisp. You can also watch video tutorials and installation guidelines for popular website engines. Voila! You have a tool for online sales communication.
Pricing for a sales team: from $0 to $95 per month per website

Crisp offers several plans paid plans with advanced features as well as a free plan:
Basic: $0 for two seats and basic live chat;
Pro: $25/mo for four seats with prepared responses;
Unlimited: analytics and bot feature for $95/mo.
Trial
Customers can sign up for a 14-day free trial to see if their preferred plan is right for sales and support before paying.
Pros and cons
What's good
Prompt and reliable mobile notifications;
Chatbots are easier to launch than their competitors' bots;
Excellent value for money, especially with the Unlimited plan.
What's bad
To work properly, the MagicBrowse tool requires a strong Internet connection;
Agent-specific reports must be custom-built with API;
The editor is more complex than the tools of competitors.
Olark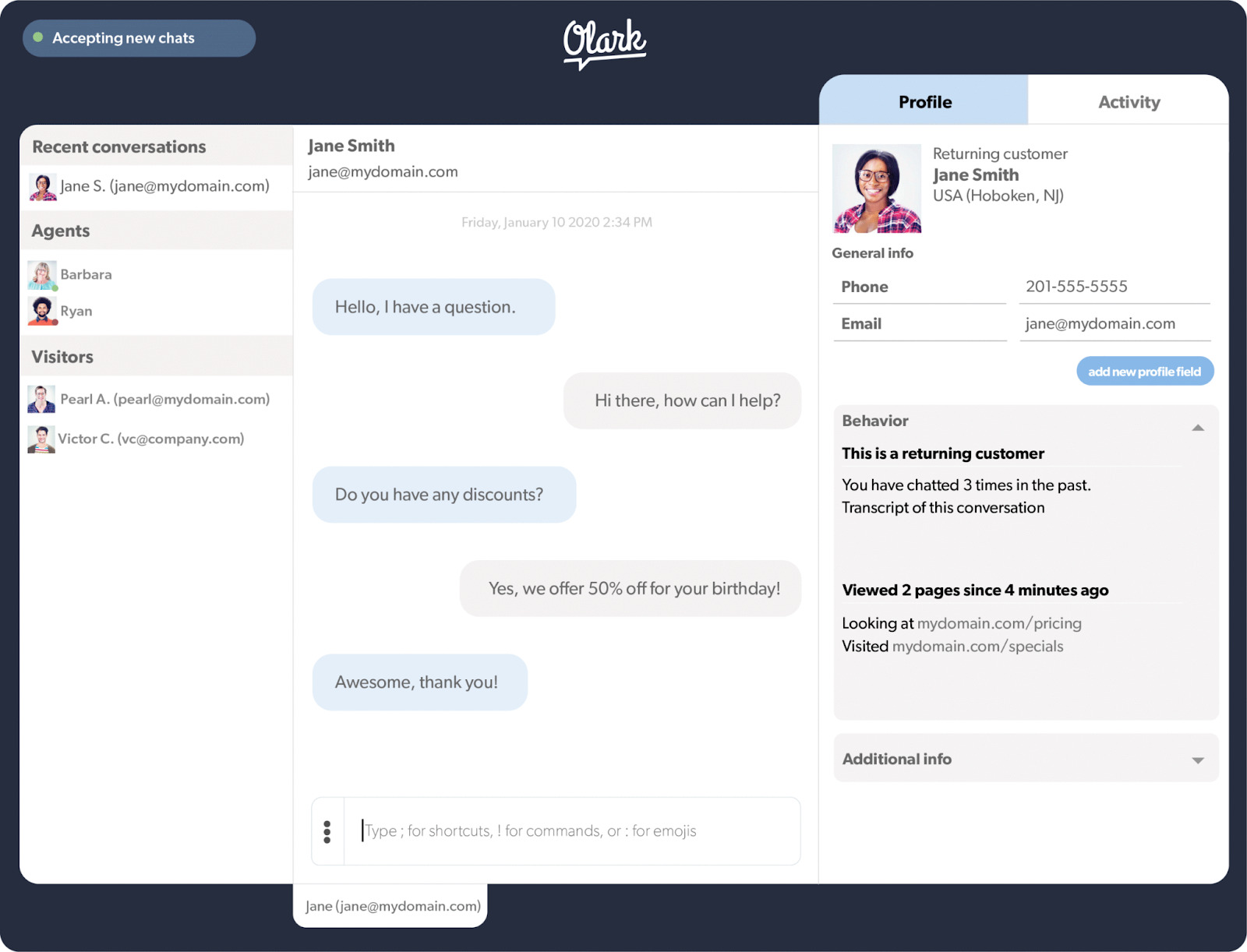 ​​Olark is a cloud-based live chat platform that allows businesses to communicate with customers via their websites. Olark has several useful features for sales, including automatic messages, team management, reporting, and searchable transcripts.
The solution also includes targeted chat, monitoring, and analytics within the suite.
What features do I get?
– In-depth sales live chat analytics;
– Lead capture forms;
– Chat history;
– Conversation routing;
– Canned responses;
– Triggered live chat messages;
– Real-time reports;
– Access to all conversations;
– Co-browsing — you can view pages together with a website visitor;
– Real-time conversation translation into over 100 languages (extra charge);
How to install
To start working with Olark, you need to install its code to your website. It takes only a few minutes and doesn't require developers' help. You may find complete installation manuals at Olark's help center. Installation manuals for popular CMS are also available.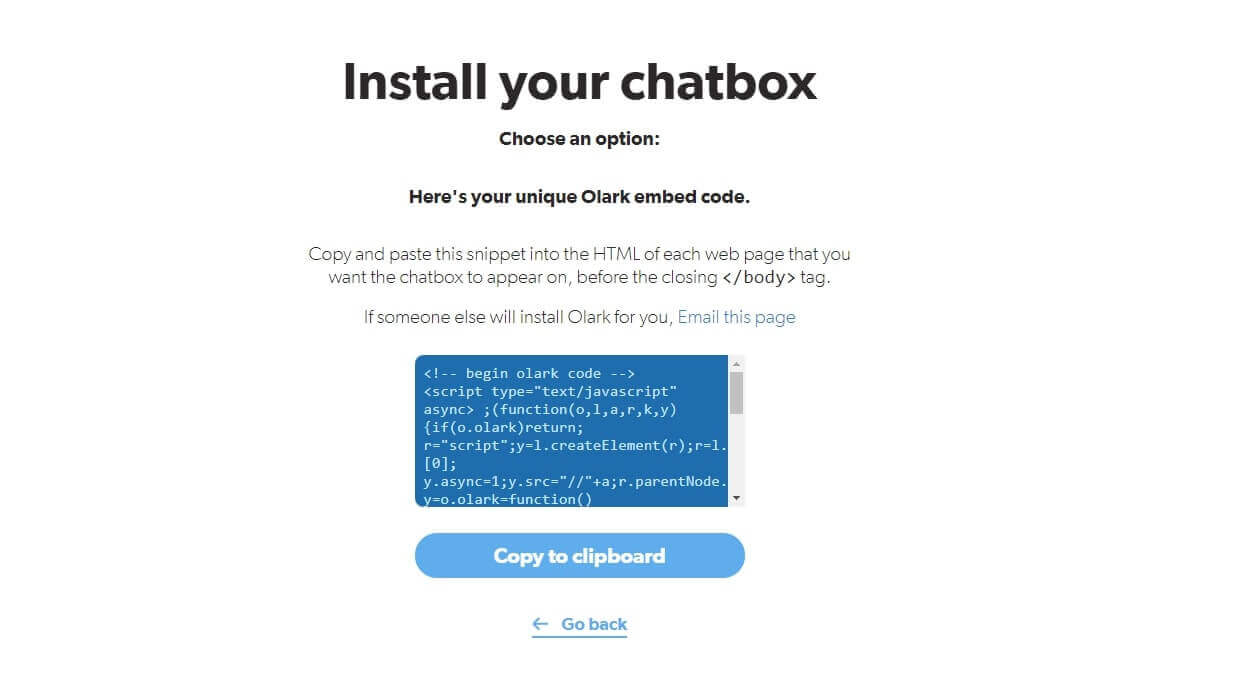 Live chat pricing: from $29/per agent
The price is determined by the number of agents in the chat. You'll be charged $29 for one agent on the basic plan if you pay monthly. There is a Pro plan that is best suited for enterprise-level companies. On-demand, you can request price information details. Unfortunately, Olark does not offer a free plan.
For an additional charge, you can get access to:
Co-browsing,
Non-branded chatbox,
Live chat translation,
Visitor insights.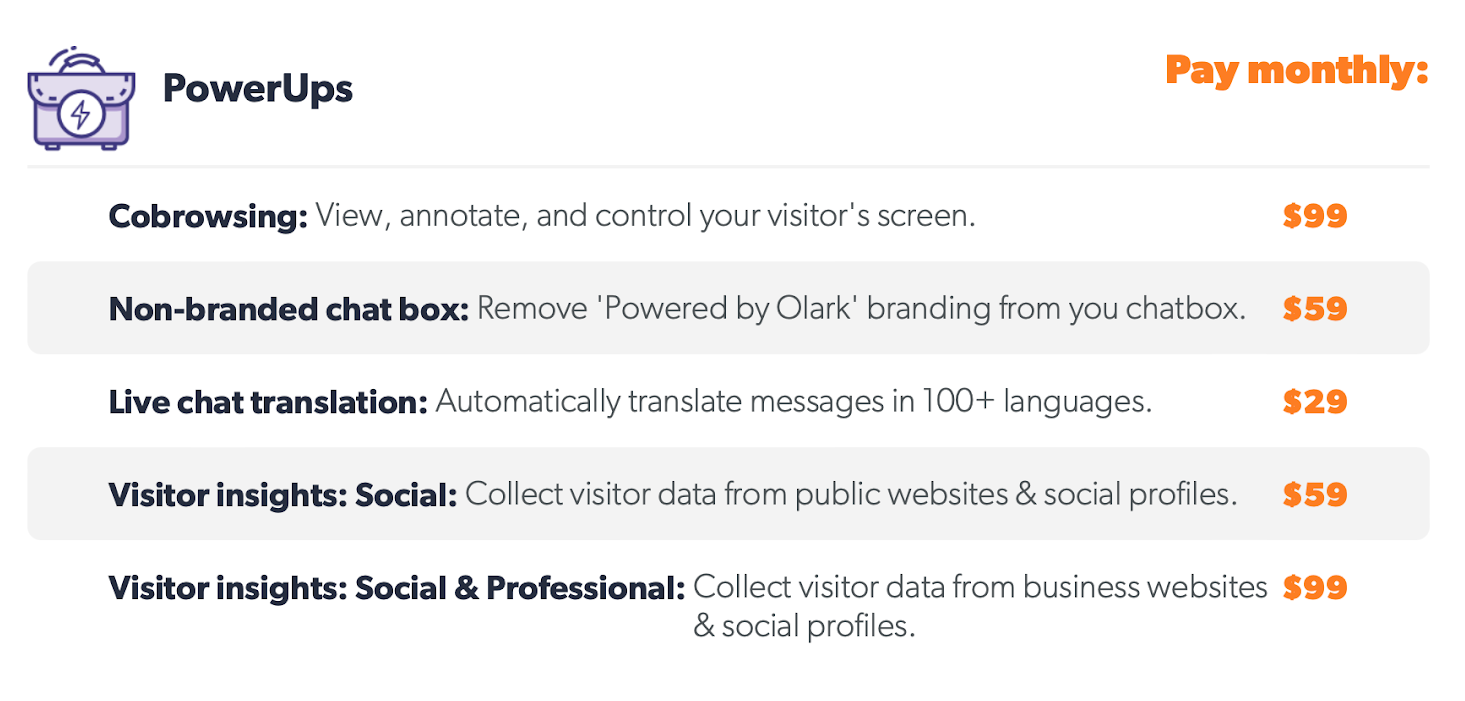 Trial
Olark offers a 14-day free trial to test its sales live chat on your website. 
Live chat pros and cons
What's good
Transcripts are simple to find and navigate;
A versatile communication platform for users;
Perfect for small and medium-sized businesses;
The user interface is simple and intuitive.
What's bad
Doesn't allow for the creation of email campaigns or pop-ups for lead generation;
No free plan;
Automation is minimal;
Doesn't suit large or growing businesses;
It can be costly for its features compared to competitors;
A live chat widget has limited customization.
Intercom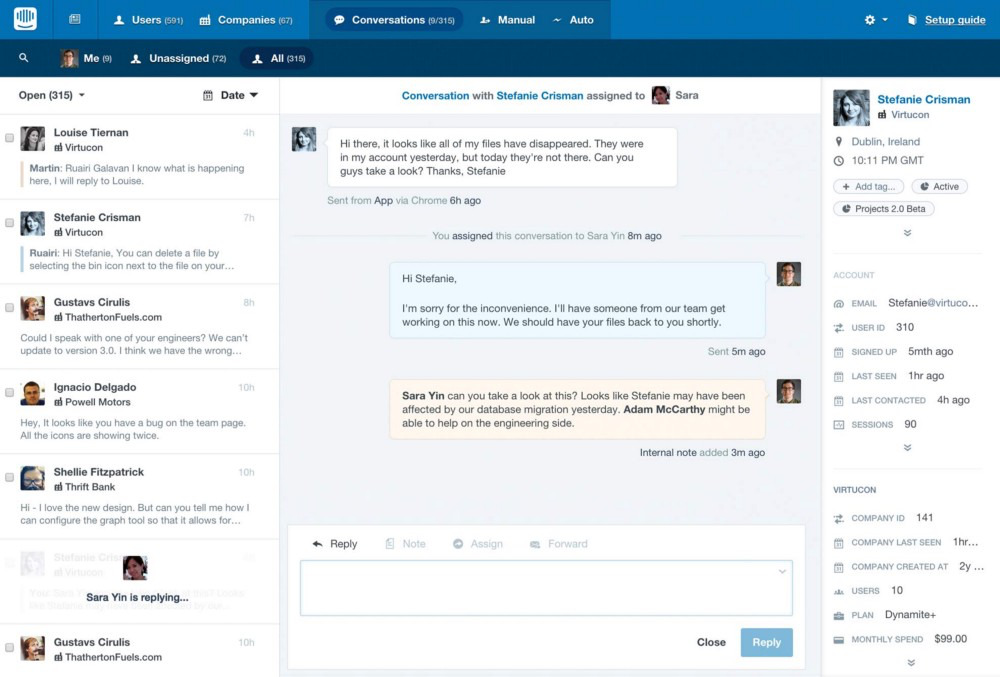 Intercom is another popular live chat and messaging platform many businesses use for sales. It's an expensive SaaS platform that lets businesses communicate with leads on their website, mobile app, or email. With Intercom, you can send targeted messages at the right time based on customer behavior and profile data. 
Intercom's live chat helps you create a personalized experience for customers, sending targeted messages and targeted content to each visitor.
What features do I get?
Send customized on-site messages;
Collect visitor information via live chat or lead forms;
Track user events and trigger custom messages;
Mobile application to answer customer questions on the go;
Email campaigns and A/B tests;
Reach potential customers via email or web push notification;
Send in-app messages through your mobile version of Intercom (available for iOS and Android);
Automated conversations based on user's data;
A comprehensive dashboard that allows you to see how many conversations are happening at any given time;
An easy way to transfer conversations from a live chat session into an email if necessary.
How to install
To start working with Intercom live chat, install its widget code to your website. It's quite simple and won't take much of your time. Intercom gives step-by-step instructions for putting the code into production. 
If you can't handle it yourself, you can share a link with your fellow developer. Your Intercom account will be accessible to anyone who has the link.
Alternatively, you can reach out to Intercom support if you have any difficulties installing live chat on your website.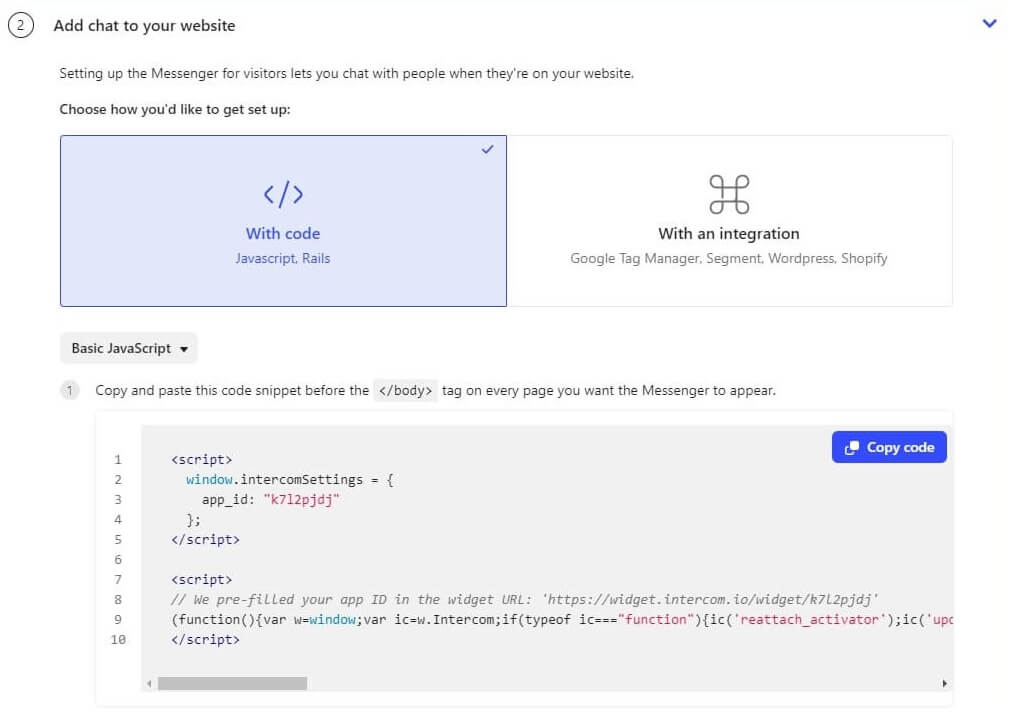 Pricing: from $74 to $999+ per month
The price for an Intercom varies depending on your company size and the features that you need for your business's growth. And you'll learn all the pricing details only after a conversation with an Intercom agent.
If you want to add live chat for sales and customer support as an additional feature, pay $106/mo. 
Also, a limited amount of agents and contacts are included in each plan. If you go above the limit, you'll have to pay a surcharge, which is typically extremely expensive for a business.
Trial
You can use the service on your website for free for 14 days, but you'll have to give your credit card information.
Pros and cons
What's good
It only takes a few minutes to install the Intercom software;
The knowledge base is quite diverse and continually grows;
Other platforms don't provide as many in-depth data as Intercom;
Straightforward and intuitive interface.
What's bad
Customer support is slow and unresponsive;
The tool is expensive for smaller businesses;
Complicated pricing program and extra charges;
Lots of bugs.
Zoho SalesIQ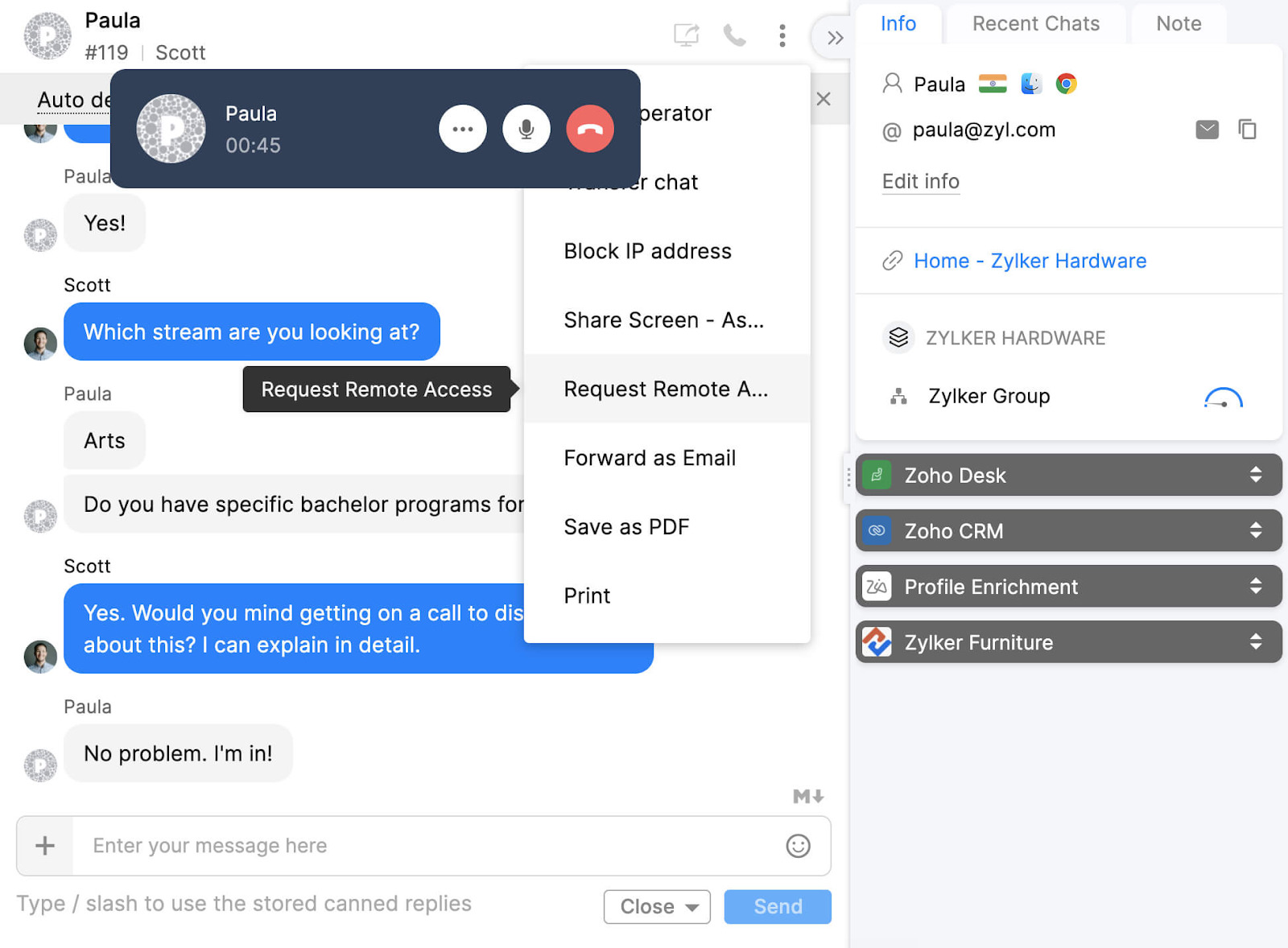 One of the best tools available for direct sales through live chat is Zoho SalesIQ. This powerful platform helps you engage with your website visitors and provides with relevant leads to close deals quicker. 
What features do I get?
 — Lead generation;
– Visitors geolocation tracking;
– Canned responses;
– Follow-up actions;
– JavaScript APIs;
– Live chat;
– Email campaigns;
– Conversation translation;
– Personalized chat;
– CRM data-based proactive triggers;
– Interaction history;
– Visitor activity tracking;
– Team monitoring;
– Traffic monitoring;
– Visitor engagement;
– Actionable analytics;
– Integrations with eCommerce platforms.
How to install
You'll have no problem getting started with a live chat for sales by Zoho SalesIQ. To install the widget, simply embed the code into your website. It takes just a few steps, and a live chat should appear on your website in minutes.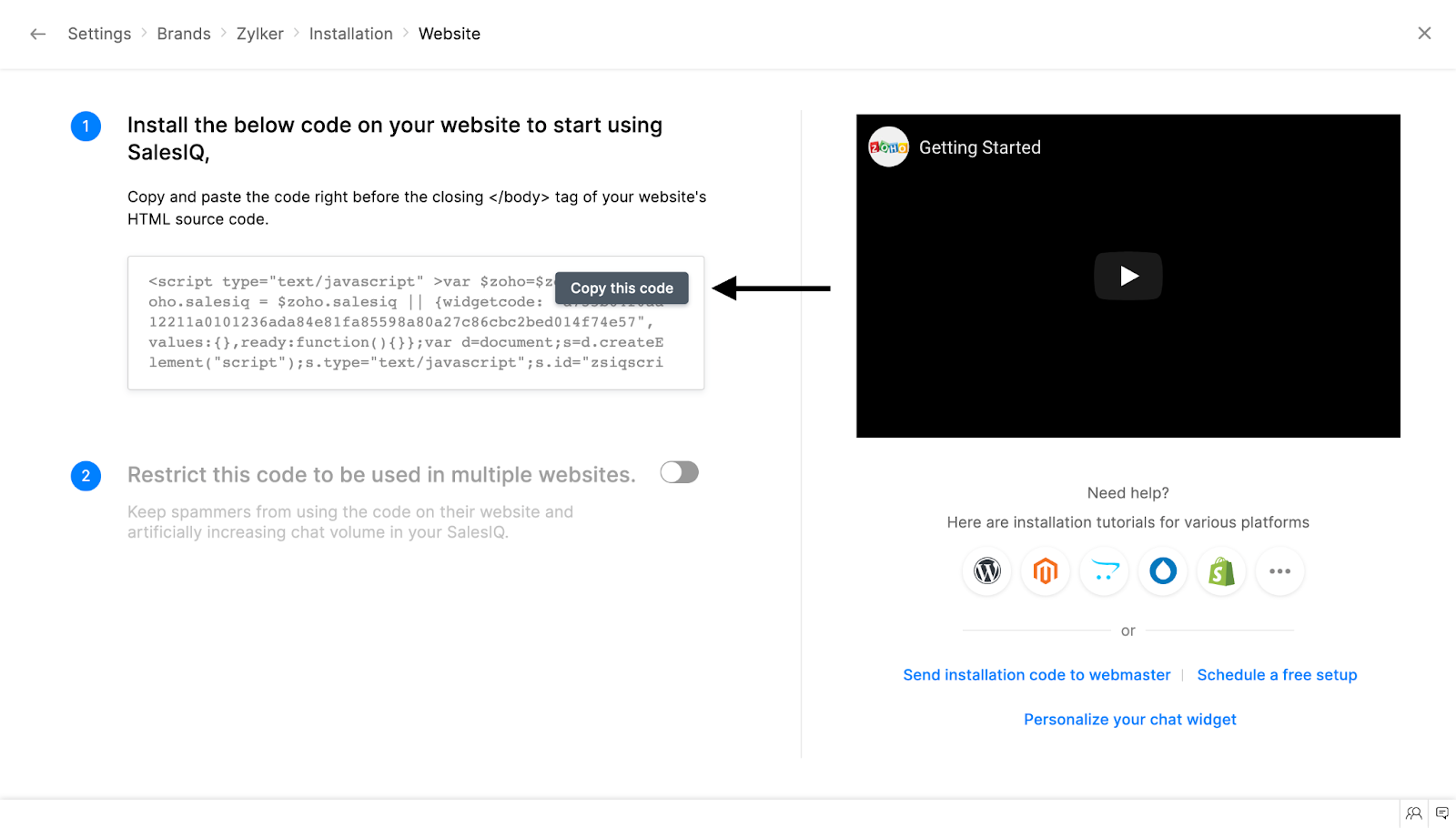 Pricing: from $0 to $25 mo/agent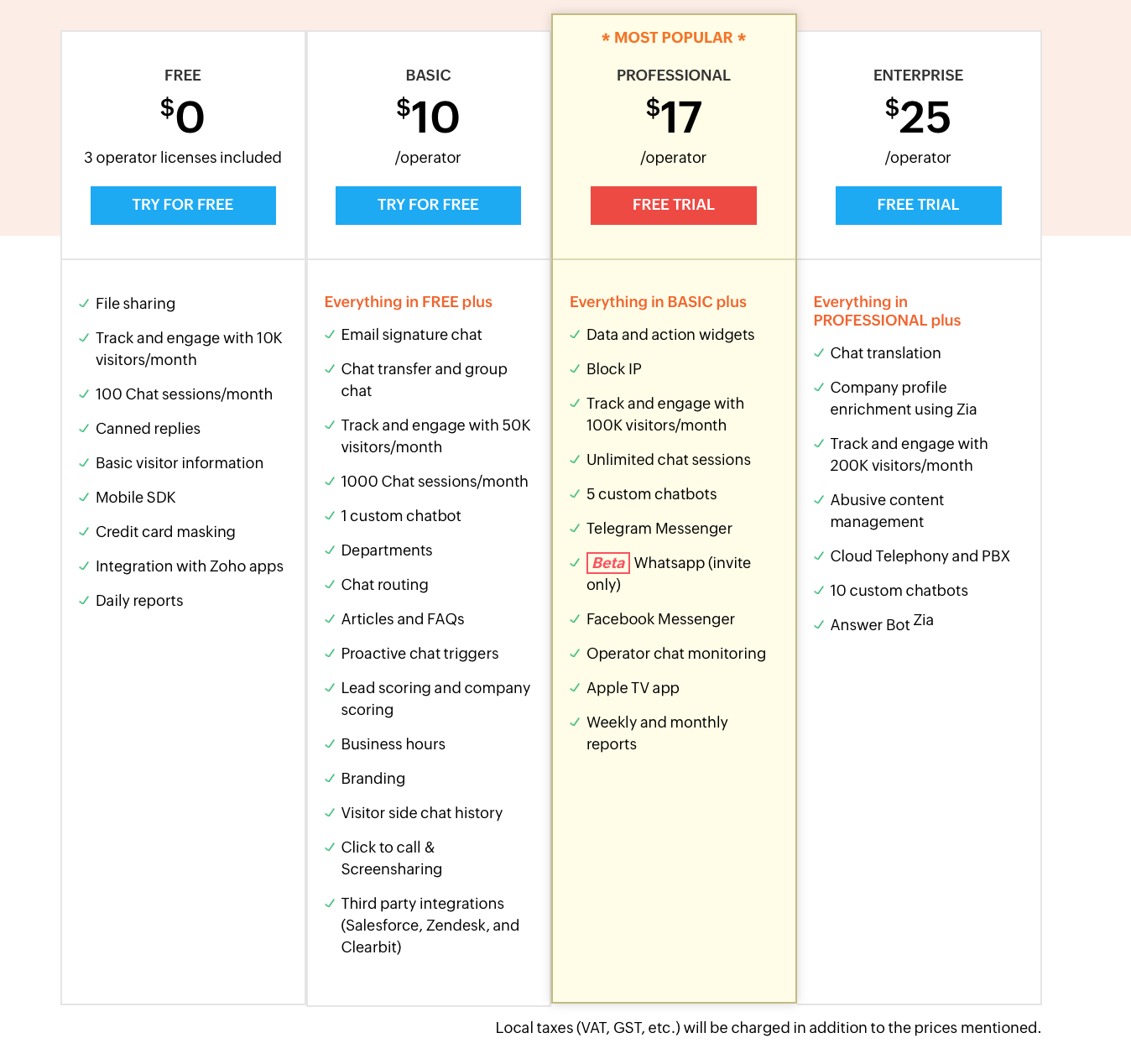 The pricing depends on the number of agents using the platform and the features required by your business. 
Trial
Zoho SalesIQ provides a 15-day free trial to try out advanced features of a live chat for sales on your website. No credit card is required. 
What's in the basic plan:
The free plan allows you to have three agents and gives access to:
File sharing.
Track and engage with 10K visitors/mo.
100 Chat sessions/mo.
Canned replies.
Basic visitor information.
Mobile SDK.
Credit card masking.
Integration with other Zoho services.
Daily reports.
Pros and cons
What's good
SalesIQ integrates well with other Zoho services like CRM;
Intuitive interface;
Easy to use and very reliable;
Great customer service.
What's bad
Chats sometimes come in without notification, so agents may fail to respond to some conversations;
The configuration with some sites can be difficult, especially with WordPress;
The free plan has limited features;
Can slow down the website due to code issues.
LiveChat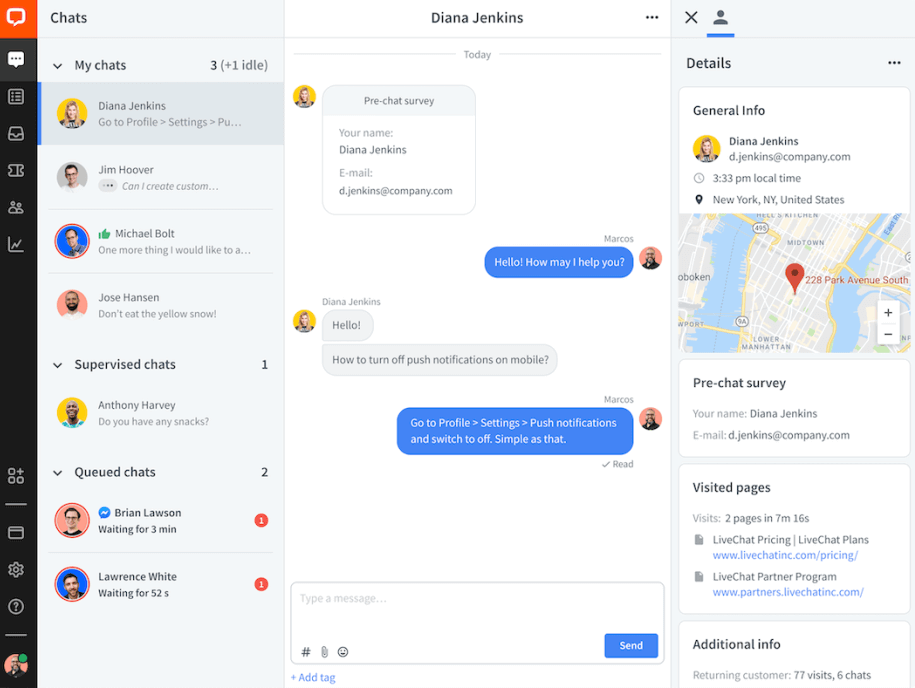 LiveChat is an excellent online chat product that enables customer support and sales agents to communicate with customers directly on their website, through social media, mobile, web, or messengers.
LiveChat is perceived as a simple chat window that displays on a website and is easy to integrate, tweak, and rebrand. The product's strong customer support and sales service meet all of a modern company's communication demands.
What features do I get?
Sneak peek at what a lead is typing before sending a message;
Chat history;
Automated replies;
Search and filter;
Assign conversations to other agents;
Automated notifications and triggers;
Geotargeting;
Live chat widget enables different actions on your websites, such as payments or meeting schedules;
Triggered live chat messages for unique website visitor behavior;
Options for branding and personalization;
Built-in ticketing system. Chat ratings, reviews, and customer loyalty reports;
File sharing;
200+ integrations.
How to install
Simply embed the product code on your website to use a live chat. For any CMS, web platform, or eCommerce platform, LiveChat provides instructions with all setup details.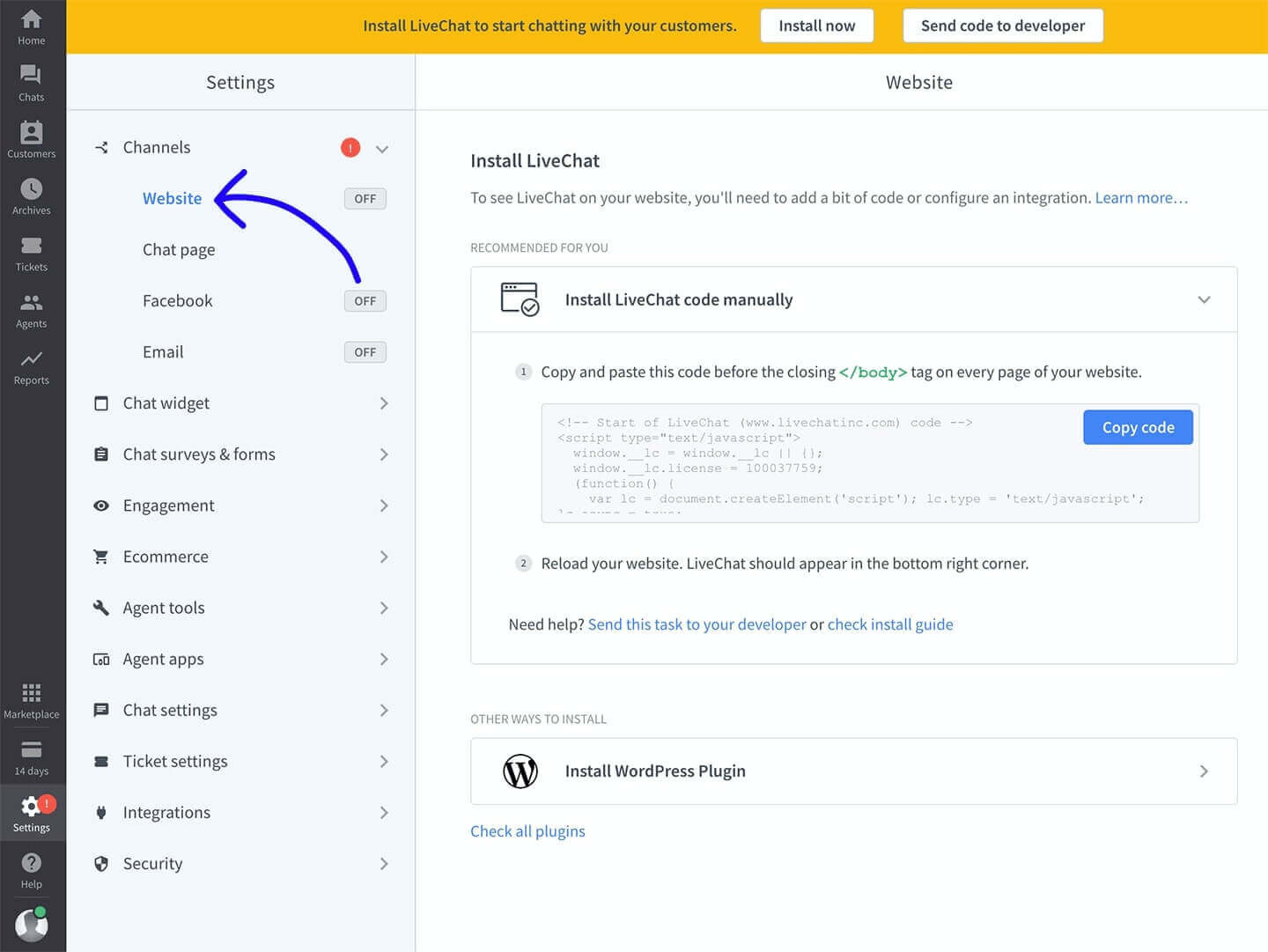 Pricing: from $19 to $59+ per month
There are four plans in LiveChat: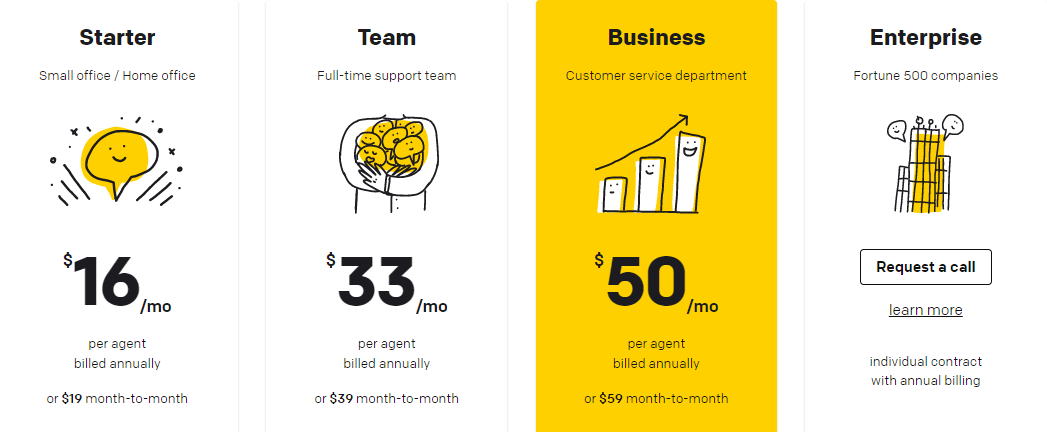 The number of active agents determines the price of the product's software. Therefore, you can save up on costs if you commit to an annual plan. 
What's included in the basic plan:
One automated greeting;
Chat history of the last 60 days;
Basic customizations of a live chat.
What's not included: 
Tags for live chat;
Statistics (you can only see daily reports on the performance of your agents).
Trial
Let your teams live chat with customers on the website for 14 days off-charge with LiveChat.
Pros and cons
What's good
The product is easy to integrate with other software;
You can test-drive live chat before committing;
The interface is easy to use and understand. No need to go through how-to articles or user guide;
The excellent support team will answer your questions and implement changes quickly if necessary.
What's bad
Not a feature-rich product compared to other competitors;
Long loading times for user reports;
The price is high for the same features that you can get from other competitors for a lower price;
Limited tools for agents on a mobile app.
HelpCrunch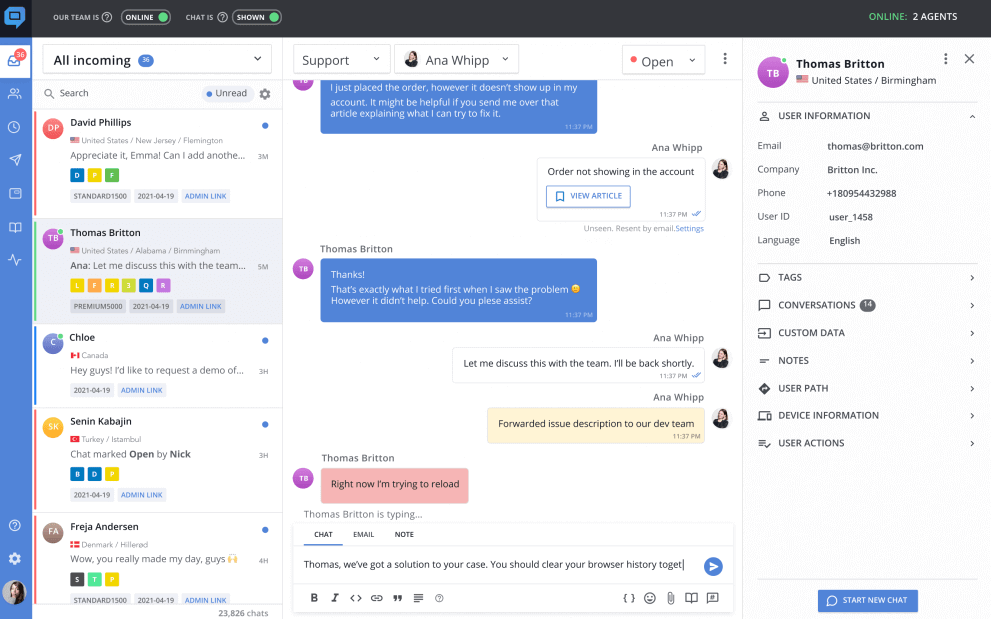 Another great example of a live chat for sales is HelpCrunch. HelpCrunch is software that helps you engage and convert website visitors into customers. It's an all-in-one customer communication platform website communication, email marketing and CRM.
HelpCrunch helps companies streamline customer support and sales. You can use it for live chat and email support to your customers, lead capture and conversion, feedback collection, etc.
What features do I get?
Live chat;
Email marketing automation and email templates to share sale and other relevant offers;
You can ask leads to fill out surveys directly through the chat or integrate it with your CRM system (there are 30+ integrations available);
Web push notifications;
Help desk software;
Knowledge base to create how-to articles and share them with customers;
Ability to configure automatic triggers for messages based on visitor behavior;
The live chat widget is available both on mobile and desktop devices and comes in multiple languages;
The customization options include changing the language, logo, colors, and fonts to make it look more natural for your brand;
HelpCrunch offers integration with various third-party applications.
How to install
It's not very complex to install the HelpCrunch widget on your website. Simply embed the code on your website or connect it with your content management system (CMS). Then, if you have any questions, you may use the live chat feature in the admin area to contact an assistant. HelpCrunch agents answer any questions on installation.
It only takes a few minutes to install the HelpCrunch software. And then you're ready to talk to your leads.
Pricing: from $15 to $25 per agent/per month
HelpCrunch offers three plans: Basic, Pro, and Enterprise. The fee may differ for larger enterprises if you need to unlock an unlimited number of team members and emails.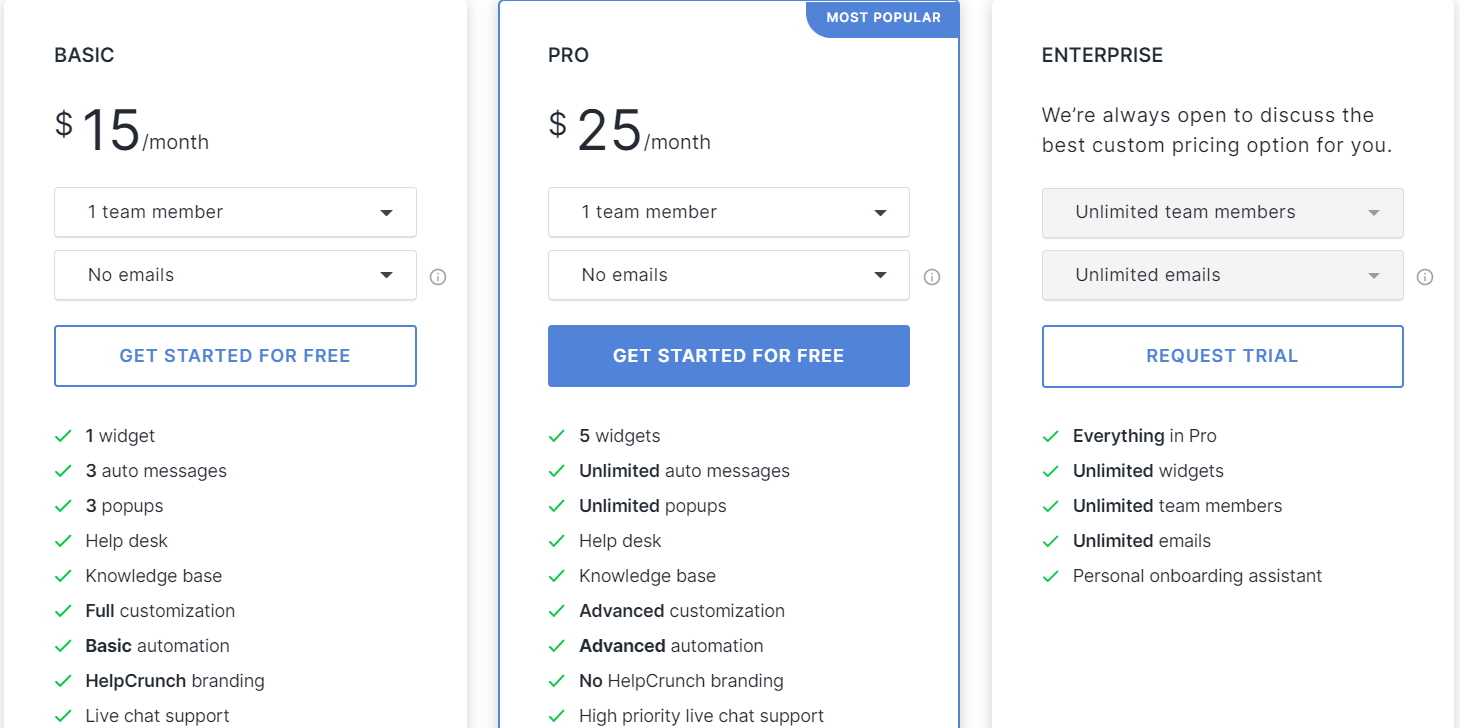 What's included in the basic plan?
One chat widget;
Unlimited chat manual messages;
Three triggered chat messages;
Three pop-ups;
Knowledge base;
Chat support.
You might have to upgrade to a higher-tier plan if you want to unlock email capabilities or unlimited features for your sales agents. 
Trial
HelpCrunch offers a 14-day free trial on its chat software. 
Pros and cons
What's good in HelpCrunch live chat
Easy to install on your website;
Affordable pricing for startups;
Great customer support;
Intuitive and simple interface.
What's bad in HelpCrunch live chat for sales
Limitations on emails and auto-replies for lower-tier plans;
Unstable mobile application.
LiveAgent
LiveAgent is one of the best sales live chats and the number one help desk solution. It helps you manage leads from all channels, such as email, social media, and ticketing. 
LiveAgent allows chatting with customers on your website, Facebook, or mobile devices. This chat for sales also enables you to track lead journey across all channels and see every sale offer and interaction customers have with your business.
What features do I get?
Integrations with Zoho CRM, Salesforce CRM, and Freshsales CRM;
It also allows you to manage social media accounts and messengers from a single dashboard;
LiveAgent can automate routine tasks related to lead management so that you can focus on more critical tasks;
It also allows you to tag, segment, and score your leads based on their activity or conversation history;
You can also create custom reports on how your sales team performs in converting prospects into customers.
How to install
To start working with LiveAgent, install the code to your website. You may use this 4-step installation guide.
Pricing: from $0 to $49 per agent/per month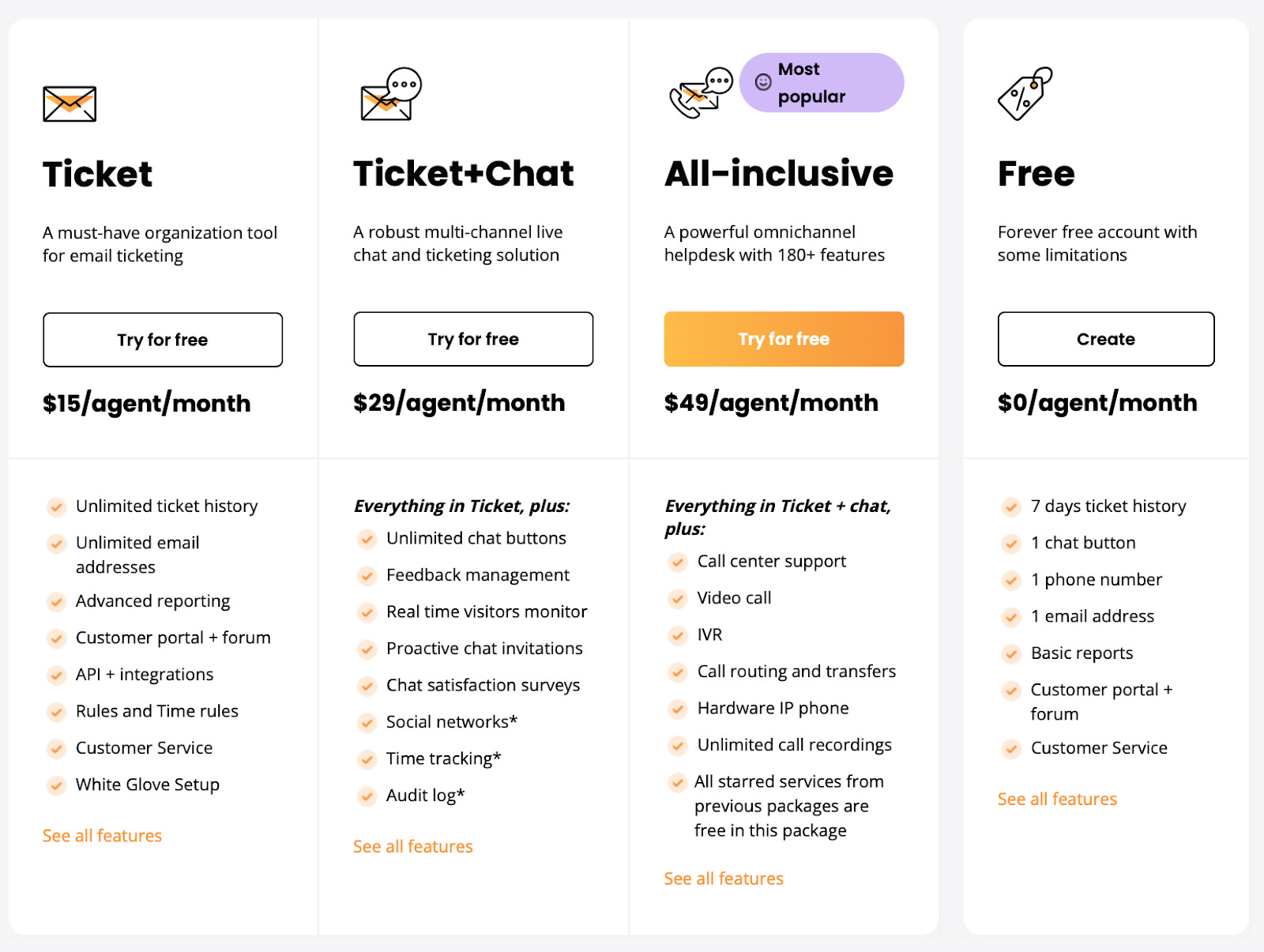 LiveAgent offers several paid plans alongside a free plan. However, choose a higher-tier plan if you want chat features for sales and support. 
What's included in a basic plan
Live chat;
One agent seat;
Ticket history for 7 days;
Custom email templates;
Internal tickets;
Attachments in the live chat;
Knowledge base;
Mobile app.
Trial
LiveAgent offers a 14-day period to test their sales live chat.
Pros and cons for a customer
What's good
Easy to use for agents;
Integration of different tools;
Easy to integrate;
User-friendly;
Great support.
What's bad
Lack of personalization and customization;
Conversations are not translated automatically to other languages;
Needs more features for automatic responses.
To sum up
We know how hard it can be to pick the perfect chat for sales for your website. Here are some key points to focus on while selecting a perfect tool for your business:
First, determine your budget. Several chat solutions, such as Drift, Freshdesk Messaging, and Olark, offer free versions, but they lack basic functionality. 
Then check the pricing model of the live chat. There is a vast difference between plans offered by such companies, as some have monthly charges while others provide only annual plans. Find out whether it is possible to pay for a monthly subscription, or you can only afford yearly payments.
If you want to calculate an estimated cost per month, use our formula:
(Number of agents * Monthly/Annual price) / (12 months/1 year) = Cost per month/year.
Compare features and select ones that matter to your business most. For example, if you sell your product in multiple languages, choose a tool that supports various languages to encourage more sales. 
If you have a growing company, then you have to consider a live chat that can grow with you by offering more robust features for your business. 
We hope this article has helped you decide on the best one for your business and avoid common mistakes when choosing live chat software. 
Still not sure which chat for sales is right for you? No worries, contact our expert, who will assess your website communication to find the best solution.
FAQ
What is a live chat?
Live chat is a widget that you can place on your website to communicate with your customers in real-time.
The benefits of chat are obvious — solving customers' problems directly on the website helps sales agents with lead capture and their conversion. 
How can a live chat influence sales?
Website visitors ignore popups and banners, but it's much more difficult to ignore an interactive window asking if they need help. The unique value of live chats for sales is that it allows you to start a conversation instantly.
Integrate chat into the sales and marketing strategy to:
— Increase sales;
— Help potential customers get answers to all their questions and concerns;
— Personalize the website communication to increase engagement;
— Collect email addresses and phone numbers;
— Qualify customers to contact only hot ones;
— Build a loyal brand image to get customers' trust.
What are the key features of live chat for sales?
The key features of live chat for sales include:
— Chat widget: an icon that displays on your website and helps visitors talk with you;
— Integrations with audio and video calls such as Zoom, Skype, Google Meets, etc.;
— Chat transcript: all conversations are saved as transcripts so that you can view and edit them;
— Automated messages that a visitor gets if there is no one to respond;
— Canned responses can be used when you get the same questions too often;
— Triggers for sending messages or invitations to chat;
— Integrations with the tools you use, like CRM or marketing automation;
— Easy installation — no coding required.
How to choose the most suitable live chat for sales for your website?
Before choosing the right live chat for sales, consider what features will be the most useful for your business. Here are some things to keep in mind about a chat for sales: 
— It should work well on mobile devices such as smartphones and tablets;
— It is also essential to choose a chat where you can have multiple sales agents simultaneously in case you need to help more than one customer at the time of purchase;
— Choose a chat with growth potential if you plan to expand your business;
— It should easily integrate into your CRM tools.