In 2021 chatbots became very popular. To facilitate the work of the support team, businesses use customer service chatbots. Sales reps use these virtual assistants to engage website visitors, and so on. But what about considering chatbot for business as a lead generation tool?
In this article, we'll compare chatbots and lead forms for you to choose the one that will generate more high-quality leads.
Disclaimer: particularly on your audience, the performance of these two lead generation tools may differ from general statistics and outcomes of their effectiveness in this article. Don't forget to test both options and measure their effectiveness. 
1. User experience
Do people really pay attention to lead forms? And chatbots?
Many marketers claim that uses don't react to landforms and other forms of static banners — they simply scroll this due to banner blindness. Is this true? 
86% of customers experience banner blindness.
In addition, you're more likely to survive in a plane crash than to click on the link in a banner. That makes us think that chatbots are more eye-catching than lead forms. 
But why is it like that? There are two versions. 
First, banners are static, and all the people can see them, no matter what their needs, experience, and so on. Users get used to this and adapt their attention not to see these elements. 
Another version says that users don't read but scan banners when searching for relevant information. So, they simply skip useless elements in the text.
Still, you should be careful with this. Sometimes it's better not to disturb users with chatbots and pop-ups, but instead leave static leadform. However, in some cases, a chatbot is definitely a better tool. For example, when you need to collect a lot of data about the user. A lot of chatbot platforms offer chatbot for lead qualification.
Be wise with your communications.
2. Engagement statistics
36% of companies use Leadbot as a lead generation tool in 2021. What's more, 39% of companies who decided to use chatbots, said that bots helped make their website more interactive. 
There is one more piece of research. Interviewers asked entrepreneurs where they see better results in lead generation. There were the following results: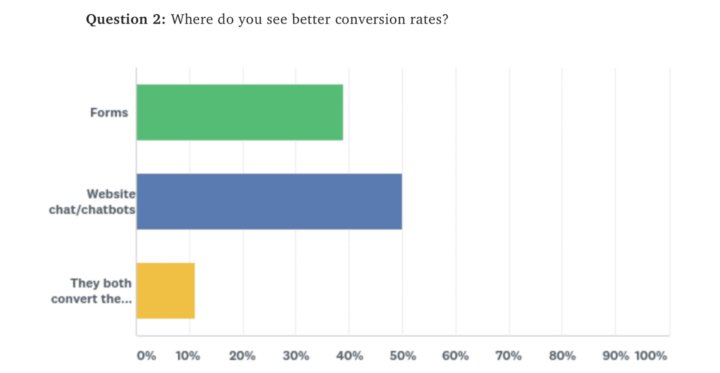 So what is a bot? It's an effective tool to catch users' attention. As you can see, chat and chatbots are the more engaging than forms. It is another proof that users like interactive chatbots more than static leadfroms.
And one more thing about chatbots: 
Users finish a conversation with 70% of chatbots they start. 
This means that in 70% of cases, users perform the target action you supposed for the leadbot — in our context, this is leaving their contact. 
Well, now everything is clear with chatbots, but what about leadfroms? Do users still pay attention to them and leave their contact?
The conversion rate of the leadfrom is about 21%. 
This is the mean number for all the industries, so that for your type of product this may vary. But still, there is a slight difference between 70% and 21%. 
Read also: The secret weapon of your competitors or Why you should focus on customer service first
3. Impostion
Many consider chatbots as a very obsessive tool. Now, we'll prove or dispel this myth.
Let's start with Userlike's statistics. Recently, they conducted very interesting research on customers' attitude to chatbots. Here are their findings: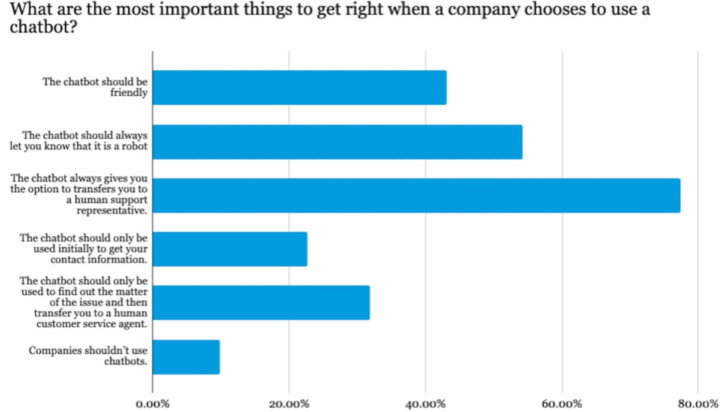 Only 9% refuse chatbots and think that companies shouldn't use them. At the same time, almost 80% say that chatbot should let you know that you're talking to a chatbot. This is an important note: you can use a chatbot, but you can't lie that this is a human. 
More than that: customers (nearly 30%) use chatbots to subscribe to mailing lists or a newsletter. This meets our goal to generate leads through the Leadbot: users are ready to share their emails with bots. Take a look: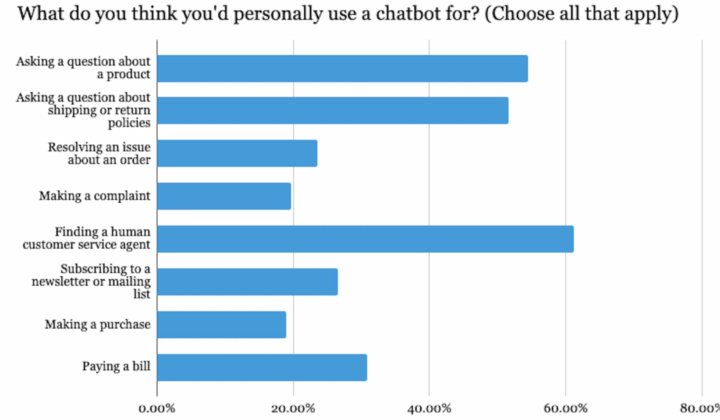 So, users already get used to chatting with the chatbot and don't find this irritating. Chatbot is a very prospective technology, so you should keep track of chatbot future trends.
Read also: 15 best lead generation services to grow your base in 2023
4. Lead generation in different industries statistics
Guys from Tidio collected stats regarding chatbots usage for different industries.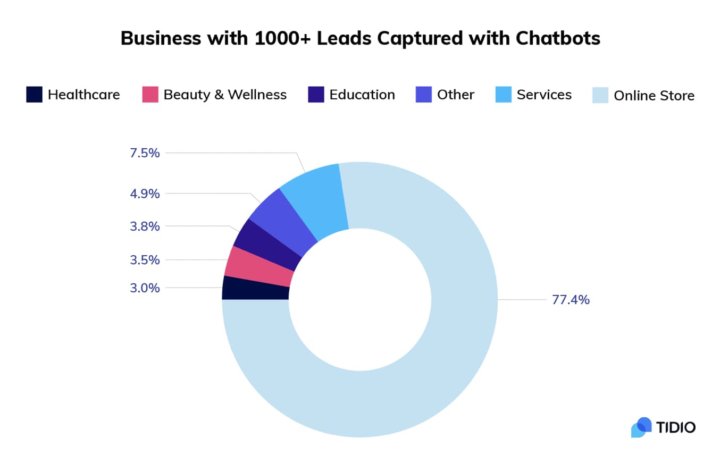 Turns out that eCommerce uses chatbots the most often. And this is understandable — online shops have many requests about placing orders, shipping, and so on. Many shops also use it for lead generation — it's easy to offer a discount in exchange for an email. And the screenshot below definitely proves this: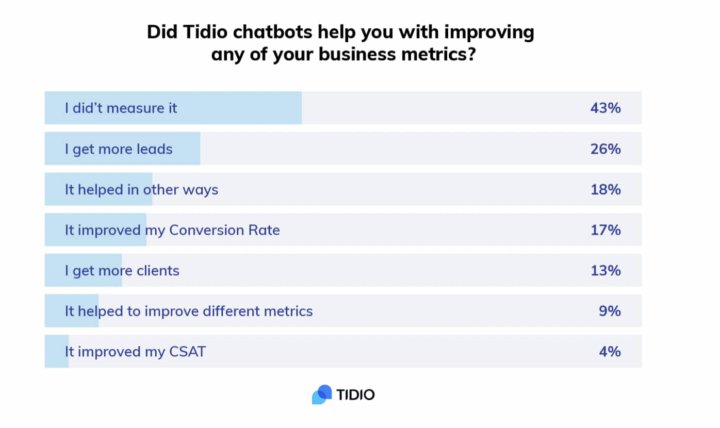 Free expert insights to boost your marketing strategy and raise conversion to a target action by 10%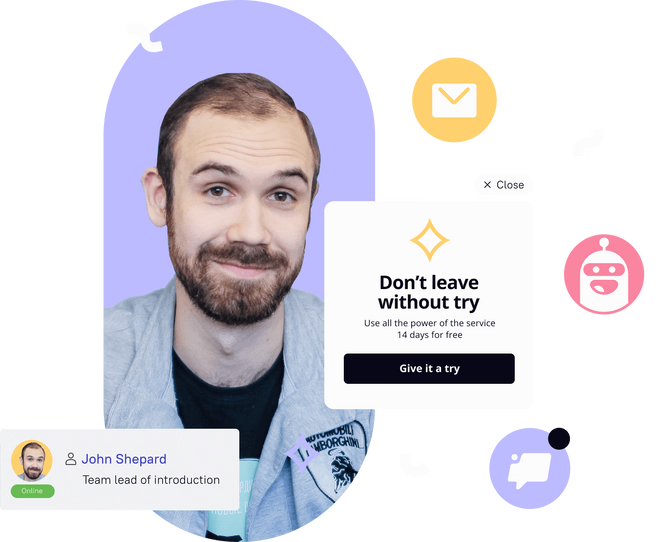 5. Business effectiveness
Imagine such a case. You have a leadform on your website, where very hot leads land. This has a very high conversion rate — about 90% of users leave their contacts for a demo.
But your sales reps don't have time to respond to them.
Or they do this, but it takes several days for users to get a reply. During this time, they have already forgotten that they left their contact, and their desire to use your product decreased. 
Imagined? This is the reality of many companies. 55% of companies reply to users on five or more days. And now imagine how many deals they might have closed, but didn't because of the manual approach of leads collection.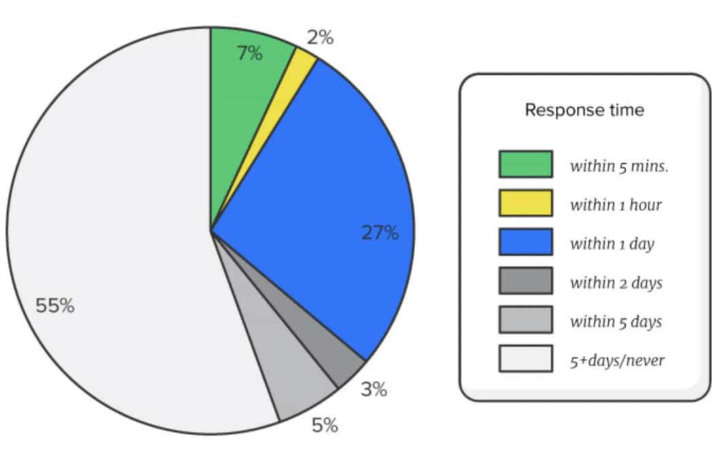 Chatbot definitely resolves this problem. This interactively asks all the qualification questions, answers users' questions, and assigns the conversation to an agent if needed. 
The advantage of leadbot is that this is interactive, and you can make this in quiz format — users will not even have to type something and push buttons instead. So, it's much easier to collect all the needed info about the user and not get them annoyed.
You may have a great team, but even the best ones may be swamped and miss requests from lead forms. Chatbot eliminates these risks. And if you still don't use chatbots because they seem too complicated, we're ready to prove you wrong! We made a guide on how to create a chatbot in 15 minutes without any coding skills. Check it out!
Read also: Customer engagement strategy template to create omnichannel campaigns
Best practices of using chatbot for lead generation
Dashly Leadbot is a relatively new feature, so there are not so many cases of using this. But for sure, we've got them: 
1. Online courses
Before Dashly, users learn about the courses through ads or content (lead magnets or webinars). When they go to the course page and apply for the course, a sales rep jumps in and helps the lead choose their future course.
We created a proactive lead engagement and generation campaign. 
We've launched the chatbot on the page that is designed for more skilled users who know they're willing to work in this field. Leadbot's job here was to make it clear that the person came to the right place to meet their goals and boost their skills.
Leadbot offered a free career guide to motivate leads to share their contacts: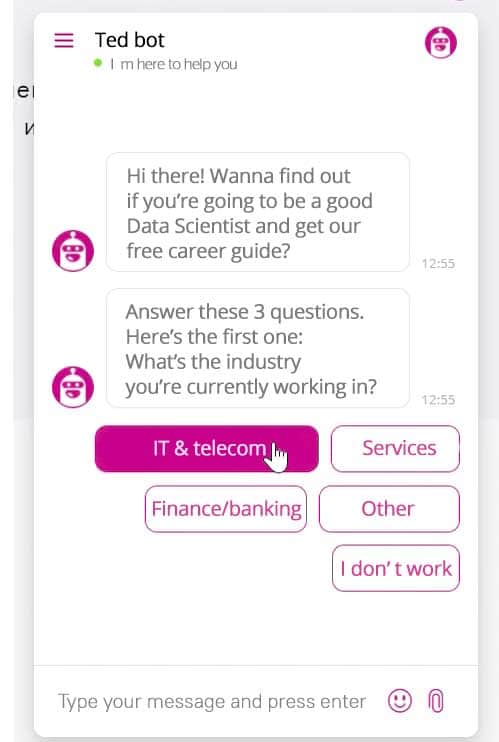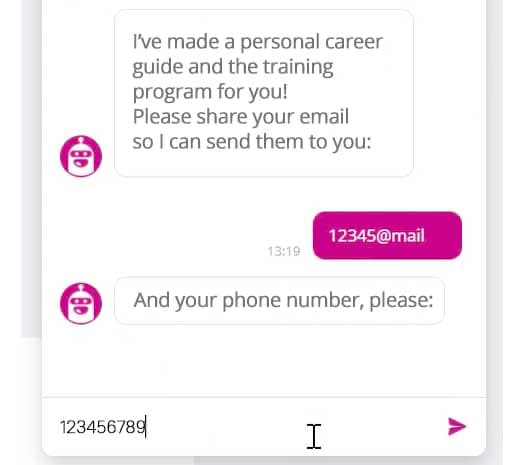 The numbers:
22,7% shared their emails,
15,5% shared their phone numbers.
2. SaaS
We targeted this bot on the Dashly blog visitors whose email we didn't know.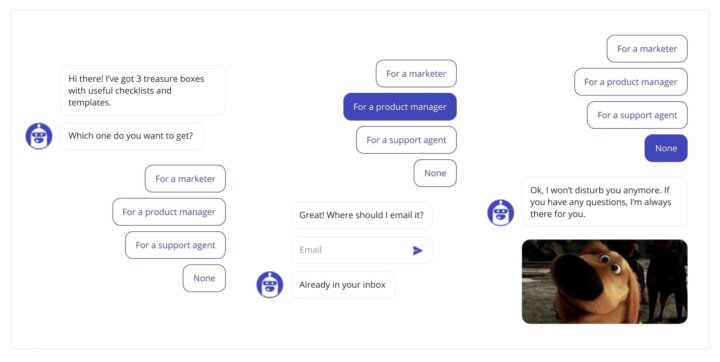 It's one of the tips for setup. You can find even more in our article on the chatbot best practices. Check it out!
Download pdf file with 13 chatbot flow templates to collect & qualify leads, increase sales, recommend goods, etc.
Thank you! Your playbook is already in your inbox