Do you want to raise the efficiency of your support and sales teams? Get a deeper insight into your clients needs? If you are here, you are well aware of the answer — live chat. 
Find out the top 7 live chats for eCommerce. We provide exhaustive reviews of top-rated services: their features, installation guidelines, pricing, and the rundown of cons & pros. All that will help you make an informed decision and pick the best live chat for the website where you promote your eCommerce services.
What features should you look for in live chat software for eCommerce?
Companies that don't run a chatbot on their websites might be in the dark about how live chats influence page ranking and loading speed. Meanwhile, this is a powerful tool to boost customer loyalty and convert sales, as nothing else does!
No matter what your eCommerce project is about, staying in tune with your clients is essential. A support chat comes with a myriad of advantages for your business. For example, with live chat, you can:
Respond to the burning questions or jump on Zoom calls straight from a live chat for eCommerce.
Provide seamless communication, no matter where your customers chat with you: on socials, messengers, your website, or by email.
Grow sales by sharing videos, images, links to products, or valuable instructions.
Capture, qualify leads and prevent cart abandonment with an automatic chatbot.
Improve your eCommerce features with post-chat surveys. 
Boost your managers' response time with canned responses, new customer requests notifications, and knowledge base articles.
Provide better quality support by automatically routing customers to the most relevant agent, client's purchase history, previous conversations, and preferences. 
Manage support and sales team workflow with deep insights on their efficiency from live chat analytics.
Mind all these features when you choose software and train live chat agent — the results won't take long to come. 
Without further ado, let's get down to the top 7 live chat tools overview for you to choose a suitable live one for eCommerce.
Dashly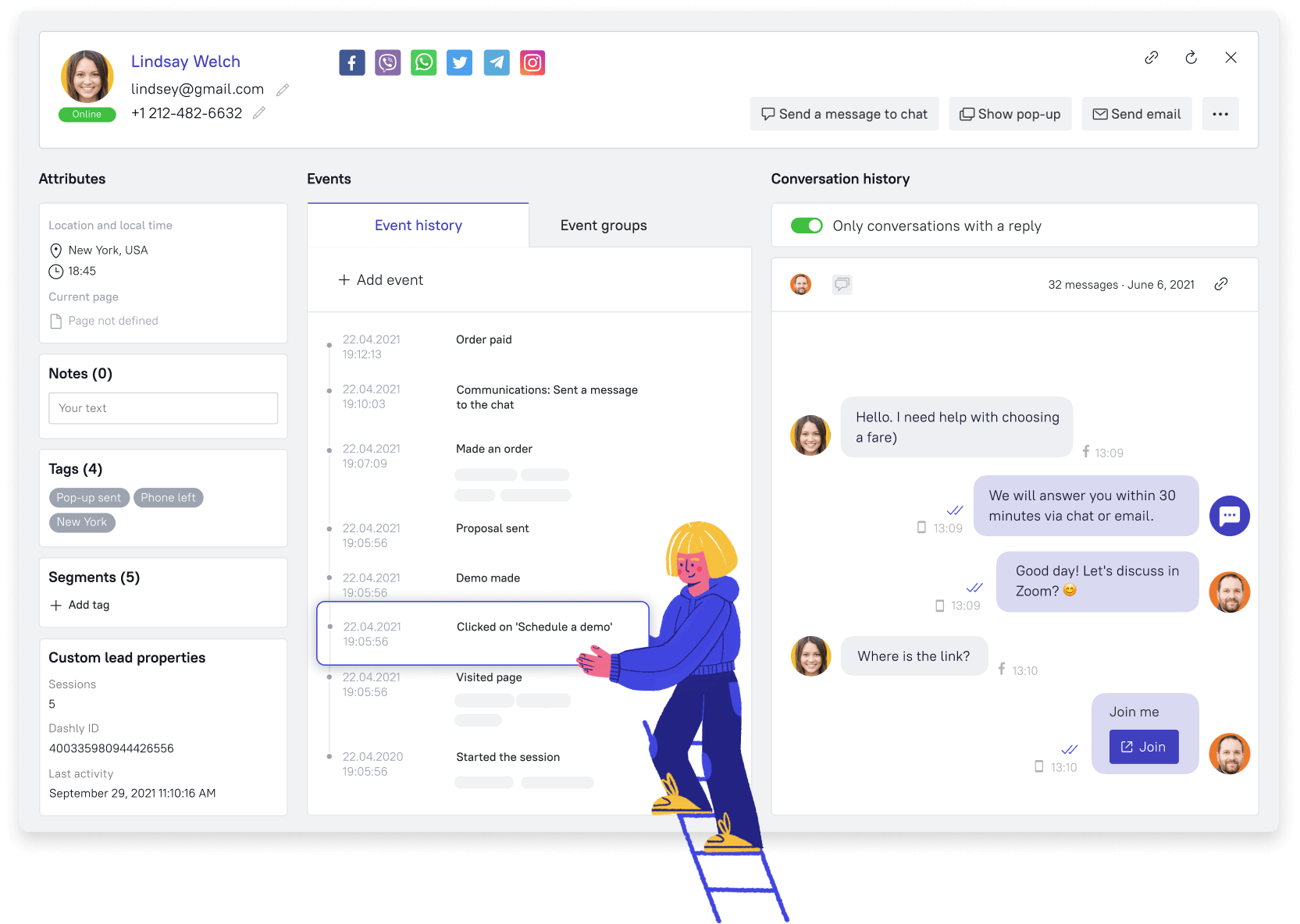 Dashly was made with a conversation in mind: it improves the way businesses communicate with customers. This conversational platform comes with many tools, including a live chat for online store or any other eCommerce project. It allows you to boost sales with personalized communication based on clients' behavior and interests. 
Inbox to store messages from socials, messengers, email, and a website in a single place. You can categorize communications by tags, channels, and automated conversation routing.
Automated replies for improved engagement.
Proactive chat invitation to engage visitors in a conversation.
Seamless integration with eCommerce CRMs to pass leads to your team automatically.
Audio and video call with Zoom integration.
Live chat widget that matches your brand style.
Chat analytics on sales and support team.
Lead cards with client data, chat history, and agents' notes to personalize each conversation. 
Files sharing.
Canned responses for quicker replies to customer requests.
Agent access management settings.
Customer requests notifications for your agents.
As an all-in-one solution, eCommerce live chat by Dashly comes with additional features:
Chatbot for lead capturing, FAQ, and conversation routing to the relevant agents.
Integrated knowledge base for clients to answer their questions without contacting agents.
Pop-ups to boost sales, reduce cart abandonment, etc.
Website visitors behavior tracking, so you have data for upselling campaigns.
How to install
Dashly's eCommerce live chat software does not require you to run a dev department — installation is a matter of a few minutes. All it takes is installing the script to your website, and the live chat will be automatically activated. Two installation options are available:
Copy the script and paste it into your website in a single click. 
Connect the platform to your CMS or try Google Tag Manager.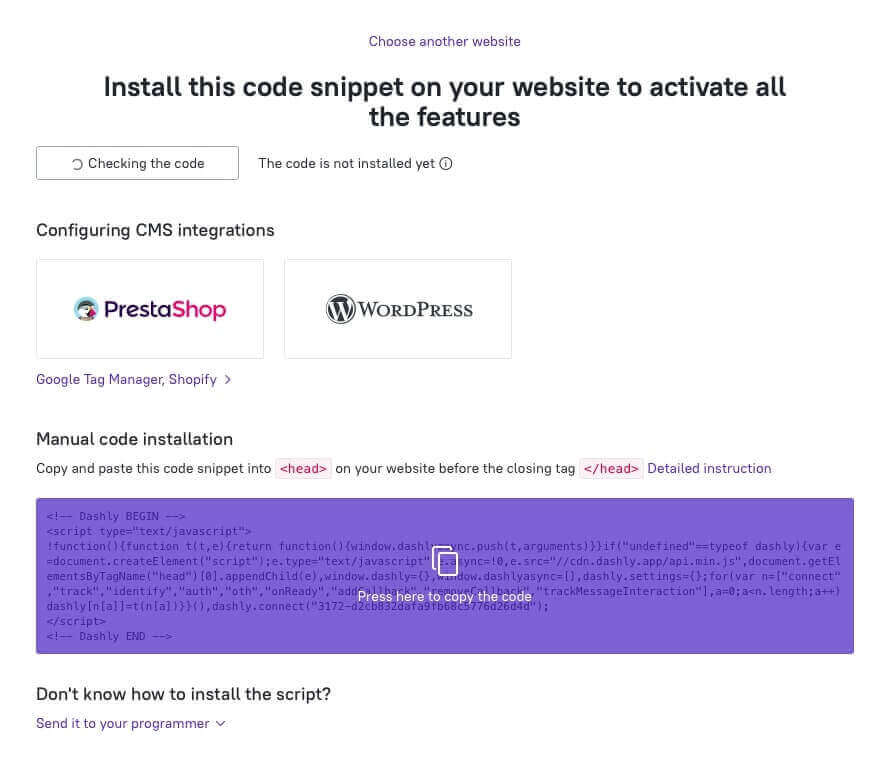 Pricing
Cost: from $39 per month, no agent seats limit
Free trial: 7 days
The price for the conversational platform depends on your website traffic and add-ons you choose to include in your plan. The number of agent seats is unlimited.
The paid plans start from $39/mo. The Conversation suits you in case you have a small business and you have time to communicate with each customer. However, for a bigger company that requires robust automated triggered campaigns, the Marketing plan works better.
You get access to all the major features of the platform and advanced analytics. Besides, all limitations can be extended with add-ons.
Check the full list of add-ons and calculate how much you'll pay for the platform on the pricing page.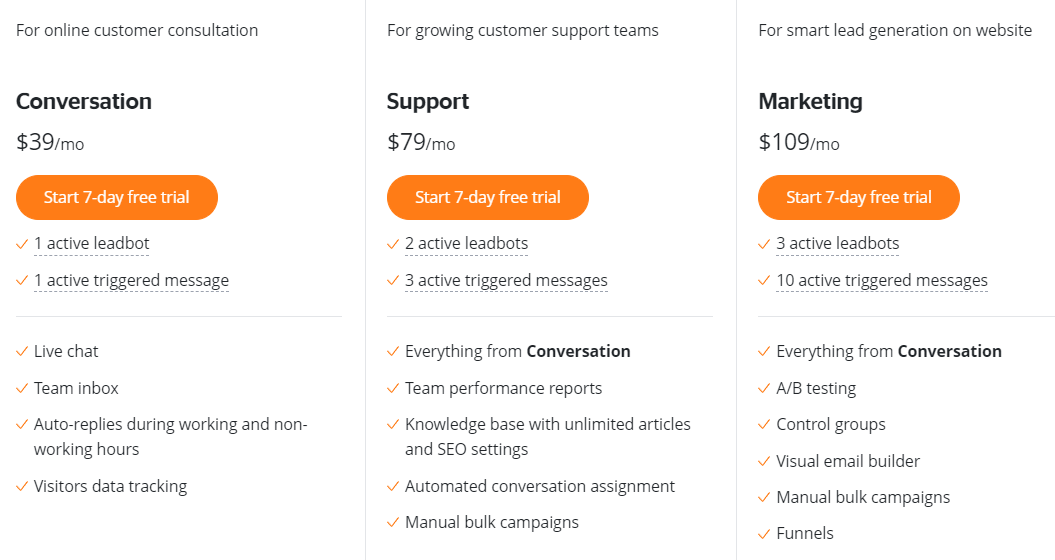 To avoid making mistakes when choosing a live chat for eCommerce, you can start with a 7-day free trial that includes all features. After this period, you can continue using a limited forever-free plan or enjoy an extended scope of features with three options: 
Note that the number of emails per month is limited, but you can increase it on demand. 
Dashly live chat Pros and Cons
Pros:
Cons:
— Unlimited number of agents in a chat on any plan;
— Socials, messengers, and email integrations;
— Full analytics of customer behavior and sales funnel;
— CRM integrations;
— Chatbot;
— User-friendly interface.
— For solving complex tasks, you may need developers, but the Dashly team is always at your disposal;
— No email assistant;
— No AI.
LiveChat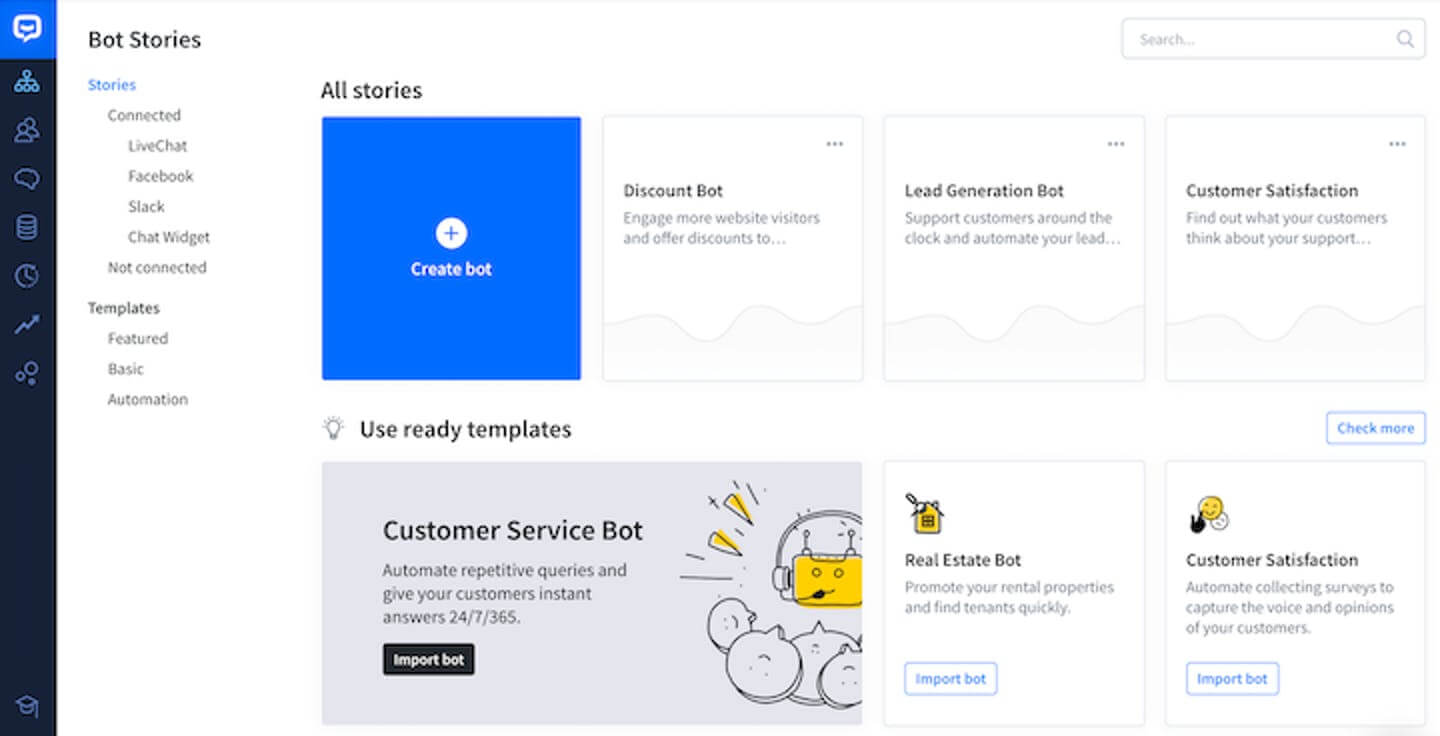 LiveChat is one of the best eCommerce chat solutions focusing on customer support. This software nails it all if you want to provide quick and proactive support via chat. LiveChat enables live communication and allows you to set up automatic targeted messages to site visitors. So that you won't miss a lead. 
The software is enhanced with detailed reporting, team management instruments, and numerous chatbot settings tailored to eCommerce businesses. 
LiveChat features for eCommerce
Integrations with 200+ channels, including Facebook Messenger, Shopify, and UPS Delivery status.
Chat monitoring and transfer to agents.
File sharing between customers and agents.
Chat tags and filters.
Tracking of eCommerce goals and sales targets.
Sneak peek (you can see the user typing before the message is sent).
Pre-chat and post-chat feedback and surveys.
Chat history with filters.
Offline ticket form.
Detailed reports and analysis.
Dedicated WordPress plugin for WooCommerce stores.
Chats are saved, so you can return to the conversation later.
Targeted messages for certain visitor behavior.
Agent collaboration tools.
Cards with images, headings, and descriptions.
Chat ratings, reviews, and reports on customer loyalty.
Branding and customization settings.
How to install
To implement the live chat, you should paste the software code to your website. LiveChat offers configuration guidelines for all popular web platforms, CMS, or eCommerce solutions.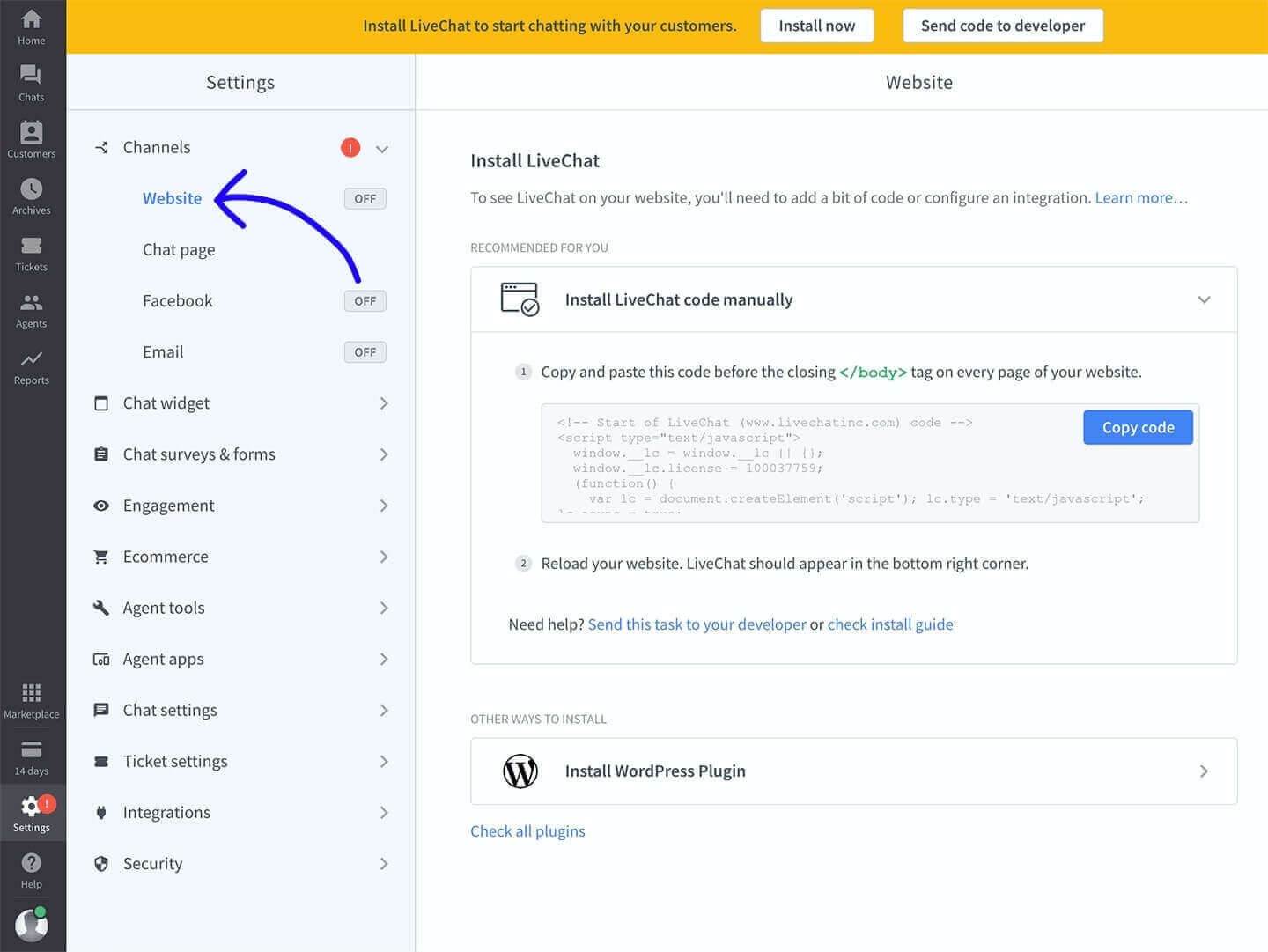 Pricing
Cost: $19 to $59 per month
Free trial: 14 days
When the free trial ends, you won't be able to use the live chat without payment. There is no free plan, but you can select the Starter plan for $16/seat/month and the Team plan for $33/seat/month (billed annually). If you don't want to pay one year in advance, the service cost will be $19 and $39 per month accordingly. To access dedicated eCommerce features, for example, key live chat metrics, you'll want at least the Team plan. Business and Enterprise plans are also available. 
The basic plan includes:
60-day chat history;
Widget customization;
One automated welcome message.
The Starter plan does not include chat tags and statistics (you can only access agent performance reports). 
Live chat Pros and Cons
Pros:
Cons:
— Intuitive and user-friendly interface;
— Supports queries in many languages;
— Great for multitasking and live communication.
— Live chat can be slow from time to time;
— Delays in replies;
— Expensive relative to other eCommerce solutions;
— The basic plan lacks some vital eCommerce features (chat history and tags, stats, and agent grouping).
Tidio 
Tidio couples an online shopping live chat with a chatbot for improving live communication with customers and boosting sales. This solution for eCommerce projects allows you to send replies in live chat, email, and messages — all via a single admin panel. This solution is recommended for eCommerce and small businesses, especially those operating through Shopify. 
Tidio live chat features for eCommerce
Live chat mobile app.
Inbox for customer requests from all channels.
Live Visitors List to see what they are interested in.
Chatbot for FAQ.
Automated targeted messages based on visitors' activity type.
Integration with apps like Facebook Messenger, Zapier, and Shopify.
Email response for offline queries.
Dedicated WordPress plugin for WooCommerce stores.
Up to 500 scheduled and automated emails per month.
Sneak preview and monitoring of live visitors (Premium).
Chatbot Templates (Premium).
How to install
You can set up Tidio live chat in several ways. The fastest method is to paste their code before </body> on your website: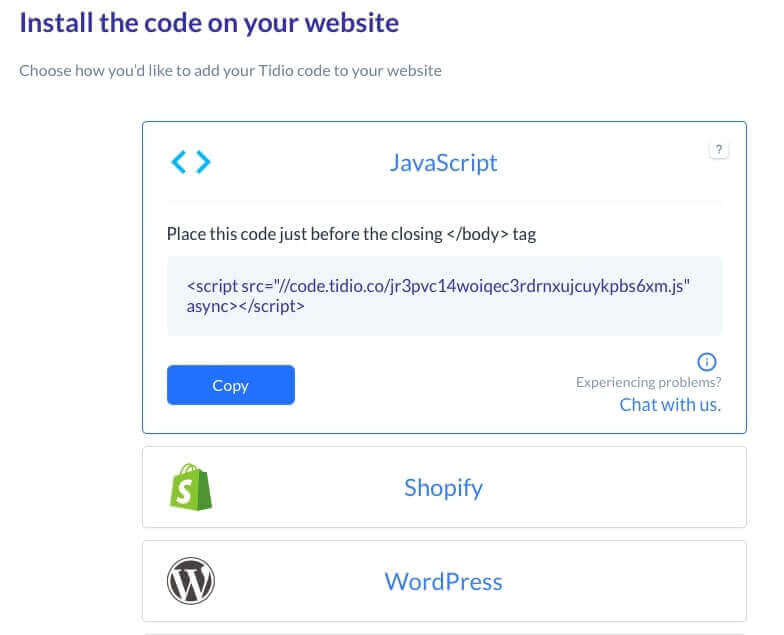 Another option is to do it through Shopify/WordPress/Prestashop/etc.
Pricing
Cost: from $0 to $39 per month
Free trial: 7 days
Tidio offers three plans: Free, Chatbots ($39/month) with three agents included, and Communicator ($15 per agent per month), so you can figure out a live chat solution suited for your eCommerce project's needs.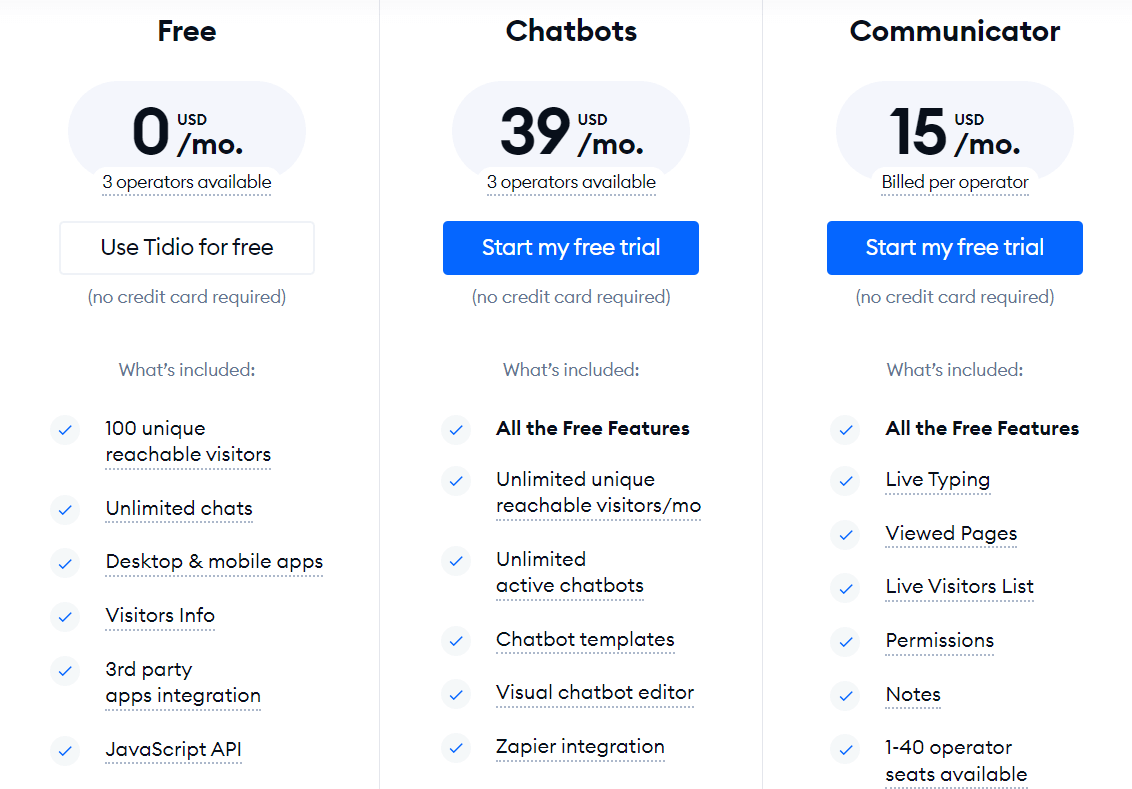 The basic plan includes
Live chat,
Desktop, and mobile apps,
Email and messenger integrations,
3rd party integrations.
More features come for an extra cost:
Additional agents seats (every agent seat costs $10),
The chatbot (from $18),
New incoming visitors tracking (from $18),
Live visitor list (from $18).
Tidio live chat Pros and Cons
Pros:
Cons:
— Sneak peek — you can see the user's message before it is sent in live chat;
— Email templates;
— Easy installation;
— Comprehensive interface;
— Integrations with top business software and eCommerce platforms.
— No branding removal option;
— It lacks some features which make it unsuitable for large eCommerce projects;
— The extra fee required for every additional user makes this live chat unreasonably expensive.
Olark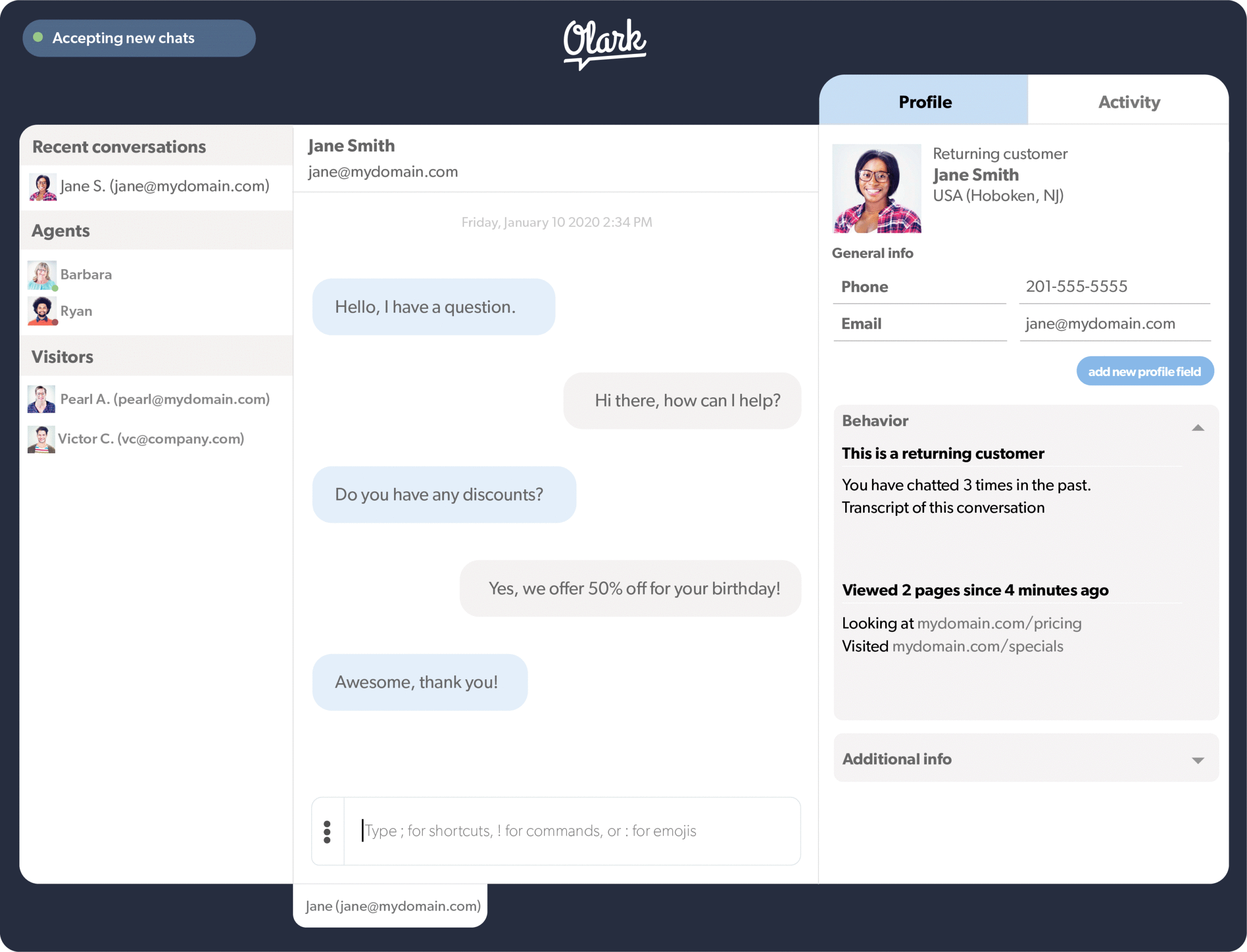 Olark claims to be the most straightforward live chat for boosting sales and customer satisfaction. The software comes with a chatbot to collect qualifying leads and increase their conversion. 
Thanks to their live chat, eCommerce projects can engage website visitors more efficiently without wasting much time on setting things up. This option is recommended for medium-sized eCommerce projects focusing on sales improvement.
Olark live chat features for eCommerce
Visitor statistics (device, location) and history.
File sharing.
Live chat routing and transfer to agents.
Live chat tags.
Real-time reports.
Automatically triggered chat events in Google Analytics.
Division of chat agents into departments and task management.
Access management for administrators and agents.
Pre- and post-chat survey.
Canned responses.
Integration with Zendesk, Salesforce, Magento, BigCommerce, and other eCommerce CMS.
Dedicated WordPress plugin for WooCommerce stores.
How to install
To integrate Olark into your online infrastructure, you should add the widget code to your eCommerce website. 
The process of the configuration takes about two minutes. For each popular CMS, you can find installation guides on the web or Olark's manuals provided by their support center.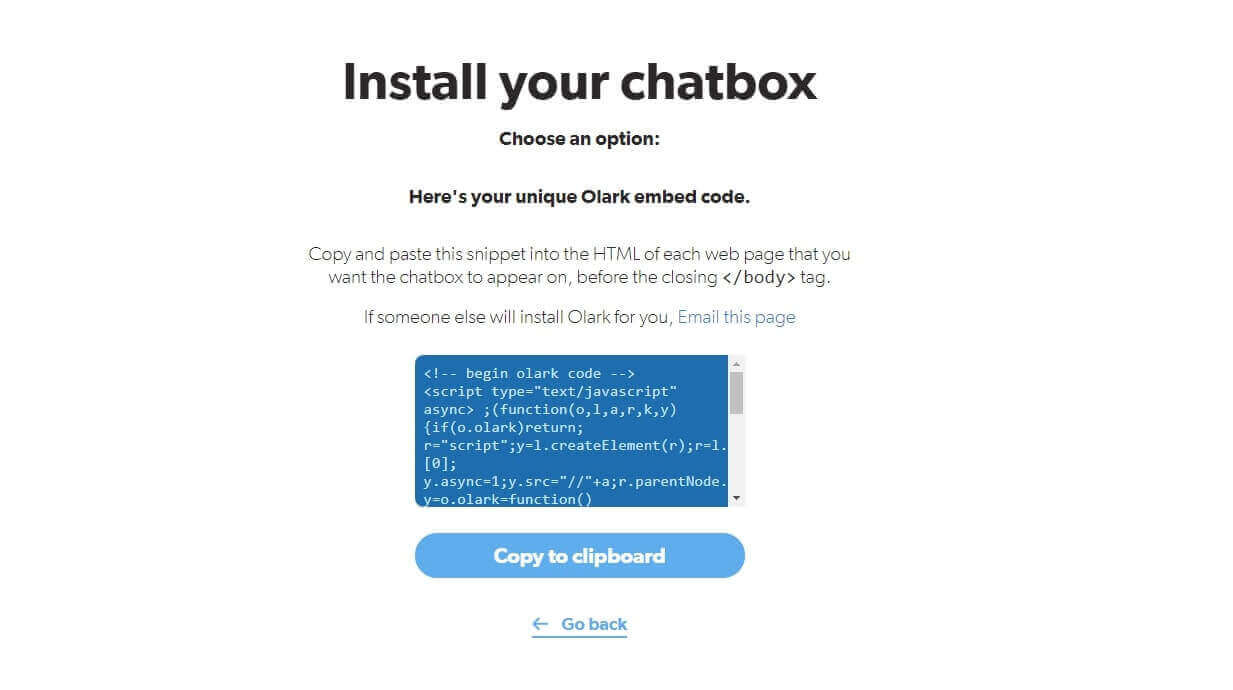 Pricing
Cost: from $29/agent/month
Free trial: 14 days
Olark charges depending on the number of agents working with a chat. Clients pay $29 for one agent if billed monthly with the basic plan. Enterprise eCommerce users should opt for the Pro plan — its price is available on demand. Note that there is no free plan.
For an extra fee ($29-99/month), you can access such additional features:
Stats on users from social media (age, gender, interests);
Co-browsing;
Live conversation translation;
Removal of Olark branding.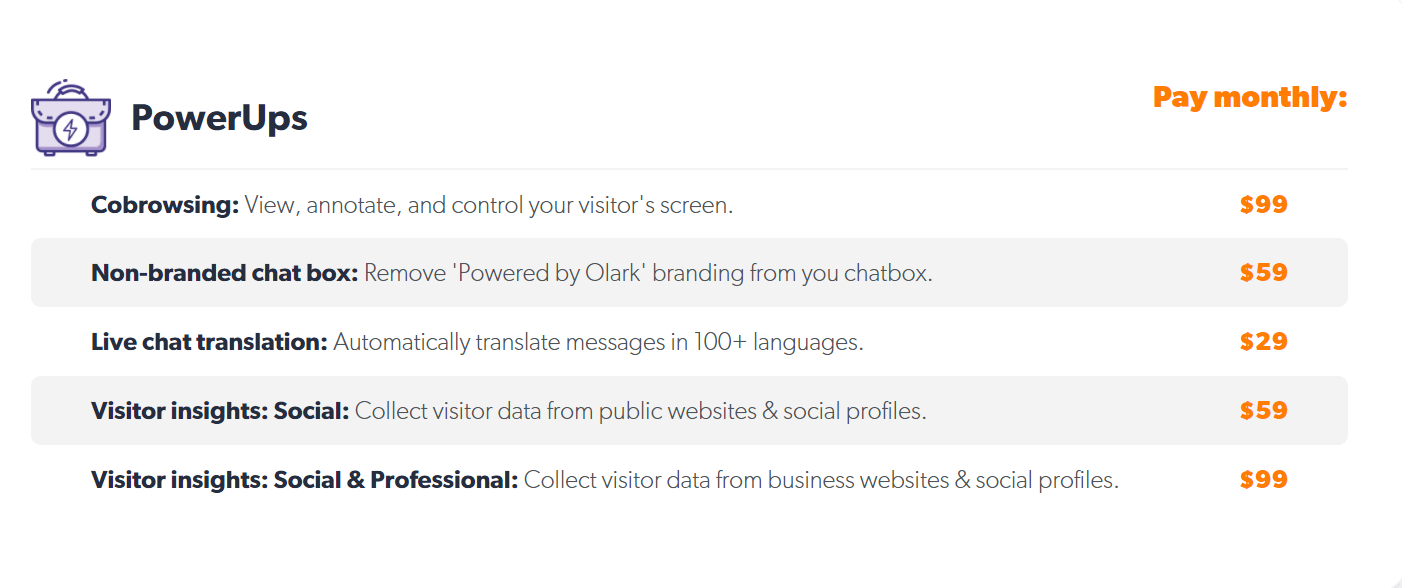 Olark's live chat Pros and Cons
Pros:
Cons:
— Comprehensive functionality for user communication;
— Easy access to analytics and data during a live conversation;
— User-friendly interface.
— Expensive plans and a complicated pricing policy;
Some eCommerce features are pricey ($99/month);
— Limited integration;
— Limited widget customization settings.
DelightChat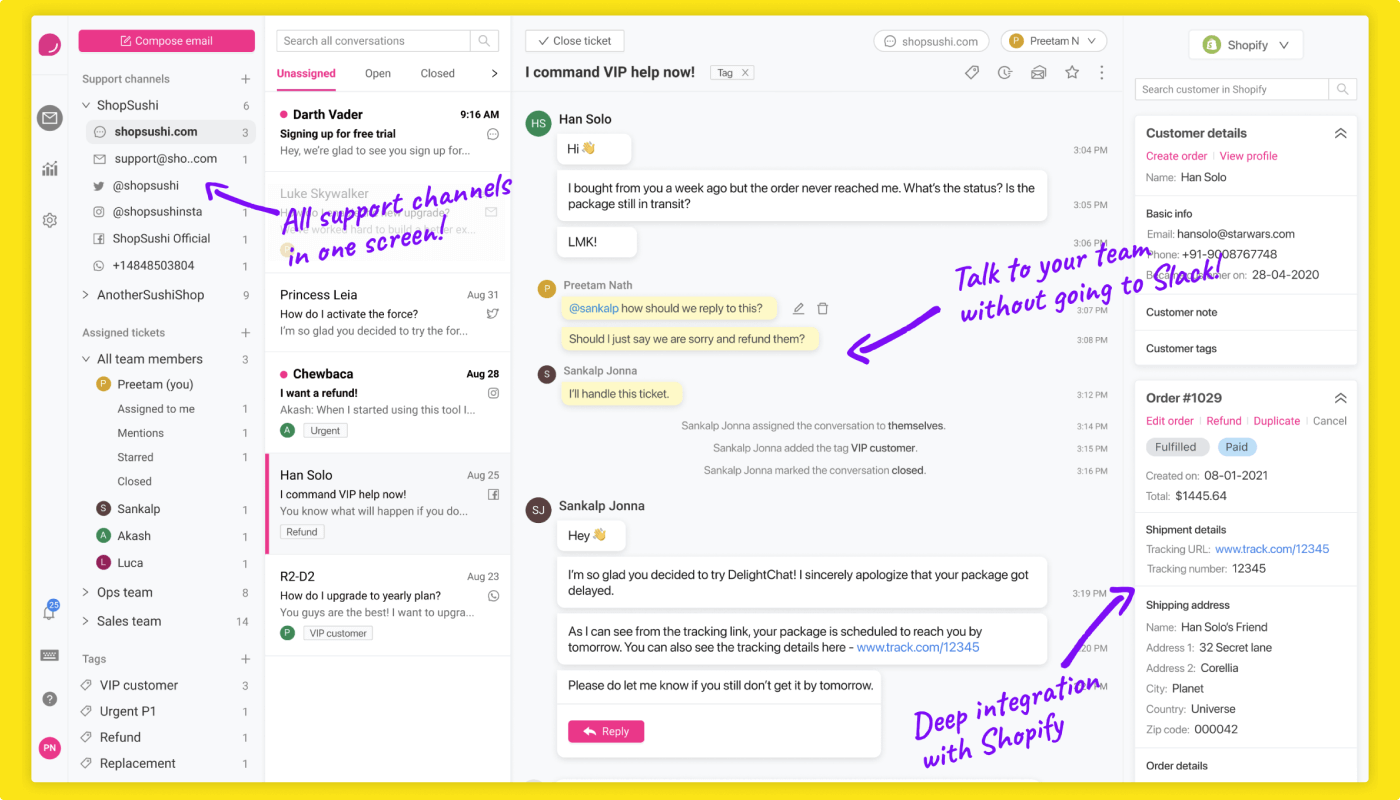 DelightChat is made as a customer support tool for eCommerce projects. With the focus put on conversational efficiency, it allows you to flawlessly deal with buyers' queries and process tickets — all via a single screen. 
DelightChat live chat features for eCommerce
Integration with Facebook Messenger, Instagram DM, WhatsApp and email accounts;
Integration with Shopify;
Analytics ROI;
Automated replies and ticket actions;
Self-service widget;
Shared team inbox;
Automated ticket assignment;
Macros and pre-made templates.
How to install
DelightChat is installed as an eCommerce widget via your Shopify account — detailed instruction is here.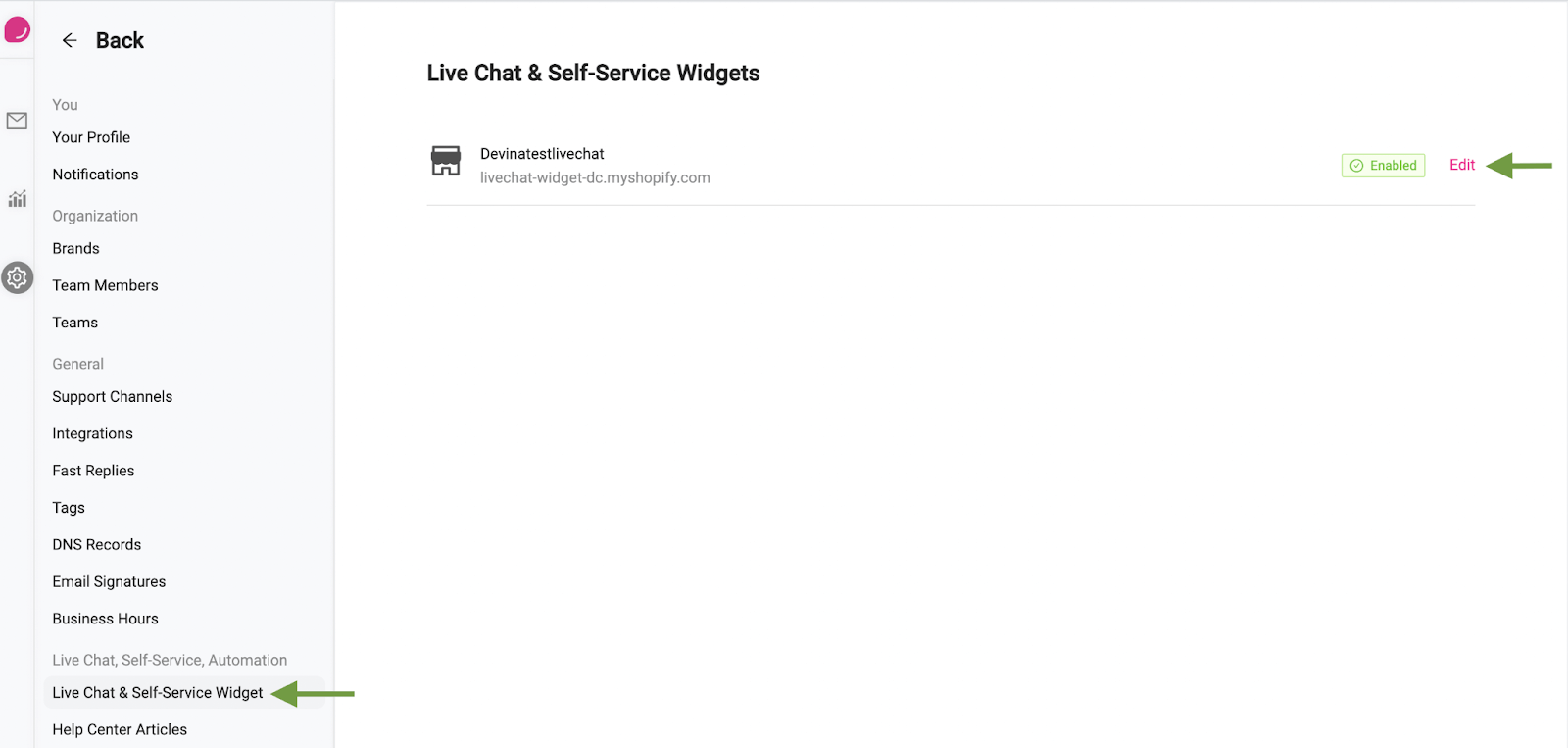 Pricing
Cost: $29 to $249 per month
Free trial: 14 days
DelightChat's pricing policy is great from the point of scalability since it allows you to choose a plan fitting your eCommerce project's demands. There are three plans: Startup ($29/month), Scale ($99/month), and Growth ($249/month). DelightChat also offers a forever-free plan if you run a small eCommerce project that processes up to 100 tickets per month. 
The basic plan includes:
Up to 500 tickets per month (100 extra tickets cost $10);
Unlimited team members;
Live chat;
Marketing features;
Analytics & reports;
Automated replies;
Self-service widget;
Success manager.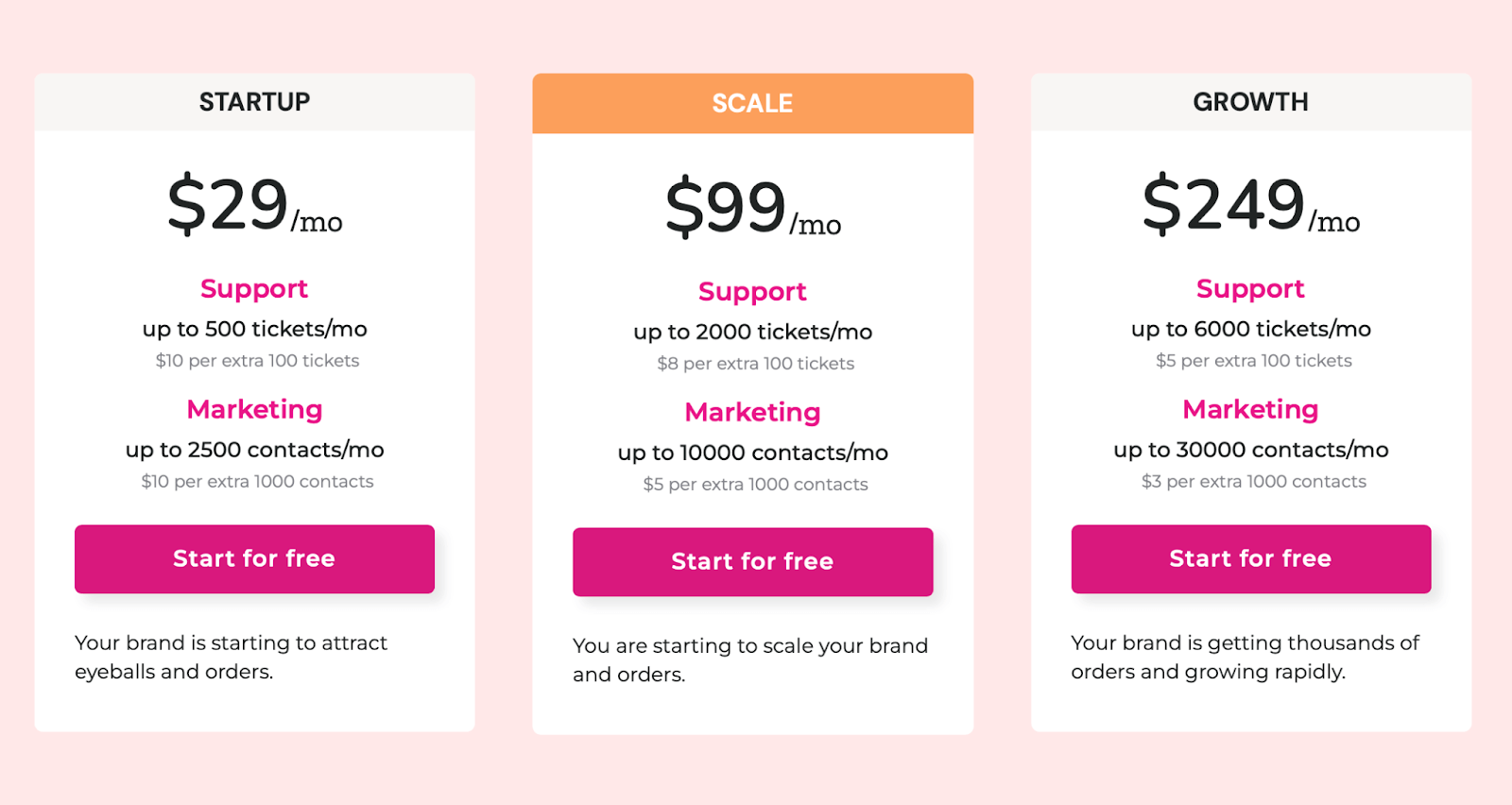 Pros and Cons
Pros:
Cons:
— Multi-channel platform allows you to manage communications from WhatsApp, Instagram, Facebook, Emails & Live Chat;
— Team collaboration functions on a single screen;
— Relatively affordable;
— You can add users for free.
— Integration with Shopify only (DelightChat offers to add BigCommerce, WooCommerce, and other eCommerce platforms later). 
Gorgias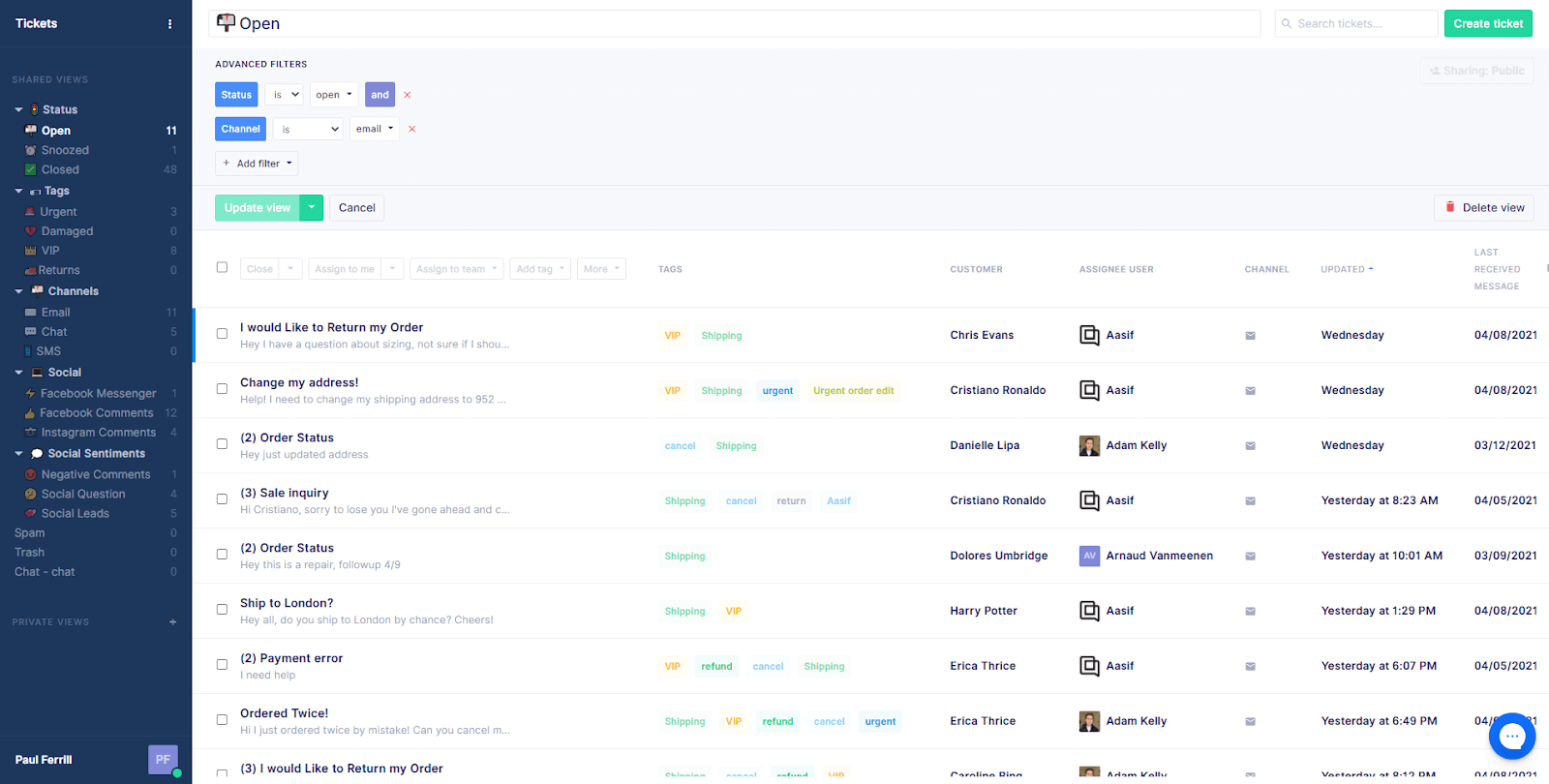 Gorgias is a one-stop-station for merchants who need customer support, customer service, and a live chat helpdesk in a single dashboard. The solution is easily integrated with Shopify, BigCommerce, Magento, and WooCommerce. It provides a decent rundown of features, such as email integration, autoresponders, ticket management, etc. 
Gorgias live chat lets you stay in tune with customers via multiple channels and manage their queries quickly.
Gorgias live chat features for eCommerce
Ticket management tools;
Cloud-based helpdesk solution;
Request assignment;
Customer history tracking;
Email integration;
Autoresponders;
Live chat templates;
Integration with eCommerce CMS and social media.
How to install
Gorgias live chat is compatible with both Shopify configurations: Traditional and Headless Commerce (Custom Storefronts). It is installed as a widget in your CMS (Settings → Integrations → Chat. Click '+ Add new'). You can also opt for Customizable installation by pasting the code manually on your eCommerce website if you want it to appear on particular pages only.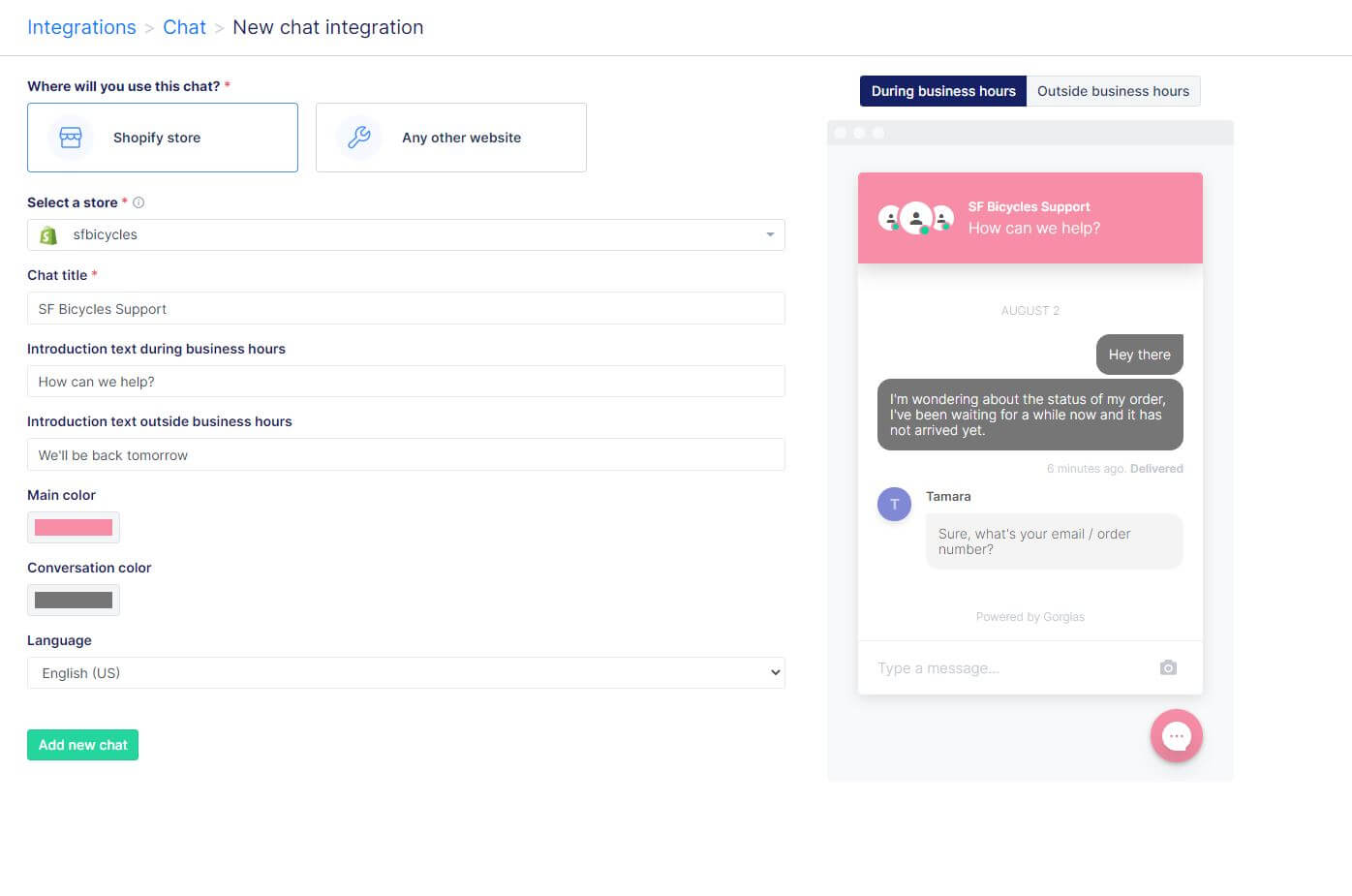 Pricing
Cost: $60/month to $750/month
Free trial: 7 days
Compared to other solutions from our list, Gorgias is more expensive. The basic plan comes for $50/month if you pay annually, and every 100 extra tickets come for $25. With annual billing, you get two months of service for free. There are four plans: Basic ($60/month), Pro ($300/month), Advanced ($750/month), and Custom. 
The basic plan includes:
Unlimited users
Facebook & Instagram integrations
Live chat & chat campaigns
Macros and rules
Add up to 150 integrations
Satisfaction survey
Self onboarding
Shopify and BigCommerce integration.
The basic plan lacks a few essential eCommerce features, such as customer support and statistics. 

Gorgias live chat Pros and Cons
Pros:
Cons:
— Convenient integration with Shopify;
— Custom tags in conversations;
— Customized macros for automating replies;
— Intent detection feature (you can define customers' intents like shipping, refund, exchange, etc.) 
— The interface is not intuitive — there's a steep learning curve for new users;
— It's very expensive;
— Not the best option if you need collaboration features for eCommerce  — transferring a live conversation to another rep is challenging.
Freshdesk Messaging (formerly Freshchat)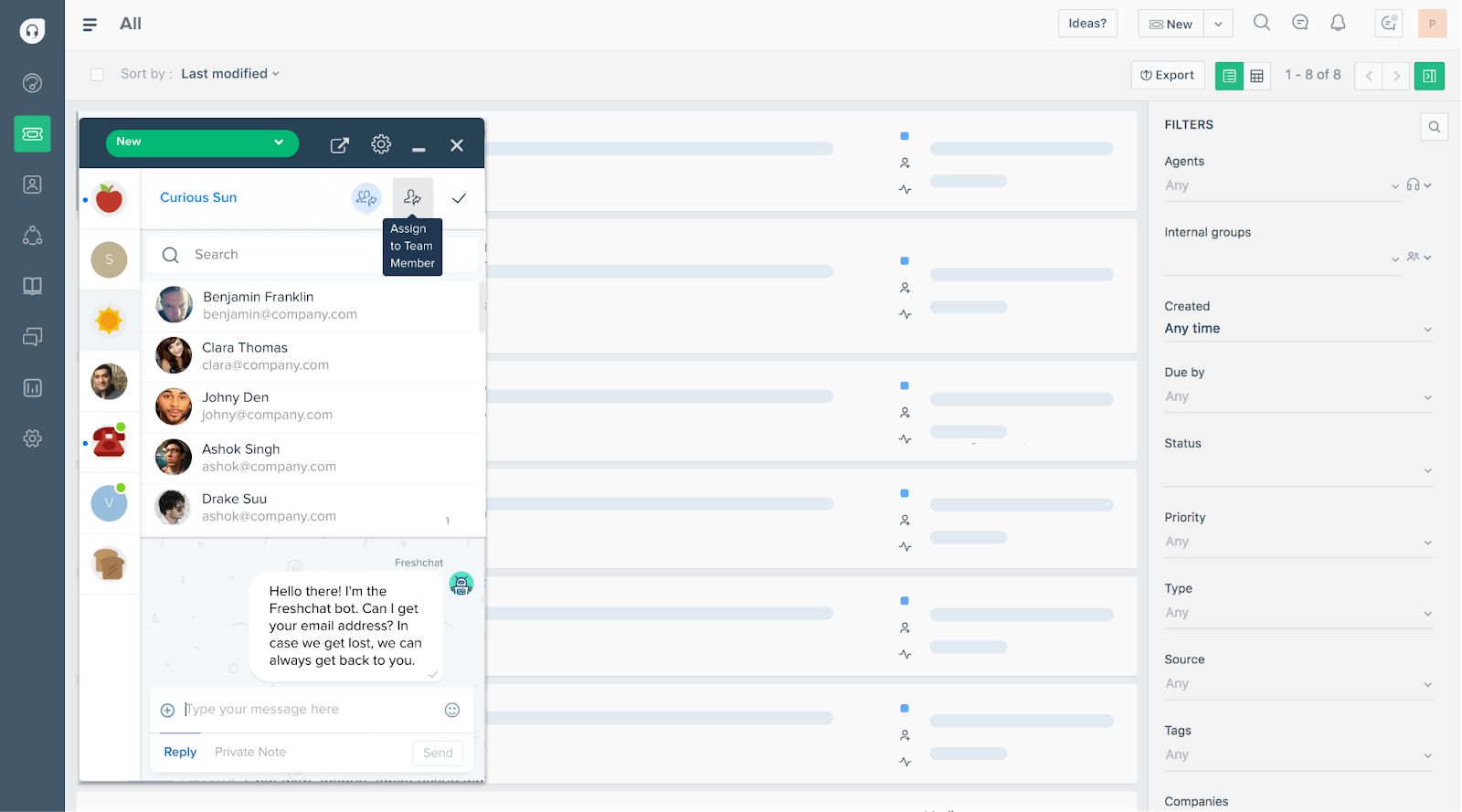 Freshdesk offers a versatile live chat for customer support and sales teams to communicate with prospects on a website, mobile app, and social media pages. This cloud-based CRM can also help eCommerce businesses with onboarding and conversion. 
It offers two solutions: chatbots & messaging and omnichannel communication with phone and ticket processing included.
Freshdesk live chat features for eCommerce
Versatile inbox for messages across digital channels;
Targeted proactive messaging;
Automatic routing;
Intelligent load balancing;
Integration with WordPress and Shopify via custom API;
Chatbot analytics;
Canned responses.
How to install
To start using Freshdesk live chat, you need to set it up as a widget. 
Pricing
Cost: $18 to $83 per month per agent
Free trial: 21 days
In terms of pricing, Freshdesk is not the cheapest live chat solution. Small eCommerce businesses can opt for a forever-free plan that allows 100 agents to talk to 10,000 monthly unique visitors. But when it comes to paid options, they charge per agent, which may be very costly. 
The basic plan costs $15 per agent per month if paid annually (or $18 if paid monthly). On a month-to-month basis, each of your agents will be charged $47 for the Pro account and $83 for the Enterprise account.
The basic paid plan includes
 Chatbots 
 Chatbot analytics
 Inbox views
 Conversation labels
 Bulk Actions
 User Properties
 Mobile SDK.

Freshdesk live chat Pros and Cons
Pros:
Cons:
— Good customer support;
— Free plan available;
— Easy integration with WhatsApp, Facebook Messenger, and LINE apps;
— Productivity tracking tools;
— Intelligent assignment of live conversations.
— Expensive;
— Users report notification lagging;
— Lacks customization in the customer portal;
— Social media messages are deleted after some time.
So, how to choose the best live chat software for eCommerce?
With so many options around, you may be confused — what is better for your eCommerce business? You can follow these steps to figure out a suitable live chat solution:
Estimate your monthly or annual budget for a live chat. Note that you may be charged not for the chat only, but also for additional live chat features. If you run a small eCommerce company, paying per agent may be justified. However, for eCommerce enterprises with an extensive support department, such an approach is not cost-efficient — you'd be better off with an unlimited live chat plan. 
Compare live chats features and make sure they correspond with your list of live chat requirements. If you plan to grow your eCommerce company, make sure this solution can be scaled up to meet your needs. Study the candidates' pricing plans — they always mention the features for eCommerce included.
Read reviews online: many of them can help you understand the live chats' strong and weak sides, the attitude to customers, and the challenges met by eCommerce companies using them. 
Still hesitating? Consider running a free trial to see how the solution works for your eCommerce business.