People can be jerks. But still… upset, disgruntled, angry ー even the most difficult client can be negotiated. It's a lesson Kevin took this week, the hardest of his career in customer support. During these days, he handled 15 tricky customer service scenarios, most of which looked like lion-taming. Never once Kevin fell for the provocations, dodged all the client biting and scratching attempts without a shadow of fear. 
How did he turn the lion's roar into the kitten's purr? Neither years of negotiator experience nor secret FBI methods of mind control nor superpowers are needed. 
It's just excellent training to answer all the same questions repeatedly. Since most are repetitive and fall into a finite number of categories, we've collected them into this guidance! 
Here you'll find examples of the most difficult cases for role-plays and free scripts for dealing with angry customers to provide excellent customer service.
What Are Customer Service Scenarios?
You've probably had that déjà vu feeling when it seems you've been somewhere or done something before. Working with customers, you feel it daily. Most of the issues are typical situations. But putting them together, you'll have a set of repeatable problems and a set of relevant replies accordingly.
Customer service scenario is a schematic script of pre-made actions and answers to solve an irate customer's situation that you're likely to encounter as a support manager.
Let's say you're starting your first shift. There's one more customer ticket. But instead of ordinary sentences describing an issue, you see a crazy rant from an angry customer. 
The longer it takes you to answer, the higher chances
you can kiss that customer goodbye. 
That's when you'll be thankful to have a list of ready-made reply options. It can be a flowchart describing possible questions and answers to them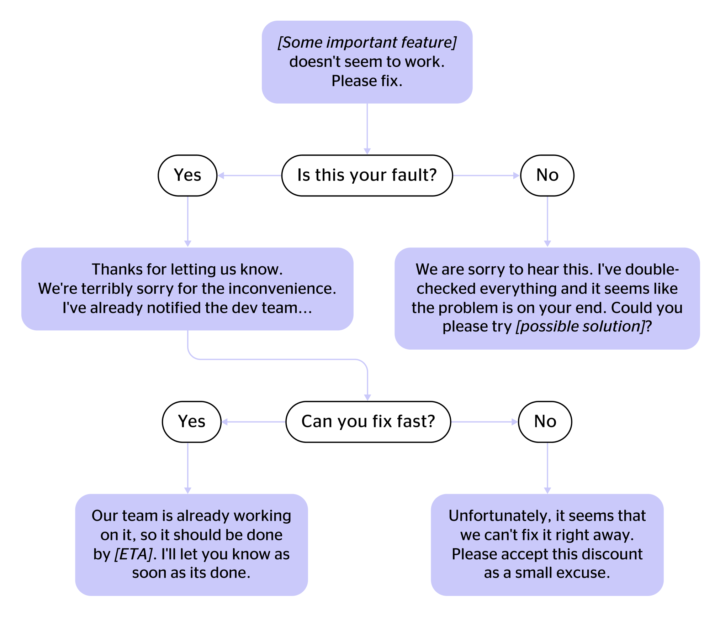 …or step-by-step role-play script on how to solve the problem. I say 'a problem' because dealing with difficult customers can drive you crazy. That's why all the relevant content you may google concentrates on challenging situations first. Just like the ones Kevin had this week.
In case you don't have time to read 👇
Download 15 scenarios for customer service role-playing and deal with difficult issues like a pro
Thanks! Now check your inbox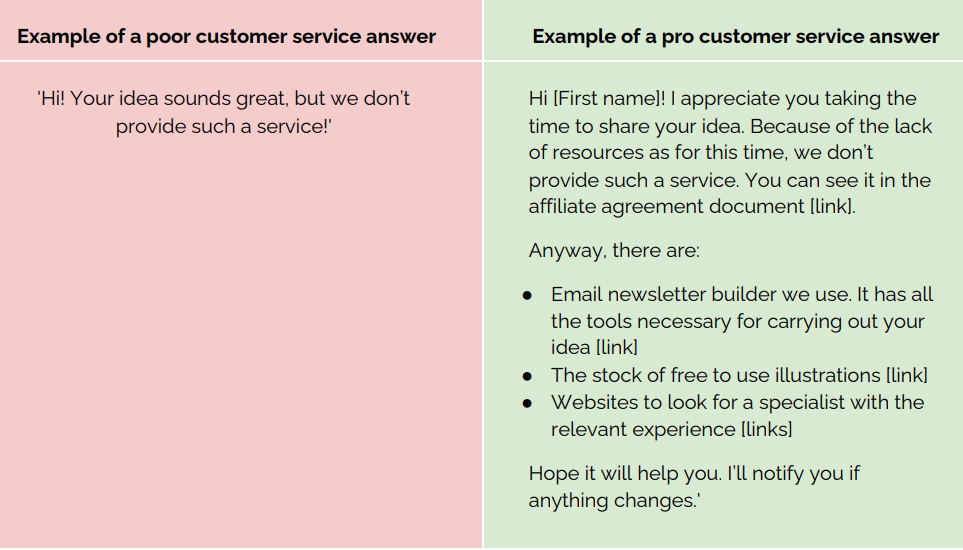 How can role-playing help to improve your customers' experience?
The problem-solving skill that emerged through hands-on experience is a good advantage. The primary task here is not to lose your mind while learning. There is a kind of experience that is better to have in theory. Your nervous system will be thankful if you develop it through training exercises. 

Consider role-playing scenarios if you don't want nervous wreck crazies in your service team. 
Customer service managers training via acting out roles in retail, pharmacy, SaaS, etc. scenarios are usual. That's what helped Kevin to succeed. Each week he did role-playing exercises where you offer one-the-fly solutions to irate customer situations represented by a supervisor. It helps to fill the knowledge gaps and points them in the right direction.
Customers service role-play is a quick way to:
Test how newcomers would cope with typical client service scenarios in an interview
Training your managers to deal with difficult customers
Adopt the best customer communication practices
Deal with business crisis scenarios (website crash, data loss, payment difficulty, etc.)
But the primary job it does is improving your service. 
Time to move to practice. So, let's go back to Kevin.
15 tricky customer service cases to practice
Speaking about a rough week, I meant 15 situations Kevin dialed with. It'll be honest to nominate him for the title of customer support knight after this story. Believe me, there's a lot to learn 👇 
Customer case 1: Feature request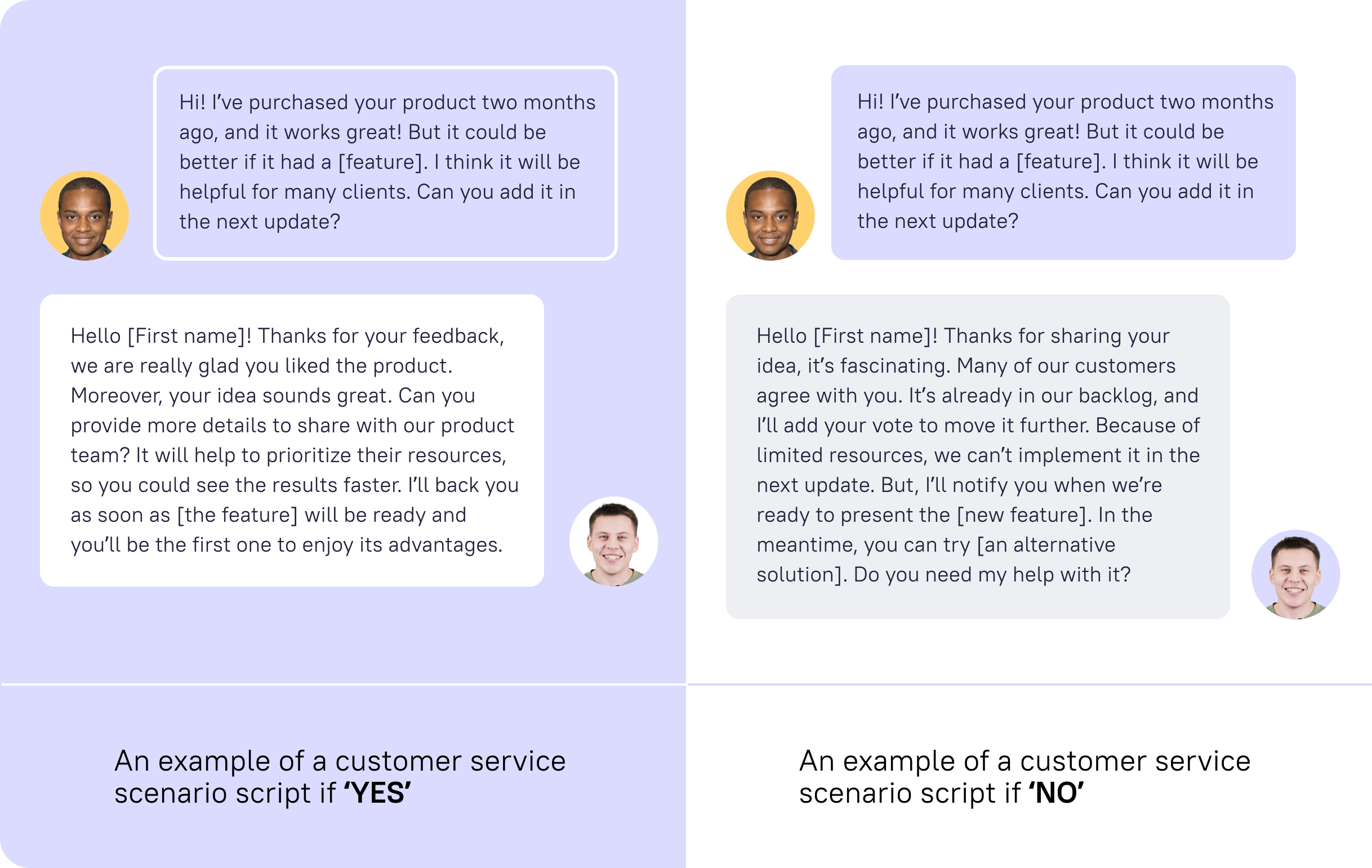 Customers are a precious source of ideas for business growth. That's why this type of customer should be a priority for any company.
Client request example: 
Hi! I purchased your tool two months ago, and it works great! But it could be better if it had a [feature]. I think it will be helpful for many clients. Can you add it in the next update?
But it's problematic since a new feature implementation isn't a matter of minutes. No false promises ─ the first rule here.  
Such tickets can make newbies nervous. But not Kevin. The first thing he thought about after reading the request for a specific feature was whether the business plans to add it. 
An example of a customers service scenario script if 'YES'
Hello [First name]! Thanks for your feedback, we are happy you liked the product. Moreover, your idea sounds great. Can you provide more details to share? It will help to prioritize their resources, so you can see the results faster. I'll back you as soon as [the feature] is ready, and you'll be the first to enjoy its advantages. 
An example of a customer service scenario script if 'NO'
Hello [First name]! Thanks for sharing your idea. It's fascinating. Many of our customers agree with you. It's already in our backlog, and I'll add your vote to move it further. Because of limited resources, we can't implement it in the next update. But I'll notify you when we're ready to present the [new feature]. In the meantime, you can try [an alternative solution]. Do you need my help with it?
Tips to keep in mind: 
Thank a prospect for the advice 
Explain when you are going to add the feature or why not
Offer an alternative solution
Customer request 2. The asked item is missing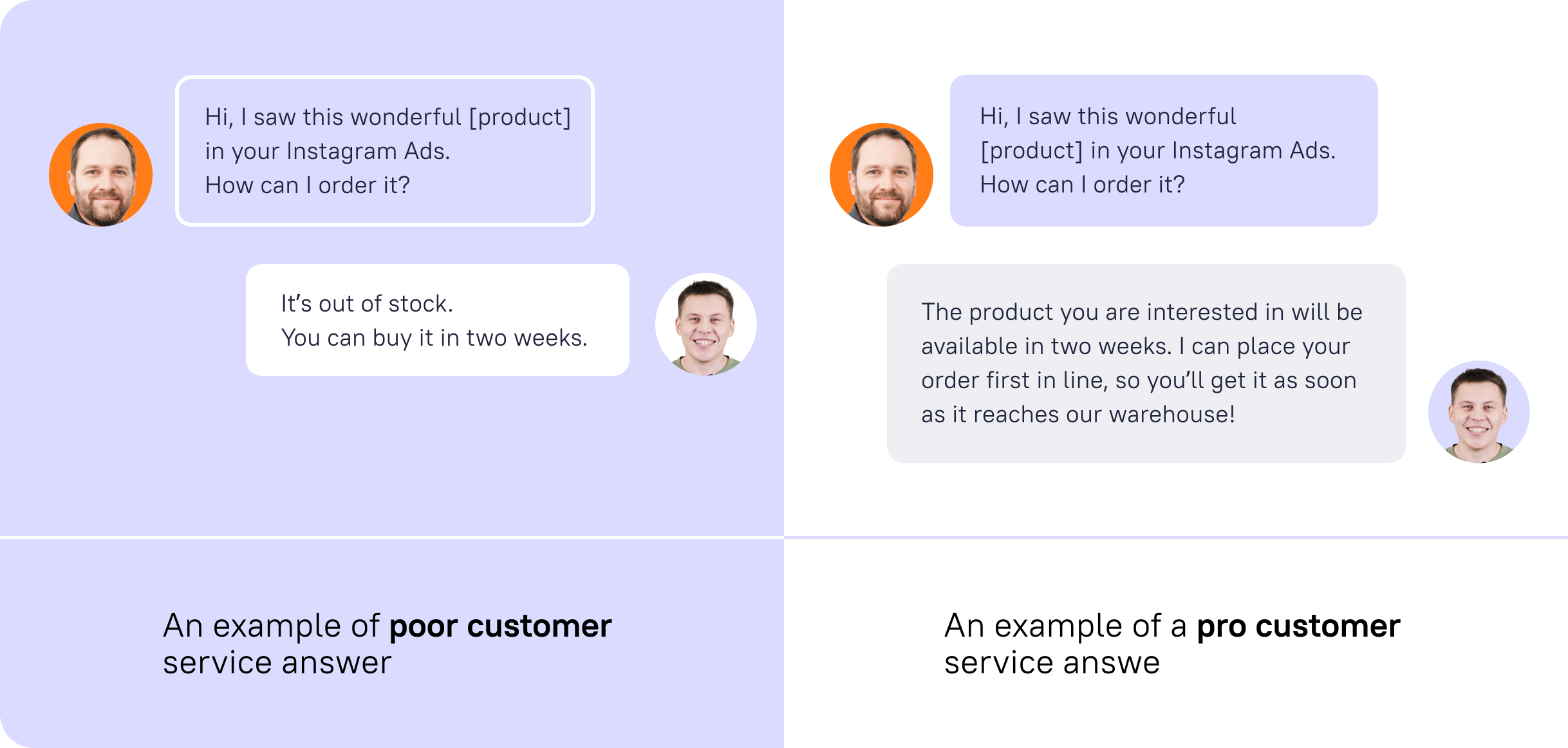 The following customer asked Kevin about a particular product. That isn't a big thing, but…
Customer request example: 
Hi, I saw this excellent [product] in your Instagram Ads. How can I order it?
Going to grant the request and close the deal, but he found it's unavailable. There is still a chance to save the customer interest in saying when it will be in supply.
An example of a poor answer
It's out of stock. You can buy it in two weeks
But usually, they don't do that. At the end of this scenario, potential customers go to the next tab where the competitors' website is already open.
An example of a pro answer
'The item you are interested in will be available in two weeks. I can place your order first in line, so you'll get it as soon as it reaches our warehouse! '
Thus, you don't ruin customers' expectations but just postpone their realization. The tandem of positive connotation and VIP customer treatment does its job.
Do you see the difference? Choosing the second scenario, Kevin provided a company with a new customer. 
Tips to keep in mind: 
Focus on positive things, offer the solution, say when the item will be available. 
Avoid negative language like 'I can't…', 'We don't do that'.
Customer request 3. 'Your call is transferred'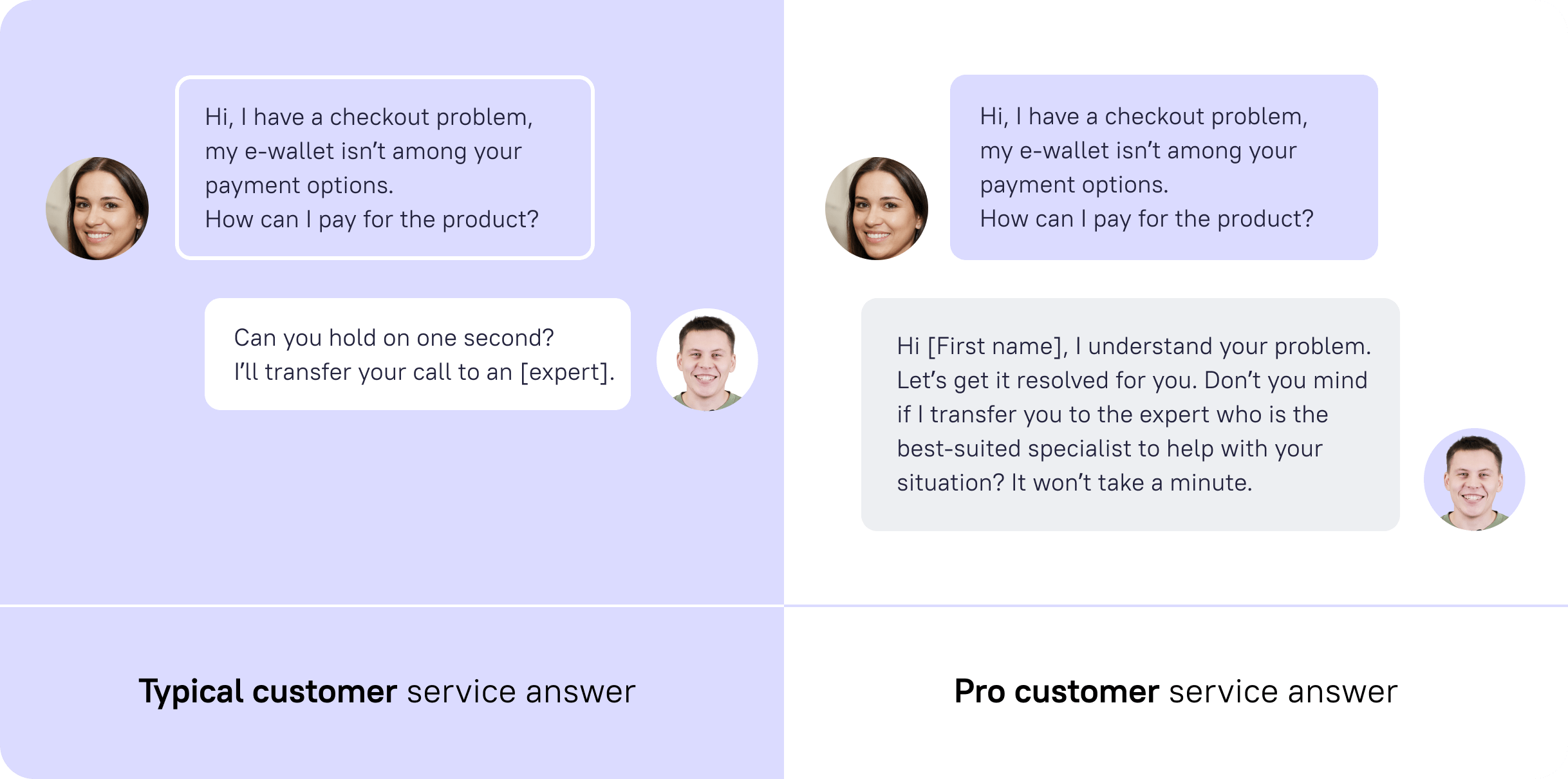 Forced meditation — here is how Kevin calls the time that customer is waiting for the transfer to the other manager. He doesn't like to leave the potential customer with the vague 'Hold on while I transfer you, please.'
But we are not Wikipedia to know everything. At least for now?
Even if the customers' question is way below his specialization, Kevin tries to provide them with the transfer details and prevent scenarios where:
Customer hangs up
Customer killing the expert/manager
So he did this time. 
Customer request example: 
'Hi, I have a checkout issue, my e-wallet isn't among your payment options. How can I pay for the product? '
An example of a typical answer:
Can you hold on for one second? I'll transfer your call to an [expert].
That usually means that the manager is glad to hear from you. He has got your problem. Trying to save your time, he has found an expert who will do it better and faster. 
Unfortunately, consumers can't read minds. They expect to get a response immediately. But… This phrase lacks the certainty that a manager has the customer's problem in mind. 
An example of a pro answer:
Hi [First name], I understand your problem. Let's get it resolved for you. Don't you mind if I transfer you to the expert who is the best-suited specialist to help with your situation? It won't take a minute.
Sounds much better. Isn't it? The expert is safe, and the customer is happy. Mission complete.
Tips to keep in mind:
Explain the reasons for the call transfer
Focus on the customer. Use more 'you' sentences and less 'we/I'.
Customer request 4: The question you can't answer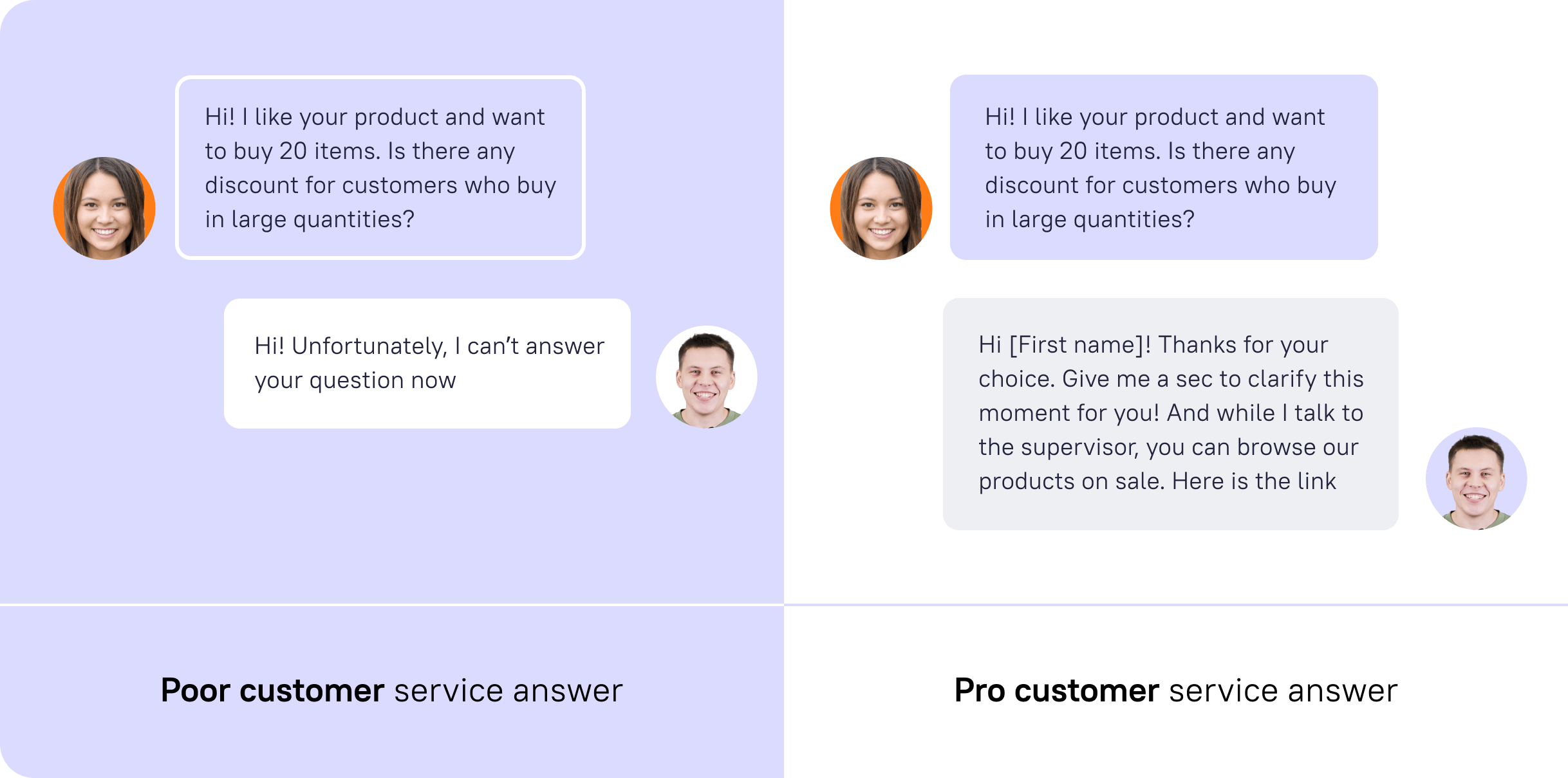 'I don't know' — the Phrase-That-Must-Not-Be-Said in your service. But Kevin really didn't know how to resolve the customer's question:
Hi! I like your brand and want to buy 20 items. Is there any discount for customers who buy in large quantities?
Yes, we are only humans: there may be a newcomer to the team, a poor announced update, etc. But customers don't care. They need an answer. 
So, Kevin needed to do a little research. But first, he should respond.
An example of poor response (live chat or social media):
Hi! Unfortunately, I can't process your question now.
A simple 'Can I call you back? ' and more details could improve that scenario.
An example of a pro response (live chat):
Hi [First name]! Thanks for your choice. Give me a sec to clarify this moment for you! And while I talk to the supervisor, you can browse our products on sale. Here is the link
This shows that you understand the customers' questions and will do whatever it takes to find out for them.
Tips to keep in mind:
Assure consumers you will get back to them with an answer. 
Before customers go elsewhere, recommend an alternative solution.
Customer request 5: 'Why is your tool the best alternative? '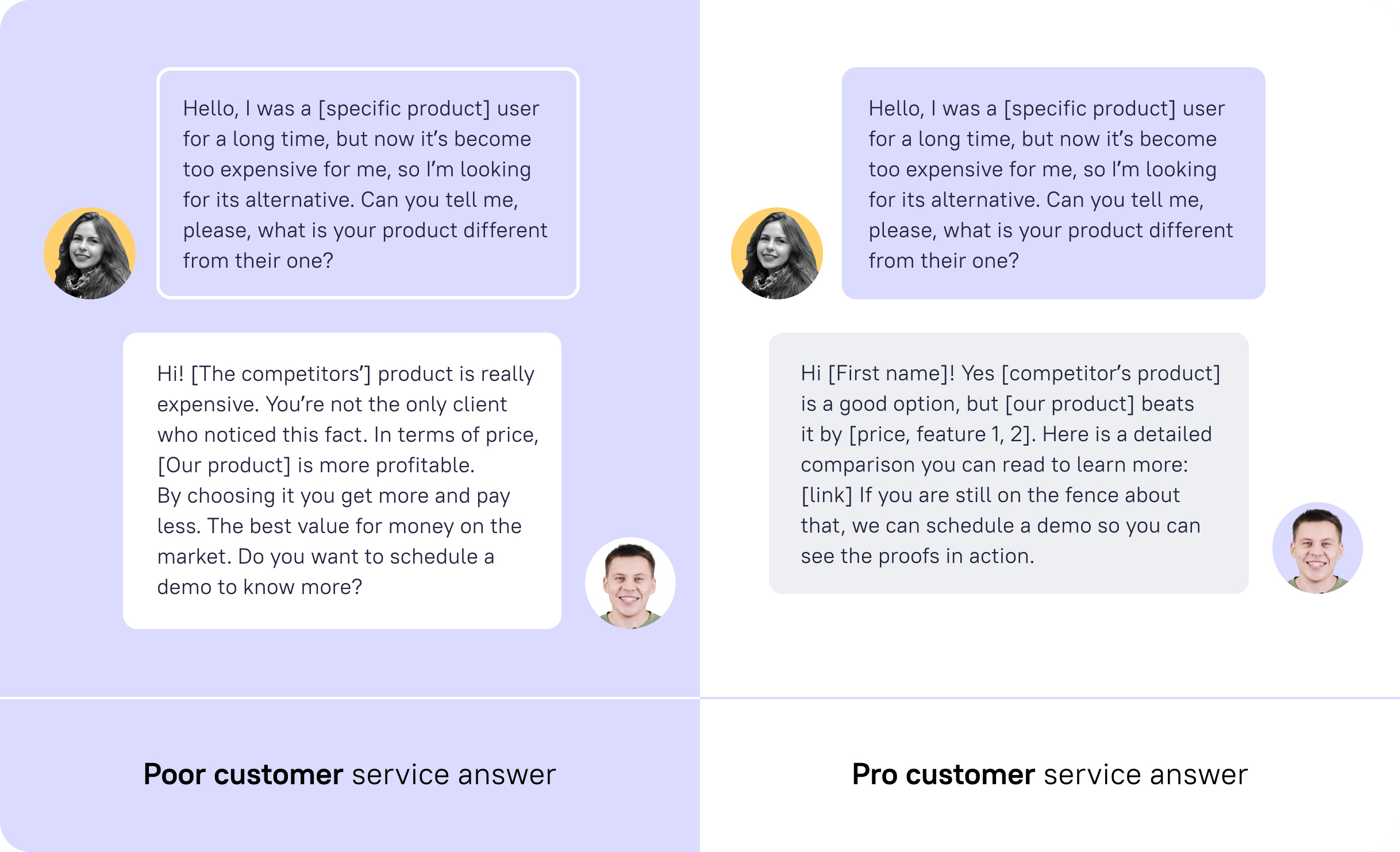 So how can customer service respond to this scenario? Empty phrases like 'we have an excellent team' don't work here. Only proofs matter.
Customer request example: 
Hello, I was a [specific product] user for a long time, but now it's become too expensive, so I'm looking for an alternative. Can you please tell me how your tool is different from theirs?
When a company hasn't delivered this info to the team, managers may draw their conclusions (sometimes wrong) or use vague phrases and clichés to respond to this question. Like this one.
An example of poor answer:
Hi! [The competitors'] is really expensive. You're not the only person who noticed this fact. In terms of price, [Our product] is more profitable. By choosing it, you get more and pay less. The best value for money on the market. Do you want to schedule a demo to know more?
Good thing Kevin was equipped with a relevant article explaining the difference. Moreover, he knew the competitors' weak points and the business product.
An example of a pro answer:
Hi [First name]! Yes [competitor's product] is a good option, but [our product] beats it by [price, feature 1, 2]. Here is a detailed comparison you can read for more: [link] If you are still on the fence about that, we can schedule a demo to see the proofs in action.
Tips to keep in mind: 
Respect your competitors. Saying anything about them, you talk about the choice of your potential customer in this case. The comparison should be objective.
Provide proof: facts, numbers. For example, instead of '[our product] is cheaper,' use 'Using [competitor's product] for a month, you'll pay only $$ while we offer wider functionality for half of this price. I mean, for $ you'll get …'
Ensure your agents get the results of the competitors' reviews and know the advantages.
Write an article comparing your solution with competitors. Choose the main one and write different comparisons with each of them. Then share it on demand.
A little inspiration from Dashly?
Customer request 6: When a support manager has to say NO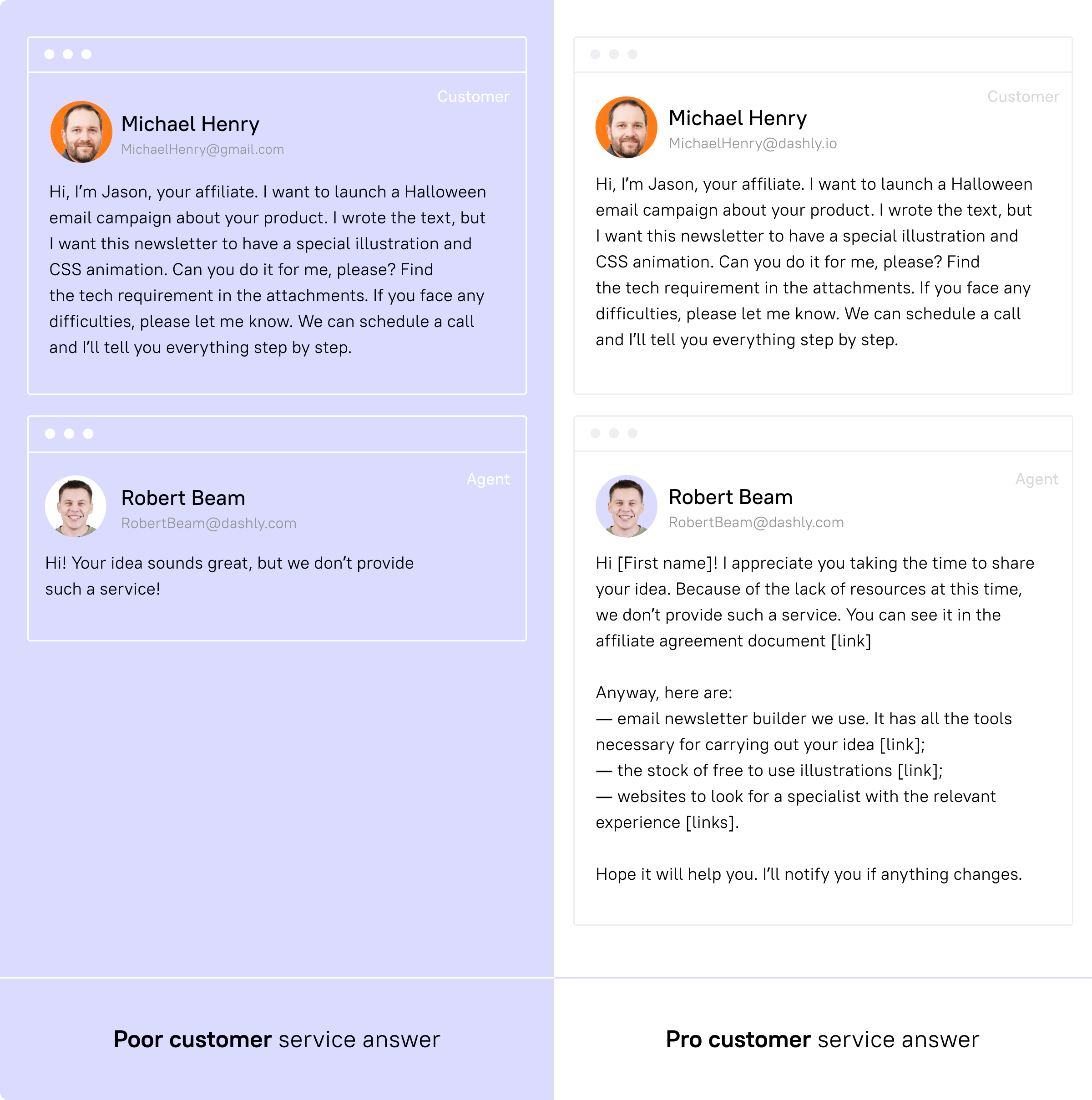 Do you know that awkward feeling when refusing somebody's request? The same one felt Kevin talking to the loyal customer and affiliate who was asking for the service the company doesn't offer. 
Customer request example:
Hi, I'm Jason, your affiliate. I want to launch a Halloween email campaign about your product. I wrote the text, but I want this newsletter to have a unique illustration and CSS animation. Can you do it for me, please?
Find the tech requirement in the attachments. If you face any difficulties, please let me know. We can schedule a call, and I'll tell you everything step by step.
But there is no such option. Kevin knew this man spent much time working on the idea and tech requirements, so he probably won't be happy to know that. So, how to say NO and don't lose the customer/affiliate? 
An example of a poor answer: 
Hi! Your idea sounds great, but we don't provide such a service!
At the end of the dialog and disappointed the client. Can it be different? 
Yes. 
An example of a pro answer:
'Hi [First name]! I appreciate you taking the time to share your idea. Because of the lack of resources at this time, we don't provide such a service. You can see it in the affiliate agreement document [link]. 
Anyway, here are: 
– Email newsletter builder we use. It has all the tools necessary for carrying out your idea [link]
– The stock of free-to-use illustrations [link]
– Websites to look for a specialist with relevant experience [links]
Hope it will help you. I'll notify you if anything changes.'
Of course, this isn't the result that an affiliate is expected to get. But still, Kevin smoothed things over by offering an alternative solution.
Tips to keep in mind:
Don't give a false hope
Ask why when it isn't clear 
Explain why not 
Express an empathy
Since you are in the middle of the article, it's by far the last difficult customer example Kevin had to deal with.
4 campaign templates to complement your popups with emails, chatbots, and other tools
Thanks! Your map with ready-made campaigns is already in your inbox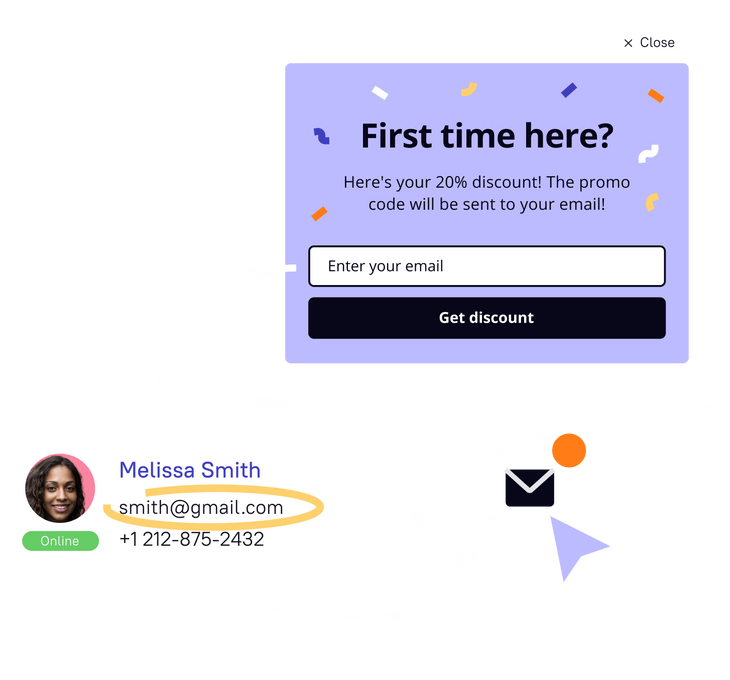 Customer request 7: Customer asks you to violate the company's rules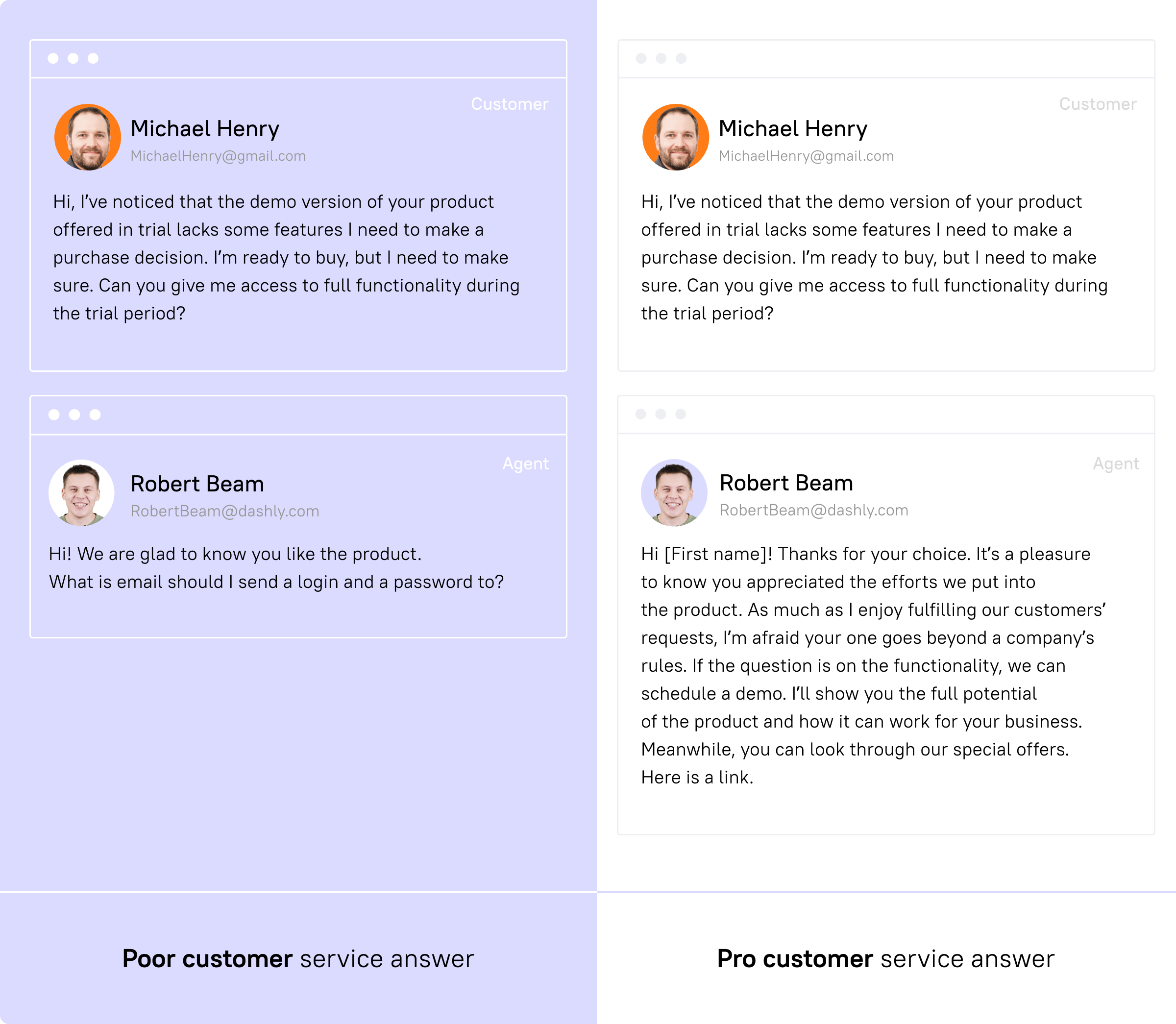 This time it's a NO reply situation again. The only difference is a request. It was one of those customers who used to get 'an extra slice of a pickle' for free. 
There is nothing terrible about filling a small request to please your customer. But what if it goes against the company rules?  
Customer request example:
Hi, I've noticed that the demo version lacks some features I need to make a purchase decision. I'm ready to buy, but I need to make sure. Can you give me access to full functionality during the trial period?
Nice try. But the pricing is clear about the trial version features. No exceptions.  But this deal promised to be pretty big.
An example of a poor answer:
Hi! We are glad to know you like the product. What email should I send a login and a password to?
Sounds good, except for the part that violates your business rules.
An example of a pro answer:
Hi [First name]! Thanks for your choice. It's a pleasure to know you appreciated our efforts on the product. As much as I enjoy fulfilling our customers' requests, I'm afraid your one goes beyond a company's rules. If the question is about the functionality, we can schedule a demo. I'll show you the full potential of our solution and how it can work for your business. Meanwhile, you can look through our special offers. Here is a link.  
Even if you have to respond negatively, the customer should be offered alternative solutions. 
Tips to keep in mind:
Offer an alternative solution
Explain why not
Make sure everyone knows a business Privacy Policy
That is the scenario you can control. But what would you do if someone had already done the illegal action?
Customer request 8: Account breaches company's terms of use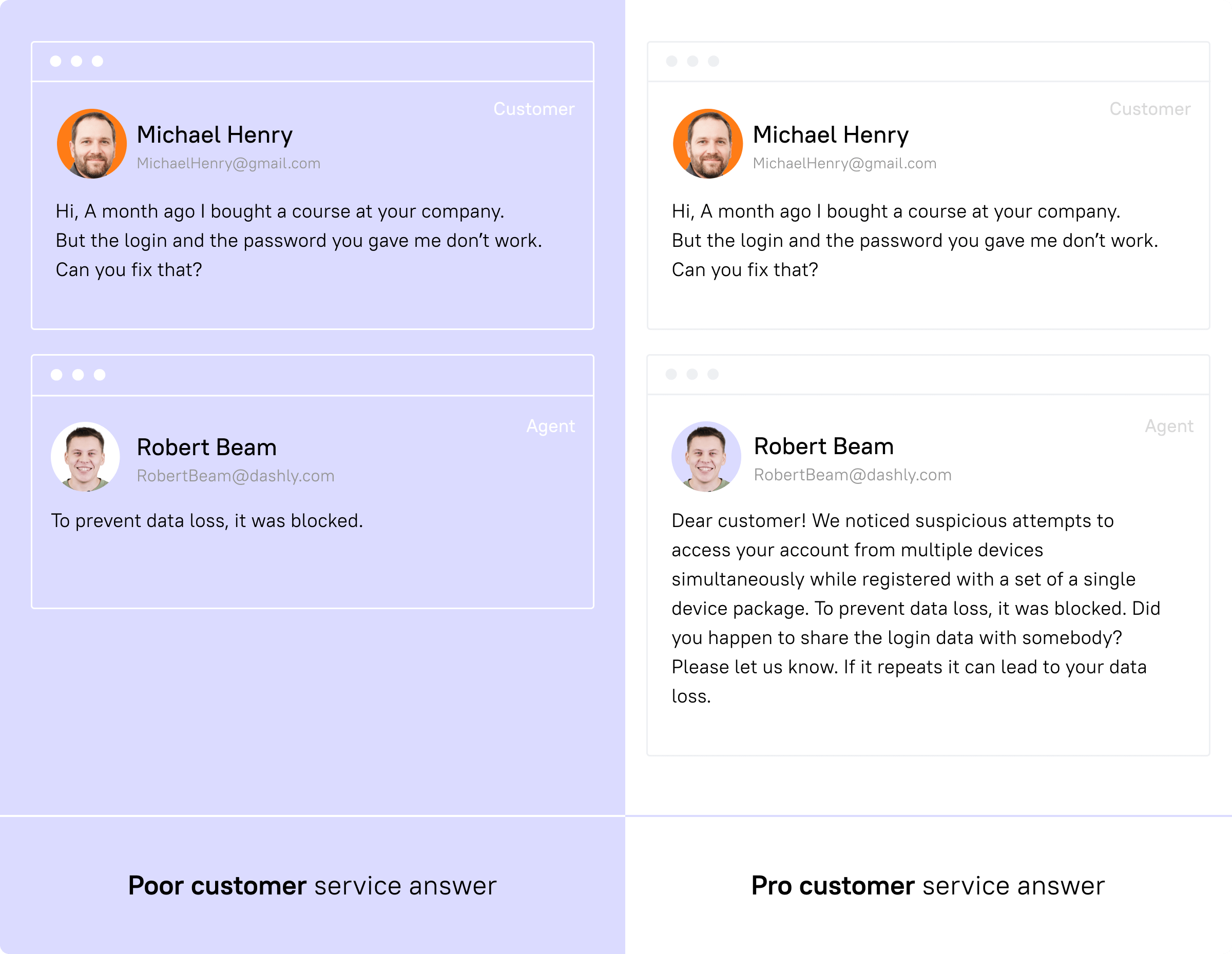 We like to judge. But nobody wants to be an executioner. Neither did Kevin. And he wasn't. Even when the situation implied that. 
Like when a customer purchases a course. The terms of use were clear a customer can't share the content or the login data with others. Anyway, there were efforts to log in to the system under the same ID from multiple IP addresses and devices simultaneously. Since the customer can't be in several countries simultaneously, his account was blocked.
Not an hour passed like the owner noticed that.
Customer request example:
Hi, A month ago I bought a course at your company. But the login and the password you gave me don't work. Can you fix that?
Kevin was the one who had to clear things up. 
An example of a poor message:
Hi! To prevent data loss, it was blocked.
Clear and understandable. But there's no attempt to help, no empathy. It can be not a deliberate violation but a mistake. Remember about the presumption of innocence ☝️
An example of a pro message:
Dear customer! We noticed suspicious attempts to access your account from multiple devices simultaneously while registered with a set of a single device package. To prevent data loss, it was blocked. Did you happen to share the login data with somebody? Please let us know. If it repeats, it can lead to your data loss. 
Sounds better, isn't it? A detailed explanation of the situation and possible consequences. And notice, no threats. 
Tips to keep in mind:
Determine the customer needs and try to fulfill them 
No blames without proof
Customer situation 9: It was your fault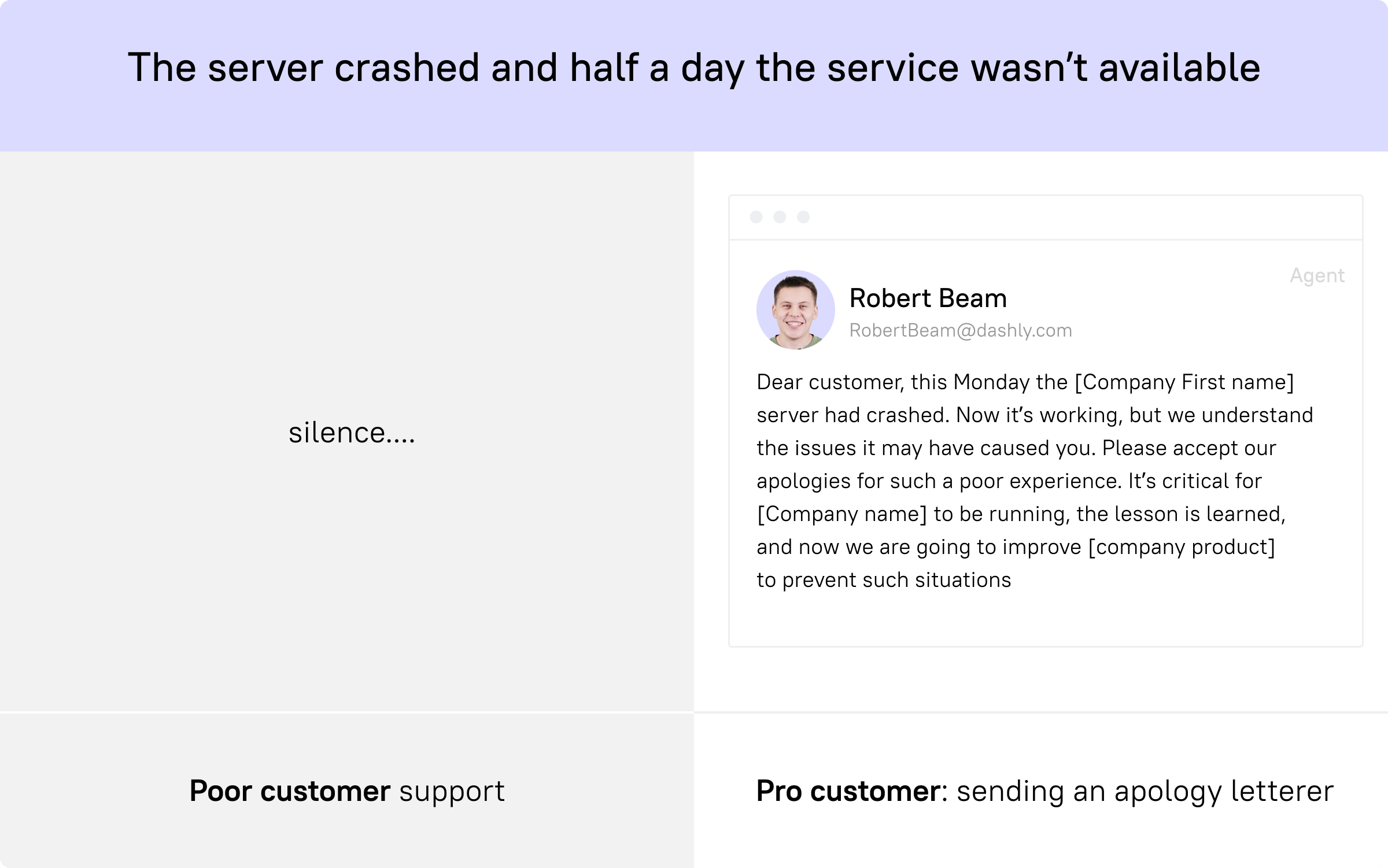 Talking with a previous customer was difficult, but who knew it could be worse? The server crashed, and for half a day, service wasn't available. Guess who had to explain this to the customers?

Everyone on the team, including Kevin, of course. 

Because of the specificity of the business, this caused many troubles for the customers. They deserve to be notified about the issue, at least. Better yet, an excuse.
An example of poor customer service:
Sticking the heads in the sand, hoping that nobody would notice.
An example of a pro message:
Dear customer, this Monday the [Company First name] server crashed. Now it's working, but we understand the issues it may have caused you. Please accept our apologies for such a poor experience. It's critical for [Company name] to be running, the lesson is learned, and now we will improve [company product] to prevent such situations. 
Nothing special, but instead of angry customers tickets, Kevin replied, 'Thanks, it's all right. You're cool' messages.
Tips to keep in mind:
Own up to your mistakes
Apologize
Explain the plan
Notify when it'll be implemented 
But nothing lasts forever, especially the good one. The next day Kevin received a 'Can I speak to your manager?' message. And that wasn't another meme in the company chat.
Customer request 10: Release The Kraken Manager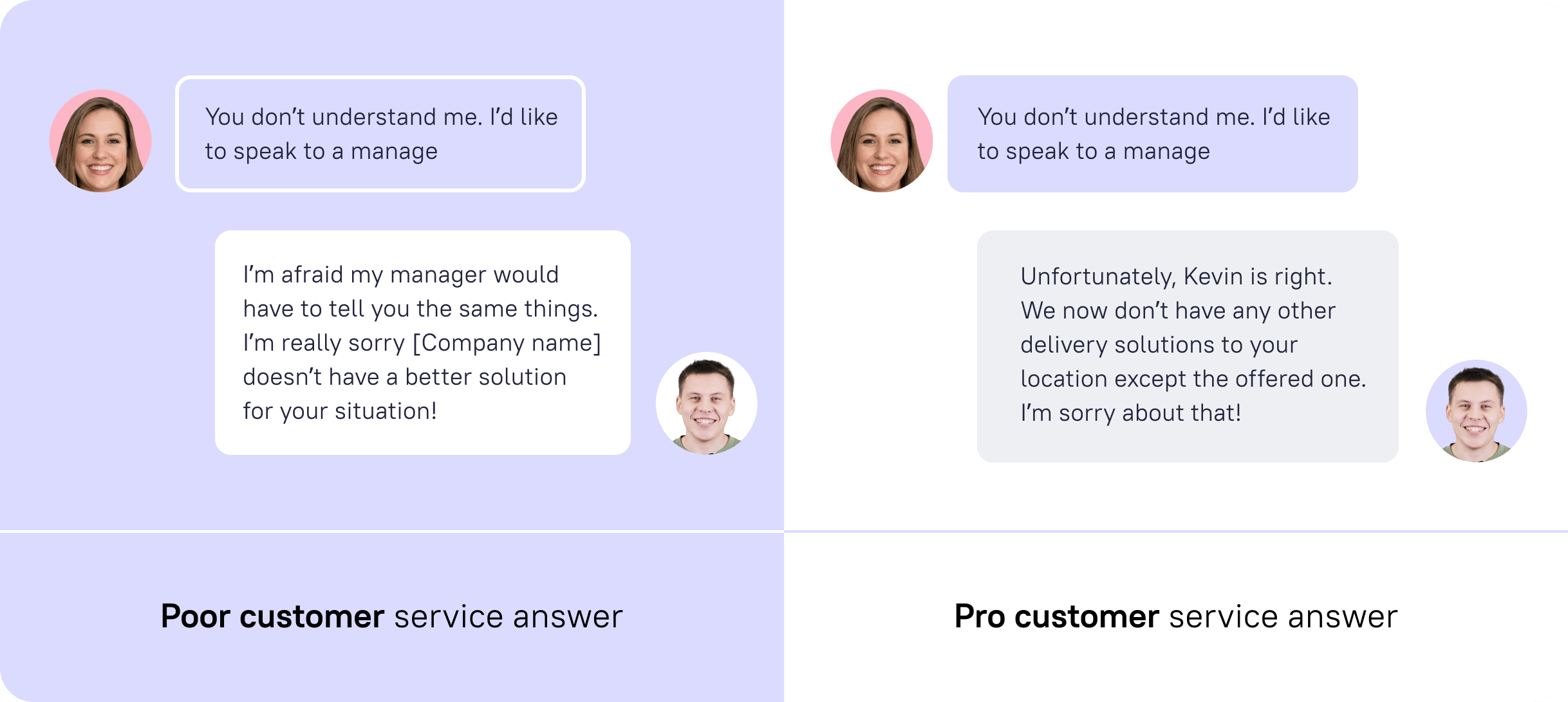 It was the 15th minute of Kevin explaining to an angry customer the delivery rules. The last one asked the same questions in different forms, but the client's response was the same. Things got hairy. Polite attempts to help, arguments, and offered alternatives didn't matter. 
Customer request example:
'You don't understand me. I'd like to speak to a manager'
But it was a kind of overattentive customer who didn't want to accept the answer he didn't like. Anyway, the company couldn't fulfill the customer's request. 
An example of a client's response:
'I'm afraid my manager must tell you the same things. I'm really sorry [Company name] doesn't have a better solution for your situation! ' 
It's enough to convince a customer, except for the angry scenario. 
Since Kevin was 100% sure in the info he operated, he just handed off the conversation to another manager who said the same in different words:
'Unfortunately, Kevin is right. We now don't have any other delivery solutions to your location except the offered one. I'm sorry about that! '
If you're not as sure as Kevin, ask for a supervisor.
Tips to keep in mind:
Show empathy
Apologize
Speak with kind authority
Customer request 11: The price is too high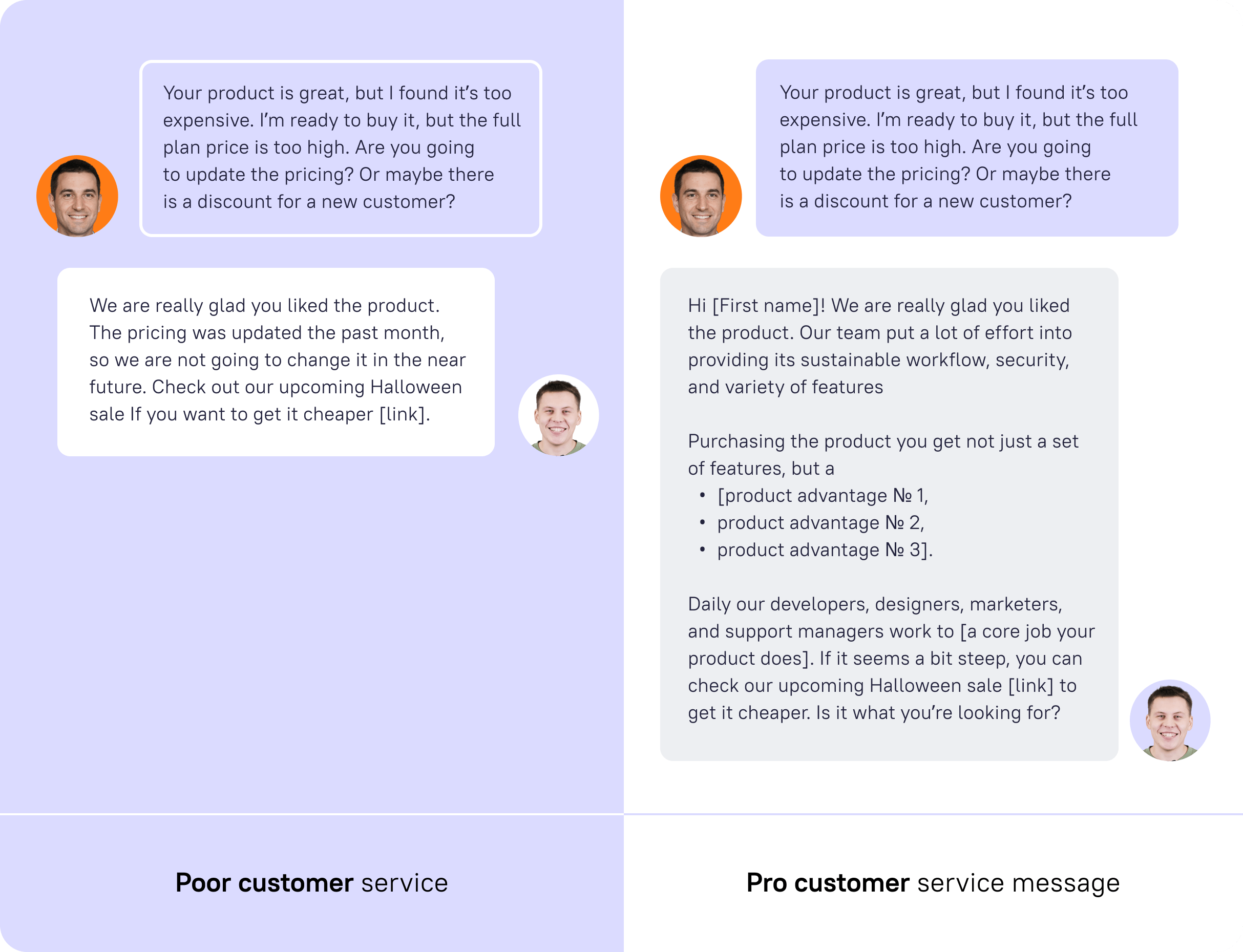 There will always be someone who doesn't like you, your job, product, much less its price. The true art of customer service is convincing them to purchase. That was Kevin's next achievement.
Customer's request example:
Hi! Your solution is excellent, but I found it's too expensive. I'm ready to buy it, but the full plan price is too high. Are you going to update the pricing? Or maybe there is a discount for a new customer? 
The task was clear. This scenario assumed Kevin explaining the value it can bring to the customers. What do they pay for: elements of the chosen plan, tool advantages?
An example of poor service response:
Hi! We are happy you liked the product. The pricing was updated last month, so we are not going to change it in the near future. Check out our upcoming Halloween sale If you want to get it cheaper [link].
The offered solution seems quite fair: Wanna discount ─ wait for the sale. But it doesn't solve the reason for the request ─ a lack of value understanding.
An example of a pro service agent message: 
Hi [First name]! We are happy you liked it. My colleague put much effort into providing its sustainable workflow, security, and various features. By purchasing the service, you get not just a set of features but a [advantage №1, advantage №2, advantage №3]. Daily our developers, designers, marketers, and support managers work to [a core job your tool does]. If it seems steep, you can check our upcoming Halloween sale [link] to get it cheaper. Is it what you're looking for?
It will help customers understand your product's value and price.
Customer situation 12: The refund request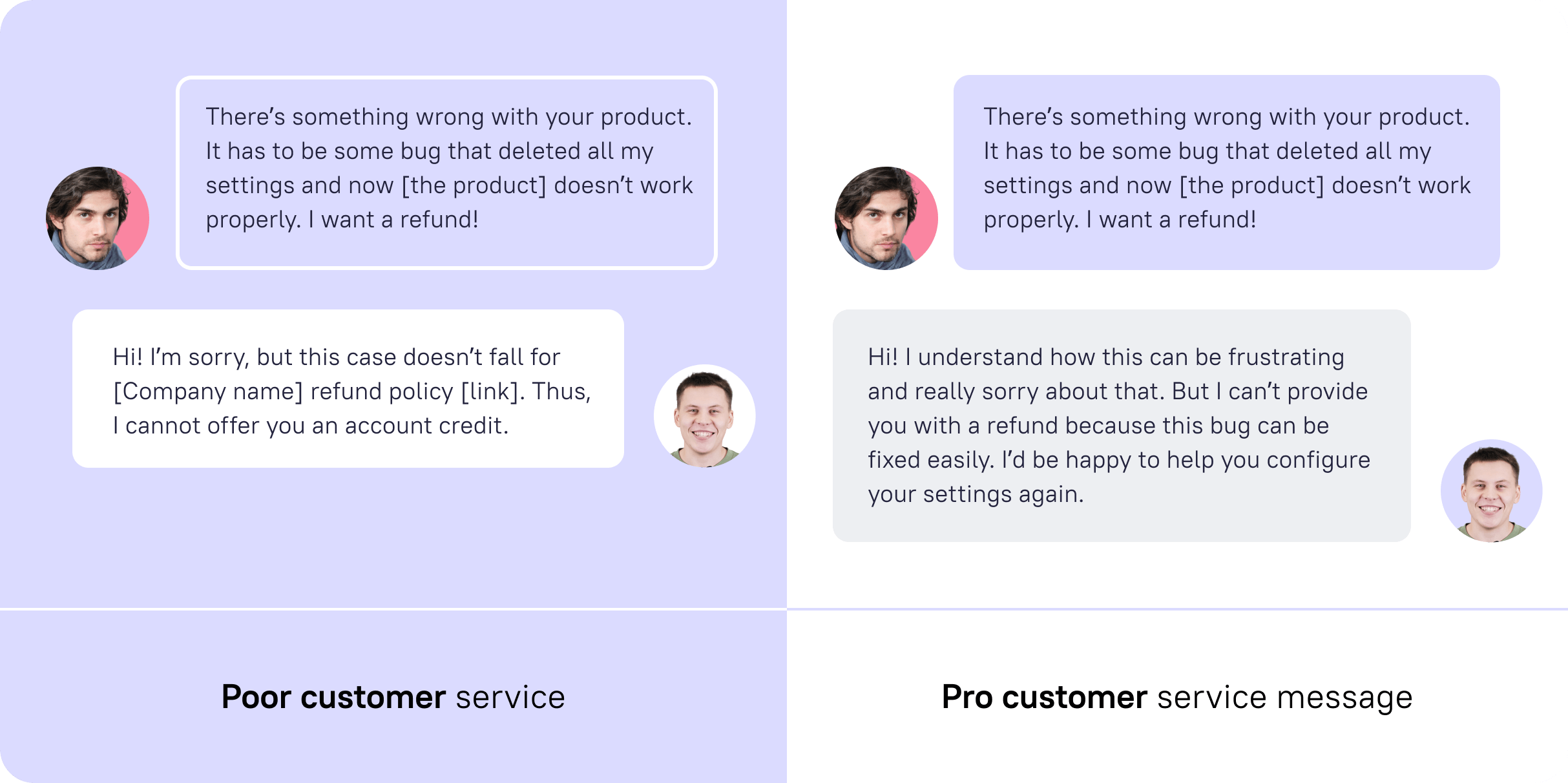 The rest of the week promised to be easy… but not for Kevin. This time he had to deal with a customer asking for his money back.
Usually, it's a relatively easy task, except when you can't provide a refund.  
Customer's request example:
There's something wrong with your product. Some bug must have deleted all my settings and now [the product] doesn't work properly. I want a refund! 
Even if the tool settings were wrong, it still worked. So a refund wasn't an option. That was written in the user agreement. Thus, Kevin had to find an alternative solution.
An example of poor service agent response:
Hi! I'm sorry, but this case doesn't fall for [Company name] refund policy [link]. Thus, I cannot offer you an account credit.
An example of a pro service agent response: 
Hi!  I understand how this can be frustrating and really sorry about that. But I can't provide you a refund because this bug can be fixed easily. I'd be happy to help you configure your settings again.
This message doesn't end on the refuse. A little empathy and desire to help do magic: there's no customer aggression, no need for a refund.
Tips to keep in mind:
Offer an alternative solution
Be polite
Consult the team
Here is how we do this when comparing Dashly with Intercom, Drift, LiveChat:
Client request 13: Shipping delay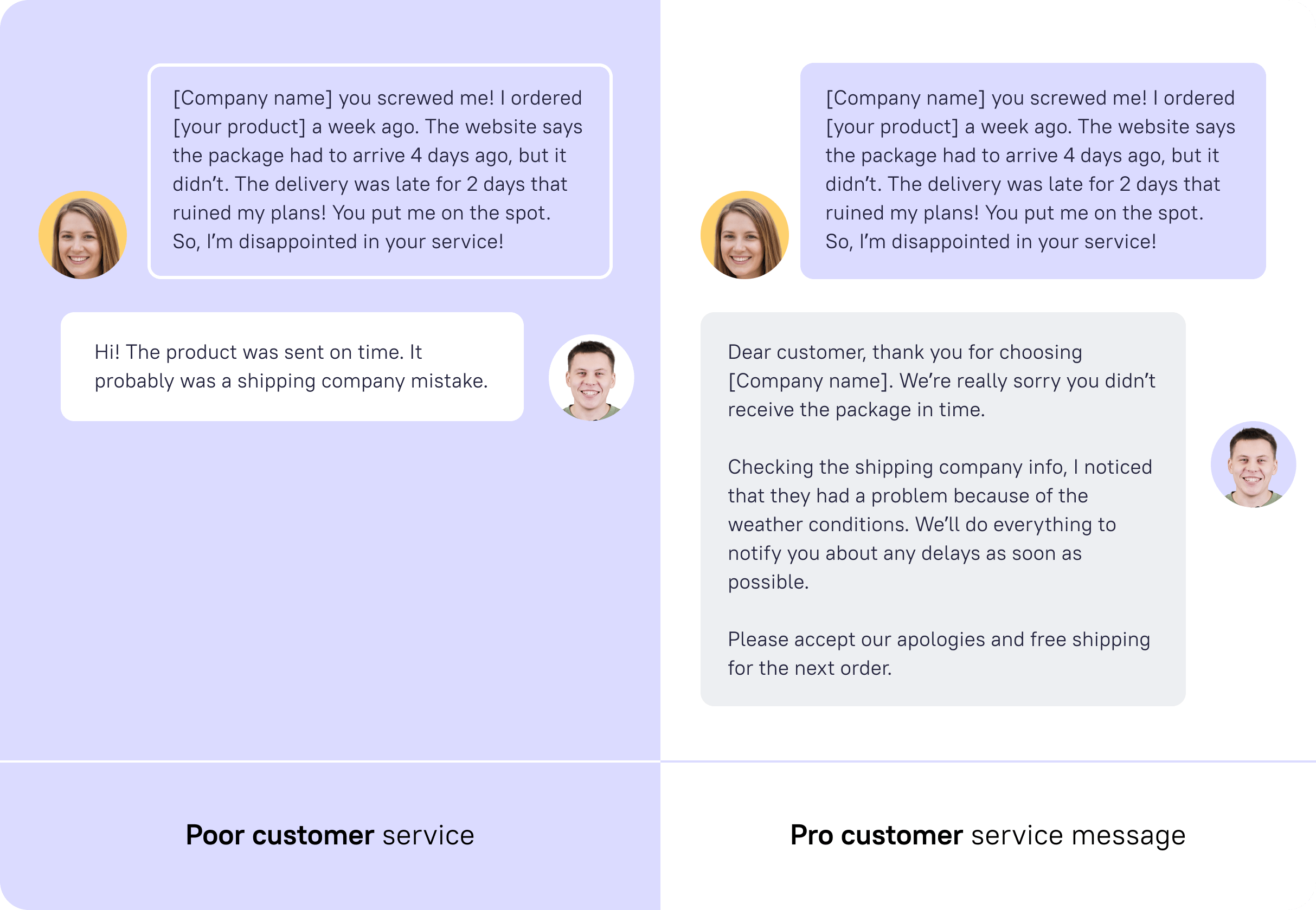 Minutes stench into hours, days — into years. Waiting for the ordered item can be torture. Unsurprisingly, even a day's shipping delay makes people crazy. That's why Kevin's company is so careful about this process. But a quarantine made its amendments. 
A customer ordered [a product] for his brother's birthday. The website says about the three days shipping, which was perfect for preparing the gift for the celebration. But the package arrived two days later after the deadline. It hadn't damaged the party, but the same cannot be said of the customer's mood. 
Customer's request example:
[Company name], you screwed me! I ordered [your product] a week ago. The website says the package had to arrive 4 days ago, but it didn't. The delivery was late for two days which ruined my plans! You put me on the spot. So, I'm disappointed with your service!
How to make this customer happy?
An example of poor service response:
Hi! The item was sent on time. It probably was a shipping company mistake.
That is true. But does it make this customer happy? That's why Kevin chose another tactic…
An example of a pro service agent response: 
Dear customer, thank you for choosing [Company name]. We're really sorry you didn't receive the package in time. Checking the shipping company info, I noticed they had a problem because of the weather conditions. We'll do everything to notify you about any delays as soon as possible. Please accept our apologies and free shipping for the next order.
Sounds better, heh? It changes nothing but can provide a better customer experience.
Tips to keep in mind:
Explain what happened
Tell how you are going to fix the situation
Offer compensation
End on a positive note
The customer is satisfied. The company image is saved. But what if the problem is on your side? 
Client request 14: Quality issues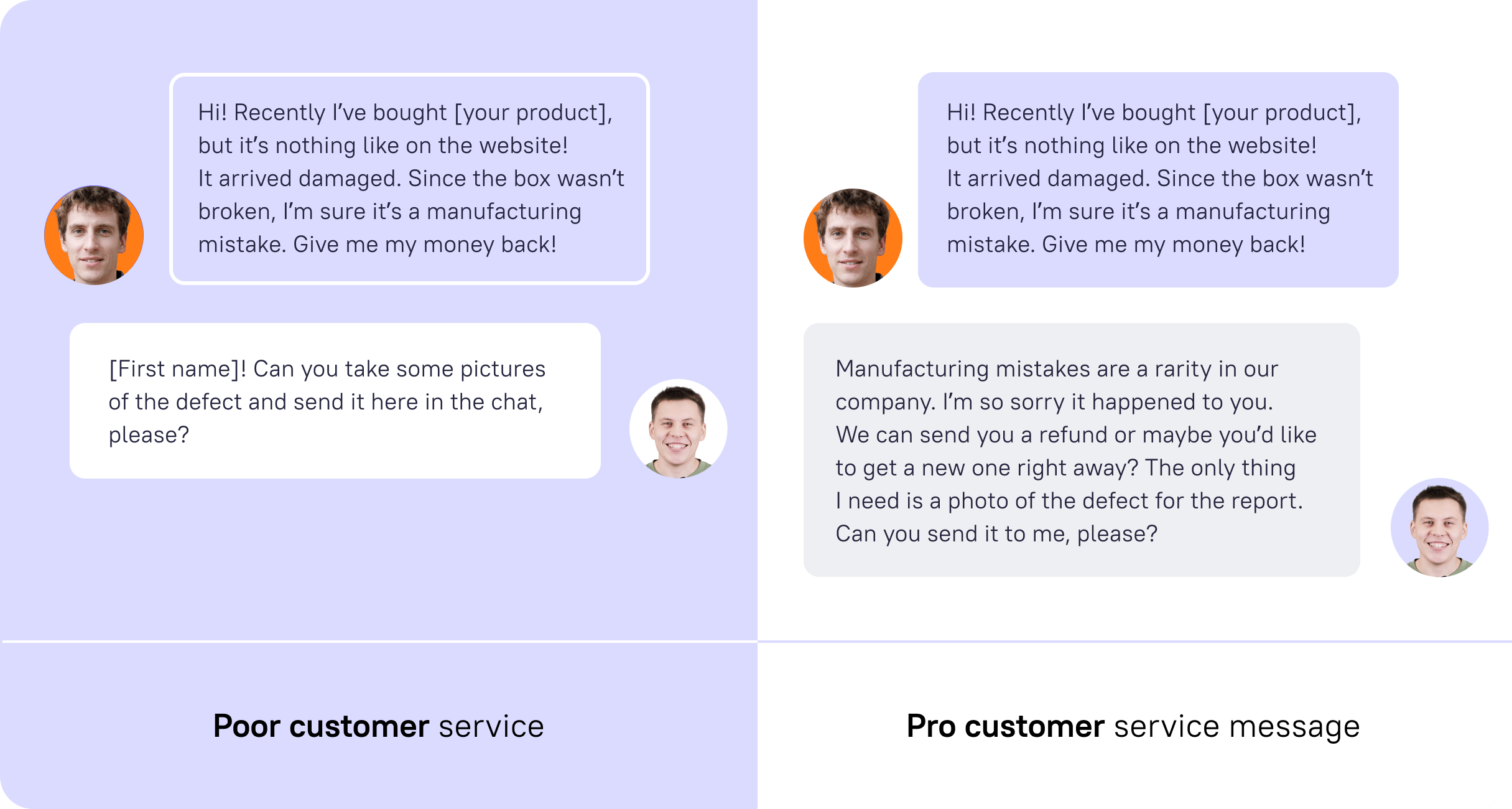 You may know this Expectation vs Reality frustration feeling. The website images tell about the perfect high-quality product, but it's nothing like the one that had arrived.
It's the usual case in retail. But now it had happened to Kevin's next customer.
Customer's request example:
Hi! Recently I've bought [your product], but it's nothing like on the website! It arrived damaged. Since the box wasn't broken, I'm sure it's a manufacturing mistake. Give me my money back!
Seems like it's your fault. Time to save the customer and the company's image.
An example of poor agent response copy:
Hi [First name]! Can you take some pictures of the defect and send them here in the chat, please? 
Asking for proof is ok, but not in the first sentence. This makes you feel like you don't believe the customer.
If you wanna proof, argue it by a need for a report. Like Kevin did.
An example of a pro agent response: 
Hi [First name]! Manufacturing mistakes are a rarity in our company. I'm so sorry it happened to you. We can send you a refund, or would you like to get a new one right away? The only thing I need is a photo of the defect for the report. Can you send it to me, please? 
Thus, you apologize for the customer's frustrating experience and offer an alternative solution.
But what if it was a customer who made a mistake? 
And this time, it really was so. Kevin checked the photos and noticed that [the product] was in use. So that wasn't a manufacturing mistake, but a customer who ruined it.  
Kevin had to use a ninja-like finesse to explain this to a customer.
An example of a poor response:
Checking the photos you sent, I noticed you've used [a product]. I'm afraid I can't help you in this case.
An example of a pro agent response: 
I'm afraid the issue appears to stem from (the mistake customer made). If you look at the 'terms of use' brochure in the product's set, you'll find the directions on how to [do the thing the customer mistake in] right. Trust me. I've been there before! That thing can be tricky. But the only solution I can offer you, in this case, is 10% OFF for the following order. Let me know if you need my help.
This script demonstrates more empathy to a customer through the detailed 'Why-Not' explanation and proofs.
Tips to keep in mind:
If an item can be fixed, offer a solution
Avoid blaming tone
Teach them how to do/use [the things they did wrong] right
And now 'the cream of the crop' among complex scenarios: Brace yourself, the irate customers are coming.
The most difficult of service scenarios 15: Angry customer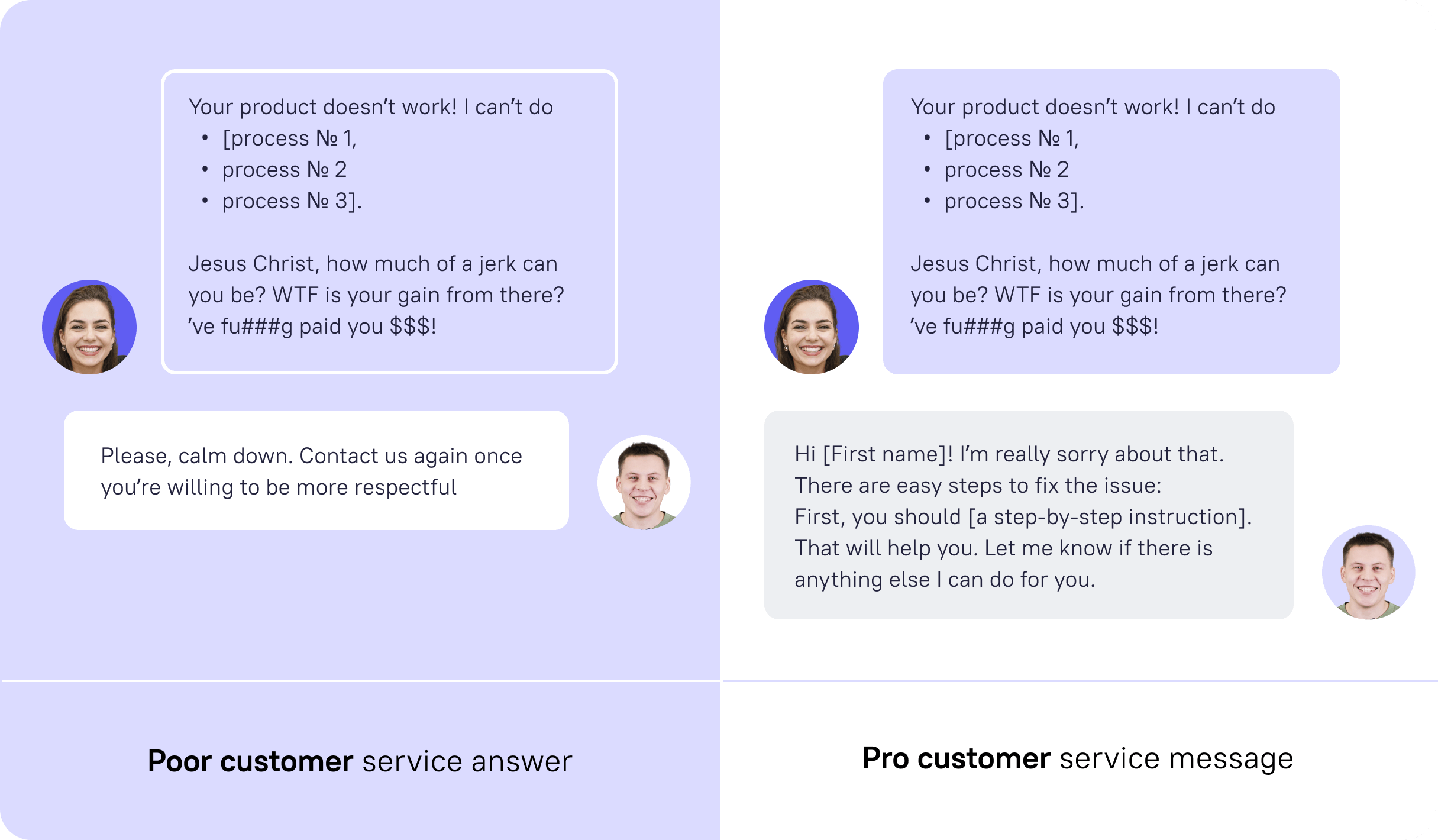 In nearly every problematic case I mentioned above was an irate customer. Dealing with each of them, Kevin was polite.
But there is a line between anger and abuse. 
Angry customer's request example:
Your solution doesn't work! I can't do [process №1, process № 2, process №3]. Jesus Christ, how much of a jerk can you be? WTF is your gain from there? I've fu###g paid you $$$! 
An example of a poor customer service response:
'Please, calm down. Contact us again once you're willing to be more respectful.' Operator disconnects.
Neither warning nor chances for the customer to excuse and explain the details.
An example of a pro customer service response: 
Hi [First name]! I'm really sorry about that. There are easy steps to fix the issue: First, you should [a step-by-step instruction]. That will help you. Let me know if there is anything else I can do for you.
It's another when anger is directed at a company or you personally without connection to an issue. 
Abusive customer request example:
Go to hell! Your service is a piece of sh#t just like you!!!! 
An example of a poor customer service response:
Silence.
An example of a pro customer service message: 
Hi [First name], we are really sorry to hear about your frustration! Let us know if there is anything we can do to make you feel better. 
If it doesn't work:
I'm really willing to listen to your issue and solve it. But if you continue using such aggressive language, I'll end this conversation.
That was the most difficult customer Kevin dialed with this week. I think you'll agree, he deserved rest. Moreover, I'd say he deserved an extra day off.  
Tips to keep in mind:
Keep calm
Show that you understand the customer's situation
Ask for the details to cool down the customer
Apologize 
And put Kevin's experience into practice 👇
Download the 15 scripts and save your agents hours of dealing with tricky requests
Thanks! Now check your inbox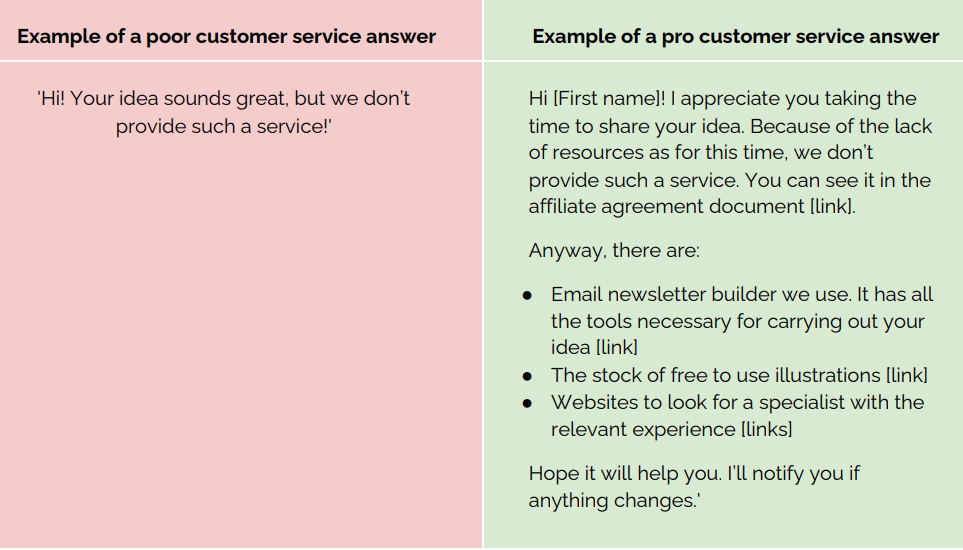 ---
There's not just a story about a terrible week. It's a great experience you can use for role-playing scenarios to improve your customer service. Since angry customer scenarios are quite similar, you can quickly adapt these customer service examples and use them in retail, pharmacy, healthcare, etc.
To sum up
Customer service agents like Kevin are modern knights. They help struggling customers and defend the honor (image) of a company. Pre-made scripts based on popular customer service scenarios are their weapon and assistant to refer to in uncertain situations. Customer service scenarios' role-play is their regular training to deal with dragons angry customers. 
Optimize the work of your customer support with Dashly
Sign up for a free Dashly trial to use these customer service scenarios immediately. Just edit and store any suggested script examples in the 'Saved Replies' section to dramatically reduce customer service response time.