Wise and proper Customer Data Management helps to increase the return of investment into your traffic.
If you're here, I bet you already know this statement is true. Today, we'll tell you how you can track your website visitors' actions, make relevant offers and sell more on the same traffic using the Dashly customer data platform. Ready?
But first — what is the Customer Data platform (or CDP)? Briefly, this is a software that collects users data and creates a database that marketers can use for better interaction with website visitors. It's important to mention that the data collected by CDP should be easily accessible to other systems.
Well, now we have synced up about the definition of the CDP. Now, let's find out how you can use the Dashly customer data platform to increase your sales. 
You can read the article or watch our video.
1. Collect users data
First of all, to deal with visitor tracking you need to configure data collection in Dashly. Without it, your spy talent won't be that cool. Using a customer data platform, you can collect visitors' names, geography, email, info from qualification steps, actions of the user (e.g., purchases or support requests).
How it works
CDP collects emails, phone numbers, and exit intents. This all is tracked automatically, and you don't need to configure any integrations — we'll write down all the data collected into a lead card. See how it looks like: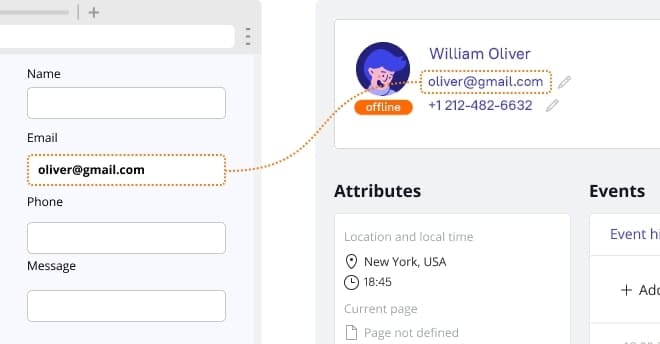 Also, in the customer data platform, you can configure lead events collection — these are actions that users commit. In the future, you can use lead events as a trigger: in case a user commits some event, the system will send them a message or open the chat widget. But we'll talk about this a bit later.
You can also divide visitors into several groups according to their interaction with your product. For example:
Found a feature — visited feature page, asked about this new feature, etc. 
Tried a feature — tried to configure, walked through the feature.
Received value from a feature — only you can decide what can be considered as a value. For example, we think that if our user made two or more funnels, then the value is gained. 
Or in case you have an ecom-business:
Bought after the newsletter;
Have chosen several goods and abandoned cart;
Bought goods for over $1000, and so on. 
Dividing users into groups, you can create some universal message for them to pursue making a purchase. 
P.S.: don't forget about GDPR policy and check what data you can collect in your country.
2. Get notifications about users actions
Don't you want to talk to the first users of your new feature and get their feedback? Don't you want to understand how they see its value and how they use it? 
We bet you do:)
We want as well, that's why in our platform we have an integration with Slack to catch users immediately. Every time someone starts to use some new feature or signs up in Dashly — we get notification in a special Slack channel. It gives us the opportunity to go ahead and start a conversation with this lead right away — catch him while he's hot!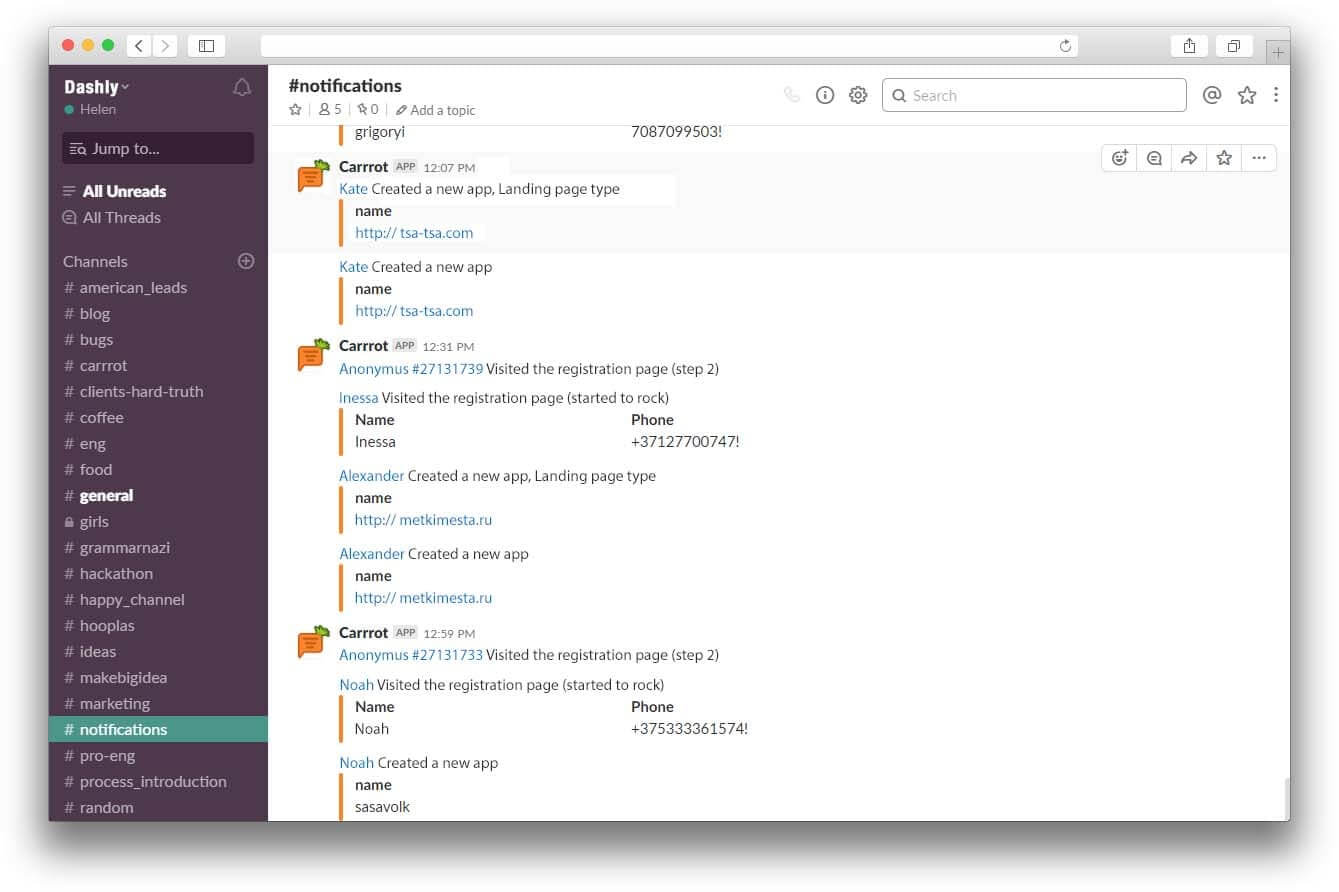 Configure the integration with Slack — it's easy. Read our step-by-step instruction in the Knowledge base. 
3. Start personal communications
What do you collect customer data for? For improving customer communications and increasing revenue, sure.
The moment you see that your user is exploring a new feature — write them in chat right away from the Leads section. You can ask how they're doing, or start from some specific question. The point is that you involve your users into a personal communication right at the moment when they're looking through the subject. 
When the lead answers, you'll see their message in the Lead card (with all the conversation history) and in the Inbox section.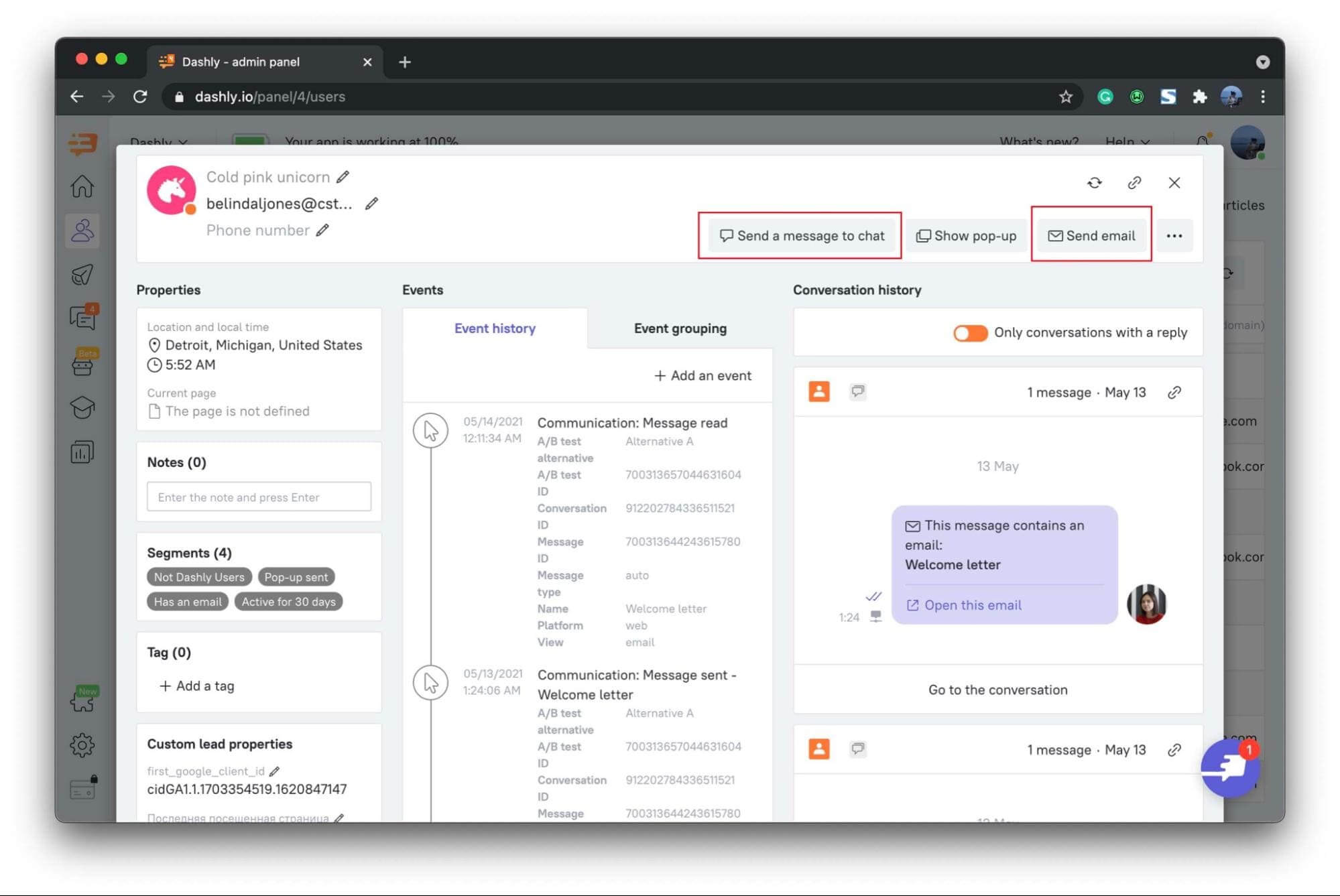 You can hold a conversation from the Lead card, but it's more convenient to do it from the Inbox section. You can also tag your early bird users to come back to them in some time. 
Also, you can send messages to a group of people — this is what I promised to tell you about in the very beginning of the article. Say, you want to email users who saw the pop-up on the main landing page: 
Choose the lead event that was created for this action, and choose the users who suit this criteria. 
Perfect, now you can choose which type of message you need to choose — this may be a chat message, pop-up or email.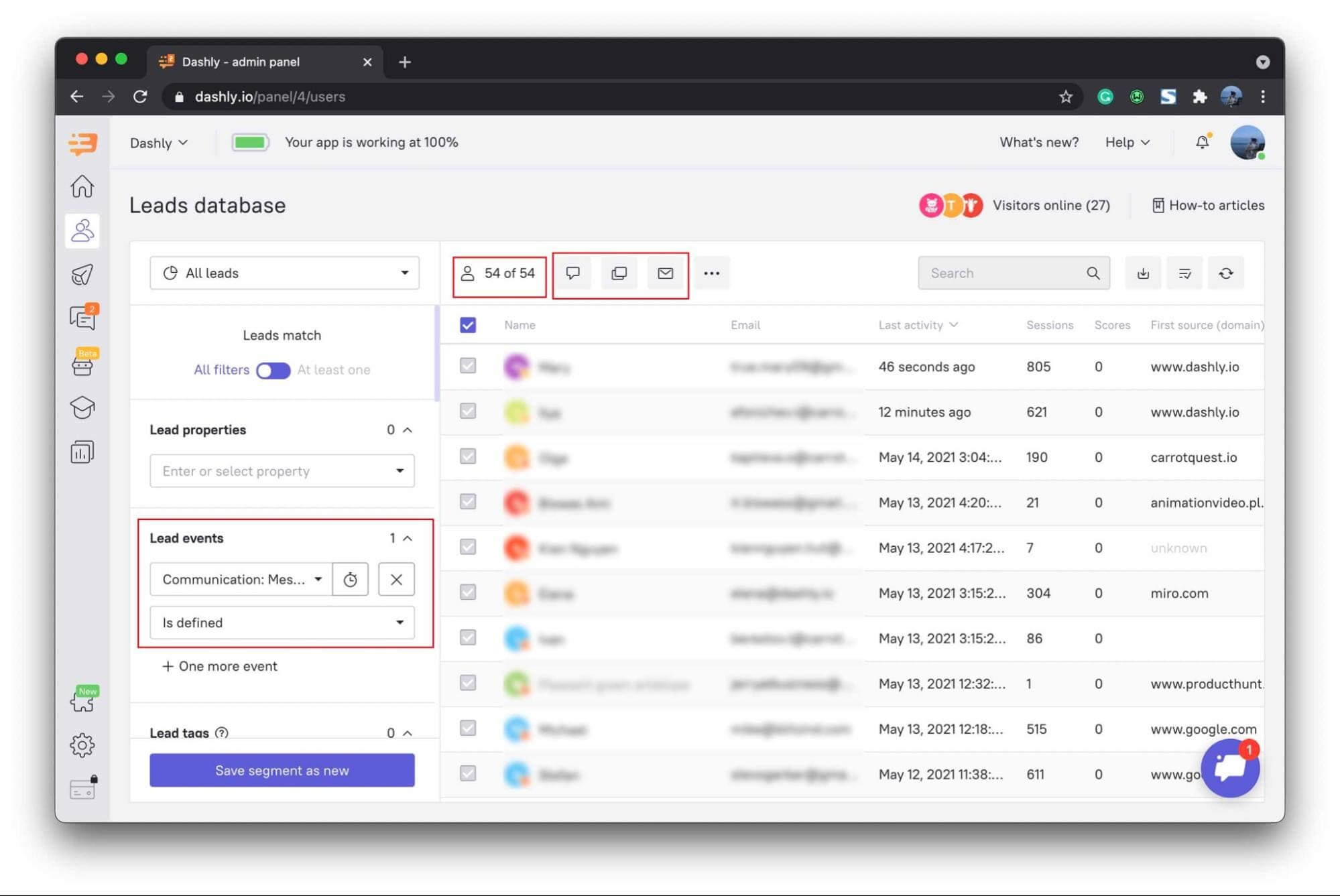 Types of messages you may send to users
Chatbot messages
Chatbot is a widget feature which could contact users automatically when they perform any action on your website. In Dashly, we call this a Leadbot. The Leadbot can automatically involve users in conversation, qualify users, and offer them relevant products. 
Here is an example of how chatbot can interact with the website users and qualify them:

After the qualification you can collect emails and continue communication with users.
Learn more about the Leabot and its configuration in the article in our knowledge base.
Emails
Emails are great tools for lead nurturing in case you already know something about your users. Again, you may take into account their behavior (or other characteristics you've collected using Leadbot), and send emails with relevant content.
Let's take an example of an online shop. Using customer data platform, they've found that say 10% of their users abandon their cart (this is a very common example, but this doesn't make it less valuable). In this case, they can choose this group of people using the user event 'abandoned their cart', which I told you before. 
Up to 50% of users who clicked on the link in the abandoned cart email made a purchase. 
This means that using customer data you can increase the revenue out of users who might leave forever. Sounds great, isn't it?
Read also: how Mofy.life increases the CR to purchase by 25% using only one email.
Summing up
Configure data collection. The more information you collect, the more flexible you can be working with it. 
Start personal conversations with them right from the Lead card or send messages to a group of users.
Send triggered leadbot messages or emails to interact with users and increase the CR to purchase.
Don't forget to segment! That's how you'll get a clear understanding of your visitors and users.
This article was first published on November 11, 2018. May 31, we've updated it.