As more and more businesses are moving to SaaS or Software as a Service for their daily operations, it is becoming increasingly important to have a robust and reliable customer support service in place. 
Support team in SaaS companies has to assist at all customer journey stages, pre-sale and post-sale. Customer support can also be involved in onboarding the customers, providing them with the necessary documentation, and serving as a mediator between customers and other teams involved in making the product.
How does the customer support Saas companies provide differ from support service in any other type of business? In Saas, there's a clear focus on customer success: in each step of the customer journey, the team has to provide excellent assistance.
Why support is critical for Saas companies
SaaS products can be hard to master. That's why companies put so much effort into helping their users. 
When you offer software to your customers, always keep a connection with them ーbefore and while they're making the deal and especially after that.
Customer support comes into play at all stages: no product is ever so simple that it doesn't raise any questions. It also cannot be perfect so that it's never faulty — SaaS companies have to deal with bugs occasionally, and SaaS customer support is the first to let you know what customers experience and think about the product. 
SaaS support strategy. Where to start?
1. Make sure your service has clear objectives and goals
How you provide customer support should align with your overall business strategy: your service mission and product positioning.
Define your objectives for the support team and measure them later on.
Why are metrics important? They help: 
evaluate agents' work;
find bottlenecks in the team's processes;
improve the team's efficiency.
Typically, support teams track at least key performance indicators. If your team does not track them, we recommend you start. 
We've decided on two primary metrics to track: first response speed and average agent rating. You can monitor them as well after Dashly's lead nurturing platform code installation. 
Dashly's team performance report. Sign up to test how it works 7-days free.
Dashly offers team performance reports where you can see:
speed of the first response;
average rating of chat agents;
workload by hours;
the number of new and solved issues;
questions' distribution by channels, etc.
Read also:
2. Tone of voice
Customer support reps are customers' first point of contact with your product. Make sure your team uses a consistent tone of voice. 
Tone of voice is the expression of your product through the language your business representatives speak and write. 
SaaS customer support should be patient and show empathy to make customers feel understood and heard. After all, these people are creating the image of your company. Your agents should know when and what words to use, depending on the customer's case and mood, to keep communication flowing. 
Prepare some tricks for the types of customers you deal most often with. Got an angry customer or one that's generally dissatisfied with the service? Show them you can relate and are working out the best solution, etc.
For instance: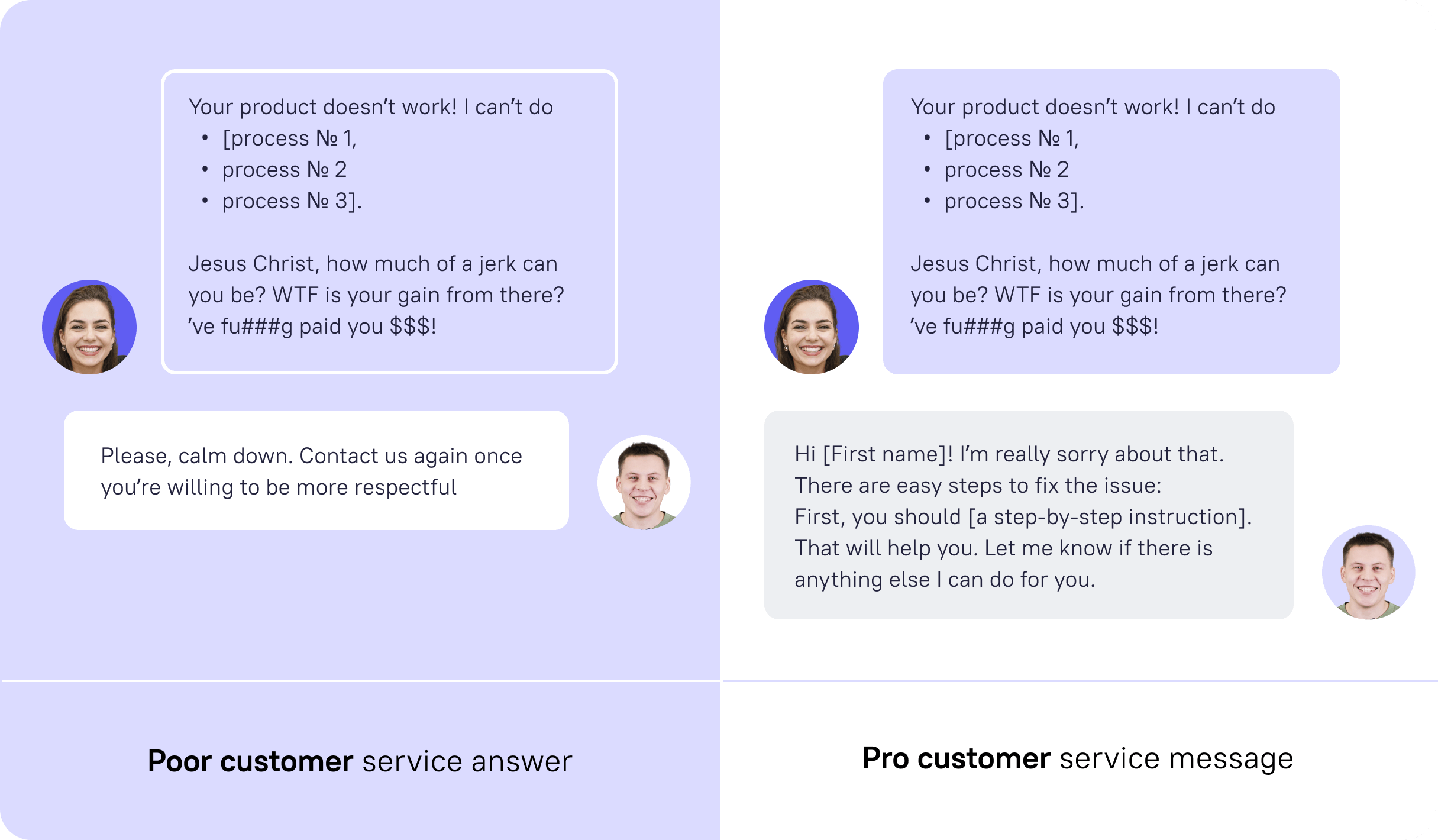 Put all these examples and rules into an internal support team documentation and use it to onboard new agents.
Download 15 scenarios for customer service role-playing and deal with difficult issues like a pro
Thanks! Now check your inbox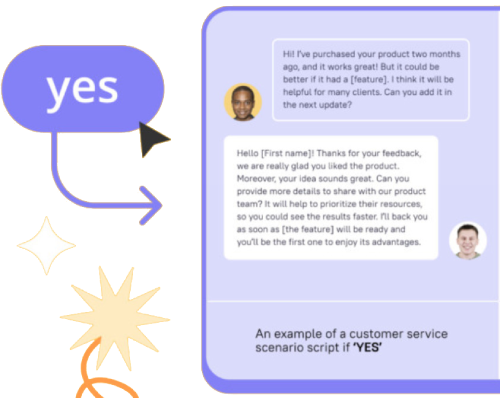 3. Educate support agents
The customer support team should know the product through and through to provide excellent customer service. So consider keeping documentation in an internal help center for your agents, an excellent resource to refresh the team's memory.  
Also, allow the team members to work on their current skills and learn new ones: coding, writing documentation articles, learning new concepts and strategies, you name it! You never know what can come in handy with user questions and situations your team members can find themselves in.
4. Collect customer feedback from all the sources within a company
Don't waste the feedback your customers provide. Let the product team know what people think and expect from your software. 
For example, the agent rating system and NPS surveys can easily track user satisfaction. They help you understand how satisfied customers are with your product. You can ask to rate your services and leave a comment.
This way, you'll be able to identify issues that otherwise go unnoticed. Such surveys will also help you find support and the product's weak points. We recommend holding a survey monthly or quarterly. 
5. Engage the support team with other teams
Don't forget to communicate with the Sales and Marketing teams too: they can provide your customer success team with helpful insights on retaining customers via the chat.
When clients encounter service issues, it might take more than live chat agents to solve them.
Imagine the situation: some button doesn't work as expected. Every day, agents have to deal with related complaints. They assure the clients the issue will be solved and forward this request to the product team. Product managers promise to fix everything but also have other important tasks.
As a result, agents don't provide clients with an immediate solution. So naturally, they get annoyed. That means bad ratings to the agents and churn.
To avoid it, you need to improve the interaction between the teams. Agents should know when the task is completed and what they can say to the clients.
In Dashly, we set up the following process for reporting bugs:
The developers divided bugs into categories depending on their urgency: either till the end of the week or in the next week. We devised the criteria to determine which category a bug belongs to.
When agents encounter a bug, they put it to an assigned Slack channel: they describe the bug in detail and specify which category it belongs to.
Then, a bug card is created in Favro, our task management product. This happens automatically, thanks to Favro's integration with Slack. Developers check the bug category to understand which ones are more urgent.
In the card, developers set the task status, so the agents understand how the work is going and how soon developers will fix the bug. This way, they can give an apparent response to clients.
Best practices of saas customer service
Adopt a proactive support strategy
Don't wait until your customers bring their questions to you — be one step ahead.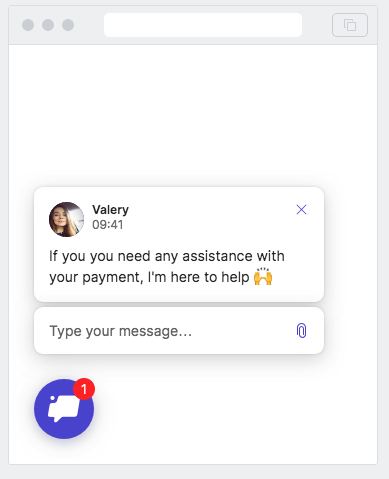 Be attentive to what product users say: maybe they mention the pricing getting stiffer or that they were checking for other tools and solutions recently.
Knowing what customers say can help prevent churn in the bud — check the opinions, ask what led to their decision to cancel a subscription, why they are unhappy with the current features, etc. 
 Right customer engagement tactics used by Saas customer support team can also help you increase sales or qualify potential customers.
In Dashly, customer support can collect users' contacts and check their goals and objectives.
After that, the team can either assist the client with making a purchase right away or pass the data to the sales team to do the rest.
Analyze the metrics
It's always a good idea for customer support to ensure the performance is both quick and satisfactory. You can work on improving your team performance and customer experience by analyzing such metrics as: 
Customer support agents' response time
The number of new questions
The number of users asking questions
The number of issues resolved
The number of users whose questions were resolved
Hourly workload
Statistics by agents metrics
Statistics by channels
Agent performance evaluation
The metrics can highlight the bottlenecks in your current processes to make corrections later on. For example, here is one of the support reports from the Dashly platform: 
Here we can see the customer feedback on conversations with your agents and decide on a solution — launch a chatbot, change the schedule, or train the team more often. 
Introduce process automation tools
To improve your customer support performance, check if any current processes can be automated. 
Do your customers ask repetitive questions? Save your team time with:
This strategy can be applied to other mundane tasks. Experiment with different customer support software options to find the best practices for your business.
Read also:
Capture emails from website visitors with Pop-ups
The best way to collect emails we tested this year
The North Star Metric and How Can This Lead to Success
Tools for enhancing support in SaaS companies
Speaking of automating processes in SaaS ー, try these tools to aid your customer service team provide an excellent customer experience.
Chatbots
Customers generally expect your support service to be available 24/7 and quick to respond. Most of the time, it's impossible to engage with the users constantly, and it's understandable. 
Try launching a chatbot or two on your website. Here are some examples of how a chatbot platform can help your team.
Chatbots can help customers pick the right tool or subscription type.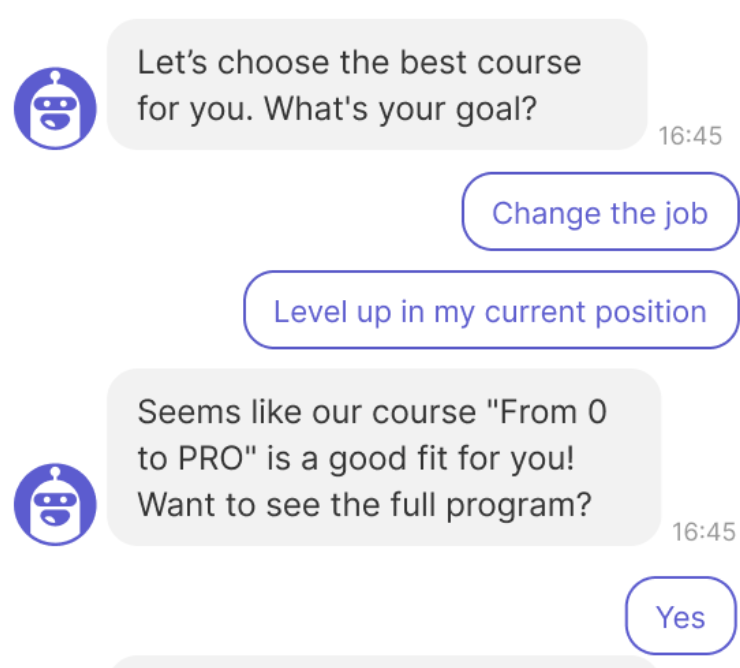 Bots can collect and qualify leads and pass them to your managers.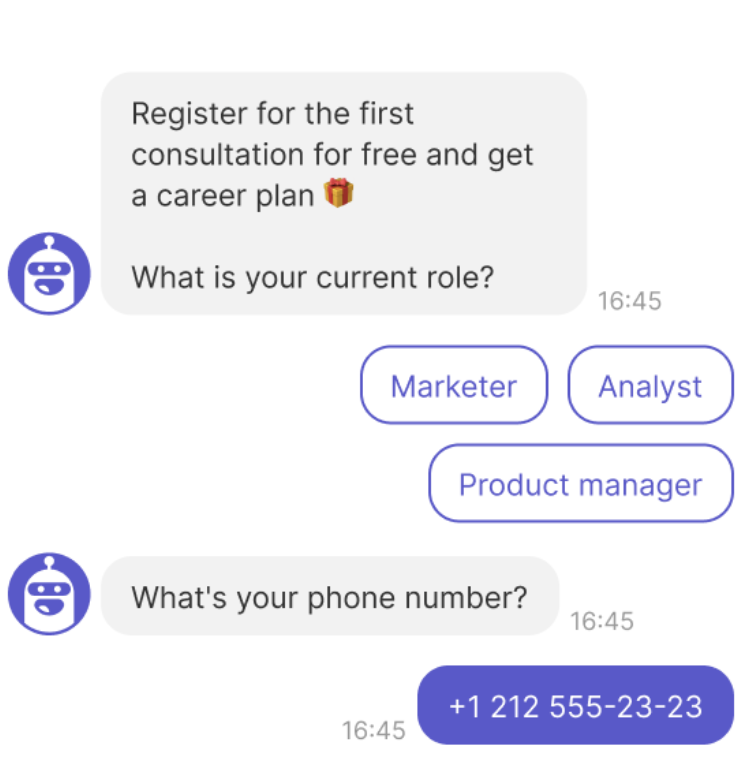 Capture customers' feedback on products or features.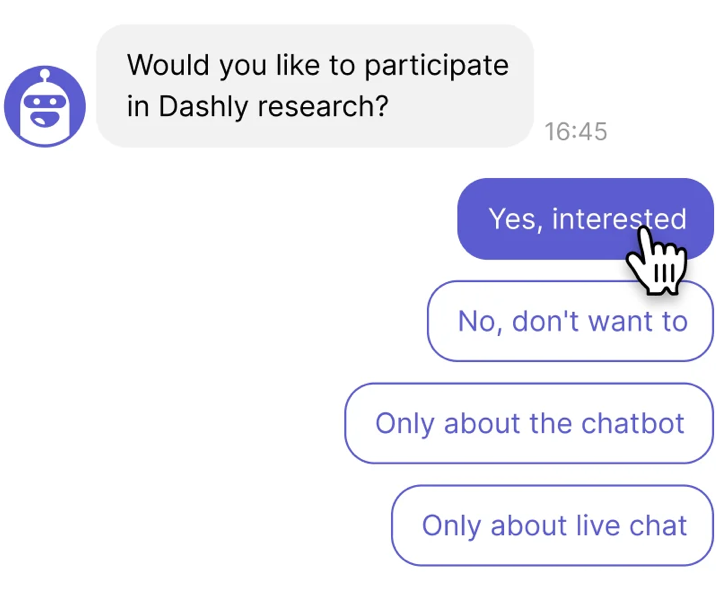 Guide users through the onboarding process and provide answers to FAQs. This way, your customer service won't have to spend hours replying to the same questions and solving the same issues. Just how Leadgen App company did in its admin panel: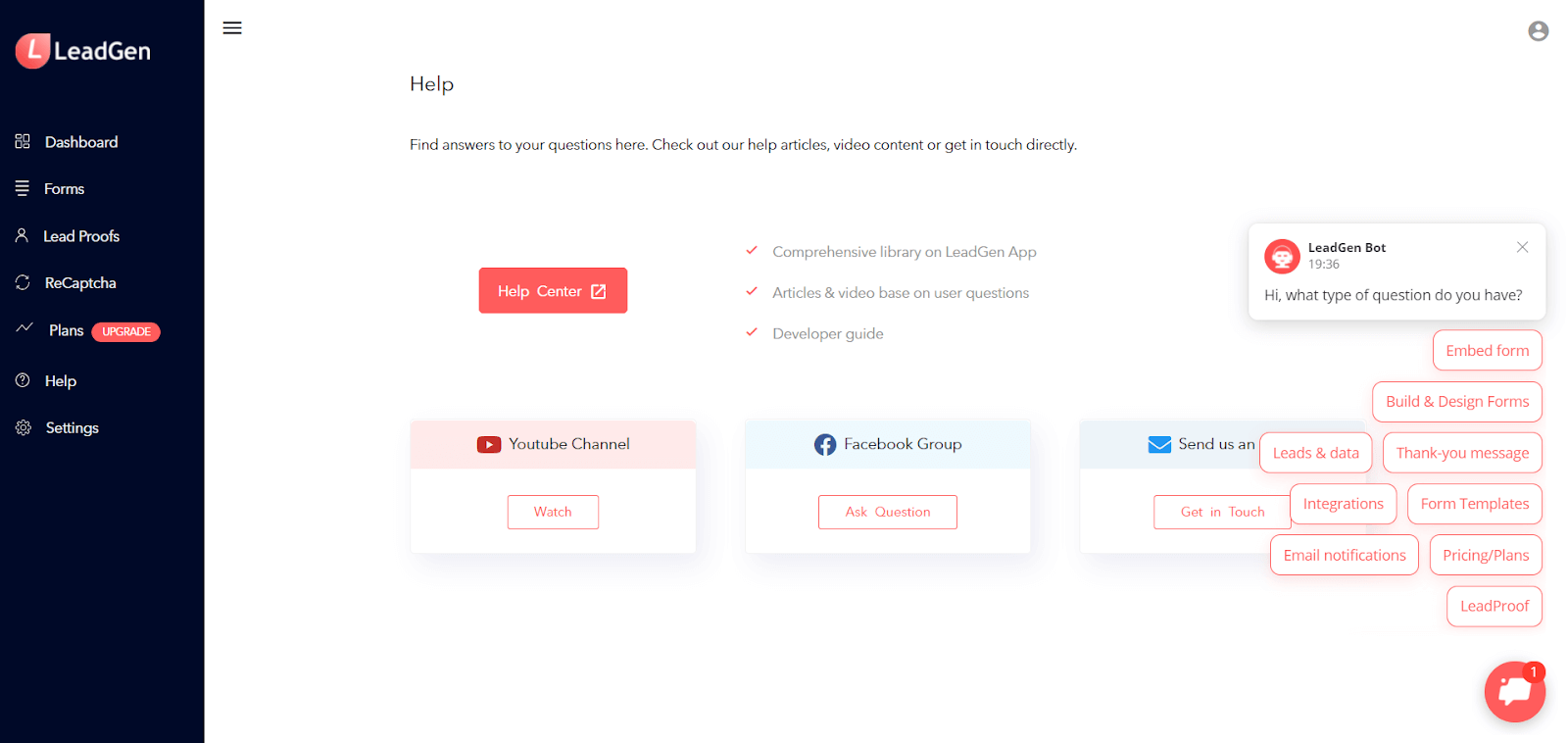 Here are the best practices to help your service get higher conversion rates.
Read also:
Knowledge base for help center
It's good for keeping all the necessary information on your product organized and available both for your customer service team and customers at all times. 
Use knowledge base for onboarding new agents and helping your team to keep track of current product features. Some users also love self-service, so give them the resources. This can be an excellent way to troubleshoot common issues without needing to contact customer support at all.
To provide stable and smooth saas customer service, your help center provider should be well-supported and timely updated. 
here is an article where you can find a comparison of best knowledge base tools.
Omnichannel communication
It is about the solution that allows answering emails, live chat, and social media messages in one place, without the need to switch constantly between the apps and damaging support's KPI. Look for the integration feature.
The market offers many customer support tools; every product has something to offer your business and customers. 
Communicate with customers where they are with Dashly: socials, live chat, messengers, email in one inbox.
Track your team performance with easy-to-customize reports
In SaaS, you must track support's KPI in order to understand how successful your support team is in achieving its main goal: helping customers. 
There are a ton of metrics that could tell you something about how the customer service team is performing and where it's going. For instance: 
Customer Satisfaction Score, or CSAT: see how satisfied users are with the customer service they received.
Net Promoter Score, NPS: see how likely your customers are to recommend your product or service to others.
Customer Effort Score, CES: see how the customers feel after they talked to the customer service representative, if all the questions were answered, how well the issue was resolved.
Customer Lifetime Value, CLV: see how much funding your business can allow to spend on single customer acquisition.
Using the metrics, you can acquire useful insights: see whether users' questions get fast and relevant answers, identify busiest time, heaviest workload and adjust your current support strategy accordingly.
Read also: how to find respondents for a survey or customer interview 
Best examples of customer support in SaaS companies
Check out these examples of successful tool usage by big SaaS companies. Get inspiration from the best practices to adopt some of the tools for your support strategy.
Here is a case from Leadgen App
We caught up with Christopher, co-founder of LeadGen App, about how their team reduces customer support requests and increases sales conversion with Dashly.
Challenge: The LeadGen App team carries out the tasks related to both sales & support manually via email marketing nurture campaigns. But with increasing traffic, answering different types of user requests equally fast became hard at some point. 
Solution: optimize human resources by automating communication between customers and the brand about service and price questions. 
Results: +31% sales and 2x more interactions with clients.
To achieve this, the company launched a lead generation chatbot: it engages users in an admin panel and provide them with, for instance, tutorials and valuable resources.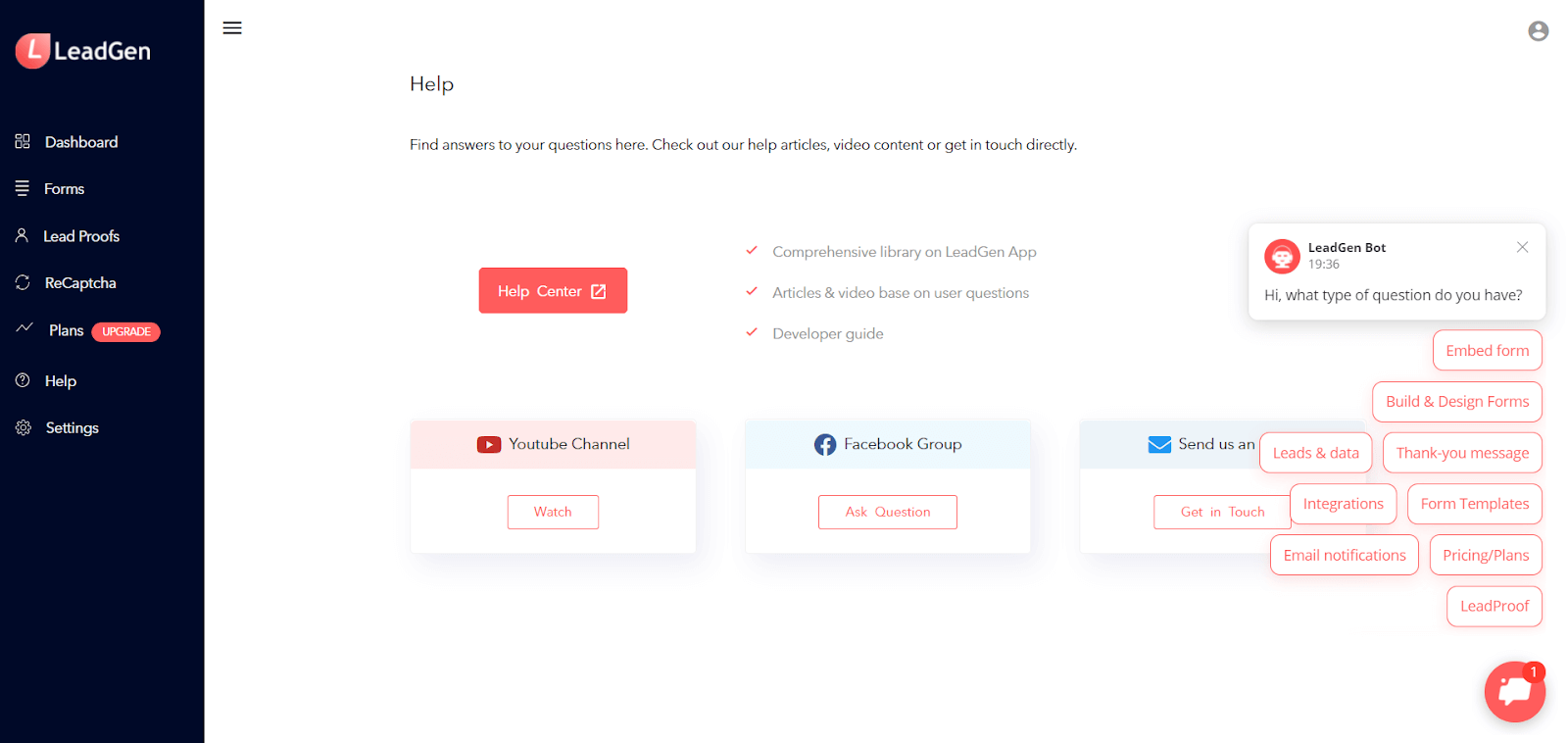 Here is one more case from OpenCRM company
The company mainly focused on customer success, support, and account management. They needed to proactively reach out to the customers, so tools like user tracking on website and manual messages were applied.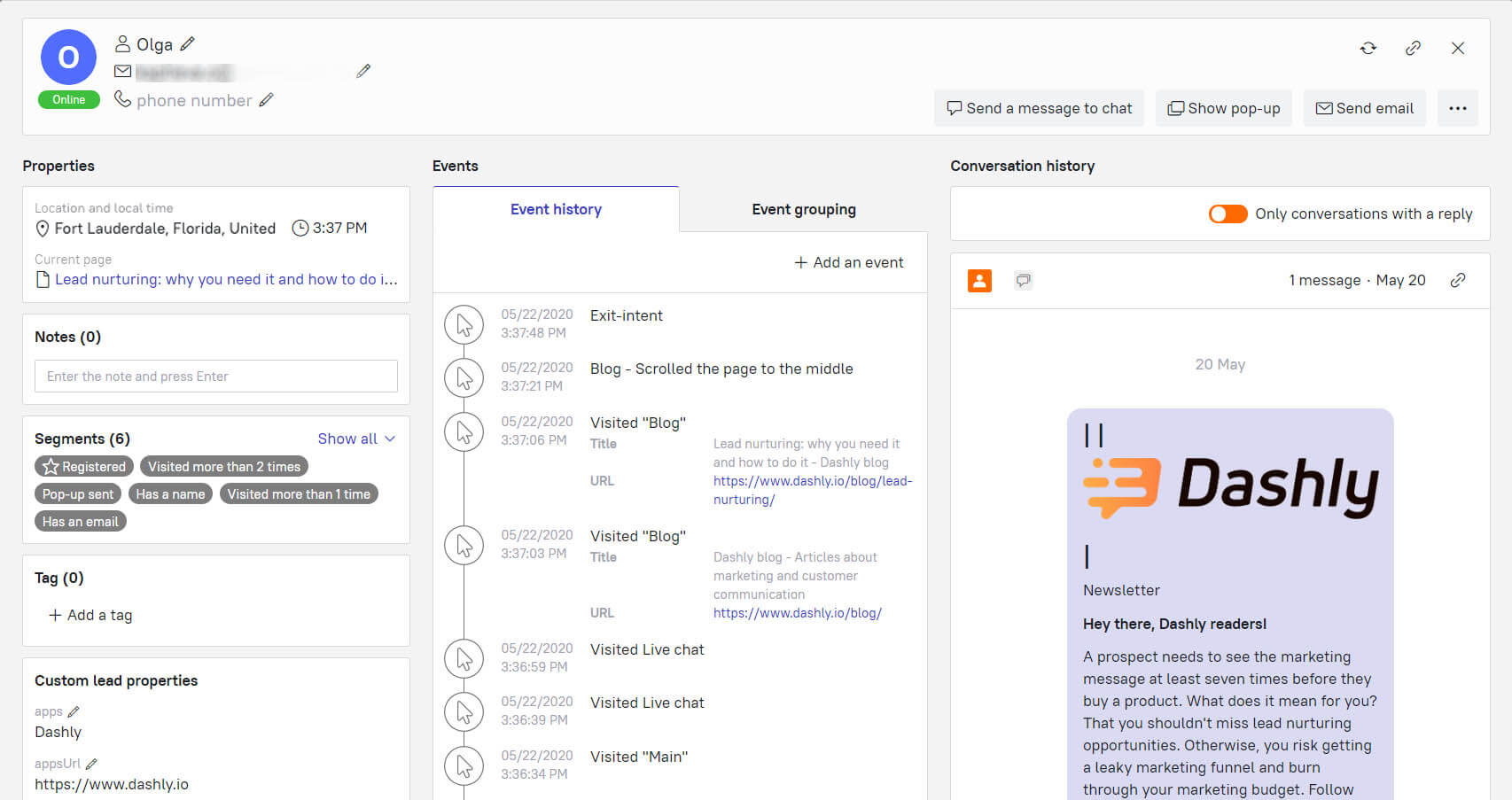 As a result, customers engaged very quickly, and the number of conversations rocketed. Interestingly, the number of emails, specifically complaints, decreased, which means customer support has become more efficient.

Read also: Find out the best Intercom alternatives and Drift alternative
The bottom line
Customer service experience dramatically impacts the image of your company, as well as customer's LTV. 
Your product can be superior in functionality and performance, but if the company's support strategy is lacking, the overall customer service experience won't be excellent. On the other hand, if the customer satisfaction rate is high, users are more likely to recommend your product to others and stick with your services in the long run. Apply various tools and practices to help your support team build positive and lasting customer relationships. 
Dashly offers all the tools for your support, marketing, and sales teams.
FAQ