What is a bot? It is a virtual assistant that helps capture more leads, provide the best customer support, engage users, and so on. The quality of lead generation and user qualification depends on how well you configure your website chatbot. If you make a conversation too long, boring, or irrelevant, you're lucky if website visitors simply ignore your chatbot. What's much worse is making users irritated. 
Polly, the marketer, and Helene, Product Marketing Manager at Dashly, configured chatbot campaigns on our website and talked to our customers who tested the chatbot in practice. Customers shared their insights during the test, told us about the best chatbot practices to get higher Conversion Rates, and said how to create a chatbot for a website.
1. Define your objective
Let's start with the best advice of all: you need a goal for a set-off. So, first, decide on the target user action and then create a campaign. 
If you need help, check out the best practices for lead capture on the Dashly blog that you can download: 13 chatbot campaigns for eCommerce businesses and 12 Chatbot Campaigns for SaaS. 
Now let's consider an example from our own practice. We launched a chatbot that offers to run one free campaign to users downloading the map. The goal of the chatbot is to schedule a product demo for a user. We configured a campaign based on this goal and put it in practice.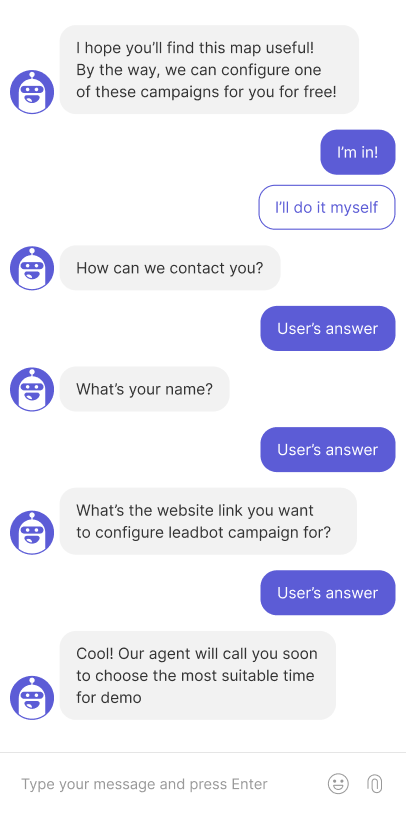 Why did we decide chatbot was the best option? First, if a user downloads the map, they are already engaged. They are interested in your product, and you can encourage them for more drastic actions.
Second, chatbot collects not only phone numbers but also website URLs. Managers can use these details to prepare better for a demo and provide the best consultation.
The chatbot's goal— scheduling a demo — corresponds with the business objective of selling more and optimizing the sales team's workflow. 
2. Make up relevant campaigns
One of the best chatbot practices is to segment your audience and show different chatbot campaigns to different segments. Make targeted campaigns. Otherwise, users just won't react to it. Irrelevant chatbot messages are distracting, annoying, and time-consuming.
While configuring a chatbot campaign, one of the best things you can do is to guess user questions and expectations right. This is one of the chatbot future trends. 
One of the best chatbot functions is that you can run a campaign for a narrow segment. For example, the finance service team put Dashly chatbot in practice to collect feedback from the new feature beta testers.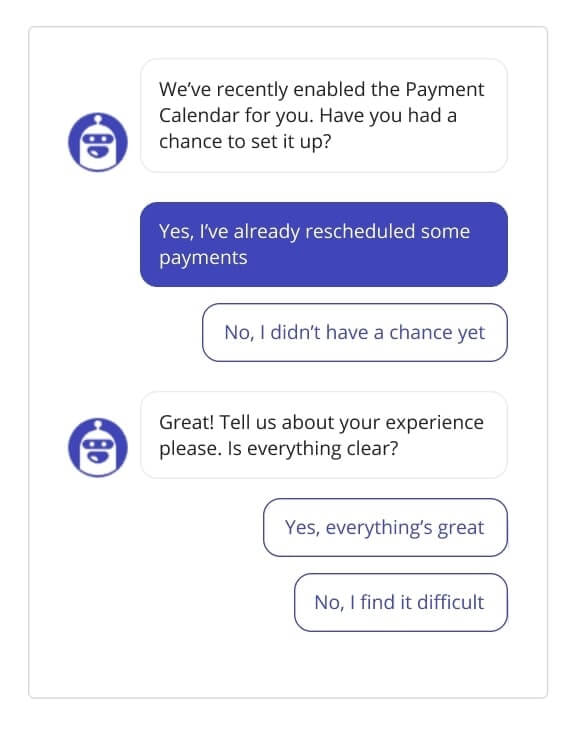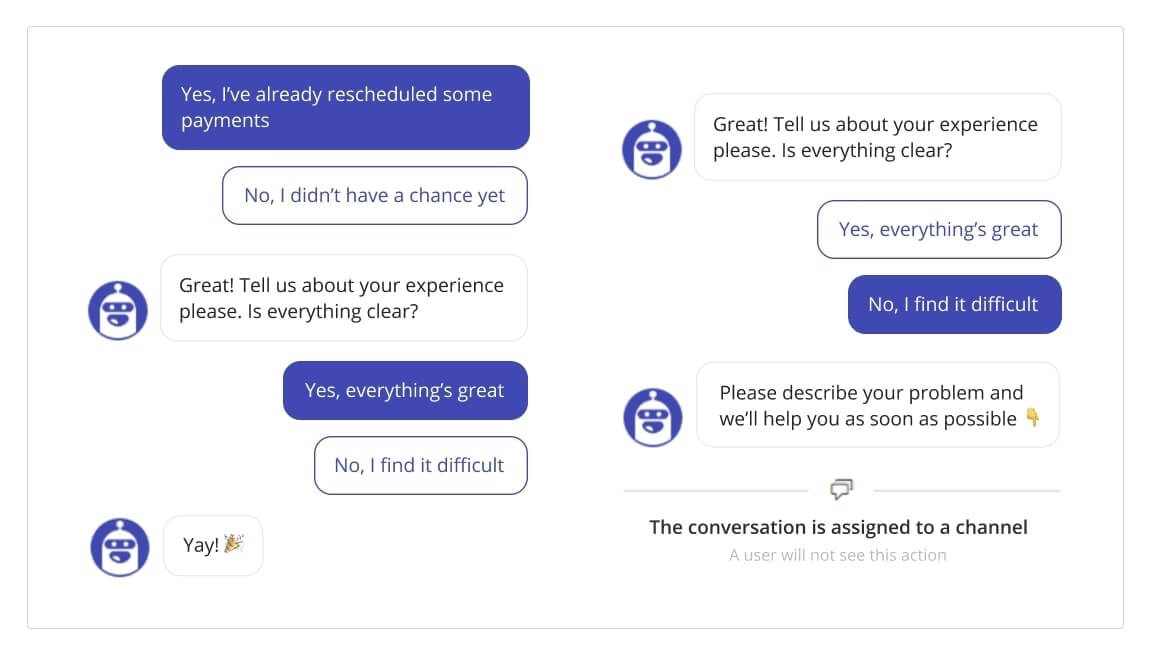 3. The fewer messages, the better
A campaign shouldn't be too long. One of the best practices is when users need to take as few steps as possible, making it easier to get to the end. The optimal number of messages depends on the context and the functionality performed by a chatbot. 
For example, a user experiencing order issues is willing to provide more details (e.g., order number or delivery geo) to the chatbot. A conversation initiated by the chatbot is another case; a user isn't ready for a chat. They are caught by surprise. So it's not the best practice to bore them with a small talk. 
In practice, the number of messages depends on how interested a user is. If they are here for the first time, the best strategy will be to start with small talk to make a good impression. On the other hand, if a person views product pages and wants to order, the best decision here will be to get down to business and offer help.
4. Delegate simple questions to a chatbot and assign complex ones to a human agent
This is one of the best practices for customer service chatbots. A chatbot can offload agents and take on typical questions. In practice, it can help users navigate the website. Dashly's chatbot can send active links and prompts for relevant website pages.
The best practice is when a user can end a conversation with a chatbot and switch to a human agent. Dashly chatbot allows users to text a live chat even if their conversation with a chatbot is unfinished. If a person texts a live chat, the chatbot will stop, and the conversation will go to a general queue. It's up to you to choose what's best: to let users text a human agent or not.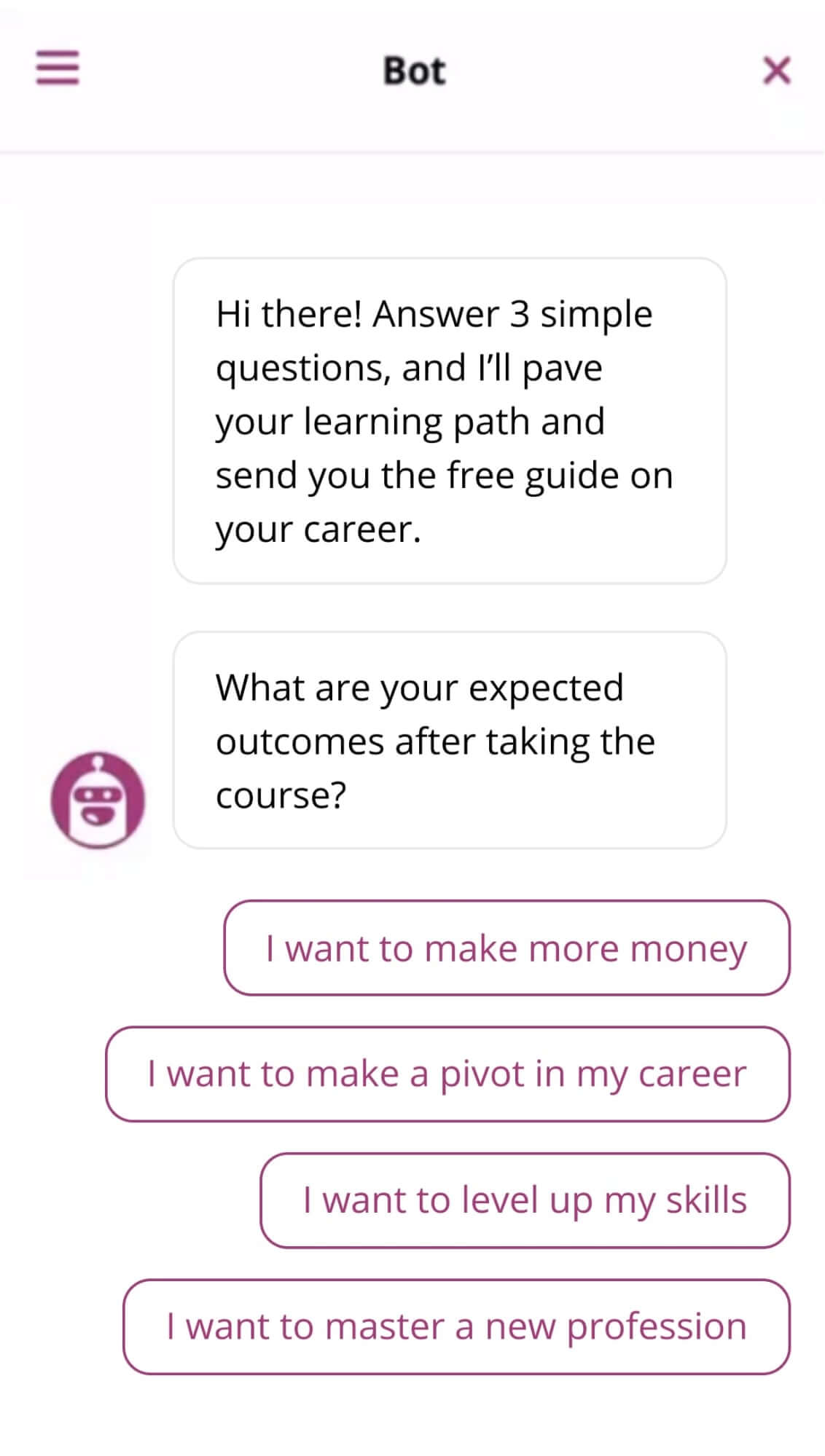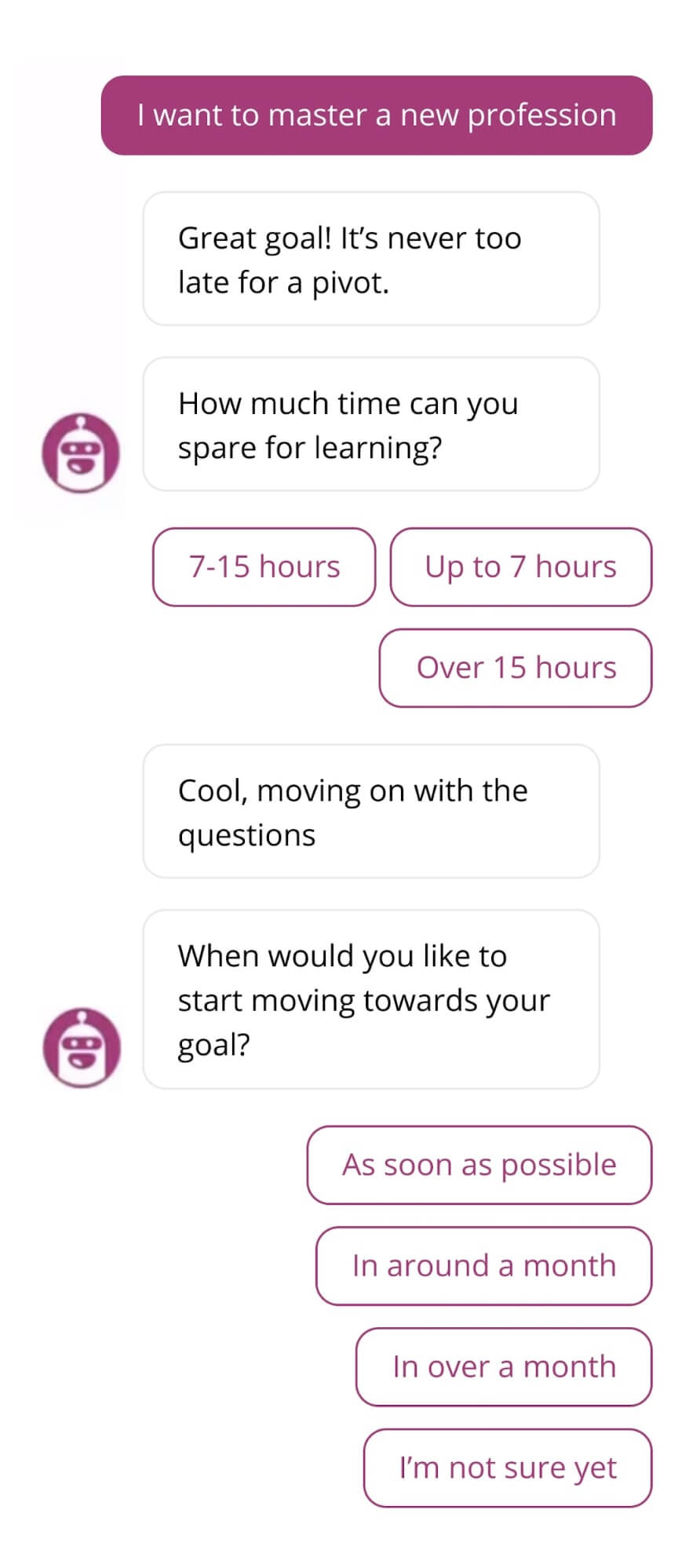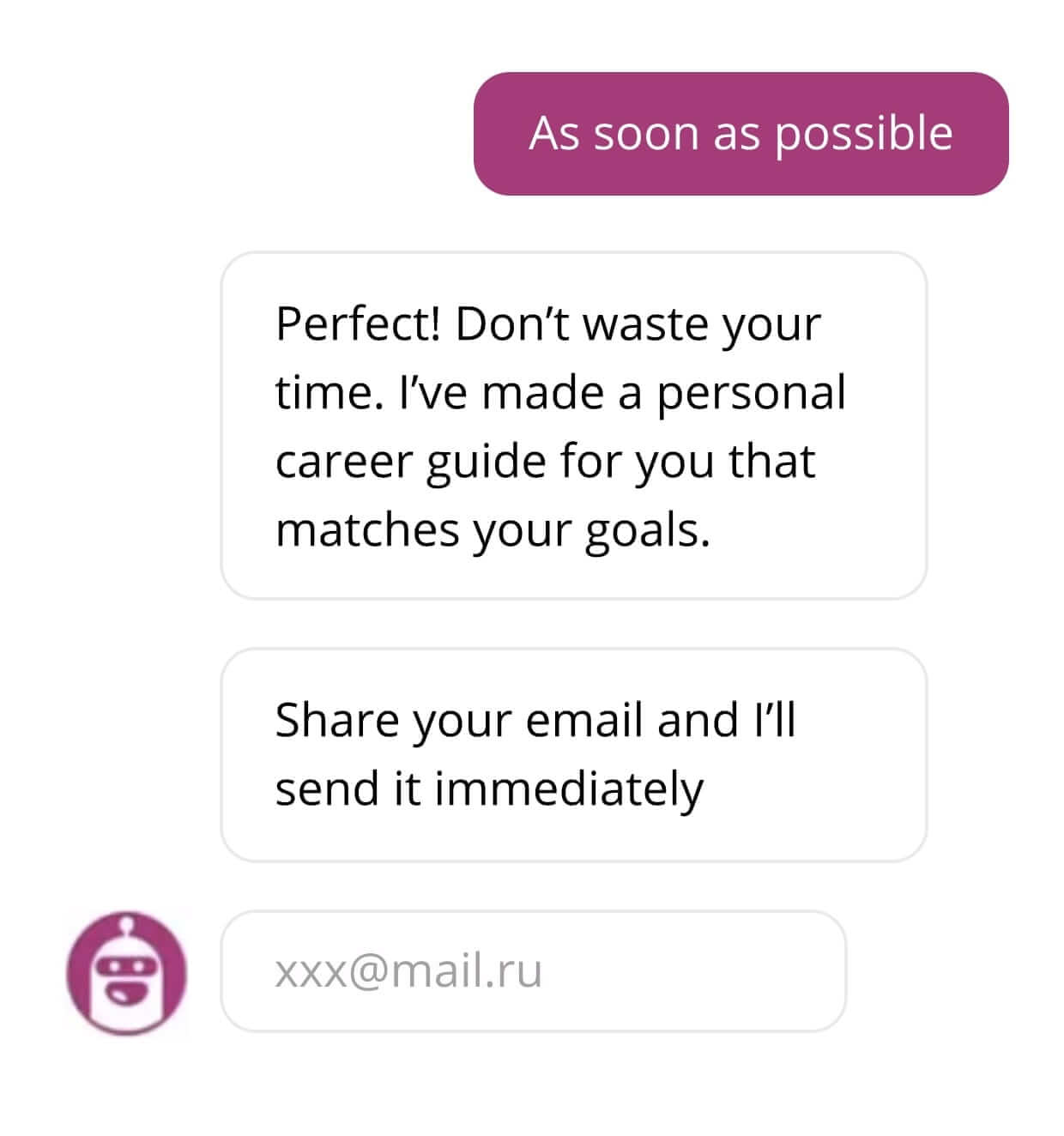 Here's another chatbot practice. This campaign was made for the digital school. The bot appears on the course landing page. Then it asks questions to evaluate the user's readiness to start a course and pick the best program for them. The bot collects user email and phone numbers at the end. The average conversion rate of the whole conversation was 3,7%. This is a great performance for a five-step campaign.
5. Make your chatbot friendly and humane
Let's continue with the best practices for chatbot development. The colder the lead, the more casual a conversation should be. The best you can do is to engage users with abstract questions like "Do you like cats or dogs?" or "What's your favorite color?". The best practice is not to ask for the user's email in your first message. This will push them away.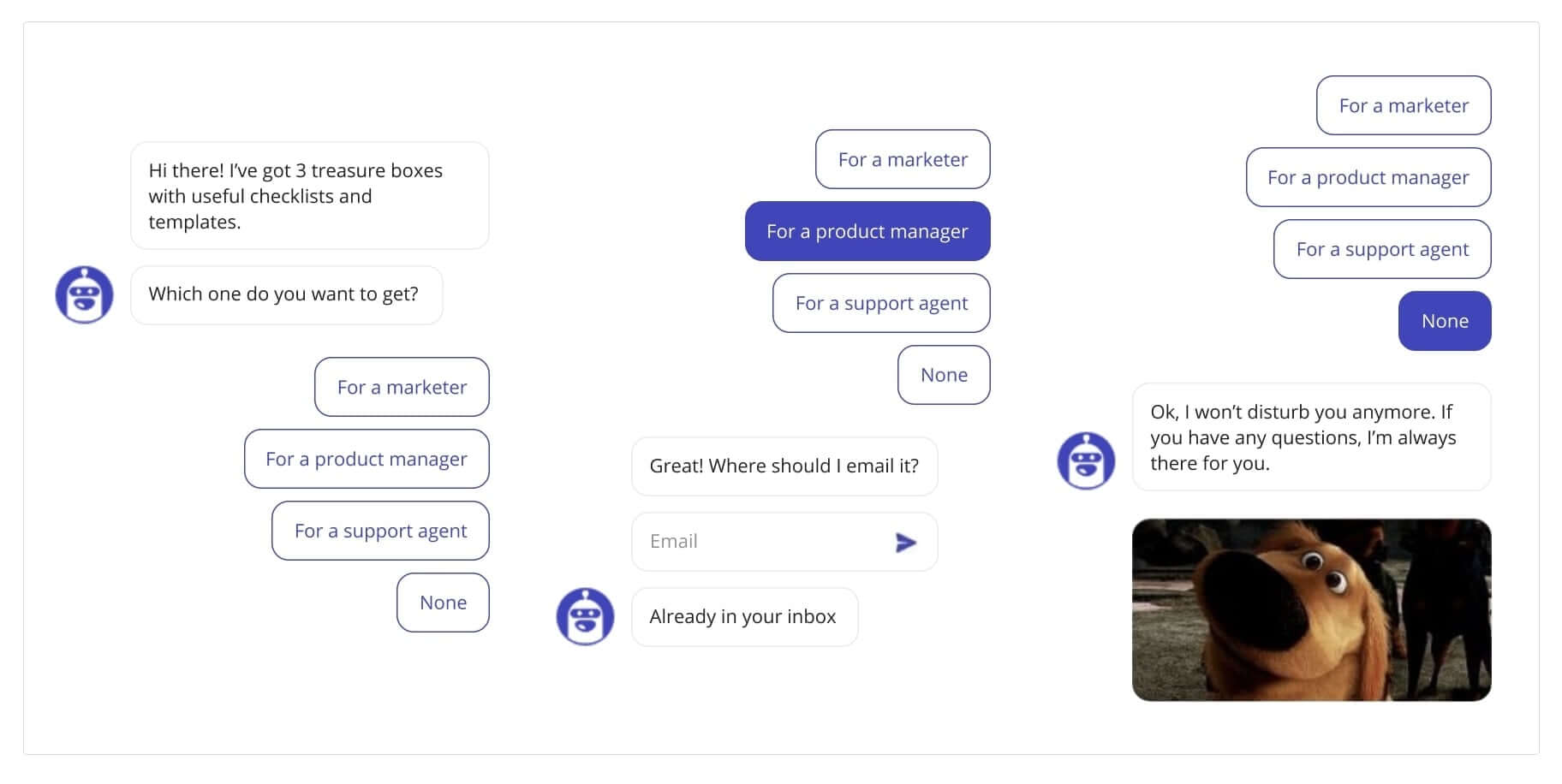 The best is to insert GIFs and be polite. For example, if a user doesn't need help at the moment, the best practice is to send them a lovely GIF saying you're always there for them. Show them that you care.
6. Don't misrepresent the chatbot as a human agent
You can set a profile pic and a nickname for Dashly chatbot to adjust it to your website. We suggest that the best practice will be creating a profile that makes it clear it's a chatbot, not a human agent. Don't misrepresent the chatbot as a human agent because you're letting users down.
7. Run a hallway test before launching a campaign
One of the best practices is a hallway test  — this is a quick usability testing of an interface, an email, or a landing page and finding the best option. Hallway tests are launched to ensure users perceive your product as implied by developers. They also help identify barriers that users face.
One of the best practices is to show a conversation prototype to several users to see if they get your messages right. Then, test campaigns on your actual website pages as the perception of a bot can change dramatically depending on the context.
Read our detailed guide on Hallway Testing to run perfect hallway tests for your product.
Here are some other practical tips in case you already set up a chatbot, but it doesn't work 👇
Want to learn more about Dashly chatbot?
See our articles to understand what chatbot mechanics are the best. Download our ready-made campaigns to try them in practice.
By the way, if you're looking for a chatbot platform — Dashly is a good choice 😉