Early Signs of Churn and Tips for Its Reduction Strategy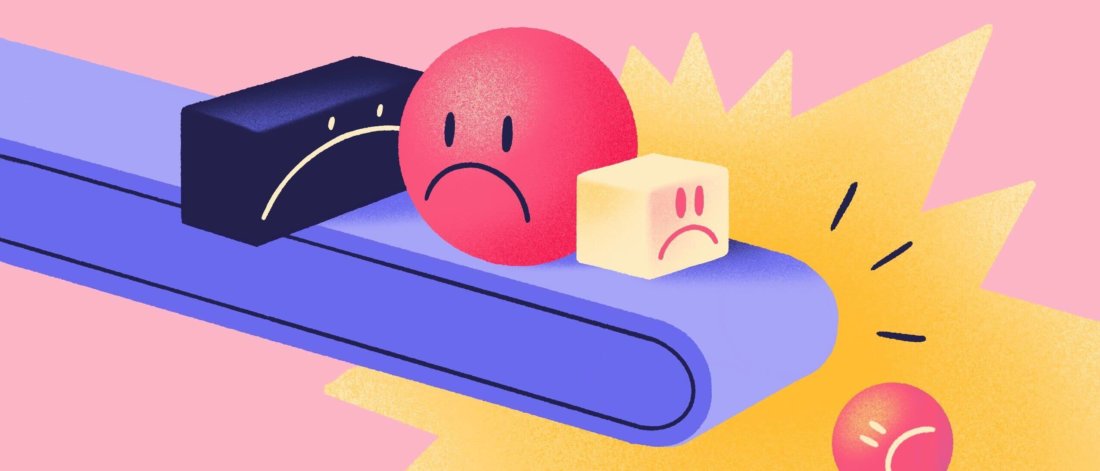 Churn rate is one of the main metrics of any SaaS business. And one of the main goals of business strategies is the churn rate reduction. Why's that?
Because you lose the money you could potentially earn. This money could be invested in your business development, make this grow faster and acquire more customers. This is why you should develop the strategy to work on churn drivers, prevent churn rate increase, and revenue reduction.
In this article, we are covering 7 expert opinions on how to detect early signs of churn, its drivers, and the strategy for its reduction management.
Maybe, you would rather watch this article? Check out the video below!
Calculating the churn rate
Briefly, you can calculate the churn rate in the following way:

The number that you get will actually tell you how many customers have decided to churn in percentage of total, and how great was the number of user reduction.
There's no need to calculate the churn rate for the lifetime of your product. The better strategy is to check the churn rate over a certain period of time.
In Dashly, we do this monthly and annually. Using this strategy, you'll better understand the main drivers of churn and work on its reduction better. This strategy will also help you work on other metrics and prioritize accordingly. Do it this way:

Let us make it clear using a specific example. Imagine you had 100 users last month. This month you have 125 users. 30 of them are new users.

Even though the user base has increased from 100 to 125, the user reduction is 5. This reduction is your churn rate for the period.
Note: the number of users reduction may be faced during the growth. Actually your growth is the difference between acquisition rate and churn rate. This is why churn reduction affects the revenue. So, you should pay attention to the churn rate when developing your product strategy.
So if we continue playing with the above-mentioned numbers, the users reduction — or the churn rate — looks like this:

That's it! Easy. Now when you face the churn rate, it's time to get to know other important things for your strategy development metrics. These are interconnected with churn.
What metrics are affected by churn rate
Average Customer Lifetime (ACL)
Average Customer Lifetime shows how much time users stay with you.

Example:
Churn rate over a year equals 20%
Average Customer Lifetime = 1/0.2 = 5 years
Average Customer Lifetime increases with a churn rate reduction.
Customer Lifetime Value (CLTV)
This metric shows how much profit you get from a customer during their relationship with your product.
Get ARPPU (Average Revenue per Paying User) figure, divide it by Churn rate figure — here's the CLTV (Customer Lifetime Value).
Churn rate affects your revenue (and, therefore, you need to correct your business strategy to provide the churn rate reduction) directly. The lower the churn rate is, the higher the revenue is. Again, that is why the churn rate reduction is beneficial for businesses.
The way we manage users who are going to churn
1. Analyze the reasons for churn
Before you start pushing your customers with dozens of notifications like 'we miss you, ' find the root of the problem — understand what exactly went wrong and resulted in the number of users reduction. This strategy will help prevent some of customers from abandoning your product, which will lead to the churn rate reduction.
The best strategy for the churn reduction here is to talk with customers who are going to churn. Conduct problem interviews, search for the drivers that make them churn and seek what they don't like about the product.
Note: it's important for a customer to feel your care, so avoid sending them exit surveys. The best strategy here is to talk personally to every user — use Zoom, or Skype for this. Use surveys only as a last resort, when a customer does not want to call.
2. Remind about yourself
If a user hasn't been back to you for more than two days, isn't it time to ring the alarm?
Now the main goal of your strategy is to prevent your customers from abandoning your product. Retention emails can help you with the churn rate reduction. They are one of the simplest drivers that will make your user remember about you.
You can make this using Dashly. Go to the «Automessages» section, push «Create new, " choose the template or form the content of the message by yourselves — with a CTA, of course: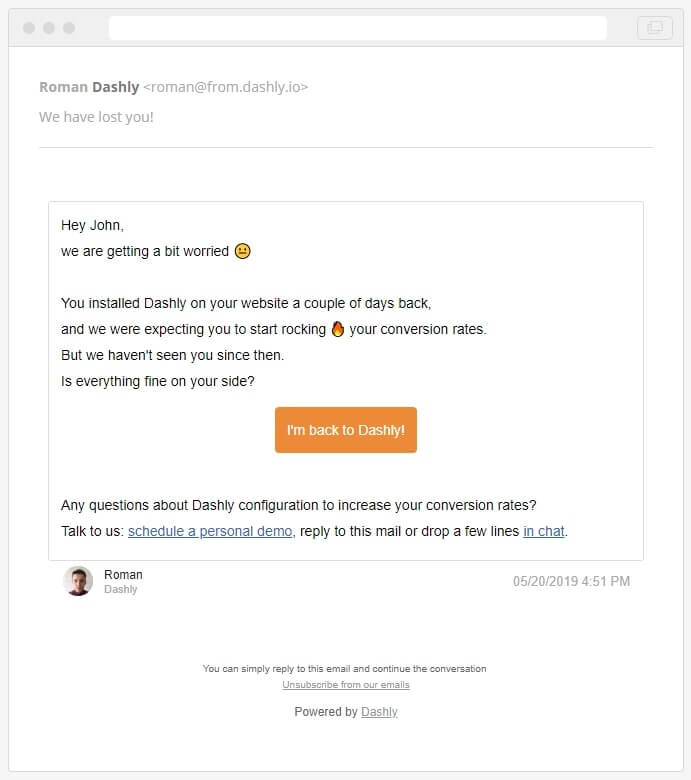 Then, set events «Session started» (defining that a user has started using the product), «Page visit» and «Product is activated.» These events will help you to define users who show early signs of churn:

Next, you need to set the Audience, Sending settings, and the Goal of your future campaign.
The marketing campaign is launched, and you're on the way to the churn rate reduction!
3. Help your customer to level up with using your product
Provide good product onboarding. The earlier user understands the value of your product, the more chances they will stay with you for long.
For churn reduction, here are several strategies. For example, you may send pop-ups with a step-by-step guide on how to use your product when a user first enters it.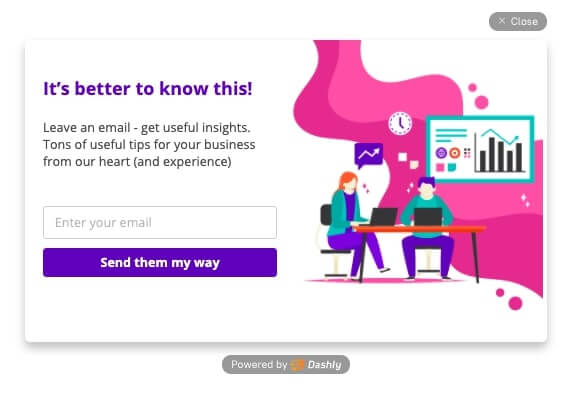 Another strategy is to send an onboarding email campaign. This way, you won't overload the user with tons of information about your product and divide the onboarding into several lessons. This is how we onboard users in Dashly: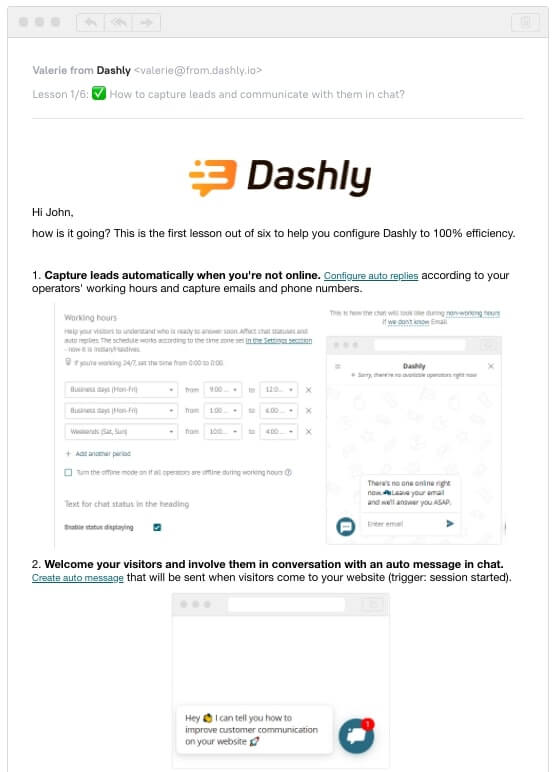 Do not forget to notify users about new features that appeared in your product — this strategy will help you to show an additional value, and reduce the churn rate.
A knowledge base would also be a good idea for the churn rate reduction. The customer will stay informed about your features and will be able to find something by themselves. Do not offer only a product — conduct best-qualified onboarding and other educational materials.
4. Track user activation into features
The main tip for churn reduction strategy is: make sure that customers know about product features. In case they don't, it means they do not get the full value of the product. The churn rate drivers are becoming more significant, and the customer is about to leave.
Create marketing auto messages based on the events that haven't been defined.

Use Dashly pop-up builder to create marketing pop-ups without developers and designers. These will be shown to a user when they are back to the product admin panel: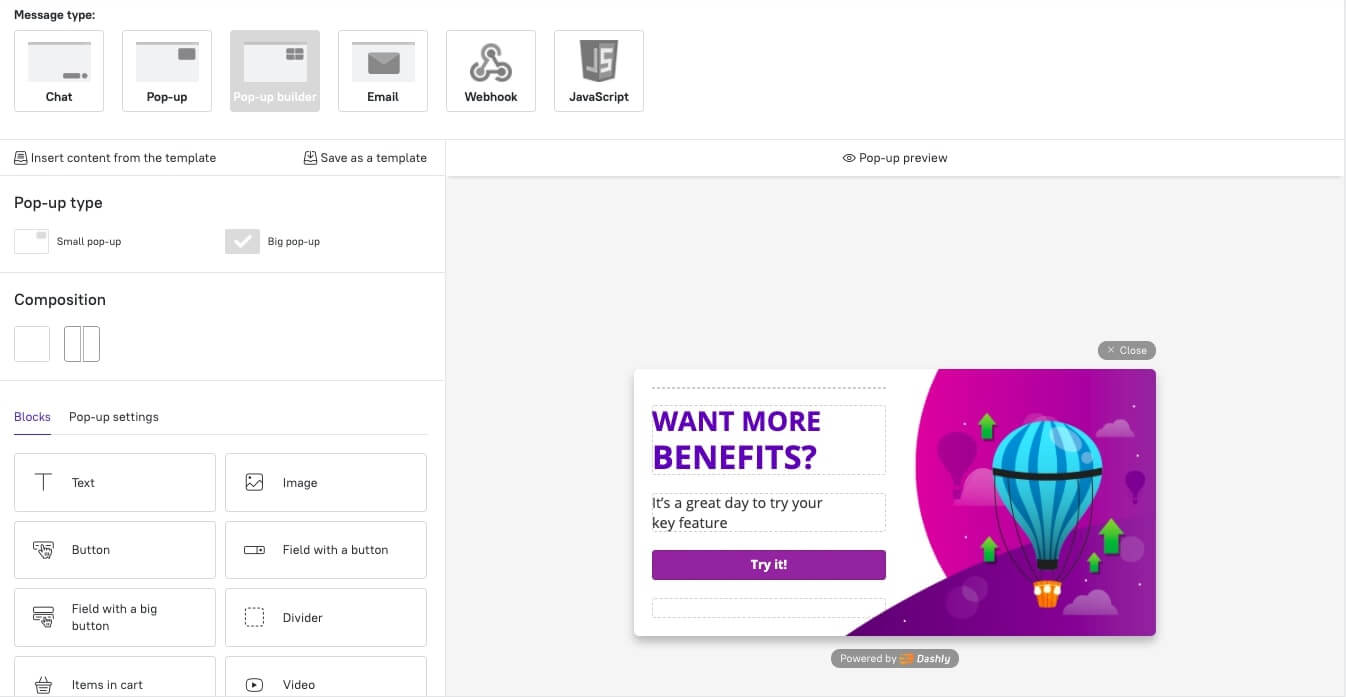 5. Engage users by triggered messages
If the trial period of your product is 14 days, and the user has been active during the trial, they're likely to churn.
Another type of situation is when a user has activated into your product but hasn't used it much.
In both cases, there is a single strategy: to prevent churn and the number of users reduction, you're better to engage users in your product. Send them personalized marketing emails, pop-ups, and so on. Using this strategy, you may kill two birds with one stone: remind of yourself and deliver some useful information about your product.
By the way, you may do this using Dashly.
Save the segment of users who haven't activated for long as «Churn». Then use it for sending triggered emails that either have a special offer (and the subscription will get activated!) or a CTA. A good strategy here will be to ask customers to share feedback about the product.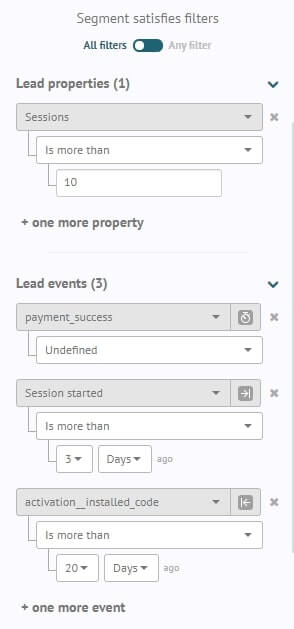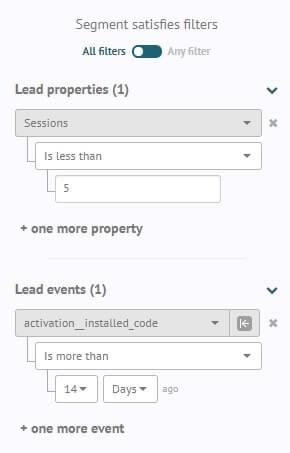 A quick reaction saves revenue and prevents the number of active users reduction! Once Dashly detects the event of a canceled subscription, then it will send an email that brings a user back to your product.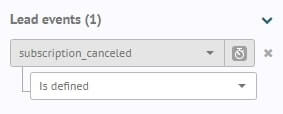 6. Engage in your product directly from the landing page
Users visit your landing page, but don't sign into your product? An appropriate strategy here will be to send them a triggered marketing message which will remind your customers to use the product. Take a look at how to do so:
First, create the triggered message in chat: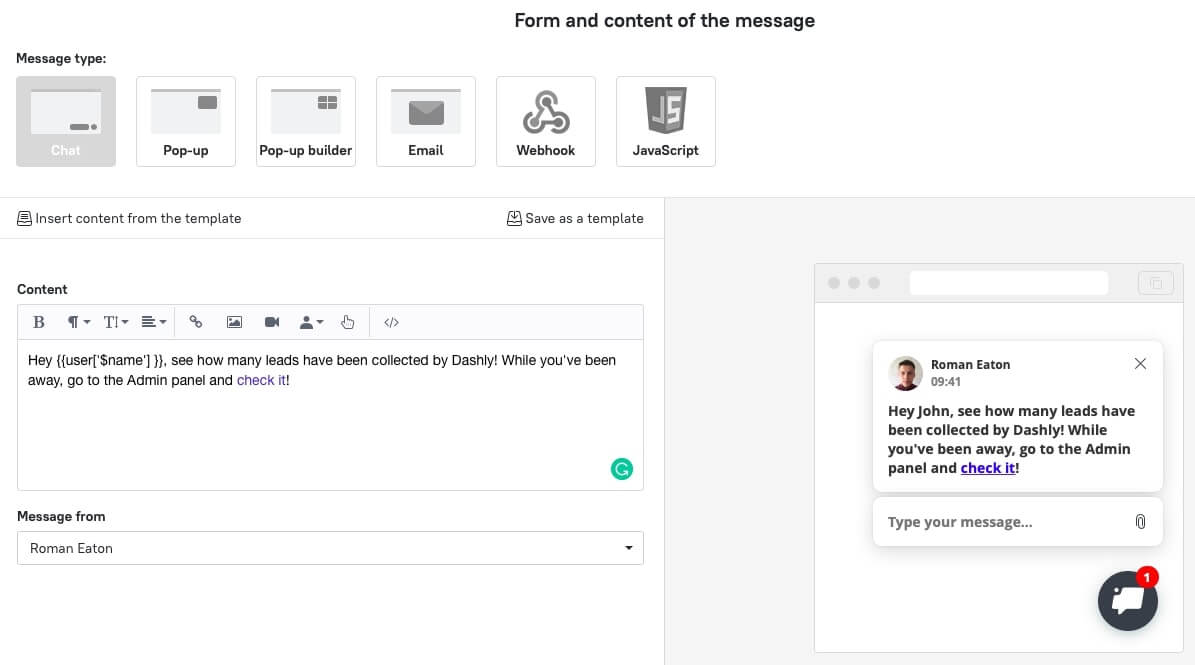 Choose the right trigger and timeout settings: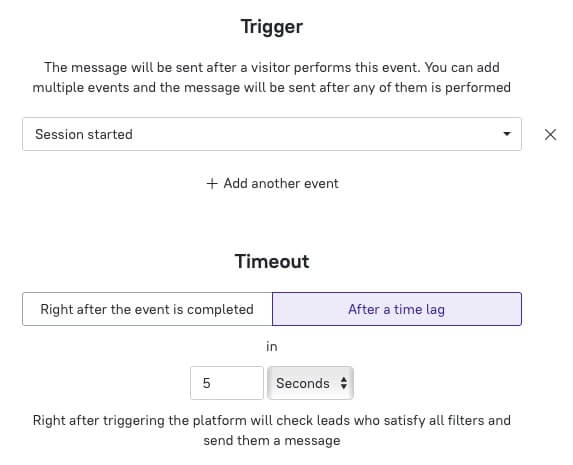 Then work on the audience:

Don't forget to set the goal. This strategy will help you to track the effectiveness of the triggered message: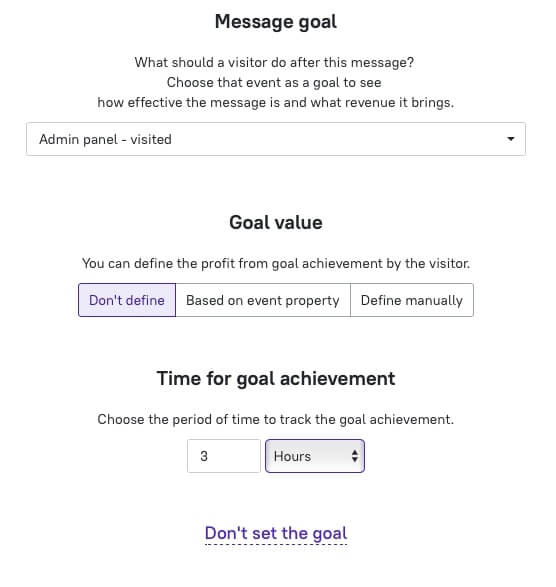 Perfect! From now, users will be engaged directly from the landing page with your additional effort reduction, while you may spend your time on other marketing activities.
7. Provide the best customer support
Even if your customers face some difficulties with your product, they should feel free to write to you. Therefore you should provide quality support.
Here are several reasons. First, customers will feel your care; what's more — they will resolve issues they face and will feel more comfortable with using your product. That's simple.
Subscribe to Get More Support Best Practices
Welcome to the Family. Profit Is on Its Way!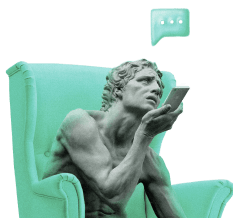 Poor customer support (for example, rude staff and slow service) will also make your users churn. Therefore, we can define another rule of big churn rate reduction:
8. Work on complaints
It's natural that your support team will receive some user complaints about your product. There are always customers who don't like something.
However, this will be valuable for your product strategy only in case you work on its number reduction: reply to those who told you about problems, pass this to the development team, and fix.
Customer feedback is one of the most valuable feedback you can ever get as you see bugs from users' perspective. So, pay attention to this, and develop your strategy taking this into account.
9. Stay notified about churning customers in real-time
You need to react fast. Otherwise, the customer may churn before their problem is even seen by the support team. So, for churn reduction you always need to stay tuned.
Not surprisingly, one of the most popular integrations in Dashly is the integration with Slack. The reason for using this is that you will get notifications on a certain channel.
To configure the integration with Slack, go to the Integrations section, choose Slack, and then choose what event and channel you'd like to be notified of: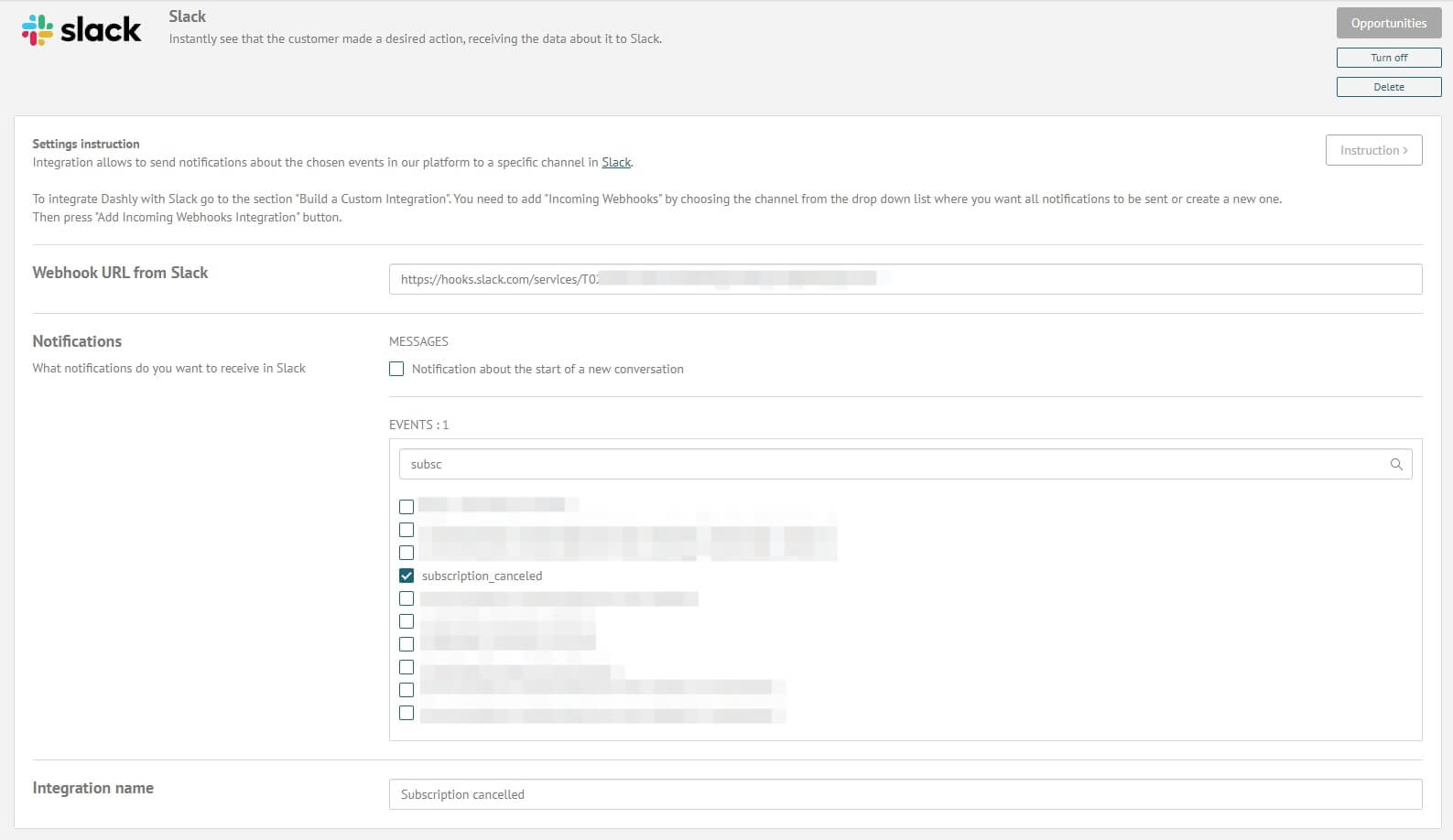 After this, you'll get the notification in Slack with the link to the lead's card. Click on it to study the user's history of events and conversations. Use the contact details to get in touch with the churning lead asap, and work on the churn rate reduction!

an effective customer support team
Thanks! the guide is already in your inbox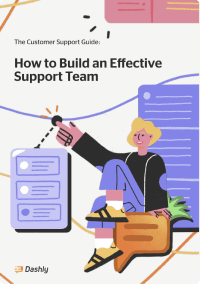 Seven opinions on how to detect early signs of churn
We have talked to experts from TripleLift, Jobber, LiveIntent, DIGR, Workspace365, Seeknshop, and LinkedRocked. Let's see how these companies detect early signs of churn and manage communication with churning customers for their number reduction.
Analyze your customers
If you want to obtain the churn rate reduction, better start the investigation of the reasons why churn happens with your customers, and only after this start develop the strategy. Analyze why users churn. Analyze what features make your product valuable to them. These questions may help you:
Why do users churn?
Does the product solve their problems?
Do they face any problems because of your product?
What are the key product features for users?
What is your ideal customer profile?
On what step of the customer journey a user faces issues?
Remember, that every customer you lost is your loss of profit. The faster you get to know the reason why the user left, the faster you can introduce the changes that will help you reach the churn rate reduction.
We're always ready to help you. Good luck!
This article was first published on May, 2019. March 13, 2021, we updated it.