…with your conversion rate.
We proved it by making an assessment of 32 companies' websites. As a result, there are five typical stories for you to learn from.
Or repeat their fails.
Five mistakes to avoid when communicating with potential customers on the website and marketing channels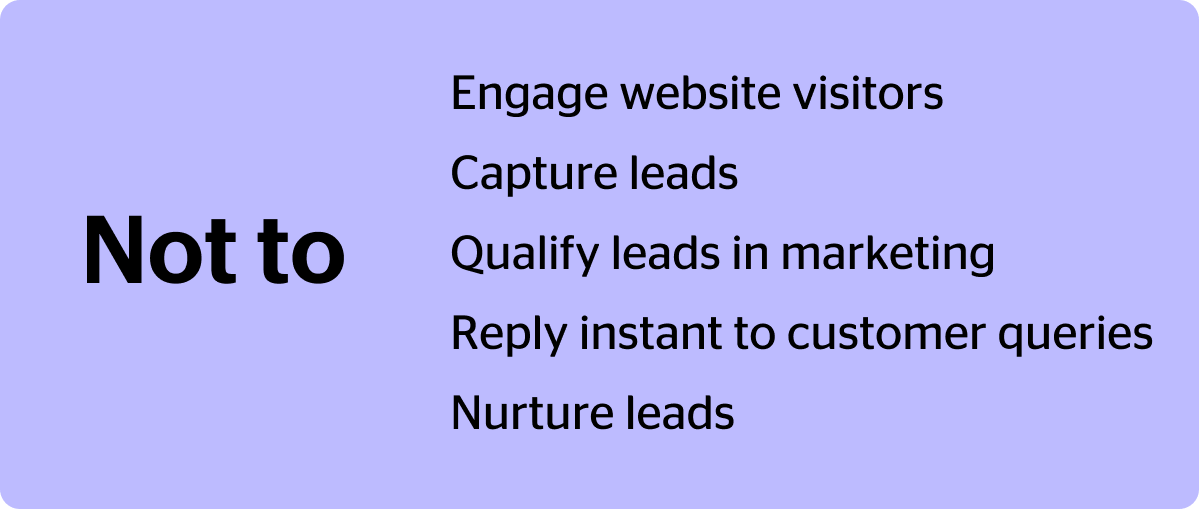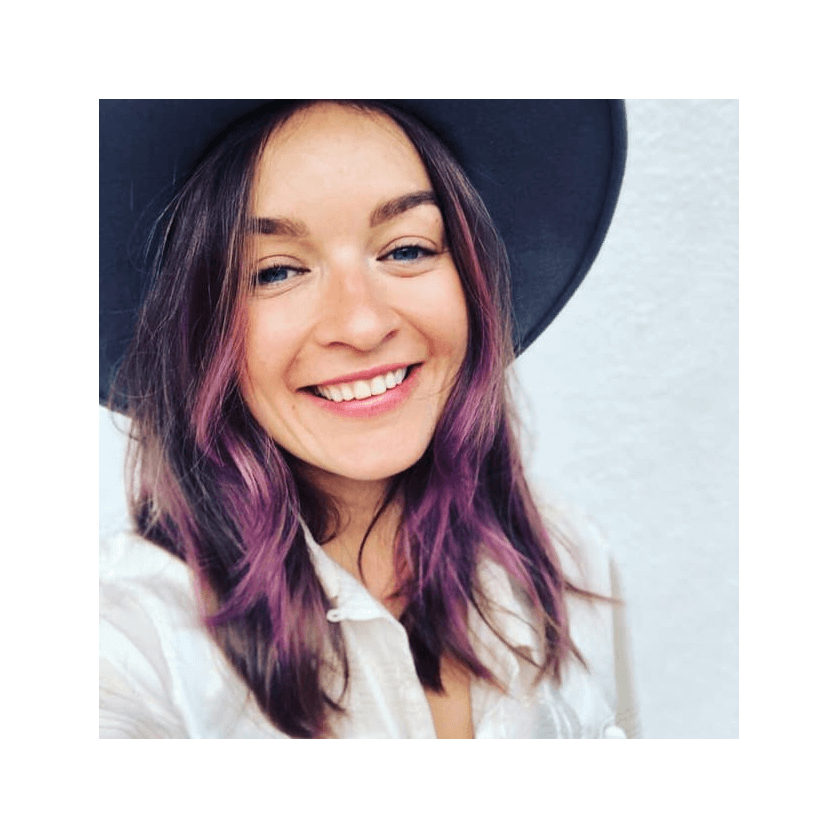 Here is Elena. She did excellent research proving that. She checked more than 30 websites, and every second company got caught with at least one from this list.
Let's look at them.
Mistake #1. Not to engage website visitors proactively
Look at this website. Fantastic design, bright content, helpful product.
Elena walked through its main pages. Pricing, blog, features. 
But in 10 minutes, she got tired of the lonely reading. 
Loneliness ー exactly this feeling visitors have when brands don't engage them in conversation.
According to Statista, 70% of global customers prefer brands that engage with them proactively.

These guys just wait for Elena's first move: sign up, registration, support request, etc.
Just imagine how many leads they lose in such a position. 
Without targeted (chat, bot, pop-up) messages, this collaborative platform website loses the opportunity to collect more leads and get more sales.
Solution: Be the one who takes the initiative with trigger messages
It's about asking if visitors need help: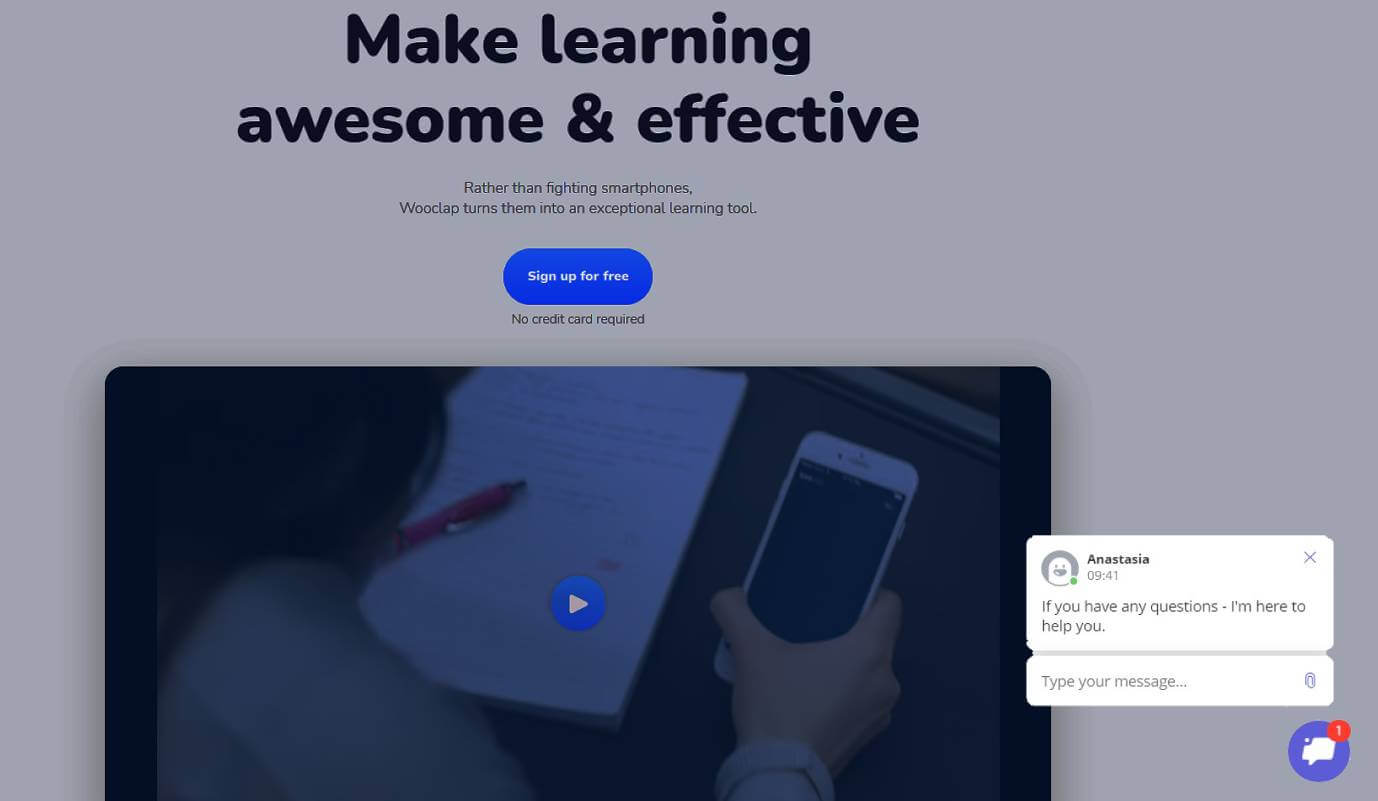 Offering helpful content in a pop-up: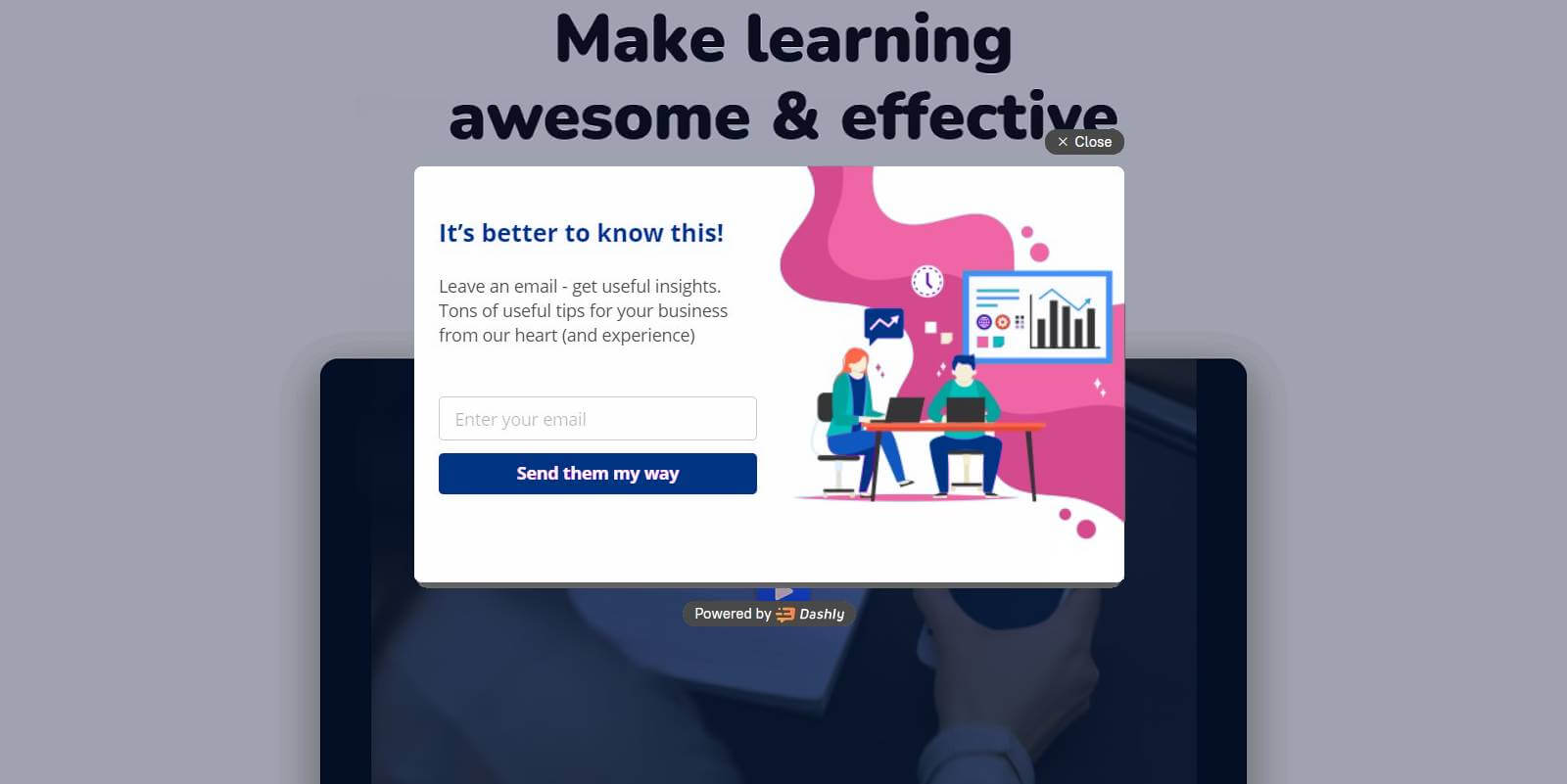 Notifying about sales: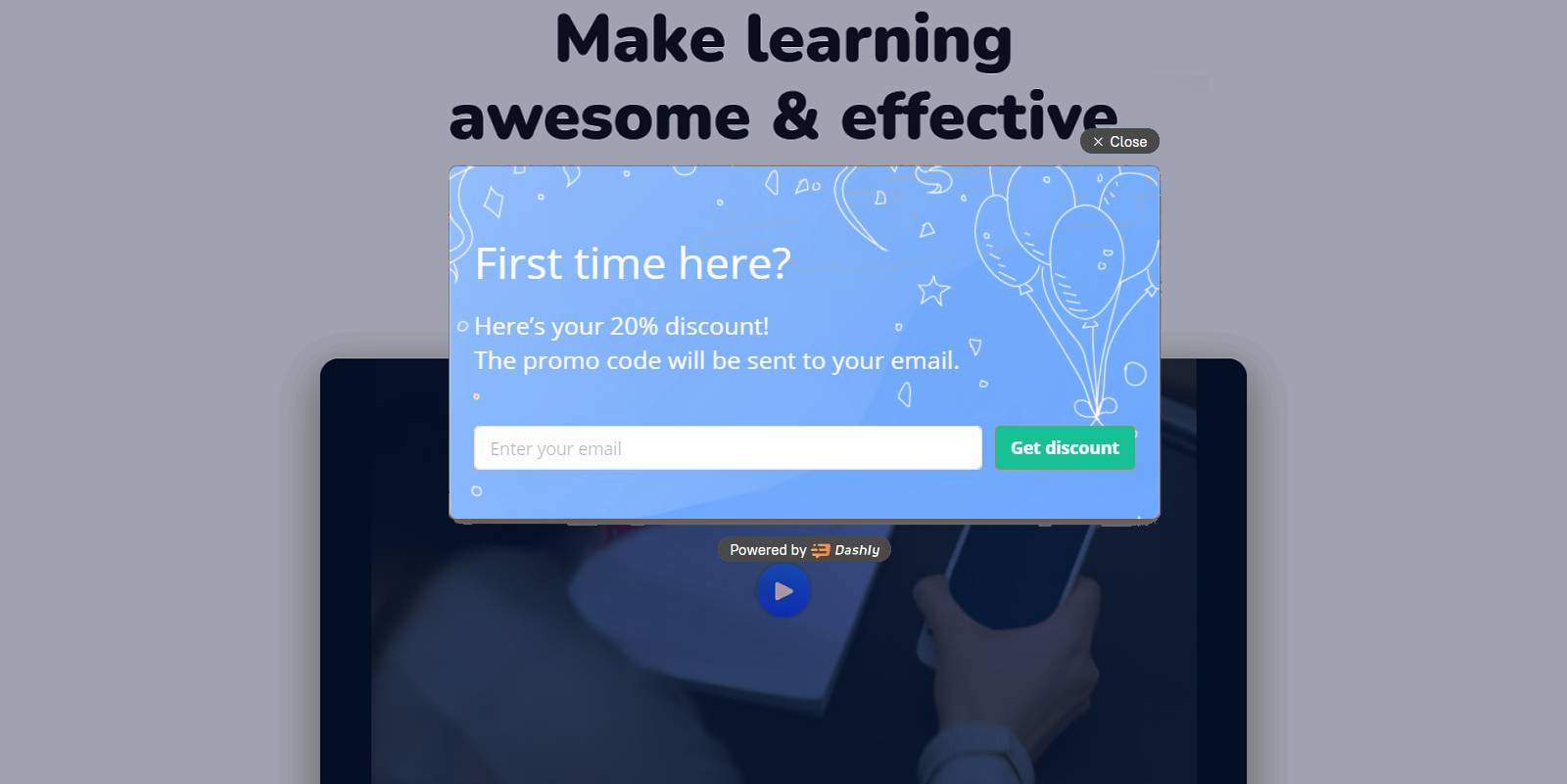 Mistake #2. Not to capture (and lose) leads on a website 
Once, Elena visited a blog about education technology insights. And fell in love with their content.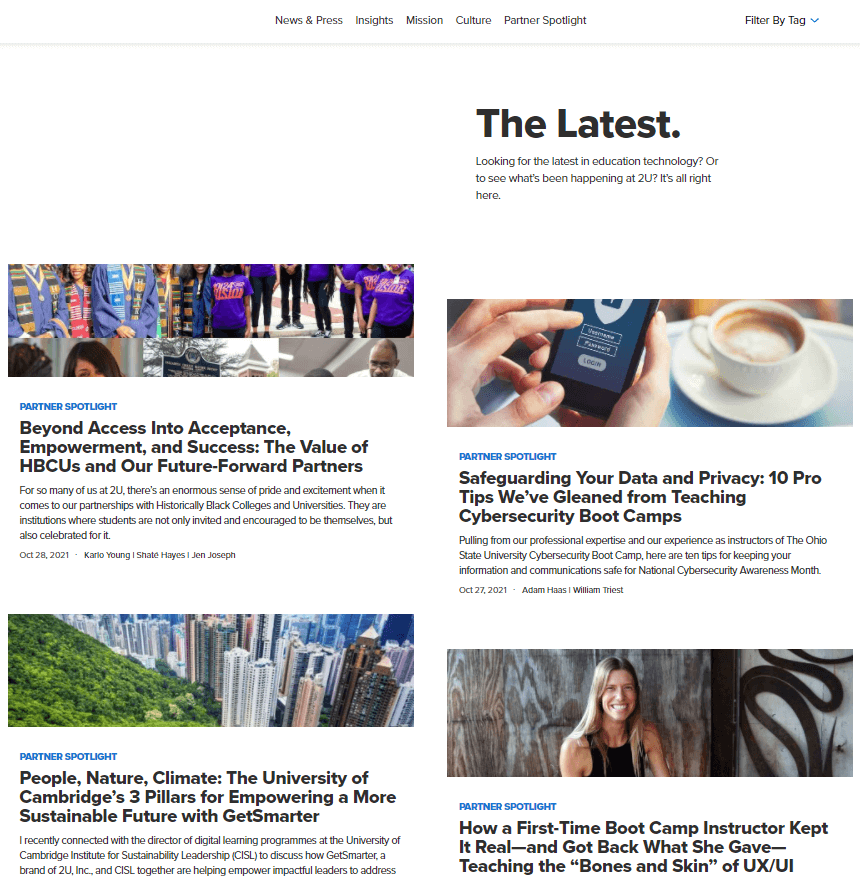 She read three articles in a row. And left. A well as other potential leads which the company has been losing monthly 😲
Why?
With 177,32K traffic, this blog has no subscription forms, no chatbot, no pop-up offering lead magnet — nothing to catch leads' attention.
People just slip through these blog articles. For example, this article could be an excellent lead magnet to collect leads.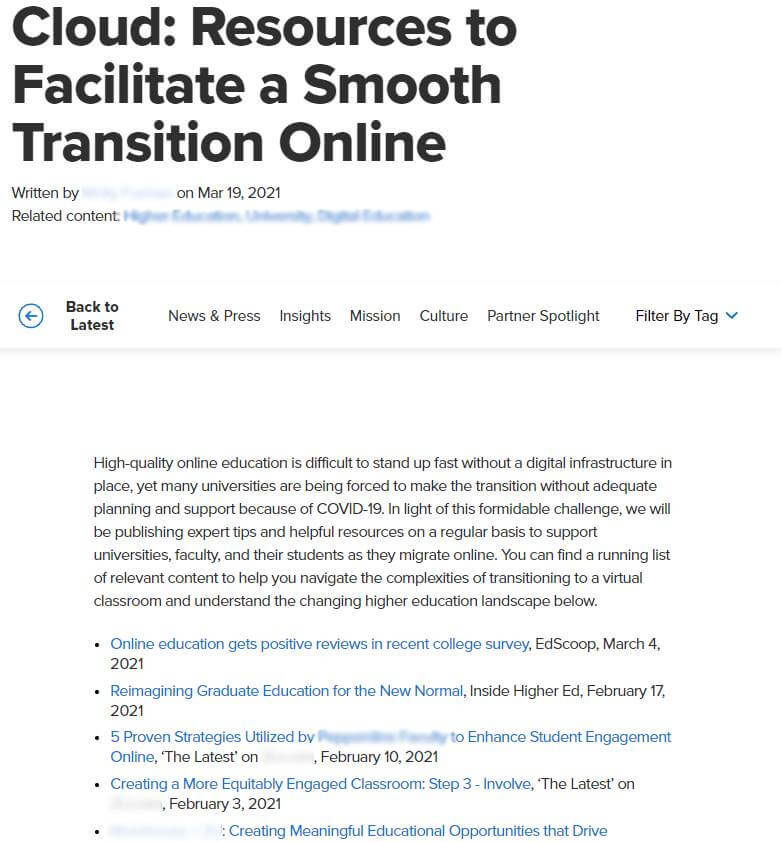 This blog could turn this article into a helpful .pdf list of resources to share via email. We've counted what they lose.
Lead capturing can convert 2% of website visitors into leads monthly. (The stats data is based on Dashly case study results.)
In this case, it is 3400 potential leads 😱
Solution: add pop-ups, forms, a chatbot offering a subscription to blog news or lead magnets.
For example, how great it would be to launch on the main blog page this chatbot: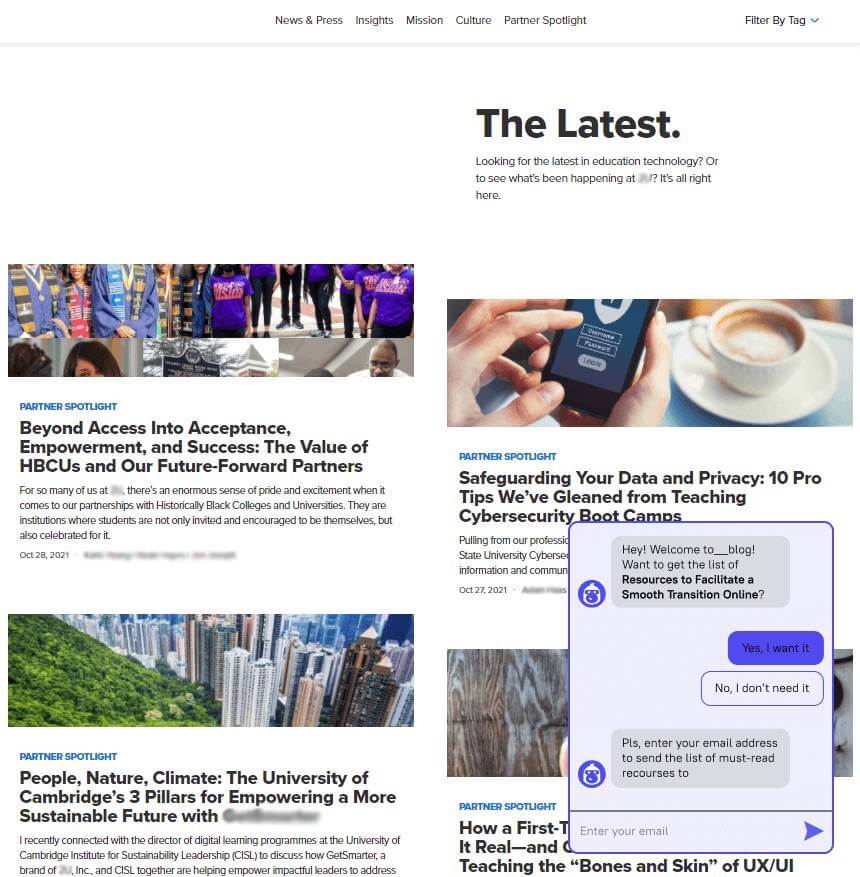 And send that list of valuable resources in the form of a URL to a PDF document to a website visitor inbox.
Mistake #3 Not to qualify leads
Here is a website of interactive presentation software. Opposite to the previous blog, this one is good at capturing leads: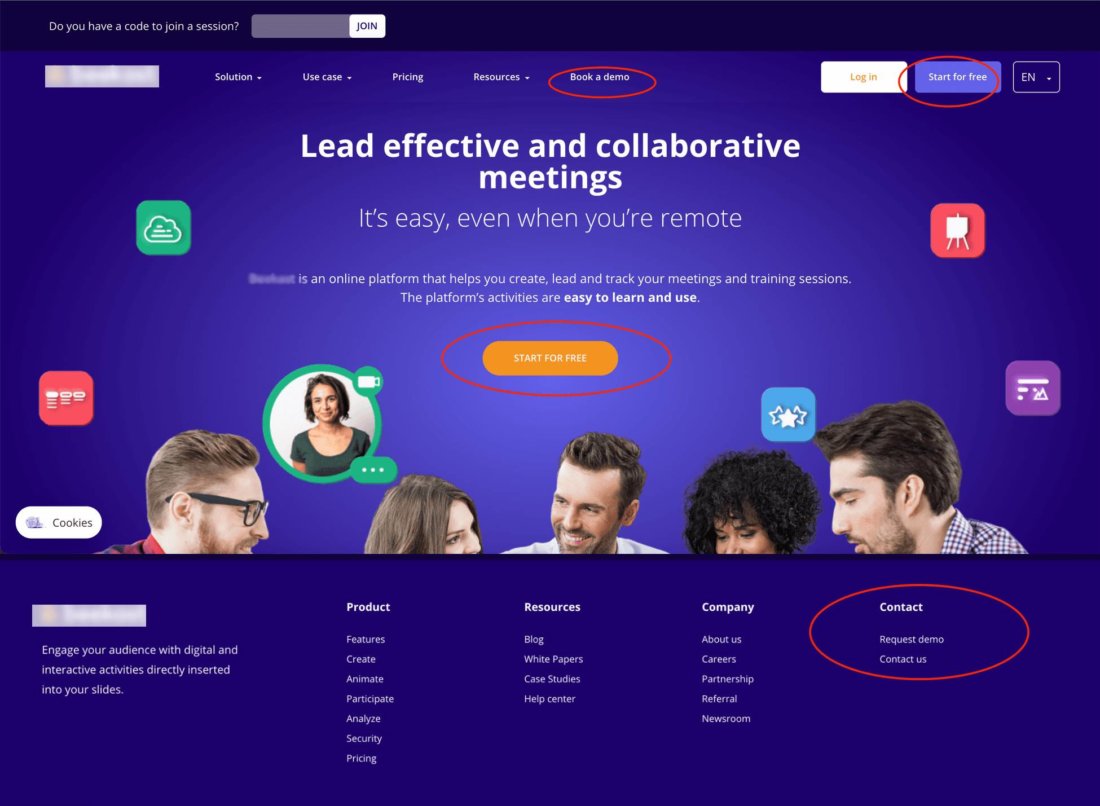 Have you noticed all those highlighted elements on the screen? Each of them leads website visitors to the "Contact us" form: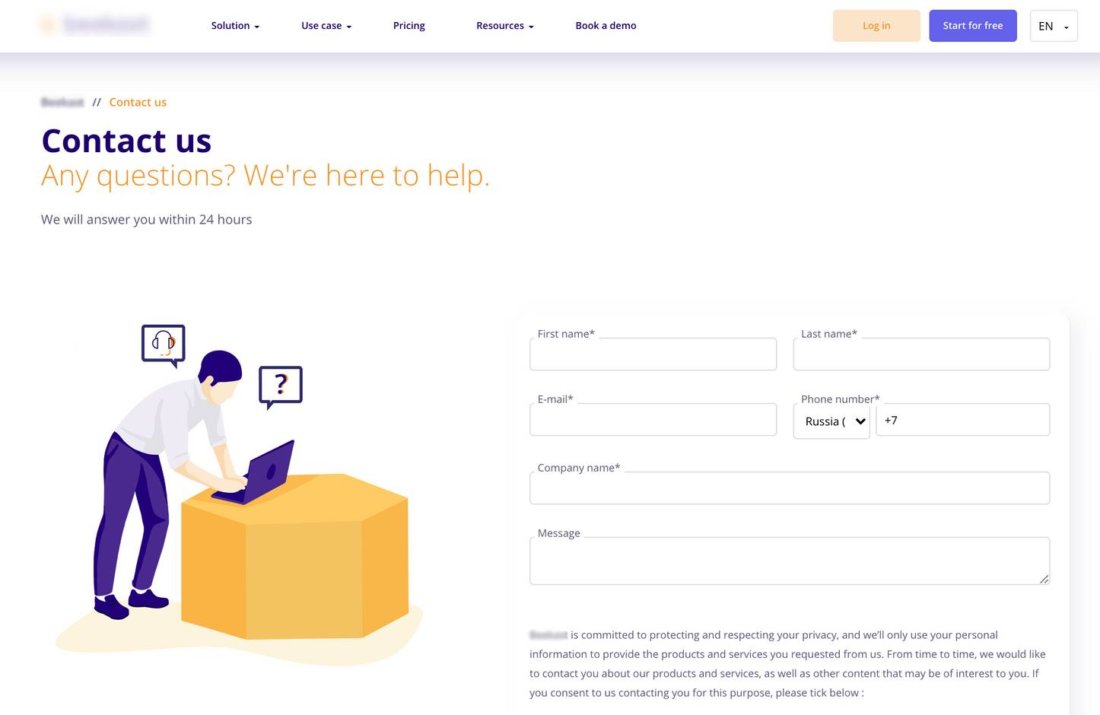 Elena requested a demo. Company reps contacted her the same day. So, what's wrong?
Salespeople do not know who they are talking to. Josh (company rep) made an assumption that Elena is a decision-maker, without asking a question about her role.
He spent hours qualifying her (use case, number of participants, number of people, etc.) in follow-up emails.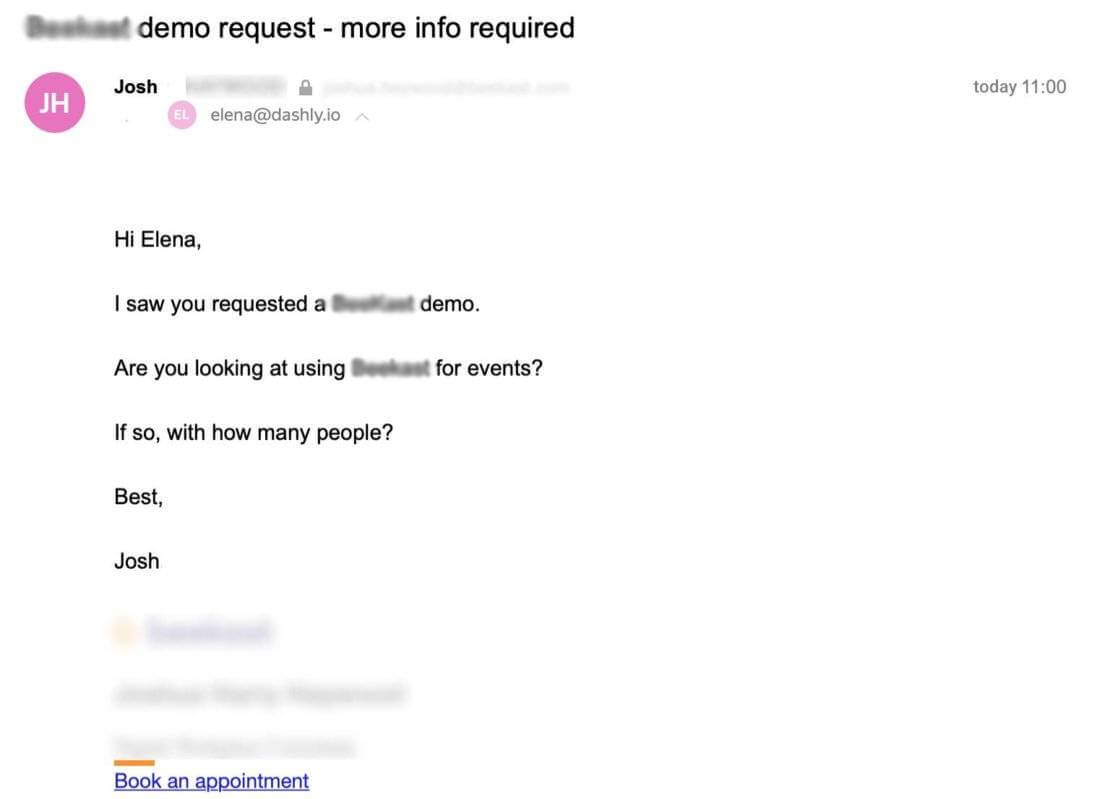 Josh tried to get the information from open sources (LinkedIn):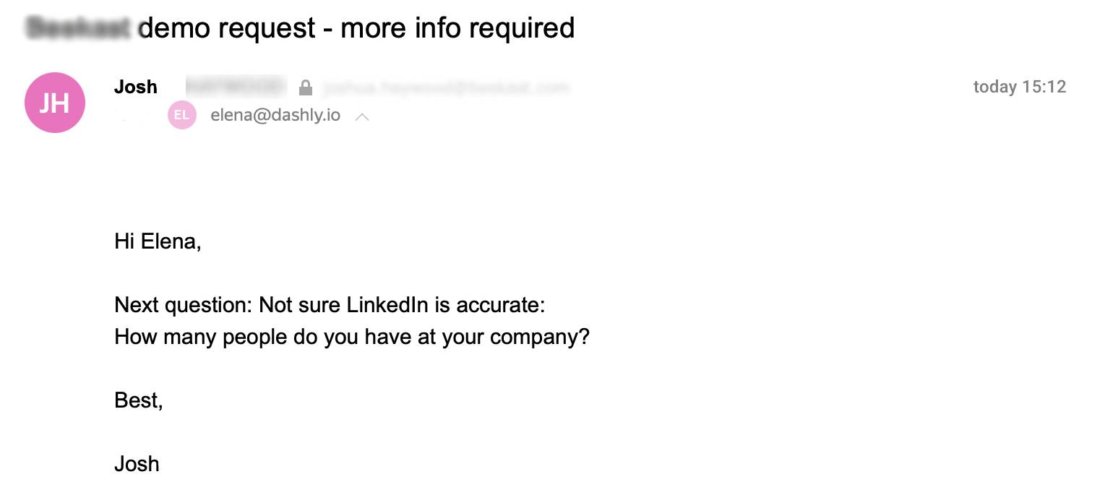 But it all could be collected when Elena was sending a demo request (in a demo form).
Instead of focusing on the hot leads, the sales manager spends time qualifying everyone on the first call. A little qualification on the website before the call will save a ton of time for Joshua. 
The simplest solution would be to add fields with lead qualification questions to the lead form.
But there is a moment to take into account:
90% of consumers want to use it to communicate with businesses (and the majority prefer it over email) according to a recent survey from Twilio
For example, it would be great to ask use case, number of participants, number of people, etc. with a chatbot on the website. When website visitors will click any of the "contacts us" buttons, they'll see this chatbot window: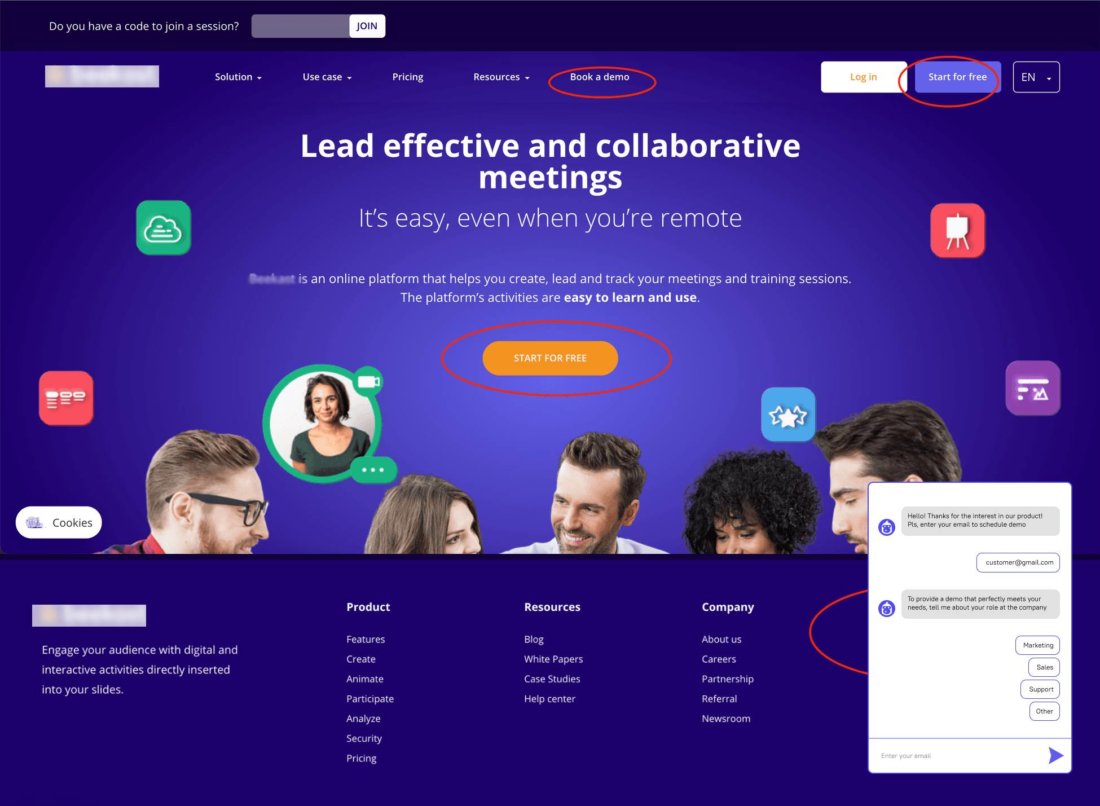 The chatbot will collect all the data and submit it to the lead card in your CRM. Here is how such a user card looks like in Dashly: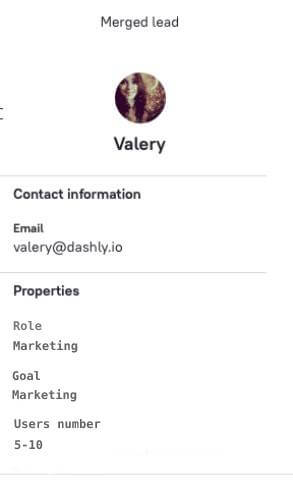 It will save your sales reps time. And they can focus on more valuable aspects of the conversation with prospects.
Level up the quality of your leads with the best lead qualification models + short implementatiopn guide
Thanks! Now check your inbox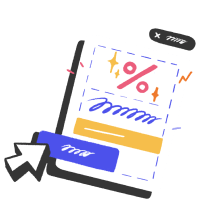 Mistake #4 No instant response on communication channels
5 hours is the average response rate on social media for brands. Anything more than a minute will lead to customer impatience.
We guess that clients of this landing page constructor wrote a lot of "pleasant words" while waiting for a reply in chat. Because, usually, this takes a day.
Exactly a day, Elena waited to get a reply on Facebook.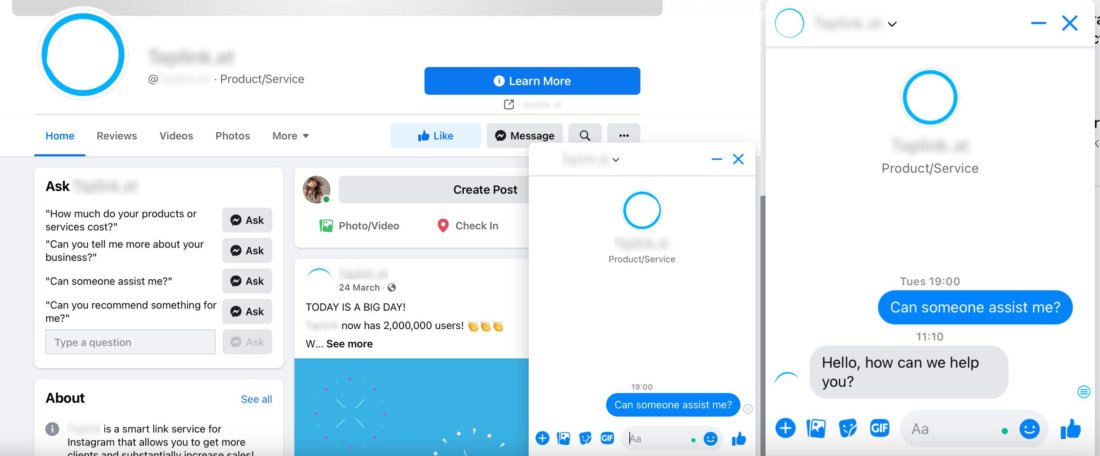 Exited to know the pricing details, Elena contacted them in live chat also.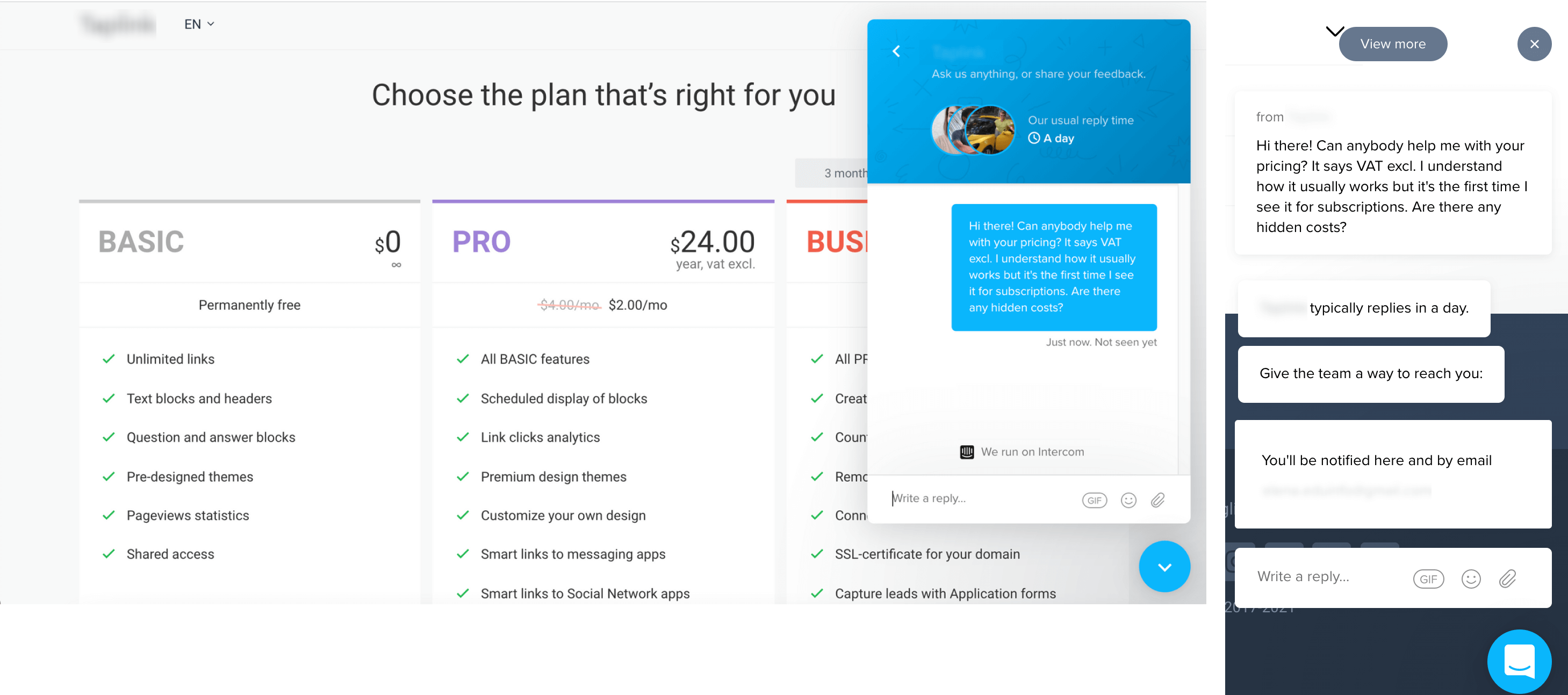 They answered…next day. Now imagine how many clients they miss with such a reply time.  
Solution: Launch a chatbot
Instead of making website visitors wait for a day, they could instantly answer Elena's request with a chatbot.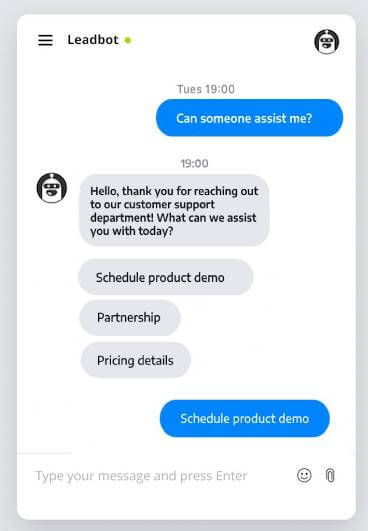 If the client chooses something out of the list, a chatbot will call the agent.
"I didn't get your request. Pls, leave your email, so our manager will contact you."
This is one of the many scenarios of how a chatbot can help your business. Find more here:
Dashly is perfect for teamwork. If you're stuck, you can whether solve it yourself or ask for help.
Sometimes the best idea is to assign dialog to your teammate, so they can continue answering questions they are good at. You can leave notes for the operators to provide more details.
Every teammate can see the whole dialog history. Leave notes that are visible for operators only. If you need more time to find the answer, hold the conversation. It will disappear in your list and when the time is up, you'll receive the notification.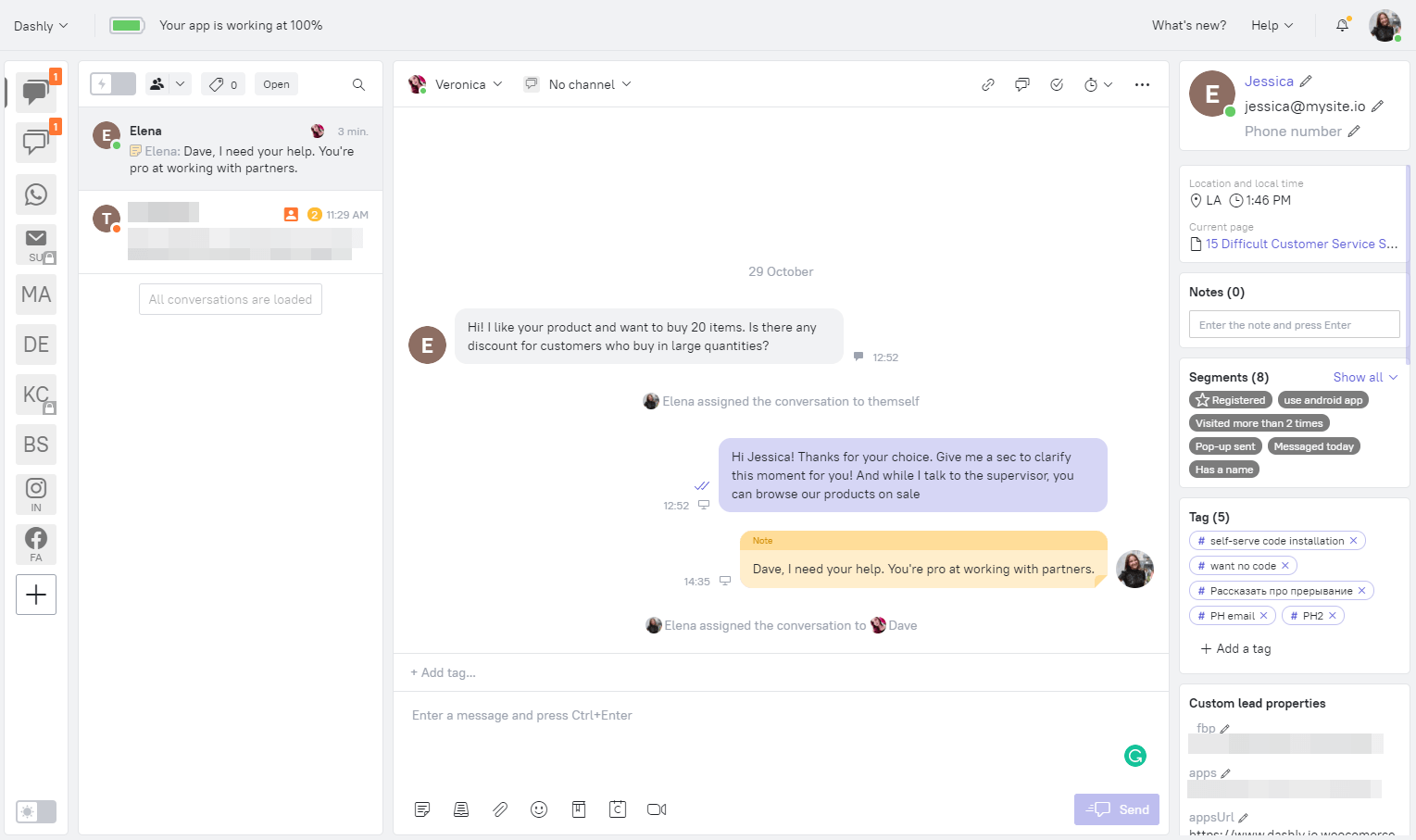 Mistake #5 Not to nurture email subscribers
"What a useful product." ー thought Elena when visited a service offering multilink for social networks.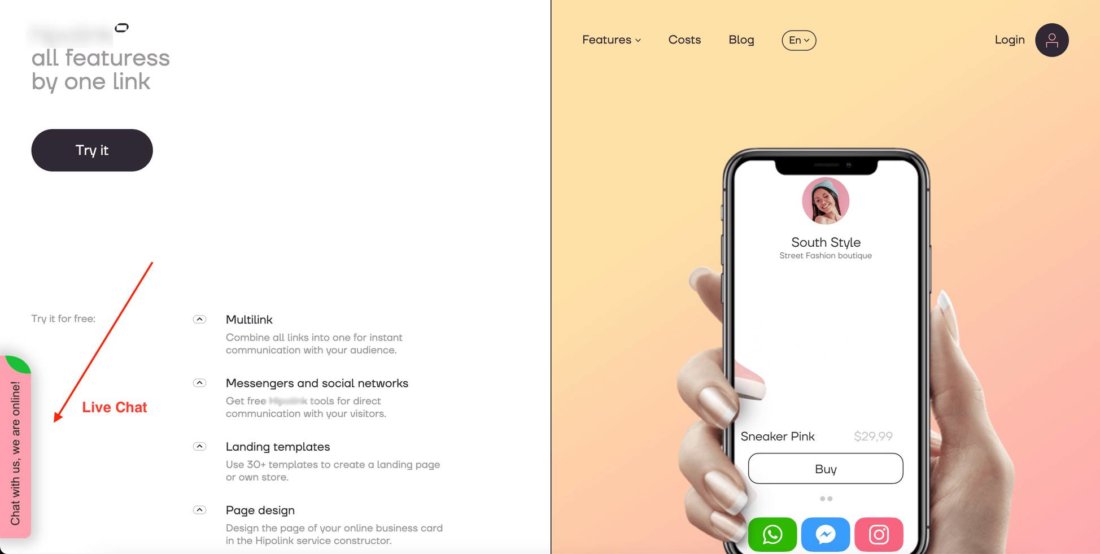 Intrigued, she started a conversation to know more about their product.

In the live chat, they captured her name and email. But she hasn't time to wait for a reply on the website, so she left.
Impressive, but in 11 minutes, Elena got the reply from a salesman by email. (Guys from the previous part have a lot to learn here.)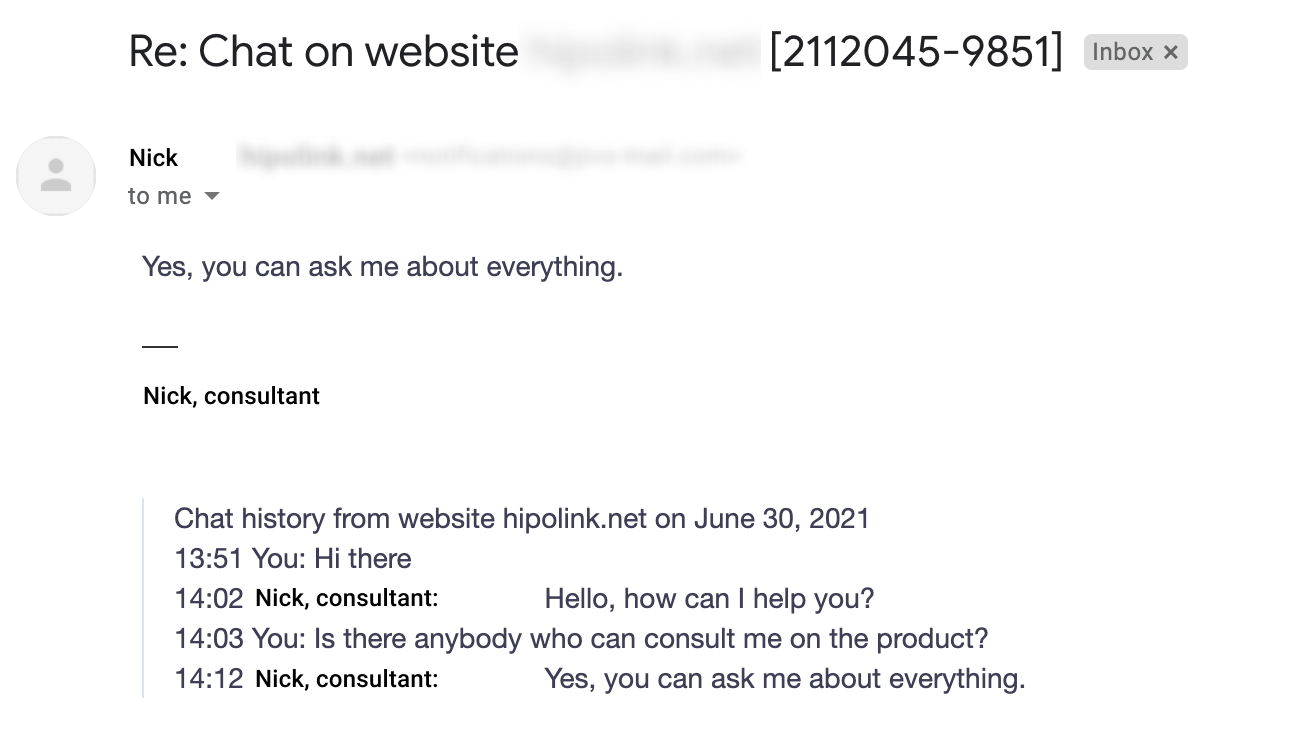 Nick offered help.
And then — silence. No welcome email, no guides, no promo or newsletters were sent after that.
So there isn't a surprise that Elena just forgot about them. But I'm sure she's not alone here. They collect emails, consult prospects. And lose them. That's what happens when you don't nurture leads.
Solution: email nurturing campaign
Here are a few examples of emails to send after you've got a website visitor email.
Welcome email with helpful resources to get started.
Informational email telling what to do next.
Instructional email with a step-by-step guide on how to use your product.
Recommendation email with products, services, or content that complement the user's previous actions.
Frequent Asking Questions email.
Engagement email with valuable tips. 
Webinar invitation is an excellent way to engage subscribers into the product.
Promo with a discount.
Series of newsletters with valuable articles.
You can easily create and launch each of them in Dashly. Just add image, text, and links in the visual editor: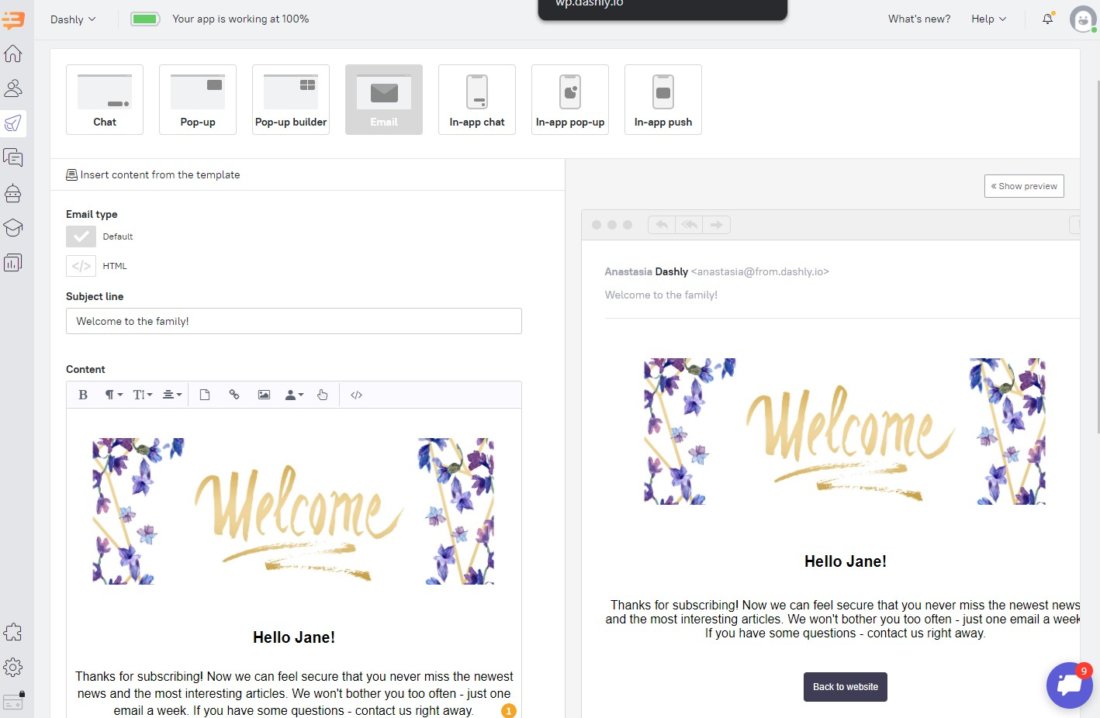 Then set trigger event, sending time, and launch.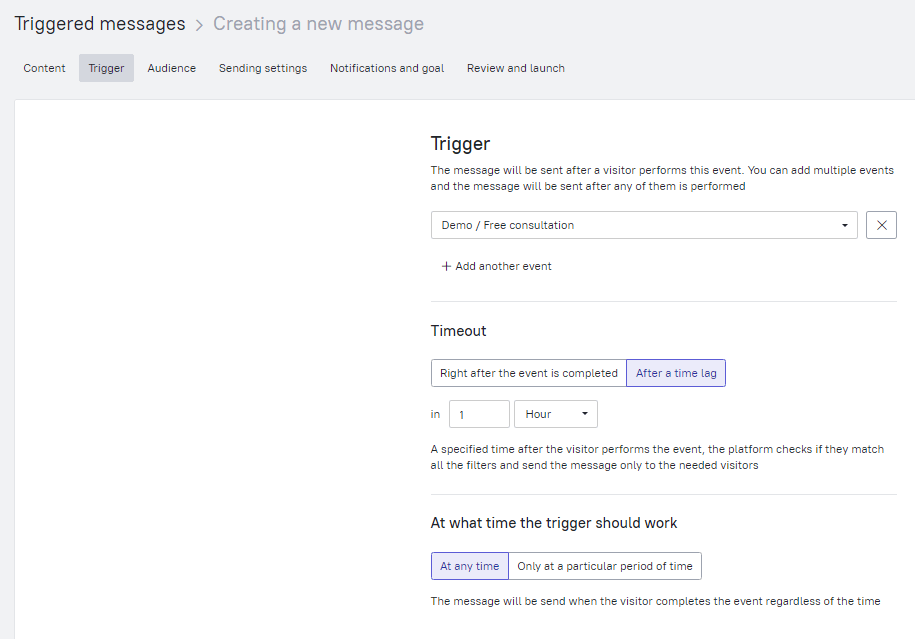 Let Dashly nurture your leads.
Subscribe to our email course to sell more without increasing traffic
Thanks! The first email is already in your inbox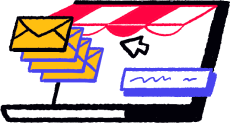 Must have elements to convert websites visitors:
Engage website visitors in a conversation.
Capture emails.
Qualify them.
Reply to their inquiries instantly.
Nurture leads.
All this you can find in Dashly. This conversational marketing platform has a list of tools that will convert your website traffic into sales. Try how it works for free.