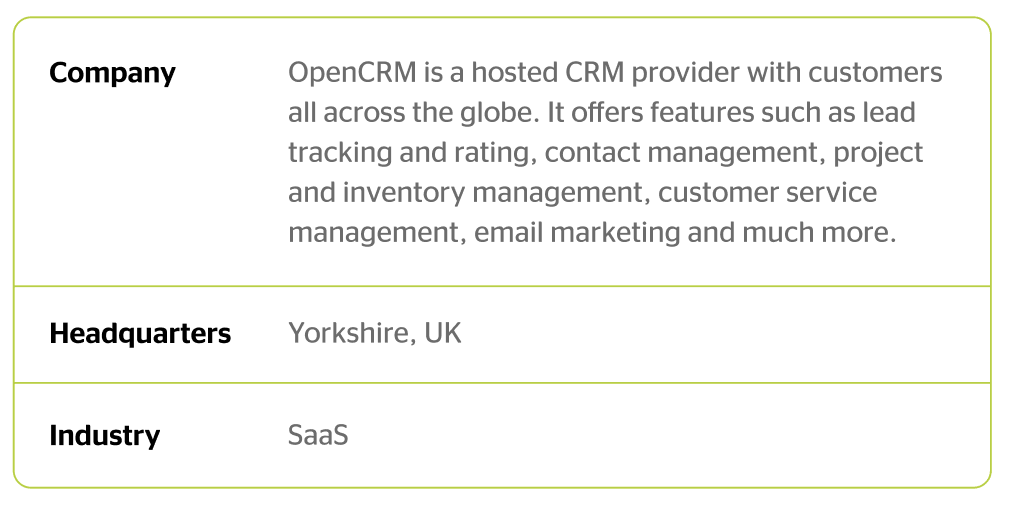 If you want a functional CRM, you are a mid-market company that values its customers and wants to drive business forward, OpenCRM is a great option. They offer real functionality for a fraction of the cost of their rivals and they are proud of their account management. By using the combination of user tracking and live chat they were able to reach out to customers and make relationships with their customers much more personal.
OpenCRM — a customer-centric company
Graham Anderson, the founder of OpenCRM has always taken his company reputation personally. Over the last 10 years the company has seen many challenges, but through many crises what helped them stay afloat and grow was the way they treat their customers.
Graham has always looked for new ways to make OpenCRM even more usable and valuable for customers. Recently Graham has searched for ways to reach out to customers. He was looking for an engagement platform to integrate into OpenCRM and make an in-app live chat that would gather intelligence and reach back to those customers. 
Deciding on Dashly was easy because it beat the competition; it is a much more rounded solution than its competitors.
Dashly has all the tools for user tracking and customer communication.
OpenCRM goals: reaching out to more customers
OpenCRM work with customers is focused on customer support, customer success and account management.
The primary goal for OpenCRM was to provide customer experience in the platform as well as a broader access to the people within their business. The focus was on a single platform that would make themselves more readily available as a team rather than just specific individuals when their customers have a certain type of problem. 
They planned to reach that goal by accomplishing two objectives: 
Managing events — recording the actions that users take, creating events and then tracking and analyzing this data.
Reaching out via chat to a targeted audience in bulk. 
Reaching customers in the right place, at the right time
There are several tools in Dashly that make reaching out to customers possible.
User tracking. First of all, Dashly tracks all of the customer's journey — all the actions that a customer takes whilst on the site. In OpenCRM you can see the visitor behavior during these visits.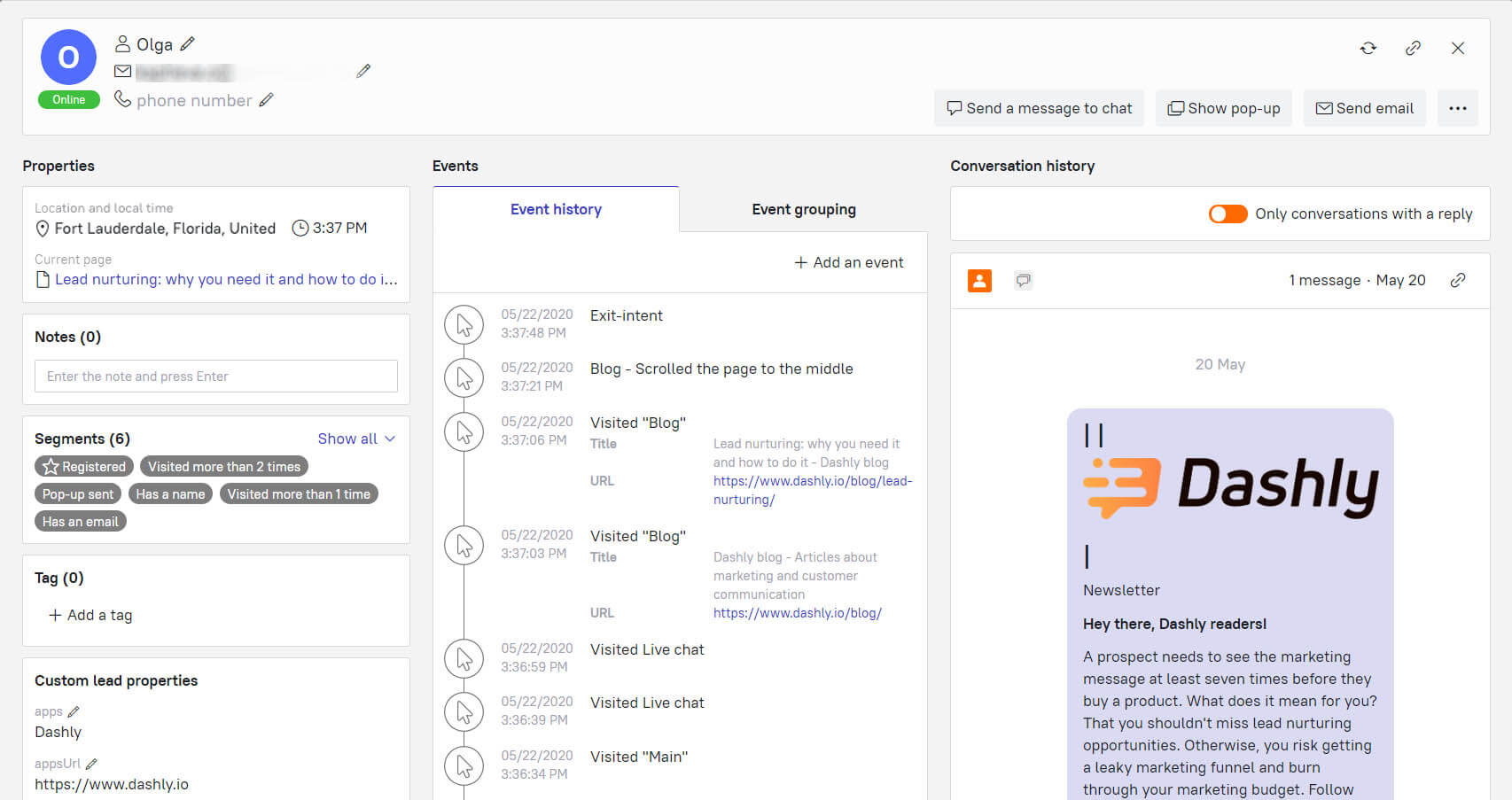 With Dashly, you can track page visits, sent or read messages, message replies, email subscriptions, scrolls and clicks.
Tracking user events allows you to segment leads and handle them differently based on their behavior.
Live chat. OpenCRM's main work with their users is focused on customer success, customer support, and account management. They use livechat roughly 75% for in-app and 25% for on-site communication. 
There are three basic scenarios of customer communication in OpenCRM:
Customer support via proactive manual messages 
The OpenCRM team segmented users into small groups and sent them manual messages in chat based on their behavior and interests
So, if they felt that some users were having trouble with a platform feature they would send a message offering immediate help and engage customers in conversation. 
"Hi this is Andy it looks like you are configuring our Xero Integration, would you like a hand getting started"
Customer success via manual messages
What is most important to them is reaching out to each and every customer and making sure they make the most of the OpenCRM platform. That's why they contact users proactively. They believe that customer success is regular work: they manually reach out to roughly 1500 users a month.
"We are running some live webinars to look in more detail at Opportunity Management, click this link to book yourself in"
Marketing via live chat
They also do some marketing via live chat — they use it as a tool of informing users of new features and functions in OpenCRM. Selecting certain groups of users allows them to send notifications only to those interested in those features and specifically when the message will have the most impact. This accuracy allows them to avoid bombarding users with irrelevant marketing messages. 
"Hi, did you know we have just added the Timeline feature so you can get quick and easy access to the activities that matter to you most"
However, customer communication is not just about speaking to customers, it's listening first. OpenCRM showed they were ready to listen by answering customers' questions immediately and as a result they increased the number of customer conversations. Basically, they educated their customers to communicate through chat and not to hesitate if they had a question, a request or a problem.
"Initially our conversations were one direction, our agents reaching out to offer help and advice, over a few months and as our users got more familiar with livechat these conversations grew.
As a result of all those actions, OpenCRM saw the dramatic increase in the number of conversations.
OpenCRM results: more effective communication with 50% less calls and emails
Since the start of using Dashly the OpenCRM team achieved the following results.
The number of conversations since starting to use Dashly has gone up by 400%.
One of their goals is to educate their customers and show them the benefits of live chat versus phone and emails.
The number of emails and calls decreased by 50% — that means that their customers are moving on to chat.
The number of frustrated emails decreased by 80%.
It takes time to compose and send an email, so people write angry emails when they are extremely frustrated and angry with some service. Live chat communication with customers allows you to listen to customers, help them in a timely manner, resolve conflicts and prevent situations where they become unhappy with your service or platform. So, fewer frustrated emails means your customer support is proactive and efficient.
Scaling customer success with Dashly's lead qualification bot
The challenge of successful growth often shows when agents are overwhelmed with incoming conversations. Thankfully, Dashly has come up with a bot that will qualify leads, ask basic questions and filter inquiries and then redirect them to specific agents. Looking ahead, OpenCRM is waiting to embrace the bot and optimize their flow.
It's Dashly's ability to solve those specific challenges that the OpenCRM team find so important and helps them grow, expand and gain new customers.