Tackling website personalisation puzzles can feel like an uphill slog. For instance, the struggle to aggregate sufficient data, difficulties to provide relevant recommendations, or a lack of features in the existing tools. 
As a SaaS growth marketer for Dashly, I've faced my fair share of these puzzles too. What's the secret ingredient of my digital marketing success? It's all about using the right tools. 
In this concise piece, we're diving deep into the treasure trove of website personalization tools. We'll explore their features, highlight their transformative services, and guide your marketing journey to its next crucial part. 
Let's unpack the top 10 website personalization tools that will be your game-changers. Watch this space!
Dashly website personalization tool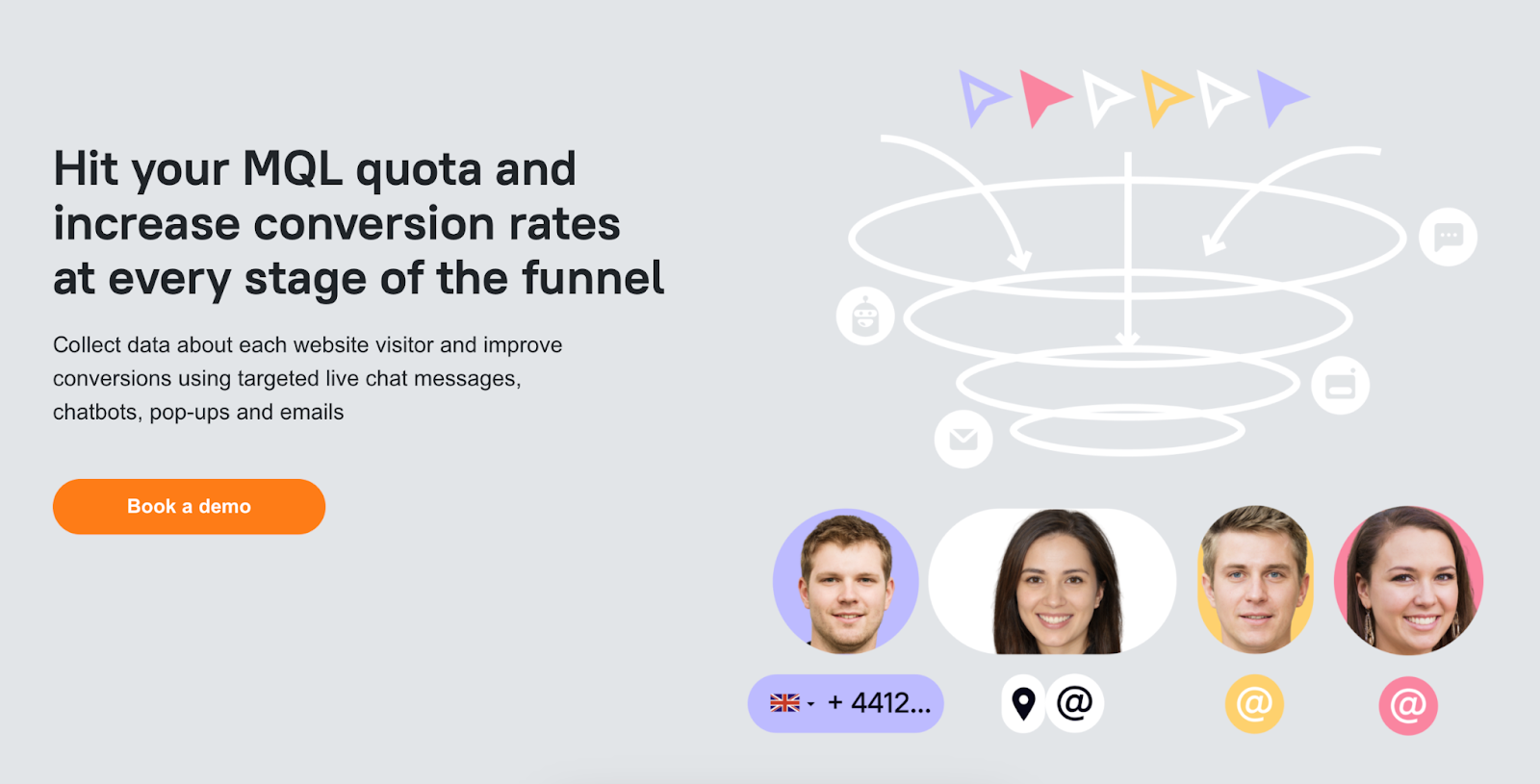 Dashly is a conversational platform that provides digital marketing with comprehensive services to personalize customer communication on website and messengers. Its tools are great for personalizing customer communication on each step of their journey:
Customer engagement by offering a popup discount, chatbot lead magnet, or free consultation on blog pages.
Conversion into a lead, demo, registration by recommending products and services on website.
Increasing sales with triggered messages on email and messengers, etc. 
Features
Dashly provides a list of tools for marketing and sales managers to understand potential customers behavior and interests:
Website visitors behavior tracking. Based on tracking events, you can see page visits, button clicks and any field filling events are configured in real-time.
In a lead card, your team has the access to every little detail. Understand who you are talking to, what they need, and offer the best solution. Use data to create personalized automated workflows.
Based on that info you can launch personalized tools like chatbots, popups, and triggered emails with offers that match customers interests.
30+ integration with your favorite tools.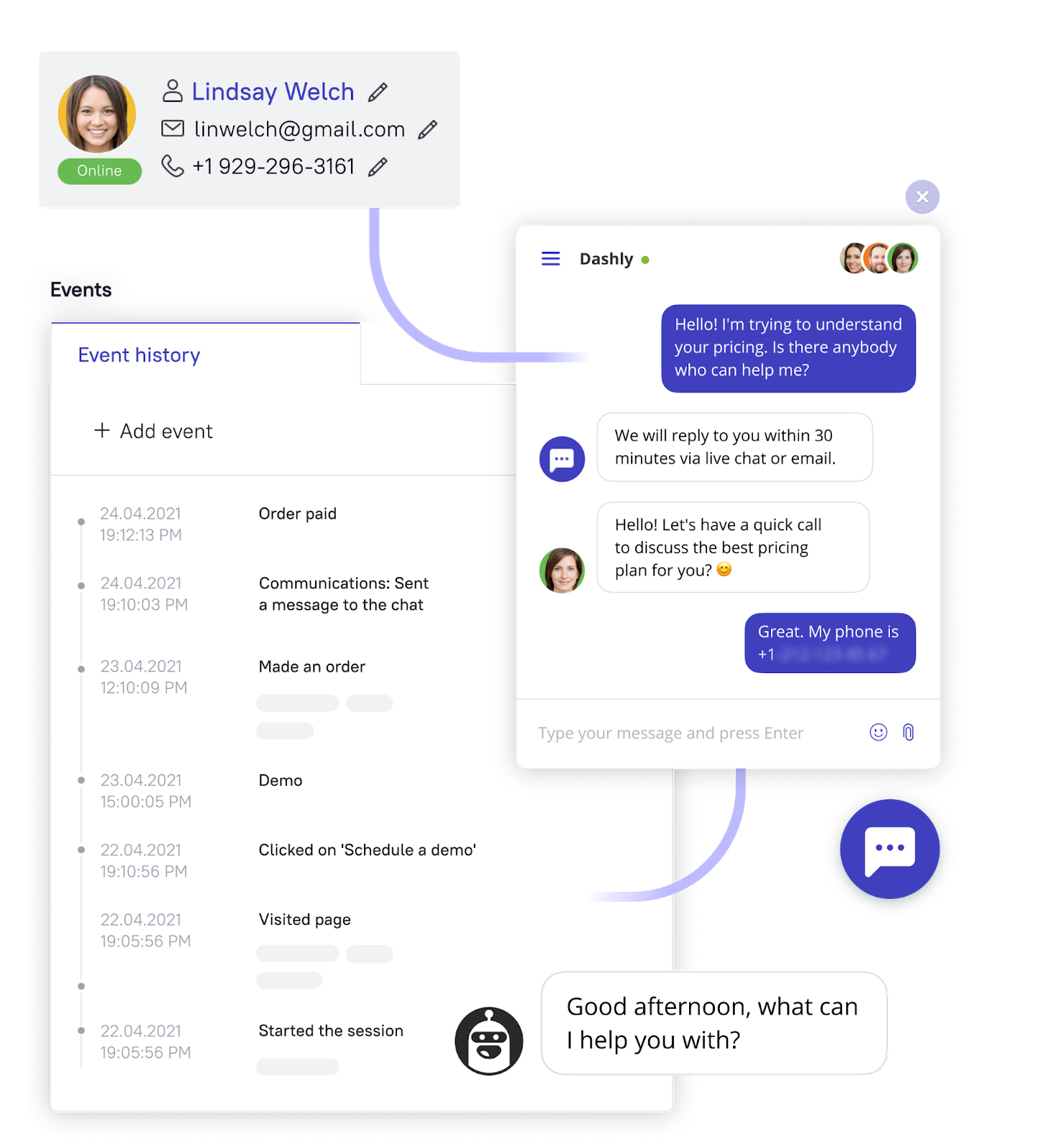 Pricing
There are three paid plans in Dashly product, starting from $39/mo. The price depends on your monthly website traffic and the add-ons you choose to enable. Meanwhile, agent seats are unlimited — your whole team will get access to the solution features.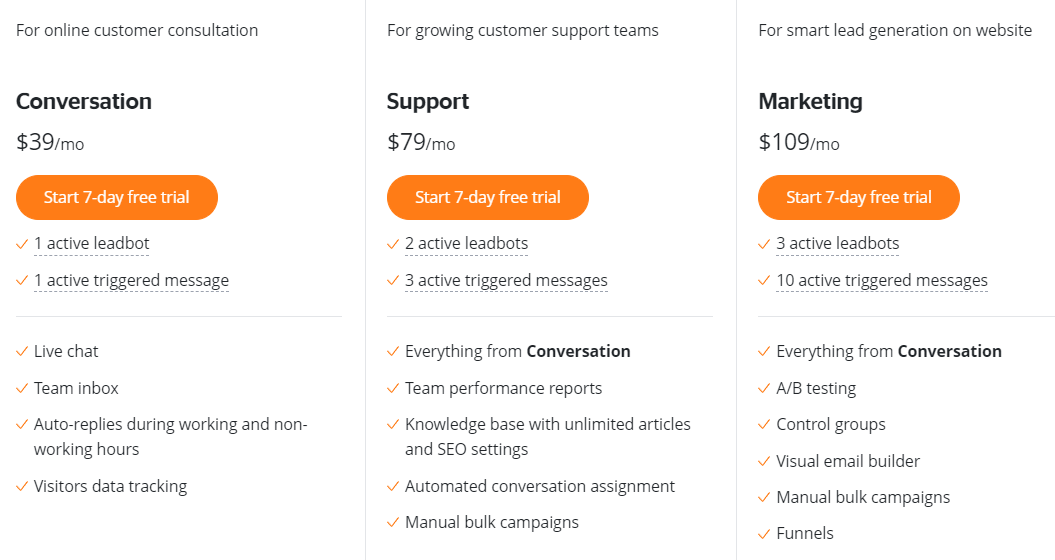 Each plan offers website visitor behavior tracking. However, the more advanced the plan is, the richer your customer data will be. 
Pros and Cons
✅ Free plan.
✅ An unlimited number of agent seats.
✅ 24/7 customer service.
✅ Detailed results on user tracking on website.
✅ Mobile apps (IOS, Android).
✅ Ability to work with leads that were inactive for 30 days.
❌ Limited segmentation options.
❌ No Call and voice services.
Get access to the best website personalization tools with Dashly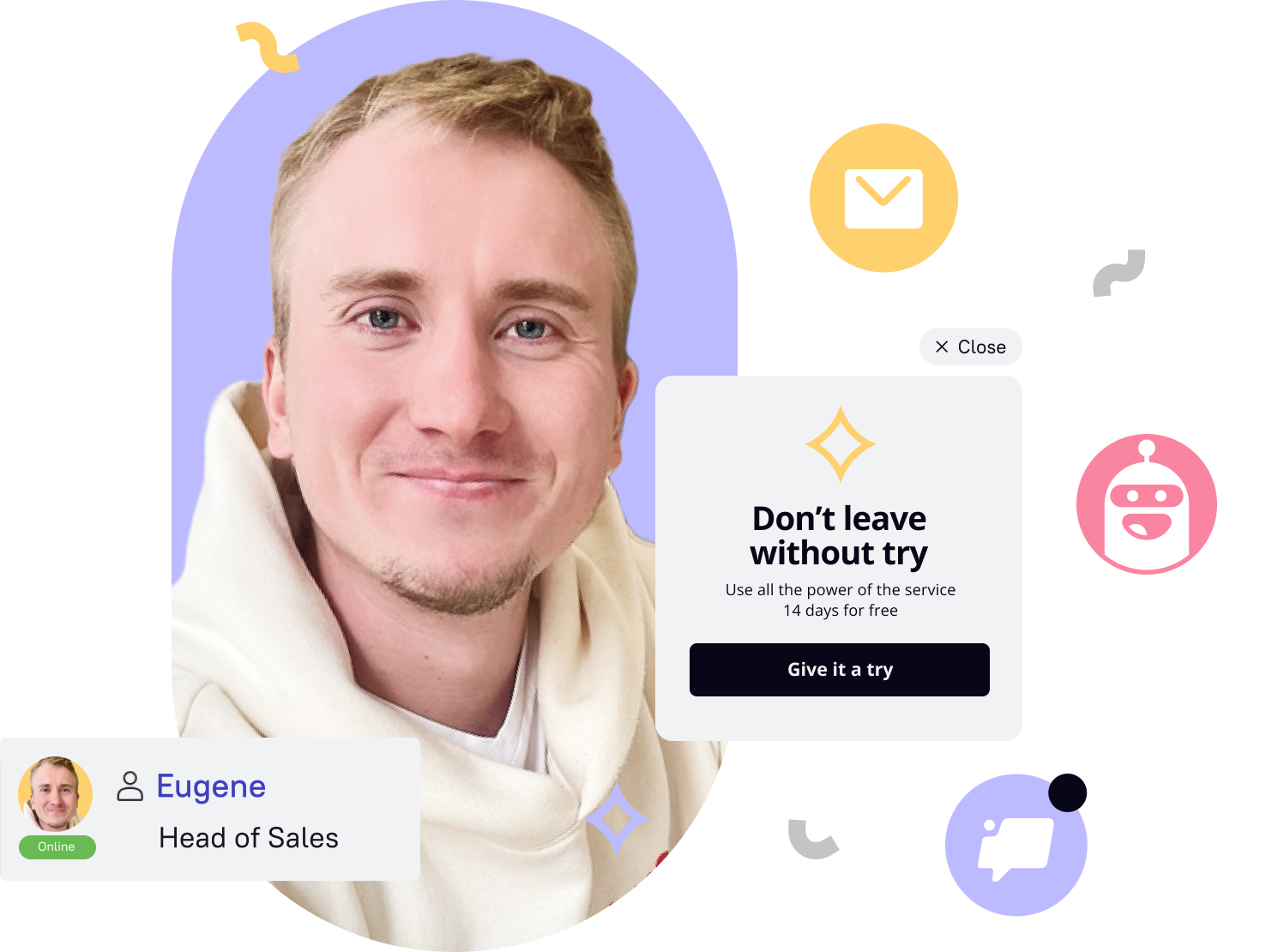 OptiMonk for ecommerce personalization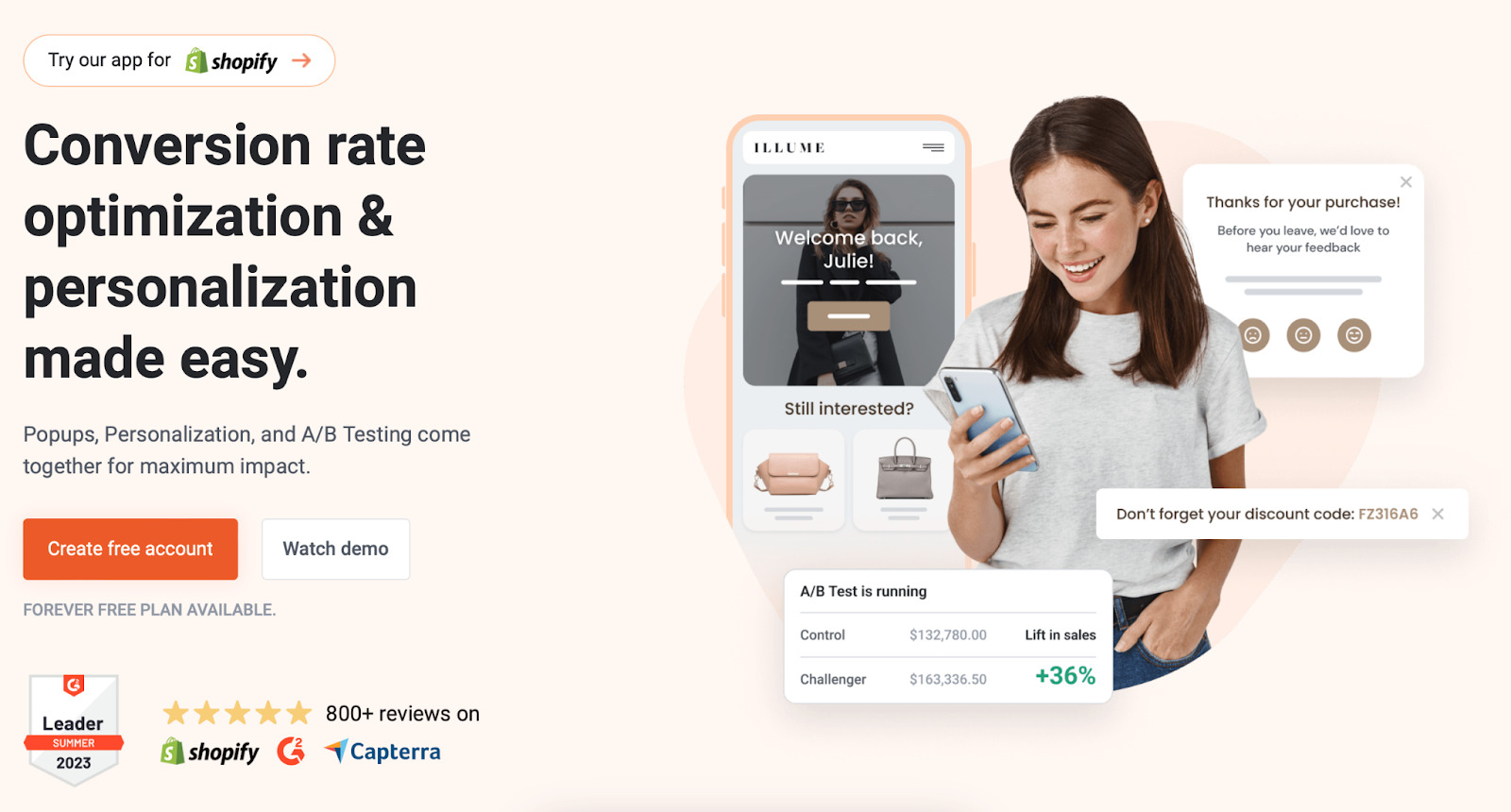 OptiMonk is a rising star in the website personalization space, with the main goal to boost the ecommerce industry with their range of robust tools. Their service is used by an array of businesses, from small enterprises to large scale companies seeking to tweak their marketing strategy and ramp up customer return rates. Their product diversifies digital commerce, providing a wealth of personalized data to inform strategy decisions and enrich customer experience.
Website personalization features
Diving into their features, we discover a whole gamut of valuable tools. These include:
Exit-Intent Technology: Capturing visitors' attention before they leave the site, this technology provides personalized recommendations to reduce cart abandonment.
Nanobars: A less intrusive alternative to pop-ups, designed to improve customer engagement and drive conversions.
Customization Options: Create personalized experiences with varied content types and templates based on customer data.
Advanced Segmentation: Enables businesses to segment and target their audience with tailored content.
A/B Testing: Empowers refined marketing strategies through analyzing the success of different content options.
Pricing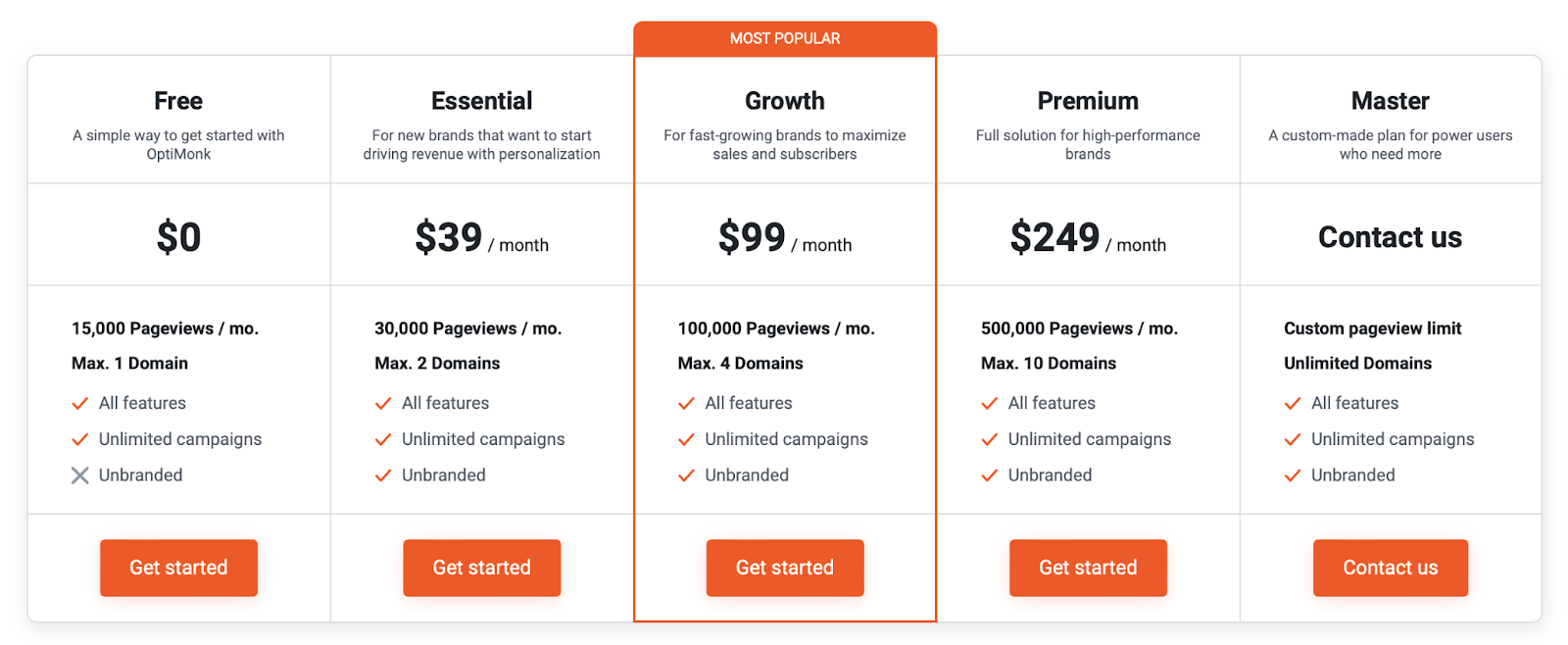 Pricing at OptiMonk begins from $39 per month, Growth — $99 per month, and Premium — $249 per month. The ramping cost ties to the size of the businesses, with the comprehensive "Master" plan ideally suited for large-scale ecommerce platforms.
Pros and Cons
✅ Extensive features for personalized marketing. 
✅ Exit-Intent Technology to prevent cart abandonment.
✅ Affordable pricing, especially for small businesses.
❌ Limited segmentation options.
❌ No Call and voice services.
In summary, OptiMonk is an extensive platform part of the new wave of digital tools to elevate and personalize your ecommerce business game.
Proof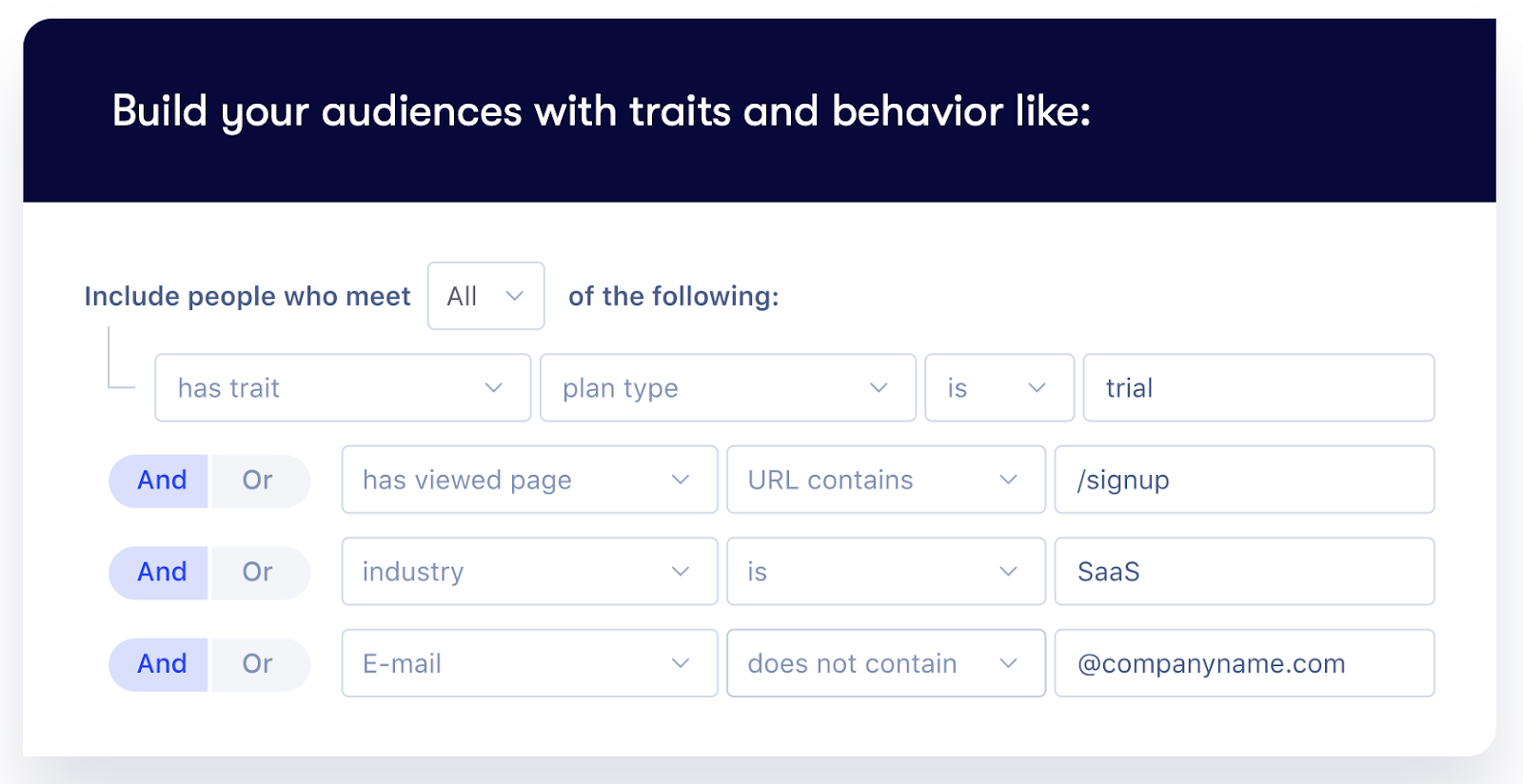 Proof is a trailblazer in the sphere of website personalization, with the aim to significantly increase the conversion rates of online businesses. They offer a range of services targeted at companies seeking to optimize their digital marketing strategies and captivate customers with personalized experiences. From burgeoning start-ups to established ecommerce giants, Proof has something valuable to offer everyone.
Proof personalization services
Delving into their features, we find a variety of tools designed for successful customer retention:
Live Visitor Count: Displays the number of active users on your site, fostering a sense of community in potential customers.
Hot Streak Notifications: Shows the number of recent signups or purchases on your site, encouraging new customers to join the party.
Social Proof Notifications: Creates a positive buying atmosphere by demonstrating the popularity of your products.
Conversion Cards: A powerful storytelling tool to showcase successful customer testimonials and experiences.
Pricing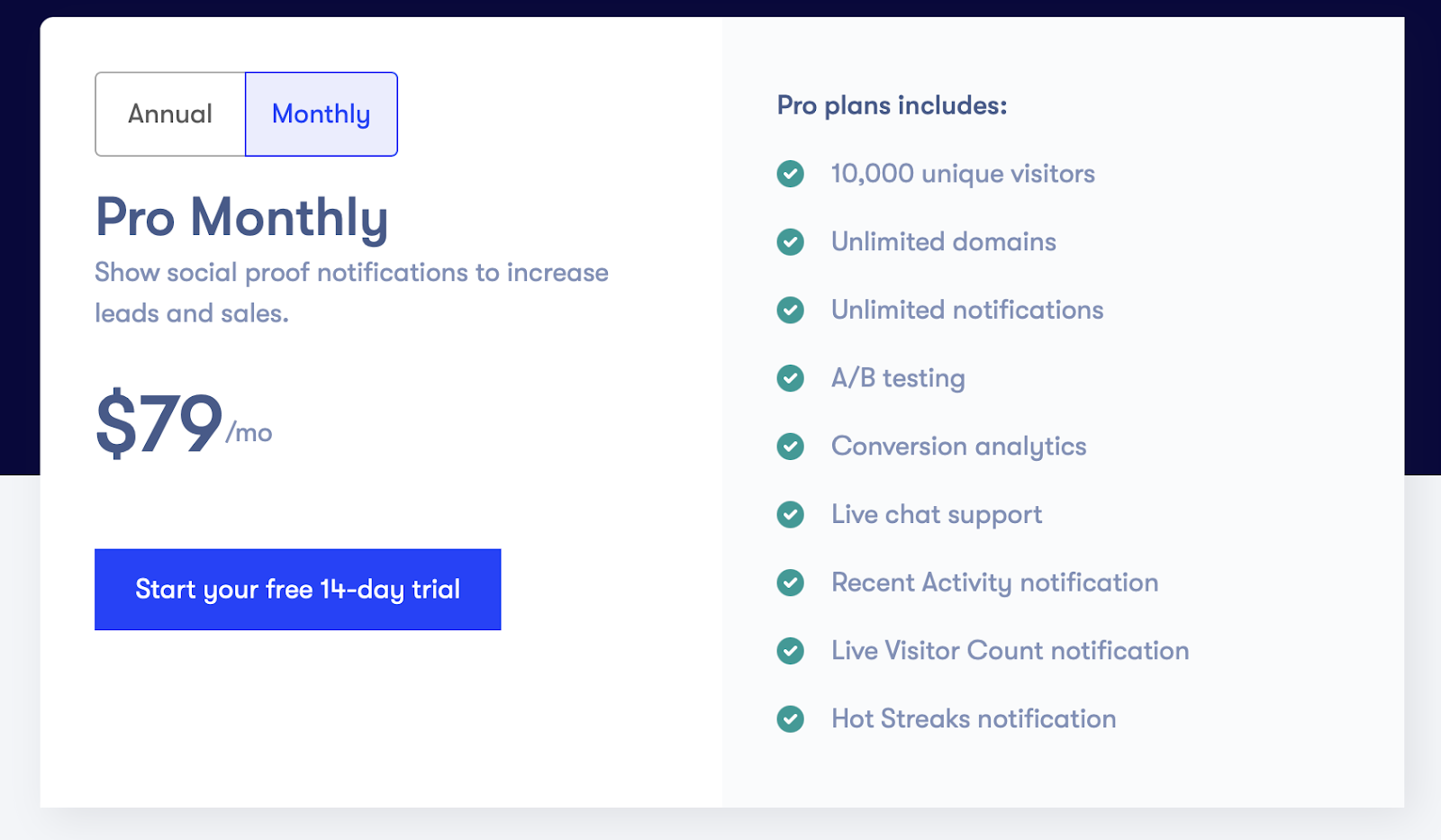 Proof's pricing starts at $29/month, Pro — $79/month+, has been discerningly designed to accommodate businesses of different scales, making Proof a suitable option for all kinds of digital commerce players.
Pros and Cons
✅ Extensive personalization features to boost conversion rates.
✅ Risk-free guarantee to test the platform. 
✅ User-friendly interface, which is perfect for beginners.
❌ No free trial.
❌ Plans can be quite expensive for small businesses.
❌ Limited functionality with the 'Basic' plan.
In essence, Proof presents an excellent platform to amplify your marketing strategy, providing a comprehensive kit to perfect your personalized approach to digital commerce.
Personyze to improve ecommerce customers experience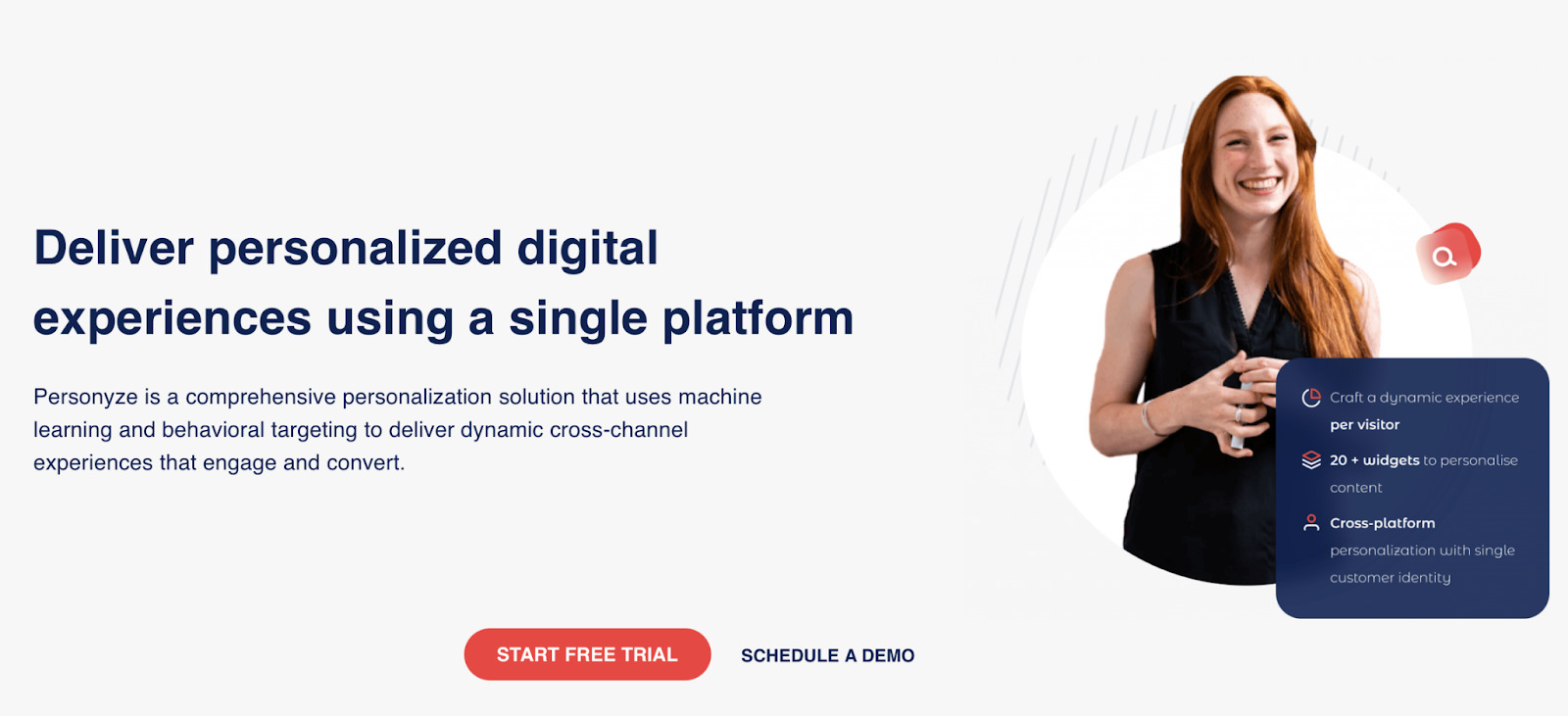 Personyze is a premier player in the arena of website personalization. The company pulls out all the stops to optimize customer experience, and their offerings are geared towards businesses wanting to propel their digital marketing strategies and provide customers with personalized interactions. From start-ups to large-scale ecommerce entities, Personyze caters to a spectrum of businesses.
Features
The features offered by Personyze are inventive and user-friendly. Here are a few to note:
Real-Time Site Personalization: Alter content in real time based on customers' interactions.
CRM Integration: Offers personalized experiences to customers based on their user profile data.
Targeted Emails and Banners: Engages visitors with personalized messages to enhance user experience and increase conversions.
Dynamic Recommendations: Uses visitor data to provide product or content recommendations, boosting customer retention and repeat purchases.
Pricing

Pricing for Personyze begins at $250 per month, as it's primarily geared towards medium to large businesses and enterprises. However, they do offer a 14-day free trial for customers to explore and evaluate their platform before making the plunge. Their bespoke pricing plans are flexible and based on server load and service needs, which tend to scale with the size of the business.
Pros and Cons
✅ Full suite of personalization features to boost conversions. 
✅ Powerful data integration and segmentation capabilities. 
✅ Free trial to get a feel of the platform.
❌ High starting price can deter smaller businesses. 
❌ Steeper learning curve for beginners. 
❌ No out-of-the-box pricing plans.
In a nutshell, Personyze stands as a strong contender in the market of digital commerce platforms, providing extensive tools for businesses to design personalized customer journeys and amplify their marketing strategy.
Marketo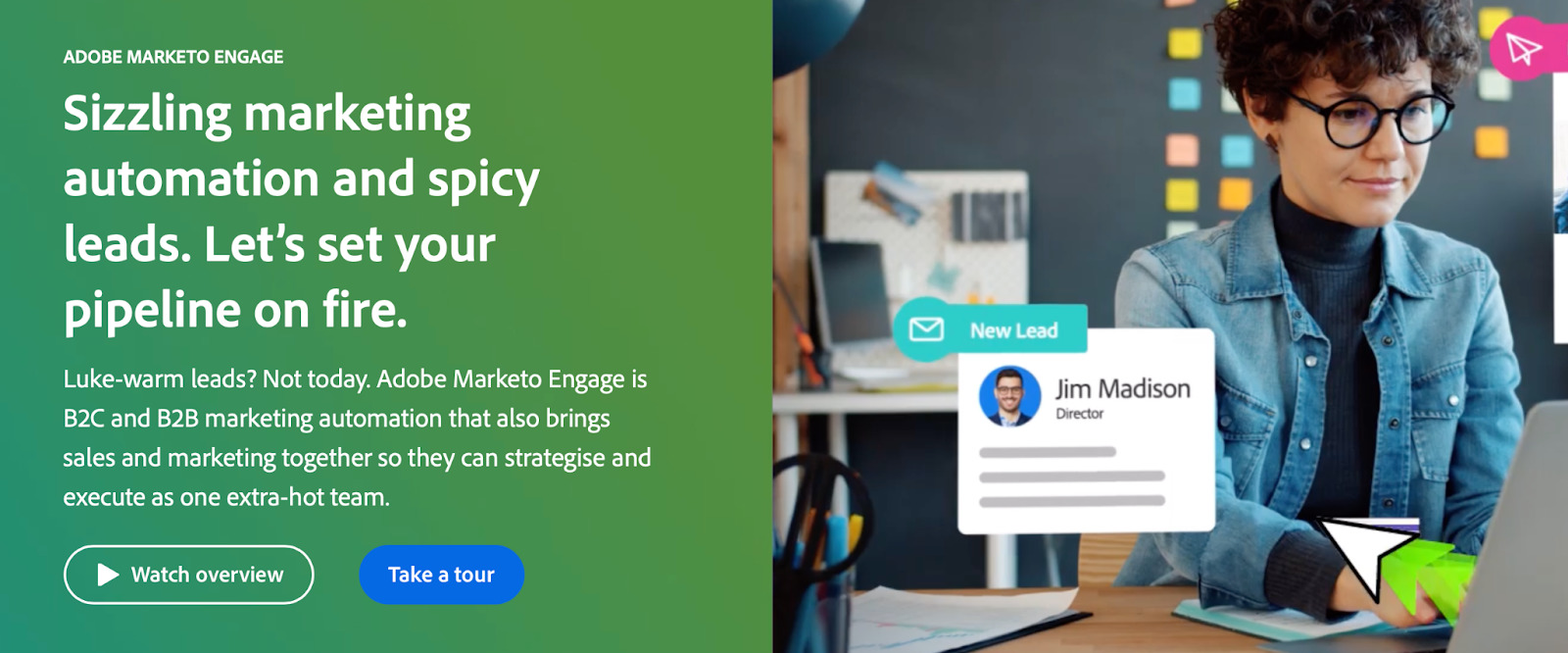 Marketo, now a part of Adobe Experience Cloud, is unarguably a front-page contender in the world of website personalization tools. Their services cater to businesses that aim to turbocharge their digital marketing strategies, immerse customers in personalized experiences, and capitalize on repeat purchases.
Features
Diving into its vast feature ensemble, Marketo offers the following noteworthy tools:
Targeted Email Campaigns: Highly personalized email marketing campaigns to boost customer retention.
Customer Engagement Tools: These allow you to directly engage with customers, increasing loyalty and repeat business.
A/B Testing: This feature makes refining your marketing strategy a breeze.
Behavior Tracking and Personalization: By harnessing customer data, Marketo enables a personalized experience that truly resonates.
Pricing

While Marketo doesn't disclose its pricing publicly, it's well-known for offering both standard and custom plans to fit various business needs, making it a fitting choice for business entities at all levels. Before committing to an annual subscription, businesses can request a demo to get a feel of the platform.
Pros and cons
✅ Comprehensive suite of marketing tools. 
✅ Seamless integrations with CRM and other software. 
✅ Extensive personalization features to drive conversions.
❌ Pricing isn't transparent. 
❌ Steeper learning curve for beginners. 
❌ Can be expensive, especially for small businesses.
All in all, Marketo emerges as a premier player in the domain of digital platforms, with comprehensive tools to help businesses plan a personalized approach to digital commerce, and fine-tune their marketing strategies.
Segment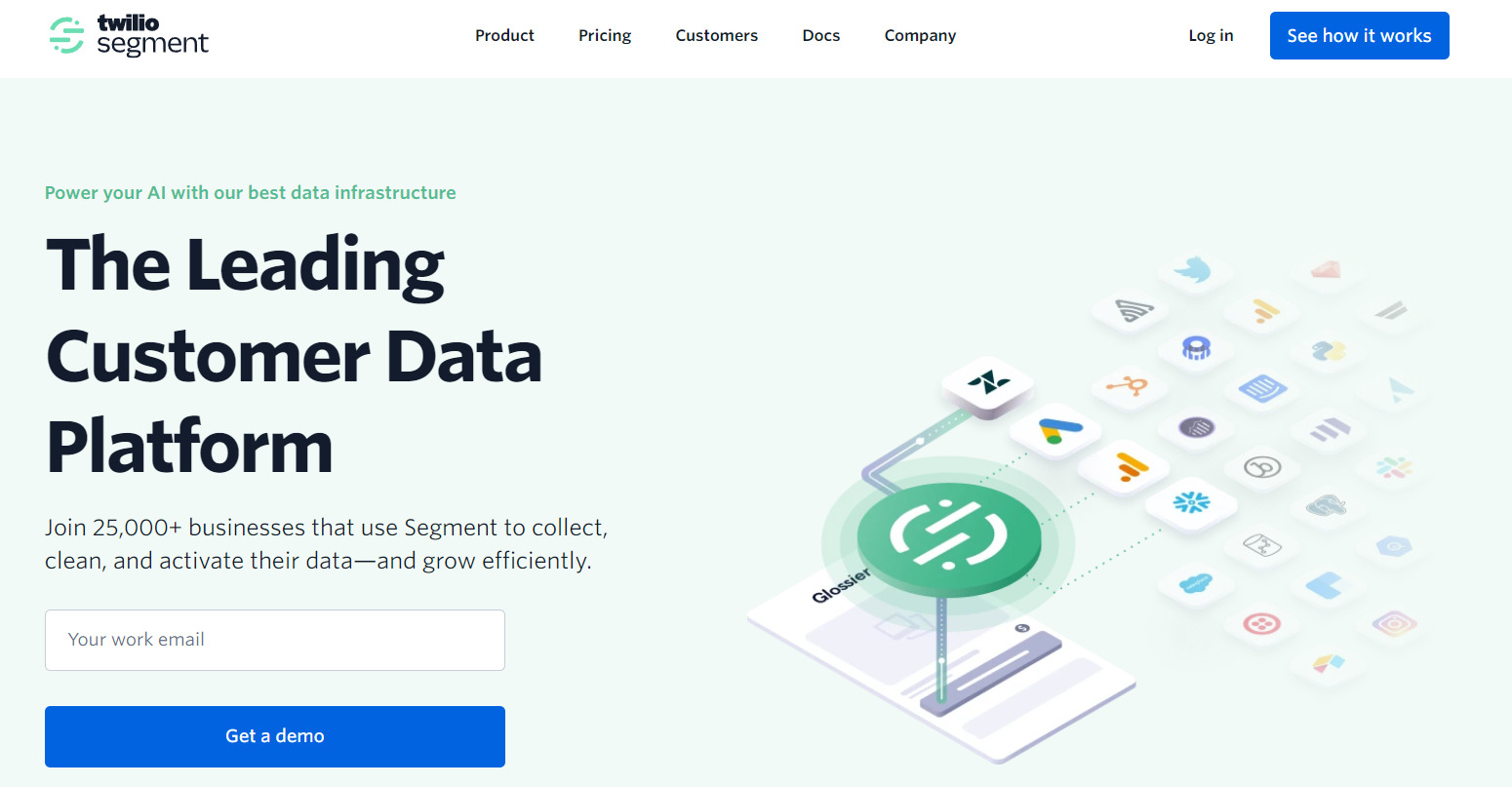 Segment is a powerful website personalization tool that has been giving a new lease of life to businesses aiming to enhance their digital marketing strategies. Focused on creating quality customer experiences, Segment has been embraced by a spectrum of companies, from start-ups keen on improving their digital presence to eCommerce giants looking for advanced customer targeting.
Features
Some of the head-turning features that Segment offers include:
Single Customer View: This feature captures a holistic view of each customer's interactions, enabling businesses to tailor personalized experiences.
Protocols: They ensure clean, valuable data, enabling businesses to create smart and effective marketing strategies.
Functioning as a Customer Data Platform: They help businesses unify and utilize their customer data.
Integrations: Seamless synchronization with hundreds of tools such as Google Analytics and testing software.
Pricing

Pricing at Segment is largely usage-based, with packages designed to accommodate businesses of all sizes. The free Developer plan supports up to 1,000 monthly tracked users, while the Team plan starts at $120 per month per 1,000 monthly tracked users. They also offer a custom Business plan for advanced services.
Pros and Cons
✅ Great variety of integrations with popular marketing tools. 
✅ Ensures clean, usable data for informed decision making. 
✅ Free option for small, growing businesses.
❌ The pricing can become steep with increased usage. 
❌ Steeper learning curve for non-tech folks. 
❌ May require development resources to extract maximum potential.
Simply put, Segment is a multifaceted platform that provides a host of tools geared towards helping businesses create a personalized approach to digital marketing and take their customer service to new heights.
VWO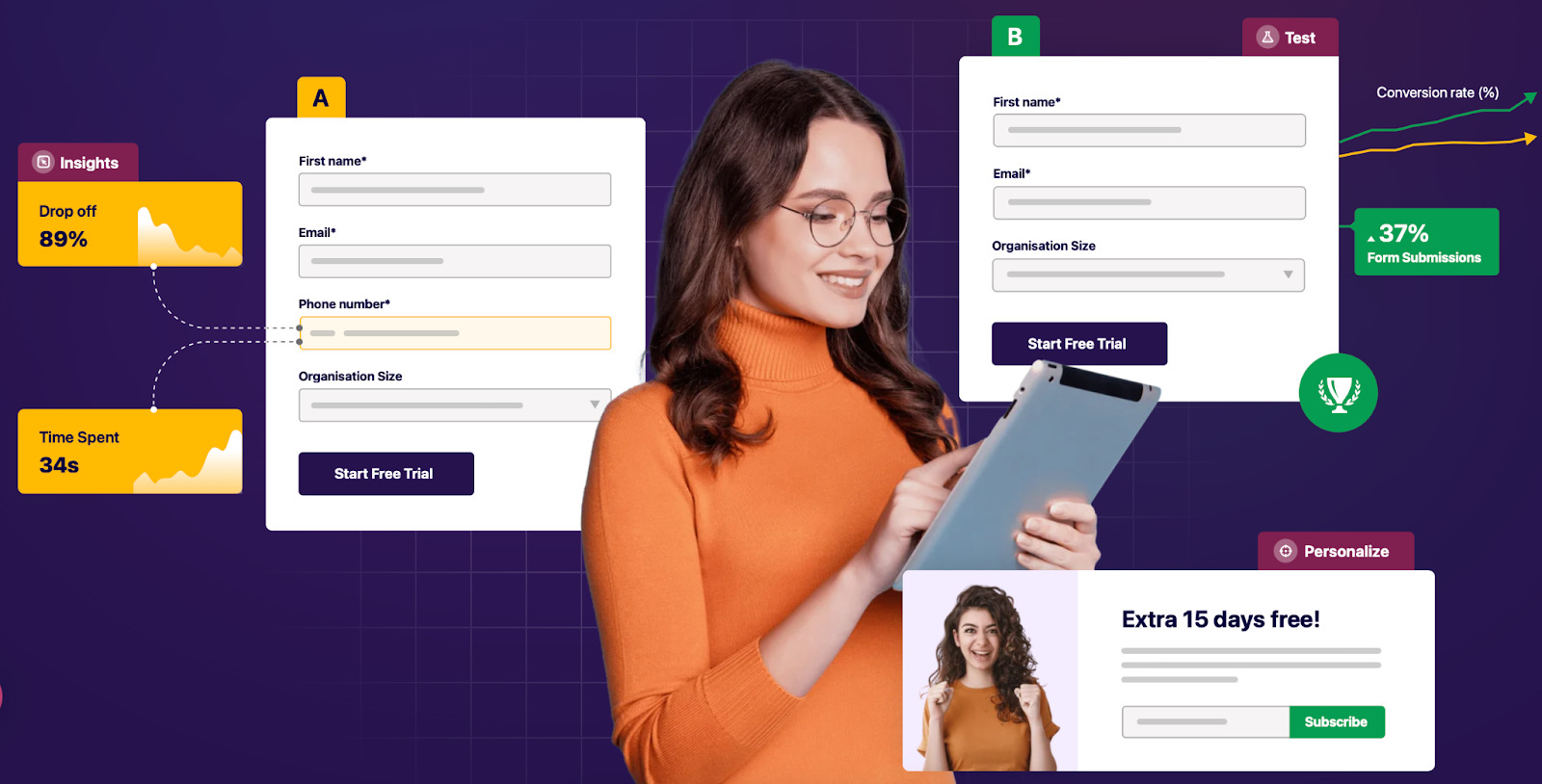 VWO is a prominent website personalization tool designed to boost your digital marketing game. The platform is all about delivering seamless and personalized customer experiences. Loved by a wide variety of companies, from budding start-ups to well-established ecommerce enterprises, VWO is committed to enhancing customer engagement and maximizing conversions.
Features
The platform dazzles with an array of enticing features:
A/B Testing: Allows businesses to test different elements and create the most effective content for their website.
Behavior Triggered Surveys: Helps in gathering valuable feedback to understand customer expectations and preferences.
Session Recordings and Heatmaps: Provide visual insights on customer interaction and behavior on your site.
Personalization: Allows businesses to create customized user experiences based on demographics and behavior.
Pricing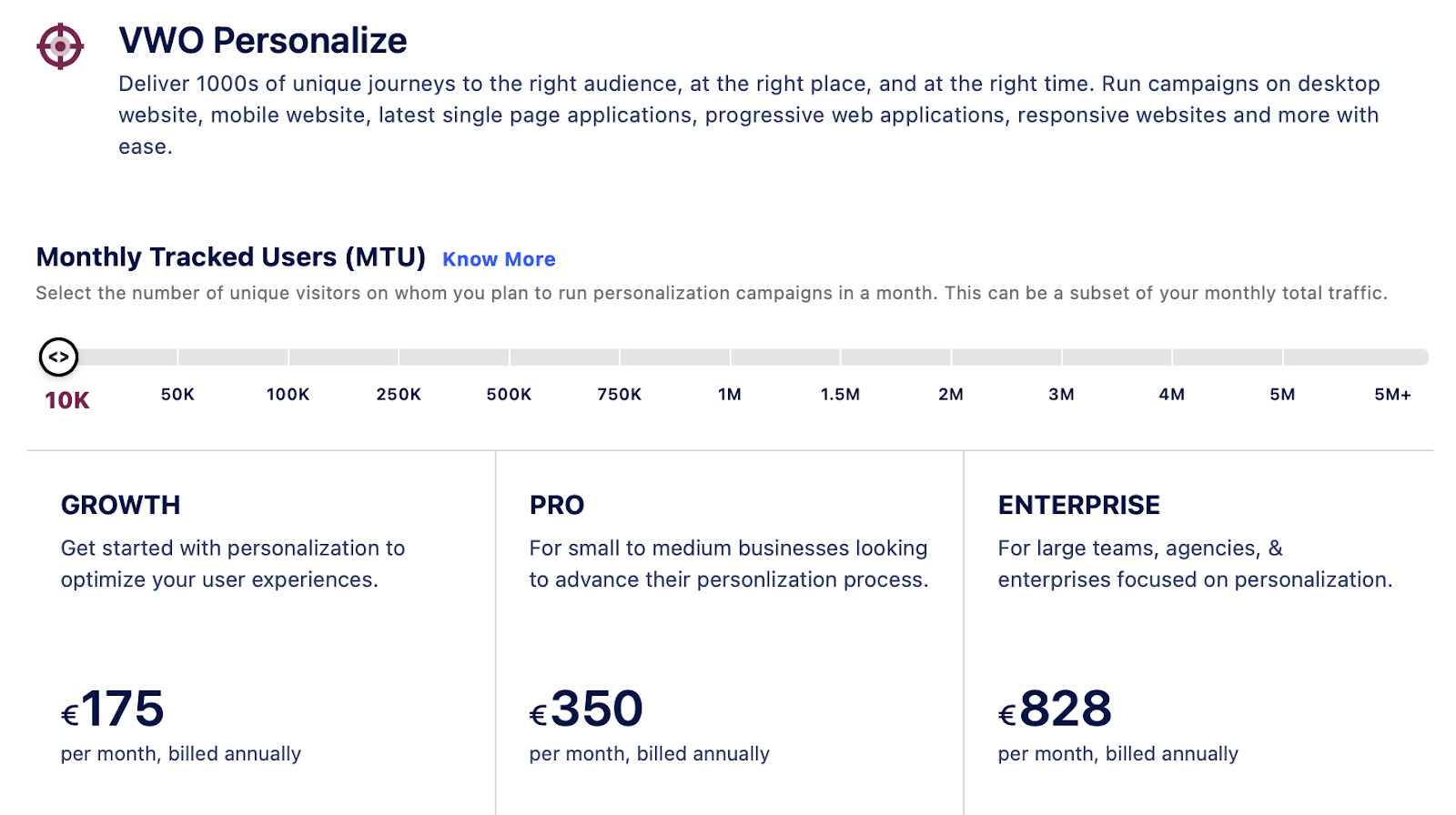 Pricing at VWO varies depending on the package and the size of your business. They offer a free trial, letting you test out their services before committing to a purchase. For detailed pricing, businesses need to contact VWO directly, as they create bespoke pricing packages based on customer strategy and needs.
Pros and Cons
✅ Intuitive interface for ease of use. 
✅ Comprehensive array of features for in-depth customer insights. 
✅ Reliable customer support.
❌ Pricing is not transparent and can be higher than competitors. 
❌ Learning curve for getting used to the software. 
❌ Limited integration with other software like Google Analytics.
Overall, VWO emerges as a trustworthy companion for businesses looking to create a personalized approach in their digital space, thereby enhancing customer engagement and boosting conversions.
Dynamic Yield for content personalization

Dynamic Yield is a powerhouse in the realm of website personalization tools, equipping businesses to create truly unique user experiences. Aimed at enhancing customer engagement and driving conversions, Dynamic Yield's services are trusted by a gamut of companies, from SMEs to large-scale eCommerce enterprises.
Features
The remarkable features offered by Dynamic Yield encompass:
Personalized Recommendations: Curates product suggestions based on user behavior.
A/B and Multivariate Testing: Allows businesses to create and test various content to maximize effectiveness.
Customer Segmentation: Helps delivering personalized content by categorizing users based on demographics and on-site activity.
Real-time Personalization: Alterations to website content are made in real time in response to user behavior.
Pricing
As for pricing, Dynamic Yield operates on a quote-based system, taking into consideration the specific needs and size of businesses. While they don't offer a free trial or standardized pricing, businesses can get in touch with them for a custom quote.
Pros and Cons
✅ Comprehensive range of personalization features. 
✅ High scalability, perfect for businesses of all sizes. 
✅ Integration with a broad range of platforms and software.
❌ Some users report a steep learning curve. 
❌ Pricing details not readily available, which may deter companies looking for quick comparisons. 
❌ Assisted setup might be necessary for less tech-savvy users.
On the whole, Dynamic Yield stands out as a trustworthy player in the digital marketing arena, lending businesses a hand to create a personalized strategy, enhancing user engagement, and driving business growth.
HubSpot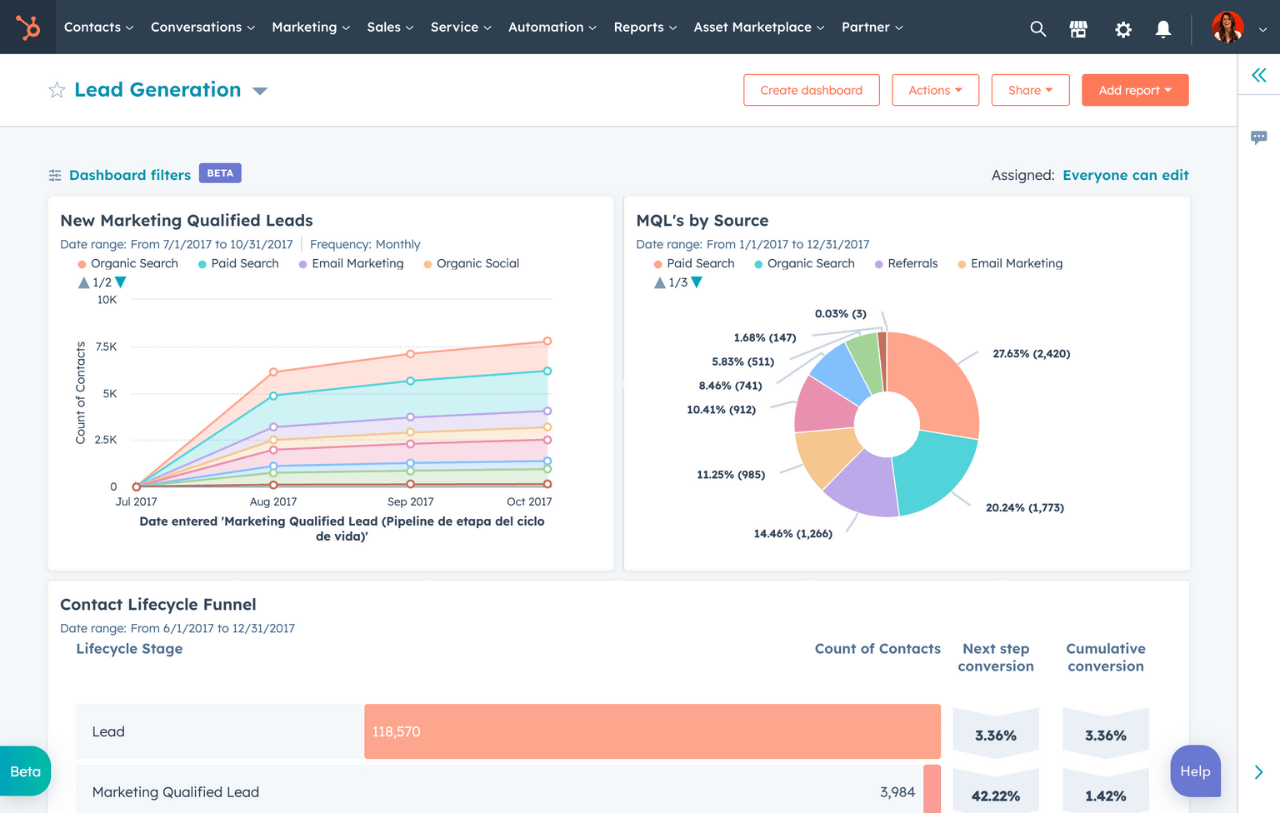 As a pioneering platform in the digital marketing world, HubSpot takes the limelight when we talk about website personalization tools. Rooted in the philosophy of creating unified, seamless, customer experiences, HubSpot lends its services to a broad spectrum of companies, from ambitious start-ups to large-scale, global eCommerce entities.
Web personalization tools it provides
Some of the noteworthy features that HubSpot boasts include:
Content Personalization: Offers AI-driven recommendations to create tailored content based on user behavior.
Marketing Automation: Streamlines marketing practices for improved efficiency and performance.
Analytics and Reporting: These tools provide in-depth insights to inform decision-making.
CMS hub: Enables businesses to easily manage their website content in line with their marketing strategy.
Sales CRM: Provides tools to optimize customer interaction and boost conversions.
Pricing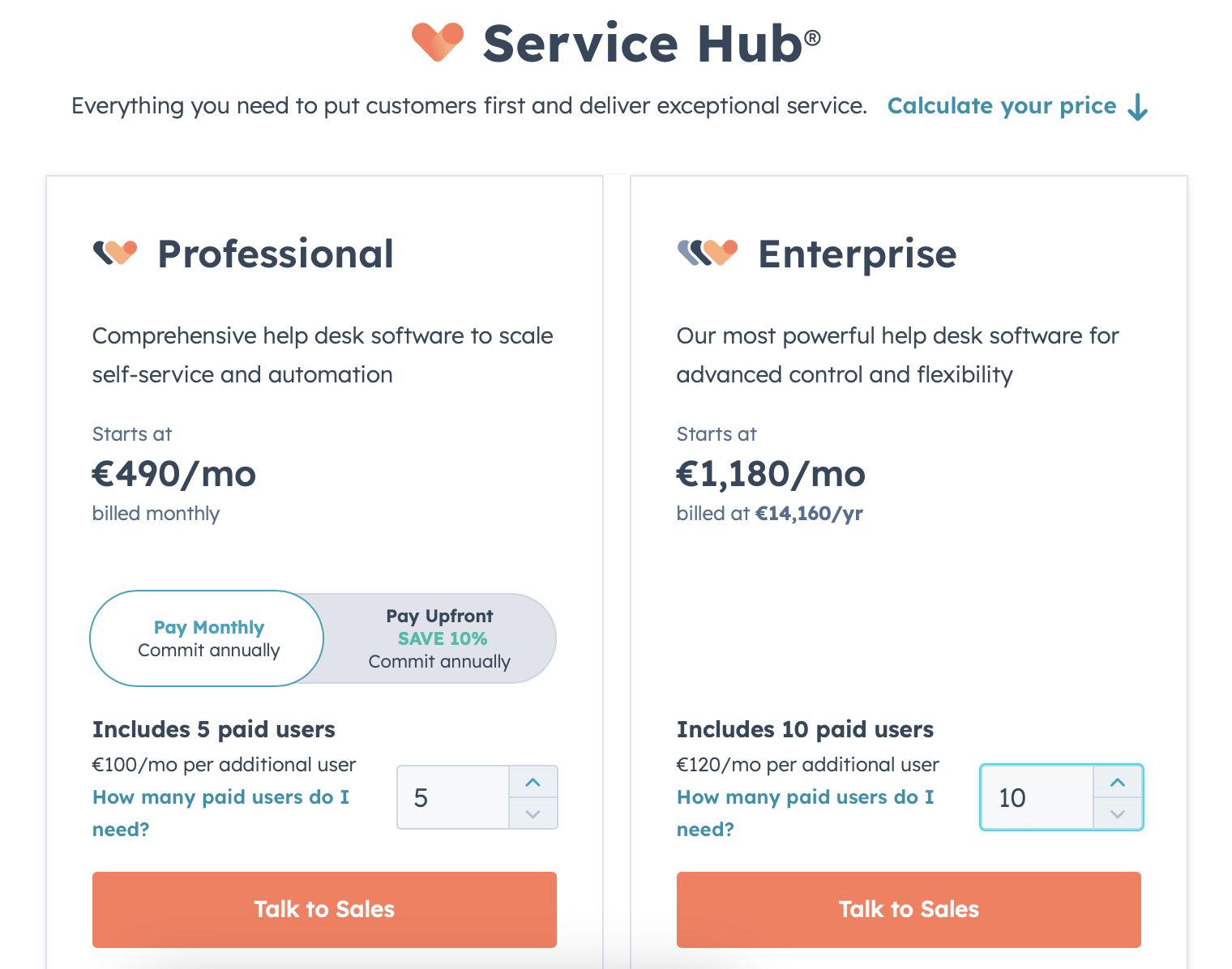 HubSpot's pricing starts at $50 per month for their Starter Growth Suite, with packages becoming progressively more comprehensive (and expensive) as they cater to larger businesses. They also offer a free version of the platform with limited functionality, allowing businesses to test out its capabilities before investing.
Pros and Cons
✅ Wide range of marketing tools in one platform. 
✅ Option of a free trial to explore the platform. 
✅ User-friendly interface, ideal for beginners.
❌ Some advanced features are only available in the pricier packages. 
❌ Setup and onboarding might be overwhelming for non-tech folks. 
❌ Integrations with external tools can be improved.
In summary, HubSpot is a robust and comprehensive platform that provides an array of tools to foster personalized experiences, enhance marketing strategies, and drive business growth.
WeXbF for product recommendations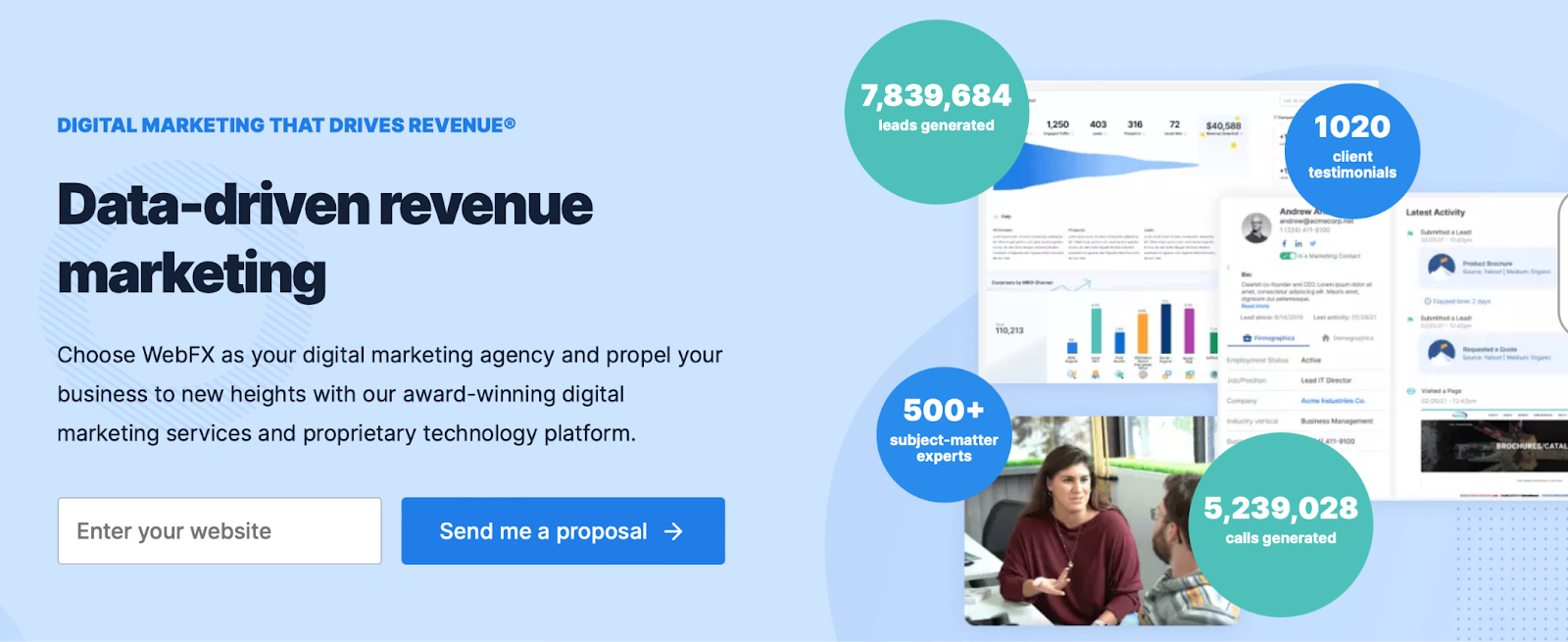 When it comes to bolstering digital marketing efforts with website personalization, WebFX is a heavyweight contender. They provide a comprehensive suite of services targeted at businesses, ranging from small start-ups to large-scale ecommerce enterprises, seeking to fine-tune their customer experiences.
Features
WebFX stands out with a robust portfolio of features:
Website Personalization: They tailor your website's appearance and content to match each visitor's specific interests.
Competitor Geofencing Advertising: Allows you to target customers from a specific location or when they are near your competitor's location.
MarketingCloudFX: Their AI-powered software enables you to automate and streamline your digital marketing activities.
Web Design: Creates responsive, visually appealing websites that engage visitors.
Pricing
WebFX runs a quote-based pricing scheme, providing custom plans geared towards your particular business size and marketing needs. Although they do not offer a free trial, potential customers can contact WebFX directly to request a demo or get a custom quote.
Pros and Cons
✅ Comprehensive range of services for a unified marketing approach. 
✅ Customizable plans to suit varied business needs. 
✅ Expertise in both design and personalization.
❌ Pricing is not transparent, which could make quick comparisons challenging. 
❌ No free trial offered. 
❌ Could impose a learning curve, especially for businesses new to digital marketing.
To wrap it up, WebFX is a one-stop shop platform that provides elaborate tools aimed at aiding businesses create a personalized strategy for digital marketing, helping intensify user engagement and drive sustainable business growth.
Optimize your customer experiences with Dashly
Discover customer interests with behavior tracking
Test your strategy with popups, chatbots, emails and a live chat 
Get free advice on your funnel from Dashly experts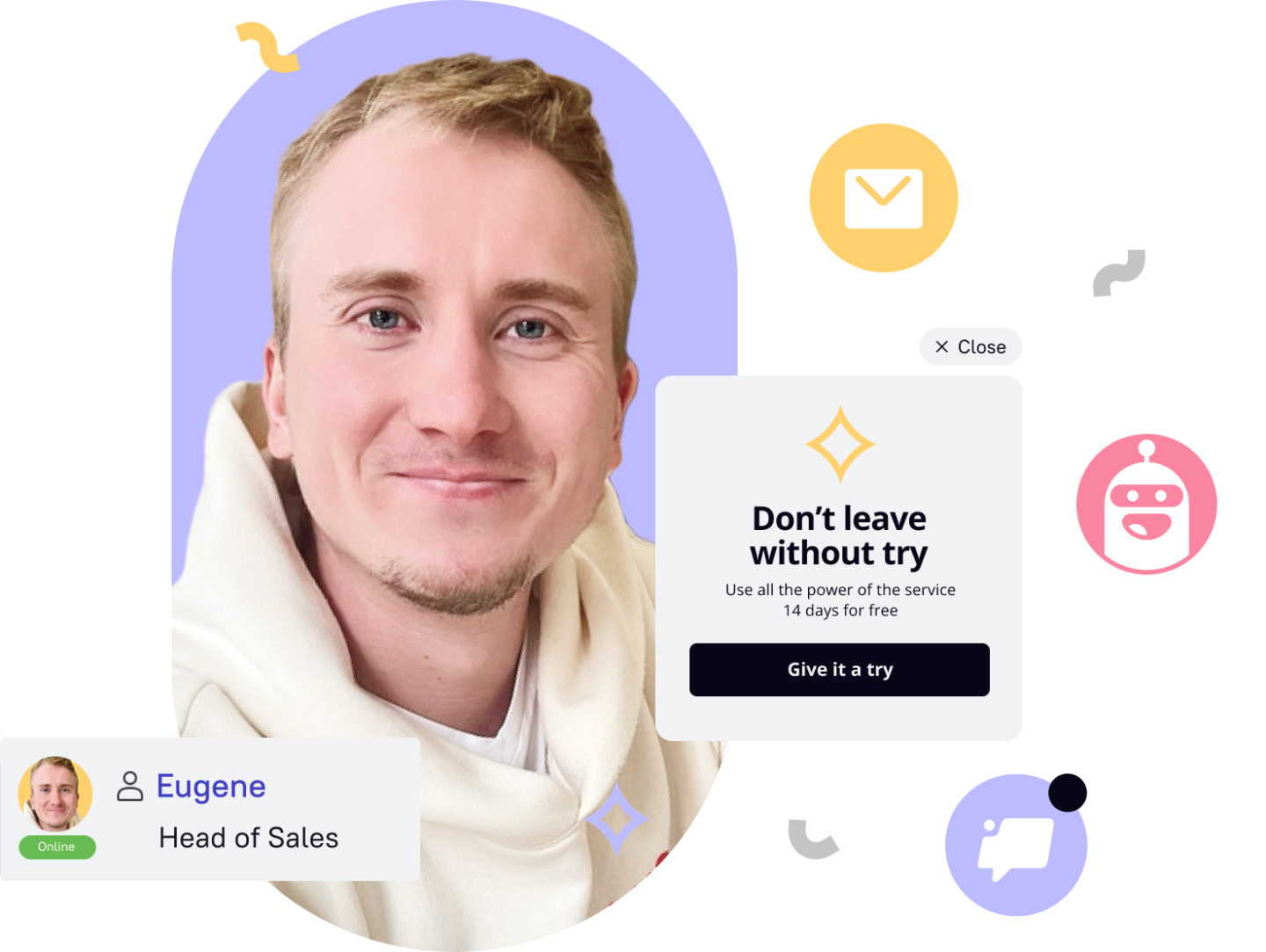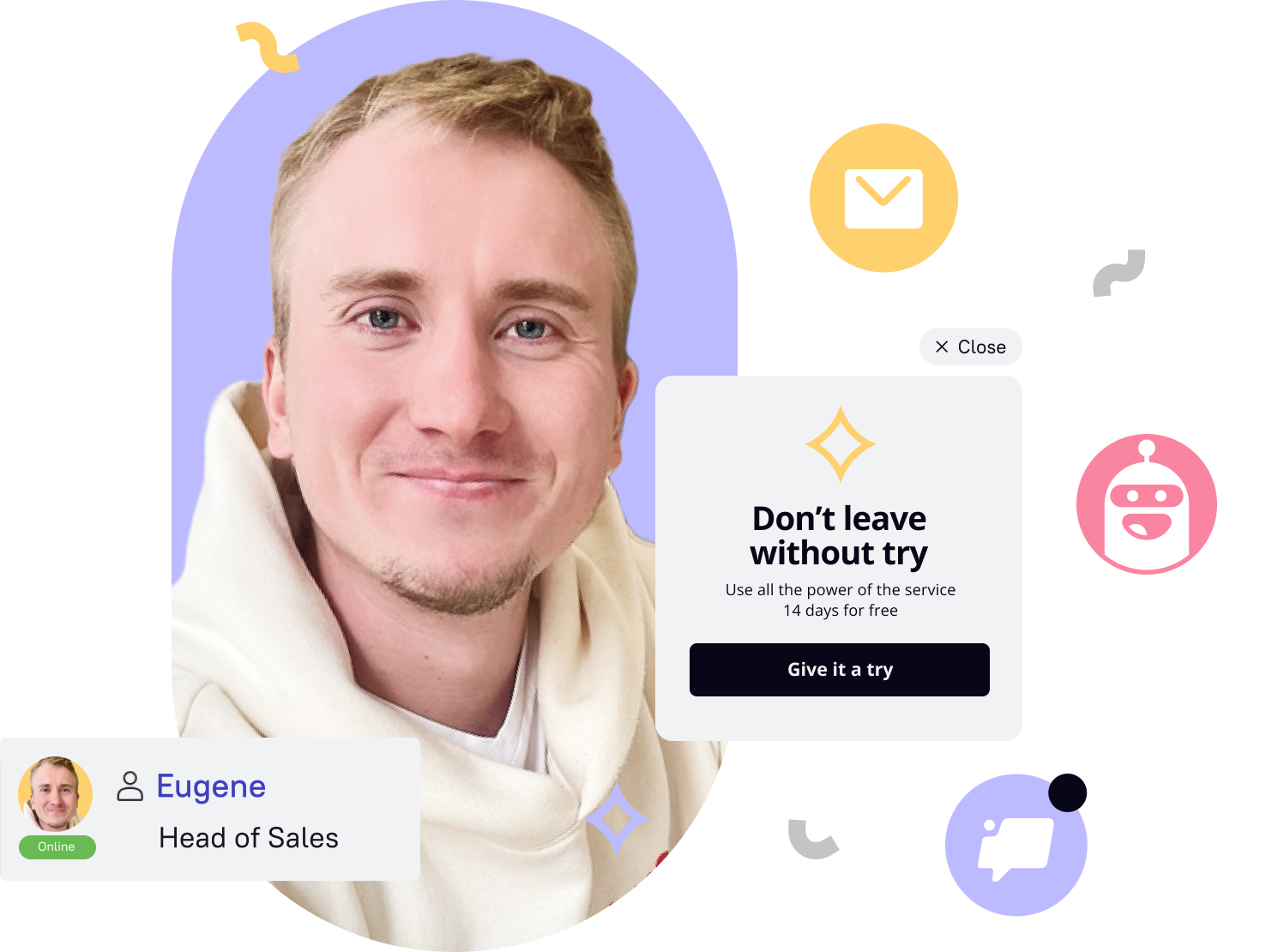 How to choose the best website personalization software
Choosing the best website personalization software for your online business can be a breeze with a few smart steps!
Know your needs: Identify what you aim to achieve with website personalization. Do you want dynamic content, user-based recommendations, or A/B testing?
Check the Data handling: Opt for a platform that can easily integrate and analyze your existing data to create personalized ecommerce strategies.
Features: Seek a tool with a comprehensive suite of features that caters to your specific digital commerce requirements.
Pricing: Do they provide a free trial? Are their pay plans based on your web traffic or a flat rate?
Software Integration: The best website personalization tools integrate smoothly with existing software, such as Google Analytics.
Remember, the ultimate aim is to enhance your customers' online journey, so select a tool that aligns with this goal!
FAQ on website personalization tools
What is website personalization
Website Personalization is a dynamic approach in digital business where web content is tailored based on users' behavior or characteristics, heightening relevance and enhancing their online experience. By analyzing user data, SaaS, EdTech, and ecommerce platforms create personalized content, providing a tailored experience that boosts engagement and conversion. 

Ranging from simple geographical adjustments to smart, dynamic changes based on browsing history, website personalization tools provide a powerful strategy to transform generic web pages into responsive, personalized interfaces. It's all about delivering a unique, optimized online experience for each visitor.

What is personalization software?
Personalization software is a digital tool that helps create tailored user experiences by leveraging collected data. The software uses algorithms and testing mechanisms to understand user behavior and preferences, enabling businesses to deliver content and services based on individual needs.
How do I personalize my website?
Want to give your website a personal touch? Just grab a website personalization tool and let it do its magic! It'll use data from your online visitors to provide tailored content, helping make your website feel like a well-planned, virtual, personalized shopping experience. Start with Dashly 7-days trial.
How do you implement personalization?
As a Dashly expert, I'd implement personalisation using unique chatbots on different website pages. For instance, on the pricing page, our smart chatbot can guide visitors with pricing plan choices. While on blog pages, chatbots offer enticing lead magnets. It's all about creating interactive, user-centric experiences based on visitor activity. Simple as that!
What is the best web personalization tool?
Choosing the best web personalization tool greatly depends on your specific needs. 
1. For SaaS companies and EdTech, Dashly is terrific due to its intense user interaction capabilities and powerful data analysis. 
2. For ecommerce businesses desiring a personalized customer journey, platforms like Dynamic Yield and HubSpot offer fantastic options with diverse features. These platforms leverage user data to create personalized experiences, taking digital commerce to the next level.
Read also: