On the one hand, the more you communicate with customers, the more your sales grow. On the other hand, keeping in touch with your audience 24/7 is challenging. Time to automate the process. 
That's when a chatbot platform comes in very handy. You don't need to know how to code to create and add a chatbot to your website. Even your granny can do it 😉
Here is a 10-step tutorial on how to build a chatbot for 24/7 communication with your website visitors. You can read the article or watch the video. 
Now time to build your first lead generation chatbot!
1. Set your goal
Everything starts with the complexity of the problem you're trying to solve. A chatbot is perfect for automating your sales, marketing, and support team tasks. 
With the Dashly chatbot platform, you can implement in your website workflow any scenario you want. Here are the most popular ideas for your bot building inspiration: 
2. Create a list of pains and needs of your target customer
Building chatbots is impossible without knowledge of when and where your user is ready to communicate to provide a response instantly. For example:
– Checkout page is perfect for a promo code bot because at this step people tend to abandon your website. So why not provide answers to FAQs there?
– Lead generation chatbots with block where users input email addresses can turn your first-time blog visitor into a user much better than a form.
– For a loyal customer, you can launch a bot on the admin panel and main pages and offer to earn money with your partner program.
– The main page requires a service chatbot so customers can find answers to FAQs and dispel typical doubts.
For building personalized chatbots you need clear data about who, where, and what click on your website. It can be customer status, email, visited pages, etc. There are several ways to find this info:
– Make sure your marketing team added your CRM to chatbot integrations to capture emails from website visitors in one place and exchange it if needed. Thus, you can see all the needed info about users in your CRM.
– Talk to sales.
– Check the story of previous conversations of a user with your team on email, live chat, bot, socials, etc. Pay attention to each question visitors ask your agents because usually, they tend to repeat. That means an issue you can resolve by creating a relevant bot.
– Use Dashly service user tracking on website to have all this data collected in a lead card automatically.
Here is, for example, how it looks: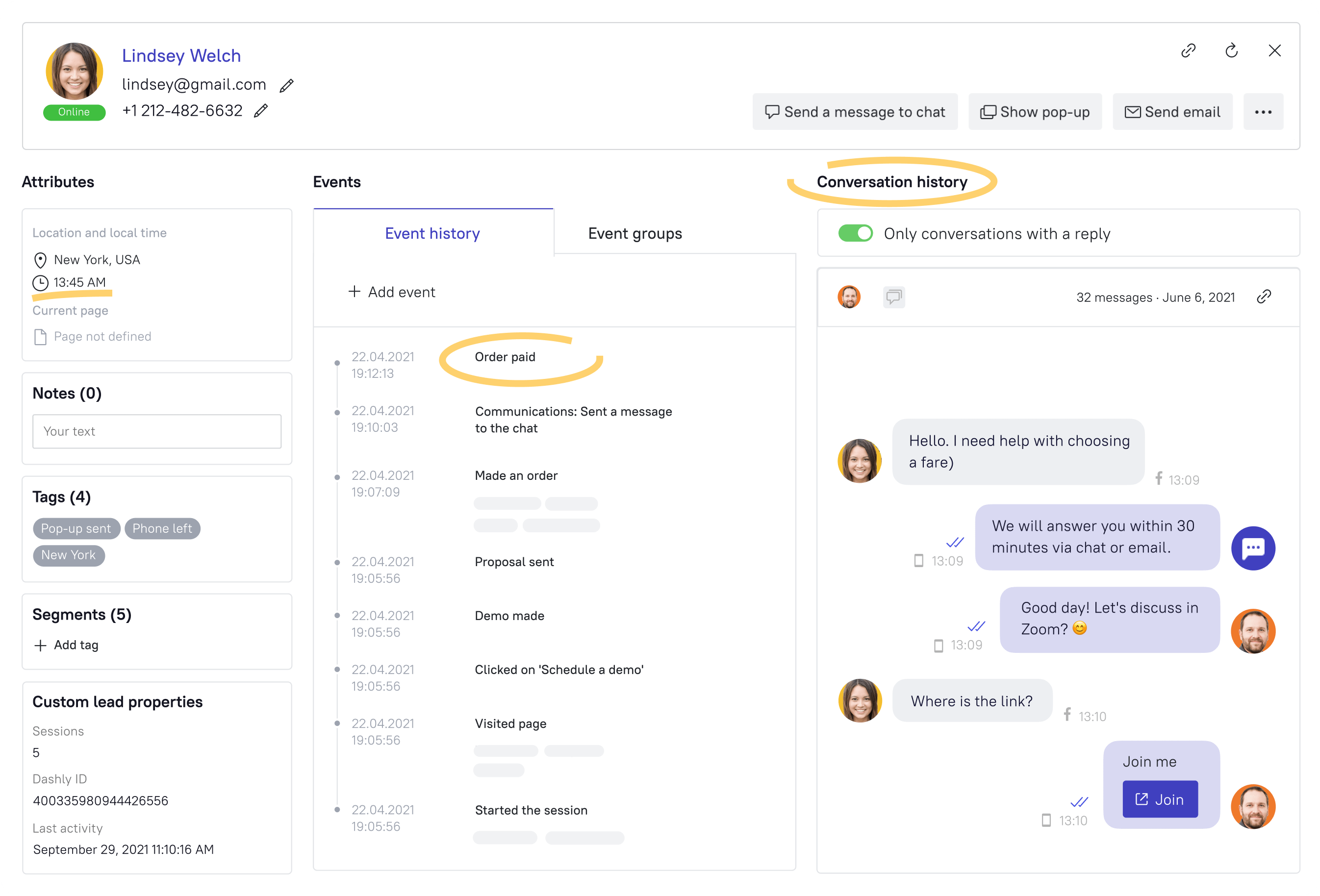 This info is a must to understand your user interests (what bot block to add in a script flow) and high-bounce pages where to create chatbots.
Here are some questions to ask yourself about your Ideal Customer before you make a chatbot:
Role — Who are the decision makers?
Budget — Can they afford your products?
Need — What are the pain points the prospect wants to be addressed?
Timeline — When does the prospect's company plan to receive products/services?
Eventually, in addition to a bot, you will improve the quality of your customer service as well.
Read also:
👉 What is the best way to collect emails? Discover dashly secret collection.
👉Lead nurturing platform for your revenue growth
👉 12 types of marketing nurture campaigns
3. Make the chatbot conversation flow in a visual builder
When the expectations are clear, it's time to create chatbot conversation blocks. Dashly provides a visual chatbot builder, so you don't need to involve a programming team. 
Create chatbot blocks following the drag and drop principle. You can edit chat bot templates or create one from scratch. Click on the corresponding button and add the relevant chatbot question or answer text/buttons.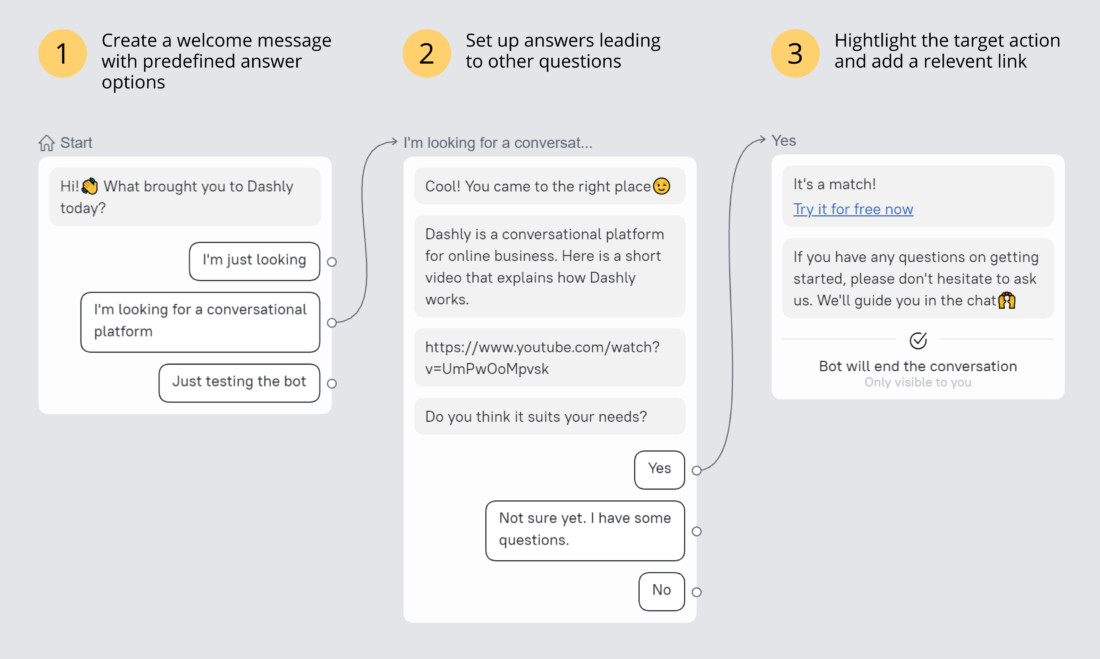 It is better to ask no more than five questions to guide visitors to the final action:
a field to enter any text,
link to the relevant product, page, or knowledge base article,
lead capture form,
image and text answer to the question,
book a meeting with a company rep,
chat routing to specific channels or agents.
In a side menu, you can add each of these actions at any step of the conversation. Not only at the end.
In addition, there, you can choose to record events and properties in a lead card.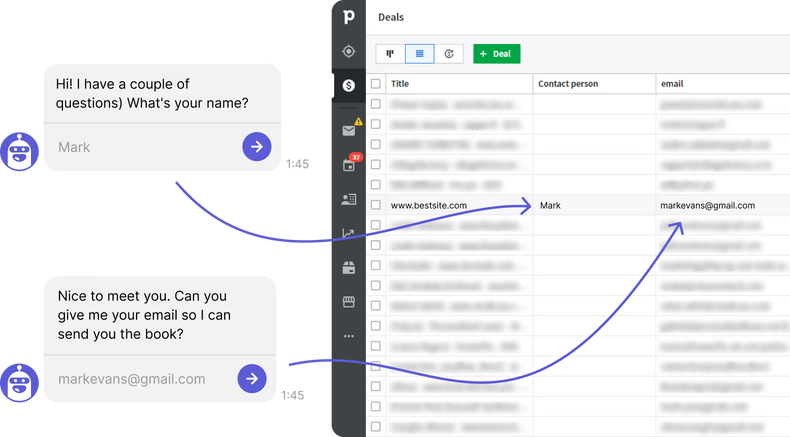 Use this data to create lead qualification, triggered scenarios, and targeted marketing campaigns. Following this pattern, you can design a flexible conversation flow and simultaneously gather visitors' data. 
To help you, we've composed ready-made chatbot flow scenarios you can create in a builder and implement on your website right now:
4. Automate creating tasks between chatbots and human agents
A chatbot can cover basic inquiries, and your support team deals with more advanced and complicated questions. 
A chatbot can quickly deal with simple questions like:
How do I add a new card?
What's your bonus program policy?
How to set up a chat bot on a website?
But more difficult tech questions should be routed to agents.
My credit card needs to be renewed. Can I add it later?
I paid for the order but didn't get any bonuses. How can I receive them now?
Just set up the "assign to agent" scenario for situations when visitors ask something beyond chat bot answer options: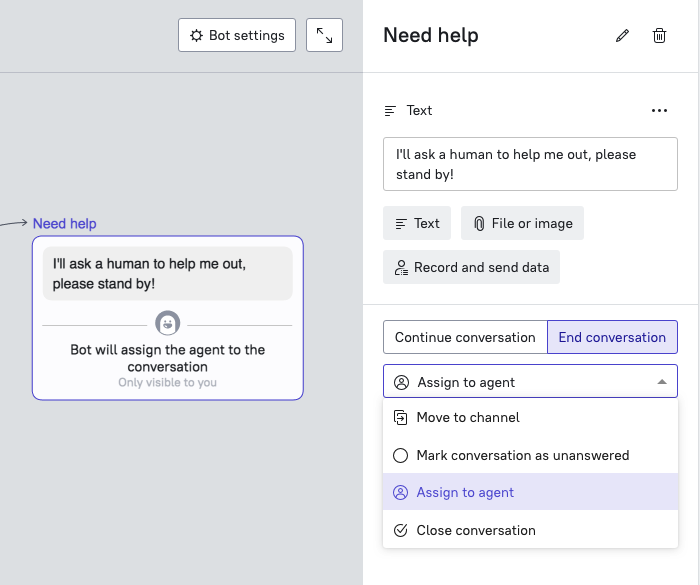 With the Dashly chatbot, visitors can always interrupt the chat bot and call for an agent. The last one will see a user request in the Conversation section. 
5. Define chatbot triggers
Setting up the chat bot looks like creating a customer journey map. So you must know what your customers do on the website.
Good to know that Dashly tracks website visitors' behavior: their clicks and page visits. In a builder, this data will help you choose the right moment for a chat bot to appear on your website.
For example:
greeting clients and showing them around your website,
assisting with making the product choice,
helping out completing an order.
In Dashly builder, the moment to choose triggers comes right when you finish the chatbot flow in a builder.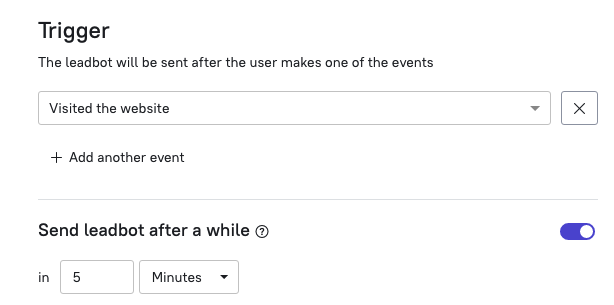 Configure which visitor's action will cause the chatbot to appear: visiting a website, exit intent, clicking the button, etc. You can also specify the page URL where this chatbot rule will work. For example, on the pricing page only or everywhere except the pricing page.
Be where visitors need you the most. It's one of the most important practices for customer service chatbot.
Remember that sending the chatbot out as soon as the visitor enters the site is annoying, so give them at least three minutes to look around. Then, in a builder decide on how often you want to send the chatbot (but don't overdo it), and plan to delete its messages automatically (in case the visitor doesn't read them):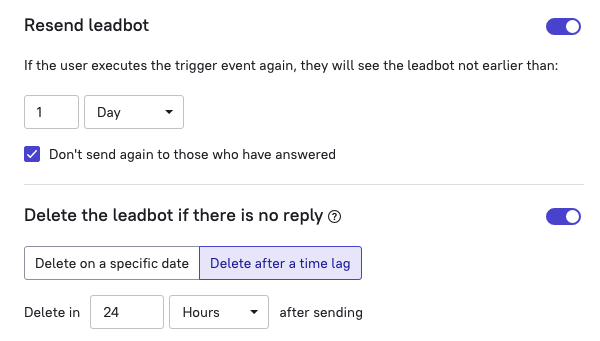 6. Choose your conversational bot audience
Even with the most attentive and helpful support team, it's impossible to appeal to every site visitor. The same applies to chatbots: understanding your target audience is a core element of the chatbot's effectiveness.
Dashly builder lets you configure specific properties of the audience you want to reach with a chatbot. 
Let's say you want to provide client onboarding only new visitors. For this, you need to decide on their characteristics. 
For example, visitors that had less than three sessions on the site and didn't register yet (don't have any ID) 👉
7. Give your chatbot a unique name
When the chatbot is configured and all set, consider it a part of your team — and dress it up accordingly. Have a little fun and be creative with the bot name, avatar, and content. 
The chatbot name should be short. Make it trigger some associations. Avoid negative connotations like Germ-bot for an Infectious hospital. Add the picture of a human to the icon.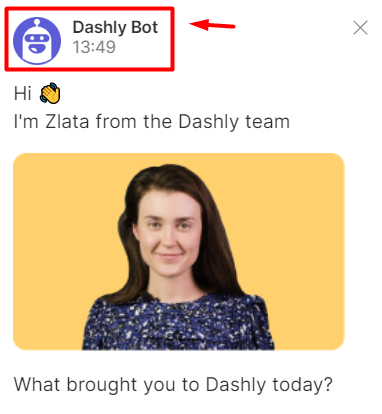 Add pictures, GIFs, emojis, and videos to reinforce your message when you create a text of a chatbot conversation flow and build it in the editor aka builder. It'll help you to stand out and grab the visitors' attention. 
Read also:
8. Launch a chatbot on your website
The first chatbot can be not as perfect as you expect. To find the perfect messaging, design, and offer variant, it is better to A/B test different approaches from the early beginning. 
Set a control group, so the chatbot is not sent to a part of the target audience. How high the rate should be is up to you.
As a result, these customers won't receive messages from the chatbot. 

In a couple of weeks, compare the results of both groups. For example, which group of people purchased more: those who engaged with a chatbot or those who didn't?
Read also: The North Star Metric and How Can This Lead to Success
9. Pay attention to user analytics and optimize your chatbot regularly
Every chatbot in Dashly has statistics. For example, it lets you see how visitors engage with it, how many of them reach out to support operators, etc.

This data is perfect for improving the existing chatbot and implementing the new text in a builder for customer communication. Pay attention to the number of people who finished the chatbot and those who dropped out.
Analyze possible conversational situations behind the numbers.  
Don't visitors click a chatbot? Try to change the welcome message. 
Users drop the chatbot half away? Maybe you ask too many questions. Try to shorten the customer path.
Customers interrupt a chatbot and click to send chat messages? Rethink the answer text options you provide and add the opportunity to contact an agent directly. 
Answering these questions can help you design the chat bot best practices to achieve established goals.
Read also: how to find respondents for a survey or customer interview
10. Keep an eye on your competitors
Always check how other companies implement them on their websites. Competitive analysis helps to understand the overall market strategy better, take note of successful solutions and get inspiration to create your projects.
Try interacting with competitors' chatbots when you see one.
Think about the following:
What made you click on the chatbot initially?
How engaging was the initial greeting? 
Was the conversational chatbot appearance timely?
How far did you move on with the conversation?
Did the conversational chatbot answer your question?
Was reaching a support agent easy?
Was the conversation too long or too monotonous?
All the weaknesses you discover while conversing with the chatbot can be turned into your strengths! So take notes. This is one of chatbot best practices!
Summary: Next moves on customer service chatbot
So, what is a bot? It is a perfect solution to facilitate your marketing, sales, and support team workflow. It can guide your website visitors 24/7: no coffee breaks or vacations.
Everything that is left is to choose the best chatbot whose features and pricing match your business needs. So don't hesitate to use chatbots on your website, read more about them, and be aware of chatbot future trends.
Don't have time to test platforms?
FAQ on how to create a chatbot
Who can create a chatbot?
With the right tools, basically, anyone can create their own unique chatbot. Check out the platforms like Tidio, Drift, Intercom, or Dashly. The last one offers a conversational chatbot builder, so that you can create yours with little effort with default templates or from the scratch.
How to choose the perfect platform to create a chatbot?
Want to create a chatbot easily? Check if your chatbot platform has next features:
— chatbot building visual constructor aka builder,
— ready-made chatbot examples,
— default text and bot settings to launch any scenario fast,
— agent routing opportunity,
— knowledge base integration,
— file sharing (gifs, images, links, etc.),
— welcome message,
— lead capturing (email, phone, random text) and tagging feature,
— capturing data about what pages your users visit, what buttons they click,
— CRM integration,
— bot integration with Instagram, Facebook, its messenger,
— analytics,
— flexible customization.
For example, Dashly chatbot platform. Try how it works 7-days free.
Read also: Find out the best Intercom alternatives and Drift alternative
How do businesses use a conversational bot?
— Launch of a bot by the user click on a button or by opening a website page;
— Start a conversation with a bot by click;
— Make a custom scenario with lead form and text in a builder;
— Answer user question 24/7;
— Pre-qualify user requests to route them to a live chat agent;
— Recommend products to a user when live agents are sleeping;
— Collect use feedback with conversational bots;
— Make an announcement of a new feature release;
— Prevent user from leaving a product page;
— Analyze all user conversations with live agents, bots, pop-ups, etc. by click on a lead card;
— Make a custom text scenario in a builder to offer a discount or answer question about shipping;
How much does it cost to create a chatbot? 
With Dashly, chatbots are included in any paid plan and other tools to create pop-ups or triggered scenarios for your business.
There are three paid plans in Dashly conversational bot platform:
Conversation $39/mo.
Support $79/mo.
Marketing is $109 per month.
As you may have noticed there is no limit on user quantity, so you can invite your marketing, sales, and support team. But first, test the conversational bot platform 7-days free trial or try a forever free plan.
How to add chatbot code to the website header? 
The process is pretty straightforward — a code snippet must be integrated into your site's contents. It allows you to create triggered marketing scenarios, make a chatbot to answer any user question, and gather data about what pages user visit, what buttons click, etc.
Sign up to build chatbots and test how they work 7-days free.