What is a bot? It's a virtual assistant that will help you automate plenty of tasks and alleviate the work of your team. We've collected all the scenarios to help the marketing, sales, and support team launch a chatbot for an online school. 
With its help, you can:
Process user requests automatically.
Capture and qualify leads even when you sleep.
Supply your sales team with hot leads only.
Help them to close deals.
Save time and focus on the hot leads instead of talking with everyone.
Customize these ready-made campaigns according to your needs. Just change the chatbot text.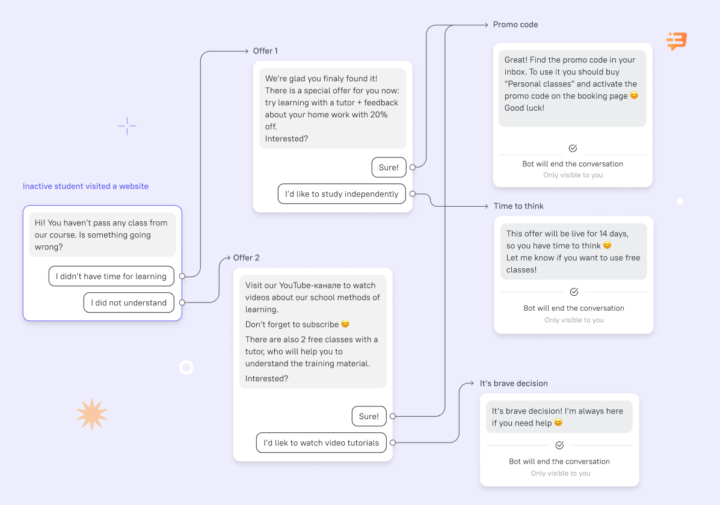 8 ready-made chatbot flow campaigns for your online school website
Thanks! Now check your inbox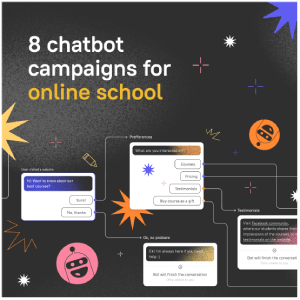 How to use:
Choose the part of your marketing/sales funnel where you want to start working with clients and a metric you want to improve.
Find the relevant campaign in the document. If you don't know where to start, choose the first one.
Edit its text according to your needs. Add or remove the chatbot branches.
Copy this content to the service. Don't forget to choose the triggers and set timeouts, if needed. Define to whom a chatbot will talk on a website.
Avoid overlapping with pop-ups and chat widgets on the same page. How to configure a chatbot on the separate website pages we explained in the article. 
Test and launch. Enjoy the conversion rate and income growth?
All these steps you can repeat in Dashly chatbot. It'll take 15 minutes to create a chatbot in Dashly builder. No coding skills required.
What else Dashly Leadbot can do:
Capture leads even automatically at night, even when your managers sleep. The bot will ask website visitors' preferences and capture contacts to deliver it to the sales manager.
Collect clients' feedback. With the help of the open-end or questions with pre-defined answers, the chatbot will know your clients' opinions. It's one of cases of customer service chatbots usage.
Answer common questions and make sales streamlined. The chatbot will reply to repetitive questions of your clients and collect additional data that will help your managers to close the deal. 
Provide a personal approach to every segment. For example, during the conversation, a chatbot will define clients' preferences and offer relevant products.
Notify chosen segments about new features. The chatbot will tell them about new opportunities they have with the latest version of your tools and will help to book the demo with your manager. 
Useful tips and ready-made scenarios for your chatbot: