Whatever the name of the bot, that's how it sells
— Our bot should be like a typical IT guy with the relevant name — it will show expertise.
— Oh, no, I would prefer to name it with a woman's name to win visitors' loyalty.
This discussion between our marketers would come to nothing unless Elena, our product marketer, pointed out the feature priority in naming the bot. 
As he does an excellent job — capture emails from website visitors, he's got a name that absolutely matches its function — "chatbot". 
To help you, we've collected our experience into this ultimate guide on how to choose the best name for your bot, with inspiring examples of bot's names.
Enjoy!
Why does the chatbot's name work?
If you name your bot something apparent, like Finder bot or Support bot — it would be too impersonal and wouldn't seem friendly. And some boring names which just contain a description of their function do not work well, either. So be more imaginative when you create a chatbot. Offer a memorable association. 
But do not lean over backward — forget about too complicated names. For example, a Libraryomatic guide bot for an online library catalog or RetentionForce bot from the named website is neither really original nor helpful. 
Creating a human personage is effective, but requires a great effort to customize and adapt it for business specifics. Not mentioning only naming, its design, script, and vocabulary must be consistent and respond to the marketing strategy's intentions.
So often, there is a way to choose something more abstract and universal but still not dull and vivid. For example, Alfalfa — a very experienced and direct chatbot, proactive and quick, or BroBot — a trusted and supportive comrade of yours, ready to give you good advice at any time.
As for Dashly chatbot platform — it assures you'll get the result you need, allows one to feel its confidence and expertise.
What to keep in mind when choosing a name for your bot. Examples
That is what you need to consider when naming your bot:
Give your bot a short name — one (Hugo, Olly) or two words (Rob Oto) is enough;
Select for the name of your bot a word that sounds good and harmonious — it is more likely to be taken positively. Billbot  does not sound bad for accounting service;
A name should trigger some associations. Be witty and intelligent — use a play on words, light irony, metaphors, and well-known allusions.
For example, for your Сluebot, use memes from a myth about Ariadne and Minotaur in dialogs. It will erase the customer's interest; 
Have in mind that jokes should apply to your business. Be careful if you create a bot for some serious service as a corporate banking resource — Cyber McDuck is hardly the best example of a virtual investment advisor for B2B;
Avoid negative connotations — the chatbot of the hospital website shouldn't remind us about pain or diseases.
Germ-bot for an Infectious hospital in today's reality seems to be perceived as black humor.
We hope that the examples mentioned above, would be helpful and inspire you.
Read also:
👉 How to use lead generation chatbot for your website
👉Lead nurturing platform for your revenue growth
👉 12 types of marketing nurture campaigns
5 steps to choose a chatbot's name
How many people does it take to come up with a name for a bot? Actually, all we have. Developers, designers, and marketers are all important.
We need to answer questions about why, for whom, what, and how it works. Dimitrii, the Dashly CEO, defined the problem statement that we need a bot to simplify our clients' work right now.
Basically, the bot's main purpose — to automate lead capturing, became apparent initially. In short, we had to make a universal but friendly bot. 
The opinion of our designer Eugene was decisive in creating its character — in the end, the bot became a robot. Its friendliness had to be as neutral as possible, so we tried to emphasize its efficiency. 
Besides, the word chatbot is sonorous, short, and positive. The smiling Leadbot finally has been released.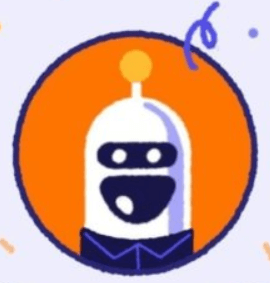 According to our experience, we advise you to pass certain stages in naming a chatbot. Use this simple scheme not to miss anything important. 
1. Decide on your chatbot's role
You can't set up your bot correctly if you can't specify its value for customers. There is a great variety of capabilities that a bot performs.
Be a personal guide, answer website visitor's questions about the product to boost product adoption. 
Take orders.
Make transactions. 
Receive payment, etc.
There's a variety of chatbot platforms with different features. Read our article to pick the best one for your website.
Such functions should apply to the business and product. It is what will influence your chatbot character and, as a consequence, its name. 
For example, with Dashly chatbot, we had to develop a bot to help our clients in marketing, sales, and support. As a result, it has became one of the best way to collect emails and qualify leads. And as a customer service chatbot, it consults website visitors about new features, and closes repetitive requests. Its name corresponds to such a task completely.
Read also:
2. Create a personality for your bot
Do you remember androids from "Aliens"? Creators made them look human because it was easier to perceive them that way. Maybe we are far from creating a human-like body, but thanks to user tracking on website and personalization, we have learned how to humanize a robot's behavior, endure it with personality, speech patterns, design, logic, and name.
Character creation works because people tend to project human traits onto any non-human. And even if you don't think about the bot's character, users will create it.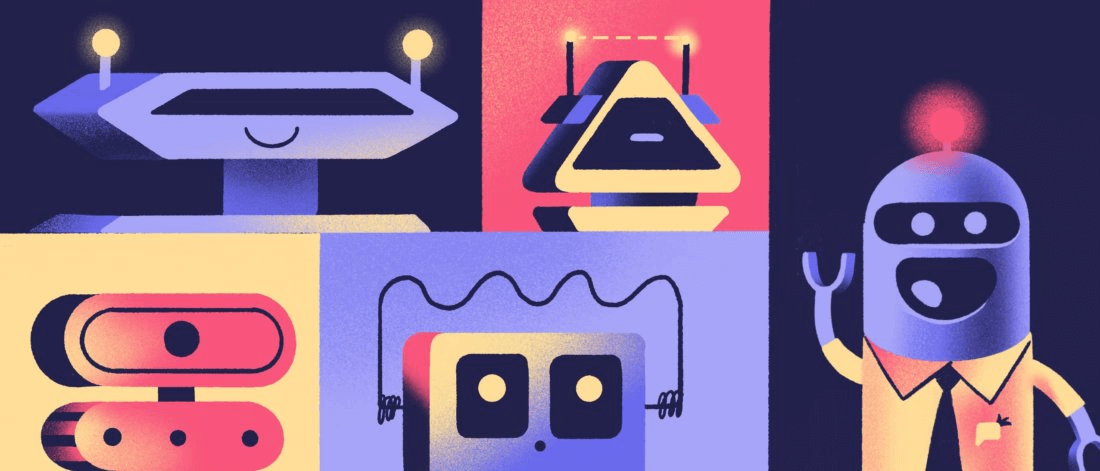 But it is not a fact that such a character will be suitable for your company.
Good, attractive character evokes an emotional response and engages customers act. To choose its identity, you need to develop a backstory of the character, especially if you want to give the bot "human" features. 
Android Bishop from "Aliens" had an outlook of his human creator. But, nevertheless, he turned out to be more human and generous. 
Read also: What customer engagement platform is best for your business? 15 options to choose.
3. Choose if you want a human name or a "robot" name
Human names are more popular — bots with such names are easier to develop. 
We tend to think of even programs as human beings and expect them to behave similarly. So we will sooner tie a certain website and company with the bot's name and remember both of them. 
Florence is a trustful chatbot that guides us carefully in such a delicate question as our health. However, this area needs a human-like representative.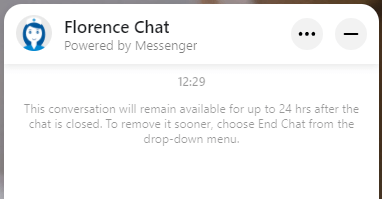 Another well-known human-named chatbot is Tay — Microsoft's chatbot on Twitter.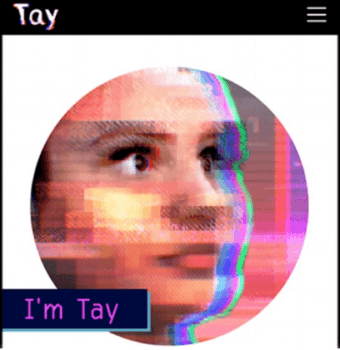 However, keep in mind that such a name should be memorable and straightforward, use common names in your region, or can hardly be pronounced wrong. 
Pro tip: When choosing a human name, don't deceive customers and make them think they are communicating with a human and not a bot.
The information that a bot should be honest and placed in the script's welcome part or highlighted when designing the username. Like this: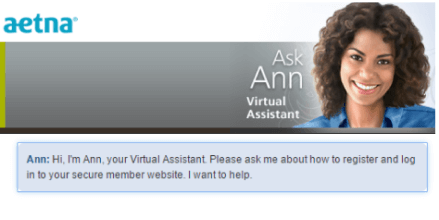 Bots with robot names have their advantages — they can do and say what a human character can't. You may use this point to make them more recognizable and even humorously play up their machine thinking. 
Such a robot is not expected to behave in a certain way as an animalistic or human character, allowing the application of a wide variety of scenarios. 
If you sell Japanese goods, Sapōto-bot (Japanese transliteration of "support") will willingly help your customers. Add some Asian features to its design. 
Huawei's support chatbot Iknow is another funny but bright example of a robotic bot.

The variety of names for a robotic bot is wide also. For example, if we named a bot Combot it would sound very comfortable, responsible, and handy. This name is fine for the bot, which helps engineering services. Dash is an easy and intensive name that suits a data aggregation bot.
We found that a neutral but memorable name would be more suitable for our purposes. Our Leadbot is flexible to be tailored to our client's needs and neutral enough but still friendly.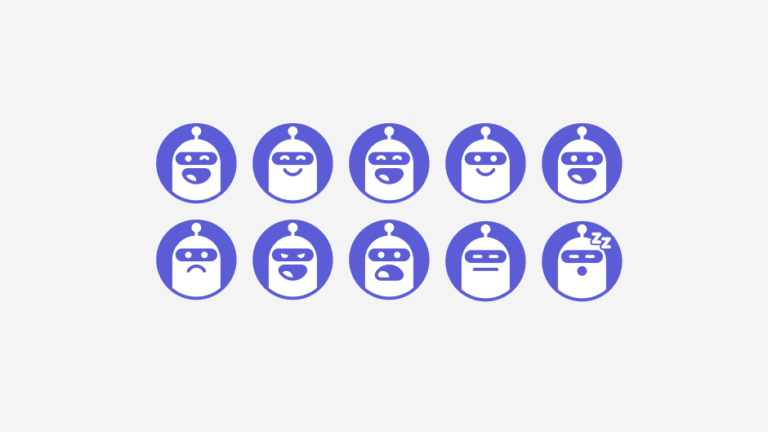 So the choice of a robot as a character was reasonable.
Read also: how to find respondents for a survey or customer interview
4. Consider if the name should be gendered
A gender-neutral bot would be more commonly used. Such a bot will not distract customers from their goal and is suitable for reputable, solid services, or, maybe, in the opposite, high-tech start-ups.
The bot's character can also be gender-neutral. In that case, the bot's name should still be memorable.
Our Leadbot is an excellent example of a neutral bot name. Of course, it could be gendered, but most likely, the one who encounters the bot will not think about it at all and will use it. 
But sometimes, it does make sense to gender a bot and to give it a gender name. In this case, female characters and female names are more popular. Thus, provider Vodafone named the bot Julia.
You can increase the gender name effect with a relevant photo as well. As you can see, MeinKabel-Hilfe bot Julia looks very professional but nice.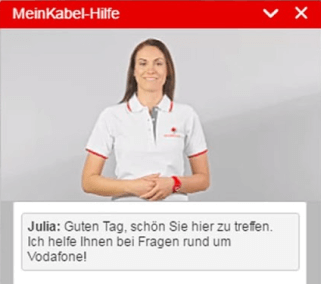 Female bots seem to be less aggressive and more thoughtful, so they are suitable for B2C, personal services, and so on. In addition, if a bot has vocalization, women's voices sound milder and do not irritate customers too much.
You may give a gendered name, not only to human bot characters. You may provide a female or male name to animals, things, and any abstractions if it suits your marketing strategy.
Read also:
The North Star Metric and How Can This Lead to Success
Check this customer engagement strategy to boost your sales
Find out proven strategies of client onboarding.
10 best customer engagement strategies to nurture fruitful relationships with your customers
5. Make sure your chatbot actually works
What is a bot? First of all, it's the work, not the name. Choosing the best name for a bot is hardly helpful if its performance leaves much to be desired. The name is important, but it's not a bot itself.
The chatbot has to work precisely the way you want it to. Make sure that.
The settings and choice of scenario are critical. You'll get a decrease in site traffic instead of an increase in conversion if:
the bot is too intrusive and annoys customers;
it can't give the correct information quickly.
Creating a chatbot is a complicated matter, but if you try it — here is a piece of advice. You can also use our Leadbot campaigns for online businesses. 
If you prefer professional and flexible solutions and don't want to spend a lot of time creating a chatbot, use our Leadbot. For example, its effectiveness has been proven in practice by LeadGen App with its 30% growth in sales.
It was vital for us to find a universal decision suitable for any kind of website. Then, our clients just need to choose a relevant campaign for their bot and customize the display to the proper audience segment. This is one of the chatbot best practices.
Read also: Find out the best Intercom alternatives and Drift alternative
And briefly on how to create an excellent name for your bot
So, chatbots will soon become a standard tool. Without mastering it, it will be challenging to compete in the market. Users are getting used to them on the one hand, but they also want to communicate with them comfortably. 
Keep up with chatbot future trends to provide high-quality service. Read our article and learn what to expect from this technology in the coming years.
Therefore, both the creation of a chatbot and the choice of a name for such a bot must be carefully considered. Only in this way can the tool become effective and profitable.
So keep in mind that the bot's name should be:
short and soundable;
relevant to your business;
witty and not too generic.
To set up a chatbot and to name it correctly:
Decide on your bot's role.
Create a personality for your bot.
Choose if you want a human name or a "robot" name.
Consider if the name should be gendered. 
Make sure your chatbot works.