I bet you all have called customer support and spent a lot of time waiting for an agent to respond. Then, you eventually got your instructions in 5 seconds and were left frustrated and devastated.
Sounds familiar? Your customers may feel this right now.
Luckily, you can overcome this using a chatbot. This is a virtual assistant helping with typical user requests. According to Intercom, business owners saved $300k on average using chatbots.
Chatbots helped increase sales by an average of 67%, plus 26% of all transactions started with chatbots. They speed up response time by an average of 3 times and help save money thanks to quicker processing of user requests.
Today, we're happy to tell you:
what chatbots are;
what types of them exist;
why and where you should use them;
and we'll show you examples of chatbot campaigns in different types of businesses.
What are chatbots?
A chatbot is a virtual companion; this is software in charge of typical tasks: asking and answering questions, information search, and performing basic tasks.
Chatbots are in use in many areas, for example, banking. Some of them can recognize and process requests, send money to bank accounts, or they can just talk to you!
What chatbots exist out there?
Chatbots vary depending on the platform, development features, type of communication, and functions. They can be simple or have AI (artificial intelligence) onboard, like Siri.
You can set up chatbots in messengers and social media (Viber, Facebook, WhatsApp, etc), on websites, in mobile apps, device management systems (Siri), voice assistants, and so on.
Depending on the operation type, there are learning and non-learning chatbots. The latter ones follow a preconfigured scenario and offer ready-made answer options. Learning ones have AI (artificial intelligence) on board. They can ask you more detailed questions to understand your objectives better, and they offer options depending on user answers. Learning chatbots keep request history and progress with time giving answers that hit the spot.
Škoda, a car manufacturer, has developed a learning chatbot Lucy. You can talk to her about your needs, objectives for your car search, and your budget. The learning chatbot analyzes your inputs and suggests the best option out of 8 Škoda models. You can also discuss purchase details with Lucy and schedule a test drive.
Chatbots can be voice or text-based. Text-based ones recognize keywords. Voice-based chatbots actually talk to users, they can recognize and render human speech. You can employ voice-based chatbots when you make or accept thousands of similar calls daily. They can inform, survey, clarify order details, process incoming calls, and perform simple tasks recorded in the database.
Alfa-Bank developed the AI-based chatbot that understands human speech. Developers have analyzed thousands of agents' call recordings to teach the chatbot. It understands titles of promo cards, promo offers, and services. It can also recognize different wordings of the same request. You can either say "account balance" or ask "how much money do I have left?", and the chatbot will give you an answer. Alfa-Bank is planning to reduce its operation costs by 100 mln rubles using chatbots.
There are several chatbot types depending on their functions:
Sales chatbots consult customers and help them pick products. They notify on order status and tell about special offers;
Leadbots collect user data and offer to schedule a product demo;
Transaction bots perform various tasks: order placement, reservation, money transactions;
Informer bots answer user requests and provide details on flight options, prices, etc;
Support chatbots help users with products or services;
Assistant chatbots can be integrated with other platforms and help users with different tasks like Google search, setting reminders, and picking news.
So, what can chatbots do?
Chatbots are mostly used by sales, support, and marketing teams.
They can handle routine tasks that can be algorithmized, find and aggregate data, and spread information. They help improve team performance and improve customer service.
Chatbots:
answer simple questions;
help find the necessary information on a website;
give personal recommendations and consult users;
offer to schedule a demo;
collect user details;
collect customer reviews;
book tickets, tables at restaurants, and hotel rooms;
draw up inventory and track orders;
process money transactions.
Vodafone, a telecommunication provider, has implemented the AI chatbot named Julia on their website. It can perform basic tasks saving time of call center agents, like issuing invoices or changing an address. Julia also does more complicated things related to tech support. For example, she explains how to connect to the Internet and shows how the connection should be configured.
What types of businesses mostly employ chatbots?
banks to calculate interest rates for loans and credit;
mobile carriers to provide customer support;
insurance to help fill out forms and applications, and give consultations;
eCommerce to consult on delivery and payment methods and provide addresses of pickup points;
health care to provide medical info, give primary consultations, and collect case background;
travel to aggregate offers, send last-minute deals, and make bookings;
education to send newsletters and invitations to webinars;
state services to collect feedback and give quick access to public data;
HR to select candidates and automate internal tasks.
What makes chatbots so cool?
Chatbots help companies talk to their customers. They give you necessary guidance and you don't have to wait for an agent's response. They save the employees' time and take on basic communications, and users get help more quickly.
What else makes chatbots amazing?
They help increase sales.
Chatbots can help with product selection, and AI-based bots even remember customer preferences.
Your company can help more customers while cutting personnel spending. According to the study done by Acquire, 80% of all requests are handled without human participation.
They work round the clock.
Chatbots don't take days off and don't need to rest.
They are quicker than people.
Users can get instant help without waiting for an agent.
According to Google, 65% of all users prefer texting companies instead of calling.
They automate basic communication.
Chatbots perform simple and trivial tasks leaving complex ones to human employees.
Chatbots can ask questions and generate leads. Your company can move to a new level of communication if you know customer preferences and needs beforehand.
Though chatbots can't fully replace people and handle non-algorithmized tasks, they help offload employees and make communication more convenient for customers.
Chatbot use cases
Automate online support
Users mostly ask questions about products and services, prices and billing, order and delivery details, or they want to get tech support. Chatbots help handle these tasks instead of employees, and that helps reduce customer churn.
Bank of America developed the AI-based virtual assistant Erica. It processes support requests: sends notifications and shows account balance, gives advice on savings, helps pay the bills, and provides personalized analytics.
Collect reviews
You need customer feedback to meet their expectations. Research shows that 10% of users open traditional emails with questionnaires, and no more than 5% complete them. Chatbots collect reviews using dialog windows thus improving customer engagement and facilitating the process of giving feedback.
IKEA developed the chatbot named ORC to collect customer data. The chatbot asks fewer questions, they are shorter and complemented with emojis. Thus, customers take the survey more easily because it's informal. In the end, the chatbot offers a user to share their email.
Confirm orders and track them
Chatbots help inform customers on order delivery. Customers previously had to get an email with the tracking ID, then go to a company website, and paste this code in a particular section. This is unfriendly, and chatbots are more convenient for that purpose.
Generate high-quality leads
Chatbots help collect user information and qualify them. You need to qualify leads to see who is truly interested in buying from you and capable of doing so. This helps your sales team save time and increase the number of transactions. Read our guide on lead qualification and why you need it.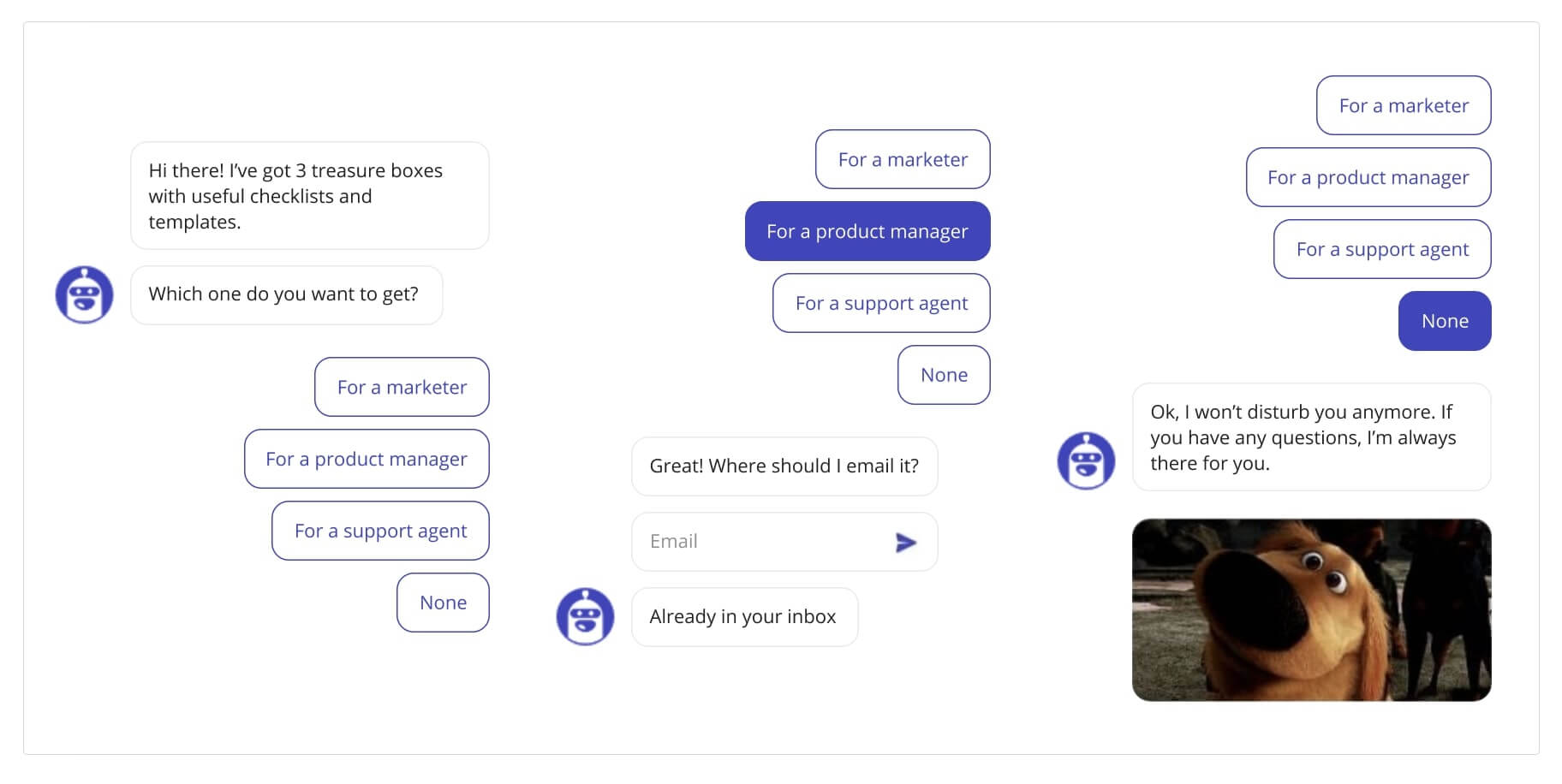 Dashly Leadbot engages users in a conversation and collects primary information. It asks qualifying questions with answer options and collects contact details. After a conversation, Leadbot sends qualified leads to the sales team or the support team.
Increase sales
Customers are attracted to chatbots because they get personalized recommendations, special offers, and discounts. Chatbots can make appointments and process online orders, and you can integrate them with your calendar.
Recruit staff
A chatbot can also handle HR tasks. AI-based chatbots select applications, talk to multiple candidates at once, deal with frequently asked questions, and provide information to recruiters and managers.
How to configure a chatbot?
You can easily configure a simple chatbot sending notifications without development skills using a free builder. Here's our article on chatbot builders and their features.
Using Dashly, you can configure and launch a chatbot in 5 minutes without a developer. There's a convenient builder, and you'll see your chatbot from the customer side during setup. This will facilitate the configuration process and help you avoid errors.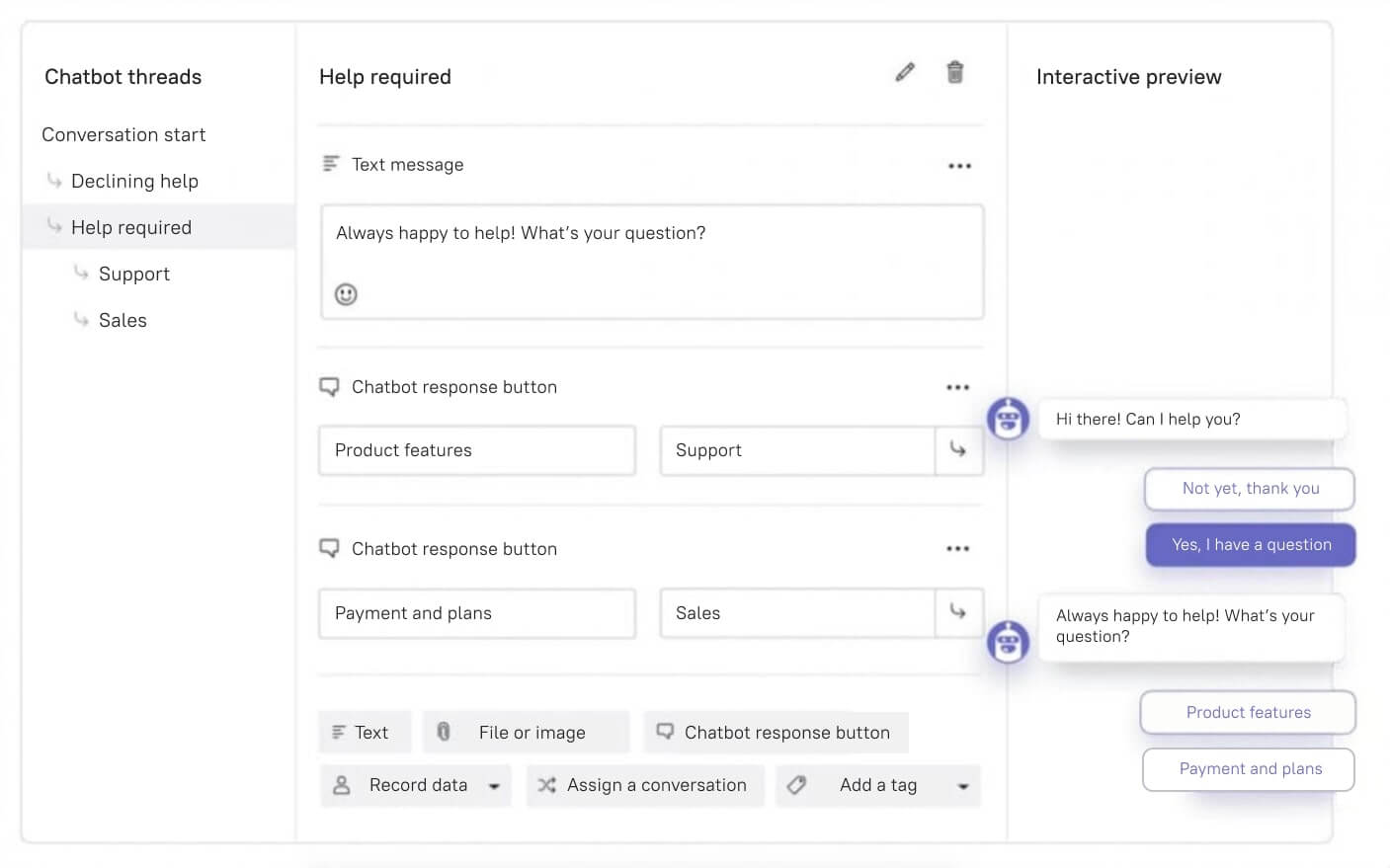 We call it Leadbot because its major jobs are lead qualification and contact collection. Leadbot is triggered by certain events, asks users questions, and shows buttons with answer options. Depending on the answer, Leadbot either asks the next question or assigns a conversation to an agent.
Using Leadbot, a marketing team can collect information on potential customers. It helps engage users in a conversation, gather more qualified leads to send to marketers, and offloads the first line of support. Leadbot helps you share product updates without directing users to the knowledge base. Support agents won't have to text users manually. Leadbot can also collect feedback and let your team know how else you can improve your product. You can find more extraordinary chatbot campaigns in the case of finance service using Dashly.
Dashly Leadbot can:
send multiple text messages;
offer up to 10 answer options for each message and act depending on an answer;
save information based on user answers for further segmentation and sending triggered messages;
send files and images;
assign conversations to particular agents or channels.
FAQ
What are chatbots?
A chatbot is an assistant software that talks to a user in messengers, mobile apps, on websites, or other platforms. There are platforms that help configure a chatbot. Read our review on them.
Why do you need chatbots?
Chatbots can be algorithmized and help perform automated tasks. They can do many things: answer customer questions, accept and place orders, look for information, and give product consultations.
Here's our article on how Dashly Leadbot helps automate lead processing and increase the conversion rate.
What types of chatbots are there?
There are chatbots offering ready-made answer options. AI-based chatbots can recognize questions and find out search purposes. They keep unique user requests and improve giving more precise requests. We've put together 25 welcome message ideas on our blog. Enjoy the read!
More articles about chatbots: