Sarah has five years of marketing experience under the belt. It's the third year she has been working in a small team of b2b SaaS products. Since the company grows, there is a need for team members' functions division. When it came to Sarah's post, a big question arose, because she is in charge of: 
Product launch, but not a product manager.
Lead generation, but not a digital marketer.
Onboarding customers, but not a sales manager. 
Writing positioning and messaging, but not a content strategist.
So, what the hell are you, Sarah?
… or product marketer, to be exact?
Sales, marketing, customer success, product… too many functions for a human.
Whether Sarah visits granny on Krypton, we've talked about in the previous article.
This post explains her mission — product marketing. What it is, and why your business needs it, the best strategies to start, and metrics to measure success.
What is product marketing
Well, it's easy. The marketing of the product, isn't it? 
Not really. Trying to find the definition, you'll see this:
A quite confusing term, heh?
A lot of folks all over google have difficulty answering this question. Trying to describe outdated marketing textbooks definitions they focus only on separate fields of product marketing upon the company. That's right. But usually, there is no big picture. 
Let's fix that.
Like a scarlet thread product marketing runs through the key steps of the user journey online within a company:

It researches, delivers, and tracks compliance with the target audience's interests all over the product's life cycle. 
If it were the Middle Ages, Sarah would have to sign her blood under the next product marketing deliverables report:
Product messaging and positioning that attracts and converts prospects and leads. 
Supplying the marketing team with all the knowledge and materials about product position and message to close more deals.
The satisfaction of the customer needs and how to overcome their pain points.
The product's relevance to the market requirements.
Product launch and go-to-market and customer engagement strategy of how it'd be sold and promoted.

Now we can put it all into one definition:
Product marketing is delivering a product to the market. To drive demand and product usage it starts from meaning and positioning up to product launch and testing whether sales and clients understand it.
In a perfect world, a product marketer is responsible for these things. But it can vary a lot from company to company. When it comes to practice the functions' focus can be shifted or completely mixed up.
To keep the line between product marketing and other departments, let's compare Sarah's responsibilities with her teammates.
Product Marketing vs. Traditional Marketing
Sandra is a marketing manager. Quite often, new team members mistook her for Sarah. Not because of the appearance, and even less because of the name as maybe you'd predict…
It happens every time they have to explain to newcomers the difference between marketing communications vs product marketing, and it's goals. 
If Sandra focuses on brand promotion, Sarah aims to position the product.
In detail, product marketing supports the traditional one by:
Creating marketing materials that communicate product features.
Engaging influencers to work with marketing on the top of funnel activities.
Development of clear company leadership messaging.
With a common aspect — customer success, product marketing is focused on driving demand and adoption, but not on promotion. 
Product Marketing and Sales
As a product marketer Sarah deals with sales, so the functions confusing story continues. That is quite strange because sales work directly with prospects delivering the product values Sarah's been worked on. 
I mean the difference is clear: product sales target a small group of people with one goal — to sell, and product marketing aim covers the whole client journey to help them succeed with the product.
Product Marketing vs. Product Management
Despite the consonant name, they are rather different. If product marketing managers are responsible for the product and its features creation, the product marketer should bring those things to market.
Tired of explaining, they just drew a poster about their product marketing and management roles and responsibilities: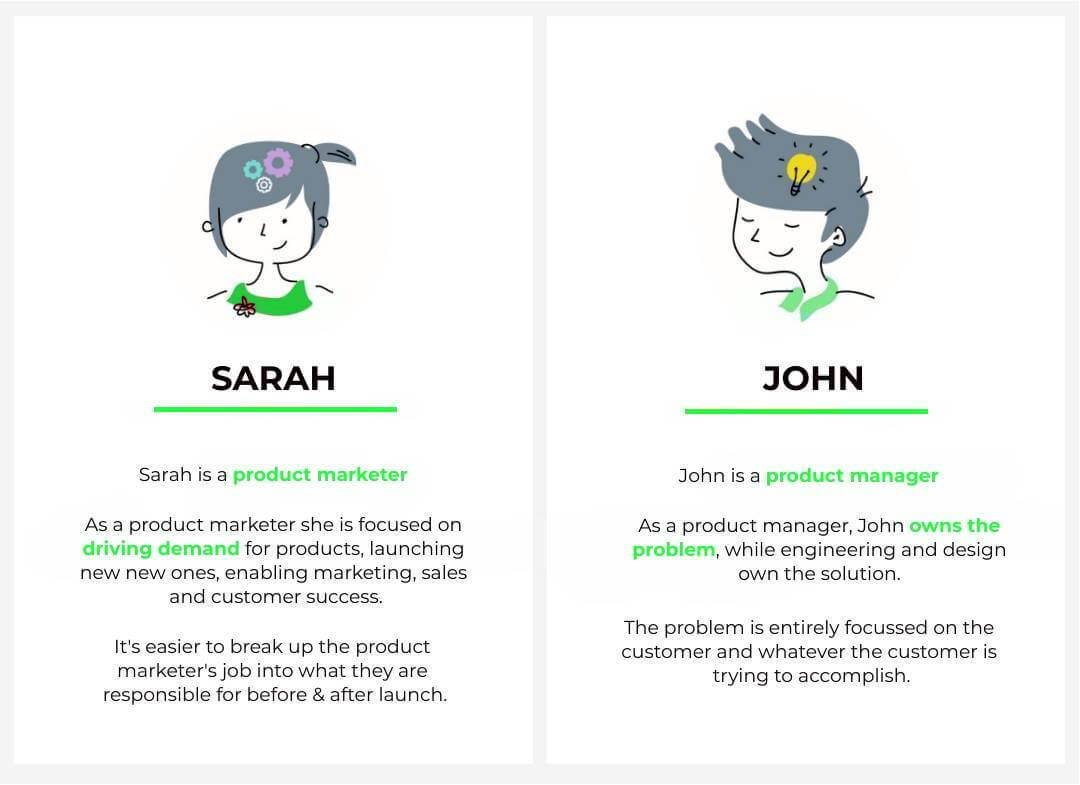 As you see when Sarah is focused on communicating the product value to the market, John's scope of product management work for marketing is solutions and execution. 
But they have common questions to discuss, like developing and managing a product roadmap, for example. Both should agree on its stages and deliver to the marketing team, so they can plan communications accordingly.
Product marketing vs. brand marketing
No, Sarah's team doesn't have a brand marketer. But still, they move in this direction. Thus, it would be cool to differentiate these business functions within an organization. 
Just like feelings vs facts, brand product marketing applies to customers' emotions when product marketers concentrate on their pain points to solve. The first one works on high-level experiences to tell stories, the second — creates narratives to solve the specific user problem. 
Both of them used to navigate the customer's journey but in different manners.
Well, now we're through with product marketing definitions and responsibilities. Is the juice worth the squeeze? 
Definitely yes! And here's why.
Why is Product Marketing Important?
The rise of SaaS and marketing technology caused too many lookalike products. Confusing situation. How to distinguish them? How to stand out in the crowd?
This is the reason the company hired Sarah.
They had an idea for a new product. Just an idea without pricing, design, positioning. To bring it to market with the minimum risk they need to know: target audience pains (whether a new product can solve it), prices of its alternatives. They thought it was enough to start. 
And they would fail…  if not Sarah.
She works with demand generation, positioning, brand narratives, and messaging to organize the go-to-market process.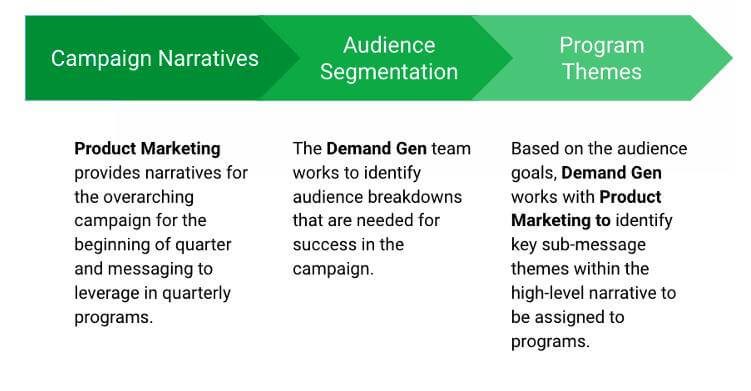 So, here's what she did:
She created the product marketing strategy: with the narratives and demand generation research, Sarah helps to guide offers, strategy, and program themes.  
Sarah's research shows the pricing problem. The product marketer offered a more flexible pricing model and shifted the product focus to a wider target audience. Customer interview analysis brought new insights for the product roadmap and helped to define the context for marketing campaigns GTM messaging.
Her work de-risks the investment in people, new features, and products. 
An important role, isn't it?
With increasing popularity over the years, product marketing today is a must discipline of any brand. 
Ready to try? So, let's dive into planning.
What is the Product Marketing Strategy? How to create 
Since it's more than advertising, to create a strategy you must first understand the product offered, its key features, and the cost of production. 
Considering the previous situation, the product marketer did a magnificent job to find a target audience for a new product and position it properly. But what exactly did she do? Is there any universal guidance on product strategy?
Of course. You can follow Sarah's plan:
Customer Development
When you prepare to launch, define the target market, its problems, interests by interviewing potential customers. 
Read the "Customer behavior analytics" article to know how to organize data collection.
Product position & messaging
Time to move to practice. Answer these key questions to understand:

Who will use your product?
Why should customers want to use it?
What does your product do?
How is it different from others?
Collect the results into a positioning document to form a list of key messages for marketing, sales, support.
Deliver positioning to the team
When the positioning materials are ready, Sarah shares to make sure everyone at the company understands it. Only if everyone is on the same page about GTM messaging, product marketer can continue work. 
Product launch plan
The plan of product launch is led by the product marketer and involves different specialists across the company: sales, marketing, support, etc. They take part in its implementation regularly, while product marketer ㅡ on demand (new feature adoption, sign-ups, etc.). 
Crafting content for the product launch
Based on the positioning and GTM messaging documents marketing works over the content for help documentation, website copy, press releases, landing pages, screenshots, banners, blog posts, mass mailing, etc. 
Fit-to-launch check
The product marketer has to make sure each team member is ready for the product launch. I mean, everything should be prepared: from the website, sales scripts, to customer support chatbot tools. Internal communication is just as important as external communication for a product launch. 
Product launch
The big day, when you see real customers start coming in. Track the activity and correct departments' performance as necessary.
Measure the success
Analytics of the first launch results. Summarize the internal and customer feedback, chosen metrics like cross-sell, adoption, up-sell, etc. The time is up to your product-specific. It could be a month, a quarter, a year. 
Read also: The North Star Metric and How Can This Lead to Success
50 questions for customer interview
Thank for your choice! Find the questions template your inbox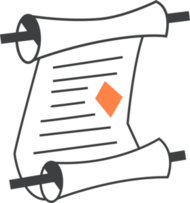 I'm sure you understand the importance of the last step. Thus, I think you may need this?
Read also:
How to measure the impact of product marketing
There is no clear limit on the number and type of metrics. It's up to your team's makeup. The internal metrics aren't tied to product marketing performance, if the specialists work outside the product marketing team, for example.
Ok, but what about metrics?

Starting from 3 up to 13, or even more. Each team chooses KPIs that reflect the diverse nature of their efforts. 
For a sneak preview, look at the list of metrics Sarah focuses on:
Revenue goals. Here she takes into account standard cross-sell/retention/upsell targets and 
New customer acquisition cost 

Thus, if during a year you spend $40,000 to gain 2000 clients, your CAC is $20.
Is it good?
Depends on your industry.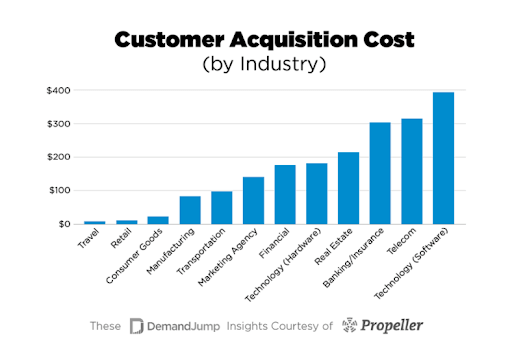 Customer retention rate (used for subscription-based services):

The number of new customers:

Sarah used to track it monthly, but you can choose any period. 
The average revenue per customer is used to calculate the income that a company expects to get from an individual client. Here is a formula: 

It's better to calculate it monthly.
To see how product sales activity is turning into paying customers, Sarah measures win rates. The win/loss ratio, to be exact. It's the number of won sales divided into the number of total sales opportunities. 

The metrics of the product launch are divided around its usage, awareness, sales, and demand gen. To calculate it during the chosen time, try user tracking on website to find the next data:
Demos requested trials started.
Unique landing/blog visitors.
Number of press-releases on third-party resources.
That's easy. But the next one needs an explanation.
Adoption rate ― the percentage of new users of a feature\add-on\product. 

For example, if you want to calculate the AR of May, you need to find the total number of customers who bought the product add-on any day between May 1 and 310. Let it be 1 000. Then you divide that number by the total number of users on the last day of the month (30). Thus, the adoption rate of the add-on is (310/1000) * 100% = 31%.
Read also: how to find respondents for a survey or customer interview
Product usage. One of the important keys to growth is knowledge of how and why people use the product. Among the variety of metrics here Sarah tracks:
Average time in the app/service
The frequency of the product usage
Active users
Negative results are a sign of potential churn and the need to change the strategy.
To understand whether clients are satisfied with the product or not, she calculates the Net Promoter Score.
It tells about clients' intent to recommend the product. You definitely know this question "How would you like to recommend" with 1-10 stars to rate. Every month or a quarter you can collect all the feedbacks, divide them into 3 groups: 9-10 promoters, 7-8 neutral, 6-0 critics.
Then find NPS:

Team Feedback
To make the product work perfectly well, check whether your team works cohesively. I mean internal surveys. Create an online form and just ask teammates:
Do they feel supported?
What materials do they use to improve their work?
Do they need any help, product information from marketing? 
The quality and quantity of leads for the last month. 
For example, sales admit that product videos have been cool, but they wish to know which one to send to which prospect. That means the sales team lacks buyer personas information.
External Qualitative Feedback
Here Sarah chose target prospects for an interview. Trying to figure out if the product differentiation efforts work, she asked people how they define the product and its alternatives in the market.
If 60% of responders point out product advantages among others, brand awareness works well. 
Read also "The ROI formula: How to Calculate It and Why Your Marketing Needs It"
With a set of these metrics, you are equipped to practice product marketing theories just now. The only thing left is to draw some inspiration. 
Examples of the best product marketing campaigns
If you learn, then only from the best. And brands with legendary product marketing:
Make customers the highest priority and build all the efforts around their needs. The significant role here plays amazing service and customer engagement platform you use. 
Work over the messaging. Tell what the product does to grant the request of potential clients.
Know the magic time to launch a product exactly when it's needed on the market. 
Don't afraid of experiments. Successful products of marketing think out-of-the-box.
Now keep these tips in mind because we move to the four brands, which succeed using them daily: 
Email marketing platform Hey.com
With a focus on simple emails for humans, HEY wins the prize for powerful messaging. 
Just look at the first screen of their website: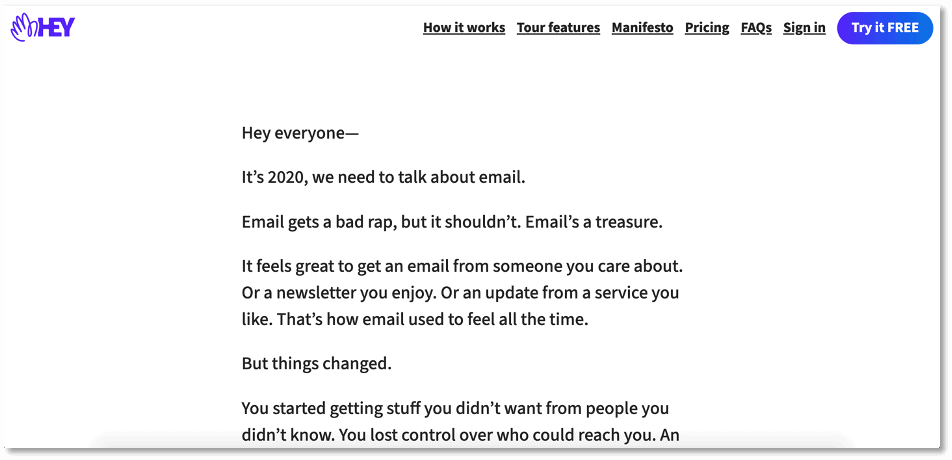 Where are traditional illustrations, laptops, funny cartoon people? 
No, just a plain text that wins your heart and mind. Simple, live, relevant. These guys know your pains and offer a change.
At launch, they used a cool trick to gain more subscribers: HEY asked people to share their stories around email. The brand promotes and explains its product values through users' content: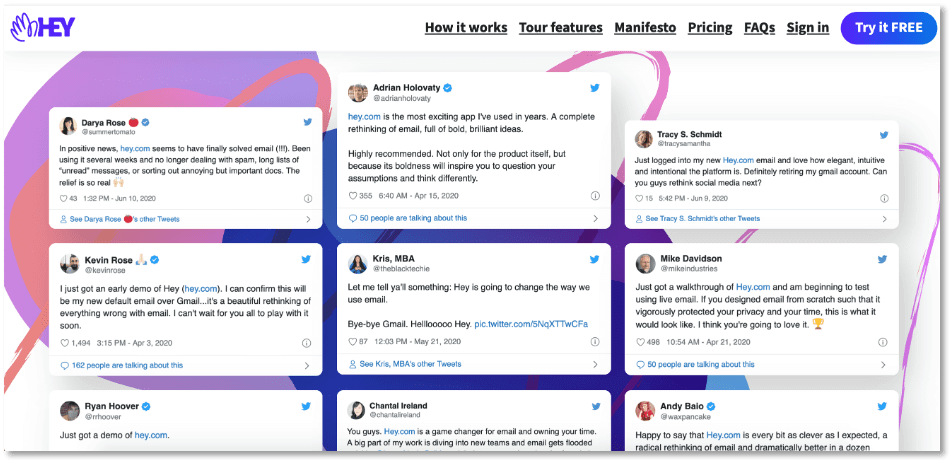 Implementing the best customer engagement strategies and great messaging did their job ㅡ a unique launch of a successful product.
Read also: Find out the best Intercom alternatives and Drift alternative
Spotify's 2020 "year in review"
It was the end of the year. Companies have time to hype with the best annual report. But Spotify bets on nostalgia. Crafting headlines for an infographic-like page that offered subscribers personalized reviews of their musical decade.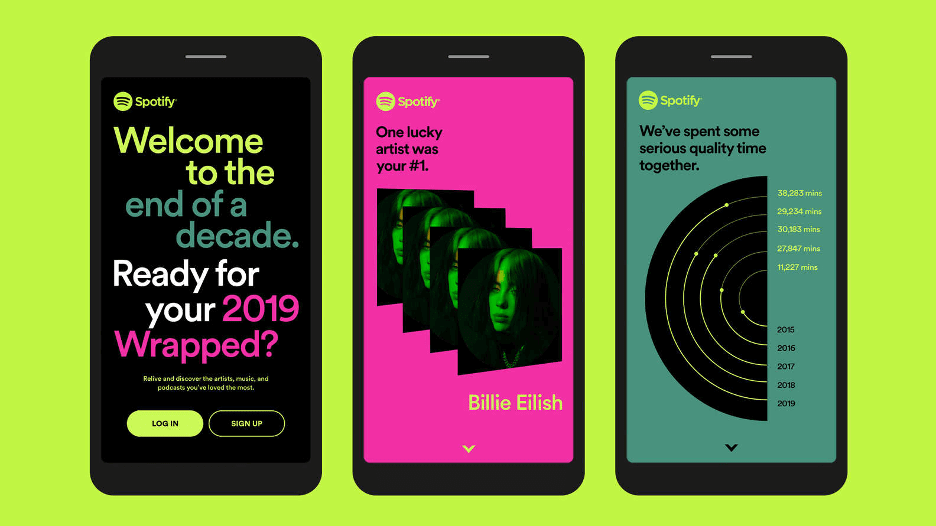 That wasn't just a music top, but the stats of individual subscribers. Spotify made these infographics shareable, so people posted them on socials.
Spotify gets all the stars according to our list: the perfect time to market, focus on users, great product experience. 
Apple product marketers' telepathy
That's not a surprise to see Apple in another top. Especially at the top of the projects with the best product marketing.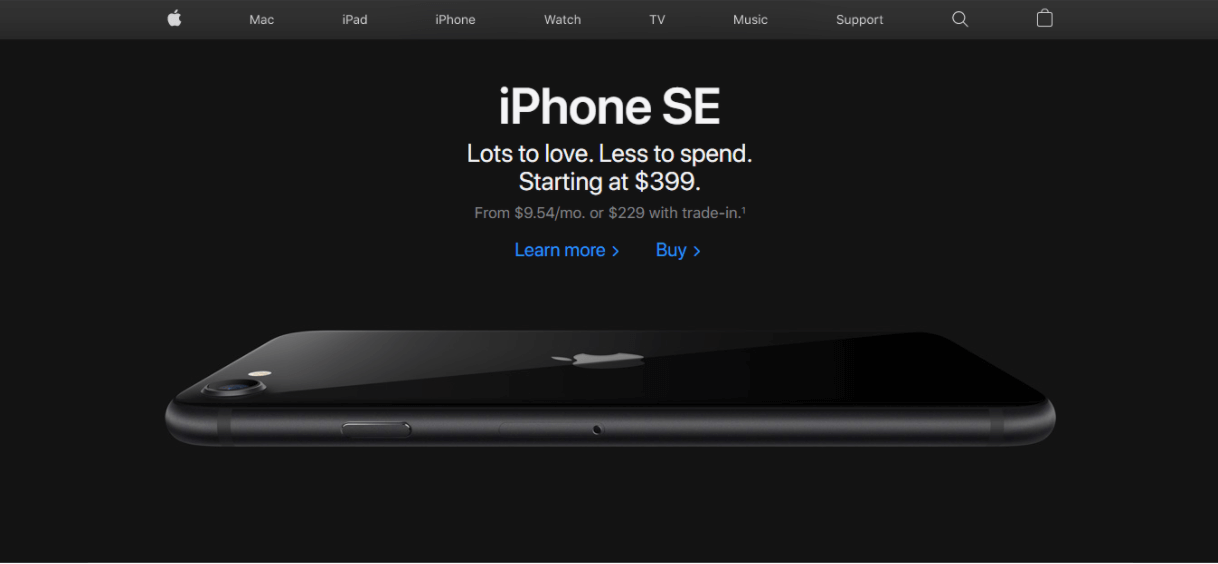 And that's all-stars again. Not with the help of superpowers (we're not sure of that) but with a deep knowledge of their customers, Apple responds to their pains and desires. The brand constantly transforms this knowledge into powerful marketing and products, applying to people's emotions and tech requirements.
Read also:
👉 How to use lead generation chatbot for your website
👉Lead nurturing platform for your revenue growth
👉 12 types of marketing nurture campaigns
Zoom product marketing: Sponsored by 2021?
This spring installations of this video conferencing software rose to 728%. Of course, quarantine boosts its growth in the business market and among ordinary people, schools, medicine, etc.
To fit the sudden request, Zoom had to improve its security, capacity problems, and client onboarding process fast. I mean, to provide an instant reply to customers' needs. 
Corona also made its product marketing managers revise target audience and buyer personas, change the pricing model, and website copy accordingly:
Zoom's story is an outstanding product market example of the rapid positioning change in the face of uncertainty.
Convert more visitors to buyers using these ready-made campaigns for product marketers
Thank you! The playbook is already in your inbox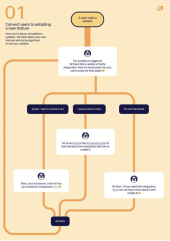 What's the point of product marketing? 
To do product marketing you don't have to graduate Hogwarts. All the magic is in excellent strategy. 
Now answering what product marketing is, you know more than just a definition. In Sarah's example, we found out the key points: 
Product marketing is about a deep understanding of the target audience, perfect time to the market, creativity. 
Product marketers usually work with product GTM strategy, messaging, positioning, customer development.  
They focus on driving the overall success of the product.
If you wanna practice product marketing, start with your website. 
Spark the conversation with potential customers using their data. Phone numbers, email, location, etc. are collected to the user card, so you can start a one-to-one interview with an individual approach.
Qualify leads with questions and options to answer them with our chatbot platform.
Make announcements via pop-up windows, live chat messages, and emails choosing the target segment (aka audience).
Track product adoption: how many of them tested a feature, started using it, ignored; who these users are; and so on.
This and much more you can do with Dashly. Power-up your product marketing by starting real-time conversations with visitors today.