When you run a large company and need to provide constant customer support, desktop live chats and interfaces are not enough — your employees should stay in touch with clients 24/7. This is where a mobile live chat comes in handy. It's an on-the-go solution to help your support department maintain customer communication without timeouts and problems. 
However, not all mobile live chats are designed equally well. Some of them come with bugs or lack essential features and compatibility with various CRMs and messengers. 
To save you time on marketing research and solution comparison, we have made the list of top-5 mobile live chats for online businesses. Most of them are highly recommended for improving sales in eCommerce, telecom and SaaS industries.
How we searched for data
To help you choose, we downloaded each mobile application and manually checked the features mentioned below. We also paid attention to response time in apps, considering how live chat influence page ranking and loading speed. We analyzed the pricing, support service, and interface of each solution. To get the full picture, we added real user reviews from G2, Capterra, Google Play, and Play Store. After meticulous research, we managed to outline clear leaders. 
To make your choice even easier, we brought together all the major tools you might need in a mobile live chat software and compared all five platforms. 
Trial
Free plan
Pricing
The price depends on
Dashly
7 days
+
From $39 to $109 per month
Website traffic
Add-ons
The number of agent seats is unlimited
HelpCrunch
14 days
–
From $15 to $49 per month
Number of widgets
Number of agent seats
Automatic messages
Customization
LiveChat
14 days
–
From $16 to $50 per month
Number of agents
Chat history
Support
Scheduling options
Zendesk 
30 days
–
From $19 to $99 per month
Number of agents
Customer support hours
Enrichment credits
SLA management options
Pure Chat
30 days
–
From $49 to $99 per month
Websites
Number of agents
Branding
But of course, pricing information isn't enough to choose the most suitable software for your business. That's why we compared 5 mobile live chats in a single table. See all features and pricing details 👇
Download the full comparison of 5 mobile live chats
Thanks for your email!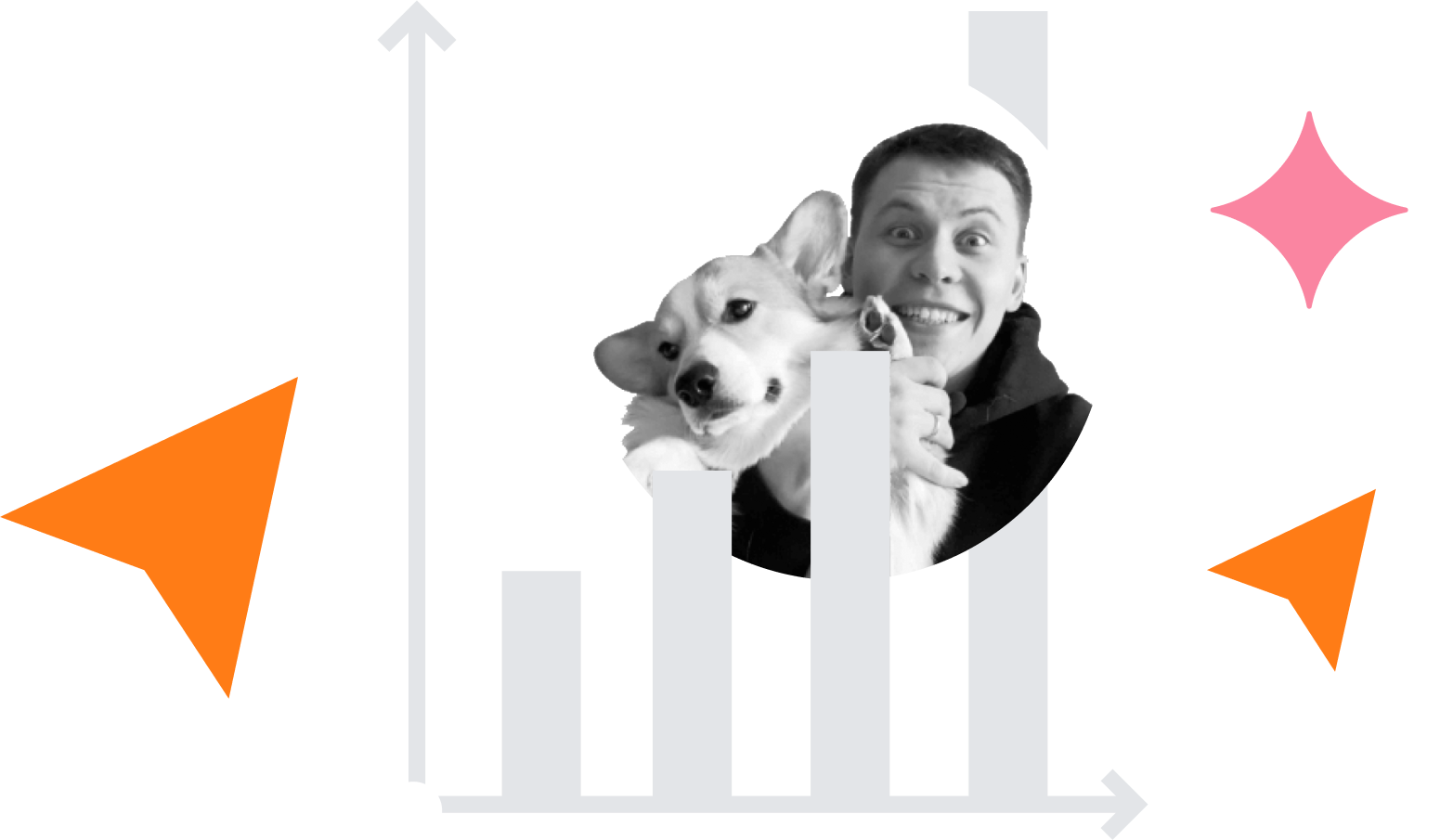 Read also:
15 best lead generation services to grow your base in 2023
The 36 statistics on how chatbot for businesses grow your revenue in 2023
The secret weapon of your competitors or Why you should focus on customer service first
Without further ado, let's find the best live chat software for mobile. 
Dashly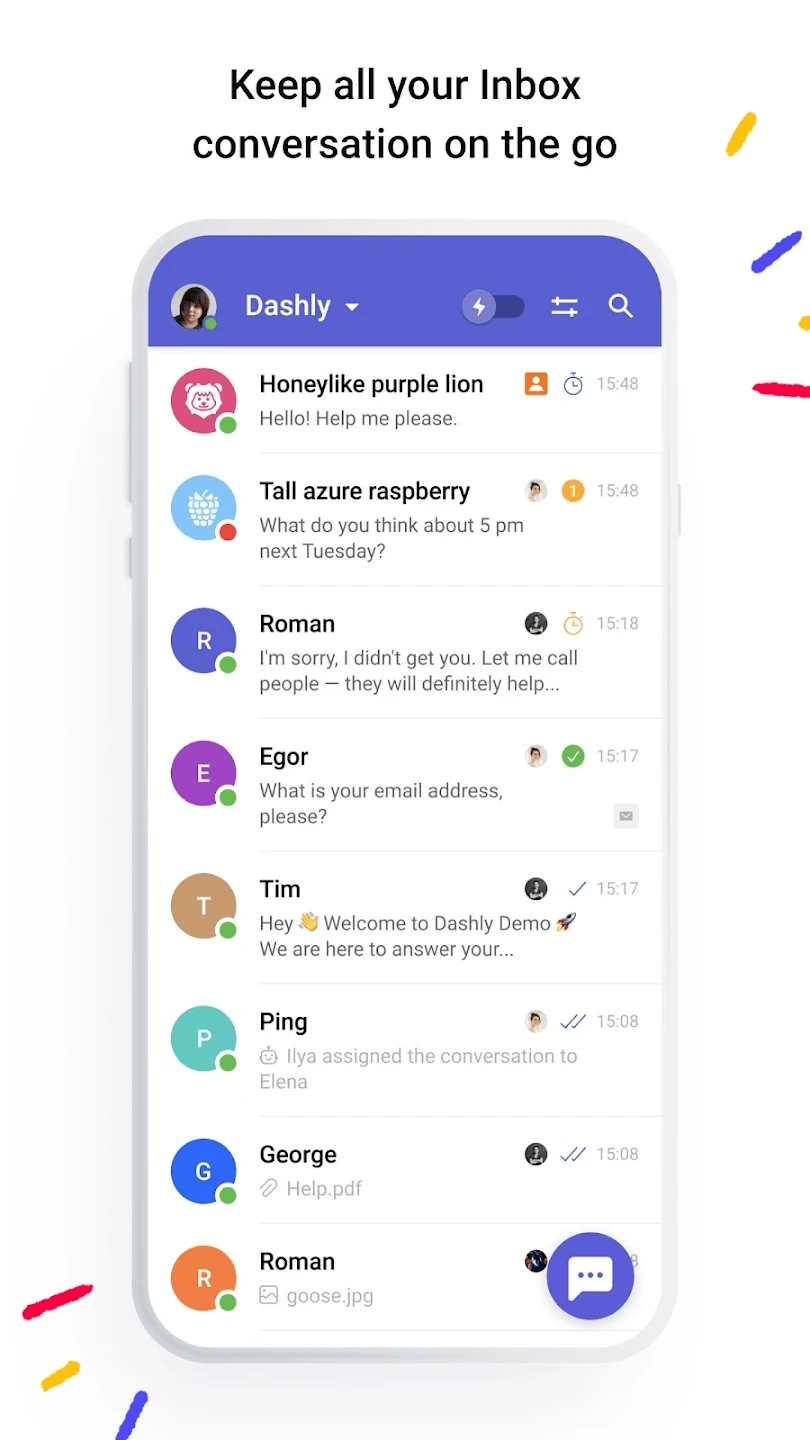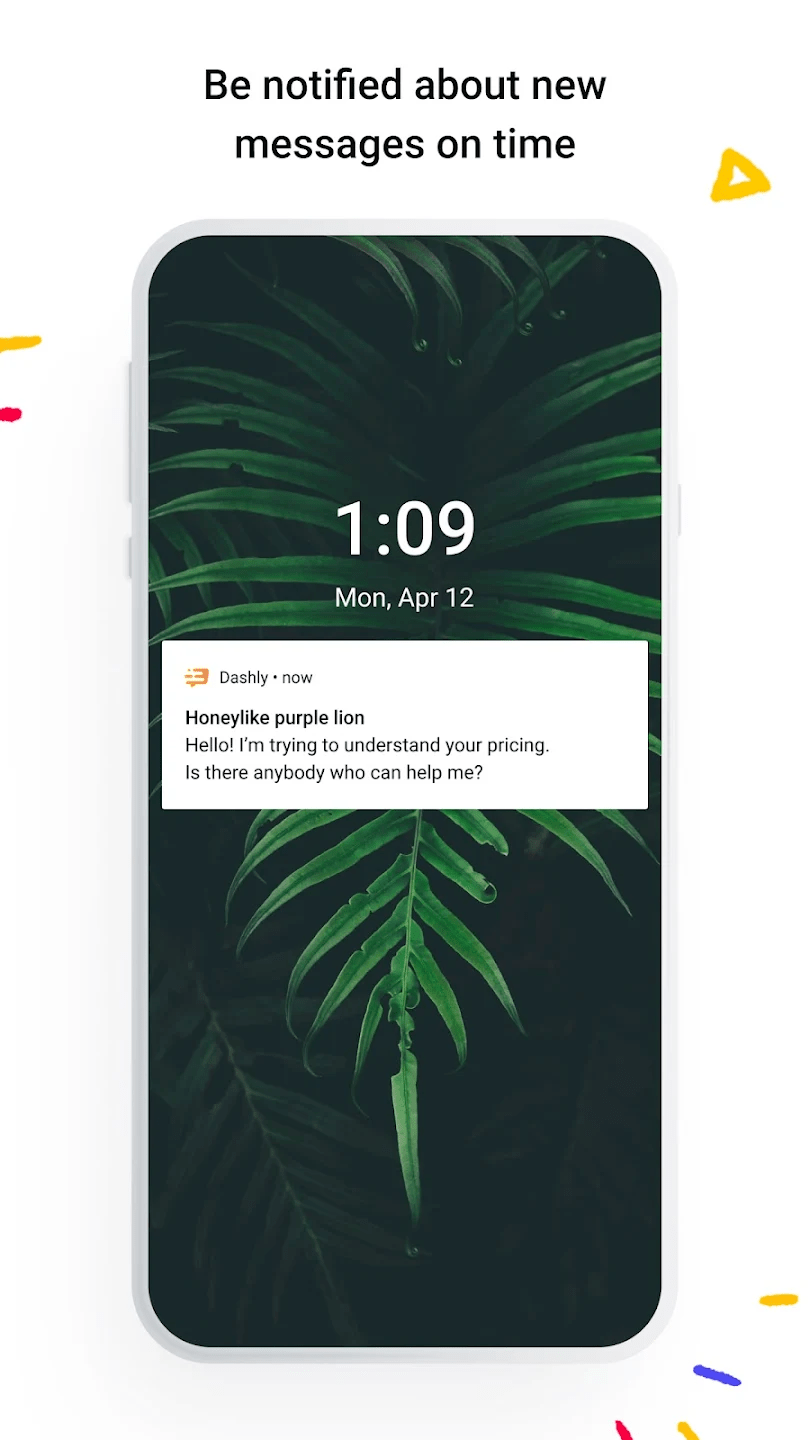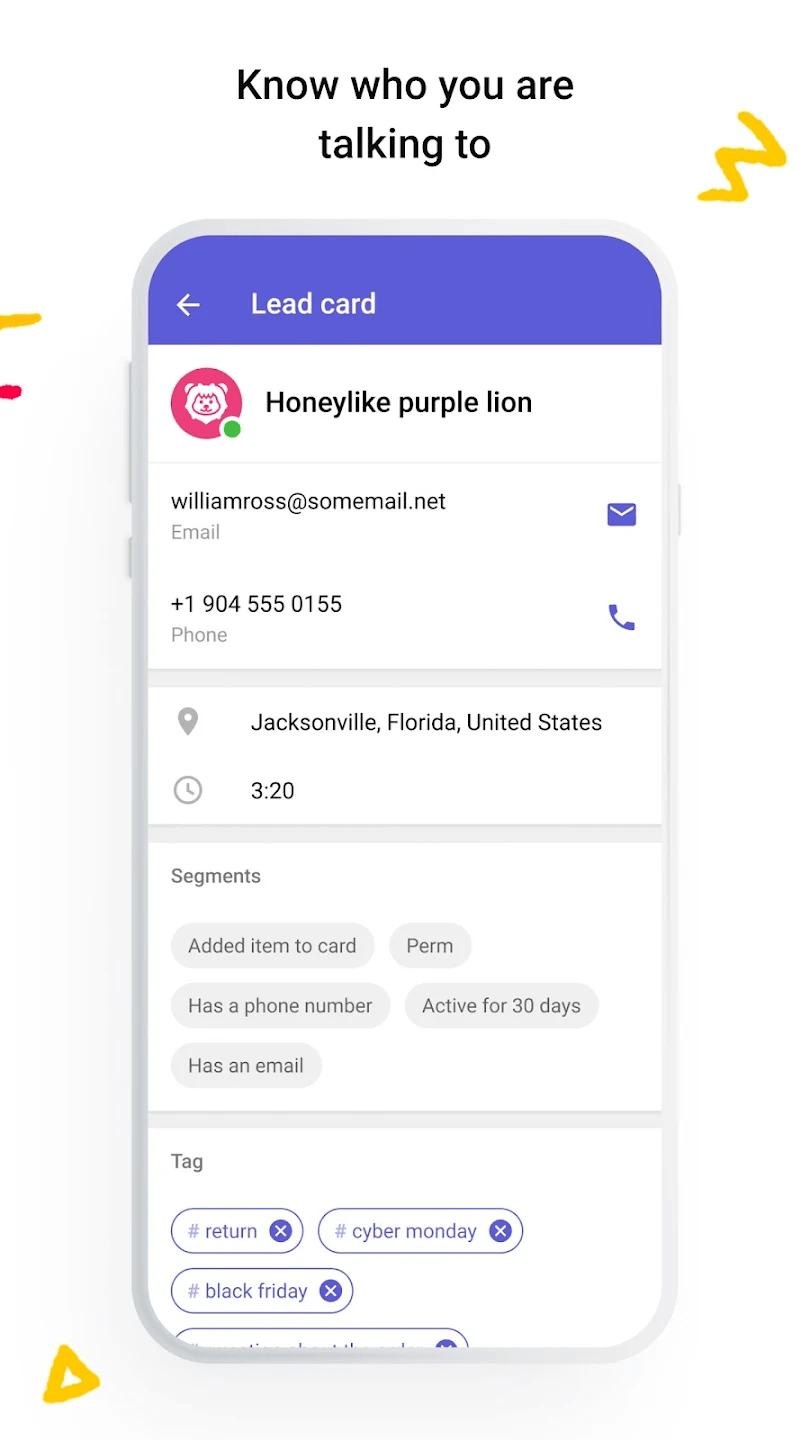 Dashly provides a comprehensive suite of solutions for marketing, sales and support teams. One of the most convenient tools is mobile live chat. It looks like a desktop one and provides the same set of functions. 
Dashly mobile live chat features 
No-code widget with a customizable interface.
Contact data collection.
Lead cards creation.
Welcome messages.
Unlimited number of agents' seats.
30+ integrations with CRM platforms, social media, messengers etc.
Access to the "Visitors Online" and "Inbox" sections.
Access management for admins.
Agent notifications about new customer requests.
Dashly offers some additional features:
Pricing
Dashly offers three paid plans. The price depends on your website traffic and add-ons yo choose to include in your plan. The number of agent seats is unlimited on each plan.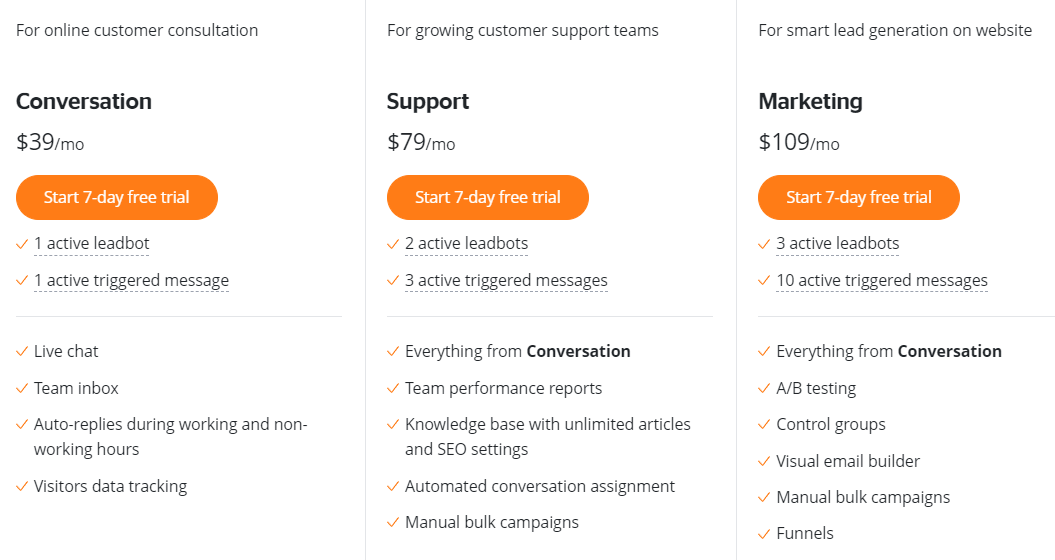 Conversation plan offers basic features for customer communication: website live chat and shared inbox. If you want to enhance your customer service, consider the Support plan. But if you want to level up your customer communication and automate interactions, pay attention to the Marketing plan.
Besides, you can upgrade your plan with add-ons. Check out the full list of add-ons available and calculate the price for the platform on the pricing page.
There's a 7-day trial period to test the platform's functionality. 
User reviews
All in all, Dashly mobile chat is a versatile option for eCommerce websites, as well as SaaS and edtech teams. It is equally suitable for middle- and large-scale businesses.
And here's what customers say about Dashly's mobile solution:
Pros and Cons of Dashly mobile live chat
Pros:
Multi-channel support with all conversations staying in one app. 
Helpful and prompt customer support. 
Easy audience segmentation. 
Flawless third-party integrations.
Comprehensive reports and statistics.
Cons:
Lacks integration with some features (Twitter, SMS).
Note: to use Dashly mobile app, you need to sign up to Dashly and install the script on your website 👇
Read also: 10 conversion rate optimization tools to enhance your funnel and boost revenue
HelpCrunch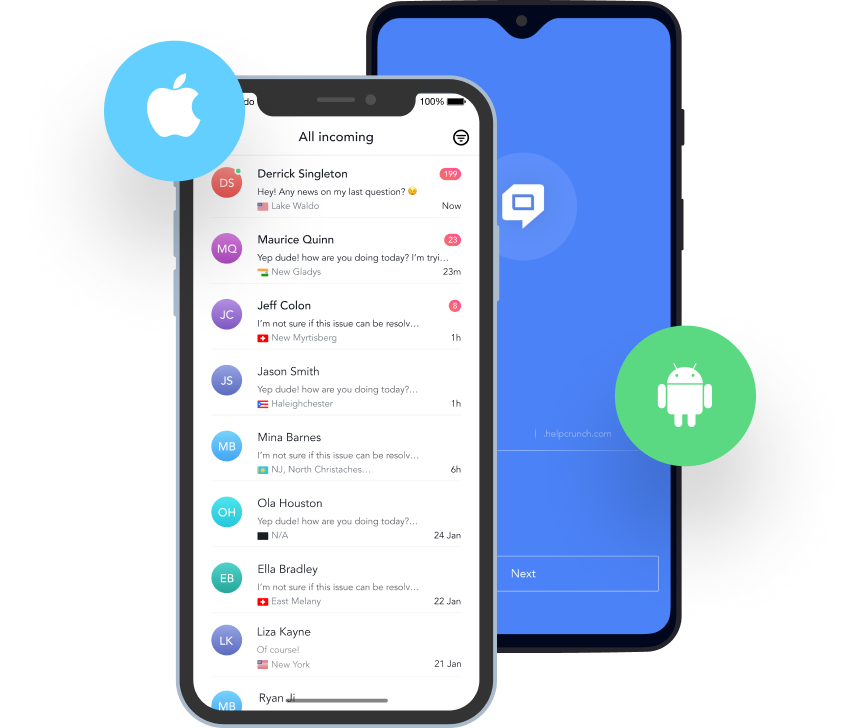 HelpCrunch is a top-rated communication platform for support, marketing, and sales departments. Its live chat for mobile devices can be integrated with different messengers (Whatsapp, Telegram, Viber, Slack), social media, and CRMs. 
To deploy this mobile solution in your tech stack, you need to paste the code. When you start a live customer chat, HelpCrunch gathers prospect's data, including the number of visits, visitor's country, browsed pages or conversation history.
HelpCrunch is recommended for small and medium businesses because payment plans are flexible enough for small support teams and for individual use. It works well for SaaS, eCommerce and other online businesses.
HelpCrunch mobile live chat features
Integration with CRMs, social media and messengers.
Extensive knowledge base for beginners.
Visual customization of live chats.
Auto messaging.
Personal, contact, behavioral data
Chat ratings.
Filtering by agents, tags, and chat statuses.
Selective feedback collection.
Visitor profiles.
Pricing
HelpCrunch live chat for eCommerce is available in several plans: Standard ($15 per team member) includes one chat widget, Premium ($25 per team member) includes advanced customization, and Enterprise has custom pricing (presumably up to $49 per agent per month).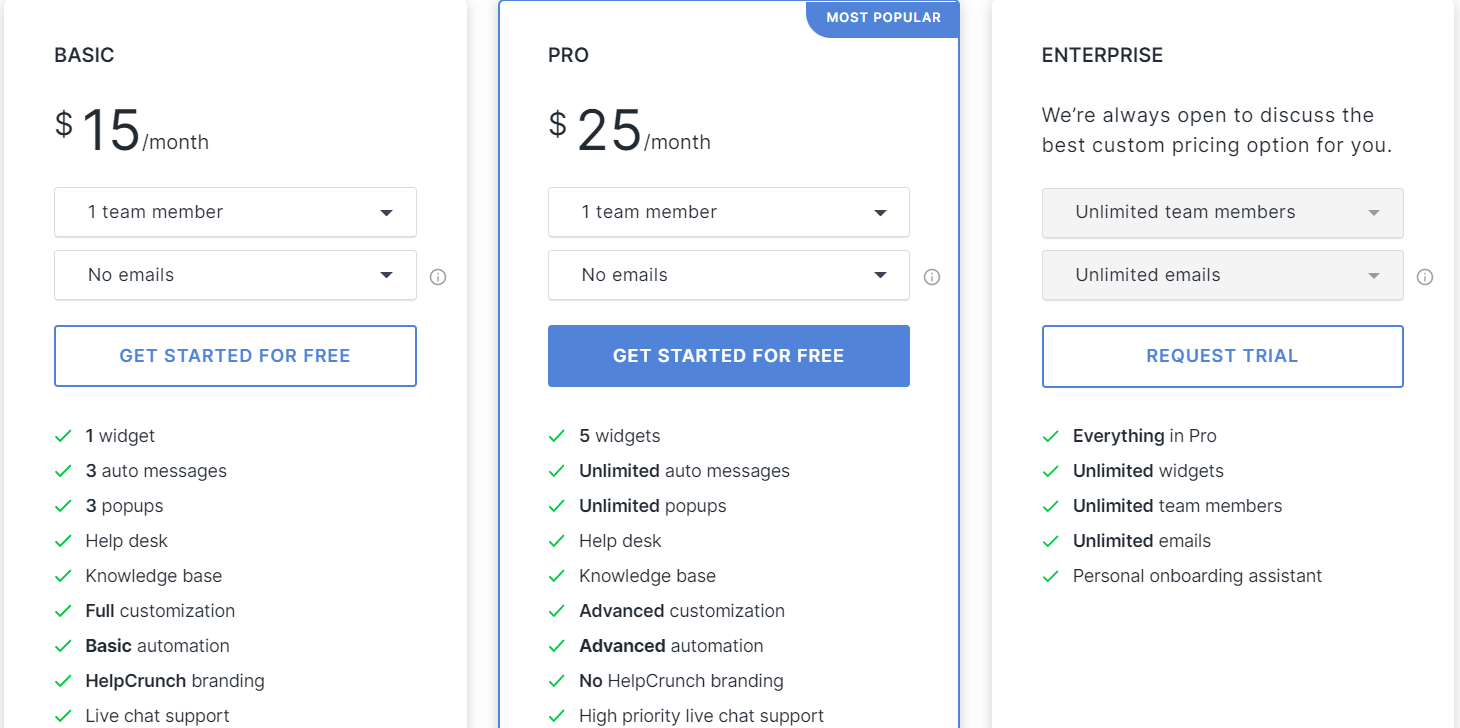 With their 14-day free trial, you can decide whether this mobile app fits your requirements.
User reviews
Here is what customers say about HelpCrunch mobile app:
Pros and Cons of HelpCrunch mobile live chat
Pros:
Easy integration with different platforms.
Customizable live chats.
14-day free trial.
Knowledge base for service users.
Helpful and detailed metrics.
Cons:
Bugs appear here and there.
Customer support is not available 24/7.
Lack of timely patches and updates.
Problems with billing. 
Read also: 17 Zendesk alternative services and 13 live chat alternatives to try this year
LiveChat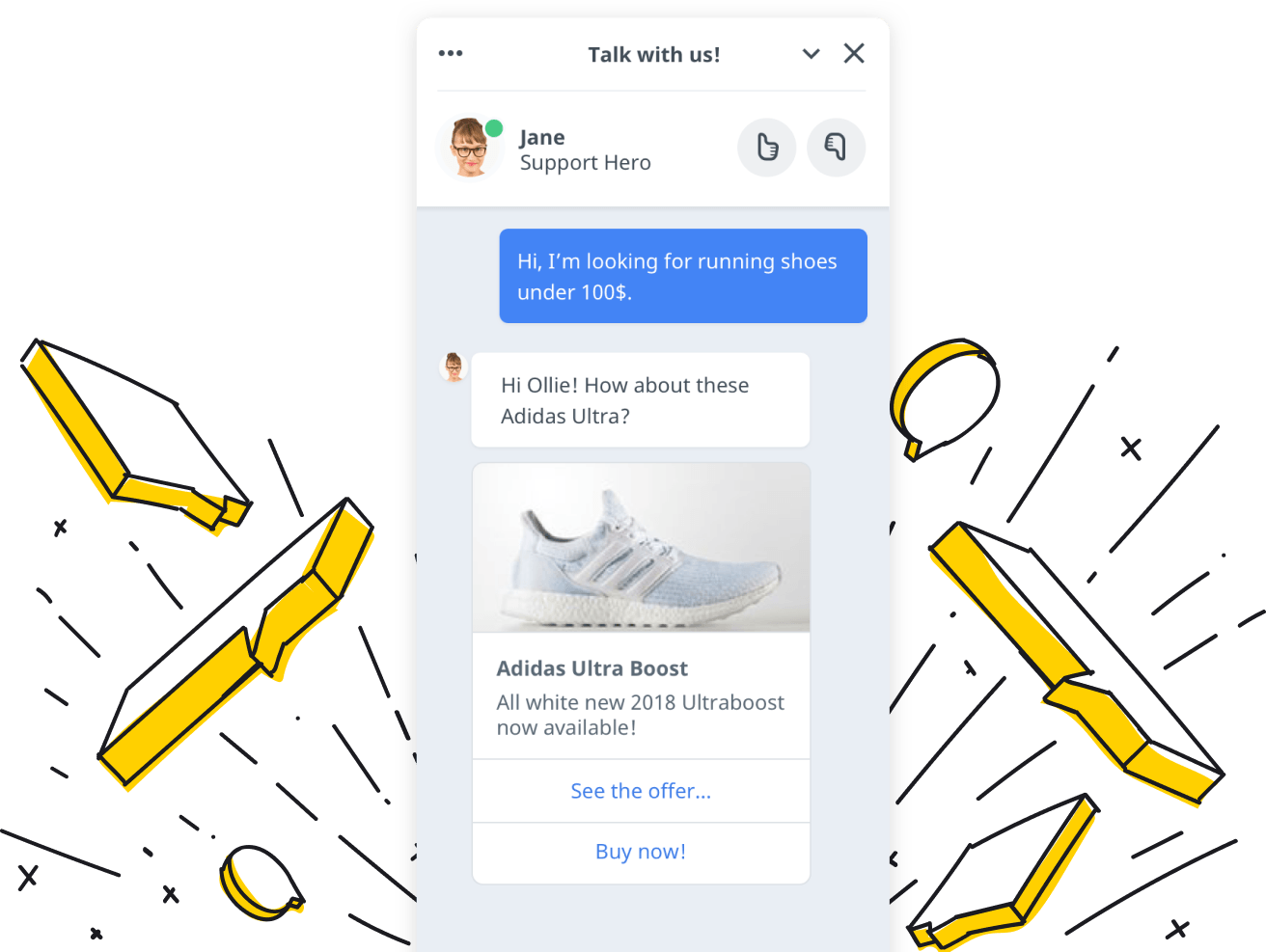 If you're in search of a live chat for sales, this software is a good fit when you need to capture more leads and grow sales. It establishes communication flow and allows customers to receive timely answers. The mobile & website chat is suitable for businesses of any scale — small, medium, or enterprise. Thanks to widget personalization, it becomes more efficient for helping website visitors solve their issues. 
LiveChat mobile app features
Notifications.
Call Center Management.
Canned Responses.
Cataloging/Categorization.
Communication Management.
Customer Service Analytics.
Geotargeting.
Knowledge Management.
Pricing
LiveChat offers four paid plans to its users. The price for each plan may differ from business to business because it depends on the number of agents. 
There's a 14-day free trial to explore the service's functionality.
User reviews
Here's what customers say about LiveChat mobile solution:
Pros and Cons of LiveChat mobile app
Pros:
Provides documentation, webinars and videos for beginners.
Easy setup without additional code.
Tracking and live analytics.
24/7 customer support.
Works great for generating leads.
Cons:
Eventual lags and bugs.
Chats might be lost in the middle of conversations.
Overpriced for some users.
The mobile version is a bit more limited.
Zendesk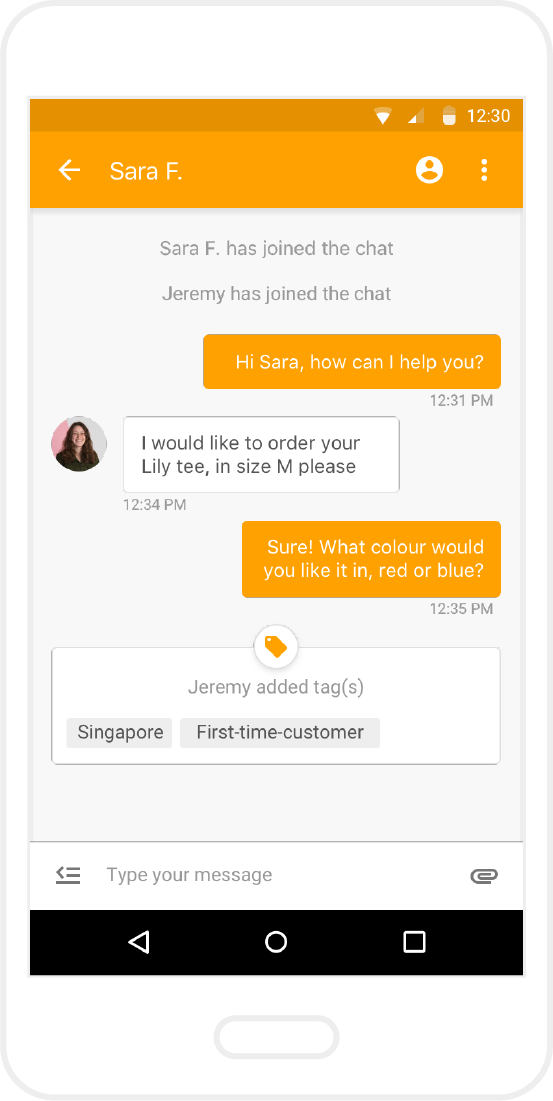 If you are searching for a LiveChat alternative, consider Zendeslk. It's a mobile live chat for small and middle businesses that need to interact with large user databases. It provides a sufficient set of features and allows customer support agents to stay in touch with clients on the go. However, a browser app cannot identify activities outside the browser window. 
Mobile chatbot software collects visitor information and connects users with qualified agents. Zendesk also provides great AI-powered bots that offload customer support teams by answering common questions. 
All in all, Zendesk is a convenient chat for SaaS, eCommerce and other businesses alike.
Zendesk mobile live chat features
Triggers (targeted and behavior-based messages for clients).
Pre-chat Forms and collection of contact information.
Monitoring of website visitors and pages they are browsing.
Offline Forms.
Chat ratings, collection of feedback for further improvements.
Support of files like pictures or product guides.
Chat and agent reports.
Real-time data and visitor experience monitoring. 
Conversion tracking.
Customizable chat badges.
Mobile Chat SDK and optimized mobile widgets.
Pricing
Zendesk offers several pricing plans. Support Team is worth $19 per agent per month and offers integration across tweets and Facebook wall posts. The Support Professional plan costs $49 per agent per month, coming with Customer satisfaction surveys, multilingual support and automatic redaction. The Support Enterprise level is available at $99 per agent per month, topped up with conversation routing based on agent skills, custom team roles and permissions and customizable agent workspaces.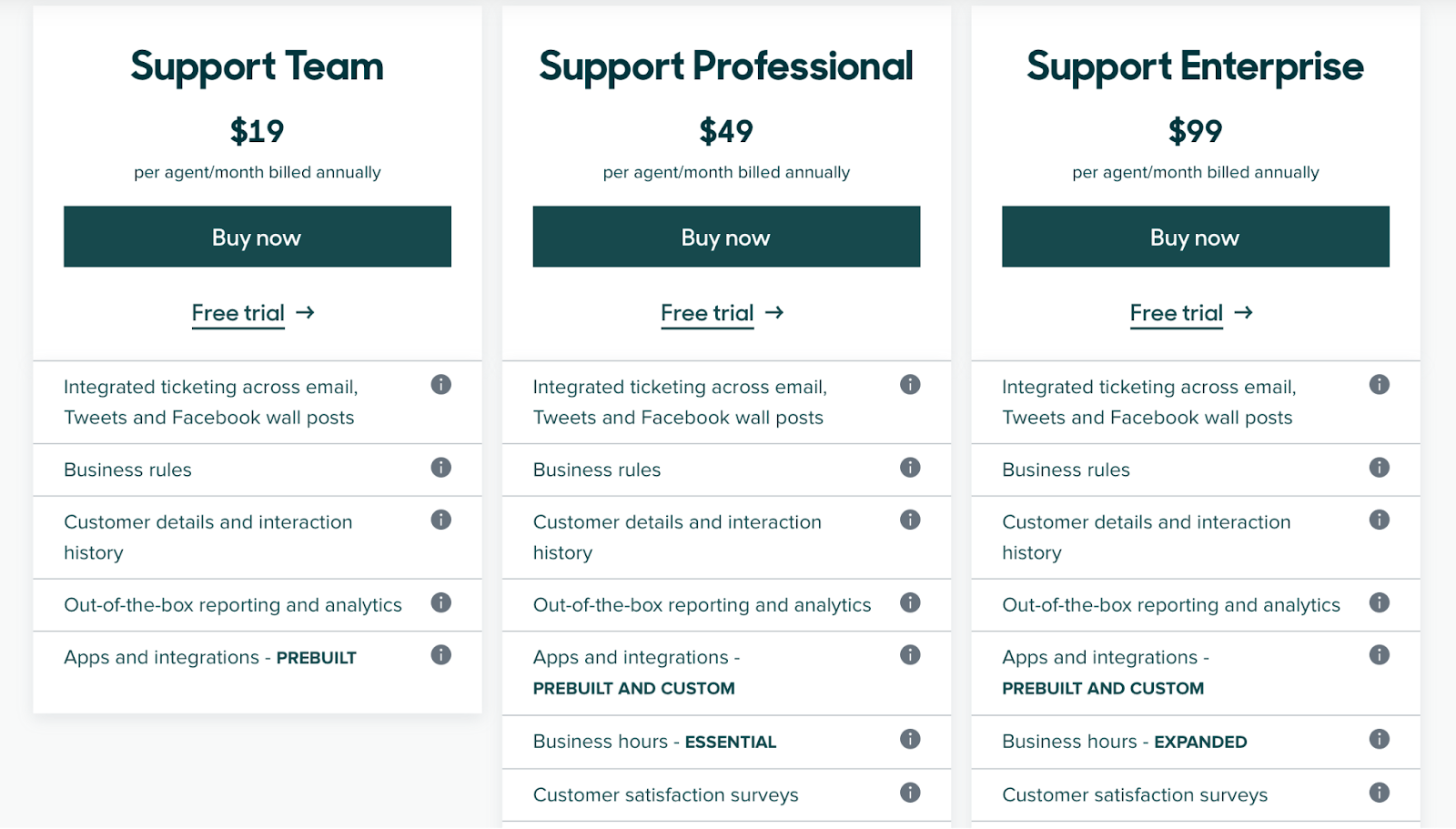 User reviews
Here is what users say about Zendesk mobile live chat:
Pros and Cons of Zendesk mobile live chat
Pros:
Teams can provide 24/7 support with the help of an AI-powered chatbot.
Automatic replies when the wait time reaches certain limits.
Agents can handle calls in the same workspace as all other channels. 
Full ticket automation.
Easily integrated with a wide range of services.
Cons:
Linking with a mobile phone, so the agent is only working on 1 channel at a time.
Admin area sometimes take a long time to load.
Lacks customization features.
Some essential extensions are paid. 
Several licenses are required for large groups.
Pure Chat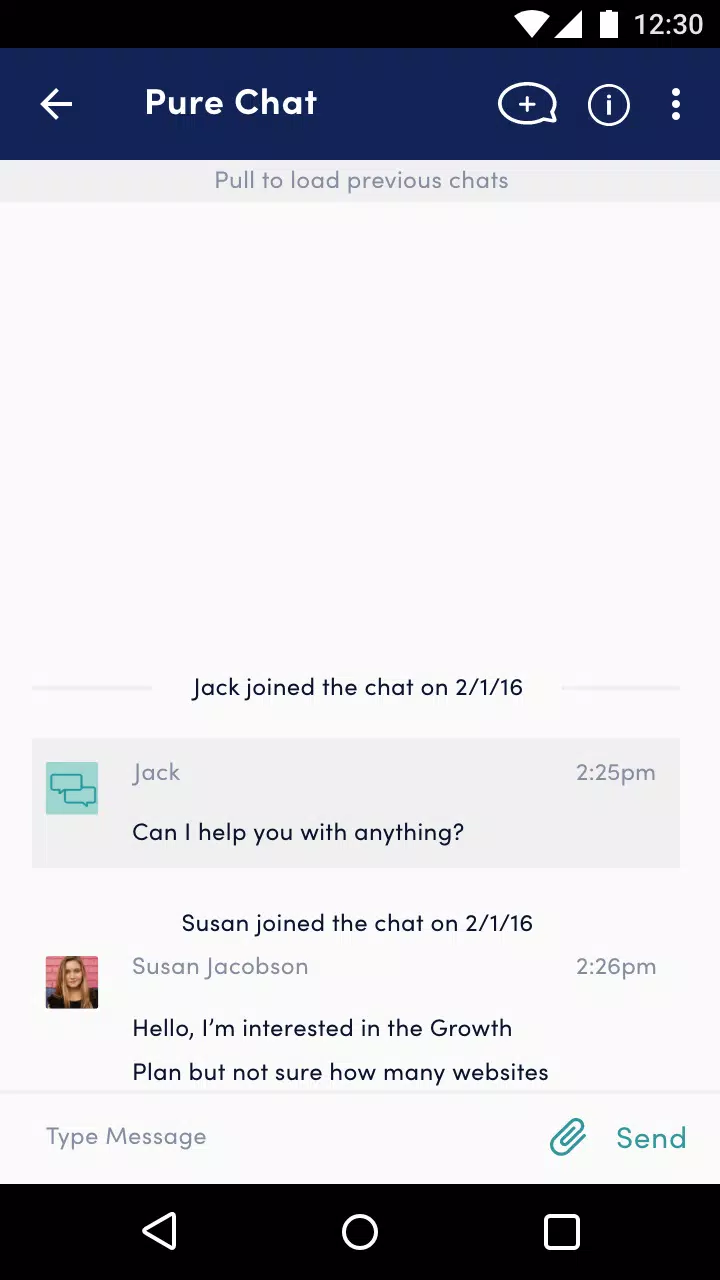 Pure Chat helps small and medium businesses engage with website visitors through mobile live chat software. The mobile software assists customers on their website journey and collects visitor information. It nurtures leads, ensures support and delivers unbeatable user service.
With affordable plans for large groups, this mobile solution is recommended for budget-conscious businesses. It is powerful enough to organize comprehensive mobile online support and would work great for Telecom, SaaS, eCommerce and other businesses in need of customer communication improvements. 
Pure Chat mobile live chat features
Canned responses.
Chat console.
Chat box customization.
Automation and proactive chats.
Team management tools.
Visitor and performance analytics.
Pricing
There are two pricing plans in Pure Chat's mobile solution. The Growth is $49/month with 4 operators included. The Pro plan starts at $99/month with 10 operators and unlimited websites.

User reviews
What do customers say about Pure Chat?
Pros and Cons of Pure Chat mobile app
Pros:
Simple and transparent pricing. 
Real-time analytics.
Powerful operator dashboard.
Advanced widgets customization.
Cons:
Customization is limited.
Lacks advanced information capture forms and chatbot functionality.
Custom coding needed for advanced settings.
Limited basic plan for mobile apps.
No conversation tagging.
Read also: Customer engagement strategy template to create omnichannel campaigns
How to choose a mobile live chat for your business
Now as you know what are the best solutions on the market, it's time to find out how to choose live chat software. Below are the most important aspects to be on the lookout for when you're searching for a suitable live chat for sales:
Integration with messengers and CRM of your choice. Most likely, you've already brought together a tech stack and your customer service keeps in touch with clients via preferable messengers and platforms. Double-check the cross-platform compatibility of a mobile live chat — otherwise there is no reason to opt for it.
Automated messaging and canned responses. They ensure more quality customer support because clients can get answers to their questions without waiting for long. Meanwhile, your agents can focus on priority prospects and business tasks.
User data collection. It is very important to save visitor information — customer profiling makes your sales and marketing efforts pay off better because you know how to solve clients' problems.
Access management and collaboration tools. This is a critical point because your team members will need a solution allowing them to handle requests in real time without clashing with each other. Some businesses face typical problems with mobile chatbots: inability to flawlessly readdress prospects, harsh limits of operators online, inconvenient access settings, etc. Do not repeat their mistakes when choosing live chat and make sure you will be able to streamline mobile communication without complicating your employees' task. 
On top of that, you might be interested in having in-built analytics for your key live chat metrics, as well as the ability to customize interfaces or train live chat agents. Don't forget to check them out in live chat mobile solutions that you're considering.
Still not sure?