As a Dashly growth marketer, I'm here to spill the inside scoop on our team's customer acquisition funnel strategies. This acquisition funnel has revolutionized our customer conversions, converting potential leads into purchasers at every step of the journey. We have specific strategies aligned with each phase, nurturing everyone from the casual browser to the committed buyer. 
So how about a guided tour of our funnel's inner workings? 
Let's walk through awareness generation, interest creation, decision assistance, all the way up to the final purchase. Get ready to unlock solid, actionable insights we've gathered from our experience. If you're looking to supercharge conversions, this immersive deep-dive into the acquisition funnel is your golden ticket. 
Let's get started!
What is a customer acquisition funnel?
An acquisition funnel, also known as a customer acquisition funnel, is a visual representation of the journey a customer takes from the first point of contact with a brand to the final act of making a purchase. It illustrates the process of turning leads into customers.
The funnel metaphor suggests that a large number of prospects enter the top (awareness stage), but only a small fraction complete the journey to the bottom (purchase), as they're filtered through various stages like consideration and decision. 
At Dashly, we live and breathe this funnel. It's our secret sauce to turning interested visitors into loyal customers.
Let's break it down:
Awareness: This is the wide top of the funnel. We grab attention through killer content and promotional campaigns.
Consideration: The funnel narrows. The potential customers are interested and we serve them helpful, detailed information.
Conversion: Time for the exciting part — the purchase! Here, we focus on providing the smoothest, most hassle-free buying experience.
Retention: The ride doesn't end at purchase. We keep our customers coming back for more with epic post-purchase service and perks.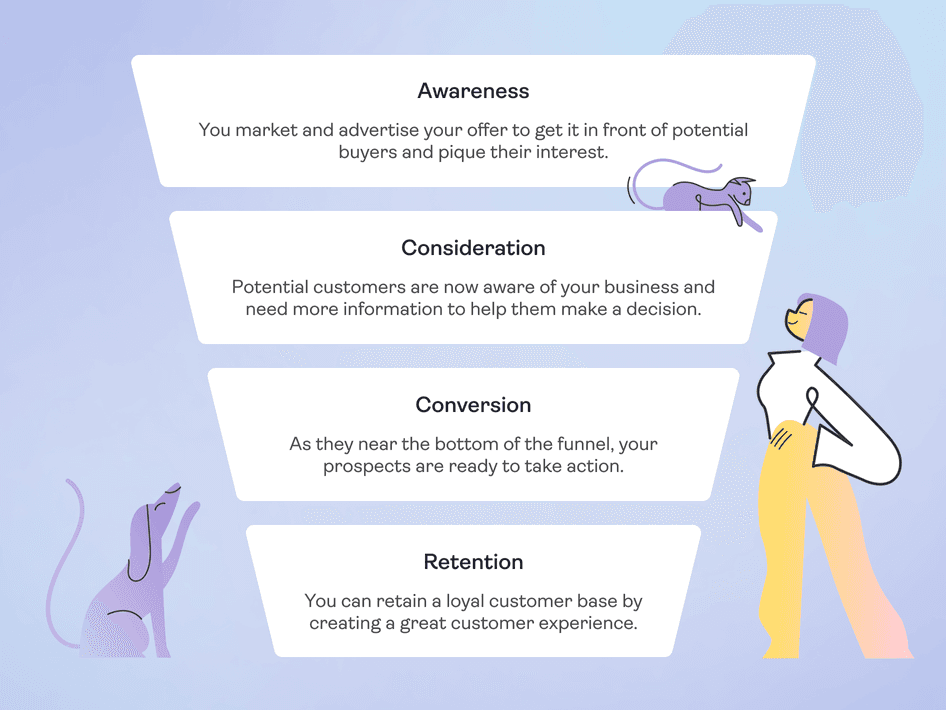 By understanding and addressing needs at each stage, we're able to craft personalized experiences that maximize customer growth and loyalty. It's a must-have for any serious growth marketer. 
Stick with us and we'll dive deeper into each of these stages 👇
Awareness
Let's say someone out there needs a conversational marketing platform to automate communication with clients that integrates with Facebook and WhatsApp, their prior marketing channels. My team has built just the thing. 
The problem? 
They have no idea Dashly company or product exists. 
Here's where the awareness stage of our acquisition funnel swoops in to bridge that gap. At this stage, we deploy marketing and advertising strategies to catch the eyes of potential customers and stoke their interest.
So, how about we look at some tried and true methods to capture leads' attention and kindle their interest? Let's dive in!
Metrics to track
Website Traffic: Measure the number of visitors to your website to gauge the reach of your awareness efforts.
Social Media Reach: Count the number of eyeballs on your social media posts to determine visibility.
Engagement Rate: Track likes, shares, comments, or retweets to assess audience interaction.
Click-Through Rate (CTR): Analyze the percentage of users who click on your ads or posts to evaluate the effectiveness of your messaging.
Brand Mention: Monitor how often your brand is mentioned across platforms to measure growing recognition.
Strategies we use to increase conversion rate at awarenes step
Expert Blogging: 90% of Dashly awareness strategy is based on publishing insightful, topic-specific blogs to demonstrate our solutions' unique value.
SEO Optimization: Anastasiia (you may read her articles on this blog) takes care of our website's search engine ranking to increase visibility in the crowded SaaS and EdTech space. The main focus here is blog posts. 
Social Media Campaigns: At Dashly we have a special expert Polly who highlights product features, shares user testimonials, and showcases our product benefits by posting on company socials and relevant communities. 
Interest
After the awareness step comes the interest stage in the customer acquisition funnel. After capturing potential customers' attention, it's time to captivate them further. Unlike the awareness stage, where prospects just learn about your business and its solutions, the interest stage involves inciting curiosity and deepening the relationship. 
At this stage, leads are thinking, "Could Dashly's solution work for my business?" Our team steps up its game here. We deliver engaging, value-rich content that makes a compelling case for Dashly. For instance, when we noticed a spike in "free trial" sign-ups, we created tailored email campaigns highlighting how our platform resolves pain points for each business type. 
The result? 
A significant uptick in lead engagement and a stark increase in conversion chances!
Build customer engagement strategy that meets your company goals with a free template
Thanks! Now check your inbox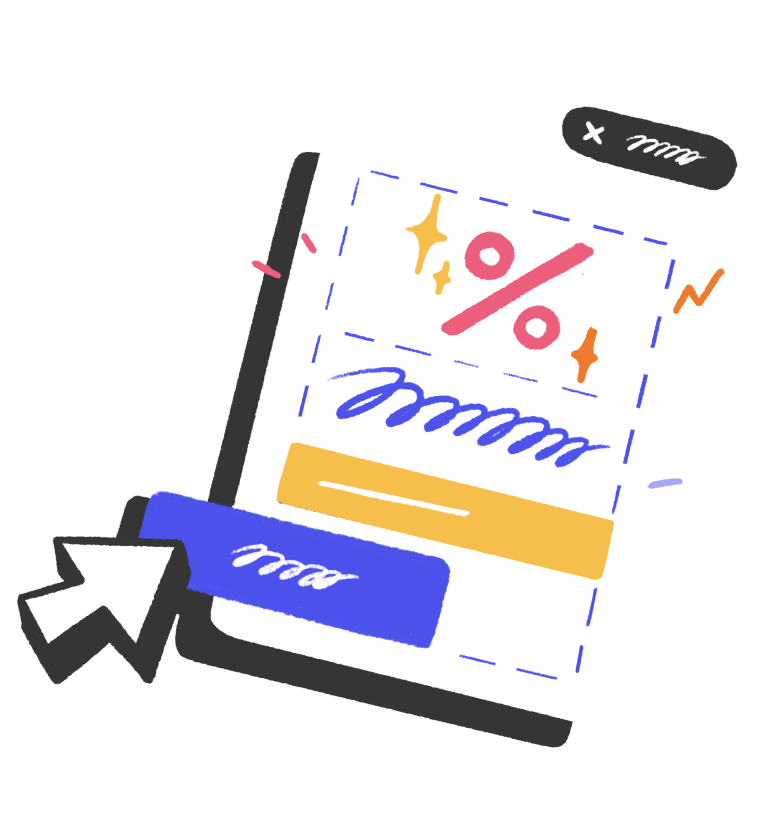 Metric
Engagement Metrics: Track actions like email opens, page views, number of downloads or form submissions.
Conversion Rate: Monitor the percentage of leads progressing further down the funnel.
Time Spent on Site: Analyze the duration spent by leads on your website or specific web pages.
Bounce Rate: Measure the percentage of visitors who navigate away after viewing only one page.
Lead Response Time: Track the speed at which your team responds to an interested lead.
Return Visits: Monitor the number of return visits, indicating a consistent interest in your product or service.
Interest-boosting strategies
Narrow-Focused Content: After general awareness, we create more specific content that speaks to the leads' particular interests, nudging them further into the funnel.
Interactive Quizzes or Polls: We engage leads with fun, interactive content which not only holds their interest but also provides us deeper demographic and preference insights.
Retargeting Campaigns: We employ targeted ads centered around topics our leads showed initial interest in, to spark a deeper curiosity.
Email Drip Campaigns: For leads who've signed up or interacted with us, we deliver steady, interest-specific content that aligns with their engagement level.
Social Media Discussions: Our team initiates and participates in social conversations around topics relevant to our products, building intrigue and community simultaneously.
Consideration
Now that our leads are aware of Dashly and interested, they begin weighing their options. This is distinct from the interest stage, which is about stoking curiosity; consideration is about in-depth comparison and evaluation.
Leads are now thinking, "Among all the solutions out there, why should I pick Dashly?" Our team gears up to address this, making a compelling case for how Dashly stands out.
For instance, when we observed prospects comparing Dashly with competitors, we responded with 'Dashly vs. Competitor' content, a comprehensive comparative analysis. It addressed not just functional benefits, but how our services align closer with various business needs. This facilitated the decision process for many leads, resulting in a notable rise in conversions, proving an effective strategy at this stage.
Metric
Lead Quality: Assess the quality of the leads descending into the consideration stage. High-quality leads typically indicate effective interest-stoking strategies.
Sales Response Time: Measure how quickly your sales team responds to leads entering the consideration stage, which can impact conversion rates.
Engagement Rate: Monitor interactions with your consideration-stage content like comparative blogs, whitepapers, or case studies.
Conversion Rate: Track the percentage of leads moving from consideration to the decision stage.
Customer Queries/Feedback: Note the volume, type, and content of questions or feedback you receive from leads in the consideration phase. This could help improve your process.
Proven strategies to increase conversion rate at consideration step
Detailed Comparative Analysis: Our team creates comprehensive 'Dashly vs Competitor' content that clearly demonstrates how our solutions outperform others.
Case Studies and Testimonials: We share real-life success stories and positive customer testimonials to provide strong social proof, convincing leads of our product's effectiveness.
Sales Team Engagement: Our sales personnel actively engage with leads during this stage, answering queries and offering personalized advice to nudge them towards making a decision.
Intent
The intent stage of the customer acquisition funnel is a critical juncture that follows awareness, interest, and consideration. It's where a lead shows a strong inclination toward our product—the intention to buy.
Unlike the prior stages that gradually nurture leads, intent is about clear buying signals. It's when a prospect thinks, "Dashly may indeed be my best solution, let me explore this further."
Our Dashly team is super alert at this stage. For example, when a prospect fills a 'Request a Demo' form, it's a strong intent signal. Our sales team jumps in quickly, offering a personalized demonstration while addressing any individual business needs or queries. We've seen this proactive response lead to successful conversions, showing us the power of acknowledging and nurturing intent in the customer acquisition journey.
Metrics to track
Sales Qualified Leads (SQLs): Monitor the number of leads that have shown the intent to buy and are ready for direct sales contact.
Product Trial Requests: Track the number of leads requesting demos or product trials.
CTA Clicks: Measure how many users are clicking on your 'Request a Demo', 'Free Trial', or 'Buy Now' call-to-action buttons.
Conversion Rate: Analyze the percentage of leads in the intent stage who move on to the purchase stage.
Response Time: Monitor the speed at which your team responds to leads showing high purchase intent. This can impact conversion rates significantly.
Proven strategies to increase conversion rate at the intent step
💌 Fast and Personalized Follow-Ups: When a lead shows strong purchase intent, our team swiftly connects with a personalized approach, offering product demos or answering queries.
💌 Retargeting Campaigns: We use targeted ads for leads showing intent, reminding them about Dashly and encouraging them to proceed to the next step.
💌 Exclusive Offers and Incentives: We often share exclusive offers or incentives (like discounts or additional features) to leads in the intent stage, to motivate a move towards the purchase stage.
Automate lead's journey down the funnel with triggered messages reduce your CAC with Dashly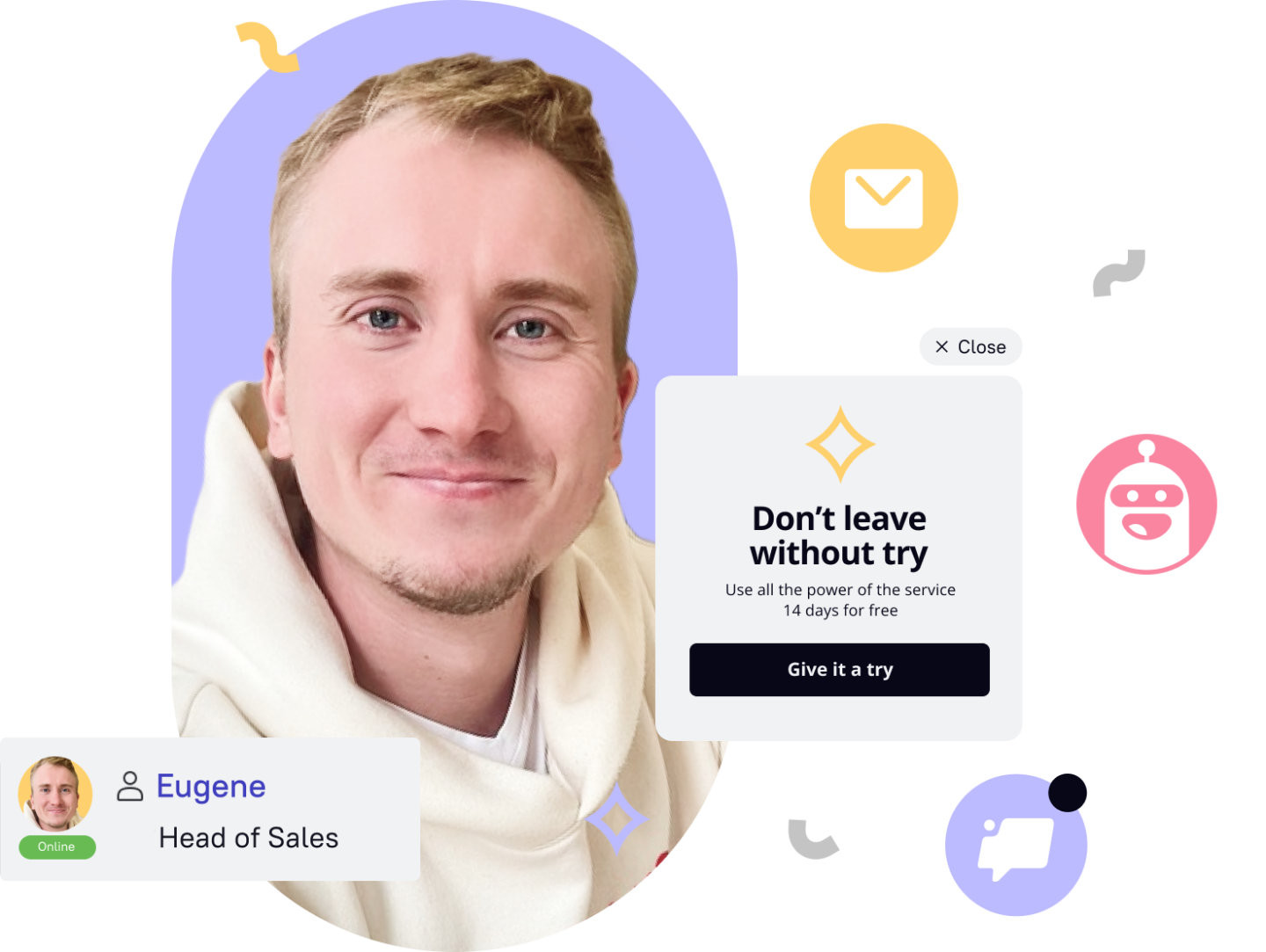 Evaluation
The evaluation stage in the customer acquisition funnel follows awareness, interest, consideration, and intent. It's a critical phase where potential customers scrutinize if Dashly can genuinely meet their expectations and resolve their specific needs.
What sets this stage apart is the deep-dive comparison — not just surface-level exploration, but rather an intense examination. Prospects think "Does Dashly truly outshine the alternatives?"
At Dashly, we equip our leads with necessary tools for this stage. Case in point, we provide a 'compare feature' within Dashly's functional demo, allowing prospects to evaluate our product against others in real-time. We've seen our transparency and assistance during the evaluation stage bolster trust and push prospects towards the purchase stage, thereby contributing to higher conversion rates.
Metrics to track
Trial Conversions: Track conversion rates of demo or trial users to evaluate the effectiveness of your trial process.
Product Engagement: Measure how users interact with different aspects of your product during the trial period.
Sales Conversion Rate: Analyze the percentage of prospects who make a purchase after their evaluation period.
Proven strategies to increase conversion rate at the evaluation step
1. Transparent Product Comparison: At Dashly, we provide a clear, feature-by-feature comparison that showcases the strengths of our product.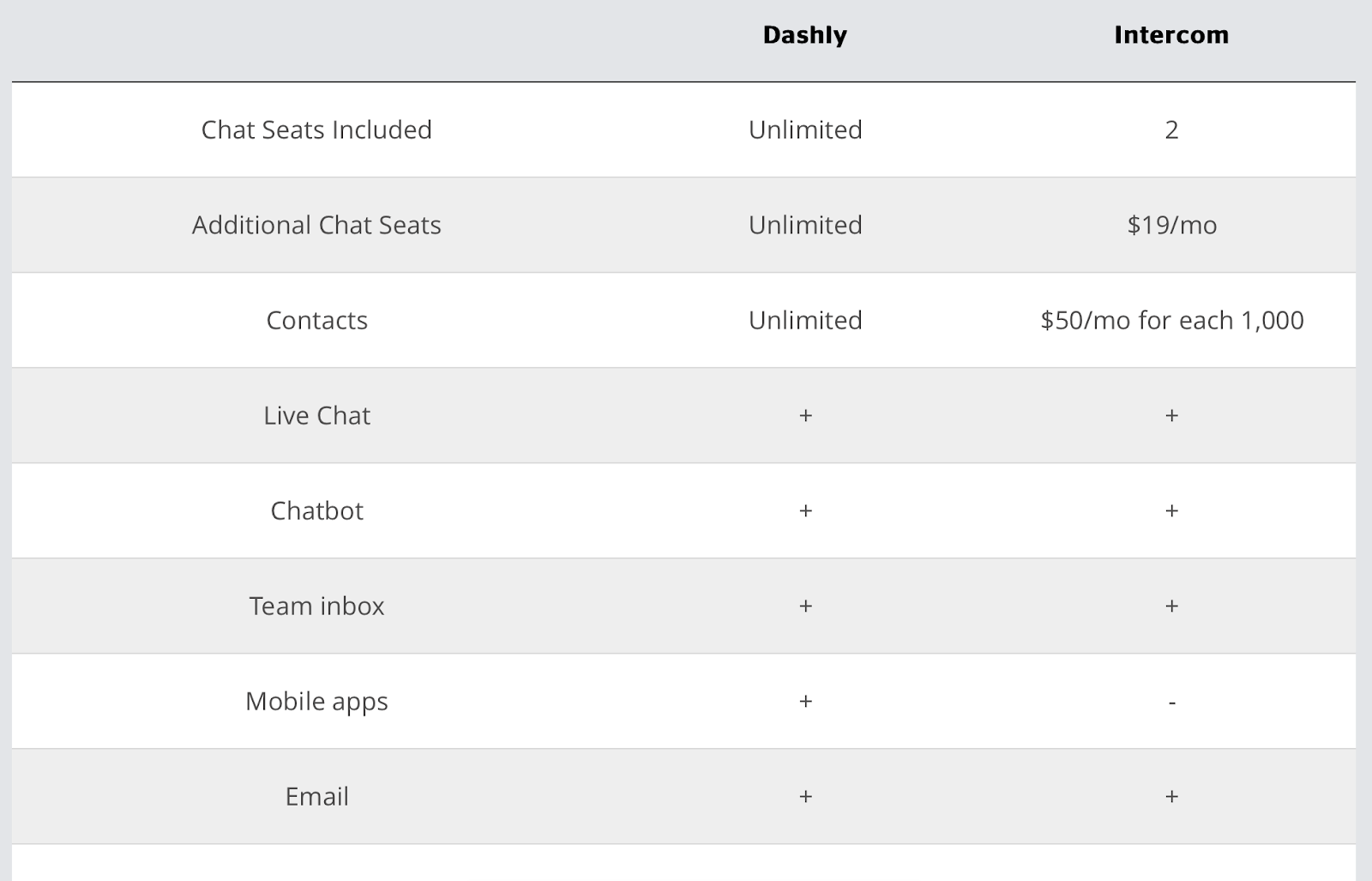 2. Hands-On Trial Experience: We offer a realistic, full-featured trial experience ensuring prospects can evaluate our product's effectiveness in a real-time environment.
3. Proactive Assistance: We readily offer assistance during the evaluation process, answering queries and providing suggestions that can help sway the decision in our favor.

4. Personalized Onboarding Process: At Dashly, we ensure a seamless onboarding process for our SaaS platform, making it easy for users to understand how to get started and capitalize on our features.
This is how the starter guide looks when user chooses "Chat with customers" as a purpose.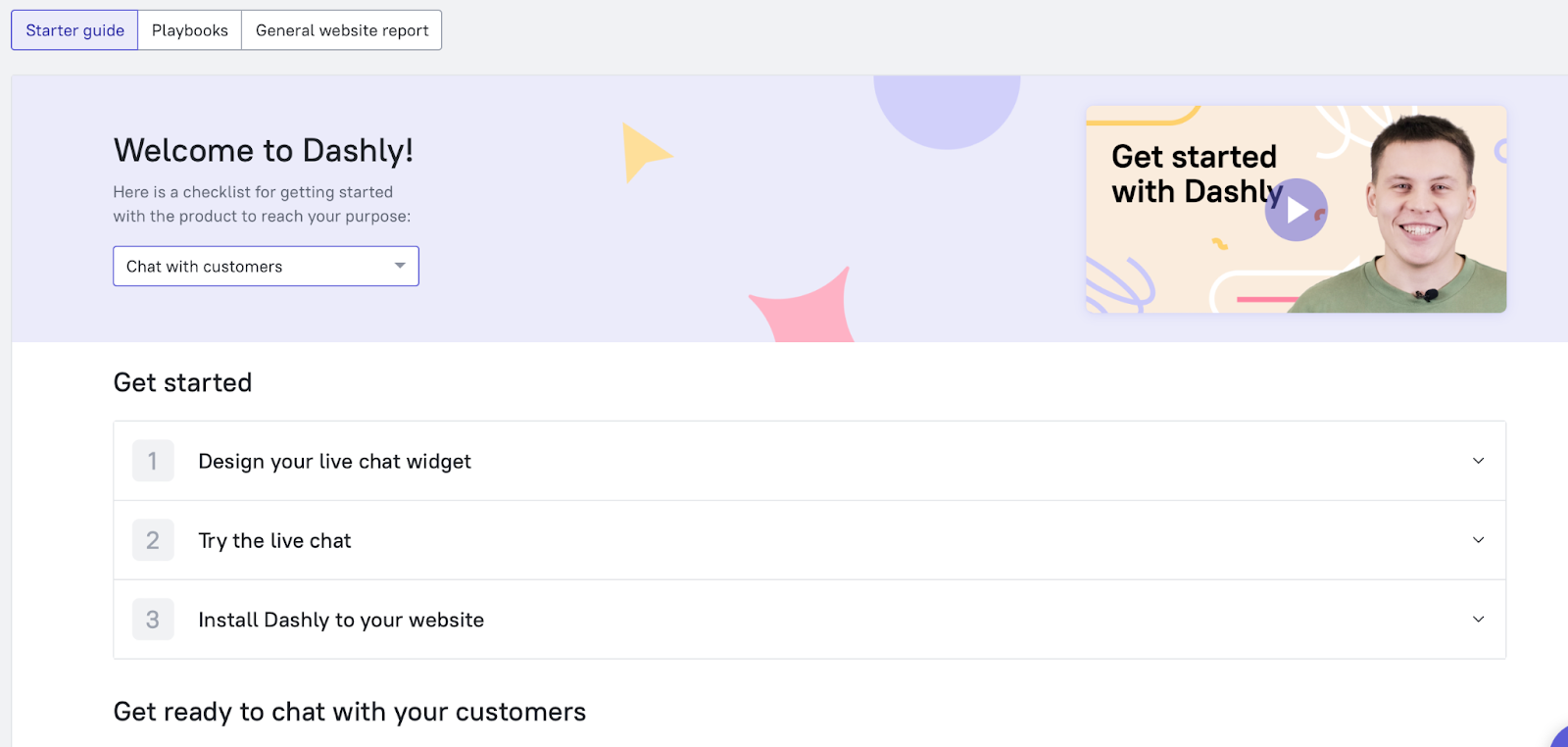 This is how the starter guide looks when user chooses "Increase website conversion" as a purpose 👇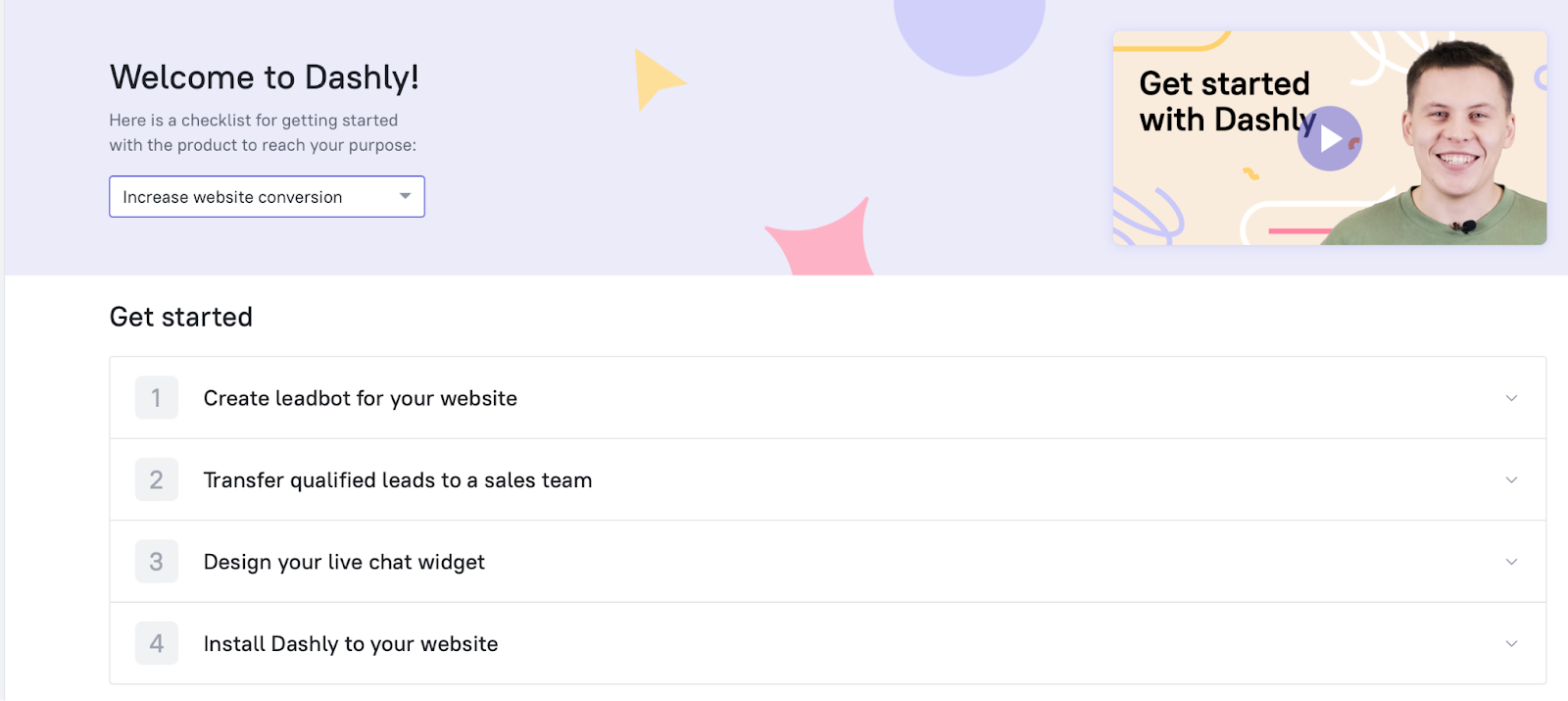 In such a way, users master the platform faster. It is easier to get the product value with such a personalized features advice. 
Purchase
The purchase stage, the finale of the customer acquisition funnel, follows awareness, interest, consideration, intent, and evaluation. This is where our prospects finally become Dashly customers.
Unlike previous stages revolving around nurturing and evaluation, the purchase stage is about making transactions smooth and compelling. Prospects are thinking, "Alright, I've chosen Dashly. How do I proceed?"
Our Dashly team's strategy here is to make the sales process as simple and frictionless as possible. When we noticed a few prospects bailing out at the billing page, we revised our payment procedure, providing multiple, secure payment options and adding a 24/7 chat support for any last-minute queries. Result? A tremendous boost in user acquisition and revenue, validating the importance of a seamless purchase process.
Metric to track
Completion Rate: Measure the number of customers who complete their purchase compared to those that initiated it.
Average Purchase Value: Track the average amount spent by customers per transaction.
Time to Purchase: Monitor the time it takes for a customer to go from adding a product to their cart to completing purchase.
Abandoned Cart Rate: Analyze the number of users who add products to their cart but leave without completing their purchase.
New Customer Acquisition Rate: Track the number of new customers acquired, a direct result of successful purchases.
Proven strategies to increase conversion rate at the purchase step
Flexible Subscription Plans: We offer a variety of subscription options tailored to suit different user needs and budgets, encouraging more sign-ups.
Real-Time Customer Support: Our dedicated support team is available round-the-clock to assist users during the purchase process, helping resolve any issues instantly.
Automated Email Reminders: We send personalized reminders to users who initiated but did not complete the subscription process, nudging them towards making a buy decision.
Trial Extension or Upgrade Offers: For trial users or those on lower-tier plans, we often roll out special offers and incentives to upgrade or extend, thereby encouraging purchase.
Automate lead's journey down the funnel with triggered messages reduce your CAC with Dashly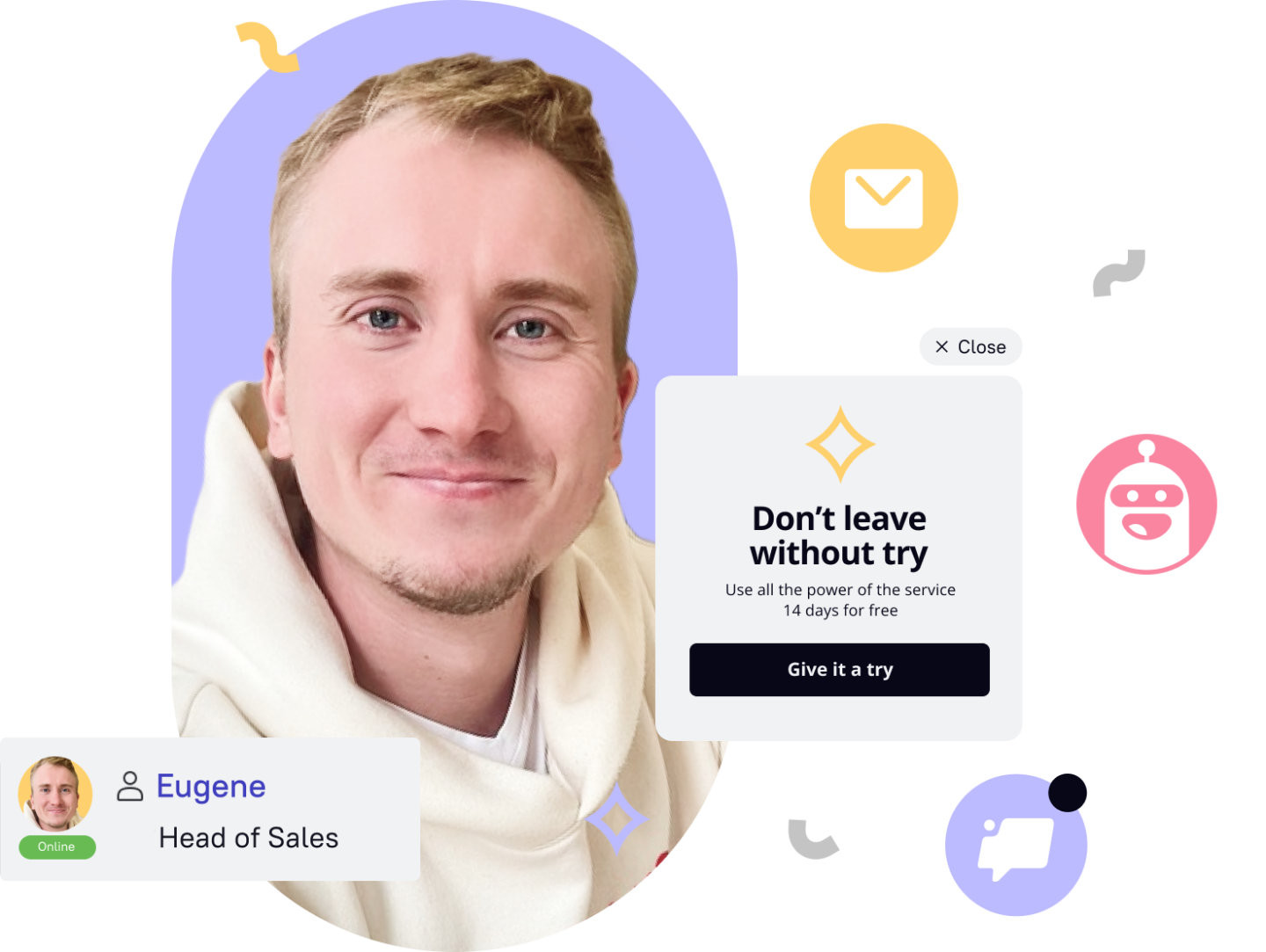 4 steps to build your acquisition funnel
Recognizing the value of a customer acquisition funnel is crucial in mastering marketing. It's the silent operator behind attracting and preserving customers, while also being a real money-saver on advertising expenses. But the question is — how do you construct this acquisition funnel to meet your business objectives and resonate with your customers' journey?
So, buckle up as I unveil the Dashly team's formula — a four-step process to build an efficient customer acquisition funnel. This strategy helps prevent potential leakages, ensuring a smooth, uninterrupted transition of potential customers to confirmed purchasers. It's time we put our funnel to work and pave a glitch-free 'purchase pathway' for an optimized buying experience! 🚀
1. Know your potential users
Crafting an efficient customer acquisition funnel begins with genuinely understanding your audience. It's more than just identifying demographics — you need to delve into their motivations, behaviors, routines, and aspirations.
Adopt a customer-focused mindset to foresee where to locate prospective customers and what fuels their decisions. (Added advantage — you can use these insights to segment your audience for more tailored messaging.)
Here, we present two efficient methods to gain deeper insights about your customer base:
1️⃣ Evaluate existing user personas — these are snapshots of your potential customers. (If you haven't got them yet, we've got your back with our ICP template.)
2️⃣ Construct a customer journey map (CJM)! It's a visual representation of the various interactions a customer has with your brand during their process of purchasing the product.
It is easy when you have tools like website visitors behavior tracking tool showing you on what pages visitors convert into clients 👇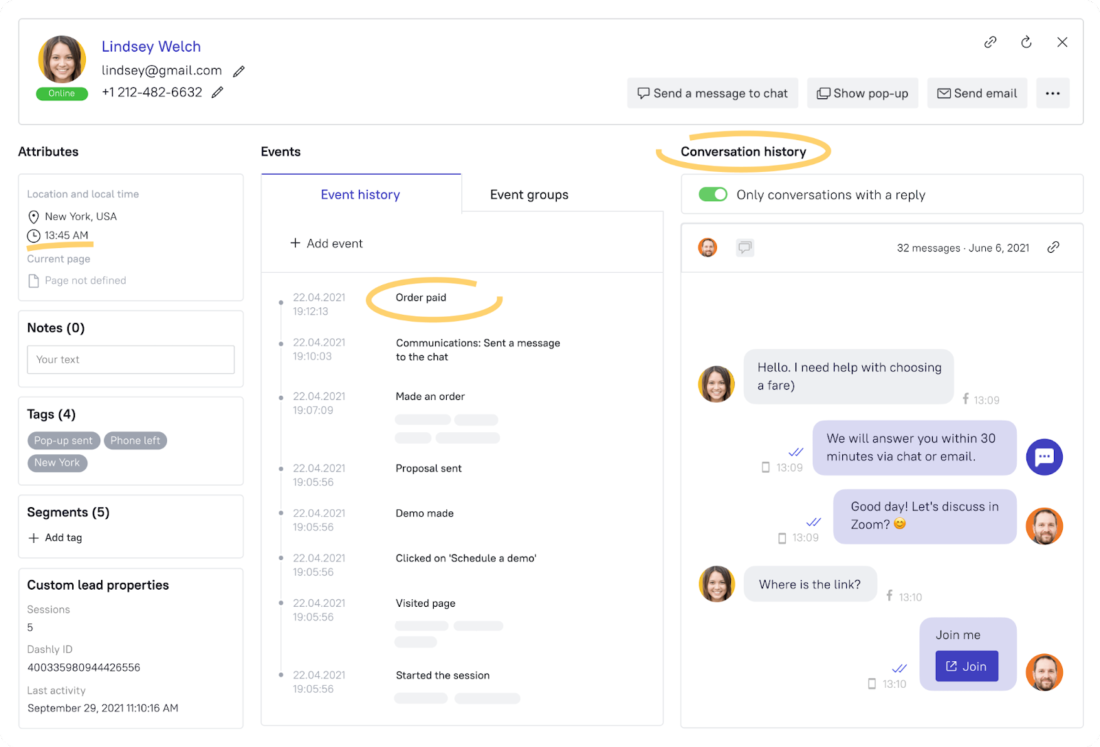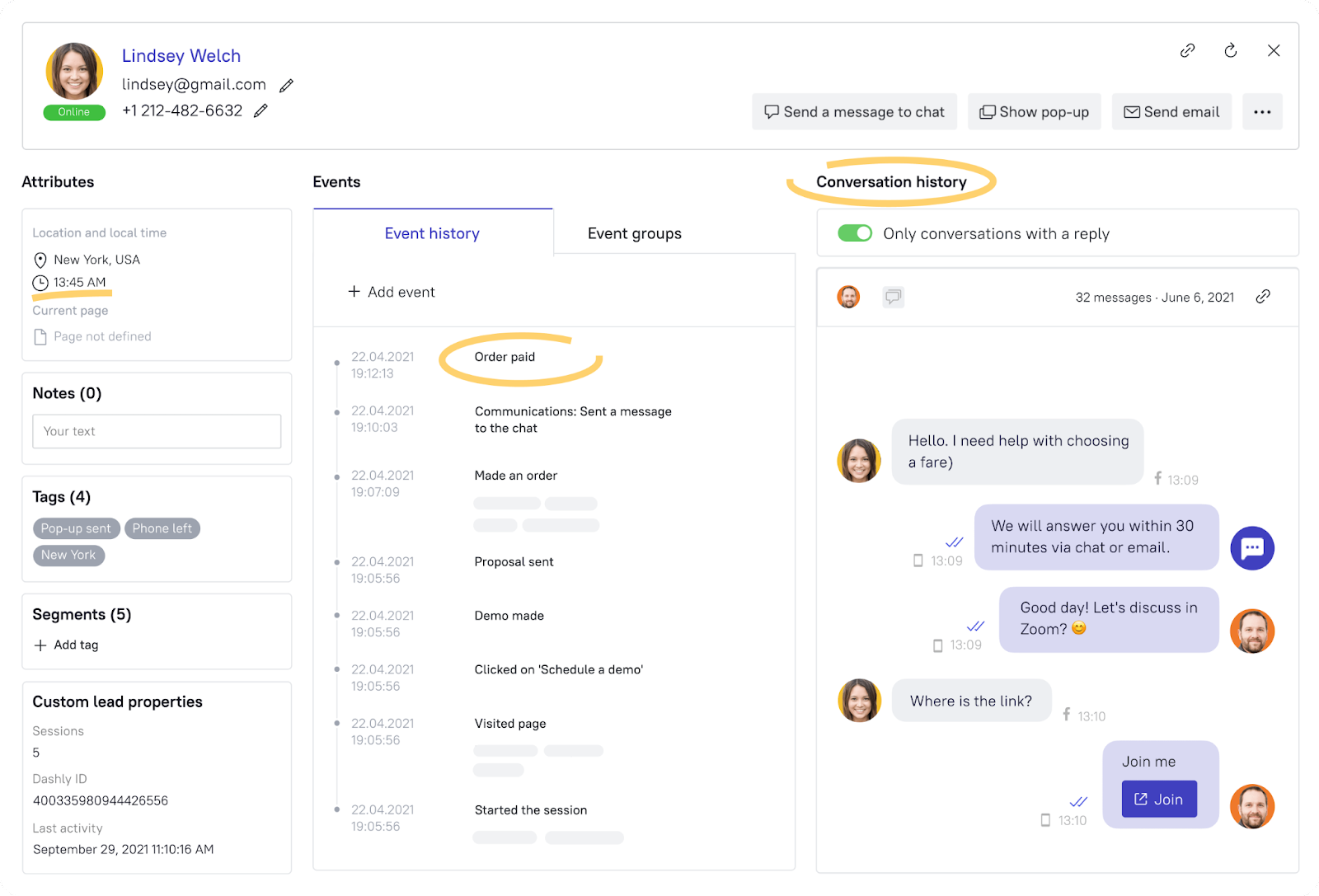 So let's dive into this process, brushing up the rate of customer acquisition, and fortifying the connection between our product and your brand.
2. Choose the right funnel channels
To reel in new customers, you need to show up in the right places at the right time. Are your prospects avid email users or do they favor professional networking on LinkedIn and occasional tweeting?
When deciding on your focal channels, consider these factors:
👉 Target Audience: Your customer acquisition funnel should be customer-centric. Look at your user personas, CJM, and market insights before choosing channels. Let's say you're an e-commerce apparel brand trying to capture the Gen Z market, Instagram or influencer marketing could be your ticket.
👉 Competitor Behavior: Run a competitive analysis for inspiration. Where are your business rivals most active? Utilize social listening or SEO tools to assess their success rate. Reflect on whether their strategy could work for your brand.
Endeavour to have a presence across multiple channels for maximum impact. Identify where your prospects spend most of their time and concentrate on those few.
Remember: different channels might work better at varying stages of the acquisition funnel. For instance, awareness may be fueled by Facebook ads and insightful blog posts, while purchase intent could be elevated via personalized email offers, notifying customers about product launches or sales. Developing a dynamic, stage-aware funnel is the way to go!
3. Create (and execute) an acquisition content plan
Having settled on the most suitable channels, it's time to develop a content creation and dispersal plan to drive your customer acquisition funnel into action!
Here's a useful approach to shaping your funnel content strategy:
👉 Ask pertinent questions for each stage: What kind of information do customers require to progress to the subsequent stage? Decide when and where to feature product visuals, specs, pros, testimonials, pricing, service plans, guarantees, or return policies.
👉 Assess your information load: For instance, your TOFU B2B SaaS prospect might not be ready for an exhaustive white paper just yet—it could, however, be a game-changer deeper down the funnel.
👉 Consider your content delivery: Endeavor to choose a content format that connects with your audience and delivers value at each stage, whether it be blog posts, ebooks, videos, user-generated content (UGC), case studies, or targeted email sequences.
👉 Always keep your ideal customer and their purchase journey at the heart of your plan.
Feel unsure about your content or campaigns? Gather more insights. Quickly fire off a survey link to customers on your email list, or introduce one onto a popular page on your website. Remember, when building an acquisition funnel, knowledge is power!
4. Optimize for conversion
Developing a customer acquisition funnel isn't a one-and-done affair. Once you've established the fundamentals, it's an ongoing journey of funnel evaluation and refinement to boost its efficiency.
Here's a simple three-step process to make conversion rate optimization (CRO) feel like a walk in the park:
💡 Kick-off with evaluating your quantitative data — the hard numbers — to assess your funnel's performance. Depending on your company's objectives, you might want to inspect: CLV, churn rate, conversion rate, time-to-conversion rate, drop-off rates, and lead generation rate channel-wise.
💡 Dive into areas that need attention using qualitative data. Supplementary insights into customer behavior and sentiments can help pinpoint where your funnel may be leaking. For instance, if there's a substantial drop-off rate during the checkout phase, inspect session recordings to check for signs of user frustration like rapid multiple clicks ('rage clicks'). Gather customer feedback with an onsite widget to gain clearer insights.
💡 Implement A/B tests. Formulate an alternate solution hypothesis and test it against the current scenario. If you suspect that a product page could benefit from a more in-depth description, do an A/B test. Compare its performance against the original to ascertain its impact on customers.
💡 Once you've discerned how to tighten up your acquisition funnel for better CAC (Customer Acquisition Cost), ensure to align with relevant teams like marketing, sales, and CX for implementing these enhancements. Remember, the route to a successful conversion rate is an iterative process that keeps the brand, product, and rate in focus.
How much does a target customer acquisition cost
Your business's customer acquisition cost is the amount of capital invested in acquiring new customers or users (through marketing efforts), divided by the number of individuals who eventually become paying customers.
Let's say you splurge $1,000 on social media advertising, which yields 100 sales. This makes your cost per acquisition stand at $10.
It's crucial to realize that no single metric for deducing the cost of acquiring a customer is universally perfect. Nonetheless, a fitting place to commence is by estimating the cost of acquisition (CAC) and juxtaposing it with the customer lifetime value (CLV) — two key elements in effective customer acquisition strategies.
Industry gurus propose that your CAC to LTV ratio ideally should be 1:3. This implies that if the average lifetime value of your customer totals $30, then your CAC needs to be $10 or less. Remember, the lower the acquisition cost, the wider your profit margin. Navigating your way through the sales funnel with clever strategies like this can maximize your success.
Common Challenges with Acquisition Funnels
Implementing an acquisition funnel poses some significant challenges for businesses. Here are four main roadblocks my team has met:
😿 Defining Acquisition Goals: With no clarity about what needs to be acquired and why, creating a successful funnel becomes challenging.
😿 Gauging Target Audience Size and Value: It's a steep task to estimate the scale and worth of your audience, integral for a productive funnel.
😿 Budget or Resource Constraints: Limited resources can make the audience acquisition process more complex.
😿 Measuring Acquisition Success: Evaluating the effectiveness of the customer acquisition process is often mired in complexity.
As you craft your funnel, it's crucial to have a clear vision of your acquisition objectives. A precise understanding of your target audience is vital. Be sure your customer acquisition tactics capture the right audience, converting leads to customers. And don't overlook the necessity to track your progress against set goals, as it is pivotal to the success of your acquisition strategy.
Measuring the Success of an Acquisition Funnel
Ascertaining the success of an acquisition funnel involves a series of interconnected components. Here's a condensed guide my team follows:
📈 Outline Distinct Objectives: Establish concrete goals synonymous with your business growth strategy. Increased quality leads? Better conversion rates? More effective customer retention? My current goal is to collect 100 demo requests during the autumn quartal. 
📈 Identify Key Performance Indicators (KPIs): Your KPIs should directly signify your objectives. For instance, if you're focusing on customer acquisition, monitor parameters such as lead generation rate, conversion rate, and Customer Acquisition Cost (CAC).
📈 Keep Tabs on Funnel Metrics: Monitor individual stage parameters like engagement rate, bounce rate, dropout rate, and user engagement duration on the website. This helps pinpoint and fix any 'leaks' in your sales funnel.
📈 Determine Customer Lifetime Value (CLTV): Knowing CLTV alongside your acquisition cost supports an understanding of the profitability derived from each customer acquired.
📈 Adopt Analytics Tools: Leverage analytics platforms to comprehensively track, measure, and analyze your acquisition strategies' effectiveness.
📈 Conduct Regular Audits: Implement recurring audits to ensure your funnel is performing at its peak — making ledger corrections when necessary. For example, each week we share report on the number of registration and demos. If we need more demo requests, we ask Polly, our social media manager, to change her distribution plan and prioritize landing pages that potentially can bring us demos.
In essence, highly effective customer acquisition strategies rely on well-defined objectives, precise tracking, and iterative optimization.
To sum up
In conclusion, building a robust customer acquisition funnel is integral to successful marketing. It guides customers on their journey, from initial awareness to the final purchase. As intricate as it may be, the benefits it yields, from increased engagement to reduced customer acquisition cost, are irreplaceable. If you're looking to supercharge your customer acquisition strategies, our experts at Dashly are just a conversation away. 
Reach out to us and we'd be thrilled to share insights and provide tailored advice based on our rich experience in customer-centric marketing. Schedule your consultation today!
FAQ
What are customer acquisition funnel stages?   
A customer acquisition funnel outlines the journey a customer takes from first coming into contact with a brand to making a purchase. The stages include:
Awareness: Potential customers learn about your brand through various marketing efforts.
Interest: Customers who have shown an interest in your brand start to explore more about your products or services.
Consideration: Prospects are seriously considering your offering as a solution to their need.
Intent: Potential customers show a propensity towards making a purchase.
Evaluation: The process where customers analyze whether your product or service meets their needs.
Purchase: The final stage where customers complete the transaction and become part of your customer base.
Following this customer acquisition funnel allows you to understand and address prospects' needs at each stage effectively.
What are the best client acquisition strategies? 
It depends on the funnel stage you're working with. For example, at the awareness stage we write SEO optimized TOFU articles like what is a chatbot; at the consideration stage we offer clients a website assessment done by Dashly expert in order to increase their lead conversion rate; at the evaluation stage we share comparison with our competitors like "Dashly vs Drift. What is better?". 
Why funnel marketing is important?
Why is funnel marketing key? Well, it's all about guiding your potential customers. You catch their attention, spark interest, convince them, and boom — they buy! With the right funnel, conversion rates shoot up. In fact, according to AdStage, conversions can be 10x more likely with a well-designed funnel. That's more sales and engagement for you. So, absolutely worth it!
What is sales funnel? 
A sales funnel, in marketing, is the journey or process that businesses lead their customers through when purchasing products or services. It's a visual representation of the customer acquisition process. From the first point of contact (or awareness) through to a completed sale, customers move down this 'funnel'. By understanding and improving this process, businesses are better able to guide their customers towards a purchase, thus enhancing their customer acquisition efforts.
What is the role of ads in the customer acquisition funnel?
Ads play a critical role in the customer acquisition funnel. They are essential in the awareness stage, often serving as the first point of contact with potential customers or leads. Ads help grab attention in the market, create interest in your products, and guide leads through the subsequent stages of the funnel. Ads can thus boost your overall customer acquisition strategy by helping you increase brand visibility and reach out to potential customers.
What is LTV (Lifetime Value)?
LTV is the total net profit from a customer throughout the business relationship. In the customer acquisition funnel, understanding LTV is key. It helps identify how much value a lead can bring over time, thus helping strategize the allocation of resources in various stages of the funnel. In essence, understanding LTV helps optimize your customer acquisition strategy, ensuring it's profitable to acquire new customers in comparison to the value they provide over their customer lifetime.
Read also: