Endless sales calls but no sales? Lack time to process all leads and lose perspective ones?
As a growth marketer at Dashly, I've shared these woes. Once, our sales team grappled with waves of meeting requests. Unfortunately, none of them ended up with a deal. Why? Our product didn't fit their needs. So we decided to prioritize leads who needs Dashly. 
Thus, we refined our lead qualification process. In addition to email, we also began asking leads about their industry, website URL, and traffic. 
And guess what? 
The number of sales grew, and we finally smash KPIs.
This didn't come easy, though. We devoted weeks to testing various lead qualification tools, from chats and forms to quizzes and popups. Now, we're sharing our top 10 lead qualification tools to help you qualify leads and boost your sales process. 
Dashly: best chatbot to qualify leads and deliver them to your sales
Dashly is a conversational platform to streamline your marketing and sales communication with potential leads on website, messengers, and social media. Over 70 EdTech and SaaS companies refused static forms and use Dashly to capture prospects and qualify leads in a two-way conversation. Among the tools they use are live chat, pop-ups, and the most popular — chatbot. 
Dashly clients launch it to qualify visitors and distribute a prospect across teams depending on user responses. It'll divide what leads worth sales rep attention and who will go through self-service funnel messages.
How does a chatbot collect and deliver sales qualified prospects?
Install Dashly service on your website.
Choose a ready-made template in the chatbots section.
Edit the chatbot replies in visual builder and check how it looks on the users' screen.
Qualify leads and pass them on to the right team!
Pricing for marketing and sales
Dashly lead qualification tool offers you transparent pricing for any budget that doesn't depend on the number of agents and contacts and starts from $39/mo. It depends on your monthly website traffic and the add-ons you choose to enable.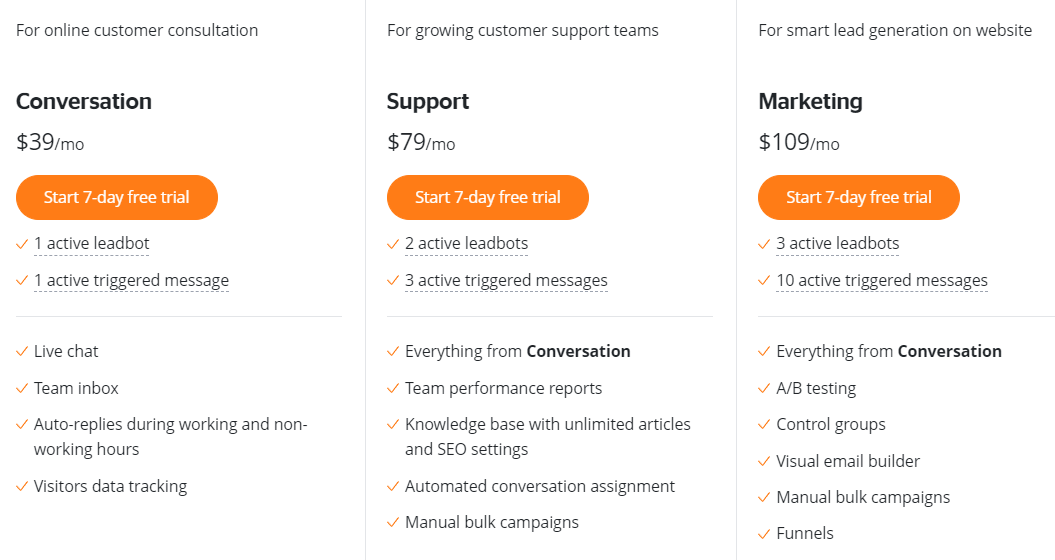 To make your choice reasonable, we provide a 7-day free trial license on the tool.
GetLeadForms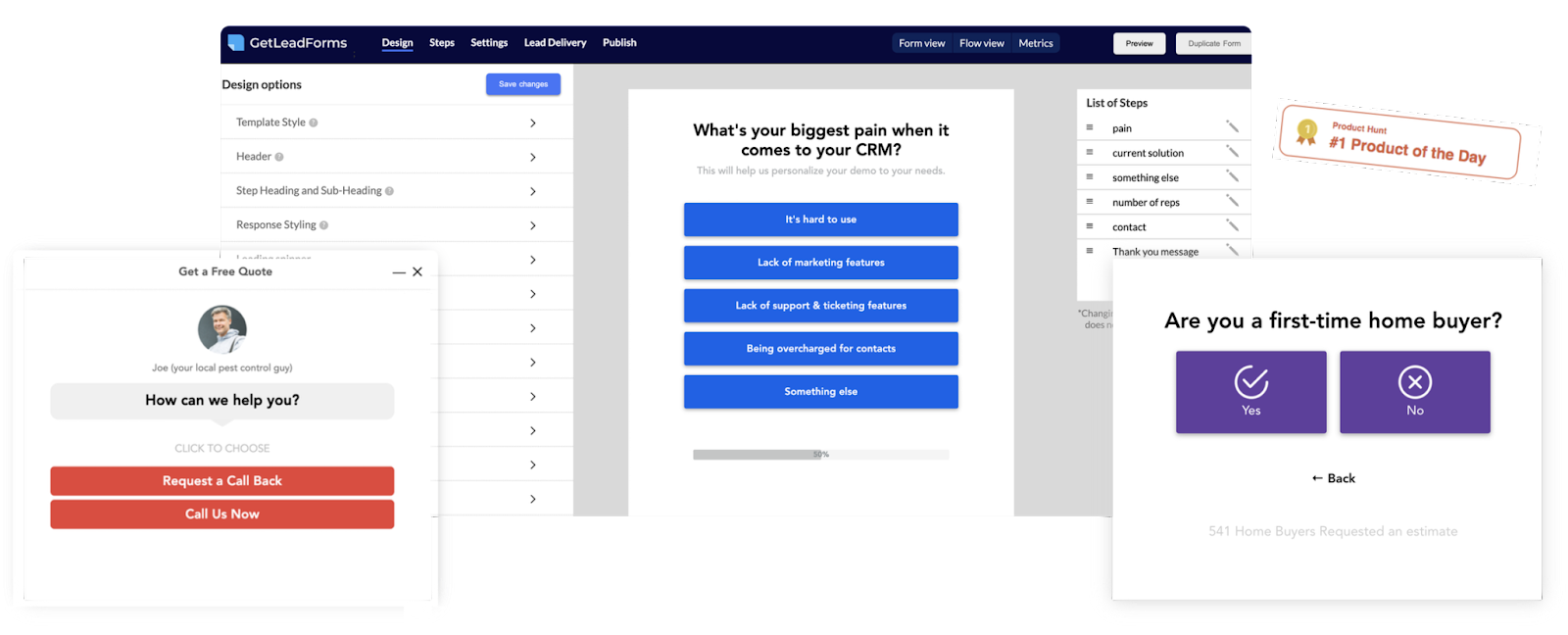 GetLeadForms is a potent lead qualification tool designed to generate leads that truly matter. Its mission is simple — make your business blossom by attracting and nurturing qualified leads. GetLeadForms aims to empower companies to channel their marketing efforts towards leads that are more likely to convert. From small businesses to large enterprises, it's a go-to tool for companies determined to get the best out of their website traffic.
Features
Lead Scoring: Identify and prioritize website visitors who are more likely to become customers.
Form Builder: Customizable forms to capture information that helps you better qualify leads.
Real-time Analytics: Gives you the power to make data-driven adjustments in your lead qualification approach.
Integration: Seamlessly integrates with your CRM, feeding qualified leads to your sales team directly.
Pricing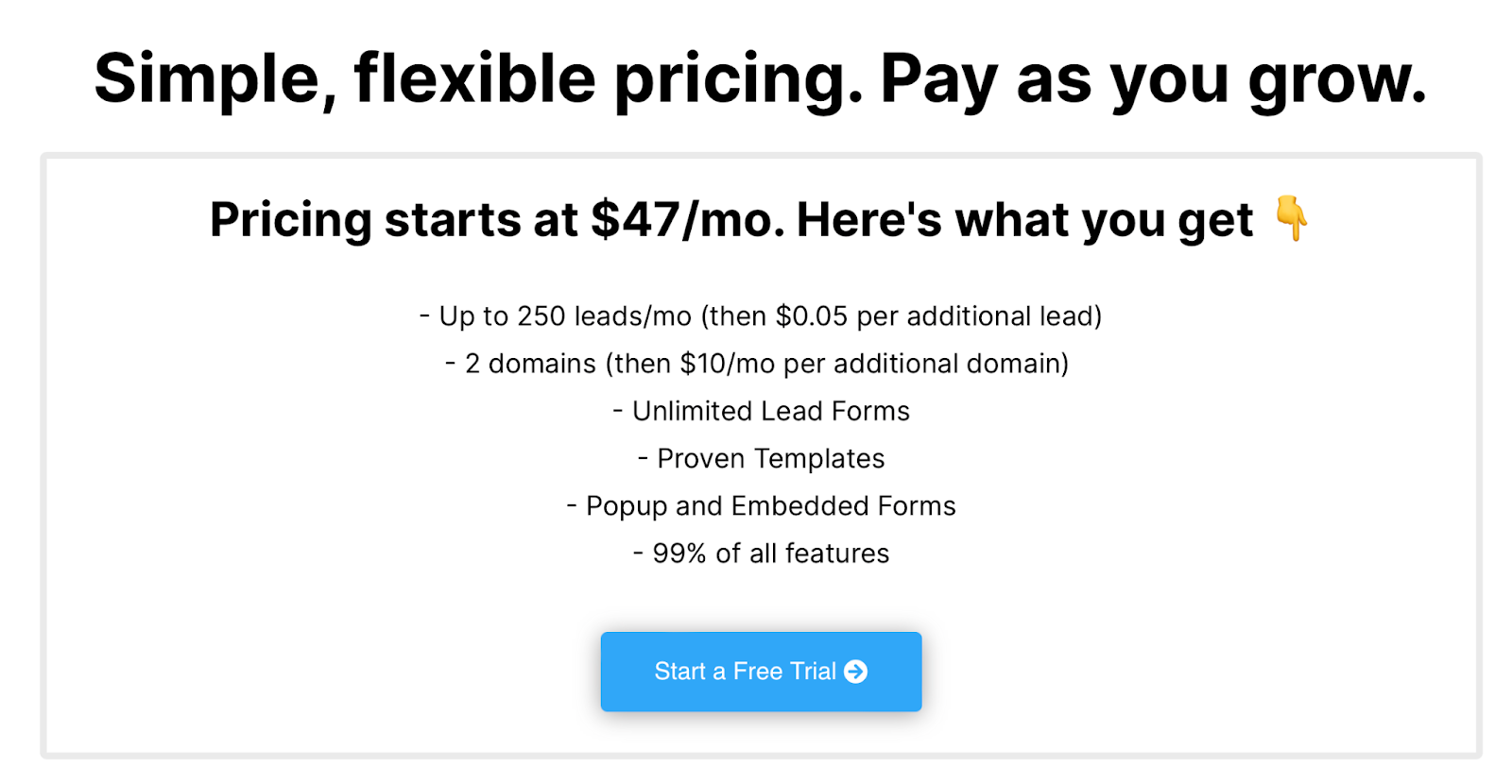 The pricing at GetLeadForms is budget-tailored; with the starting price at $47/month. They generously offer a free 7-day trial, a welcome move for businesses wanting to test the tool's effectiveness. 
Cons and Pros
✔️ User-friendly interface.
✔️ Customizable form fields to target exact lead information.
✔️ Good integration with major CRM systems.
✔️ Real-time data analytics.
❌ Pricing might be on the higher side for startups on a tight budget.
❌ Advanced features available only under higher-tier plans.
In essence, GetLeadForms is a comprehensive solution designed to refine your lead qualification process. From attracting potential customers to guiding them smoothly through the sales funnel, this tool has got you covered.
Leady for marketing identification of your website visitors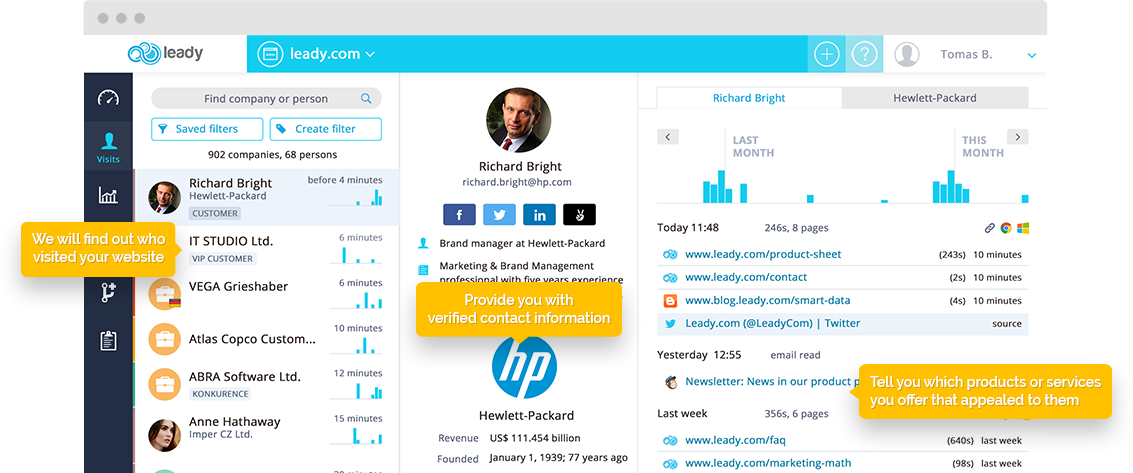 Leady is a dynamic lead qualification tool designed to transform anonymous website visitors into identifiable profiles that can serve as potential leads for your business. Their aim is to enhance the conventional marketing process by focusing on leads that have real potential to boost sales. From startups to Fortune 500s, Leady can serve any business that aims to optimize its lead qualification process.
Features
Lead Identification: Uncover real people behind anonymous website traffic.
Behavior Analysis: Track potential leads' behavior on your website to understand their needs better.
Integration: Leady integrates seamlessly with your existing CRM software, streamlining your sales process.
Real-Time Alerts: Get notified when a potential lead visits your website, enabling you to engage at the right moment.
Pricing
Leady's pricing begins at $39/month, making it very affordable even for small businesses. Four different plans cater to different needs based on the number of unique visitors per month: S, M, L, and XL. They also offer a 14-day free trial during which you can test whether the tool meets your requirements.
Cons and Pros
✔️ It provides a cost-effective way to identify and qualify leads.
✔️ Easy to use interface ensures fluid customer experience.
✔️ Behavioral tracking feature offers insights into customer preferences.
✔️ Efficient CRM integration helps to automate the lead qualification process.
❌ Lacks some advanced features offered by competitors.
❌ The free trial period is relatively shorter.
Chili Piper for lead qualification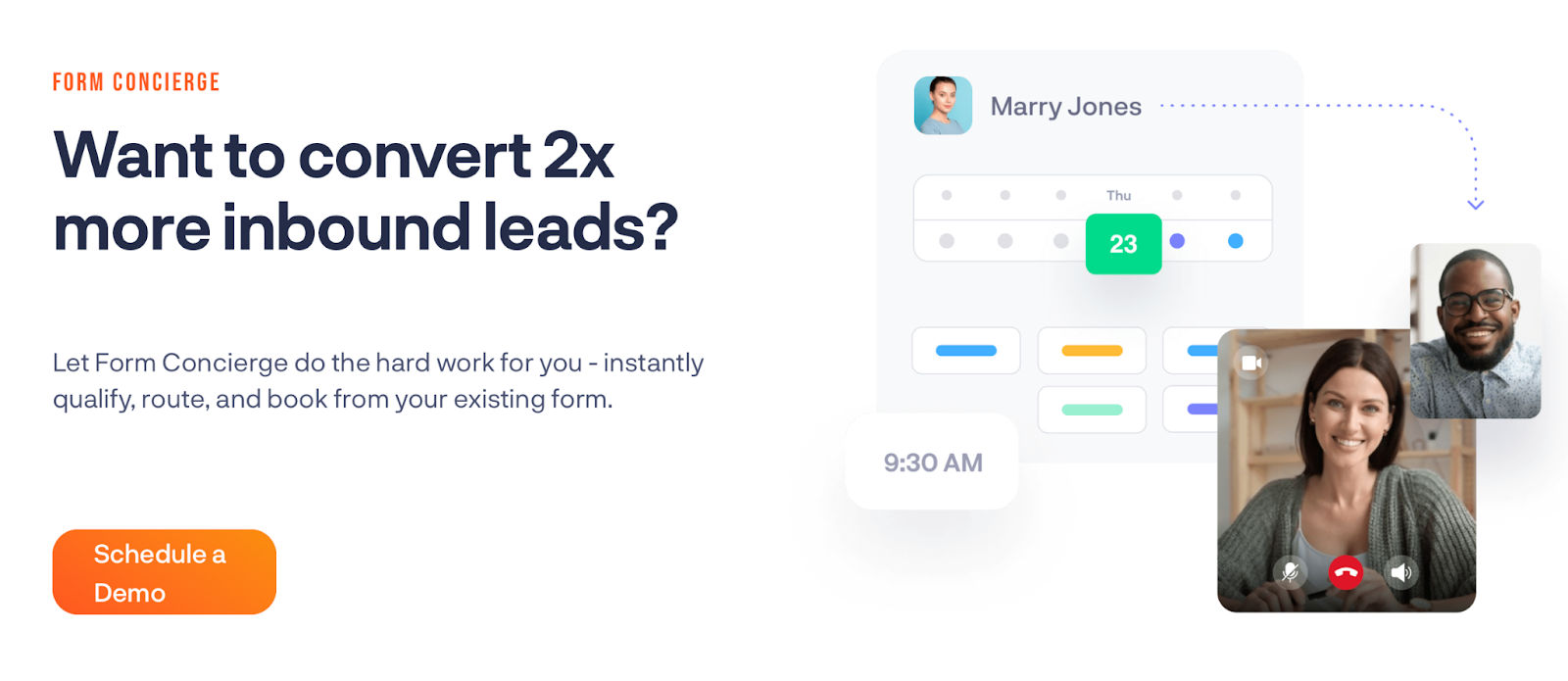 Chili Piper presents a refreshing spin on the traditional lead qualification process. It provides an intelligent suite of software solutions aimed to help businesses constructively convert leads into prospective customers. As a top preference for a spectrum of businesses ranging from sprouting startups to well-established industries, the objective of Chili Piper is to empower your marketing strategies and vitalize your lead qualification endeavors.
Features
Form Concierge — Qualify, route, and schedule prospects directly from your web form. 
Concierge Live — Connect your prospects through live calls.
Distro — Route prospects from field updates in Salesforce.
Handoff — Route and schedule prospects from bizdev to sales to implementation.
Instant Booker — Book the right meetings faster with one-click scheduling.
Pricing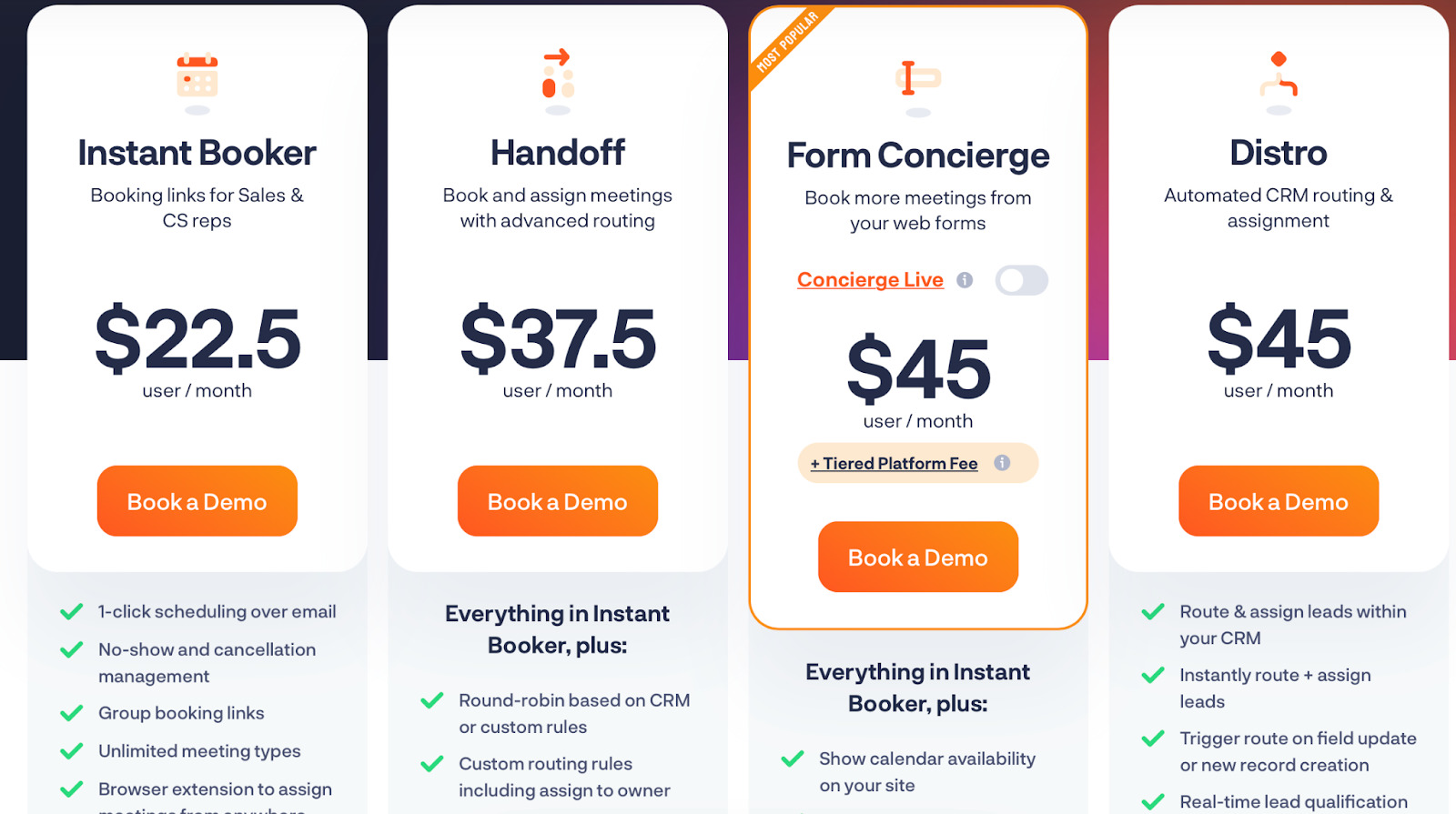 The starting price is $23 per user per month and is based on the number of users in your team. It offers a free 21-day trial with a comprehensive experience and poses four plans — Instant Booker, Handoff, Form Concierge, and Distro each suitable to distinct business needs.
Cons and Pros
✔️ Simple-to-use form-based booking system.
✔️ High level of customization for meeting setups.
✔️ Seamless integration with existing CRM software.
✔️ Efficient tracking for qualified leads.
❌ Navigating the variety of features can be overwhelming for first-time users.
❌ Pricing can be a barrier for smaller businesses with tighter budgets.
Download the guide on website lead qualification
Thanks! Now check your inbox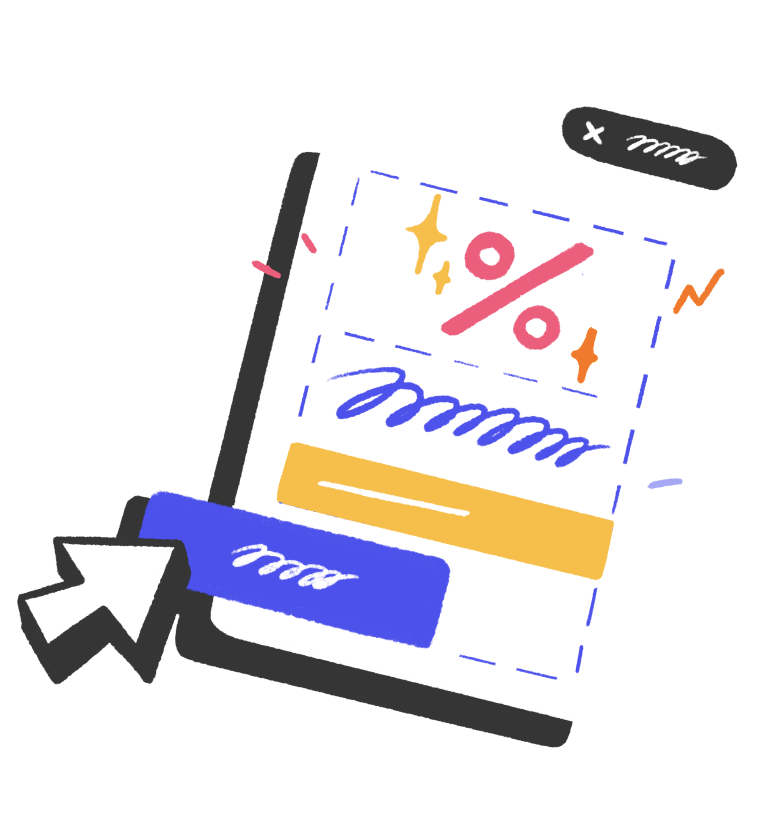 Drift AI tools to qualify your visitors

Drift is all about revolutionizing the way companies qualify leads. It provides a holistic set of marketing and sales software designed to engage and convert website traffic into qualified leads. With a strong belief in putting customer conversations at the center of the sales process, Drift is favored by an array of companies, especially those with a heavy online presence.
Features
Chatbot: Programed to engage with potential leads and gather crucial information.
Automated Book Meetings: Transforms mere visitors into actual sales meetings within seconds.
Email Campaigns: Built-in email tools help nurture leads and keep conversations alive.
Real-time Notifications: Alerts the sales team when potential leads are on the website.
Pricing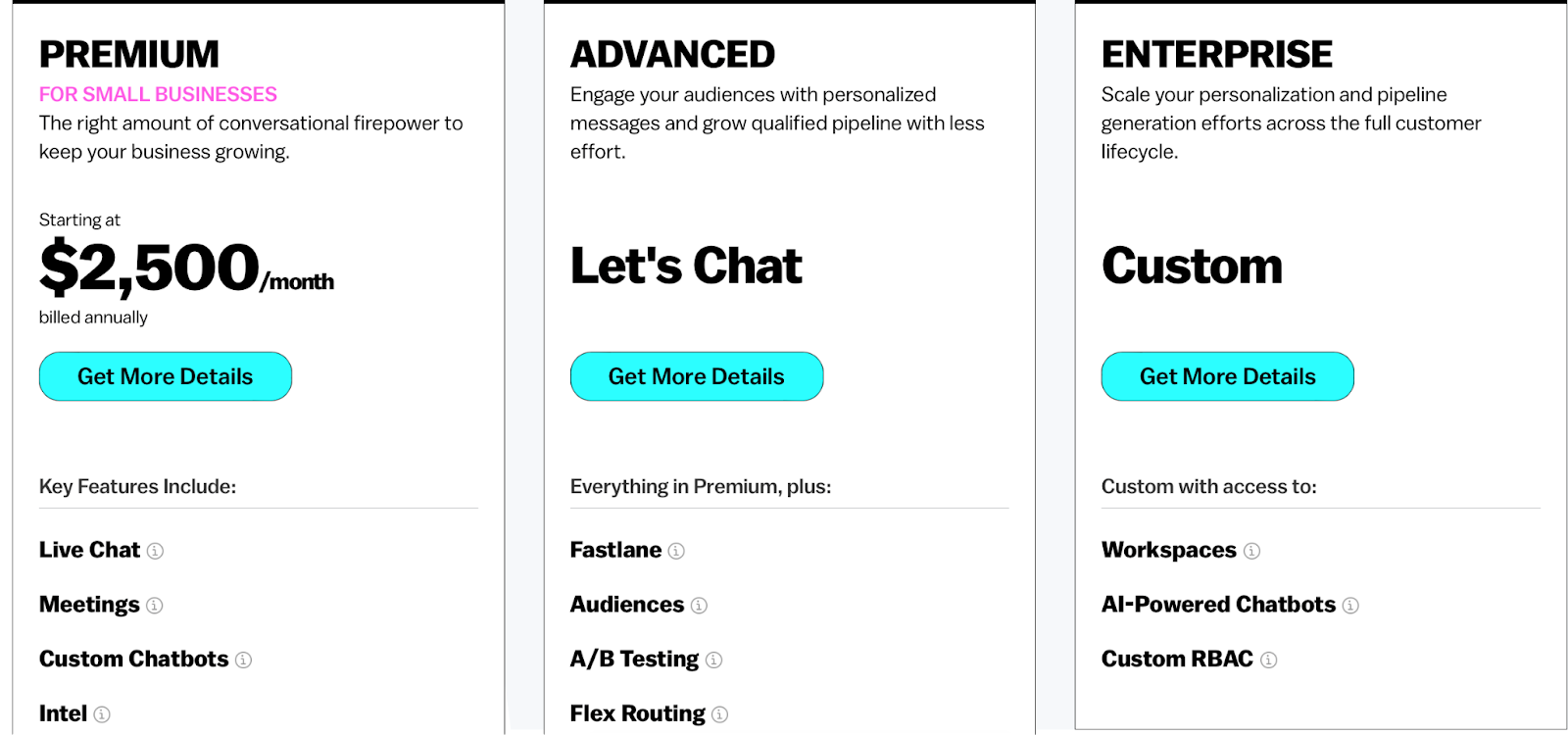 The pricing depends on the needs and size of your business. Drift offers a Free plan, great for getting your feet wet, and three paid ones — the Premium staring at $2500/mo, Advanced, and Enterprise plans, designed for business-specific needs and scalability. Each plan includes a free trial period based on the chosen package.
Cons and Pros
✅ Engaging chatbot to facilitate lead qualification. 
✅ Efficient system for setting up sales meetings. 
✅ Integration with popular email software helps streamline marketing efforts. 
✅ Real-time notifications keep the sales team informed.
❌ Interface may seem complex for first-time users. 
❌ More advanced features are limited to the premium plans.
Exceed.ai to automate lead qualification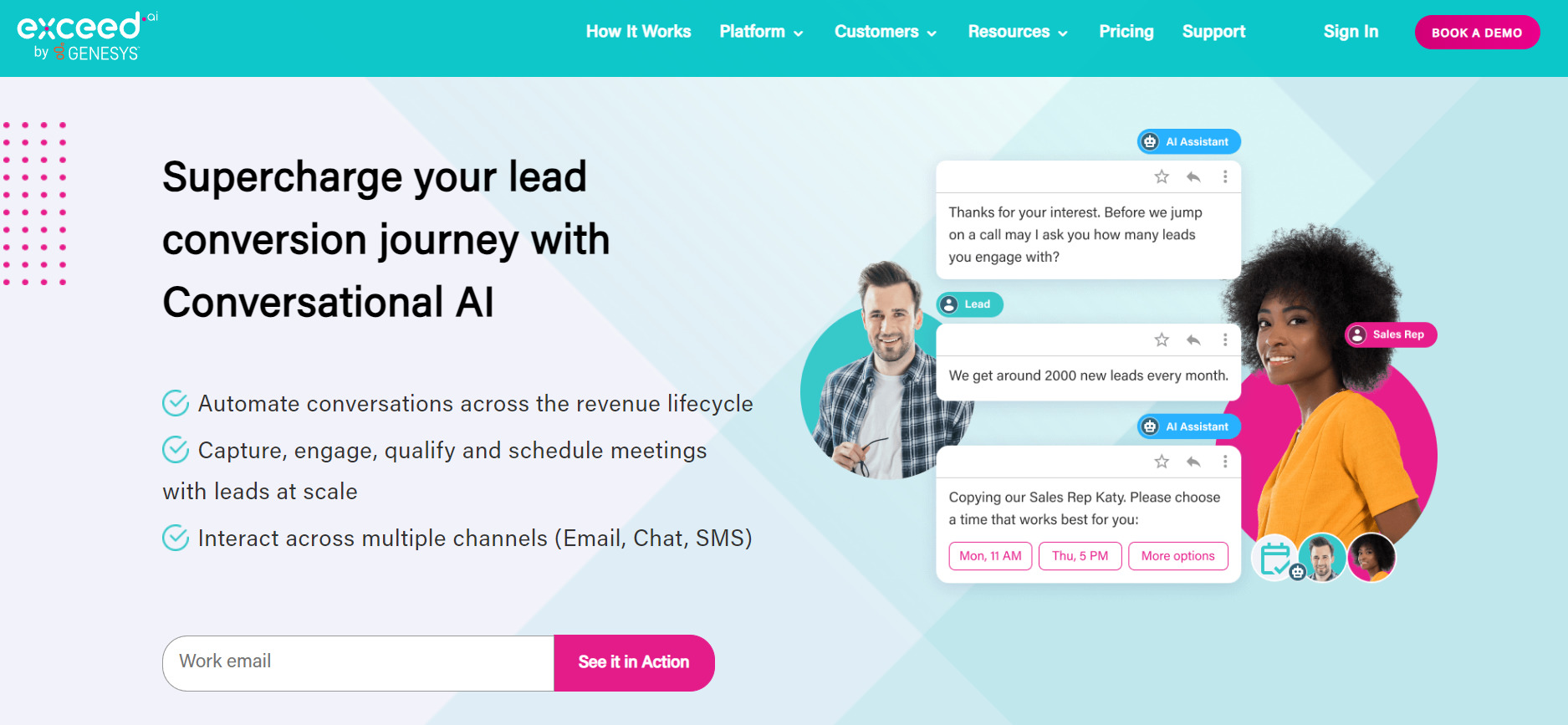 Exceed.ai offers an intriguing blend of AI-powered solutions built to qualify leads more efficiently. The company's goal is to streamline your marketing process and ensure no potential lead stays unnoticed. Its software provides immense value to businesses widely across various industries that are looking to automate and improve their sales process.
Features
Acquire more leads with the AI chatbot
Follow-up with 100% of leads with the AI email bot
Put lead qualification & meeting scheduling on autopilot
Optimize engagement with insights & testing tools
Pricing
Pricing for Exceed.ai is based on the volume of leads. They provide a substantial 30-days free trial period for testing. The service offers a Basic plan, and two advanced plans — Pro and Enterprise, allowing you to choose what best suits your business needs.
Cons and Pros
✅ AI-powered conversations provide a personalized experience for leads. 
✅ Seamless integration with most CRM platforms. 
✅ Efficient real-time alerts keep sales teams informed. 
✅ Lead scoring aids in identifying high-quality prospects.
❌ The high starting price could be prohibitive for smaller businesses. 
❌ Requires some time to customize AI responses properly.
Active Campaign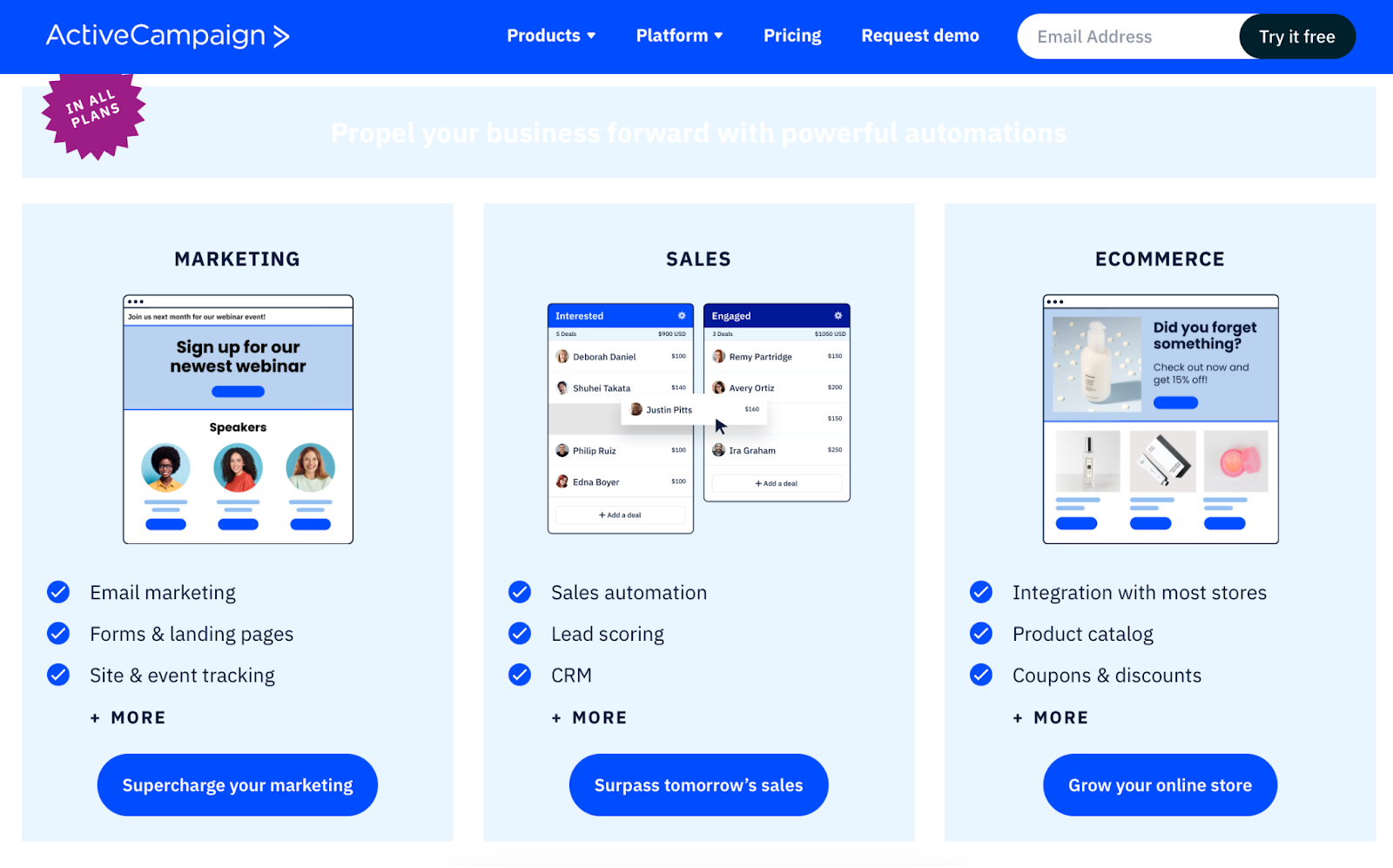 ActiveCampaign offers a potent blend of email marketing, marketing automation, and sales CRM software. Their goal is simple: streamlining your lead qualification process to deliver more sales-ready leads. ActiveCampaign stands as an invaluable tool for businesses of varying scales, keen on converting website visitors into qualified prospects.
Features
Form Builder: ActiveCampaign allows you to build custom forms to be placed on your website, emails, and landing pages to capture visitor details.
Site Tracking: This tool offers insights into what potential customers are doing on your website. By examining their habits and actions, you can acquire leads.
Predictive Sending: Optimizes email delivery time per lead for maximum engagement.
Lead Scoring: Ranks potential leads based on interaction, customized to your business needs.
Sales CRM: Manages and nurtures leads through the sales funnel.
Machine Learning: Automates interpretations and actions based on customer behavior.
Pricing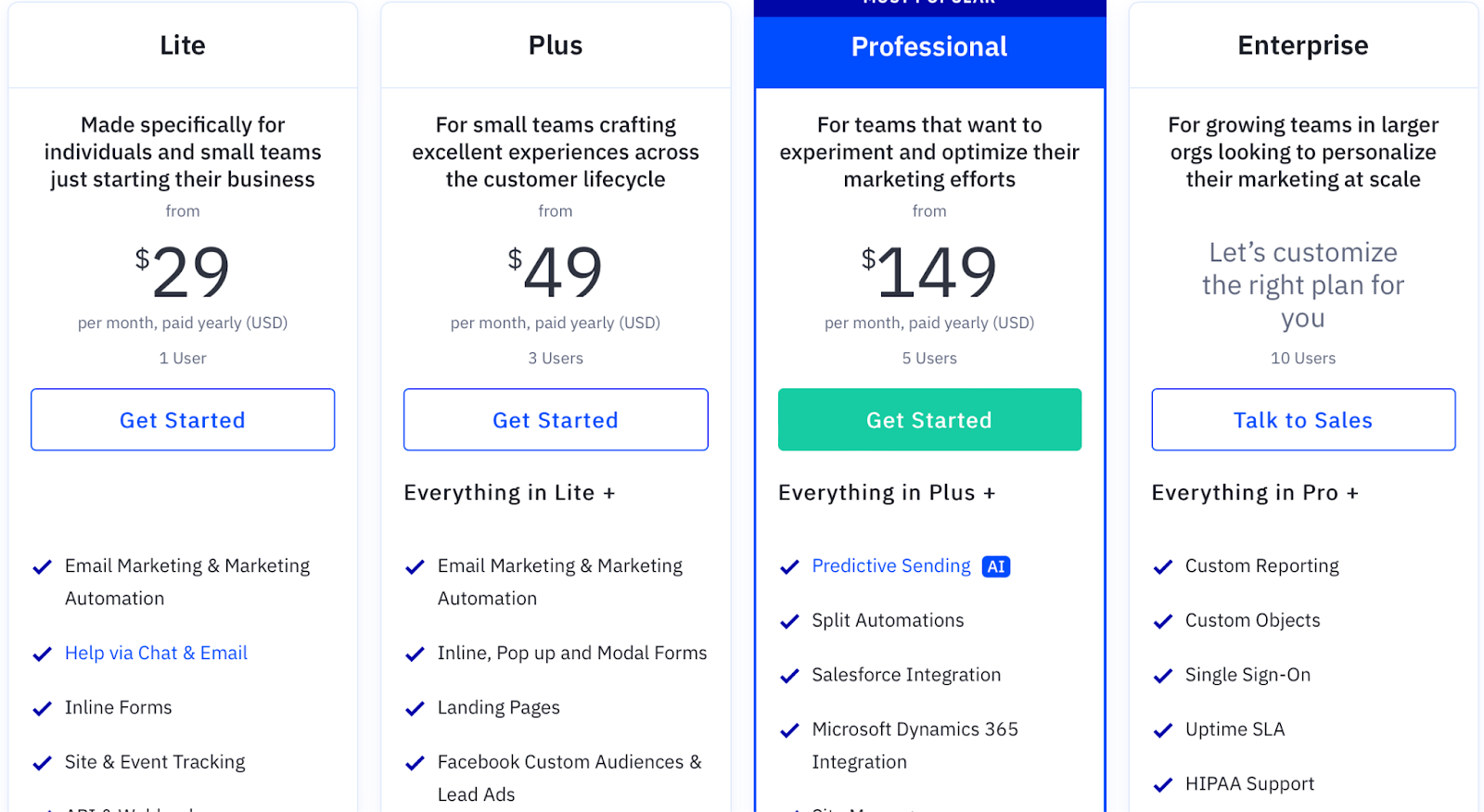 Pricing starts from a budget-friendly $29/month with 14 days of a free trial period. ActiveCampaign offers four plans — Lite, Plus, Professional, and Enterprise. Each plan offers a different set of tools and features, escalating from basic to advanced as the plan improves.
Cons and Pros
✅ Powerful analytics for better lead insights. 
✅ Predictive sending optimizes outreach efforts. 
✅ Seamless integration with leading CRM platforms. 
✅ High level customization on lead scoring.
❌ Interface can be challenging for newcomers. 
❌ Advanced features are limited to higher-priced plans.
Madkudu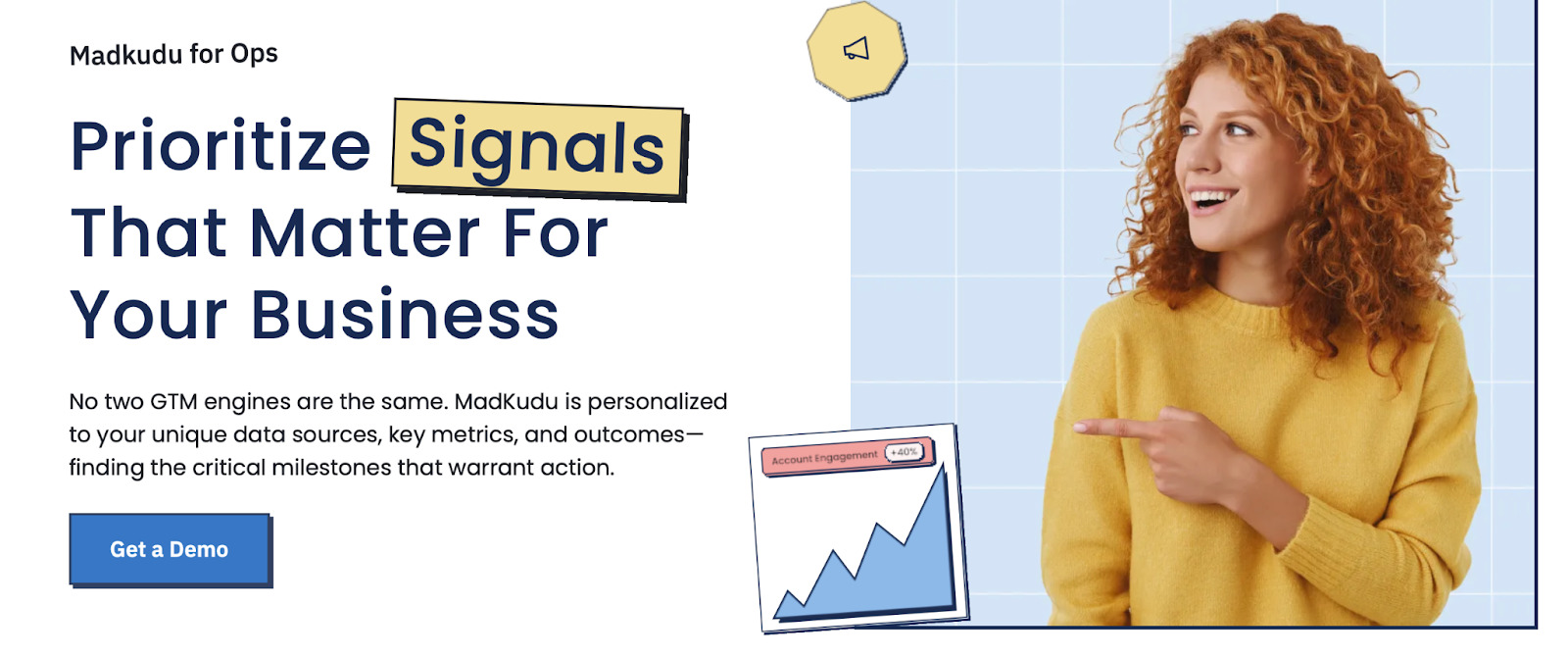 MadKudu is a cutting-edge lead qualification software that specializes in predictive lead scoring. Their products cater to businesses aiming to shave off hours from their lead qualification process and zero in on highly qualified leads. The goal of MadKudu is to transform decision-making in sales by providing crucial data-driven insights.
Features
Predictive Lead Scoring: Utilizes AI algorithms to identify and rank the leads with the highest potential.
Salesforce Integration: Seamless compatibility with the Salesforce CRM platform.
Real-time Analysis: Provides instant lead evaluation aiding quicker decision-making.
Personalized Modelling: Adjustable lead scoring models to suit unique business needs.
Pricing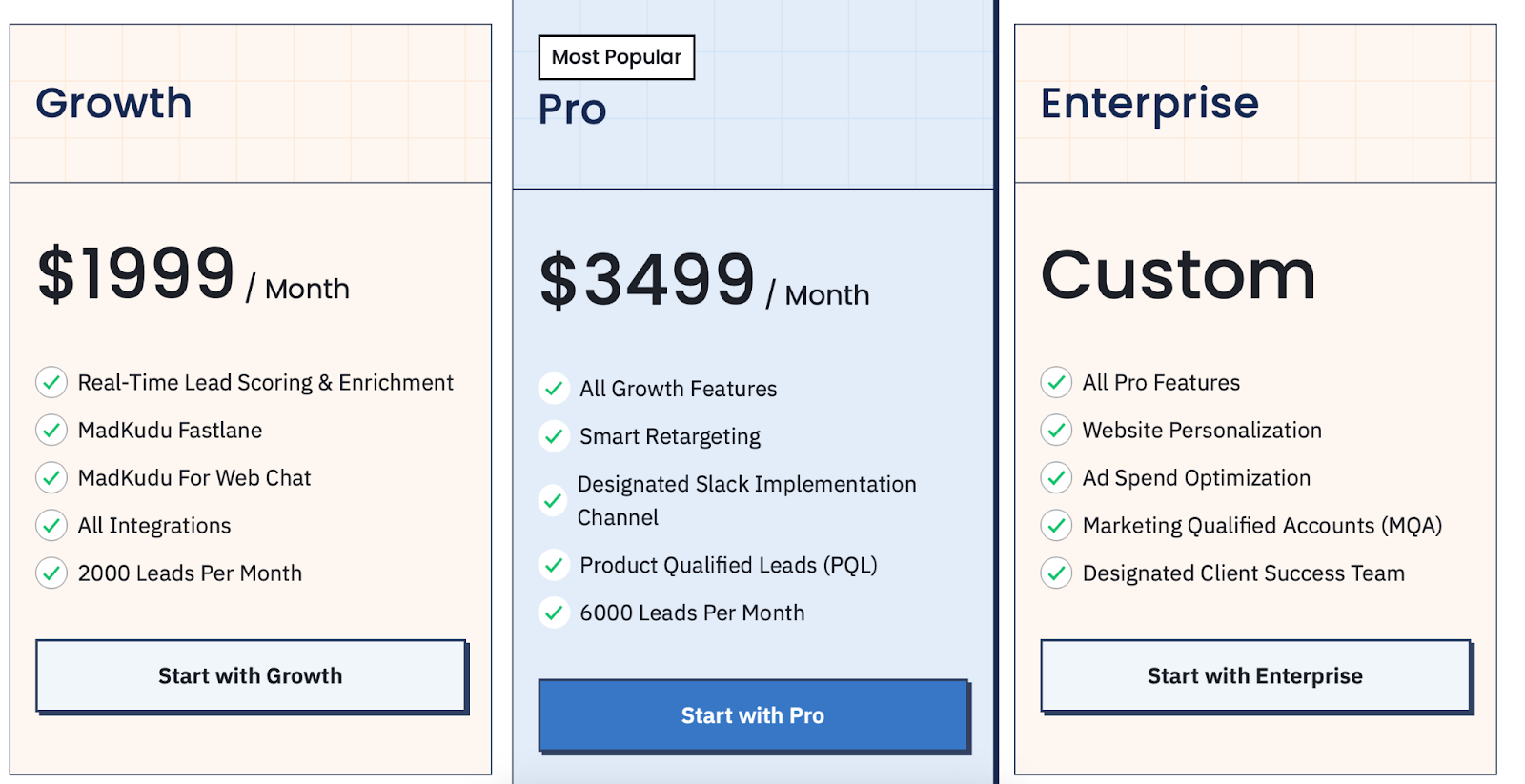 Request pricing to get a tailor-made plan that best fits your budget and business needs. MadKudu offers three pricing plans with varying features, aimed at different business sizes and types.
Cons and Pros
✅ High degree of accuracy in lead scoring.
✅ Real-time analysis enables instant decisions. 
✅ Seamless integration with Salesforce CRM. 
✅ High level of customization in the lead scoring model.
❌ Pricing details not transparently listed.
❌ The interface may seem complex to new users.
ProProfs Survey Maker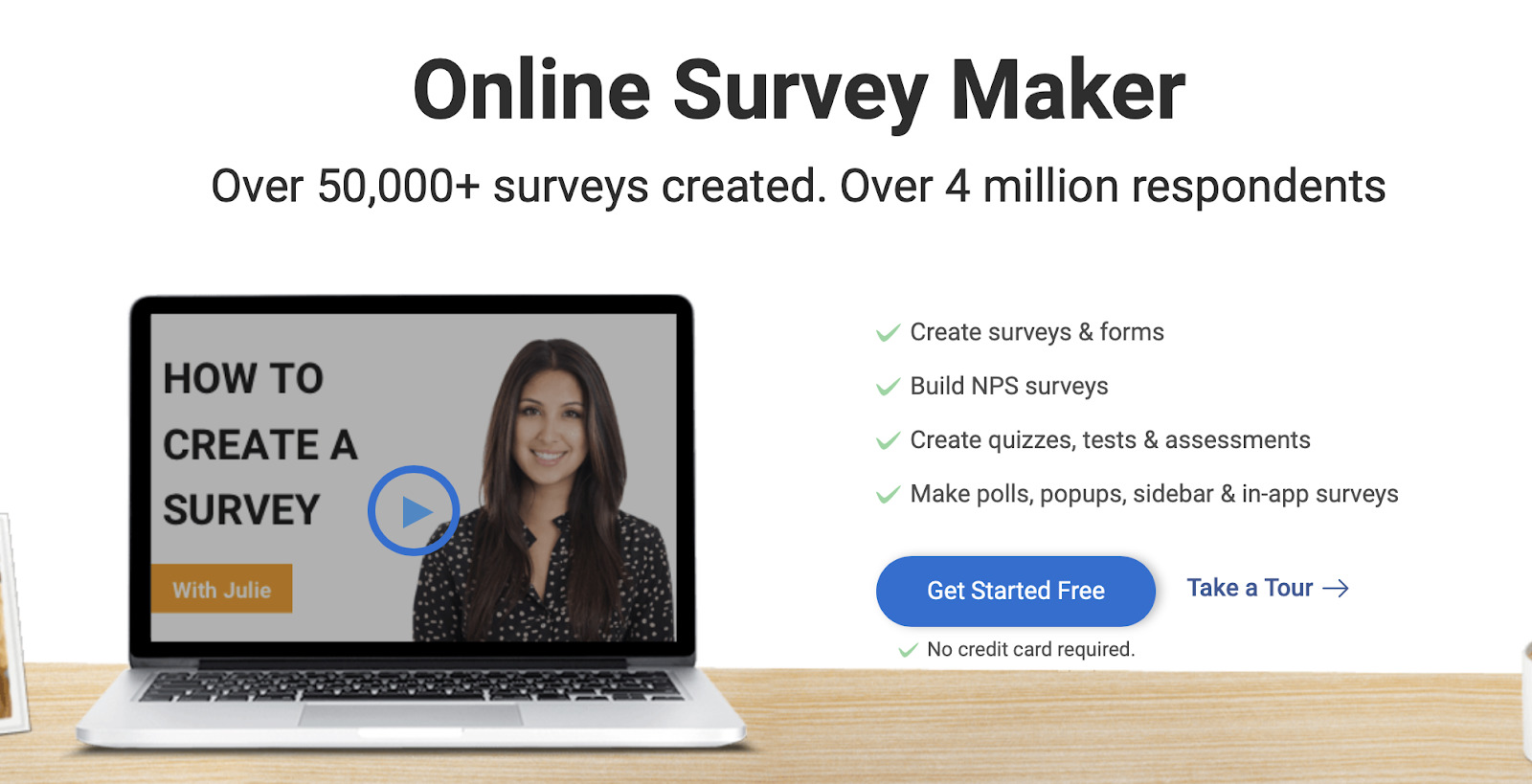 ProProfs Survey Maker, a product from the ProProfs Software Suite, offers an innovative way for businesses to qualify leads through robust data collection tools. It positions itself as more than just a survey tool, providing insightful data that helps companies better understand their customer base and prospects. With a customer-centric goal to improve customer feedback management, it serves a range of industries, from marketing agencies to education institutions.
Features
Interactive Surveys: Craft engaging surveys to better understand and qualify your prospects.
Customizable Forms: Create custom forms tailored to capture exactly what you need to qualify leads.
Real-Time Analytics: Gain immediate insights from customer responses for accelerated decision-making.
Data Export: Obtain your data in a variety of formats for a simplified analysis.
Pricing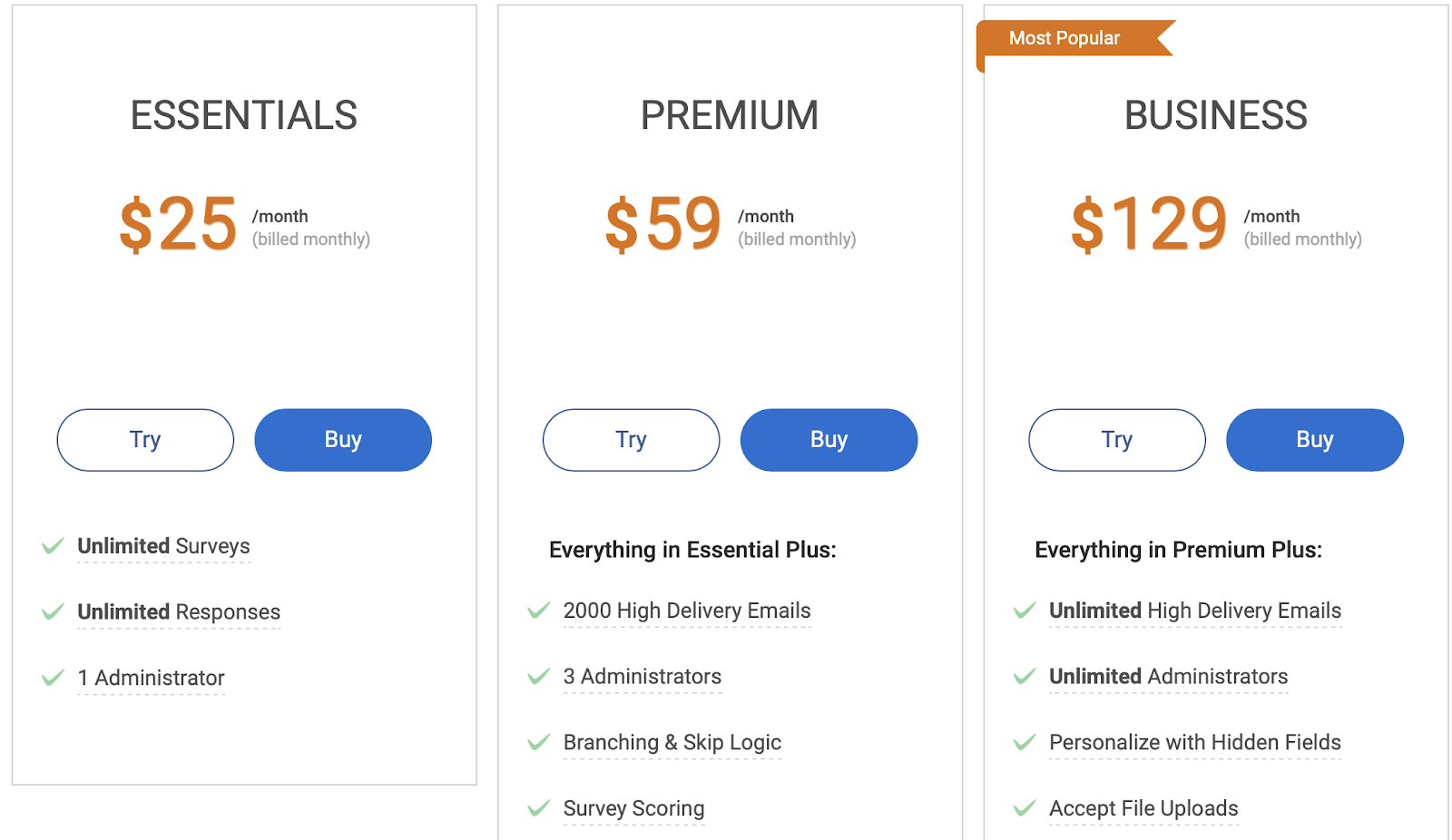 ProProfs Survey Maker operates on an affordable budget, starting at $25/month based on mounthy billing. They also provide a free tier to get started, and two paid options, Premium and Business, as your needs and list of prospects grow.
Cons and Pros
✅ Versatile tool for crafting detailed customer surveys. 
✅ Customizable forms cater to specific lead qualification needs. 
✅ User-friendly interface for easy navigability. 
✅ Real-time analytics facilitates immediate decision-making.
❌ The platform's wide array of features might be overwhelming for beginners. 
❌ Advanced features are only available in the top tiers.
Pathmonk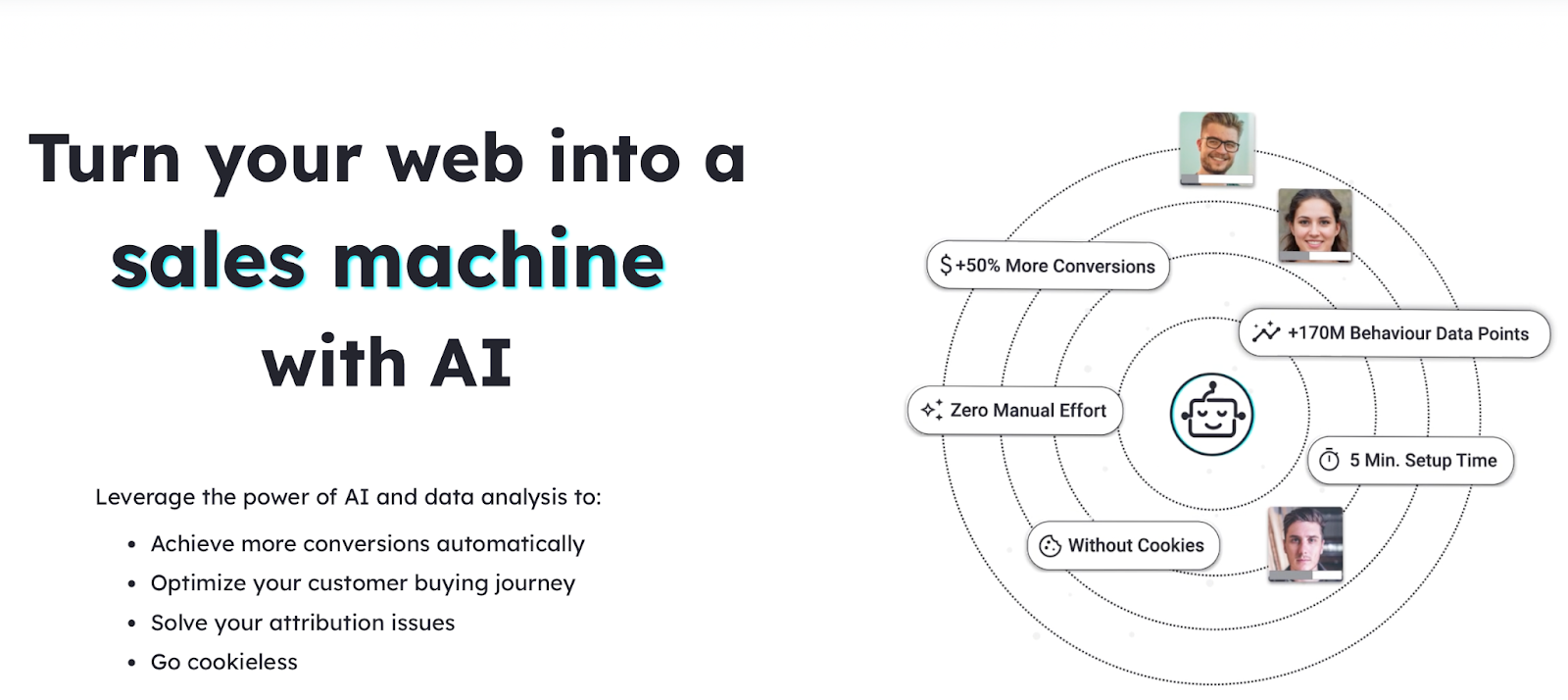 Pathmonk is amongst the lead qualification tools designed to enable businesses to maximize their website's business potential. Their product is all about enhancing your website's lead qualification capability by providing interactive yet insightful touchpoints. Used by numerous B2B firms and e-commerce platforms, Pathmonk focuses on transforming website visitors into high-quality leads.
Features
Smart Forms: Intelligent forms that adapt to user interactions.
Business Metrics: Provides detailed insights into visitor behavior and interactions.
Automated Nurturing: Automates the nurturing process to keep leads engaged.
Segmentation: Divides the leads based on their quality and readiness to convert.
Pricing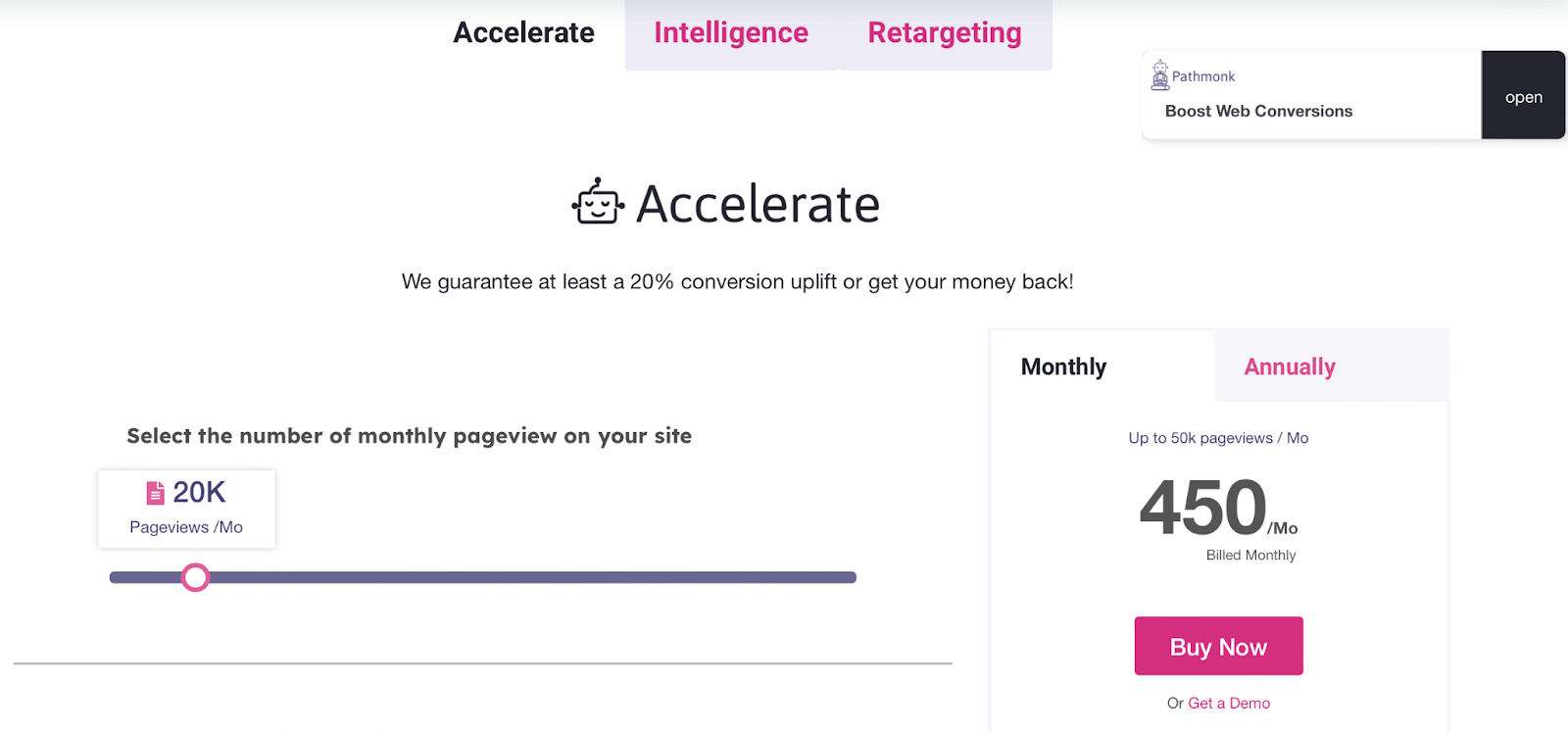 Pathmonk's pricing begins at $450 per month, primarily based on the volume of website traffic. The platform provides a 7-day free trial to test the features. It offers three plans — Accelerate, Intelligemce, and Retargeting — each designed to cater to different business needs and sizes.
Cons and Pros
✅ Seamlessly blends with your existing website. 
✅ Provides actionable business metrics.
✅ Smart form is interactive and user-friendly. 
✅ Accurate lead segmentation for targeted marketing efforts.
❌ Pricing can be substantial for small businesses. 
❌ The interactive form might require some getting used to.
Salespanel for bant lead qualification

Salespanel is an advanced lead qualification tool that arms B2B companies with the ability to track, capture, and qualify leads with excellence. Their offerings are meant to facilitate data-driven decision-making in sales. The tool creates a bridge, connecting your business with qualified leads who find value in your offerings, an ideal choice for businesses looking for smarter marketing strategies.
Features
Lead Scoring: Provides a data-driven rating system for your leads.
Lead Tracking: Monitors potential customer activities on your website in real-time.
Segmentation: Categorize leads based on several factors for targeted marketing.
Email Marketing: Integrated email marketing tools for maintaining customer communication.
Website Engagement Tracking: Salespanel allows you to view and analyze the actions prospective leads take on your website, allowing you to better understand customer behavior and preferences.
Email Tracking: It offers tracking features for not just websites but also emails. This helps you know if a lead has interacted with your email, providing useful insights for follow-up actions.
Stage-Based Lead Management: Prospects can be moved through different qualification stages allowing users to create customized sales funnels.
Lead Routing: This feature routes the right leads to the appropriate sales representatives, improving efficiency.
Pricing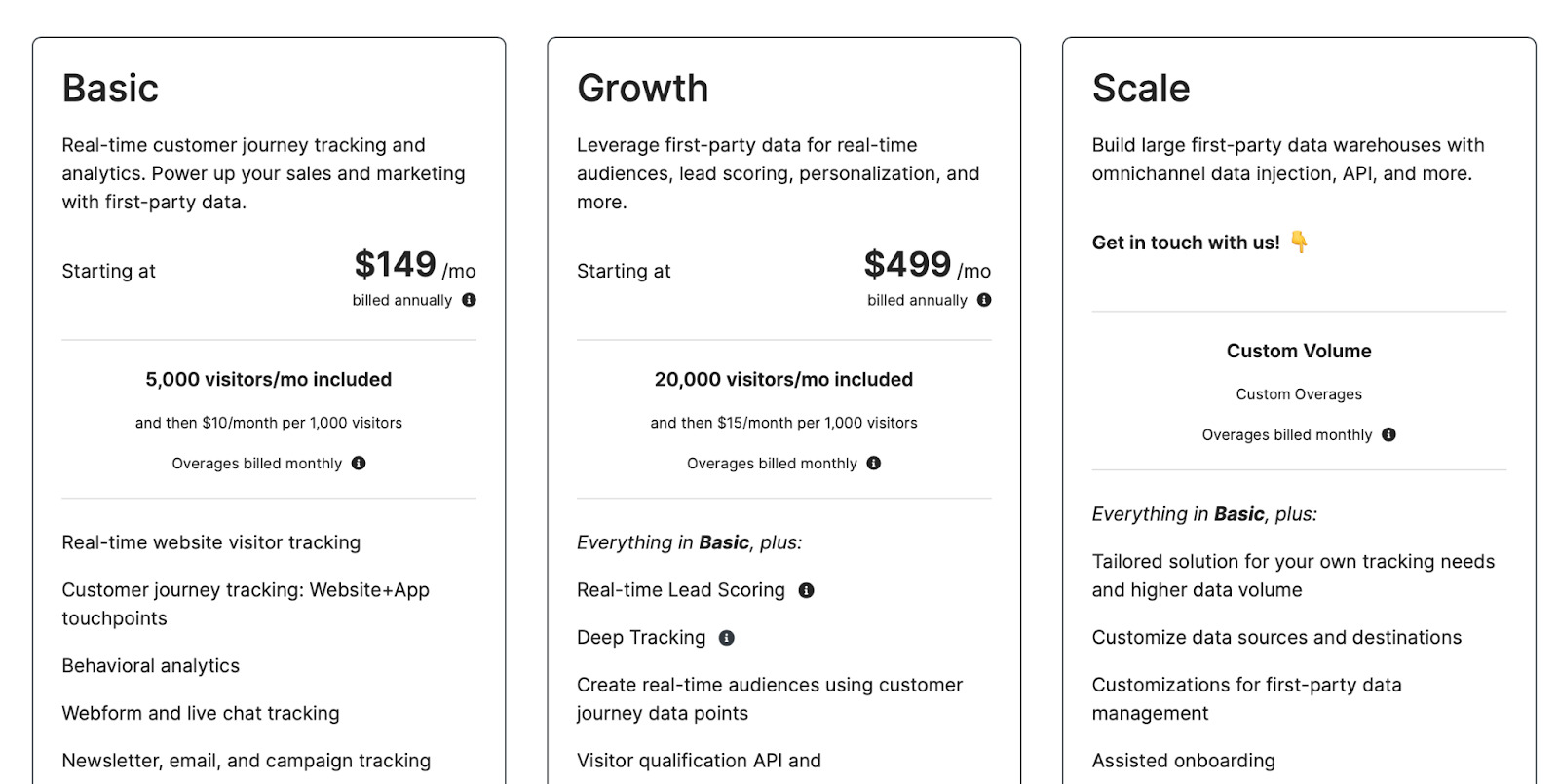 The pricing for Salespanel starts at $149 per month, based on the level of features and the number of tracked leads. A 14-day free trial is provided for businesses to experience firsthand its capabilities. Their primary plans include Basic, Growth, and Scale with functionalities catering to different business scales.
Cons and Pros
✅ It offers robust lead tracking capabilities.
✅ Lead scoring and segmentation facilitate targeted marketing. 
✅ Integrated email marketing helps maintain conversations with leads. 
✅ Provides real-time data for informed decision-making.
❌ More advanced features are only available on higher-tier plans. 
❌ Pricing could be a barrier for startups or small businesses.
HubSpot for qualified leads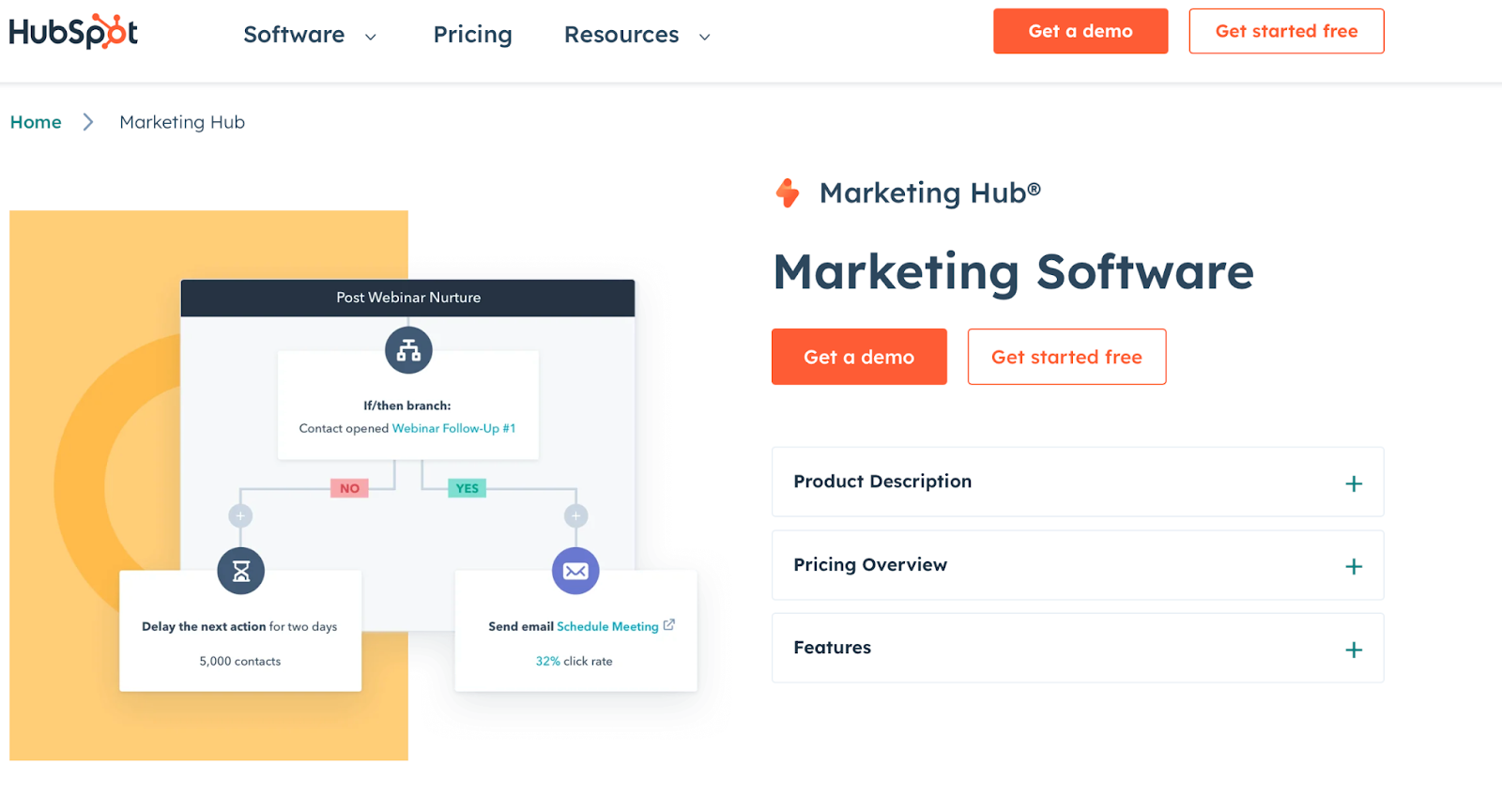 HubSpot is a titan in the world of comprehensive marketing, sales, and service software. Aimed at helping businesses grow and build solid relationships with leads, its broad range of tools are utilized by countless organizations across the globe. HubSpot's lead qualification solutions specifically focus on creating a personalized purchase journey for each lead.
Features
Forms and Pop-ups: They help capture visitors' information and qualify leads before they enter your sales funnel.
Live Chat and Bots: These tools allow you to qualify leads in real-time by asking specific questions and engaging visitors in conversation.
List Segmentation: You can segment leads based on criteria like buyer personas or behavior on your website, helping you focus on the most promising leads.
Landing Pages: With HubSpot, you can tailor your landing pages to fit different buyer personas, making them an effective tool for qualifying leads.
Behavior Tracking: Monitors the timeline of each visitor's interaction on your website.
Lead Scoring Model: Helps identify and target high-quality leads.
Engaging Quizzes: Interactive quizzes for understanding lead perspectives.
Automated Emails: Helps maintain regular customer communication and nurture leads
Pricing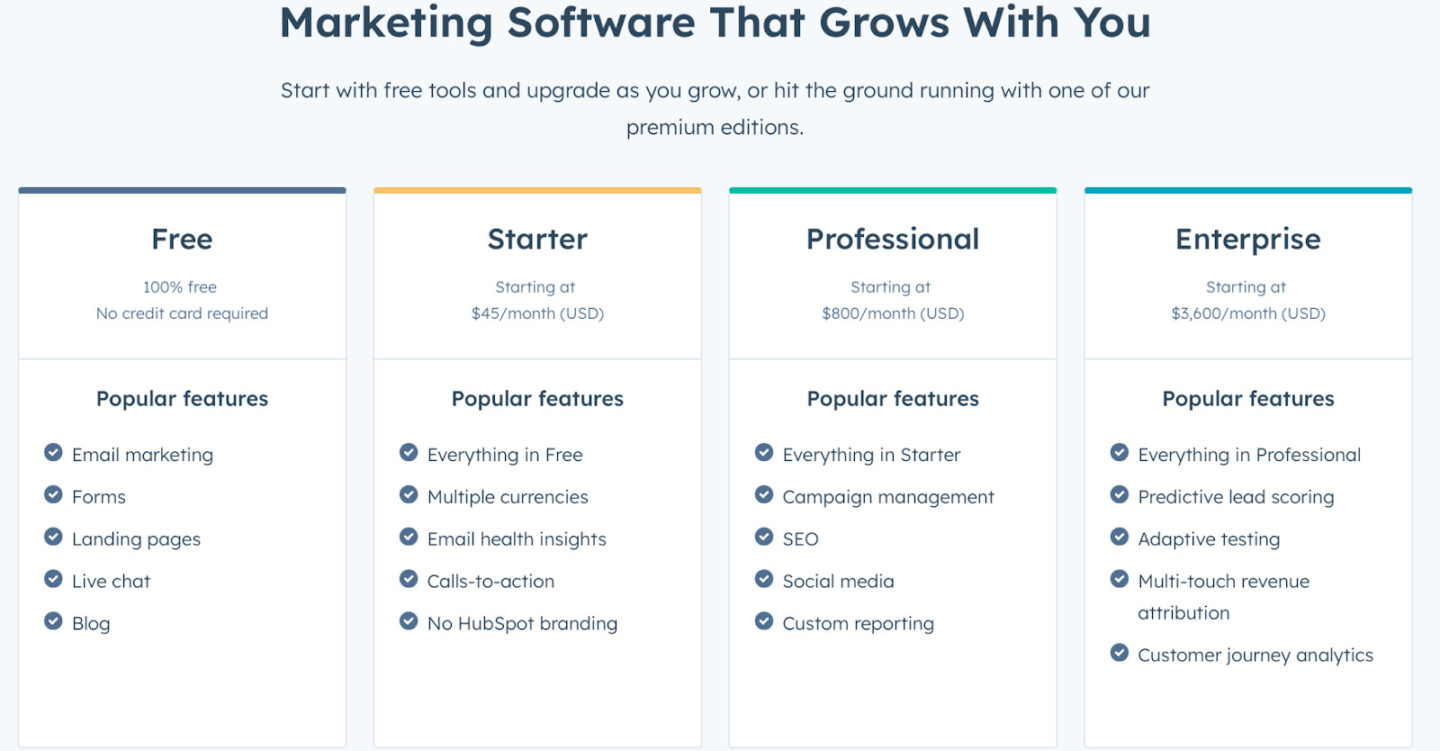 With a starting price of $45/month, HubSpot's pricing model depends on the scale of usage and chosen features. They offer a free option, and paid ones named as Starter, Professional, and Enterprise. Overall, HubSpot has a lot to offer across its plans, making it suitable for a wide business size spectrum.
Cons and Pros
✅ Extensive lead behavior tracking. 
✅ Personalized lead scoring model. 
✅ The platform is intuitive and user-friendly.
✅ Offers robust automated email tools.
❌ Advanced lead management features are only in higher-tier plans. 
❌ Pricing can be considerably high, especially for small businesses.
How to choose an ideal tool for lead qualification
Selecting an ideal tool for lead qualification is a critical step that requires consideration of your business type and customer journey. The perfect tool must align with the products you offer and the potential customer base you target.
1️⃣ Firstly, ensure the tool can integrate with your product offering and systematically assess the potential interest of a lead through their interaction with your product's content. Whether they're downloading a product brochure, signing up for a demo, or making frequent visits to your product pages, the tool should identify and track these behaviors.
2️⃣ Secondly, the tool should have a scoring system for qualifying prospects. This helps quantify a lead's potential interest to purchase and their readiness to convert, assisting in focusing resources on the most promising leads.
3️⃣ Lastly, consider a tool that provides a content-personalization feature. Personalizing content based on user behavior enhances engagement, making your lead qualification process more effective.
By focusing on these aspects, you can choose an ideal tool that satisfies your lead qualification needs effectively and efficiently.
FAQ on qualification tools
What is lead qualification tools?
Lead qualification tools are software solutions that help businesses identify, score, and prioritize potential customers or leads based on predefined criteria. These tools automate the process of distinguishing 'qualified' leads, who are more likely to convert into customers, from those less likely to buy.
What is lead qualification vs lead scoring?
Lead qualification involves evaluating prospective customers based on lead qualification criteria to determine their likelihood to buy. On the other hand, lead scoring is a specific process under qualification that assigns numerical values to leads using qualification tools. This helps businesses prioritize leads and stay ahead of competition.
What is the best lead qualification tool?
The "best" lead qualification tool largely depends on your specific needs and business approach. If you prefer a conversational marketing approach, Dashly can be an excellent choice. It features a chatbot that qualifies your leads through a series of questions, ensuring that only the most promising, or 'hot,' leads are forwarded to your sales team. Thus, increasing efficiency and saving valuable time.
What is a lead qualification process?
A lead qualification process is a systematic method to evaluate or 'qualify' a prospect's likelihood to become a customer. Using specific tools, businesses segregate 'qualified' leads, who exhibit a higher potential to make a purchase, as compared to those who do not meet the set criteria.
Read also: