Are chatbots just a passing marketing trend or here to stay? Are customers ready to interact with chatbots, or do they still prefer human agents? Does the technology enhance customer experience or only annoy website visitors? 
And eventually, can they actually increase your revenue?
To help you find answers to these burning questions and make up your mind, we collected data from different chatbot research. Here are some of our key findings on chatbot statistics 👇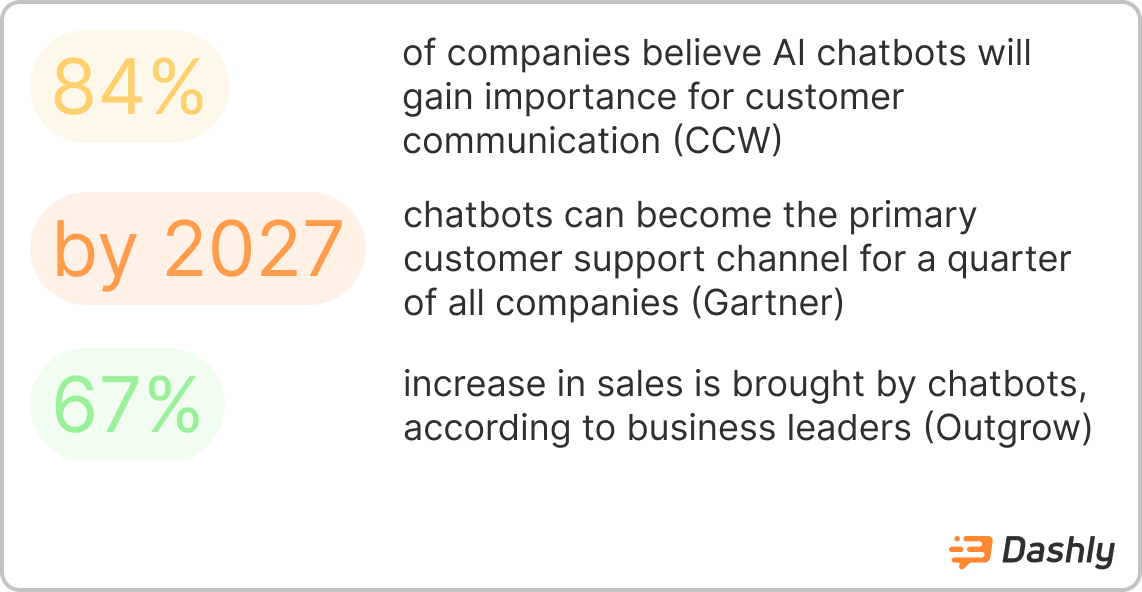 What is a chatbot
But if you're still on the fence when it comes to automated assistants, let's take a look at some statistics. Buckle up!
Read also:
General chatbot statistics
First, let's take a look at current attitude to a chatbot platform variety, challenges, and trends in business.
🤖 88% of users had at least one conversation with a chatbot in 2022 (Tidio).
Chatbot technology are becoming an integral part of communication between customers and businesses. They're always here, in the bottom right corner of your website page ― ready to handle customer requests 24/7. 

As a result, a vast majority of customers interacting with a bot at least once. And these interactions are getting more regular. 
🤖 58% of companies in a B2B sector actively use chatbots, compared to 42% of B2C companies (Relay).
Current statistics show automated communications are more widespread in the B2B sphere. Mainly because of the chatbots success in lead generation, which is extremely valuable for the B2B sector.
As for the customers, according to Drift's report, the main purposes of their interactions with a chatbot are to get help during a purchase, schedule a meeting, or sign up for an email newsletter. 
Handling these issues, chatbots can save your business a lot of time. Thus…
🤖 By 2023, chatbots are expected to save businesses up to 2.5 billion hours of work (Juniper Research).
Chatbots automate routine tasks, such as dealing with FAQs, collecting feedback, or qualifying leads. This way, they alleviate the work of support, marketing, and sales agents and save hours or billions of hours for you and your team.
🤖 59% of customers expect a chatbot to respond within 5 seconds (Drift). 
And they get it. Since there is no human factor, there is no delay in a chatbot workflow.
🤖 69% of consumers were satisfied with their last interaction with a chatbot (Tidio).
It's an excellent result for an automated assistant. Meanwhile, 21% of respondents remained neutral, and only 10% were unsatisfied with a chatbot conversation.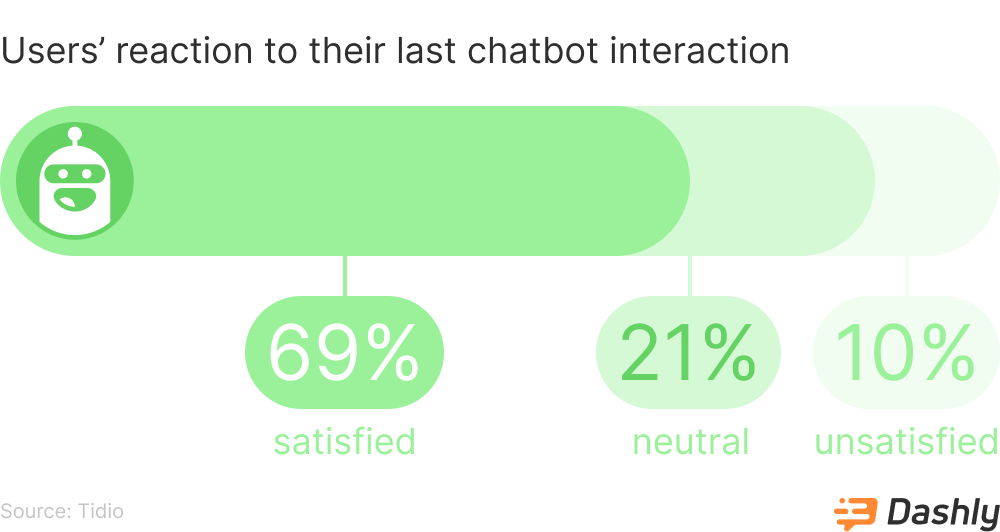 🤖 64% of consumers claim that the best feature of chatbots is their availability 24/7 (Outgrow).
It's one of the main reasons businesses choose to install chatbots on their websites, too. You can set up a welcome bot to answer simple typical queries and collect a potential customer's contact in case the issue needs human involvement.
🤖 The average cost of one chatbot interaction chatbot cost calculator is $0.50-0.70 (Juniper Research).
On average, a customer support agent earns $40.7k per year and around $19.5 per hour. Considering this, hiring a chatbot is much cheaper. We marked it as one of the main chatbot benefits. 
🤖 For 48% of users, it's more important that a bot solves their issues effectively rather than has a personality (ServiceBell).
Obviously, functionality goes first. But we also recommend spending some time on minor personalization and personification of your automated assistant. Make sure it speaks human language and matches your company's tone of voice. It's one of the best chatbot practices.
🤖 39% of all chats between businesses and consumers involve a chatbot (Comm100).
Stats show businesses strive for automation. It makes the life of your agents easier and speeds up issue resolution for a customer.

Yet, chatbots statistics show some challenges and hesitations still exist 👇
56% of businesses claim that chatbot technology (conversational AI in particular) disrupt the work in their industry (Accenture).
60% of consumers would still prefer to wait in queue for a real agent to reply than receive an instant response from a chatbot (Userlike).
People still trust other people to resolve their issues effectively. A lot of users are simply afraid a bot won't be able to understand them. And the fear has grounds. But keep in mind that the chatbot industry improves at understanding people's messages and even the sentiments behind those messages.
Nevertheless…
🤖 84% of companies believe that AI chatbots will become more important for communication between a customer and business (CCW).
In case you wondered if chatbots are just a trend in business or a new integral part of future communication, here's your answer! 
Read also:
👉 How to use lead generation chatbot for your website
👉Lead nurturing platform for your revenue growth
👉 12 types of marketing nurture campaigns
Chatbots in EdTech statistics
👉 Education is one of the top 5 industries that use chatbots in their work (Chatbots Life).
Along with education (14%), the top industry customers of the chatbot market are real estate (28%), travel (16%), healthcare (10%), and finance (5%). 
👉 The usage of AI (including AI chatbots) is increasing in the EdTech sphere (Grand View Research).
In 2021, the global market of these solutions amounted to $1.82bln. By 2030, it's expected to increase by 36% a year.
👉 Lead qualification in EdTech that includes a chatbot costs $119/mo on average (Dashly).
A chatbot is the first step in lead qualification — it collects a potential customer contacts, experience info, and education goals. You can use this data to pick the most relevant offer for each potential customer.
The following statistics are the result of our own research, where we examined 30 EdTech websites, from local specialized online schools to big international companies. 
Here are some of our chatbot insights 👇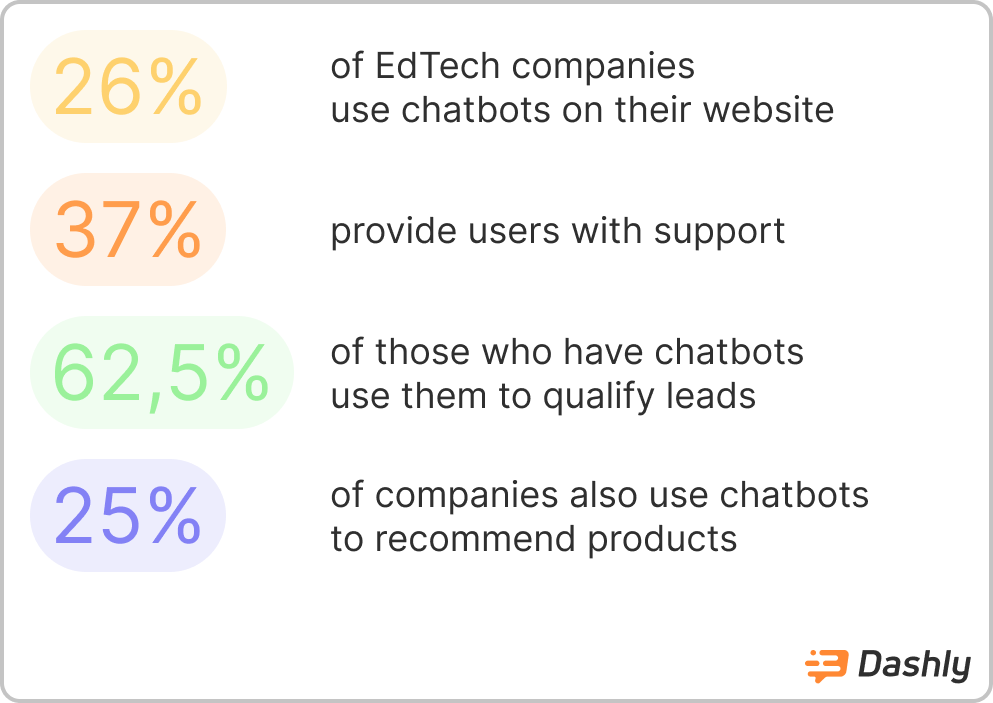 👉 All the chatbots work to collect contacts, in addition, 37% of them provide users with support. 
The majority of companies launch them on the main page to collect contacts. The second most popular place is the pricing pages, where chatbots answer FAQs on the paid plans. 
However, stats show 40% of businesses still prefer website lead forms for data collection. 18% collect primary info within a live chat. 16% of companies don't use any tools at all.
👉 62.5% of those who have chatbots use them to qualify leads.
An automated assistant (in this case, we call it a leadbot) asks aspiring students questions about their previous experience and goals (i.e., change their career, boost their current skills, etc.). Your sales reps can use this data to pick the best offer and speed up conversion into the purchase.
👉 25% of companies also use chatbots to recommend products. 
Based on potential customer's responses, a bot picks the best course that matches the criteria. 
With chatbot technology, your online school gets a vast field for experimenting with customer communication. Don't know where to start? 
Download a map of 23 ready-made scenarios of triggered campaigns for online schools! These scenarios were tested by Dashly clients and our implementation team.
Automate customer interactions with 23 triggered campaigns for online schools
Thanks! Now check your inbox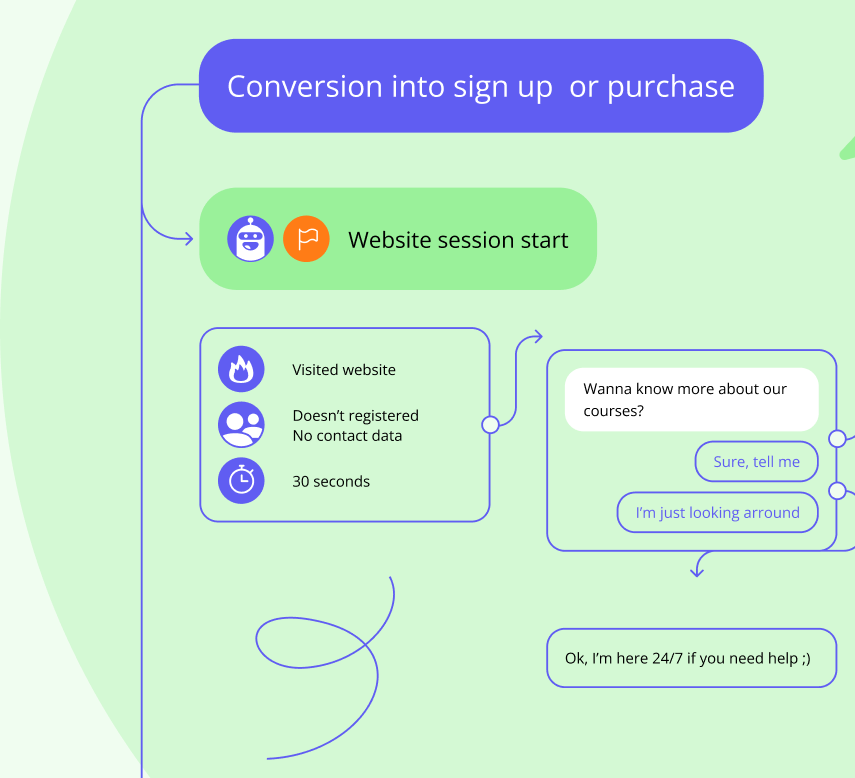 Pick a campaign, customize it to your business goals and implement it on your website with Dashly instruments ⚒️
Read also:
Chatbots in SaaS statistics
🚀 58% of the companies that turn to the chatbot market are B2B, and 65.1% are SaaS businesses (Outgrow).
🚀 One-third of AI startup founders believe that chatbots will be the most popular customer tech in the next five years (FinanceOnline).
🚀 38.9% of companies that use chatbots are in the IT software and service sector (Chatfuel).
Also, our practice shows that chatbot usage in SaaS businesses helps increase conversion rates (i.e., to signup, service activation, or purchase) and alleviate the workload of support agents.
🚀 The conversion rate of chatbots in some industries can reach up to 70% (Tidio).
And we second it! Some of our SaaS customers manage to reach a 70% increase in conversion to signup. 
Chatbots in eCommerce statistics
⭐ Only 9% of online stores all over the world set up chatbots on their websites (Statista).
Chatbot statistics show that eCommerce is slowly adopting the technology, just like businesses of other industries. 

⭐ Chabot transactions in eCommerce are expected to reach $112bln by 2023 (Juniper Research).
Statistics prove online stores get great value with chatbots. Automated assistants help consumers choose the most suitable products and offer additional ones. Chatbots can also resolve cart abandonment problems. The sky is the limit 🚀
⭐ Chatbots started to boost eCommerce revenue by 7-25% (Chatbots Magazine). 
Despite the fact that eCommerce businesses are slowly implementing chatbots in their work, they are already increasing their revenue. And this number includes chatbots on websites, social media, and messengers.
⭐ 34% of customers of online retail accept the usage of chatbots (Invesp).
However, chatbot statistics showed that customers of online stores are quite open to new technologies such as chatbots. They help automate and speed up routine activities like checking order status or searching for products. 
This acceptance rate in online retail is higher than in other industries like finance (20%) or telecommunication (25%).
Read also:
Capture emails from website visitors with Pop-ups
The best way to collect emails we tested this year
The North Star Metric and How Can This Lead to Success
Chatbot usage for customer service 
No matter what the business industry is, more and more brands turn to the chatbot market to enhance their support and customer experience. 
💬 By 2027, chatbots are predicted to become the primary channel for customer service in a quarter of all businesses (Gartner).
Chatbots reduce the Response Time significantly. They can handle simple queries without human involvement. But, if set up correctly, they easily route conversations to relevant customer service agents. 
The technology benefits both a customer and your team. The former don't need to wait long to get a response from customer service, and the latter get rid of repetitive tasks and free up some hands for more complicated issues.
💬 62% of respondents would rather interact with a customer service chatbot than wait for an agent to respond (Tidio).
As mentioned above, speed is the main advantage of the technology. Besides, bots are available for conversation 24/7. It's the reason consumers choose to chat with an automated assistant rather than a customer support agent.

💬 80% of consumers claim that they're ready to use a bot if there's an opportunity to quickly switch to an agent (Simplr).
A lot of customers claim chatbots are annoying because it's impossible to reach out to a customer support agent. Your main task here is to build an effective system of customer service that combines the efforts of human agents and automated assistants. 
Always leave room to contact humans, though. It's crucial.

Statistics show customers appreciate speed when it comes to solving their issues. For sure, you notice specific repetitive questions from your audience. It's your chance to set up an FAQ chatbot. It will solve typical queries without human involvement and increase customer satisfaction rate with a short response time. 
💬 74% of customers would choose a chatbot over a human agent to look for answers to simple questions (PSFK).
These chatbot stats show that not only do agents not need to deal with routine tasks, but customers would like to automate too!

At the end of the day, it doesn't matter, which means you choose to support users. The main thing is that your customer service actually helps people.
Read also: how to find respondents for a survey or customer interview
Marketing and sales chatbot stats
🤝 57% of businesses state that chatbot usage results in a big ROI with minimal investments (Outgrow).
Launching a chatbot is getting easier year by year. You can hire one of the chatbot platforms. There's a whole ocean of options, and not all of them will cost you an arm and a leg, I promise. 
For example, one of our customers is an online school that launched chatbots on landing pages for lead capture. It took a vital marketing task of lead qualification. Their Dashly subscription paid off in just five high-quality leads and got 16,000% ROMI. 
Read more:
🤝 36% of companies turn to the chatbot market to improve lead generation, and business leaders claim that, on average, chatbots can increase sales by 67% (Outgrow).
Automated assistants complement the marketing teams by taking on some routine yet essential tasks like lead generation and qualification. You can use gathered data for lead scoring, thus, more effective work with your potential customers. 
🤝 In about 20% of use cases, chatbots are used for upselling (Tidio).
Tidio carried out a study among 50 000 websites that actively used their chatbot service in 2021-2022. Their stats showed that chatbots could be good sales reps. You can use them to offer additional products that match the customer's choice and increase the company's revenue.
🤝 55% of companies that use chatbots get more high-quality leads (Drift).
We in Dashly often offer a chatbot for website lead generation. And it proves to be effective! One customer of ours set up chatbots on landing pages. They qualified users and passed the hottest ones to sales. That way, sales reps could prepare the most relevant offer and convert users to purchase faster.
Read more: 
Final thoughts on the chatbot market
And the bottom line is… chatbots are getting more recognition across different industries. They're appreciated by both businesses and customers since they facilitate the work of human agents and improve overall customer experience.
If you'd like to test an automated assistant on your website, set up a Dashly chatbot. We offer:
 — Intuitive visual builder that requires no coding skills;
 — Ready-made templates if you never used chatbots before;
 — Full-fledged platform with automated user tracking on website and 30+ integrations to empower your chatbot and make the most profit out of it.
Read also: Find out the best Intercom alternatives and Drift alternative
FAQ on the chatbot industry
Are chatbots used on social media?
Yes, brands use chatbots on websites, social media, and messengers. For example, there are over 300 000 bots currently working on Facebook Messenger.
What industry uses chatbots the most?
Stats shows chatbots are becoming more and more widespread across different industries. However, the current top five are real estate (28%), travel (16%), education (14%), healthcare (10%), and finance (5%).
No matter what your industry is, a chatbot can sure help you achieve your business goals too. 
Do customers actually like chatbots?
According to Drift's report on conversational marketing, customers are more willing to interact with chatbots now. They facilitate the purchase process, clarify order details, and can schedule a meeting. And all these tasks are done within seconds and around the clock!
Speed and 24/7 availability are the main chatbot benefits that consumers appreciate.