In the sensitive journey of turning potential buyers into loyal customers, lead nurturing plays a pivotal role. As a marketer at Dashly, I understand how the right lead nurturing platform can make this voyage smoother and more productive. That's why, to guide you toward your ideal software, Dashly's team and clients have put to the test ten top-notch lead nurturing platforms.
In this article, we embark on a comprehensive exploration of these tools, diving deep into their key features, evaluating their prices, and weighing their pros and cons, all from an insider's perspective. We intend to empower you with first-hand knowledge, giving you the information you need before you leap, and commit to lead nurturing software.
In a sea of lead nurturing options, finding the perfect fit can feel overwhelming — a challenge we intend to simplify. Stay tuned as we guide you toward the ideal intersection of functionality and affordability in your search for a lead nurturing platform. Let's untangle the mystery of lead nurturing together.
Here's our list of the top lead nurturing software we recommend for sales teams in 2024: 
| | | |
| --- | --- | --- |
| Title | Starting price/mo | Trial days |
| Dashly | $39 | 7 |
| Pipedrive | $14.90 | 30 |
| Mailchimp | $350 | 30 |
| Salesmate | $15 | 15 |
| Copper | $29 | 14 |
| Aweber | $15 | 30 |
| Marketo | $895 | 60 |
| Drift | $2500 | 14 |
| Zendesk | $89 | 14 |
| Insightly | $29 | 14 |
Let's dive in! 
Dashly lead nurturing software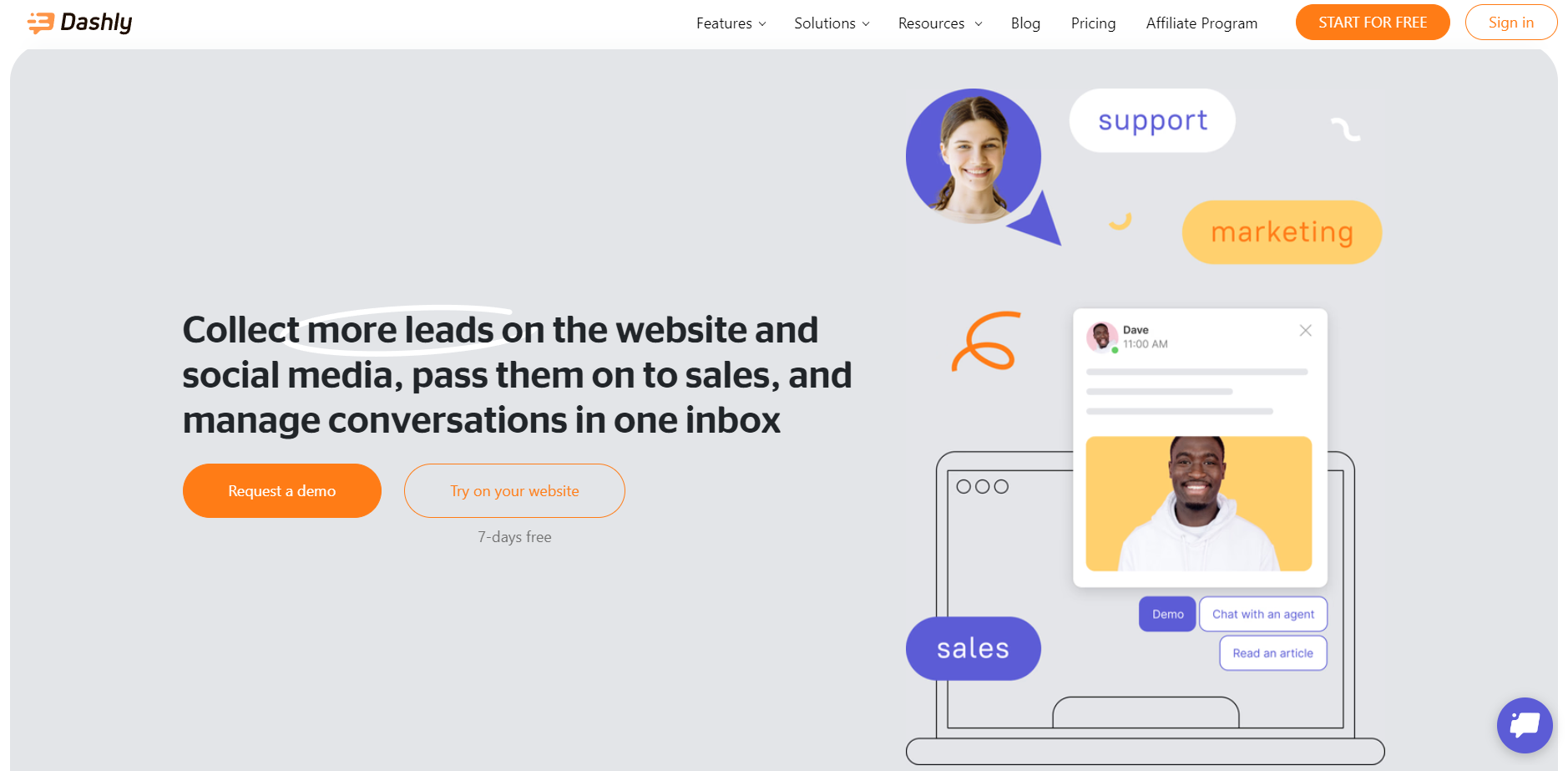 Dashly is a conversational marketing platform that will help your marketing and sales team capture and nurture more qualified leads on your website, email, and messengers. 
It provides many features to automate nurturing your leads on different platforms: chatbot, in-app messages, popups, live chat, and triggered emails. 
Thanks to easy-to-use visual builders, there is no need to be a coding genius to launch lead nurturing campaigns in the service. Based, on the in-depth data about lead interests and behavior, you can personalize communication and convert customers on autopilot.  
Dashly is perfect for startups, mid-size, and enterprise businesses in SaaS, EdTech, and eCommerce segments. 
Key features
In Dashly we believe that the key to business growth is personalized communication with customers. So to attract more visitors and turn them into leads, you can use:
Chatbot, a great to engage and capture leads on the website automatically, even in night hours and on the weekend;
Live chat with a triggered message to draw visitor's attention and engage them in a conversation;
Pop-ups, despite the common knowledge, these messages actually work — offer a promo code or gift in exchange for a contact and new leads are in your base;
Triggered e-mail campaigns to reach out to your audience even if they leave your website;
30+ integrations with CRMs, such as ConvergeHub, social media (Facebook, Instagram) and messengers (WhatsApp, Telegram) for seamless work with leads in different channels.
Each tool is available to create in an intuitive easy-to-use visual builder. Here's an example of a chatbot builder: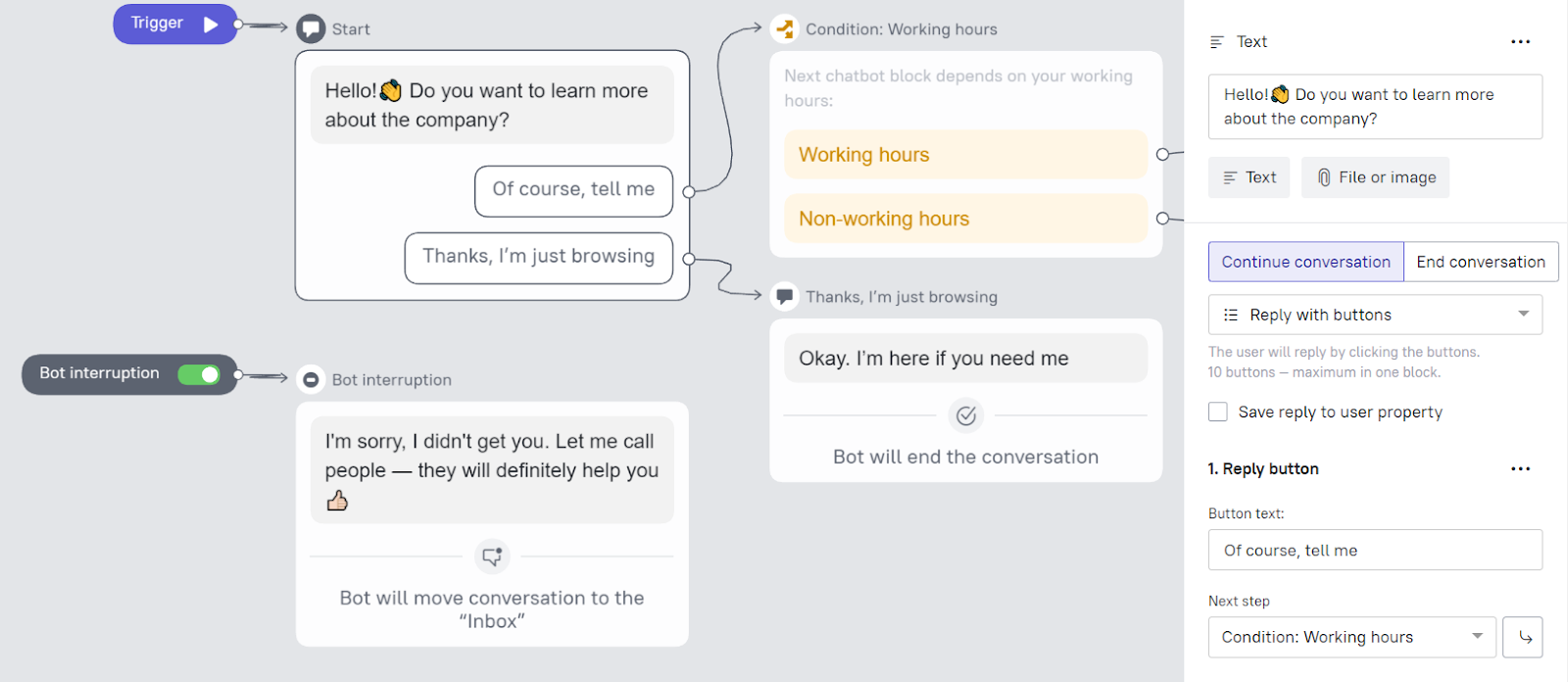 To make your work even easier, Dashly offers ready-made campaigns and the help of our implementation team. These experts will show you how to increase conversion on each step of your sales funnel.
To manage the collected data, Dashly provides you with an admin panel with relevant account for each of the leads you captured. The account card includes data about leads website behavior (time of visit, source, pages), personal data, contacts, location, and conversations with your team: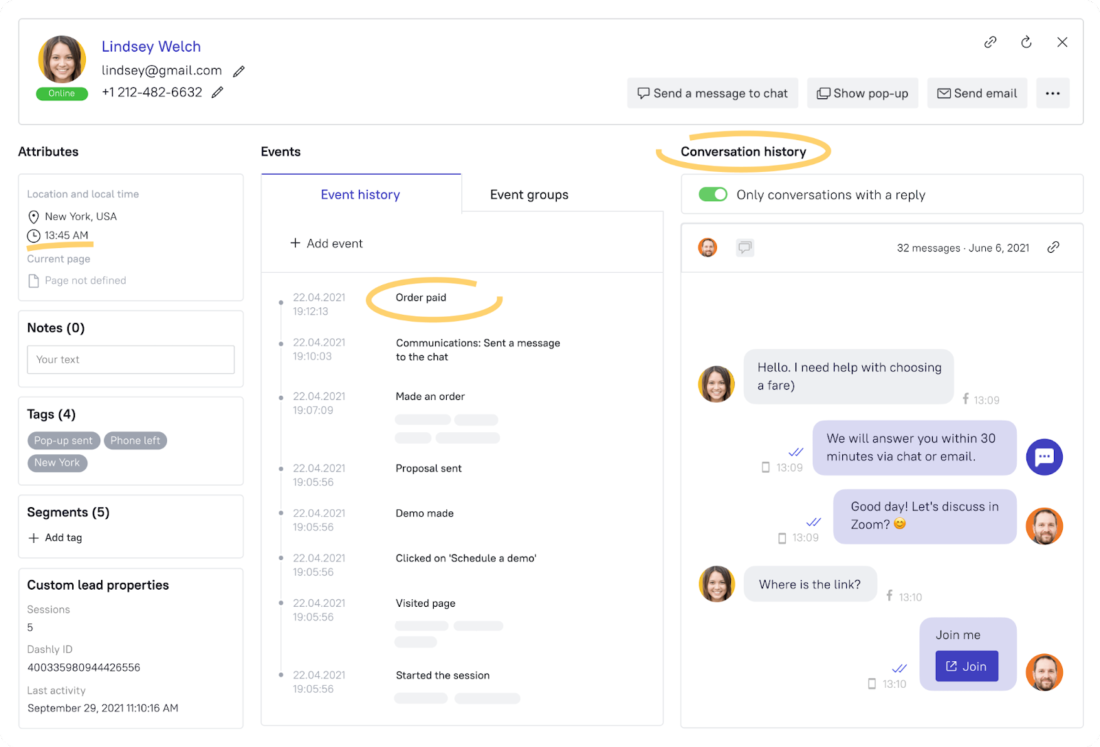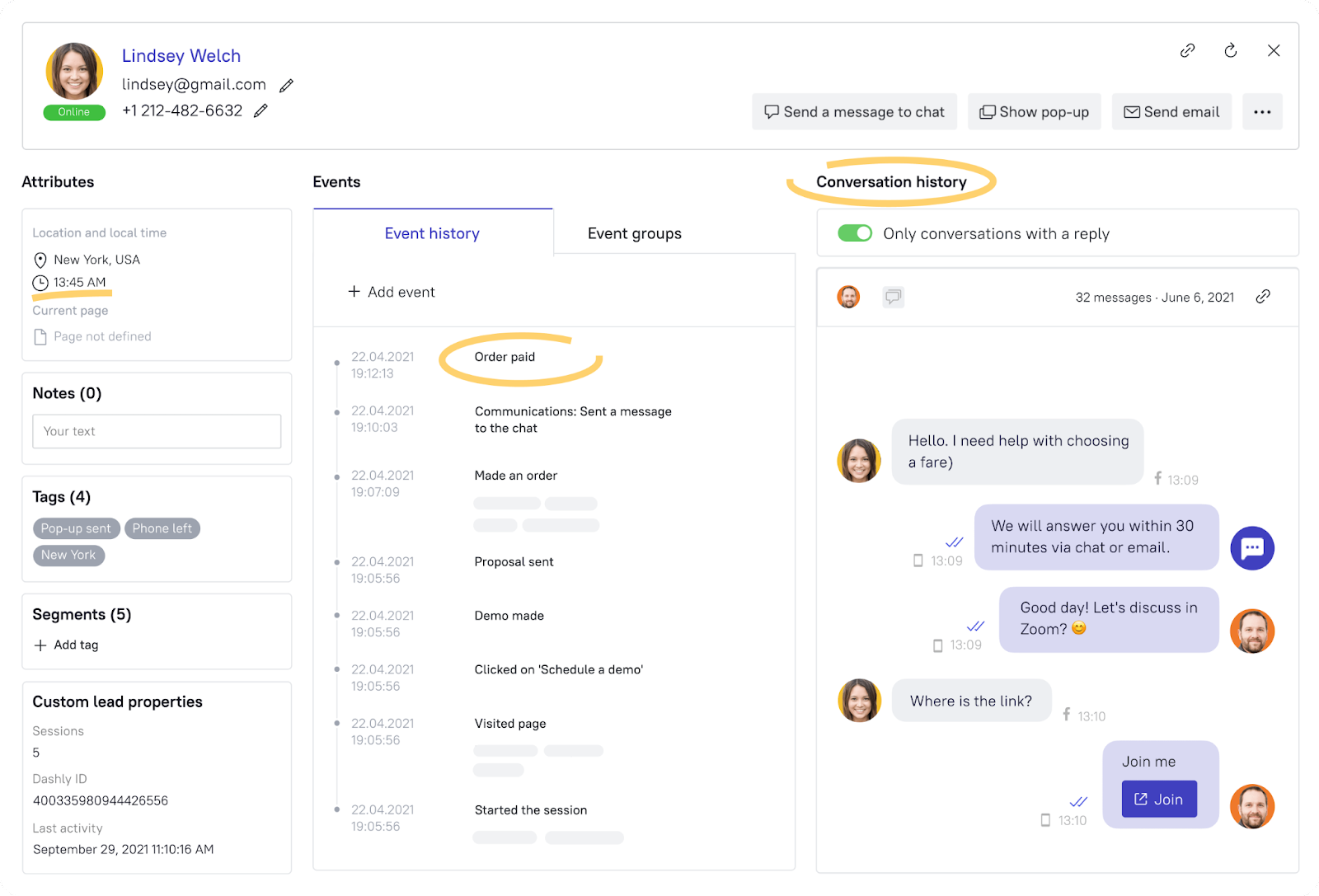 Thus your marketing and sales team have all the needed data to personalise further communications.
Pricing
Dashly offers three paid plans, starting from $39/mo. However, if you want to set up triggered campaigns for lead generation, consider the Marketing plan. With it, you get access to the biggest number of chatbots and other triggered messages. 
You also can extend the number of available bots and messages with add-ons.
One of the biggest advantages of our lead generation service is unlimited agent seats on all plans. It allows your whole team to work in one convenient shared space 😉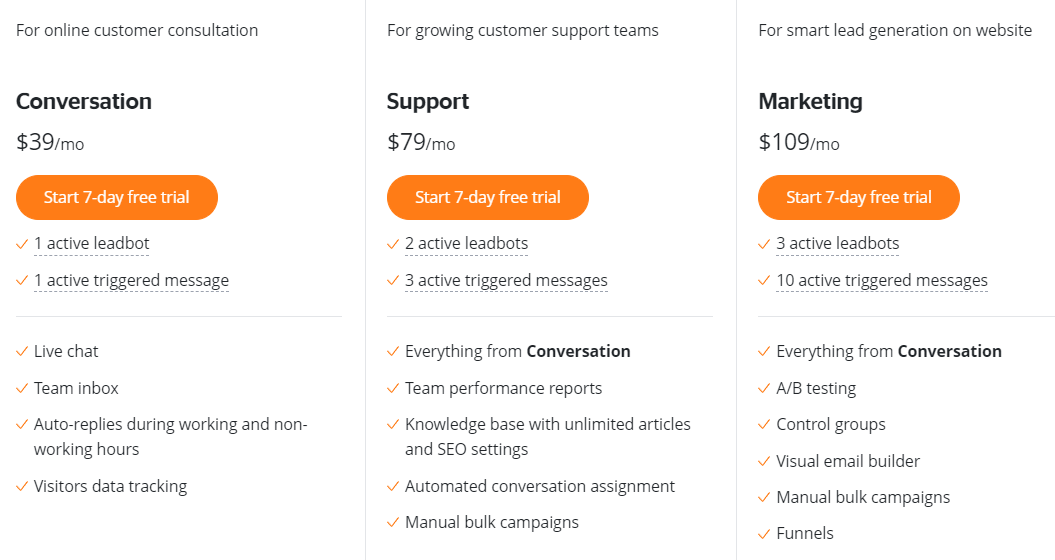 The price depends on your website traffic and add-ons you choose to include in your plan. You can calculate how much you'll pay on the pricing page.
Pros & Cons
A wide range of tools for lead generation available in convenient visual builders.
Unlimited agent seats.
30+ integrations with your fav tools.
No AI.
Some tools might require help to set up, but support agents are there for you.
Dashly offers a 7-day trial to test the full functionality of the platform. You can also start with a free plan. Its toolset is limited, but it'll suit small businesses, looking forward to connecting to their first users 👇
Pipedrive CRM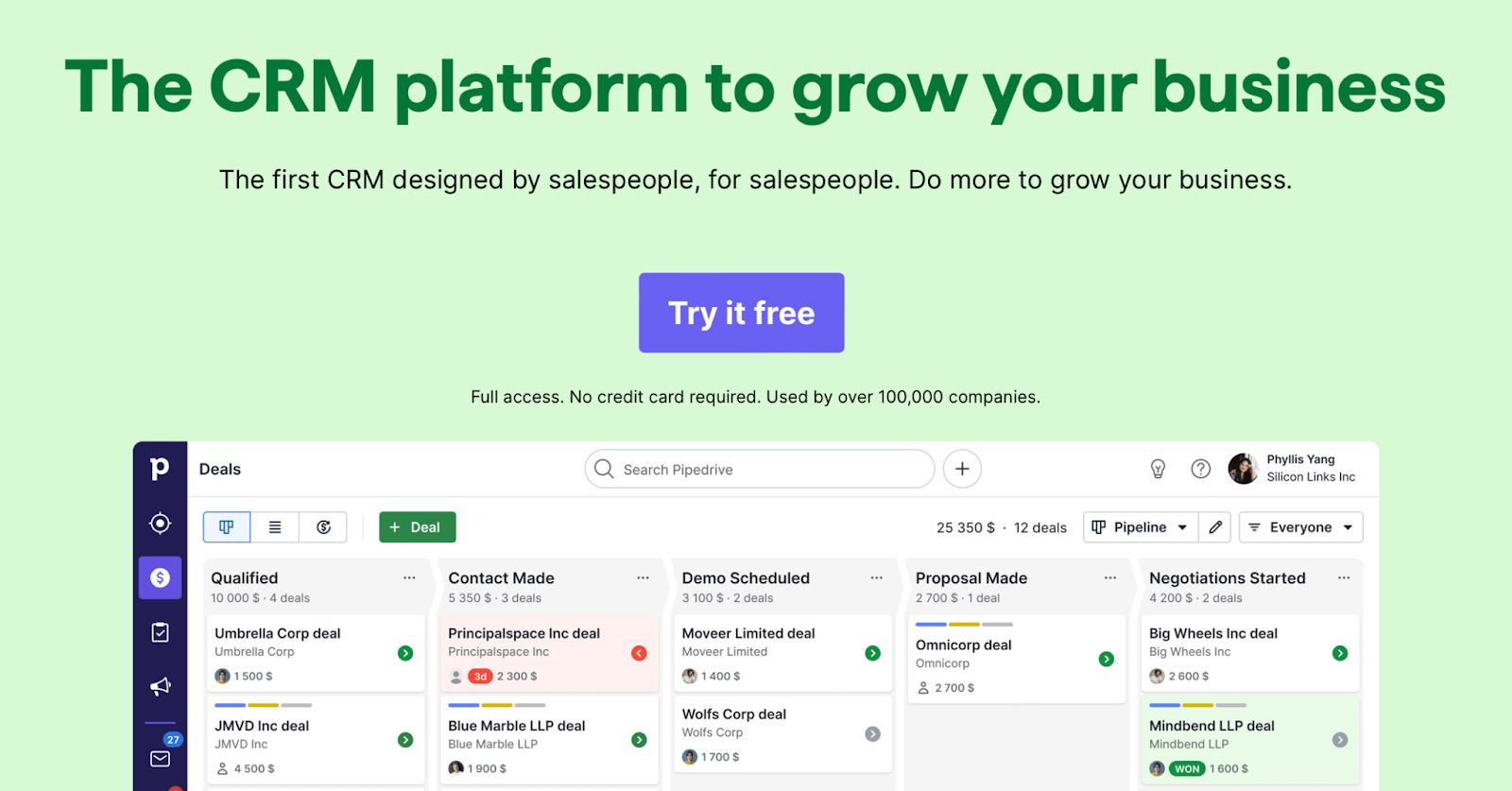 Pipedrive is a remarkable lead nurturing software designed to streamline your sales pipeline and maximize efficiency. It offers a user-friendly platform, attracting a broad clientele, including sales teams from small businesses to large enterprises. Pipedrive's primary goal is to simplify complex sales processes, allowing businesses to effortlessly manage, engage, and nurture leads. 
As a platform, Pipedrive's charm lies in its versatility. It offers a host of functionalities that contribute immense value — from tracking communications to automating workflows. Its sophisticated yet intuitive interface reduces the intricacy of your tasks, and ensures that no lead gets left behind.
In essence, Pipedrive goes beyond being just a typical lead nurturing software. It becomes your partner in growth, helping you not only to handle and nurture leads but also to convert these leads into successful deals. Its wide-ranging features combined with bespoke customization options, provide a platform to further the understanding of your leads, nurturing them, and ultimately assisting them along the sales journey.
Key features
Harnessing the Power of Sales Pipelines: Pipedrive provides a well-structured and customizable sales pipeline. This feature enables you to track deals, fine-tune stages, and manage tasks efficiently — key lead nurturing tools in today's competitive market.
Managing Deals with Precision: With an arsenal of functionalities, Pipedrive aids in efficient lead management by providing tools specifically geared towards overseeing individual deals. This includes organizing deals, planning activities, stocking heavy contact lists, and establishing a methodological approach for finalizing sales.
An Organized Approach to Tasks: Pipedrive's task management functionality enables users to systematically manage and monitor tasks. It allows you to set reminders, schedule activities, and ensure your sales and marketing efforts are on point with timely follow-ups.
Seamless Email Integration: Pipedrive flawlessly integrates with prominent email service providers. It caters to your needs by synchronizing emails, chronicling communication history, and managing contacts within its platform.
Insightful Sales Reporting: Pipedrive arms you with built-in reporting and analytics features. These tools offer invaluable insights into your team's performance, the progress of negotiations, and revenue projections.
Strategic Sales Forecasting: Pipedrive enables you to forecast future sales revenues. It calculates these predictions based on the likelihood of closing deals, proving beneficial when planning resources and making decisions.
On-the-Go Sales Access: Pipedrive caters to the fast-paced sales environment by offering mobile applications for both iOS and Android. Now, wherever you are, you can access and update your sales pipeline, making lead management a breeze.
Pricing
Pipedrive's pricing models have been designed to accommodate a variety of budget scales while still delivering comprehensive lead management capabilities. They offer four pricing tiers: Essential, Advanced, Professional, and Enterprise, each progressively delivering more sophisticated features. 
Essential: $14.90/user/month
Advanced: $27.90/user/month
Professional: $49.90/user/month
Power: $64.90/user/month
Enterprise: $99/user/month
Pros & Cons
✔️ User-friendly interface: Pipedrive's clean and intuitive user interface makes it easy for users to navigate through the platform and efficiently manage leads.
✔️  Customizable sales pipeline: Users can modify and adapt the sales pipeline according to their preferences and the specific needs of their business.
✔️ Robust integrations: Pipedrive integrates seamlessly with many popular tools and services, like email providers and calendars, enhancing its operational capabilities.
✔️ Solid mobile applications: Pipedrive offers comprehensive apps for iOS and Android, which allow users to manage their leads and sales activities on-the-go.
✔️ Quality customer support: Pipedrive provides excellent customer service, ensuring users get the assistance they need in a timely and effective manner.
❌ Limited customization in lower tiers: Some users have noted that customization potential is limited, especially at the lower pricing tiers.
❌ Reporting functionality could be better: Although Pipedrive provides built-in sales reporting, some users feel that the analytics features can be more advanced for deeper insights.
❌ Additional cost for add-ons: Extra charges are applicable for adding some valuable features, which can make the platform more costly.
❌ Absence of native email service: While it syncs with other providers, Pipedrive does not offer its own email client, which could streamline communication.
❌ Training required: Some users may find Pipedrive's range of features slightly overwhelming at first, necessitating a learning curve and the potential need for training.
Mailchimp email lead nurturing software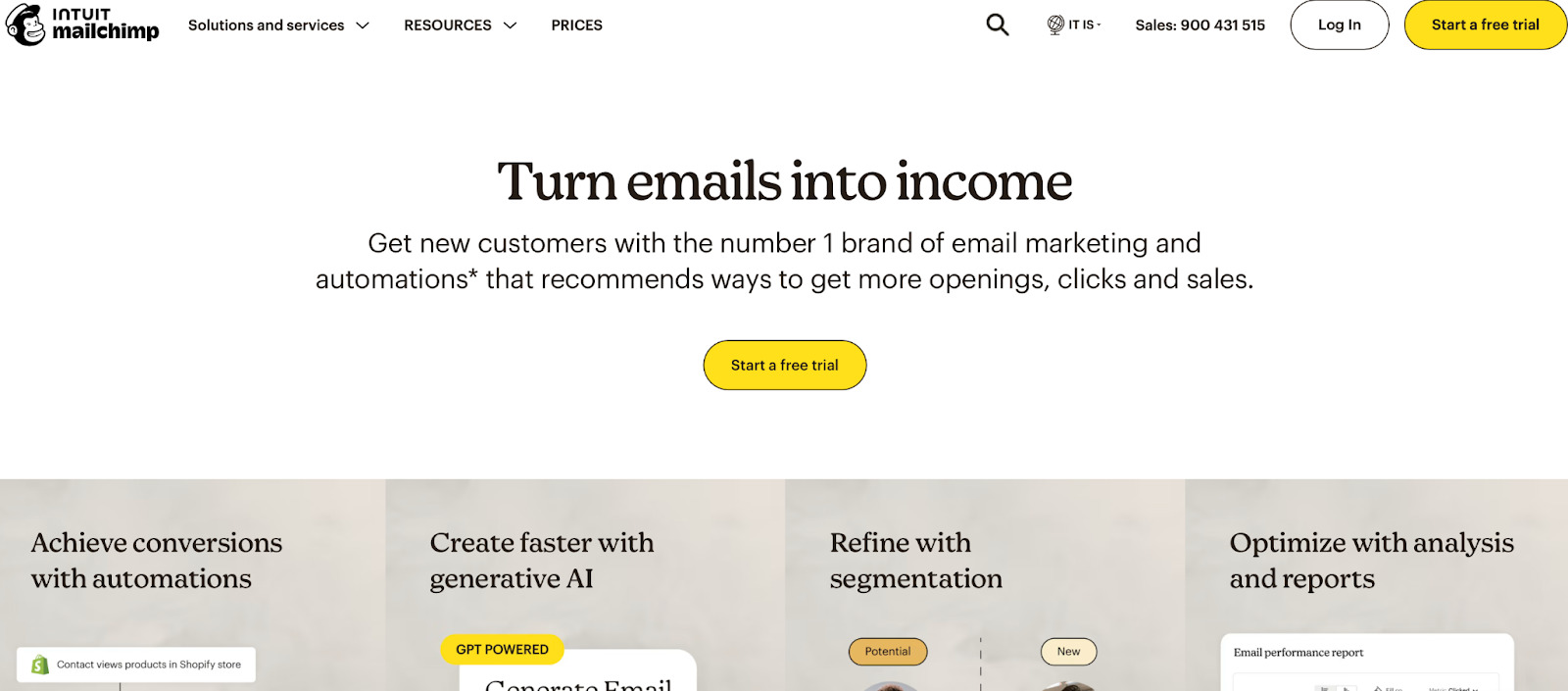 Mailchimp stands as a remarkable email lead nurturing software with a singular goal: to make communication with leads both productive and efficient. This platform attracts clients from a wide range of industries, from startups to large-scale businesses, all seeking to nurture their leads effectively. Mailchimp helps bridge the gap between a company and its prospects by offering dynamic email marketing tools.
The platform is packed with features that boost its value as a lead nurturing software. It offers user-friendly email templates, audience segmentation options, and performance analytics, among others. Mailchimp not only helps manage and nurture leads but also turns them into successful conversions with its personalized marketing automation. Striving to be more than just a platform, Mailchimp provides tools that can significantly amplify your communication strategies and make lead nurturing an effortless task.
Key features
Email Campaigns: Mailchimp allows you to plan and execute customized email campaigns, significantly amping up your lead nurturing strategy.
Built-in CRM: This feature helps track interactions with customers and easily manage leads, providing a foundation for effective communication.
Audience Segmentation: With this feature, you can segment your audience based on various factors, enabling targeted email marketing and better lead nurturing.
Marketing Automation: Mailchimp provides robust automation options for email campaigns, enhancing the nurturing of leads by sending out emails at optimized times to the right audience.
A/B Testing: Experiment with different variables in your campaigns, from subject lines to send times, ensuring optimal email performance.
Detailed Reports and Analytics: Provides insightful data about campaign performance and user interaction, helping you refine your strategy.
Email Templates: Offers a wide range of customizable email templates, making the creation of professional-grade emails seamless.
Integration: Mailchimp features an expansive integration capacity, allowing it to work in tandem with other business tools for maximized productivity.
Mobile Applications: The platform's mobile apps let you manage and monitor your campaigns on the go.
Each of these features plays a distinct role in making Mailchimp a comprehensive lead nurturing tool that excels at email-focused marketing efforts.
Pricing
Mailchimp offers a variety of pricing plans tailored to fit different needs and budgets. It starts from a basic "Free" tier, suitable for small businesses or those just starting to grow their audience. This plan includes essential features such as email campaigns and basic templates.
Pros & Cons
✔️ Excellent Email Design Tools: Mailchimp provides users with an array of powerful drag-and-drop email design tools and customizable templates, making email creation easy and professional.
✔️ Advanced Automation Features: The platform offers advanced automation options for your email campaigns, saving significant time and facilitating customer engagement.
✔️ Extensive integration options: Mailchimp can work in concert with a number of other tools and applications, leading to streamlined operations.
✔️ Comprehensive Reporting: The platform offers robust and detailed reports and analytics to track campaign performance and better understand customer behavior.
✔️ Free tier available: Mailchimp's no-cost option is a strong entry point for small businesses or those just starting out.
❌ Learning Curve: The range of features and tools can be overwhelming for beginners, presenting a bit of a learning curve.
❌ Higher-tier pricing: The advanced features are locked behind the higher-tier plans, which can be a bit pricey.
❌ Limited CRM capabilities: While Mailchimp does offer a built-in CRM, it's not as comprehensive as specialized CRM tools.
❌ Email-Focused: Although Mailchimp offers several marketing tools, it's primarily email-based. Those seeking a diverse range of digital marketing channels might want to consider other options.
❌ Customer Support: The lower-tier plans lack immediate customer support, like live chat or phone support, which can be challenging for users seeking immediate assistance.
Read also: 3-step guide on inbound lead qualification: how to qualify inbound leads on autopilot
Salesmate CRM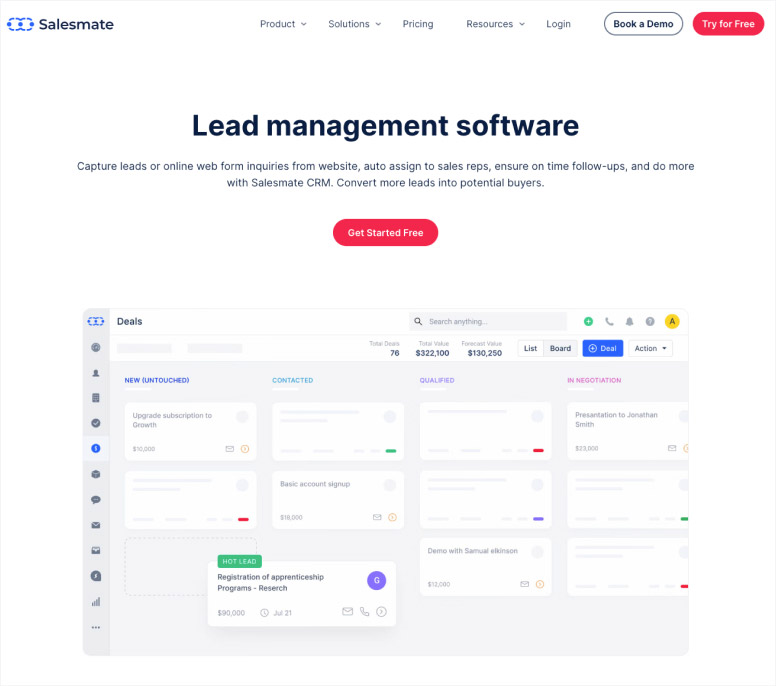 Salesmate serves as an integrated customer platform that aids in interacting with prospects, enhancing sales metrics, and personalizing the journey for each client. Its comprehensive features aid in the automation of your business operations, enriching customer interaction, promoting productivity, and fueling revenue growth.
By harnessing the power of features like lead scoring, process automation, advanced lead management, email automation, and seamless integration with over 700 platforms, you can refine your lead nurturing strategy. An advanced CRM further helps streamline your sales operations. This collective functionality not only propels your company's growth but also simplifies the user experience in the arena of customer management.
Key features
Sales & Marketing Automation supports you in automating various tasks, crafting a robust sales framework that engages, converts, and delights your customers. Sales Sequences provide an avenue to enhance your follow-up strategy and customer engagement, utilizing automation for emails and texts. 
The feature of lead scoring proves beneficial in identifying and prioritizing potential clients by assigning scores based on engagement levels and interests. Marketing Automation helps create finely targeted marketing campaigns, leveraging triggers to automate the customer journey. 
Customization becomes an invaluable asset as you aim to expand your business, allowing each user to shape the platform to their specific needs. Sales Reports supply visual representations of deal progress throughout your sales stages—enabling informed management decisions. 
The Integrations feature enables the seamless amalgamation of over 700 app integrations, offering a centralised hub for all your activities, solidifying Salesmate as a tool that helps in unifying your company's sales and marketing management. 
Pricing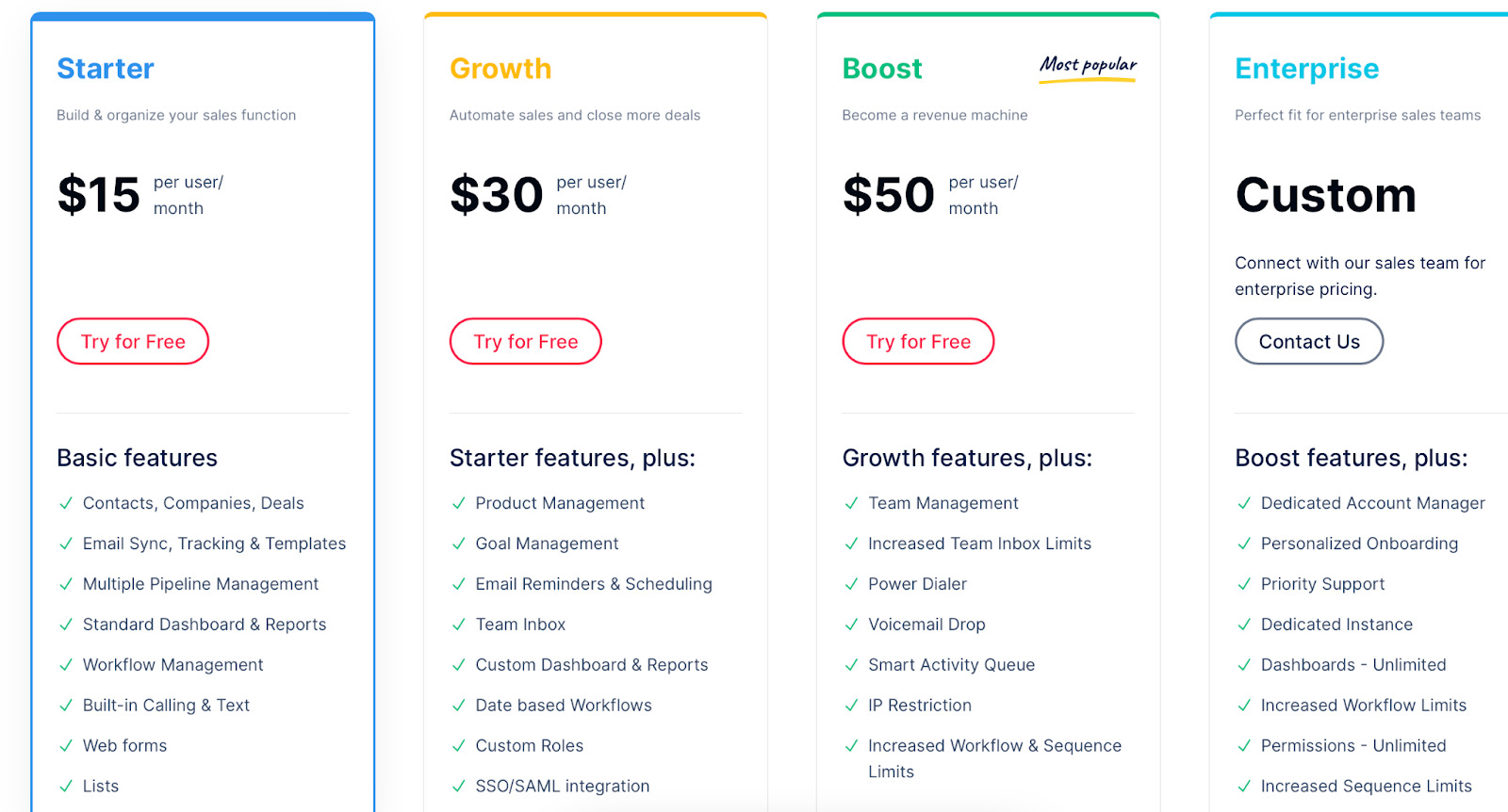 Salesmate offers a tiered pricing structure for its comprehensive CRM, catering to a variety of business sizes and needs. Each plan is billed per month, but users can also opt for annual billing.
The Starter plan, most suitable for small teams, is priced at $12 per user per month. 
The Basic plan, offering a wider range of CRM functionalities, costs $24 per user per month. 
For businesses seeking advanced growth tools, the Growth plan, at $40 per user per month, provides just that.
For organizations that require a suite of more extensive features and customizations, Salesmate offers the Boost plan. For $55 per user per month, the Boost plan provides premium features like workflow automations, advanced reports and analytics, and priority support.
Salesmate understands that different organizations have varying needs, which is why they have designed such flexible and comprehensive price plans when it comes to their CRM. Each plan provides necessary tools at budget-friendly prices, making it a worthwhile investment for businesses of all sizes.
Pros & Cons
✔️ Comprehensive CRM: Salesmate offers a comprehensive CRM tool with extensive features that cover sales management, email marketing, customer support, and more.
✔️ Easy Communication: With built-in calling and emailing, the platform enhances user communication with prospects and customers effectively.
✔️ Versatile Automation: Salesmate's automation functionality reduces manual workflows in your sales and marketing processes, saving valuable time.
✔️ Seamless Integration: The platform integrates seamlessly with more than 700 apps, ensuring a streamlined workflow.
✔️ Customizable Dashboard: Salesmate allows for a handy customization of user dashboard making it easier to keep track of key metrics.
❌ Learning Curve: The platform somewhat lacks simplicity, potentially requiring new users to invest time in mastering its functionality.
❌ Limited Features in Lower Tier: The beginner plan might lack some of the necessary advanced features, making it necessary to upgrade for a complete experience.
❌ Email Marketing Could Be More Robust: While Salesmate offers email marketing capabilities, these are not as advanced as specialized email marketing platforms.
❌ Mobile App Limitations: While the mobile app provides essential functionality, some features available on the desktop version are missing.
❌ Customer Support: While they offer a support facility, the response time might sometimes be longer than desired.
Copper to convert leads into sales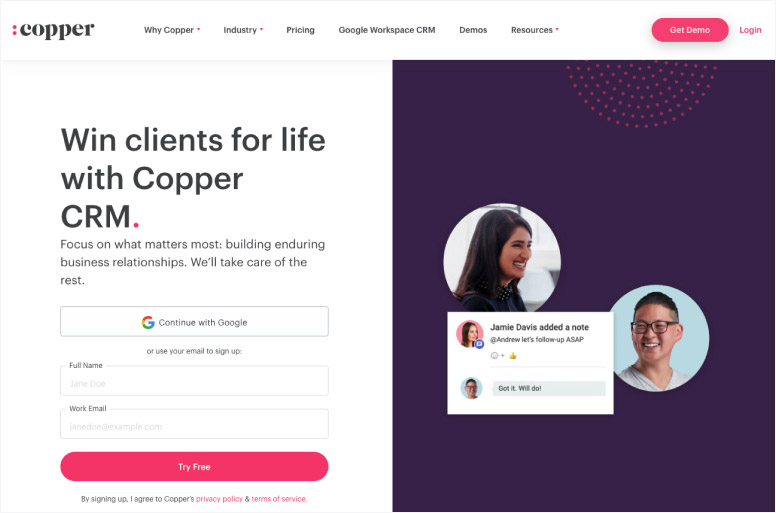 Copper stands out as an exceptional CRM tool that aids in effectively nurturing leads. It comes equipped with functionalities like deal tracking, reporting capabilities, and deal organization, among others. 
With an emphasis on matters of prime importance such as crafting robust business relationships, Copper channels efforts on unearthing new leads and fostering relationships. By leveraging these features, users can maintain connectivity with their prospects, bolster their sales process, and enhance productivity. 
In essence, Copper serves to transform how your company handles customer relationship management. It aligns the user's goals with the tools that help achieve them, resulting in a seamless and effective connection with the target demographic.
Key features
With Copper's Lead and Deal Tracking, you can easily capture new leads and monitor ongoing conversations directly from your inbox, simplifying your lead nurturing process. 
The Reports feature allows for a comprehensive view of your business operations, standing as a critical tool for lead management and strategic planning.
Integrations serve to bridge the gap between Copper and other popular tools, resulting in time-saving workflows that help to efficiently nurture leads.
Lastly, Automations handle mundane tasks such as recording calls, scheduling meetings or activities, attaching files, and more. This feature is instrumental in reducing manual effort, giving more time to directly nurture and engage with leads. With such advanced capabilities, Copper proves itself as an indispensable lead nurturing software.
Pricing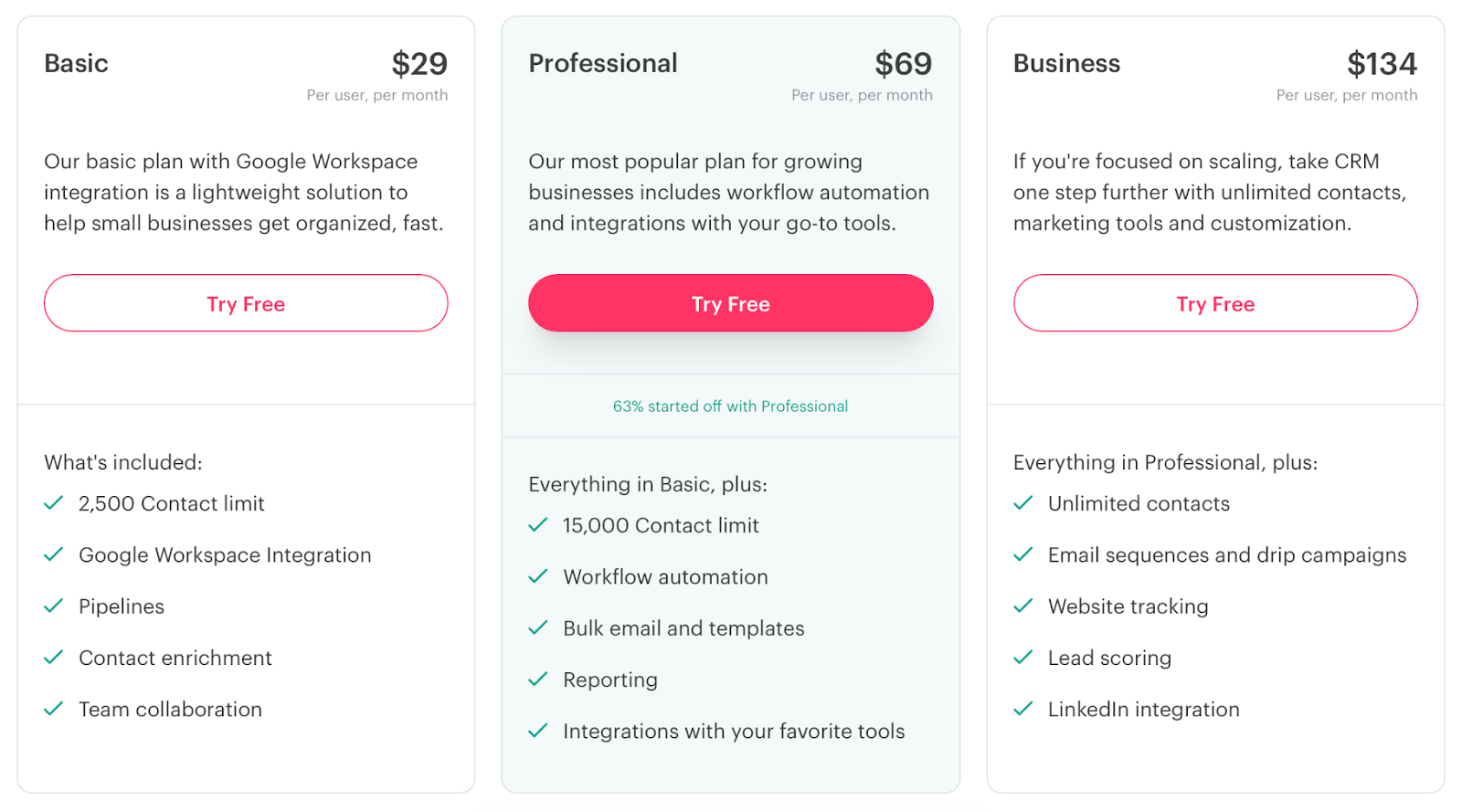 Copper offers a transparent and flexible pricing structure to accommodate a diverse range of business needs. They provide three main plans, each offering increasing levels of functionality.
The Basic plan, ideal for smaller teams seeking a simple CRM solution, is priced at $19 per user per month (billed annually).
For companies requiring more extensive features, the Professional plan, at $49 per user per month, provides thorough sales and marketing capabilities.
Lastly, the Business plan, priced at $119 per user per month, delivers the complete suite of Copper's tools and services. This includes priority support, a dedicated success manager, and on-demand training.
Each plan is designed with different businesses in mind, ensuring Copper can cater to everyone from startups to large corporates. The platform's comprehensive capabilities make it a valuable investment, tailored towards successful lead nurturing and management.
Pros & Cons
✔️ User-Friendly: Copper's intuitive and attractive interface makes it easy for users to navigate and handle leads effectively, even for beginners.
✔️ Google Workspace Integration: As a CRM built specifically for Google Workspace, Copper integrates seamlessly with Google apps, enhancing user productivity and cross-functionality.
✔️ Automatic Data Entry: Copper automates data entry, preventing human errors and saving valuable time which can be focused on nurturing leads.
✔️ Task Automation: The platform simplifies recurrent tasks like emailing, task scheduling, and follow-ups, streamlining the lead management process.
✔️ Customization: Copper offers a high degree of customization, enabling users to adapt the platform to meet their specific business needs.
❌ Limited Email Marketing Features: While Copper allows for email sending and tracking, it doesn't offer an advanced suite of email marketing tools.
❌ Pricey for Small Teams: While Copper offers a range of features, the pricing may be expensive, especially for small businesses or startups.
❌ Custom Fields Limitations: There are certain limitations to the custom fields feature, reducing flexibility in data capturing.
❌ Limited Reporting in Basic Plan: The Basic plan lacks some of the advanced reporting and analytics features, limiting insight potential.
❌ No Free Plan: Unlike some competitors, Copper doesn't offer a free plan, making it less accessible for small businesses or individuals exploring CRM options.
AWeber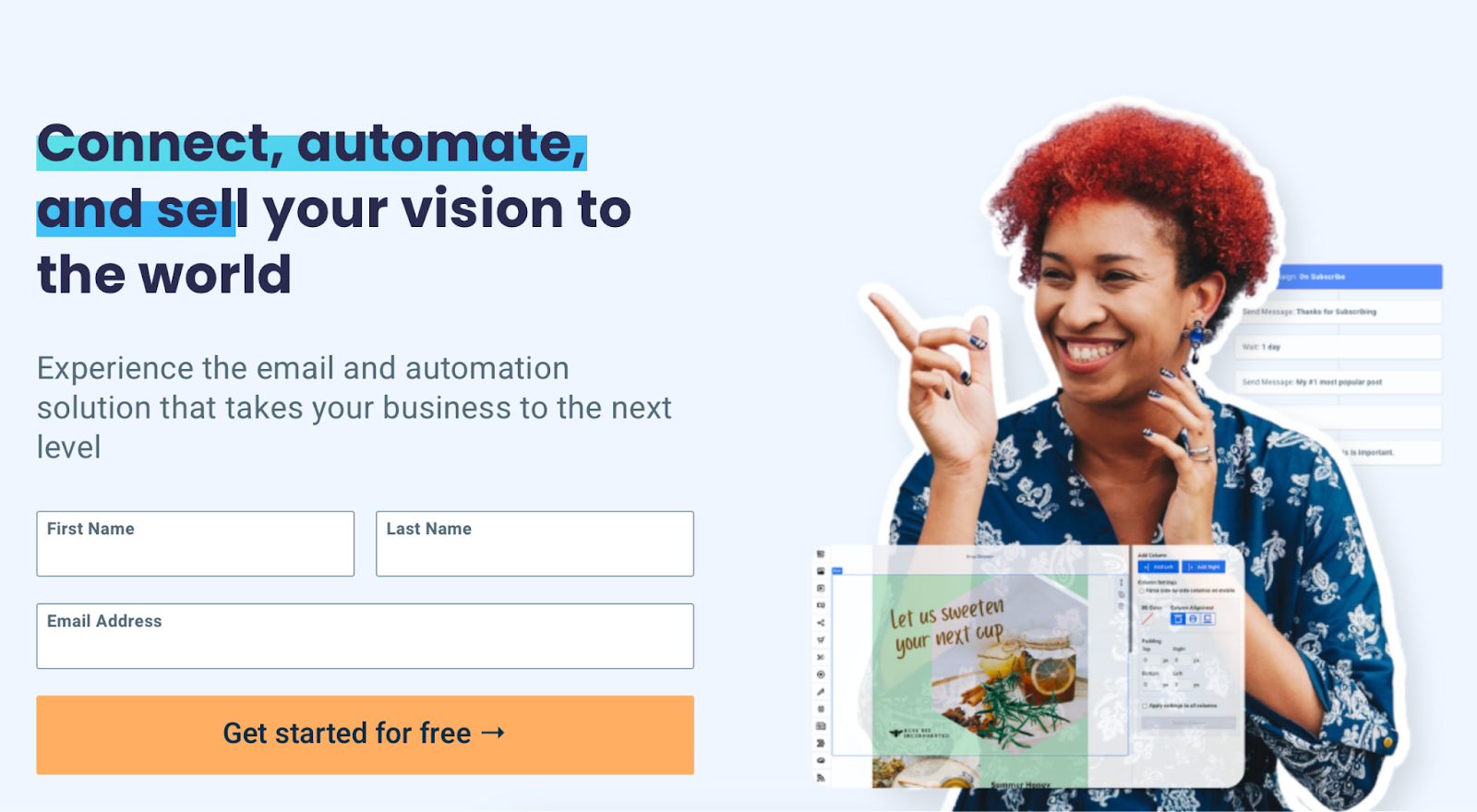 AWeber, as an email lead nurturing platform, offers a suite of robust marketing and sales tools designed to streamline your lead nurturing process. With a dedication to helping small to midsize businesses and entrepreneurs grow, AWeber focuses on automating email marketing and creating effective, professional email templates. Its principal goal is to turn your prospects into loyal customers by delivering the right message at the right time.
AWeber's value lies in its simplicity, cost-effectiveness, and customer service commitment. With integrated landing pages, marketing automation, and email campaign reporting, it caters to both beginners and experienced marketers. Through AWeber, businesses find a trusted partner in managing their lead nurturing tools, seeking both an increase in sales and customer satisfaction.
Key features
Smart Designer: Utilising AI power, this tool instantly crafts personalized, branded email templates, making the design process seamless in your journey to nurture leads.
AWeber Campaigns: As AWeber's automation hub, here users can build automated email sequences, streamline tagging, and configure segment sequences, enhancing your lead nurturing efforts.
Amp for Email: AWeber embraces Google's AMP for Email, enhancing subscriber interaction with dynamic in-email activities like event RSVPs or questionnaire responses.
Curate App: AWeber's mobile application, Curate, empowers users to swiftly craft and dispatch newsletters from their mobile devices, an ideal tool for managing email campaigns whenever, wherever.
Email Split Testing: Unlike some software limiting split testing scope, AWeber permits testing up to three email variants concurrently, providing better insights into audience preferences to optimize your lead nurturing strategy.
Atom App: AWeber's mobile sign-up form tool allows businesses to garner new email subscribers in person, perfect for events or in-store collection.
Pricing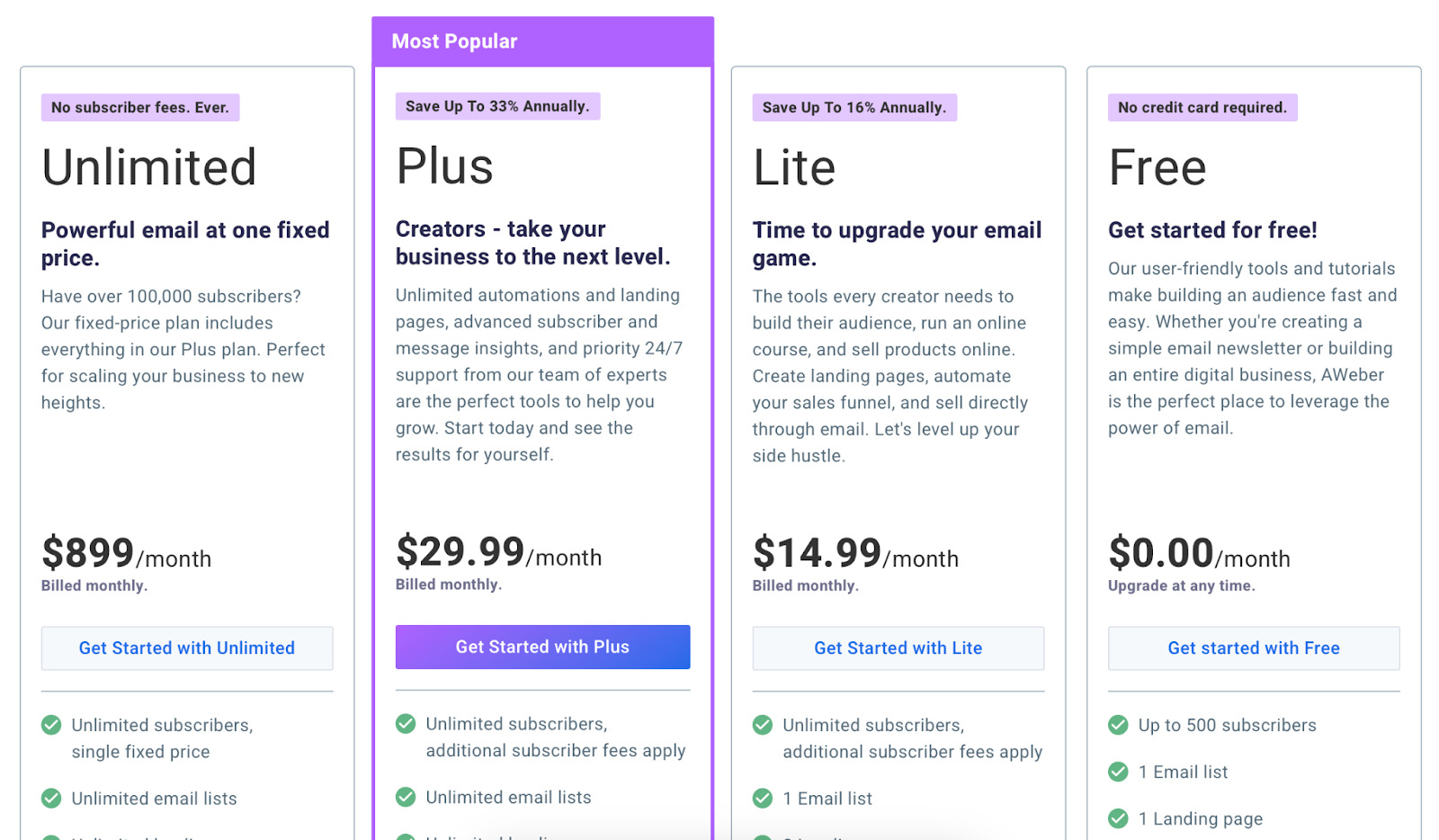 AWeber offers two main pricing models, Free and Pro, designed with a range of business needs in mind.
The Free plan provides access to basic email marketing tools including email campaigns, automation, integrations, and templates. This plan supports up to 500 subscribers, making it a great starting point for small businesses or those new to email marketing.
The Pro plan, priced variably based on the number of subscribers, starts at $19.99 a month for up to 500 subscribers and goes up to $149 for up to 10,000 subscribers. For lists larger than 25,000, custom pricing is available. The Pro plan offers a multitude of advanced features such as behavioral automation, detailed reporting, and advanced audience segmentation.
AWeber's pricing model thus covers a broad spectrum, ensuring small businesses, entrepreneurs, and larger companies alike can make use of its powerful lead nurturing platform. It's a cost-effective solution for those prioritizing email marketing in their customer engagement strategies.
Pros & Cons
✔️ Ease of Use: AWeber's platform is intuitively designed, making it accessible for beginners and those without extensive technical knowledge.
✔️ Advanced Email Marketing Features: AWeber offers a range of powerful features, including automation, segmentation, and A/B testing.
✔️ Customer Support: AWeber has a reputation for excellent customer support, offering live chat, phone support, and a plethora of online resources to help you navigate its platform.
✔️ Integration Capabilities: AWeber integrates with a wide range of third-party tools and services, enhancing its functionality and workflow efficiency.
✔️ Free Plan Availability: AWeber offers a very capable free plan that allows small businesses to utilize email marketing without financial risk.
❌ Limited Functionality in Free Plan: While AWeber does offer a free plan, it's limited in its functionality compared to the Pro plan.
❌ Lacks CRM: Unlike some of its competitors, AWeber does not have its own built-in CRM.
❌ Outdated Templates: Some users have noted that many of AWeber's email templates are outdated and could use a refresh.
❌ Limited Automation Capabilities: While AWeber offers some automation features, these are not as extensive as those provided by some specialized marketing automation platforms.
❌ Price: Although AWeber offers a range of prices, the cost can rise significantly for large subscriber lists.
Marketo

Marketo, a comprehensive lead nurturing platform, is famed for its robust toolkit that caters to diverse marketing needs. As a lead nurturing software, it is designed to engage leads in a personalized manner, guiding them smoothly along the sales pipeline. The platform focuses on delivering seamless user experiences, creating lasting relationships between businesses and their leads. 
Marketo's primary goal is to help businesses nurture leads effectively, boosting conversion rates and amplifying ROI. The platform offers a suite of features including email marketing, social marketing, digital advertising, predictive content, and more. Highly customizable and scalable, Marketo serves businesses of all sizes, and across a span of industries. Its comprehensive functionality positions Marketo as a reliable partner in your journey to nurture leads and grow your customer base.
Key features
Email Marketing: Marketo offers robust email marketing tools to create personalized emails, automate campaigns, and track performance.
Lead Management: As one of the primary lead nurturing tools, the platform offers an organized system to manage and nurture leads efficiently. 
Marketing Automation: This feature streamlines various marketing tasks and processes, allowing for increased efficiency and productivity.
Multichannel Marketing: Marketo supports multiple channels including social media, mobile, digital ads, allowing for nurturing leads across different platforms.
Customer Engagement Marketing: The platform helps create and execute engagement campaigns to attract and retain customers.
Sales Insight: This feature provides valuable insights into leads' behavior, helping to inform sales strategy and engagement.
Advanced Analytics: Marketo presents in-depth analytics on campaign performance, engagement metrics, and ROI, aiding in making informed decisions and constant refining of the nurturing process.
Each of these features contributes to the efficiency and effectiveness of Marketo, making it an excellent choice for businesses seeking a comprehensive platform for their lead nurturing goals.
Pricing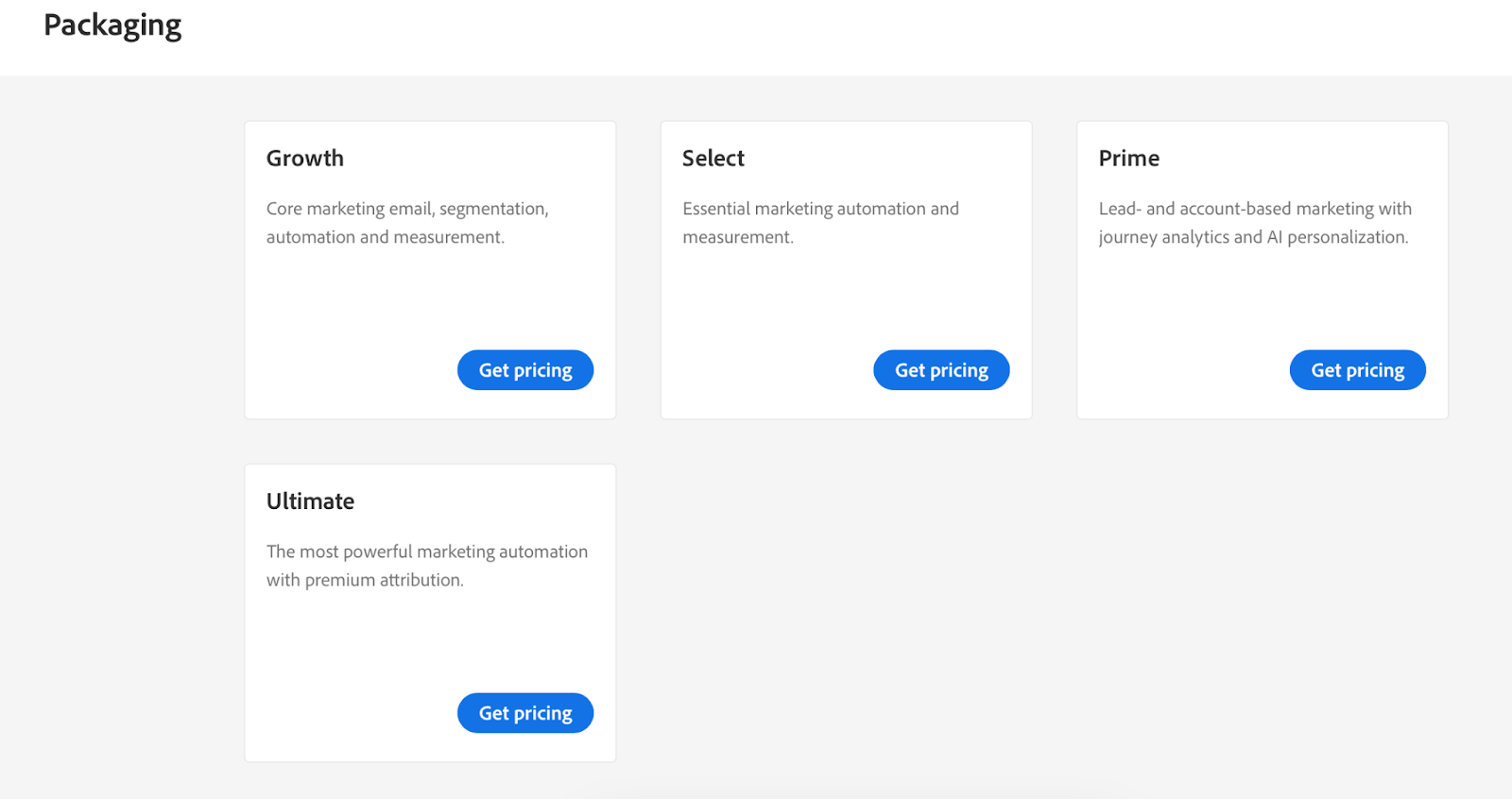 A free trial is available for potential users to explore the platform's suite of lead nurturing tools. 
👉 The Spark Plan is priced at $895 per month.
👉 For a more elevated suite, the Standard Plan costs $1,795 per month.
👉 At $3,195 per month, the Select Plan offers the most comprehensive package.
Pros & Cons
✔️ Robust Marketing Automation: Marketo provides a comprehensive suite of tools for automating marketing activities, from email campaigns to social media posts.
✔️ Advanced Analytics: Marketo offers in-depth analytics and reporting tools that can give valuable insights into your campaign performance and audience behavior.
✔️ Multi-Channel Support: Marketo provides a multi-channel approach, allowing businesses to connect with leads via email, social media, mobile, digital ads, and more.
✔️ Extensive Integrations: It can integrate with several major CRM platforms and other software, providing seamless workflow and enhanced productivity.
✔️ Scalability: Marketo is designed to grow with your business, making it suitable for small and large enterprises.
❌ Complex Interface: Some users suggest Marketo's platform can be complex and confusing, and the learning curve may be steep for some.
❌ Cost: Marketo can be pricy, especially for small businesses, and costs rise as you require more sophisticated features.
❌ Limited Customer Support: Some users have expressed dissatisfaction with the quality and responsiveness of their customer support.
❌ Implementation Time: The process of implementing Marketo can be lengthy and require a dedicated team.
❌ Software Glitches: Some users have reported occasional software bugs and glitches that can disrupt work.
Drift for marketing campaigns automation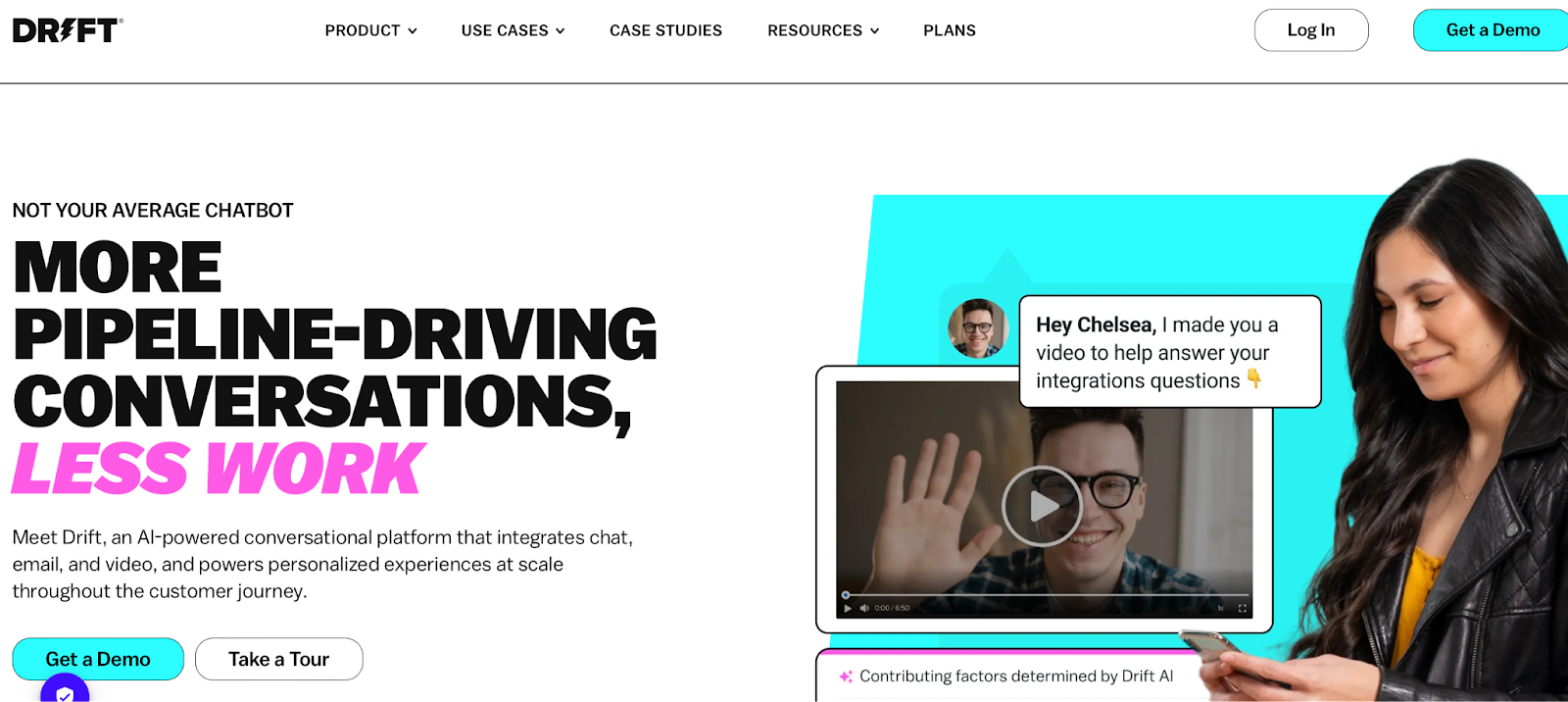 Drift is a unique lead nurturing platform specially designed to help businesses connect with leads in real-time. It offers a dynamic approach to the typical lead nurturing software with an emphasis on conversational marketing and sales. Drift's functionality allows your team to engage with leads instantly — while they're live on your website — cutting down response time and moving leads swiftly through the sales funnel.
With tools for chatbots, personalized messaging, email marketing, and more, Drift transforms how businesses connect with, engage, and nurture leads. Its goal is simple: fostering more human, authentic conversations that translate into higher conversion rates and customer satisfaction. With Drift, you have a partner focused on converting leads into customers, ensuring your lead nurturing process is as efficient and effective as possible. 
Key features
Conversational Marketing: Drift's main feature is its conversational marketing tool, which enables real-time engagement with leads visiting your website. This brings a unique, personalized twist to lead management.
Conversational Sales: Drift empowers sales teams by offering immediate access to potential customers through its chatbots. This feature helps to connect with leads on a more personal level, increasing the likelihood of conversion.
Email Marketing: Drift provides tools that allow users to create personalized emails based on users' behavior, thus enhancing the lead nurturing process to achieve higher engagement.
Chatbots: Drift's AI-powered chatbots engage with customers even when your team is offline, capturing lead data and answering basic queries.
Integration: Drift integrates seamlessly with other marketing and sales tools, including CRMs, marketing software, and more, allowing for a more streamlined sales process.
Meeting Scheduler: This feature allows leads to book meetings instantly through the chat, simplifying the scheduling process and accelerating them through the sales funnel.
Analytics and Reporting: Drift provides insightful analytics and customized reports to gauge the performance of your chats and campaigns, ensuring efficient lead nurturing strategies.
Pricing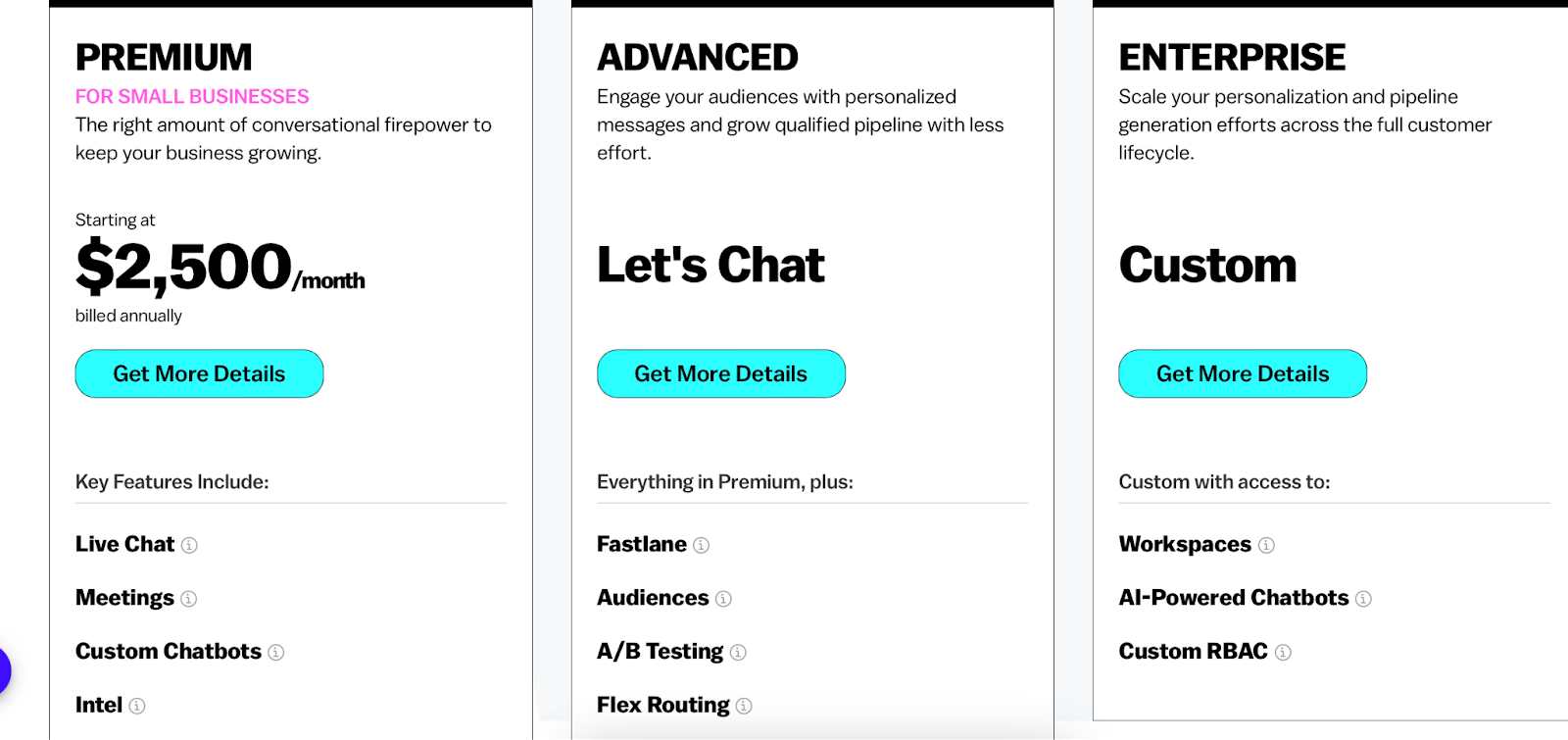 Drift offers a variety of plans to suit different business needs and budgets. They provide a Free plan which includes one seat and one chat playbook, making it a great starting point for businesses looking to explore conversational marketing. Next, the Premium plan starts at $400/month and includes up to 10 seats.
Pros & Cons
✔️ Real-Time Engagement: As a leading lead nurturing platform, Drift facilitates real-time conversations with leads, providing immediate responses to queries and increasing conversion rates.
✔️ Powerful Chatbots: Drift's AI-powered chatbots can engage with leads effectively even if your team is offline, this supports continuous nurturing of leads.
✔️ Flexible Integrations: Drift can seamlessly integrate with various external tools, allowing your sales and marketing data to flow smoothly between platforms.
✔️ User-Friendly Interface: The platform is designed with an intuitive user interface, making it easy for users to navigate and leverage its comprehensive features.
✔️ Detailed Analytics: Drift provides rich, insightful analytics to measure the effectiveness of your conversations and interactions, helping optimize lead nurturing strategies.
❌ Price: Drift can be costly compared to some other lead nurturing software, especially for small businesses.
❌ Limited Features in Basic Plans: The free and lower-cost plans are fairly limited in features, restricting access to the platform's full potential.
❌ Customer Support: While Drift does provide customer support, some users have mentioned that it can be slow or unresponsive.
❌ Multilingual Limitations: Drift's chatbots currently lack broad multilingual capabilities, which can be a limitation for businesses with global audiences.
❌ Complex Conversational Rules: Setting up complex conversational rules for chatbots can be difficult and confusing, potentially requiring technical assistance.
Zendesk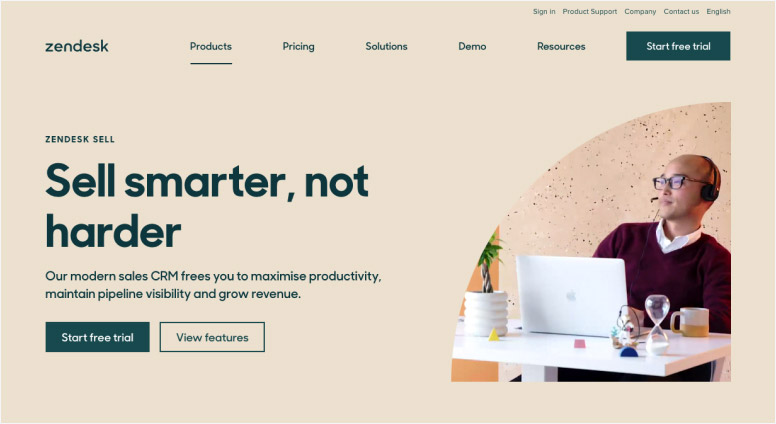 Zendesk is a renowned lead nurturing platform offering a wide range of tools to streamline your customer engagement process. As a lead nurturing software, it focuses on providing outstanding support and sales features that help businesses convert leads into loyal customers. 
Central to Zendesk's ethos is the ability to provide dynamic, personalized interactions that nurture leads throughout their customer journey. With a robust suite of applications for support, sales, and customer engagement, Zendesk equips businesses with the tools necessary to cultivate relationships, solve customer issues, and ultimately propel revenue growth.
Key features
Lead Management: Zendesk's platform provides robust tools for tracking, managing and nurturing leads. It offers a unified view of all interactions with a lead, ensuring consistent and personalized engagement.
Sales Force Automation: Zendesk Sell, the platform's sales suite, automates sales processes, making it easier for teams to keep track of leads and close deals.
Customer Support: The platform's customer support solutions allow businesses to resolve customer issues rapidly and efficiently, thereby nurturing and maintaining positive relationships with leads.
Multi-Channel Support: Zendesk supports multiple communication channels including email, phone, live chat, and social media. This ensures businesses can communicate effectively with leads, regardless of their preferred channel.
Nurturing Campaigns: With its powerful automation and personalization tools, Zendesk helps businesses create targeted campaigns designed to nurture leads and encourage conversion.
Insightful Analytics: Zendesk provides comprehensive analytics and reporting capabilities that help businesses assess and fine-tune their lead nurturing strategies.
Integration: Zendesk integrates with a multitude of other applications, ensuring a seamless flow of data and processes.
Pricing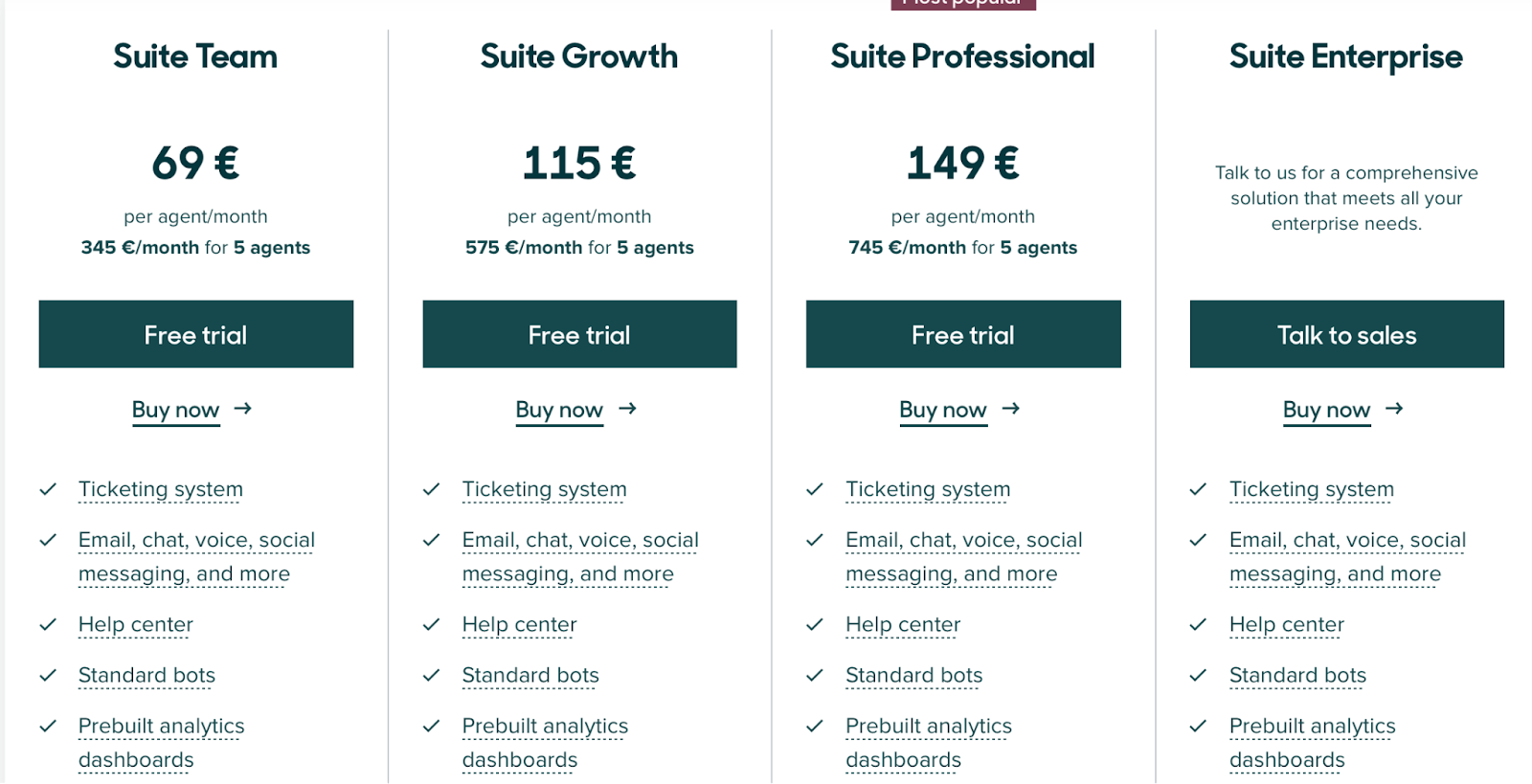 Zendesk offers varied pricing options tailored to different business sizes and needs, charging separately for its services like Support, Talk, Chat, and Guide. The Support Suite's pricing includes:
👉 Professional: $89/agent/month, offering omnichannel support, automation, and reporting tools.
👉 Enterprise: $149/agent/month, providing advanced features like ticket forms, skills-based routing, and dedicated manager.
👉 Elite: $199/agent/month, with all lower-tier features, plus unlimited agents, data center choices, 99.9% uptime SLA, and early access to new features. 
These prices are for annual billing, with monthly also available at a slightly higher cost. Check the website or contact Sales for the latest details.
Pros & Cons
✔️ User-friendly interface: Zendesk's platform is known for its intuitive design, which makes it easy for both agents and customers to navigate.
✔️ Multichannel Support: Zendesk integrates different support channels (email, chat, phone, social media) into a single platform, providing convenience for customer communication.
✔️ Scalability: It's well-suited to businesses of all sizes, from small startups to large enterprises. Zendesk can scale up or down based on your business needs.
✔️ Strong Reporting & Analytics: Detailed reporting and analytics help with insights about customer satisfaction, agent performance and other metrics.
✔️ Automation Capabilities: Automations and workflows help to streamline the support process, reduce repetitive tasks, and improve efficiency.
❌ Pricing: The costs can add up, particularly for larger teams. Lower tiers offer limited advanced features, with more complex capabilities reserved for more expensive packages.
❌ Customization Limitations: Some users feel the customization options are limited, especially in relation to the user interface.
❌ Complex Set-Up: Though user-friendly, Zendesk can take time to set up, particularly for more intricate configurations.
❌ Learning Curve: While its interfaces are generally intuitive, the sheer breadth of features can result in a learning curve for some users.
❌ Limited Social Media Integration: Some users report a need for better integration with certain social media platforms.
Insightly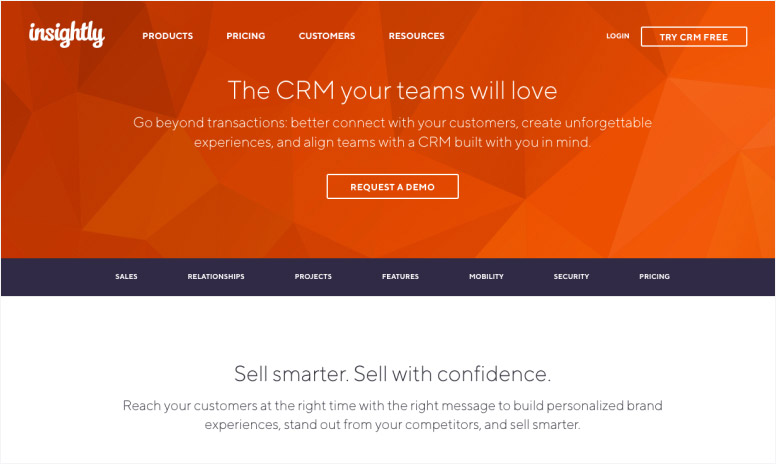 Insightly is a lead nurturing platform designed to manage customer interactions seamlessly. Its goal is to promote efficiency in customer relationship management, project management, and sales. The value it brings to clients includes streamlined processes, enhanced productivity, and data-driven decision-making. Notably, this user-friendly software is preferred by smaller businesses and startups for its affordability and robust functionality.
Key features
Insightly offers several robust features designed for efficient customer relationship management:
Contact Management: Centralizes all contact information in a single integrated CRM.
Project Management: Enables tracking of project-related tasks, events, and milestones.
Pipeline Management: Allows easy overview of sales processes and offers visibility in every stage.
Email Integration: Directly connect your email accounts for seamless communication, tracking, and logging of email history.
Task Tracking: Helps to monitor and execute tasks effectively.
Reports and Dashboards: Offers detailed insights for data-driven decision-making.
Mobility: Accessible across mobile devices for on-the-go operations.
Email Templates and Tracking: Offers customizable email templates and tracks opens, clicks, and responses.
Integration with other applications: Syncs with popular apps like Gmail, Office365, and MailChimp.
These features contribute to Insightly's powerful CRM capabilities, improving sales processes and customer interactions.
Pricing

Insightly offers a 'Free' plan for basic needs, and three paid tiers: 'Plus' ($29/user/month), 'Professional' ($49/user/month), and 'Enterprise' ($99/user/month). 
The pricing increases to accommodate more advanced features. All prices are based on annual billing, and there's a 14-day free trial for paid plans.
Pros & Cons
✔️ Ease of Use: Insightly is known for its user-friendly interface, making it easy to navigate.
✔️ Affordable: Compared to other CRM platforms, Insightly provides good value for its price.
✔️ Integration: It integrates well with popular tools like GSuite, Office365, and MailChimp.
❌ Learning Curve: While user-friendly, the software can still be somewhat complex for beginners.
❌ Limited Advanced Features: Some users feel that Insightly's more advanced CRM features could be improved.
❌ Performance Issues: Some users have noted occasional slow loading times and glitches.
How to choose the best Lead Nurturing Software
That's easy. Check if it has the following solutions:
Email Marketing: Enables companies to construct, orchestrate, and dispatch bespoke emails to prospects contingent on prior engagements. Trigger-based automated emails can augment timely follow-ups.
Audience Segmentation: Affords capability to stratify leads into specific clusters considering metrics such as demographics, lead acquisition sources, interaction patterns, and engagement capacity. This fosters more focused and individualized outreach.
Qualification of Leads: This strategy rates prospects considering their conversion probability, aiding sales squadrons in concentrating their endeavors on high-yield leads.
Integration with CRM: Lead nurturing tools often sync with CRM systems, congregating all lead data in a singular location, amplifying synchronized sales initiatives.
Insightful Analytics & Reporting: Furnishes critical data regarding lead nurturing projects' efficacy, assisting ventures in discerning successful strategies from futile ones. It tracks essential KPIs like click rates, conversions, and engagement metrics.
Process Automation: Streamlines routine tasks in the lead cultivating process via automation, boosting productivity and freeing up resources for strategic work.
Tailored Content: Offers the ability to personalize content in alignment with a prospect's interactions, inclinations, or sales funnel stage. This typically escalates engagement and progresses leads along the funnel.
FAQ on lead nurturing tools
What are the best lead nurturing tools?
Here's our list of the top lead nurturing software we recommend for sales teams in 2024: 
Dashly
Pipedrive
Mailchimp 
Salesmate
Copper
Aweber
Marketo
Drift
Zendesk
Insightly
How do lead nurturing tools help businesses?
Lead nurturing tools help businesses by automating the process of developing relationships with potential customers at every stage of the sales funnel. These tools can segment leads based on their behaviors and engagement, then send personalized emails or content that is relevant to their stage in the buyer's journey. This can increase conversion rates by keeping leads engaged and gradually moving them towards a purchase decision.
What are the benefits of lead nurturing software solutions?
According to a Forrester Research report, companies employing lead nurturing strategies see a 20% increase in sales opportunities compared to non-nurtured leads. Furthermore, the Annuitas Group reported that nurtured leads make 47% larger purchases than non-nurtured leads, emphasizing the high ROI potential of lead nurturing software solutions.
What is lead nurturing software?  
Lead nurturing software is a tool designed to engage potential customers by providing them with valuable content and personalized interactions, guiding them through the sales funnel toward making a purchase. It helps automate and streamline the process, leading to increased conversions.
Which is the best Lead nurturing software?
The "best" lead nurturing software can vary based on specific needs, but top choices often include Dashly, known for its customer engagement features; Drift, hailed for its conversational marketing and sales platform; and Zendesk, appreciated for its comprehensive customer service solutions. Each provides unique functionalities that cater to different business requirements.
Key features of lead nurturing software
Key features of lead nurturing software typically include:
Lead Scoring: Assigns value to leads based on their actions or behavior.
Email Campaigns: Automates email communications to nurture leads.
Personalization: Allows for tailored experiences for leads.
Multi-channel Marketing: Integrates with various platforms to reach leads.
Analytics & Reporting: Provides insights and metrics on leads' behaviour.
CRM Integration: Offers seamless synchronisation with your existing CRM software for better management.
Drip Campaigns: Schedules specific communication actions over time.
Segmentation: Divides your leads into different groups based on characteristics or behaviour.
What is lead nurturing in CRM?
Lead nurturing in CRM involves using customer relationship management tools to build and maintain relationships with potential customers. It's a process of engaging leads by providing relevant information at each stage of their buying journey, moving them progressively through the sales funnel. CRM software can automate much of this, allowing businesses to segment their audience, personalize communications, track interactions, score leads, and ultimately convert more prospects into customers.
How do you automate lead nurturing?
Automating lead nurturing involves a few key steps:
Set Goals: Define your marketing objectives and what you intend to achieve with automation.
Identify your Target Audiences: Segment your leads based on various criteria like demographics, behavior, engagement level, etc.
Create Personalized Campaigns: Develop tailored content and messaging for each lead segment.
Automate Actions: Use lead nurturing software to automate actions like sending emails, setting reminders for follow-ups, and delivering personalized content based on triggers or actions taken by leads.
Lead Scoring: Implement a lead scoring model to identify and prioritize leads that are most likely to convert.
Analyze and Adjust: Monitor campaign outcomes, analyze results, and adjust strategies based on performance.
By automating these steps, you can ensure you're reaching out to the right people at the right time, increasing the effectiveness and efficiency of your lead nurturing process.
Read also: