You invest in ads and SEO to drive more traffic to your website, but it hardly results in leads increase? It's a sign to change your strategy. We suggest working with your current traffic more effectively.
Chatbots are one of the best tools for it, our EdTech customers actively use bots on their websites. And here are their results 👇
We'll tell you how to use chatbots to their full potential. Let's start with the most basic yet powerful leadbot campaign. 
Leadbot is a type of chatbot in Dashly. It gets triggered by a certain event, i.e., a visit to your website, exit-intent, or visit by the link with UTM parameters. As a result, a user sees a popping message next to the live chat widget. 
Here's what it looks like 👇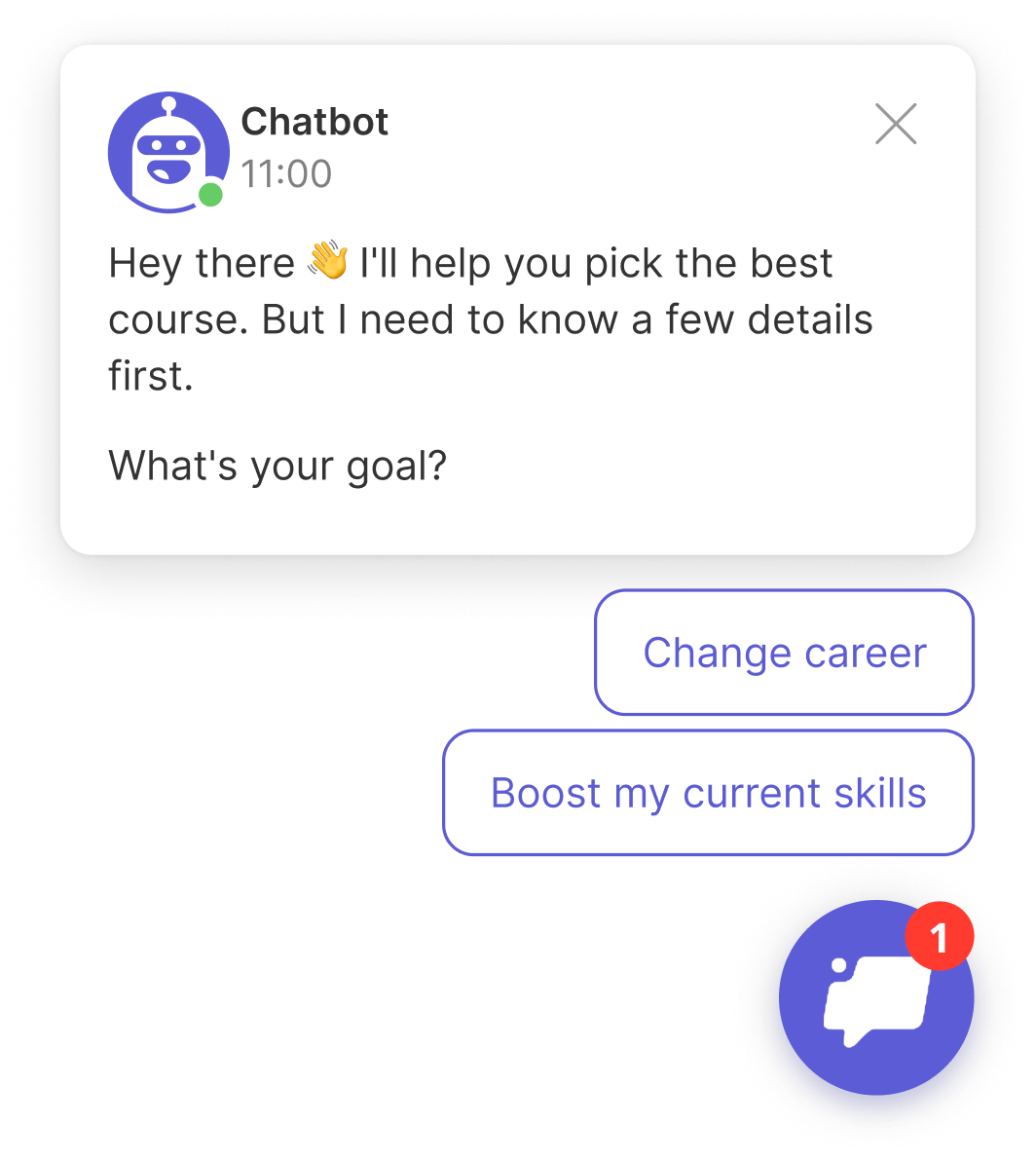 In this article, we'll discuss:
Marketing copy for your chatbot flow;
Campaign settings in the Dashly builder;
Benchmarks to plan your leads metrics.
Let's start with the copy. Click on picture below to look at the template in detail 👇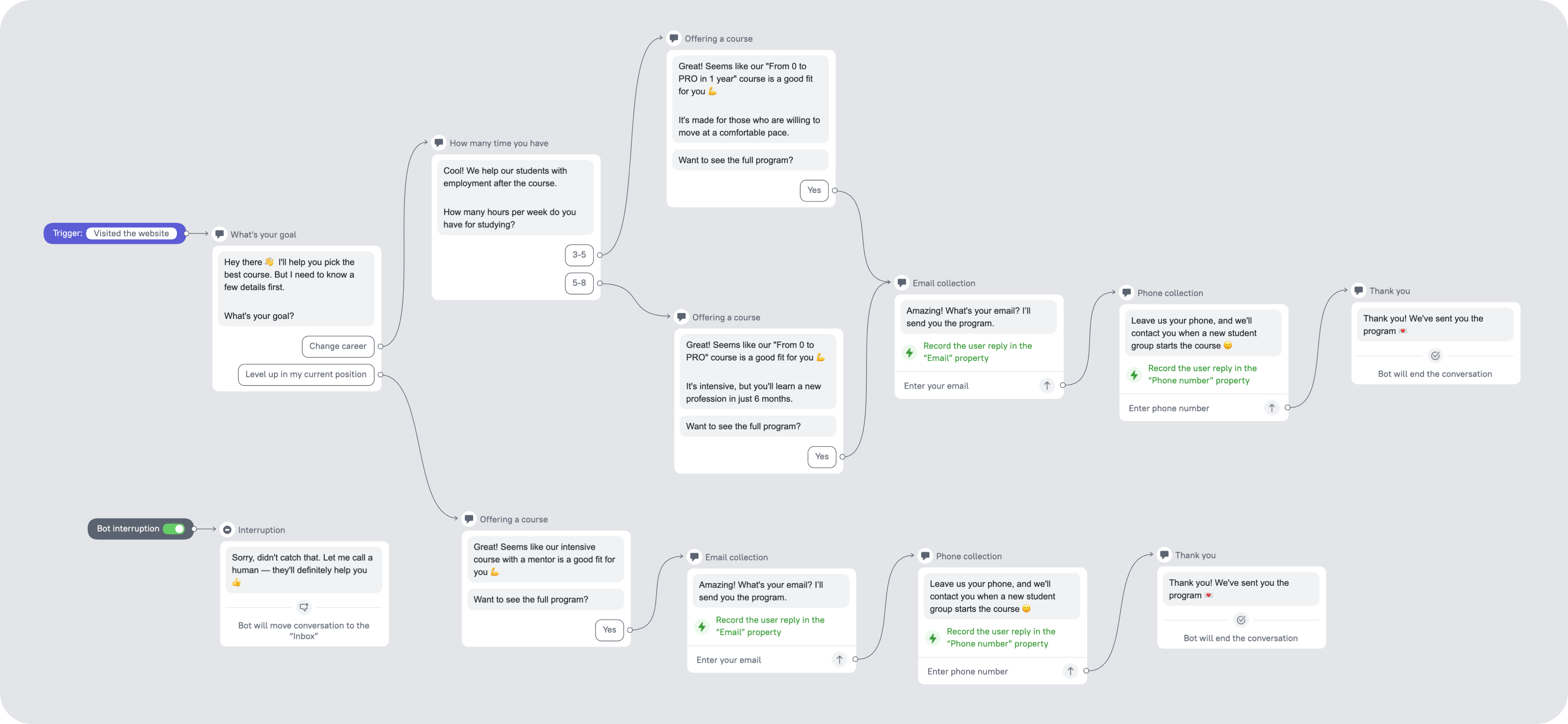 Copy chatbot flow from the template. Paste it to the Dashly chatbot builder. Adjust it to your goals and tone of voice. Congrats, you just made the first step! 
Set-up
But now you need to set up a chatbot, so the right audience sees it at the right time. Your bot shouldn't annoy website visitors and need to be actually useful. We recommend using these settings in the Dashly builder 👇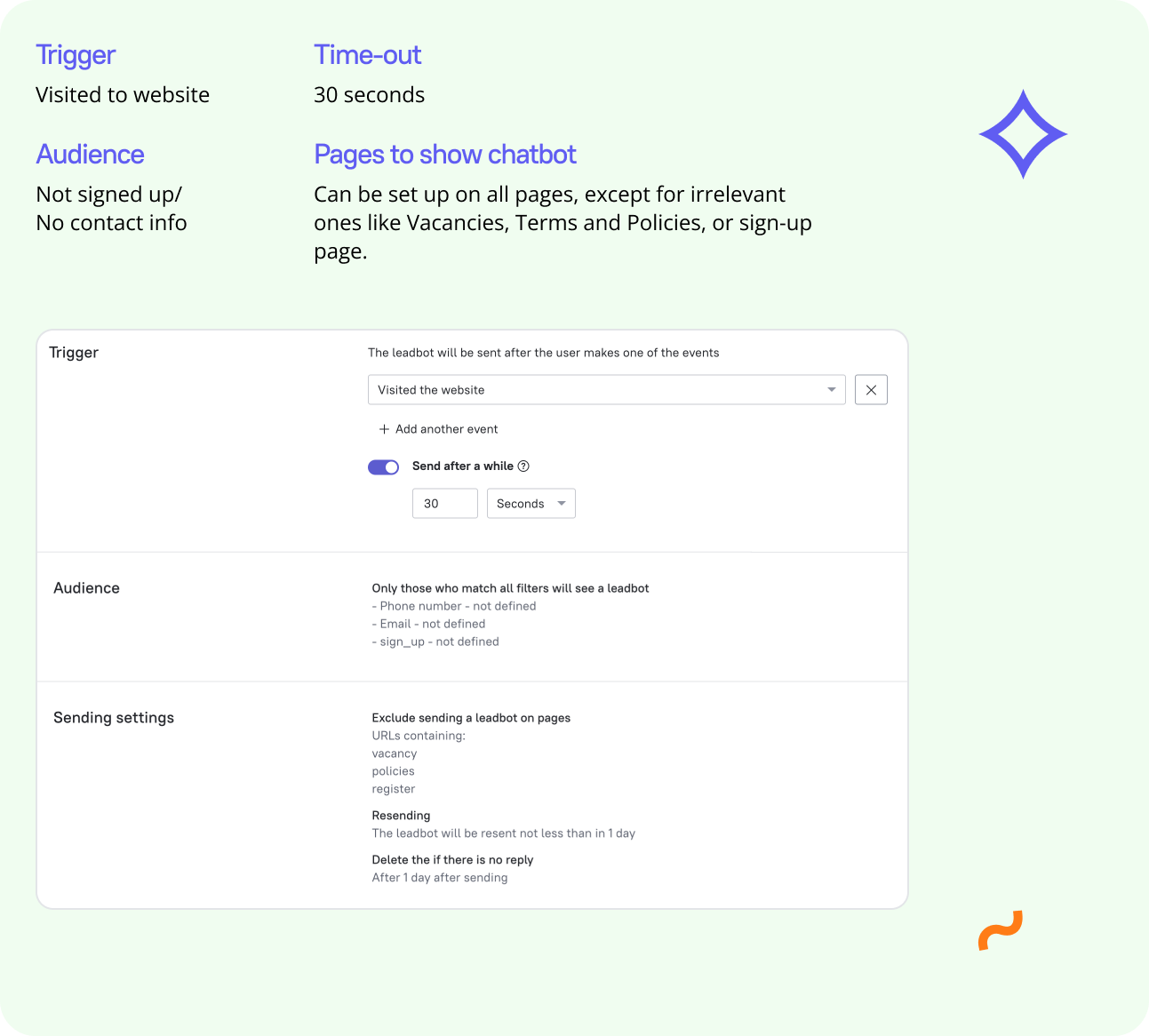 To pass the lead data from the chatbot conversation to your CRM, add the needed event to your CRM integration. You can integrate Dashly with ConvergeHub, or set up custom integrations via Zapier. Learn more about it in our knowledge base. 
Get 25 templates of triggered campaigns for online schools with estimated revenue and settings examples
Thanks! Now check your inbox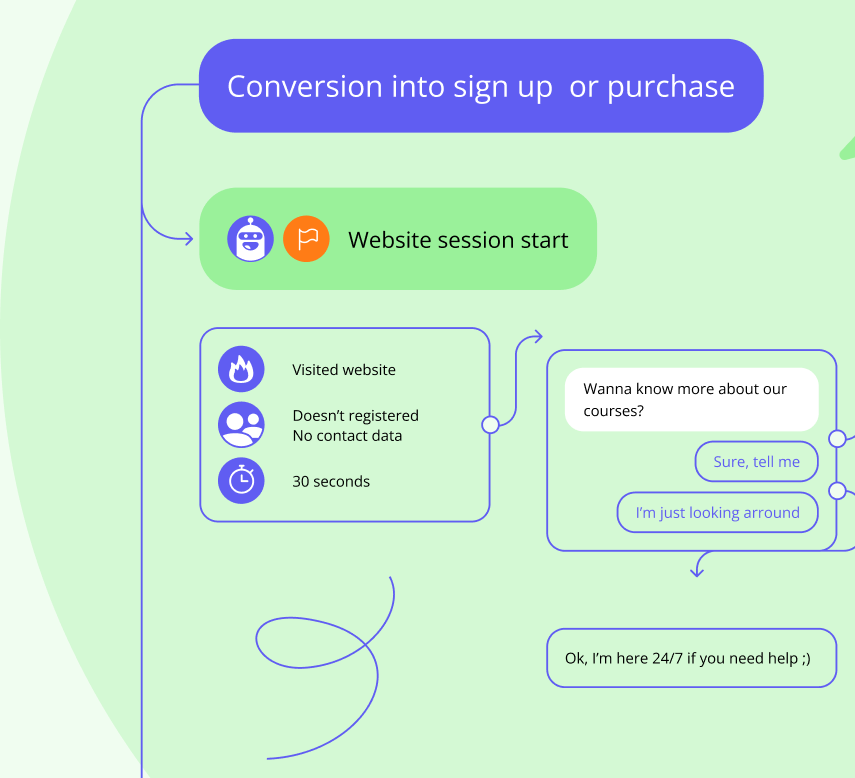 Set up a chatbot campaign for your whole website, or just the pricing page. Engage visitors on the blog or reach out to them via email. Pick the best option for your business!
If you have questions or difficulties with set-up, text us in a live chat. Our support will help you with any issue.
Why it's a perfect campaign to start with, according to Eugene, Dashly expert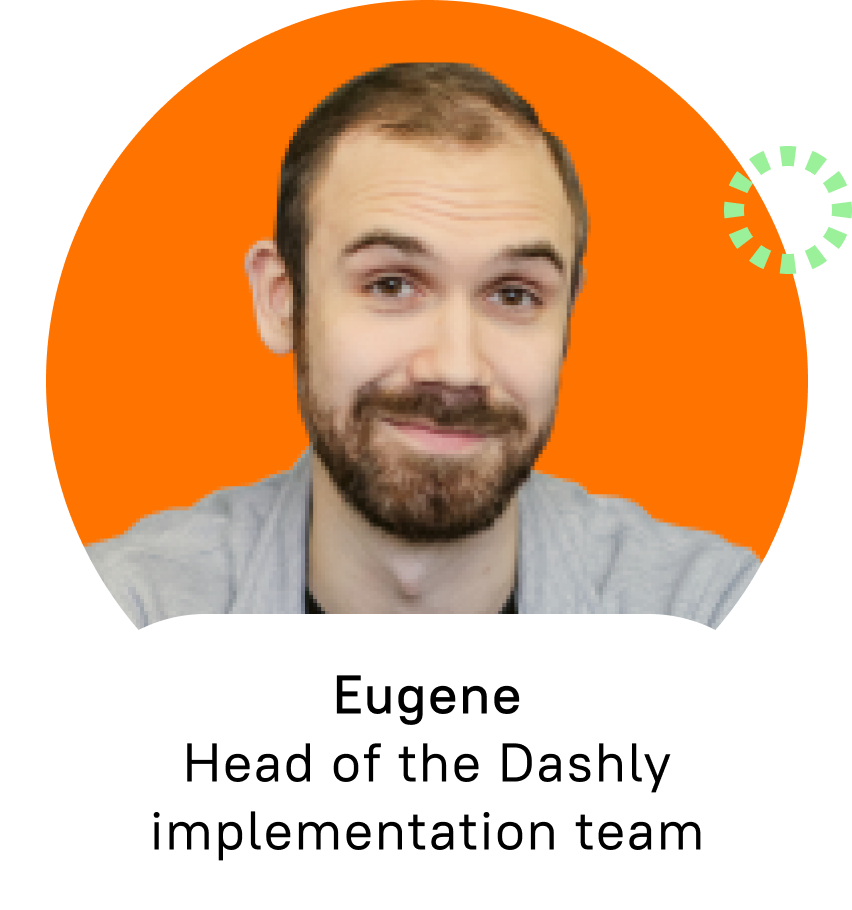 This campaign is quite simple, yet it helps solve the main issue of any user that lands on your website. It's targeted to a big audience segment, so you'll quickly get enough data for analytics.
Start with this campaign and you'll know:
Conversion to the start of chatbot conversation;
How many users interrupted chatbot conversation;
How many users reached the target event.
You can have different results among desktop and mobile users. So check both. 
Also, pay attention to how users move from one step of the conversation to the next. This way, you'll get data to start enhancing the chatbot flow and improving your key metrics. You can analyze conversion from one chatbot block to another with Dashly funnels.
Now, we'll consider an example and see what results you can achieve with this chatbot campaign
Let's say you have 100 000 unique website visitors. 10% are uninterested and leave in the first 15 seconds. Thus, around 80-90k will stay long enough to see the chatbot. With settings, we exclude those who signed up or already gave us their contact info. So, we have around 70-75k left.
Let's make it trickier and show the chatbot only on product pages. And we'll exclude the blog, too, we have another chatbot for it. What's left is around 50k unique visitors who'll see our chatbot. 
The conversion to the first response might vary between 1-3% depending on the quality of your traffic and the offer you use in the chatbot. Let's take 3%, the best option. And 10% will get to the end of the conversation and leave their contact.
As a result, in a month, you get:
50 000*0,03*0,1= 150 quality leads.
Thus, in 30-120 minutes (depending on how well you mastered Dashly tools), you created a new channel of lead capture. All by yourself, no developers needed!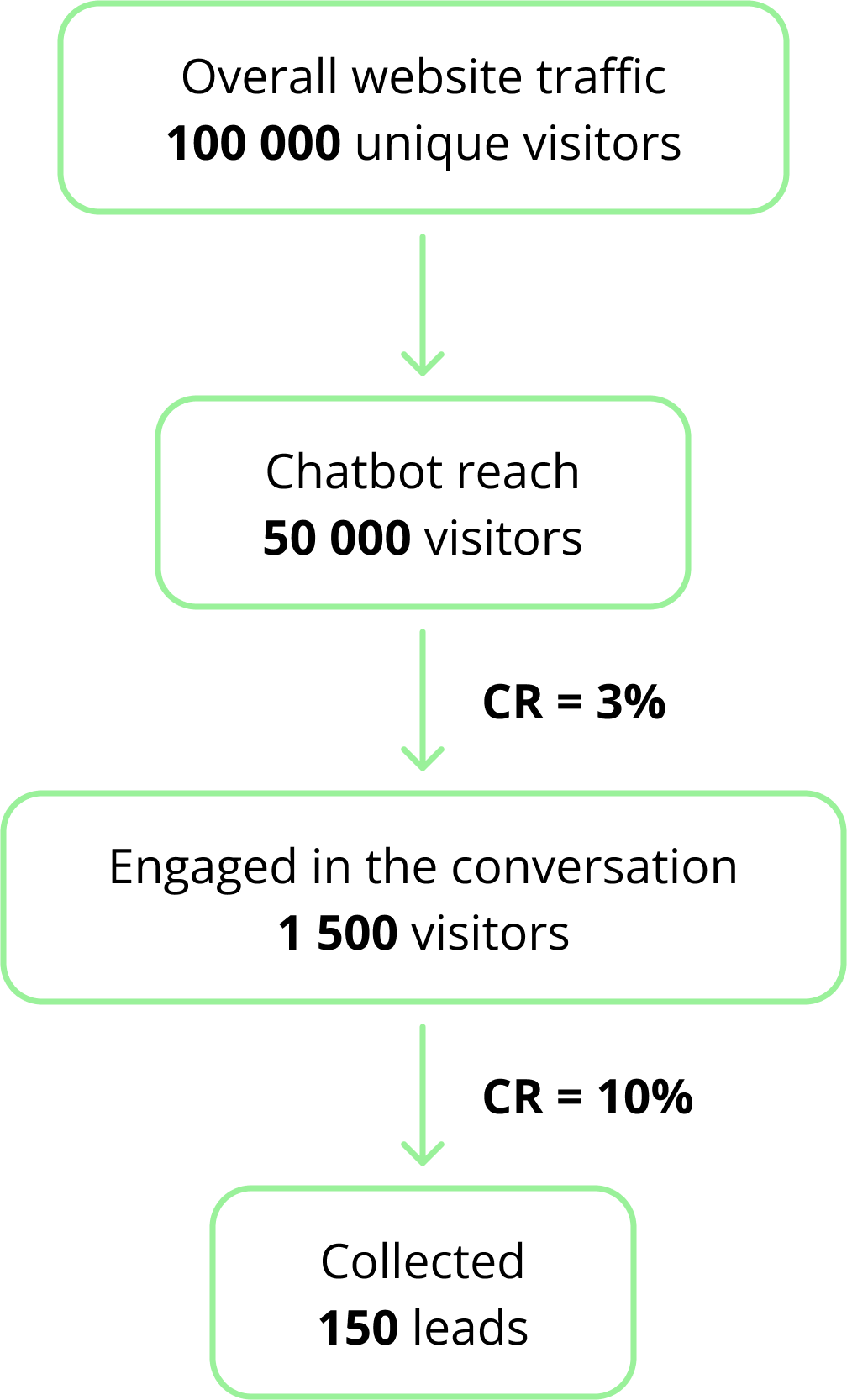 Of course, some of these leads could've left their contact without a chatbot. The easiest way to check it is to consider the periods before you launch a bot and compare the results. 
However, unlike a traditional lead form, a chatbot will provide you with valuable data on each lead:
Which pages a user visited;
Option they chose in a conversation with a chatbot (what they are interested in);
Other standard data like geolocation, traffic source, etc.
All these data will help your sales reps enhance the work with leads, save time on qualification and speed up the deal.