How can one make customer communication as convenient as talking to a friend on WhatsApp?
Let's say a customer texts you using a convenient channel — email, live chat, social media, or messengers — and your sales and support teams help them together via Dashly.
In this article, we'll tell you which summer updates can get you closer to it:
―
The integration with Instagram
―
The integration with WhatsApp
―
File preview in Telegram
―
A separate channel for Viber messages
―
Chatbot updates
―
Phone and email validation
―
Hiding a live chat on mobile
―
Live chat color definition algorithm
Integrations with social media and messengers: welcome Instagram and WhatsApp; Telegram and Viber updates
We're combining all channels that your customers use in one Dashly window — live chat on a website, VK, Facebook, Instagram, Viber, Telegram, email, and WhatsApp. Bring sales and support together using Dashly to increase response speed and avoid information asymmetry.
Using the integration with Instagram, one of our customers combined onboarding, support, and SMM teams in one window and increased the response speed from several hours to 5 minutes.
The integration with Instagram
Customers find it easy to text businesses using handy channels to get instant support. In turn, support and other teams find it convenient to address all requests in one window.
If you run an Instagram account, you're highly likely to get customer requests in Direct Messages. Using the Chrome extension for Instagram can be a valuable solution if you manage an Instagram account that regularly receives customer requests in Direct Messages. These extensions offer features that can help you efficiently manage and respond to messages, ensuring timely and effective communication with your customers. With the ability to organize, label, and prioritize messages, you can enhance your customer support efforts and provide a more satisfying experience for your audience.
The integration of Dashly with Instagram incorporates the values of both support agents and customers. You'll receive Direct messages, story reactions, replies, and forwarded messages in conversations.
We've released the integration just a month ago, and we already improved it:
Now you'll get forwarded posts in conversations;
When a user texts you, you'll see a link to their Instagram profile in their lead card, not just a nickname and a photo;
Soon you'll be able to text users within a week after their last message.
The integration is available in all accounts.
The integration with WhatsApp
Your customers' most favorable channel is ready to be integrated.
Now, your agents will respond using a business account, not their personal phones. You'll have all customer contacts and chat history.
We are collaborating on this with an authorized partner, Edna. There's no risk of getting your account blocked because all parties comply with the messenger's Terms of Use. We also negotiated special prices for you: enabling the integration via Dashly is more affordable than directly via a provider.
You can send campaigns to customers using special messages.
Since the release, we have already improved the integration:
Images, videos, and files sent via WhatsApp are demonstrated "as is";
We'll notify you when the 24-hour reply window gets closer to expiring.
Image preview in requests from Telegram
Previously, images, files, and videos that users sent in Telegram were displayed as links. You had to follow the links to download them. Agents might lose the conversation context by viewing screenshots in the wrong order.
Now you receive images, files, videos, GIFs, and audio messages from users in the way they are sent.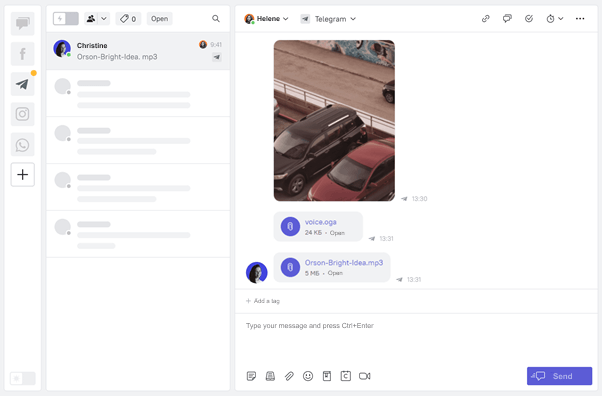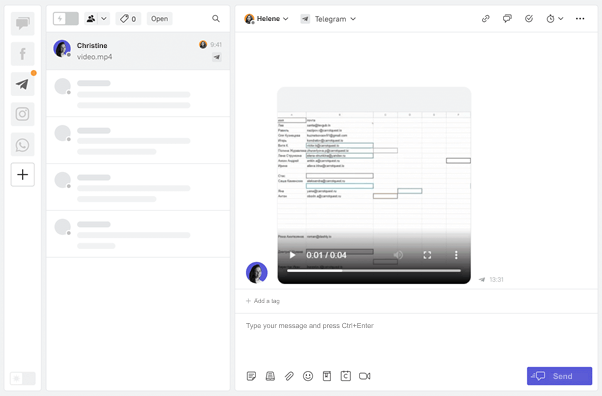 A separate channel for Viber messages
All messages from Viber come to a separate channel. In the conversation list, you'll see channels for all social media and messengers that you connect to Dashly.
Social media updates are available on both desktop and mobile.
On top of social media, we concentrated on your opportunities to collect quality leads and increase customer loyalty. We are doing our best to make sure customers are happy to contact you because they know you will treat them with respect and help them with their issues.
Chatbot updates
Chatbot has been helping our customers collect quality leads, boost sales, and speed up support for a year now. During that time, we created the visual Chatbot builder that helps connect threads, loop conversations, and run more complex campaigns.
We continue improving our Chatbot and releasing small updates to make sure using Chatbot is as easy as sending a message to a live chat.
This summer, we worked on the editor features and interface:
You can test Chatbot without running it on test websites or targeting it yourself. Press the button, and you'll be the only one to see Chatbot on a website with Dashly.
When switching between the tabs, you can accidentally close a tab where you built a complex bot. Save it by pressing a button, so you don't have to worry about losing your progress.
Now you can connect one block to another just by dragging an arrow.
You can maximize the Chatbot builder window to the full screen.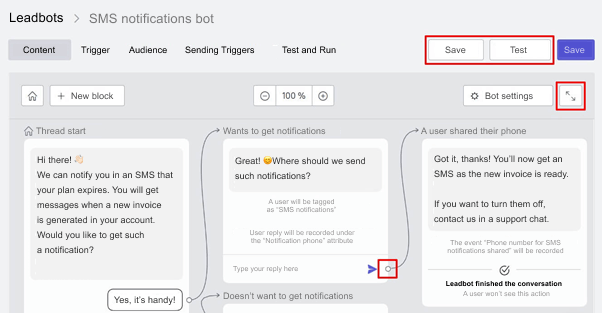 You can format messages and insert links.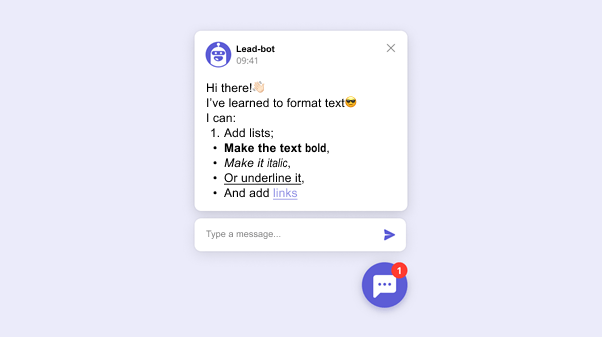 Now we're working on a cool feature that many of you will enjoy. We'll help you offload support agents and cover frequently asked questions before they are even asked!
Can't wait to release it!
Phone and email validation
We introduced automatic validation in the standard Email and Phone properties. Now we validate contacts and only record them to a user card if they look like an email or phone.
Dummy contacts that can't be used are no longer considered in analytics.
The conversion rate may decrease with the same number of valid contacts and a reduced workload of support agents. We've run an experiment and proved it.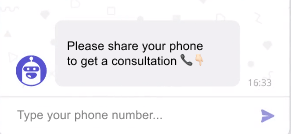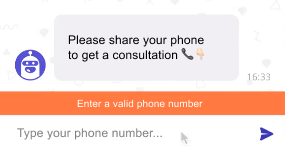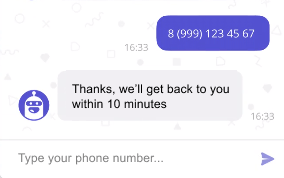 Hiding a live chat on mobile and pages where you don't need it
Now you can choose where you want to display a live chat. Hide it on pages where you don't have a support team, like experimental landing pages, or particular product pages. You can also hide a live chat on mobile to save screen space. All user actions are recorded to lead cards, even where a live chat is hidden.
Go to settings to specify where you want to display or hide a live chat.
Text color can be defined depending on the color a user chose for a live chat
We developed an algorithm that helps you avoid mistakes with chat colors. If elements are unreadable, we'll automatically replace them with contrastive ones; however, the colors you select are saved in a widget and if you hover on it.
The logic is the same for light and dark themes. Most users won't notice any difference, and new customers can quickly configure a live chat and Chatbot as text and icon colors are selected automatically to fit the main chat color.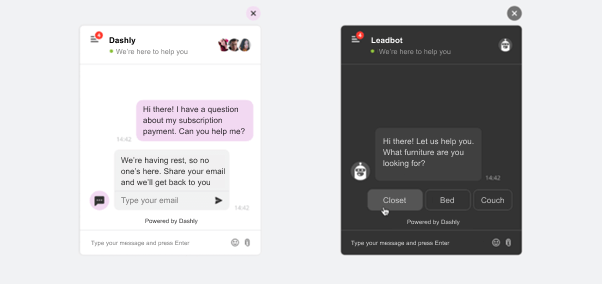 Most updates are implemented thanks to your feedback. Keep sharing your reviews, and we'll make Dashly even more convenient and functional.