Ever seen marketing metrics skyrocket because of just the right tweak? Or a mundane task that suddenly frees up hours of your time? That's artificial intelligence hard at work in marketing! Whether it's personalizing customer communications, analyzing data for insights, or automating A/B testing, AI is boosting metrics all the way. Want your slice of success? Stick around.
Having spent a serious amount of time sifting through options, my team and I are bringing you a comprehensive review of 12 of the best AI marketing tools. We've got everything covered — copywriting, design, lead qualification, nurturing, and more. Discover the best AI tools for marketing that'll take your business to the next level. Let's dig into the world of AI in marketing, shall we?
What is an AI Marketing Tool?
An AI marketing tool uses artificial intelligence to automate and optimize your marketing operations. These savvy tools streamline everything from email marketing to SEO, making digital marketing more efficient and effective. AI is a new era of marketing automation, replacing mundane tasks with strategic thinking. 
The result? 
More creativity, deeper insights, and better results. Whether it's data analysis or content creation, AI in marketing is a game-changer, and these AI tools are leading the pack. Embrace the future, today!
The best AI marketing tools 
Dashly chatbot to grow your lead conversions 
Zapier for AI marketing automation
Sprout Social for social media
Landingi PageInsider for faster landing page optimization
Canva for marketing design
Seventh Sense for email marketing
Clearscope for SEO content optimization
Clickup for copywriting
Tidio for customer communications
Brand24 for media monitoring
Albert.ai for digital advertising
Drift for chatbot marketing 
These apps will help you reach your target audience, streamline your marketing workflows, improve your marketing campaign management, create SEO-optimized content, and track your results.
Let's get a closer look at each of AI marketing platforms.
Dashly chatbot to grow your lead conversions 
Dashly is an AI marketing platform that helps businesses reduce CAC and achieve desired ROMI via personalized customer communications on websites, messengers, and email. For example, you collect a lot of leads but still suffer from a low conversion of lead requests into sales calls. Sales complain about poor lead quality. You can't scale marketing initiatives because of the slow campaign performance analysis. 
Sounds familiar?
Dashly has a perfect solution — an AI marketing bot 🤖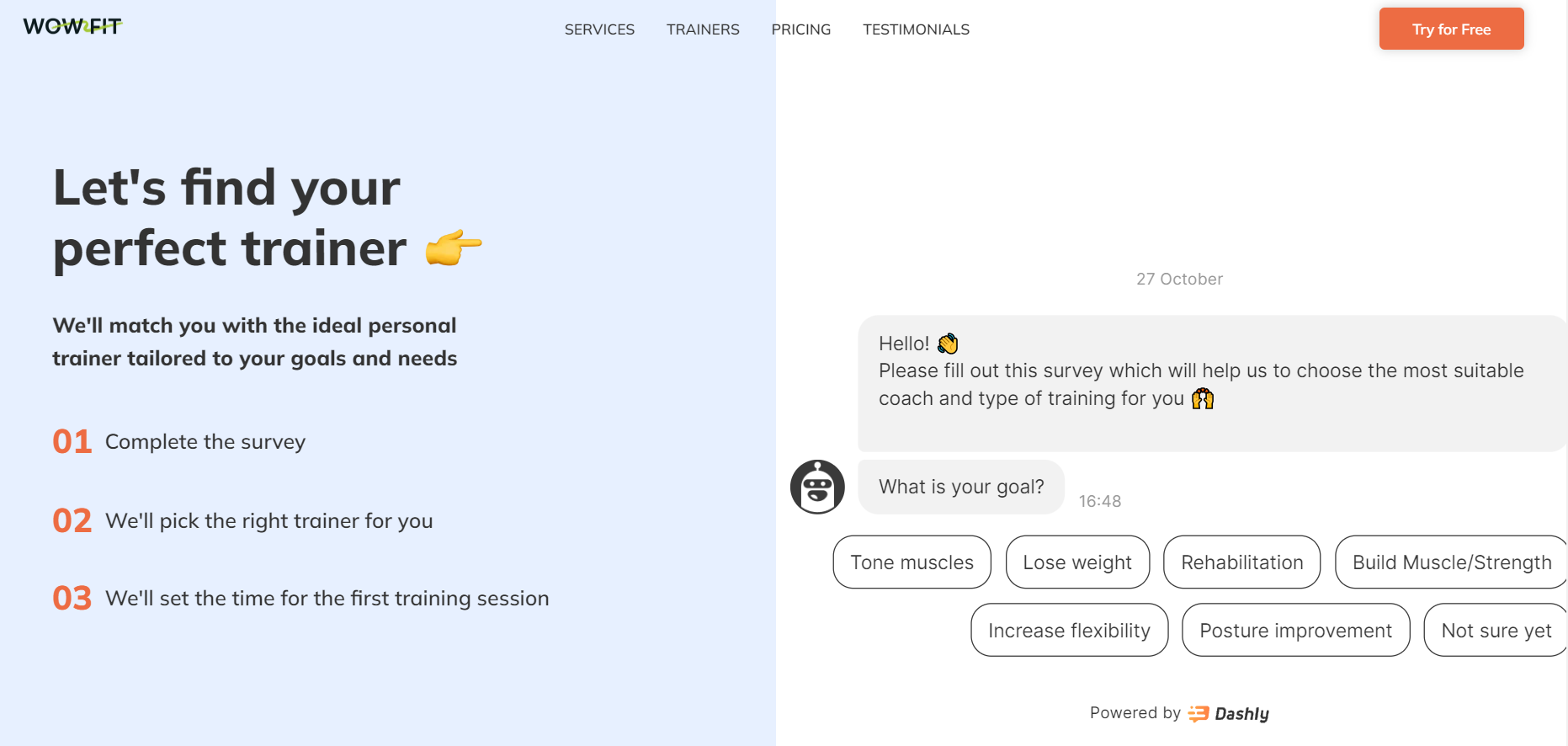 Let's say an online school for developers launches an Ads campaign. They engage potential students on a relevant landing page to take a short quiz with a chatbot. 
Here is how it works 👇 
In a lovely Q&A conversation, the Dashly AI bot gathers customers' data and qualifies them.
Based on the collected answers, it scores leads and predicts their buying potential. 
All the information goes to your CRM.
AI marketing bots deliver your sales a prioritized list of leads to process. In addition, you get a fast understanding of your marketing channels performance and the opportunity to make quick adjustments if needed.  
Features
Dashly software provides its AI bot users with everything they need to launch hypotheses quickly and without developers: 
Visual builder;
30+ integrations with your fav tools;
Ready-made templates; 
24/7 support.
Pricing
The pricing specifics of the Dashly AI marketing bot are available on demand. Dashly's managers are always prepared to provide you with detailed, custom pricing information. Contact them directly to ensure you get the best solution tailored to your needs.
Zapier for AI marketing automation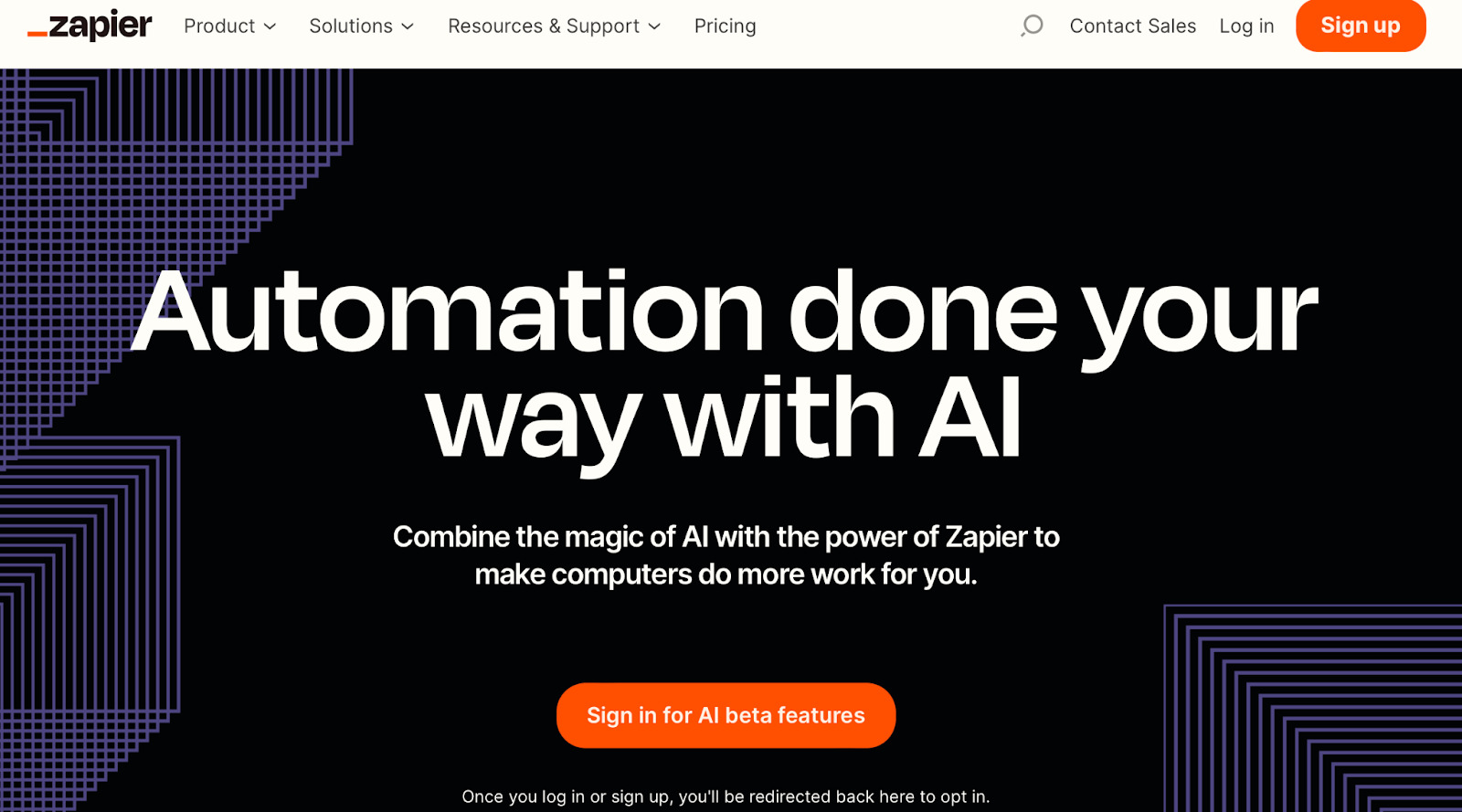 Zapier, one of the top AI tools in the market, is designed to seamlessly integrate and automate your workflow across various platforms. Its purpose is to save time, augment customer engagement and enhance AI marketing efficiency. Suitable for SMBs to large enterprises, Zapier offers an AI-powered platform conducive to content creation, social media automation and data management.
Features
AI Marketing Software Integration: Zapier enables marketing departments to tie their disparate tools together from social media to SEO ensuring a coordinated approach.
Automated AI Workflows: Automate content distribution, customer interactions, and data analysis to save time and improve efficiency.
Effortless Social Media Management: Zapier assists in managing all your social media channels from one platform, making content sharing a breeze.
Data Enrichment and Analysis: The tool provides a deep understanding of your data, offering insights that can drive your marketing strategies.
Pricing

Starting at $29.99/month, Zapier's pricing model is based on tasks, allowing you to scale as your business grows. It offers a free trial and four different plans: Free, Starter, Professional, and Team each designed for different business sizes. Whether you're a solopreneur or part of a growing team, there's a Zapier plan for everyone.
Pros and Cons
Utilizes artificial intelligence in digital marketing for advanced features.
Streamlines marketing automation, saving precious time.
A robust social media tool that facilitates content distribution.
Provides a free plan for those wanting to test the waters.
Some more advanced features require a bit of a learning curve.
Pricing can seem steep for smaller businesses.
Customizability of certain tasks is limited. 
May require substantial configuration for complex workflows.
Sprout Social for social media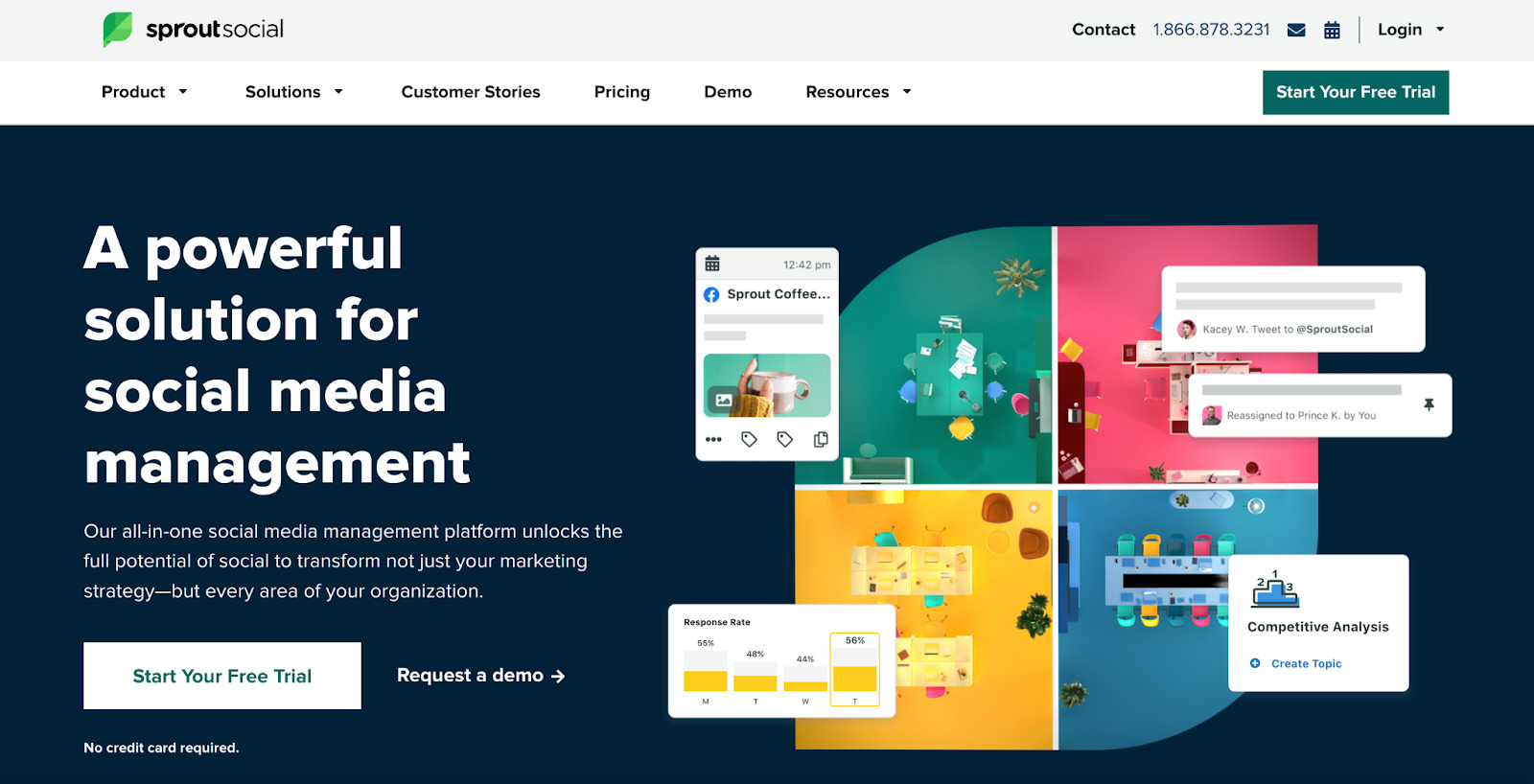 Sprout Social is a premier AI tool for social media, designed to ramp up your social media marketing strategy. The goal of the company is to empower brands to enhance their social media presence while seamlessly managing their social communication. From small businesses to large corporations, anyone seeking to make an impact via social media can benefit from their platform.
Features
Advanced AI Social Media Analytics: With AI-powered data analysis, understand your audience and illuminate the path towards higher engagement.
Seamless Content Scheduling: Schedule content in advance, saving time and maintaining a consistent posting rhythm.
Integrated Customer Relationship Management (CRM): Manage your customer interactions across all your social profiles from within the Sprout Social platform.
Social Listening & Engagement: Tap into the audience conversations with social listening features and boost engagement with responsive tools.
Pricing

Sprout Social pricing starts at $249/user per month and is primarily based on features. A free 30-day trial is provided to assess the platform's capabilities. The four plans — Standard, Professional, Advanced, and Enterprise — are designed to suit various business sizes and requirements.
Pros and Cons
Offers remarkable AI marketing features for social media management.
Provides a centralized tool for all social media networks.
Time-saving features such as post scheduling and analytics.
Offers free trial for initial assessments.
Can be expensive for smaller businesses.
The abundant features might cause a slight learning curve.
Some users may find the reporting data too extensive.
SEO tools are not as robust compared to competitors.
Landingi PageInsider for faster landing page optimization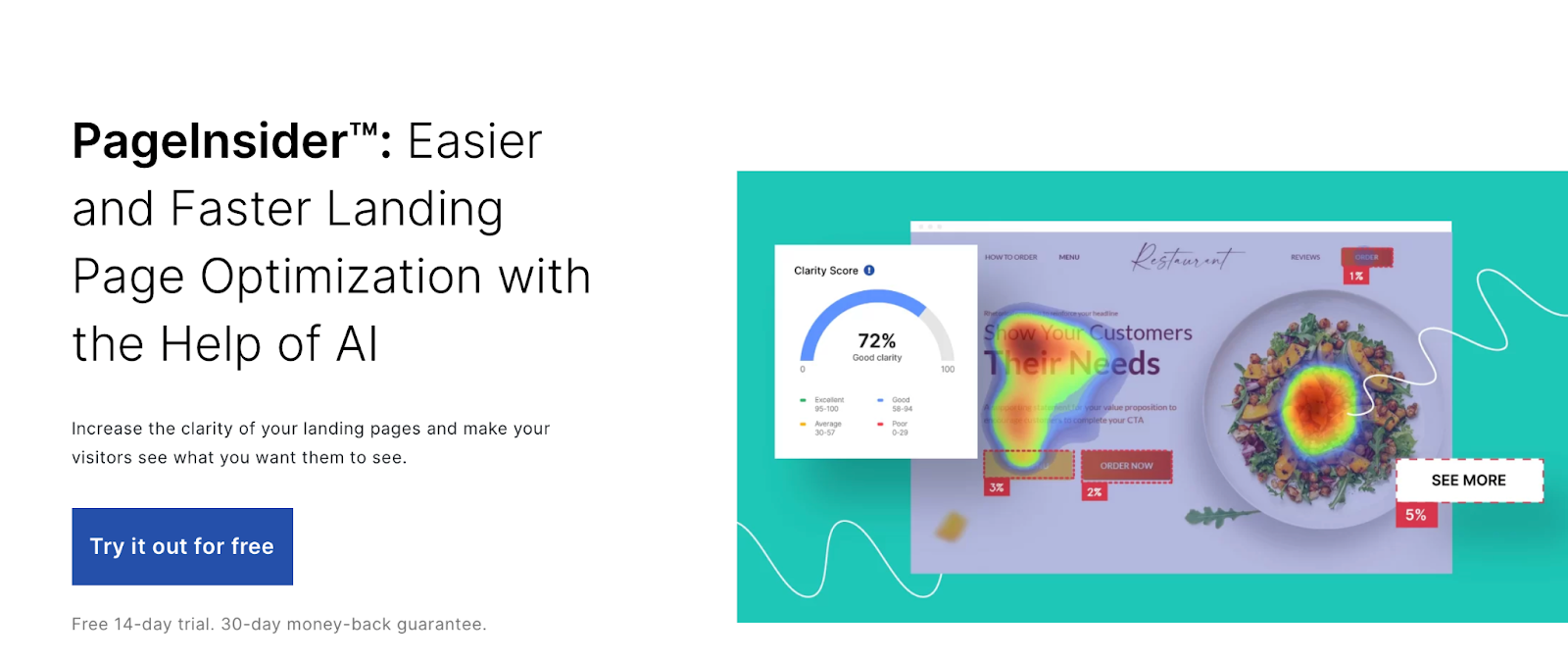 Landingi PageInsider is a cutting-edge AI marketing automation tool focused on landing page optimization. Its aim is to accelerate your marketing performance by reducing time spent on testing and redesigning landing pages. Both SMEs and larger enterprises could benefit from its data-driven insights to improve conversion rates.
Features
AI-Powered Page Analysis: Automate evaluations of landing pages, resulting in high-quality content that drives conversion.
Time-saving Workflow: By automating landing page optimization, PageInsider reduces resource allocation and increases work efficiency.
Advanced SEO Tools: Strengthen your visibility and page ranking with AI-driven SEO recommendations.
Customer Behavior Insights: Leverage AI to understand customer behavior on your landing page and make data-informed adjustments.
Pricing

Starting from €29 per month, Landingi PageInsider's pricing is structured around the number of unique visitors. It offers a 14-day free trial to explore its features. Its four plans — Lite, Professional, Agency, and Unlimited are designed to accommodate businesses of different sizes.
Pros and Cons
Offers superior AI marketing features for landing page optimization.
Time-efficient tool for marketers with automation features.
Free trial available for initial exploration.
Solid SEO features to boost your page ranking.
Can be on the expensive side for smaller businesses.
Certain high-end features might require a learning curve.
Even though it is a powerful tool, it focuses primarily on landing pages.
Integrations with other marketing tools may require extra work.
Canva for marketing design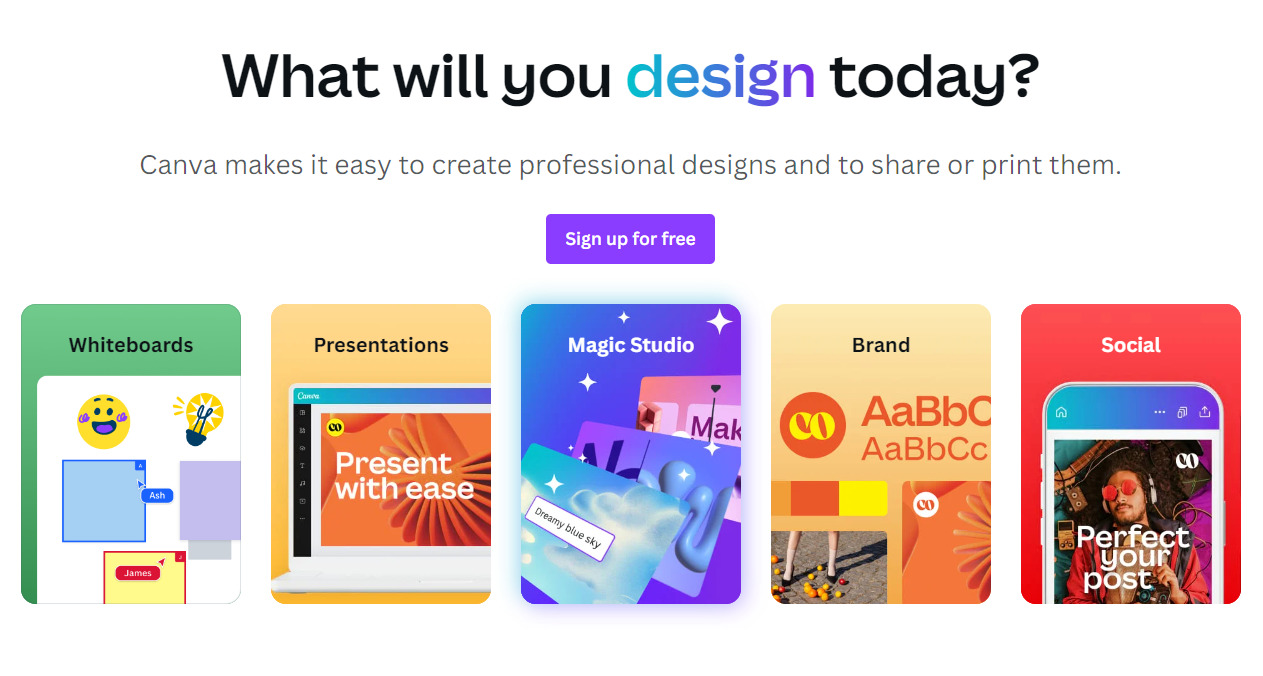 Canva is a cloud-based AI marketing design tool that reassures marketers, they too can be designers. Canva's goal is to empower even non-designers to create compelling visual content. It provides a range of design elements and layouts that serve businesses of any size, from freelancers to large corporations.
Features
AI-Powered Design Templates: Canva provides a vast array of custom templates, saving time and guaranteeing professional-looking designs.
Easy Social Media Graphics: Create eye-catching social media content using Canva's easy-to-use tool.
Collaborative Design Platform: Collaborate seamlessly with team members on designs.
Drag and Drop Interface: Even users with no design experience can create stunning marketing visuals thanks to its intuitive interface.
Pricing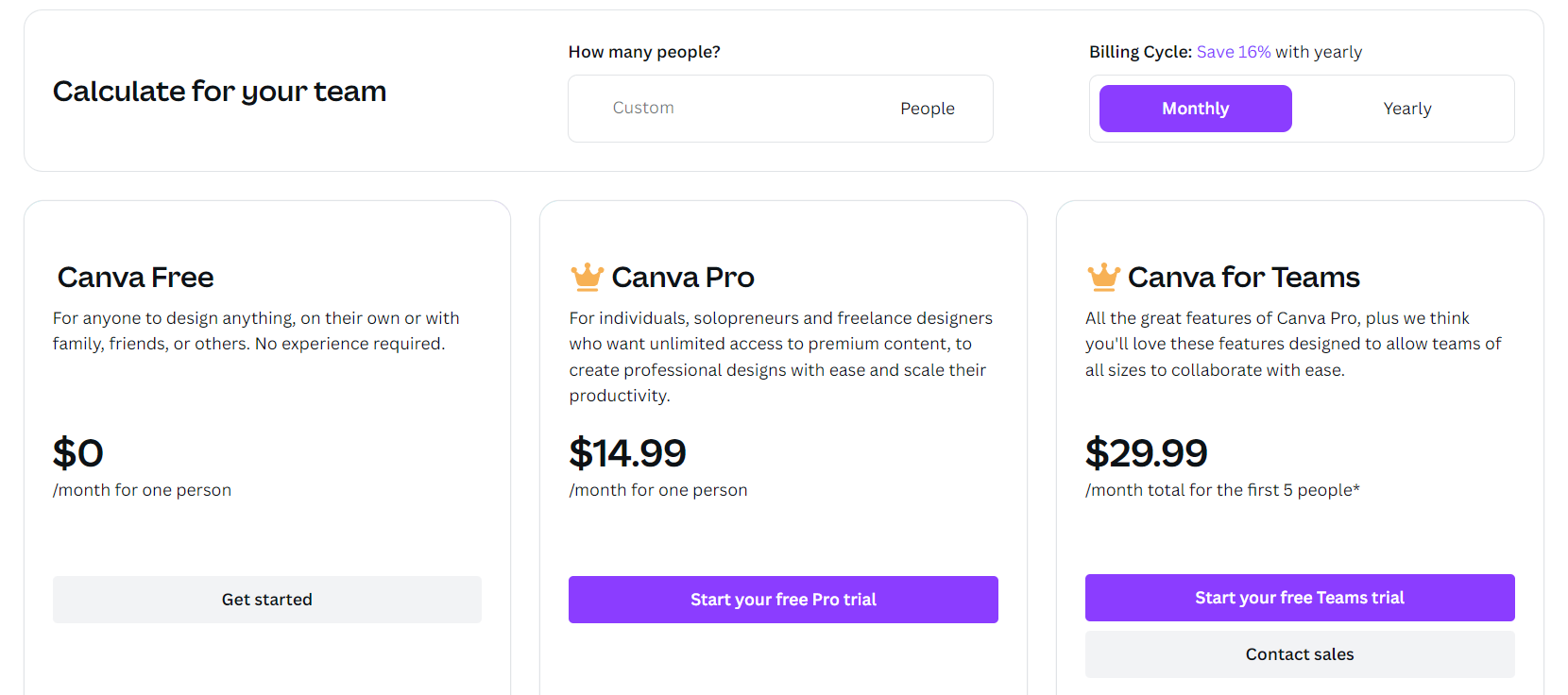 Canva starts with a free version, followed by premium options starting at €11.99/user/month (billed monthly). Pricing depends on additional features and is available via Pro and Team plans. Free trial for 30 days allows accessing the premium features.
Pros and Cons
A plethora of AI-enhanced features catering to all your design needs.
Handy tool for creating social media graphics.
Comes with a robust free version for smaller scale requirements.
Time-efficient due to its intuitive interface and premade templates.
Lack of more advanced graphic design features could limit seasoned designers.
The sheer number of templates might overwhelm newcomers.
Additional cost for premium stock images.
Limited offline capabilities as a cloud-based software.
Seventh Sense for email marketing

Seventh Sense is an AI-powered email marketing automation tool designed to guide you towards perfectly timed and personalized emails. Its goal is to optimize email engagement and improve ROI. From mid-sized businesses to expansive organizations, teams looking to transform their email marketing strategy can leverage this tool.
Features
AI-Powered Email Timing: Seventh Sense uses AI to deliver emails at optimal times for each individual subscriber.
Automated Resend Capabilities: Don't let your content go unseen. This feature increases the visibility of your emails.
Customer Behavior Analysis: Understand how customers interact with your emails to help refine future campaigns.
Integration with Other Marketing Tools: Connect Seventh Sense with your existing marketing software for a streamlined workflow.
Pricing

Pricing information for Seventh Sense is quote-based, accounting for the needs of the particular business. The company also offers a free demo to analyze the tool's capacities before purchase.
Pros and Cons
AI for email marketing that improves delivery timing and engagement.
Offers sophisticated data analysis of customer behavior.
Integrates with popular marketing software for improved workflow.
Resend feature ensures your marketing content is not missed out.
No explicit pricing structure can lead to uncertainty.
No inbuilt content creation or social media management tools.
A bit of a learning curve for those not familiar with AI-based platforms.
More advanced features could demand technical expertise.
Clearscope for SEO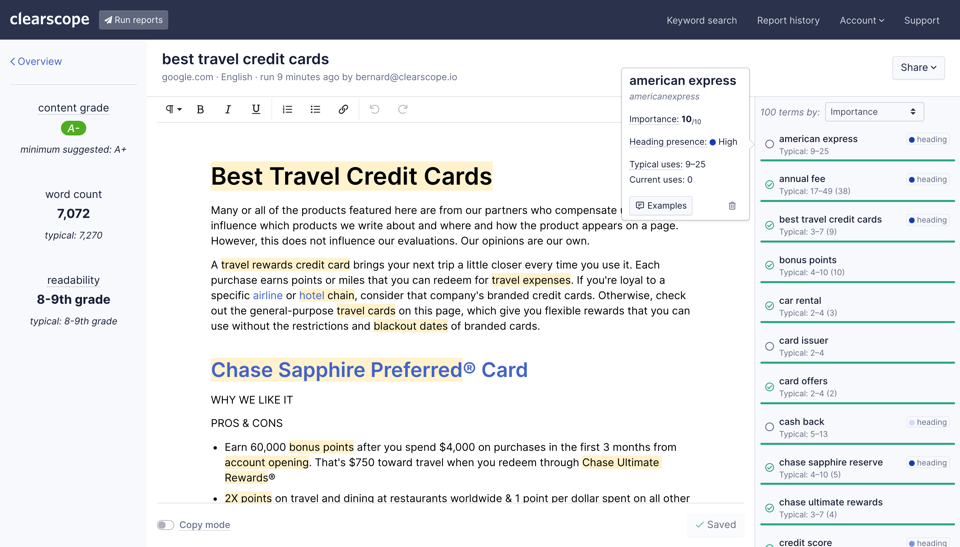 Clearscope, an AI-powered tool, simplifies the complexities of SEO, helping content creators optimize their work for search engines. The company's goal is to make SEO more accessible and actionable, thereby improving visibility and engagement. It's a solid tool for any content-focused organization, from bloggers to large corporations.
Features
AI-Driven Keyword Recommendations: Leverages AI for market research, providing targeted keyword suggestions that enhance your content's SEO ranking.
Content Grading: Clearscope evaluates your content's SEO-friendliness and gives it a grade, making optimization simpler.
Competitor Analysis: Understand what your competition is doing right with SEO and learn from it.
Integration with CMS: It integrates easily with popular content management systems for a smoother workflow.
Pricing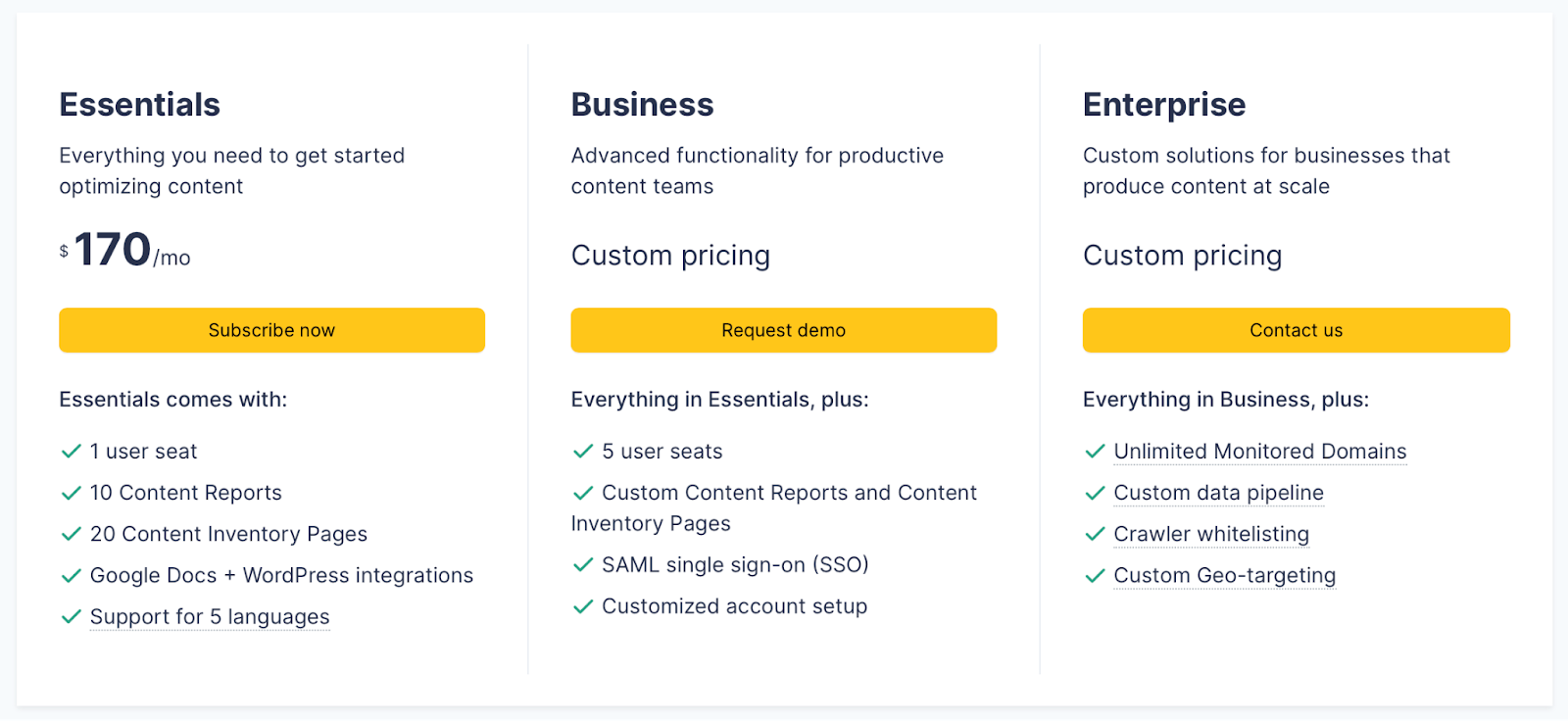 Clearscope's pricing begins at $170 per month and focuses on the number of reports run, with no free trial in sight. There are four tiers available: Essentials, Business, and Enterprise each tending to different business sizes and requirements.
Pros and Cons
Uses AI to deliver robust SEO tools and insights.
Time-effective content grading speeds up the optimization process.
Offers competitor analysis for deeper market understanding.
Straightforward integration with existing content management systems.
Not the least expensive SEO tool on the market.
The absence of free trial restricts pre-purchase exploration.
Some users might desire more depth in social media-related SEO.
Learning may be necessary to grasp all of the specific features.
Clickup for copywriting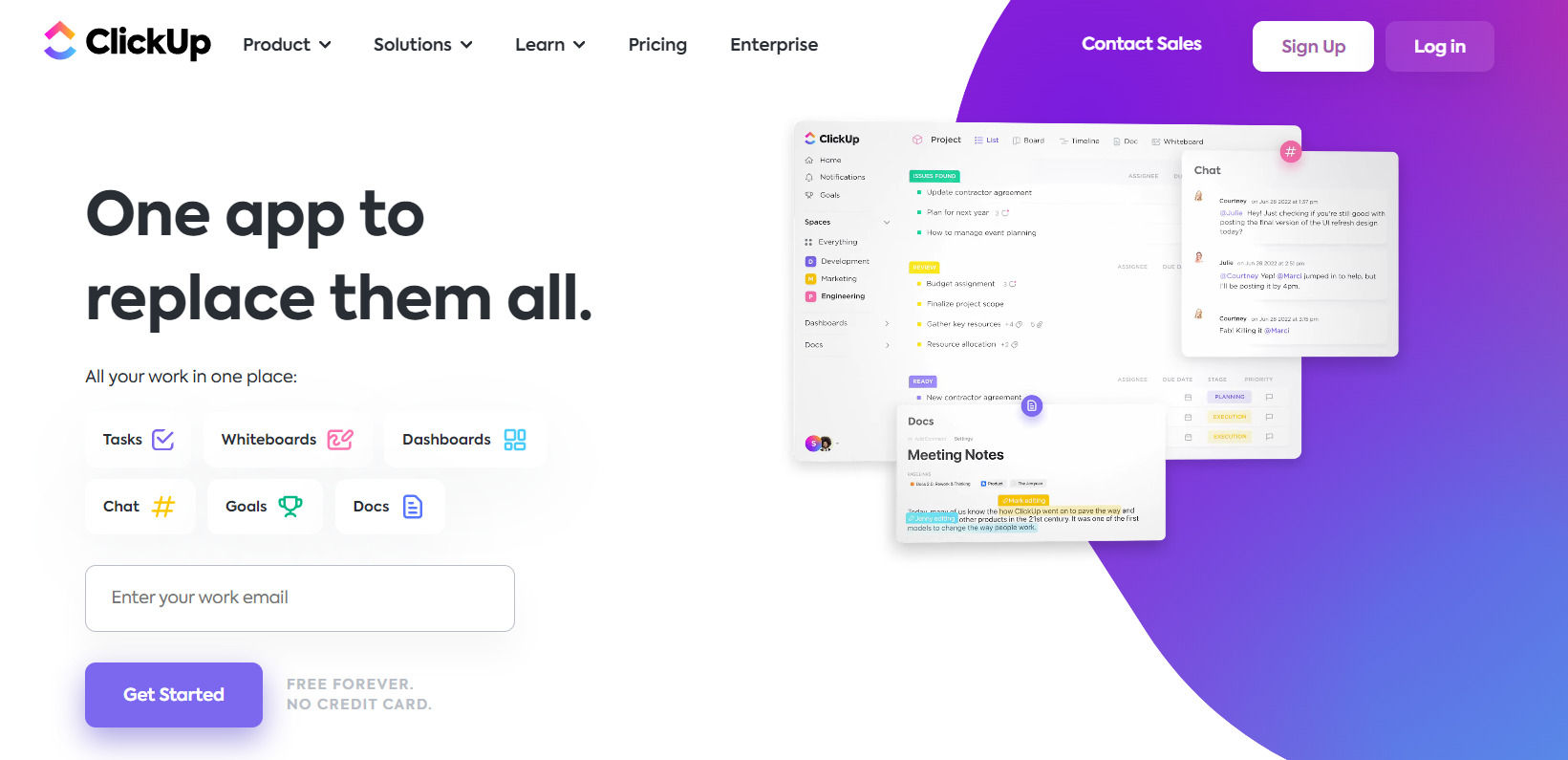 ClickUp is a dynamic AI tool leveraged by copywriters to optimize their productivity and content quality. With a mission to make the world more productive, ClickUp offers a one-stop platform streamlining all things related to copywriting. Whether you're a solo freelancer or part of a larger marketing team, ClickUp has got you covered.
Features
Task Management: ClickUp allows you to efficiently create, assign, and track writing tasks within its platform.
AI-Powered Recommendations: It offers insights and suggestions to enhance content quality and SEO.
Document and Editing Tools: With its built-in document editor, ClickUp simplifies the content creation process.
Data-Driven Reports: Keep track of your work with ClickUp's detailed performance reports.
Pricing

ClickUp offers a forever free plan with basic features, while premium plans start at $10/user/month. Its pricing largely depends on the functionalities needed. They offer Unlimited, Business, and Enterprise plans to suit businesses of different sizes and needs.
Pros and Cons
Excellent tool for managing and improving content marketing tasks.
Offers both free and premium plans to cater to various budgets.
Robust features to ensure optimal time management.
In-built software tools for document creation and editing.
The breadth of features might require a learning curve.
More SEO-focused functionalities could enhance the platform.
Some users have reported it to be slightly overwhelming at first.
In comparison to specialized SEO tools, it has limited capabilities.
Tidio for customer communications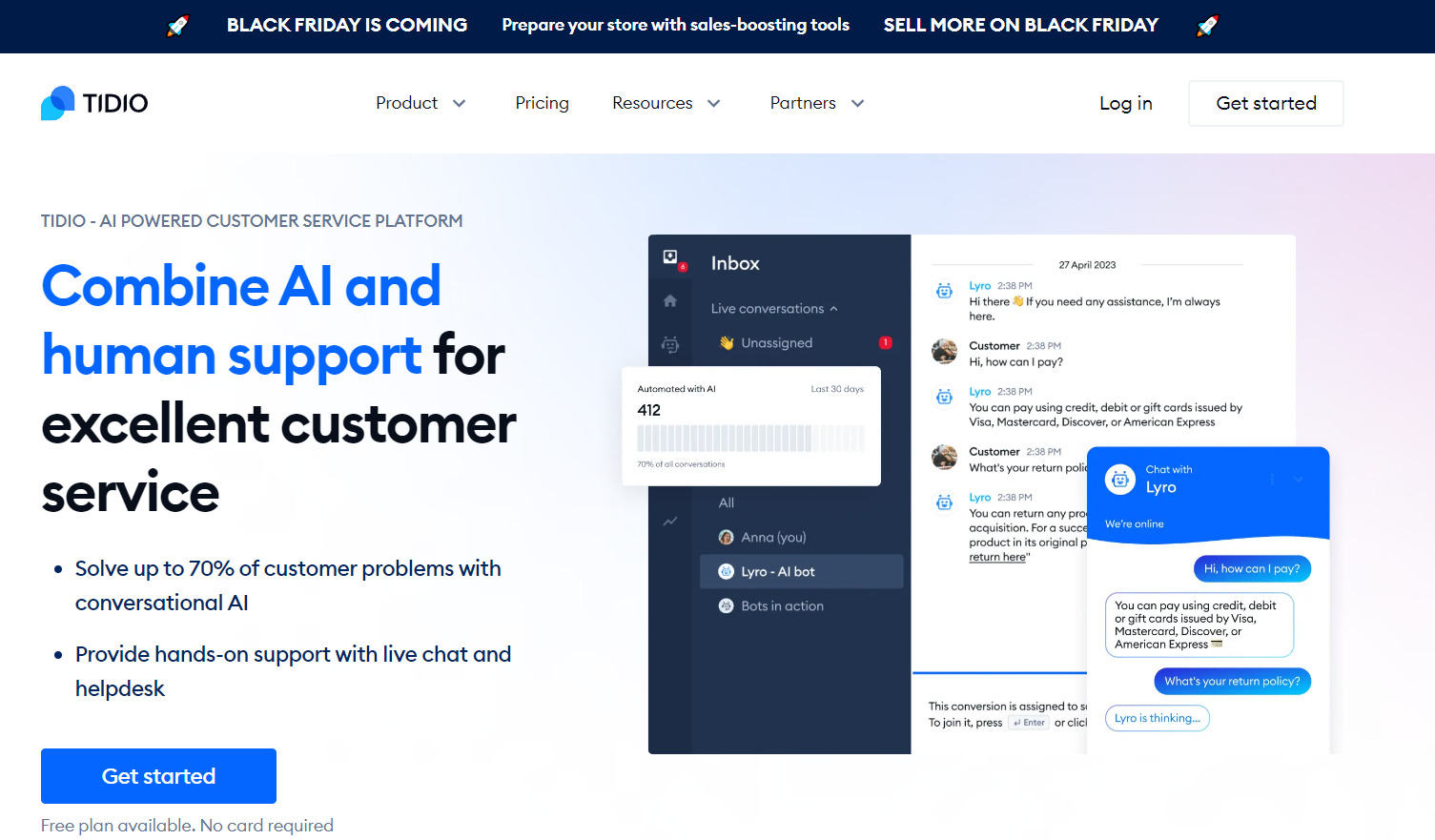 Tidio is an AI-powered marketing automator designed to streamline customer communication and enhance site engagement. Committed to bringing businesses closer to customers, Tidio provides a powerful blend of live chat, chatbots, and email marketing capabilities. It's an excellent tool for businesses of any size striving for exceptional online customer experience.
Features
AI-Powered Chatbot: The AI chatbot engages website visitors, answering their queries instantly and saving valuable time.
Live Chat: Converse with your website visitors in real-time to boost engagement and conversions.
Email Marketing: Automate your email marketing with personalized messages, driving higher engagement.
Visitor Data Collection: Tidio collects visitor data, offering you insights for smarter business decisions.
Pricing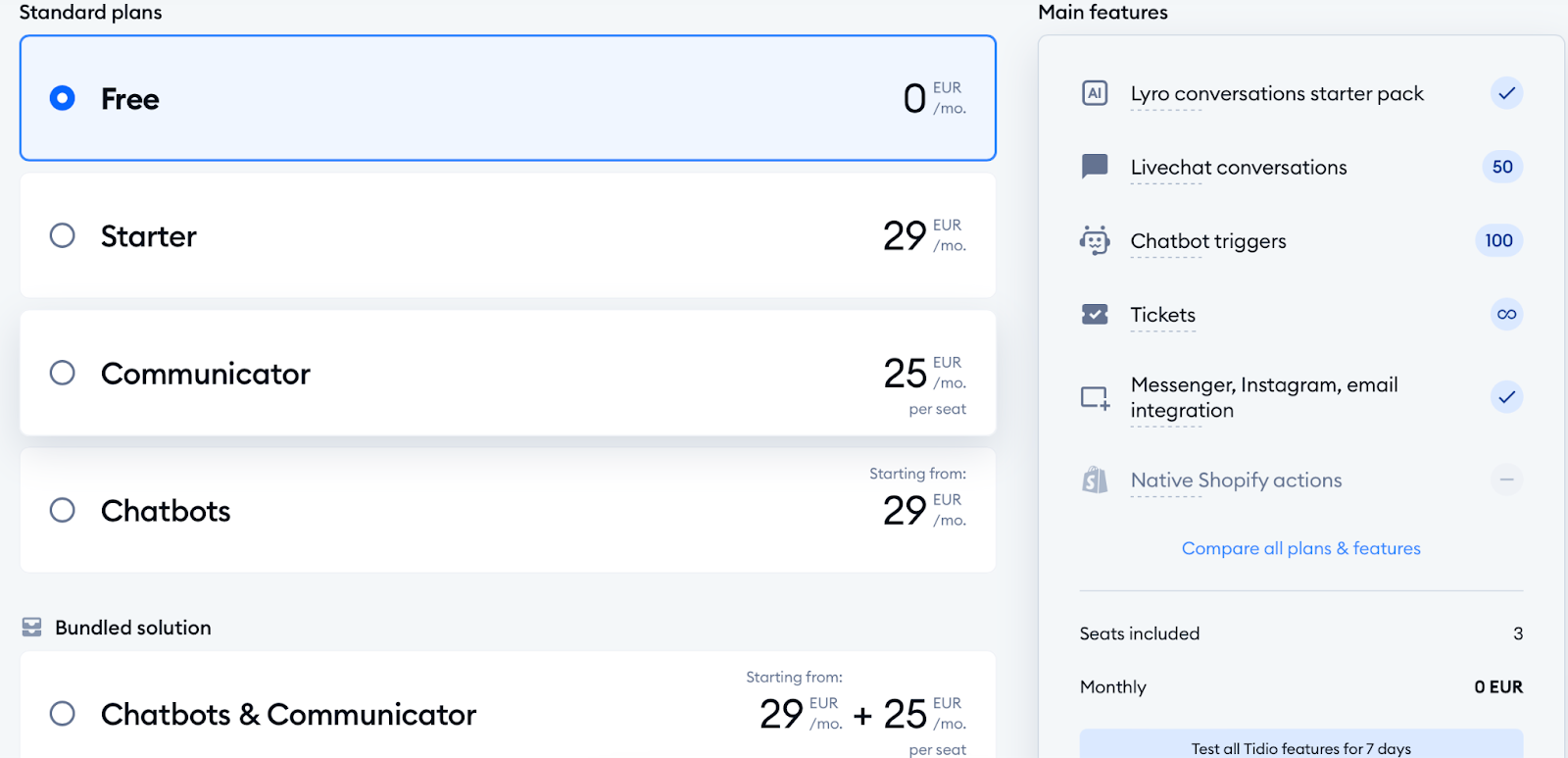 Tidio provides a free version, and premium plans start at €29/month. Pricing depends on the number of features included and the level of customization. It offers four plans: Free, Starter, Chatbots, and Communicator that cater to businesses varying in size and needs.
Pros and Cons
Seamless integration of AI chatbot and live chat functionality.
Efficient tool, freeing up time from manual customer engagement.
Valuable customer data tracking and insights.
Free version available to kick start your journey.
Some users may find the interface slightly complex.
Niche SEO-related functionalities are limited.
Advanced features require a jump to premium plans.
The chatbot might need careful setup to offer accurate responses.
Brand24 for media monitoring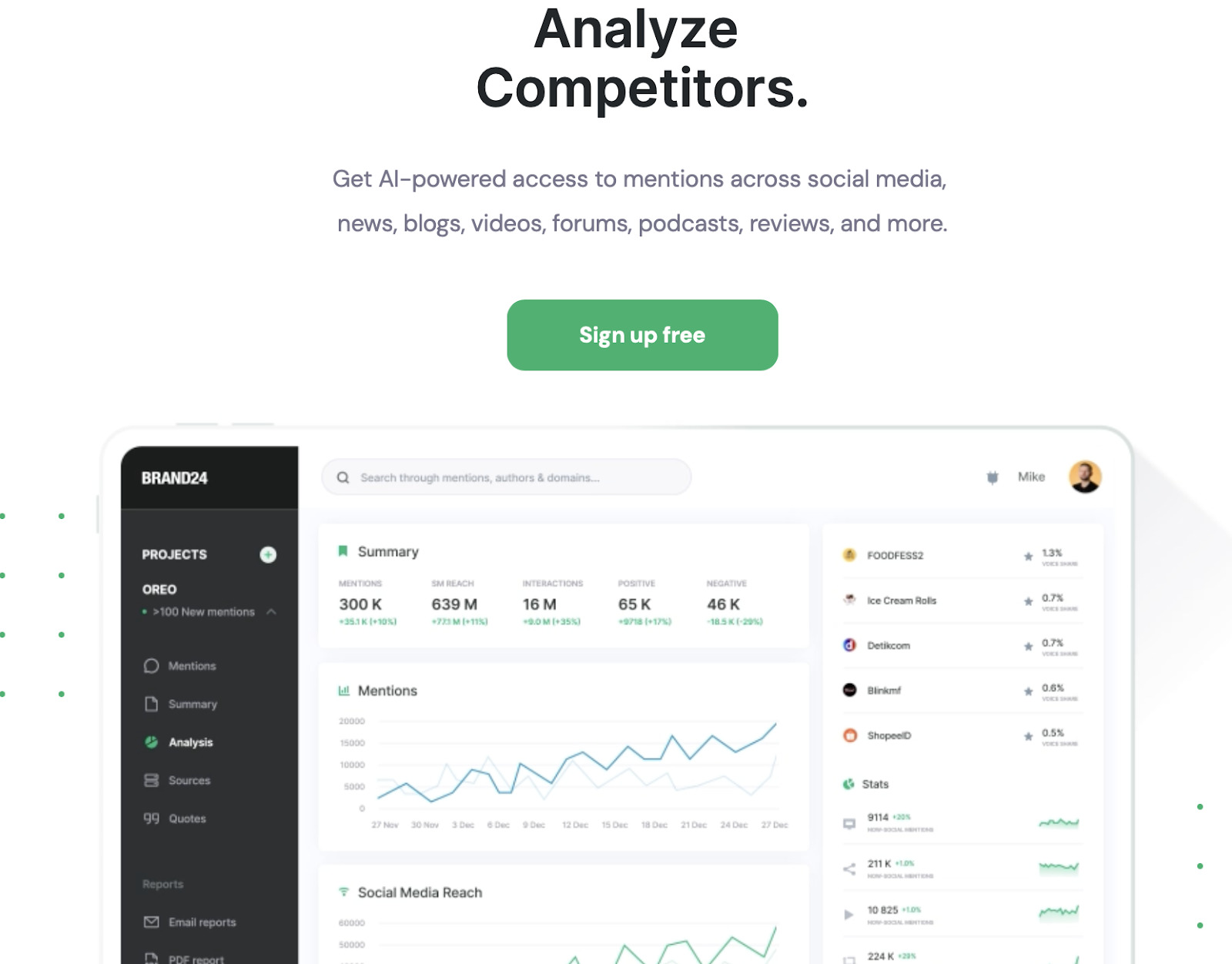 Brand24 is an AI-powered tool that revolutionizes media monitoring by tracking brand mentions across the web. Its central mission is to give businesses access to conversations that matter, assisting them in swift and informed decision making. Ranging from small businesses to large corporations, any enterprise wishing to understand and engage its online audience can benefit from Brand24.
Features
Social Media Monitoring: Identify and analyze social media mentions of your brand in real time.
Sentiment Analysis: Brand24's AI categorizes the sentiment behind the mentions, enabling effective brand reputation management.
Influencer Score: Locate industry influencers and analyze their impact on your audience.
Alerts & Reports: Keep updated with custom alerts and reports, letting you respond swiftly to any brand mention.
Pricing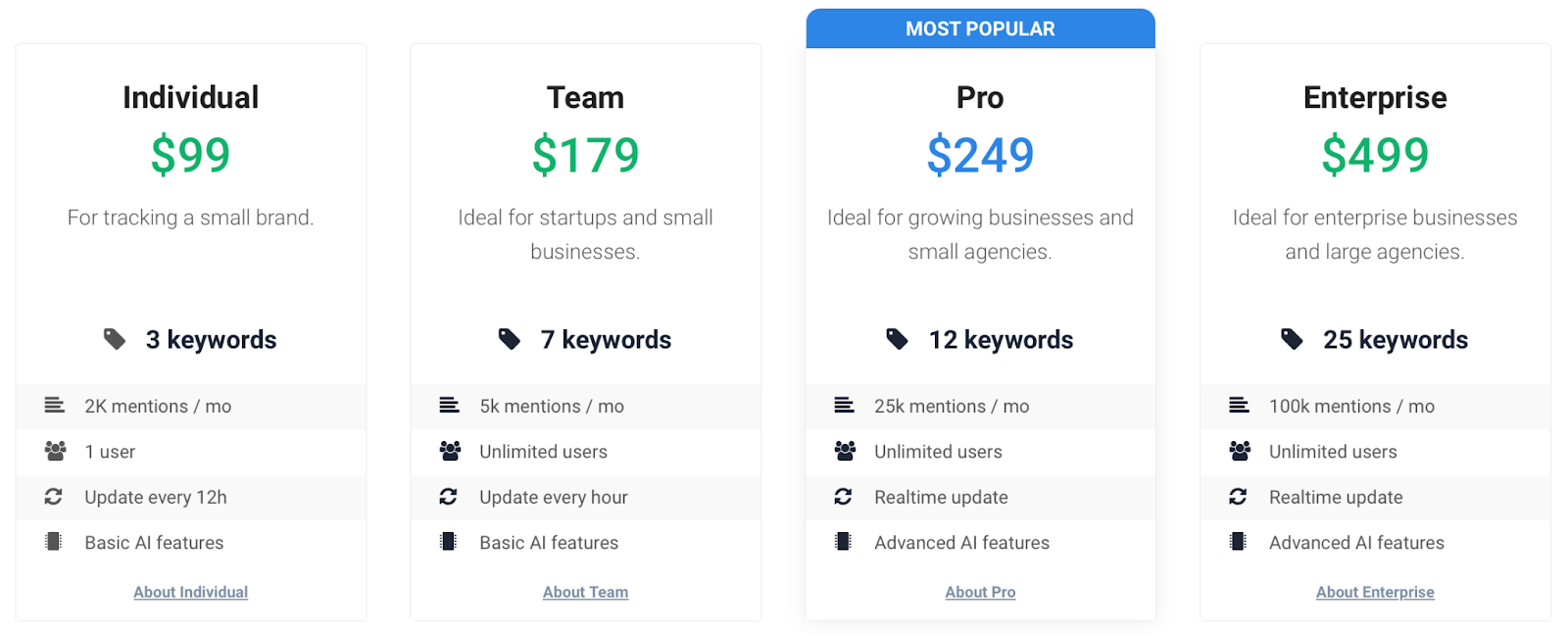 Brand24 starts at $99/month with a 14-day free trial offered. The cost is dependent on the volume of mentions, updates frequency, and number of users. They offer four plans — Individual, Team, Pro, and Enterprise to cater to varied business sizes and needs.
Pros and Cons
AI-powered for efficient and detailed social media monitoring.
Capabilities for influencer marketing and sentiment analysis.
Generous free trial to aid in getting the feel of the software.
Real-time alerts allow swift response to critical issues.
The user interface could be daunting for SEO beginners.
No unified social listening feature across different platforms.
Could be costly for businesses looking for very basic monitoring features.
Complexity increases with the expansion of monitored keywords.
Albert.ai for digital advertising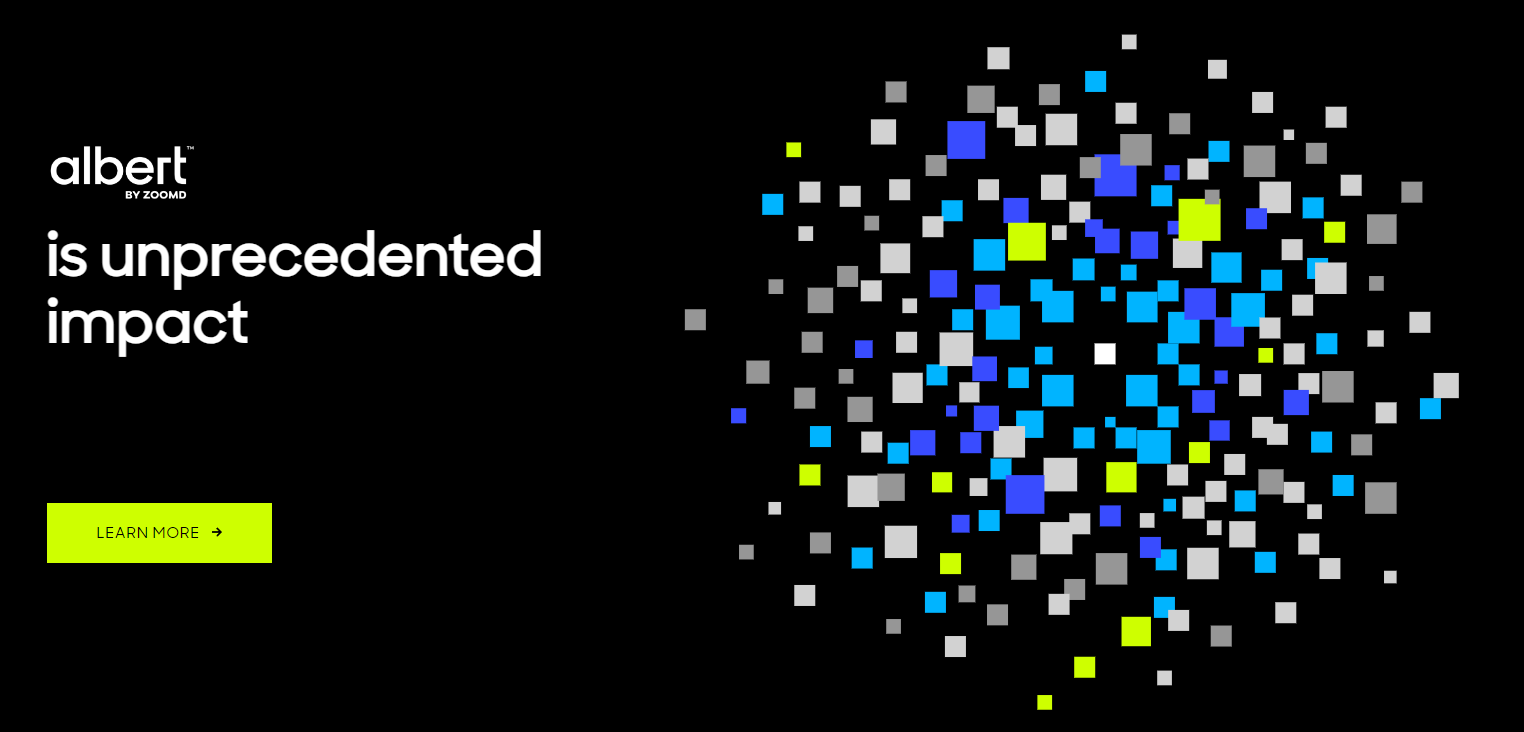 Albert.ai is an AI-powered platform designed to take your digital advertising to the next level. Their main goal is to automate the complex aspects of digital marketing campaigns, enabling marketers to focus on strategy and creativity. This tool can be a game-changer for marketers and businesses of all sizes looking to optimize their digital ad campaigns.
Features
AI-Driven Ad Optimization: Albert.ai utilizes machine learning to continually improve your ad campaigns' performance.
Cross-Channel Distribution: It ensures your content reaches your audience across multiple marketing channels.
Real-Time Insights: Gain instantaneous knowledge of your campaigns to make quick, data-driven decisions.
Audience Targeting: Albert.ai's AI helps to pinpoint and target the ideal customer demographic for your products.
Pricing
Albert.ai's pricing is quote-based, depending on the specific needs of your business. They don't have a free trial, but do provide a demo upon request.
Pros and Cons
Effective use of AI to automate and optimize digital ads.
Saves time by managing complex aspects of ad campaigns.
Provides real-time data and insights to inform decisions.
Ensures efficient use of marketing budget by targeting the right audience.
The lack of a free trial or clear pricing structure may be off-putting.
Learning curve may exist for those new to AI-based ad systems.
Visibility into the exact workings of the AI may be limited.
Detailed SEO functionalities might not be its strongest suit.
Drift for chatbot marketing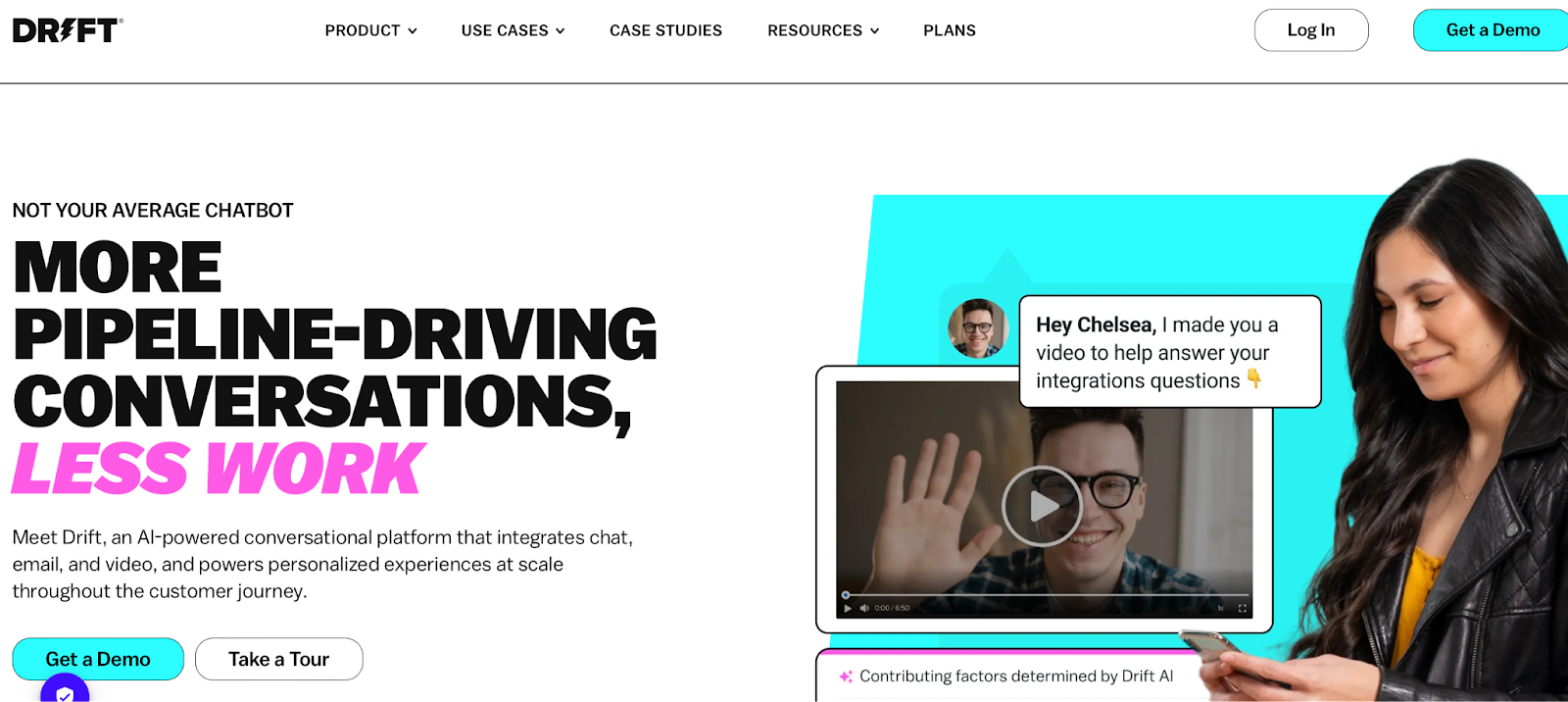 Drift is an innovative AI chatbot marketing tool that aims to transform how businesses interact with their customers. The company is committed to helping brands generate qualified leads and speed up sales cycles. Whether you're a growing startup or a well-established corporation, Drift can significantly enhance your customer interaction strategy.
Features
AI-Powered Chatbot: Drift's conversational AI engages visitors, answering their queries, and nurturing leads 24/7.
Personalized Conversations: The AI chatbot provides a personalized experience to each visitor, fostering a deeper connection.
Real-Time Visitor Data: Explore your visitors' behavior and preferences using real-time data.
Automated Sales Appointments: Decrease time-to-sale with automatic booking of sales appointments.
Pricing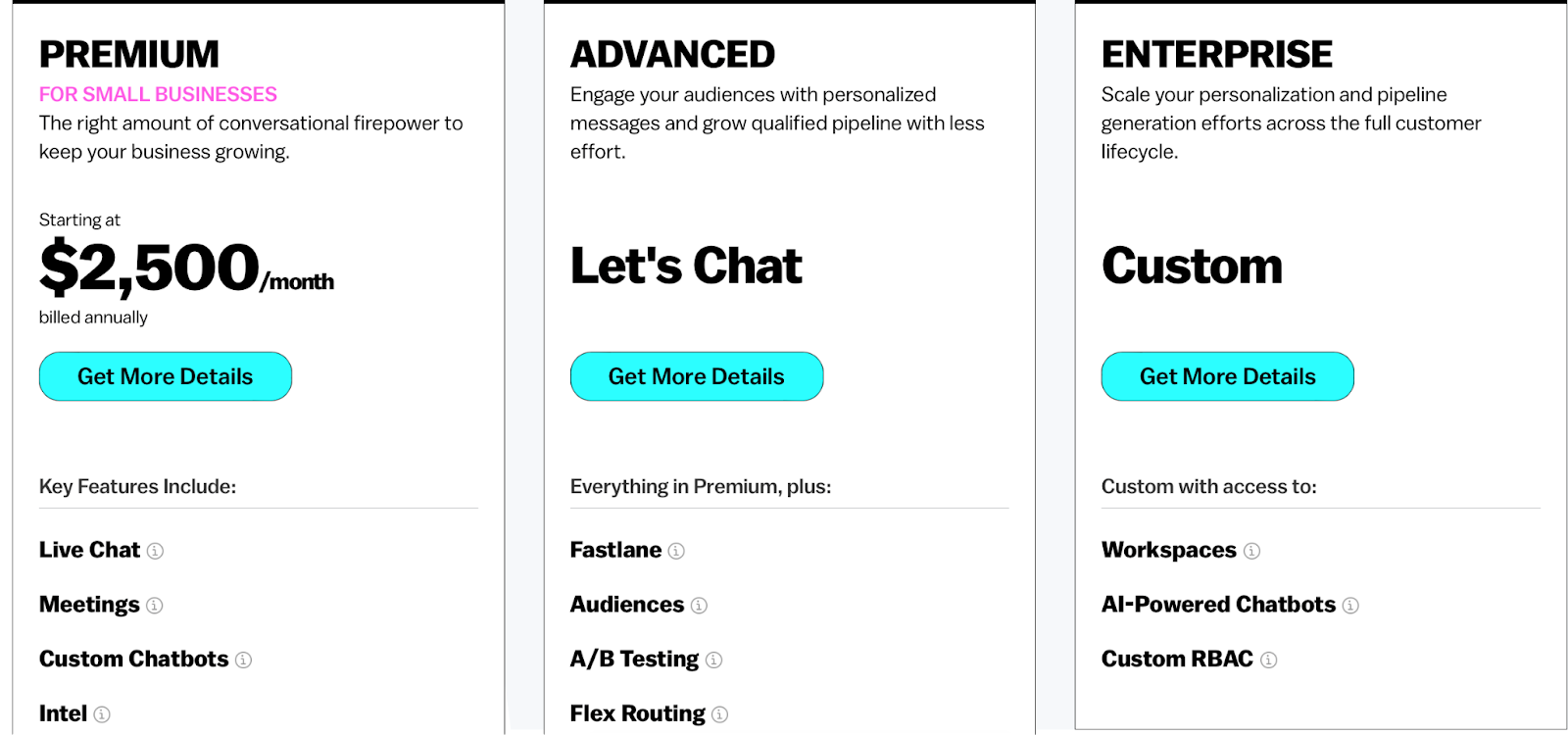 Drift offers a limited free version, with premium plans starting at $2500/month. Pricing is based on the number of contacts targeted and the features included, available under Standard, Premium, and Enterprise plans.
Pros and Cons
Powerful tool offering 24/7 customer engagement via AI chatbot.
Helps save time with automated sales appointment bookings.
Offers valuable real-time visitor data for strategic decision-making.
Free basic version available for small businesses.
The pricing can be steep for smaller businesses when scaling up.
Some users find the setup and customization process complex.
More robust multi-language support might be beneficial.
Lacks advanced SEO features that competitors provide.
FAQ
What is an AI marketing tool?
An AI marketing tool is a software that uses artificial intelligence (AI) to automate and optimize your marketing efforts. These tools can cover a range of marketing elements, from SEO and content creation to social media management. They can target the right customers, at the right time, with personalized messages, all while saving you crucial hours.
Typically, they're packed with advanced features like AI chatbots, predictive analysis, and data-driven insights. They act as a free pair of hands, making social interactions and customer engagement more efficient. Plus, with flexible pricing models to suit various needs, businesses of all sizes can leverage these tools.
What are the best ai marketing tools?
The best AI tools in marketing include:
Dashly.io for AI-powered chatbot customer engagement.
Clearscope for SEO optimization.
Brand24 for social media monitoring.
Albert.ai for digital ads optimization.
Drift for marketing campaigns.
These tools power up your marketing efforts with precise targeting, automation, and valuable insights.
How is AI used in marketing?
 AI in marketing is all about smart automation and insights. It's used in content creation, SEO optimization, and customer interaction (like chatbots), all aimed at improving engagement and conversion rates. AI tools can schedule social media posts for optimal times, analyze massive amounts of customer data for top-tier personalization, and even set your pricing based on demand patterns. It's like having a super-powered marketing assistant who never needs a coffee break!
How to use AI for digital marketing?
To use AI in marketing, you first choose a reliable AI marketing tool. Options like Dashly for lead qualification and nurturing or Grammarly for content refinement are among the top choices for marketers. 
For instance, Dashly AI chatbot can be programmed to qualify website visitors and deliver your sales team the hottest ones. You can use this data to define the best performing marketing channel without vaiting for the end of ads campaign. 
What are free ai tools for marketing?
There are several AI marketing tools which offer free versions with substantial capabilities. Grammarly, for instance, provides a free version that helps marketers write error-free content. Another example packs quite a punch is the free plan of Dashly, a popular AI chatbot tool that enhances customer engagement.
Other tools like HubSpot offer free CRM powered by AI, facilitating efficient management of customer relationships. Mailchimp also offers a free plan for email marketing enriched by AI insights.
In terms of future planning, Google Analytics employs artificial intelligence to deliver crucial insights, all completely free.
These tools can help you start strong in AI-based marketing, offering essential services at no expense, and letting you explore the benefits of AI without having to open your wallet. Exactly what you need to step into the future of marketing!
Why are AI tools important in modern marketing?
AI tools are crucial in modern marketing as they automate tasks, streamline content creation and data analysis, save time, and enhance customer engagement. They help in efficient social media and SEO management, facilitate personalized marketing, optimize pricing, and offer free utilities. In a nutshell, AI transforms marketing into a smarter, more effective endeavor.
What is an example of AI in marketing automation?
An excellent example of AI in marketing automation would be Dashly.io with its AI-based chatbot. It generates high-quality leads based on pre-defined questions, significantly reducing the amount of time marketers spend on marketing campaigns analytics and lead nurturing.
What is the best free AI marketing tool?
Grammarly stands out as the best free AI marketing tool. It uses artificial intelligence to help marketers write clear, mistake-free, and engaging content instantly, streamlining content creation and management. This boosts productivity and effectiveness, proving indispensable in modern, data-driven marketing campaigns.
Read also: