If you are short-handed and unable to do some job (change a plug, draw an image for your Instagram post, walk a dog, translate a text or basically anything), SureTask is made for you. 
SureTask connects customers and service providers for one-time — or longer — collaboration for cheaper than most equivalent platforms.
Most platforms charge providers 20-30% of their payment, which means they ultimately receive less than due and have to up their cost for the customers or their work is not profitable at all.
At SureTask creating an account is free. There's no signup or subscription fee. Service Providers pays just £1 when they find a matching customer's task and make an offer.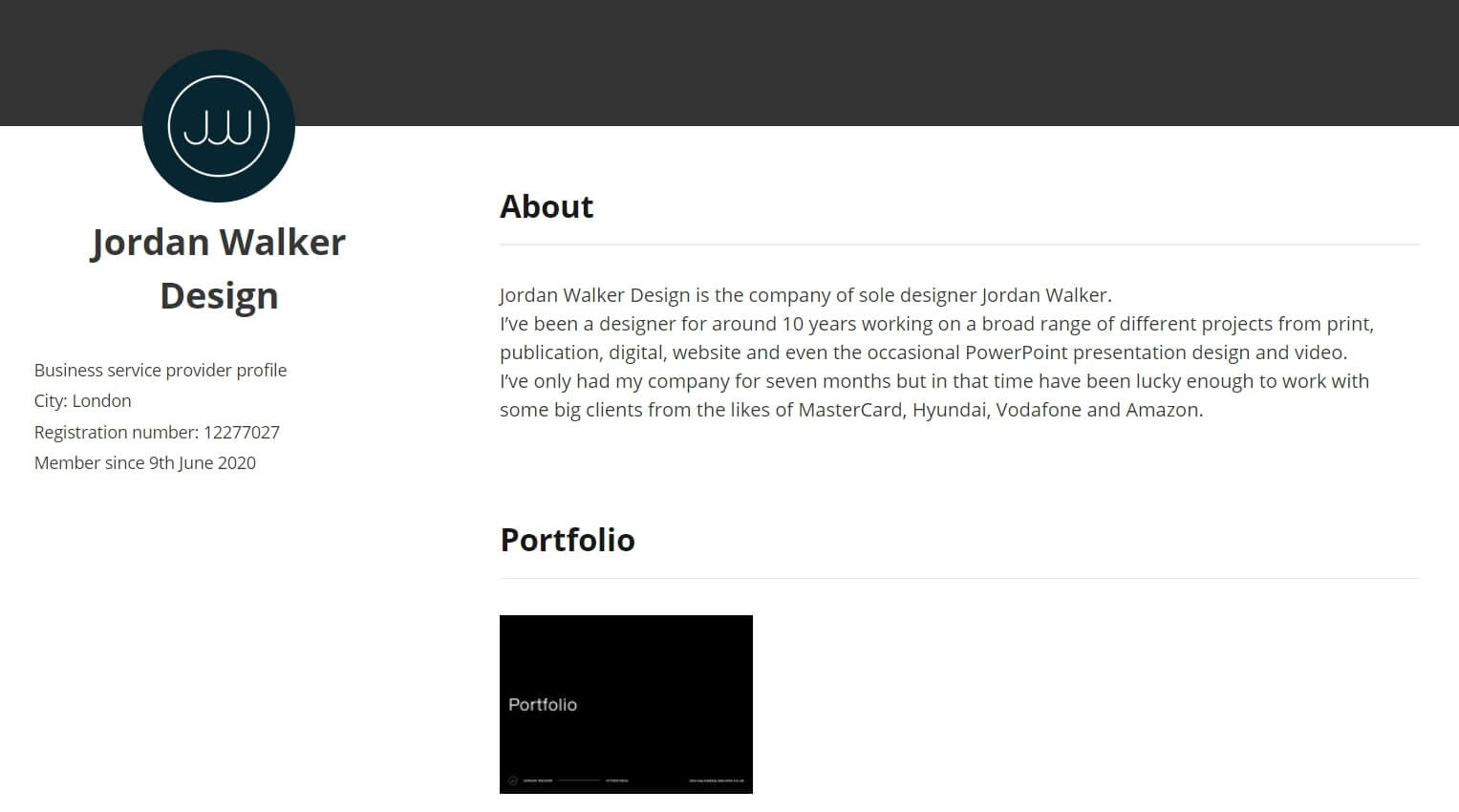 Customer can then browse a list of profiles, see prices and use filters to find a professional who is a perfect match for the task.
SureTask's goal: learning more about users
SureTask is a marketplace that is currently growing. They deal with the problem that most marketplaces face: you have to acquire both customers and providers at the same time. 
SureTask was looking for a platform that would let them collect leads, segment them and let them communicate via live chat. Alex Mihnovits, Suretask's co-founder and CEO, chose Dashly because he was already acquainted with the platform. He knew that Dashly had eCRM that could track the source of the visitors and see how they behave on the website. It was also important that the service had a multi-channel live chat that could connect the website and social networks.
SureTask had the following goals:
collect leads
identify the source of those leads
collect user data
identify if the lead is a customer or a provider.
How SureTask uses Dashly
Capturing and tracking leads
SureTask has several traffic sources: search engines, social networks and job search websites like Adzuna, Indeed, Behance or Google jobs. Suretask website is integrated with job search websites and they post task ads automatically, so service providers see it, click on it and come to SureTask.
One of the tasks is to see how many leads come from which source and what the conversion is for each source.
Dashly data collection allows to track a lead's source via an utm.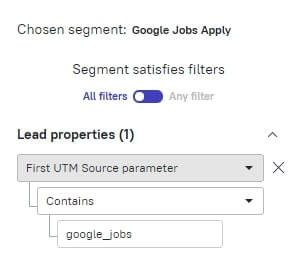 Tracking lead sources allows Alex to measure the effectiveness of each channel of acquisition.
Using custom fields to segment leads
SureTask works as a marketplace for customers and providers. These two types of leads can come from any source and a lead can be either a customer or a provider. That's why they have to attribute a value to each lead. A value contains a simple binary yes or no. In Dashly this value is stored in user properties.

Segmenting leads
Leads are segmented into categories according to the source they came from.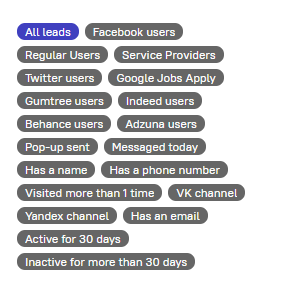 A typical lead card looks like this: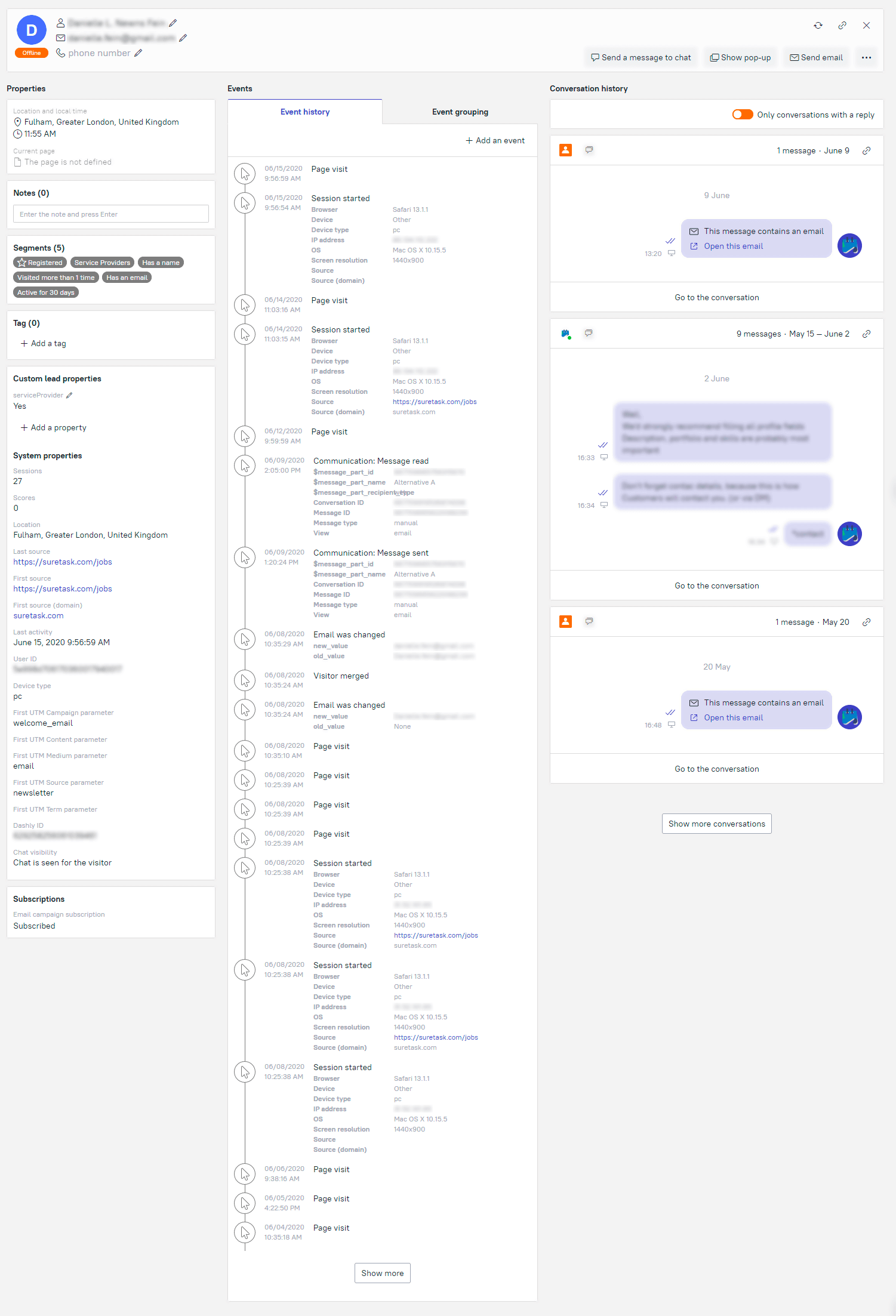 Communicating with users
As soon as a lead registers in the system, they are free to use it. Customers fill in the profile and post their tasks. Service providers also fill in their profile and are given £5 to start using Suretask. Some users have troubles with tasks and need help. They address the team via Dashly live chat.
When talking to a user, the team sees if they are a customer or a provider and what they did on the website. Some users write via social networks or email. All of these inquiries are collected by Dashly and the team can answer the questions in Dashly, while users will see them in whatever messenger they use.
Users' feedback lets the team see common interface problems and fix them.
Feedback also helps them fix positioning and product market fit and better explain the value of the service to users:
"Some users don't get the concept of 'tasks'. They believe that it's the Suretask as company who hires specialists. It takes some time to realize we are a marketplace."
The platform also works as a starting point for hiring. Some customers hire specialists for one-time jobs, check what they are capable of and then hire the best for long-term contracts.
The next step for Suretask is setting up their knowledge base for the most common questions they get.
Results: 31% visitor to lead conversion
Since they've started to use Dashly, Suretask has captured and segmented 3100 leads.
It's 33% of all visitors.

They created 9 custom segments based on leads sources and other properties.
They plan to improve their lead tracking, add other custom fields and start using Dashly knowledge base and leadbot to connect customers to safe and reliable professionals.