Did you know that 90% of customers anticipate unvarying engagement across all channels, and more than half desire businesses to interact over multiple channels including email and social platforms?
Meet the indispensable automation solution: Omnichannel Marketing Tools. These software gems are specifically designed to alleviate these issues by offering an integrated platform to reach your customers across diverse medias effectively. This potent solution drastically improves engagement and customer satisfaction.
As an adept growth marketer, I have compiled a comprehensive review of the 12 best omnichannel marketing tools available today, detailing distinctive features and pricing. This investigative insight will help you select the most suitable software for your business to successfully connect with customers across multiple marketing channels. Stay engaged to explore these transformative tools.
What is an omnichannel platform?
Omnichannel platform is a technology that helps businesses provide customers with seamless communication in different channels such as email, social, website, and more, to provide unified customer experiences.
It's not just about using multiple channels, the key here is true integration. An omnichannel platform ensures all your customer interactions across these channels are synchronized, creating seamless and consistent experiences no matter where the customer chooses to engage with your brand.
Essential features of such a platform include: customer relationship management (CRM) capabilities, marketing automation tools, analytics, and personalization tools. Together, they provide a holistic view of each customer's journey, enabling more accurate targeting and personalized marketing.
The benefits? Improved customer satisfaction, increased conversions, and deeper insights into customer behavior. Successful omnichannel marketing can strengthen customer loyalty and drive sustained business growth. 
The best omnichannel marketing software for 2023
Dashly
ActiveCampaign
HubSpot
Keap
Tidio
Zendesk
Freshchat
Intercom
Brevo
Freshworks
Omnisend
Drift
These cool omnichannel marketing tools top the list thanks to their kick-ass features and capabilities. They've got a bunch of things in common that really make them pop in the crowd. Think super-powerful automation tools, slick channel blending, top-tier personalization stuff, deep-dive analytics and reports, and awesome customer care.
Let's look through each of them. 
Dashly

Dashly is an omnichannel marketing platform providing marketing, support, and sales with a list of tools to engage with the customers on channels they prefer. You can set up its omnichannel software in a couple of minutes without developers.
Dashly chatbots, visitor behavior tracking, triggered emails, and live chat help focus on building a conversation on each step of the funnel: from the first session to the key action. This omnichannel marketing tool can automate some communications and spend less human resources, for example, automated lead qualification.
If you face problems with starting your first communications, there are ready-made campaigns, so you can launch them in several minutes.
Features
Dashly platform offers its users:
chatbot to proactively start conversations with potential clients on website and social messengers channels;
live chat with mobile apps for Android and IOS;
pop-ups with the pop-up builder to convert traffic into prospects;
email campaigns to nurture prospects;
30+ integrations with Instagram, Facebook, Viber, Telegram, WhatsApp, email, in-app notifications; 
analytics reports;
A/B testing;
website visitors tracking, and more. 
Pricing
There are three paid plans in Dashly product, starting from $39/mo. The price depends on your monthly website traffic and the add-ons you choose to enable. Meanwhile, agent seats are unlimited — your whole team will get access to the solution features.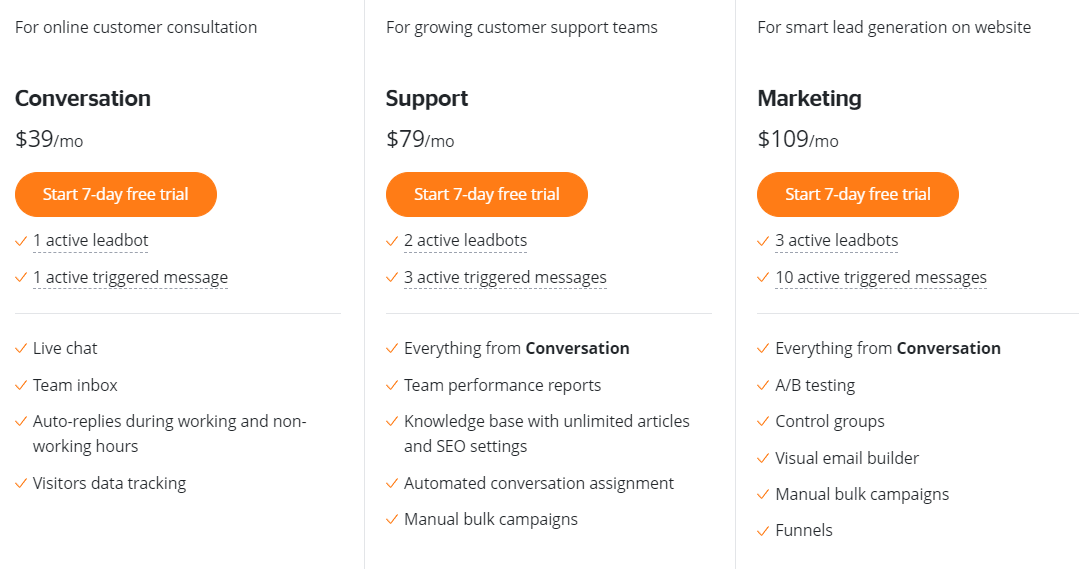 Each plan offers customer communication tools on different channels. However, the more advanced the plan is, the richer your customer data will be. 
Pros and Cons
Free plan.
An unlimited number of agent seats.
24/7 customer service.
Detailed reports on marketing campaigns.
Ability to work with leads that were inactive for 30 days.
Limited segmentation options.
No Call and voice services.
ActiveCampaign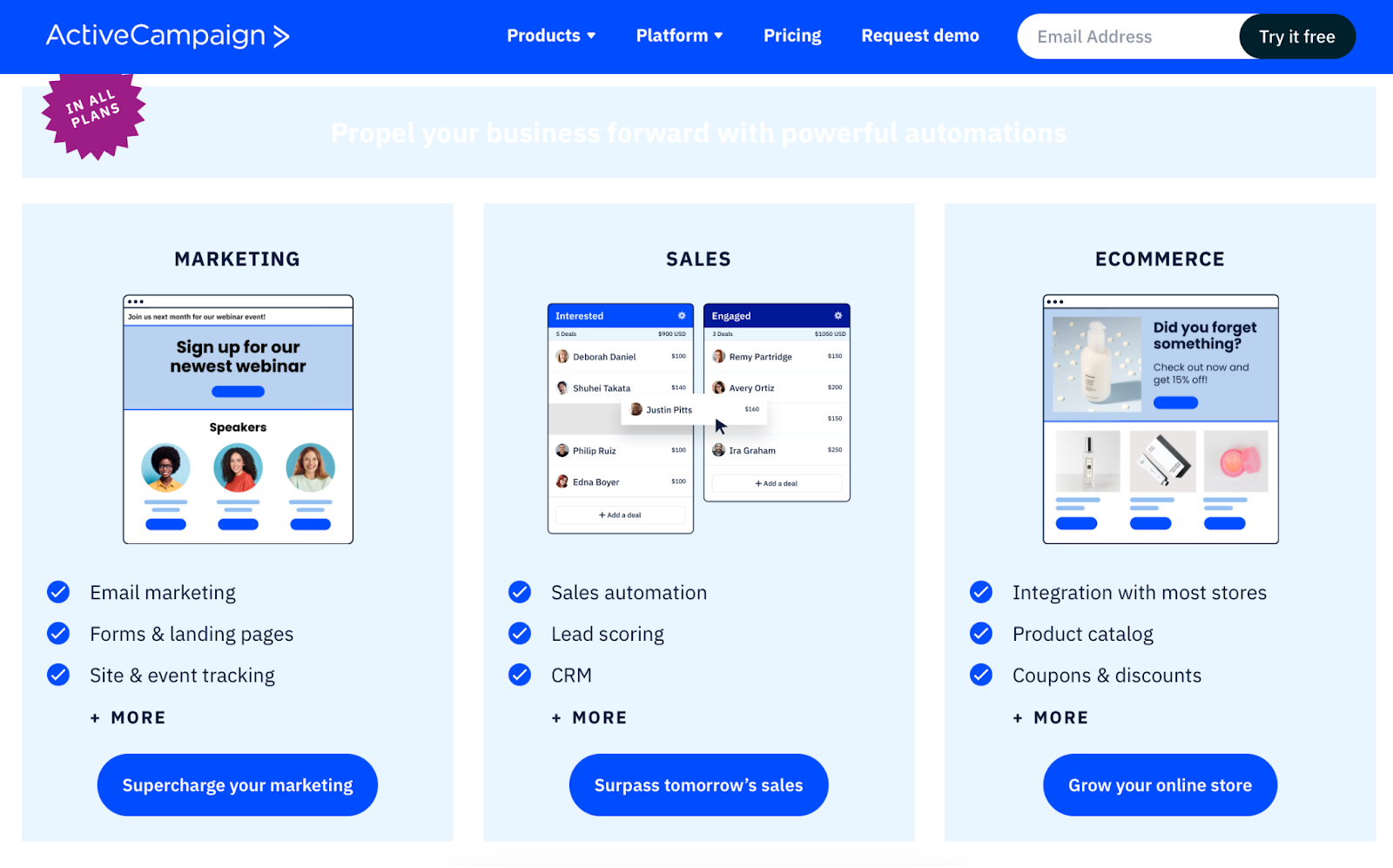 ActiveCampaign, this swanky omni channel software is a rockstar performing on the big stage of omnichannel marketing automation. With an ensemble of email, social, and various other channels, it's a one-man-band kind of platform for all business sizes, right from the garage startups to the headlining corporations.
The aim? A world tour of exceptional user interaction, on a platform where customers feel right at home!
Features
ActiveCampaign comes loaded with:
⭐ Email Marketing: Dish out emails that make customers go 'WOW! ' instead of 'meh.'
⭐ Marketing Automation: Set, forget and let this tool work its magic on your marketing funnels.
⭐ Sales/CRM: Like a backstage manager, it takes care of your sales pipeline.
⭐ Messaging: Strike up conversations with customers right where they love to hang out!
Pricing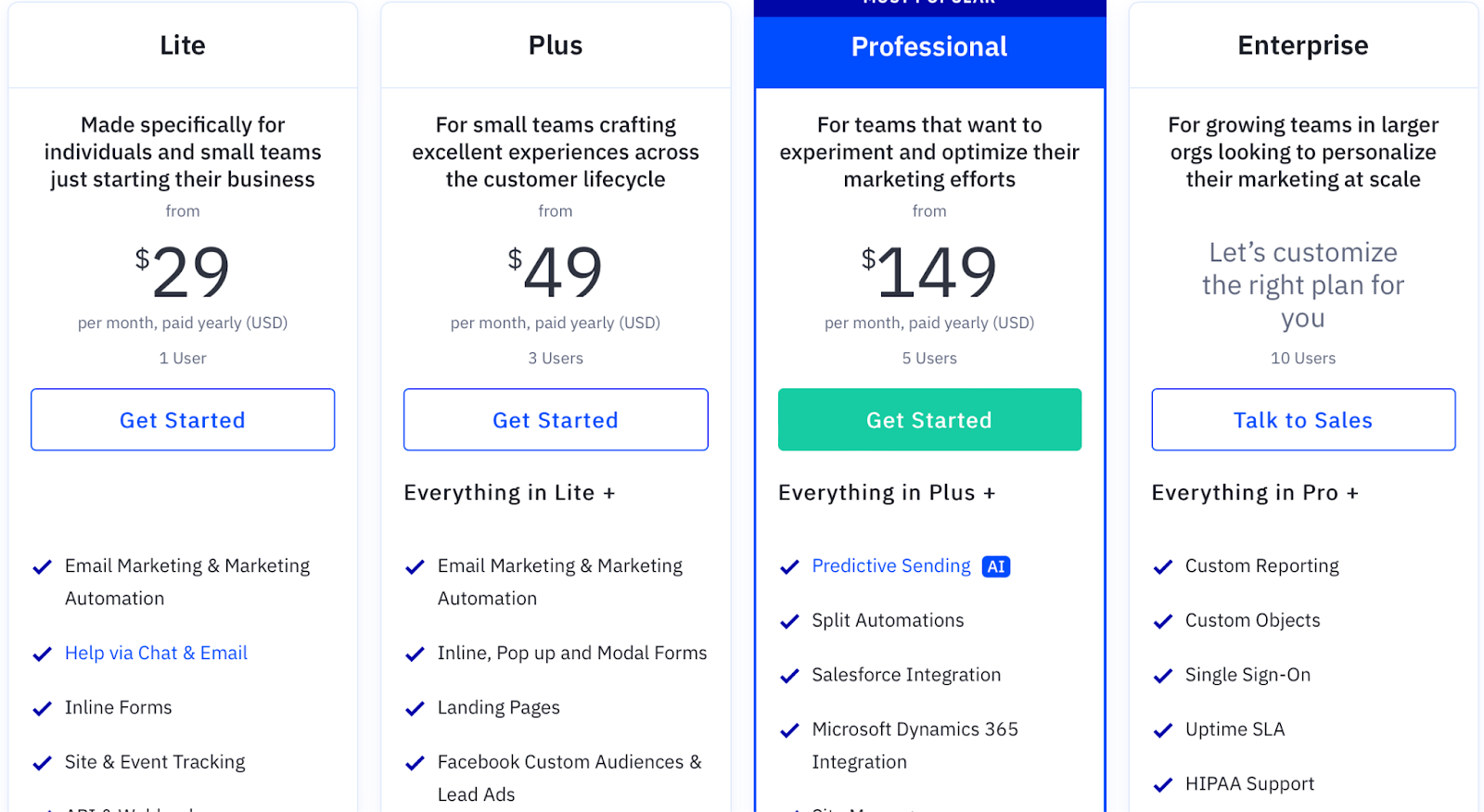 No need for a VIP pass to get on board. There's a free trial for 14 days. Ticket prices range from the nosebleed seats with the Lite plan at $29/month to Professional $149 and Enterprise for the real headbangers.
Pros and Cons
Deep Data Integration: Unleashes insights deeper than a bass drop!
Versatility: Plays the right tunes across all marketing channels.
Top-notch Customer Service: Your backstage crew, always ready to assist.
Scalability: Ready to headline any gig, whether a local pub or a mega concert!
Might feel like a complex setlist to the uninitiated.
Built-in CRM admirably wails on the guitar but cannot replace the full band.
In a flash, with ActiveCampaign in your omnichannel marketing tools set, you're no longer just a band. You're on a world tour and your customers are your biggest fans!
HubSpot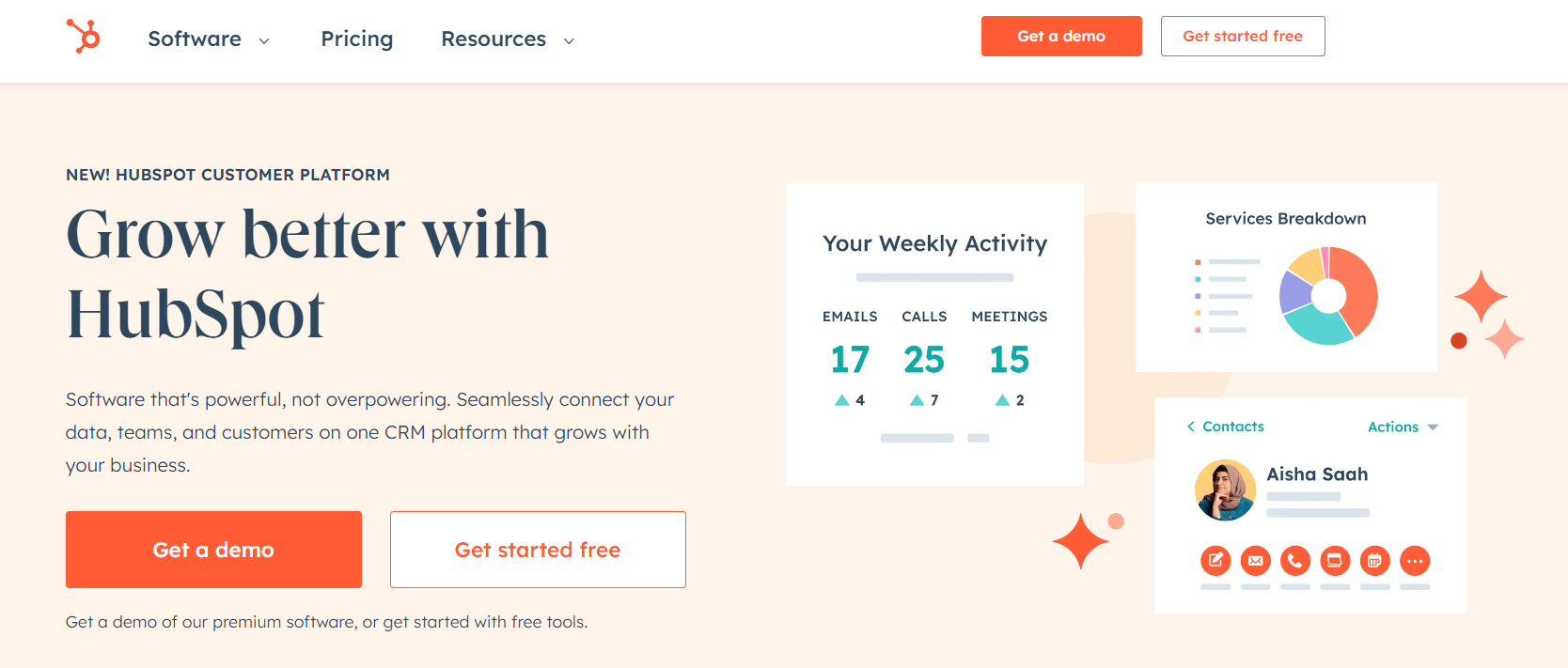 Grab your backstage pass because HubSpot, the superstar of omnichannel software solutions, is about to take the stage. HubSpot offers a platform that transcends email, social, and traditional channel silos, fine-tuning every instrument for a harmonious customer experience. Startups, SMEs, and big-hitting corporations are all part of its devoted fanbase.
Their concert? Creating a seamless and engaging symphony for every customer interaction!
Features
You can count on HubSpot's omnichannel tools to belt out:
⭐ Email Marketing: Make your emails the headline act in every inbox.
⭐ Marketing Automation: Designs your strategies; conducts your campaigns.
⭐ CRM: It's like a personal roadie for your leads and sales.
⭐ Social Media Tools: Publish and monitor posts that resonate with your audience.
Pricing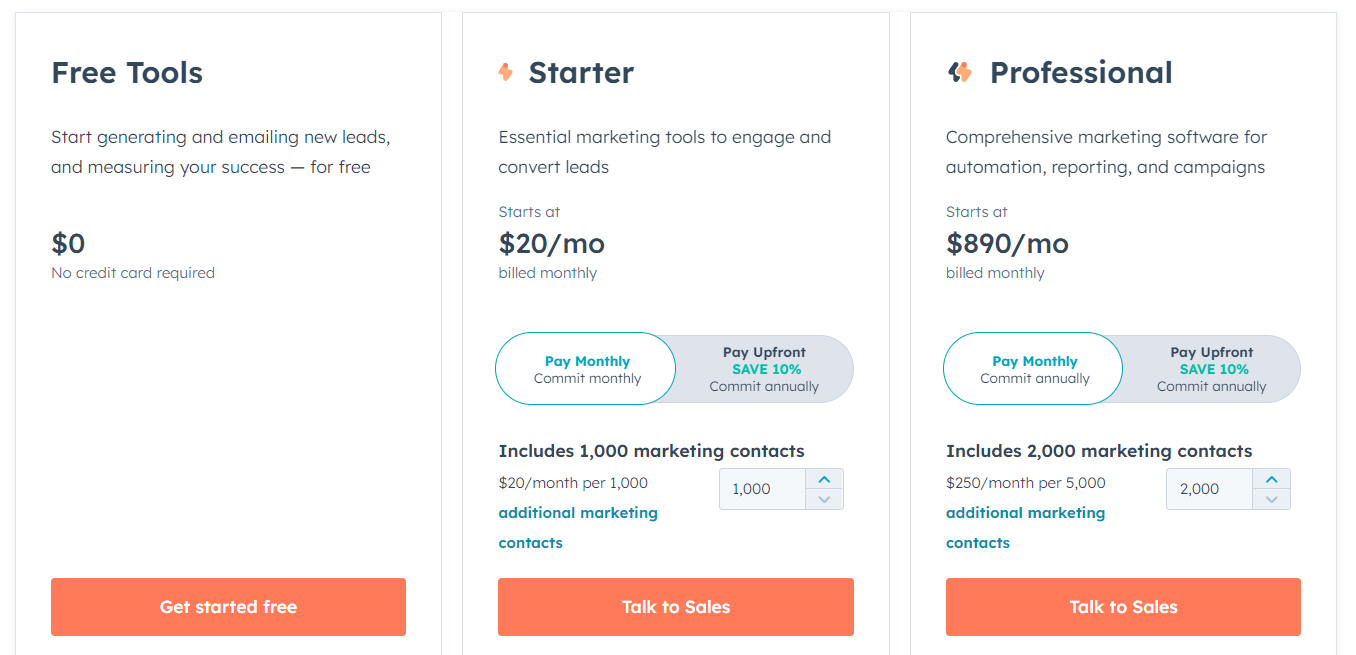 HubSpot believes in equal fan service. 'Try Before You Buy' fan? They offer a free plan that's pretty comprehensive. The paid plans? Prices vary based on the size of your fanbase (i.e., contacts) and feature needs. The Professional plan begins at €792/month, and hold on to your hat because the Enterprise plan kicks in at €3300/month. HubSpot caters to businesses of all sizes, regardless of the scope of their marketing party.
Pros and Cons
Provides a unified customer experience like a well-practiced setlist.
Comprehensive marketing tool; it's like having your entire crew backstage.
Excellent customer service; these roadies are always on duty
Adept at handling both solo gigs and festival-sized events.
May seem a bit overwhelming to novice band members.
High-end plans could push your marketing budget skywards.
In summation, HubSpot is an omnichannel maestro, orchestrating remarkable performances across all your marketing channels. Aim for the standing ovations, let HubSpot conduct the show!
Keap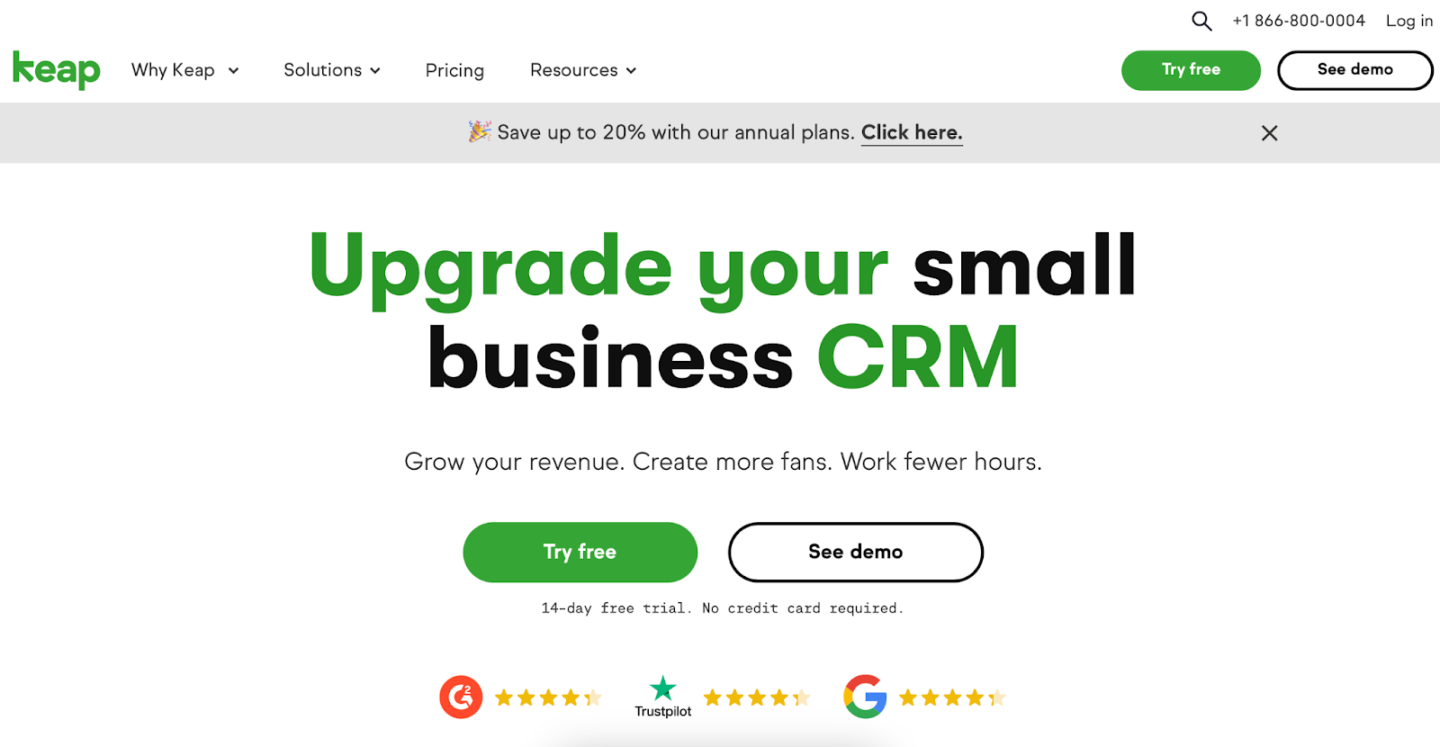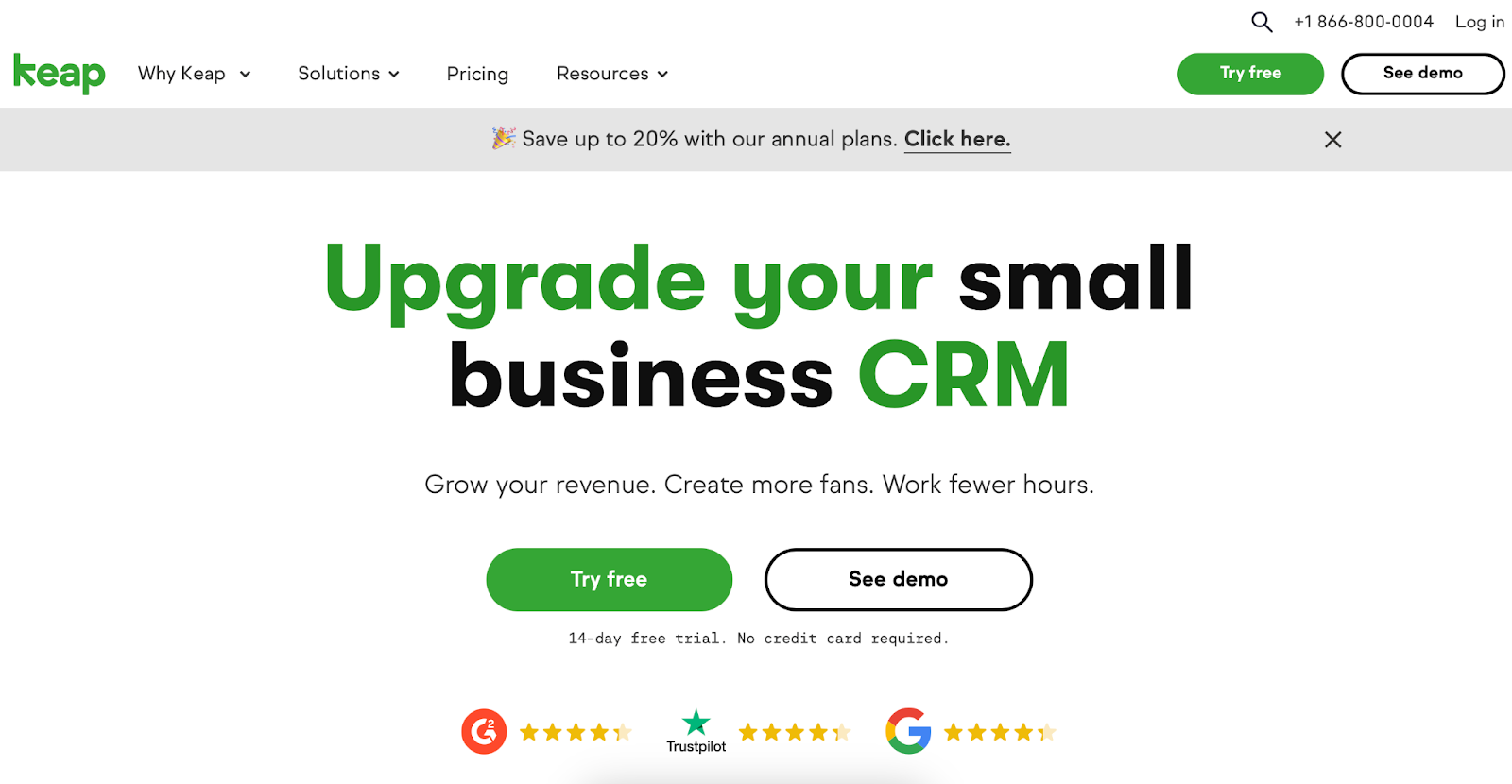 Keap steps into the marketing dojo with its suite of tools designed for small businesses looking to kung fu their way through customer engagement. This omni-channel platform aims for a knockout performance in delivering stellar customer experiences. They're all about enabling businesses of any size to float like a butterfly, sting like a bee in the marketing ring.
Features
Keap wields its weapons with precision:
⭐ Email Marketing: Swift as a ninja, these emails strike the mark and dazzle customers.
⭐ Marketing Automation: Tames the chaos and keeps your marketing campaigns rolling with smooth moves.
⭐ CRM: Organizes all your customer data into one neat dojo. No more juggling customer information!
⭐ E-commerce Tools: Handles your online sales like a sumo wrestler — powerful yet agile!
Pricing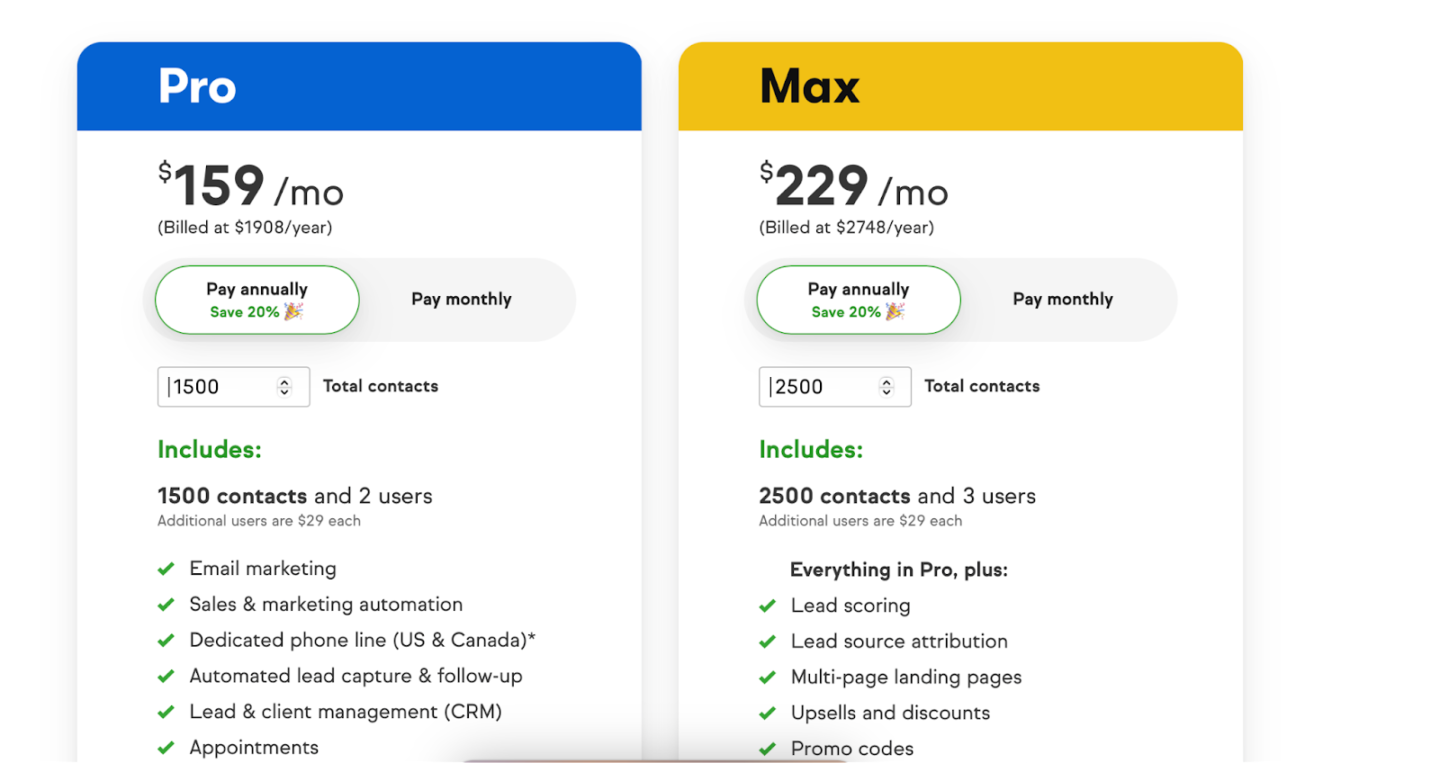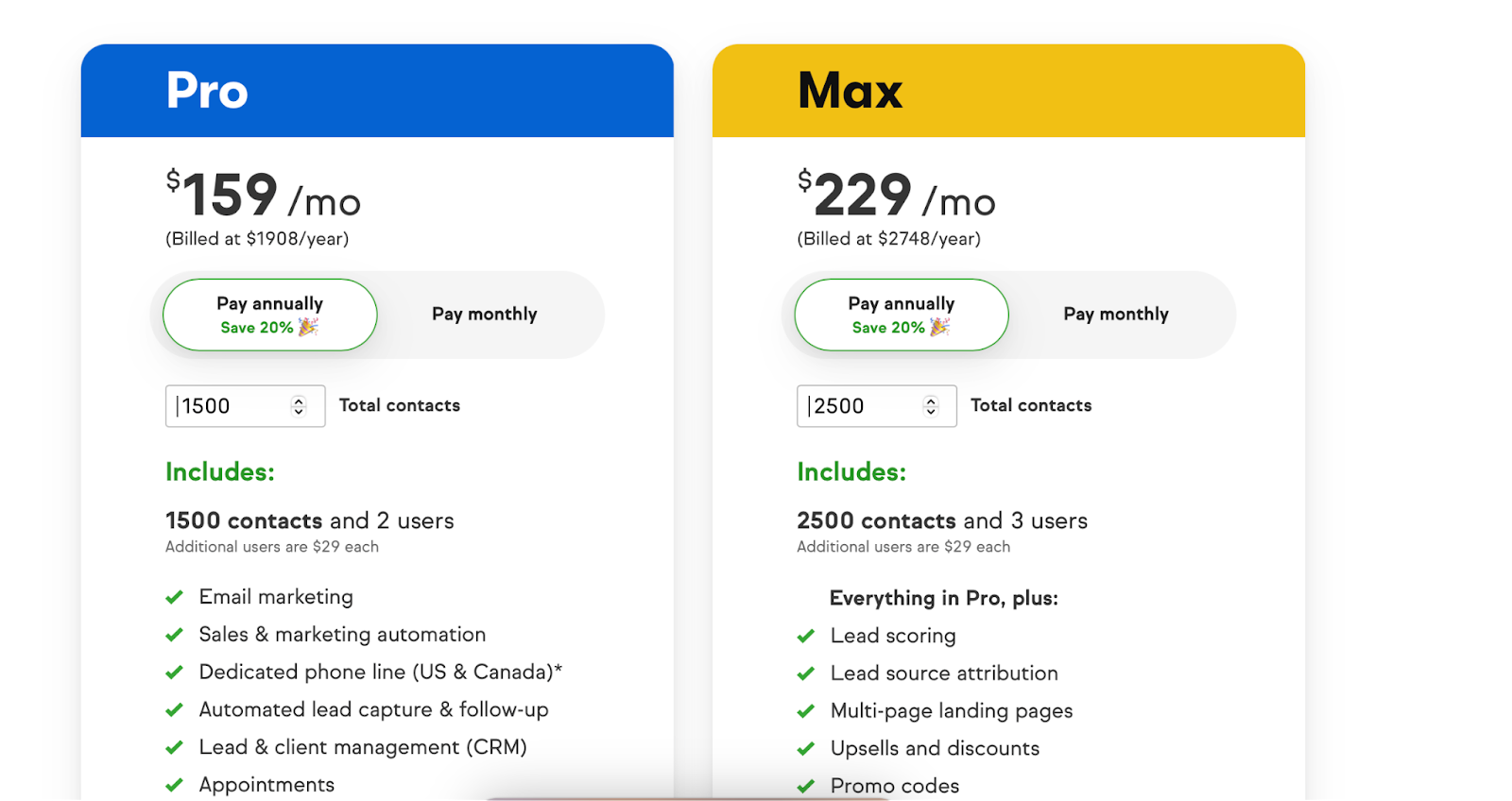 Keap puts you in the ring with a free 14-day trial. Once you're ready to commit, the Pro plan starts at $159/month and the Max plan rounding the corner at $229/month. No matter the size of your business, there's a suitable sparring partner.
Pros and Cons
Simple, user-friendly interface: No black belt in tech required.
Excellent integrated sales pipeline: Belts out sales and marketing moves in perfect harmony.
Strong customer support: Your cornerman is always ready to provide guidance.
Can feel a little heavy on the wallet as you scale up your business.
The learning curve is a bit steep. It's no child's-play taekwondo here.
Tidio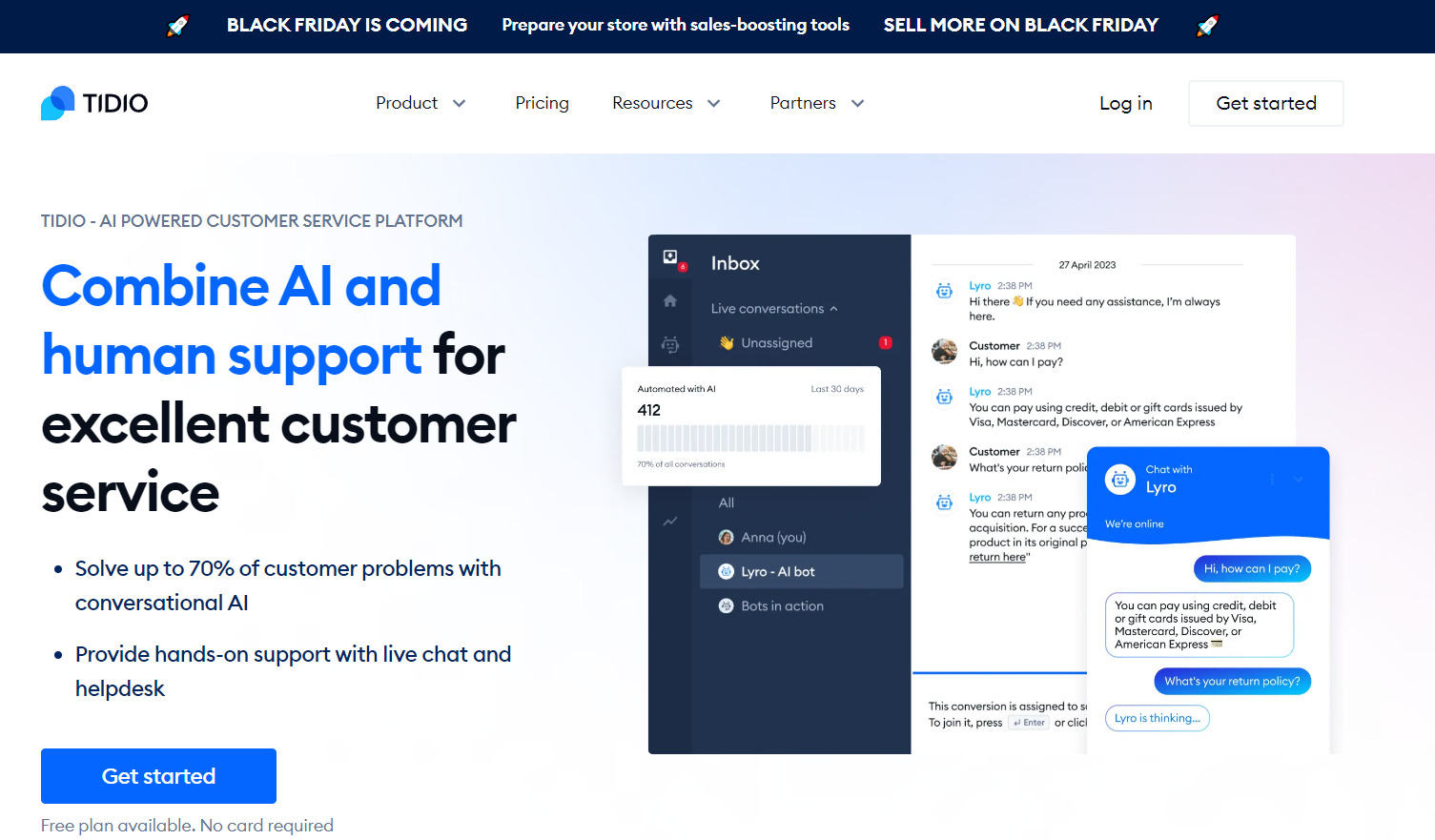 Let's chat about Tidio, the smooth talker of the omnichannel marketing world. Tidio offers top-notch tools that communicate with audiences through their preferred channels. With its laser focus on bolstering real-time customer service, Tidio promises a seamless experience for each customer interaction. It's no wonder businesses of all shapes and sizes are all ears (or should I say, talk bubbles) when it comes to Tidio.
Features
Tidio backs up its smooth talk with some pretty handy tools:
⭐ Live Chat: Dazzles customers with real-time problem-solving.
⭐ Chatbots: Automates the chit-chat, so you can have thousands of conversations at once.
⭐ Email Marketing: Sends tailored emails, making sure every customer feels downright special.
⭐ Messenger Integration: Chat with your customers straight from your Facebook page. Convenient, isn't it?
Pricing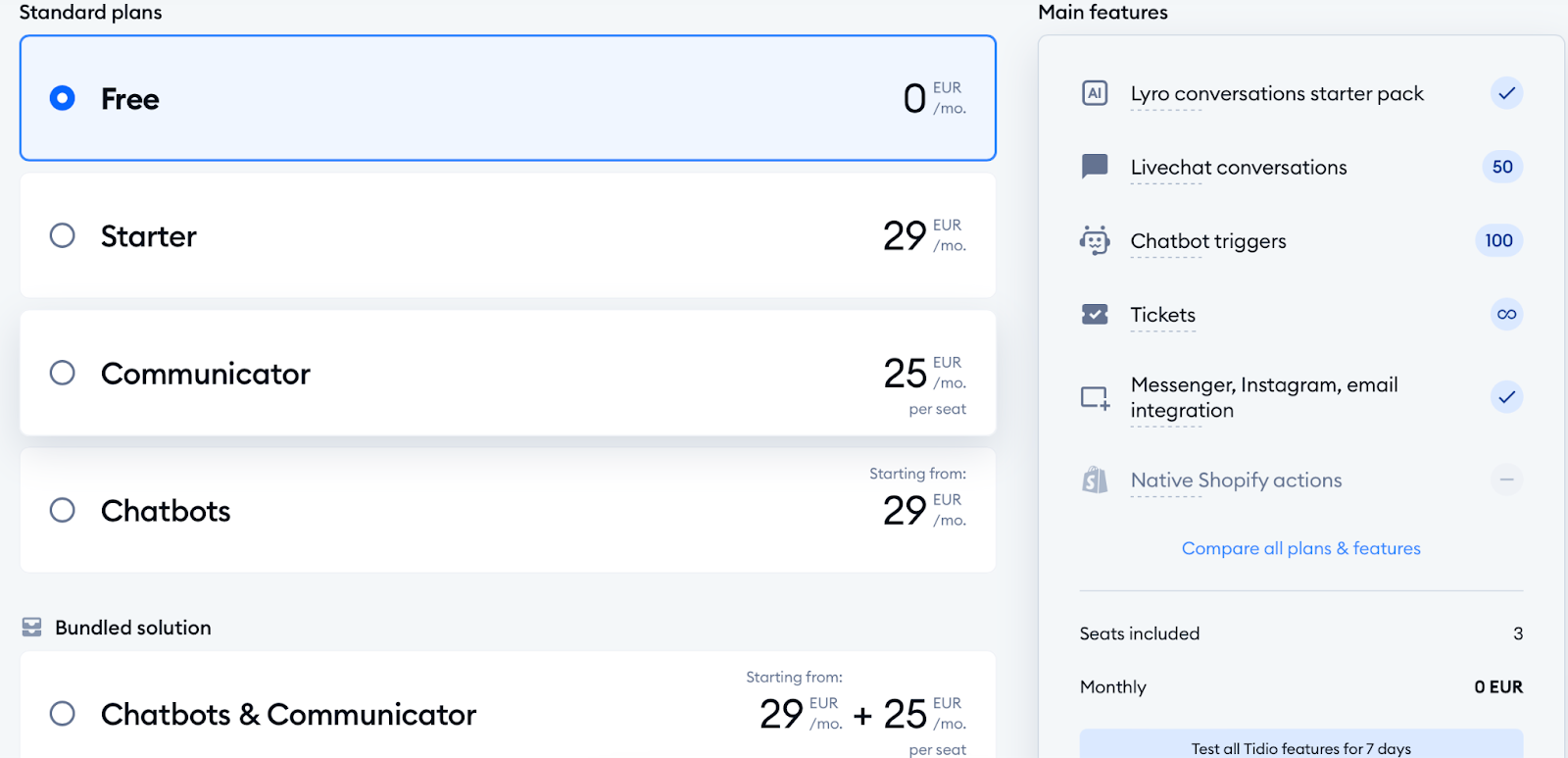 Chatting up has never been so affordable. Tidio starts with a free-forever base service. For more frills, there's the Starter plan at 29 eur per month. Need everything? Go for the bundle at 54 eur per month. Ideal for business sizes that enjoy a good conversation.
Pros and Cons
User-friendly interface: It's like chatting with your best buddy.
Marriage of live chat and email: It's a match made in omnichannel heaven.
Great customer service: They walk the talk with support that's always ready for a chat.
Integration with other software can give some hiccups.
Customization options could do with a bit of a chat-up.
Join in with Tidio's chat-athon and turn your customer interactions into satisfying heart-to-hearts. Your customers deserve a good conversation, and Tidio is ready to deliver.
Zendesk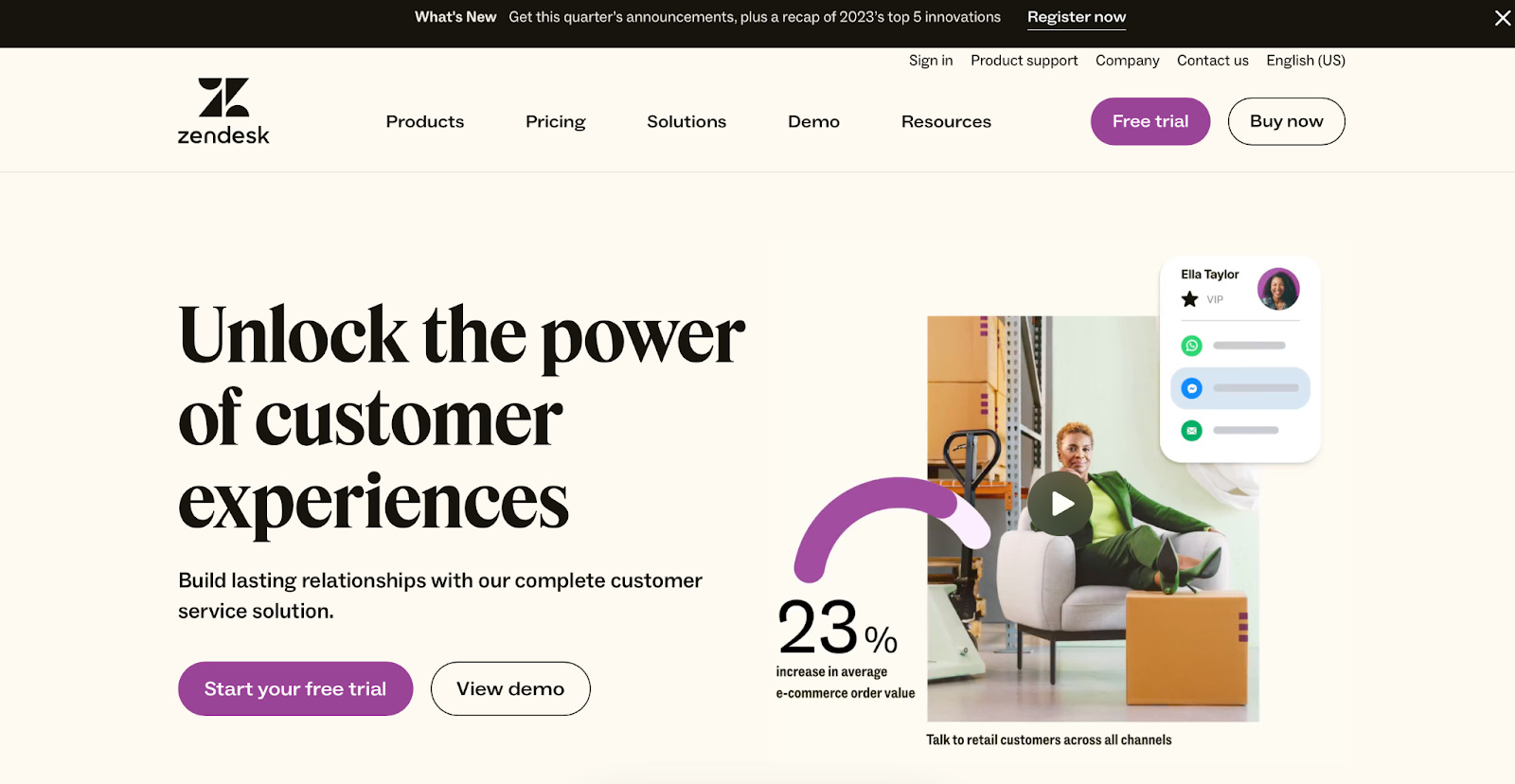 Zendesk, the maestro of the omnichannel marketing orchestra, offers businesses a high chair in customer loving. This tool serves delightful customer experiences across all channels, making all your customer communications sing in harmony. It's no surprise that businesses of all sizes, from small ensembles to large symphonies, use Zendesk.
Features
The slick features Zendesk conducts include:
⭐ Customer Support: Resolving issues in a snap, making your customers cheer.
⭐ Live Chat: Engaging customers in real-time chats that feel like a friendly natter.
⭐ Knowledge Base: An easy reference guide so your customers can help themselves.
⭐ CRM: Keeps customer data organized as neatly as sheet music.
Pricing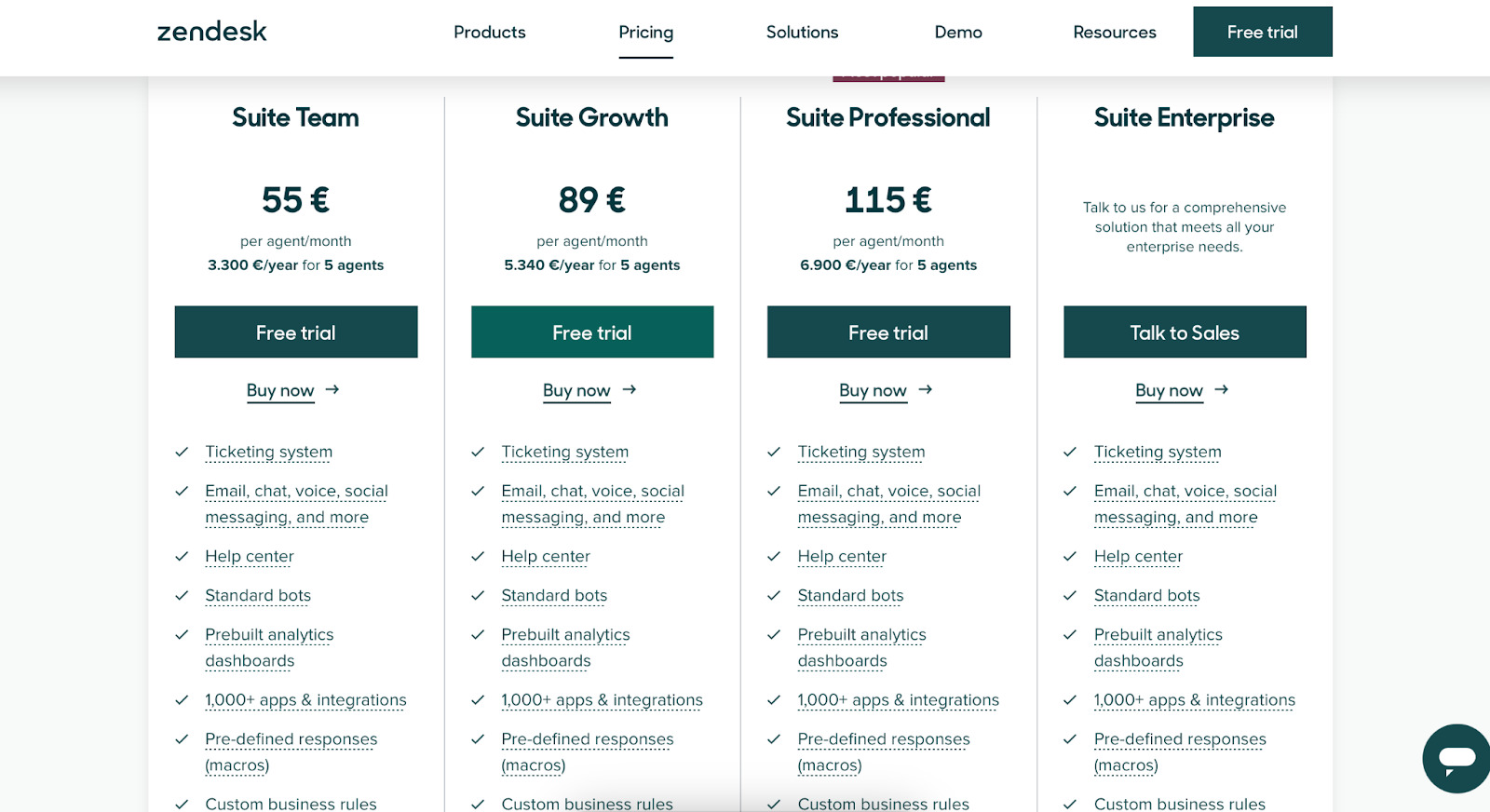 Taking a cue from Zendesk won't send your budget off-key. They offer both ticket-based and suite-based pricing models. Zendesk Suite begins at €55 per agent per month with a free trial for the suite. The variety ensures that there's something for everyone, from small solos to large orchestras.
Pros and Cons
Clean, intuitive user interface: No need to sweat over the sheet music.
Integrates seamlessly with other software: It plays well with others, like any good orchestra member.
Oversized customer service: This tech support never misses a beat.
Customization options are restricted: Playing improv might get tricky.
Pricing can scale up as your business grows: Maintaining an orchestra can get pricey.
With Zendesk, you can be the maestro who conducts the perfect omnichannel marketing symphony. Fine-tune your customer experiences and get ready for a standing ovation!
Freshchat

Permit me to introduce Freshchat, a front-runner among omnichannel solution providers. This platform seizes the spotlight to redefine how businesses converse with customers. With Freshchat, every word hits the right chord, fostering an intimate symphony of customer engagement. No wonder businesses from mom-and-pop shops to big-shot brands are all singing its praises!
Features
Sophisticated features make Freshchat quite the orator:
⭐ Live Chat: Speaks the language of real-time problem-solving.
⭐ Chatbots: Juggles thousands of conversations, without losing the personal touch.
⭐ Omni Inbox: One inbox to hold 'em all. Email, chat, calls, social — you name it!
⭐ Campaigns: Oh Yes! Who'd mind a helping hand for targeted outbound messages.
Pricing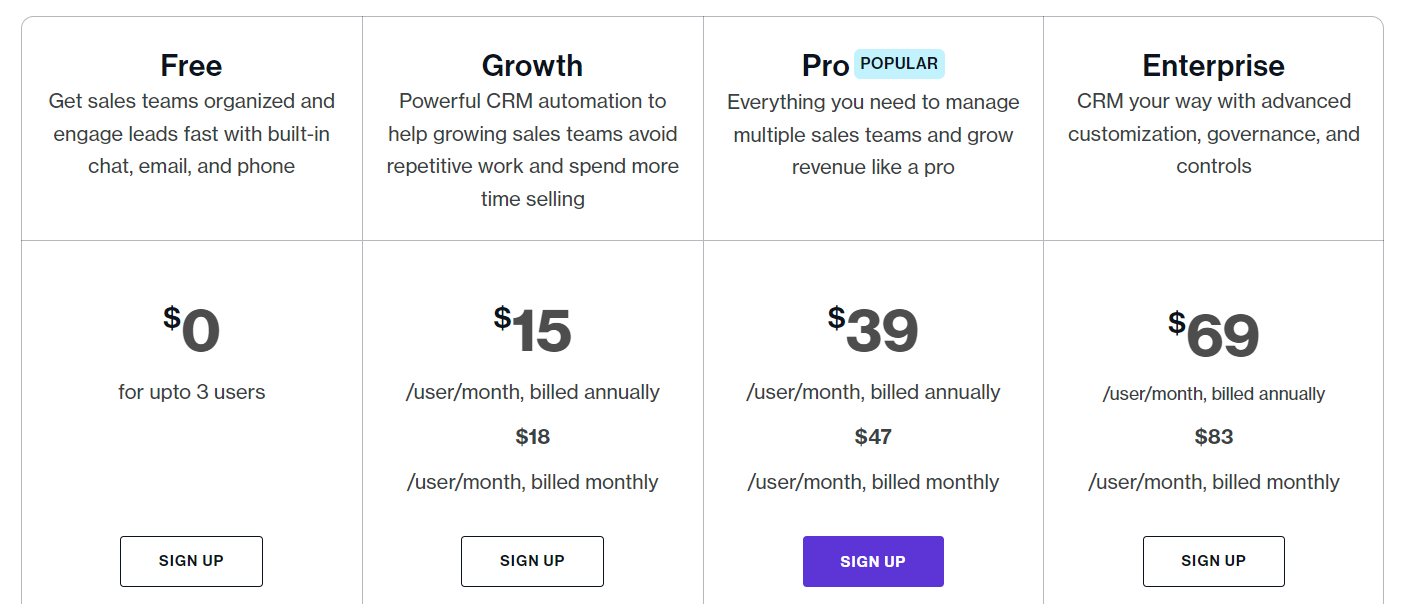 Freshchat's way with words won't get your budget tongue-tied. They start the dialogue with a free plan. The paid conversation kicks off at 19 eur per month (Growth plan). Perfectly suited for businesses of any size; all that chat, custom-tailored for your wallet!
Pros and Cons
User-Friendly Interface: Keeps your team and customers engaged, no fancy language needed.
Robust Integration Capabilities: This sociable software enjoys mingling with your other software pals!
Super customer support: Freshchat backs up the talk with action.
Customization can be somewhat restrictive. Not everyone likes scripted conversations!
Advanced features require upgrading. Your chat might need some coin to keep going.
Freshchat is your platform to master the art of conversation in the omnichannel marketing arena. With every interaction, create memorable customer stories that echo your brand's essence. Ready for some engaging chatter? Freshchat is for all ears!
Intercom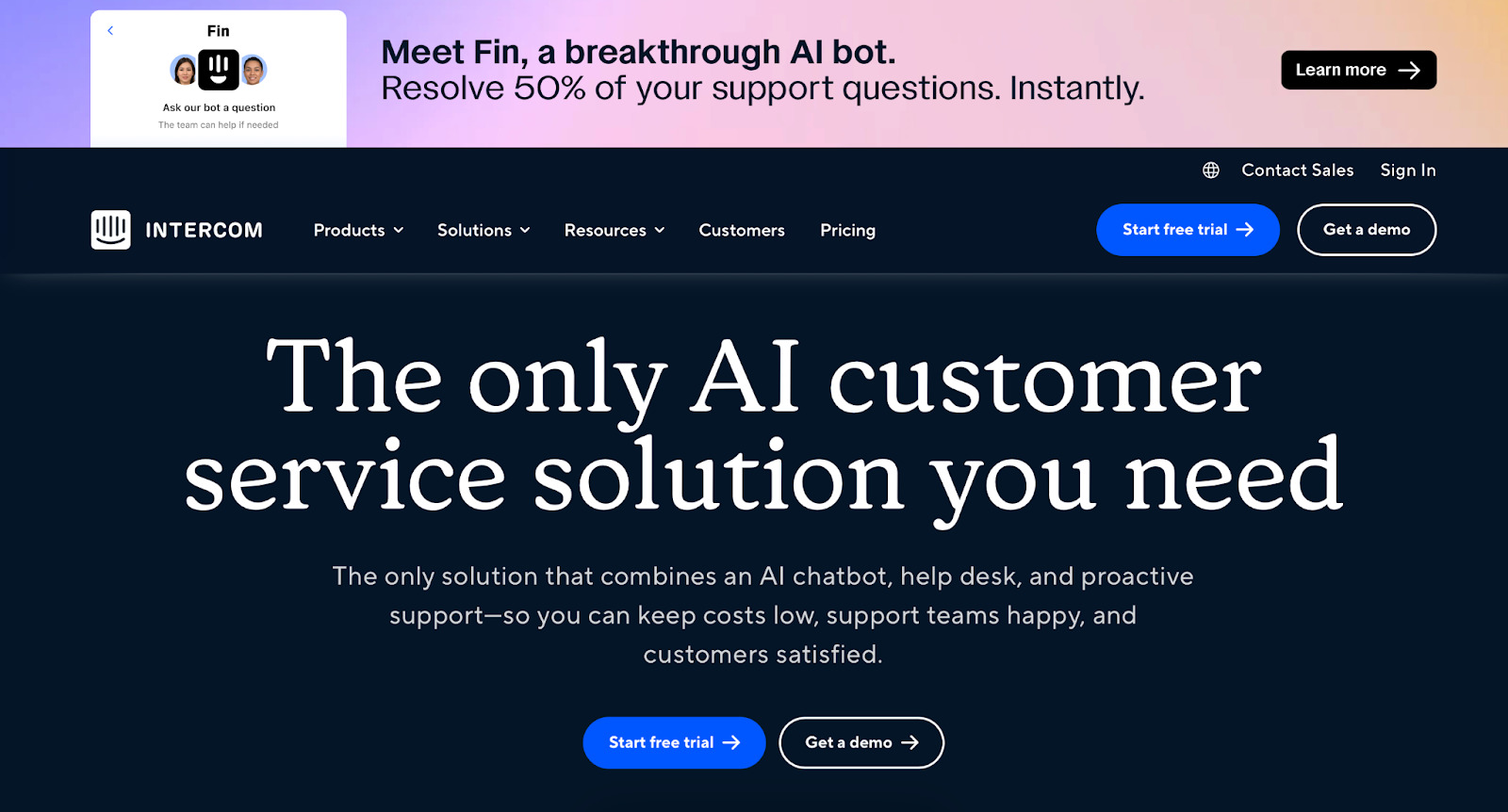 Allow me to introduce Intercom, the communication wizard within the realm of omnichannel marketing. This platform lets businesses and customers converse effortlessly. Whether you're a fledgling startup or an established corporation, Intercom ensures that every message perfectly articulates the soul of your brand.
Features
Intercom's enchanting features include:
⭐ Live Chat: Facilitates spellbinding conversations in real-time.
⭐ Chatbots: Automates your communication… like magic!
⭐ Outbound Messaging: Notifies customers with targeted and timeous messages.
⭐ Help Desk: A magical tower of customer assistance.
Pricing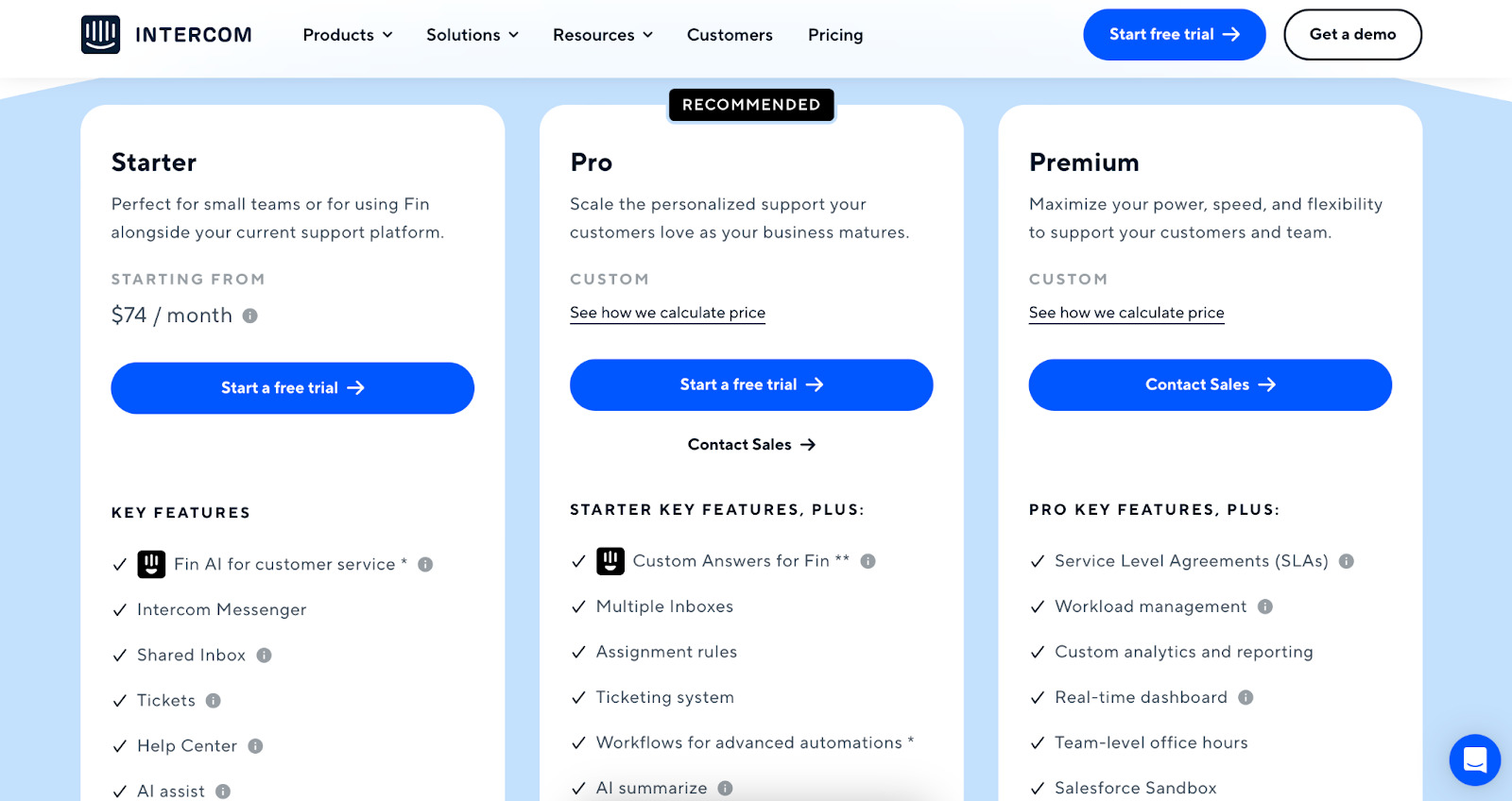 The free trial conjures up a taste of Intercom's magic, with paid offerings starting at $74/month. With Intercom, there's a fitting spell of communication, whatever the size of your magical marketing budget.
Pros and Cons
Sleek, intuitive interface: As easy as waving a wand.
Powerful integrations: Plays nicely with your existing tech stack.
Stellar customer support: More like customer spell-port, right?
Advanced automation requires moving up plans. The more powerful spells are costly!
Customization can be tricky: Think of it as an unruly broom flight.
With Intercom's magical omnichannel marketing tools, every interaction with customers becomes a mesmerizing moment. Ready to cast a communication spell that will leave your customers spellbound? Intercom is ready to hand you your wand!
Brevo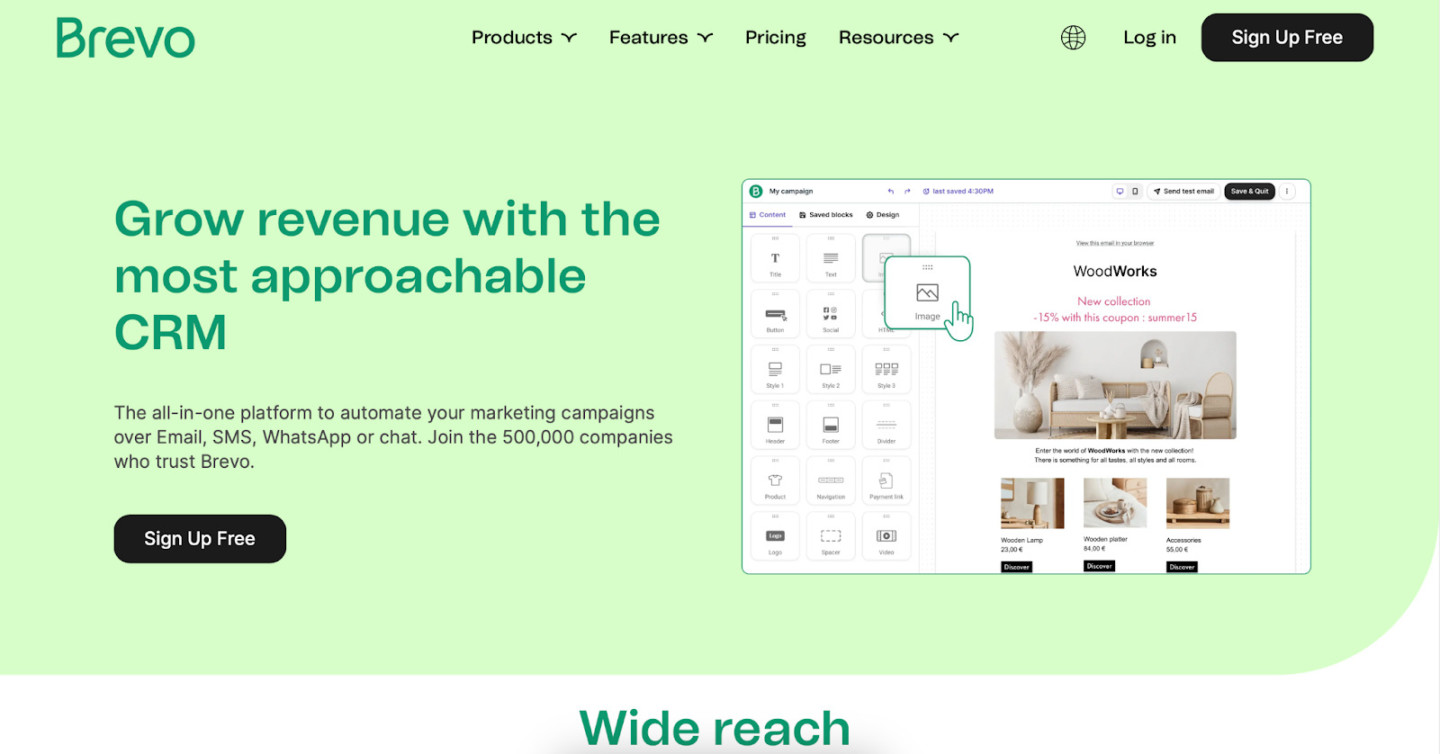 Say hello to Brevo, the maestro conducting the omnichannel marketing symphony. This software gives businesses the baton to orchestrate memorable customer experiences across various channels. From petite chamber ensembles to grand orchestras, organizations of all sizes are harmonizing their communication with Brevo.
Features
Bravo's melodious toolset includes:
⭐ Customer Engagement Tools: Designs engaging customer experiences that strike the right chord every time.
⭐ Unified Messaging Platform: Equips you with email, social, chat, and many more instruments in your platform symphony.
⭐ Analytics Dashboard: The scorekeeper of your marketing performance.
⭐ Campaign Management: Orchestrates your campaigns to a perfect rhythm.
Pricing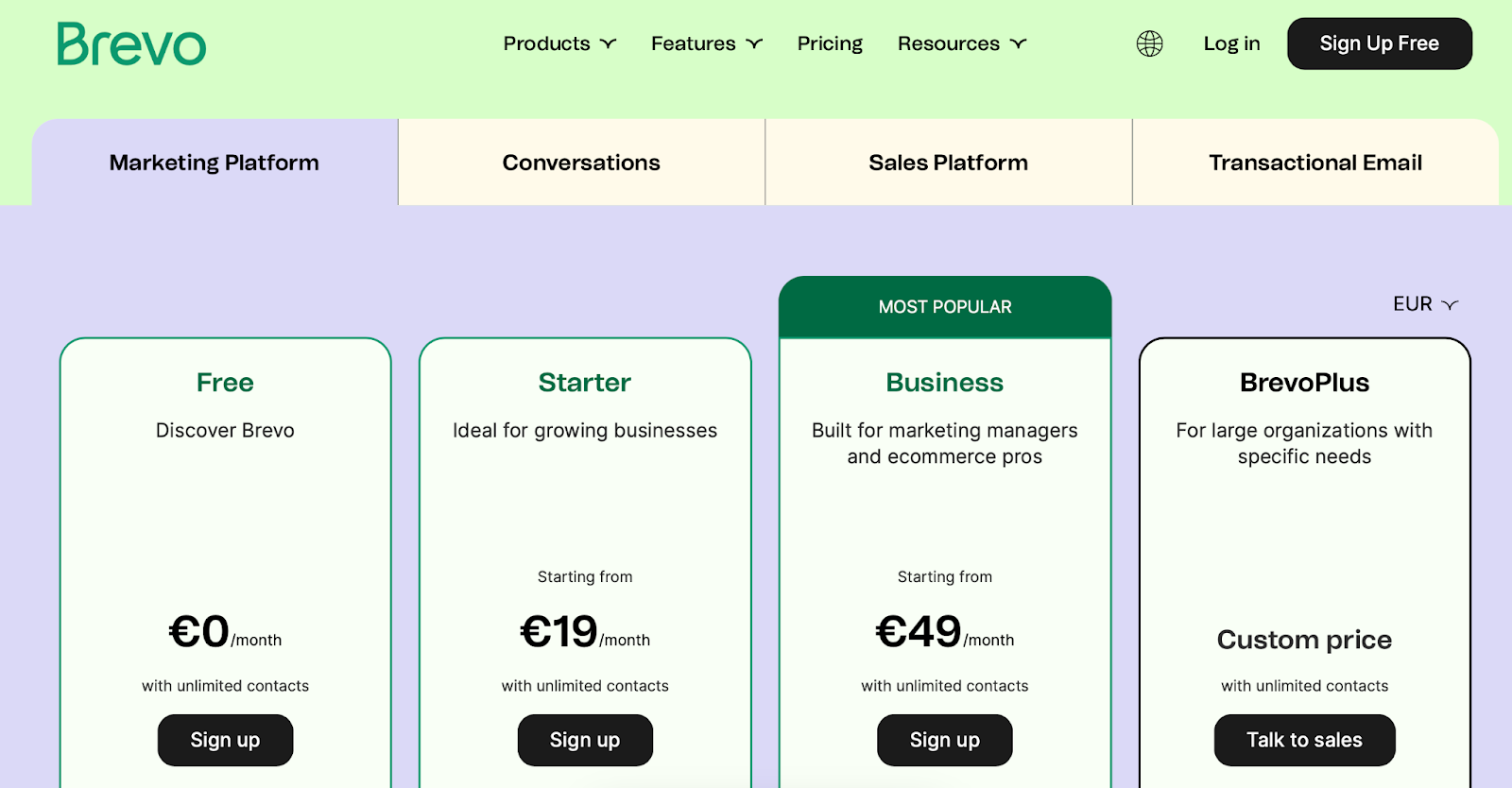 Brevo pricing starts from €0 to €49 per month. For more, you can contact them to get your customized quotes. The suite is well-suited for small, mid-sized, and large companies, squeezing every bit of value out of their budgets.
Pros and Cons
Comprehensive CRM: Harmony in your customer relationships.
Streamlined communication across platforms: The conductor in your omnichannel orchestra.
Collaborative workspace: Because every orchestra needs team harmony.
Integration with existing systems can take time: Even the best orchestra needs rehearsals.
Steep learning curve for some features: Not everyone's a born maestro.
Brevo brings harmony to your omnichannel marketing initiatives. Ready to compose a magical interaction that has your customers asking for an encore? With Brivo, you're all set to hit the high note!
Freshworks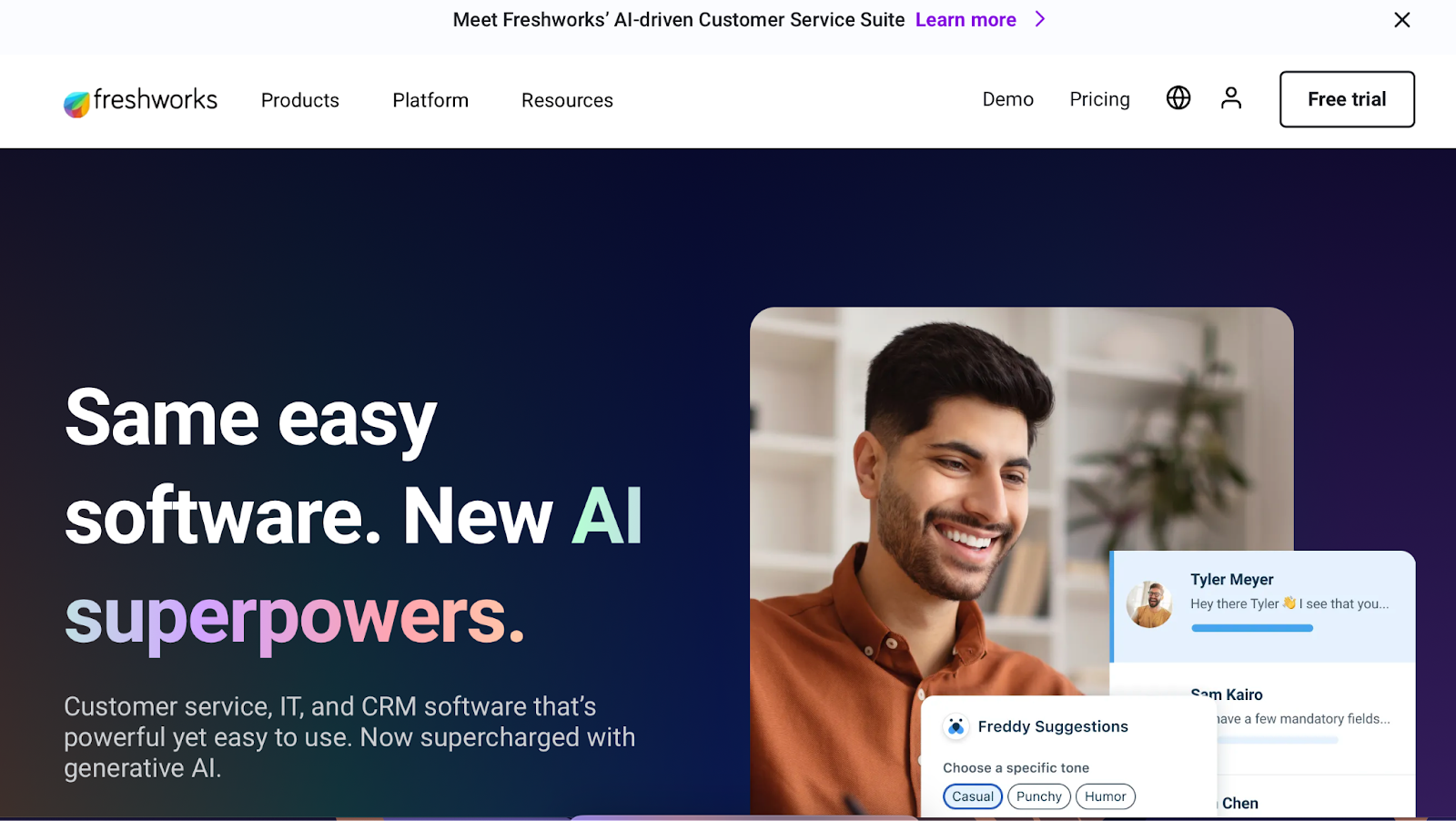 Step right up folks, and meet Freshworks, the master juggler in the omnichannel marketing circus. Freshworks is known for its delightful balancing act, integrating different channels for a spectacular customer experience. Whether you're a small sideshow or the big tent event, Freshworks ensures your customers get a front row seat to the grand show.
Features
Freshworks keeps numerous balls in the air:
⭐ Customer Engagement Tools: Spinning unforgettable customer experiences.
⭐ Unified Messaging Platform: Combines email, social, and more — all juggled to perfection.
⭐ Sales CRM: Turning leads into customers as smoothly as a silk handkerchief appears.
IT Service Management: Resolving technical hiccups without dropping the ball.
Pricing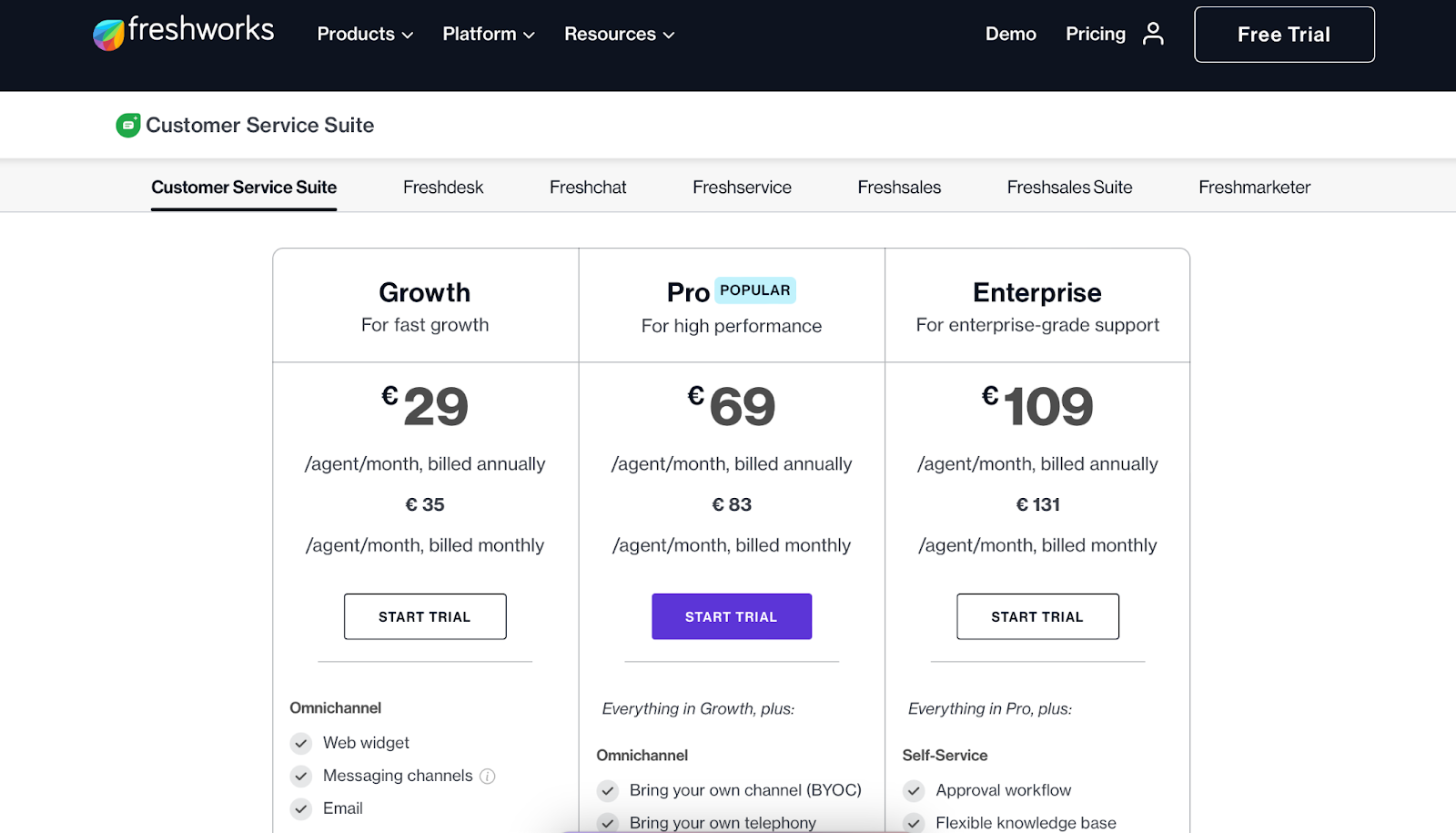 Roll up for the free trial and see if Freshworks could be your main attraction. Starting at €29 per agent per month, Freshworks performs for organizations of any size without closing the circus gates.
Pros and Cons
Comprehensive Suite: From marketing to sales to customer service, no act is too difficult.
Intuitive Interface: As simple as a leap through a hoop.
Excellent Support: Always ready to lend a trapeze wire.
Integration with existing systems can be difficult. Just like juggling fire, it comes with risk.
Steep learning curve for some features. Even trapeze artists have to start on the ground.
Omnisend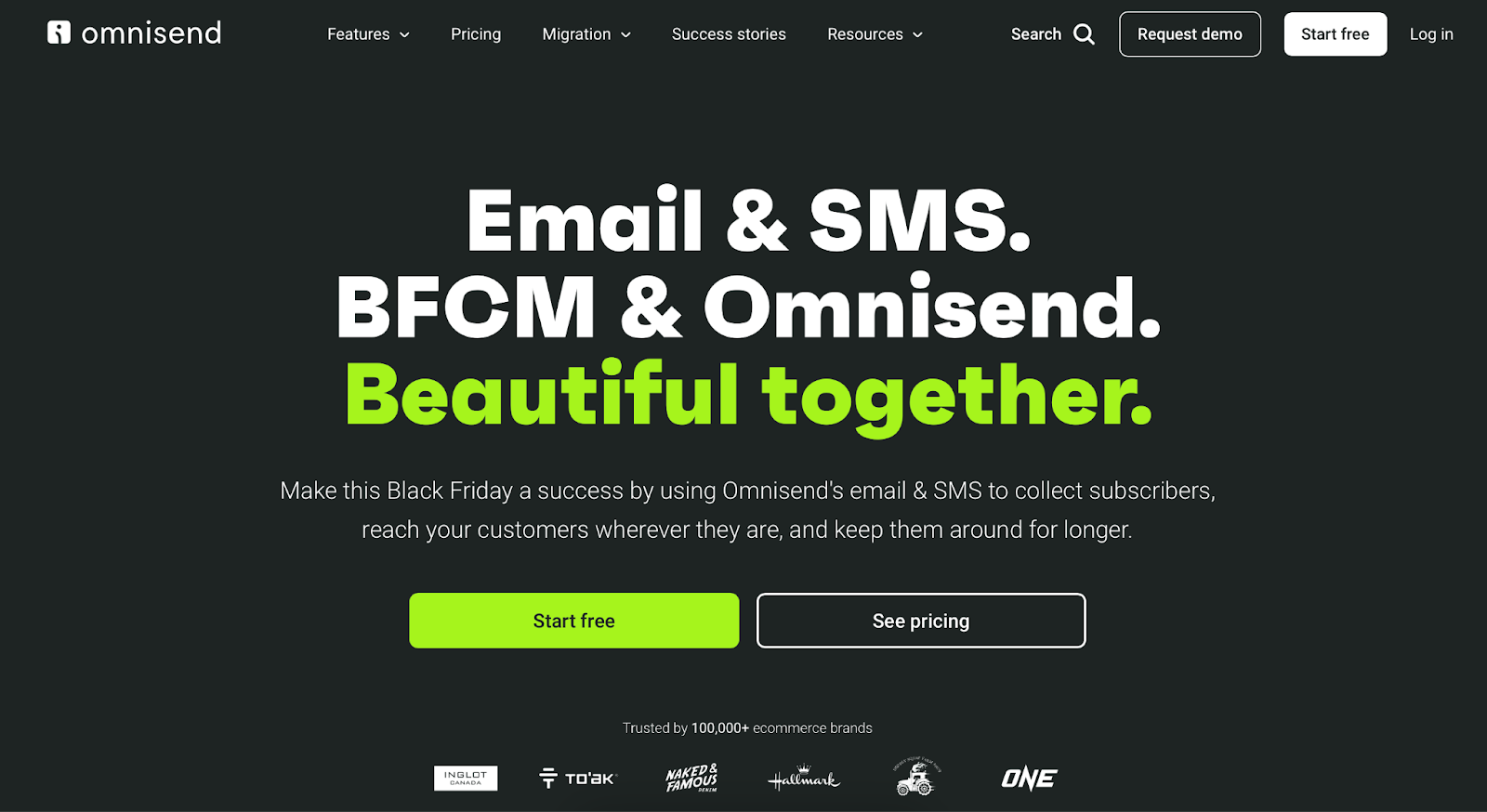 Put your hands together for Omnisend, a real tour-de-force in the omnichannel marketing arena. Its superpower? Equipping businesses with the right tools to engage customers across different channels like, email, social media, and more. From budding entrepreneurs to established enterprises, Omnisend steps in, powers up, and skyrockets customer engagement.
Features
Omnisend flexes its might with powerful features:
👉  Email Automation: Seamlessly sends out smart, customized emails while you sip your coffee.
👉 SMS Marketing: Reaches out to your customers through deeply personalized text messages.
👉 Segmentation and Targeting: Expertly segments your audience for laser-focused marketing.
👉 Analytics and Reports: Lets you measure your strength of engagement with insightful stats.
Pricing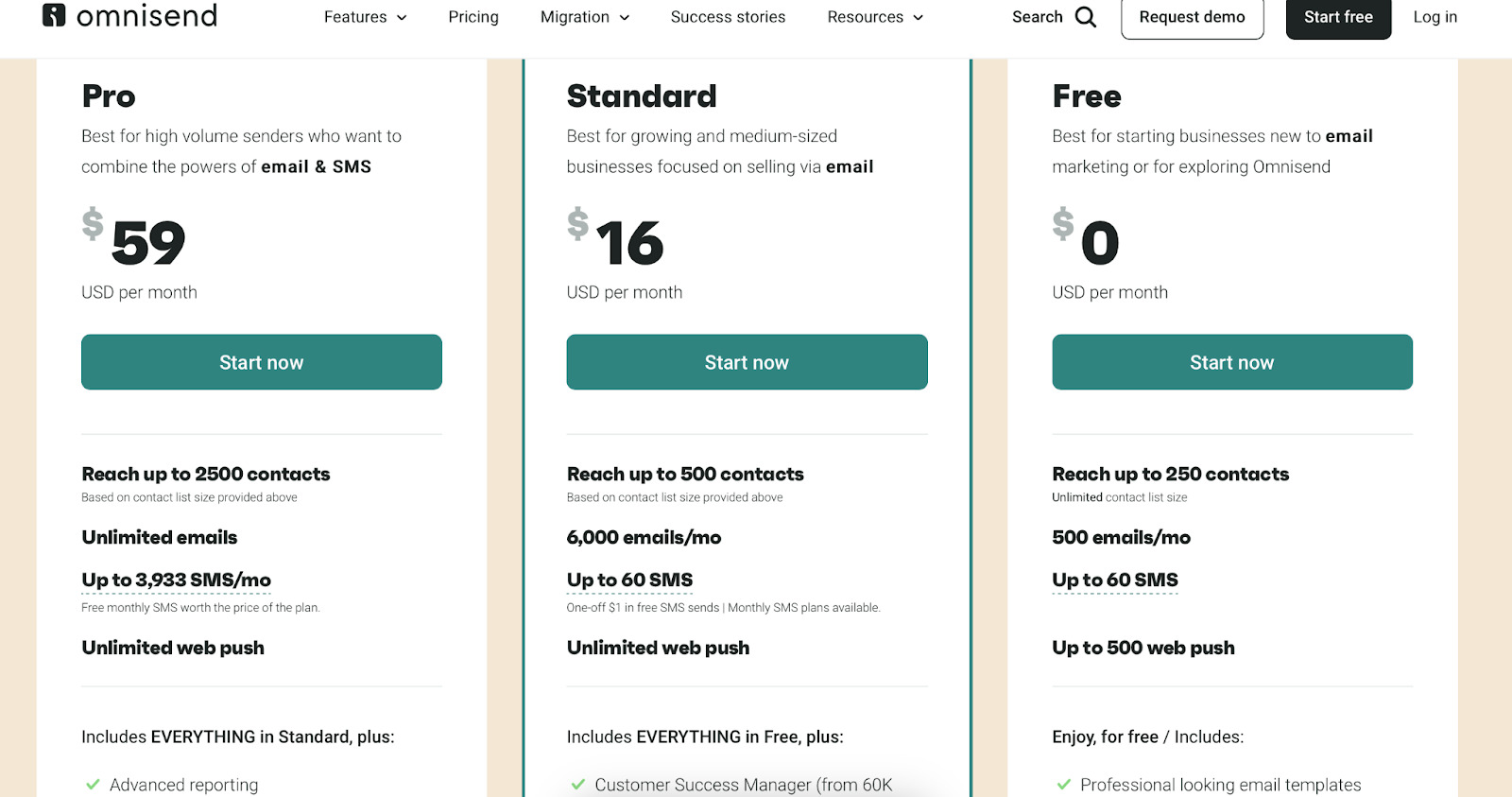 They start you off with a FREE plan. Ready for more power? Choose from Pro at $59/month, Standard at $16/month, or Enterprise for custom pricing. All for every superhero team — from the dynamic duos to the star-studded leagues.
Pros and Cons
All-In-One Marketing Platform: Omnisend — the go-to superhero for all your marketing needs.
Easy to use: No need to be a tech wizard, just put on the cape and fly!
Excellent Customer Service: You've got sidekicks, ready to help.
Limited integration: Not all sidekicks get along.
Would benefit from more customizable features: Because superheroes like to personalize their hero kits.
Omnisend leaves you feeling super with your omnichannel marketing. Ready to answer the call of customer engagement? Omnisend is ready to power you up!
Drift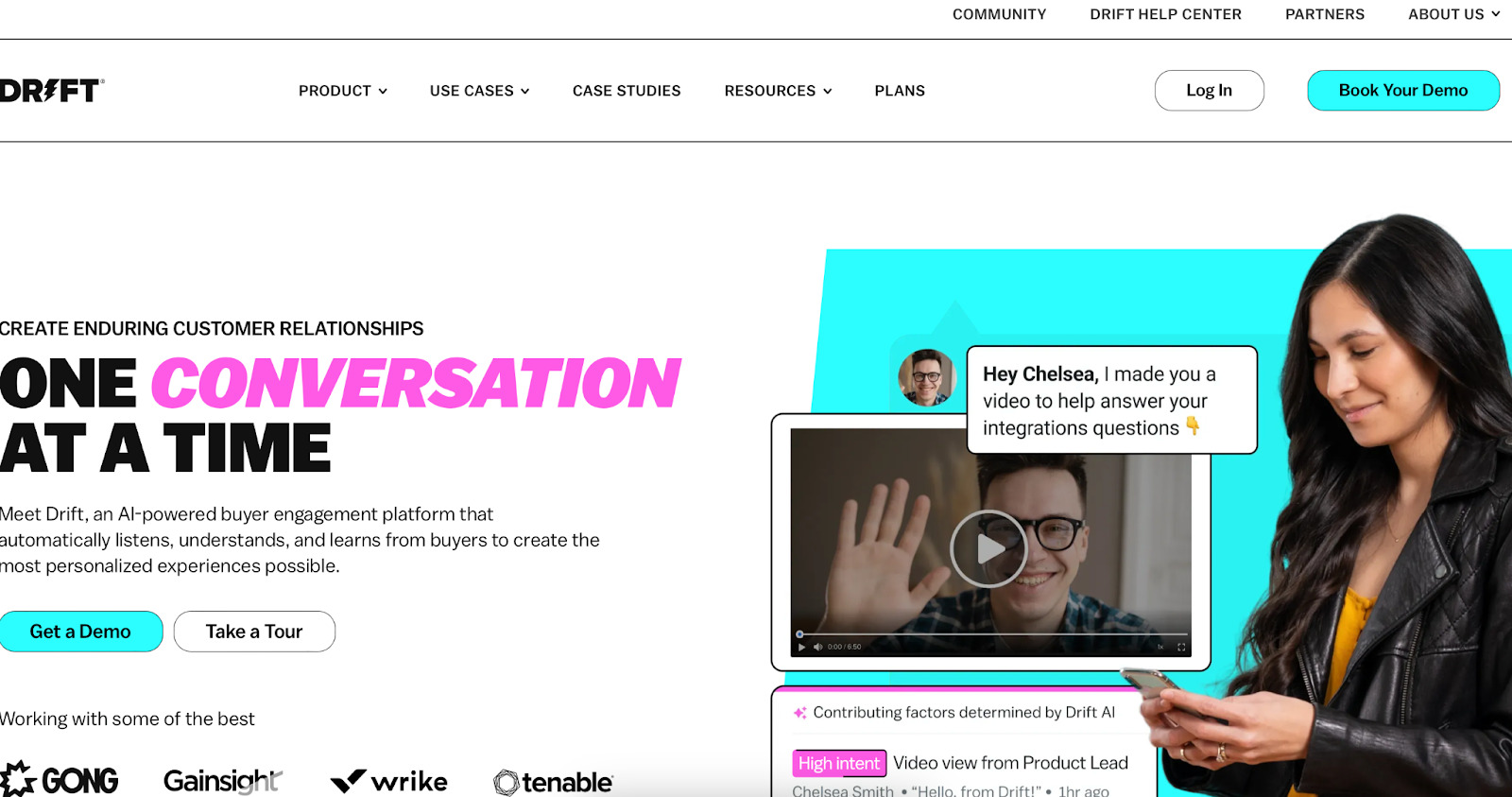 Gentlemen, start your engines! Here comes Drift, speeding up the omnichannel racetrack with style. With an array of swift communication tools under its hood, Drift optimizes customer engagement for businesses from small pit crews to colossal racing teams.
Features
Drift revs up top gear features like:
👉  Live Chat: Steering customer conversations in real-time.
👉  Chatbots: Automated driving in the chat lane.
👉  Email Marketing: Delivering tailored emails faster than you can say "lightning."
👉 In-app Messaging: Your one-stop pit for customer communication across platforms.
Pricing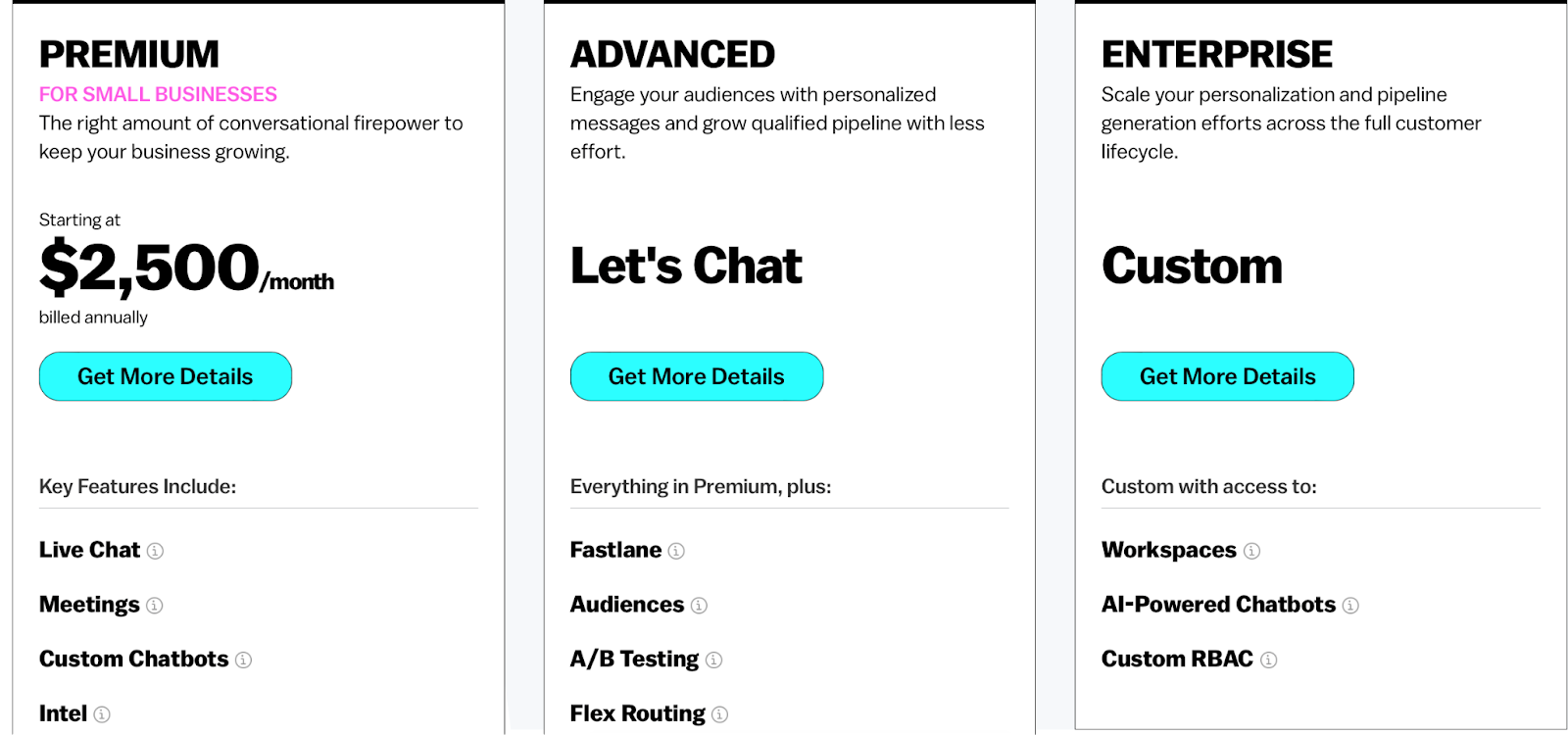 Buckle up with Drift's free plan, just to take it for a spin, before ramping up to the paid plans. Drift's premium offering begins at $2500 per month and goes till Enterprise for larger racing teams with custom pricing.
Pros and Cons
User-friendly Interface: It's all smooth driving with its intuitive navigation.
Integration Capabilities: Drift can easily merge into traffic with your existing tech stack.
Top-notch customer service: Think of it as your pit crew, ready for any tune-ups.
Lack of analytics tools: All drivers need a speedometer.
Customization can be tricky: Modifying your vehicle requires a pit stop.
Ready to take the pole position in the customer engagement race? With Drift, you get to enjoy the exhilarating ride of a streamlined omnichannel marketing experience that makes every communication feel like a victory lap!
How to choose the best omnichannel marketing software?
When choosing a cross-channel or omnichannel marketing tool, marketers should look for these key features:
👉 Common inbox where you can see messages from all channels.
👉  Integration with email, social media, website, messengers, and mobile app.
👉  Marketing Automation.
👉  Segmentation based on customer behavior, preferences, and previous interactions, enabling personalized marketing strategies.
👉  Real-time Analytics and Reporting.
👉  Opportunity to scale up regarding capacity and functionality.
👉  A user-friendly interface.
Remember, not all omnichannel marketing tools are created equal, and the best one for you depends on your unique business needs and goals.
FAQ on omnichannel marketing solutions 
What tools do I need for communication on different marketing channels?
To effectively communicate on various marketing channels, you'll need Social Media Platform, Website Analytics Tool, CRM Platform, and Marketing Automation Tool for automating repetitive tasks across multiple channels.
What is the best omnichannel marketing software?
Here is a list of some of the best omnichannel marketing software solutions:
Dashly for marketing automation of customer communication. 
HubSpot: A comprehensive CRM tool popular with businesses of all sizes.
ActiveCampaign: Known for its dynamic email marketing capabilities.
Salesforce: A go-to choice for CRM, also provides marketing automation.
Zendesk: Great for businesses seeking an all-in-one customer service tool.
Freshworks: Delivers efficient customer engagement across multiple channels.
Each one has its strengths and fits different business needs and objectives.
What are the benefits of omnichannel marketing software?
Omnichannel marketing software boosts business by creating consistent brand messaging on all platforms like websites, email, and more. It enhances efficiency by automating sales and marketing processes, collates customer data for insightful analytics, and leverages AI for personalizing customer interactions.
Furthermore, it fosters sales growth by ensuring a smooth shopping experience across channels and aids in striving for better results by providing performance measurement analytics. Ultimately, it allows businesses to holistically view customer interactions for improved decision-making.
Why should cross marketing tools have CRM integration?
Cross marketing tools should have CRM integration because it allows marketers to have a comprehensive view of customer interactions across multiple channels. It consolidates all the customer data and behavior which helps in personalizing marketing efforts.
In an ecommerce context, this integration helps businesses track the customer's journey, from prospecting to making a purchase. It also supports marketing automation, delivering aptly timed messages or ads to the right people, thereby improving efficiency and conversion rates.
Thus, CRM integration is a valuable tool for better marketing strategies.
What marketing analytics tools should offer cross-platform software? 
A cross-platform marketing analytics software should offer:
👉 Multi-channel tracking: Monitor campaign performance across different channels like website, email, and social media.
👉 AI-Powered Insights: Use AI to deliver predictive analytics and recommendation.
👉 Sales Tracking: Monitor your sales pipeline and revenue across platforms.
👉 Customer Journey Analytics: Understand user's behavior across myriad touchpoints.
👉 Automation: Automate the collection, analysis, and reporting of marketing data.
👉 Custom Reports: Generate tailored reports to cater to unique business needs.
A well-rounded tool combines these to deliver actionable insights for businesses.
Why should I use omnichannel communication marketing tools? 
Omnichannel marketing tools allow for seamless communication and a consistent brand experience across multiple platforms — website, email, online, and more. They enable automation, streamlining tasks and boosting efficiency.
Harnessing AI, they provide personalized customer interactions, enhancing customer satisfaction and potentially boosting sales. They provide analytics for informed decision-making, giving a holistic view of your business performance across all channels.
By integrating all your marketing efforts into one tool, you enhance the ease and effectiveness of your strategies. In short, they're crucial for optimizing business growth and customer engagement.
What are cross-channel marketing tools?
Cross-channel marketing tools are software applications that help businesses and marketers strategize and manage campaigns across multiple channels.
Be it ecommerce, email, social media, or a website, these tools ensure consistent communication and marketing messaging. They often include CRM functions, which manage customer data, and marketing automation to streamline repetitive tasks and improve efficiency.
Ultimately, these tools facilitate a more targeted, personalized approach to reaching customers wherever they are.
Read also: