Here's a case study of one of our customers that uses Dashly tools to enhance customer support.
About the customer
Our customer Fred is a Chief Marketer at four services that help people search for flights. What's unusual about this: all these websites are served by only one support team. 
We helped Fred merge requests from all the services, and receive them in one admin panel.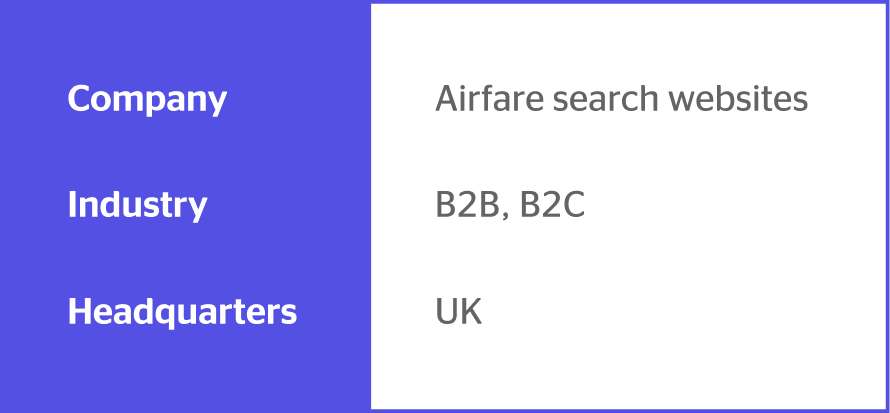 Let's take a closer look at these four websites:
Ovago.com and one more website (which we can't mention) help to form several route options. After that, you only need to choose the most appropriate deal, enter your contact details, and make a purchase.
In a nutshell, the purchase is automatic, and no people are needed to help customers buy tickets.
In this case, the customer uses live chat as a support channel. Agents answer questions like "how to change the name in the ticket, 'how to get a refund,' and so on. 
On Wowfare.com and Arangrant.com, an agent helps the customer to form the route. This option is helpful when your route is difficult, you want to fly with a particular airline, have different bag options, and so on. An agent will help you to buy the most appropriate option with the price that fits your budget the most
The problem
All four services were connected to another customer communication system, but there were several issues that the previous current solution couldn't cover:
Limited agent seats. Fred wanted to connect more agents and educate them. But he had to pay for each new team member, and it became too expensive to teach new agents.
Supervisors didn't have access to agents' chats while they were communicating with customers. If there was a mistake, the supervisor would know about this only when the dialog was closed. It was often too late to change anything, and it didn't help to build good customer relations
Four admin panels were needed for four websites. There was only one support team that handled all these services, so they had to switch between several tabs to reply to requests.
So, Fred started looking for a new solution, and after testing several services he found Dashly. In this case study, we will tell you why he chose us to solve his problems.
Disclaimer: our customers asked us not to disclose their numbers, and we totally respect that. We share Fred's experience of using Dashly and you can try similar campaigns on your website.
How Dashly helped improve customer support
To start with, Dashly resolved issues that appeared with the previous customer communication solution:
Dashly offers unlimited agents seats, which allows the company to teach new agents without additional costs;
In Dashly, you can give different types of access to agents. This feature resolved one of the Fred's problems: supervisors were enabled to control their agents' conversations.
What's more? Let's go forward!
Answering all the clients' requests using one platform
All four platforms use live chat as a main customer communication tool. 
However, there is only one support team that handles 4 websites and 4 Facebook groups. For them, it would be inconvenient to switch between several admin panels. So, the Dashly team helped Fred to merge all the requests, and receive all requests/questions in one admin panel.
Understanding the context of customer's issue
Although it is more convenient to receive all requests in one admin panel, agents faced another problem: they couldn't understand the context of the issue the customer had. They needed to scroll the dialog and search for some information that could help them to understand the context. 
In Dashly, all the users that write to the support are tagged with the source they came from (website or Facebook group name)
See what it looks like: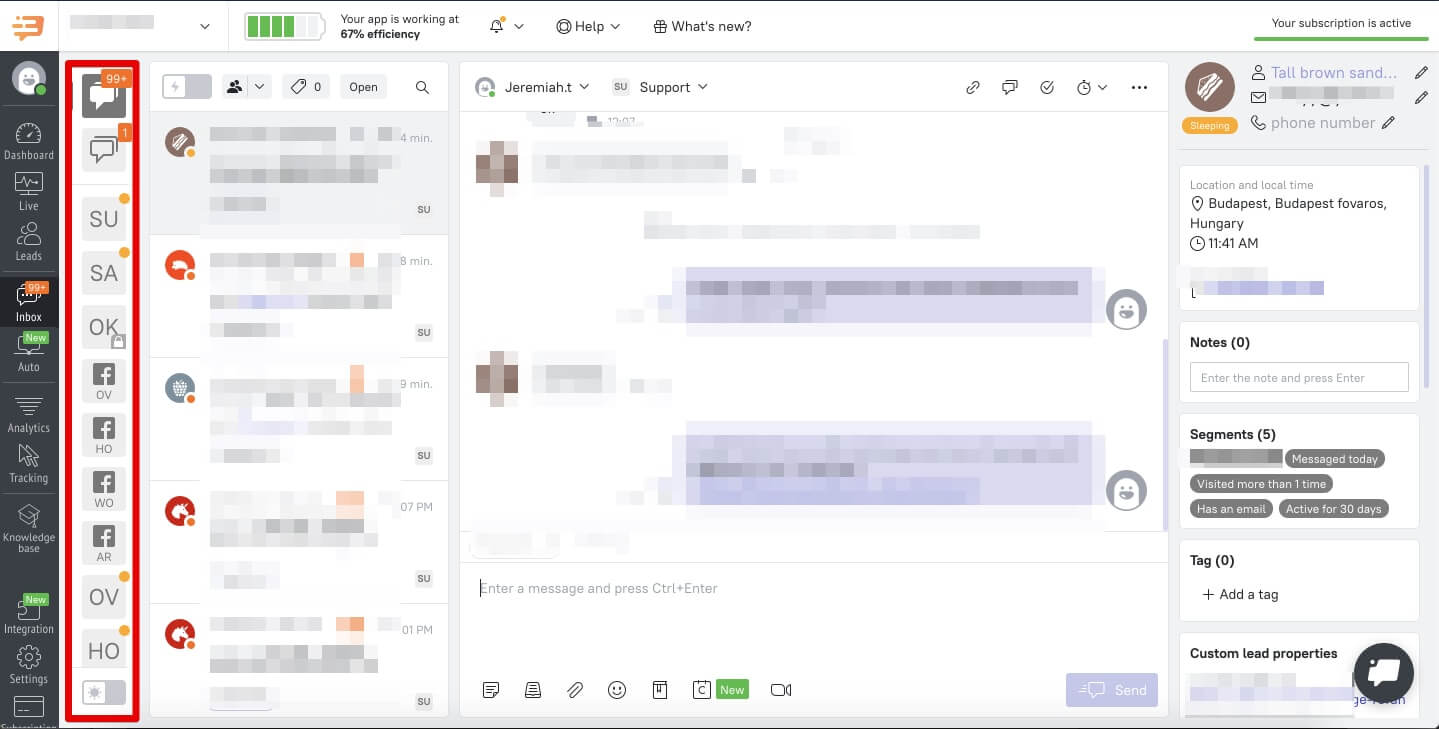 When a customer writes to the support, the system automatically identifies which channel they come from, and tags the dialog with the channel label. So, agents don't have to spend their time understanding the context of the issue and sorting conversations.
Chat messages when a customer stays on the same page for a long time
Customers may spend a lot of time on the billing details page. In this case, the platform sends them a message through the chat with a suggestion to help. This message may vary from page to page, but the mechanism pushes a user to make a purchase.
This way, agents may suggest a solution for the problem the user faces, or even make another offer with a more convenient route. 
How Dashly helps other distribution channels to perform better
Customers come to Fred's websites from different channels. And sometimes it may seem unclear that the customer is willing to make a purchase. Dashly helps to push them to purchase by sending triggered chat messages.
The result
The company wants to collect as many qualified leads as possible. Dashly helps them with this:
And, surely, after achieving such results, Fred doesn't want to stop and got some plans for using Dashly in the future. Here we go:
Fred's plan for the future
Engage users by pop-ups
Fred plans to launch pop-ups. Using segmentation, they want to show pop-ups with special offers to people from particular states or cities.
He also wants to create users' onboarding using pop-ups. This will help users to understand the platform better and spend less time making a purchase.
Send triggered emails
One of the easiest ways to remind a user about yourself is to send them a triggered email. In the future, Fred also wants to send emails with relevant flights. 
Fred wants to continue using Dashly and has big plans for it. And we are always ready to help him make the most of our platform.