High-quality leads are the holy grail of each marketing team. To reach the MQL quota, growth marketers test dozens of lead generation strategies per week. Depending on the action, leads may be called "registrations," "code installations," "app downloads," "demo requests," etc. But the point is one: there is a KPI you should achieve.
For example, at Dashly, we have a goal of +30 new service sign-ups per month. Within the scope of this strategy, our marketers launch 10-15 lead generation hypotheses per week on different channels. They test various sales offers, designs, and marketing copy via ad banners, pop-ups, website forms, chatbots, and social media to set up the most effective lead generation process for your business. 
Some ideas were excellent. Others — waste of time. 
And here is a problem: time and budget. If you want to save it, try seven lead generation strategies tested by Dashly experts and their clients.
Lead generation funnel
A marketer is nothing without a well-designed strategy. And lead generation strategy starts with a model of sales funnel you use. There are numerous variations of funnel models depending on B2B, B2C business types, and industry segments. 
For example, EdTech focuses on events, consulting, and networking. SaaS prefers SEO, Facebook or Google Ads, and affiliate programs. But there are common patterns in building a lead generation funnel for each of them: drive traffic to a website — capture leads — process leads — generate sales.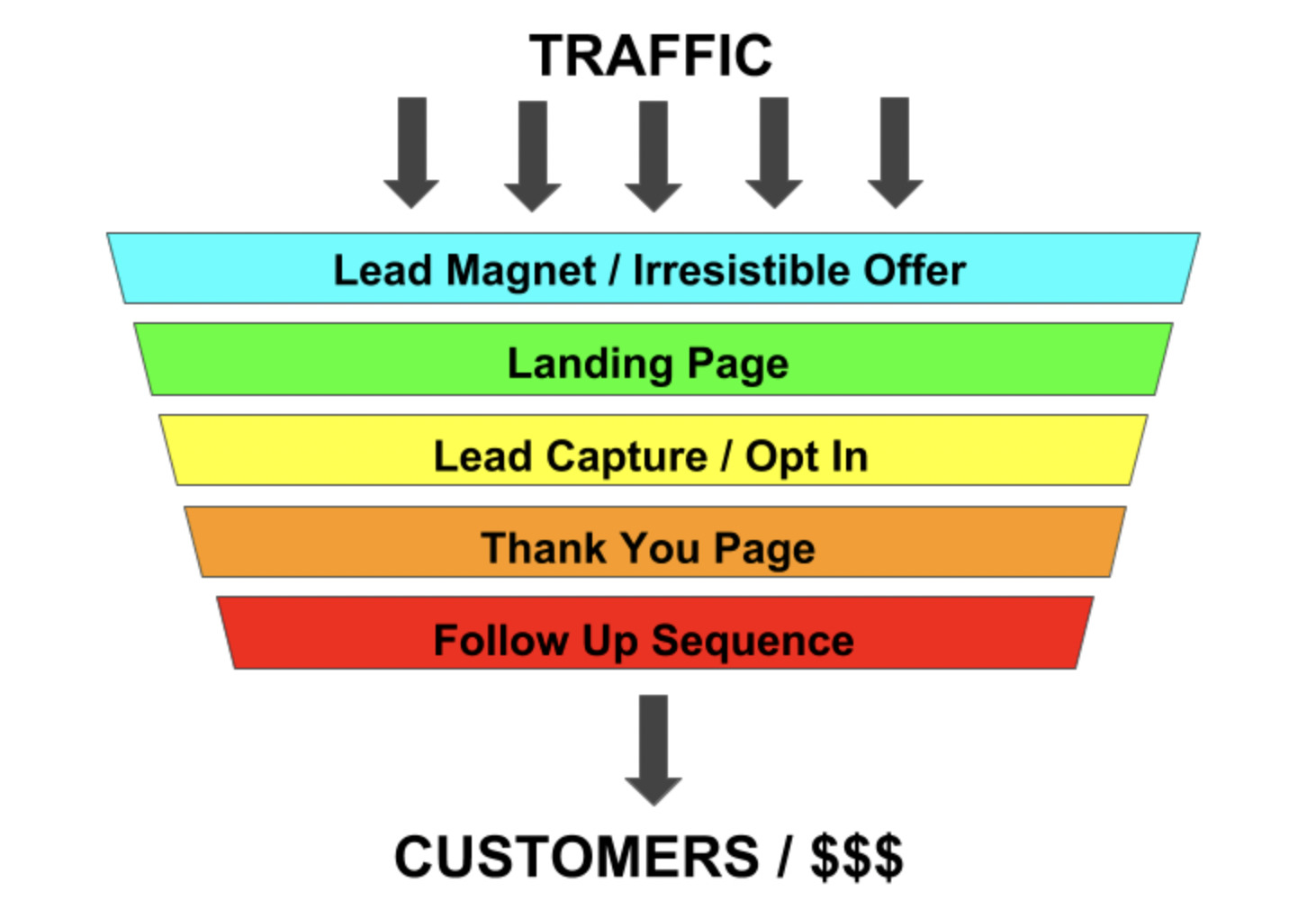 First, you can use a lead magnet or something else that will capture the lead's attention — useful content helps you attract as many target users as possible. 
Then, following such lead gen practices, you drive users to your landing page — here, you present them your product and show all the advantages. After this, we move to the next stage of the strategy — capture leads using different lead generation techniques and shift them to the "Thank You" page. 
The following step of lead generation strategies is the follow-up sequence — such tactics are used to nurture leads and later pass them to the sales.
To build excellent lead generation strategies, you must consider acquisition channels, offers, and practices. The proper combination of marketing acquisition channels and offers will make perfect lead generation strategies and bring great sales results. 
9 ways to attract traffic for lead generation
To generate more leads, you must acquire more website traffic. Here are the most popular generation practices and strategies marketing teams use.
Building a professional network
It's one of the most popular strategies for SaaS companies. Basically, it is about making acquaintances. The more people know you — the more people recommend you. You can build your network via personal meetings. But a great tactic to get target website traffic is to look for interested people in communities 👇
Relevant communities
Try not to see other companies as competitors only. Communication with the business community is your opportunity for cooperation. Never brush it off. Networking is your chance to find like-minded people who will find your content and, eventually, product interesting and relevant.
So become an active player in your industry. Post your company's information in Slack communities and social media and motivate people to visit your website.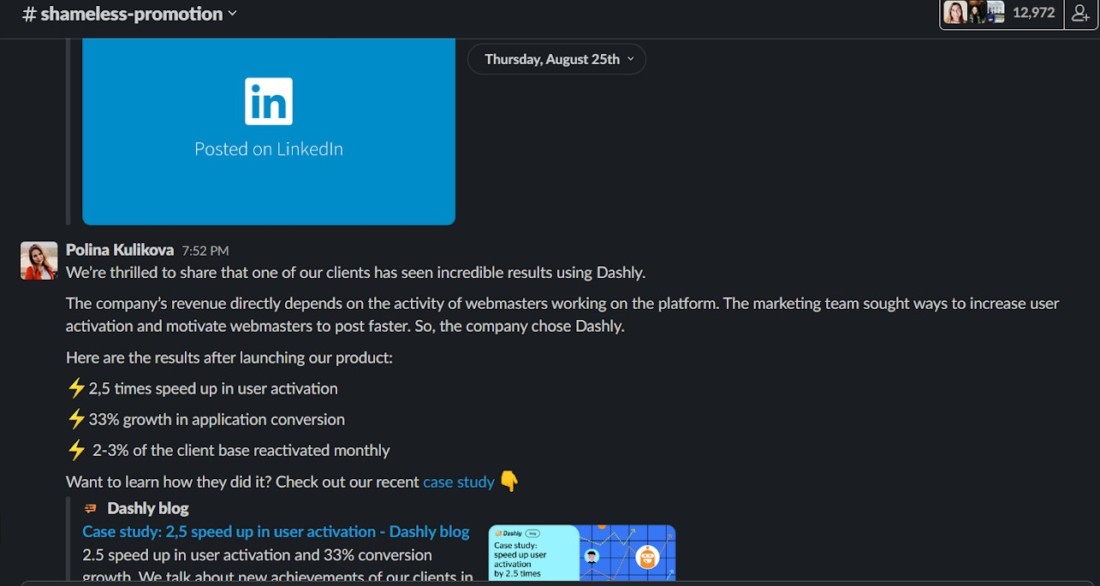 Performing at industry events
Speaking of being an active player in your industry….
People who attend your or partner events can be potential customers of your business. Webinars and conferences are great for spreading the word about your business and generating more leads your sales reps can work with later. To follow this strategy, you can make a banner or a slide on your presentation and place a QR code feedback with the link to your website. 
YouTube
YouTube will be one of the long-term investment projects in your marketing plan. You need to produce a lot of content regularly, but when this media strategy starts paying off, you'll be able to drive more traffic to your website, generate more leads and, eventually, sales.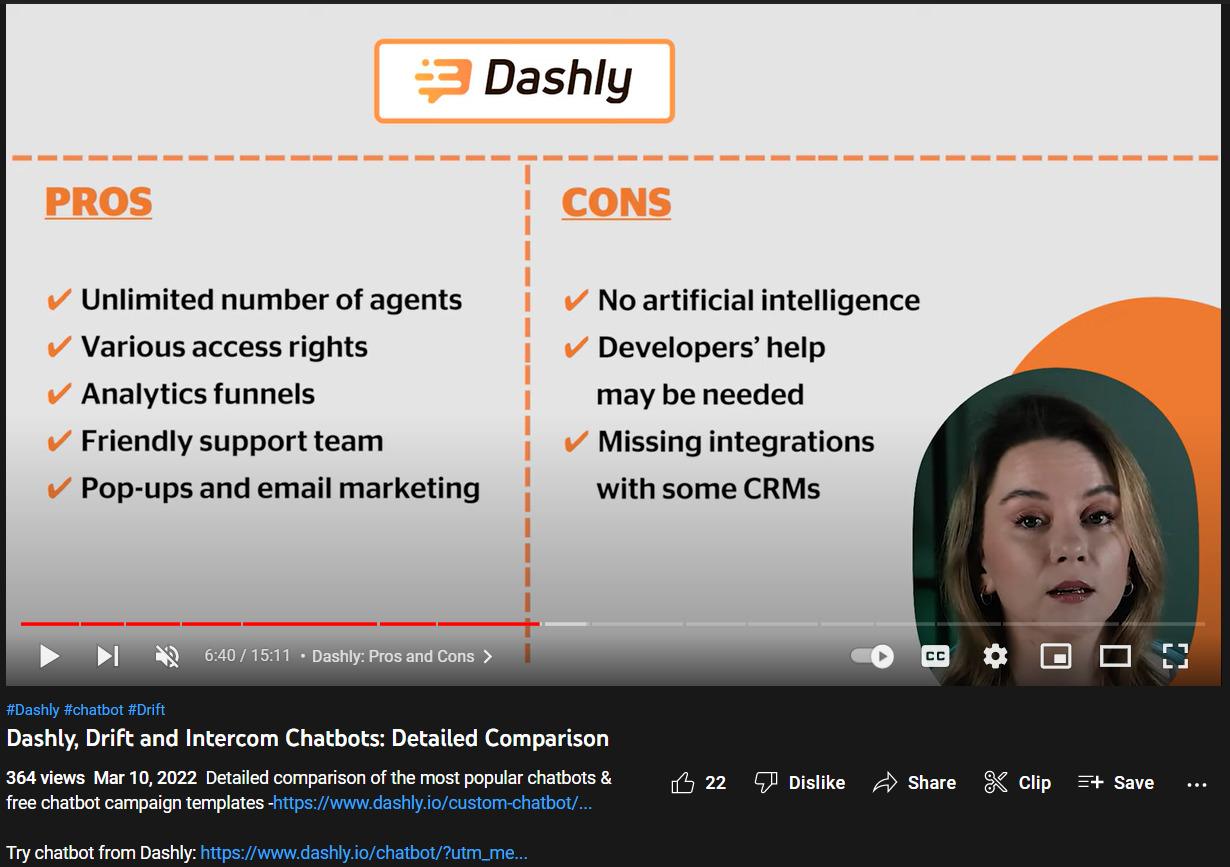 Podcasts
Podcasts are becoming a more popular strategy in marketing and may be one of the best practices to drive nurtured traffic to your website. It's similar to the previous tactic, you give the audience free content (make sure to provide useful insights which can't be easily found on Google) and raise awareness of your brand at the same time.
Just look how MSchool drives listeners' attention to their website: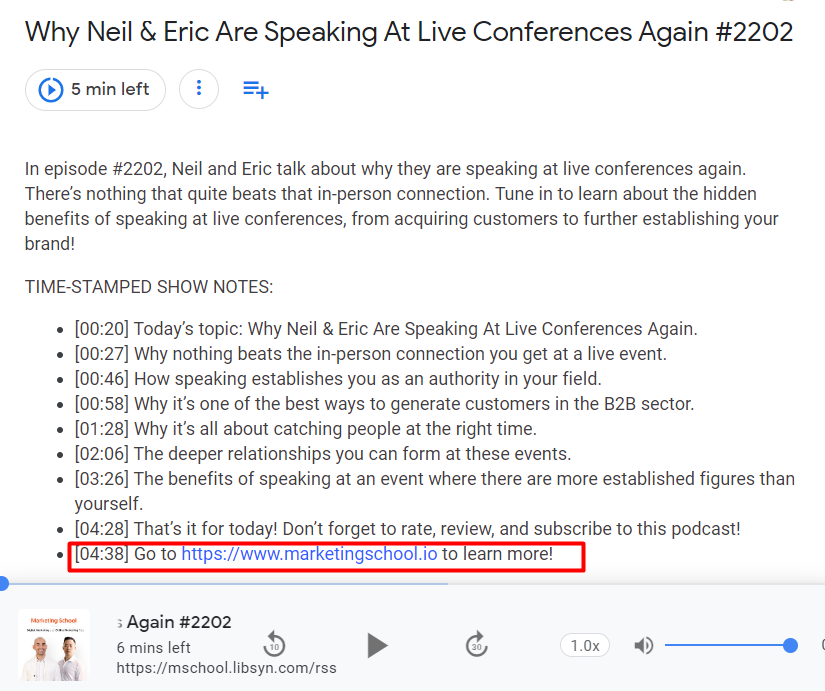 Once you've established the process, consider hiring podcast promotion services to attract even more leads. Utilize talent acquisition software to streamline this hiring process.
Social media
Social media are becoming a more robust strategy for traffic acquisition and lead generation. Marketing teams create and develop accounts on Instagram, Facebook, LinkedIn, Twitter, etc. Following this strategy, you create content like posts, stories, comments, mentions, etc. Building communication with your followers and making them loyal to your business is essential for your lead generation process. Meanwhile, you leverage the best automation tools for LinkedIn, Instagram, Facebook, and other social media platforms to generate qualified leads.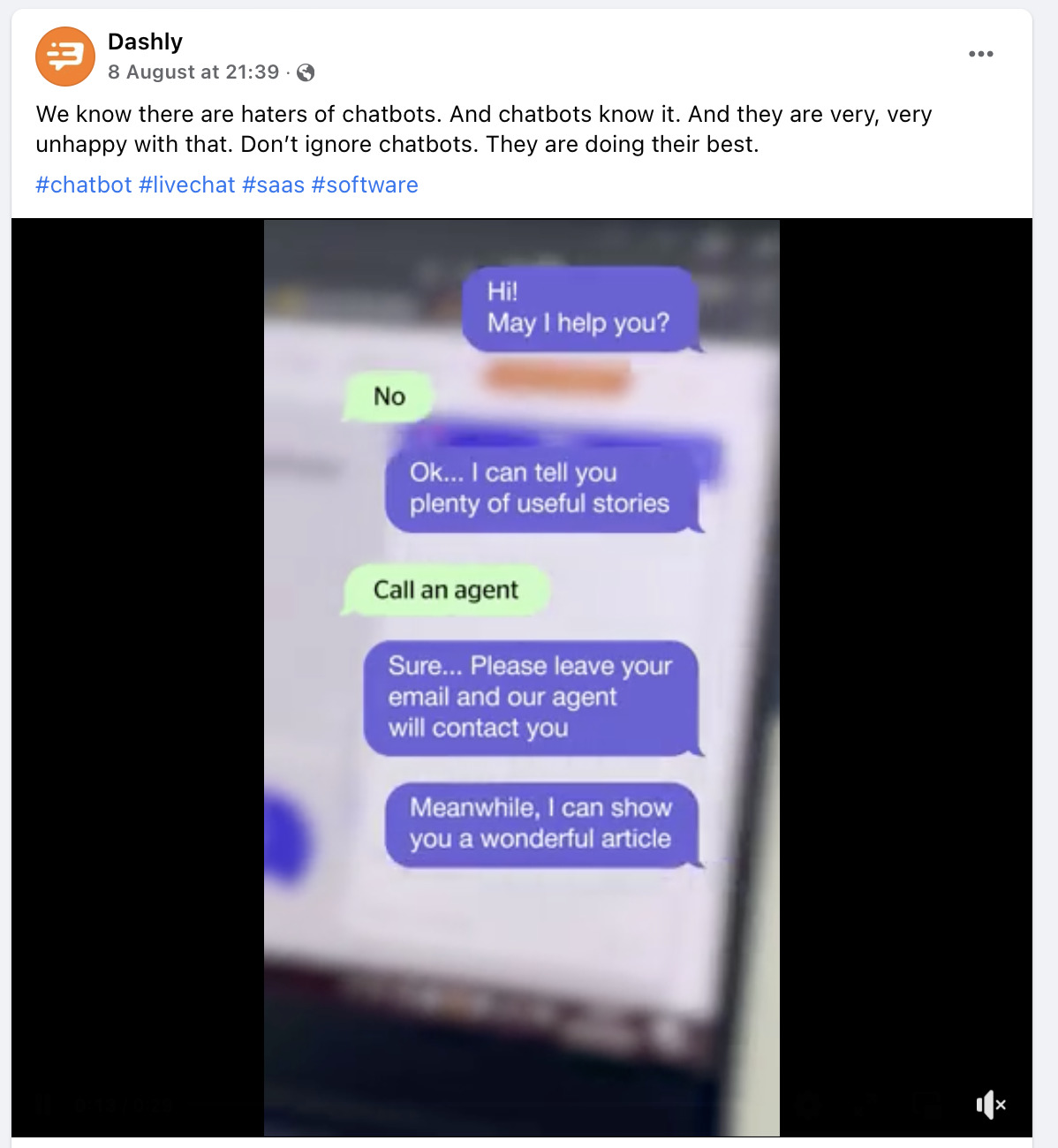 Ads
One of the most popular ways to increase traffic is arranging an advertising campaign. You can launch it on any social network or use Google Ads. Also, you can buy posts from media influencers.
Referral affiliate programs
Another way to increase traffic is to launch this program and make your current customers attract new ones. For example, you can offer a 10% commission for an invitation.
SEO activities
Good quality SEO also helps attract leads on websites and blogs. You can improve your website's ranging on Google and raise awareness about your business in general.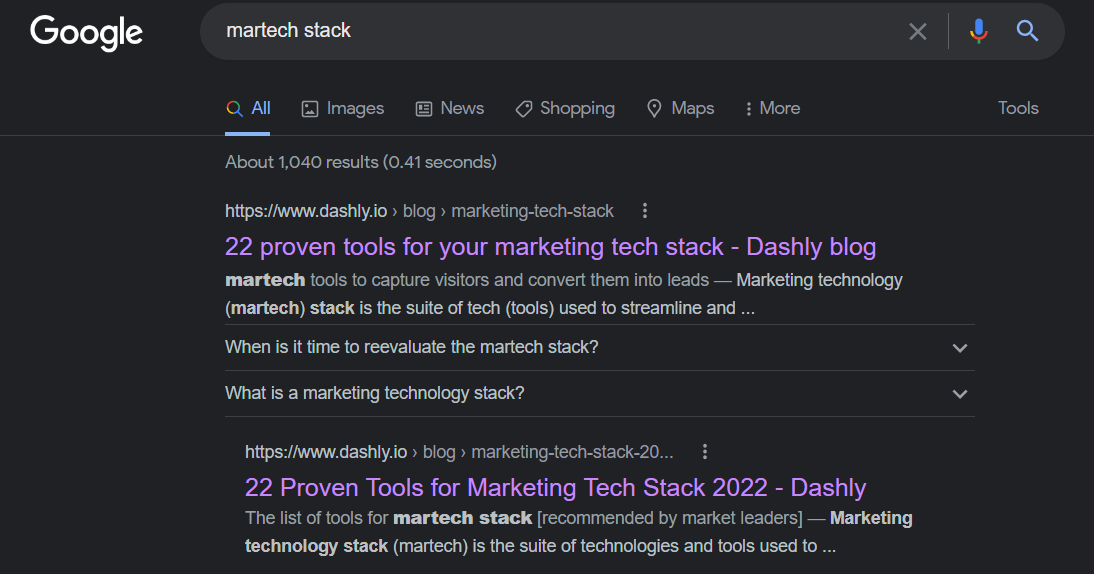 So, you think you have enough traffic on your website? Then, it's time to take a look at…
7 lead generation tactics — how to get leads on your website
Now, let's move on to the best lead generation techniques you can use on your website. There are seven of them, starting from the coldest to the hottest leads you can generate using these strategies. 
Strategy #1: Free webinars
As one of the lead generation practices, it can capture prospects by showing expertise in your area. People enjoy learning, so they'd be glad to share their contact information to get valuable insights they can't google easily.
What's good about webinars is their versatility. You can use them to capture leads before and during the event. Later, you can repurpose videos from webinars into different content types for blogs, YouTube, social media and use them for remarketing. One of the most effective tools of content marketing.
How to offer such a generation strategy
Usually, marketers use lead capture form on a dedicated landing page. However, it takes much time to develop it. This is why marketers also use pop-ups or chatbot software on the website pages to invite visitors to subscribe to the event.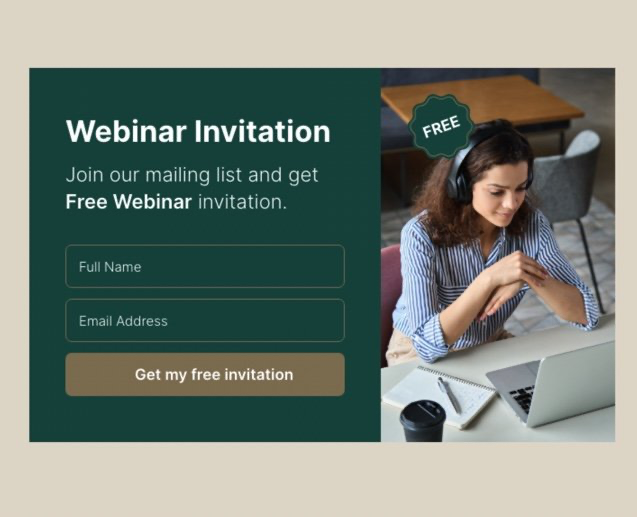 Strategy #2: Lead magnets 
Free guides, ebooks, templates ― who doesn't like them? It is also used for lead generation strategies, but the thing is whether your visitors need this content. 
Lead generation strategies and lead magnets help companies capture website visitors' attention and get their contacts. Such techniques are popular among marketing teams because they can help companies show their expertise and build trust for a business. You can use them on every page of your website — main, product landing pages, or blog. 
How to offer such lead generation tactics
To capture contacts with useful content, marketers use pop-ups, chatbots, and lead capture forms. For example, see how Dashly offers the lead magnet on the chatbots page: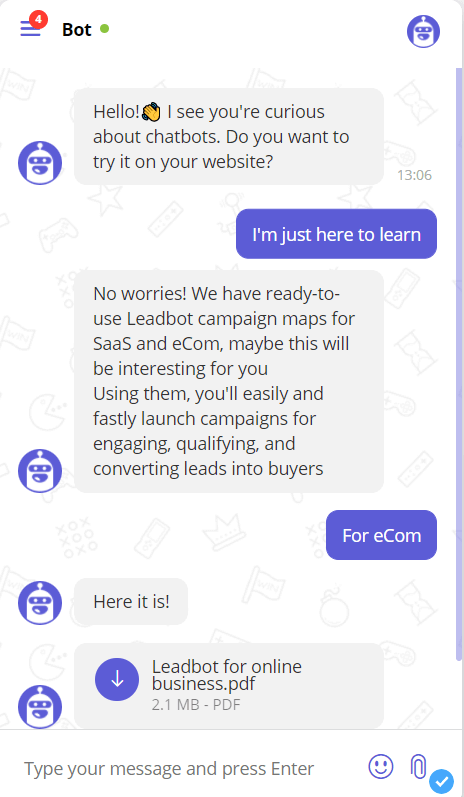 But we don't forget about traditional instruments of lead capture and add forms to our blog posts too:

Strategy #3: Discount
Discounts are the best strategy to attract visitors' attention to your business and increase sales. The main thing here is asking them for contact data (i.e. email) to send a discount code. There are several ways how businesses are used to doing it 👇
How to offer such lead generation tactics
One of the most common options to use this strategy is to add a banner to a website. For example, this is how OptinMonster does it:

How do such techniques usually work? 
You click a banner. 
Land on the relevant page. 
There, you're offered to sign up or leave your contact data, so the sales reps could contact them.
Is it a good way to generate leads?
It might work, but it shows the silent position of the brand. The best strategy is to be more proactive and engage in the conversation. To improve the lead generation process, launch a lead-capturing chatbot with the same offer in the form of a two-way dialog for those who are on your landing page for the first time: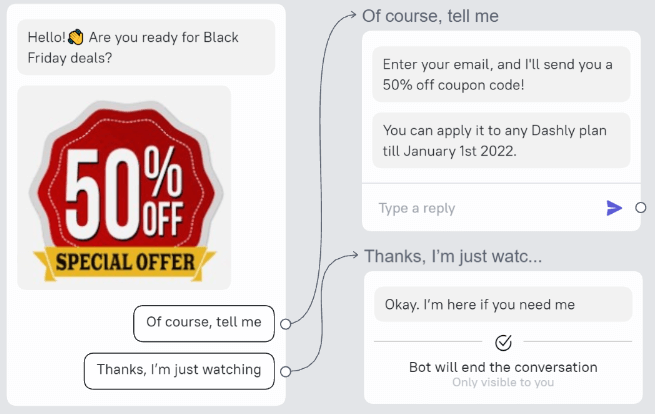 This solution will help you increase user engagement and overcome banner blindness that stops your website visitors from seeing your special offers.
If you've never launched chatbots before, we have a playbook with 16 chatbot scenarios for SaaS companies you can test on your website. Here's how it works:
Choose a campaign;
Customize it to your company's goals and tone of voice;
Create it in the Dashly chatbot builder and launch in a few minutes.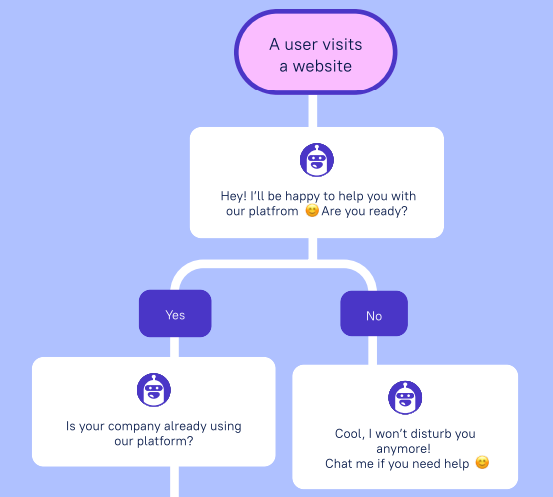 Set up lead generation chatbot campaigns on your website
with a playbook for SaaS companies
Thanks! Now check your inbox
Strategy #4: Consultation
I'm sure your website has a content part helping your visitors with frequently asked questions.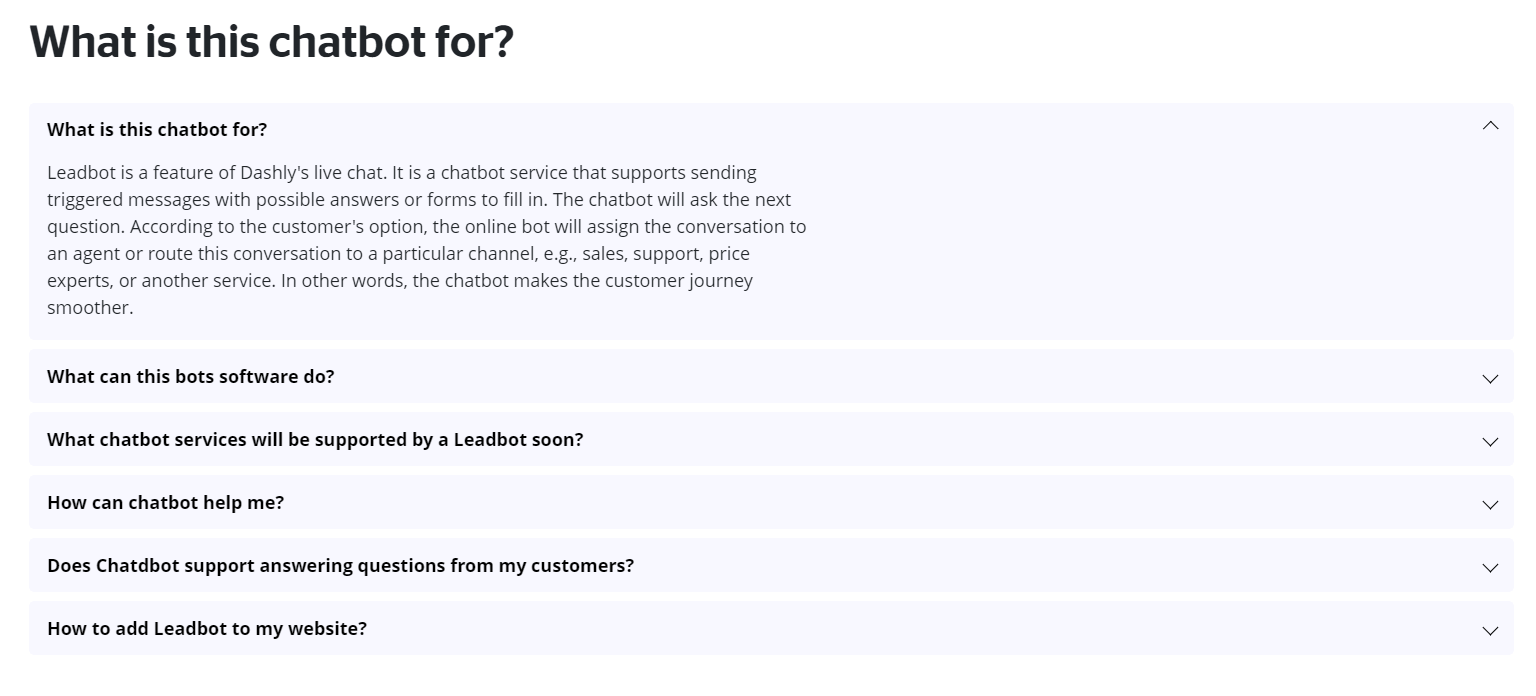 Self-service is crucial these days, but your marketing team can turn it into a two-way conversation strategy to generate more leads and drive more sales. 
How to offer such lead generation tactics
The first way businesses conduct consultation is by booking a demo call. Here is an example of a pop-up form visitors see after clicking a relevant button on the landing page: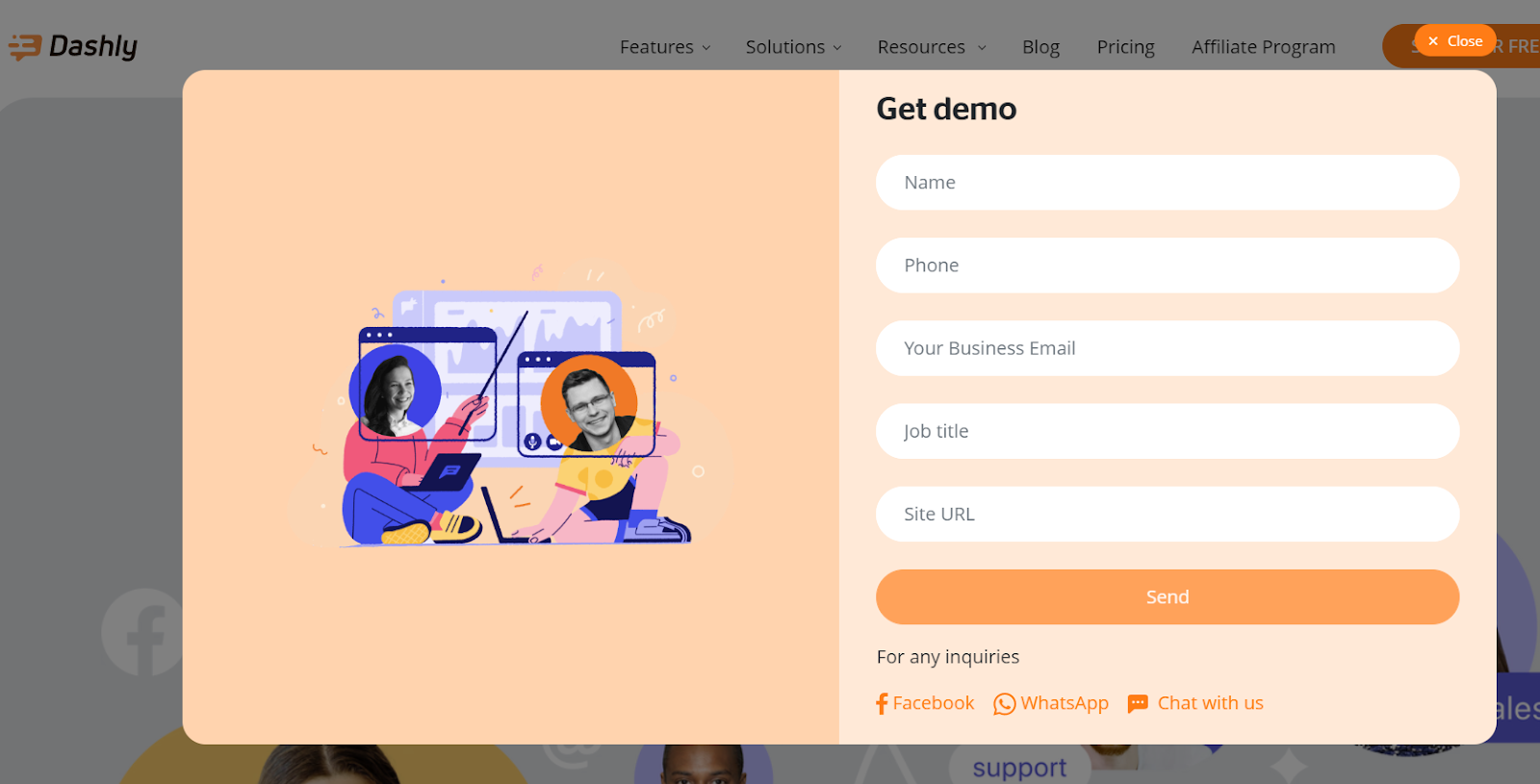 But it is a silent position when you're just waiting for the visitors' decision. Why not engage them in a conversation, as LeadGen App did? Their marketing team switched to proactive lead gen practices instead of passive ones and grew sales by 30% with a consultation chatbot. 
Instead of the classic FAQ section, they used Dashly software to launch a chatbot answering the most common questions about plans on the pricing page.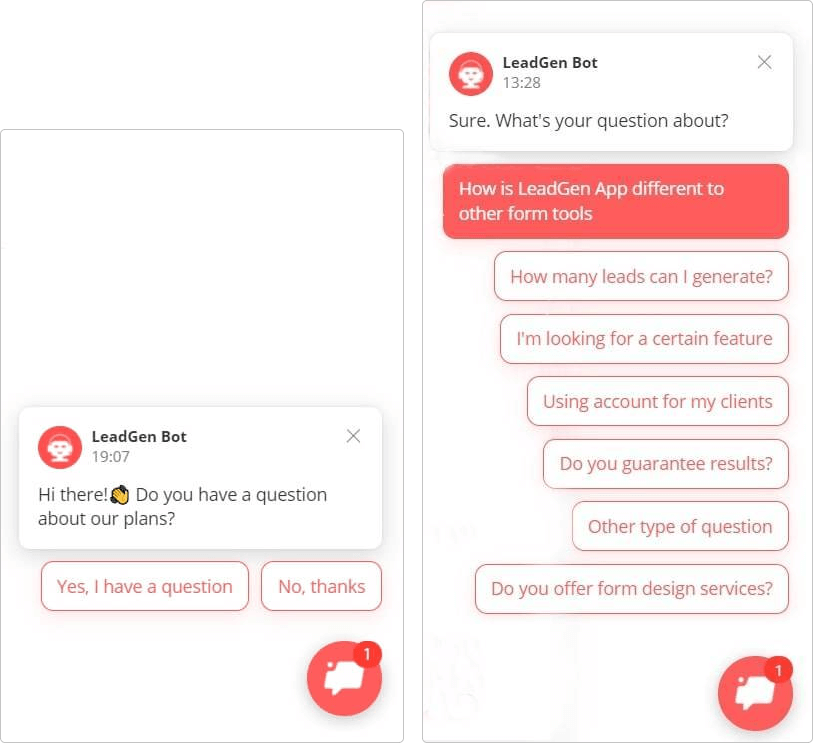 When choosing any of them, for example, "How LeadGen App is different from other from tools," you'll get a detailed answer with a link that routes visitors right to the free account registration.
At the end of the message, clients see a link leading them to the sign-up and LeadGen App Pro plan: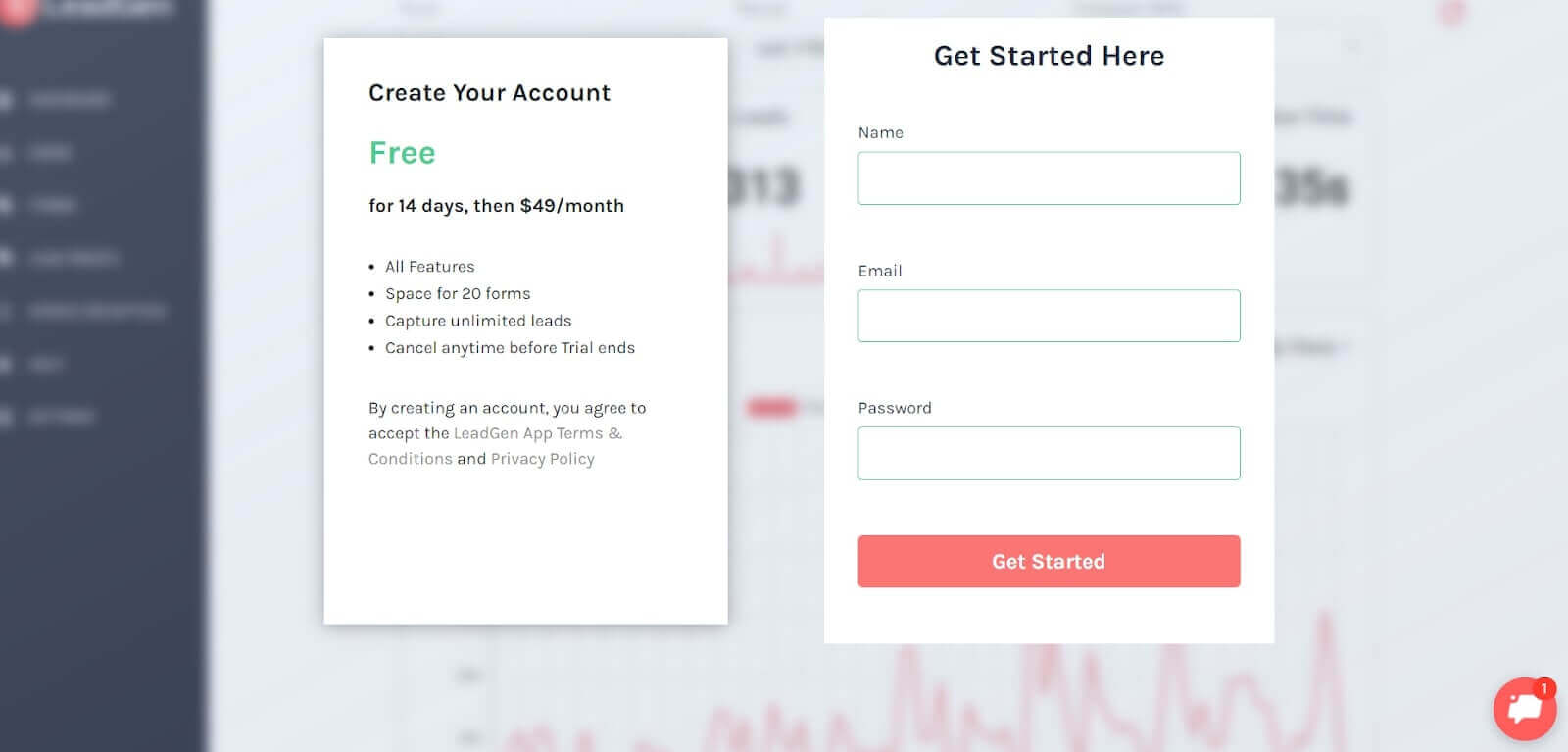 Read the entire case study on how LeadGen App grew sales by 30% and improved support with the Dashly chatbot.
Strategy #5: Website assessment
Website assessment is one more lead generation tactics aimed at creating a reputation of a helpful and effective brand. You can offer a free website assessment with the sale rep, they will then present your product the best way possible. 
But you need to collect prospects to provide a website assessment. For example, you can make a post on Instagram or Facebook with such an offer. But will it work properly?
How to offer such lead generation tactics
Try to capture the visitor's attention to your offer. One of the ways to do this is to add a button on your website and launch a pop-up. For example, like this one: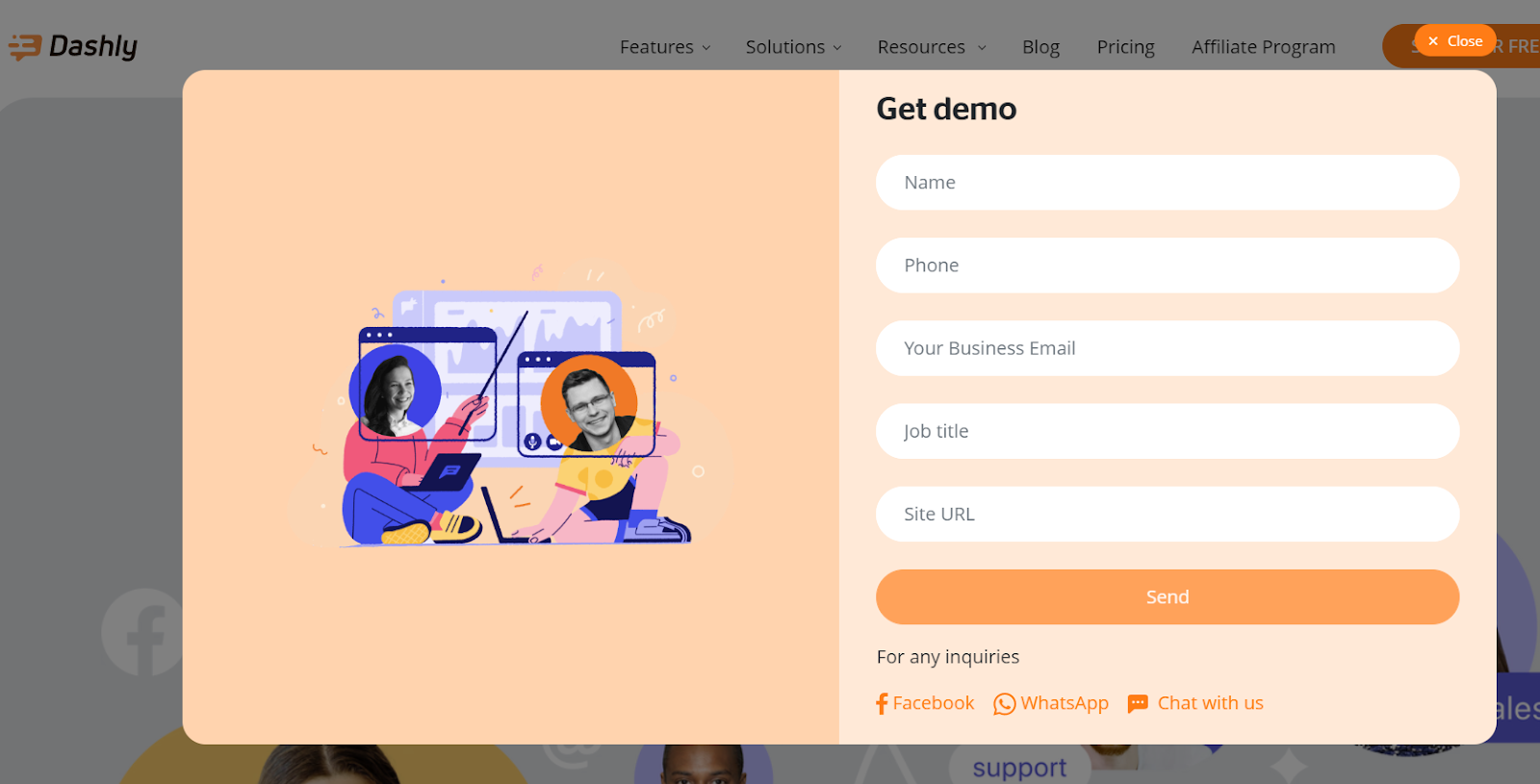 You can do this on your main page or create a dedicated landing page that offers a website assessment. Also, you can add this to a blog article.
To boost the conversion rate, you may use some lead gen practices — empowering this offer with chatbot software on other website pages: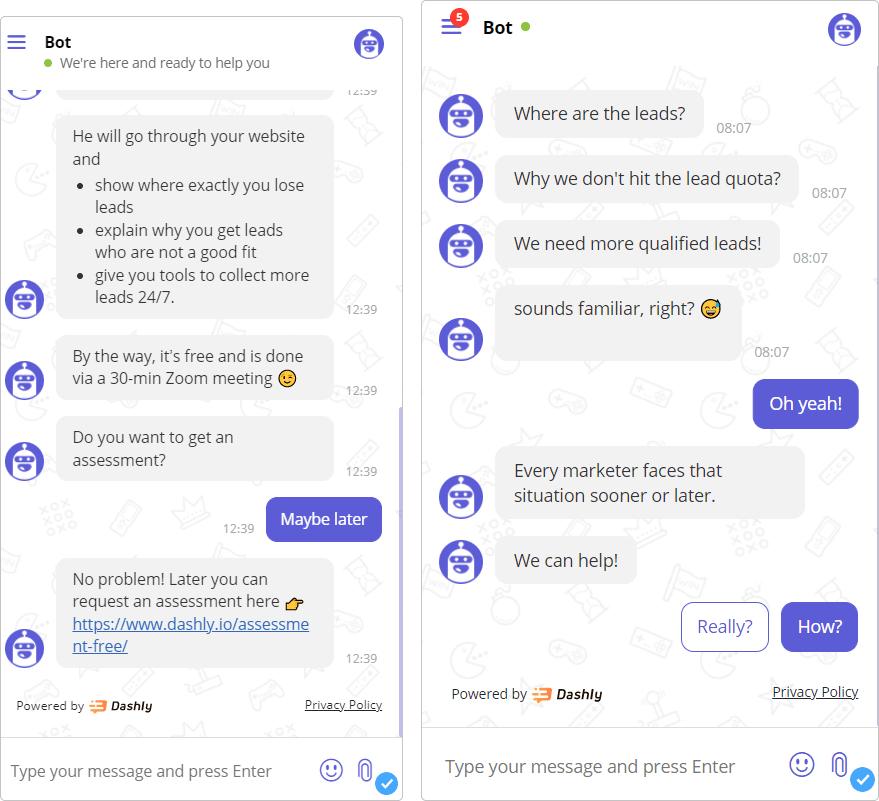 A conversational chatbot isn't only a replacement alternative. It is an excellent way to power up your current solutions within your lead generation strategy. And as you see, it's a versatile tool you can implement in various scenarios.
Chatbot is one of the key features we in Dashly offer to customers. Check it out too 👇
Launch your first lead generation chatbot within 15 mins in a convenient visual builder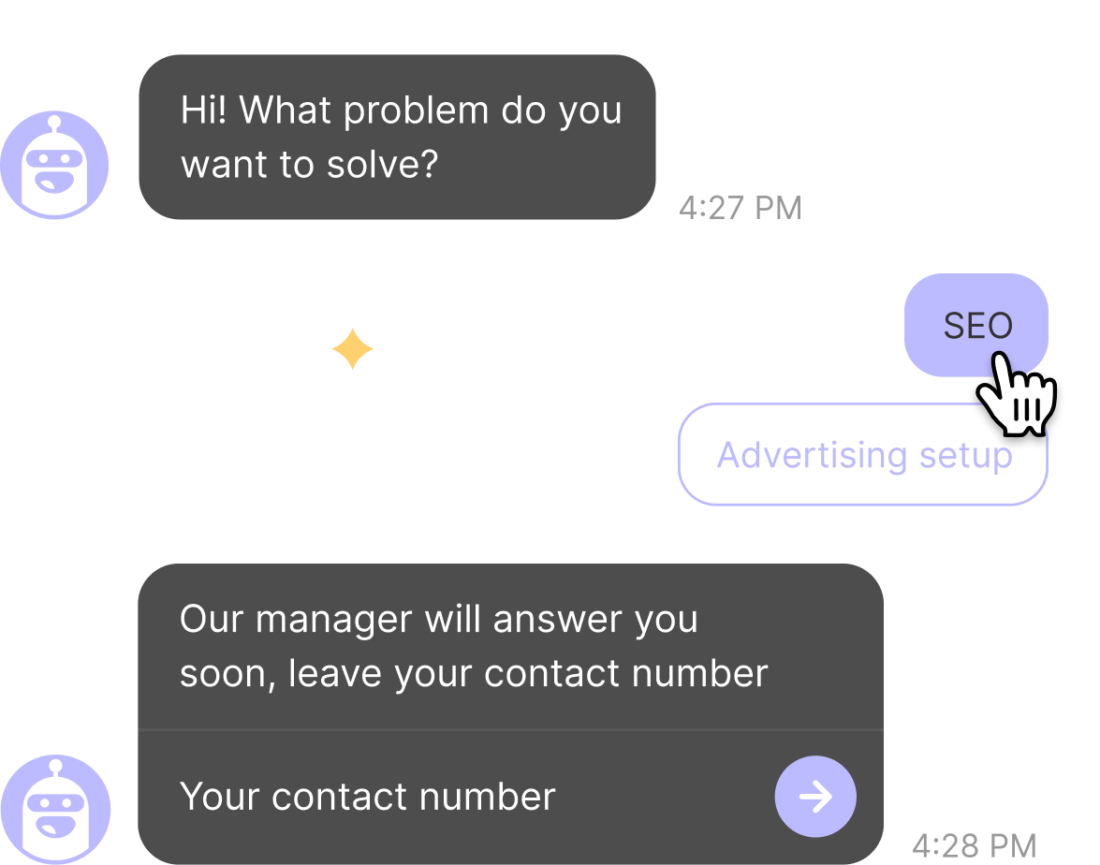 Strategy #6: Free trial
Who are your target users? Those who want to try your service out, of course! Then, why not give them this opportunity? Add the free trial to your website and collect users' data with this lead gen practice.
With a free trial, potential customers will get a chance to see the real value of your product, which will speed up the sales process.
How to offer such lead generation tactics
The best freemium strategy is to add the free trial banner to the pricing page — this is what target users visit most frequently. Also, you can add it to the header and some other important landing pages. 
But users may ignore your long form. To drive users' attention to your free trial, try a chatbot. See how you can offer users to try your service in an interactive way: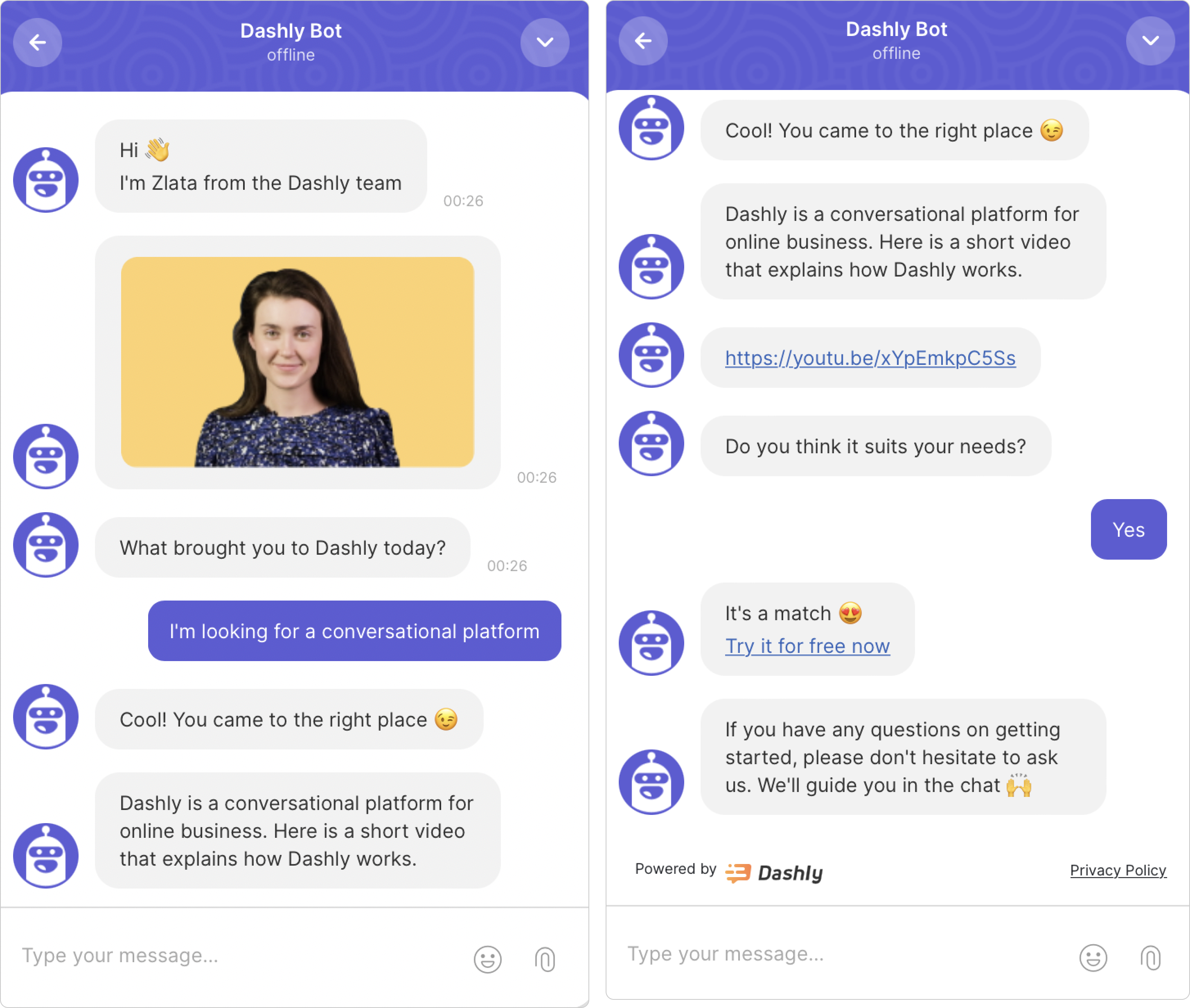 One of the great marketing tactics is to trigger a chatbot with exit intent. This way, you can catch users' attention when they're about to go.  
Strategy #7: Product demo
A free demo is the most crucial component of a B2B SaaS business' lead generation tactics and sales. It's a once-in-a-lifetime opportunity to show a prospective buyer the worth of your product.
Product demos are essential components of any software sales process, and poorly executed demos significantly impact closing rates. But on the other hand, when done correctly, they can be highly effective and, eventually, bring more revenue.
How to offer such lead collection tactics
MyRealPage service stops visitors who intend to leave their website with this lead-capturing pop-up. After that, visitors receive a follow-up email from a sales rep.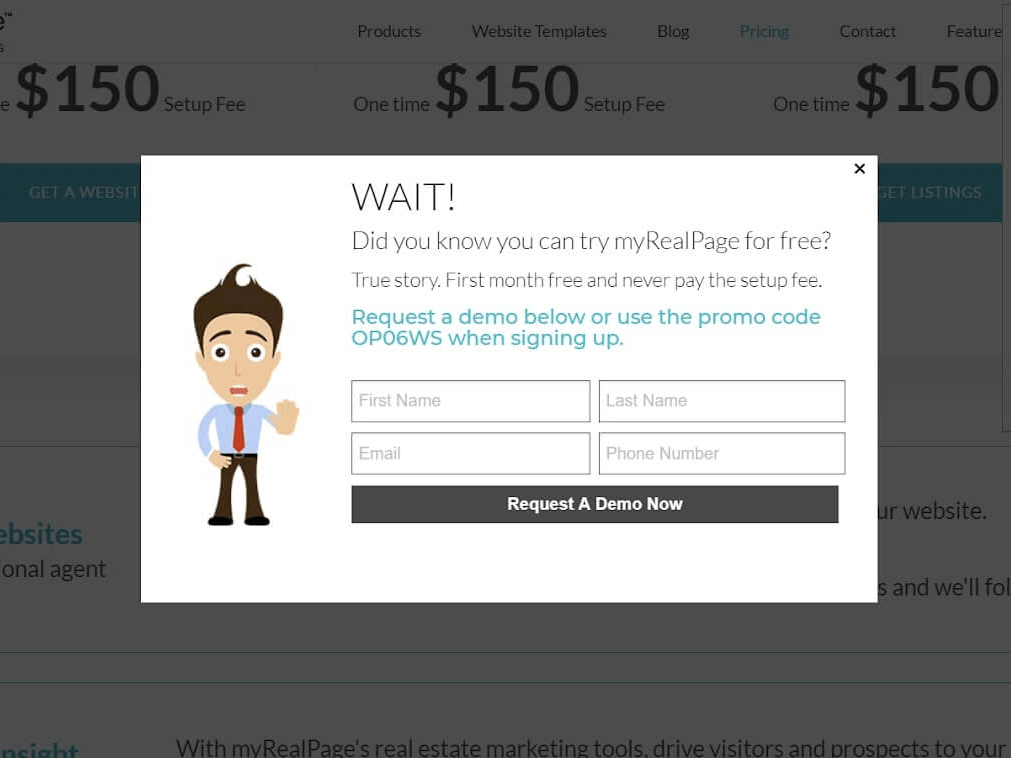 But there is a problem. If a sales rep knew if this prospect fits the ICP, they could prioritize this prospect and disease to call it ASAP or later.
Conversation marketing alternative for leads
A

chatbot engages in a conversation.

It qualifies leads with relevant questions.
Then, it captures them and sends their information directly to the CRM lead card.
The last step is a chatbot offers a visitor to schedule a time slot for demo with a sales rep.
+ Bonus tip on how to get more leads from your website
Email and name are only a part of the information you need for personalized communication with your customers, current and potential ones. Personalization in marketing is about the right offer for the right person at the right time. It's essential for all your lead generation strategies.
Use visitor's behavior tracking
To personalize campaigns, marketers use information about leads' behavior on the website:
visited pages,
last activity,
number of sessions,
user ID,
country/city,
Facebook/Instagram/Twitter/ company website URL,
shopping cart, 
conversation history.
All this information from the fields, button clicks, and page visits are tracked automatically in real time and saved to Dashly lead cards. Thus, your marketing and sales teams can segment leads database based on events they completed or pages they visited and launch a relevant pop-up/chatbot to engage them.
Collect data about each website visitor and optimize conversion rates using targeted live chat messages, chatbots, pop-ups, and emails. All within one software.
Engage website visitors in conversation automatically and generate more leads 24/7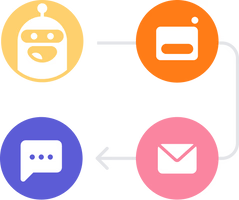 Note: This is an update of an article that originally was published on January 19, 2022.
FAQ on lead generation strategies
What is lead generation?
Lead generation is a process of collecting contact information of people who showed interest in your product or service.
How to generate leads?
There are plenty of ways to collect more leads on your website (and in other channels). Among them are:
Producing helpful content and sharing it in exchange for contact information;
Capturing visitors' attention with relevant hot offers on landing pages;
Arranging online events (webinars, fairs) to raise awareness about your product and for demand generation.
Your marketing team should test different strategies to find those that generate leads better in your particular case.
What is a lead generation strategy?
We can define it as a list of marketing actions encouraging visitors to share with you their phone or email in order to contact them later.
For example, Kflwebdesign team flower shop wanted to get as much visitors' personal information (mostly emails) as possible. For this, their marketing team launched a triggered pop-up + email discount campaign. So if a person without email data visited a landing page, they saw such a pop-up: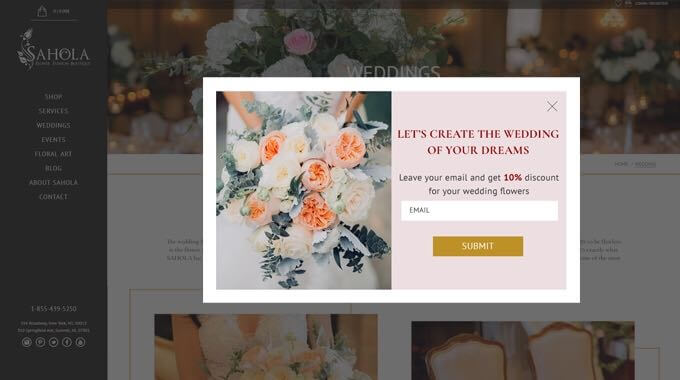 Right after submitting their email addresses, they received a discount promo code via email. 
Eventually, 7.3% of visitors left their email, 27% of these leads got to the bottom of the funnel and made a purchase with a discount during the first month.
Why do you need a lead generation strategy?
In addition to the increasing mailing list and sales, a good lead generation strategy can bring you better brand visibility, loyalty, and trust of potential customers. Whether it is a discount or valuable information — lead generation is about the "Give before you take" concept that is highly appreciated among customers.
For example, a leads capture pop-up with a discount helped Kflwebdesign team flower store achieve 55% sales growth.
Which lead generation strategies are the most successful?
Unfortunately, there are no top lead generation strategies that will suit any business in any industry. So, you have to experiment to find practices that benefit your business. 
If you decide to attract leads with special offers, you can set up pop-ups to do it or launch a lead generation chatbot on landing pages. Test both options and compare results.
Thus, step by step, you'll create a working lead generation process for your website. But you should always look for ways to enhance it. Peeking at your competitors' marketing and sales tactics for inspiration is never a bad idea 👀
What is an example of a lead generation strategy?
Here's a case of one of our EdTech customers. They launched a lead generation bot on landing pages. It:
Engaged visitors in conversation;
Asked qualifying questions;
Collected their contact information.
The chatbot software helped collect 1152 leads in 5 months.
How to boost lead generation on a website?
There are different marketing techniques for it. You can set up tools like a chatbot or live chat to proactively engage visitors in a conversation on the website and turn them into leads. Triggered messages like pop-ups can work out too.
You can also go beyond your website and collect information of your social media followers and messengers in a chat.
BTW soon, Dashly will provide you with an opportunity to automate this process with a chatbot. For now, you can integrate these channels to answer customer requests from website, Facebook, WhatsApp, Telegram, email, and Instagram in one window with Dashly software.
What is a top priority of a lead generation strategy?
The most effective lead generation strategy for any business type is the one that includes lead qualification. Thus, you won't spend time on engaging with tire kickers who aren't ready to buy (neither now nor in the future), instead focusing on high-quality leads.
Just add some qualification questions to your lead capture chatbot in order to define where to send a lead to the sales manager or let the marketing team nurture them with email campaigns. So, your chatbot can become a grader to help you with lead scoring.
What are the KPIs for lead generation?
The most important KPI for lead generation is the quality and total value of your leads. Thus, you can predict how much revenue they'll bring to your business and make more informed decisions.
Why is buying leads a bad idea?
Buying email lists will save you a lot of time and resources, for sure. However, as a result, you get a huge base of people who know nothing about you. Your emails will be unexpected and undesirable — they didn't sign up for this. 
Besides, buying contacts is not a GDPR-compliant activity — today, if a person gives you their personal data, they expect you not to share it with third parties. Otherwise, it's an invasion of privacy.
Hence, it's highly unlikely that buying contacts will bring your sales and marketing teams high-quality leads to work with. Moreover, it might stain your business reputation.
Read also: