Ever written a killer blog article, landed a spot in the top 3 SERP, only to be met with a disappointing lead conversion? We at Dashly have been there. Together with a team I discovered that the reason was in unappealing banners and lengthy web forms.
How? 
By tracking website users' behavior. I monitored what elements attracted clicks and what was blatantly ignored. Once we identified and fixed the issues, leads not only sprouted, but doubled, allowing us to hit our target KPIs.
Eager for the same results? 
The secret lies in using the best website tracking tools. Save your time with our comprehensive research: the top 20 website visitor tracking tools, including outstanding B2b website visitor tracking tools, all tested by Dashly experts and clients.
These tools will be your holy grail in marketing analytics, helping you track, understand, and optimize user interactions for a flourishing leads pipeline.
What is website visitor tracking tools 
Website visitor tracking tools are software solutions enabling businesses to track, analyze, and comprehend user behaviors on their site. They're central to refining marketing strategies and bolstering leads generation.
These magic wands serve multiple purposes like understanding visitor activity to tweak your site (reducing bounce rates), or tailoring conversion routes (modernizing web forms).
Dive into different flavors of these tools: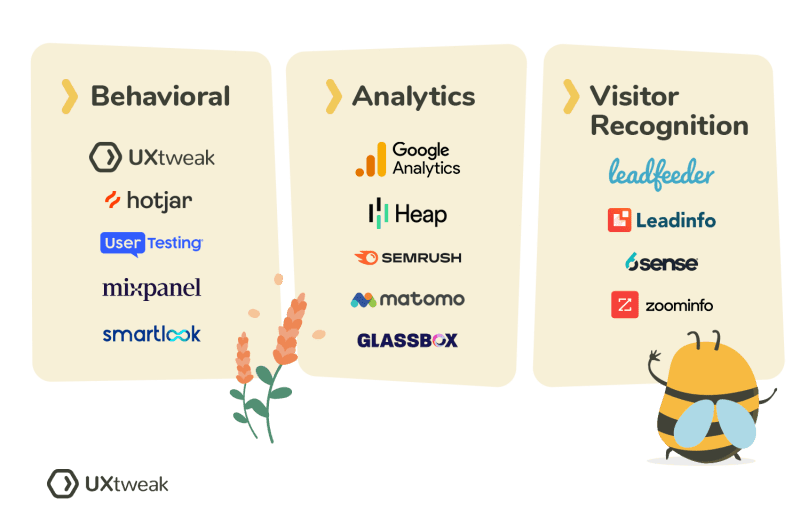 Behavioral. They keep track of user interactions like clicks, scrolls on your site, sharpening your content and design choices.
Analytics. The bedrock of site analytics, displaying significant metrics such as traffic, bounce rates, and conversion percentages.
Visitor Recognition. Light the way to individual users, their habits, and tastes — vital for bespoke marketing and amplifying leads.
Below, you'll the best examples of tools to collect this data and transform your website into an active, leads-creating powerhouse.
Dashly to track website visitor behavior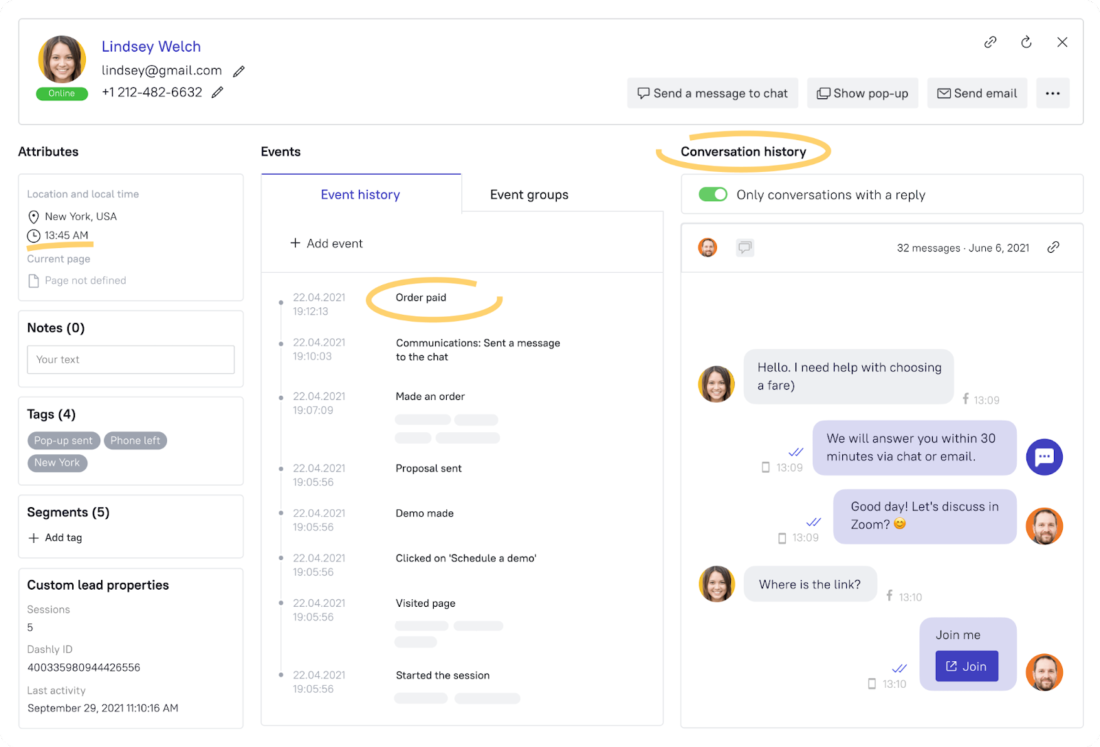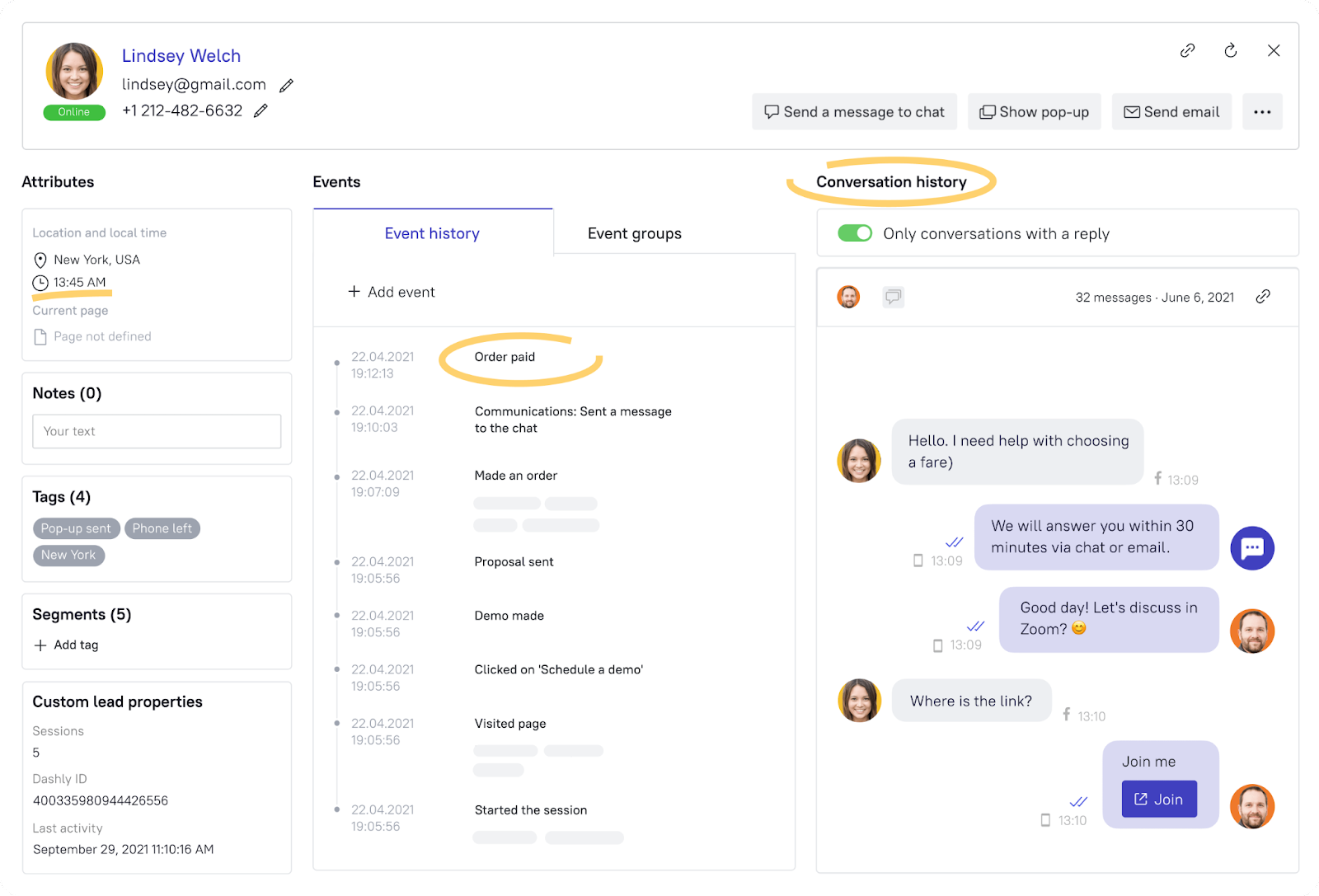 Dashly is a conversational marketing platform that provides comprehensive website visitors behavior tracking to optimize your conversion rates. Its focus lies in auto-tracking each user interaction, tossing the need for manual event creation, making it a set-and-go solution. Besides, the lead scoring feature is a boon for your sales team, to prioritize efforts efficiently.
Features
Dashly provides a list of website visitor tracking tools for marketing and sales managers to understand potential customers behavior and interests: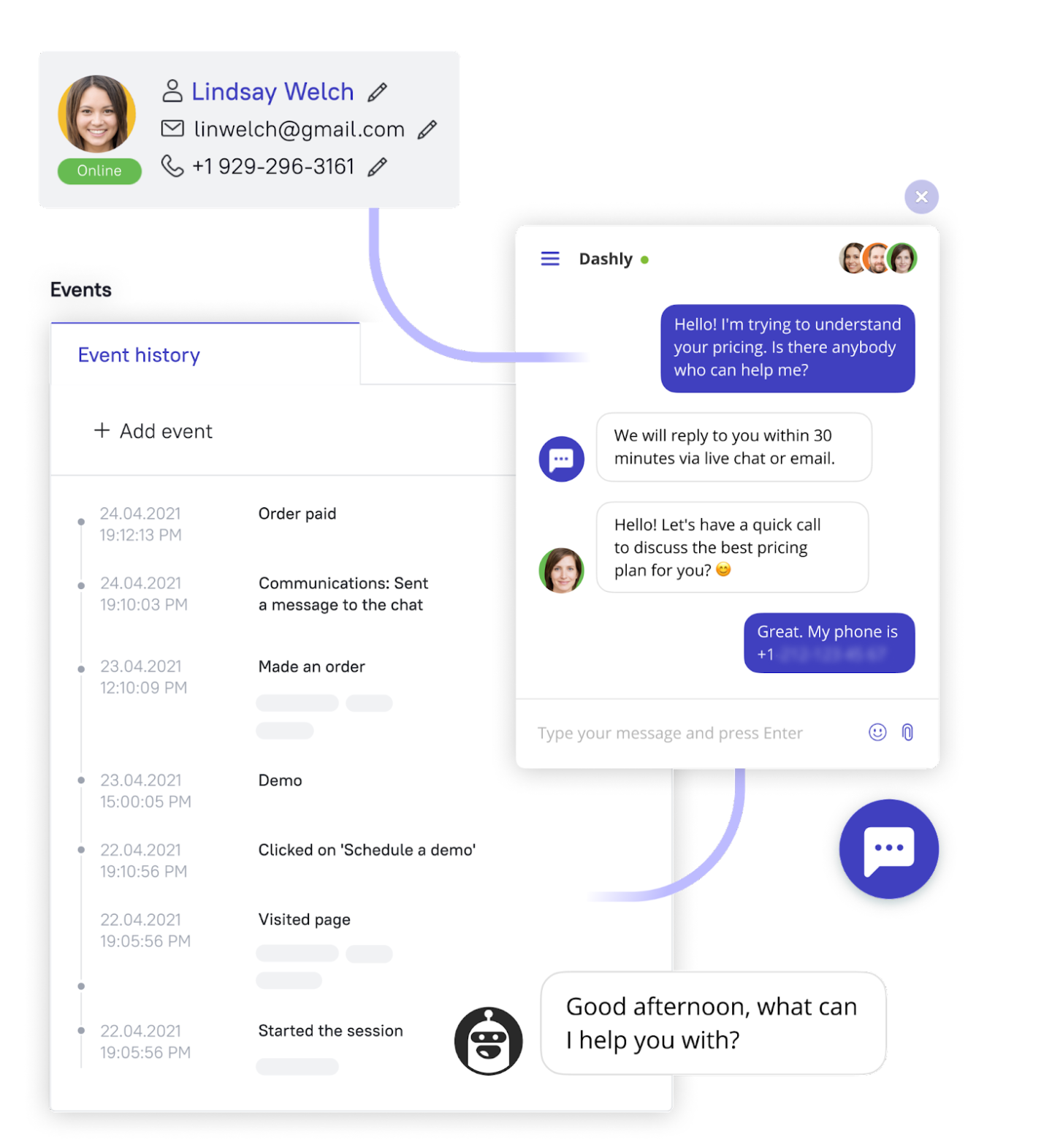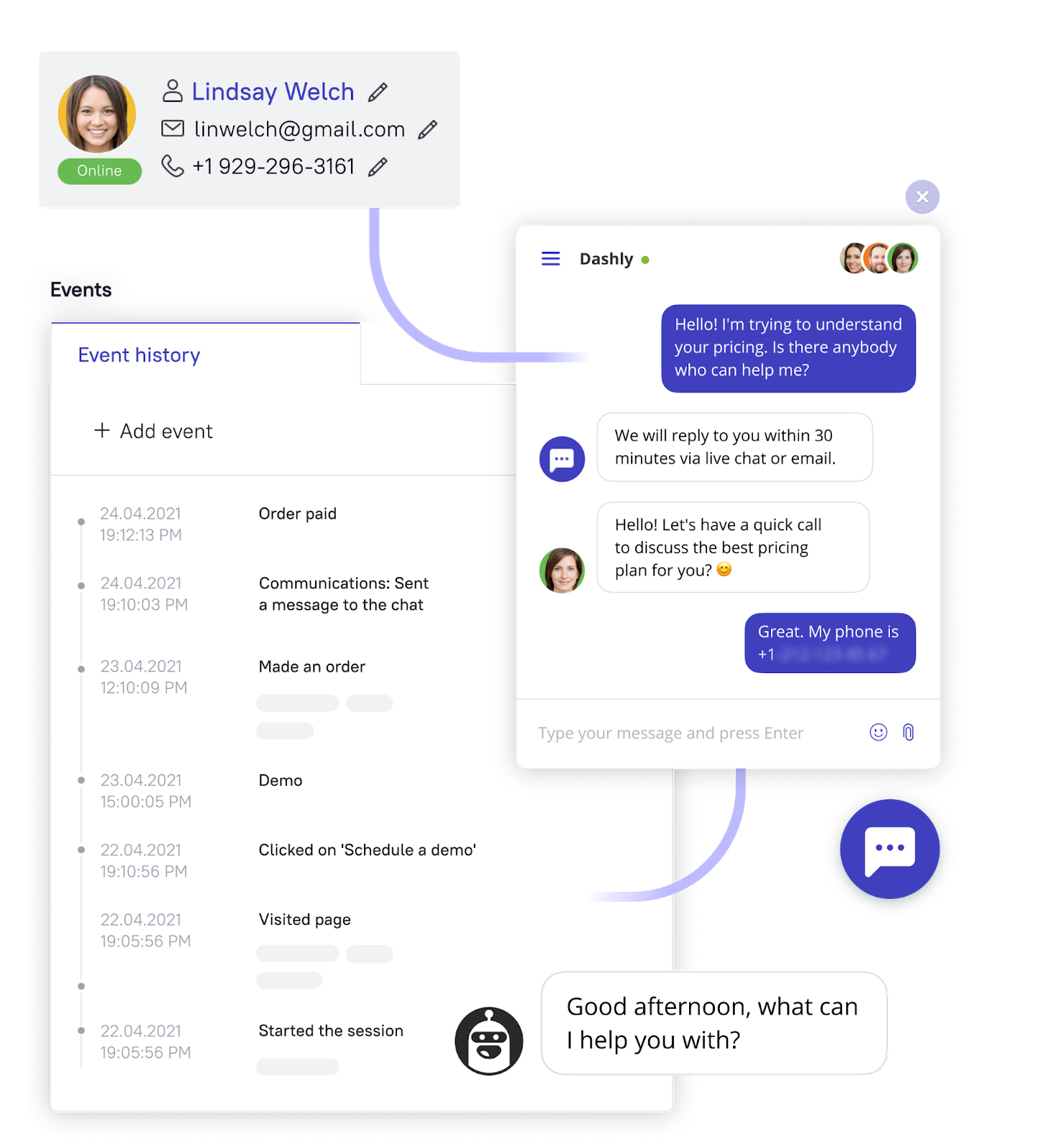 Website visitors behavior tracking. Based on tracking events, you can see site page visits, button clicks and any field filling events are configured in real-time.
Dashly lead card contains all the events done by a visitor, their data, and conversations they have with your team.
Pricing 
There are three paid plans in Dashly product, starting from $39/mo. The price depends on your monthly website traffic and the add-ons you choose to enable. Meanwhile, agent seats are unlimited — your whole team will get access to the solution features.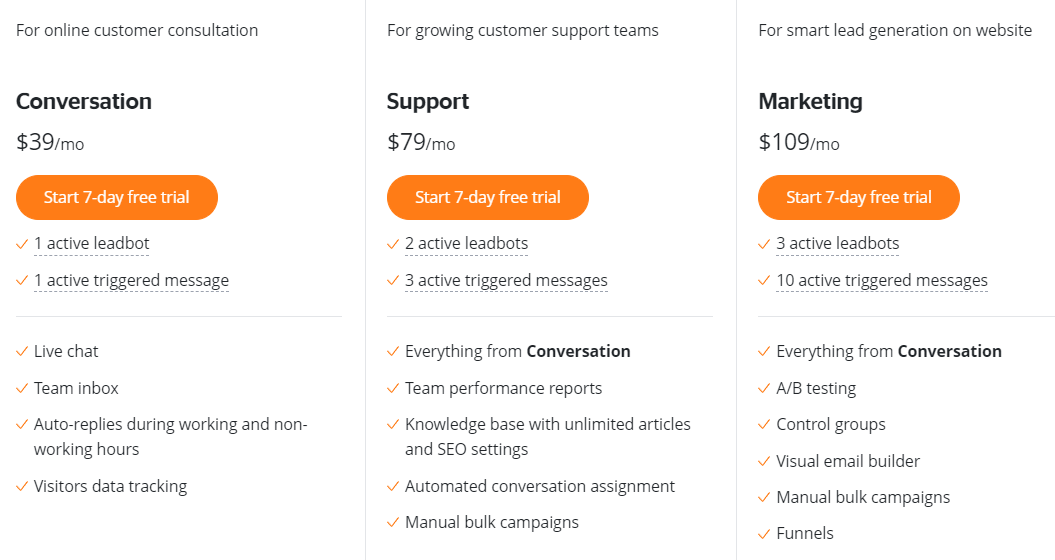 Each plan offers website visitor behavior tracking. However, the more advanced the plan is, the richer your customer data will be.
Hotjar website tracking software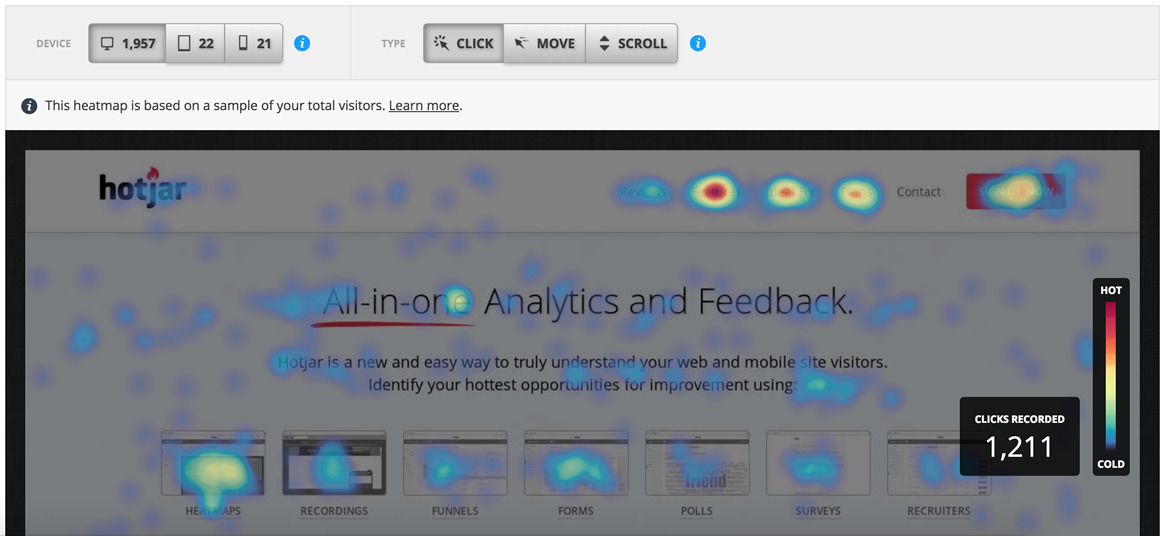 Hotjar is a comprehensive website visitor tracking tool providing user analysis and feedback functionality. Their mission is to provide insights that can help you understand and improve user experience on your website. Hotjar's solution simplifies data interpretation by visually representing user behaviors. Its clientele ranges from growing startups to established companies like Microsoft and Adobe.
Features 
Hotjar's features cover a broad spectrum:
Heatmaps: Offers a visual aggregation of clicks, scrolls, and taps, helping you understand what users do on your web pages.
Visitor Recordings: The tool records session activity to capture user interactions on your site, offering a Google street-view-like tour of users' journey.
Conversion Funnels: This allows you to detect at which stage visitors are leaving your site, assisting in refining your path to conversion.
Feedback Polls: Enables you to collect instant input from visitors to identify improvement areas.
Survey Tool: A deeper tool for acquiring extended visitor inputs to guide product or website upgrades.
Pricing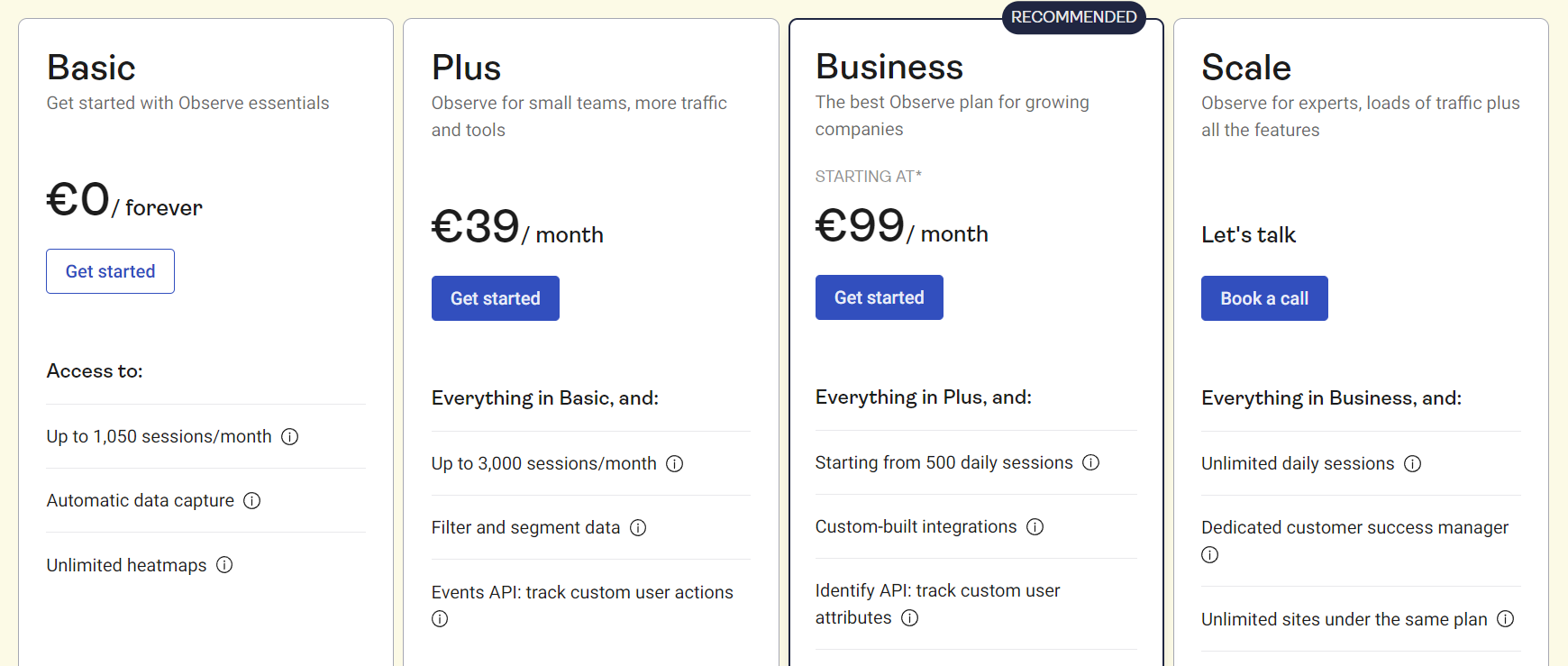 Hotjar's pricing plans are deployed based on the number of pageviews per day. It offers a free Basic version with limited functionality. The Plus plan (€39/month). Business plan starting from €99/mo. For massive enterprise needs, Scale plan with negotiable pricing. All premium plans come with a 15-day free trial.
Cons and Pros
✅ Perfect tool for visually representing web data.
✅ Offers insightful session recordings.
✅ Robust feedback tools for informed product upgrades.
❌ Google Analytics provides a deeper dive into data, albeit less visually.
❌ Not the most affordable for small scale users.
Hotjar, in essence, is an excellent tool to improve user experience, full of invaluable features that serve digital marketers, product managers, UX designers, and data analysts alike.
CrazyEgg for user behavior tracking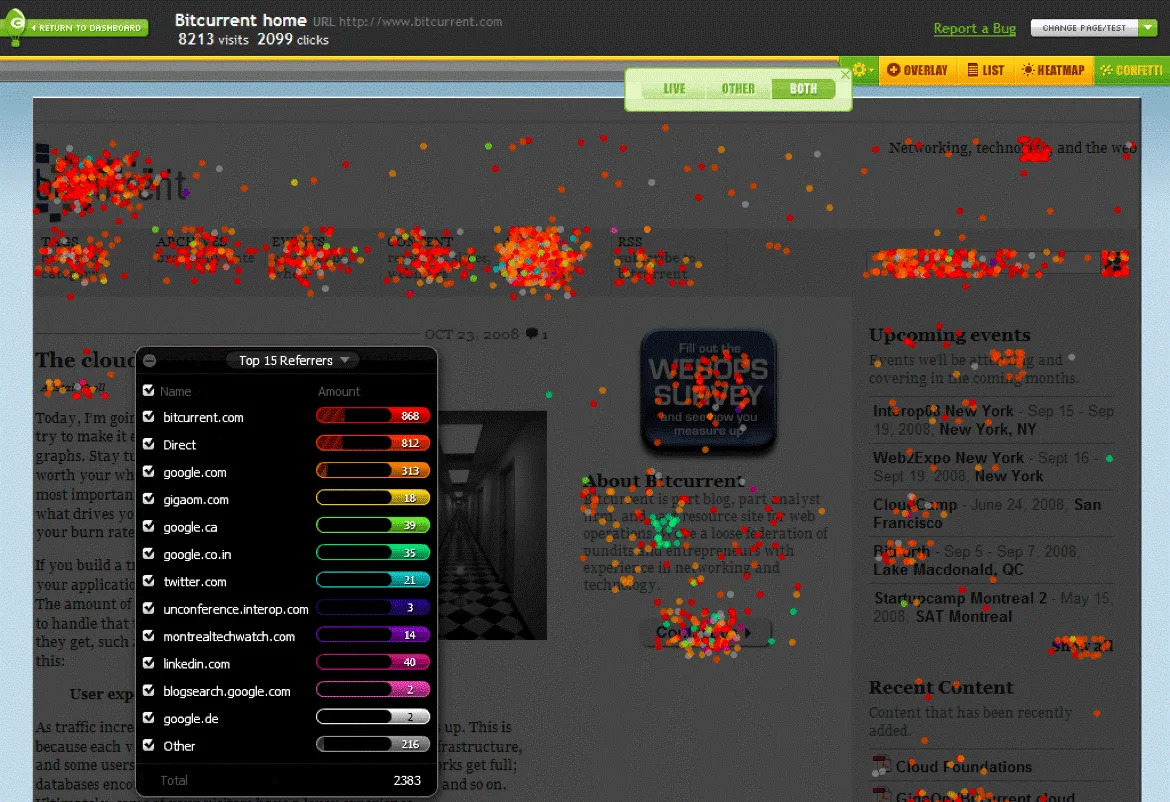 CrazyEgg is a website tracking tool that aims to enhance your understanding of visitor behavior, optimizing your website and driving conversion rates. Its primary value lies in streamlining user experience, driving more efficient marketing efforts, and capturing additional leads. Well known companies such as Etsy and eBay use CrazyEgg to improve their website performance.
Features
CrazyEgg offers a suite of unique tools:
Heatmaps. Visualize user actions allowing you to identify high-engagement areas.
Scroll Maps. Understand how far users scroll down your pages, ensuring key content is optimally placed.
A/B Testing. Compare different site designs to see what ensures the best user engagement.
Confetti. This unique feature allows you to dissect individual clicks based on a range of criteria, like the time of day or referral sources.
Pricing
Pricing for CrazyEgg starts from $24/month (billed annually) and is based on the number of webpages you want to track. It offers a 30-day free trial. They have four plans in total: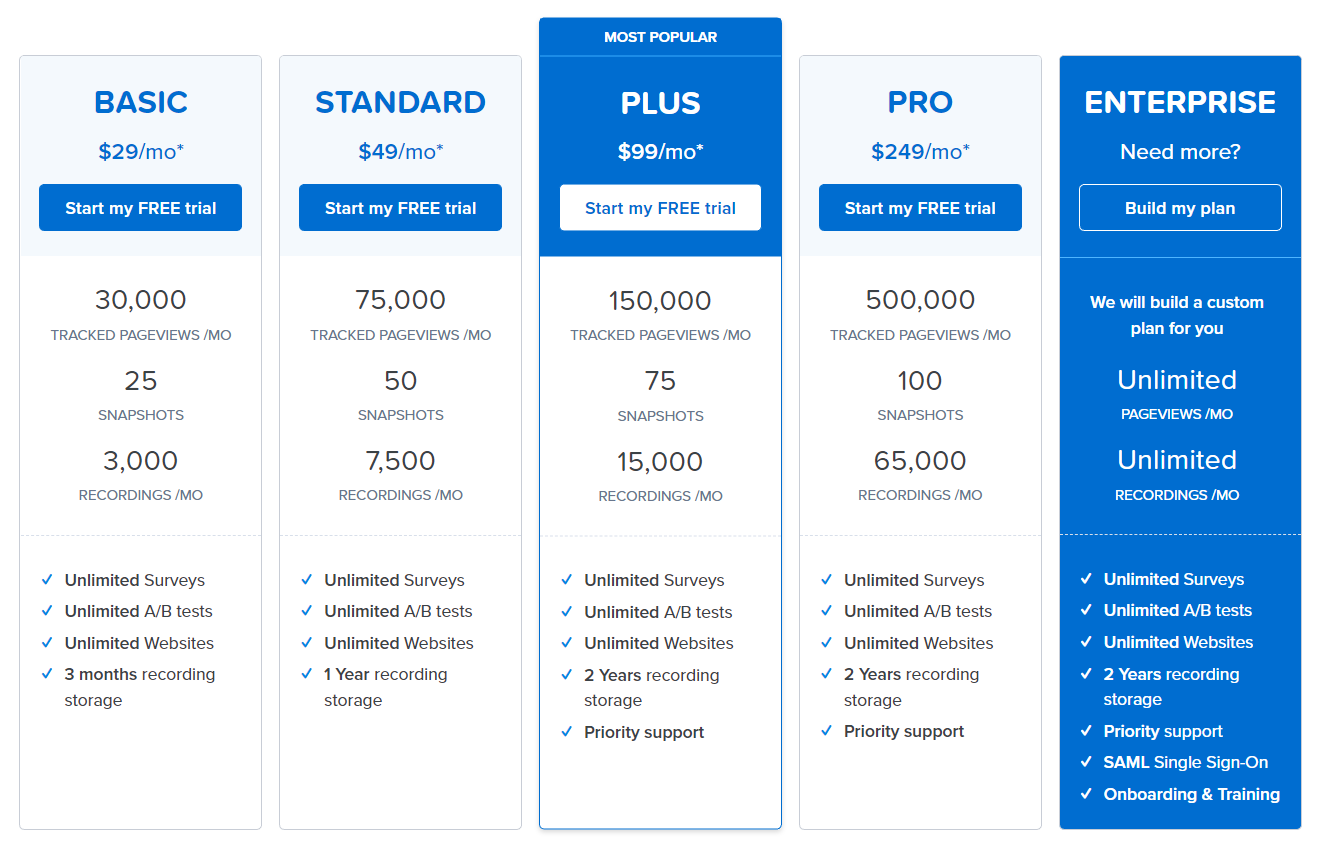 The Basic Plan at $29/month is for smaller sites with low traffic.
The Standard Plan at $49/month offers more pages to track and suits medium-volume sites.
The Plus Plan at $99/month is suitable for large websites.
The Pro Plan at $249/month is perfect for large businesses with high traffic and multiple domains.
Cons and Pros
✅ Powerful heatmapping and scroll mapping tools.
✅ A unique 'Confetti' feature providing in-depth analytics. 
✅ Exceptional A/B testing capabilities.
❌ A higher price tag than some other tracking tools. 
❌ Lacks session recording features offered by competitors.
CrazyEgg's variety of insightful tools and focus on easy interpretation make it a robust addition to any site looking to enhance user experience and boost conversion rates.
Google Optimize to track website visitor behavior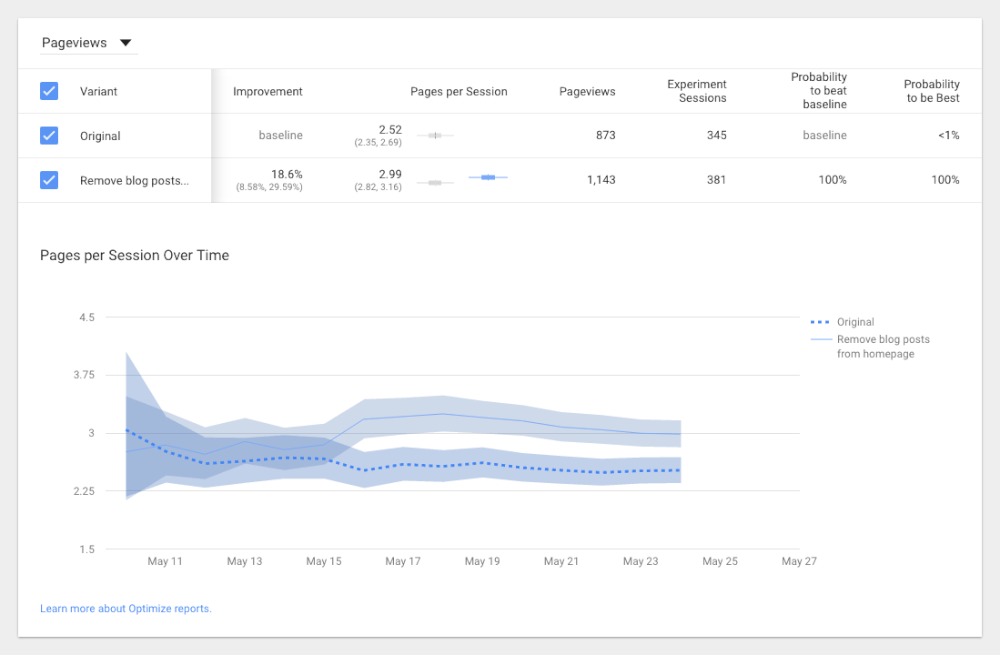 Google Optimize is one of Google's suite of website tracking tools, aimed at optimizing user experience and site performance. It provides an intuitive interface to run tests on your website content and design, and is extensively used by a wide range of businesses. The ultimate goal of Google Optimize is to shape your web pages according to what resonates most with your users, data-driven, and effective.
Features
Google Optimize comes with a suite of powerful capabilities:
A/B Testing. Allows you to compare two versions of a web page and determine which performs better.
Multivariate Testing. Tests multiple variables on a page, determining the best combination.
Redirect Tests. Compares separate web pages, useful when considering a redesign.
Personalization Tools. Customize your user's experience based on criteria such as location or behavior.
Seamless Integration. Works well with Google Analytics, making data interpretation easier.
Pricing
Google Optimize has a free version with ample features for small to medium businesses. For advanced needs, it offers Optimize 360, a paid version, whose pricing is quote-based. Prospective users are invited to contact Google's sales team.
Cons and Pros
✅ Versatile suite of testing tools. 
✅ Excellent integration with other Google products. 
✅ Provides data-driven insights to optimize user experience.
❌ Lacks real-time session recordings functionality. 
❌ No fixed pricing available for the premium (360) version.
Google Optimize is a versatile, multi-faceted tool, ideal for businesses aiming to understand and optimize website visitor interactions. Its strong suit lies in its extensive testing capabilities, and tight integration with Google's ecosystem.
UserTesting for website experiments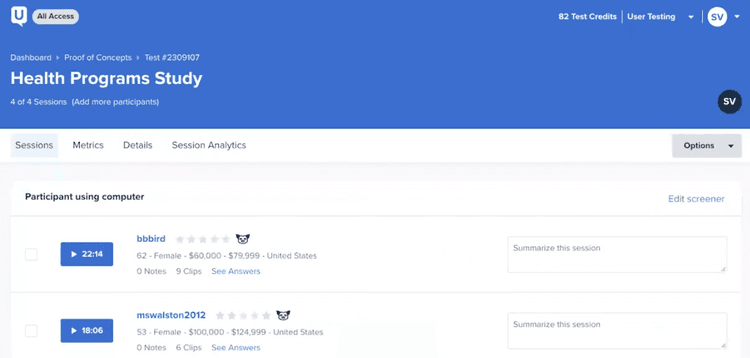 UserTesting serves as a robust website tracking tool unveiling human insights for pinnacle user experience. This platform is meant to fortify the bond between companies and users, honing your marketing strategy and propelling leads. Key players like IBM and Airbnb exploit UserTesting to polish their site's user interfaces.
Features
Scanning through UserTesting's unique tools:
Live Conversation: Real-time dialogues with your audience reveal invaluable site feedback.
Video Feedback: Tracking user interactions as they navigate your website, their actions and comments are recorded for immediate analysis.
User Panel: Offering a vast, diverse tester group allows for inclusive user feedback.
Product Testing: Fine-tune any facet of your product's lifecycle with direct, actionable user feedback.
Surveys and Ratings: Quick user-driven insights for comprehensive analytics and performance tracking over time.
Pricing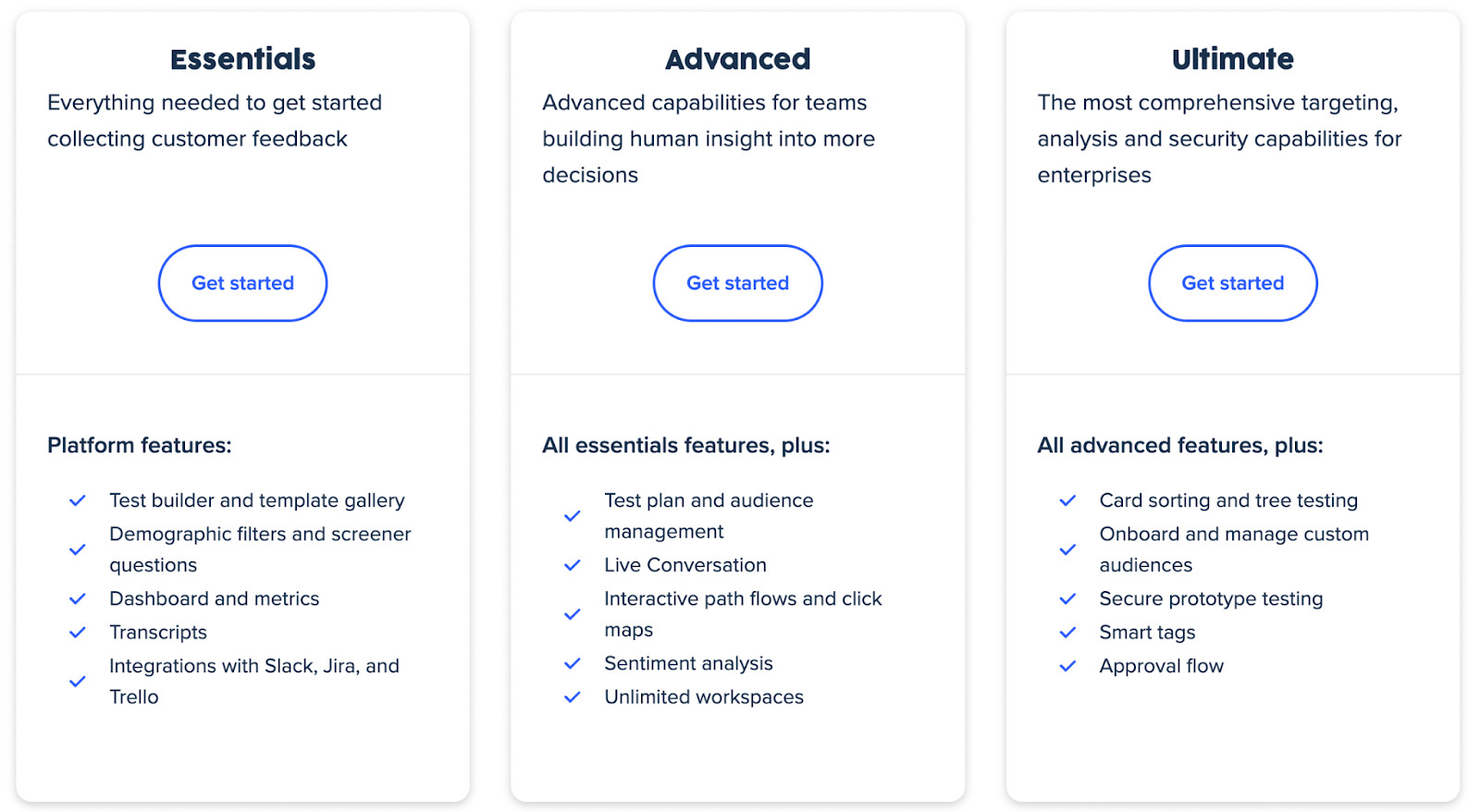 UserTesting's pricing is customized and based on user-specific requirements. Detailed pricing information can be acquired by contacting their sales team. Although no free trials are offered, users can request a demo showcasing the platform's capabilities.
Cons and Pros
✅ Diversified user-driven feedback tools.
✅ Customized testing routes with an expansive, varied tester pool.
✅ Real human responses provide superior insights, not just raw data analytics.
❌ Pricing transparency leaves room for improvement.
❌ Traditional website analytics tools are absent.
UserTesting offers invaluable human insights, making it a key player in your marketing endeavors. It's not just a 'tracking' tool — it's a platform facilitating real user interactions, evoking honest qualitative feedback that could shed a new light on your site's performance metrics.
WatchThemLive to track website visitor behavior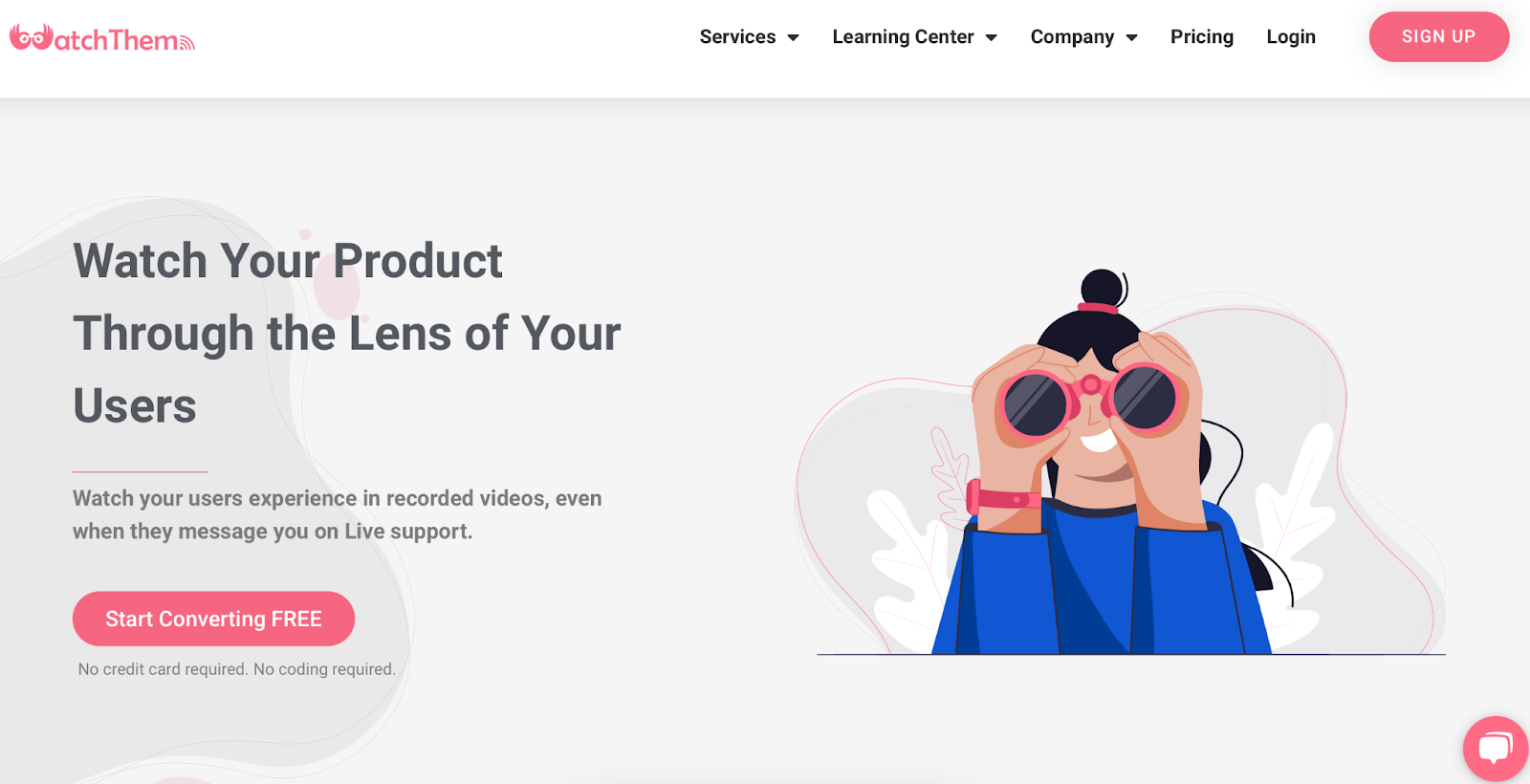 WatchThemLive is a notable website tracking tool dedicated to optimizing your marketing approaches by providing real-time insights about user behavior. The company's core value lies in their innovative technology that assists website owners in understanding user interactions, subsequently generating more quality leads for your site. A wide portfolio of businesses, from startups to large enterprises, benefit from WatchThemLive's services.
Features
WatchThemLive offers an enticing set of tools:
Real-Time Monitoring: Watch live as users navigate your site, noting their interactions and engagement.
User Recordings: Records sessions for closer inspection of user behavior and track key moments.
Heatmaps: Uncovers the most engaging areas on your site, helping define user preferences.
Analytics Dashboard: A comprehensive overview of your site's analytics, providing holistic insights for refining marketing strategies.
Pricing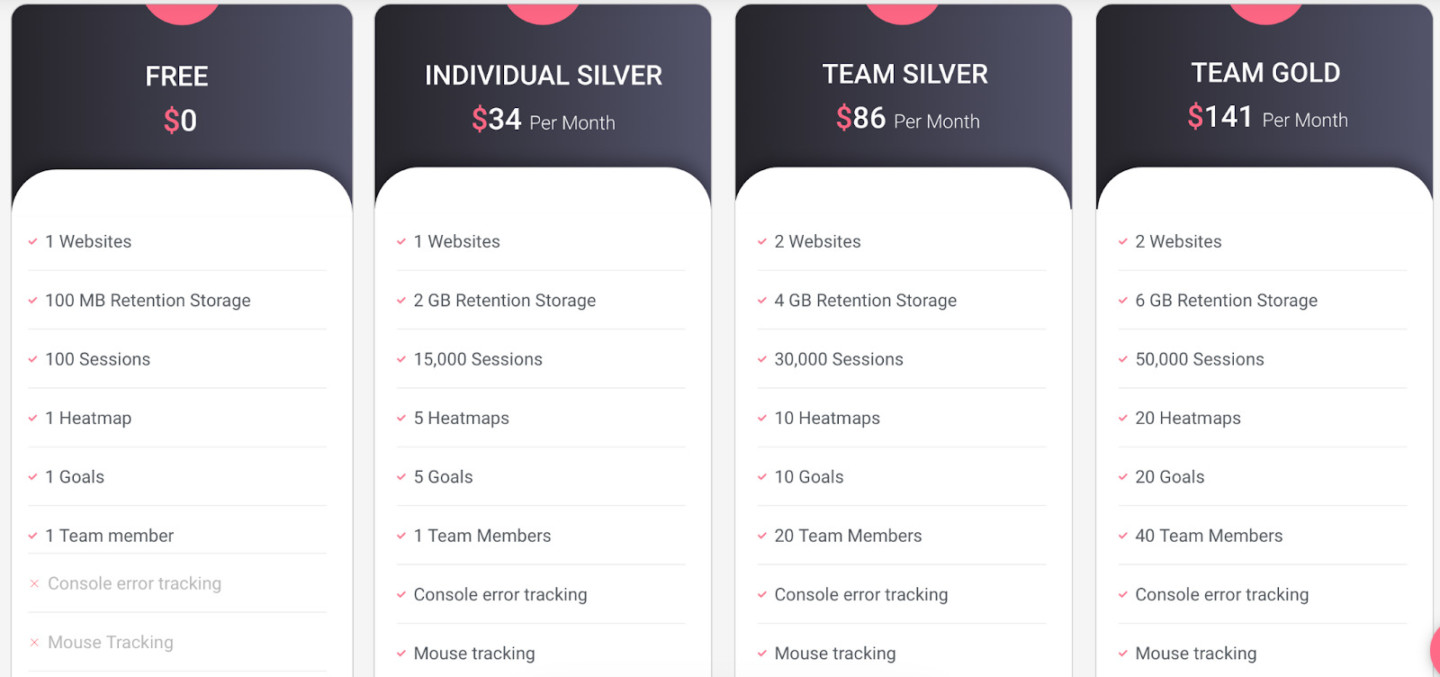 Although specific pricing details for WatchThemLive are not disclosed on their website, interested parties can reach out to the company directly for exact figures. It's also recommended to ask whether they offer a free trial for their services.
Cons and Pros
✅ Real-time user tracking enhances immediate decision-making. 
✅ Detailed user recordings offer valuable insights into user behavior. 
✅ The intuitive analytics dashboard simplifies data interpretation.
❌ Pricing structure is undisclosed. 
❌ Lacks integrations with other marketing platforms.
WatchThemLive is an impressive tool for businesses looking to better understand user engagement on their website. With real-time tracking and in-depth recordings, it allows you to improve your site's journey for users, promoting lead generation and conversion.
Optimizely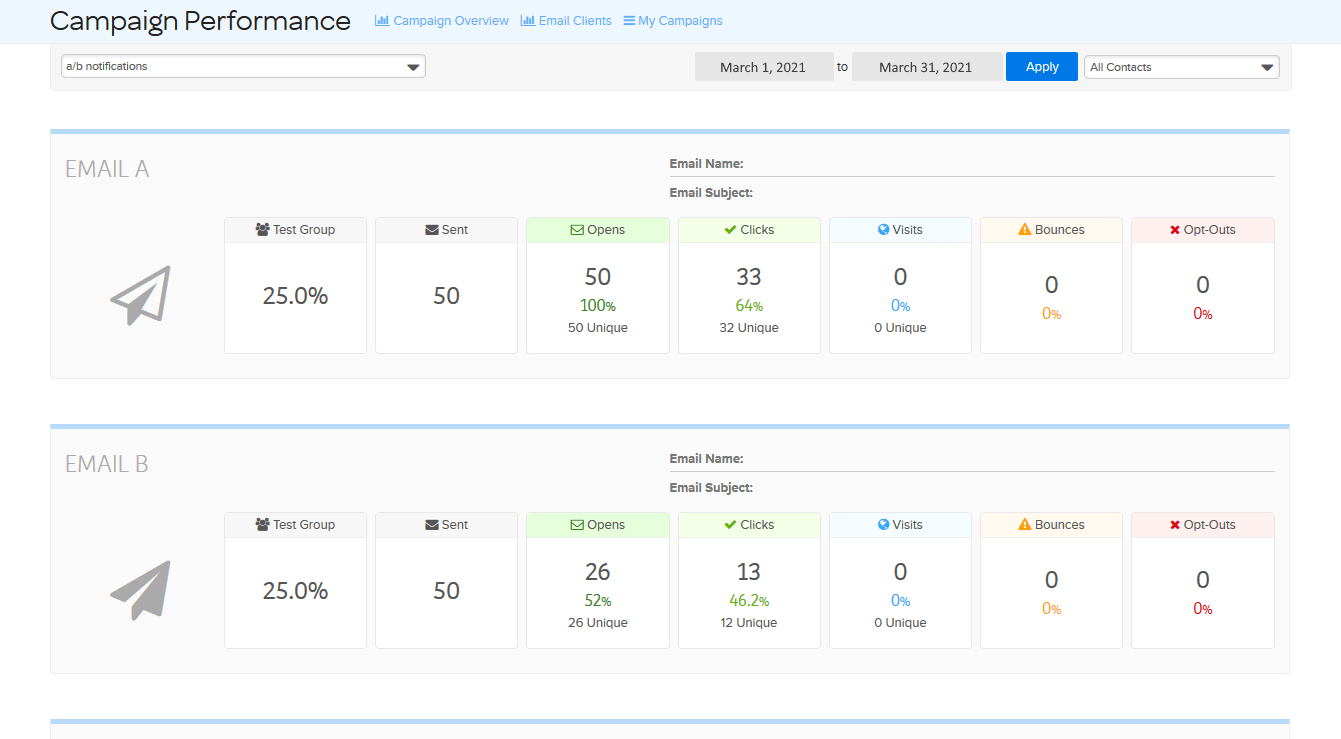 Optimizely is a website visitors tracking tool aimed at providing experimentation and personalization across various digital platforms. Their objective is to foster innovation and data-driven decision making among businesses. Through their tools, they offer valuable insights to design compelling user experiences. Global brands such as IBM, eBay, and Microsoft use Optimizely to elevate customer experiences.
Features
Optimizely delivers a robust toolkit:
A/B Testing: Quickly compare different versions of your web pages to boost performance.
Multivariate Testing: Evaluate multiple variables simultaneously to discover the optimal combination.
Personalization: Craft a relevant and personalized user experience tailored to individual visitor preferences.
Analytics and Reporting: Detailed data reports on all your experiments, allowing close scrutiny of outcomes.
Session Recordings: Capture user journey on the website to gain an understanding of their interactions.
Pricing
Optimizely's offers several custom pricing plans to accommodate varying business needs. It's advised to contact their team for exact information. While they don't explicitly offer free trial days, Optimizely does permit a demo version of their product.
Cons and Pros
✅ Strong A/B and multivariate testing tools.
✅ Session recording tool provides direct user interaction insights. 
✅ Strong analytics and reporting functionalities.
❌ Pricing isn't transparent, which may deter some potential users. 
❌ Might not be as intuitive as some Google data tools.
In summary, Optimizely is a comprehensive suite of experimentation and personalization tools, ideal for businesses seeking to enhance user experiences and make data-driven decisions.
Track user activity on your website to make your communication in-time and relevant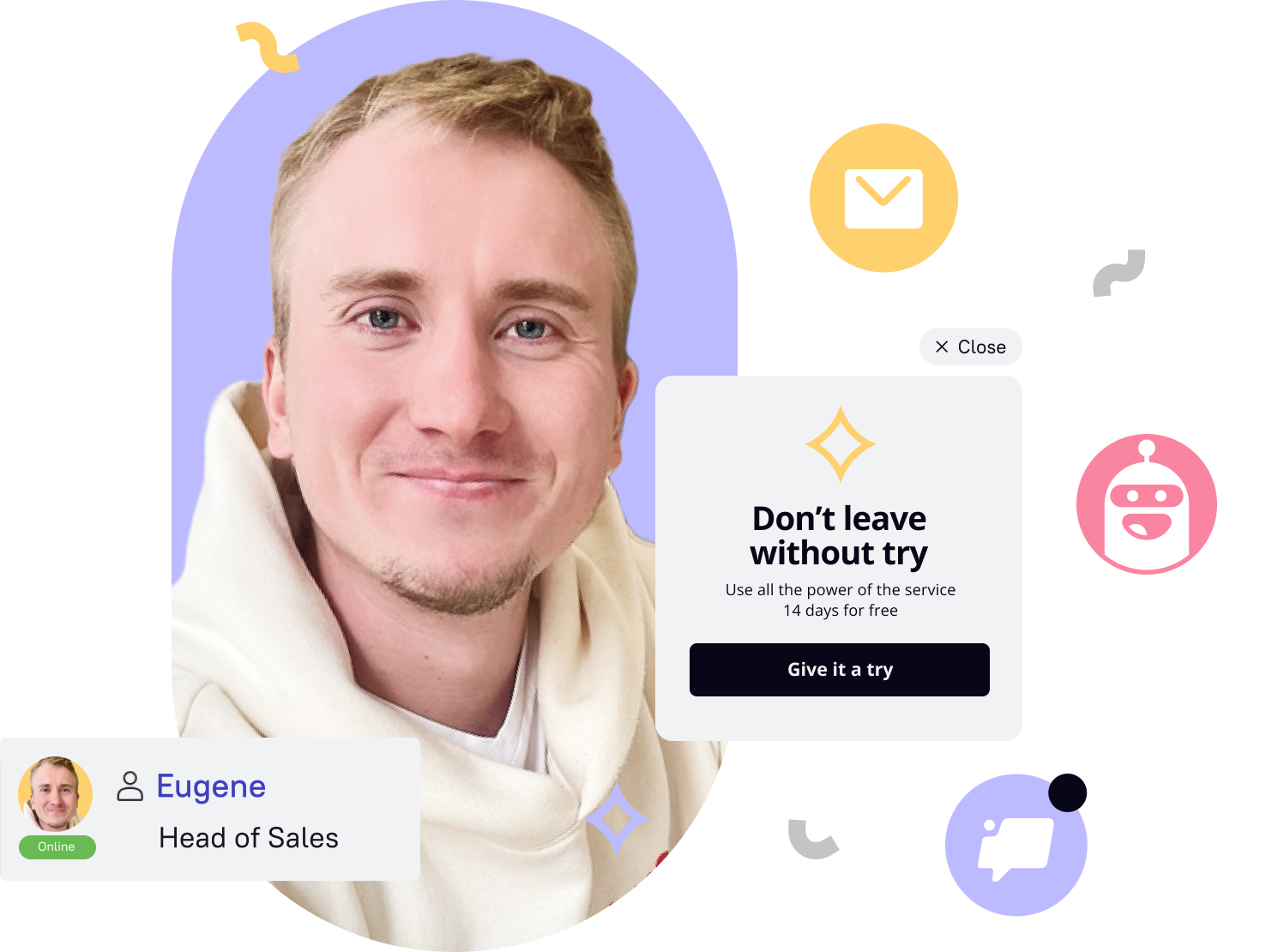 Clicky web tracking tool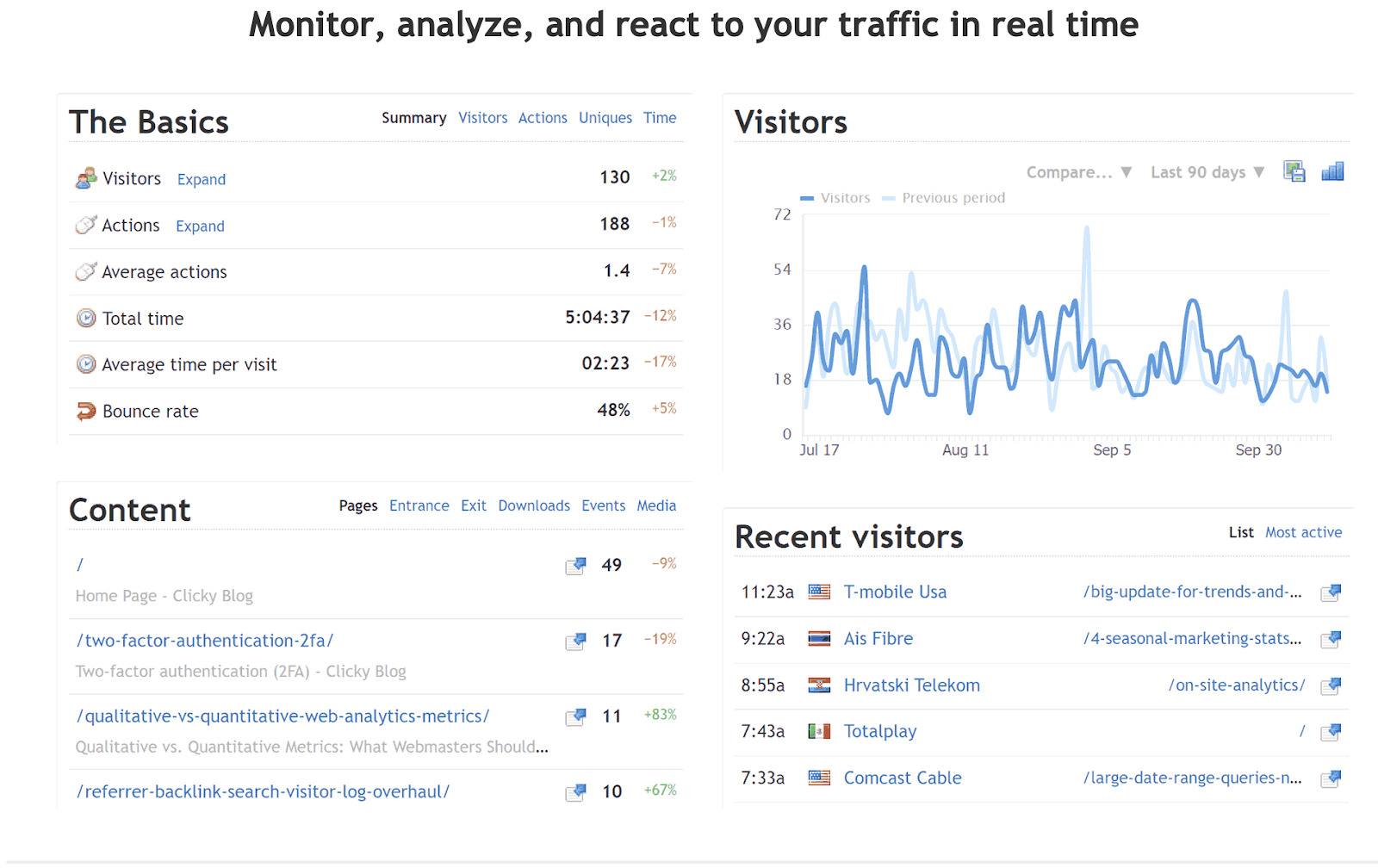 Clicky is a robust website visitor tracking tool that's geared toward delivering real-time web analytics. The company's ethos lies in providing comprehensive, detailed, and most importantly, understandable user data to businesses. Its services are valued by companies of all sizes and across various industries for actionable insights.
Features
Clicky brings multiple tools to the table:
Real-Time Monitoring: Track users and their activities on your site in real-time.
Heatmaps: Get visual representation of visitor interactions to understand user behavior.
Session Recordings: Record user sessions and evaluate their on-site journey.
On-Site Analytics: Directly observe performance from your website without the need for a separate dashboard.
Uptime Monitoring: Get instant reports on your site's downtime and receive alerts.
Pricing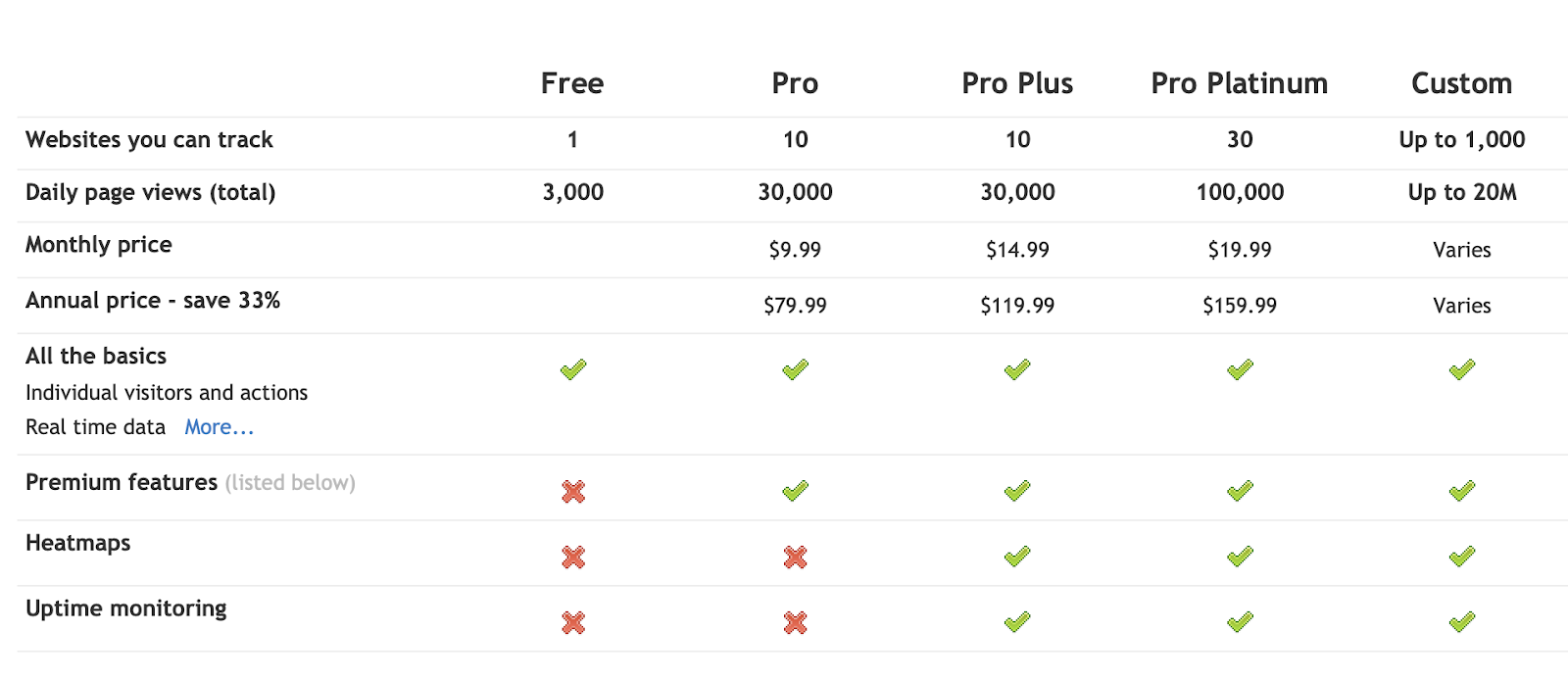 Clicky offers a free tier with basic features. Paid plans start at $9.99/month) to Pro Platinum ($79.99/month). All premium plans come with a 21-day free trial.
Cons and Pros
✅ Offers real-time web analytics. 
✅ Session recordings provide useful insights into user behavior. 
✅ Alerting system for site downtime is a plus.
❌ Lacks some advanced features offered by other tools like Google. 
❌ Free tier is limited and includes Clicky branding.
In essence, Clicky is a competent product that offers detailed, real-time analytics and additional benefits such as session recordings and uptime monitoring. Its straightforward interface and data representation make it an attractive option for businesses seeking actionable insights on users' web activity.
Smartlook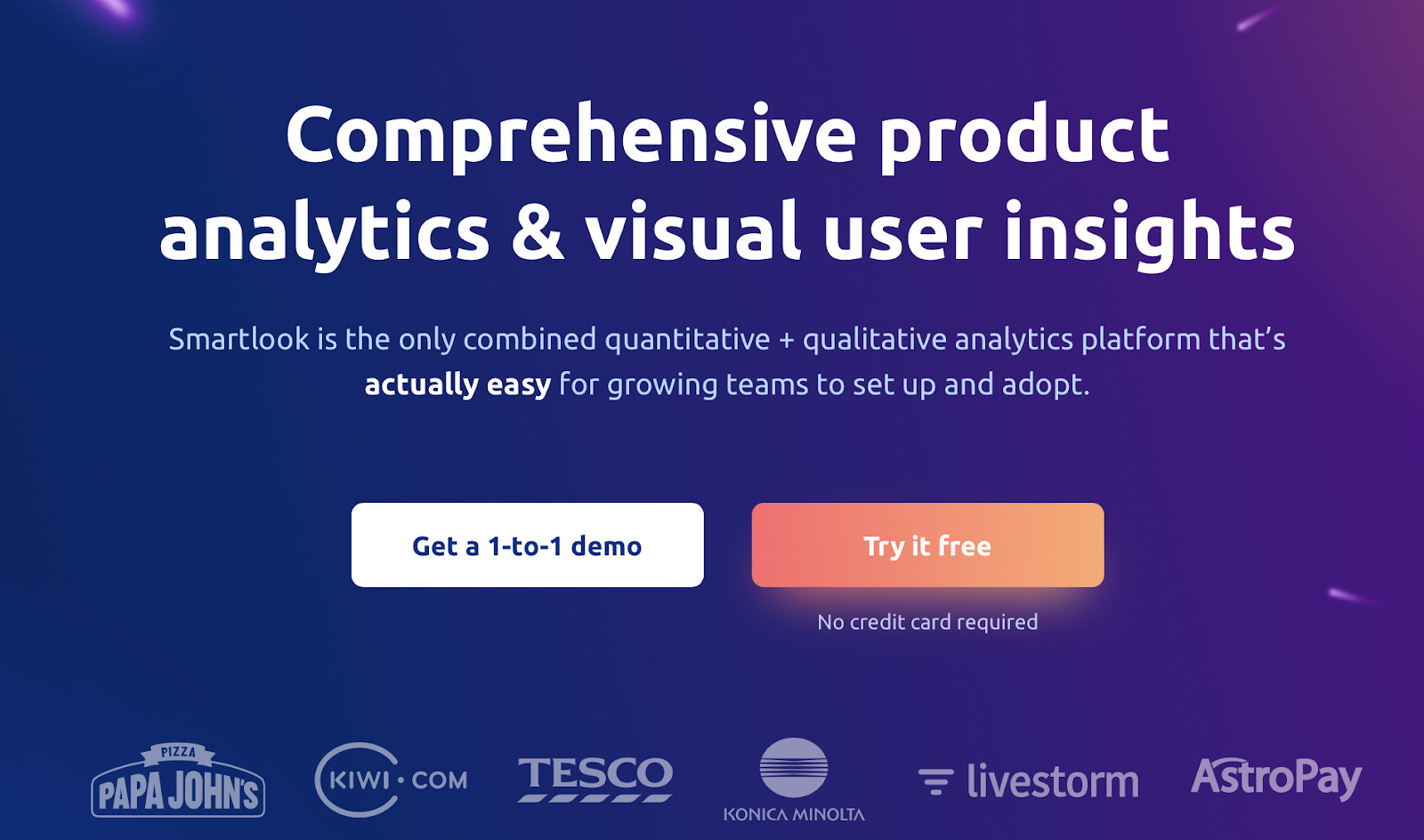 Smartlook is a proficient website visitor tracking tool that aims to reinforce marketing strategies and lead generation through detailed analytics. The company aspires to provide user-friendly insights into visitor trackings, helping businesses optimize their site performance. Smartlook counts popular names including Skoda, IKEA, and Microsoft among its clientele.
Features
Smartlook incorporates a host of features:
Recordings: Provides recordings of visitors on your site, facilitating an understanding of user behavior.
Event Tracking: Automatically records significant activities based on user interaction.
Funnels: Visualize the steps visitors take on your website to improve the user journey and lead them towards desired actions.
Heatmaps: Represent site engagement visually, highlighting areas of interest.
Pricing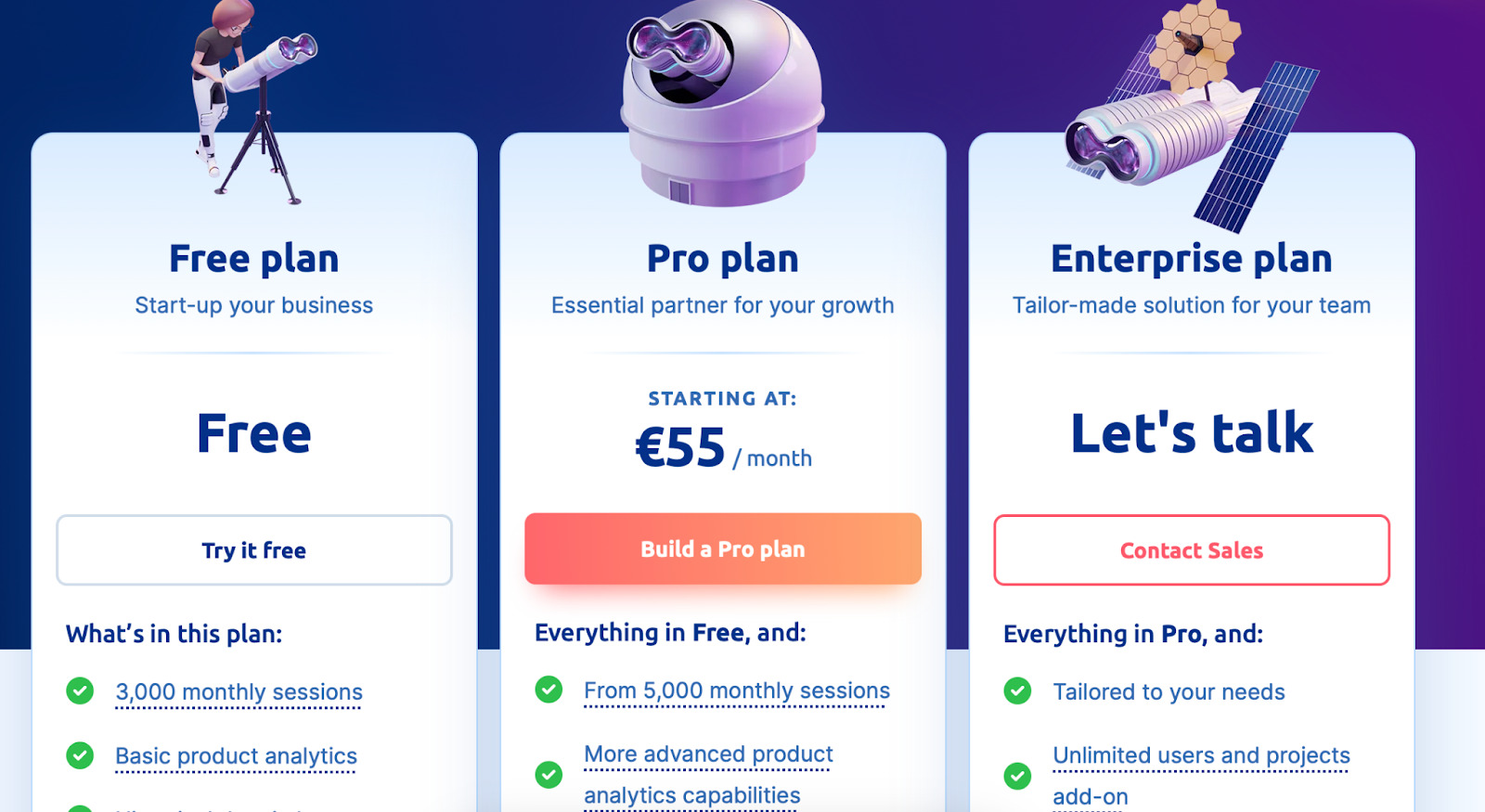 Smartlook offers a free tier for starters. Paid plans begin at €55/month, and Enterprise (custom pricing). A 10-day free trial is available for all new users.
Cons and Pros
✅ User-friendly visitor tracking and analytics. 
✅ Valuable insights from session recordings. 
✅ Ability to track events without pre-defining them is a big plus.
❌ Advanced features are locked behind the higher-price plans.
❌ Limitations on data retention on the free and lower-price plans.
Smartlook is an exceptional instrument for businesses seeking to delve deep into user behavior. With its thorough tracking features and intuitive analytics, it serves as a pathway to a more streamlined, user-friendly website, driving higher lead generation.
Semrush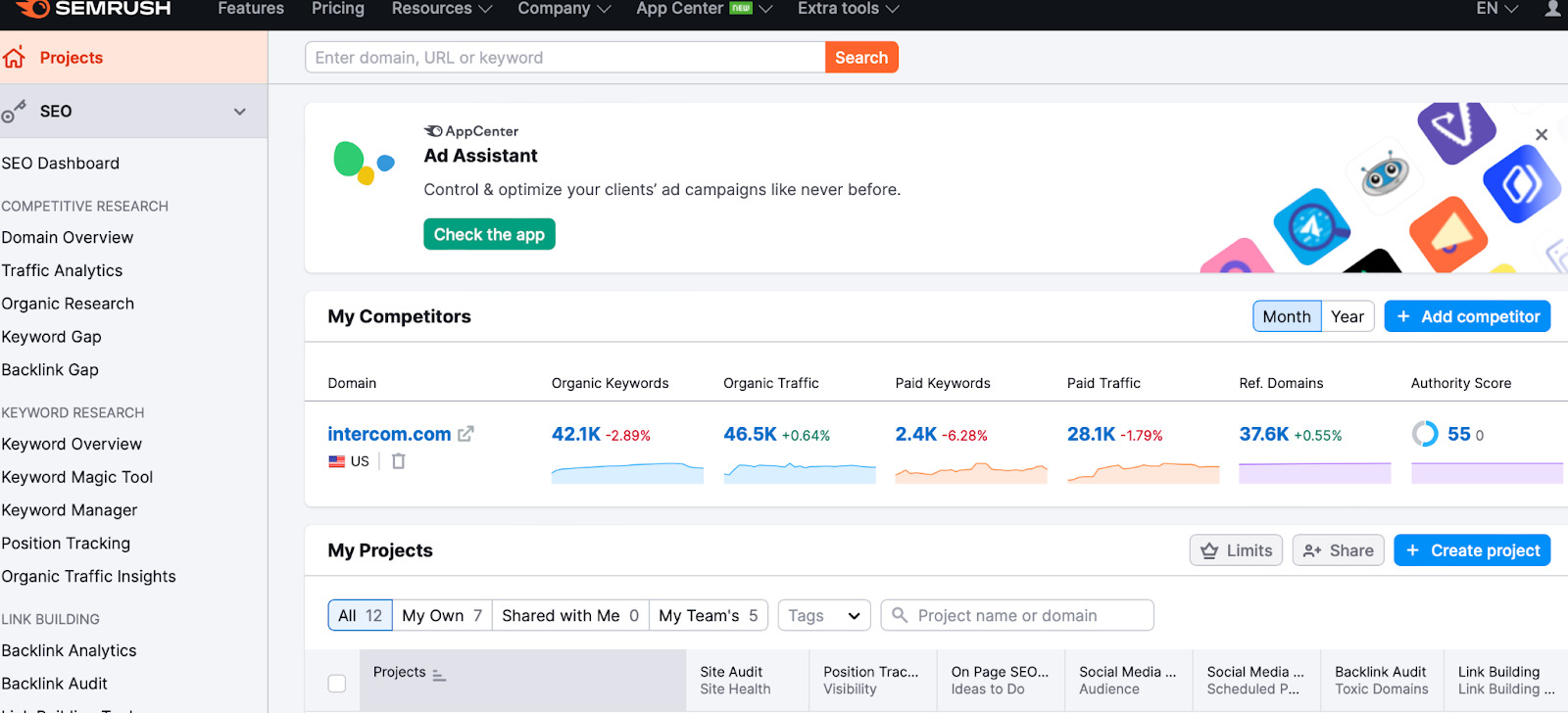 SEMrush is an all-encompassing website visitor tracking tool that is widely recognized in the field of digital marketing. It aims to empower businesses with extensive analytics and data for tracking users, improving site performance, and increasing leads. Prominent brands including eBay, Quora, and Booking.com utilize SEMrush for advanced marketing insights.
Features
SEMrush provides a plethora of rich tools:
SEO Toolkit: Improve visibility of your website through keyword analysis, backlink audits, and track rankings.
Advertising Toolkit: Optimize your online advertising strategies.
Social Media Toolkit: Track and optimize your social media campaigns.
Content Marketing Toolkit: Streamlines content creation, optimization and distribution process to attract and engage leads.
Competitive Research Toolkit: Provides a comprehensive overview of your competitors.
Pricing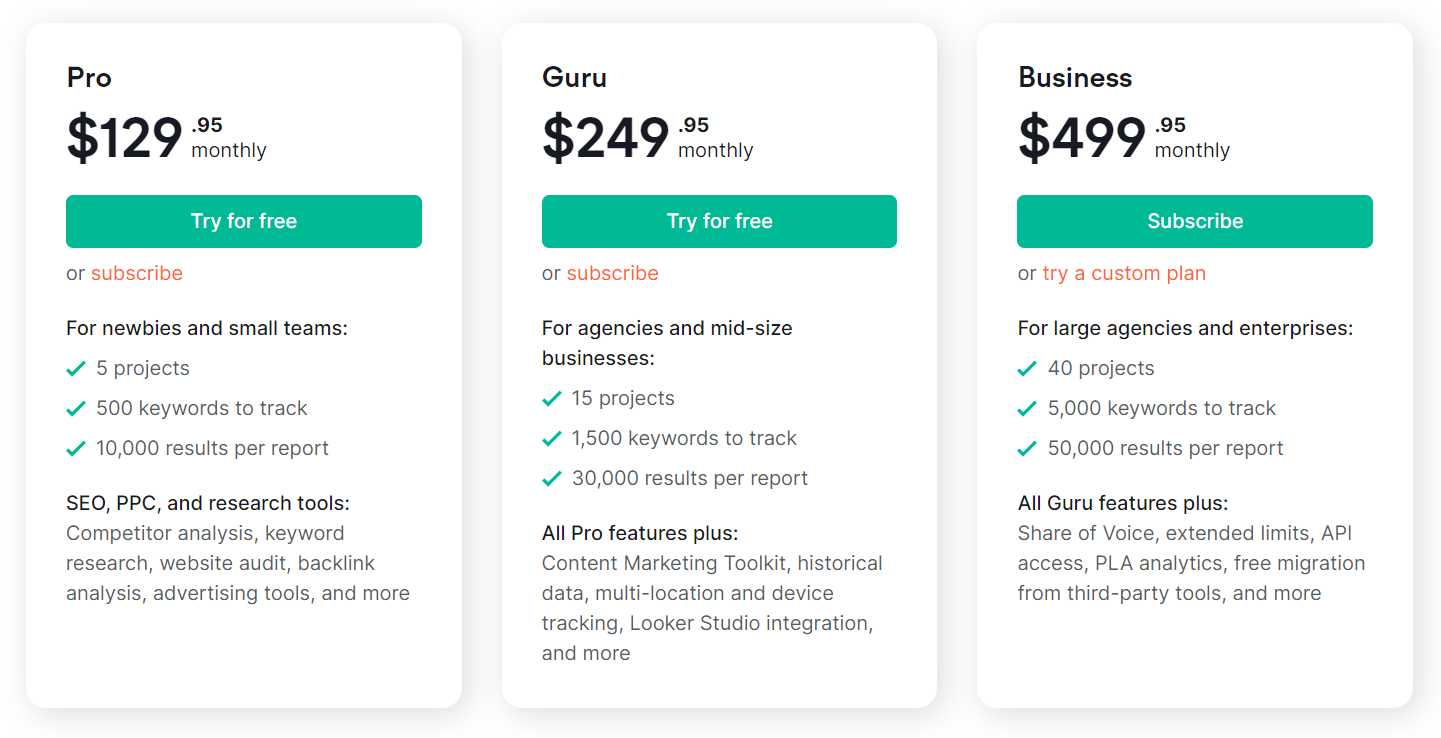 SEMrush's Pro plan starts at $108/month, offering expanded historical data. The Guru plan, for agencies and businesses with extensive web presence, costs $208/month. Business plan will cost you $416/mo. They occasionally provide a 7-day trial.
Cons and Pros
✅ Comprehensive SEO and content marketing toolsets provide extensive insights. 
✅ Robust competitive analysis toolkit. 
✅ Tools specifically designed to track and improve advertising and social media efforts.
❌ Pricier than other website visitor tracking tools. 
❌ May be overwhelming for beginners due to the abundance of features.
Overall, SEMrush is more than just a website visitor tracking tool. It's a complete suite of marketing analysis tools providing comprehensive data to help businesses refine their marketing strategies, optimize their site, and augment lead generation.
Downloard 30+ marketing campaigns for different user segments and raise conversions on your website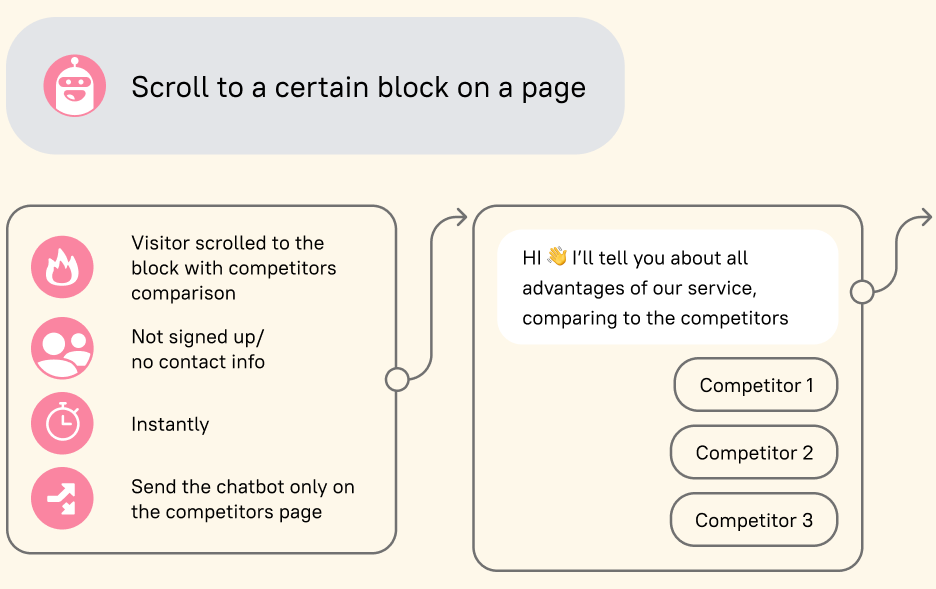 Kissmetrics for analytics tracking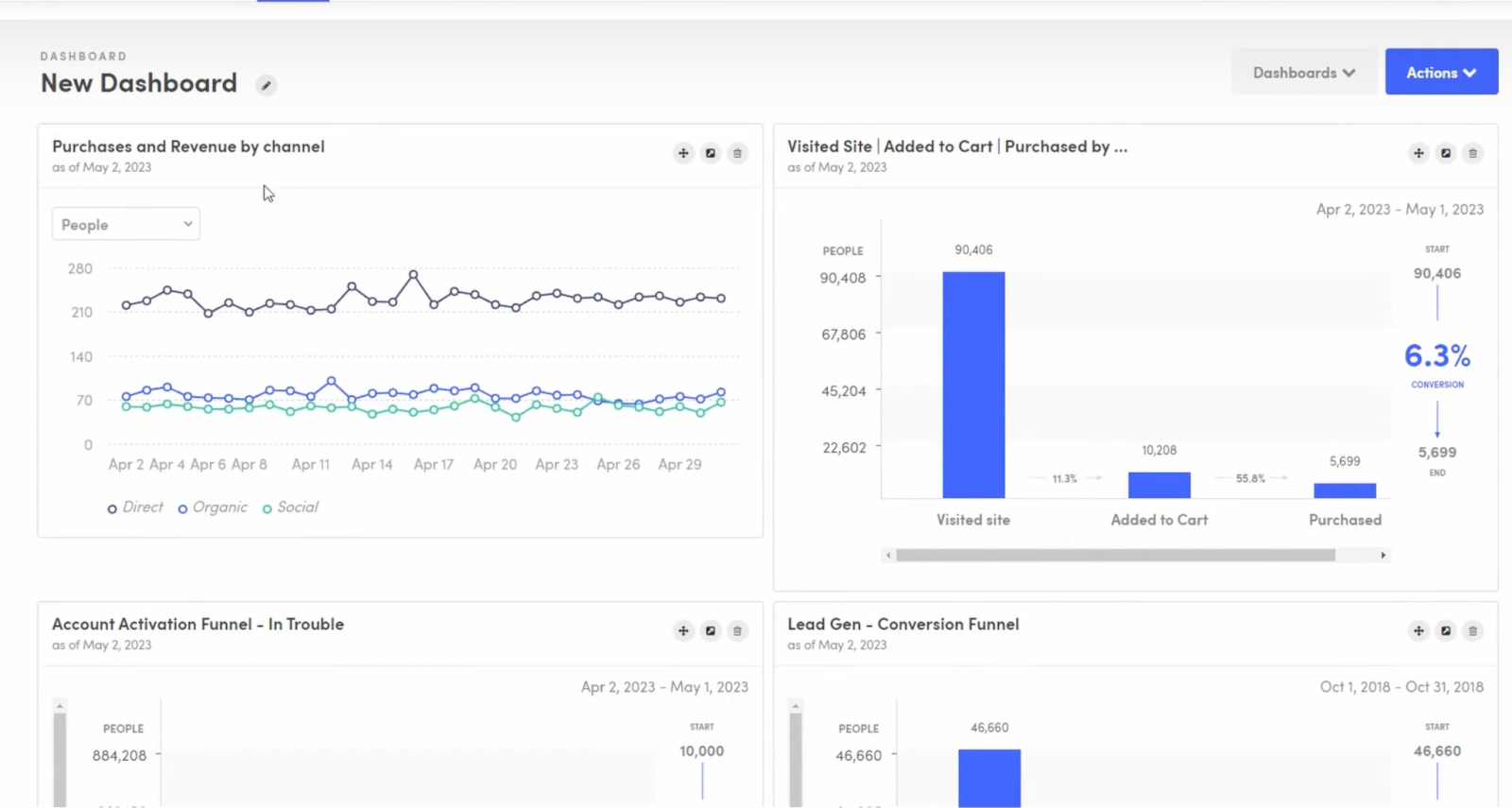 Kissmetrics is a website tracking tool designed to provide a comprehensive understanding of user behavior. The core objective of the company is to help businesses uncover meaningful data from their visitors, optimizing their web presence and improving product offerings. Esteemed companies such as SendGrid and Rosetta Stone leverage Kissmetrics to incite data-driven decisions.
Features
Kissmetrics comes with a compelling set of tools:
Behavior Tracking: Monitor user activities on the site, observing their every action and interaction.
Automated Reports: Receive insightful data from automated reports, delivered directly to your inbox.
Campaign Effectiveness: Evaluate the results of different marketing campaigns and measure their individual impacts.
Audience Segmentation: Segment visitors based on their behaviors, leading you towards targeted marketing efforts.
Funnel Reports: Identify "leaks" in the customer journey to optimize conversion funnels.
Pricing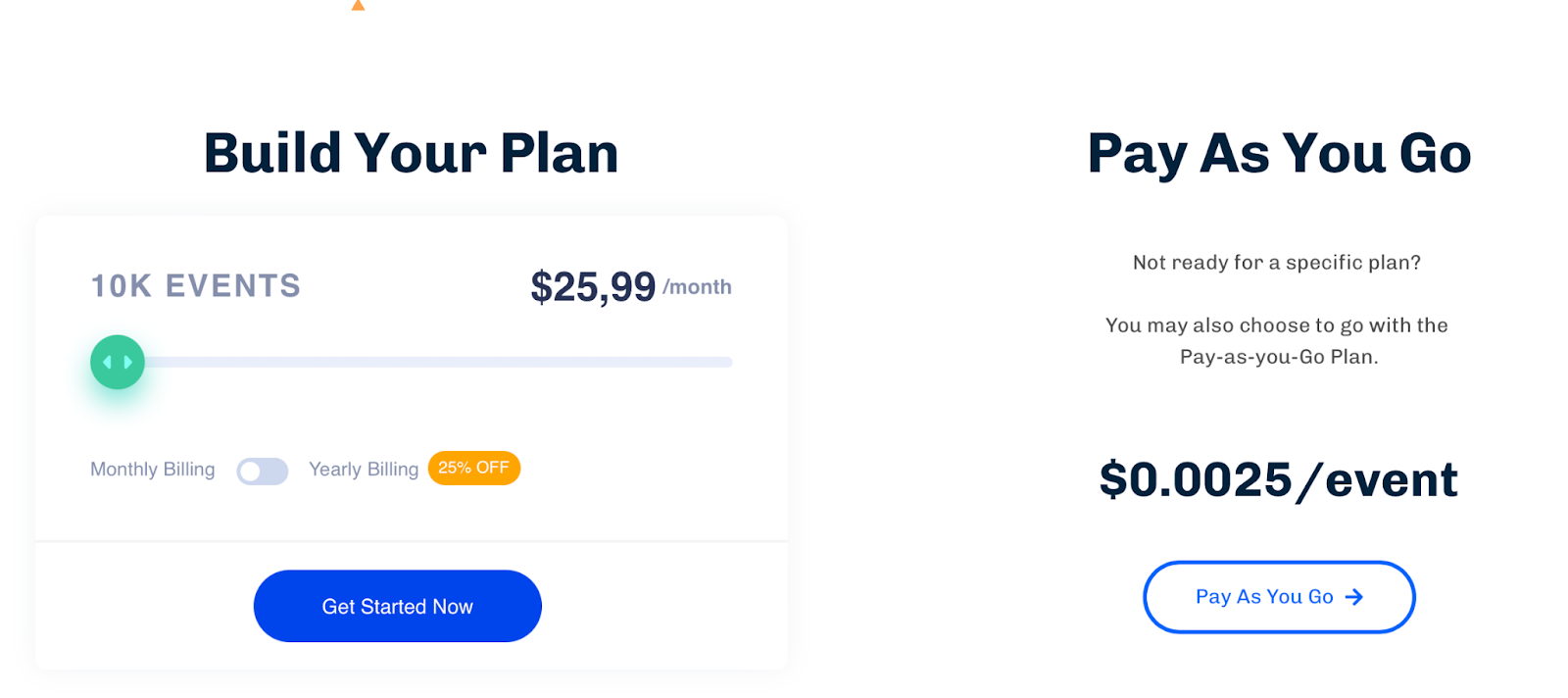 You have to contact the Kissmetrics team to discuss the detailed pricing tailored to your specific needs. Basically, you're free to build your own plan in the constructor, starting from $26/mo, or Pay As You Go starting at $0,0025/event. They don't openly offer a free trial on their website, but it's recommended to ask for one during your pricing inquiry.
Cons and Pros
✅ Comprehensive website and user behavior tracking. 
✅ Automated reports make data digestion easier. 
✅ Profitable for optimizing marketing efforts and product tweaks.
❌ No transparent pricing structure. 
❌ Lack of session recording tools compared to some competitors like Google.
In conclusion, Kissmetrics is a powerful player in the field of website visitor tracking, offering an extensive suite to help businesses effectively analyze and act upon user behavior data, making their product and marketing strategies more robust.
Heap for analytics tracking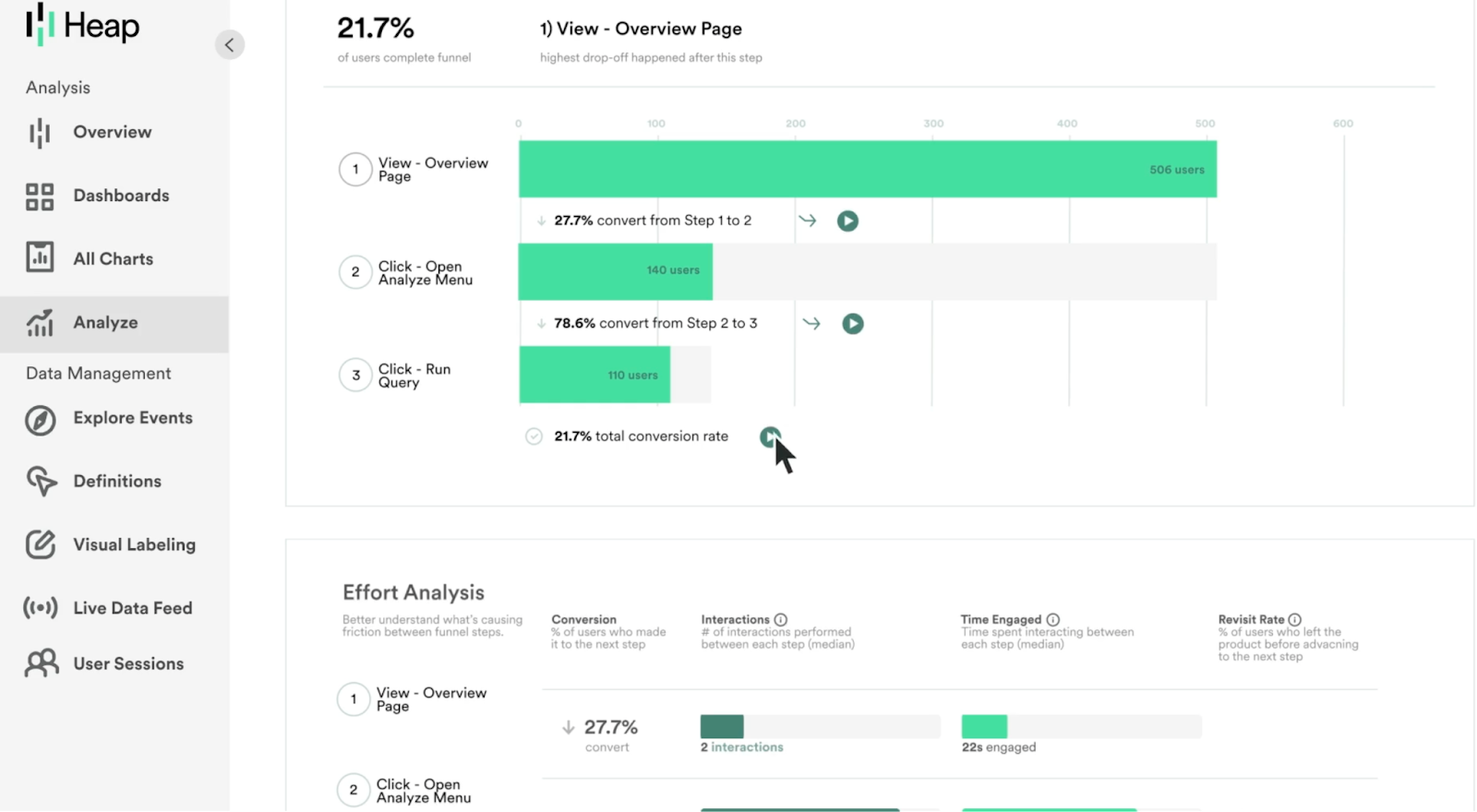 Heap is a potent website visitors tracking tool that focuses on understanding user behavior to drive growth. Their ultimate goal is to empower businesses with tools that make data accessible, insightful, and useful. From dynamic startups to esteemed corporations like Microsoft and Twilio, businesses apply Heap for data-driven decisions.
Features
Heap provides an array of powerful tools:
Automatic Tracking: Heap instantly captures every click, tap, swipe from each visitor on your website.
Data Audit: It verifies the accuracy of your web data, ensuring reliable insights.
Session Recordings: Witness user journeys through recordings to help improve their experience.
Retroactive Analysis: Heap lets you access historical data allowing you to understand past user behaviors.
Funnels & Trends: Visualize the user journey and track performance trends.
Pricing

Heap's pricing is customized to the business's specific requirements, with details available only upon request. The platform offers four primary tiers — Free, Growth, Pro, and Premier. Heap also supplies a free basic tier for early-stage businesses to explore the platform.
Cons and Pros
✅ Captures immense data automatically, without specifying events. 
✅ Access to historical user data is beneficial. 
✅ Session recordings offer granular insights into user behavior.
❌ Pricing details aren't publicly available.
❌ Doesn't provide all the advanced analytics you'd get from Google.
In short, Heap offers robust website visitor tracking capabilities, capturing a wealth of data to help businesses understand user behavior better. Its tools are designed to equip businesses with the data they need to enhance their product, amplifying growth.
Mixpanel for analytics tracking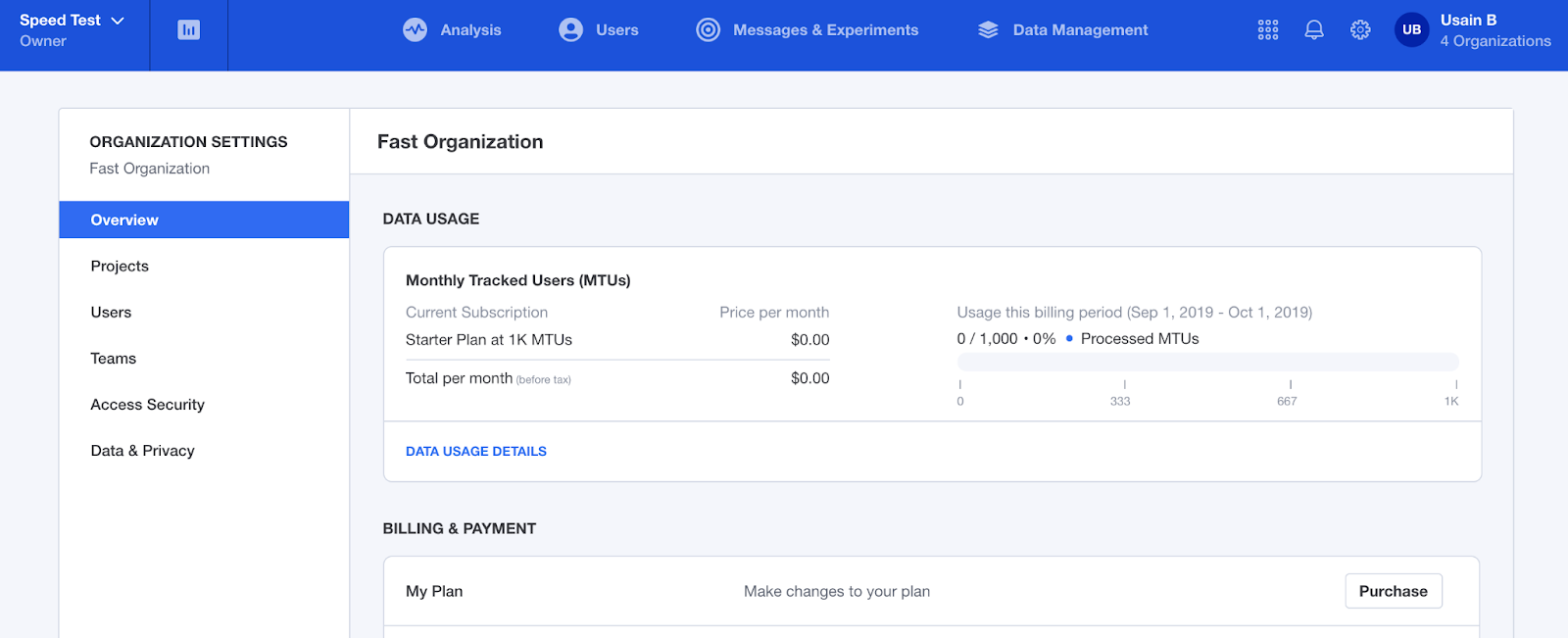 Mixpanel is an advanced website visitors tracking tool committed to improving your marketing tactics through user analytics. The mission of the company is to help businesses grow by learning from user data. Numerous companies like Uber, Expedia, and Ancestry use Mixpanel to extract valuable insights for their websites.
Features
Mixpanel packs in a series of impressive tools:
User Analytics: Track user interactions on your site to analyze and predict customer behavior.
Data Science Models: Use models like Flows and Signal to predict future actions of users.
A/B Testing: Test different variations of your site to identify the most impactful elements.
Automated Insights: Leverage machine learning for automated data collection and analysis.
Funnel Analysis: Improve conversion rates by identifying and mitigating drop-off points.
Pricing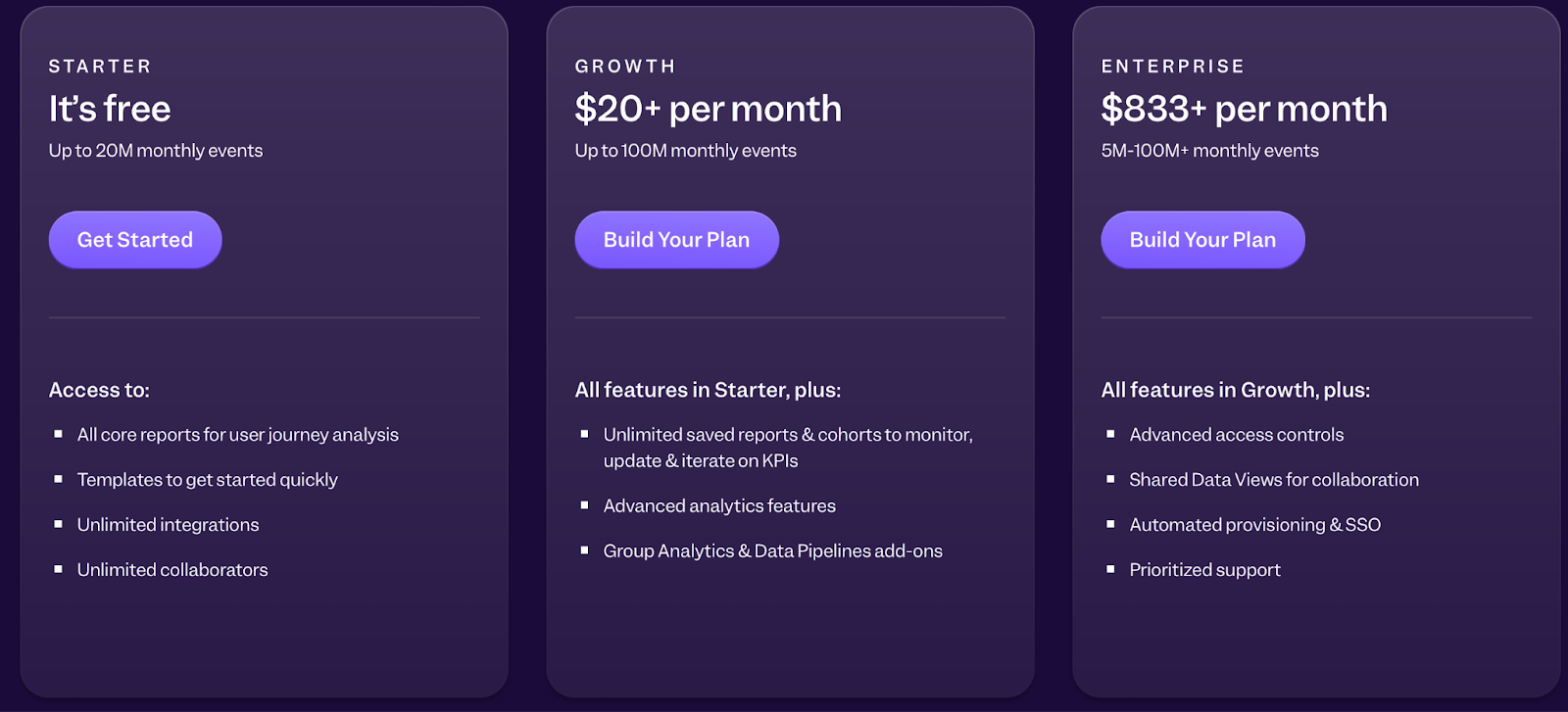 Mixpanel's pricing is structured on tracked Monthly Events. They offer a free tier (up to 20M monthly events). Paid plans start at $20/month, accommodating larger volumes. Mixpanel also provides an Enterprise plan with custom pricing and features. All their plans come with a 14 day free trial.
Cons and Pros
✅ Comprehensive user analytics and data science tools. 
✅ Automated analytics via machine learning is a significant step-up. 
✅ Potential to boost leads with funnel analysis and A/B testing.
❌ Can be overwhelming due to the depth of analysis. 
❌ Pricing can escalate quickly with increased traffic.
To conclude, Mixpanel is an excellent tool for tracking website visitors, offering a wealth of features that give businesses valuable insights into user behavior. Coupled with marketing strategies, it paves the way for website optimization and increased lead generation.
Mouseflow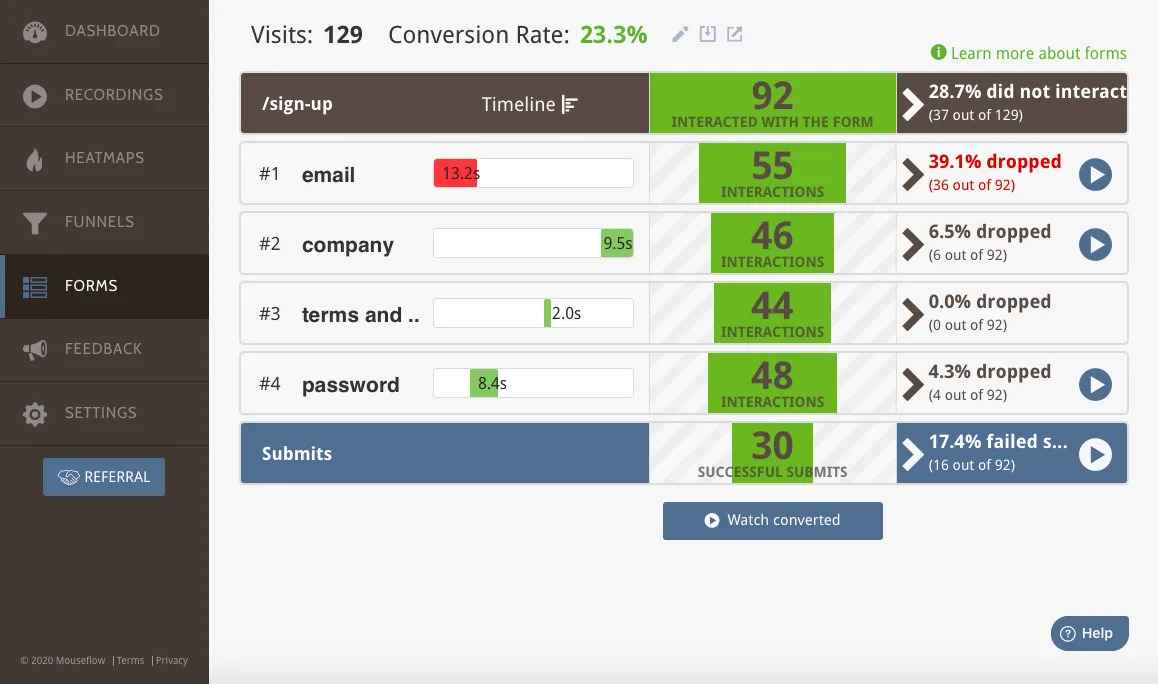 Mouseflow is a widely acknowledged visitor tracking tool aimed at understanding user behavior by bringing UX testing to a higher level. This company's major motive is to afford businesses a clear overview of the visitor path, helping to craft a more seamless website journey. Diverse businesses from startups to large corporations make use of Mouseflow's in-depth behavioral insights.
Features
Mouseflow equips its users with a multitude of tools:
Heatmaps: Visualize where people click, move, and scroll on your site to comprehend user behavior.
Session Replays: Watch recordings of visitor interactions for UX testing and overall improvements.
Conversion Funnels: Track visitor journey, pinpointing where traffic drops off to optimize website flow.
Form Analytics: Understand how visitors interact with forms to enhance completion rates.
Pricing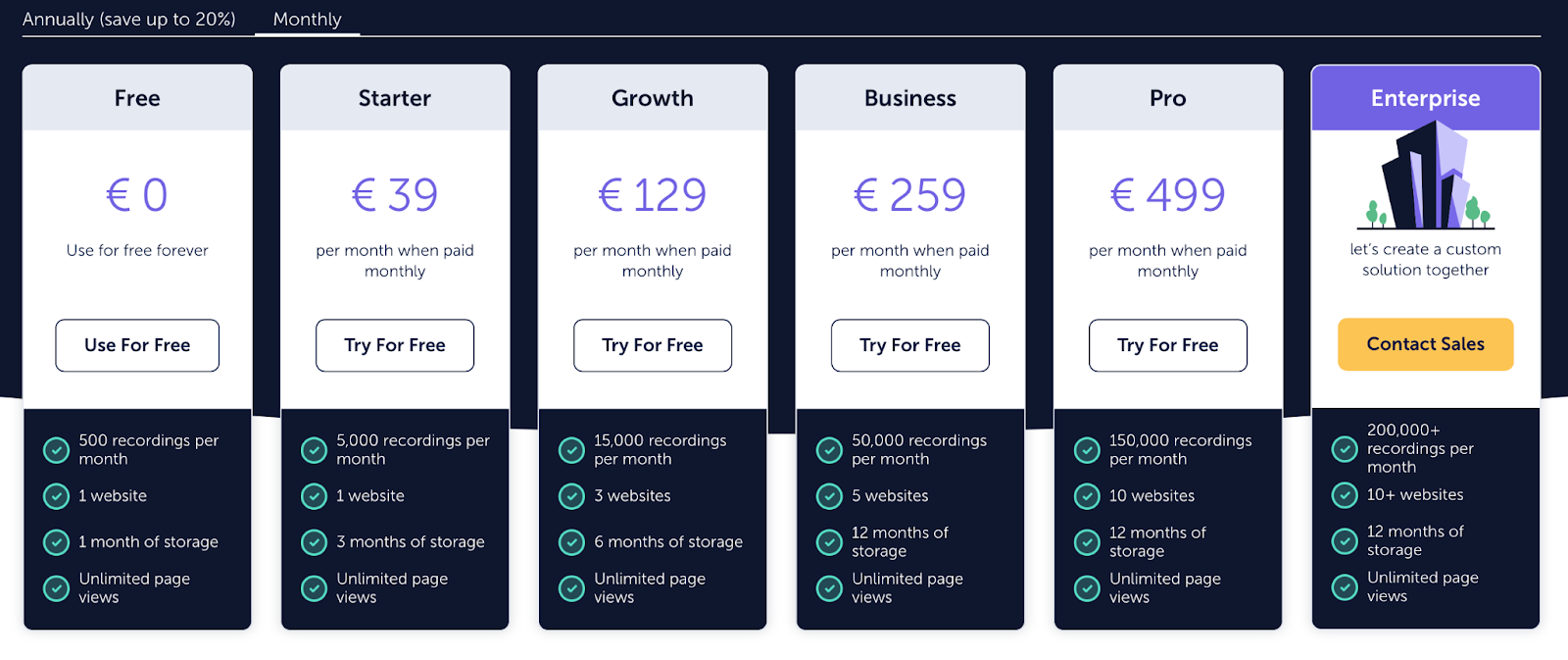 Mouseflow offers a free tier for new businesses. Paid plans start at €39/month up to €499/mo. Enterprise is for big companies, it orivides custom pricing. A 14-day free trial is also available for all plans.
Cons and Pros
✅Wide range of tools for comprehensive visitor tracking. 
✅Form analytics is a great tool for understanding and enhancing form completion. 
✅Affordable starter pack coupled with a free plan.
❌ Limited functionalities in the free tier. 
❌ Specialized on UX, it lacks some wider analytics features.
Mouseflow is indeed an exceptional platform for businesses aiming to delve deep into visitor behavior. The insightful data this tool provides is vital for UX testing and optimizing websites for enhanced traffic retention.
Glassbox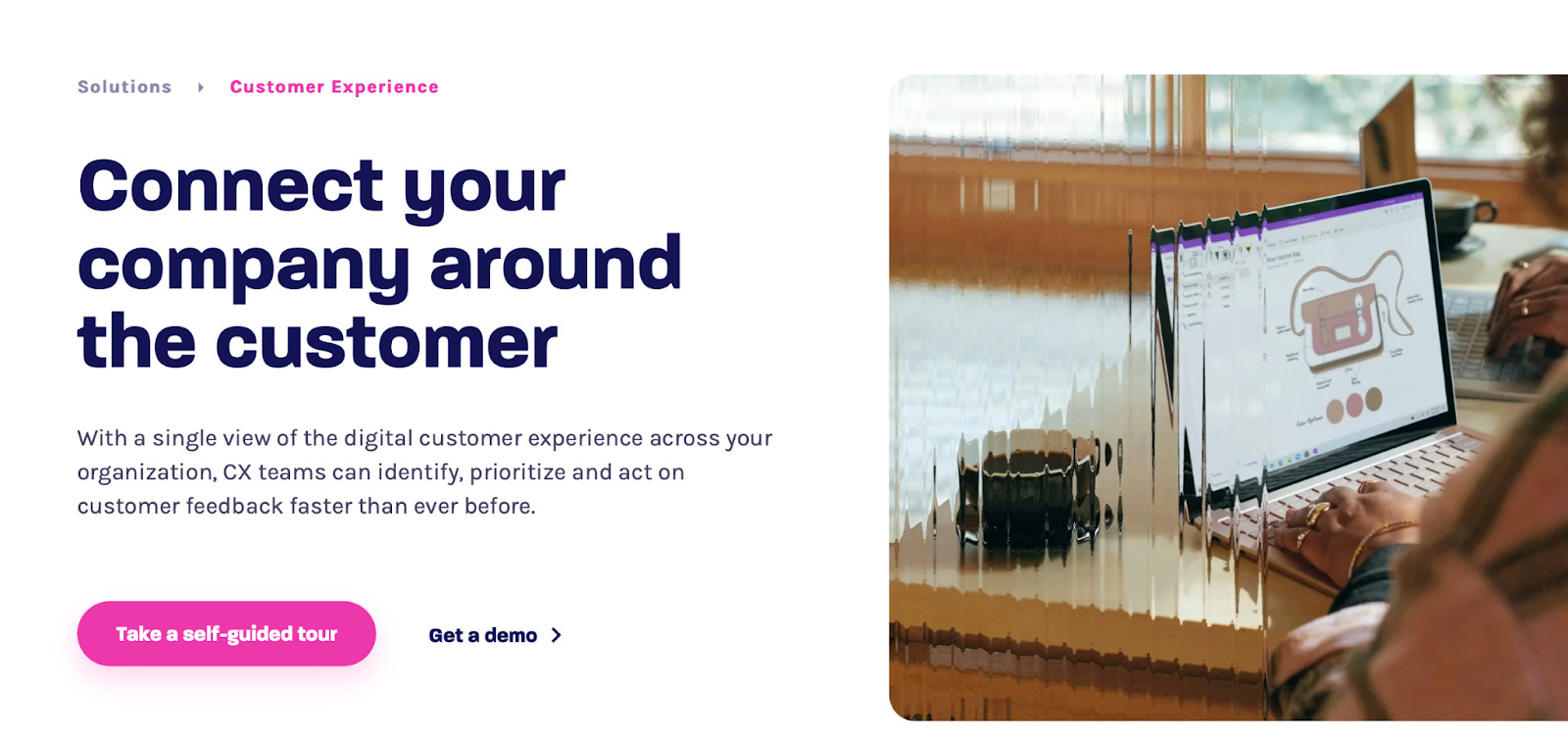 Glassbox is an innovative website visitor tracking tool that serves as a cornerstone for well-informed marketing decisions based on data analytics. The firm's goal is to provide an understanding of the unique user journey by tracking their every interaction. This helps businesses optimize their site and bolster leads. Massive corporations such as RBS and Sky use Glassbox for detailed insights into user behavior.
Features
Glassbox offers a series of insightful tools:
Session Replay: Replays of user interactions that highlight dwell time, clicks, and more.
Web Analytics: Understand user behavior and interactions to optimize your website.
Customer Journey Mapping: Visualize the pathways taken by visitors to enhance the user experience.
Error Tracking and Analytics: Identify and resolve site issues quickly for a smoother user experience.
Pricing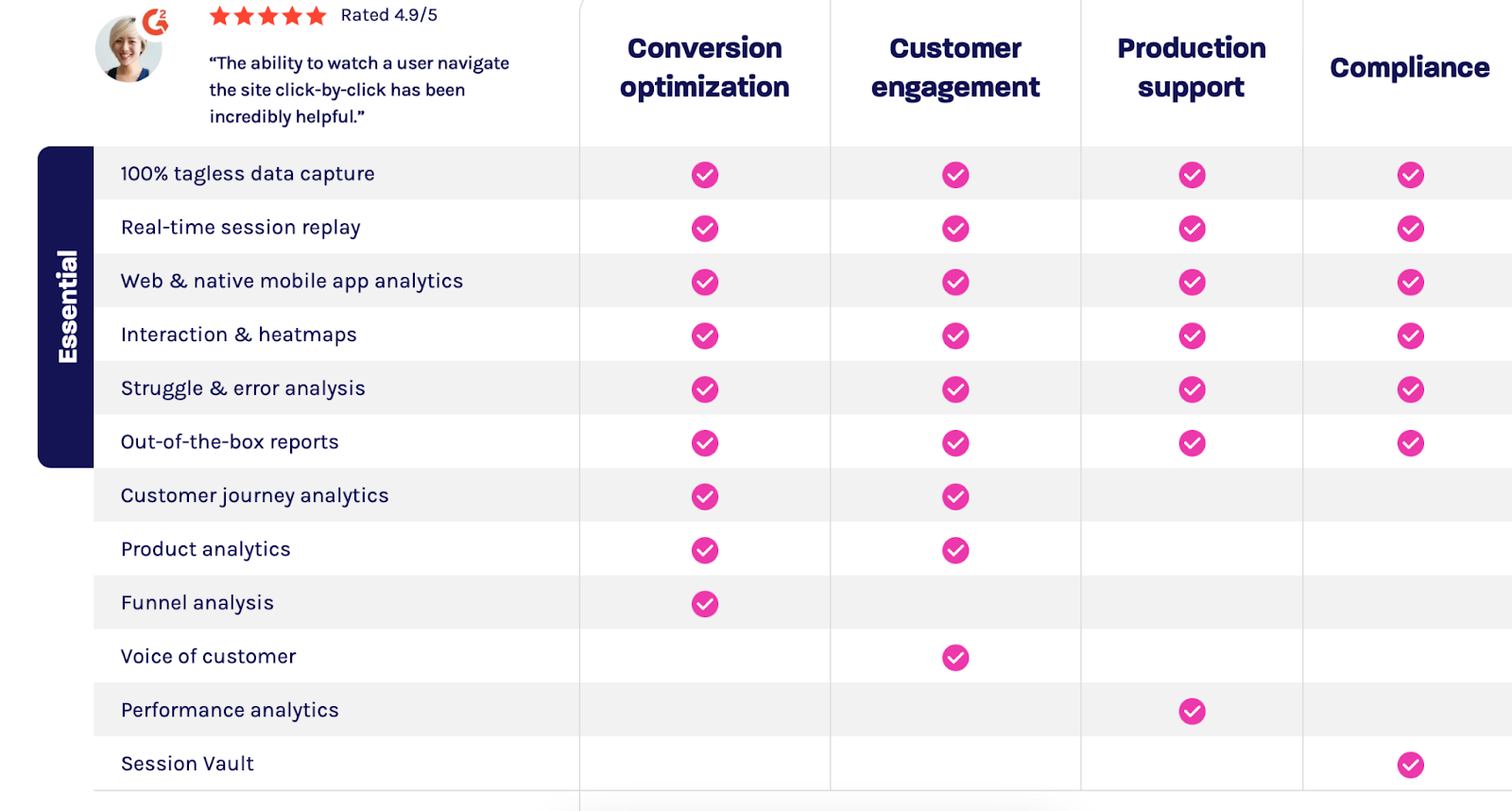 Glassbox operates on a quote-based pricing model. Information about the starting price, free trial days, and number of plans is shared on request or during consultation with their sales team.
Cons and Pros
✅ Detailed session replays offer critical user interactions insights. 
✅ Potent analytics and error tracking tools for website optimization. 
✅ Emphasizes on the holistic customer journey.
❌ Quote-based pricing can lack transparency. 
❌ Might be best suited for larger businesses rather than smaller ones.
In essence, Glassbox is a beneficial tool within the ambit of visitor tracking. Its rich set of features support businesses to comprehend user behavior in-depth, advancing their websites' performance and fuelling lead conversion.
Leadinfo as one of the best tracking tools
Leadinfo is a prominent website visitors tracking tool built around enhancing lead generation for businesses. Their mission is to channel valuable insights about user interactions, helping to perfect marketing strategies and website performance. Many B2B companies across sectors leverage Leadinfo for data-driven decisions.
Features
Leadinfo provides a slew of tools:
Company Recognition: Identify companies visiting your website even if they don't fill out forms, boosting your leads.
Real-time Alerts: Get immediate notifications when identified companies visit your site again.
Visitor Behavior Tracking: Understand how users interact with your site, leading right marketing decision-making.
Lead Scoring: Rank leads based on their interaction and engagement levels on your website.
Pricing
Leadinfo's pricing is based on the number of website visitors, starting at $59/month. It does not offer a free trial but they provide a 14-day demo of the product.

Cons and Pros
✅ Excellent at identifying anonymous businesses and leads, maximizing sales opportunities. 
✅ Real-time alert system keeps you updated on potential leads. 
✅ Lead scoring feature helps prioritize marketing efforts.
❌ No free trial available, only a product demo. 
❌ Mainly focuses on identifying companies, less comprehensive for B2C tracking.
In conclusion, Leadinfo is a potent tool within the realm of visitor tracking for B2B marketing. Through its unique feature set, the potential for understanding user behavior and generating actionable leads is immensely enhanced.
Woopra customer journey analytics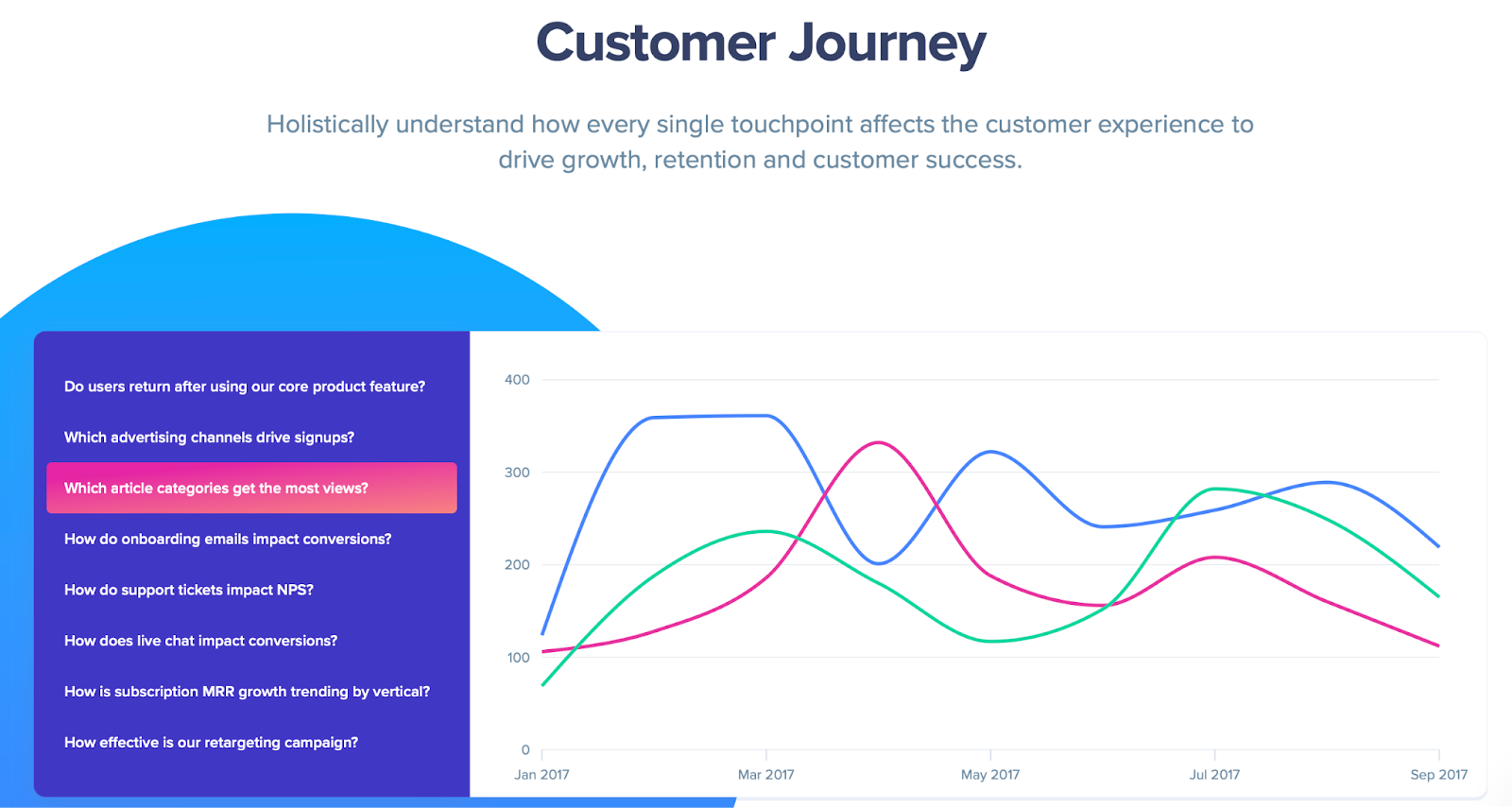 Woopra is a comprehensive website visitor tracking tool dedicated to understanding user behavior through real-time analytics. It emphasizes advanced UX testing to provide a seamless user journey. Companies across multiple industries leverage Woopra to boost site traffic and improve user engagement. 
Features
Woopra offers an impressive set of tools:
Real-Time Analytics: Monitor user behavior as it occurs on your site.
Customer Journey Tracking: Understand and map the user paths to enhance UX.
Retention Analytics: Identify key points where users return, engaging them effectively.
Behavioral Triggers: Automate actions based on specific user behaviors on your site.
Pricing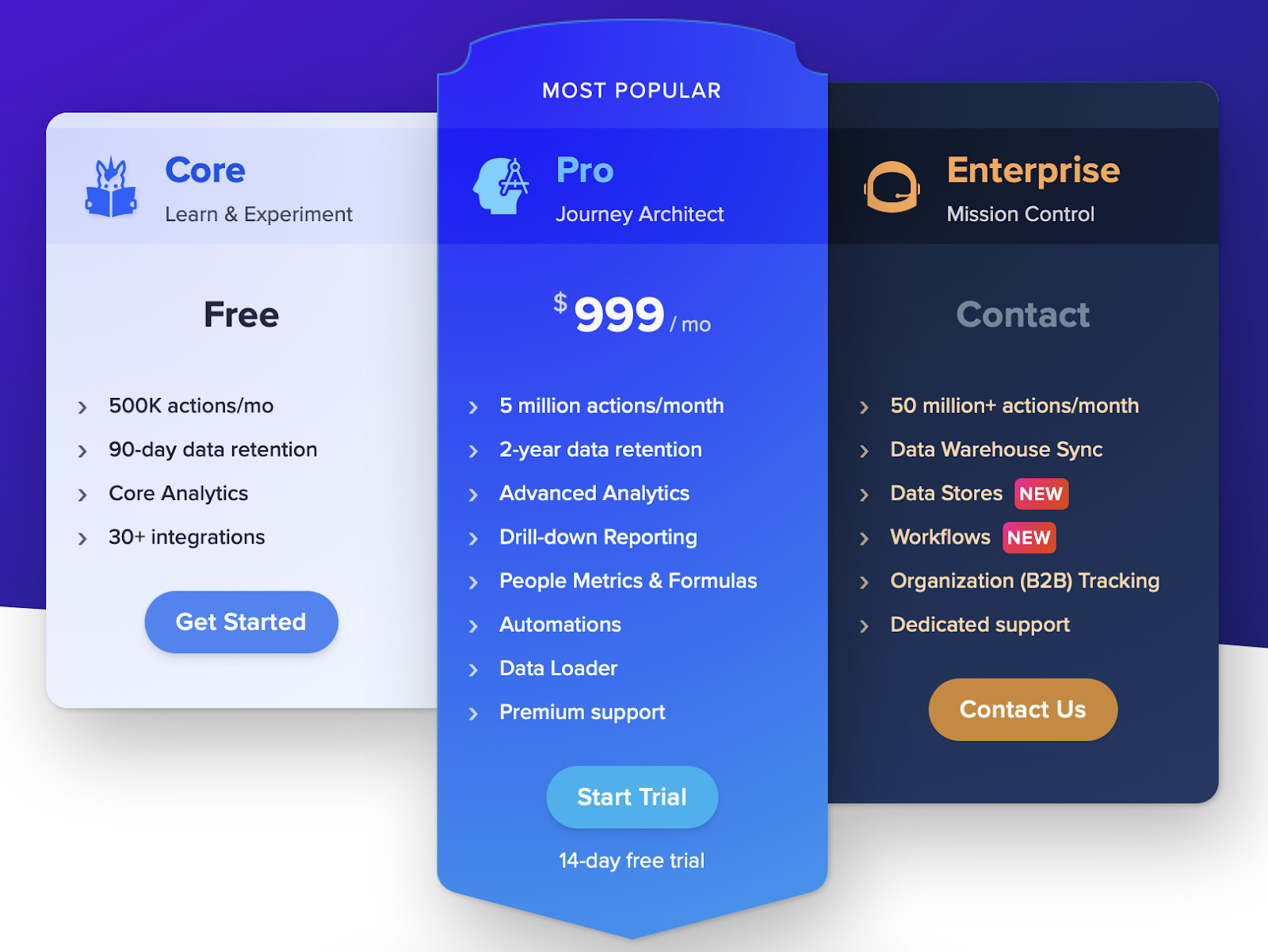 Woopra's base plan is free, offering basic analytics. For more advanced features, paid packages start at $999 per year. Custom pricing for the Enterprise plan is available on request.
Cons and Pros
✅ Offers detailed real-time analytics. 
✅ A comprehensive tool for UX testing and understanding user behavior. 
✅ Behavioral trigger tool allows targeted responses to user actions.
❌ Advanced features can be expensive.
❌ The free plan is fairly limited in capabilities.
Ahrefs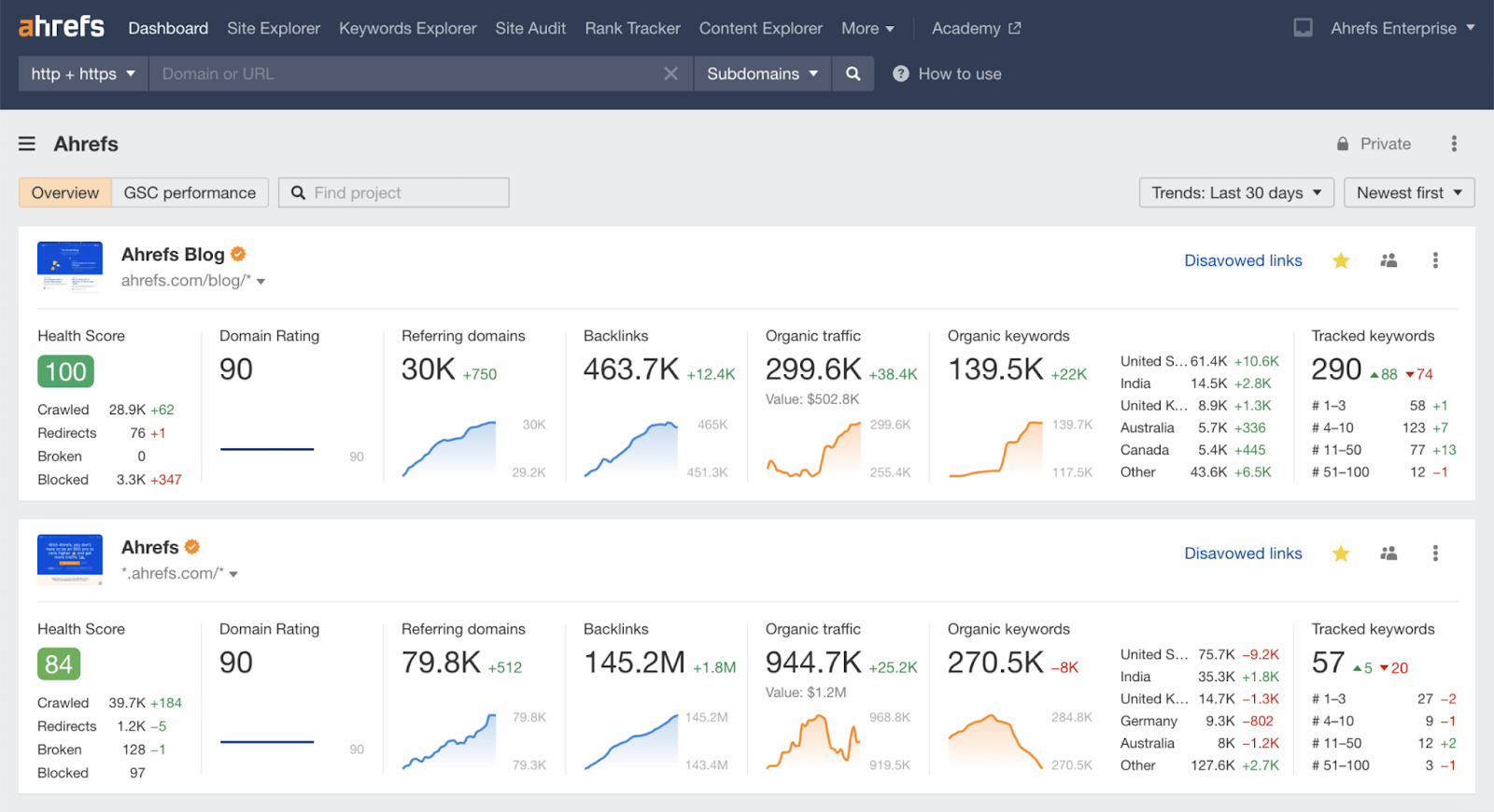 Ahrefs serves as a powerful tracking tool for website visitors, armed with a suite of research-oriented software to help businesses analyze performance and growth. The company's mission is centered around the provision of detailed data analytics to optimize website success. Renowned companies such as Facebook, Netflix, and Uber rely on Ahrefs to unlock valuable insights.
Features
A few of Ahrefs' substantial tools include:
Site Explorer: Inspect the backlinks and organic search traffic of any website.
Keywords Explorer: Track the performance and ranking potential of specific keywords.
Site Audit: Identify issues that could impede your site's performance.
Rank Tracker: Monitor your website's SERP rankings over time.
Pricing

While Ahrefs does not have a conventional free plan, it offers a 7-day trial for €89/month (Lite) and extend up to €899/month (Enterprise). Different plans offer varying quotas for their features and cater to different business sizes and requirements.
Cons and Pros
✅ Comprehensive website tracking and research tool. 
✅ Excellent for backlink and competitor analysis. 
✅ Insightful keywords and rank tracking features.
❌ Costly compared to some competitors.
❌ Absence of a full-fledged free plan may discourage smaller businesses.
In summary, Ahrefs is an indispensable asset for businesses looking to enhance website health, monitor performance, and conduct in-depth competition research. Despite its lack of a fully free plan, its benefits justify the investment for businesses aiming to elevate their digital presence.
FullStory as one of the users tracking tools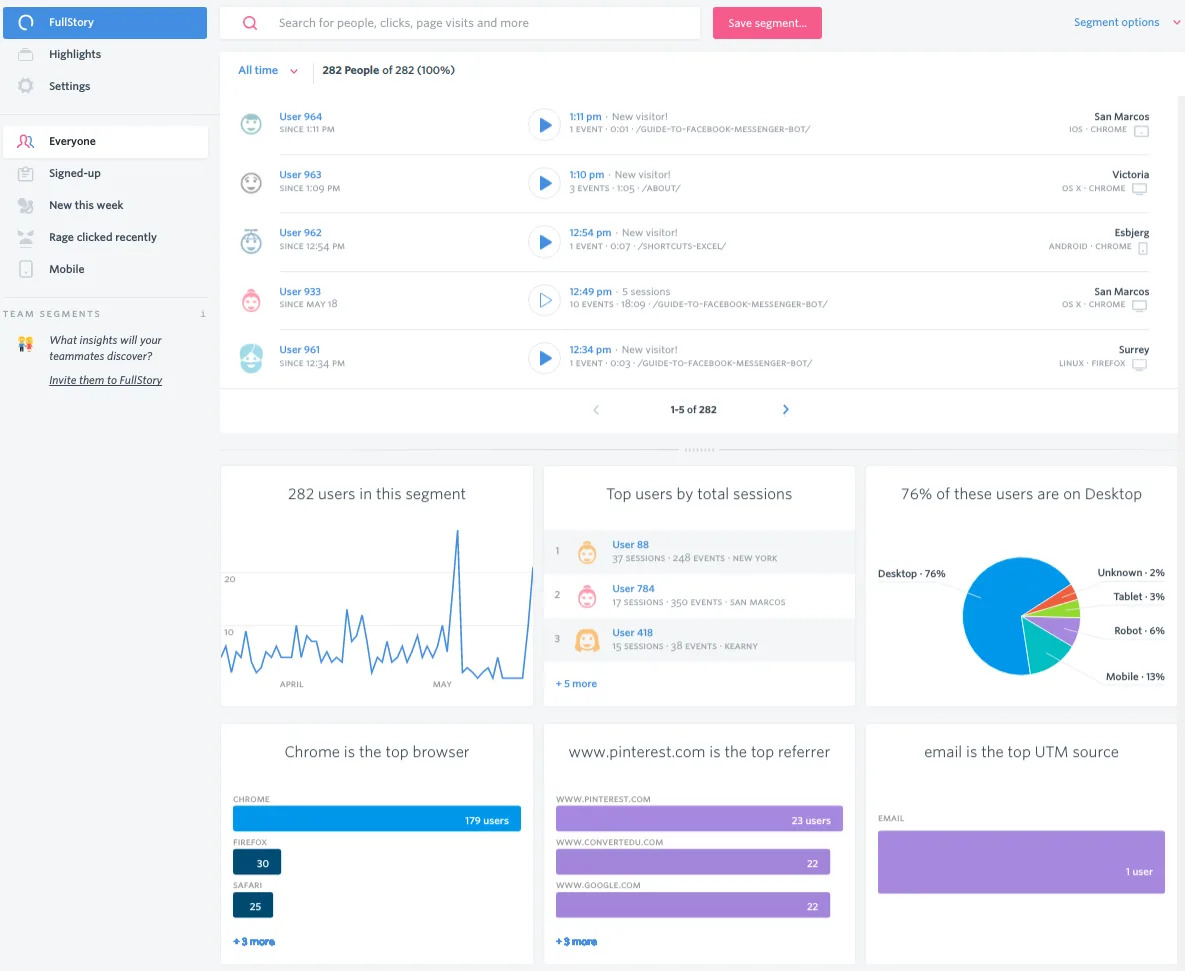 FullStory is a modern website visitor tracking tool that takes into account the importance of UX testing by offering digital intelligence capabilities. The company aspires to empower businesses to understand user behavior by gaining insights into how visitors interact with their sites. This, in turn, enhances traffic and engagement. Large enterprises including Shopify, Rakuten, and Mozilla use FullStory to get actionable insights for their businesses.
Features
FullStory includes the following tools:
Session Replay: Reconstruct user interactions on your site to gain insights and identify UX issues.
Error Clicks: Understand when users experience frustrations and what part of the site causes it.
Funnels: Visualize user journeys and identify potential drop-off points.
Search IQ: Use auto-suggest searches to efficiently locate the data you need.
Pricing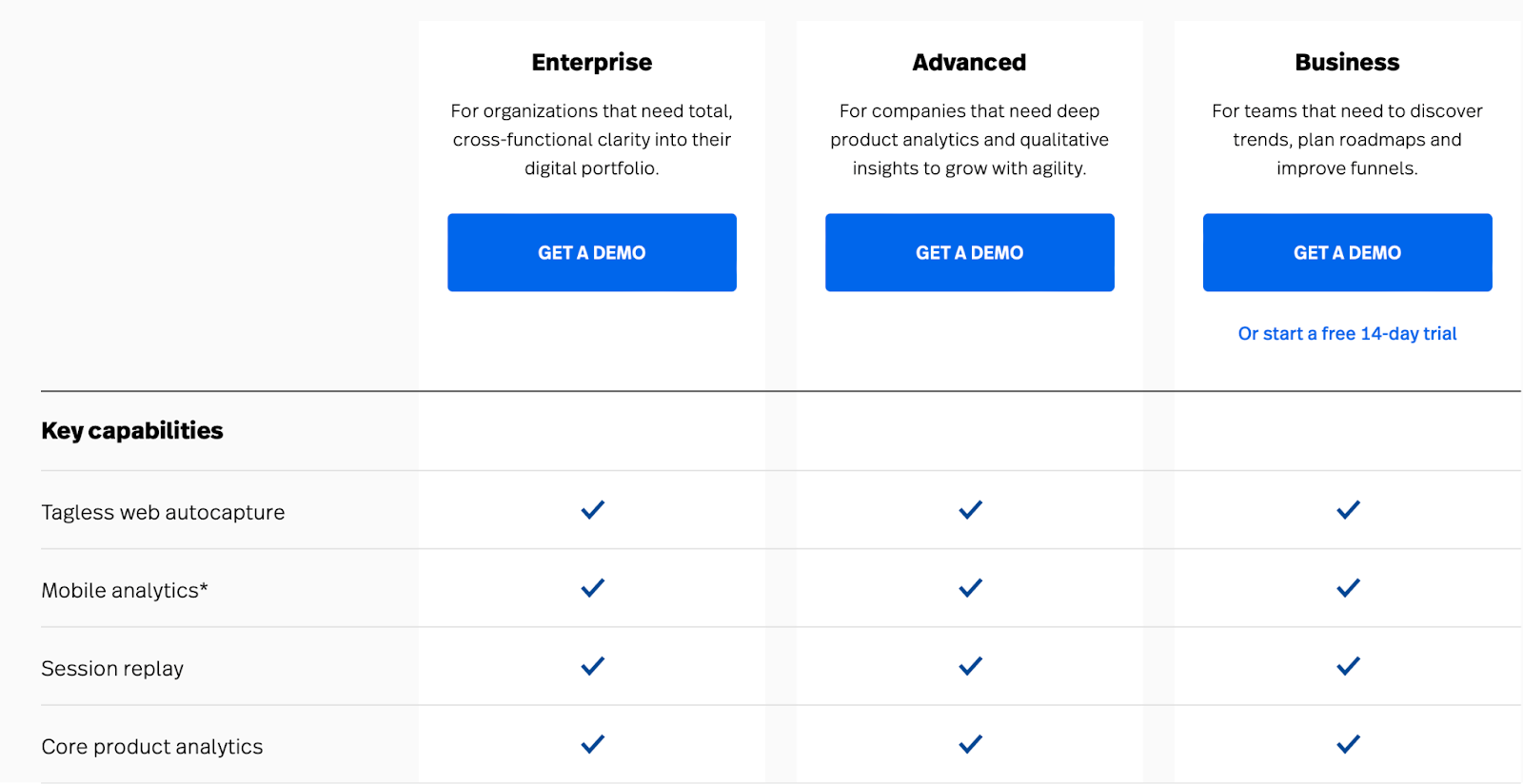 FullStory offers a free plan that caters to businesses just starting to analyze their online activity. Their business tier is custom priced based on specific needs and does not have a stated starting price. Do reach out to them for a specific quote.
Cons and Pros
✅ Offers a significant range of tools for UX testing. 
✅ The free plan is perfect for small businesses or beginners. 
✅ "Error Clicks" tool effectively identifies user frustrations and bottlenecks.
❌ Pricing for the business tier is not transparent.
❌ Session replay feature might be overwhelming for beginners.
In a nutshell, FullStory is a reliable tool for businesses seeking to better understand visitor behavior. Its detailed analysis functionalities, particularly through its session replay feature, provide a broader picture of usability and user experience, aiding in improved site traffic.
VWO tracking for A/B testing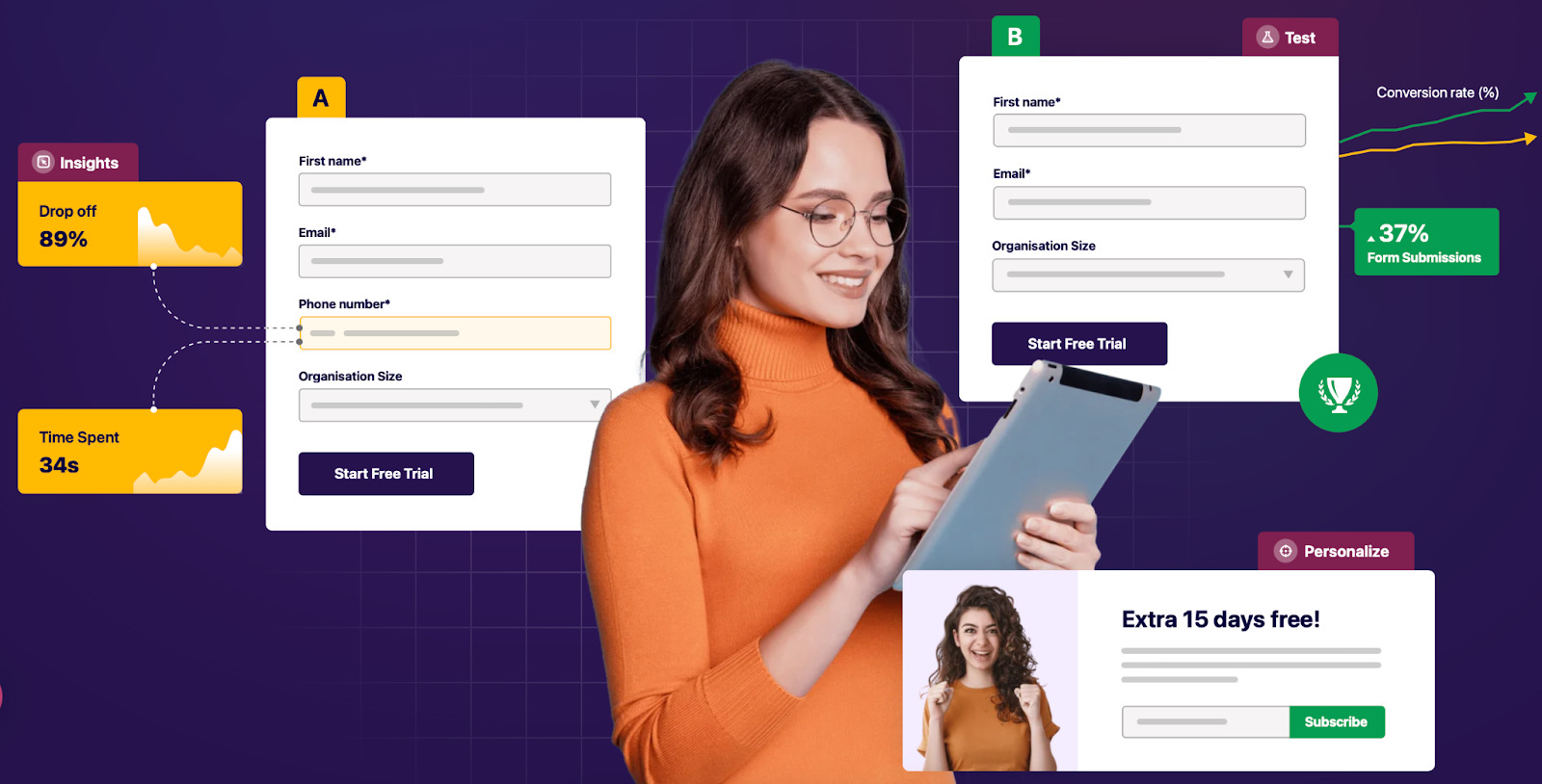 VWO is a comprehensive website visitor tracking tool centering on enhancing user experience (UX) and traffic through meticulous testing. The company focuses on helping businesses understand user behavior through A/B testing and funnel analysis. Renowned businesses, including eBay, Target, and Virgin Holidays, utilize VWO to optimize their sites' performance.
Features
VWO includes an array of powerful tools:
A/B Testing: Test different versions of your website elements.
Heatmaps & Recordings: Visualize user behavior on your site, and examine video recordings of user interactions.
Surveys & Feedback: Directly collect user feedback to understand their preferences and struggles.
Funnel Analysis: Detect the stages in your conversion funnel that are causing traffic leaks.
Pricing
VWO's pricing is divided into numerous plans based on their products. They offer a 30-day free trial and custom pricing for enterprises.
Cons and Pros
✅ Comprehensive toolset, including A/B testing and funnel analysis. 
✅ User feedback incorporation offers a novel approach to understanding user behavior. 
✅ Heatmaps and recordings deliver rich data about user interactions.
❌ Some plans require getting in touch with sales, meaning no transparent pricing. 
❌ Steeper learning curve compared to some competitors.
In conclusion, VWO is an effective website tracking tool, with its strengths lying in enabling businesses to understand their users better and optimize their websites accordingly. Its host of features, including A/B testing and funnel analysis, makes it an asset in any digital marketer's arsenal.
FAQ on the best website tracking tools
Read also: