As a growth marketer at Dashly, I've used user activity monitoring software to improve metrics like engagement rates, user retention, and even conversion rates. For instance, there was a time when we couldn't figure out why we had low demo requests. But with website visitor tracking, we pinpointed that the reason was in a too long lead form, so we replaced it with a chatbot and got 2x demo growth.
Sounds great, but in practice, choosing a user tracking tool can be challenging. These software not only vary in their features, but also their price points.
To steer you in the right direction, I've compiled a list of the top 10 user tracking tools. We'll dive into my hands-on experience with these tools, making it easier for you to pick one tailored to your needs. 
But first, let's check if we're on the same page about the definition 👇
User activity monitoring is all about tracking the actions of users on your website or within a product via specialized software. It's like a GPS for navigating your user's journey, offering precise data on their activities.
With this growth marketing tool, you not only track pages visited or time spent, but also the sequence of actions, the path taken through your site, and even where users face challenges. These insights from monitoring software enable tailor-made improvements based on real-time user behavior.
In essence, user activity monitoring turns raw data into actionable information. This can revolutionize your marketing approach, helping deliver the right experience to your users when they need it the most.
Dashly for monitoring user activity on your website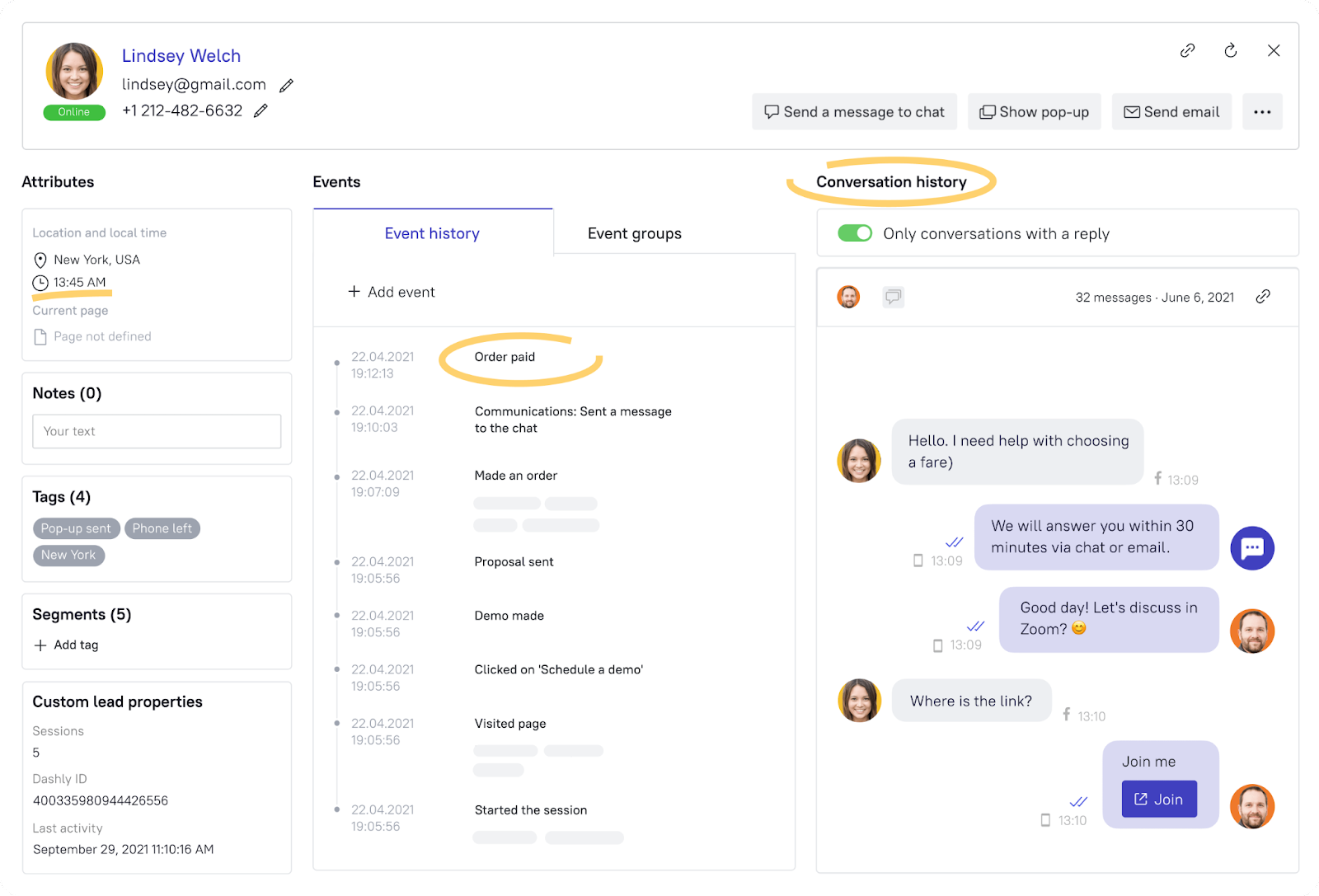 Dashly is a conversational marketing platform that provides comprehensive visitors behavior tracking to optimize your conversion rates. Its focus lies in auto-tracking each user interaction, tossing the need for manual event creation, making it a set-and-go solution. Besides, the lead scoring feature is a boon for your sales team, to prioritize efforts efficiently.
System features
Dashly provides a list of tools for marketing and sales managers to understand potential customers behavior and interests:  
Website visitors behavior tracking. Based on tracking events, you can see page visits, button clicks and any field filling events are configured in real-time.
In a lead card your team has the access to every little detail. Understand who you are talking to, what they need, and offer the best solution. Use data to create personalized automated workflows.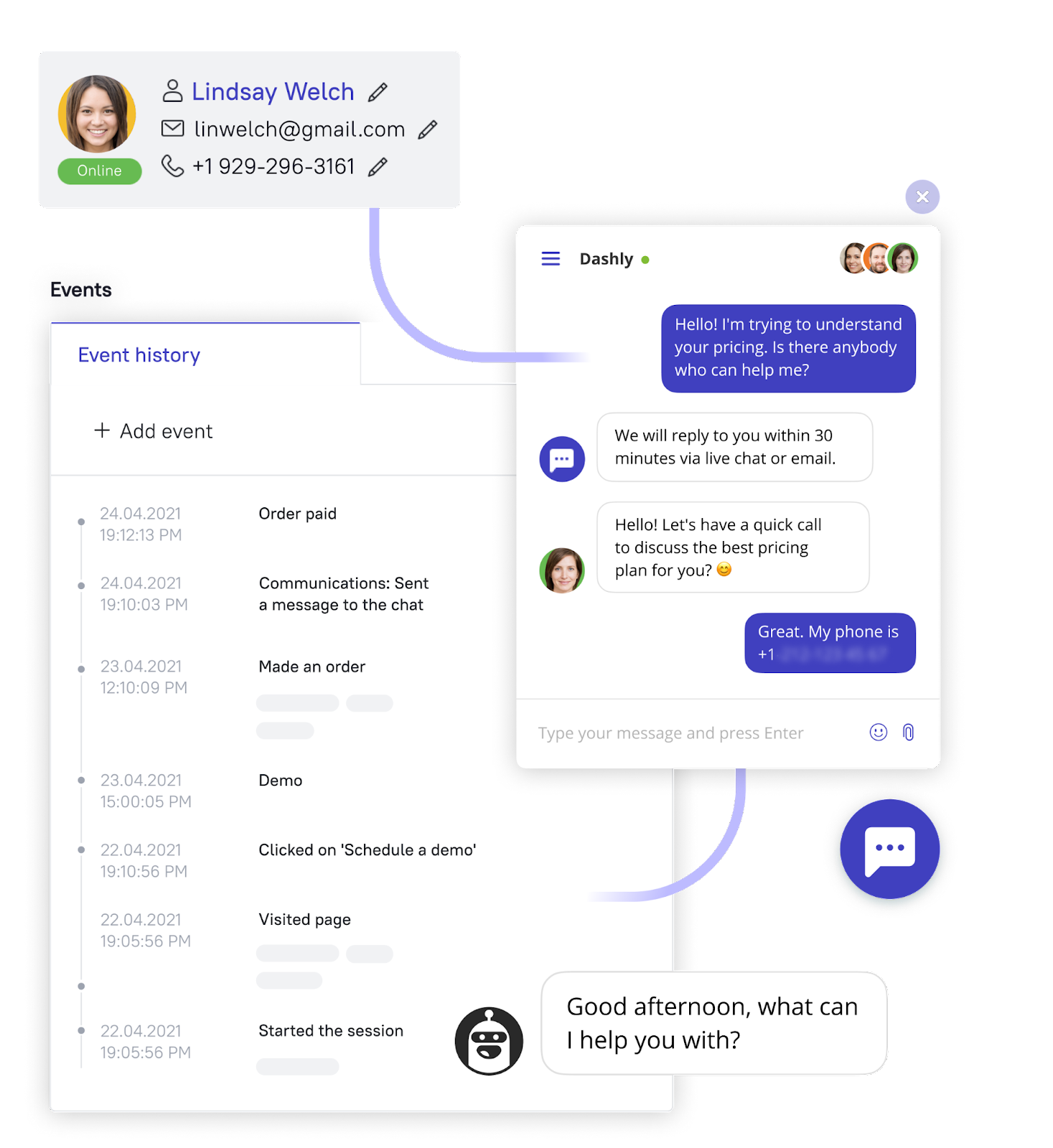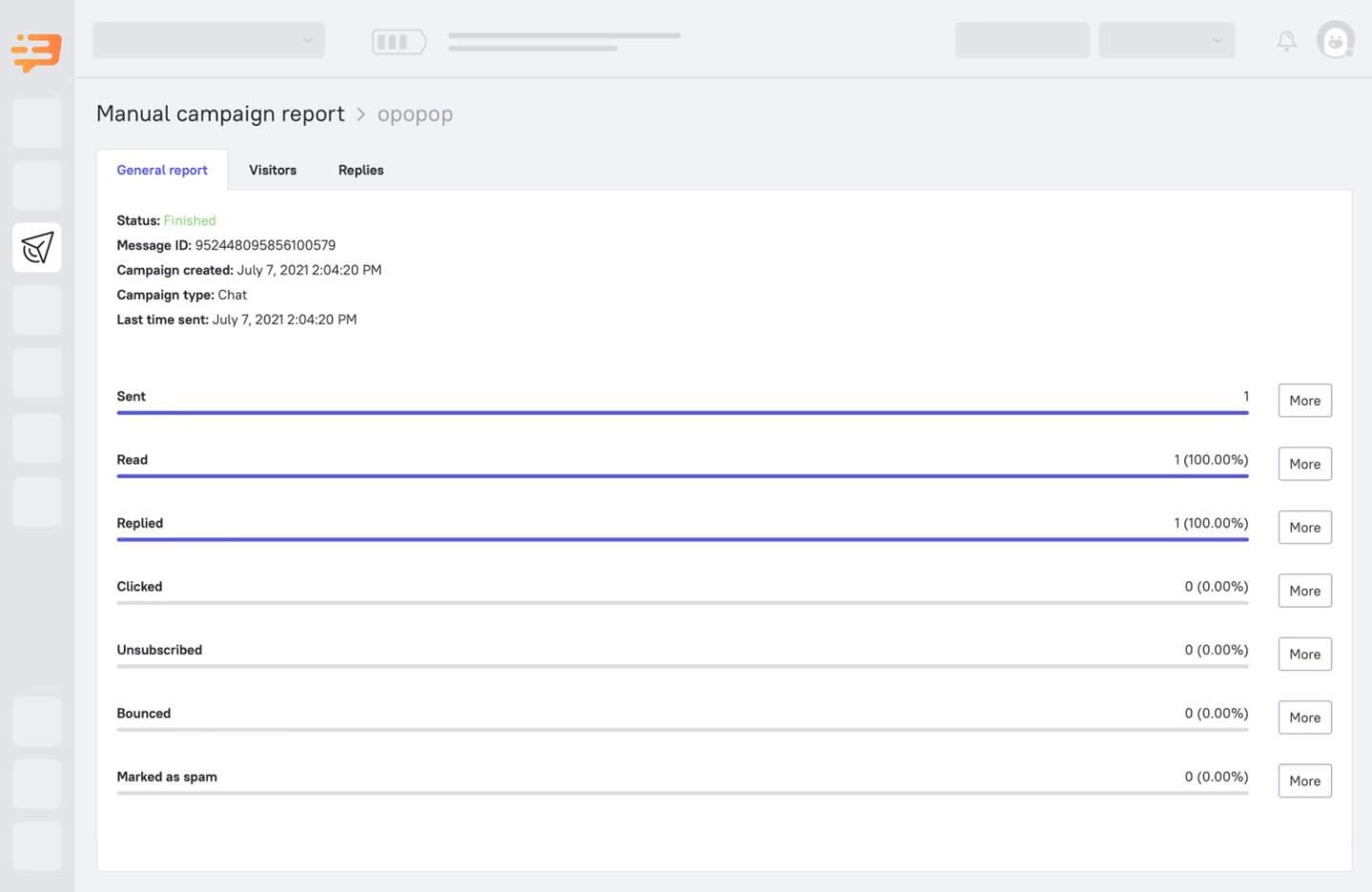 Data tracking pricing
There are three paid plans in Dashly product, starting from $39/mo. The price depends on your monthly website traffic and the add-ons you choose to enable. Meanwhile, agent seats are unlimited — your whole team will get access to the solution features.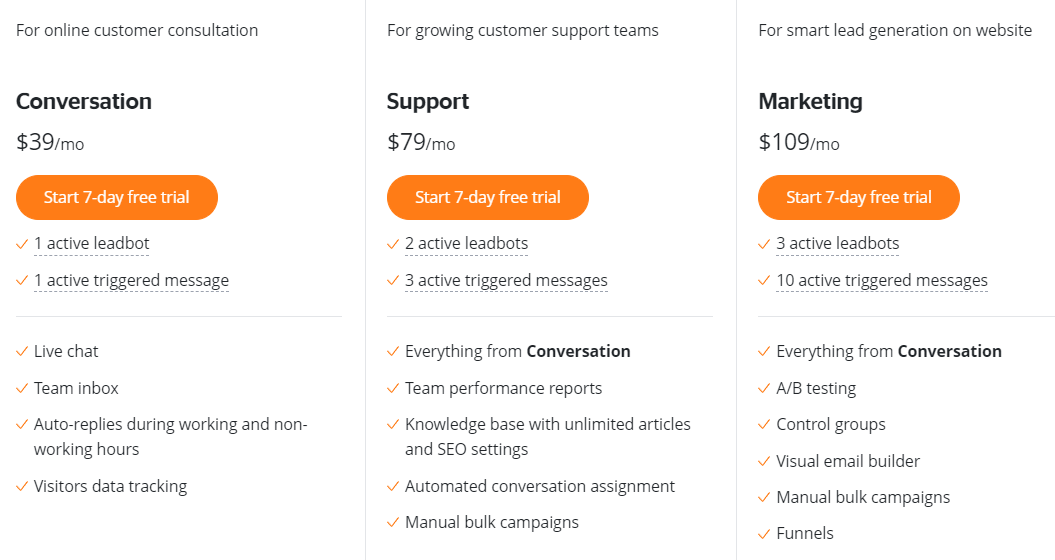 Each plan offers website visitor behavior tracking. However, the more advanced the plan is, the richer your customer data will be. 
Hotjar for user activity monitoring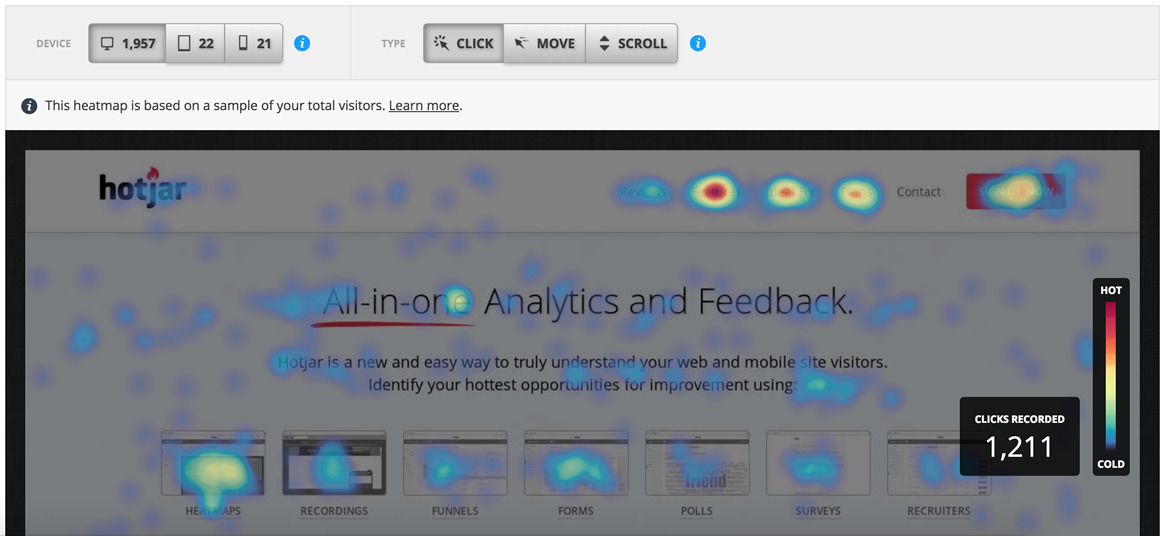 Hotjar is a powerful User Activity Monitoring (UAM) software used by companies big and small to understand their user behavior better. Its primary goal is to offer in-depth analysis about user activity to help companies take steps towards enhancing the user experience and their website's performance. Trusted by top-notch companies like Microsoft and Ikea, Hotjar knows its game well when it comes to tracking user actions.
Platform features for visitors activity monitoring
Hotjar's platform is loaded with numerous feature-rich services, including:
Heatmaps: Visual representations of users' clicks, taps, and scrolling behavior.
Session Recordings: Real-time recordings of user actions to identify usability issues.
Surveys: Collects direct feedbacks from your users, right on your site.
Funnels: Analyzes at what stage visitors are leaving your site.
Form Analysis: Finds out where users are having trouble completing forms.
Pricing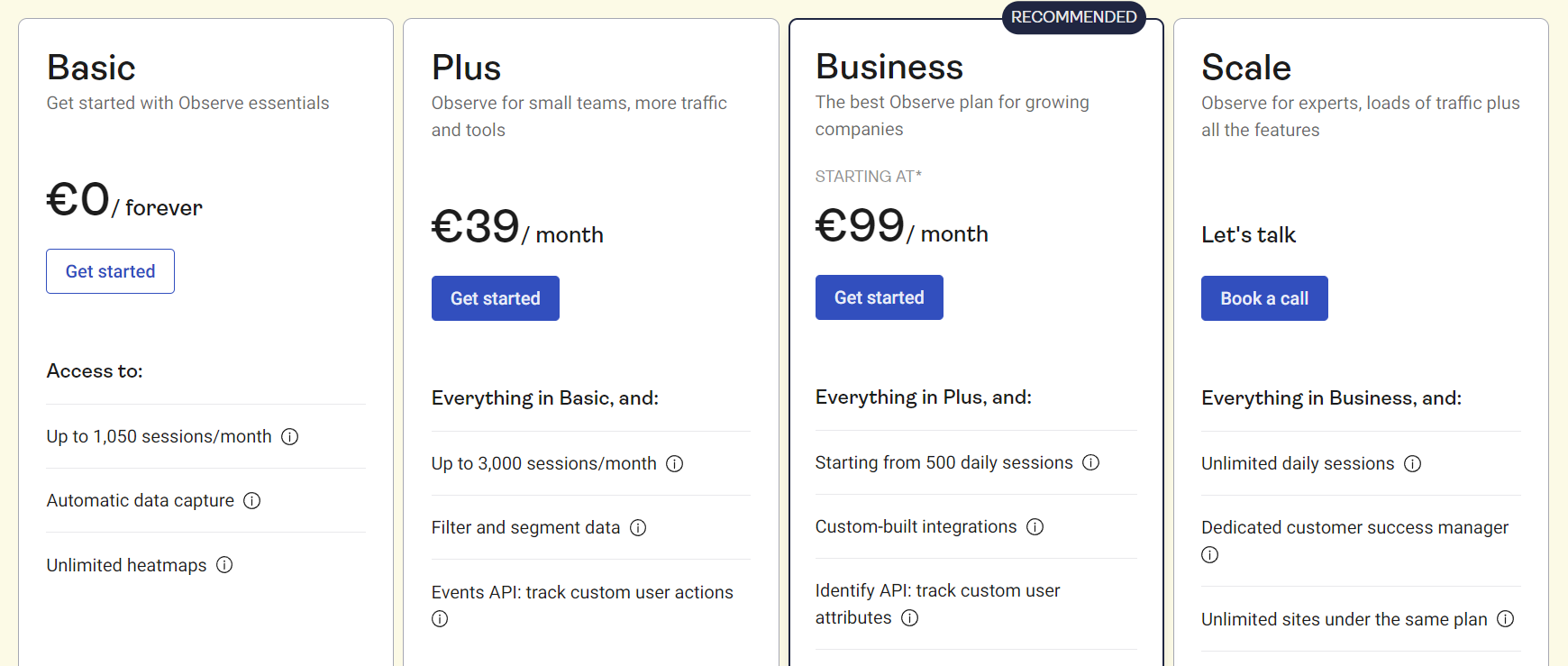 When it comes to cost, Hotjar offers a 15-day free trial for users to see if it matches their requirements. Post the trial and free plan, the company provides three pricing plans; plus, business, and scale. The plus plan starts from 39/month. The costs of these plans vary based on the specific needs and scale of your business.
In essence, Hotjar is a comprehensive time-saving solution for businesses looking to optimize their UX and convert more visitors into customers.
Teramind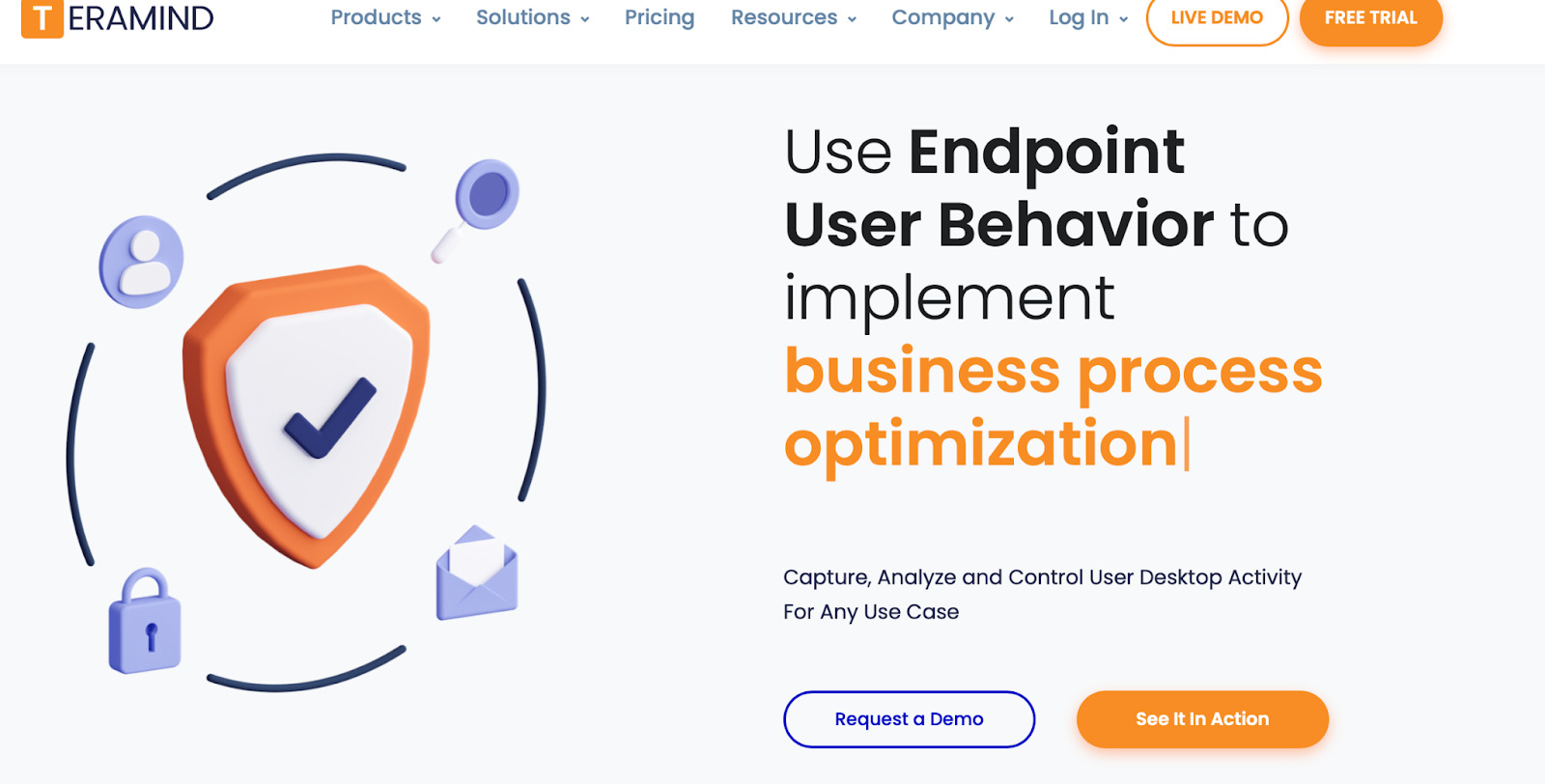 Known for its robust features and utility, Teramind is a top-tier activity monitoring solution that offers insightful user tracking data. The company's primary goal is to arm businesses with data-driven visibility into their user activities, thereby ensuring security and boosting productivity. Its vast clientele ranges from SMEs to large corporations across diverse sectors.
User activity monitoring features
Key features this solution provides are:
User Activity Monitoring: Detailed tracking of user activities in real-time.
Productivity Analysis: Quantitative data insights to boost productivity.
Behavioral Analytics: Identifies behavior patterns to mitigate risks.
Data Loss Prevention: Ensures data safety against internal threats.
Forensic Data Search: Advanced search features for precise analysis and reporting.
Pricing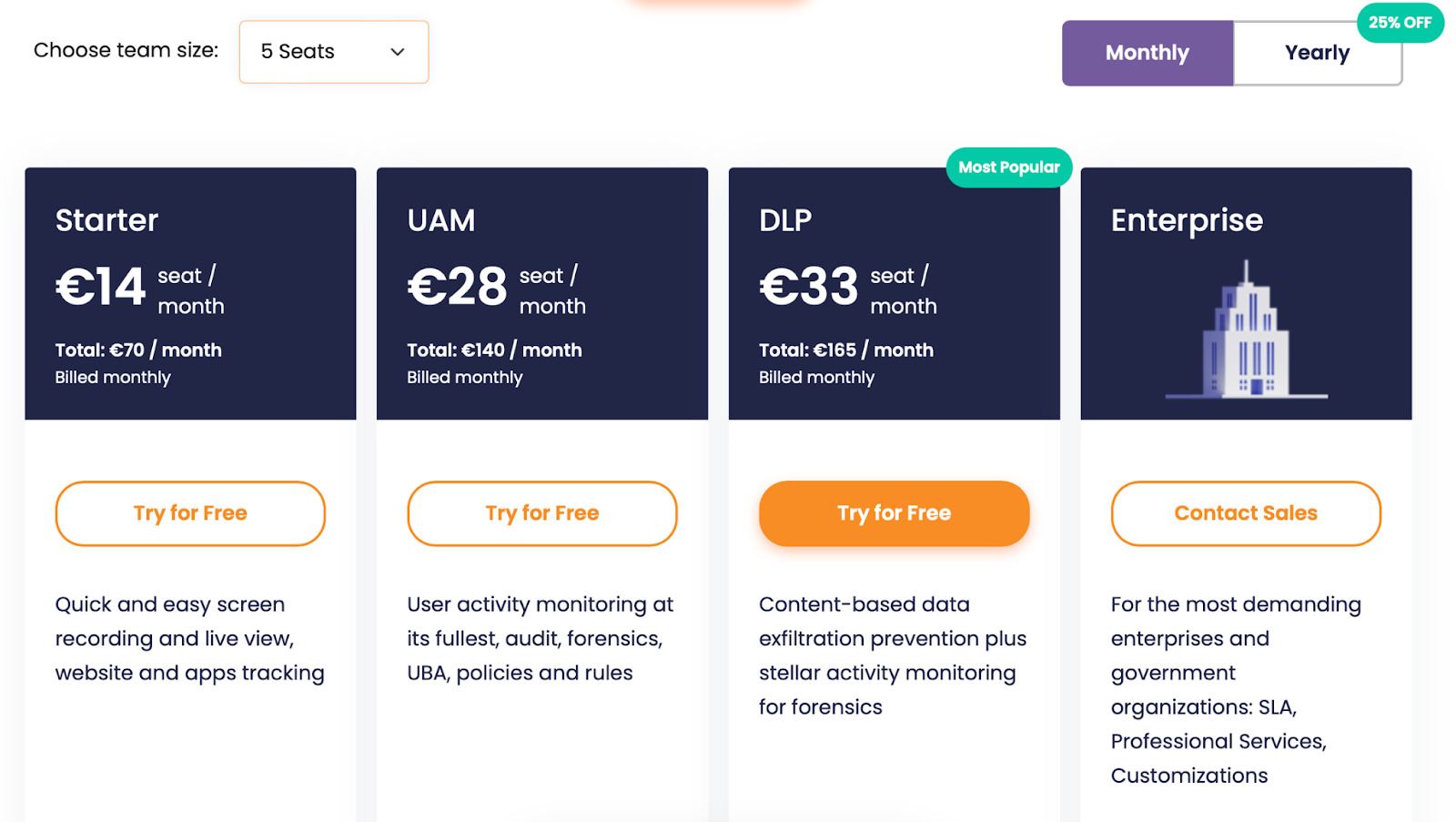 In terms of pricing structure, Teramind offers a 7-day free trial, giving customers ample time to explore the software. Post trial, users can pick from three main plans; Teramind Starter, Teramind UAM, and DPL. 
Therefore, Teramind is not just a user-tracking tool; it's a comprehensive solution which provides you with rich data to monitor, track, and analyze your user's activities to enhance user experience and reinforce internal security.
Optimizely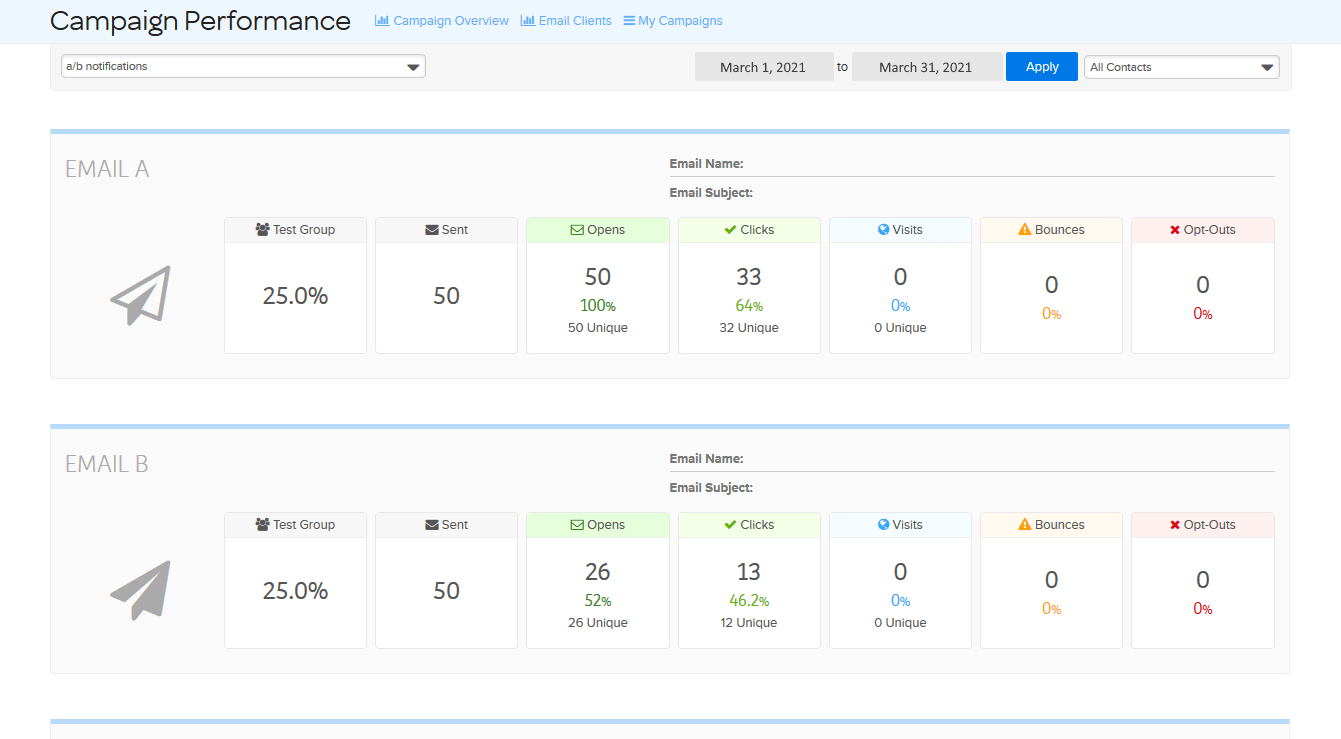 Optimizely is a renowned player in the field of user tracking software, offering a dynamic monitoring solution. The company aims to empower businesses to make data-driven decisions that elevate user experience. Its clientele is diverse, ranging from startups to Fortune 500 companies, validating its credibility and efficacy.
Features to monitor user activity
Key features that Optimizely's solution brings to the table are:
A/B Testing: Allows you to compare different versions of your webpages to see which performs better.
Multivariate Testing: Evaluates the impact of different variables to optimize conversion rates.
Personalization: Personalizes user experiences based on demographics, behaviors, and previously tracked activities.
Heatmaps: Visualizes user behavior to show where users click, move, or scroll.
Data and Analytics: Offers robust analytics to understand and optimize the user journey.
Pricing
Pricing for Optimizely is transparent and flexible to cater to different needs. While there isn't a free trial, they offer a free plan that includes A/B tests, data and analytics, and dashboards.
The paid plans include the 'Enterprise' and 'Pricing Customized For You', which are custom-priced based on various factors. The 'Enterprise' plan is ideal for larger corporations with more complex needs, while the customizable plan, with its flexible features, can be tailored to fit businesses of any size.
In essence, Optimizely provides an advanced monitoring solution to track and analyze user activities. With this data at your fingertips, decision-making becomes more intelligent, boosting user experience and driving growth.
UserTesting to increase your marketing productivity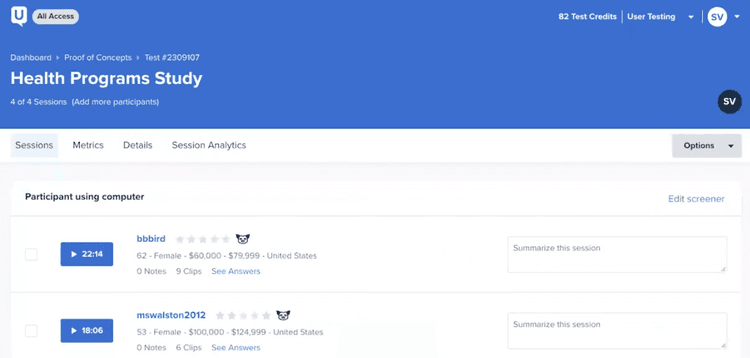 UserTesting is a high-powered user tracking software designed to have businesses see, hear, and analyze their users' interactions with their interfaces. The company's primary offering is a system that reduces guesswork and enables businesses to make decisions based on real user actions. Big names such as Facebook, Microsoft, and GE have trusted UserTesting to understand their users better.
User activity monitoring features
UserTesting offers several key features, including:
Real-Time Feedback: Acquire immediate feedback during user interactions.
Video Testimonials: Watch users navigate your website and hear their reactions.
User Journeys: Monitor the paths your users take through your web application.
Target Audience Selection: Choose your users based on demographics, location, and more.
Prototyping: Test and refine your designs before you launch.
Pricing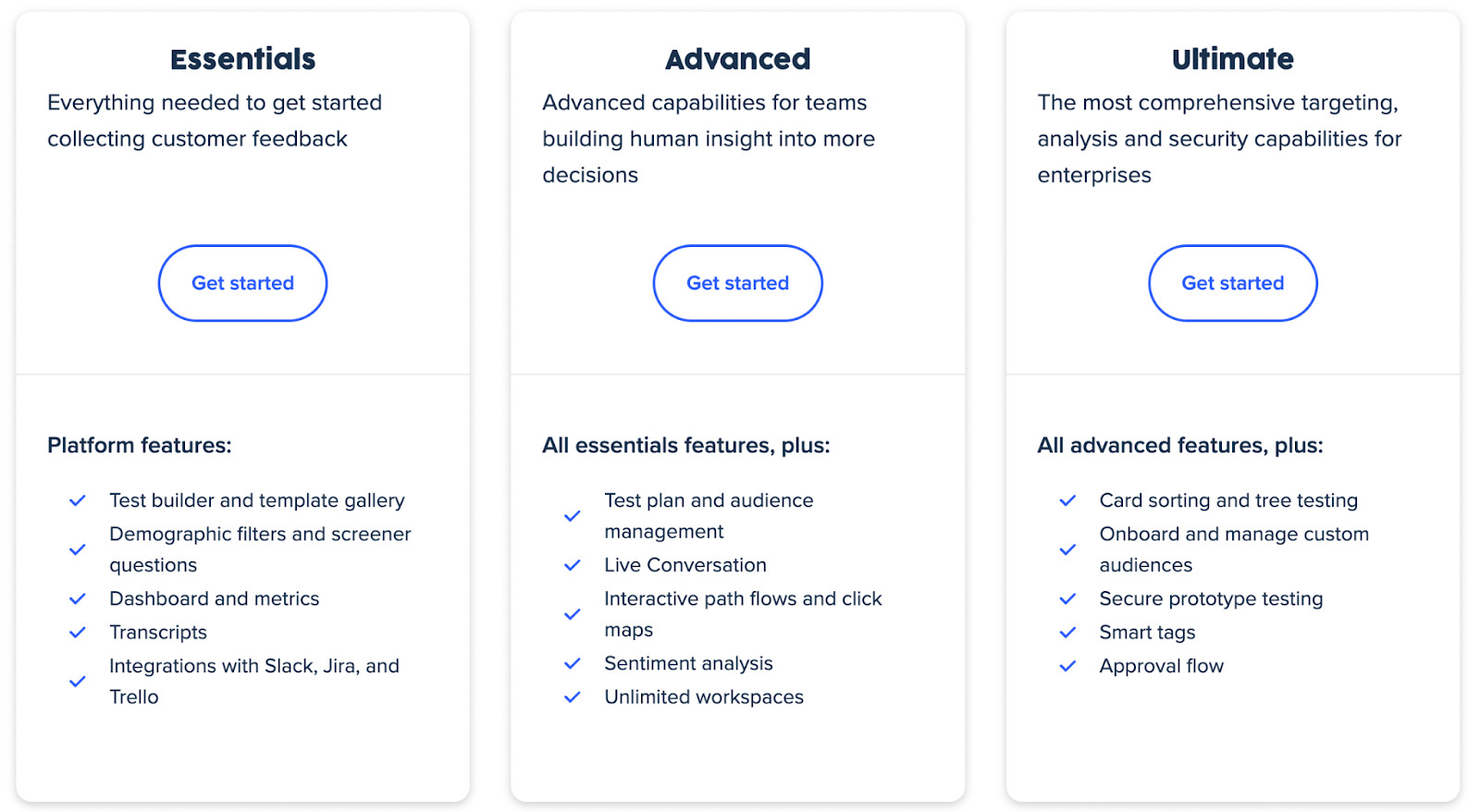 So here's how UserTesting does the money talk. No free trial here, folks. But, they've got something cool — a 'Pay Per Video' deal. It's great if you want to give it a test run without committing fully. 
For those ready to take the plunge, there's the 'Essentials' plan. They whip up a price just for you based on what you need. It's a good fit if you're into marketing, part of a product team or messing around with UX designs. 
Then there's the big guns — the 'Advanced' or "Ultimate" plan. This one's more for the big leagues, with the cost tailor-made for the company's needs. Just a heads up, you'll need to have a chat with them to work it out.
Personally, I feel UserTesting is a fantastic tool, particularly for businesses that live and breathe user interfaces. It lets you peek into user behavior and polish your platforms. I'd totally recommend it for any company looking to really tune into their users and improve their experience.
FullStory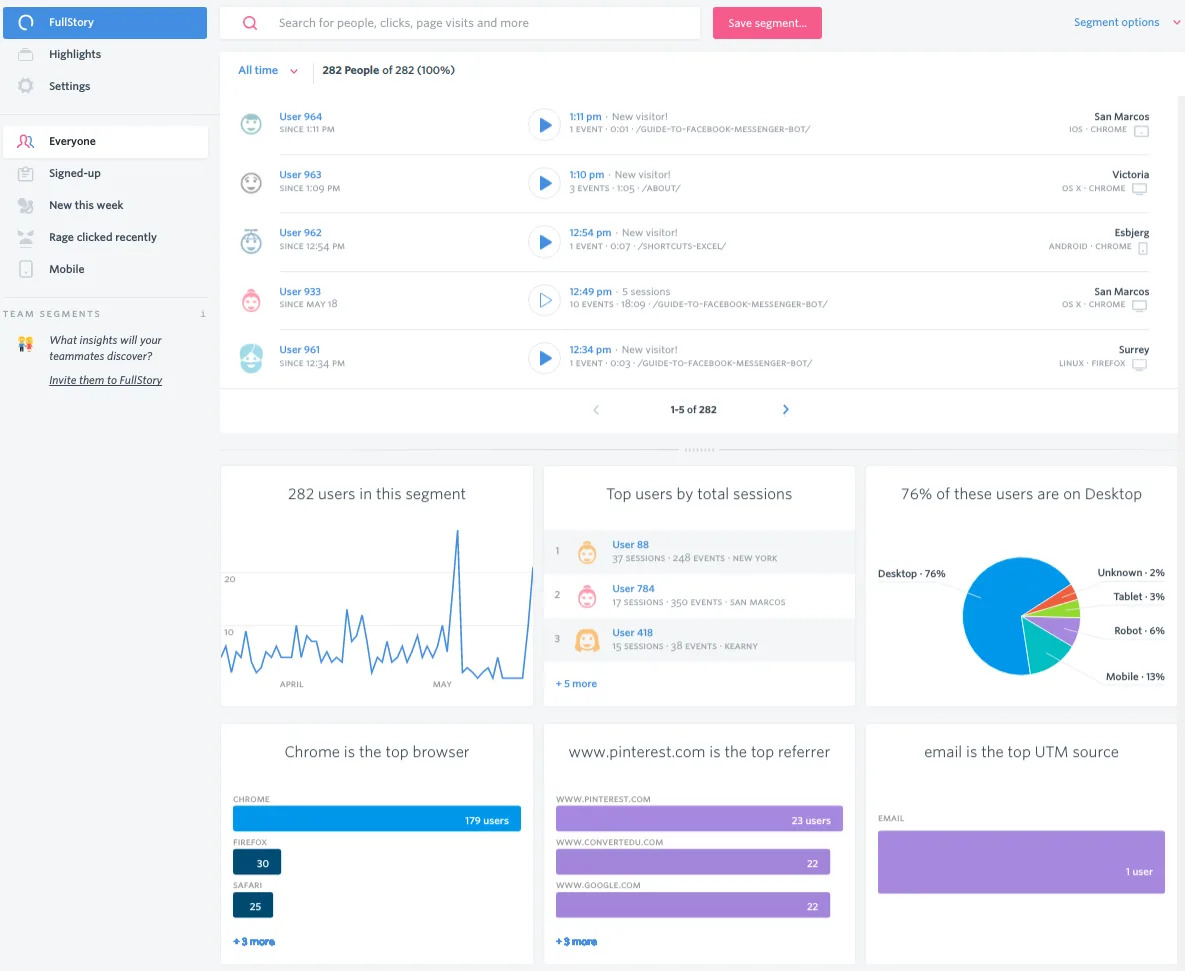 Meet FullStory, a rockstar in the user tracking software league. It's all about offering a system to understand your users' actions. Their goal? Helping businesses like you to improve user experience. The likes of Shopify, HubSpot, and Wix are already on board with FullStory.
Features to track user behavior
Now, what's cool about FullStory? It's got:
Session Replay: It's like a rewind button for user sessions on your platform. Yup, you're seeing what they're seeing.
Heatmaps: A visual hotspot of user clicks — more like a cheat sheet to user engagement.
Funnels: A tool to track users' journey step-by-step and highlight exit points.
Error Clicks: Keep track on those frustrating moments when users click, but nothing happens.
Omnisearch and Segments: Need to dig deeper? These tools let you find and segment any user session.
Pricing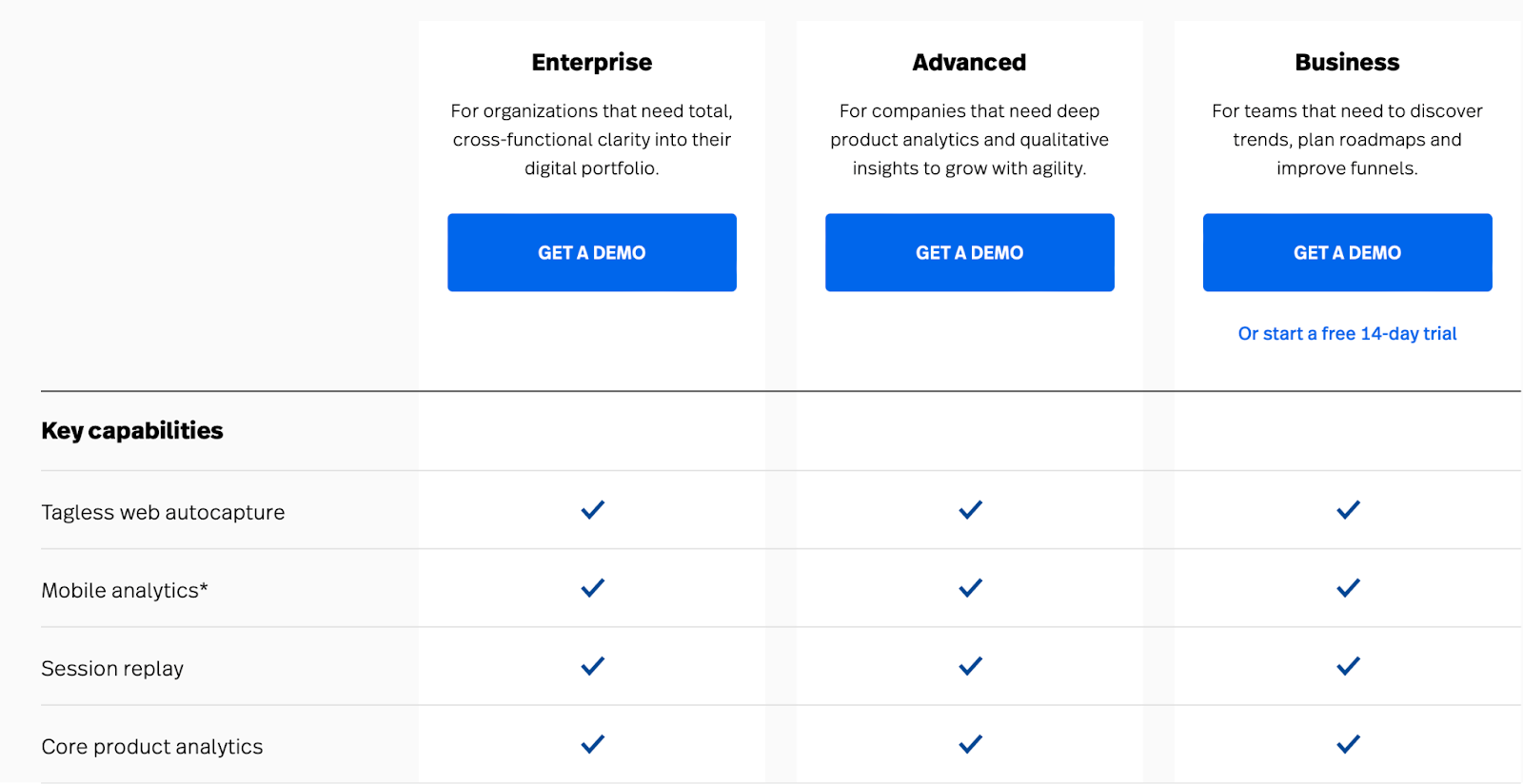 Well, FullStory's got a variety of pricing options. They kick off with a free plan for you to dip your toes in the water. Then there's the 'Enterprise' plan, catered for growing businesses. If you're handling heavier volume and coveting extra perks, FullStory customizes an "Business' plan just for you.
I reckon FullStory is ace, especially for businesses focused on customer experience. Its suite of features can be a lifesaver if you're looking to monitor user interactions, find quirks in your platform, and smooth out your user journey. So, if user experience is your jam, I'd suggest giving FullStory a spin.
Userlytics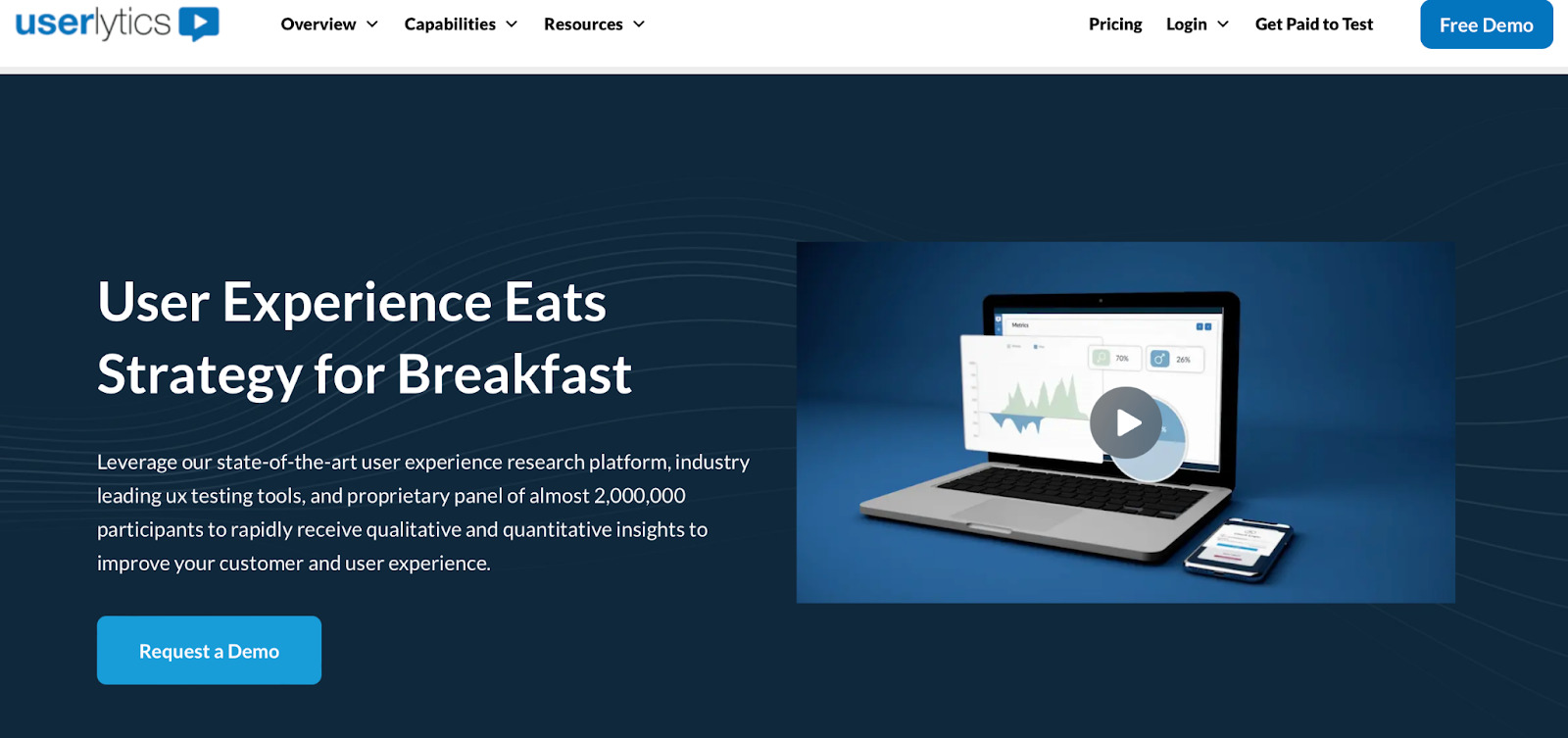 Here's the scoop on Userlytics, a whizz kid among user tracking software. The crux of its offering? A monitoring solution that gets you closer than ever to understanding your users' on-site habits. Their goal is pretty straightforward — help you perfect your user interface. They're backing big names like Google and Coca-Cola, so they must be doing something right!
Features
Userlytics comes with a buffet of functional features:
Remote User Testing: Lets you gather data from users interacting with your platform in their natural environment.
Picture-in-Picture Video Analytics: Captures screen interactions and facial expressions simultaneously. Pretty neat, huh?
Real-Time Feedback: Immediate user insights, straight from the source.
Annotation Suite: Easy-to-use tools to make notes and clip segments within the video.
Pricing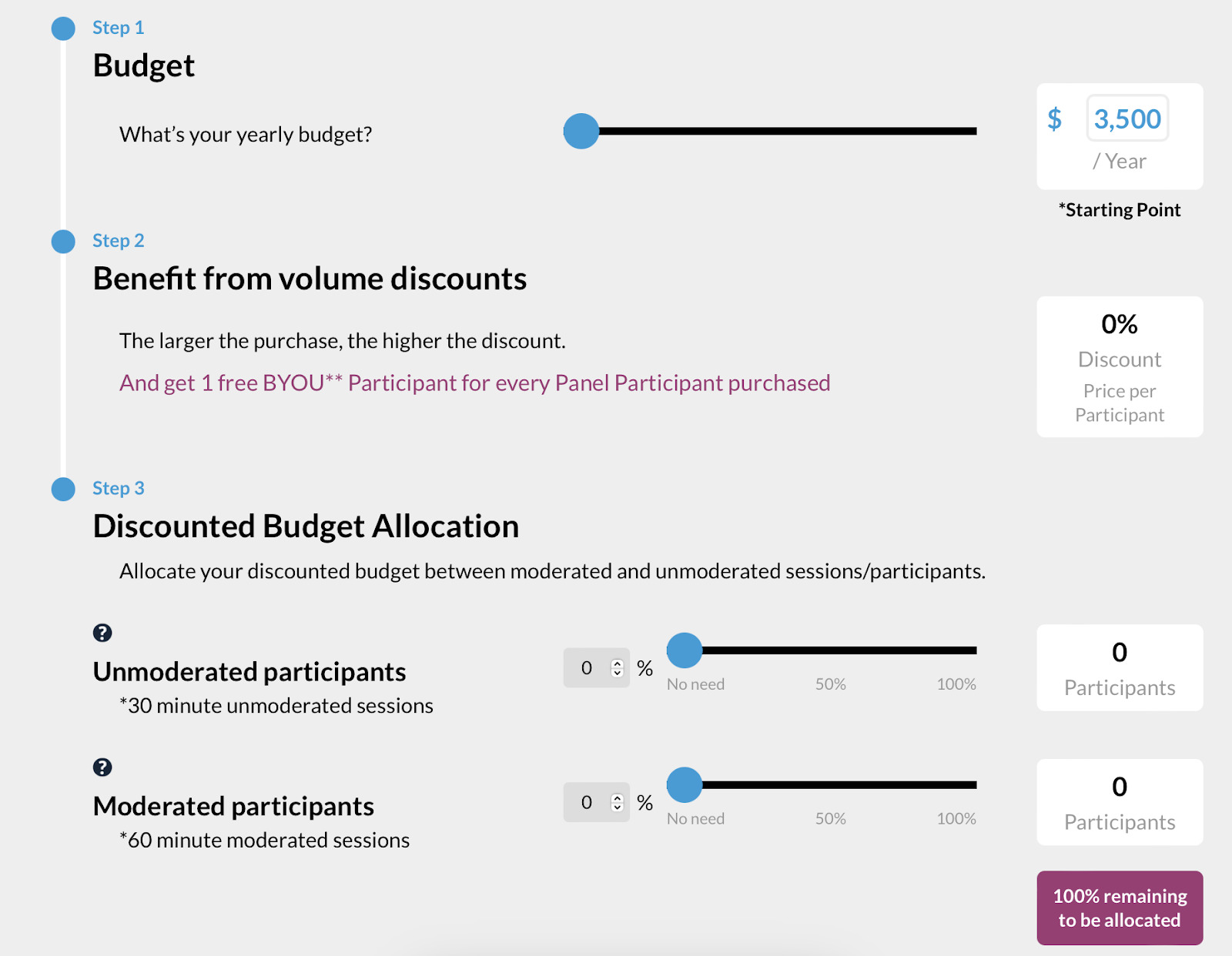 Feels like something you need? Let's talk numbers. Userlytics doesn't offer a free trial, but it does have an affordable 'Pay As You Go' plan starting at 299/month could be your pick. Also, they can tailor an 'Enterprise' plan for bigger project needs.
In my view, Userlytics could be just the ticket for businesses keen on human-centric design. It's all about tracking user activities in real-time and using that data to enhance the overall user experience. If a deeper dive into user behavior is on your radar, I'd say Userlytics is worth checking out.
Crazy Egg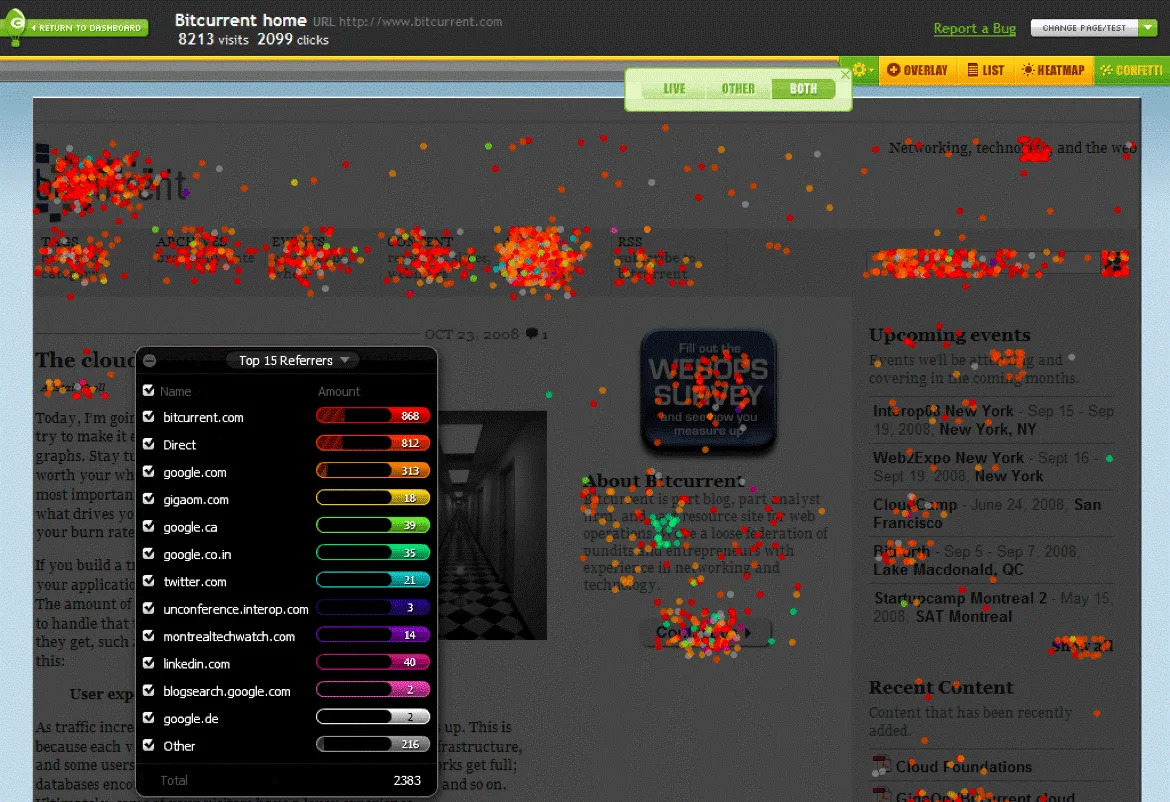 This user activity monitoring software serves businesses a visual treat of user activity. The goal is straight-up helping you fine-tune your website based on real user interactions. We're talking about companies like Etsy, Fiverr, and HomeSales using it.
Features
Now, the magic sauce of Crazy Egg boils down to its features:
Heatmaps: This shows you where users are spending time on your website. It's like reading your users' minds, almost!
Scroll Maps: This uncovers how far your users scroll down on your page before bidding adieu.
A/B Testing: Because who wouldn't like to compare two versions to see what works better?
Snapshots: These are in-depth reports of user activity tailored to specific goals or times.
Pricing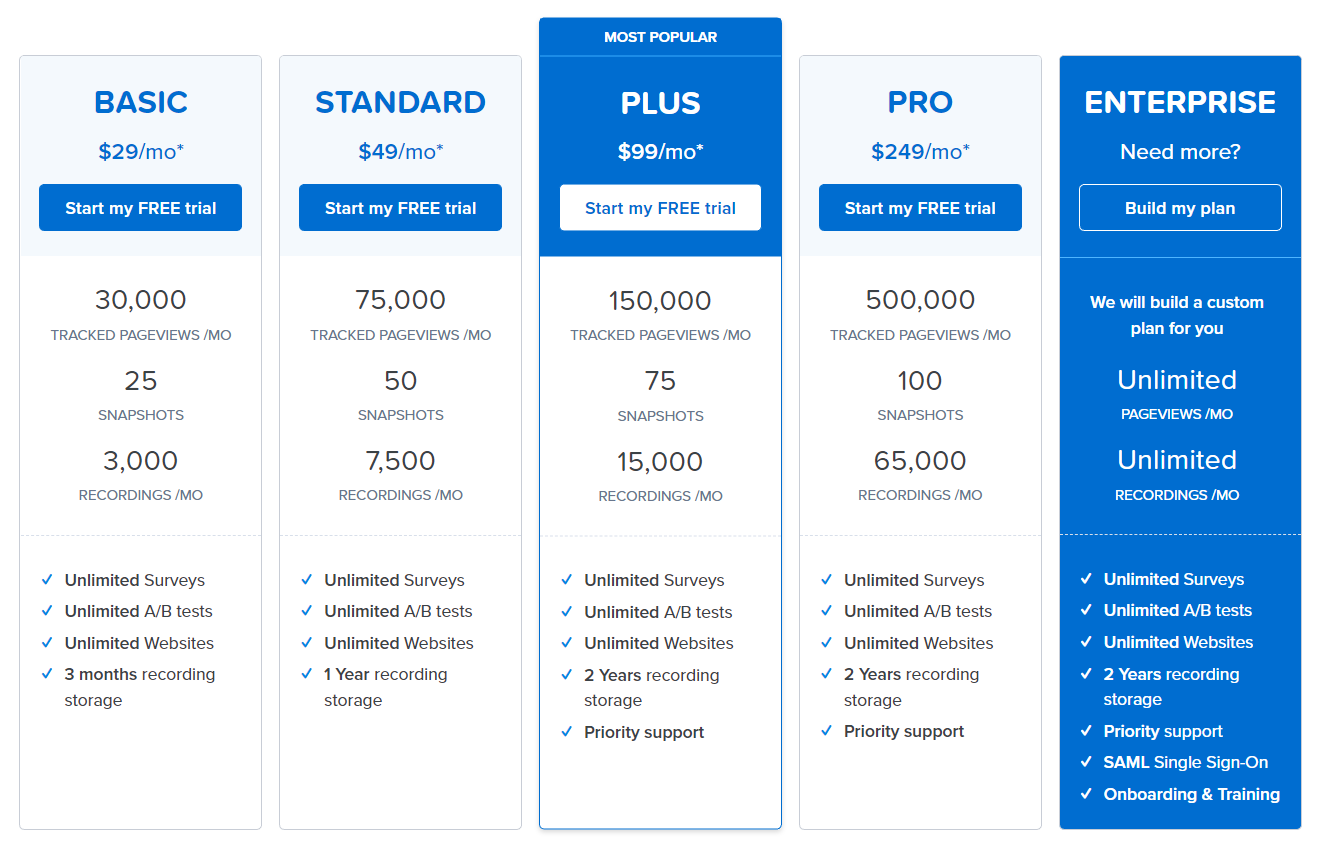 For pricing, Crazy Egg starts with a 30-day free trial to get you hooked. Post that, they have four plans. 'Basic' starts from $29/month, Standart — $49/month, 'Plus' at $99/month, and 'Pro' — $249/month.
From my viewpoint, Crazy Egg is a must-try, especially for those focused on improving website usability and conversions. Its monitoring services that visualize user behavior are truly unique. So, whether you're a small business or a booming enterprise, if optimizing user experience is on your dashboard, Crazy Egg is sure worth a shot!
Mouseflow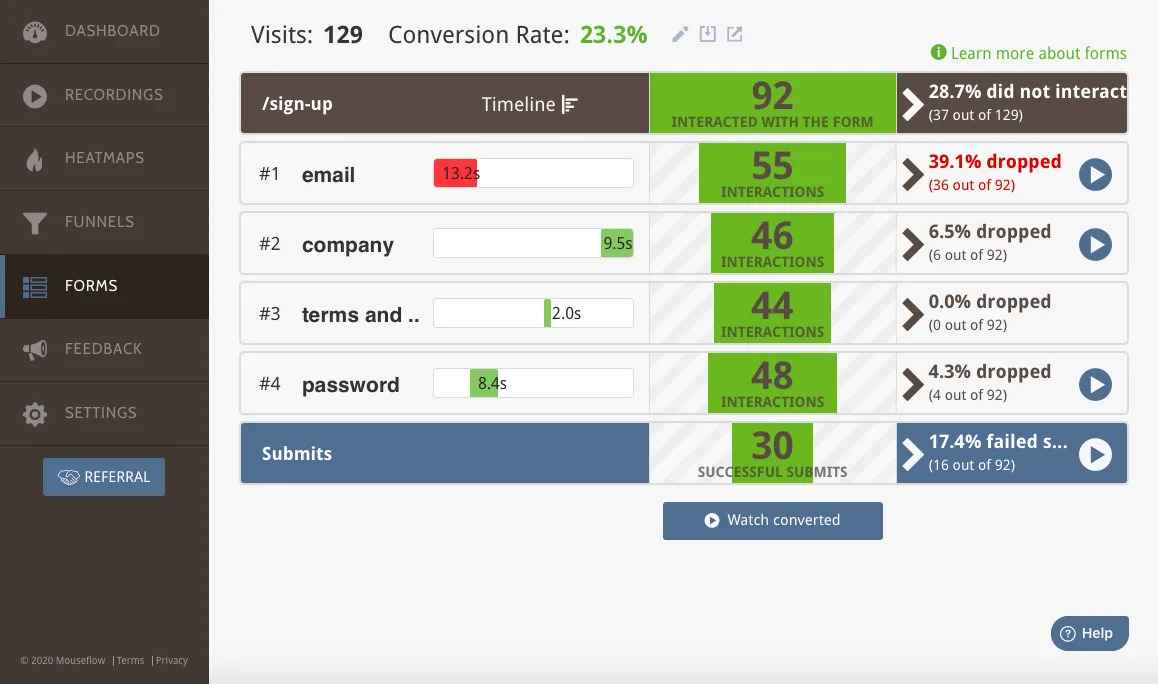 Turn your attention to Mouseflow — another cool kid on the block in user activity monitoring software. They're all about offering slick solutions to help bridges the gap between businesses and their users' experiences. They've got a mission to make data-driven decisions a breeze. They're trusted by powerhouses like Microsoft, Philips, and Samsung, so that's no small deal.
Features
Let's unpack what Mouseflow is packing:
Session Replay: It's like a DVR replay of your users' visits. Super handy to understand user activity.
Heatmaps: Shows where your users click, move, or scroll the most. Like mind-reading, but not as creepy.
Funnel Analysis: Pinpoints at what step users leave your site, pointing right at friction points.
Form Analytics: Tells you when and why users abandon your forms.
Pricing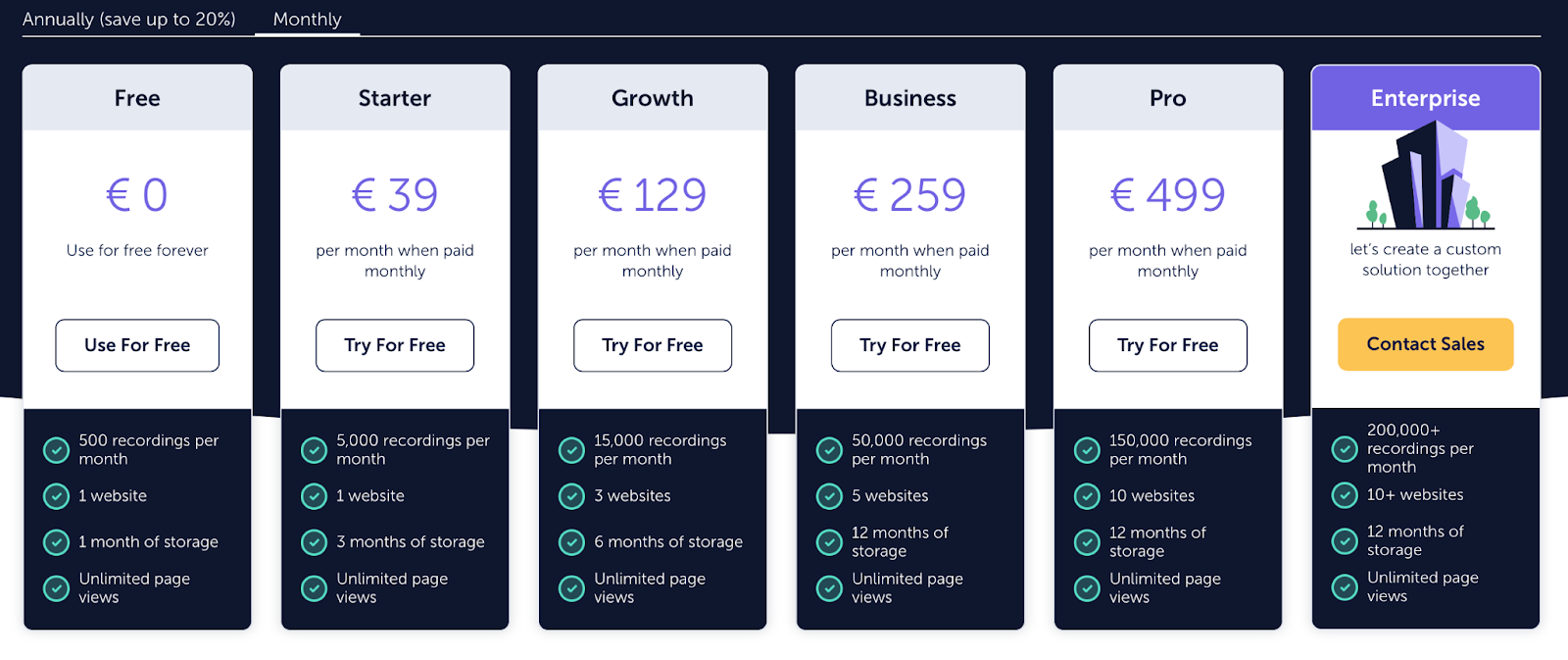 As for pricing, there's a free trial and a Free plan to let you play around, and then it's straight into their four pricing tiers. 
Personally, I think Mouseflow is a brilliant tool! It's particularly rad for businesses aiming to take user activity understanding to the next level. Its monitoring services give you a deep dive into users' behaviors, which is an absolute game-changer. If you're a business of any size looking to enhance user experience — give Mouseflow a shot! Not convinced? Take the free trial for a spin; you won't regret it.
Datadog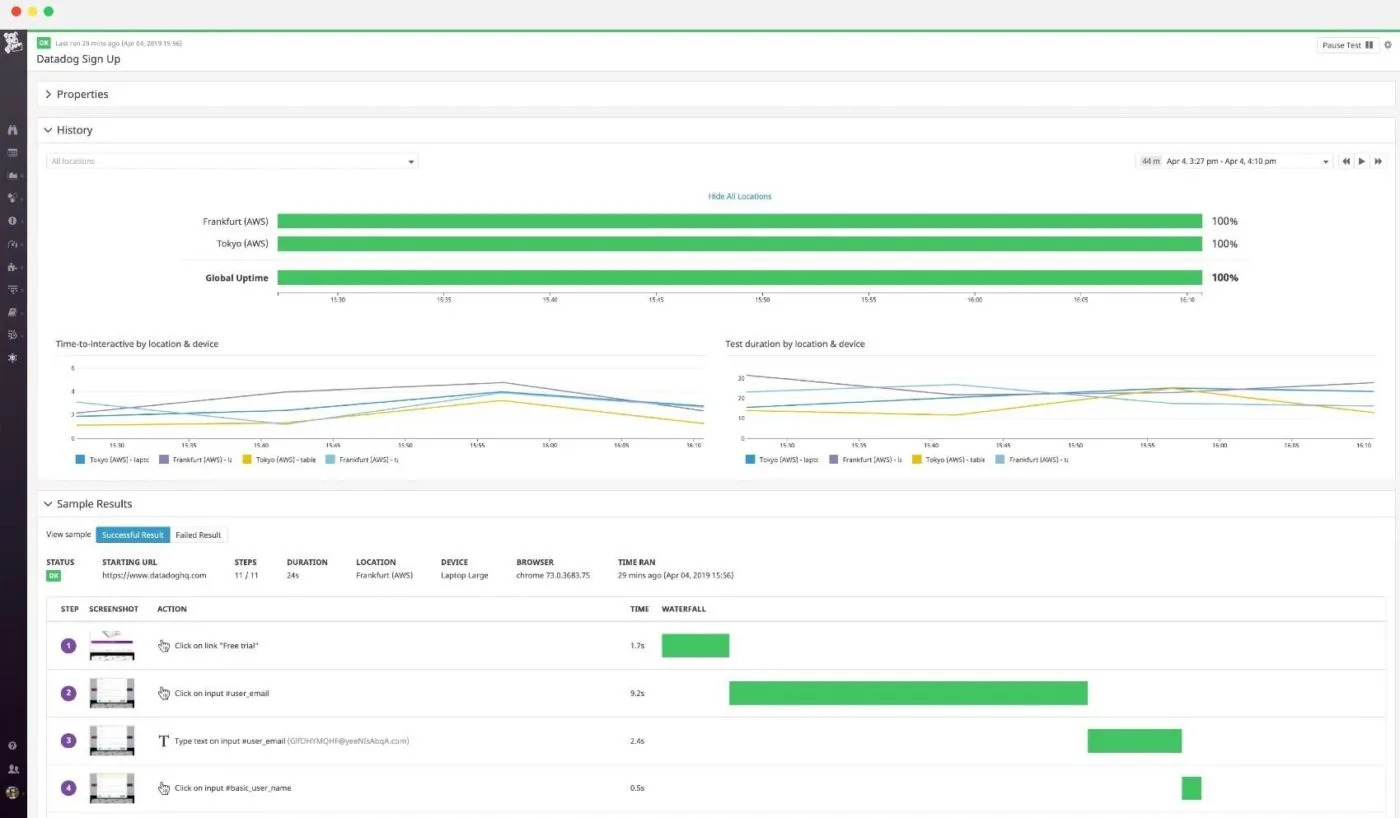 Let's chat about Datadog—a serious player in the user activity monitoring software circle. Datadog's jam is providing integrated analytics and monitoring solutions, helping you win at the user experience game. The goal here is simple — empower businesses to improve operations and speed up work cycles. Impressed yet? Add to the mix some of their high-profile clients: Samsung, Comcast, and Adobe.
Features
Datadog brings some nifty features along:
Real-Time Dashboards: These give you an instantaneous overview of user activity.
Infrastructure Monitoring: Helps you be vigilant about the health of your systems.
Log Management: This lets you trace user activity and troubleshoot issues.
APM Integration: Shows you the performance of your website or app from the user's perspective.
Pricing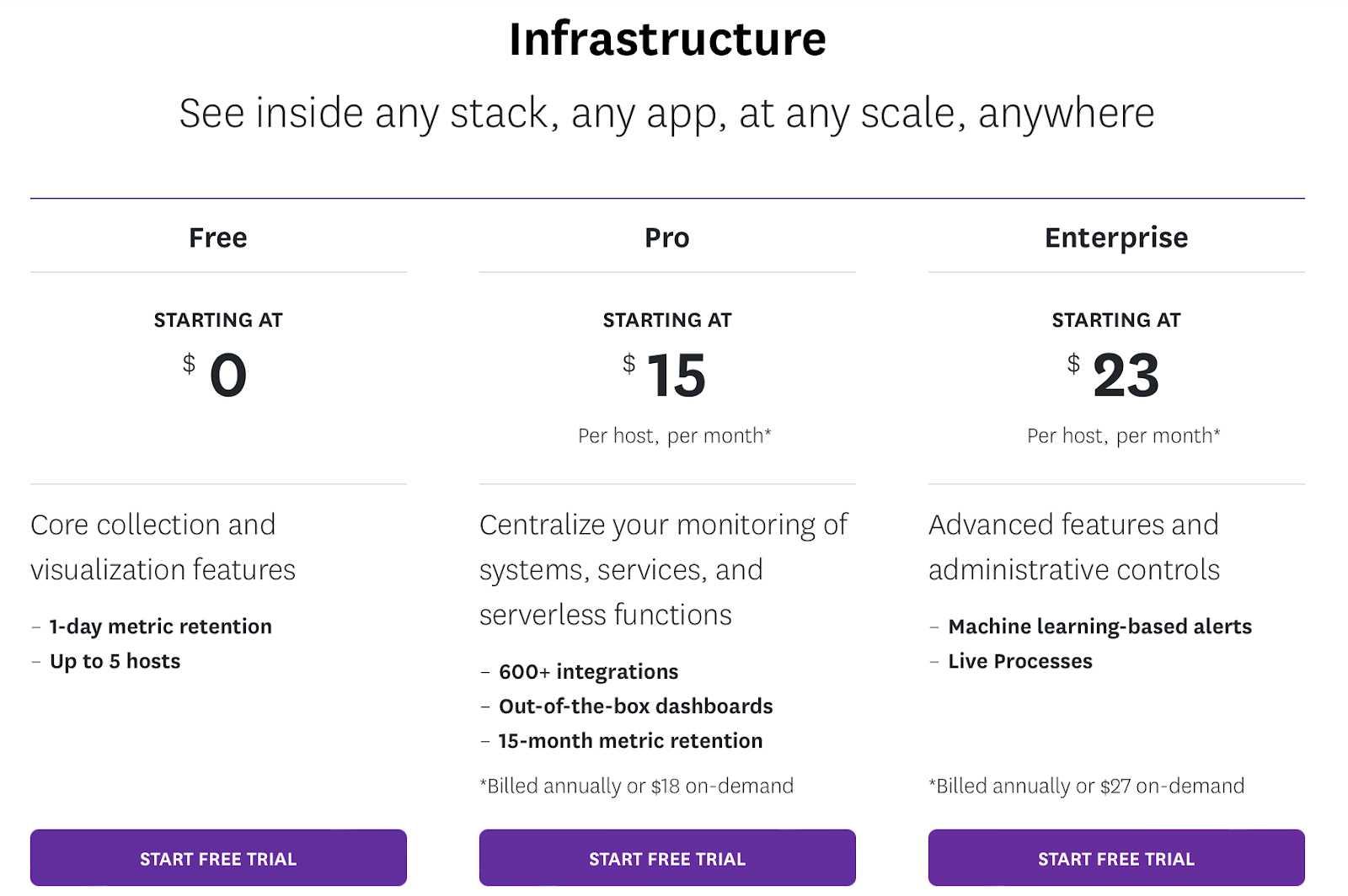 Time to dig into the purse? Datadog starts with a 14-day free trial. After you've tried and loved it, there are three main plans to look at. There's the 'Free' which is, well, free. Then you've got 'Pro' — $15/month and 'Enterprize' starting from 23 per host/month.
Datadog, in my opinion, is a fantastic choice for businesses that are all about authentic, real-time insights about user activity. You're not only monitoring your services here, you're predicting, optimizing and automating next steps for better user experience. If you're a business with an eager eye on analytics and logs, I'd say, give Datadog a well-deserved whirl!
How to identify which user activity monitoring software suits your business?
Selecting the right user activity monitoring software hinges on identifying your needs. Here are some streamlined criteria to guide your choice:
Determine your goals. Want to understand user behavior better or improve user experience?
Check out the key offerings. Session replays, heatmaps, is there something specific you need?   
Go for user-friendly options. No need for unnecessary complications.
It's crucial the software meshes well with your existing systems.
Consider your budget and potential charge increments down the line.
Ensure the software can keep up as your business grows.
Efficient customer service can save the day when issues pop up.
Remember, your choice should empower your business, not hinder it. Align your needs with what's offered and you've got a winning user activity monitoring tool.
FAQ on tools for user activity monitoring 
What is user activity monitoring?
User activity monitoring is a strategy that uses specific software to track and analyze the behavior of users on a platform, typically a website. This includes actions like page visits, clicks, form completions, and even cursor movements. The primary objective of user activity monitoring in marketing is to gain insights into user behavior to optimize the customer journey and subsequently enhance marketing strategies.
How do user activity monitoring solutions work?
User activity monitoring solutions work by utilizing advanced software to track and record user interactions on a digital platform. Once installed, this monitoring software begins tracking the behavior of users, capturing each click, scroll, page visit, or form entry. It then compiles this data into meaningful insights. The elaborate system that user activity monitoring software employs allows businesses to monitor user actions in real-time or retrospectively, helping identify trends, potential issues, or opportunities for optimization. The goal is to leverage these insights to enhance user experience, improve security, and ultimately drive business growth.
What are the benefits of implementing a user activity tracking solution?
User activity tracking solutions can be tremendously beneficial for both marketing and product related decisions in a business:
These solutions offer in-depth insights into user behavior, revealing preferences, habits, and pain points which can guide product development and enhancement.
By understanding specific user behaviors, marketing teams can design personalized campaigns for improved engagement and conversion.
Tracking solutions help identify bottlenecks in the site navigation or product usage, enabling enhancements for a smoother journey, and ultimately boosting customer satisfaction and retention.
By monitoring user activity, it's possible to identify at-risk customers in advance based on their usage patterns, enabling proactive strategies to retain them.
Businesses can compare the effectiveness of different approaches in real time, making it easier to decide which strategy is most effective.
What are the best practices of a user activity monitoring? 
When implementing a website visitors activity monitoring strategy, there are some best practices to consider:
Set Clear Goals: Know what you want to achieve with your monitoring, whether it's improving user experience, boosting conversions, or better understanding user behavior.
Transparent Communication: Inform your site visitors about your monitoring practices. This includes putting a clear privacy policy in place and gaining consent where necessary.
Choose the Right Tool: Use a tracking tool that best suits your needs. Consider features like real-time analytics, heat maps, session replay, and A/B testing.
Analyze and Act on Data: Simply collecting data isn't enough, you should analyze it to gain insights and act upon them to improve user experience.
Respect Privacy Regulations: Ensure that your tracking practices comply with privacy regulations in all regions you operate in, like GDPR for EU citizens.
Read also: