Dima's been with Dashly since the very beginning. The team grew — wait for it -— from 4 to 67 people! Our product team now accounts for 23 people. In total, Dashly helped nearly 10 000 websites increase their conversion rates.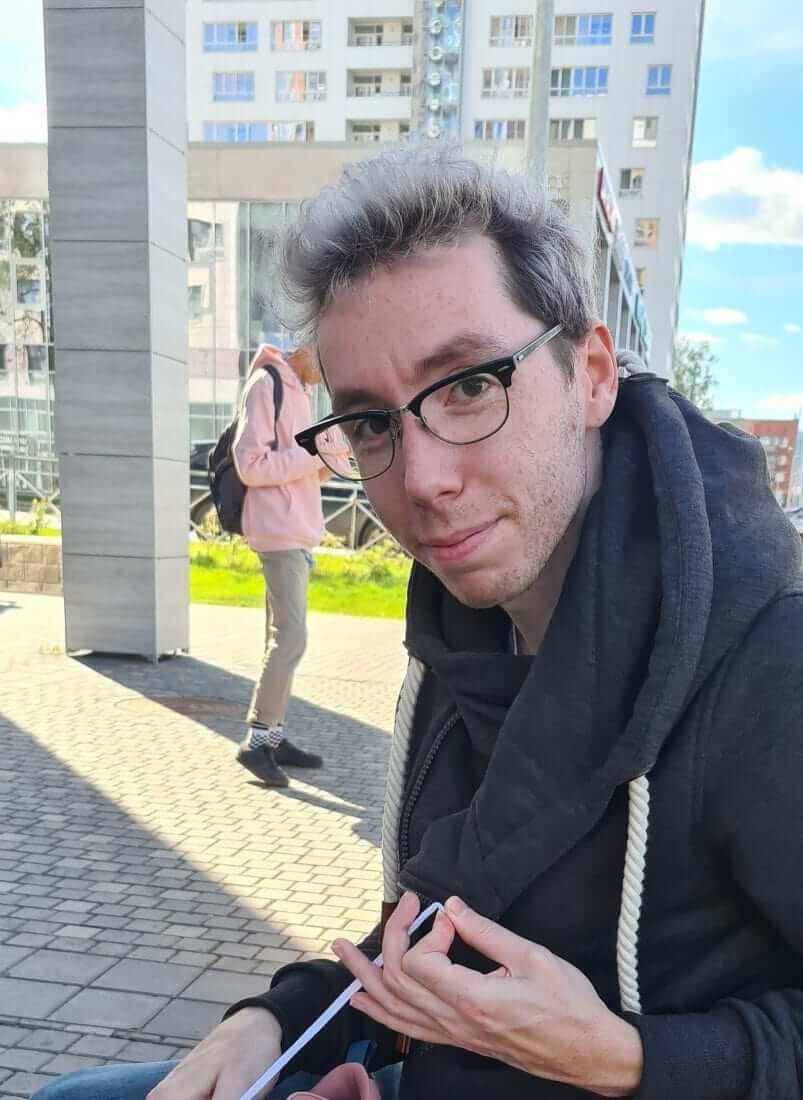 We've talked to Dima and asked him to share his views into:
mid-year product updates he feels proud about;
team processes that help focus on what's truly important and deliver great outcomes faster;
plans for the future.
How product updates help users accelerate customer communications
Since early 2020, we focused on what we can do to facilitate customer communications and help our users to build great products upon Dashly. Hence, our major updates are related to communication.
Chatbot
What is a bot? It's a technology that is triggered by certain actions of website visitors and asks questions replacing human agents. You can preconfigure possible replies using buttons or simply show a blank input field for a name or a phone number. Chatbot platform major job is to collect user details, qualify them, record their contacts, and assign the task to an agent.
This is our most remarkable update for mid-year. The chatbot was one of our strategic stakes for 2020. We dreamed of creating a powerful and convenient tool that our users could employ without the need to call on developers. And we did it! Learn how to create a chatbot in 15 minutes without any coding skills.
Chatbot can dramatically reduce the time it takes to talk to your users.
Chatbots facilitate and accelerate communications at the same time. When you generate a lot of leads, you simply can't manage to talk to all of them. And if you try to do so, you may miss the ones that need your help the most.
One of our customers, finance service, launched our chatbot to inform users of product updates, onboard them, and collect feedback. So it worked as a customer service chatbot.
The team wanted to inform users about the integration update with a bank. They could send emails, post a guide on their knowledge base, and collect feedback via email. Chatbot managed to do all the jobs much quicker and easier, and that's what it did:
informed users on the update;
showed the guide right in the chat window, users didn't even have to go anywhere else;
collected feedback automatically, and agents didn't have to text every user.
Chatbot helped agents save a lot of time.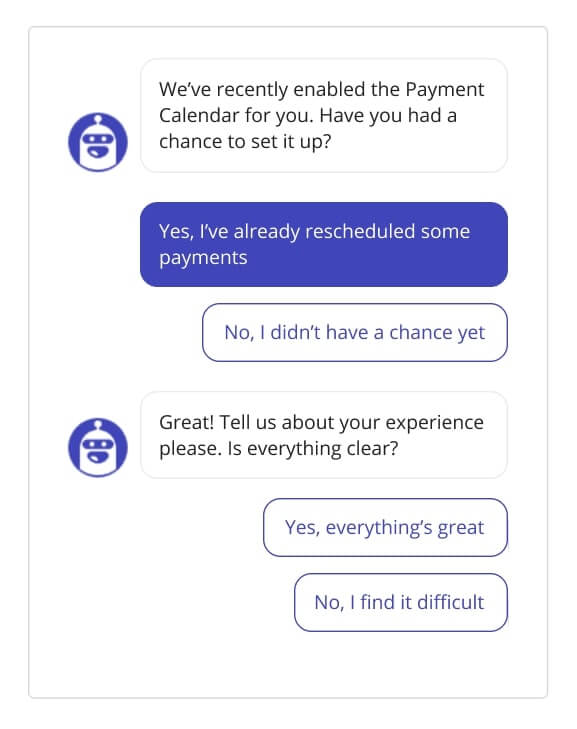 Chatbot can be triggered by particular user segments, like triggered messages. For example, users will see it if they visited the Plans section but didn't buy anything. Then, the chatbot finds out if users are ready to purchase, in what market their company operates, and how large it is. Depending on the answers, chatbot can assign a conversation to a sales rep. Sales reps can personally talk to large customers, make private demos, and offer a relevant plan.
Chatbot increases the number of conversations with those who need it as you're better at finding those people. When you trigger chatbot at them, it handles particular events that users create, and they get converted.
We started to beta test our chatbot in June midst lockdown, and we couldn't imagine a better time for that. Businesses were in need of chatbot platforms.
Traffic to websites increased sharply due to the pandemic. Companies that didn't rely on digital sales channels started experiencing operational issues as they had more online orders, users, questions, and communications as a whole.
Chatbot worked because more communications don't mean more orders. It can text more people, select the most nurtured ones, and encourage them to buy. This is one of the chatbot best practices.
Users seek help outside working hours and even at night. If your support team doesn't operate round the clock, you can simply lose customers. With our chatbot, you don't have to run night shifts. It can collect leads and customer contacts. Agents can call everyone back in the morning.
The beta test of the chatbot is over, and it's no longer free. This is definitely a remarkable checkpoint after over 6 months of shoulder-to-shoulder teamwork. We showed chatbot to our users and took their valuable suggestions and objections into account. Improving chatbot is still in progress as our teammates continue to make it more convenient and functional.

Helping users that prefer to stay anonymous
Some users are worried about their anonymity so they turn on ad blockers. Adblock and other similar tools can't block Dashly, but users can block data collection using other software. If they do, you can't monitor their behavior on your website.
Before, if someone set too strict user tracking on website settings, they not only were invisible to our software, but they also couldn't see the live chat because it was an integral system together with data collection.
We decided to divide data collection and communication (live chat and pop-ups) tools. If a user goes to a website with Dashly live chat, they'll see a widget and be able to contact support for help. If you manage to win confidence, you can collect contact details in live chat for further communication.
This may seem a small thing, but it's important. We let your customers talk to you even if they don't want to be monitored.
Read also:
👉 How to use lead generation chatbot for your website
👉Lead nurturing platform for your revenue growth
👉 12 types of marketing nurture campaigns
New chat message appearance
What do you see first when you get a message from your friend? Their profile pic and the message, of course.
We decided to redesign chat messages to make them more attractive. We added the agent's name and profile pic, and we made the chat window larger. We also added the input field so that users can text you without unfolding the chat.
Messages became more visible, more friendly, and now the chat window resembles a messenger.
Updated chat messages increase the conversion rate to a conversation. That's exactly what we're striving for.
In one of our experiments, we proved that the new appearance of chat messages increases the conversion rate by 1,7 times.
Now both manual and triggered messages look like this. How to put them to good use is up to you. You can either advise customers with a high AOV or those who're taking longer to make their choice.
See our welcome message ideas to power up your chatbot campaigns!
Team changes that helped us speed up
Early in 2020, Dashly was a completely offline company. We thought our team had to be all in one place, and this was one of our strategic stakes. All of us worked at the office, we had in-person meetings, and managers relocated new team members from other cities.
When lockdown came, we all went remote. It wasn't painful for us because we prepared for it well. The company's management and the employee satisfaction team warned everyone that we were likely to go remote. They all explained how this was going to happen, asked us to test all equipment, and say if something was missing for a seamless switch to WFH. Even in the office, we started executing our rituals with the new rules. If one of us was out of the office, we would move our meeting to Zoom.
It all went seamlessly after all. We didn't sacrifice performance, and in some activities, it was even better.
I'm proud of how we managed to go remote. That happened very quickly and nobody went crazy. Or only a few of us.
Read also:
What helped the product team go remote quickly?
When it dawned on us that we all might have to go remote, we started testing new daily WFH routines.
How Discord helped us save 5-10 minutes daily
When companies went remote, lots of teams started using Zoom for their meetings. Turns out, Zoom is not so perfect. Here's what you had to do to attend a Zoom meeting:
open Zoom;
log in (and sometimes Zoom logs you out automatically);
schedule a new meeting;
learn to share the link to a meeting;
send the link in a chat.
You also need to align on who should schedule a meeting. Sometimes several people sent the meeting links at once. This chaos was slowing down our processes.
Then we started to look for an alternative solution. We tested several platforms, but we settled upon Discord.
Discord is a voice chat usually exploited by gamers. We created several so-called "rooms", that is, chats. It works almost the same as meeting rooms in real life. You can instantly see who's rooms are occupied or free.
Here's why Discord fit our product team routines perfectly:
Unlike Zoom, you don't have to create meetings and send the link to all invitees. If you want to hold a daily meeting or a 1-on-1, just come into a free room.
You can manage the "volume" of all attendees — turn them up or mute.
Discord creates the presence effect. You can see people talking at any time.
Discord helped EACH OF US save 10 minutes daily that we would otherwise spend on scheduling meetings and inviting people to them. It also creates an office atmosphere.
Read also:
Capture emails from website visitors with Pop-ups
The best way to collect emails we tested this year
How product managers sync up using Slack
Product managers and marketers used to sync up verbally. In the office, you could approach any teammate and discuss plans and potential intersections. When lockdown came, it became more difficult, plus our team became bigger.
We launched the Slack channel where product managers and marketers share their daily activities and tasks. It helps us sync up and slow down if tasks are duplicated or someone's doing extra work.
Here's an example of our product manager's daily activities:
Yesterday
Portraying users for feature development.
Meeting with a PM to decide on the data for feature performance analysis.
Meeting with an analyst regarding the data for feature performance analysis.
Interviews with customers who used the feature.
Today
Interviews with customers who used the feature.
Structure the interviews.
Consider the solution for the feature onboarding.
What was delivered
Read also:
How we share our success stories of the week
We launched the new Slack channel #fantastic-friday that we use to share our success stories, tell about our small joys, and share useful content on Fridays. All these occasions pull the team together. It's always lovely when something good happens to someone.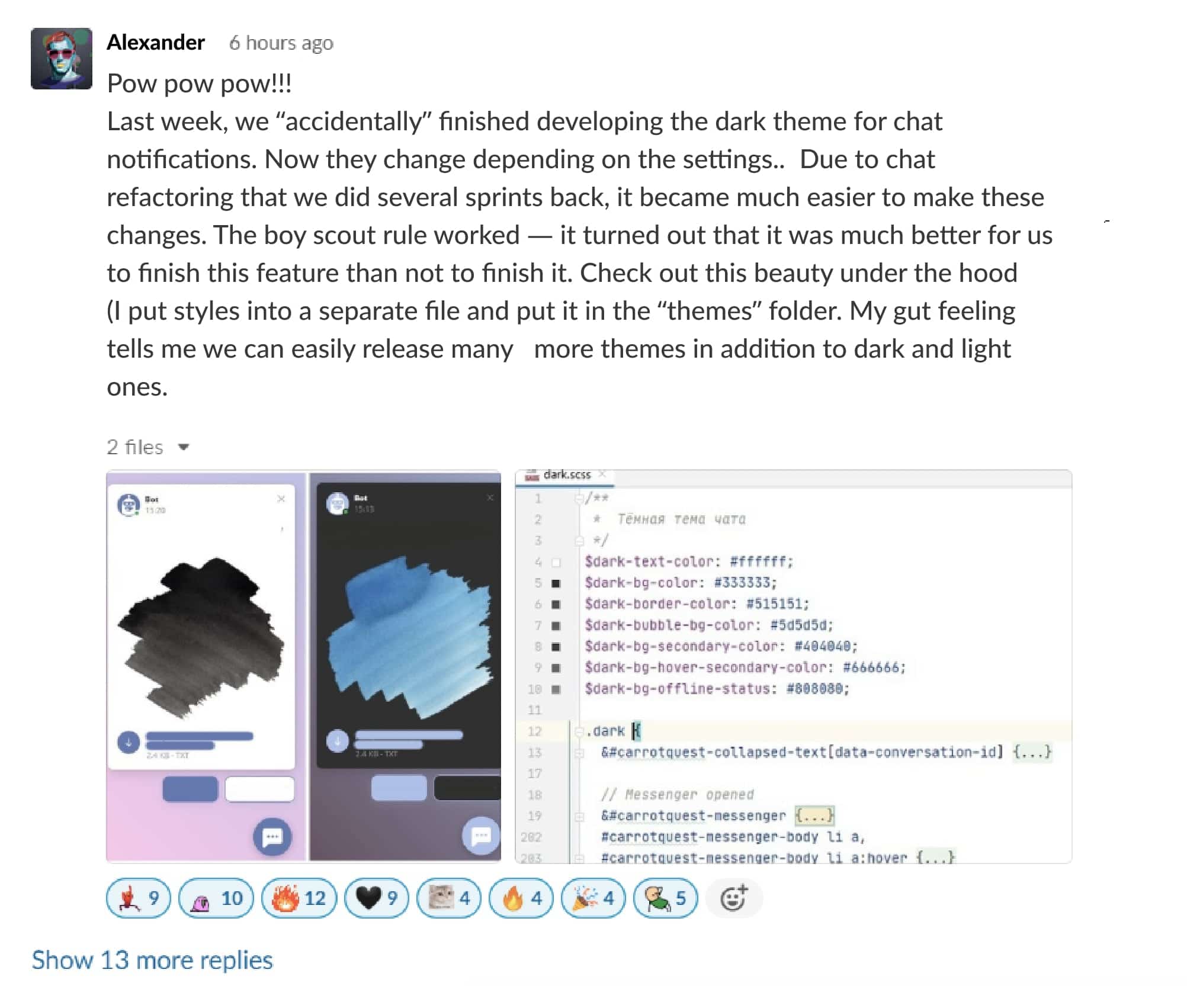 Read also: how to find respondents for a survey or customer interview
How a change in thinking made us quicker and more mindful
Over the last 6 months, we redesigned our thinking in the product team. It influenced our working routines, and then our approach was replicated in other teams. We used to take as many tasks as possible, trying to fill the spring with story points. Some user stories were too complicated and long. We were executing several stories for 3-4 sprints and we couldn't manage to finish anything. Now we only set one major objective — like accelerating communication using saved replies — and put all effort of the team into it. We take other tasks by a residual model. Our major objective is thus met and ready to be released, even if we didn't manage to deploy any of the "additional" tasks.
Read also: The North Star Metric and How Can This Lead to Success
At the end of each sprint, we're doing our best to deliver a complete increment. This is a product that does some user jobs. Though updates may be invisible, they handle customer pains and move the product forward. Depending on our readiness, we invite some users to test the product, release it massively or finetune it.
This helps us see the result at the end of each sprint and not burn out.
First, we align on the sprint objective, and then we split it into subtasks. The sprint objective pulls us together and accelerates us. When everyone understands what we're doing, they have enough autonomy to decide what to do and what to put aside.
We keep asking ourselves: "what for?" This helps us skip doing something we don't need.
We run daily meetings to sync up and check if we're heading in the right direction at the right speed.
As a result, these changes are what accelerated us the most.
A change in thinking is the most important for me.
We're going to release superb features from now on. Just because we think right and we're doing it right. We'll be better at delivering our mission and helping our customers talk to theirs.
Team changes over product updates, absolutely.
Plans for the future
Our product is getting closer to what we anticipate. Our major objective for this year is still to accelerate and improve communications. We're considering some updates, and they all are related to communications.
Improving and enhancing chatbot
Chatbot is now the first to address website visitors, and they only have to reply by pressing a couple of buttons or sending a chat message.
What if users text first and there's no one to reply to? We're developing a new solution for such cases. A chatbot will catch up on a conversation as they send a question, qualify users, and assign them to relevant specialists. We keep an eye on chatbot future trends and develop the technology in accordance to the needs of the users.
Read also: Find out the best Intercom alternatives and Drift alternative
Accelerating conversations
We're seeking to offload support agents, take their routine tasks away, and accelerate replies in conversations. We already updated our saved replies, and we're going to further improve them. But that's not it!
We're considering different solutions to meet this objective. Some of them are simple, others are more complicated. Among them, there are smart options that can adjust to a certain agent and prompt them with the best answer. We can't tell what we're going to get, but we'll surely select what's best at dealing with user pains.
Our major objective is to make sure our customers improve their products and businesses via communications.
If we make fewer errors and allow our customers to talk to who they need to, they have more tools to improve their products. And this, in turn, means we achieved this objective.
Extending the team
We have lots of ambitious plans and great hypotheses, and our backlog is full of users' ideas and requests. And we need people to execute these ideas and come up with their own!
You're going to work on a strong product entering the global market and fitting its high standards. You'll move it forward freely, and your ideas won't drown in the ocean of bureaucracy.
As a company, we're very open to a conversation. There's no hierarchy or a stuff corporate culture. We give everyone great opportunities for growth. If you want to take a course or attend an event, we'll help you with that. We value knowledge sharing and open discussion of initiatives.