Brendon has always preferred traditional marketing channels of communication that have proven their efficiency within years: banners, forms, no-reply email campaigns. It worked well in a small team with limited human resources. 
But the "website form ⟶ CRM ⟶  email outreach ⟶  qualification call ⟶  sales call" funnel is too long. It is cold and impersonal. Customers don't have time for this anymore, and the last results proved it:
Only 20% of prospects answered calls.
Email open rate nosedived to 5%.
Conversion into registration fell to 2%.
Time of change. 
Just in a week, Brendon fixed conversion into leads on a website. In two, ─ fixed reply rate, and that was far the end. 
The secret recipe? Choosing a conversation with visitors instead of silent lead capturing. 
But it didn't happen in a moment. The theory comes first.
What is conversational marketing?
First and foremost, we should understand the conversation marketing definition. Here's how it can be explained: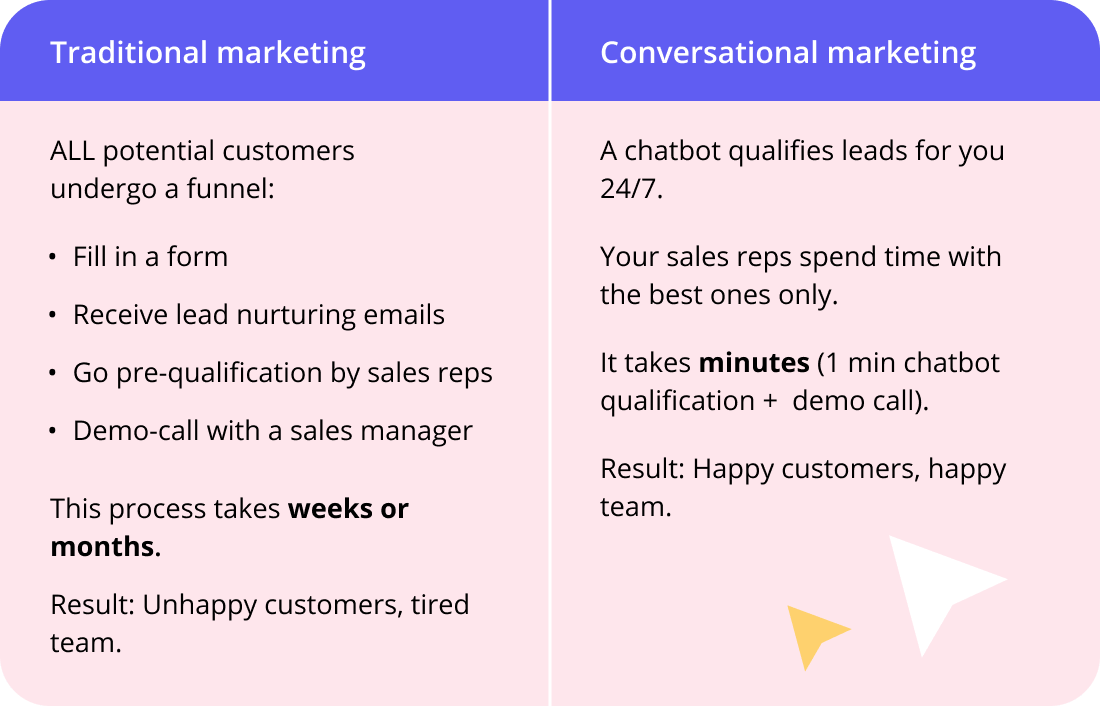 Some people believe that conversational marketing is based on live chatting. Until recently, that was true. But today, it's more than that. Here are some of them:
Conversational marketing definition boils down to direct communication with customers in the form of a live dialogue. This approach optimizes resources and has the full stack benefits that our Brendon will discover soon. 
But where to start?
4 steps on the way from old to conversational marketing 
Here are four clear signs and essential elements of conversational marketing (and they can serve to refine your approach, too). 
1. Start a conversation when a customer wants it
Since conversational marketing is a customer-focused approach, all the communication should occur whenever it pleases the client. You definitely know that feeling when you just entered a website, but there is no opportunity to read something because of the huge window popping out in the 1-st second. And what about sales managers calling when you're at work, unavailability of support agents when you go shopping at 11 PM. Irritating! 
Conversation marketing is about in-time communication: 
show a pop-up window after some key action a website visitor did; 
let a user choose time for a sales call; 
provide 24/7 customer support, etc.  
Conversational marketing should revolve around customers' interests, not business's. Ideally, clients should be able to pause the conversation at whatever moment is convenient and continue the same way. To achieve double efficiency of marketing, your business should hold conversations at the customer's pace.
Read also: The secret weapon of your competitors or Why you should focus on customer service first
2. Scalability is the trick
Customers don't care if live chat agents are overloaded talking to 10, 50, or 100 other people. Website visitors don't have that 5 min to wait for a reply in a queue. All they want is to have their problems solved. 
If you want your business to grow and your clients to stay satisfied, make sure you have enough resources. That's where chatbots come in handy. They automate lead qualification and provide support 24/7 by answering FAQ and rote difficult one to agents. 
As a result, customers stay satisfied and a team ─ focused.
3. Good communication starts from the context
Previously, Brendon's managers started a conversation with a visitor with a generic "Hi, how can I help you?". Today it is a personalized message full of visitors' behavior on the website context, "Hi Jen! I see you have an issue with Premium plan activation…" 
It is essential because:
That's what customers expect. If visitors have contacted your company previously (even though chatbot) and complained about some issue, they expect that this problem will be addressed. A manager they're talking to should be aware of the client's name/issue.
Context makes communication more efficient. Without information about visitors' behavior on the website and dialog history, managers would need to ask prospects the same qualifying questions repeatedly. Conversation history, bot qualification, website behavior tracking help managers to pass the 'introductory' part and get straight down to sales/solving the issue.
People want to have their issues solved as soon as possible, with minimum effort. Don't test their patience. Instead, collect data in a CRM and make it an essential part of your marketing strategy. Here is an example of how user card looks in Dashly: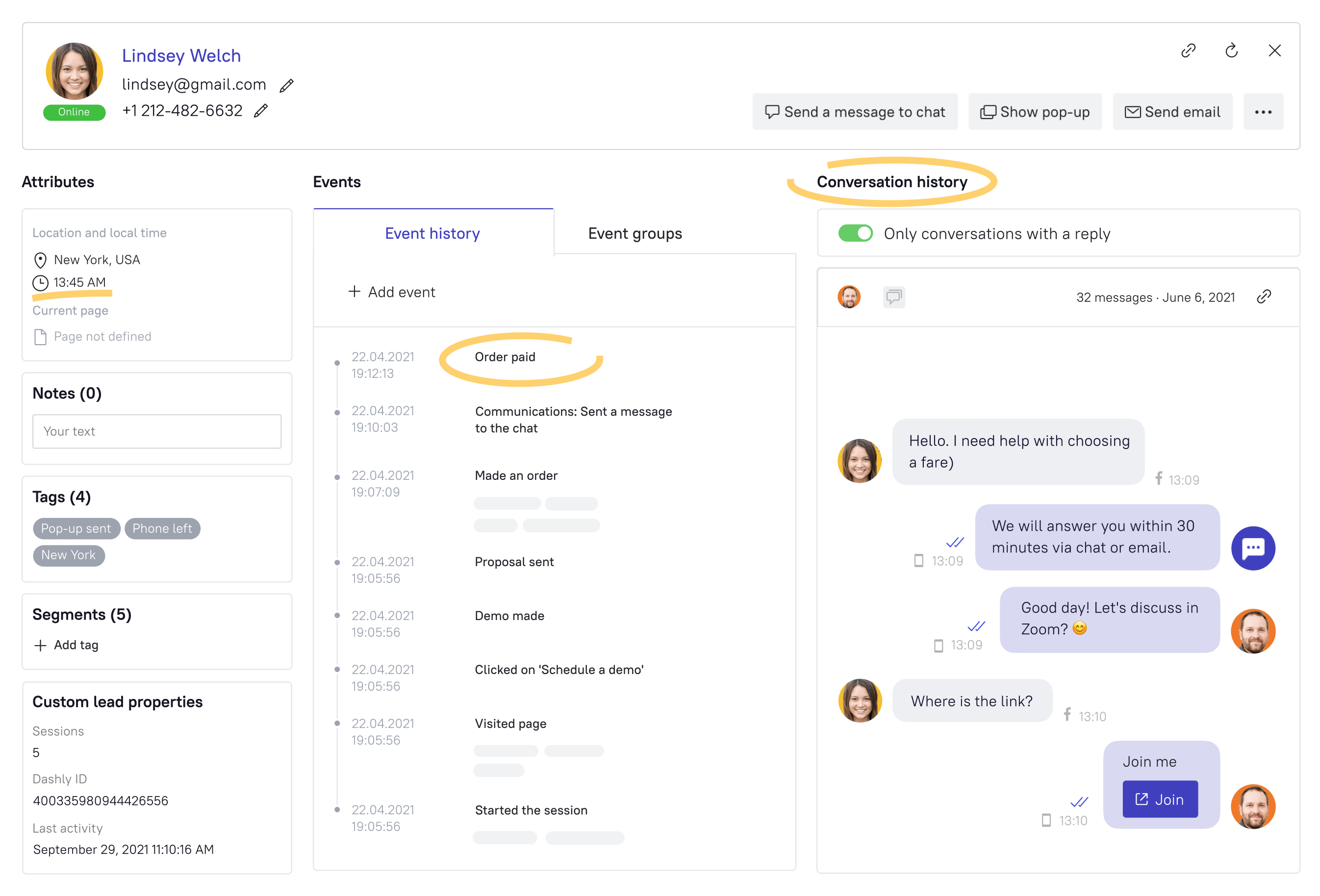 Context is all valuable client data: their name, job position, recent orders, etc. The more data you gather, the higher is your chance to be helpful.
Read also: 17 Zendesk alternative services and 13 live chat alternatives to try this year
4. Choose communication channels that your customers use
Conversational marketing is designed to meet customers where they are, i.e., on their social media and messengers. 
Previously, Brendon's customers had to call one of 1-800 numbers or send an email request to get support. It isn't the easiest way to get information. So, his support and consequently the sales team wasn't overloaded. 
But the situation has changed dramatically just after they adopted WhatsApp, Instagram, Skype channels. Get to know your audience, what messengers and social medial they use. Integrate that channels into your support workflow and enjoy the growing number of sales.
To sum it up, let's compare Brendon's approaches before and after conversational marketing implementation: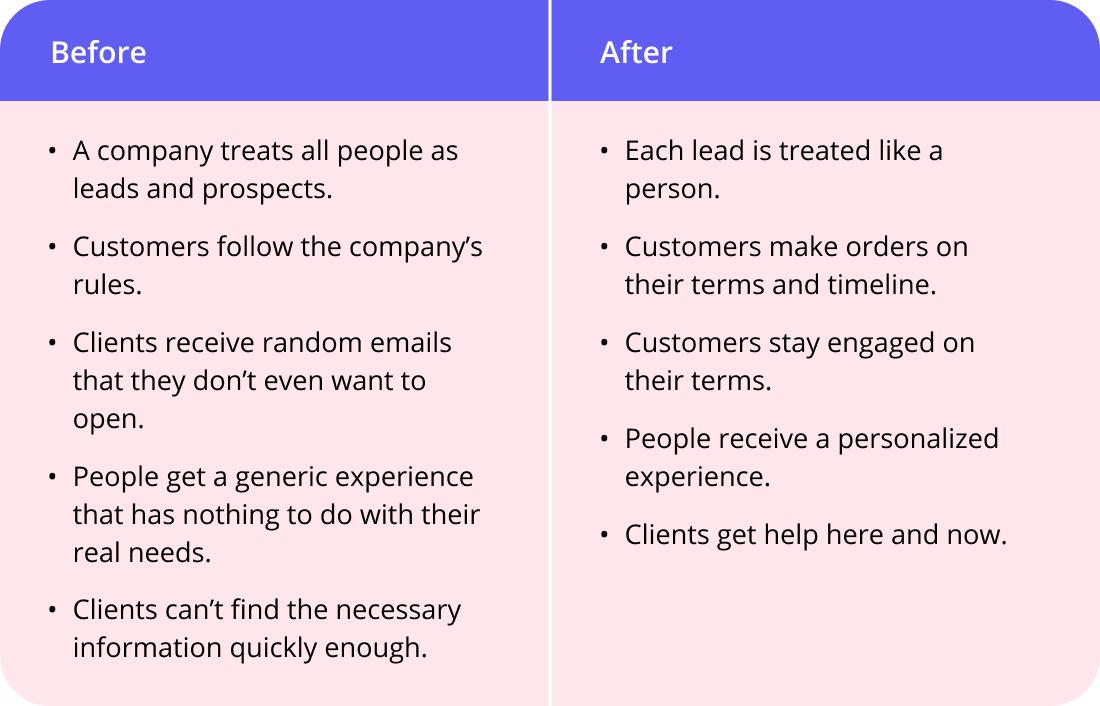 Basically, the first is about putting a company's interests, and the second is about customer ones.
Conversation marketing strategy, or how Brendon changed his website
After realizing that the old approach brings no results, Brendon has decided to organize customer communication differently. Let's track his story and use his example to craft a working marketing strategy.
Step 1: Pick the right places
To start, Brendon found the most popular section of his website, ─ the pricing page. To increase the number of registrations, they offer this landing page visitors a personalized demo to start with. 
But since the team wasn't ready to change everything at once, they just complemented the website demo form with a chatbot.
All the chatbot conversation flows lead visitors to call scheduling. But what's important, during the conversation they answer pre-qualification questions, so sales managers can focus on the best leads first.
Qualifying questions depends on company needs, but usually, they all come down to:
What is your role? (give options)
What's your budget?
When do you plan to achieve the desired results?
Which timelines do you consider?
Results: in addition to the growing number of users, based on the collected data, Brendon's team can prioritize what leads to contact first.
Level up the quality of your leads with the best lead qualification models + short implementatiopn guide
Thanks! Now check your inbox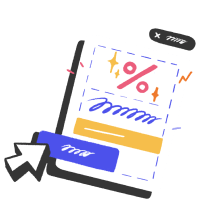 Step 2. Engage website visitors
After such a success, Brendon decided to test conversational marketing tools on the main page. Instead of using just a lead form offering the fee guide, he engaged website visitors into a conversation with a chatbot welcome message. 
Chatbot turned out to be more engaging. And it's not hard to guess why. 
Compare: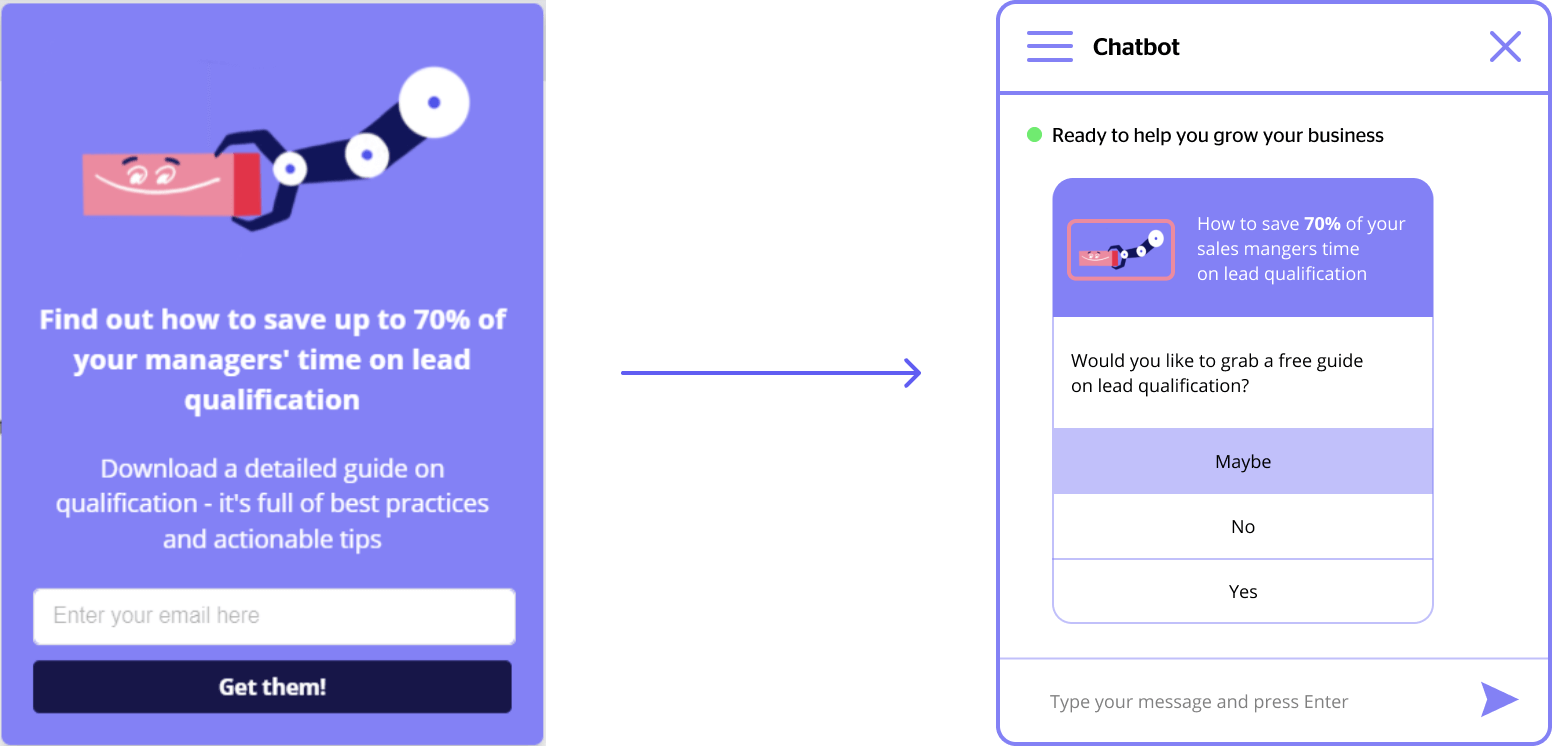 It was one of the best decisions for a lead generation he ever made, and here's why.
A chatbot makes a day-and-night difference in customer experience because it personalizes communication based on your brand's style and audience's reaction. 
 Here's how it can initiate communication:
A visitor opens your website and sees the chat in the corner of a page and initiates conversation with it.
Depending on the script and the user's replies, the conversation can start the sales funnel for both leads and new customers. 
Chatbots can answer users' questions about products and services or act as a lead generation tool and collect emails and other data for CRM. The largest part of the customer journey can be automated with the help of bots, and this communication is so unobtrusive and highly personalized that people would gladly make purchases without even contacting the sales reps. 
Chatbots may come up with personalized offers and discounts by sending targeted messages based on triggers that you set up.
Download the bundle of 55 ready-made scenarios of conversation marketing chatbot flow for SaaS, eCommerce, and EdTech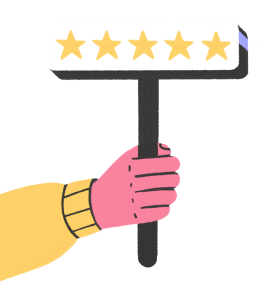 Step 3: Understand what your leads want in minutes instead of days
After seeing website visitors getting interested in the chatbot, Brendon made the next step. He started prioritizing that crazy amount of leads his team got. But it demands a deep understanding of the audience. Focus on qualified leads only is about proficient segmentation based on rich customer data. 
Previously, this process took quite a lot of time and effort from a sales team: 
You have to reach out to them.
Schedule a pre-qualification call.
Spend time interviewing those prospects.
Submit collected data into a user card.
Brendon hadn't that resources. Guess who did this job for his team in minutes?
Chatbot. 
He updated the previous one. Now it asks qualifying questions and requires website visitors to choose one of the given options/answers:
Previously, this task was done manually by the sales team and took hours. With a chatbot, Brendon has automated the process and obtained enough data to prioritize and segment leads for further communication.
In addition to that, the chatbot tracks the website visitors' behavior (without them even talking to the bot). No extra analytical tools were integrated — chatbots can segment the audience according to pre-set properties.
In Dashly case, it includes:
Page visit;
Geolocation and language.
Interaction with customer support
Scrolling to the bottom of the page;
Cart abandonment.
Exit intent
Click on the element;
Input field filling.
And so on. Here's an example of the user card with all the tracked data: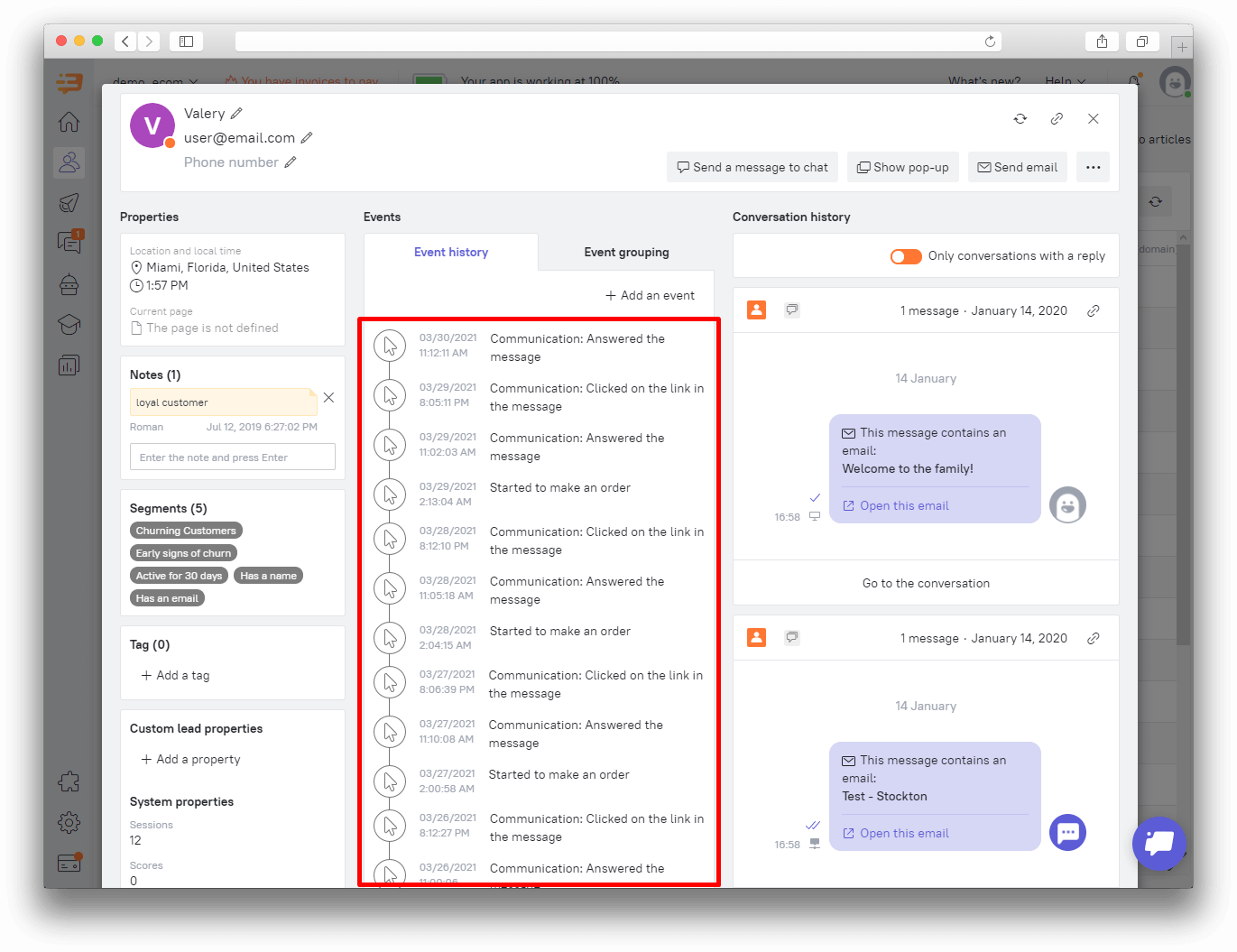 Thanks to the right automation system, Brendon's company started building relationships with customers, nurturing and qualifying leads. Conversational marketing using bots took no time from the sales department because communication is fully automated.
Step 4: Recommend the best solution
Now, as the chatbot has done its job, and there is enough info about prospects to segment and prioritize. It is time for humans to take care of the last stages of the sales funnel ─ engage sales.
When your marketers know
how prospects behave;
what they expect from the company;
which issues they have;
prospects' average budget and their readiness to make purchases;
personalizing the buyers' journey by offering relevant products and discounts is a matter of minutes. 
There are so many possible options to automate that process, a chatbot may come up with solutions: 
We offer [solutions].
Free plan registration.
This weekend, we have 10% off [services and products].
Book a call with a sales rep (you can show employees' calendars and let prospects select convenient times).
Route visitors chat to the sales rep.
Lead to product pages that are relevant to the visitor's interests.
Rescue abandoned shopping carts. It can be triggered when a prospect is leaving the website or deleting items with no evident reason for that. At this point, you can:

offer a discount to encourage purchases; 
troubleshoot their problems; 
suggest alternative products or services (including free trials). 
The last one is exactly what Brendon's team did. They launched a chatbot on a tools section, offering visitors help to pick a perfect tool.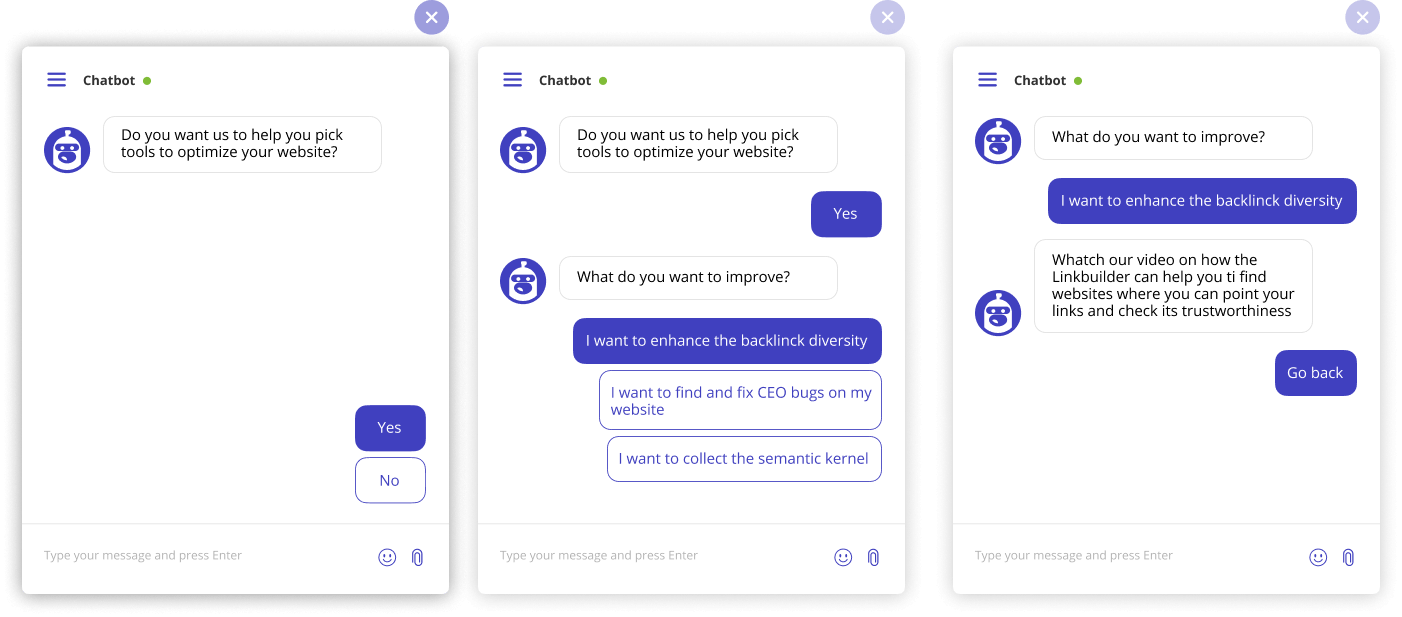 Hence, a chatbot can guide your customers through the entire purchase journey. In Brendon's case, automation saved tons of time for sales reps and allowed him to develop personalized offers that encourage buyers. It goes without mentioning a huge increase in sales.
Download the bundle of 55 ready-made scenarios of chatbot flow for SaaS, eCommerce, and EdTech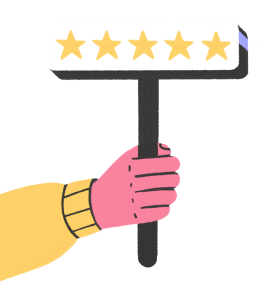 Step 5. Measure the effectiveness of conversational marketing
To evaluate the results of his new campaign, Brendon used the same instruments and metrics as for any marketing channel. In the dashboard, his team checked:
The number of leads captured and qualified;
Sales dynamics;
Page conversion rate;
Revenue.
After comparing the results with previous campaigns, Brendon was astonished: conversational marketing saves his employees boatloads of time and boosted sales considerably.
Step 6. Scale it
After the success of his campaign, Brendon explored competitors' conversational marketing examples and decided to go further than lead acquisition and qualification. He launched a chatbot on other relevant website pages. The one with its script based on the FAQ was placed on the customer support page: it instantly answered visitors' questions. 
As a result, Brendon's customer support team saved up to 70% of the time! Instead of manually answering repeated questions over and over again, employees managed to focus on more complicated and critical issues. 
A FAQ chatbot is a win-win scenario as it saves tons of time for both customers and employees. You can complement it with chatbots, which:
Search for items from a catalog.
Provide contacts.
Collect feedback.
Make visit/call appointments.
Complete delivery orders.
Download the bundle of 55 ready-made scenarios of chatbot flow for SaaS, eCommerce, and EdTech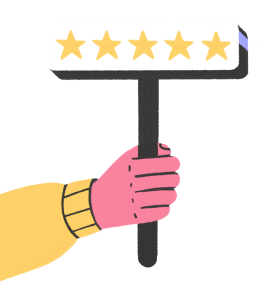 The applicability of chatbots is limited by your imagination only. You can save the time of all your departments — sales, support, marketing — by automating communication. At the same time, conversational marketing with no humans involved does not mean depersonalization because you keep improving scripts based on customer data.
Read also: 15 best lead generation services to grow your base in 2023
Conversational marketing examples
There are conversational marketing use cases that inspire Brendon's and Dashly team:
To start with simple things, you can implement a chatbot to greet site users and offer them help. Just look at the welcome message by Sprout Social bot sends its visitors: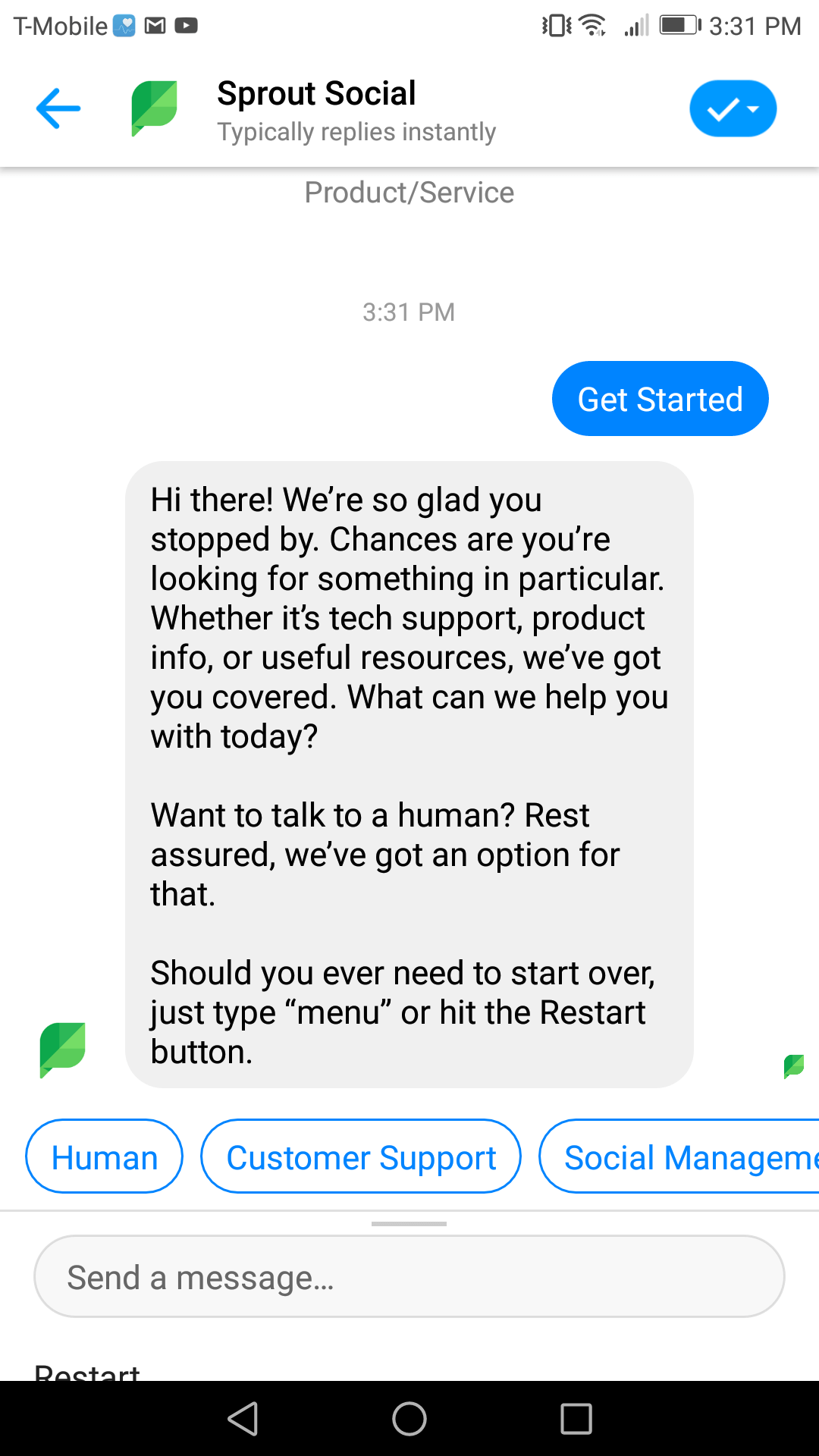 Pay attention: a user has the opportunity to contact a human right from the start of the conversation. This feature is often underestimated. Meanwhile, some people really feel like their experience is depersonalized when they face bots. So give your visitors a choice — they will appreciate it.
Read also: 10 conversion rate optimization tools to enhance your funnel and boost revenue
Alternatively, your first message can start with a questionnaire. Maybe asking visitors about services head-on is not a warm greeting they expect, but sometimes, it encourages further conversation. Just like in the digital school bringing up Data and IT specialists, case.  They boosted the CR to Paid by 44% using qualification chatbot: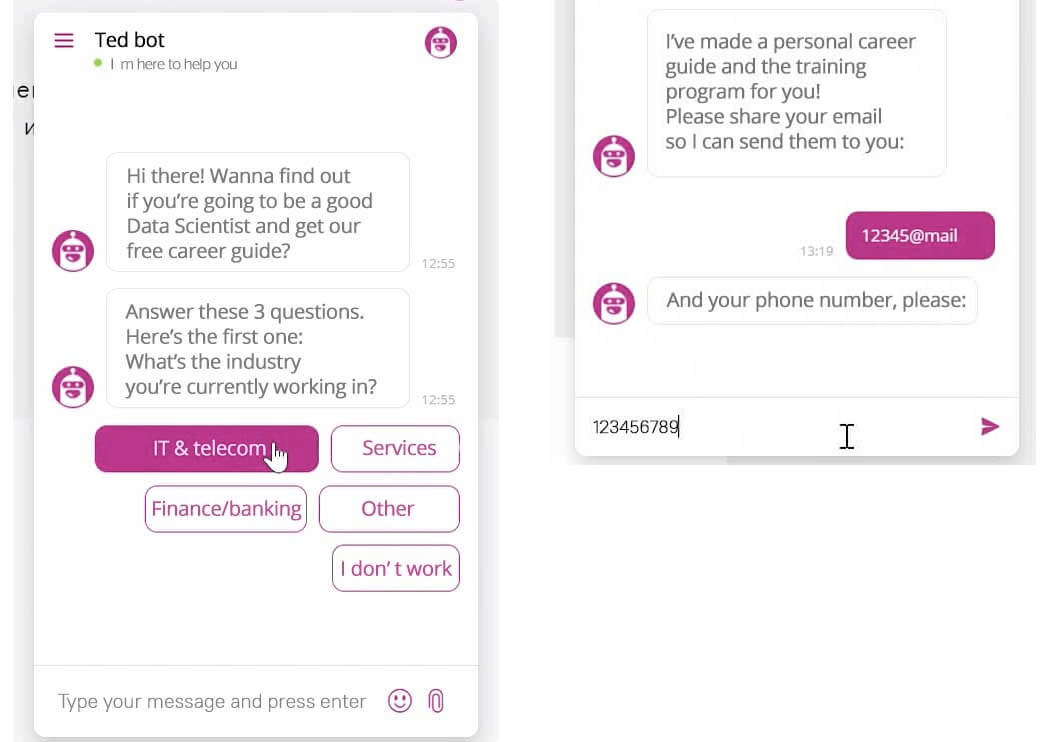 Through a chatbot, visitors can get to know your platform and products. But you can get useful insights, too. Chatbots can collect a lot of useful data for your CRM.
Take a look at how Brandwatch collects visitors' emails and connects them with the sales reps. A super-quick sales funnel in a few clicks!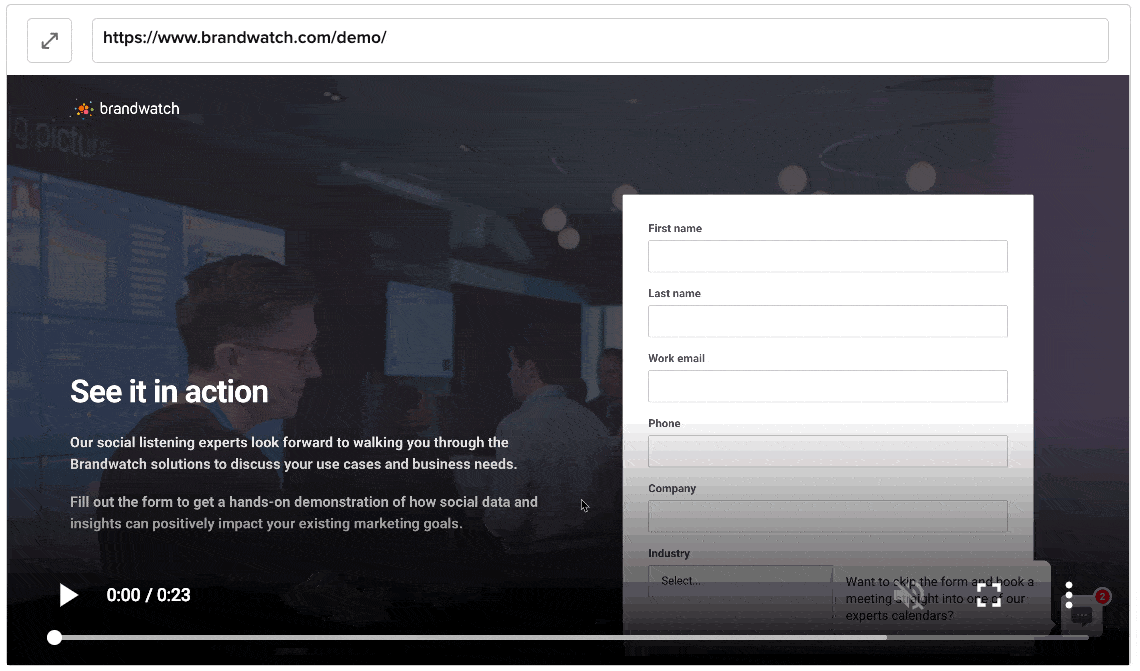 In the same way, you can gather information about prospects' budget or pricing expectations, their preferences, issues, needed products, and so much more.
Read also: Customer engagement strategy template to create omnichannel campaigns
What's next?
Here comes the most interesting part — moving through a sales funnel. As a rule, it involves showcasing your products or asking questions to figure out the best offer for prospects.
Below is a perfect marketing conversation example. A chatbot gathers data and moves a lead through the purchase funnel by offering a coupon: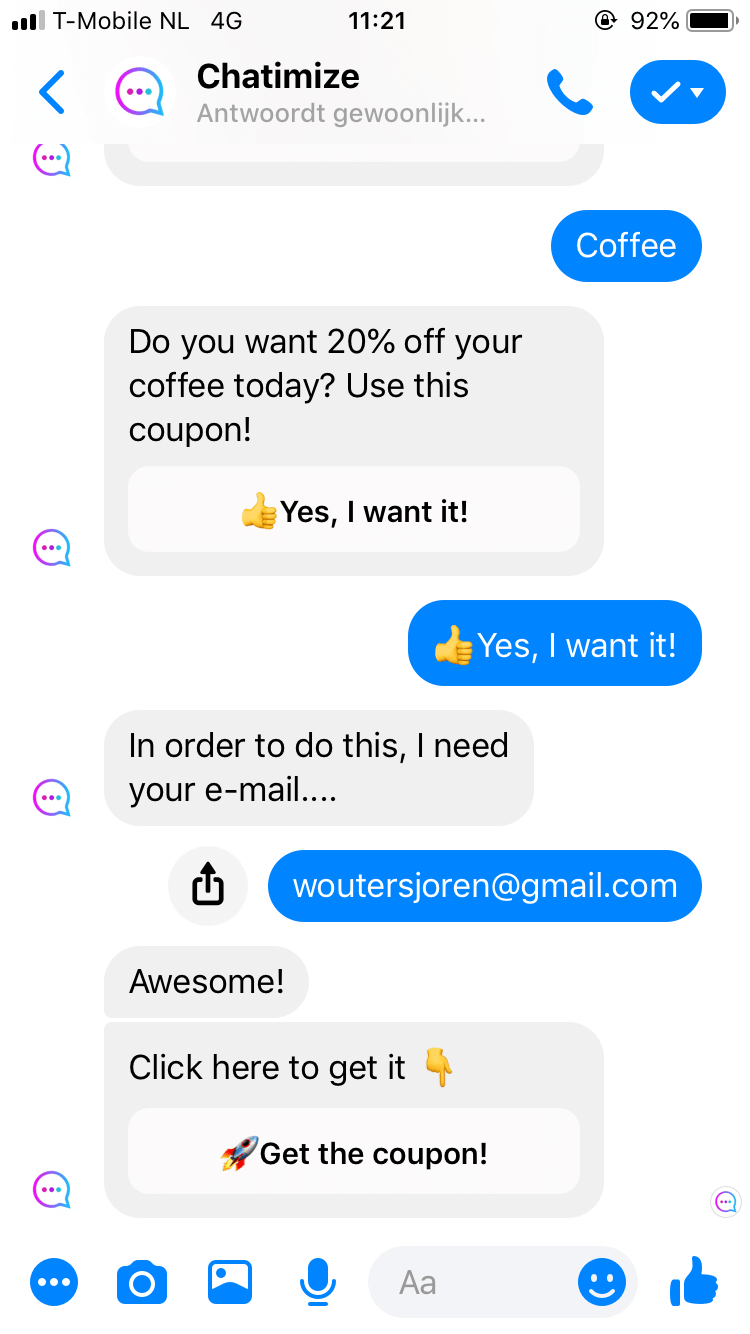 If a visitor is hesitating and not ready to make an order, the best way to get them back in the sales funnel is by offering a demo. Free trials allow you to showcase your competitive advantages and help prospects make the final decision. No need to do it manually — let the chatbot come up with such an attractive offer:
To encourage sales, some companies go out-of-the-box. Domino's enabled customers to order pizza by sending a Pizza emoji 🍕! They added the feature to several conversational channels like Slack, Facebook Messenger, Twitter, and text messages.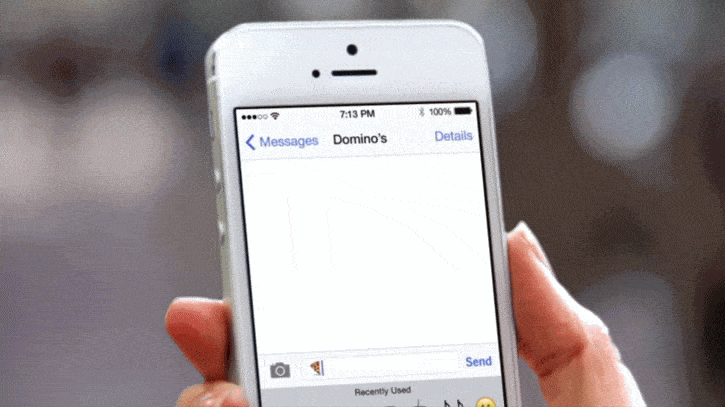 Most likely, many people made orders just to see how this function works. It's a very powerful conversational marketing trick without actual conversation: customers feel they are understood without even uttering a sentence 😉
What if the sales funnel hasn't been finished for some reason? Chatbots can make things up. For example, when a prospect has abandoned a cart, a bot can be triggered to get a buyer back in the sales funnel by reminding or offering a coupon on socials: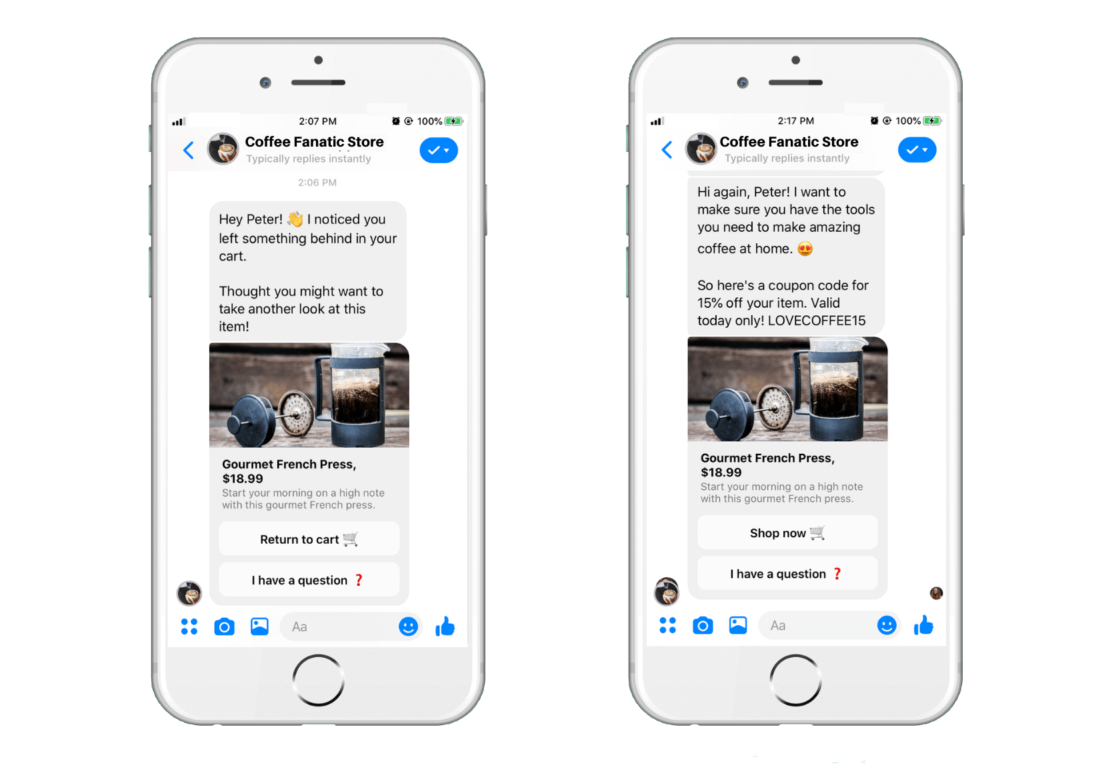 Once sales are done, you don't have to finish conversational marketing. Chatbots can continue creating a presence and supporting customers. Here's how Jordan's bot keeps interacting and helping clients: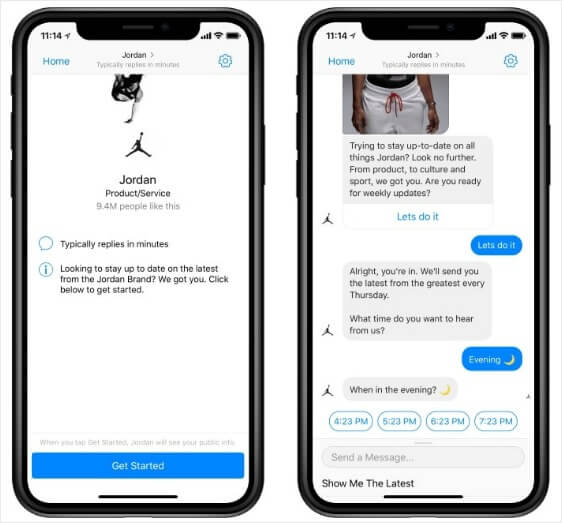 Customer support is crucial for retaining. That's why you can automate and provide it on a 24/7 basis by using chatbots. Searching for necessary information in long FAQ sections is tiresome. Look at Microsoft's Power Virtual Agent that finds data in seconds: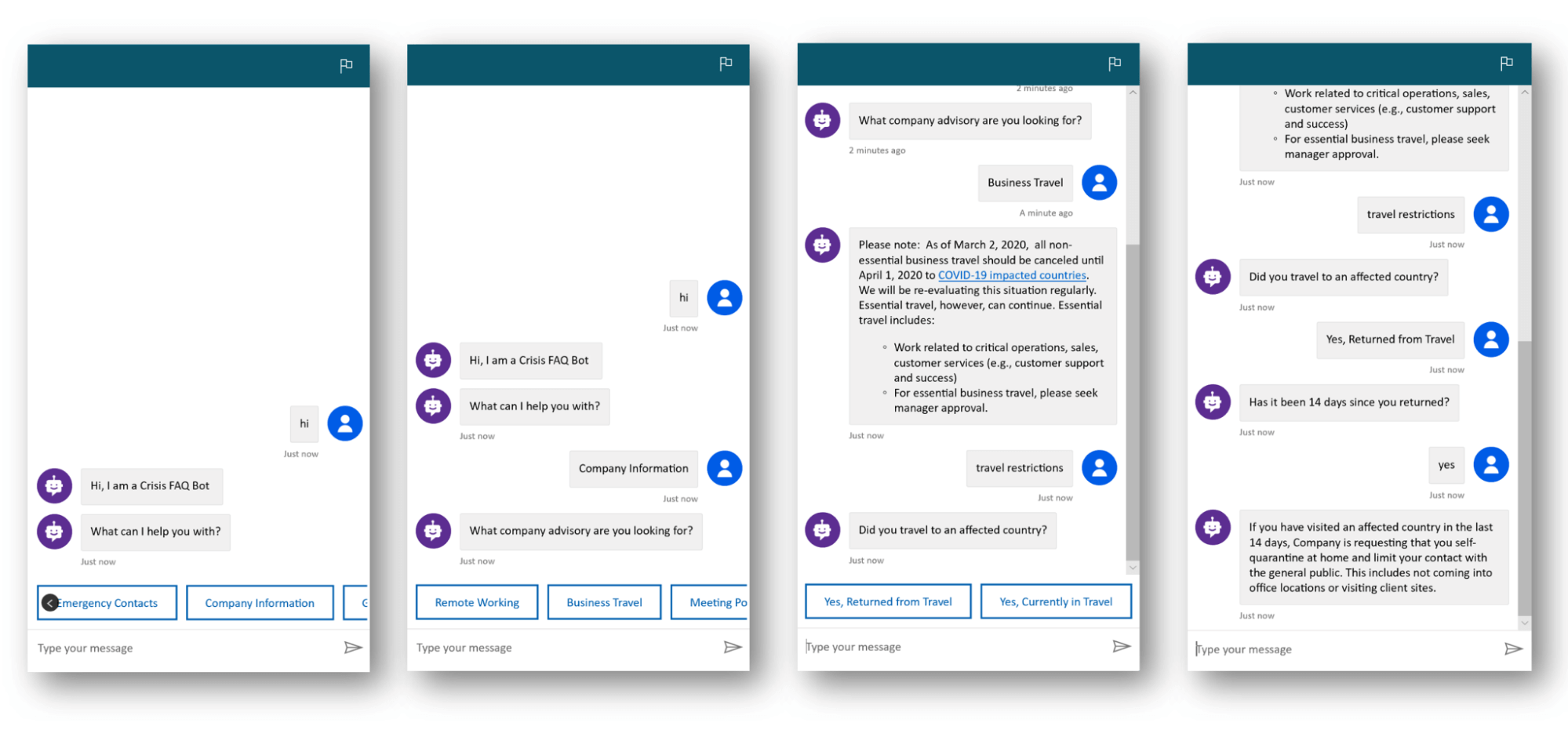 Finally, chatbots can collect feedback for you to improve products and your business. Take a look at how FinTablo financial accounting platform launched a chatbot for beta testers of the new feature to collect feedback and release it later.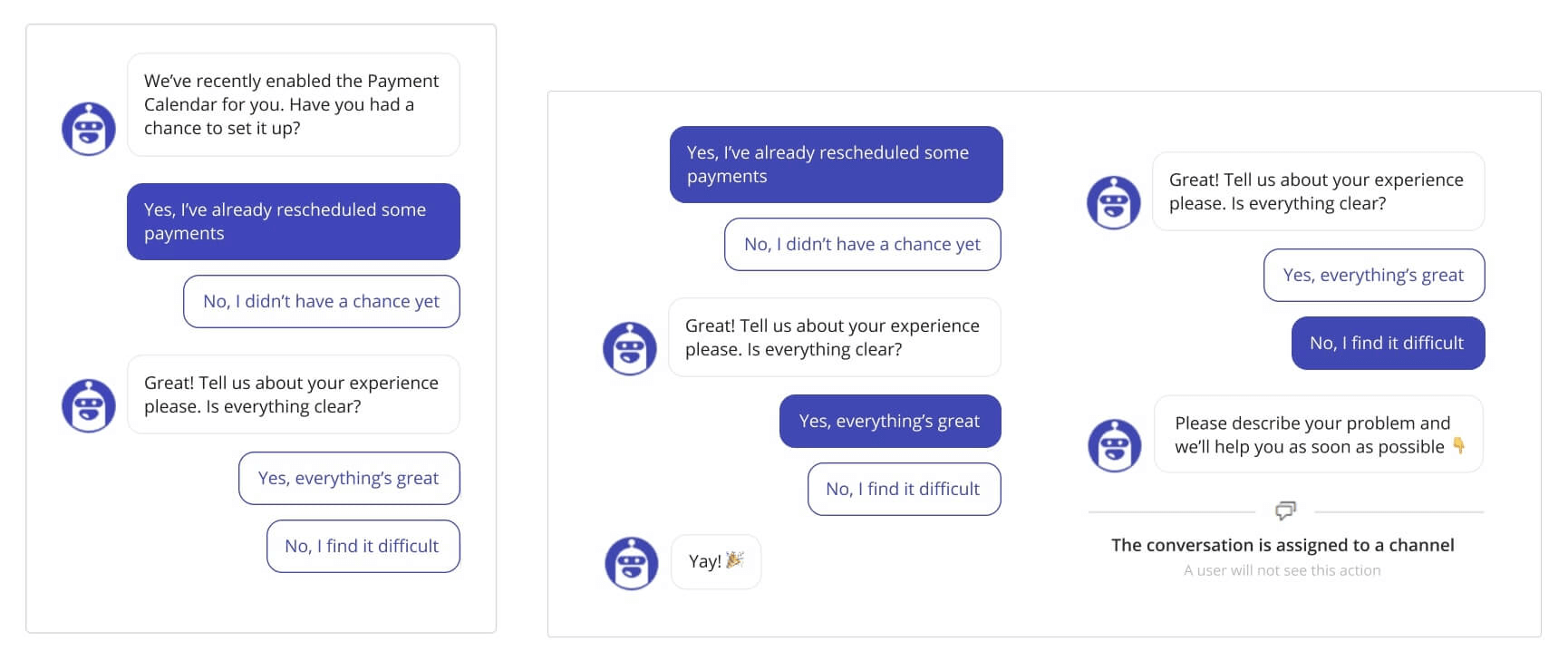 Key Benefits of Conversational Marketing
Here are the reasons for implementing conversational marketing:
Getting more detailed data about your audience.
Reaching higher personalization of communication.
Saving time and shortening the sales cycle.
Boosting customer satisfaction.
Generating leads and purchases via new channels.
Availability 24/7, which further improves customer experience.
Conversational marketing can greatly improve your efforts without interfering with the current processes. It provides data and tools for more personalized communication with customers, so positive results don't take long to appear.