In recent years, chatbots have emerged as powerful tools in various industries, including education. By leveraging artificial intelligence development solutions, they are transforming the way students learn and interact with educational content.educational content. 
In this article, we'll explore some of the best use cases and real-life examples of chatbots in education. 
Chatbot use cases in education
Student onboarding and orientation
For new students, navigating an online school environment can be challenging. Chatbots can help simplify the onboarding process by:
Providing virtual tours of the online platform and its features;
Offering step-by-step guidance on course registration and enrollment;
Answering frequently asked questions about school policies and procedures.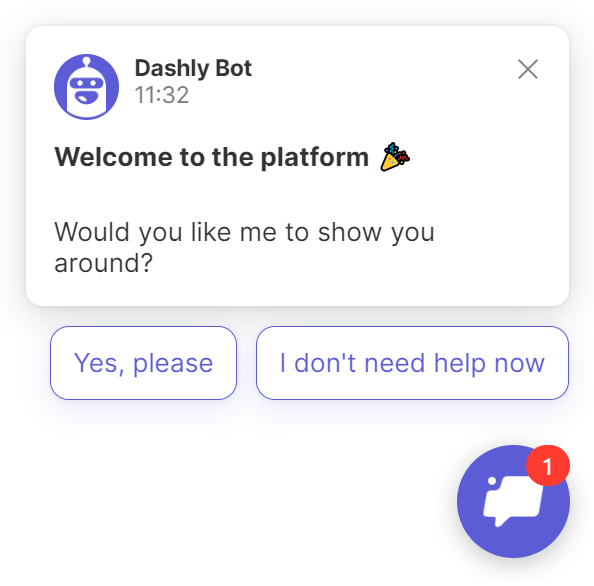 Personalized learning and academic support
Chatbots can offer personalized learning experiences for students in online schools, adapting to their individual needs, and offering support in various subject areas. Here are some examples:
Thinkster Math: Combines AI-driven tutoring with human support for a personalized math learning experience.
Carnegie Learning's Mika: Offers real-time tutoring in mathematics and tracks student progress.
ALEKS: Provides personalized learning in math, chemistry, and economics.
Homework assistance
One of the most popular use cases for chatbots in education is helping with homework. These chatbots help students understand complex topics, provide step-by-step solutions, and offer tips for completing assignments. 
God, where did they hide this technology back in my school days? 😩
Let's take a look at a few real-life examples:
Socratic by Google: Assists students with math, science, literature, and more.
Mathway: Specializes in solving math problems, from basic arithmetic to calculus.
Duolingo Bots: Offers language learning assistance and conversational practice.
Exam Preparation and Study Guides
Use chatbots to support students. They'll help prepare for exams by providing study guides, practice questions, and instant feedback. Some notable examples are:
QuizBot: Offers customizable quizzes in various subjects to help students prepare for exams.
StudyBuddy: Provides students with personalized study plans based on their learning styles.
Test Preparation Bots (e.g., GRE, SAT, ACT): Offer practice questions, tips, and strategies for standardized tests.
Student engagement and community building
Building a sense of community and maintaining student engagement can be challenging in online schools. Chatbots can help by:
Facilitating virtual study groups and connecting students with similar interests.
Offering interactive learning activities and games to keep students engaged.
Providing support for mental health and well-being through resources and referrals.
Career guidance and job placement
Chatbots can also play a role in guiding students toward potential career paths and helping them secure job opportunities after completing their online education. Automated assistant will help you with:
Assessing students' skills, interests, and goals to recommend suitable career paths.
Sharing information about relevant internships, job openings, and networking events.
Offering guidance on resume writing, interview preparation, and job search strategies.
Administrative support
Chatbot can become your full-fledged learning assistant. And not only in the classroom. They will help you streamline administrative tasks for online schools, resulting in more efficient operations. Some of the key use cases include:
Automating course registration, scheduling, and enrollment processes.
Facilitating communication between students, faculty, and staff.
Assisting with financial aid applications and payment processing.
Chatbots will level up the experience for both your current and prospective students. That's why we gathered 36 chatbot campaigns for online schools to enhance website communication and raise your enrollment rates.
Make communication with prospective students convenient and effective with these 36 chatbot campaigns
Great! Now check your inbox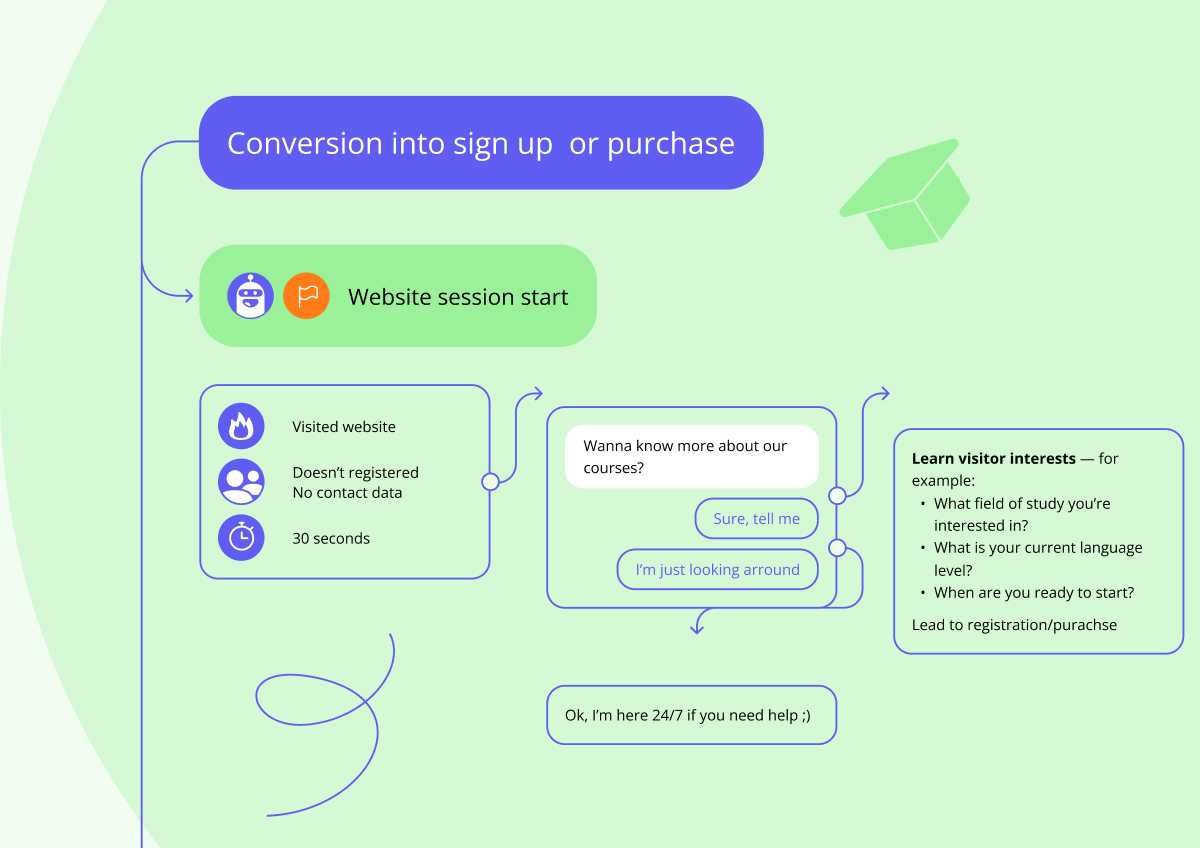 Real-life examples of chatbots helping in the learning process
Duolingo's Chatbot for Language Learning
Duolingo, a popular language learning app, has integrated chatbots to help users practice conversational skills in various languages. Through interactive dialogs and simulated conversations, learners can improve their speaking, listening, and comprehension skills in a low-pressure environment.
Georgia State University's Pounce Chatbot
Georgia State University developed Pounce, an AI-powered chatbot designed to assist students during the enrollment process. 
Pounce answers questions about admissions, financial aid, and registration, reducing the number of students who drop out due to confusion or lack of information.
QuizBot for Learning and Revision
QuizBot is an educational chatbot that helps students learn and review course material through engaging quizzes. 
By sending questions on various subjects via messaging apps, QuizBot helps students retain information more effectively and prepare for exams in a fun and interactive way.
Carnegie Mellon University's AI Tutor
Carnegie Mellon University has developed an AI tutor called ALEKS (Assessment and Learning in Knowledge Spaces) that provides personalized learning experiences for students. 
ALEKS assesses students' knowledge and skills in specific subjects and then suggests learning paths tailored to their individual needs. 
This adaptive learning chatbot helps students master the material more efficiently.
SchoolMessenger Chatbot for Parent-Teacher Communication
SchoolMessenger, a communication platform for K-12 schools, has introduced a chatbot feature to facilitate parent-teacher communication. 
The chatbot lets parents ask questions about their child's progress, school events, and important deadlines, improving communication and engagement between parents and schools.
These real-life examples showcase how chatbots are integrated into education and online schools, offering enhanced learning experiences, administrative support, and improved communication.
The bottom line
The use of chatbots in education is rapidly expanding.
They ensure a more interactive and effective student learning method and alleviate teachers' workload. From homework assistance and personalized tutoring to administrative tasks and language learning, chatbots can potentially revolutionize the educational landscape. 
As technology continues to evolve, we can expect even more innovative and impactful education chatbot examples in the future.
Keep up with the developing industry and launch the first chatbot on your school website now! We in Dashly are glad to help you with it. Get access to:
Convenient visual chatbot builder that requires no coding skills;
Ready-made chatbot templates if never used the technology before;
Friendly and responsive support team that will assist you at each step of the journey.