Look, you're busy enough as it is. If you want your business to be successful, you should be focusing on the things that only YOU can do.
For this purpose, we've created for you a whole section with ready-made scripts for pop-ups, emails and chats, so you don't have to worry about a thing.
It's a fully-comprehensive toolkit. We've written the text, designed the look, set the time and frequency of impressions, and picked correct triggers.
You just have to add the last few details — insert the necessary links, tweak the text and design to your taste (if necessary) and go on to conquer the online marketplace.
If you're out to collect leads, one of the easiest, time-tested methods are using a popup.
Our templates make it super easy to do.
This is what the template panel looks like. Navigate to the Pop-up Designer section, and change the text and design with a couple of clicks. Easy and painless.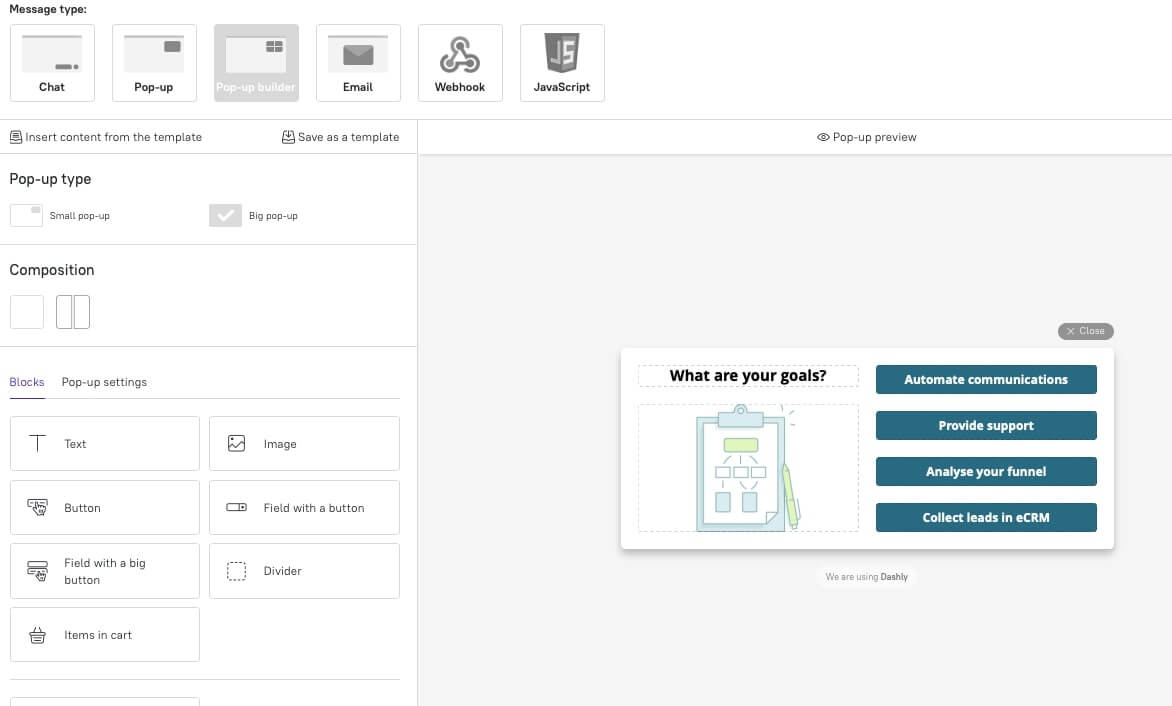 This pop-up allows you to collect email leads. 

When prospects visit your site, this pop-up will show up, prompting them to enter their email address. You can adjust the timing and frequency of the pop-up.

And here's an important tip. Make sure you offer prospects something in return for submitting their email. This increases the likelihood of getting the lead.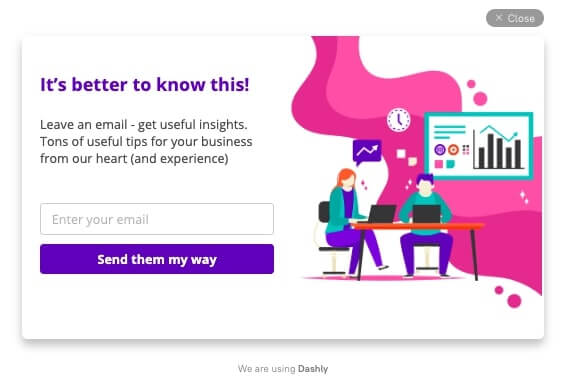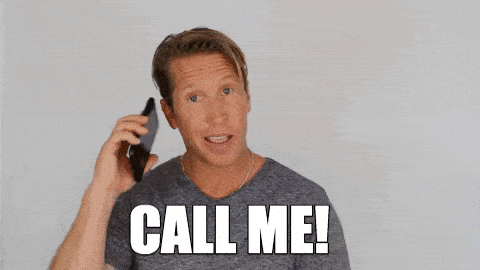 If you prefer closing your sales on the phone, we also have a ready-made pop-up for you!

Just open the template, tweak it to your requirements and you're good to go.

Remember, phone numbers are very personal, so you should always explain to your prospects why you're asking for theirs.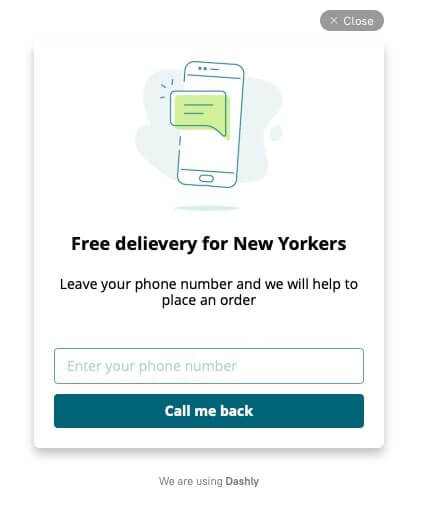 The newsletter approach is more of a long-term game. If you're into that, we've got the perfect pop-up template for you!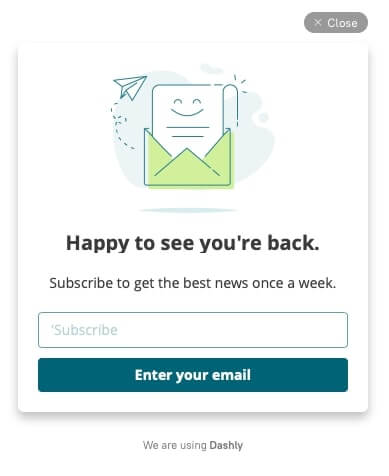 The popup shows up the second time someone visits your website. Since it's their second visit, this shows that they're enjoying your content and want more of it.

So go ahead! Make them happy by giving them the opportunity to subscribe to your newsletter. They'll love you for it???

We personally put a ton of effort into our newsletter content, because we want to support our readers with all the tools and knowledge they need to succeed.

Wait… you're subscribed to our newsletter right? If you aren't, jump right in. You won't be disappointed!

By the way, here's a real example of a pop-up for a SaaS team. This one was assembled in our constructor.

The result is really impressive — 3x more leads within 6 months.

And here it is.
Qualifying prospects
Qualification helps determine the level of interest and willingness of a potential customer to make a purchase. This is especially true if you have several groups of target audiences that require a different approach.
When using this popup to qualify potential customers. you need to configure a number of possible outcomes according to your customer segmentation. Next, you'll need to customize the text accordingly and work out the logic of the subsequent communication with those who respond.
Here is real-world scenario where we used a qualifying pop-up for one of our clients.
In this scenario, we were specifically targeting online store owners, so we needed to find out which of the website visitors were just browsing the site, and which ones were actively looking for a supplier.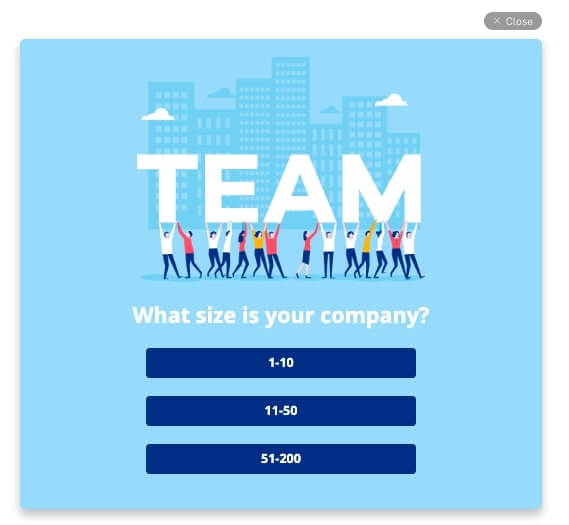 Product activation
If you have a complex product or service, you may need to conduct an onboarding experience for your users to educate them on the benefits they will receive.
Here are some pop-ups specifically for that purpose.
This pop-up is shown to users who have registered an account and guides them to their next step. You can change the settings and names of the buttons to suit your own onboarding experience.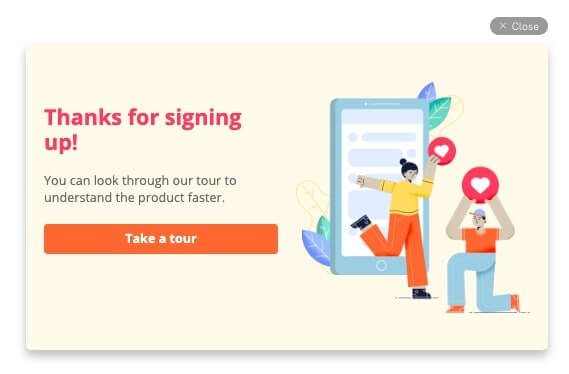 This pop-up will be shown to users who are already signed into the system. When a user logged in, we can tell them which feature they should be paying attention to.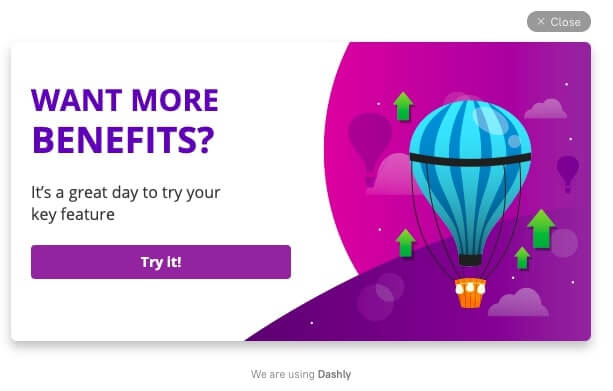 This popup will show up for visitors who have been on the site for 30 seconds. It tells them about your blog and encourages them to visit it.

If your goal is not just to sell a product or service, but to become a thought leader and authority in your niche, this popup is exactly what you need.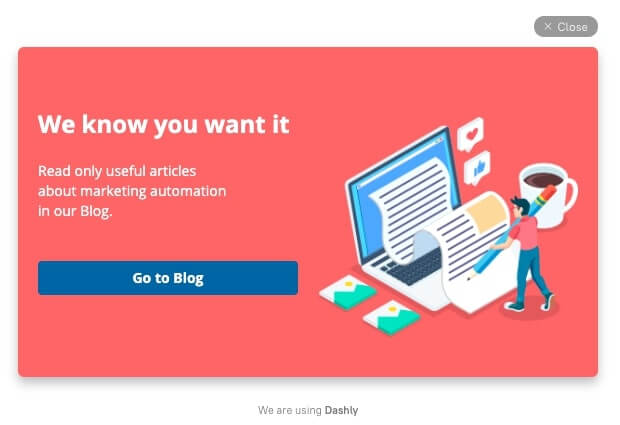 Learn all about marketing campaigns in our course
Wonderful! Await the course in your inbox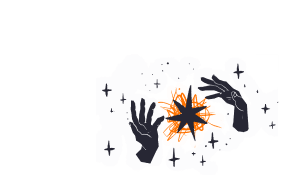 Engagement
If you want to acquire a deep insight into your users' deepest hopes and dreams, engaging them is the key. Get them talking to you and earn their trust. They will help you create exactly what they need, and then happily buy it from you.
If you have support agents, you should make your users aware that they can contact them anytime.

The auto-chat tool will help you do exactly that.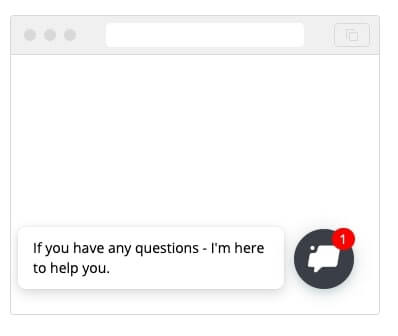 Abandoned Cart Reminders
It's very common for people to put something in their shopping cart and completely forget about it. Businesses leave millions on the table every year because they fail to follow up on abandoned carts.
We don't want you to suffer that same fate. That's why we created these Abandoned Cart message options for you.
They work. Try them out. You won't be disappointed.
eCommerce plugins are great. They have loads of functionality. You can create an Abandoned Cart email customized with the abandoned products in the user's cart, or any other items they might have shown an interest in.
But that can be pretty challenging to do. And seriously, who's got time for that?
Let's make it simple.
We've created an email template for you. It includes a script that we wrote especially for Abandoned Cart scenarios. You tweak it as much or as little as you please, and best of all, you won't need to worry about any coding.
How cool is that?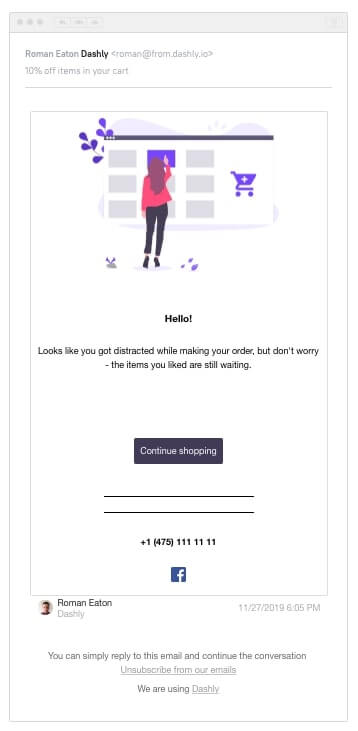 This pop-up shows up when a customer cancels an order.
Whether it's due to a misunderstanding of some kind of hesitation on the customer's part, you must act immediately and solve the issue.
Of course, you can change the pop-up's settings to make it appear later. But as you can guess, every second is crucial.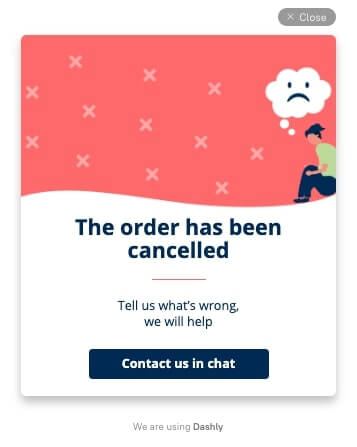 These are ten of our best top-performing pop-ups. They've been tried, tested, and found effective countless times.
And best of all, you'll be able to take advantage of them in a few seconds, with just a few clicks.
Of course, if you have ideas for other scenarios, we'll be happy to hear them!
To set up your first (or next) pop-up and watch it work its magic, head into your Dashly.io backend right now.