Ready to kick your customer communication game up a notch with growth marketing? We've got your back. 
In this article, we're revealing 10 powerful growth hacks that'll take your SaaS business to new heights. And we promise, it's going to be a thrilling ride.
We know you're excited to grow your user base and keep them engaged, so we've handpicked these tried-and-true growth marketing tips to help you do just that. 
Let's get started!
Test growth hypotheses quickly and without developers with Dashly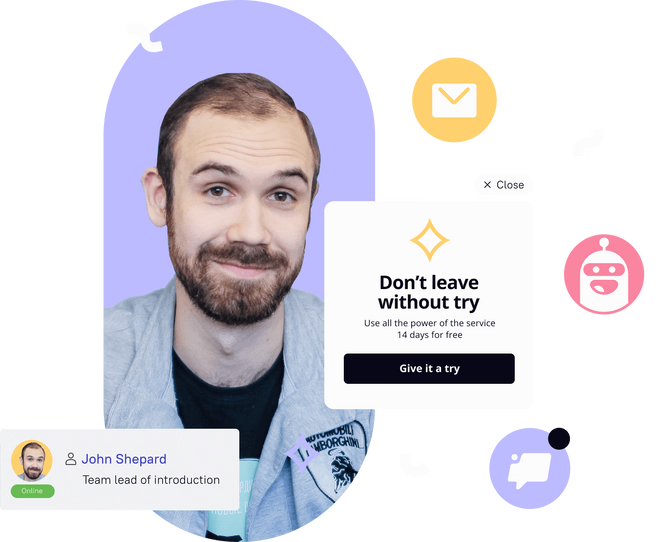 Uncover your customer's journey
For a thriving customer led growth plan, it's necessary to analyze each customer's path on your site. User behavior tracking allows you to comprehend your target audience and pinpoint their requirements, empowering you to deliver the most fitting solutions.
With behavior tracking, you can:
Monitor page visits, exit intent, button interactions, and any completed forms;
Aggregate all the data in a unified customer profile;
Enhance it with customer details from your CRM and other sources.
Armed with this knowledge, you can craft tailored automated workflows for your marketing growth strategy at different stages of the sales funnel.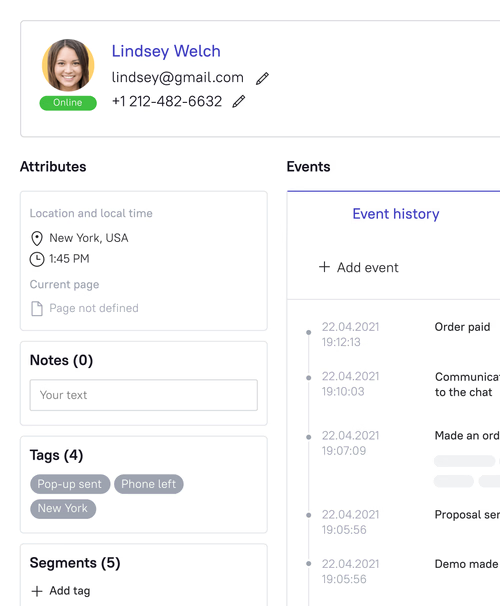 Get inspired with 100 growth ideas and boost your business development!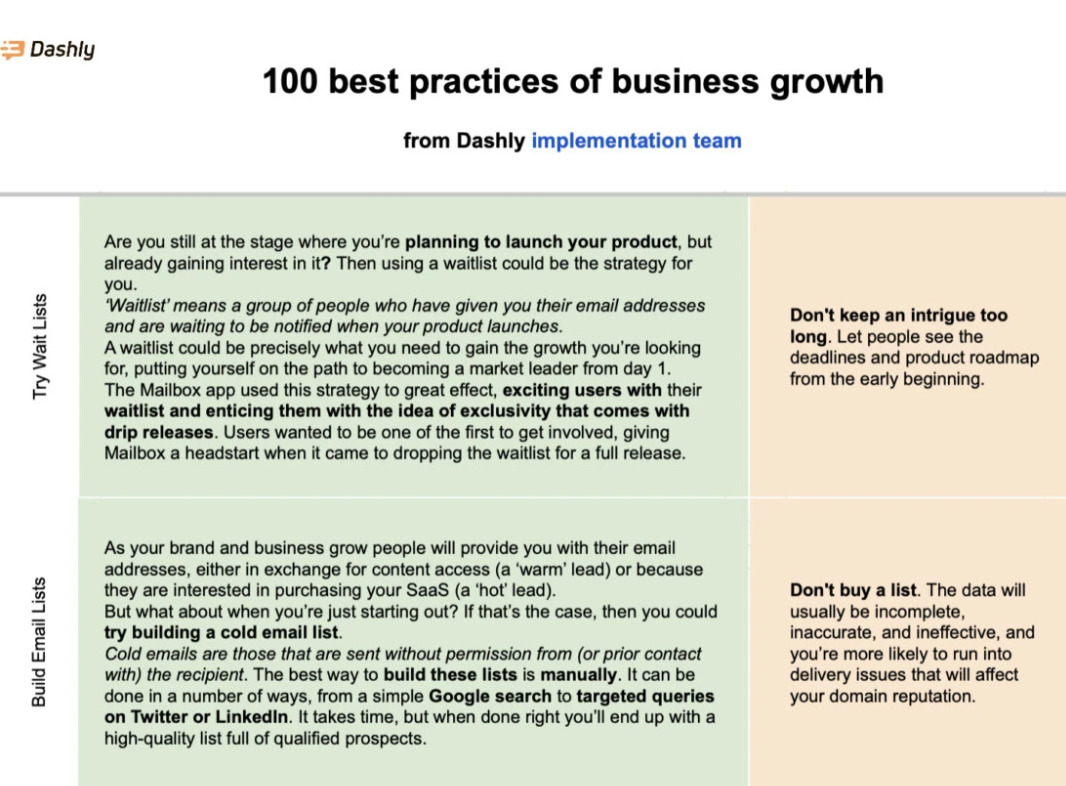 Welcoming and assisting prospects
Live chat
Engage with potential customers by offering a friendly welcome through live chat. Segment your audience and establish customized, triggered messages for each segment. Choosing the right audience is crucial, include it in your growth hacking canvas.
A straightforward "How can we help? We're here for you 😊" might be enough for new visitors, informing them where to seek assistance if needed.
For returning visitors, mentioning a client's prior experience is also a fantastic growth marketing tactic, as it helps resume the conversation from where it was last left.
Divide your audience and send proactive messages at different stages of the customer journey. This is among the most powerful SaaS growth hacks! 
Our client, OpenCRM, adopted this approach and saw a 400% increase in overall conversations 👇
💡 Not to overload your support team with welcome messages, implement a virtual assistant. In today's world, a chatbot is an ideal solution. More on it below.
Chatbot
Here's a case study where the Dashly chatbot helped digital school visitors decide on a course. On the "Data Science from scratch" course page from SkillFactory, the company's marketers proactively engaged users to address their concerns and convey the value of the school's offer.
The chatbot doesn't immediately encourage students to sign up for a course. Instead, it gradually qualifies and assists leads.
The message appears 29 seconds after a prospect landed on the course page.
The chatbot helps choose an educational path and overcoming personal career obstacles. 
Visitors don't have to explore the site to learn about the courses; they receive guidance directly on the same page.
Product metrics framework KPI achievements:
7.5% of visitors viewed the emails,
5.3% of visitors viewed the message on their phone numbers.
It's one of the greatest growth hacking examples of chatbot usage.
Grab lead's attention with an appealing offer
Building mutually advantageous relationships with your clients is the foundation of a successful SaaS marketing strategy and hacking growth.
A bit of give and take can make a significant impact. Let's consider two B2B growth hacking examples for this strategy.
18 business growth experts you should follow this year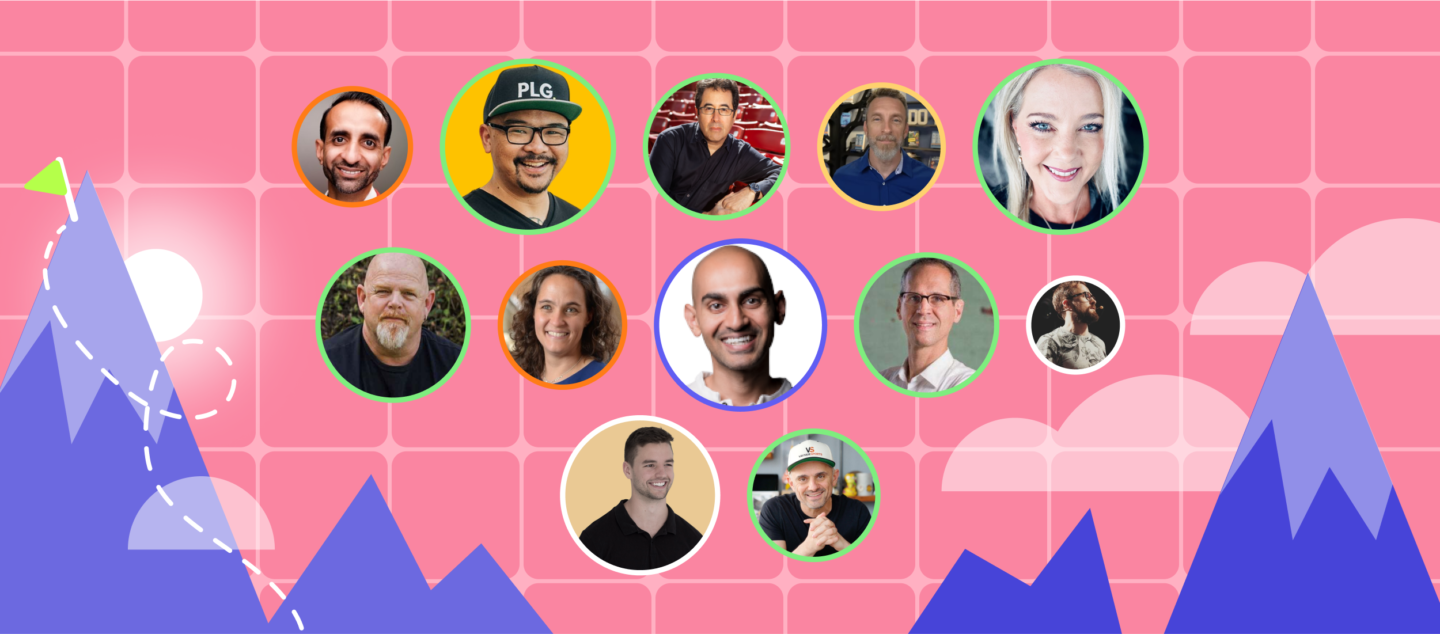 What are Growth Loops? How It Can Scale Your Company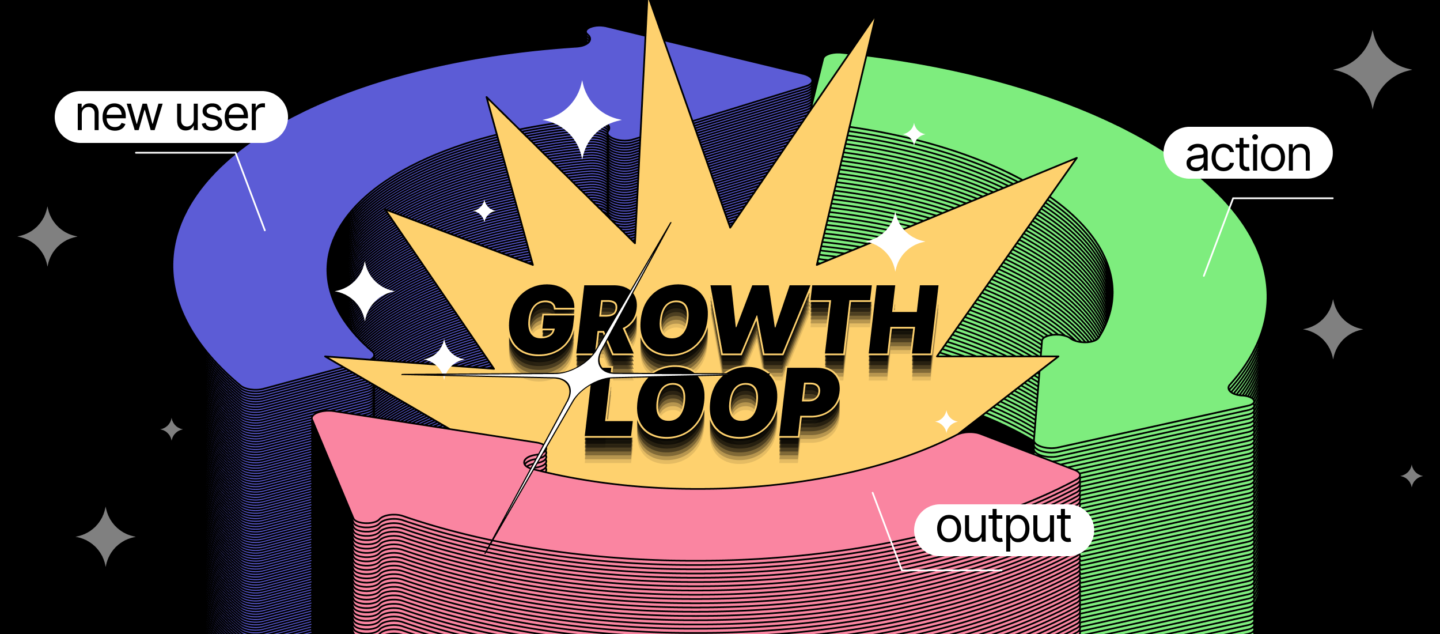 Product Led Growth Marketing: hack your product growth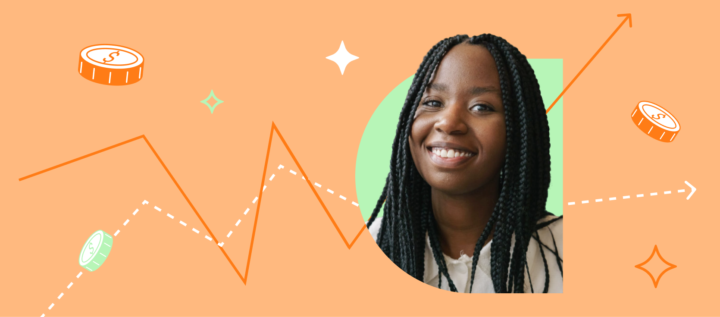 One of the easiest ways to accomplish this is by using pop-ups on your website. Configure a triggered message and offer: 
a valuable guide, 
product demonstration, 
a 7-day free trial in exchange for a prospective client's email.
Mofy.life tried this technique to enhance client engagement on their site. During Black Friday, they provided a 50% discount in return for a client's email.
This pop-up resulted in a 2x higher conversion rate into purchases compared to the same time frame the previous year.
Eventually, they not only broadened their marketing lead base, but also reached a wider audience.
Here's an alternative 👇
Dashly customer KVR, a mobile software developer, deployed a chatbot to collect potential clients' emails.
Initially, it asks visitors qualifying questions. At the end of the conversation, it offers a relevant PDF download.
All collected lead information was automatically forwarded to the sales team's CRM.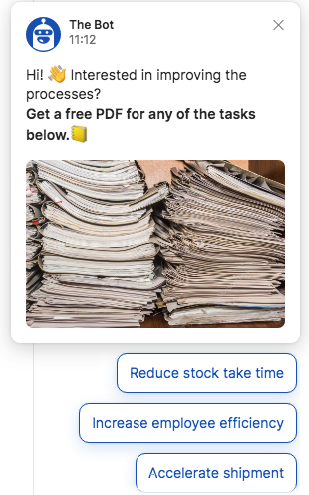 Get access to 41 ready-to-use ideas for SaaS growth hacks to boost conversions on your website and:
Capture leads;
Qualify leads;
Convert them to purchase;
Onboard, etc.
Help customers become familiar with your brand and products
These B2B SaaS growth hacks will work for engaged users that learn more about your product and increase growth marketing metrics on the activation stage of the funnel.
Chatbot
One of our clients runs a CPA network, which can be difficult to comprehend without guidance. So they implemented an onboarding chatbot that:
provides essential information about the company;
qualifies potential clients by asking about their experience;
emphasizes the product's main advantages.
As a result, user activation increased by 2.5 times!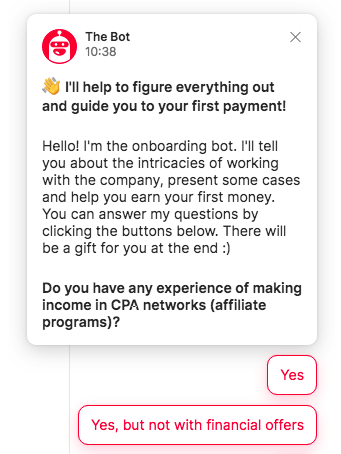 Read also: Growth marketing vs performance marketing and RevOps vs Sales Ops.
Email campaigns
Triggered email campaigns are an excellent instrument for strategic B2B growth marketing, particularly for onboarding purposes. We at Dashly often utilize them. Here's an example 👇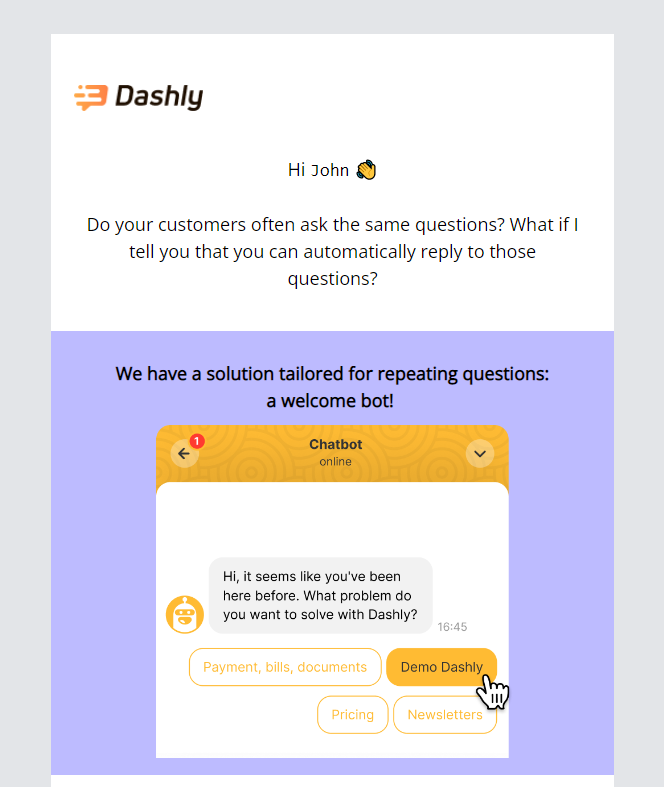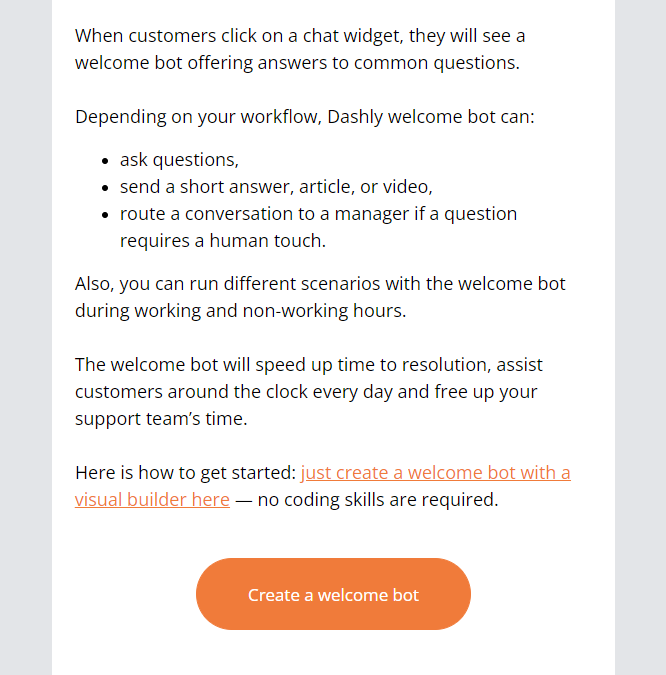 Let your growth marketing team experiment with the format. Educate customers about your product, its functionalities, and benefits. Provide useful resources and don't forget to incorporate links to your website or social media!
There are plenty of social media growth hacking tools that will help you engage users in various channels.
Read also: 25 Growth Marketing Books to Skyrocket Success
Pop-up SaaS growth hacks to improve the customer onboarding experience
Freedom24 is a platform where users can invest in stocks, ETFs, and bonds or buy stocks at IPO prices. However, investing is an area that necessitates careful consideration before taking the plunge. Sometimes, this pause can be too lengthy. Certain risk-averse clients with accounts postpone their decisions and end up becoming "dormant."
To motivate these clients to finish the onboarding process and begin investing, Freedom24's marketers tested a growth hypothesis with a multi-channel campaign. It incorporates pop-ups on the website and in the app, alongside email newsletters, to convert registered users into paying customers.
This pop-up message appears on the website and in the app for users who have an account and encourages them to upgrade the account.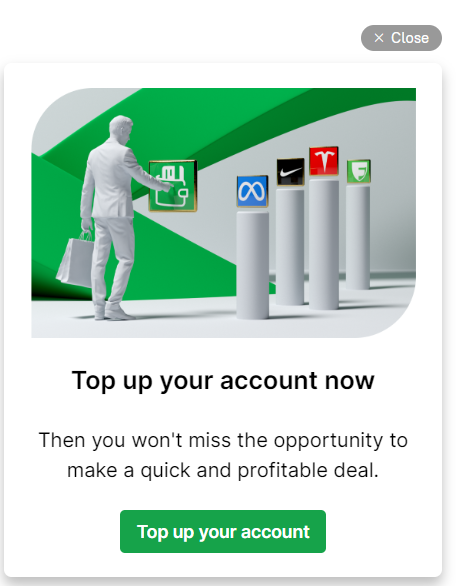 Users who top up their accounts receive triggered emails highlighting investment benefits and a brief guide on the subsequent steps.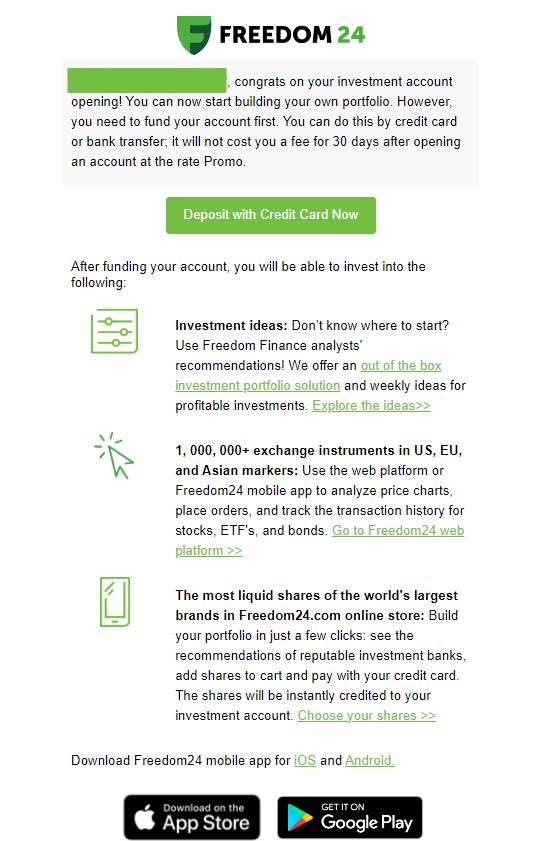 The outcome: Over a month, 18.6% of app users and 66.55% of website visitors see the message.
Read more 👇
Offer support on the most challenging pages
Today, 88% of customers anticipate self-service options on any website. Therefore, incorporating this feature into your growth marketing strategy is essential. Always give potential clients the chance to find answers independently.
Improve your customer experience by introducing an FAQ chatbot.
LeadGen App, a lead generation company, implemented a virtual assistant on their "HelpCenter" page to increase engagement and reduce the workload for customer support agents.
The chatbot quickly addresses basic questions and shares tutorials and videos.
Within a month, 41% of customers interacted with the chatbot, nearly twice the number of people who contacted a human agent via live chat.
This customer support tool surpassed LeadGen's expectations.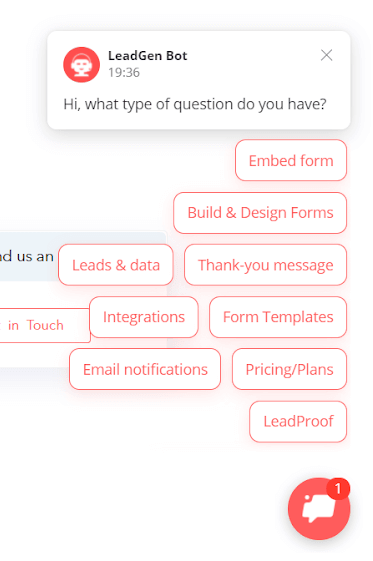 💡 Connect your chatbot to a knowledge base to share articles directly in the chat widget.
Want more ideas for your growth strategy? 👇
Grab Your Growth Marketing Strategy Template with guide and examples.
Keep visitors engaged even when they're about to leave
Don't miss any opportunity to engage with clients, even when they're planning to exit your website.
For example, remind them about a trial period to try out your product without any financial commitment. Another effective way to bring clients back is offering a free demo. Nobody can present your product better than your sales rep.
There are different growth marketing tools for it.
Capture prospects with exit-intent pop-ups. Triggered messages can be a powerful tool in your growth marketing strategy.
Here's an example of an exit-intent pop-up for your marketing strategy: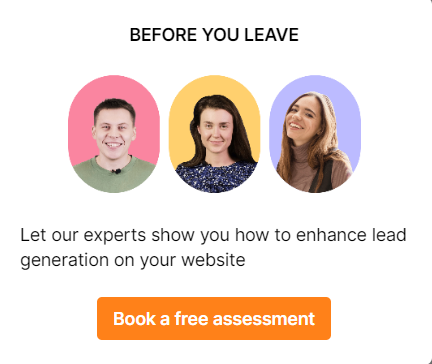 By the way, we do offer a free growth marketing audit 😉
The best way to win back client loyalty is by reminding them of your product's value and benefits over competitors. What makes you stand out?
If you need inspo for your experiments, check out our growth marketing playbook with over 40 ideas from Dashly and our customers.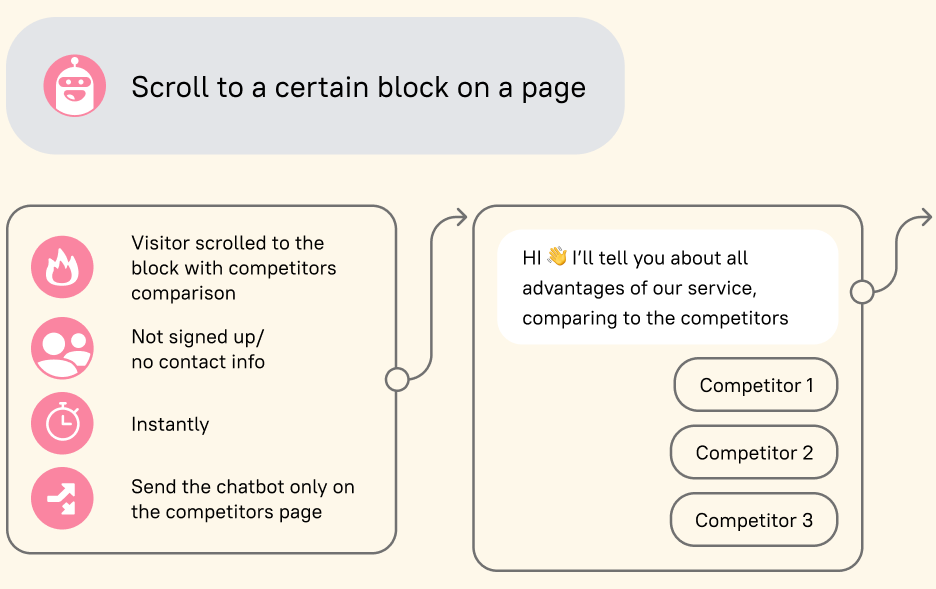 Remind inactive subscribers of yourself
A dormant lead doesn't mean it's the end of the line.
Send them a friendly follow-up email featuring your most attractive offer. This strategy works well for those who enjoyed a free trial but later left, or clients who haven't visited your website in a while.
One of our SaaS clients, an online platform for Instagram growth, offered their inactive subscribers a free account audit via email. These re-engaging emails generated +$1.5k in revenue: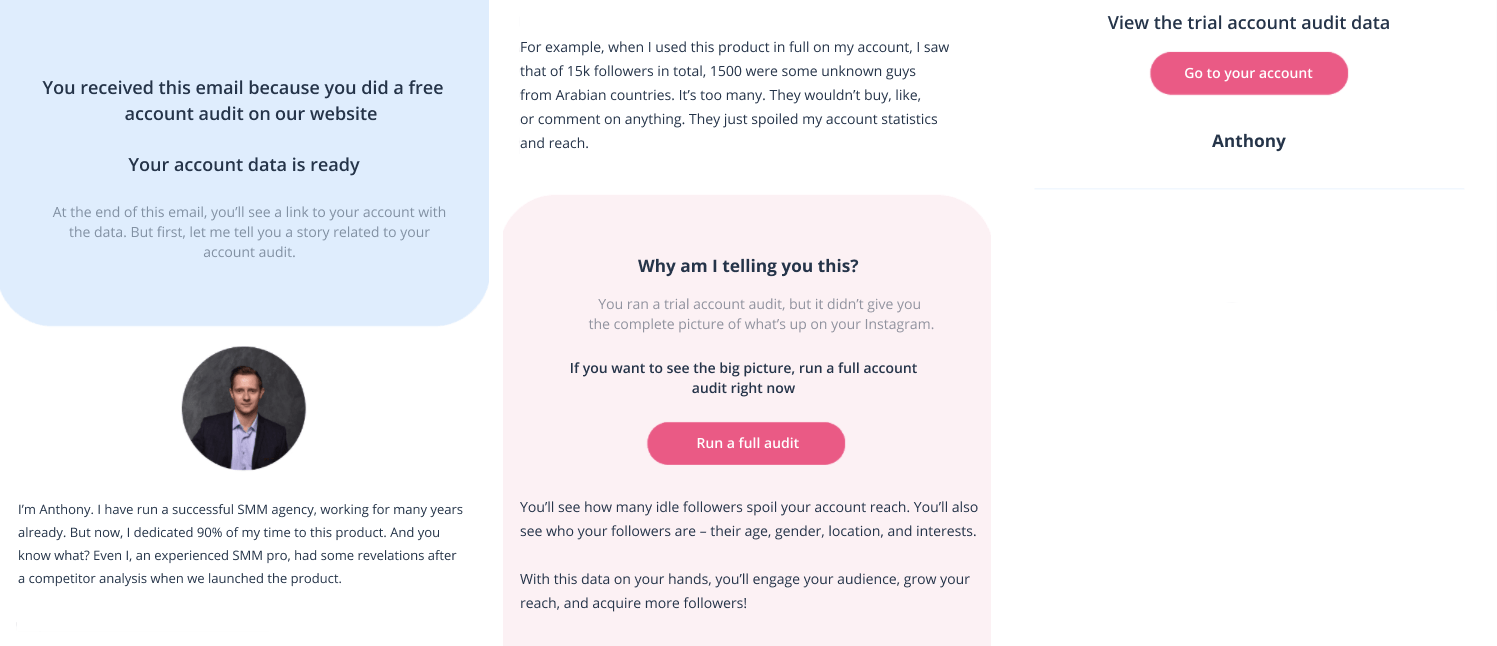 Reaching out to clients through email is among the most effective growth hacks for b2b SaaS.
💡 Avoid overwhelming clients with messages. One or two emails should suffice if they're genuinely interested in purchasing.
Grab a free template to tailor up your own growth marketing strategy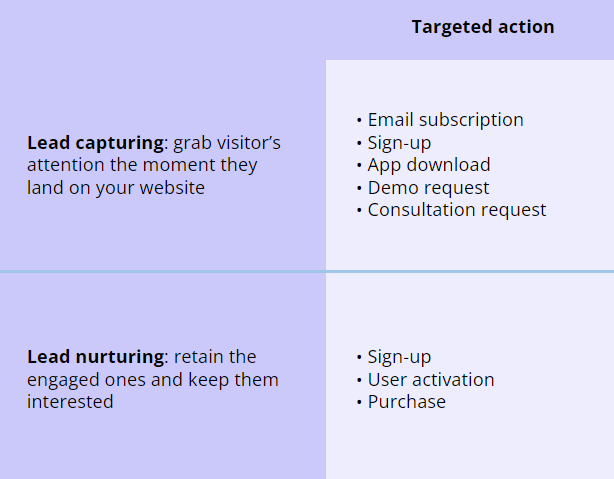 Create omnichannel experience with social media and messengers
Don't limit your strategy to just your website. Launch a growth marketing test on socials.
Initiate interactions in Instagram/Facebook DMs or provide assistance via WhatsApp. All messages will be collected in a single inbox, enabling seamless omnichannel customer engagement.
How do these integrations work? Let's look at the Dashly example:
A customer DMs you on Instagram, mentions your account in their story, or reacts to yours.
This interaction is sent to your inbox as a message.
You reply to it in the same inbox widget.
The customer receives your reply in their DM on Instagram.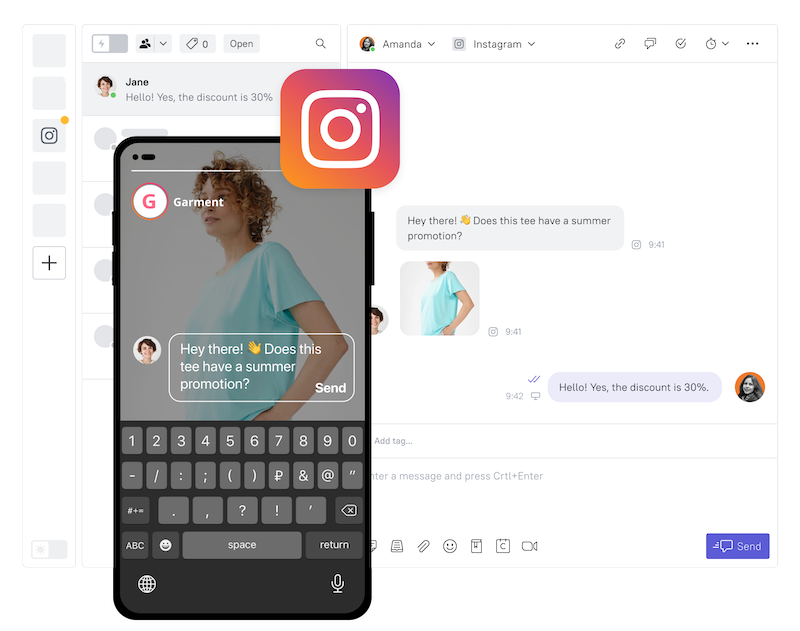 Alternatively, offer multiple communication channels yourself.
When someone visits the Dashly website, we engage them with a triggered message in a live chat. Afterward, they have four options: use the website widget or switch to Facebook, Instagram, or WhatsApp.
Here's what it looks like 👇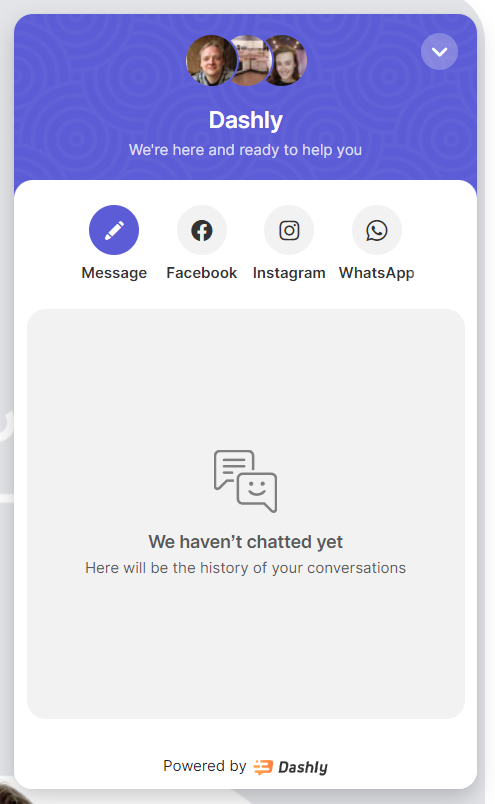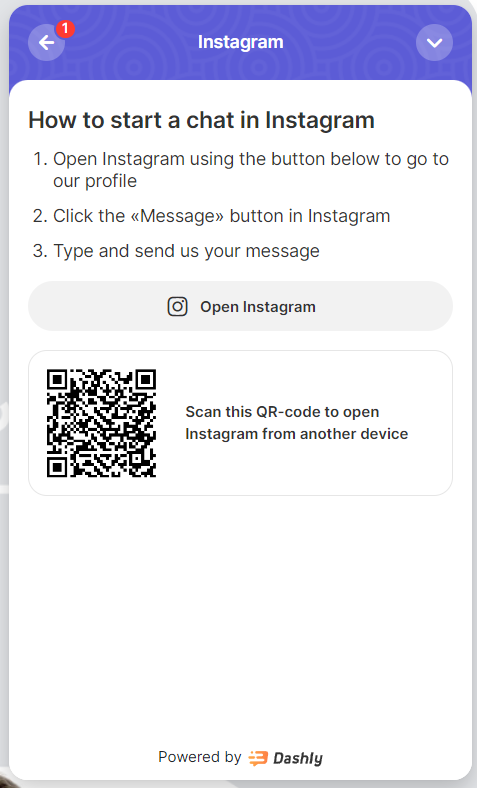 Sign up for Dashly to provide omnichannel experience for your customers.
Personalize the customer experience by prioritizing their comfort and convenience.
💡 For improved engagement with customer engagement platforms, choose one that integrates with social media and messengers, giving you access to a wider audience.
Read also: A secret collection of growth marketing services Dashly team uses daily
Keep customers informed with weekly newsletters
Share regular product updates and blog content through email campaigns.
Dashly subscribers receive a new email every Thursday morning (or Wednesday evening, depending on your location).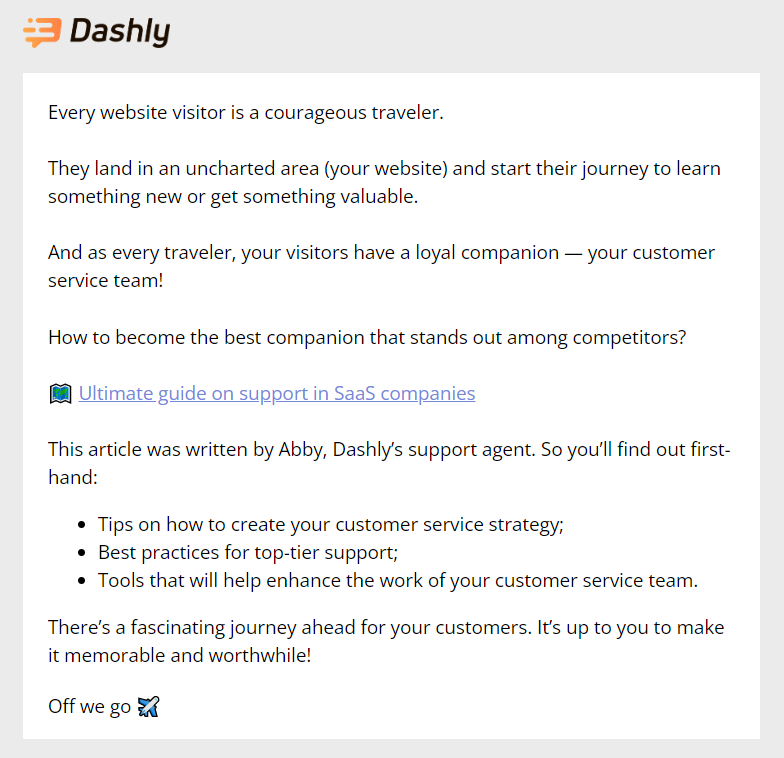 Btw, you can sign up for a growth marketing newsletter for a regular portion of insights.
Boost customer loyalty and product development with customer feedback
Encourage customers to test new, significant features. Automate this process using a chatbot.
Introduce a new feature (announced with a chatbot).
Gather feedback using predefined or open-ended responses.
Analyze customer responses to uncover growth opportunities.
💡 You can find valuable feedback on social media, Capterra, and G2.
Get access to free growth hacking templates of pop-up, chatbot, and email campaigns for your website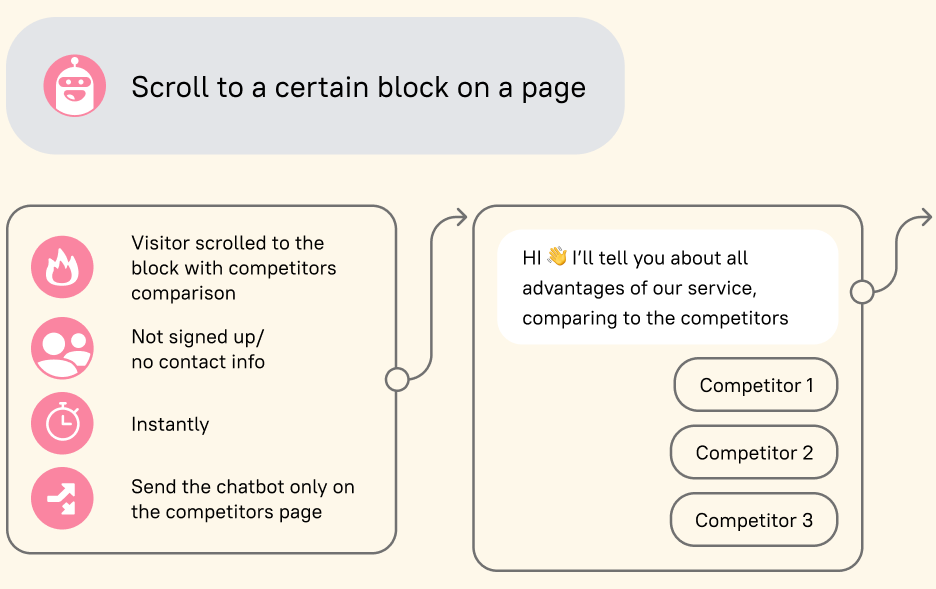 Conclusion
The world of SaaS growth hacks is an ever-evolving landscape that demands continuous exploration and experimentation. The secret sauce to success lies in testing various strategies to discover the perfect one tailored for your business. 
Remember, there's no one-size-fits-all approach, and it's all about being agile, creative, and adaptable to unlock your company's true potential.
So, what are you waiting for? 
It's time to dive into the thrilling journey of growth hacking and unleash the power of data-driven decisions. With Dashly, you can quickly and easily test your growth hacking hypotheses. No more waiting around or getting stuck in technical roadblocks — just pure, unadulterated growth hacking goodness.
Free expert insights to boost your marketing strategy and raise conversion to a target action by 10%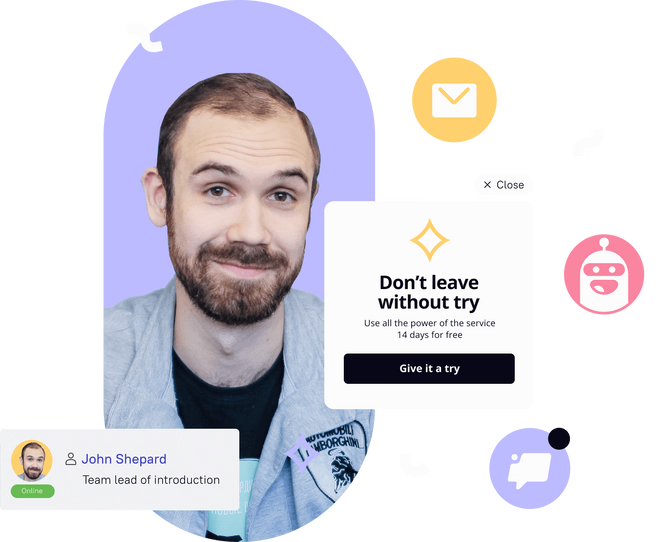 Read also: