Product company's growth increasingly relies on choosing the right product-led growth marketing software. The benefits reaped from implementing the right solution extend beyond simple improvements, offering a strategic competitive edge that is pivotal in today's volatile market. Leveraging the power of such software can transform your business, driving customer satisfaction, product engagement, and overall heightened growth — all pointers toward long-term success.
Recent data suggests companies that adopt product-led growth strategies consistently realize increased product revenue growth up to 2x faster and are 2.5x more likely to hit profitability (source: Profitwell, 2023). This evidence underlines the critical role such software plays in the contemporary business environment. The right application can provide business intelligence, streamline operations, offer personalized user experiences, and ultimately, craft a growth-friendly business environment.
In this article, we will delve into the top 10 product-led growth marketing software your peers in business are leveraging in 2023. We will offer an objective review of each, providing insights into their advantages, functionalities, and potential match with your business goals and needs.
Understanding your software options, and how they may assist your product growth objectives, is a vital step towards outpacing competition and achieving record-breaking success in your segment. Prepare to uncover software that may revolutionise your approach to product growth marketing in 2023.
But first, let's define what makes an ideal product led growth software 👇 
Picking the right one is a multifaceted decision that must align with your business needs, objectives, and growth plans. Here are some essential criteria to keep in mind:
Ease of Use: The software needs to be intuitive and straightforward to use, not just for your customers, but also for your marketing and technical team.
Integration Capability: Your software should integrate seamlessly with the other platforms and systems you're already using. This interaction is vital for minimizing workflow disruption and boosting operational efficiency.
Customer Support: An efficient and quick-to-respond customer support system is crucial. You're bound to encounter challenges or have questions at some point, and having immediate assistance can make a significant difference.
Scalability: As your business expands, your chosen software should be capable of adapting and scaling with your growing demands.
Analytics and Reporting: Comprehensive analytics and reporting features are pivotal. These insights about user behavior can directly inform your successful growth strategy.
Customizability: The capability of the software to adjust its features according to your unique needs is a significant advantage. Ideally, you should be able to personalize interface appearance, communication templates, and user guides.
Cost Effectiveness: Don't just consider the cost, but also the potential benefits. A more expensive software doesn't automatically mean it's the best fit. It's about finding a solution that meets your needs and fits within your budget.
Security: Given the critical nature of the data handled by these solutions, superior security performance is a must. Choose a software that ensures adherence to industry-standard security protocols.
Dashly product led growth software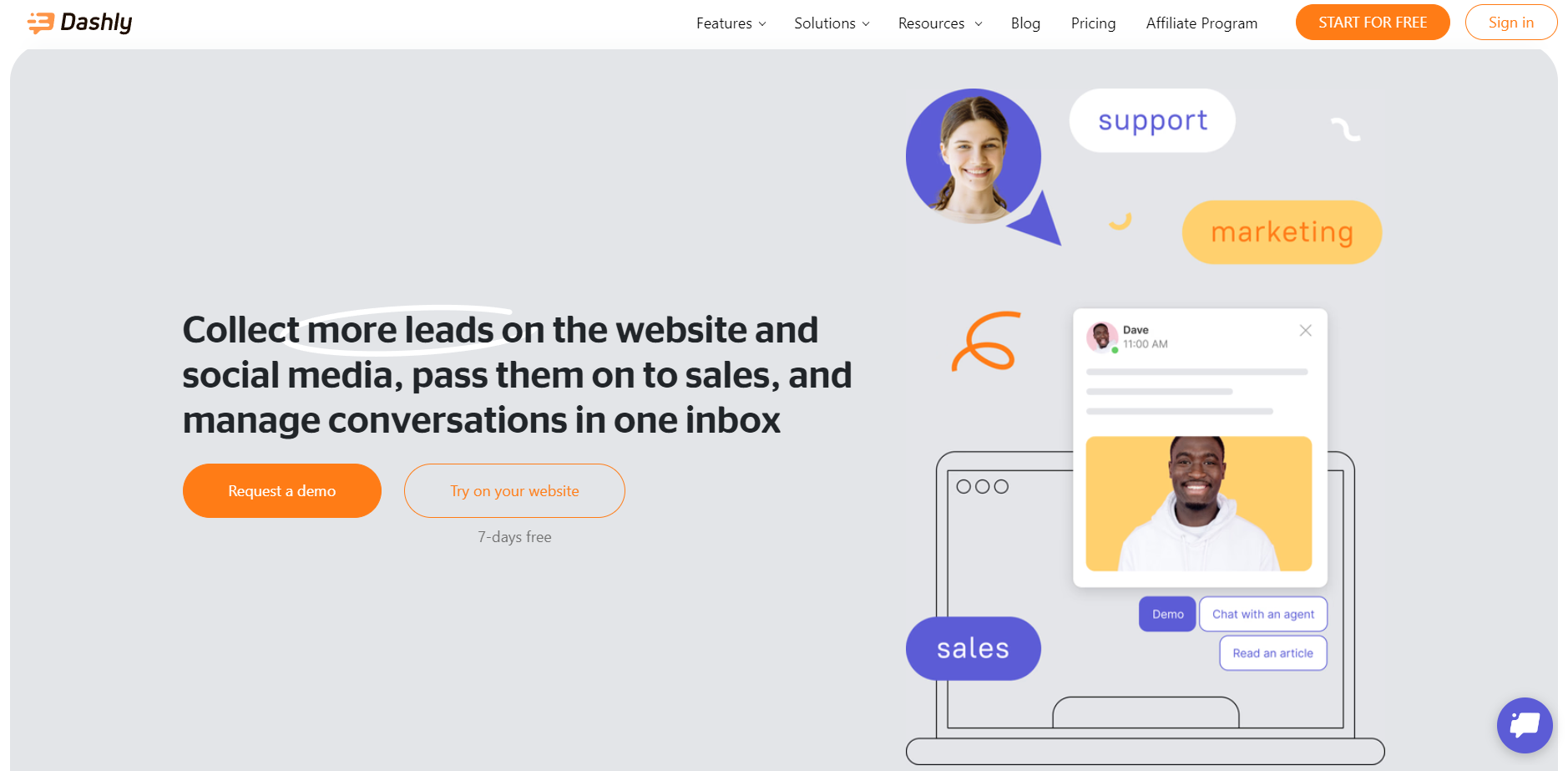 Dashly is a conversational platform that will help your product marketing team capture and convert leads on your website. 
There is no need to increase website traffic (which means you already have all the resources, just need to automate some processes!) 
Dashly offers product led growth technologies for startups, mid-size and enterprise businesses. The platform is already popular among SaaS, EdTech, and eCommerce business. 
Features
Website visitors behavior tracking is one of the main features of the product. You can track users' data and activity (page views, clicks, etc.) in real-time and save all the necessary info in a lead card automatically.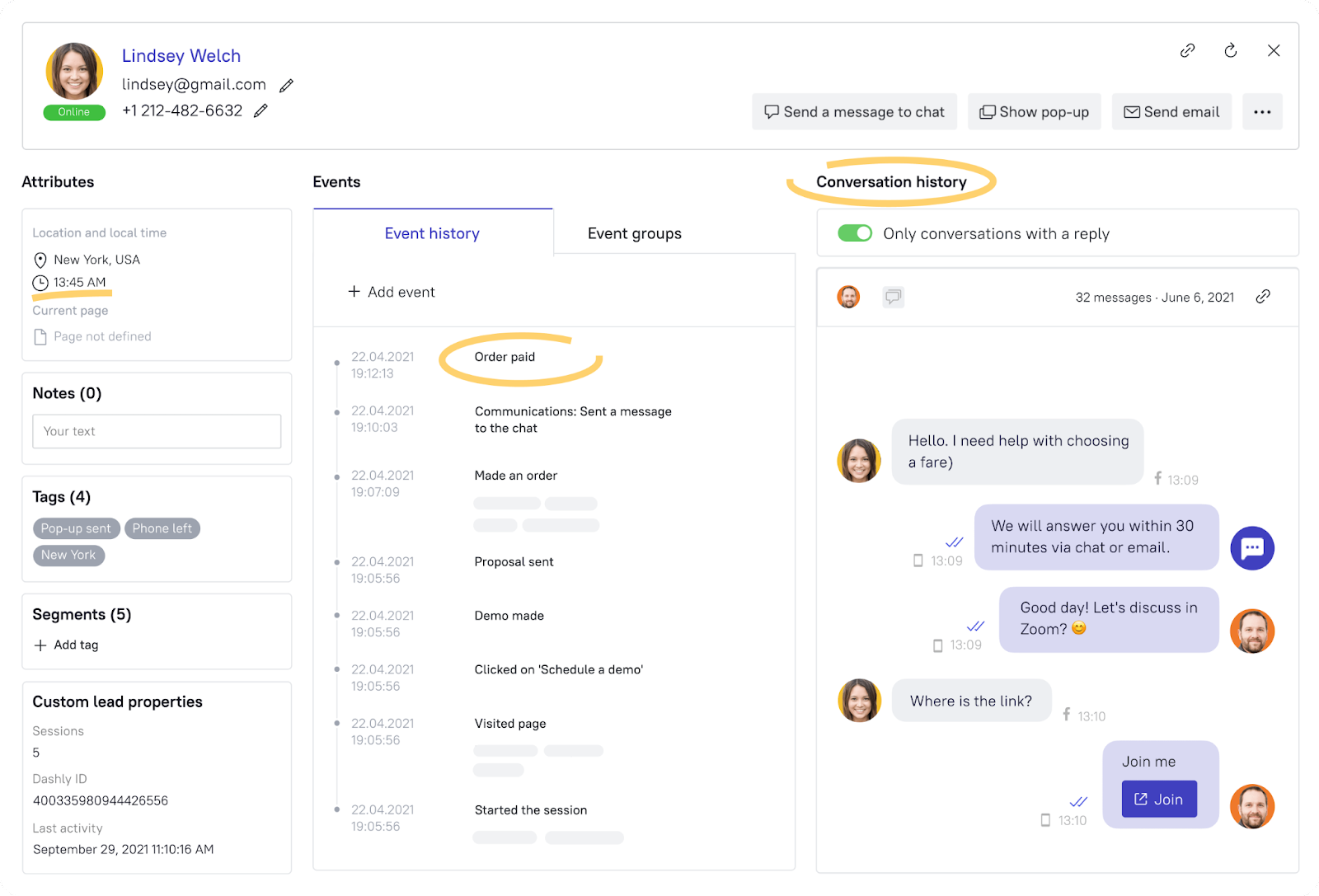 All customer data, including your conversation with them, is kept in one lead card. Find out the primary info that will help you with conversion rate optimization: which pages a visitor stayed on the longest and where they decided to leave.
Chatbot, a great to engage and capture leads feedback and new users on the website automatically, even in night hours and on the weekend;
Live chat with a triggered message to draw customer attention and engage them in a conversation;
Pop-ups, despite the common knowledge, these messages actually work — offer a promo code or gift in exchange for a contact and new leads are in your base;
Triggered e-mail campaigns to reach out to your audience even if they leave your website;
30+ integrations with CRMs, such as ConvergeHub, social media (Facebook, Instagram) and messengers (WhatsApp, Telegram) for seamless work with leads in different channels.
Pricing
There are three paid plans in Dashly product, starting from $39/mo. The price depends on your monthly website traffic and the add-ons you choose to enable. Meanwhile, agent seats are unlimited — your whole team will get access to the solution features.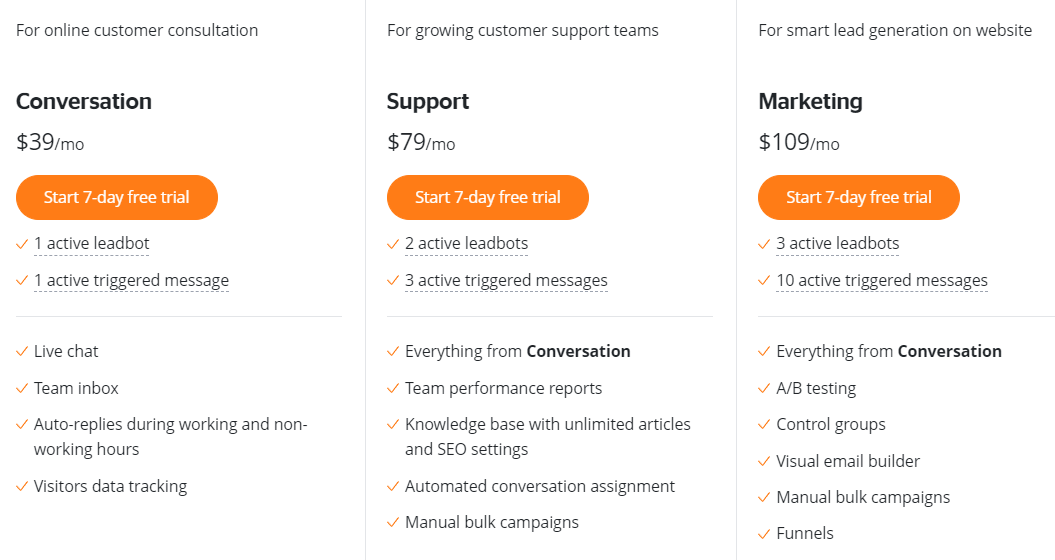 Each plan offers website visitor behavior tracking. However, the more advanced the plan is, the richer your customer data will be. 
Pros & Cons 
CRO product with a modern intuitive interface.
Friendly support that is always ready to help you.
A lot of integrations to include Dashly in your existing tech stack.
All the essential CRO features are included in all the paid plans.
No AI.
No email assistant.
Some complex tasks might require developers' help, but the team is always there for you.
Dashly offers a 7-day trial to test the full functionality of the platform. You can also start with a free plan. Its toolset is limited, but it'll suit small businesses, looking forward to connecting to their first users 👇
Product Fruits. Interactive Tours and Feedback Collection for product marketing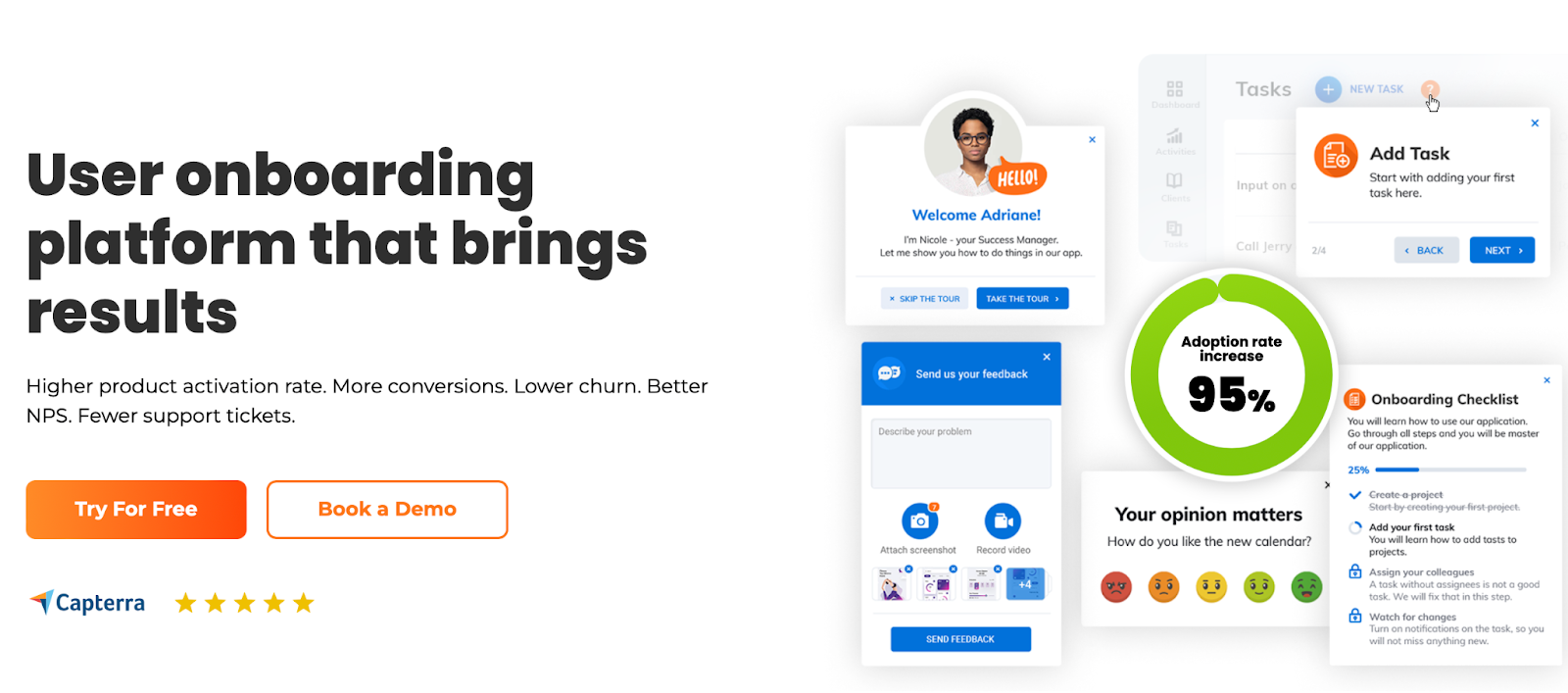 Product Fruits is a product-led growth marketing software aimed at companies looking to create interactive product tours and in-app messages without needing a large development team. Using this PLG software, teams can guide users through the learning curve of their product's interface, encouraging customer engagement, satisfaction, and retention.
"With Product Fruits, feature adoption became a breeze. The onboarding was so seamless it is almost unimaginable." — John Doe, from Capterra.com
Product features
Product Fruits offers a suite of products from interactive guides and in-app messaging to feedback collection. With this stack, companies can deliver real-time, context-specific help to their users, analyze feature adoption, and understand user behavior. This software integrates well with many CRM systems to better manage customer relationships.
 Interactive Product Tours. Guide users through complex features with step-by-step tours.
 Feature Adoption. Track feature adoption and gather insights for planning product updates.
 On-the-go Feedback Collection. Get useful feedback at each step directly from users.
Price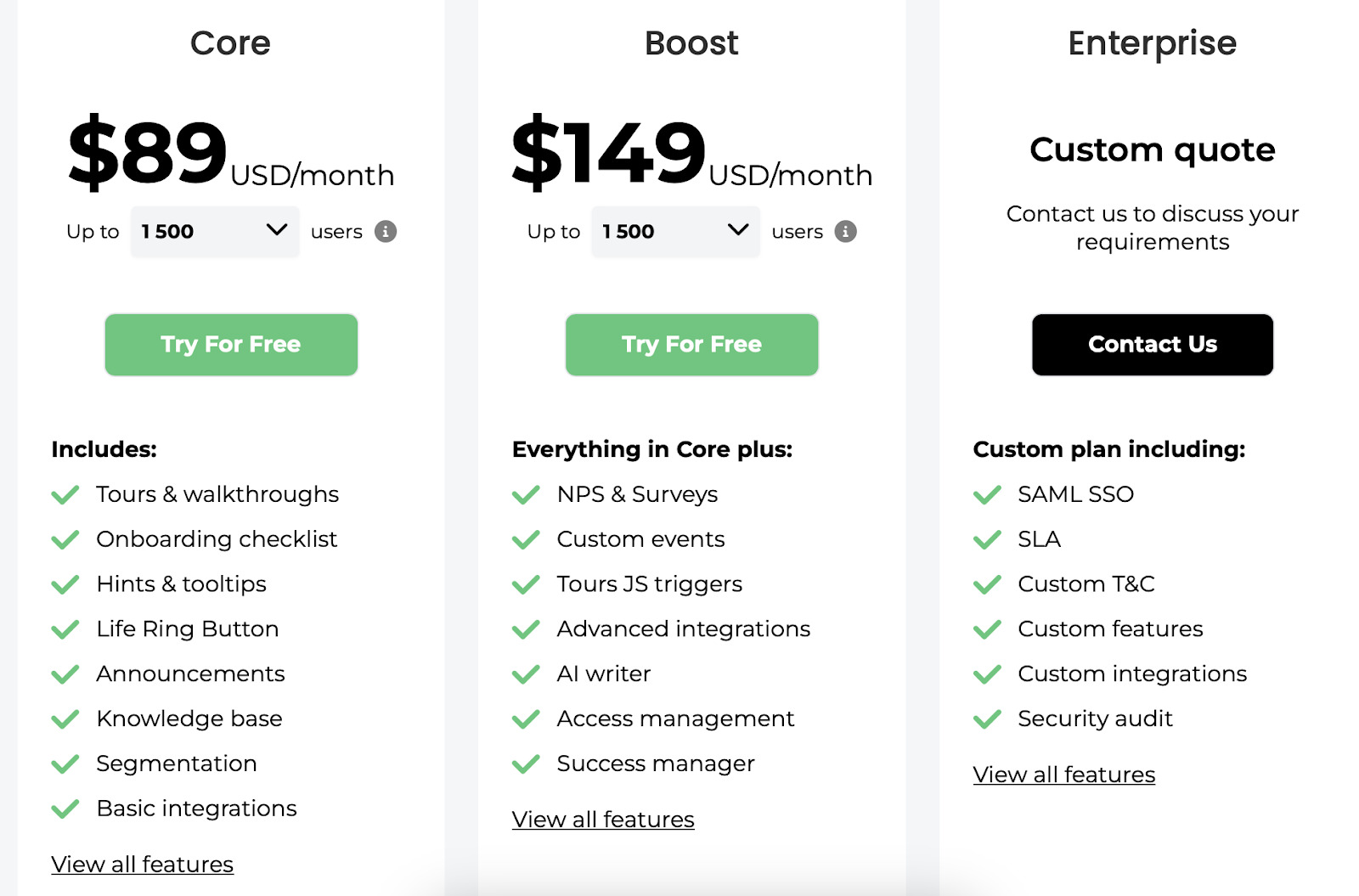 Pricing for Product Fruits is personalized to each company's specific business requirements and starts at $89/mo.
Pros & Cons of this software for your product growth
User-friendly Interface: The intuitive dashboard makes it easy to navigate and understand the features.
Affordable Plans: The software comes with multiple pricing levels, which can be beneficial for both small startups and larger organizations.
Effective Onboarding: Interactive welcome screens and step-by-step tutorials help new users understand your product more easily.
Improves Feature Adoption: It facilitates the showcasing of features to users in an easily consumable format.
Great for A/B Testing: Allows you to test different product tours for effectiveness.
Excellent Customer Support: Reported to provide responsive and helpful support to its users.
Limited Customization: Some users report a want for more customization options for the interactive guides and tutorials.
No Built-In Analytics: There is no built-in analytics feature, meaning you have to use an additional product to gather and analyze user data.
May Require Technical Knowledge: Some users have reported that to fully utilize all its features, a certain level of technical knowledge might be required.
Looming Learning Curve: Potential steep learning curve for some users to get accustomed to all its features.
Mixpanel. Advanced Analytics to Drive Marketing Growth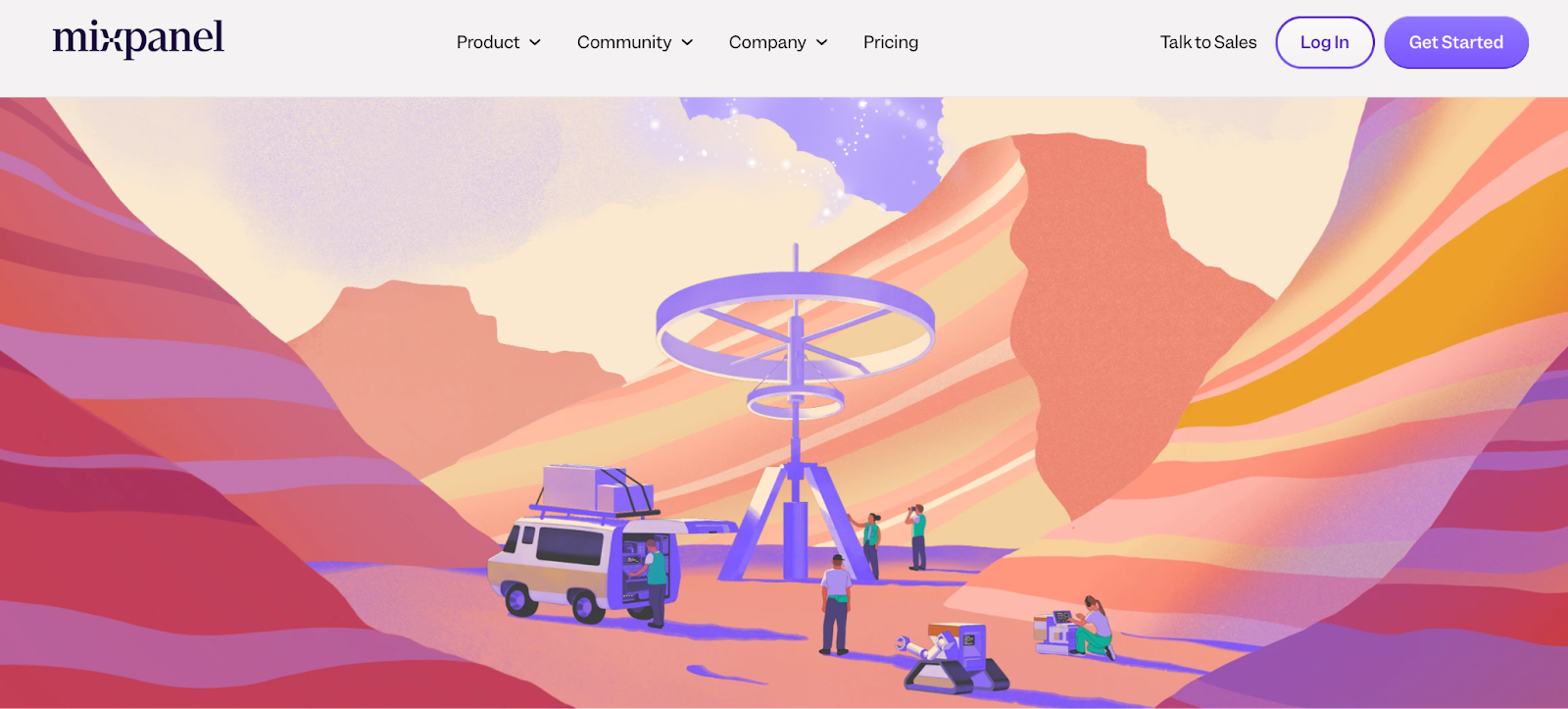 Mixpanel offers powerful user analytics providing insights teams can utilize to understand and engage their users in a meaningful and effective way. This productled growth marketing software assists businesses in tracking interactions with their products and optimizing customer experience based on these insights. 
Mixpanel has allowed us to gain deep insight into how our users interact with our product thus enabling us to make informed decisions." — Jane Smith, from G2.com Product 
Product features
Mixpanel is an advanced user analytics platform providing insightful solutions geared towards consumer behavior understanding. It allows you to engage deeply with your users by monitoring and interpreting the user's journey from start to finish, with a host of comprehensive features.
Event Tracking: Accurately track, measure, and monitor user interactions to improve user engagement.
User Segmentation: Using a wide range of demographic and behavioral data, users can be segmented into groups for targeted marketing strategies.
Funnels: Visualize the user's journey and identify key steps towards conversion, and understand where potential roadblocks lie.
A/B Testing & Experimentation: Run experiments to understand which features or designs users prefer and optimize accordingly.
Behavioral Cohorting: Group users based on shared attributes or behaviors, helping to create personalized marketing campaigns.
Retention Tracking: Measure and analyze user retention over time, identify its factors and devise strategies to increase it.
Prediction Modeling: Use machine learning algorithms to predict future user behaviors and trends.
Price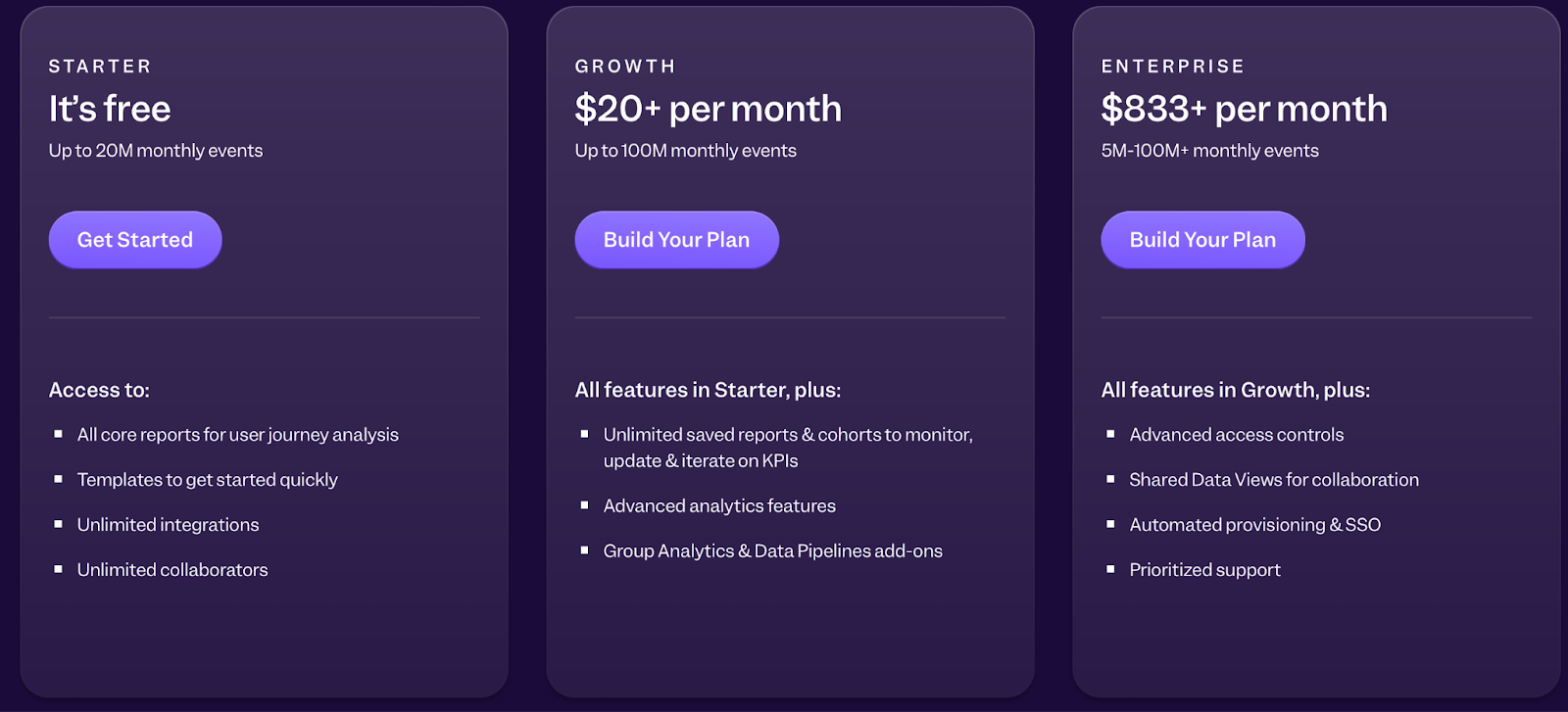 Mixpanel operates on a tiered pricing model. The cost is determined based on the number of tracked users.
Free: Up to 1000 tracked users per month.
Growth: Starts at $20/month billed annually, scaling on the number of tracked users.
Enterprise: Custom pricing is $833/mo for larger organizations and specific requirements.
However, they do offer a 90-day free trial for new users to explore the software features for your product's growth.
Pros & Cons of this software for your products growth
Provides detailed user analytics for actionable insights.
Event tracking feature allows for thorough examination of user interactions.
Campaign and experiment prodcuts enable effective A/B testing.
Data exporting limitations, especially in lower-tier plans.
Querying and reporting options could be more robust to handle complex data analysis.
Pendo. A New Era of User Experience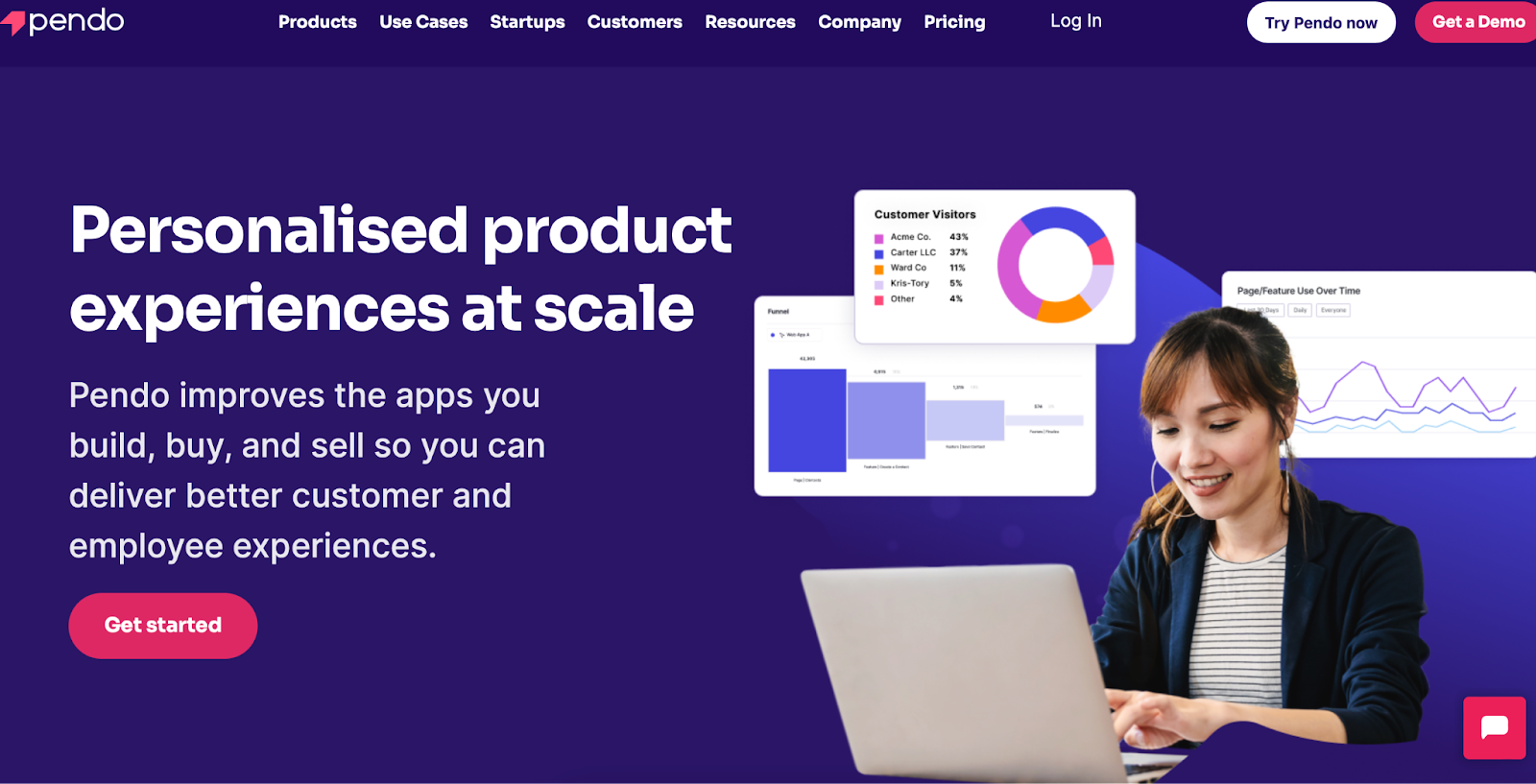 Pendo is an advanced PLG software that empowers product teams to deliver seamless product experiences. This platform provides analytics and guidance solutions to drive user engagement and devise a customer-centric product strategy.
"Pendo is a game-changer. Its robust insights have helped drive engagement and feature usage like never before." — Mark Maxwell, from TrustRadius.com
Product features 
Pendo effectively combines analytics and user communication products in a single package. It's designed to understand product usage, collect feedback, and guide users towards better user adoption and offer exceptional customer experiences.
Product Usage Analytics: Pendo captures product usage data at the view, feature, and user level to help you deeply understand product usage trends.
Guidance and Walkthroughs: Design and deliver interactive product tours and walkthroughs for user onboarding, feature announcements, or support.
User Feedback: Capture product feedback directly from users within your app, helping to align product decisions with customer needs.
Retroactive Analytics: Pendo tracks every click, without the need to define events upfront, enabling you to see retrospective analytics and make data-backed decisions.
NPS Surveys: Capture Net Promoter Score (NPS) within your product to measure customer satisfaction and loyalty.
Personalization: Tailor in-app messages and guides to user segments for a truly personalized user experience.
Release Notes: Communicate product updates and changes directly within your application, ensuring users are always aware of the latest enhancements.
Price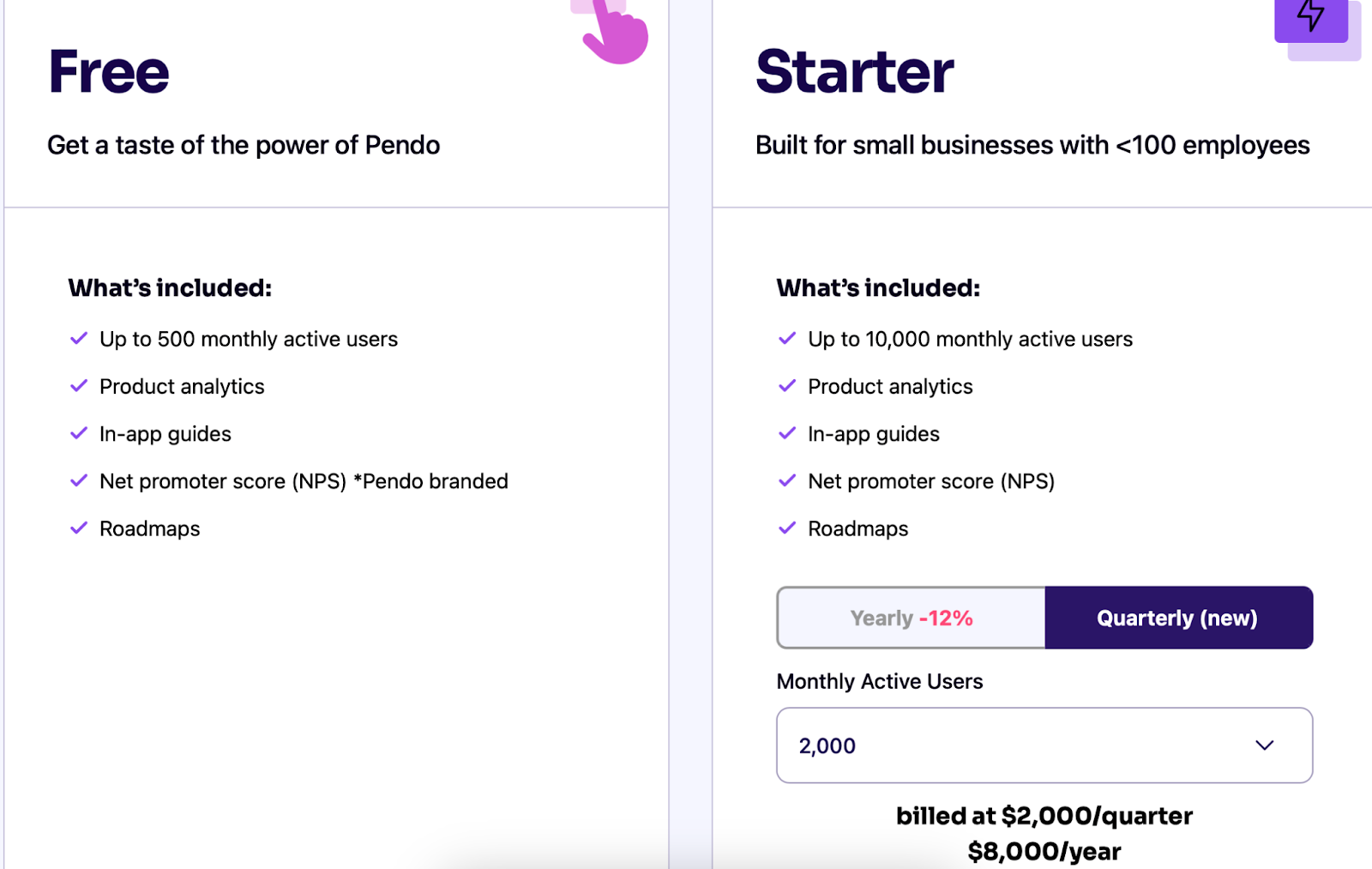 Pendo does not publicly disclose their specific pricing directly; the model is based on utilization and customized to suit individual business demands. You can contact them directly to request a quote. They do offer a free trial to explore the platform.
Pros & Cons
Developed for use in understanding product usage, collecting feedback, and guiding users.
Robust analytics product for improved user engagement strategy.
Can dramatically increase user adoption rates.
The user interface may be daunting for first-time users.
Pendo's advanced features could be overkill for small-scale products.
Sisense. Your Go-To Business Intelligence and Data Analytics PLG Software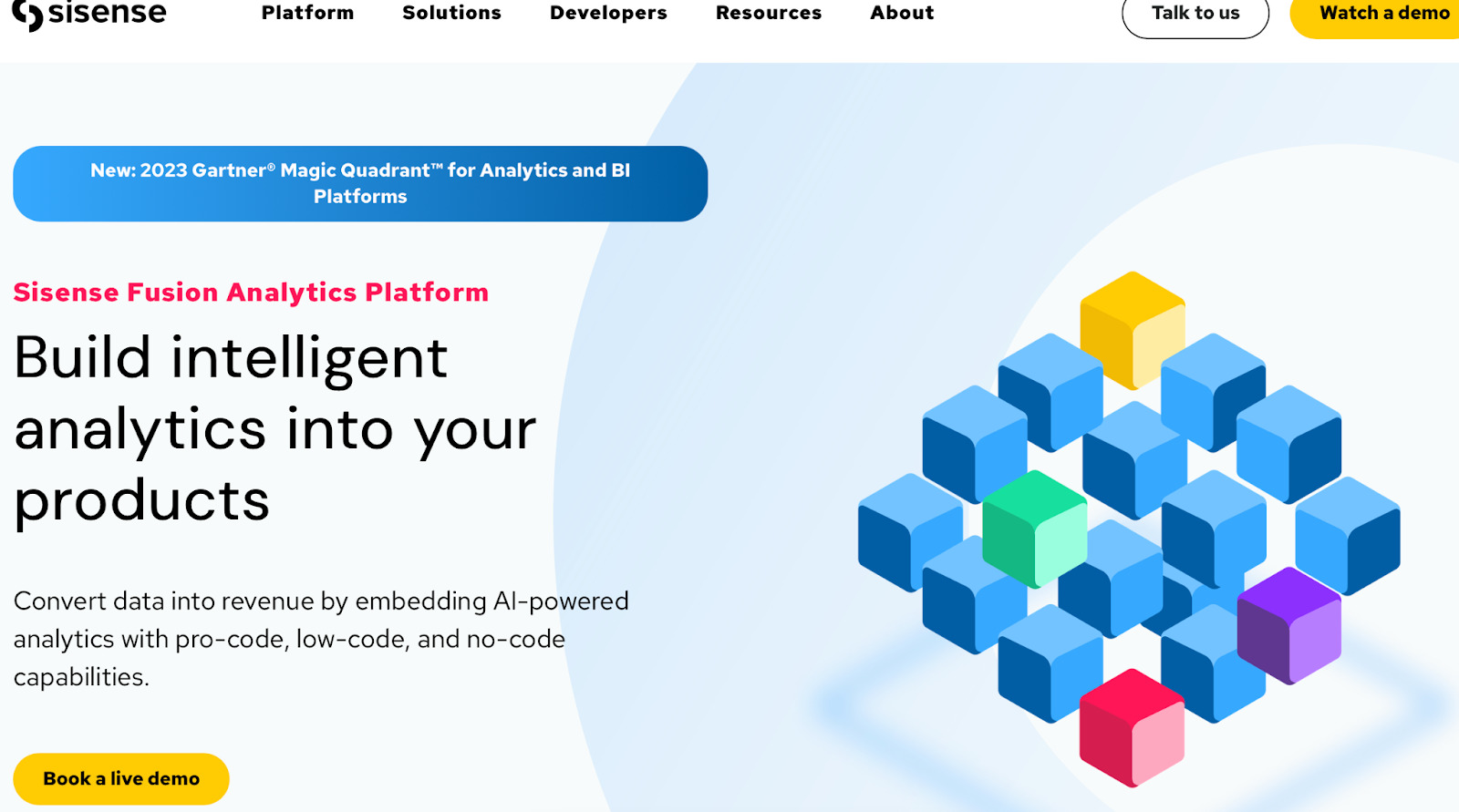 Sisense empowers companies to leverage their data, providing complex data analysis and visualization capabilities. As a product-led growth marketing software, it is focused on bringing value to businesses through actionable insights, regardless of their present technological capacity.
"Using Sisense was a transformative experience for our data management. Data visibility and accessibility have improved exponentially." — Rachel Anderson, from Capterra.com
Product features 
Sisense is a robust business intelligence and data analytics platform that empowers businesses with actionable insights. It simplifies complex data analysis and helps organizations leverage their data.
Data Integration: Unify data from multiple sources on a single dashboard and have a comprehensive view of all your metrics.
Data Visualization: Transform your data into easy-to-understand, interactive dashboards, and reports.
Dashboard Collaboration: Enable team collaboration in real-time on your dashboards for quick decision-making and brainstorming.
AI Forecasting: Predict future outcomes and trends using advanced AI and machine learning algorithms.
Embedded Analytics: Seamlessly integrate Sisense into your product, app or website for your users and customers.
Product Data Security: Robust security measures to ensure your data is always safe and secure.
Mobile BI: Access your dashboards and reports on the go with Sisense's mobile BI capabilities.
Price 
Sisense does not provide specific pricing details on their website. Pricing is customized based on the size and requirements of each business implementation. Potential clients can contact Sisense directly for a quote. There's also an option for a free trial.
Pros & Cons
Powerful business intelligence product with complex data analysis.
Excellent data visualizations providing meaningful insights.
Seamless integration of data from multiple sources into single dashboards.
Customer support has been reported to be slow.
Advanced features could be challenging to grasp for beginners.
Hotjar Recordings. Put a Heartbeat to Customer Data

Hotjar Recordings is a pioneering PLG software for user analysis and feedback. It provides website owners with a visual representation of their users' interactions with their website, making it easier to spot and fix potential UX issues and barriers.
"Hotjar's session recordings feature has been integral in understanding user behavior. It's like watching the user's journey firsthand!" — Alex Thompson, from G2.com
Product features
Hotjar is an effective product providing visual insights into how users interact with websites and software. It's a versatile solution for marketers, product managers, UX designers, and other roles focused on improving user experience.
Session Recordings: Watch real user interaction videos and discover UX issues and opportunities for improvement.
Heatmaps: Visualize user behavior, such as clicks, scrolling, and movement, using color-coded data.
Conversion Funnels: Identify steps in your conversion process causing user drop-off and improve these to increase conversions.
Feedback Polls and Surveys: Collect user feedback directly on your website, understand the 'why' behind their actions.
Form Analysis: Find which fields of your form take the longest to fill out, which are left blank, and why your visitors abandon your form and more.
Recruiting Product User Testers: Directly invite website visitors to take part in user tests and interviews.
Price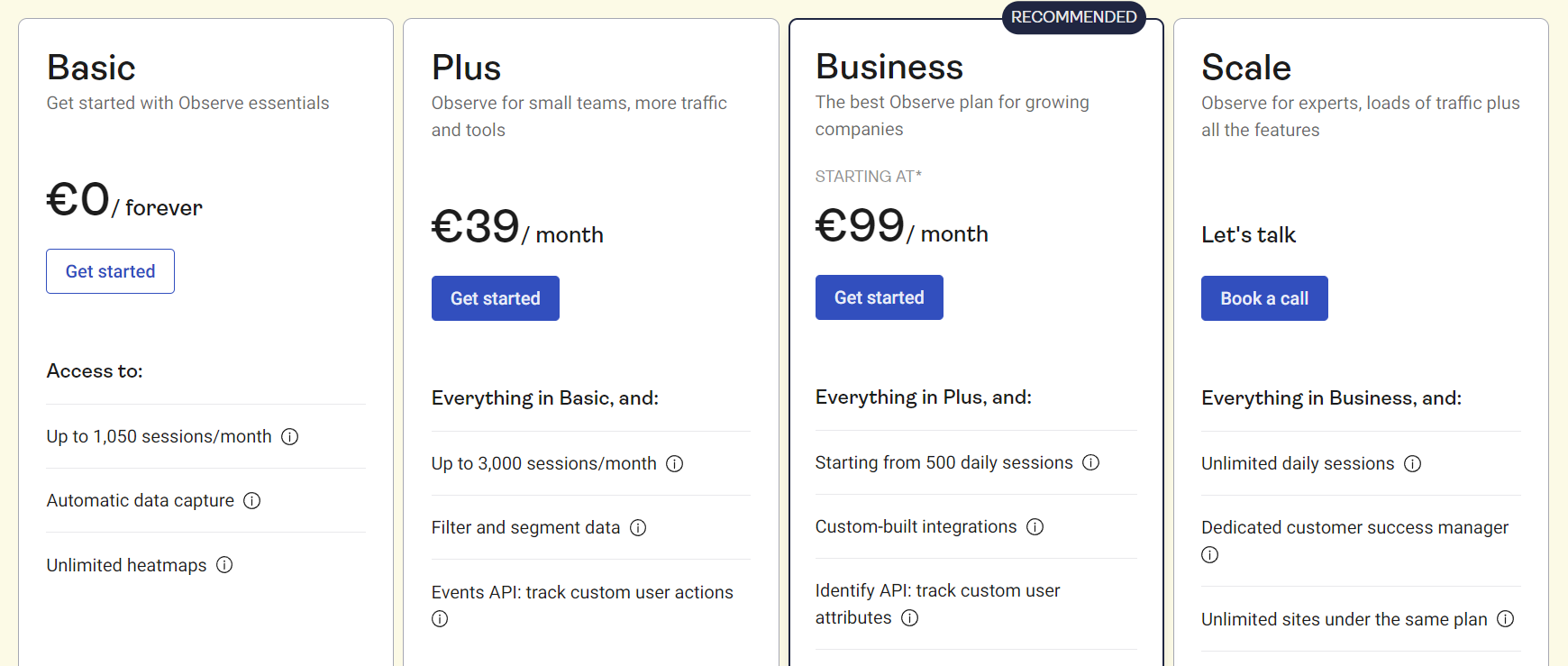 Hotjar offers a limited free version, and their paid plans are as follows:
Plus: $32/month for insights on up to 10,000 pageviews/day.
Business: Starts at $80/month for 20,000 to 500,000 pageviews/day.
Scale: $171, Custom pricing available for greater than 500,000 pageviews/day.
Hotjar does not offer a free trial for the Plus and Business plans, but they come with a 15-day money-back guarantee.
Pros & Cons
Visually tracks user interactions with your website.
Heatmaps provide in-depth insights into user behavior.
Helps identify and fix UX issues.
May slow down page speeds.
Recording storage is limited in the basic plan.
Readme. Interactive API Documentation Made Simple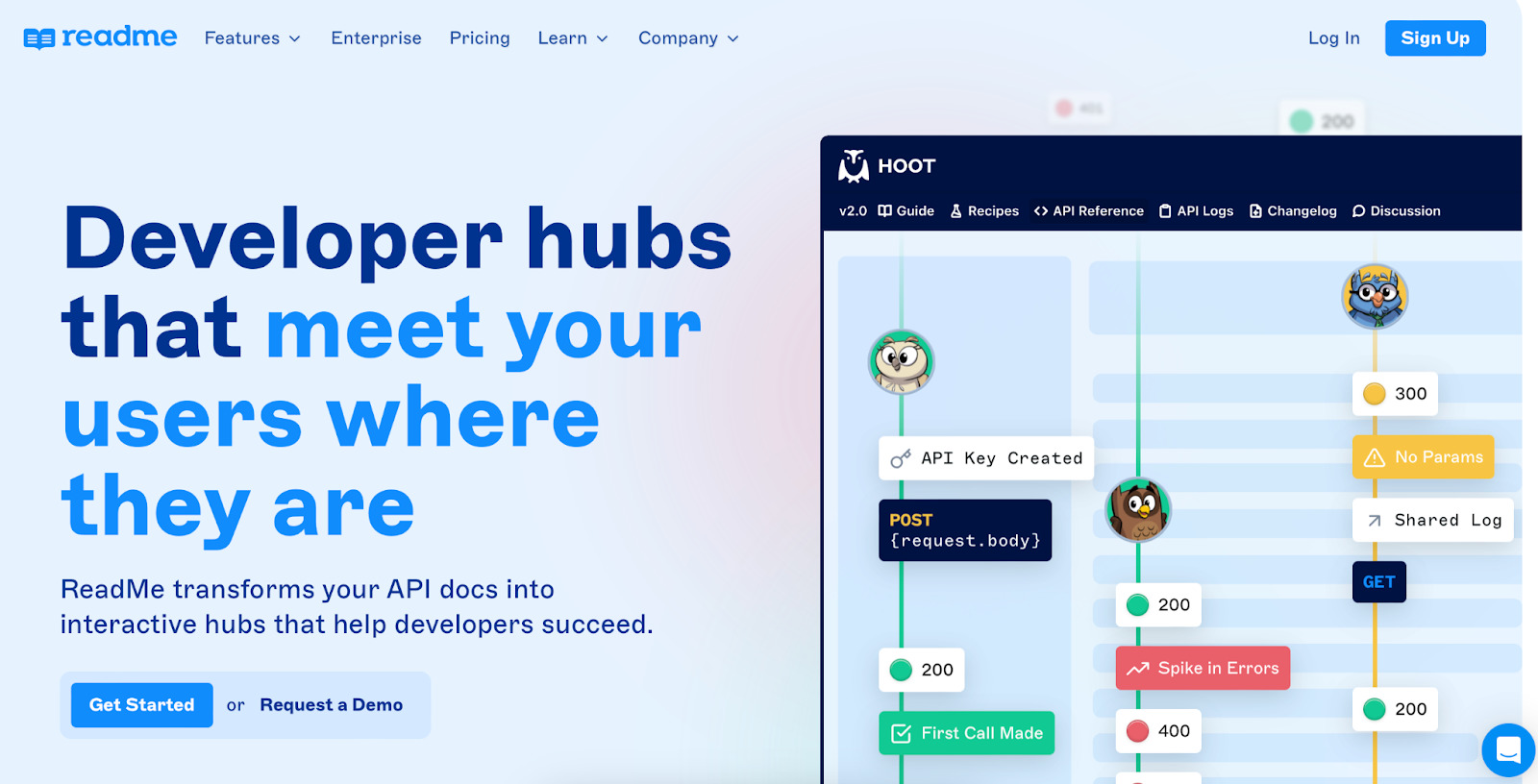 Readme is a PLG software serving developer-facing companies by offering a platform to create documented, beautiful, and interactive APIs. It is designed to reduce the burden on the development team by maintaining updated, valuable
documentation for users.
"Readme changed our approach to documentation. It's easy, intuitive, and perfect for the audience!" — Sarah Williams, from TrustRadius.com
Features 
Readme offers an innovative platform devoted to creating beautiful, intuitive, and interactive API documentation. It makes documentation interactive, user-friendly, and enjoyable.
Interactive Documentation: Create engaging and interactive API documentation to provide a rich learning experience for developers.
API Explorer: Allow users to interact with your API directly within the documentation.
Custom Domains: Maintain a consistent brand by hosting your documentation on a custom domain.
Changelog: Communicate any updates or changes in your API through changelogs directly within your documentation.
API Metrics: Monitor the use of your API, spot trends, and keep track of errors.
Authentication Support: Have your users log in to their accounts and make real API calls throughout your documentation.
HTTP Logs: Troubleshoot and optimize your APIs with log data.
Price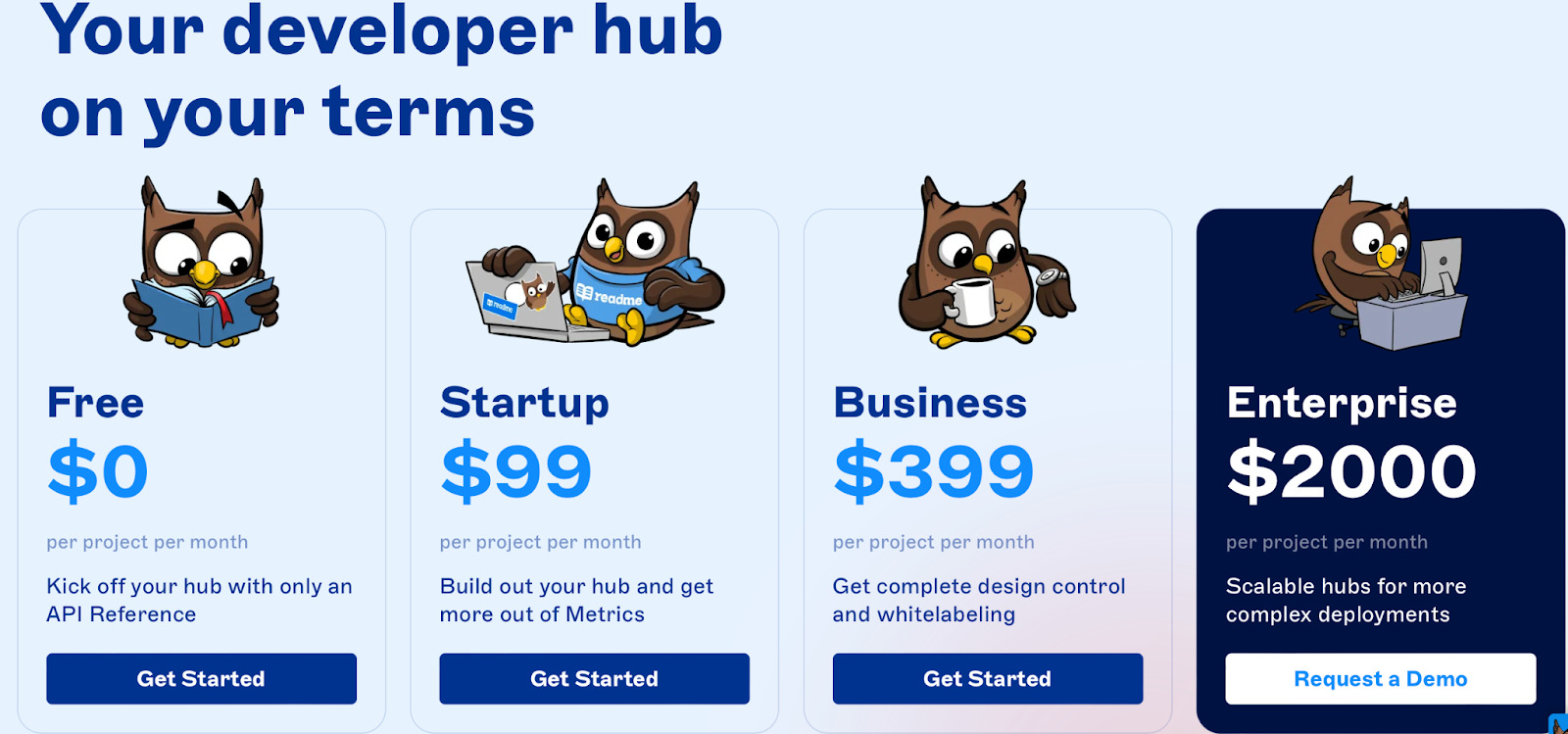 Readme's pricing plans are tiered:
Developer: $99/month, suitable for smaller teams.
Business: $399/month, suitable for growing teams.
Enterprise: Custom pricing for larger organizations with advanced requirements.
A 14-day free trial is available, and nonprofit organizations may qualify for special pricing.
Pros & Cons
Simplifies the creation of dynamic, interactive API documentation.
Facilitates stronger engagement with developers and users.
Allows users to quickly and comprehensively understand API functionality.
Lacks multi-level organization for larger APIs.
The range of customization options could be wider.
Stack Overflow. An Open Community for All product Developers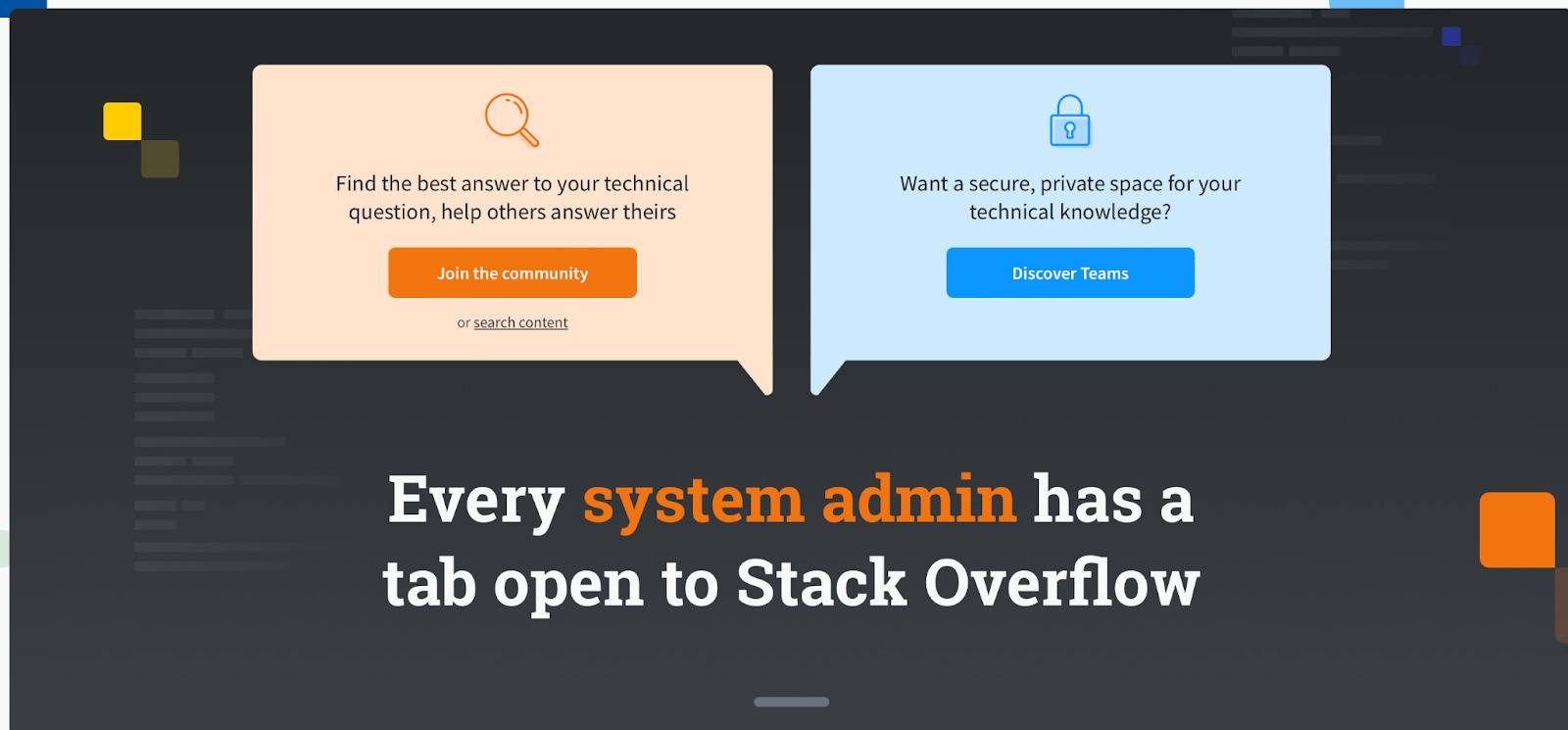 Stack Overflow is a community of developers helping each other grow. As a product-led growth marketing software, it provides a platform for developers to learn, share their knowledge, and build their careers, while simultaneously offering recruitment and marketing solutions for businesses.
"Stack Overflow has been my life savior when everything else seems complex in coding. The community is supportful and the answers can be a real game-changer!" — Samuel Wilkinson, from Sitejabber.com
Features 
Stack Overflow is one of the most trusted and used resources for developers worldwide. It provides a dynamic ecosystem where developers can learn, share knowledge, and collaborate on a variety of projects.
Public Q&A Forum: A comprehensive community for developers to learn and share their programming insights with peers worldwide.
Private Teams: Provide a private, secure space for your team's specific questions and answers to foster collaboration and knowledge sharing.
Talent and Advertising Solutions: Reach talented developers around the globe and promote your product or services within the community.
Enterprise Knowledge Management: A fully managed Q&A platform solution for larger scale organizations seeking to enhance their internal knowledge sharing and collaboration.
Product Documentation: Users can create, edit and view comprehensive and collaborative development guides.
Job Postings: Businesses can target Stack Overflow's community of developers with job listings.
Price 
For Stack Overflow for Teams, pricing starts at:
Basic: Free up to 50 users.
Business: Starts at $6/user/month with at least 20 users.
Enterprise: Custom pricing, contact Stack Overflow for a quote.
There is a 30 day free trial for the Business plan.
Pros & Cons
Provides a vast resource for developers to learn and share knowledge.
Offers private space for team collaboration.
Talent and Advertising solutions for business product growth.
Community contributions can vary in quality and accuracy.
The public interface can be daunting for new users.
Pocus. Product Marketing Solution for Your PLG strategy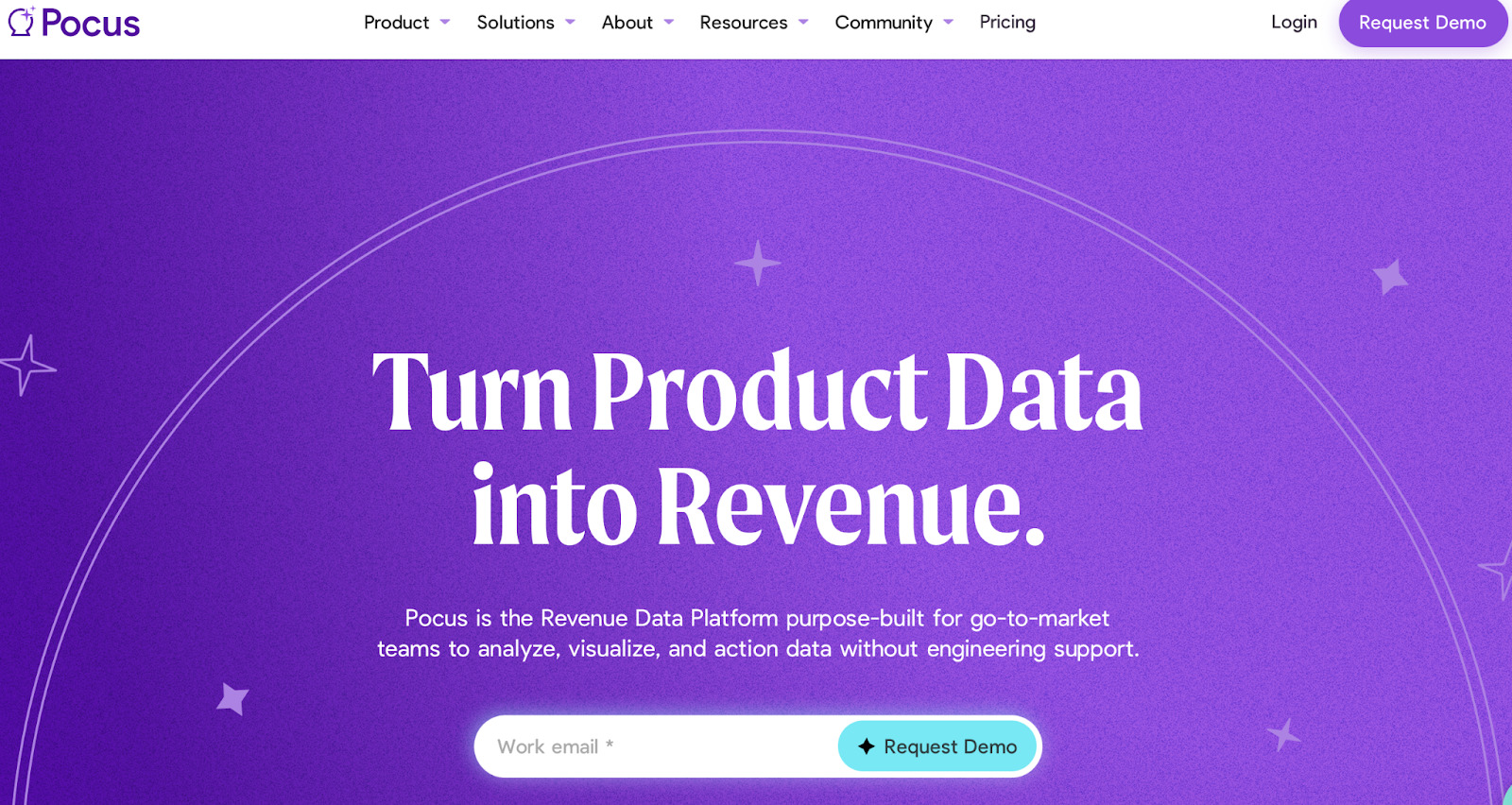 Pocus offers a unified approach to CRM and service desk functionalities, with the goal of helping businesses foster and maintain great relationships with their customers. It serves as an excellent solution for businesses eager to act on customer data, drive sales, and reinforce repeat purchases.
With Pocus, navigating through our content has been made extremely easy and effective. It's incredibly user friendly." — Linda Hamilton, from G2.com
Product features 
Pocus is a comprehensive CRM and service desk solution that focuses on fostering and maintaining excellent relationships with customers. By enabling a holistic view of customers, streamlined service desk functionalities, and automated workflow, Pocus ensures optimal productivity.
CRM: Complete view of customer interactions, helping you manage your customer relationships more effectively.
Service & Case Management: Streamline customer service requests and manage tasks efficiently.
Sales Automation: Automate your sales processes for more efficient prospecting and closing of deals.
Product Marketing Automation: Automate marketing processes to nurture leads, segment customers, and measure ROI.
Email Campaign Management: Create, track, and measure your outbound email campaigns to improve email marketing effectiveness.
Customer Support Portal: Provide a self-service portal for customers to access information and request help.
Price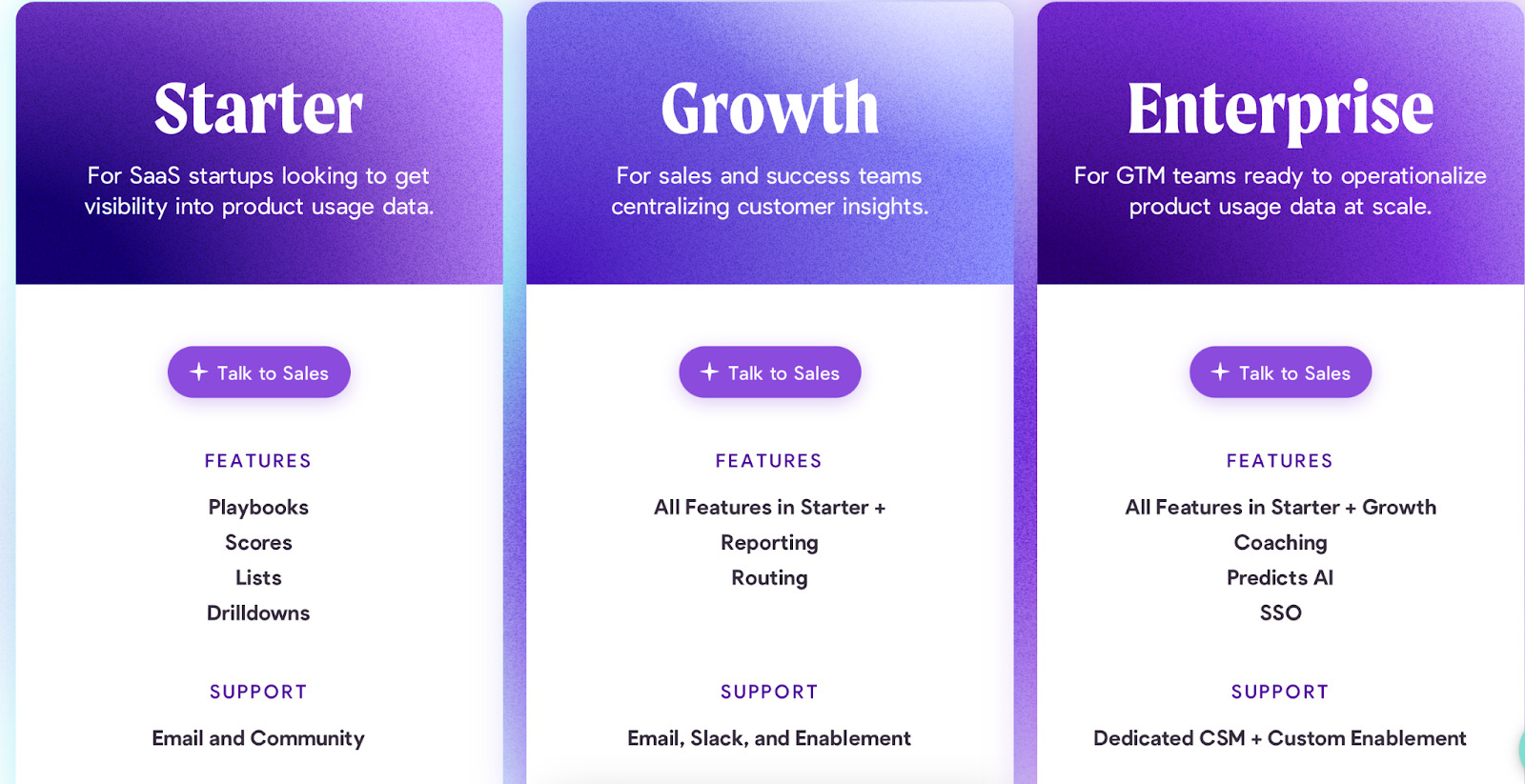 Pocus does not provide specific pricing details on their website and offers pricing based on the specific requirements of each business. Contact the company directly for a quote. They do offer a free demo on request.
Pros & Cons of the software
Offers an all-encompassing approach to customer relationship management.
Streamlines service desk functionalities.
AI integration enables intelligent sales decisions.
Steep learning curve may exist for individuals new to CRM software.
Custom pricing may not fit smaller budgets.
Notion. All-In-One Workspace for Notes, Tasks, Databases and More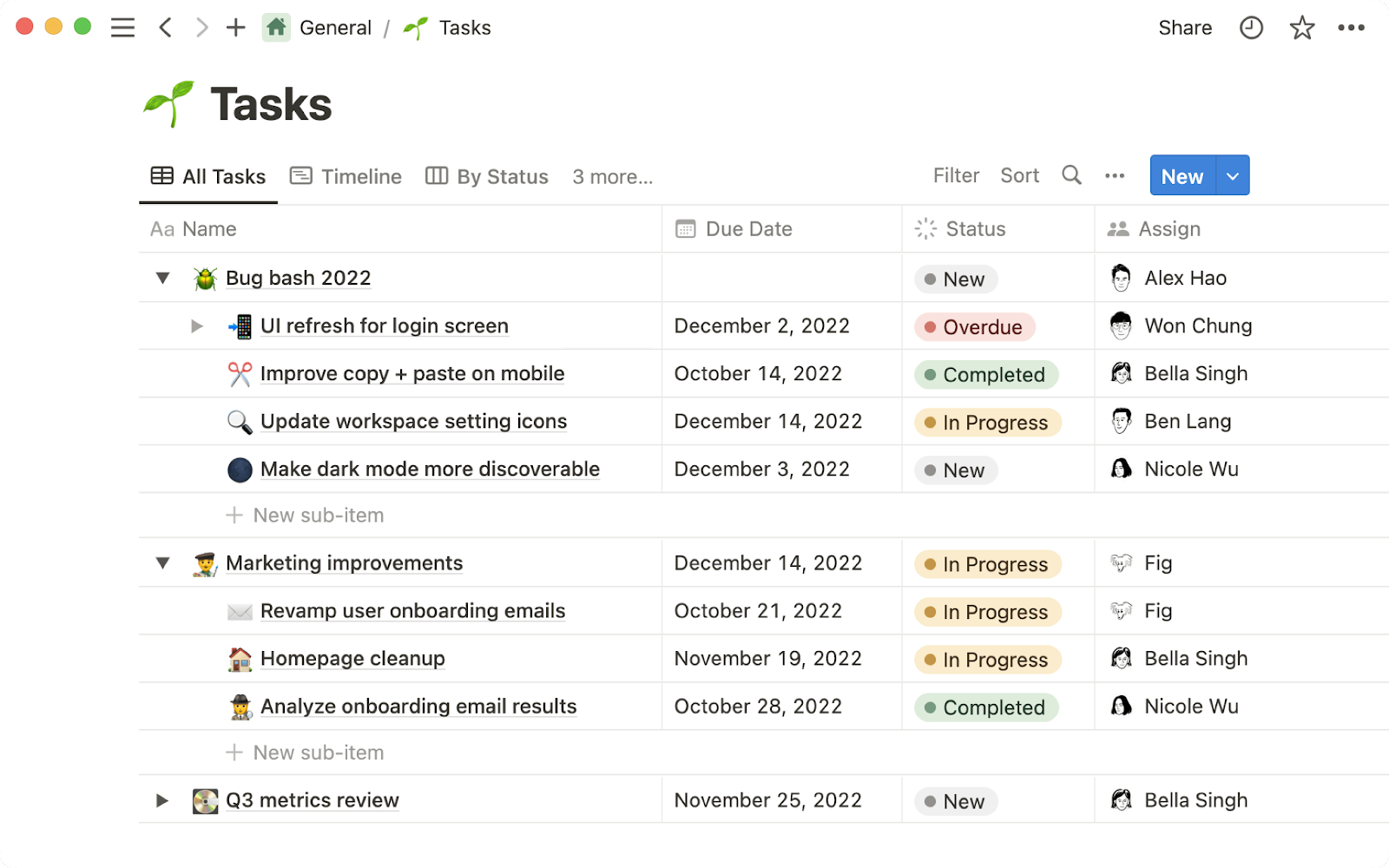 Notion is an all-in-one workspace where you can write, plan, collaborate, and organize. This product-led growth marketing software is designed to replace various workplace products, eliminating fragmentation and encouraging more organized and unified work.
"Notion is my one-stop solution to the organization. The usability is incredible and it ties my whole workflow together perfectly." — Peter Brown, from TrustRadius.com
Product features 
Notion is an incredibly versatile workspace platform that allows users to write, plan, collaborate, and organize within a virtually unified space. This efficient product increases productivity by integrating notes, databases, kanban boards, wikis, calendars, and reminders.
Notes & Docs: Comprehensively manage your thoughts, meeting notes, and documents.
Task & Project Management: Manage your tasks and projects, along with customizable workflows to suit your needs.
Product Knowledge Base: Store every piece of essential knowledge in one place. It's beneficial for managing SOPs, manuals, and more.
Spreadsheets & Databases: Manage and interact with your data in innovative ways, from simple tables to complex databases.
Wiki Creation: Create content-rich wikis for any topic.
Collaboration: Collaborate in real-time with your team, no matter where they are.
Templates: Numerous pre-made templates to help you get started on any task.
Integration: Integrate with various apps for seamless data flow.
Price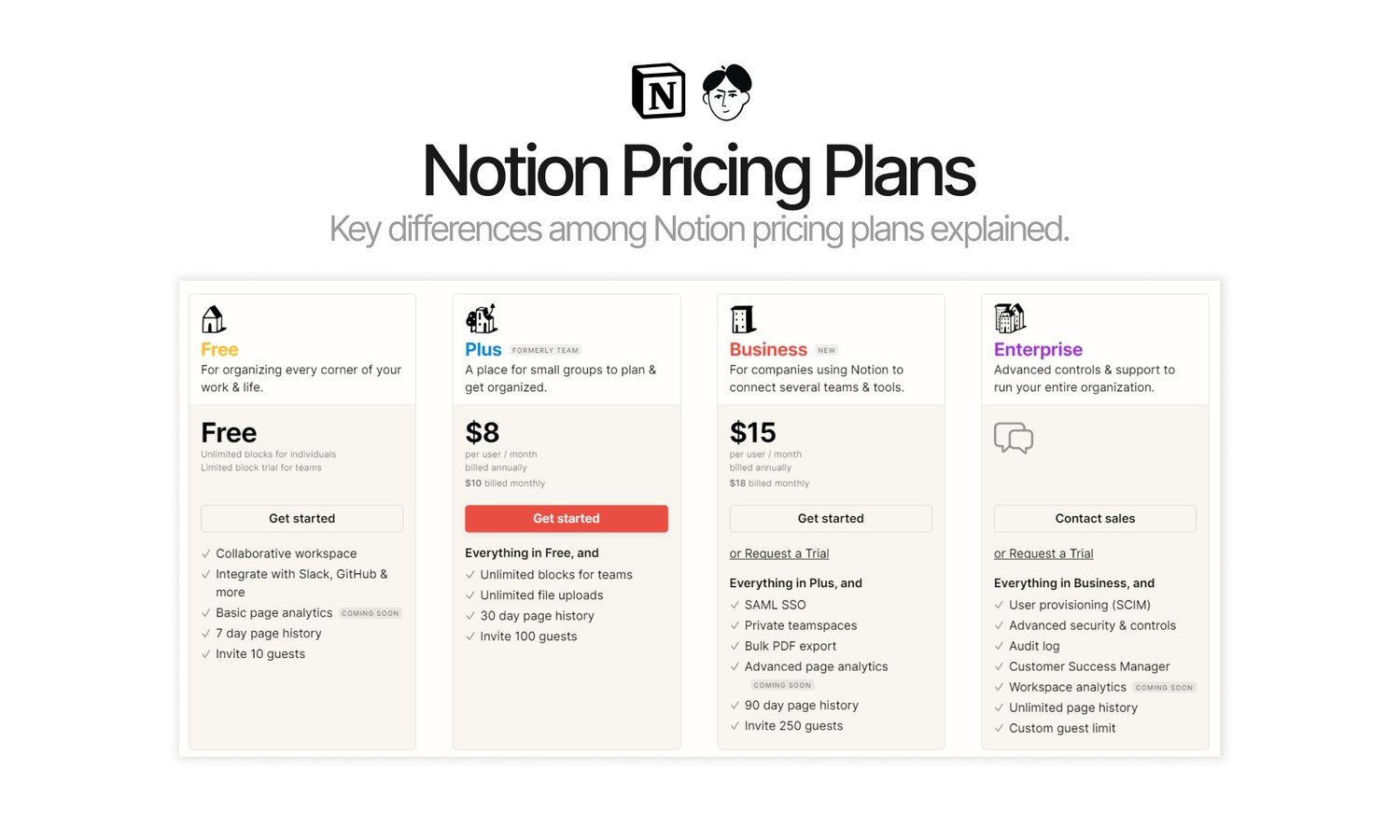 Notion operates on a freemium model.
Personal: Free.
Personal Pro: $4/user per month, billed yearly.
Team: $8/member per month, billed yearly.
Enterprise: Pricing available upon request.
There isn't a free trial, but the free personal plan offers a lot of functionality and serves well for testing the product.
Pros & Cons of the software
Combines note-taking, task management, and project management.
Offers a unified and organized workspace.
Extremely versatile with a highly customizable interface.
May feel overwhelming due to the variety of functionalities.
Offline mode could be improved.
To summarize
Staying ahead requires not just understanding the market, but also knowing how to facilitate user interaction and experience effectively. The right software can give businesses a distinct competitive edge.
The benefits of investing in the right solution are multifaceted. They include streamlined operations, improved customer experiences, insightful analytics, and enhanced decision-making processes. By understanding and anticipating user needs, businesses can foster greater user loyalty and increase engagement.
Furthermore, effective handling of data can lead to continuous product refinement, informed by actionable insights from user interaction and behavior. Increased efficiency in handling complex information or content navigation can significantly enhance user experience, while versatile organization software continues to bring harmony to complex workflows.
The future certainly belongs to those who can drive value throughout the customer journey by staying ahead of the curve. As we move further into 2023, let's continue to embrace innovation and witness how it redefines the interaction between businesses and their customers.