Freedom24 implemented triggered emails, pop-ups, live chat, and push notifications to help website visitors succeed in investment and convert them into clients. Here are the results they've achieved in 2022:

About client
Freedom24 online portal is a project of Freedom Finance Europe Ltd., the European subsidiary of public holding Freedom Holding Corp. Its holding headquarter is located in the US and regulated by the U.S. Securities and Exchange Commission. They operate under MiFID II rules, which is a legislative framework with high levels of investor protection.
Here you can invest in stocks, ETFs, and bonds or buy stock on IPO prices regardless of whether you're a novice or a professional in this field.   
Business segment: B2C, B2B, fintech
Website traffic/mo: 100 ─ 500k
Sales channels: paid ads, referral program.
Integrations: CRM, Facebook, Instagram, Telegram, Viber. 
There are major steps clients go through to start investing with Freedom24:
Sign up and download an app.
Open a brokerage account.
Top up an account.
Some of them are pretty challenging. To help clients make money on investments, it is important to assist them at each step of this journey. Thus, together with Dashly, Freedom24 set up seamless communication between clients and the company.
Dashly tools in use:
Support managers use live chat to guide website visitors on the way to creating an account.
Clients who abandoned this process receive email and app push notification reminders from the marketing team. 
Marketers set up onboarding emails, pop-ups, and app push notifications to help clients top up their accounts. 
With analytics, marketers collect the best ideas in weekly email newsletters to help clients find out the best projects for investment.
Freedom24 marketers test different hypotheses in email and app push notification campaigns to re-engage inactive users.
Step #1: Website visitors support via live chat
Customer communication is at the center of the Freedom24 strategy. Due to the specific nature of the service, they aim to provide personalized support where their clients are: on the website, socials, and messengers. 
Especially, it is vital at the first steps of account creation. These are the first support line agents who use live chat to tell people about company services, and registration and help them to open an account. So when non-logged-in visitors enter the company website, they see a live chat.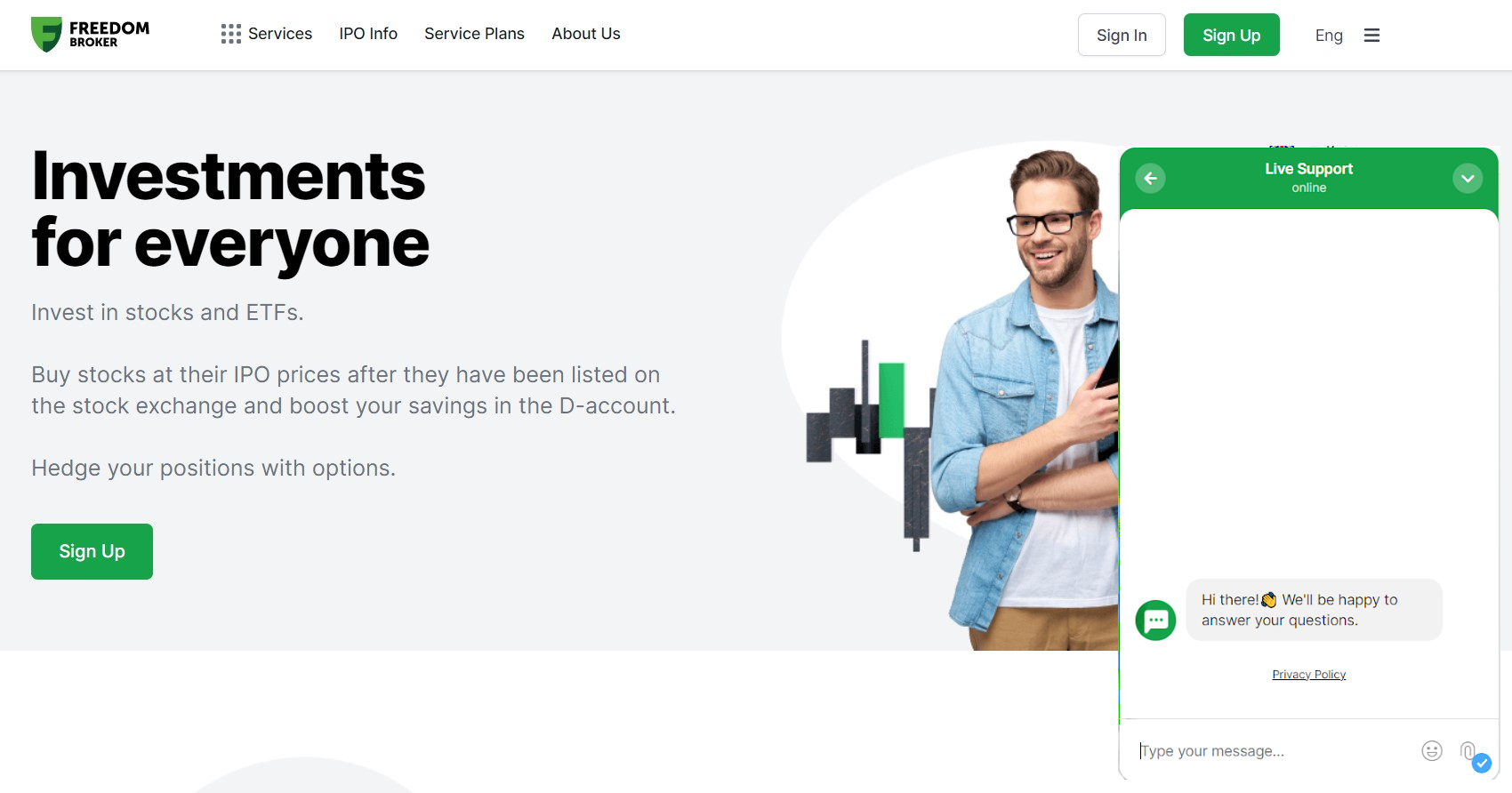 In addition to English, Freedom24 has local agents to support users who speak Spanish, Greek, Polish, French, and German. All these requests go to a relevant tab of the shared inbox, so agents can see and answer them fast. 
The same rule concerns Instagram, Facebook, Telegram, email, or Viber requests.
Result: In 2022, on average per month, 11% of Freedom24 visitors communicate with support agents via live chat.
Step #2: Engage users to open the account with triggered email and push notifications
After registration in a website form, users should confirm their residential address with a utility bill or any other document. Some of them find this step rather difficult and abandon registration.
To engage registered users to complete the registration and create an account, the Freedom24 marketing team sends them three onboarding emails:
The first one describes the benefits a client gets after opening an account.
The second message highlights the opportunity to get support. 
The third email intrigues you with 30 days of the free-of-charge Promo account.
To highlight the main action, Freedom24 marketers use the same CTA at the beginning and the end of each email message.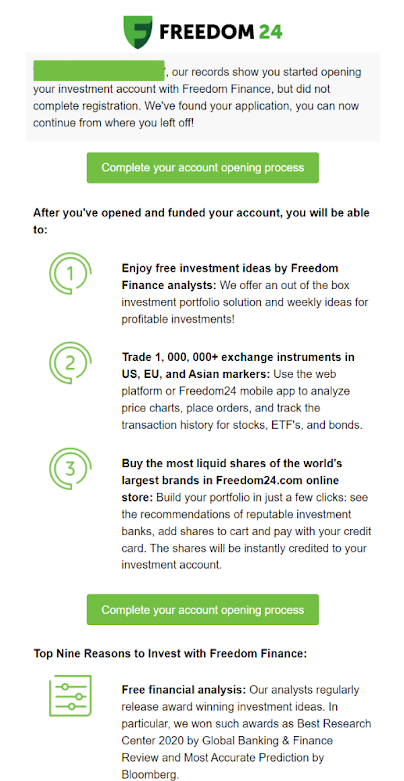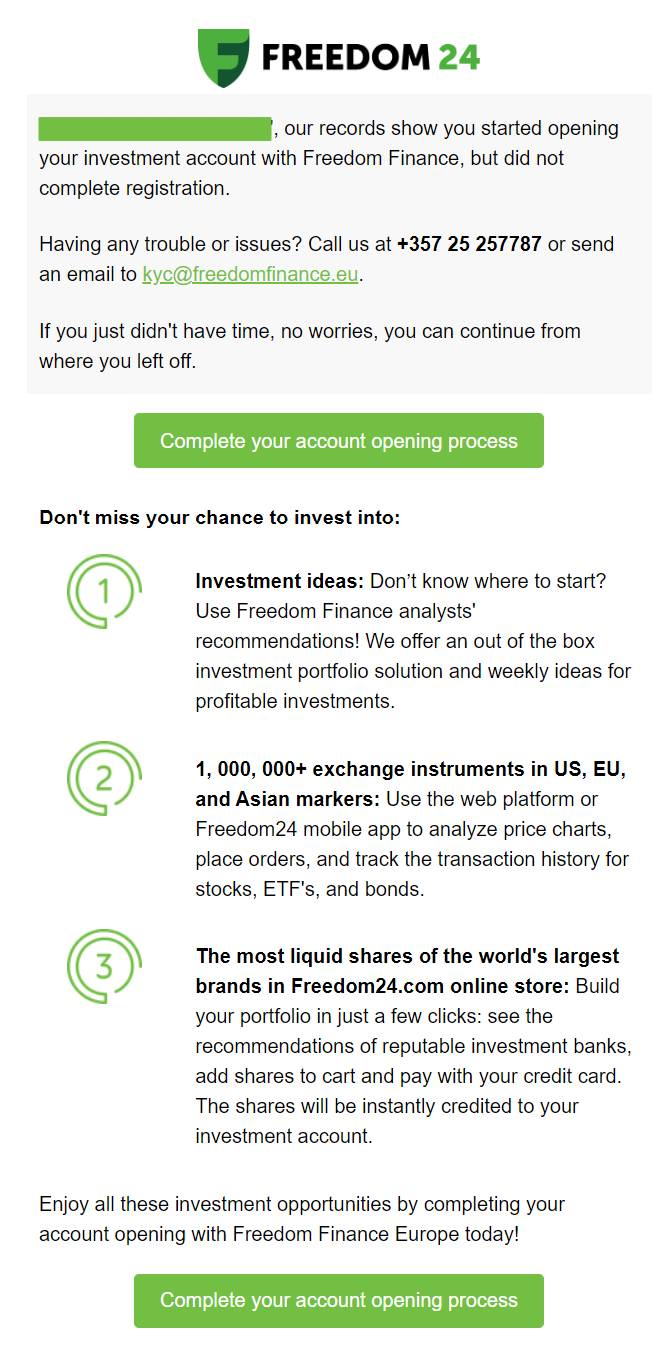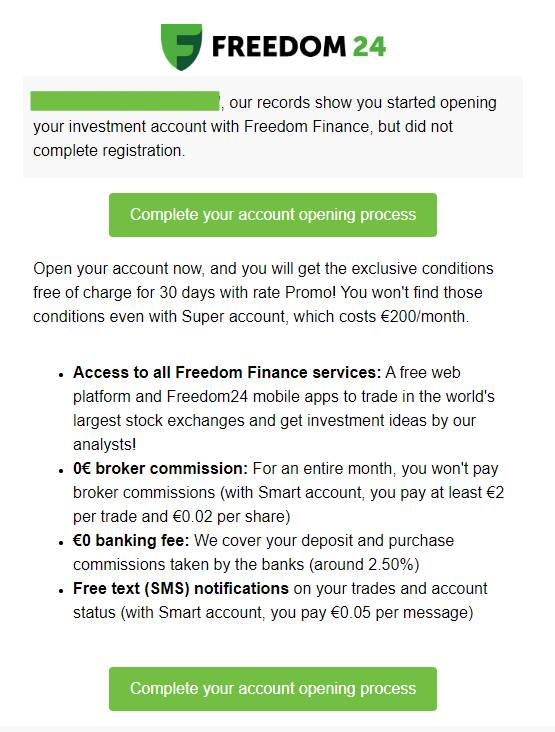 Since 50% of the website traffic goes to the Freedom24 app, its users receive relevant push notifications as well:



As a result of these messages, users who registered in Freedom24: 
remember the necessity to open an account to start investing,
know where to get help to open it, 
intrigued to do it faster. 
Step #3: Engage clients to top up the account via pop-ups, emails, and push notifications
Investment is a field you need time to think about before a start. But sometimes, this pause lasts too long. Fearful of risk, some users who have an account postpone the solution and become "sleeping" ones. 
To engage them to finish the journey and start investing, Freedom24 marketers launched a multichannel campaign. 
It includes messages on the website, email, and the app to convert registered users into paying clients.
1. Pop-up on the website and in the app: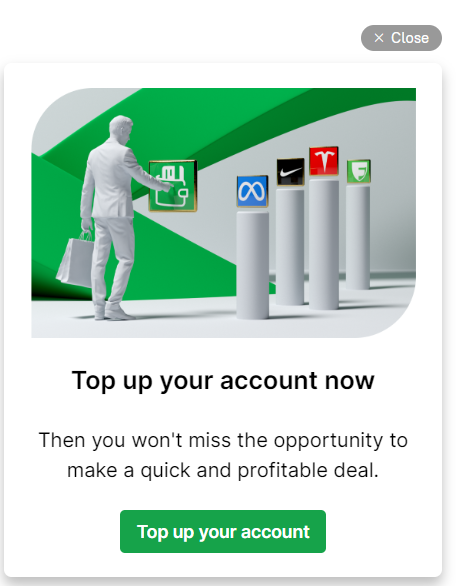 There are 18.6% of app users and 66.55% of website visitors who see it during a month. 
2. Triggered email campaign
Users who created an account receive three triggered emails with Freedom24 investment benefits and a short guide on the next steps. Here is an example of a welcome message they get right after the account creation: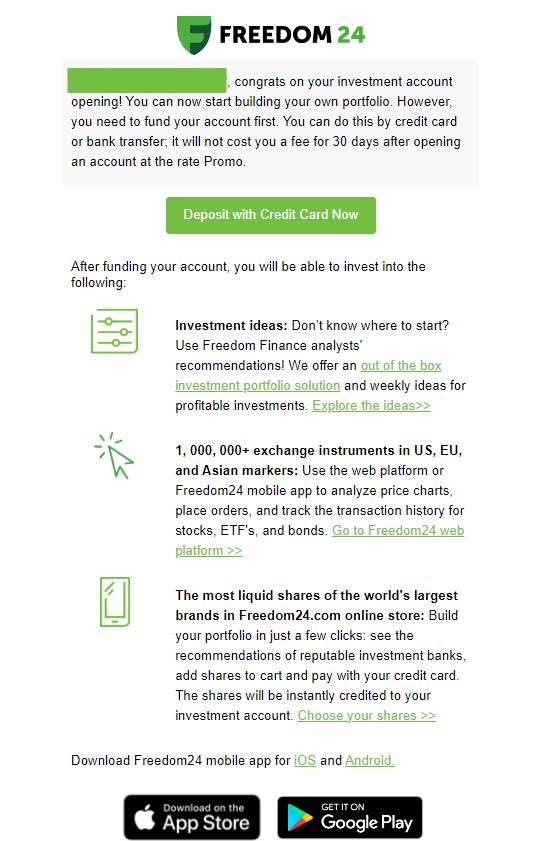 In addition to safe investment web platform tools, Freedom24 clients get a convenient app and expert recommendations on where to start. Everything they should do is follow the CTA and top up the account.
And it works great, that proves 52.59% Open Rate and 9.26% CTR. 
The next step of this email campaign is a 30-days free-of-charge Promo account offer. Thus, in the last email of this series, subscribers get to know about its expiration.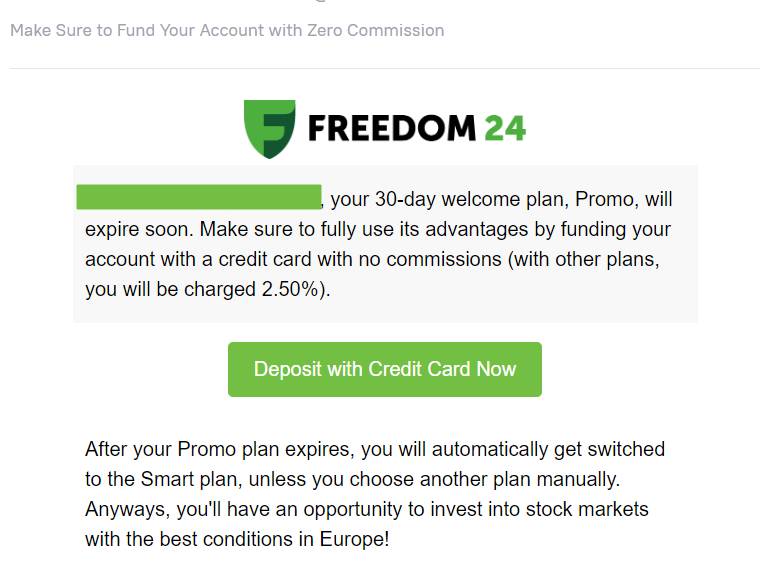 3. Daily reminders in-app push notifications
For app users who have an account but hesitate to top it up, Freedom24 marketers launched daily reminders: 


There are short push notifications engaging users to start investing with a number of possible opportunities. On average, these messages have an 8.21% Open Rate and 0.88% CTR. 
As a result of this multichannel campaign, Freedom clients: 
remember the next steps to start investing,
know all the needed information on how to top up the account, 
master the platform and get the first income faster. 
Step #4: Inspire clients with the best investment ideas with a weekly newsletter and push notifications
Not to let clients lose momentum, Freedom24 marketers involve market analytics to observe the best investment opportunities. As a result, subscribers get a fresh doze of profitable investment ideas in weekly newsletters.
The first type of newsletter is a digest. Once per week, subscribers get a report on what stocks Freedom24 platform users held, bought, and sold: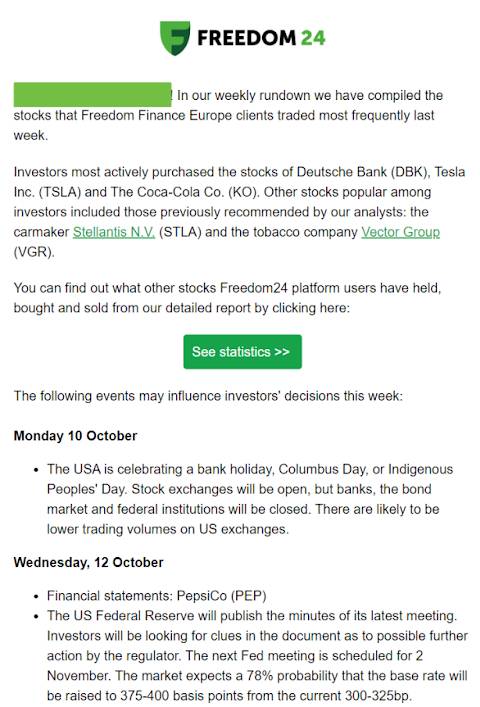 It is pretty popular among subscribers that prove a 40% Open Rate and 7% CTR.
The second type of newsletter is investing ideas from company analytics. Subscribers enjoy it two-four times per week.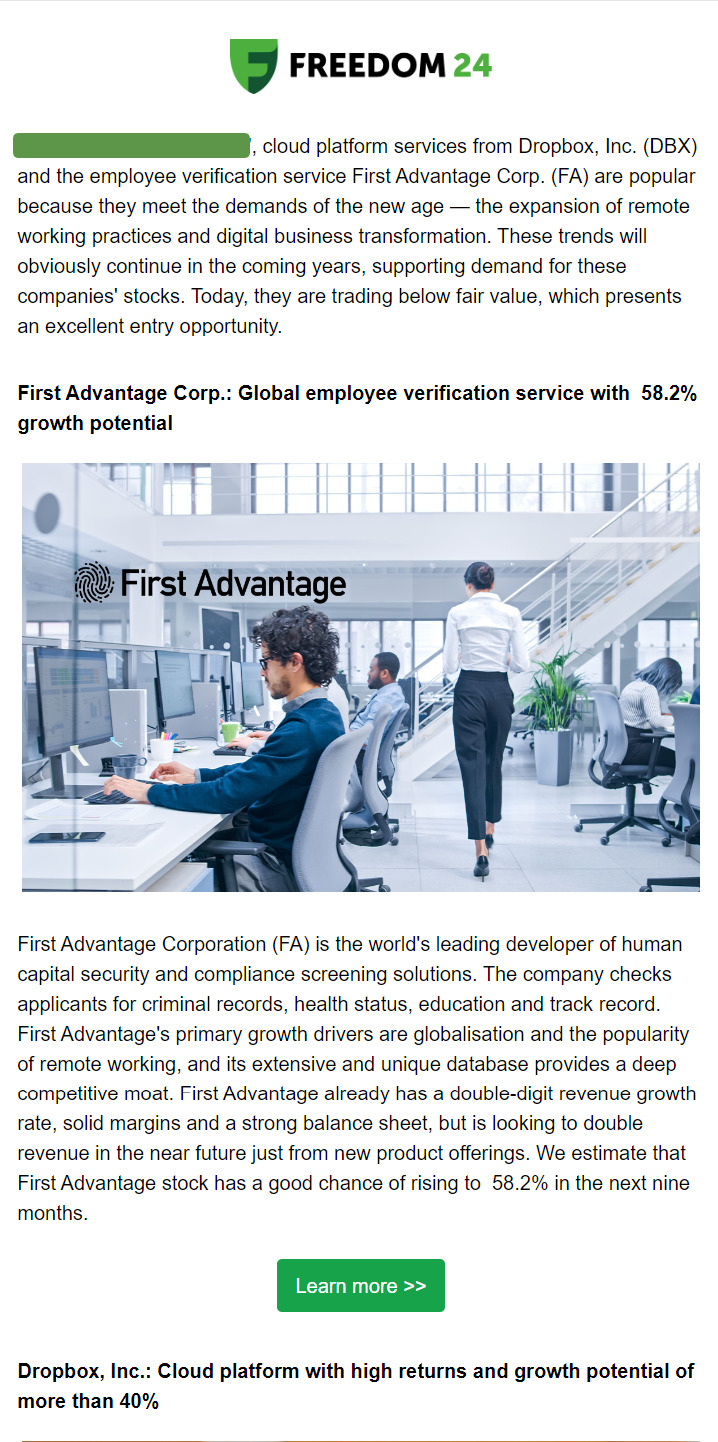 The overage Open Rate of this messages type is 16%. 
Sure thing, some subscribers don't check their Inboxes regularly. Good to know there is a relevant push notification in the app. 

As a result, Freedom clients are always aware of the best deals. It is a never-ending source of inspiration that engages them to continue investing.
Step #5: Reactivate inactive users 
Each business has clients who don't use its product, don't visit a website, and ignore attempts to communicate on other channels. It's inevitable. 
Freedom24 marketers solve this task by testing different hypotheses. For example, the last idea to "wake up" such clients was about app push notifications + emails about special bonuses. 
Actually, it is still working: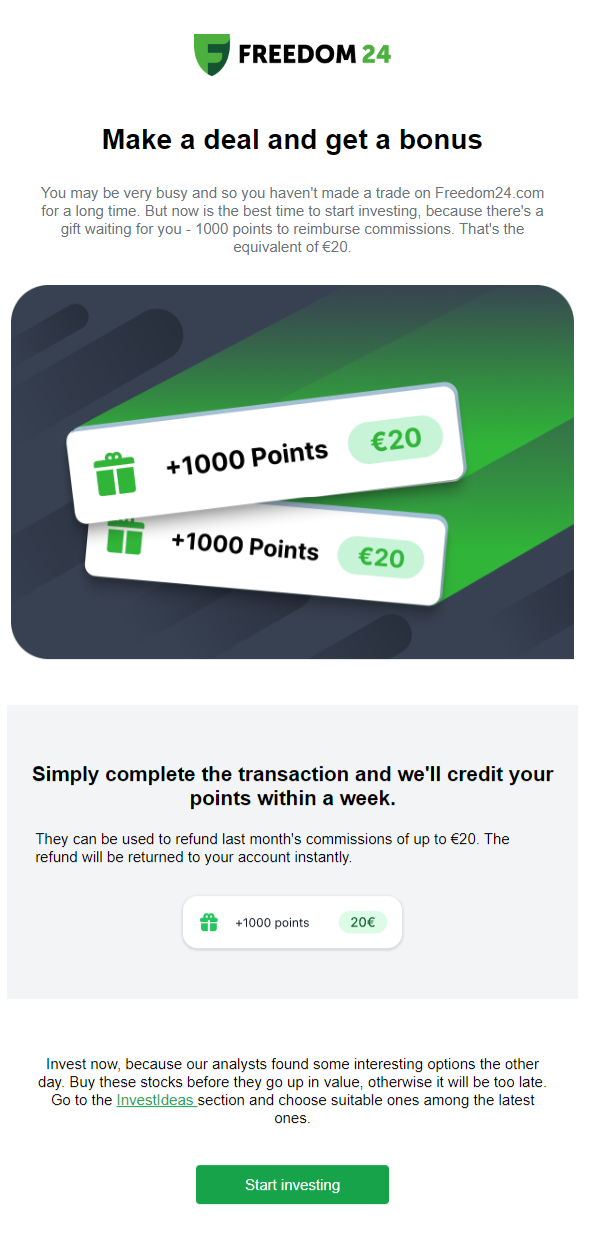 20 euro offer interested 2.95% of users who read this message in the app and 18.58% of clients who read it in email.
Key results

What next?
Live chat is a great tool. But Freedom24 users love the service so much that support agents cannot respond to each of the requests as fast as they wish. To facilitate the workflow of live chat agents, Freedom24 plans to launch a chatbot to answer users' frequently asked questions.
Want to boost your customer engagement just like Freedom24?
When our customers achieve such amazing results, it only inspires us and motivates us to work more. Got inspired too?