In this post, we will explore 13 growth hacking examples that Dashly experts have tested and fine-tuned in collaboration with our amazing clients. We've worked to optimize these campaigns, focusing on every critical step of the funnel: lead generation, user activation, payment, and reactivation. 
So, grab your favorite beverage, sit back, and join us on this thrilling adventure through the world of growth marketing.
Get ready to uncover the secrets behind some of the most creative campaigns our Dashly growth marketing team and clients have ever tested together across every funnel step!
And these campaigns inspired us to create a whole playbook with the most effective customer led growth automation ideas you can test on your website. Grab your copy for free 👇
Boost website lead generation
+1,152 leads for online school with a chatbot
One of our customers is a film production school. As visitors navigate their site and explore various courses, it typically takes them a while to decide.
The solution?
The online school team identified visitors' needs and gathered their contact information for sales representatives. This allowed them to reach out to leads and assist with choosing the right course.
Lead qualification is one of the key components to hacking growth because it gives you valuable insights on your target audience.
Thus, they implemented a Dashly chatbot on the website to:
initiate conversations with visitors;
pose qualifying questions;
gather phone numbers.
This data is subsequently sent to amoCRM, providing the sales team with all the necessary information to call potential students and suggest a suitable course.
The result: 1,152 leads in five months.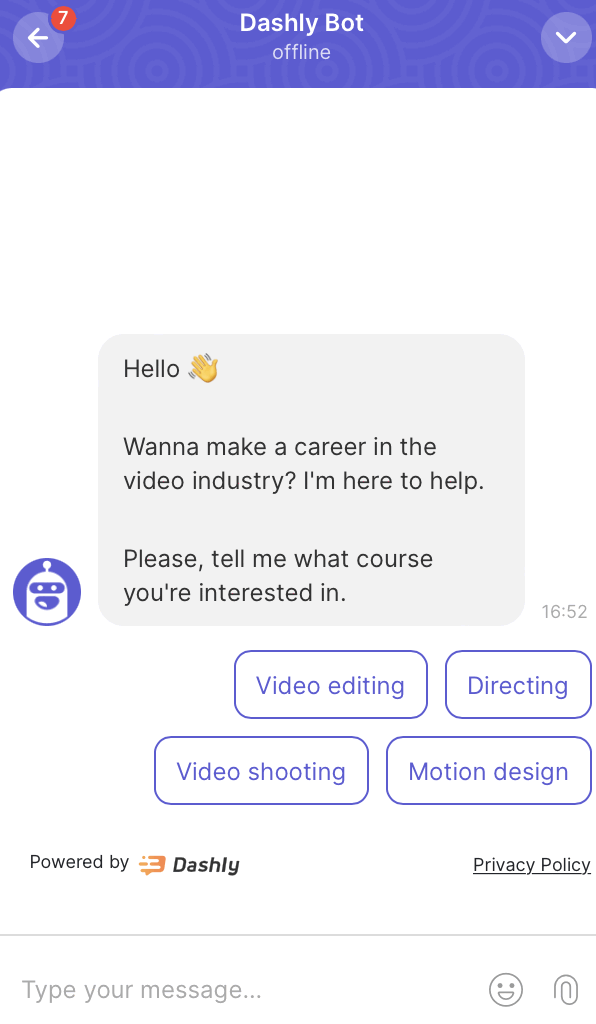 +12% target leads growth with pop-up quiz and chatbot
This is the story of Seamus Bennett (CEO and co-founder of KVR software development company), who hired Dashly to improve the lead qualification process on his website.
Sales managers worked only with those ready to pay quickly and start implementing the products. But to grow revenue, it was necessary to learn how to work with leads that take longer to nurture and are not ready to purchase immediately. This marketing growth strategy is trickier.
The task of selling long-term is unnatural for sales managers who depend on monthly bonuses from sales targets. 
The solution?
1. Lead qualification pop-up quiz on product pages (since its visitors are more ready to buy.)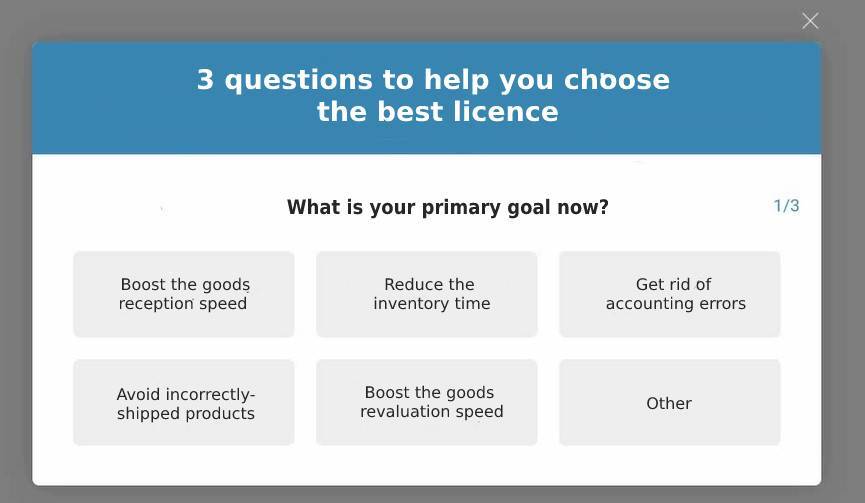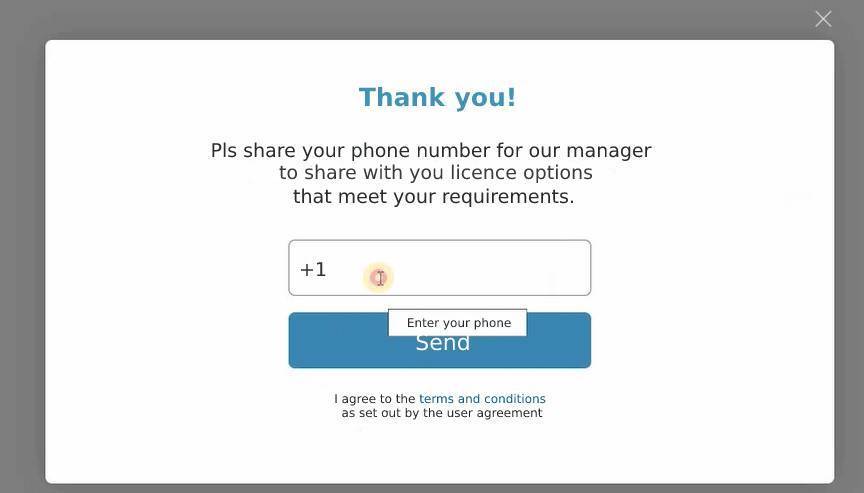 Thus, they can define leads that meet the ICP portrait and call them first. It's one of the best growth marketing tips.
2. Chatbot to capture and qualify blog readers 
Every visitor of the blog articles had the opportunity to communicate with a chatbot after the first 30 seconds of the session. 
The results:
+12% of orders from the implemented pop-up quizzes and the chatbot.
60% of the orders from quizzes and the Dashly chatbot are targeted.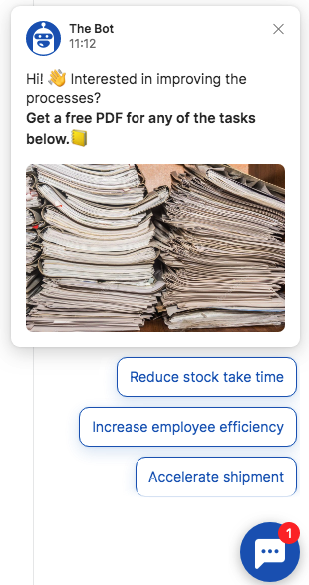 If you need more inspo for your strategy, sign up for a growth marketing email.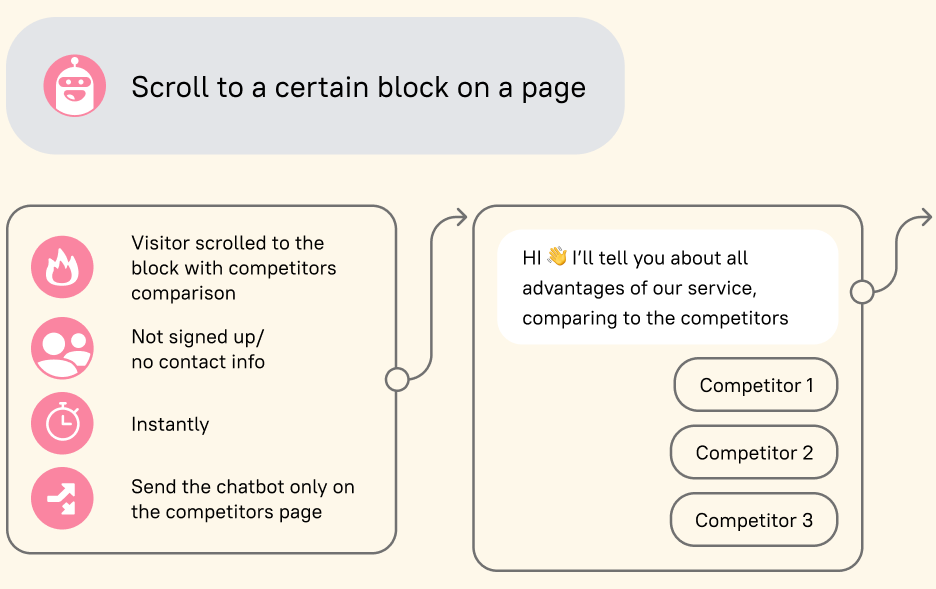 School for IT and Data specialists got +44% applications growth
This Dashly customer had a problem: Too low application rate on course pages. Many visitors leave without converting, and requests of those who do aren't processed by managers fast enough. So the key growth marketing metrics didn't increase as expected.
The fix?
Chatbot on the "Data Science from scratch" course page
The chatbot doesn't offer you to apply for a course out of the blue. Instead, it gradually qualifies as a lead and shows it's there to help take the education path and navigate personal career challenges.
The result:
7,5% shared their emails,
5,3% shared their phone numbers.
Chatbot on the "Data Science: Advanced course" page
This page is designed for more skilled users who want to work in this field. Chatbot's job here is to clarify that the person came to the right place to meet their goals and boost their skills.
The chatbot offered a free career guide to motivate leads to share their contacts.
The result:
22,7% shared their emails,
15,5% shared their phone numbers.
Get inspired with 100 growth ideas and boost your business development!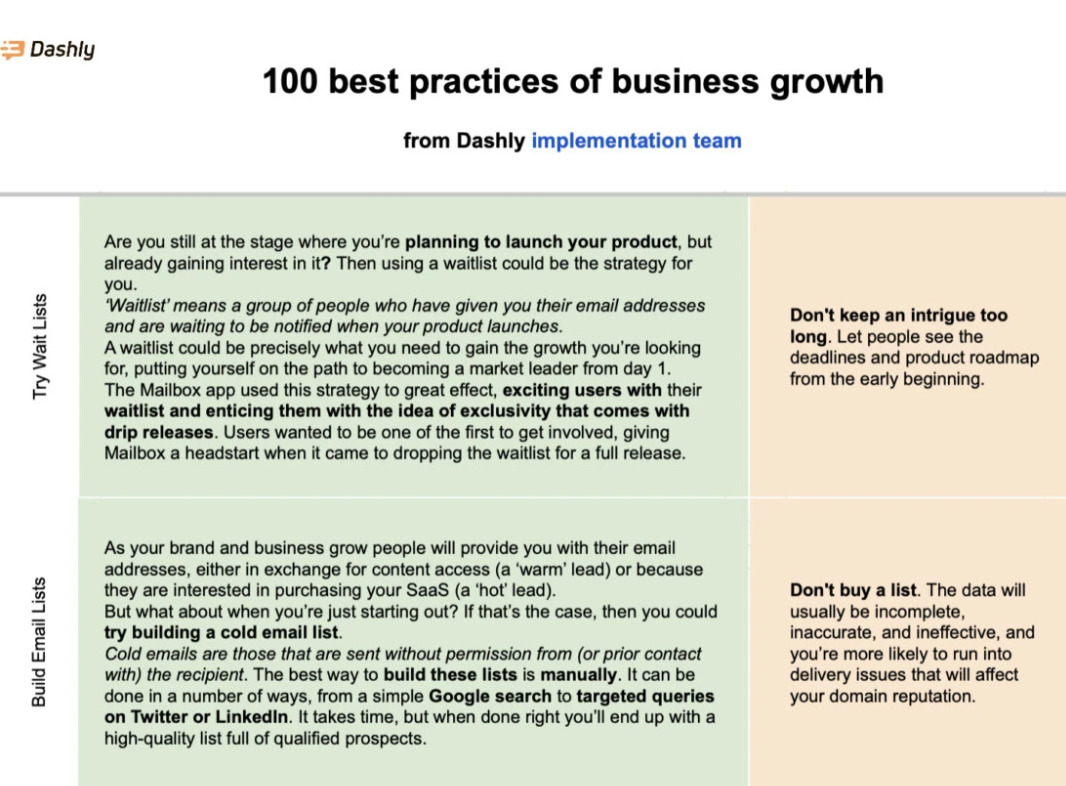 Conversion into signup
+70% conversion onto sign-up with personalized audit offer in chatbot 
With Anthony, co-founder of an online platform for Instagram account growth, we worked on the following problem: new users left before the payment.
The fix?
They already had an excellent offer — triggered message with a free audit.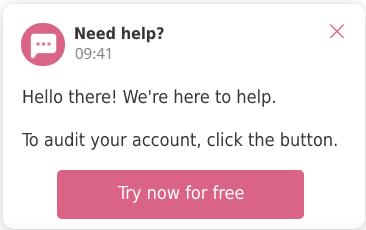 But it doesn't work in such a form. To increase the conversion to signup, we offered to personalize this offer with customers' pain points and launch it as a conversation with a chatbot.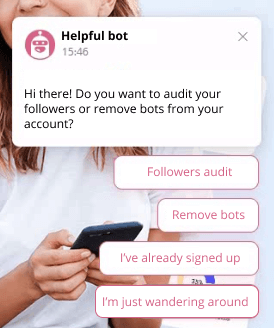 The result
Using a chatbot, we got a 70% increase in conversion to signups. As for the overall funnel performance, it added 5% to the conversion to sign-up.
Metric
Before —
live chat
message
After —
chatbot
campaign
Growth
New User count
264
480
+216
CR to signup
2,6%
4,4%
+70%
Adding a profile to account
and free audits
150
340
+190
CR to adding an account
56,8%
70,8%
+25%
If you want to achieve stunning results, create your own growth team. Here's how you start 👇
Read also: Your Growth Marketing Strategy Template with guide and examples
Engage users to complete the registration with email and push notifications
In Dashly, we work with Freedom24 — a fintech company. They have a registration issue. After registration in a website form, users should confirm their residential address with a utility bill or any other document. Some of them find this step rather difficult and abandon registration.
The fix?
Freedom24 marketing team sends them three onboarding emails:
The first one describes the benefits a client gets after opening an account.
The second message highlights the opportunity to get support. 
The third email intrigues you with 30 days of the free-of-charge Promo account.
Freedom24 marketers use the same CTA at the beginning and end of each email message to highlight the main action.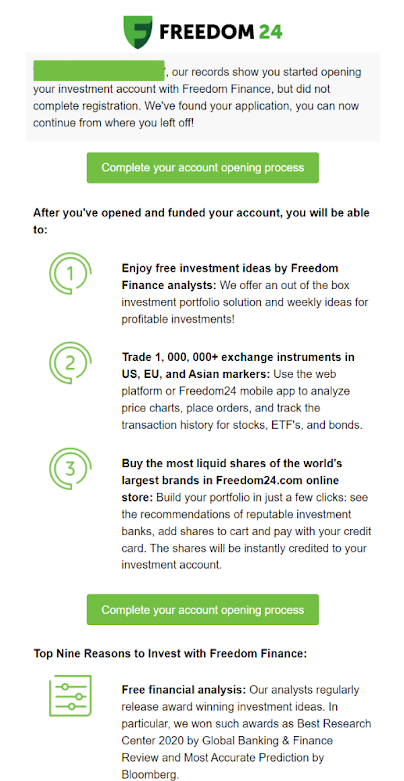 Open Rate: 23.15%
CTR: 2,59%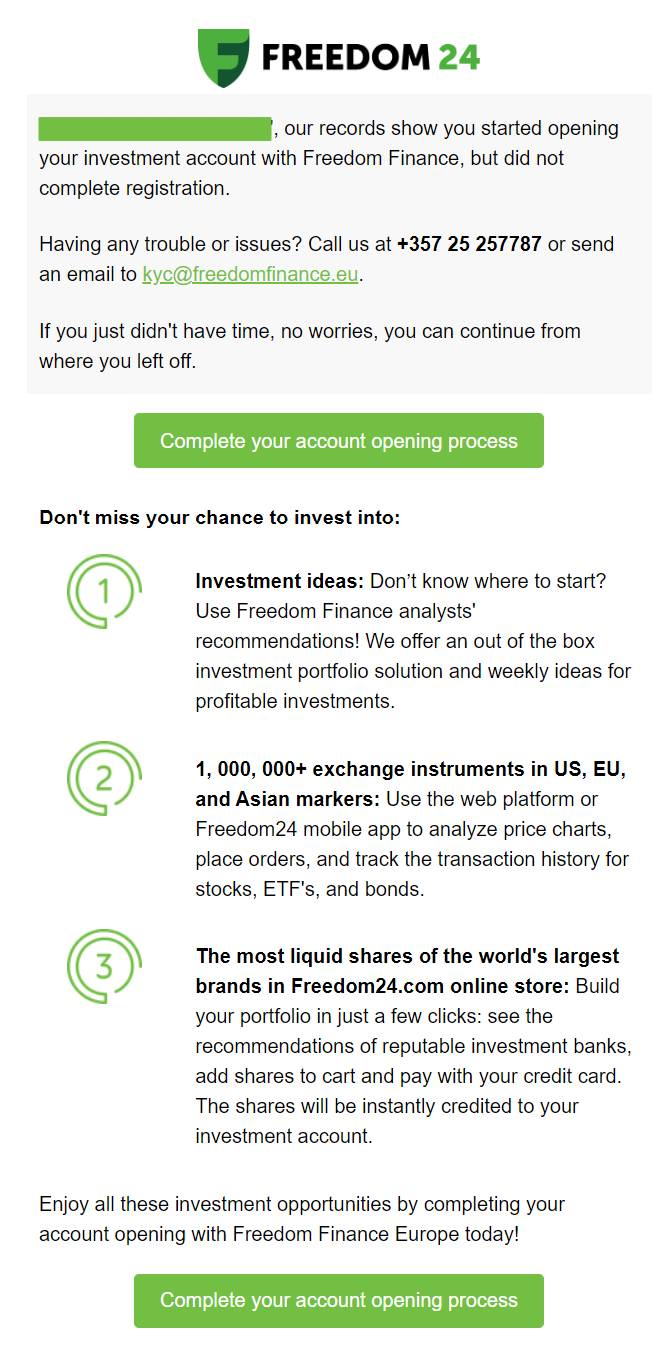 Open Rate: 43.55%
CTR: 10,51%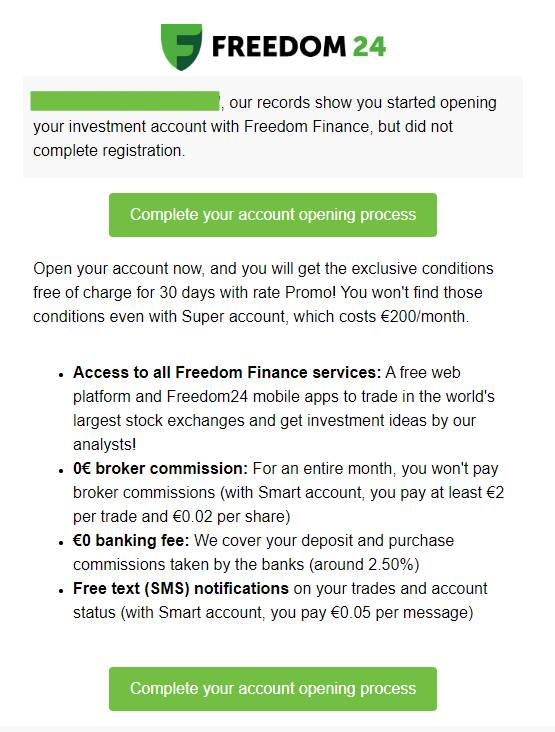 Open Rate: 46.61%
CTR: 1,60%
Since 50% of the website traffic goes to the Freedom24 app, its users receive relevant push notifications as well:

Open Rate: 30.47%
CTR: 3.65%

Open Rate: 13.55%
CTR: 0.57%

Open Rate: 18.18%
CTR: 0.65%
As a result of these messages, users who registered in Freedom24: 
remember the necessity to open an account to start investing,
know where to get help to open it, 
intrigued to do it faster.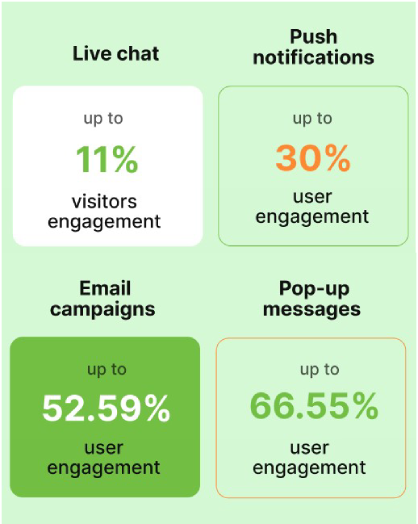 Need more inspo for your growth strategy? We're here to help 👇
Conversion to payment 
+30% free-to-paid conversion rate with a chatbot on the pricing page
Our next client — LeadGen App, Providing a form-builder, they help SME businesses, digital agencies, and marketers create conversion-optimized forms that get more responses in lead generation campaigns. 
Out of various growth marketing tools, CEO Christopher decided to reach out to Dashly with the next task — improve the free-to-paid conversion rate. One of the solutions we implemented was a chatbot on the pricing page: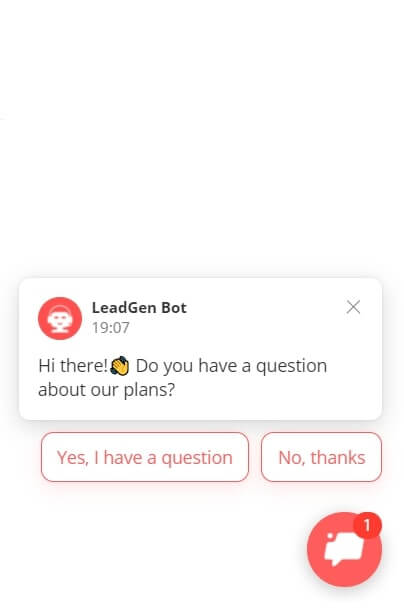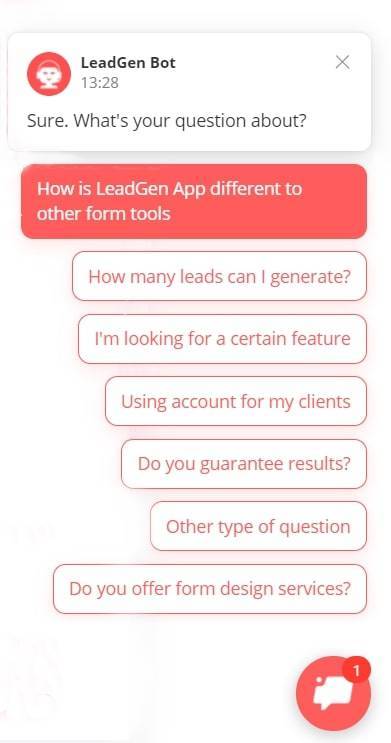 The start of the sales LeadGen Bot flow. Sign up now and create your first chatbot campaign in 15 minutes.
When choosing any of them, for example, "How LeadGen App is different to other growth marketing services," you'll get a detailed answer with a link that routes visitors right to the free account registration: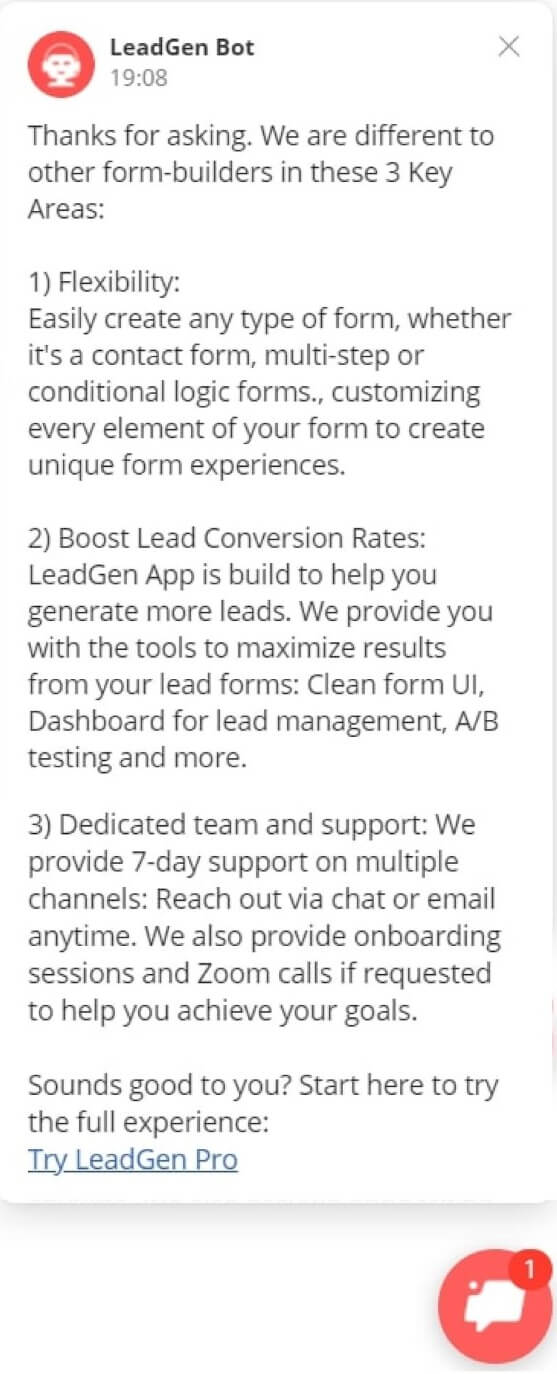 At the end of the message clients see a link leading them to the registration and LeadGen App Pro Tariff: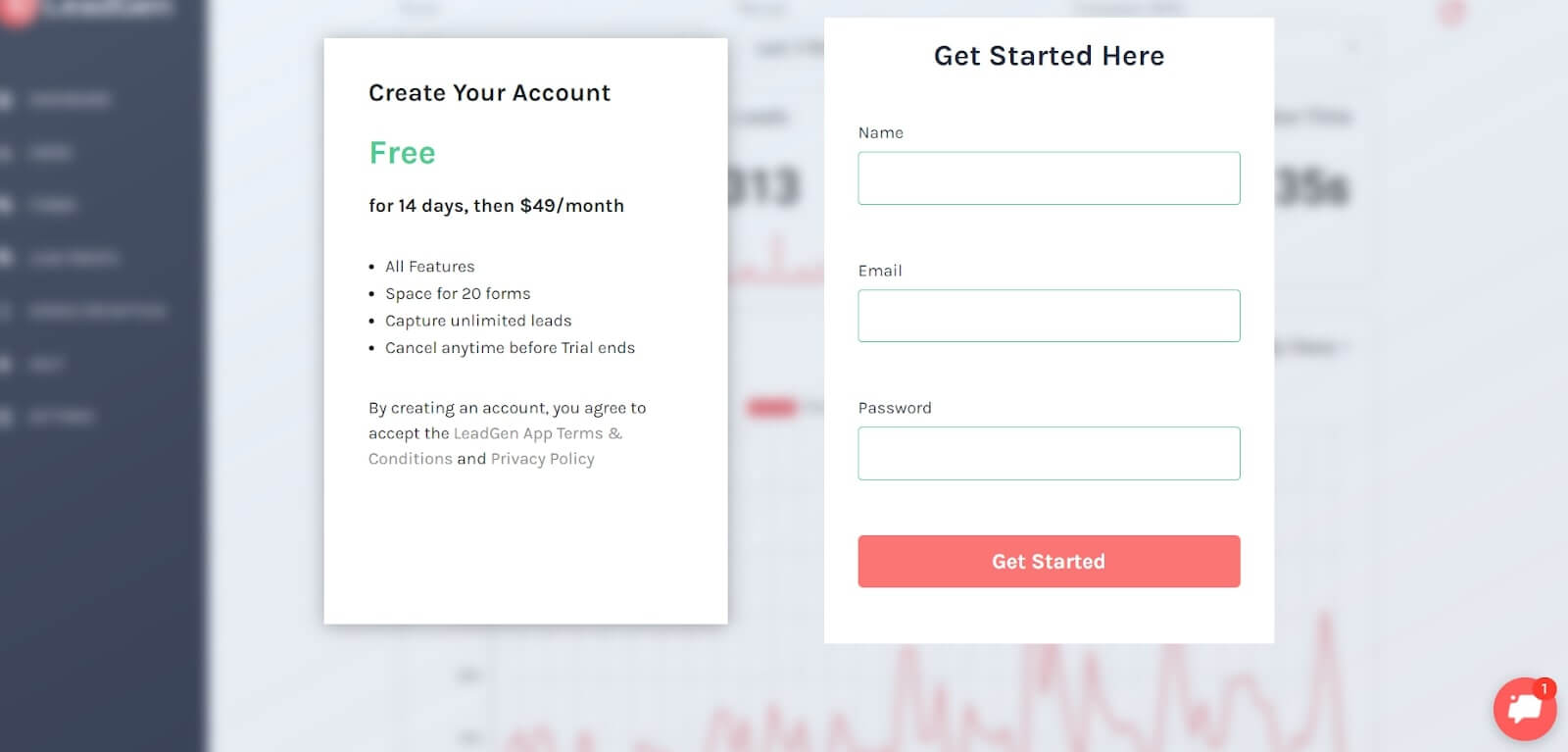 When visitors look for a certain feature, the chatbot asks them to share an email. Thus, Christopher can contact them later about the chosen feature.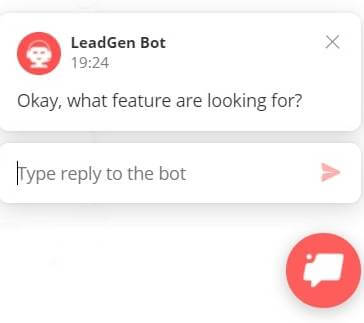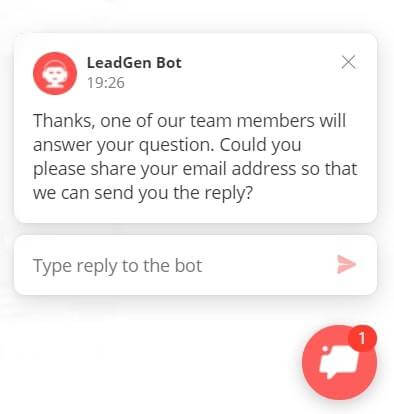 Chatbots come in handy for various B2B growth hacking strategies. With chatbots, Christopher has registrations and qualified leads to follow up.
The result: 
The increasing number of people who interacted with the chatbot on the pricing page influenced sales and brought the company 31% sales transactions growth after the first month of chatbot implementation.
Read also: 25 Growth Marketing Books to Skyrocket Success
$145k with lead qualification chatbots (online school case)
EDPRO is a certified e-learning platform that offers career-upskill courses in psychology, nutrition, coaching, and interior design. 
Site traffic mainly comes from targeted advertising, partner integrations, and EDPRO social networks. Unfortunately, most direct visitors to the selling landing page did not become leads.
The fix?
EDPRO set up three chatbots on the course pages.
For example, сhatbot qualifies leads on the landing page of the Interior Design course.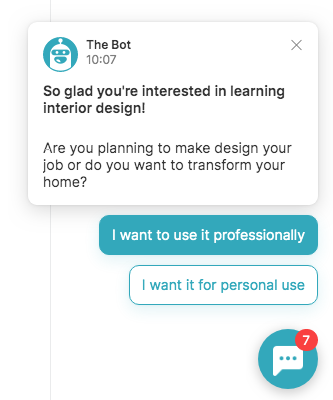 And chatbot after applying to the preliminary list page: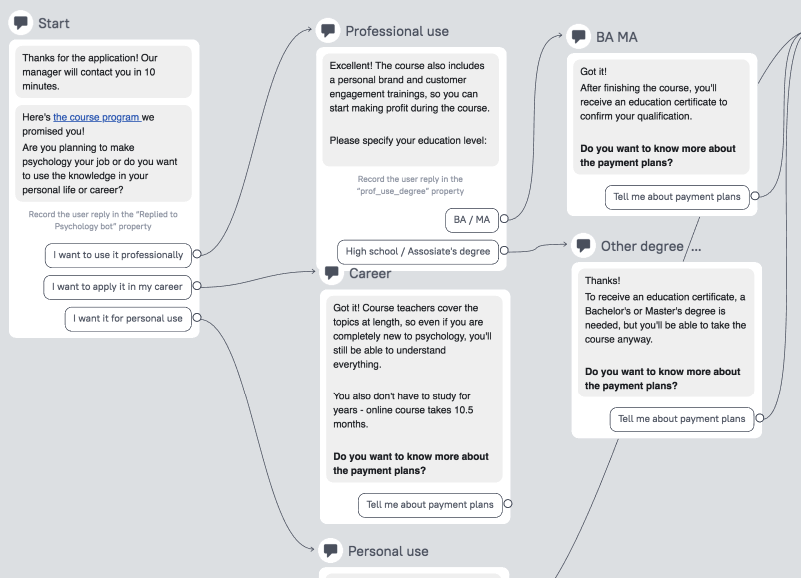 This growth hypothesis was created for webinar attendees who have moved to the landing page of the course program and have already submitted an application. The task of the chatbot is to send a link to the course program, rouse curiosity, and tell the client more about the rates.
The result: the chatbots brought in $2 190 in revenue.
Leads captured
by chatbots
Users who decided
to purchase
Purchased
a course
Revenue
"Integrative Nutrition" course
66
10
7
$11 533
"Practical psychology" course
9
1
1
$2 471
"Interior design" course
16
1
1
$2 190
Overall
91
12
9
$16 194
18 business growth experts you should follow this year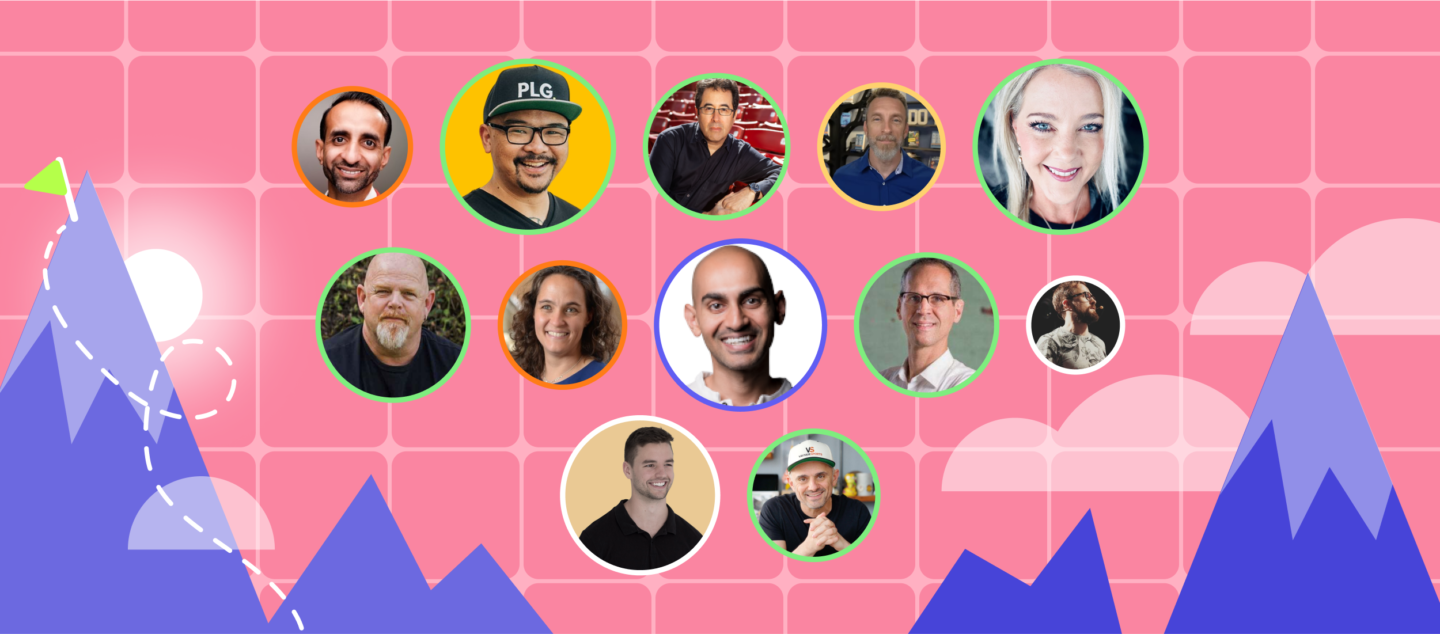 What are Growth Loops? How It Can Scale Your Company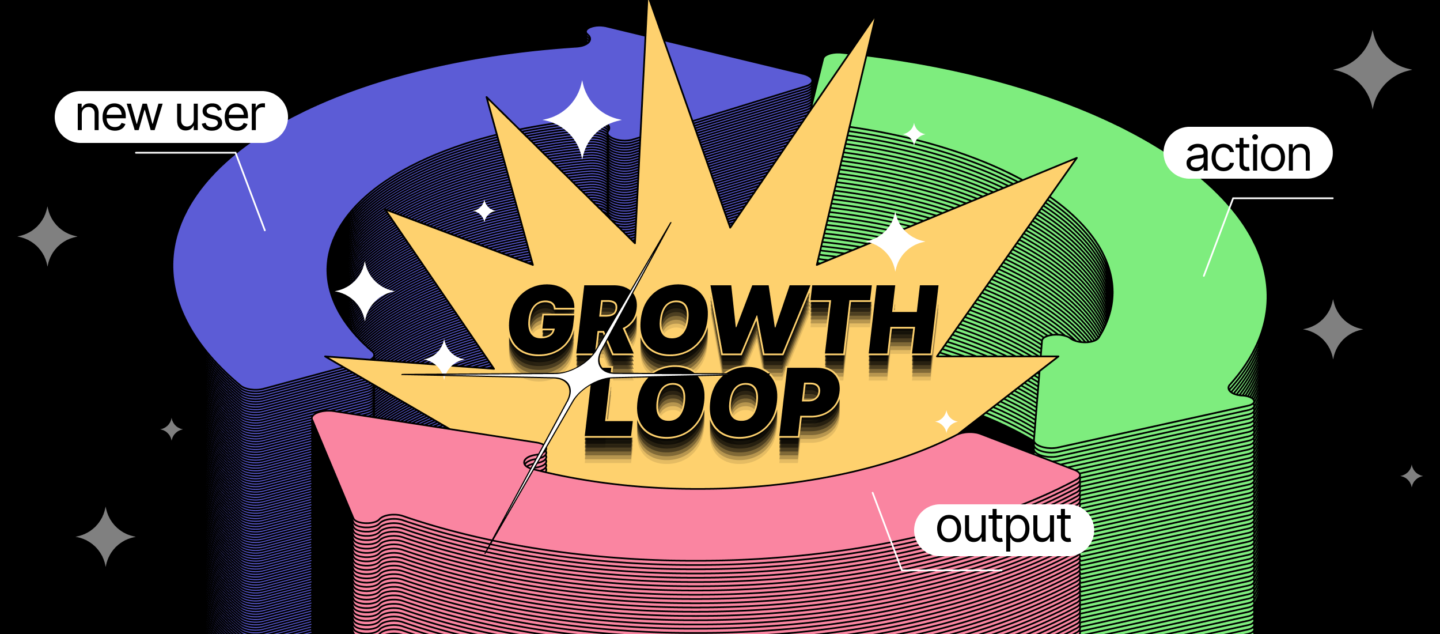 Product Led Growth Marketing: hack your product growth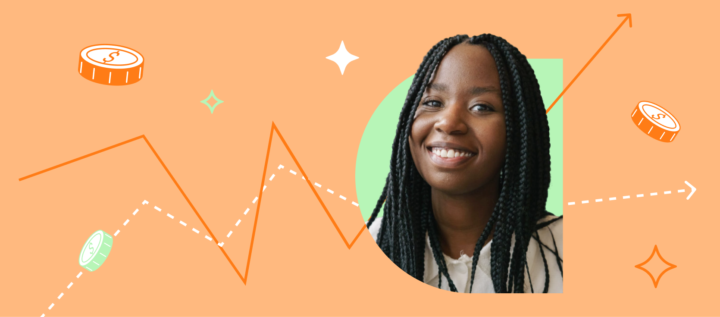 +$2k paid services revenue with video pop-ups
Before working with Dashly, an online platform for Instagram account growth had only 23% of users purchased the features.
We set up an onboarding system with the client, using Dashly tools to guide users along the funnel and encourage them to buy features. Next, we implemented pop-ups into the platform and described the value of paid features using them. 
In our best-performing growth marketing test, we added company's video guide.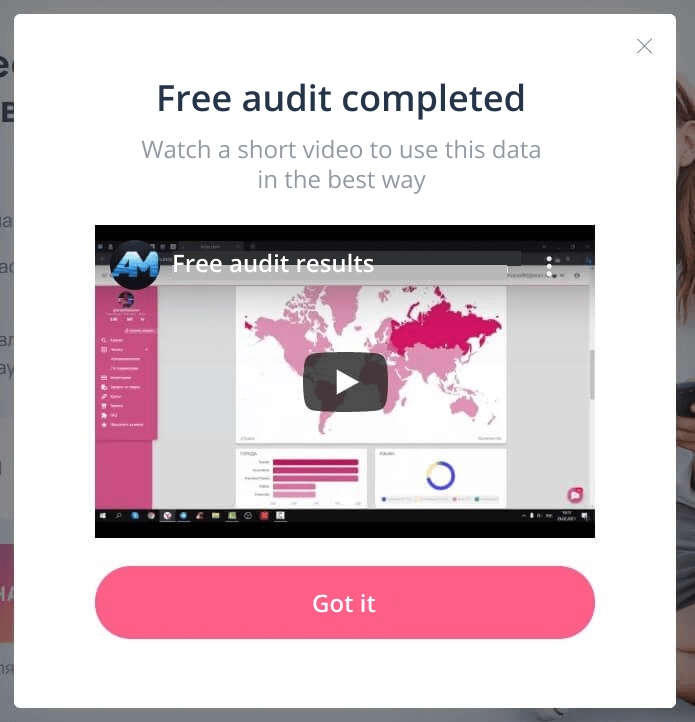 The result in a month after the implementation:
revenue amounted to $2k (the minimum price for a feature is $3, and we got 653 transactions);
conversion to purchasing a full audit was 8% of impressions.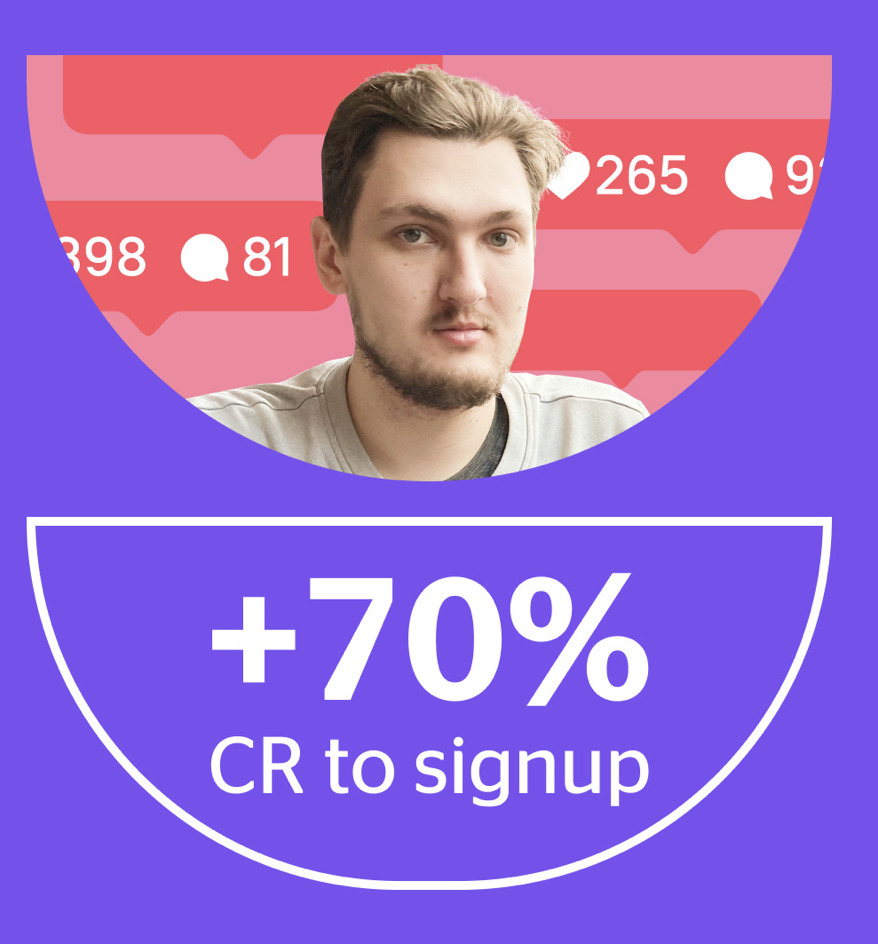 Read also: Growth marketing vs performance marketing and RevOps vs Sales Ops.
+30% features sales with triggered email for bounced free users
In addition to pop-ups, for a previous client, we launched email campaigns to reach users who bounced and didn't purchase features. Each of them contained two emails: 
the first one was sent right after a user bounced;
the second one was only sent after two days to avoid irritation. If a user purchased a feature after the first email, we wouldn't send the second one to them.
That's what the best-performing email looked like, with the 53% Open Rate. With it, the growth marketing team generated $1,5k of revenue.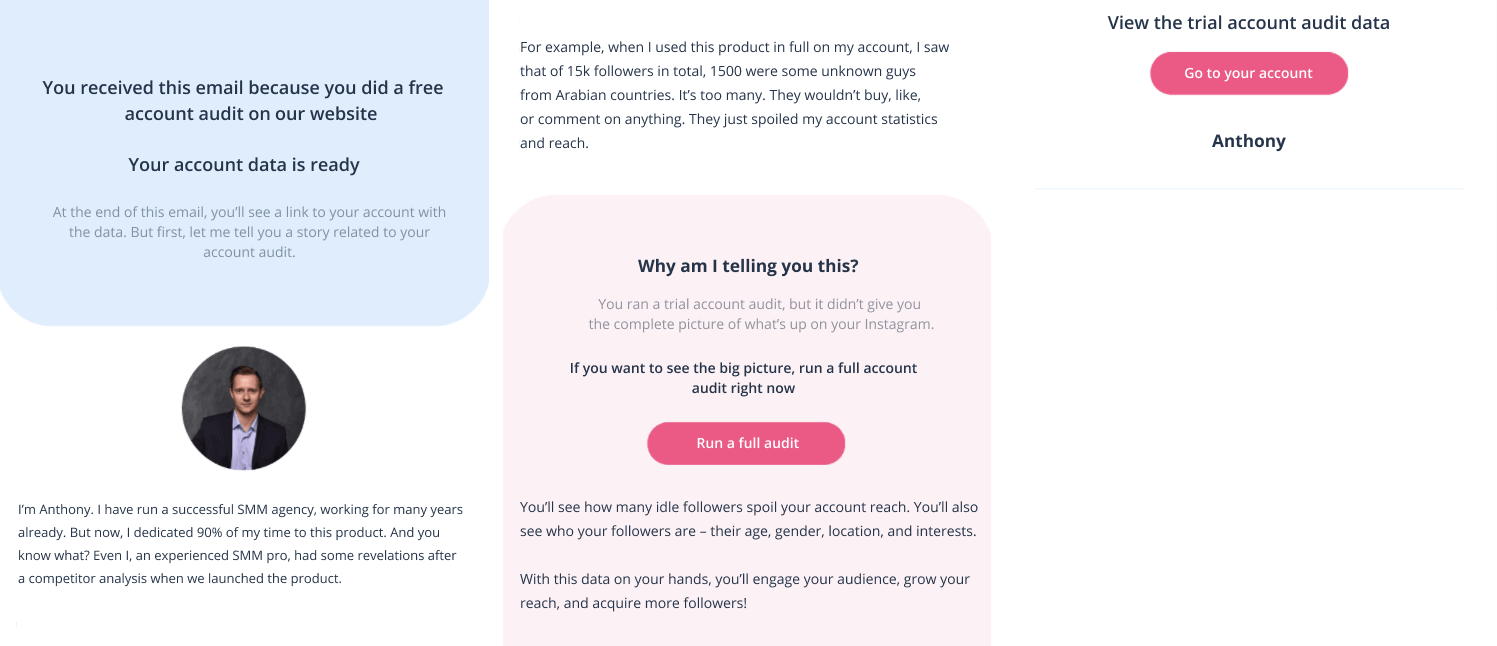 Overall email performance a month after the implementation:
revenue — $1.5k (ARPU— $2.5, 574 transactions);
the Conversion Rate of each email was from 7% to 15%;
emails generated 30% of all feature sales.
+ $86,800 and 35 premium plan users with lead qualification chatbot 
AppMagic, a mobile app analytics software, had a lot of non-target website traffic. That's why their offer wan't personalized, so people just left their website without a purchase. 
Max, CEO of AppMagic, was looking for software that would help identify target users, see how they interact with the product, and define places where users experience difficulties.
The fix?
Together with the Dashly team, AppMagic configured Leadbot for target users that could identify the user's role in a company. These are the options that the chatbot suggested:
We suggested seeing an explainer video about the platform, reading about its tools, or seeing the video guide if users chose this option. Thus, Leadbot not only qualifies a user, but also helps with their onboarding.
Result of these SaaS growth hacks?
This is what the chatbot generated:
13 users signed up for a demo and bought the Premium plan;
22 users requested the price list and bought the Premium plan.
The Premium plan costs at least $2480, so AppMagic made at least $86800 for three months.
Looking for more fresh ideas for your experiments? Check out our growth marketing playbook with over 40 campaigns to test!
Grab a free template to tailor up your own growth marketing strategy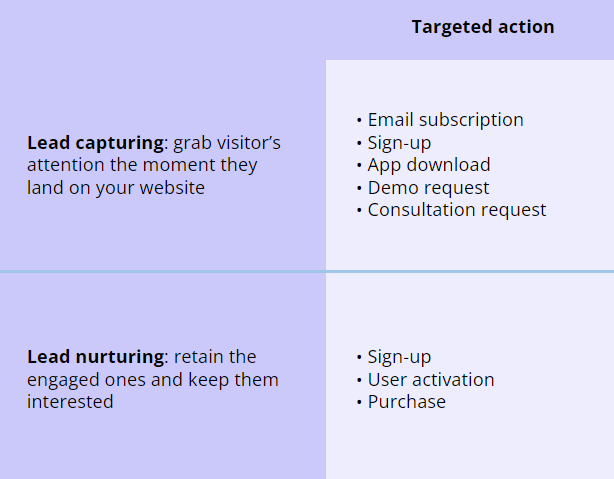 User activation into a product
+33% conversion to the first application among new users (CPA network) 
The company is a CPA network of affiliate bank programs, microfinance institutions, insurance, and law companies. The company's revenue directly depends on how actively webmasters place offers. 
Imagine: a person has signed up on the website but couldn't understand how your product works. Most likely, the user will try to figure it out independently but will soon lose interest and become a "sleeping" client. But you can avoid it by offering your clients to learn more about the product immediately.
Activation into product is the essential step of the growth hacking canvas.
The solution?
Chatbot for user onboarding 👉
Greets the webmaster on the dashboard after the signup. Qualifies the user.
Sends case studies, tool guides, and creative ideas for ads.
Informs about bonuses.
The result
1580 users interacted with the onboarding chatbot;
The conversion rate of users to the first application has increased by 33%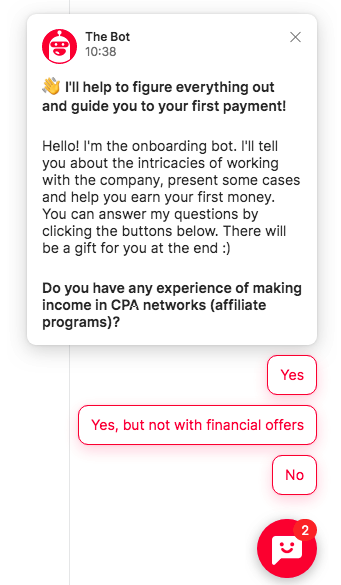 Need more inspo for your growth strategy? We're here to help 👇
+70$ conversion to using paid features with popup + emails campaign
One more issue an online platform for Instagram account growth had was that 15% of users who bought the Instagram account cleaning never launched it. They didn't know how to do it. 
We used pop-ups to decrease the number of such users and encourage them to run account cleaning. Beyond the product, we sent emails to reach them.
In a pop-up, we notified users that they successfully paid for the cleaning and offered a video guide on launching it.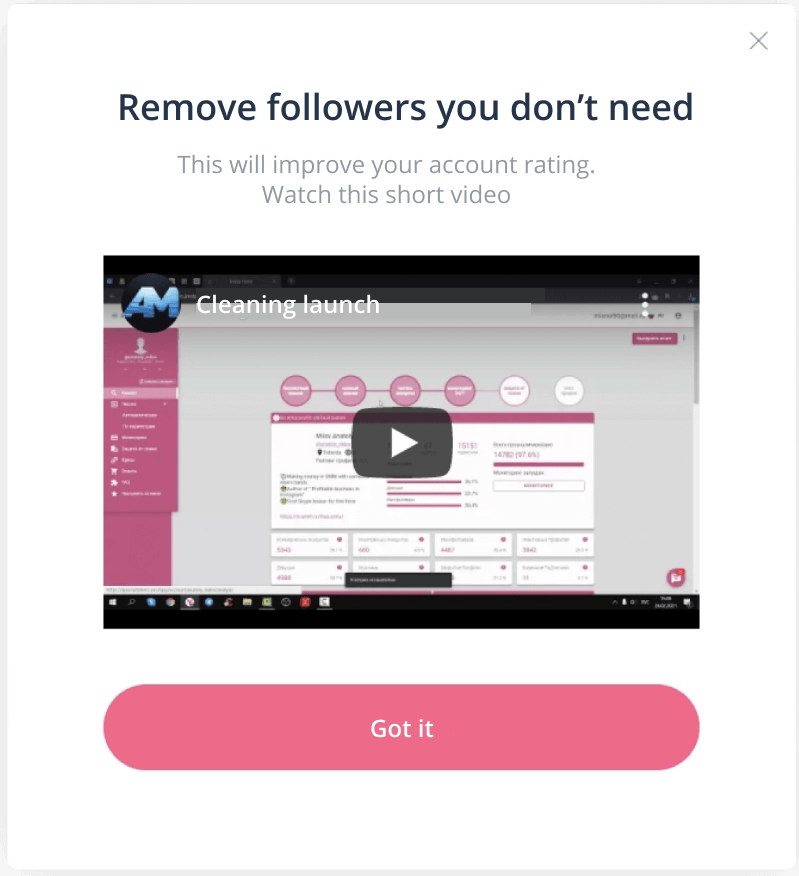 The pop-up's conversion to cleaning launch a month after the implementation was 45%.
If a user still didn't run the account cleaning after seeing a pop-up, they would receive a campaign of two emails.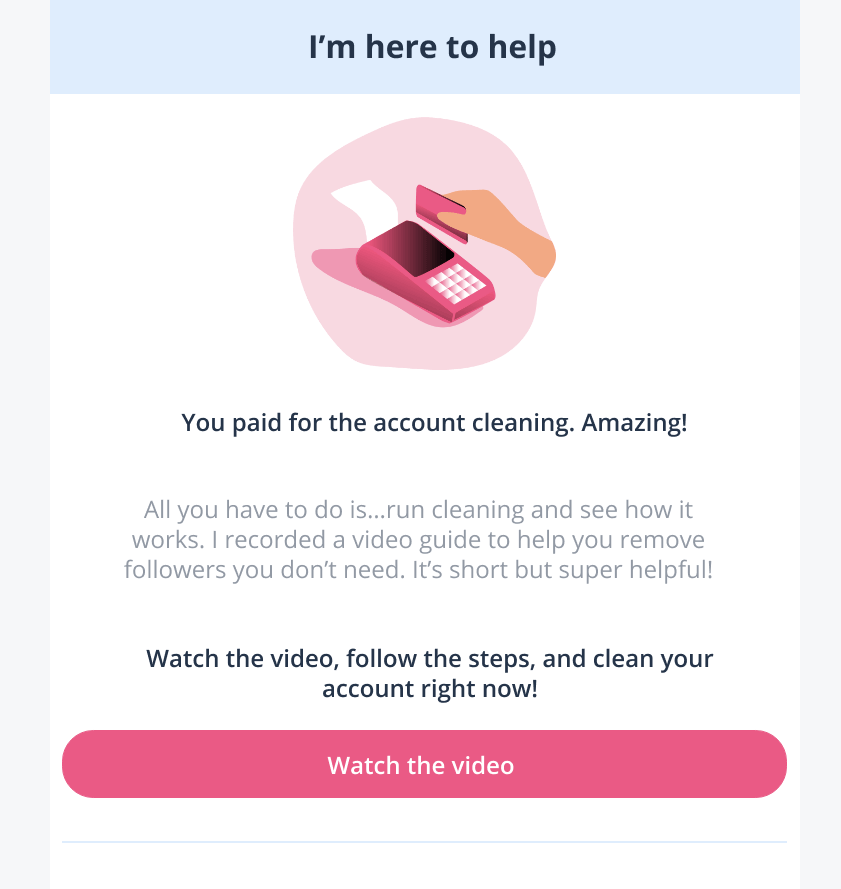 The emails' one-month performance:
the conversion to cleaning launch was 76%;
emails generated 34% of all cleaning launches.
Overall, Dashly tools increased the conversion to using paid features. Only 11,5% of users don't run them, instead of 15%.
Reactivate inactive users
Each business has clients who don't use its product, don't visit a website, and ignore attempts to communicate on other channels. It's inevitable. 
Freedom24 (fintech project) marketers solve this task by testing different hypotheses. For example, the last idea to "wake up" such clients was about app push notifications + emails about special bonuses. 
Actually, it is still working: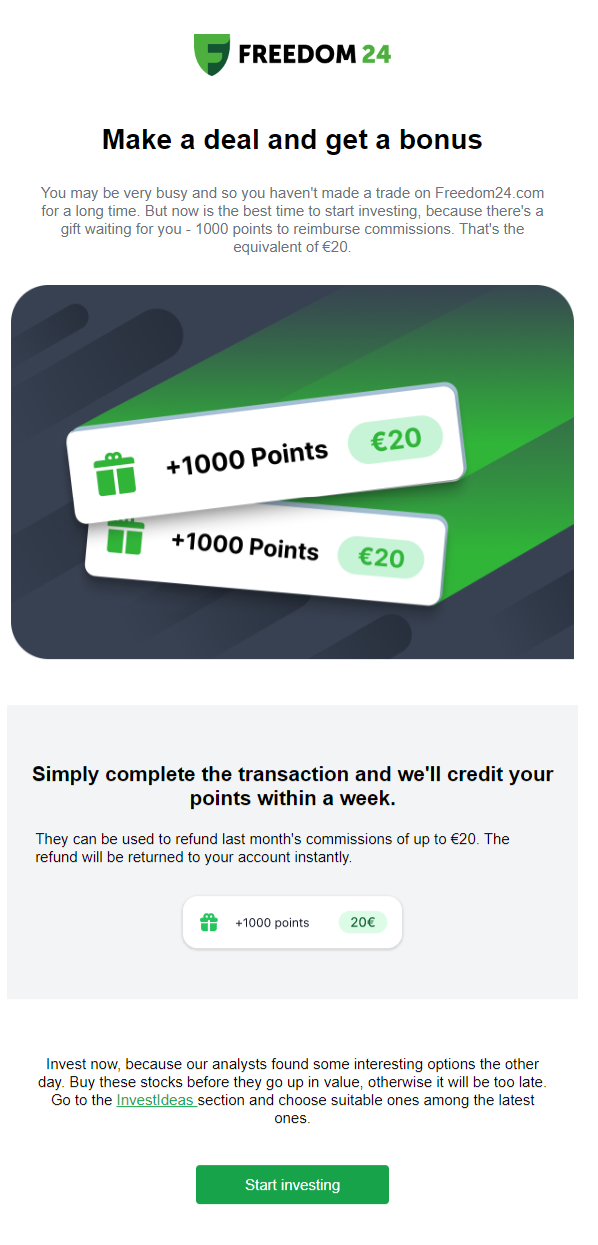 20 euro offer interested 2.95% of users who read this message in the app and 18.58% of clients who read it in email.
Want more ideas?
Read also: